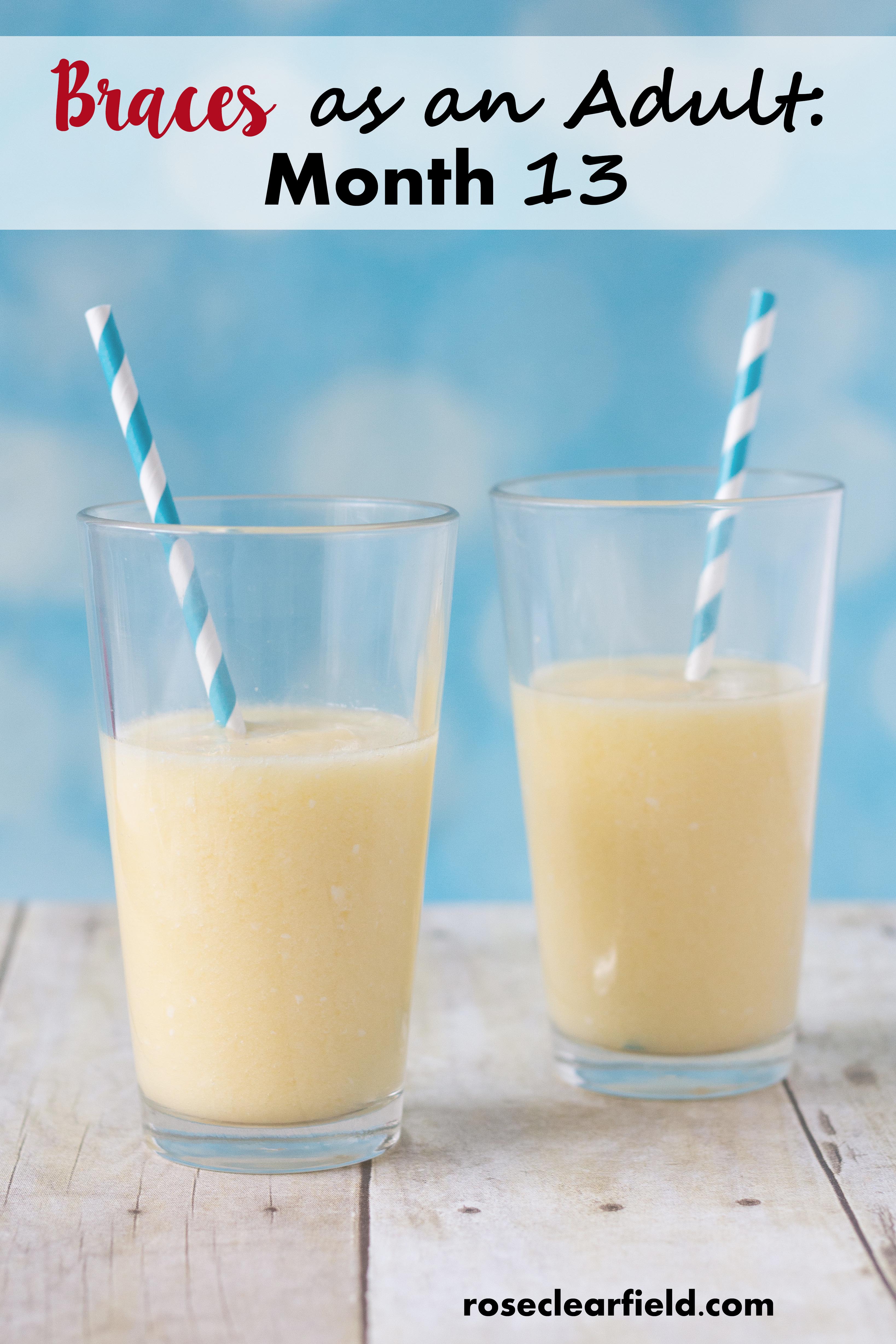 As of April 7, I'm 13 months into my braces journey. (As always, it's not like I'm keeping track or anything.) If things keep moving on schedule (it seems like they have been thus far), I'm well past the halfway mark. Honestly, at this point, as long as I get them off before the end of 2018, I don't care if I'm not exactly on track to finish right at 18 months. (I shouldn't say that too loudly.) I keep thinking "this time next year, I won't have braces," which always makes me happy.
When I wrote my first post after one month with braces, I said that I would put together a small series of posts about my journey with braces as an adult. I'm not sharing monthly updates, full details about what I'm getting fixed, or lots of before/after shots. But I am writing updates every few months or so, discussing what this process is really like as an adult.
In that first post, I talked about why I need braces and why I decided to get braces in early 2017 after putting it off since HS. In short, I finally took the leap because I need a night guard for teeth grinding/clenching and can't imagine wearing one with the way my teeth fit prior to braces. I've also finally reached a stage in my life where time, finances, and general life circumstances (i.e. no upcoming plans for a move) allow for braces, so I went for it.
What's been happening with my braces/orthodontic appointments the past few months.
I had an adjustment scheduled right after my month 10 update, which was pretty uneventful. I think that I just had new wires put in the top to keep closing my gaps (not full new wires across the whole top). It didn't hurt too much, resulting in maybe a minor 24-hour setback. A week after that adjustment, I had a regular dental cleaning. At that appointment, the hygenist found a broken bracket. Needless to say, it must have happened very recently or they would have found it at the adjustment.
Broken bracket fix
So I had to go back a week later to get the bracket fixed. The good news is that it didn't bother me/hurt at all. Honestly, I wouldn't have known it was broken if the hygenist hadn't found it. The other good news is that I'm paying a set price for the entire treatment, so emergency appointments don't cost extra.
I scheduled the appointment at the office close to my house because it was such short notice. I didn't want to wait to get into the further office when Jake was free. So I brought Tommy with me. Of course, it was a full 20-minute appointment. Their office is really not set up to bring a baby. Thankfully, it was almost empty during the entire appointment. While it took longer than I thought, which is never fun for any type of dental work, otherwise it wasn't too bad.
Two most recent appointments
Since then I've had two more appointments, both at about six-week intervals. The first of those appointments was the roughest I've had in a while in terms of pain afterward. I had another wires to close the gaps switch, and the new wires really made my teeth hurt. It took a full week to return to normal eating.
The second appointment turned out to be a non-adjustment. They had debated doing one more gap wire switch or doing a stint with rubber bands instead of wires. Instead, I'm sticking with my current wires for another month. Then they'll do a full scan (early May), and I'll get a whole new set of wires, top and bottom. The scan will not be fun because it involves taking off and then putting back on the current wires (x-rays show basically nothing with braces wires). But I shouldn't have any pain afterward, and if I do, it should be short-term. Then a month after the scan (early June), I'll get the new wires.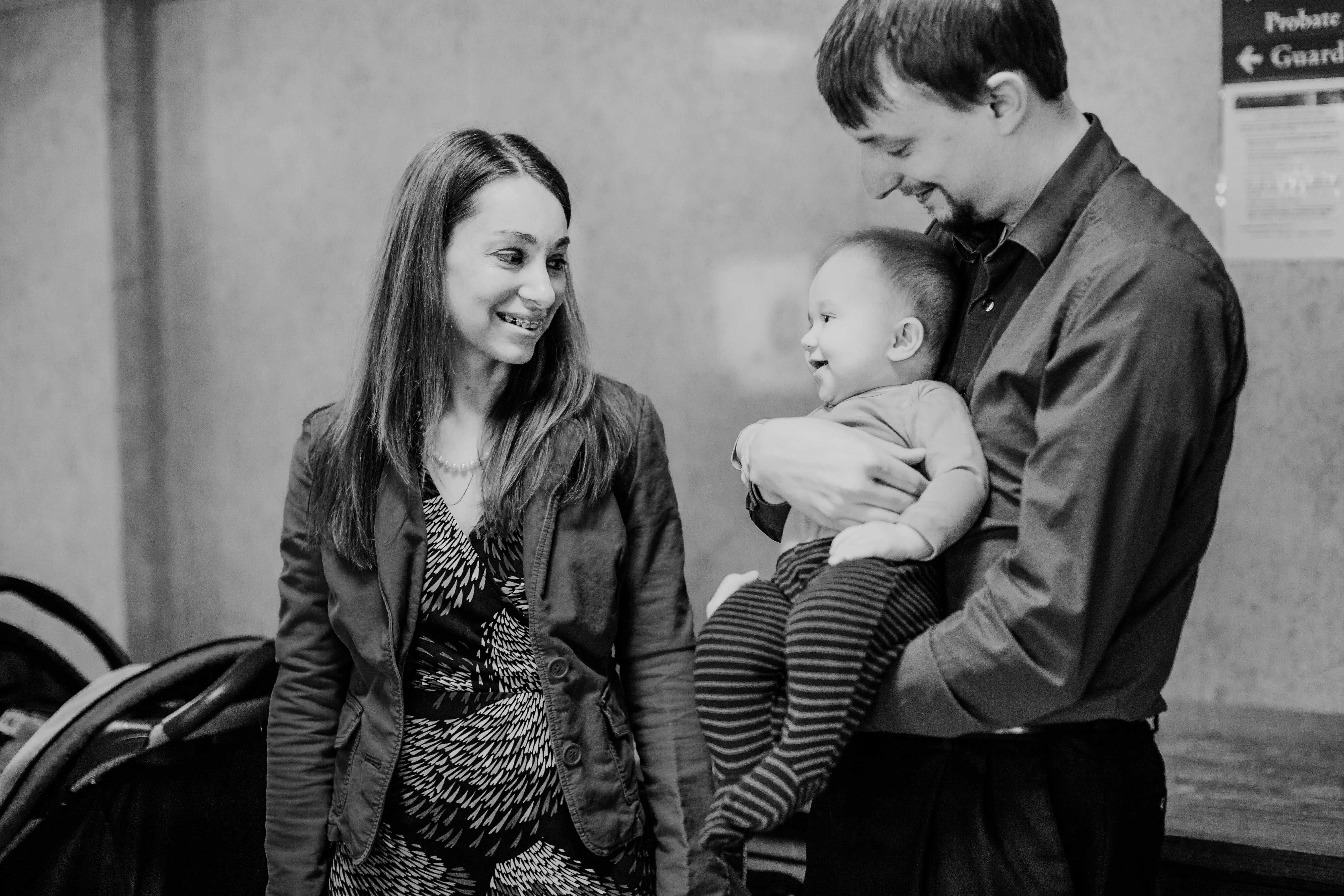 Copyright: Melissa Morgan Photography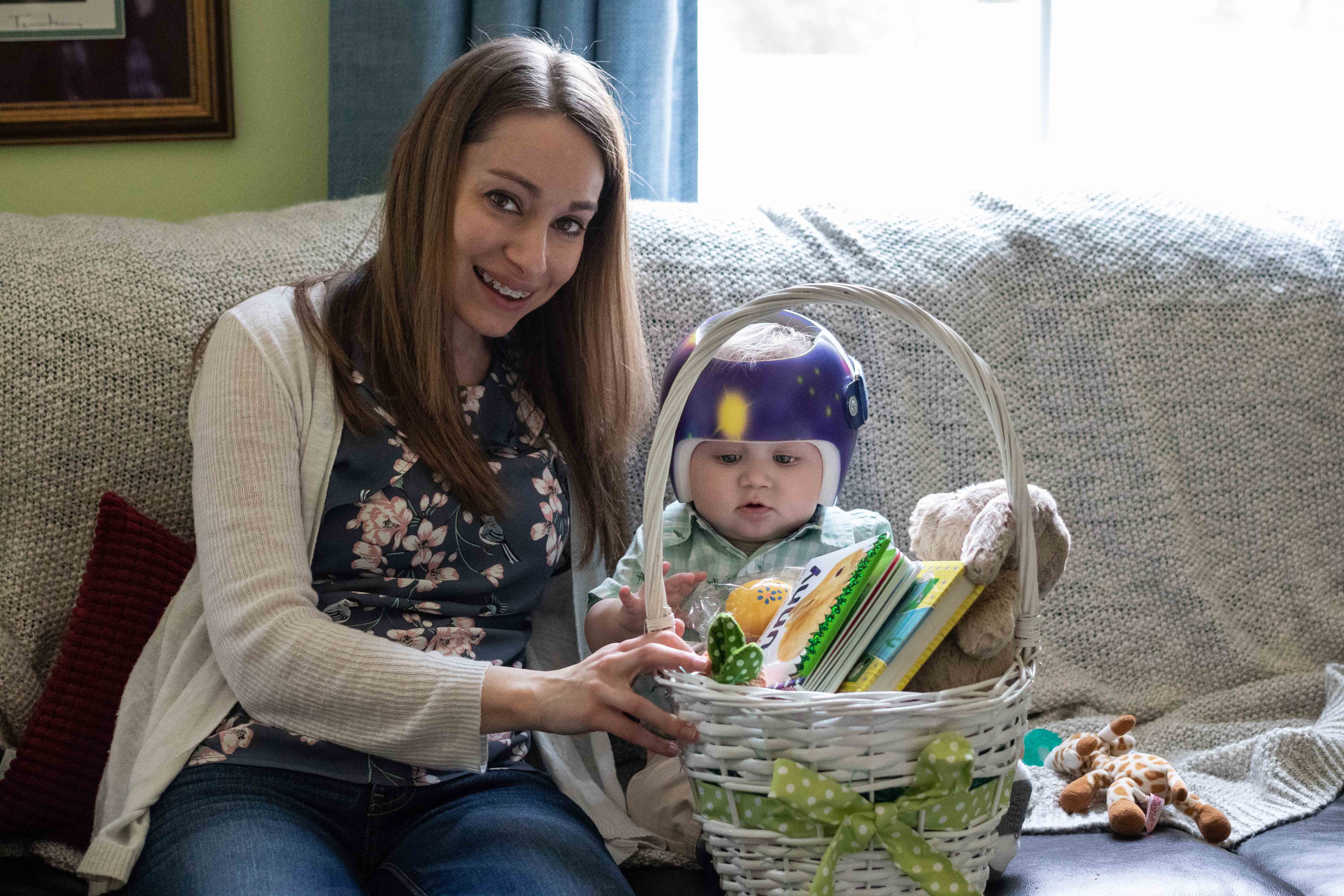 I'm still rocking creepy gaps in my smile in the places where I had teeth pulled.
I'll be honest: until I compared the above pictures from late January and early April, I didn't really believe you could see any difference in my creepy gaps. They're still there for sure, but they're much less noticeable, especially in pictures.
The back gaps (where the teeth were actually pulled) have nearly closed. The one on the right side is fully closed, and the one on the left is almost closed. So this is huge from where I was at month 10 and gives me hope for getting the remaining, much bigger front gaps closed. For now, it's still a drag. I deal with food caught in them all the time. More generally, I'm very self-conscious about them.
We're planning to take family pictures again around Tommy's first birthday (mid-July), so we have professional, updated pictures for our new profile book (to go back in the adoption waiting pool). I don't expect to have fully closed gaps by then, let alone braces off. However, if I can see a significant improvement by then, I'll be happy.
Eating continues to get better.
Aside from the one week set back, eating has been pretty good the past three months. I'm still not eating raw carrots or celery and largely avoiding raw apples, which stinks. Raw carrots are our staple easy veggie with lunch or dinner. Otherwise, there's nothing I'm avoiding altogether, except for the braces basics, like caramels and anything really sticky (i.e. dried fruit).
I am finally able to eat pretzels in moderation, which is very exciting (I clearly live a super exciting life). By eat pretzels, I mean thin pretzels, not really thick, super crunchy pretzels or lots of really crunchy pretzel snack mixes. I'm still eating peanuts, cashews, cereal, granola bars, kettle chips, tortilla chips, and popcorn in moderation, too. I've had Quaker Oats Squares in our pantry for months and was finally able to eat them the past few months. My other go-to cereal is Honey Bunches of Oats, which is much easier to eat with braces.
Again, I'll be going back for my full scan in early May. Then I'll get my new top and bottom wires in early June. So I'll have at least two updates to talk about in my next post in early or mid-July. Posting every three months has worked really well, so I'm sticking to this schedule.
To those who are sticking with me, reading these lengthy updates about my experience with braces as an adult, thank you. If you have personal experience with braces as an adult, I'd love to hear about it in the comments.
[Disclaimer: There are a few affiliate links in this post. Thanks for your support!]
The full adult braces journey:
Monthly updates:
Month 4 // Month 7 // Month 10 // Month 13 // Month 16 // Month 20 // Month 23
Final posts:
Adult Braces: The Beginning of the End // Adult Braces: The End of the Journey // Adult Braces: Final Thoughts
Before and after comparision!
Adult Braces: Before and After Pictures
THE resource you need for eating with braces!