Free alphabet letter animals worksheets to color are an ideal pre-reading or early literacy activity for toddlers, preschoolers, and kindergarteners.
I'm releasing the free alphabet letter animals worksheets set during the quarantine when I know tons of parents are looking for educational materials. Many teachers are also putting together extra resources for parents and appreciate all of the free materials that they can find. Beyond the quarantine, letter animals worksheets will remain a valuable teaching resource for parents and teachers alike.
Free alphabet letter animals worksheets are a perfect tool for teaching letters and words to 18-month-olds through kindergarteners. For toddlers, alphabet worksheets serve as a way to talk about animals and to explore color and varying coloring or painting materials. For preschoolers and kindergarteners, you'll also be able to work on letter recognition, letter sounds, and identifying letters within words.
You can use alphabet worksheets simply as a fun coloring activity, as part of letter lessons, or as part of larger units on any number of different subjects. For example, a B is for butterfly page is a perfect addition to any butterfly or general nature science unit.
The alphabet animals worksheets have a nice variety of animals including pets, birds, insects, fish, farm animals, and zoo animals.
The free alphabet letter animals worksheets to color have large block letters and simple coloring designs, making them a good fit for a variety of ages. Toddlers won't get frustrated, and preschoolers and kindergarteners will be able to add more detail to the animals as they like.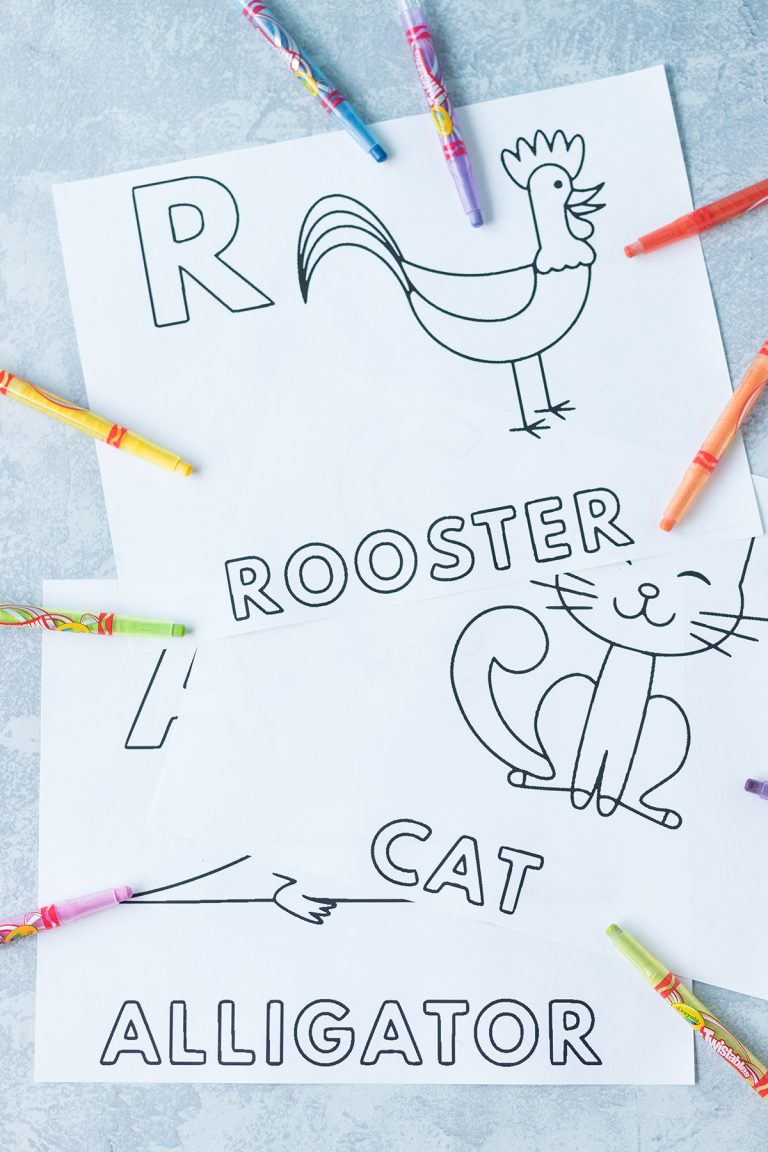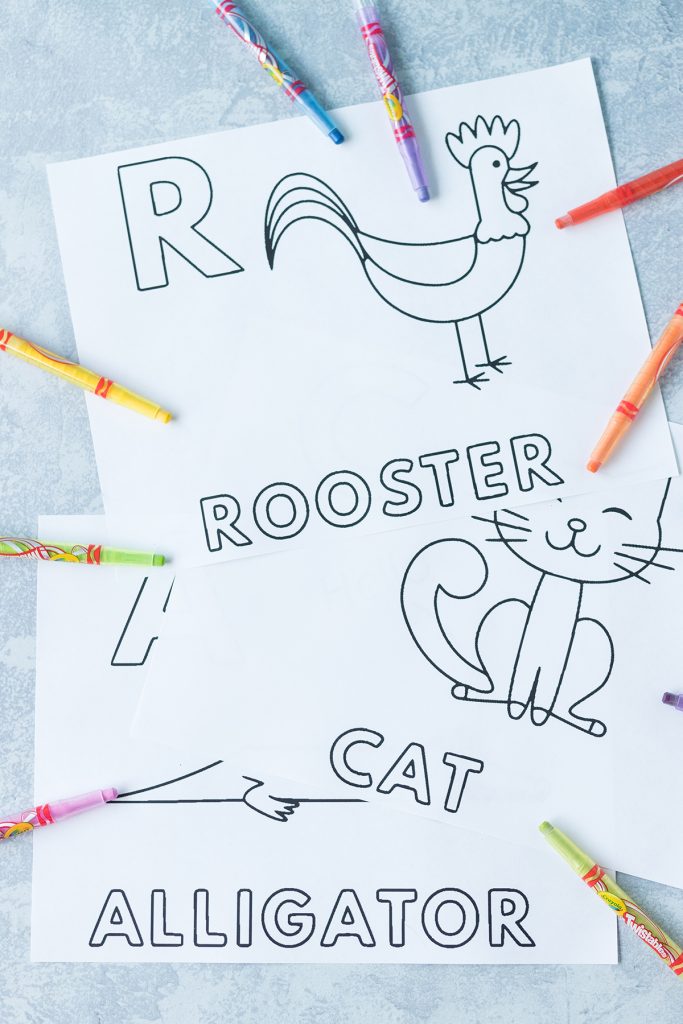 About the free alphabet letter animals worksheets to color
The alphabet animals worksheets are ready to print on regular 8.5×11 printer paper. The worksheets are for personal use only. You may download and print them as many times as you like, including for classroom use. You aren't allowed to sell the worksheets or use the designs for commercial purposes. Please don't redistribute the download files. If fellow parents, family members, or co-workers are interested in their own worksheets, please direct them to this post where they can download their own files. Thank you!
Free alphabet letter animals worksheets to color
You can download each letter individually or download the full set of worksheets at once.
A – alligator | B – butterfly | C – cat | D – dog | E – elephant | F – frog | G – goose | H – hippo | I – iguana | J – jellyfish | K – kangaroo | L – ladybug | M – mouse | N – nutria | O – owl | P – penguin | Q – quail | R – rooster | S – snake | T – turtle | U – urial | V – vulture | W – whale | X – x-ray fish | Y – yak | Z – zebra
[Download the full set of alphabet letter animals worksheets]
I explain how to extract and download the ZIP folder in my free vintage dictionary page printables post. The link will take you right to those directions.
[Disclaimer: There are a few affiliate links in this post. Thanks for your support!]
Are you using the free alphabet letter animals worksheets to color at home or in your classroom?

I want to see them in action! Tag your images #RoseClearfield on Instagram or Twitter or post a photo to my Facebook page.
Pin this post for easy access to the free alphabet animals worksheets to color later!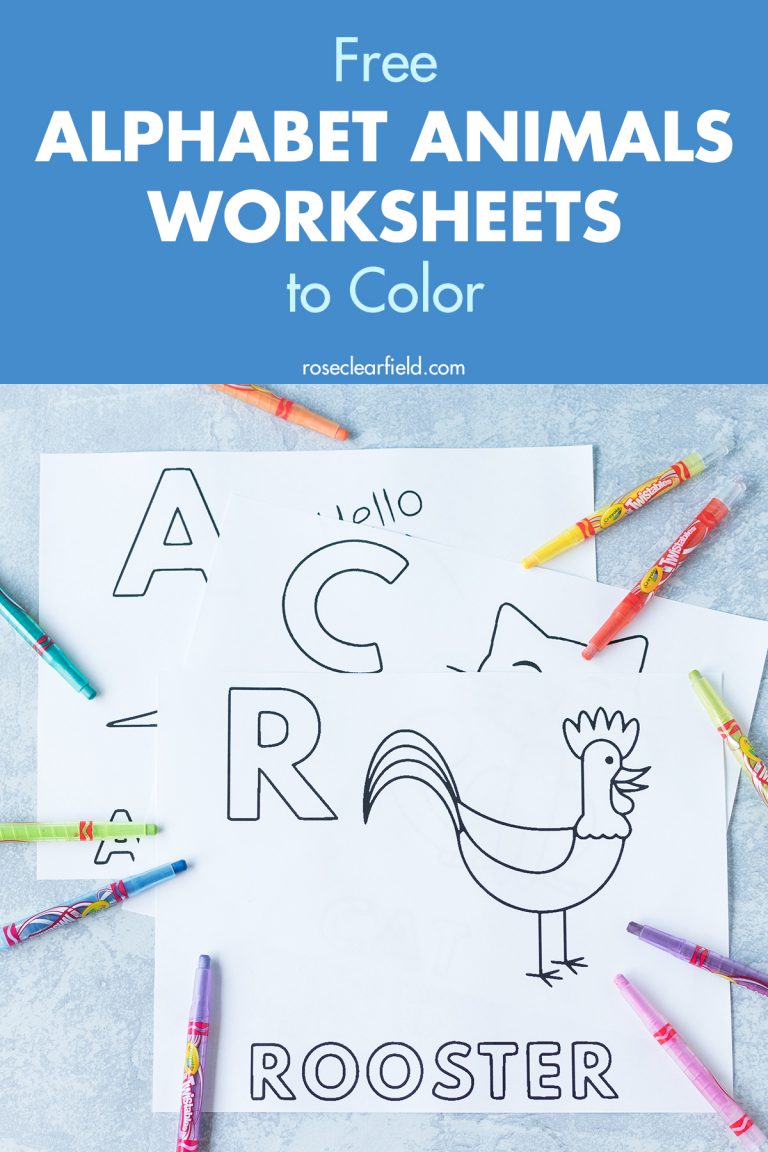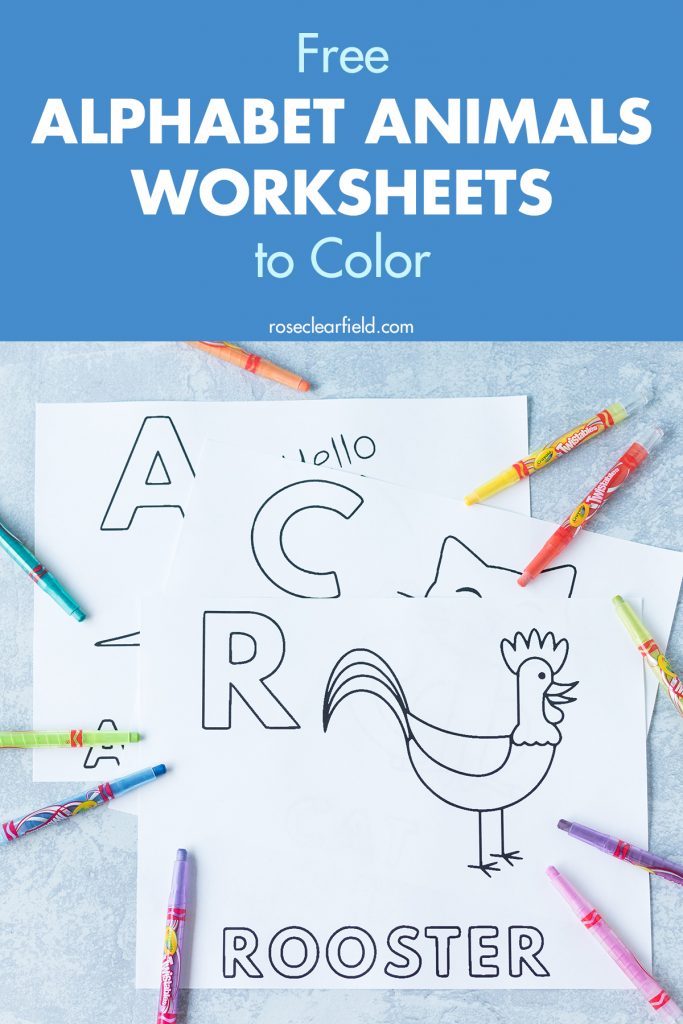 More toddler and preschool resources:
Visit the Free Printables section of the blog for holiday coloring pages as well!