I'm bringing you a round-up of 30 spring pantry staple dinner ideas. Keep your spring meals healthy and interesting while relying heavily on your pantry staples.
Given the current situation in the world, people are using pantry staples for their meal and snack prep more than ever before. As it's very likely we'll be under similar conditions for the remainder of the spring, it's good to be prepared with an ample selection of recipes.
Even with the best of intentions, it's easy to find yourself making the same meals over and over again. While there's nothing wrong with rotating through favorite recipes regularly, it's good to throw new recipes into the mix as well.
I've rounded up 30 spring pantry staple dinner ideas to keep your dinner rotation as varied as possible through this difficult time. I know that many people are always looking for easy, healthy meals. I've done my best to include as many dinners as possible that fit these criteria. I also know that during a tough period, it's also nice to eat comfort food. Additionally, with a lot of time at home, quick meal prep isn't quite as high of a priority. So you'll definitely find a few dinners that require a longer time commitment. Embrace this opportunity to do more cooking at home.
Finally, I've selected recipes that I love specifically for the spring season. You'll find a lot of vegetables and herbs as well as lighter flavors, such as lemon. Don't stress out about following every recipe to a T. In most instances, you'll be able to sub in different vegetables and herbs and even pantry staples (i.e., quinoa instead of rice, great Northern beans instead of cannellini beans) with no issues.
I unintentionally featured quite a few recipes here that are vegeterian. Make them as is, or feel free to add chicken, pork, beef, or shrimp to boost the protein.
30 spring pantry staple dinner ideas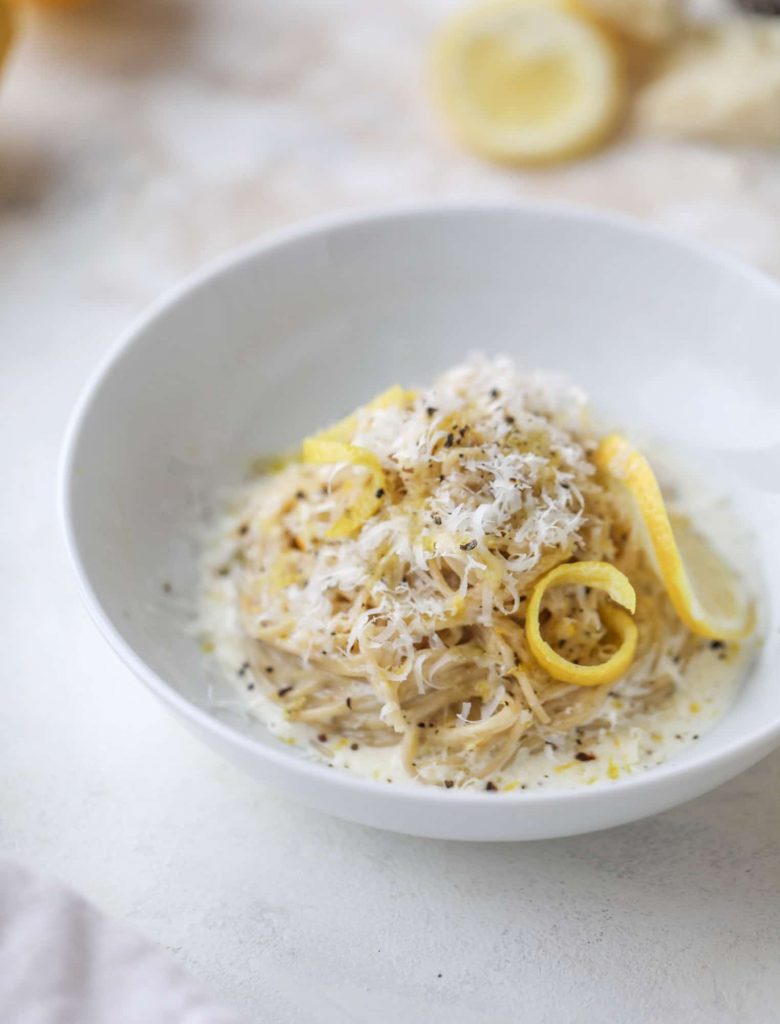 1. Lemon Pasta Bowl
You'll be hard-pressed to find a cozier meal than How Sweet Eat's lemon pasta bowl. You make a creamy lemon sauce for the pasta and then top the dish with cheese. This simple, comforting dish uses just seven ingredients.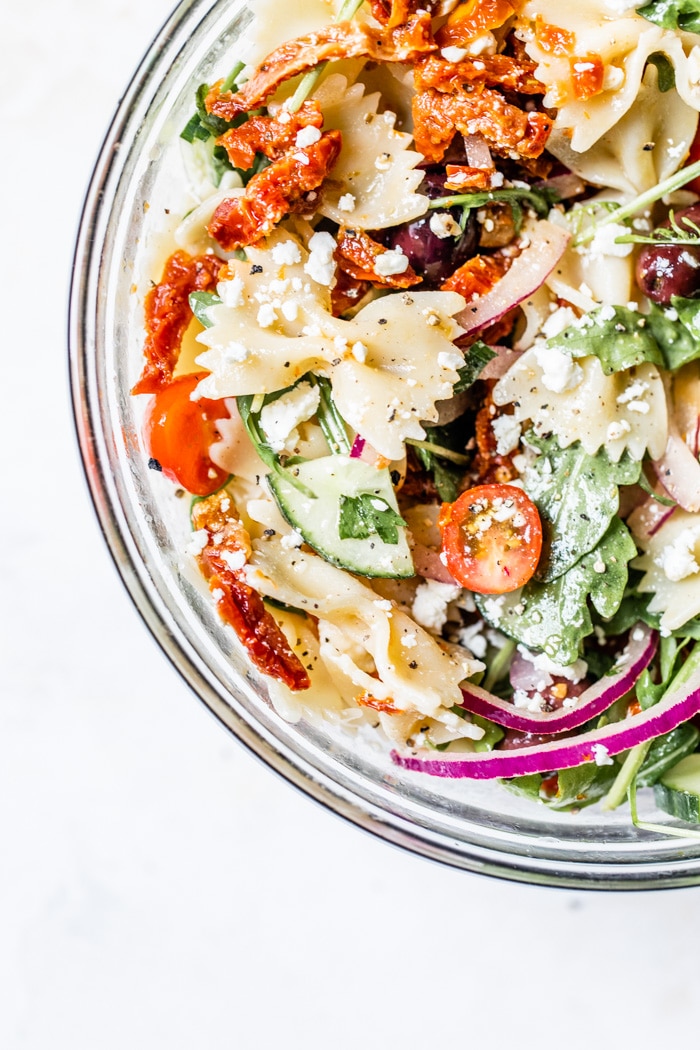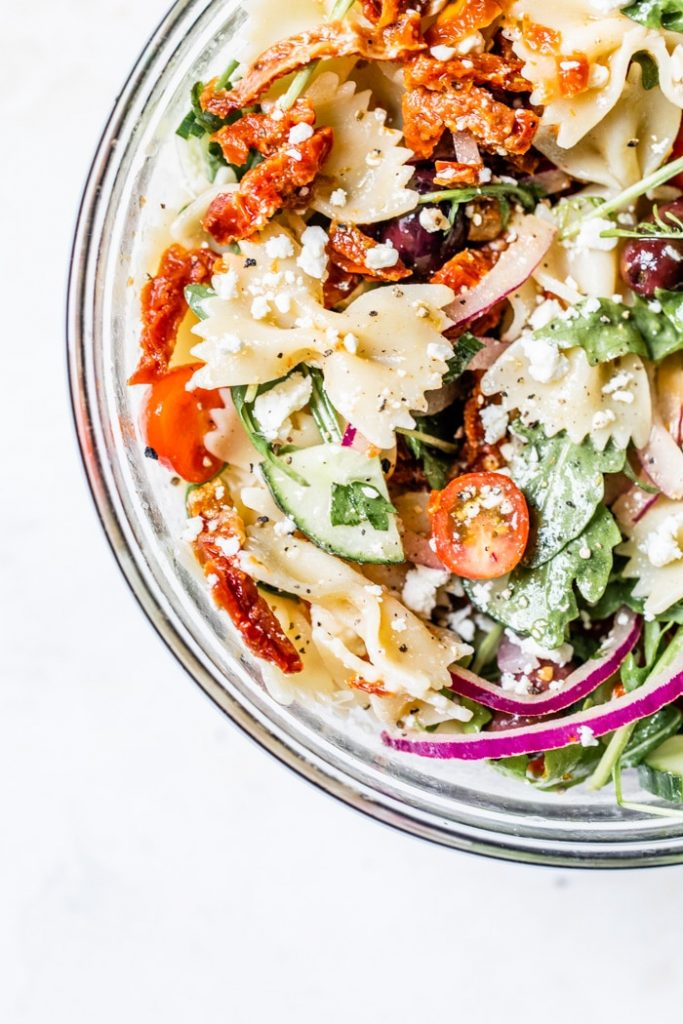 2. Mediterranean Pasta Salad
Mediterranean flavors are perfect for spring when you're craving meals with lots of flavor and color. The Almond Eater's Mediterranean pasta salad starts with the pasta of your choice and is filled with veggies, red onion, and olives and topped with feta cheese and a simple dressing.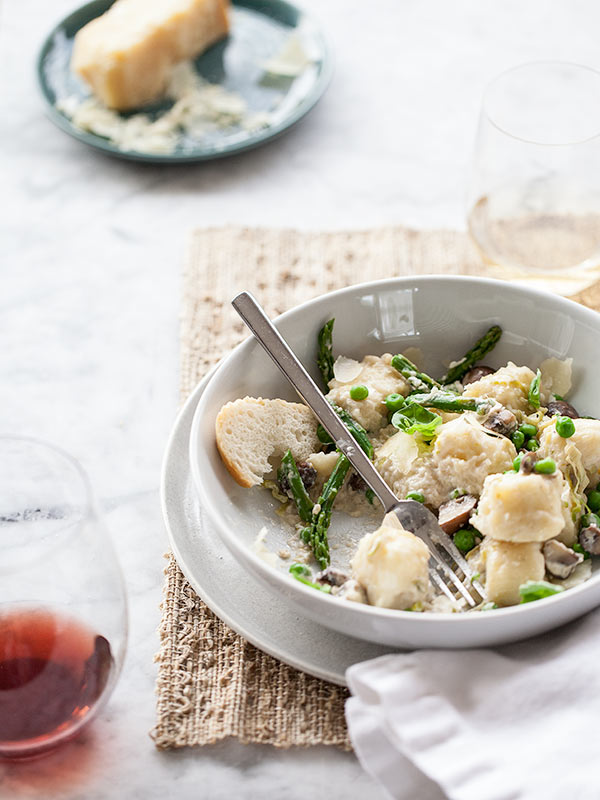 3. Spring Vegetable Gnocchi
Foodiecrush's spring vegetable gnocchi is the perfect way to keep gnocchi light and bright for spring. You can make the sauce as light or heavy as you like and top your gnocchi with the veggies of your choosing. You can absolutely use pre-made refrigerated or frozen gnocchi for this recipe, too.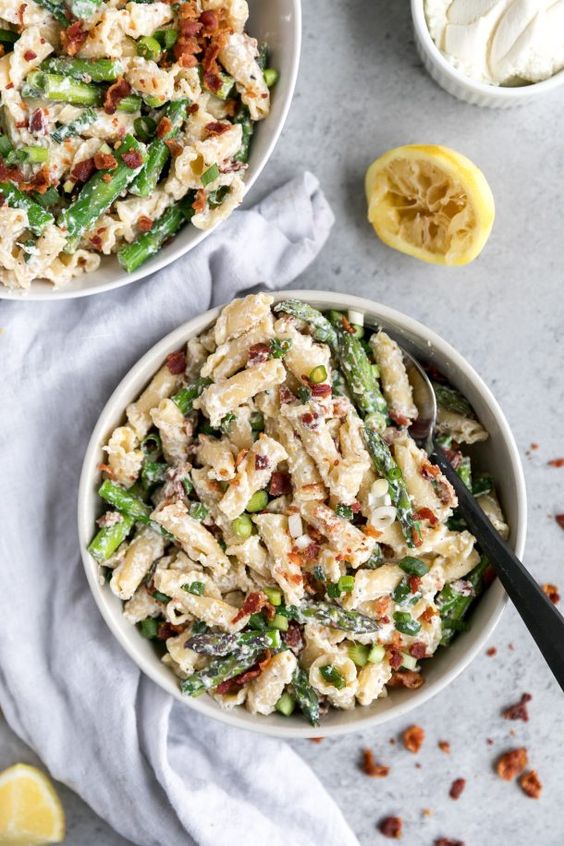 4. Lemon Ricotta Asparagus Pasta
Lemon, ricotta, and asparagus is an amazing ingredient combination for spring. Spices in My DNA brings all of these flavors together in a simple lemon ricotta asparagus pasta salad recipe that's rounded out nicely with bacon.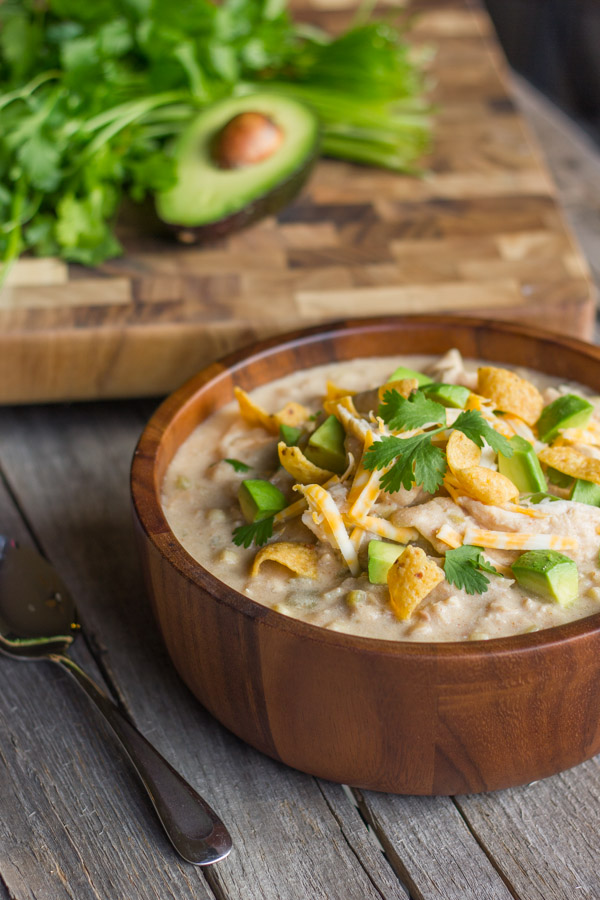 5. Creamy Slow Cooker White Chicken Chili
Generally, I make classic ground beef chili with corn during the colder months of the year and then transition to slow cooker white chicken chili in the spring. Lovely Little Kitchen's white chicken chili recipe has been my go-to for years. I guarantee that you already have almost everything to make it in your kitchen.
6. Spring Quinoa Bowl
Two Peas and Their Pod's spring quinoa bowl is a simple, healthy meal that works great for lunch or dinner. It's a vegetarian recipe, but you can easily add chicken, shrimp, tofu, or even tuna to boost the protein.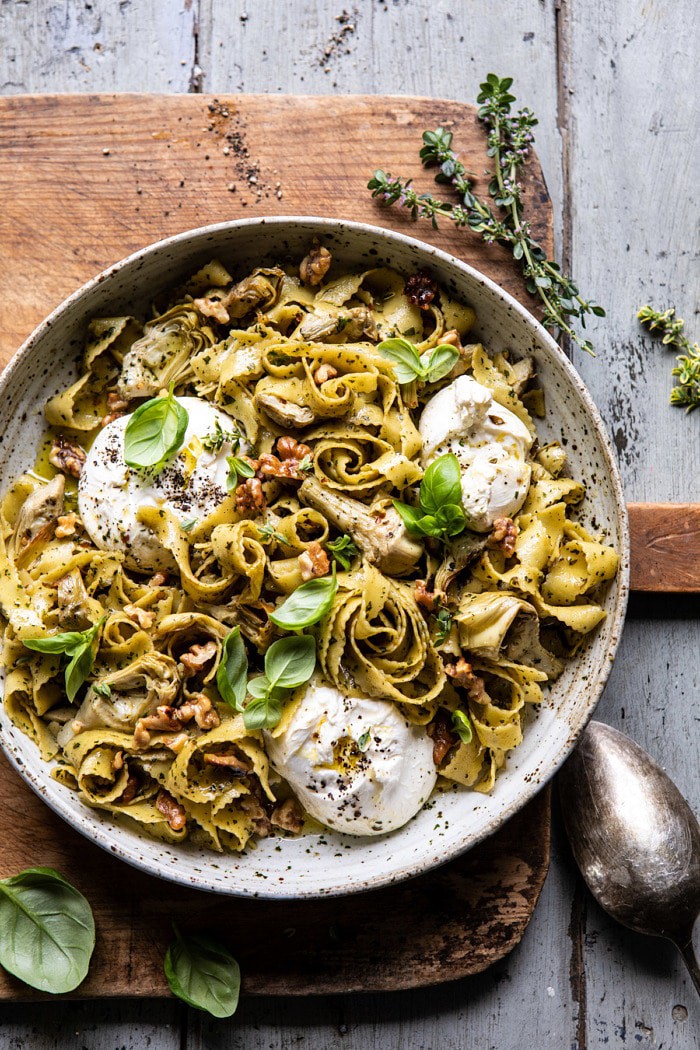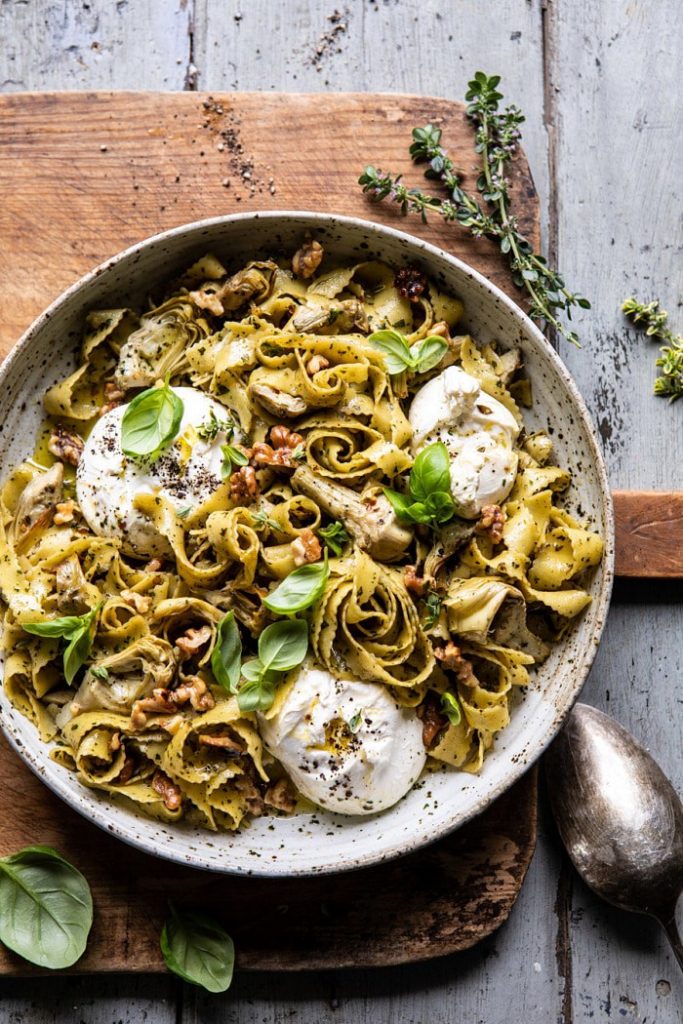 7. Roasted Lemon Artichoke and Browned Butter Pasta
Half Baked Harvest's roasted lemon artichoke and browned butter pasta is another ideal flavor combination for spring. It uses mostly pantry ingredients and comes together quickly. If you have canned artichokes on hand, put this recipe on your to-make list right now.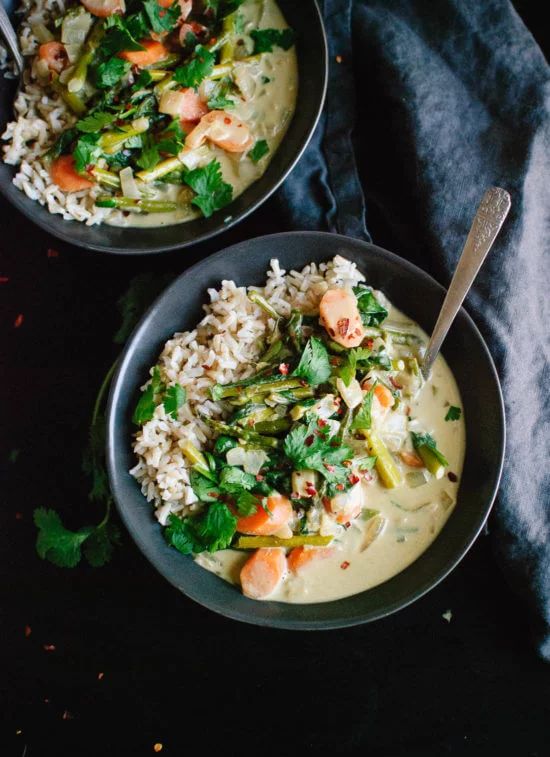 8. Thai Green Curry with Spring Vegetables
When you can't go out for your favorite Thai food, making it at home is the next best thing. Cookie and Kate's Thai green curry with spring vegetables fits the bill perfectly. Store-bought Thai green curry paste helps this recipe come together quickly without having to hunt for unusual ingredients.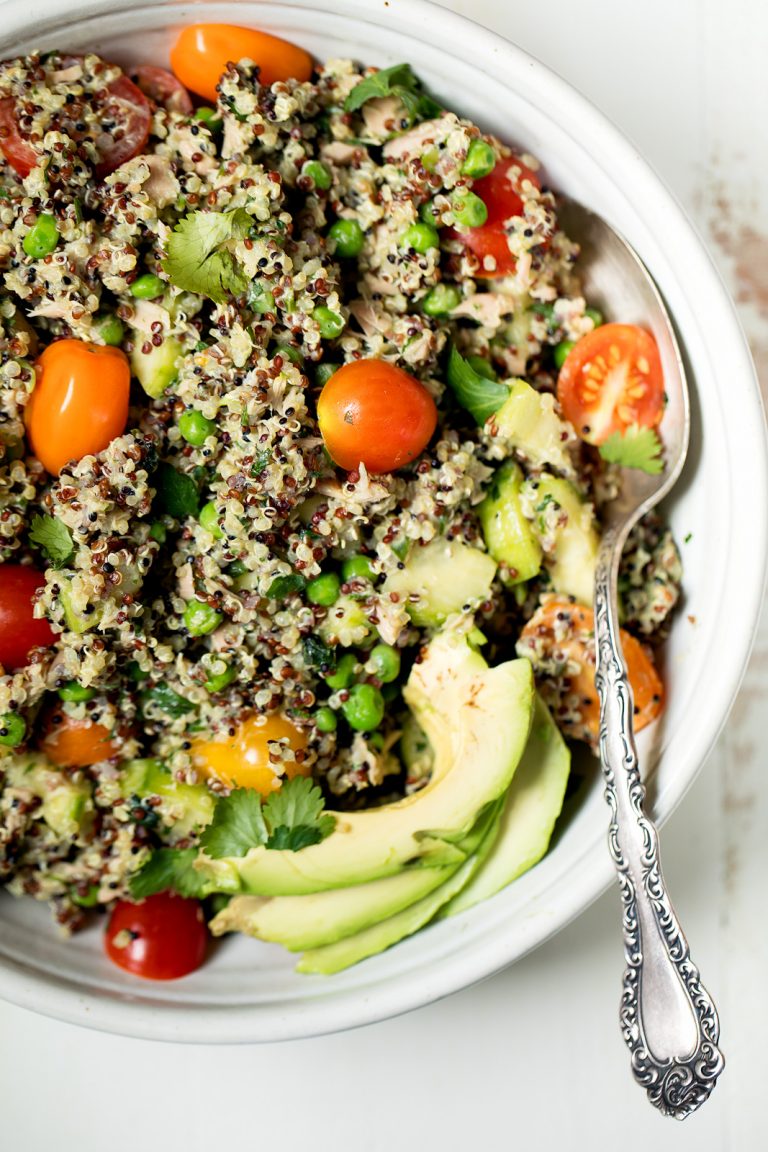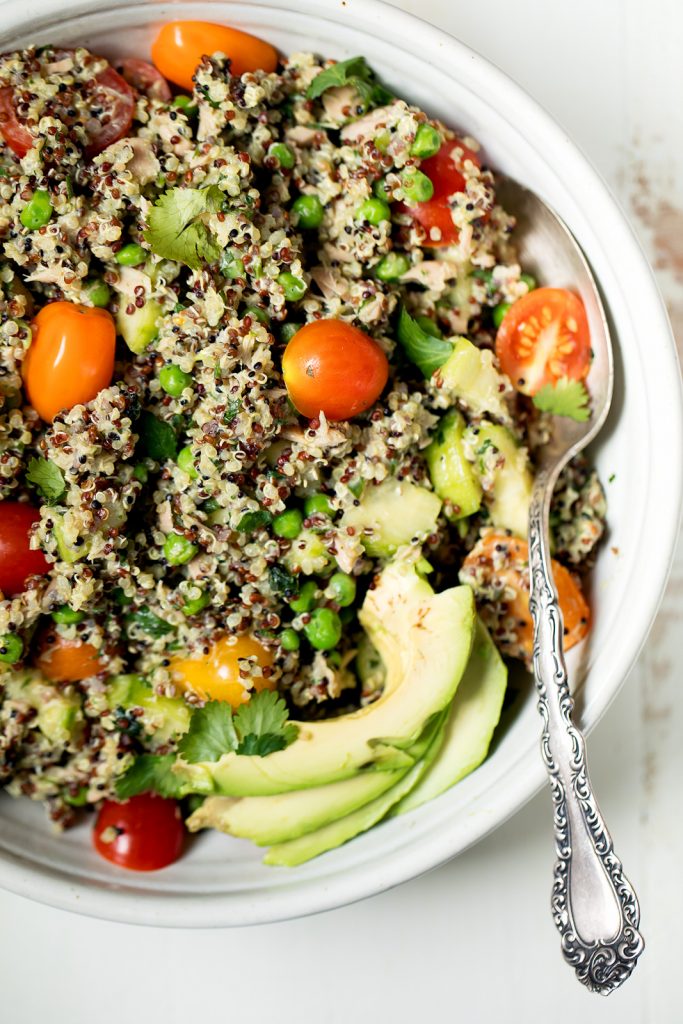 9. Green Goddess Tuna Quinoa Salad
Ambitious Kitchen's green goddess tuna quinoa salad is the perfect way to get tuna in your spring rotation while branching out from traditional tuna salad. Tri-color quinoa is so pretty and nutritious and pairs perfectly with tuna, veggies, and green goddess dressing.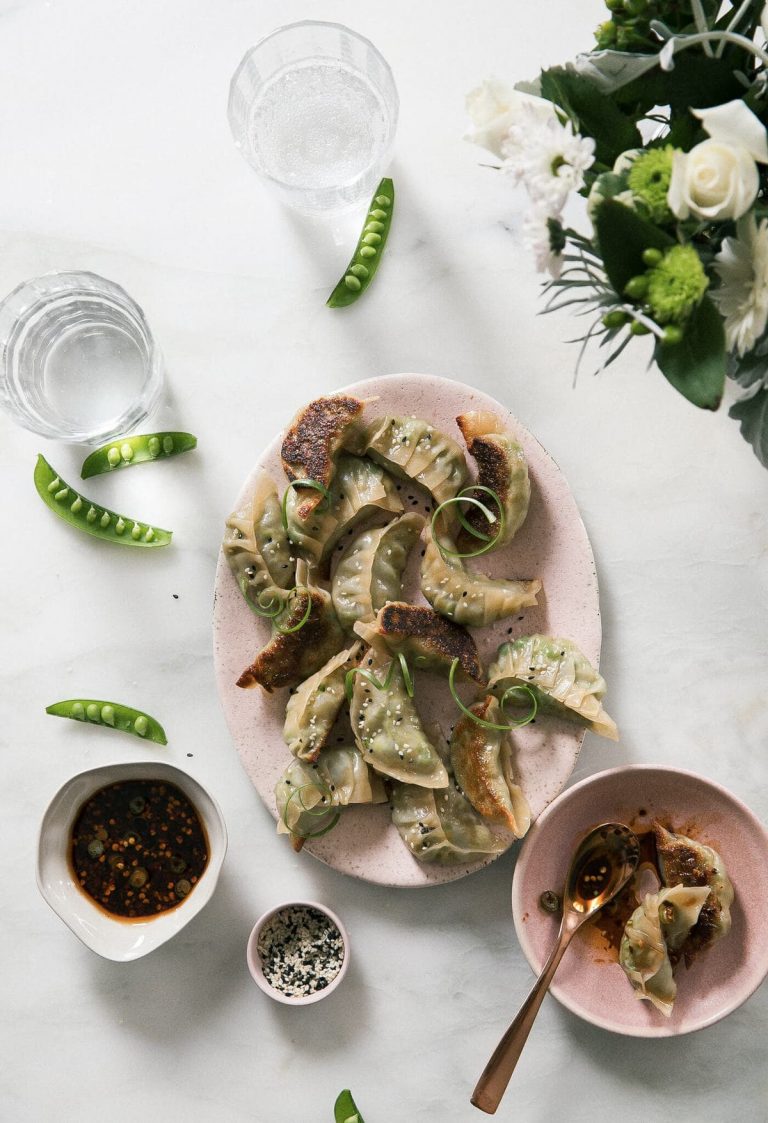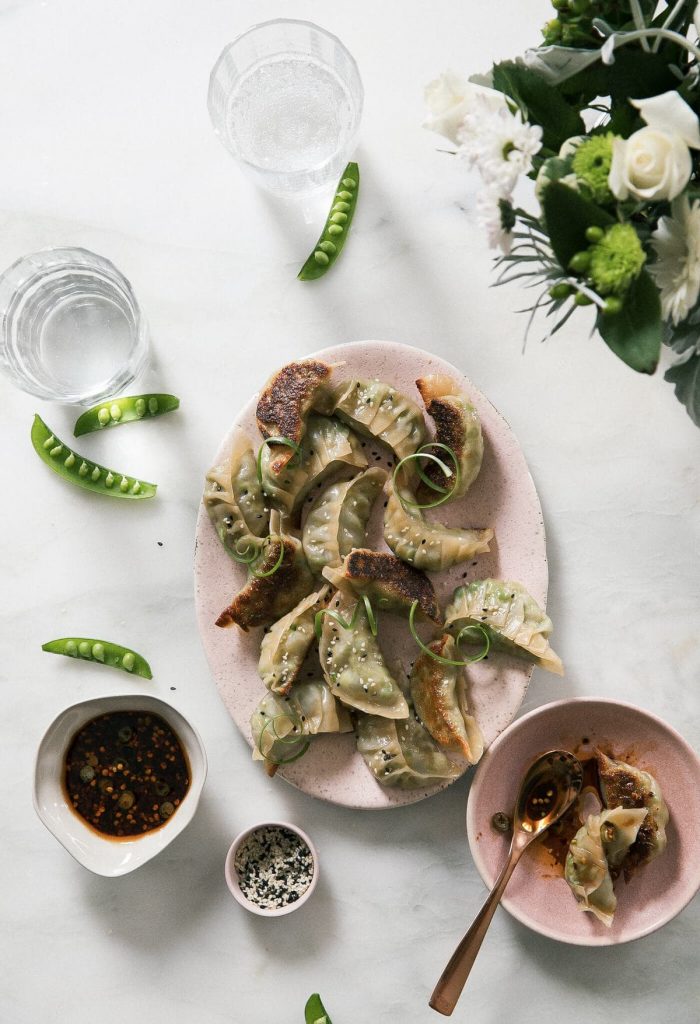 10. Spring Vegetable Pot Stickers
I love the concept of customizing standard dishes like pot stickers for different seasons. A Cozy Kitchen's vegetable pot stickers feature peas and leeks and are perfect for spring. I guarantee that you already have almost everything you need in your pantry and fridge to make this recipe right now.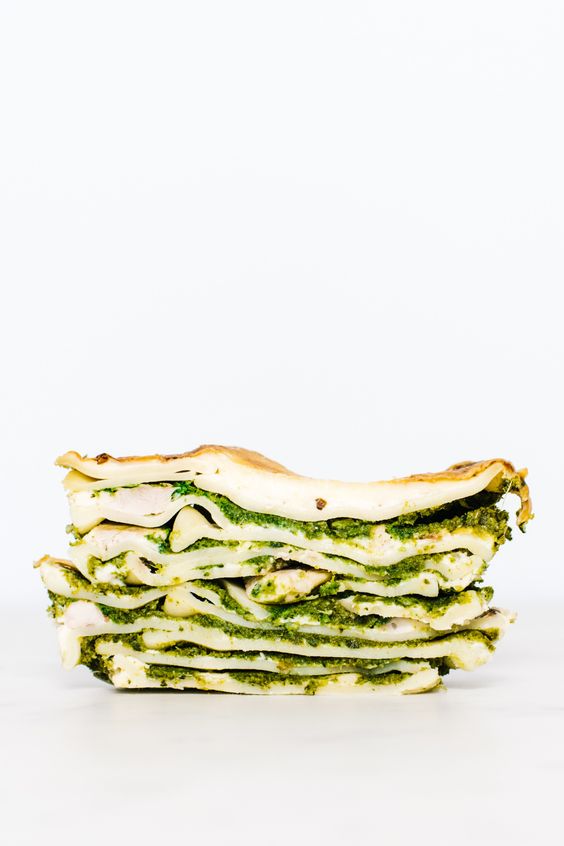 11. Chicken & Spring Vegetable Lasagna
I am a Food Blog's chicken and spring vegetable lasagna is packed with so much cheese and flavor that you won't even realize you're eating a ton of vegetables. You puree the vegetables, so they layer perfectly with the cheese and chicken.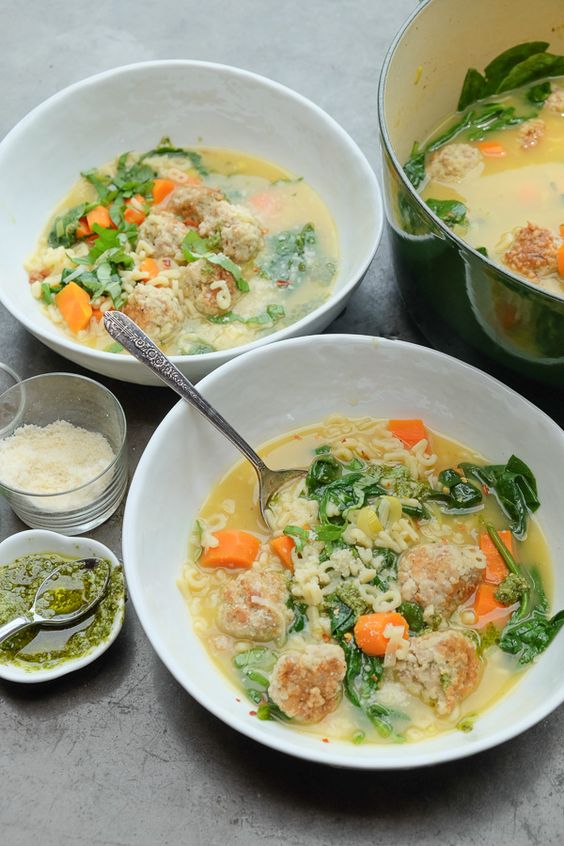 12. Spring Minestrone with Chicken Meatballs
Shutterbean's spring minestrone with chicken meatballs is another ideal spring dish for those chillier days when you don't want hearty winter food but still need something comforting. It's packed with healthy veggies, and the homemade chicken meatballs are the perfect finishing touch.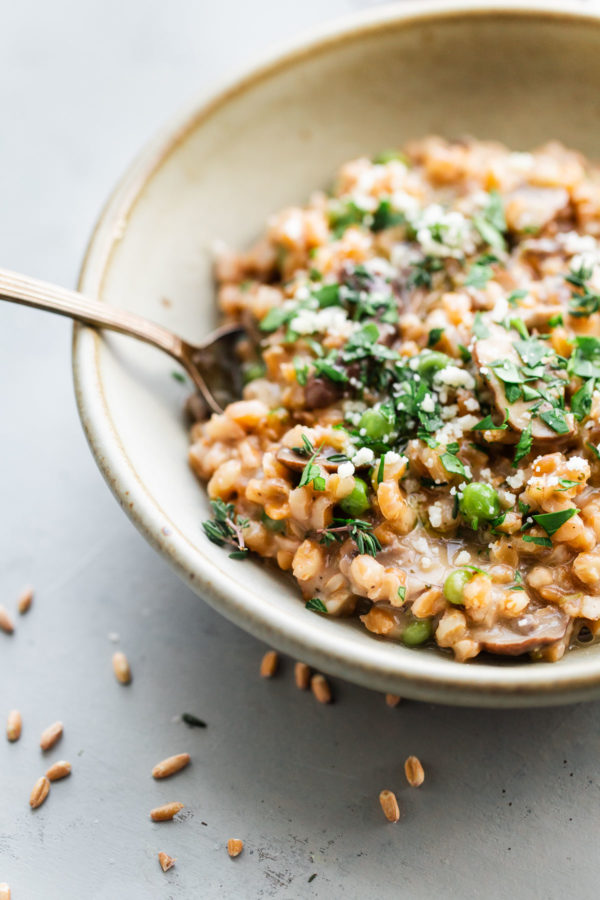 13. Easy Mushroom Farro Risotto
Who doesn't love a no-fuss risotto recipe? A Beautiful Plate's easy mushroom farro risotto involves a minimal amount of stirring. Fresh herbs, Parmigiano-Reggiano cheese, and lemon juice give the risotto the bright, flesh favor you want in a spring dish.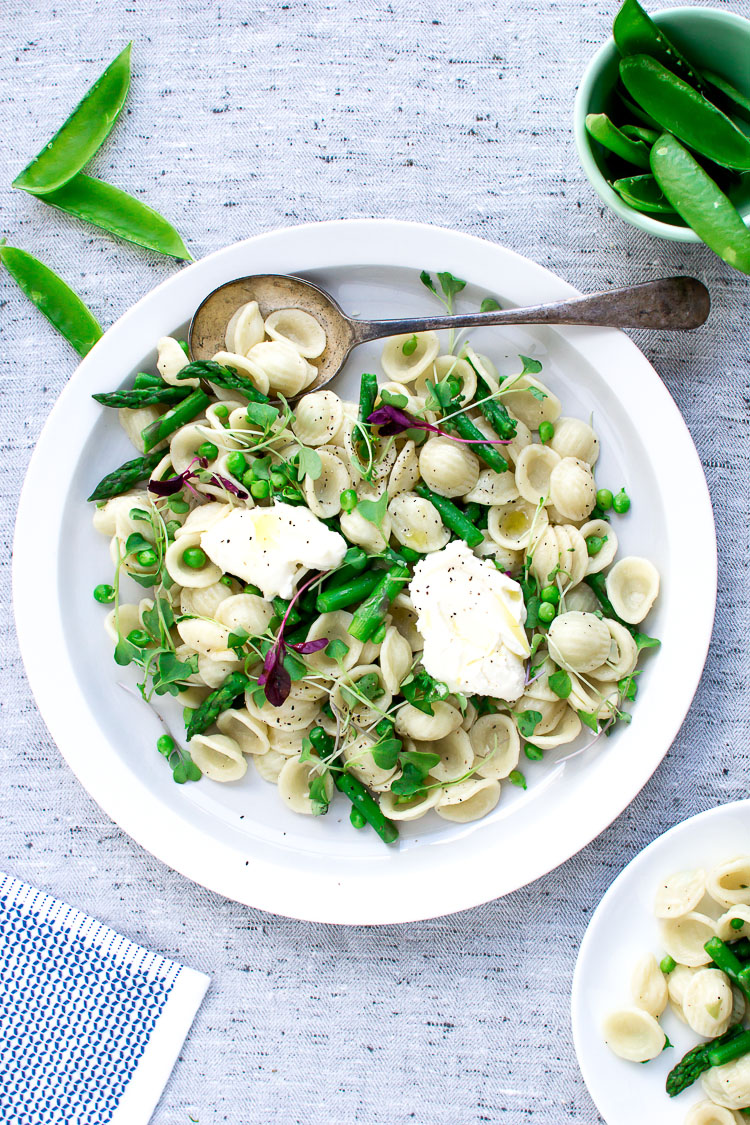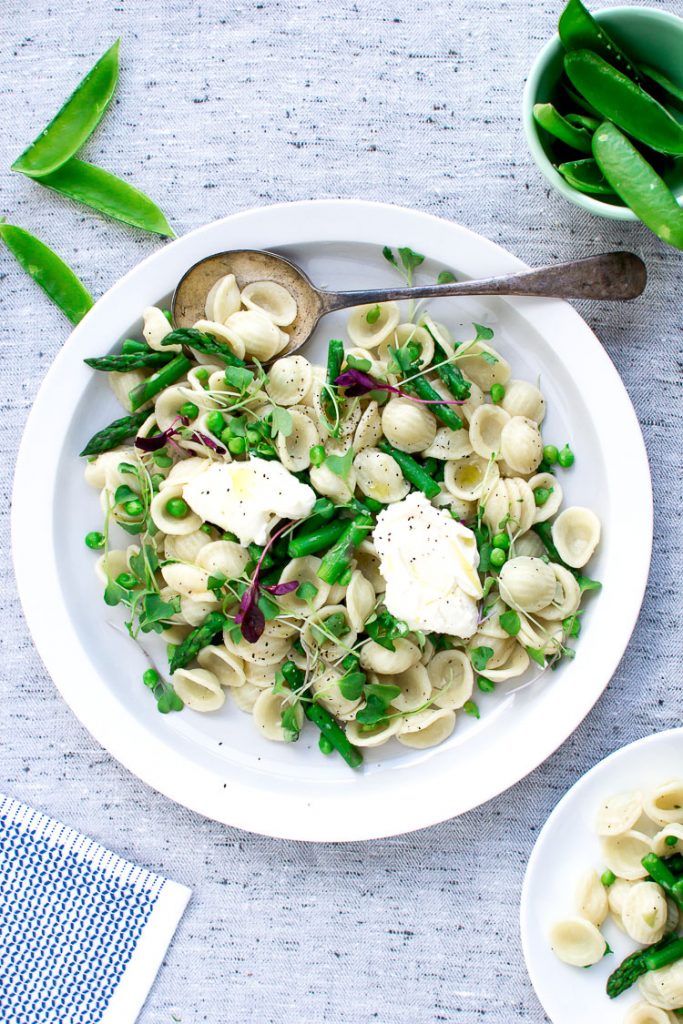 14. Orecchiette with Peas, Asparagus, and Mascarpone
Mascarpone cheese take's Flourishing Foodie's orecchiette with peas, asparagus, and mascarpone up a notch. You're eating a simple spring pasta dish that comes together ridiculously easy, but it feels much fancier. Don't forget the lemon and Parmesan cheese.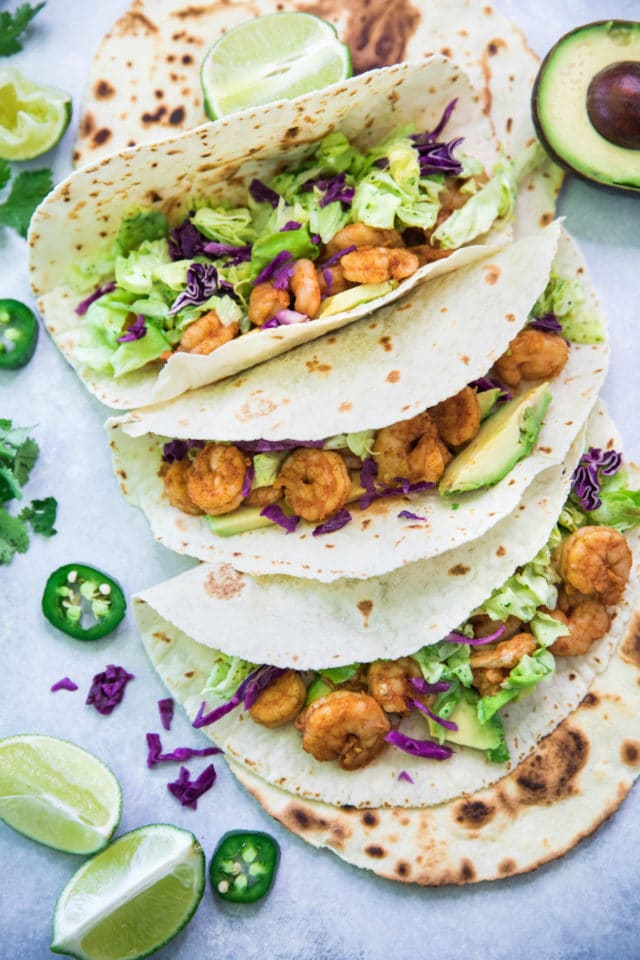 15. Shrimp Tacos with Cilantro Lime Slaw
I'm sure that many of you have classic ground beef and chicken tacos in your regular pantry staple dinner rotation already (I do, too), which is great. I wanted to give you another taco option if you have frozen shrimp on hand. Kim's Cravings' shrimp tacos with cilantro-lime slaw are packed with flavor and come together so quickly.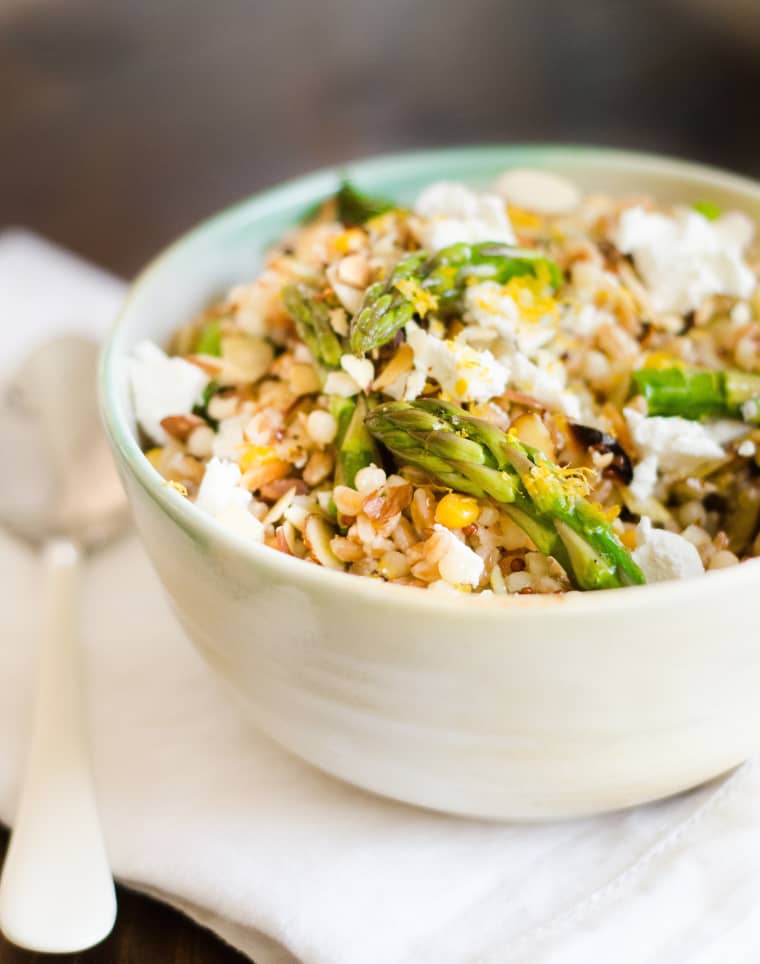 16. Spring Grain Salad with Asparagus and Meyer Lemon
Kitchn's spring grain salad with asparagus and Meyer lemon has the perfect blend of sweet and herbal, paired with farro, pearl couscous, and asparagus. Finish this healthy, flavorful salad with almonds and goat cheese.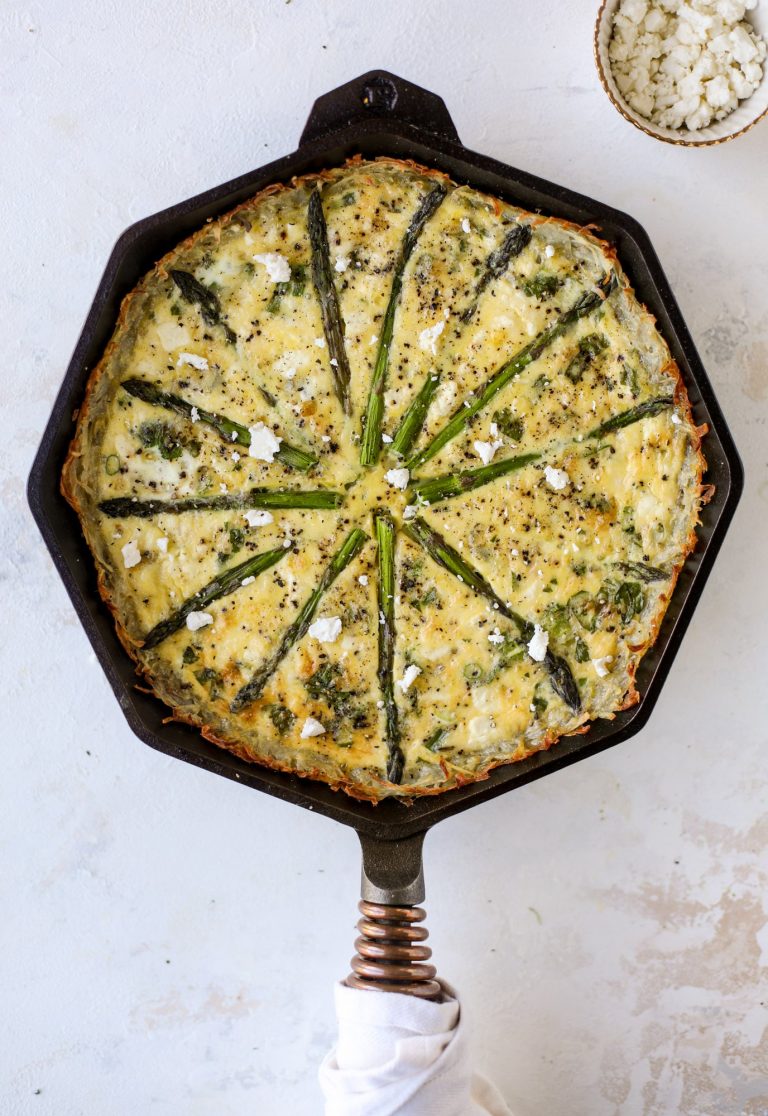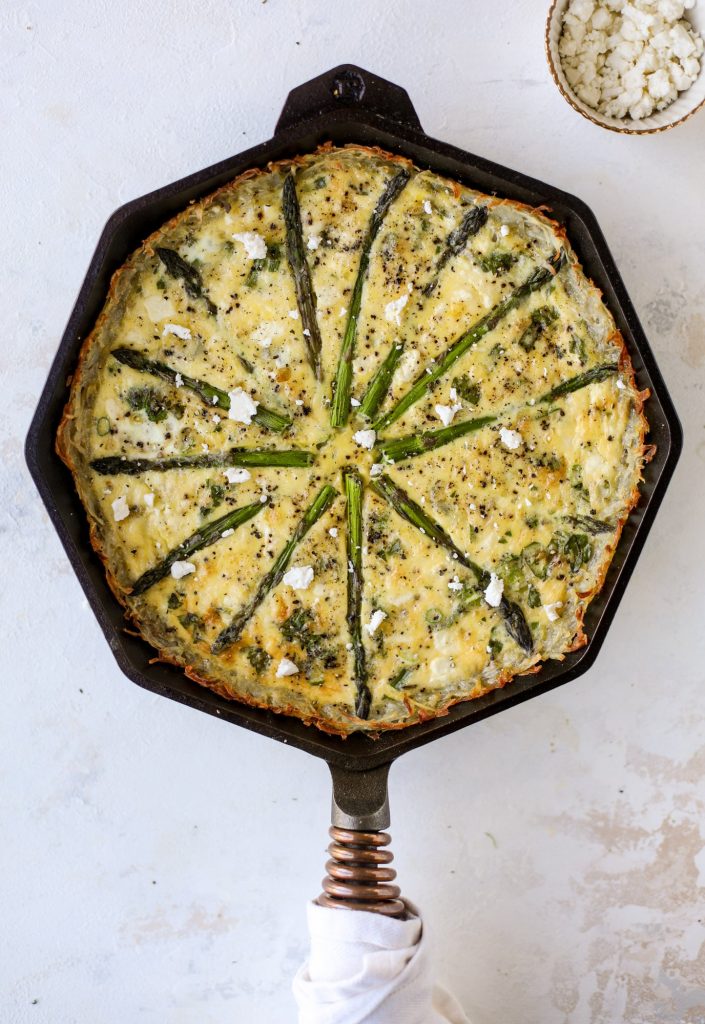 17. Hash Brown Quiche
I know, quiche is traditionally a breakfast or brunch dish. But I love breakfast food for any meal and think that How Sweet Eat's hash brown quiche makes a great spring dinner. The hash brown crust really takes it over the top. You can easily customize this recipe with the herbs, veggies, and cheese you have on hand.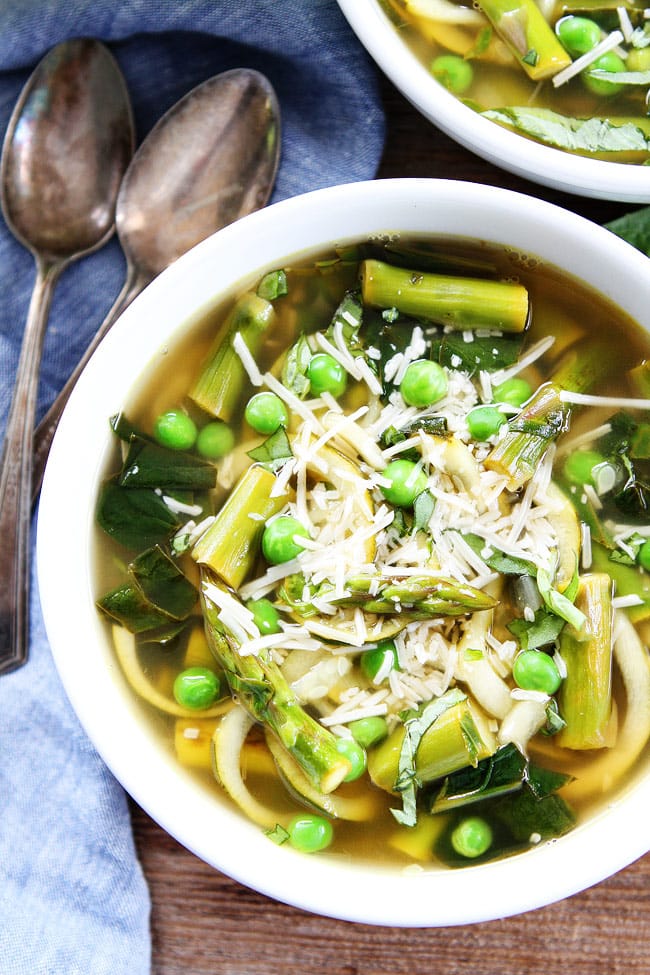 18. Spring Vegetable Zucchini Noodle Soup
Two Peas and Their Pod's spring vegetable zucchini noodle soup is the perfect balance of pantry staples and fresh ingredients. It comes together quickly and is packed with nutrition. Spring soup is ideal for chilly March and April and even May days.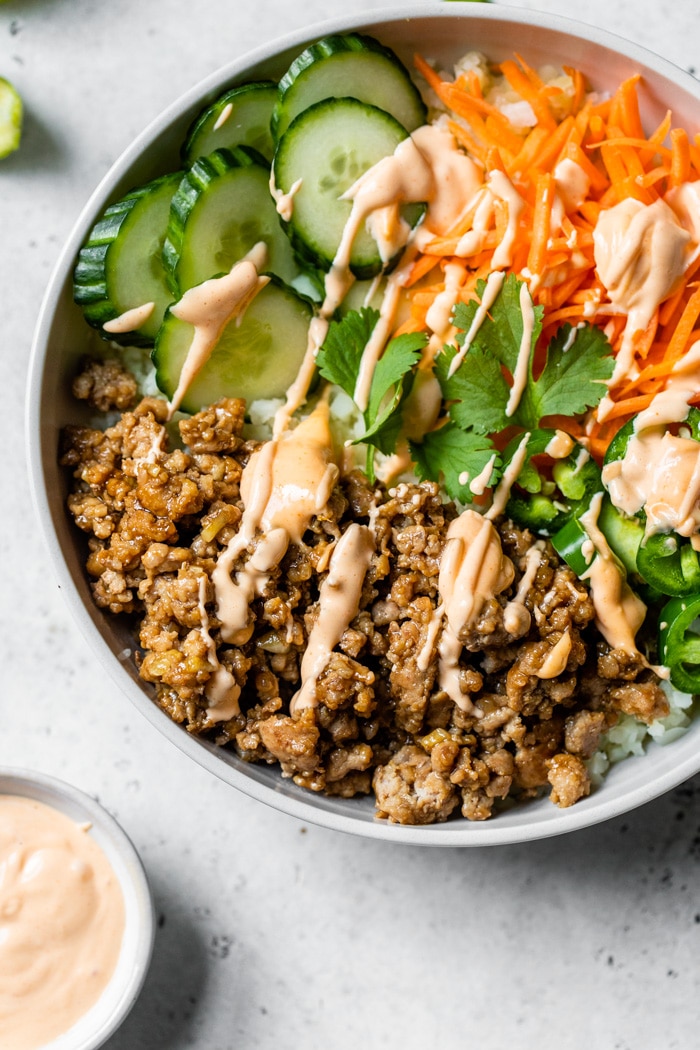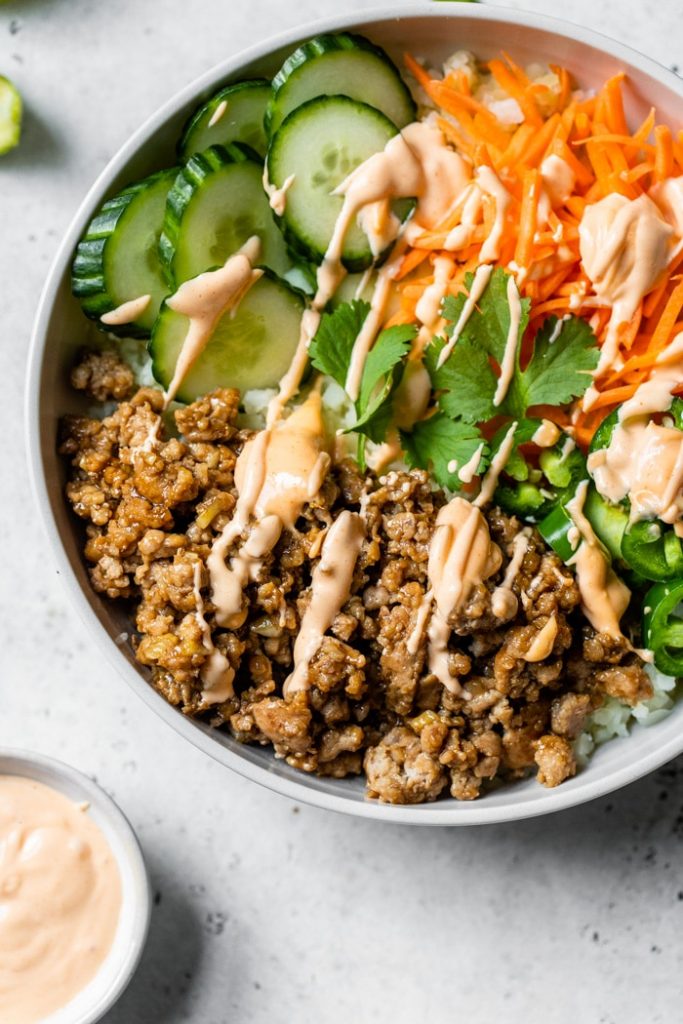 19. Banh Mi Bowl
The Almond Eater's Banh Mi bowl is a healthier version of the Banh Mi sandwiches that we love so much. She uses cauliflower rice but you can easily use rice, quinoa, or a similar base. Choose a meat and then top the dish with lots of veggies. Don't forget the sriracha mayo.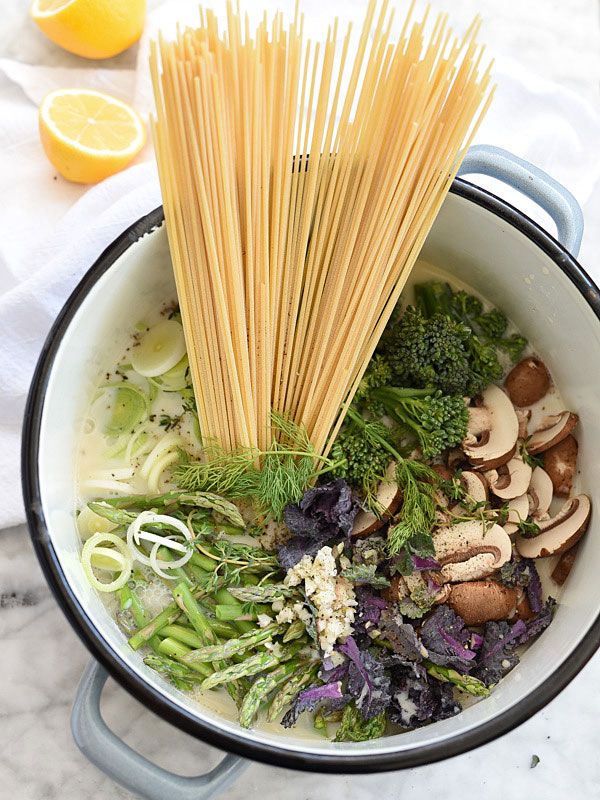 20. One-Pot Skinny Pasta Primavera
One-pot pasta with veggies is one of the best ideas ever and something that should be in your monthly meal rotation. Foodiecrush's one-pot skinny pasta primavera is a natural choice for spring. Heidi lightens it up with milk instead of cream and butter. Fresh or dried herbs work well, and of course, you can switch up the veggies and pasta as needed.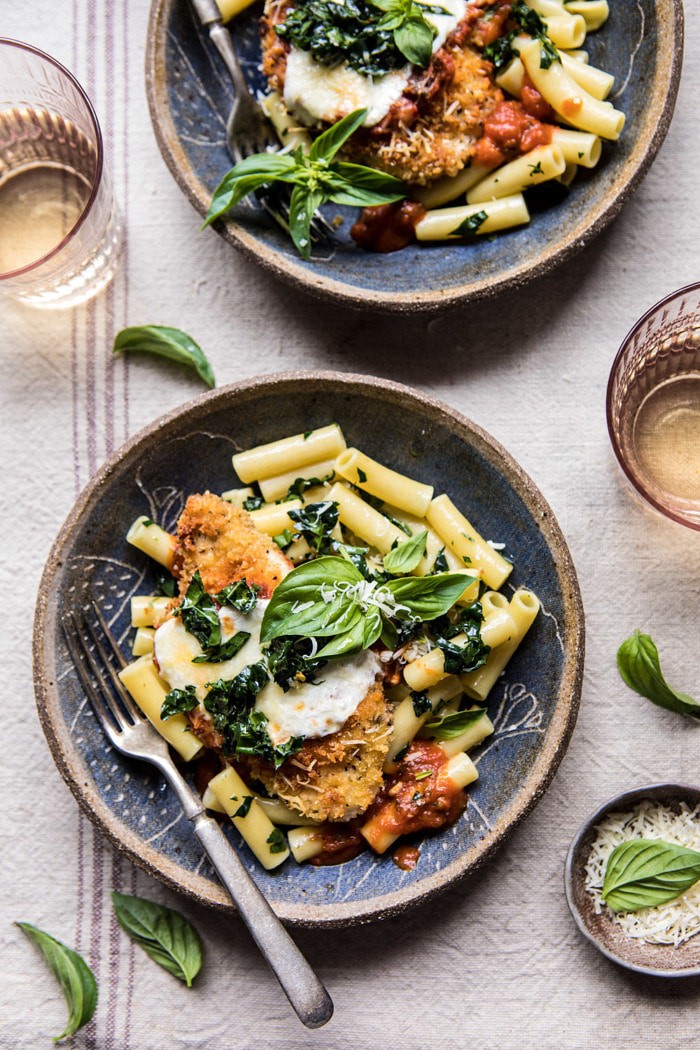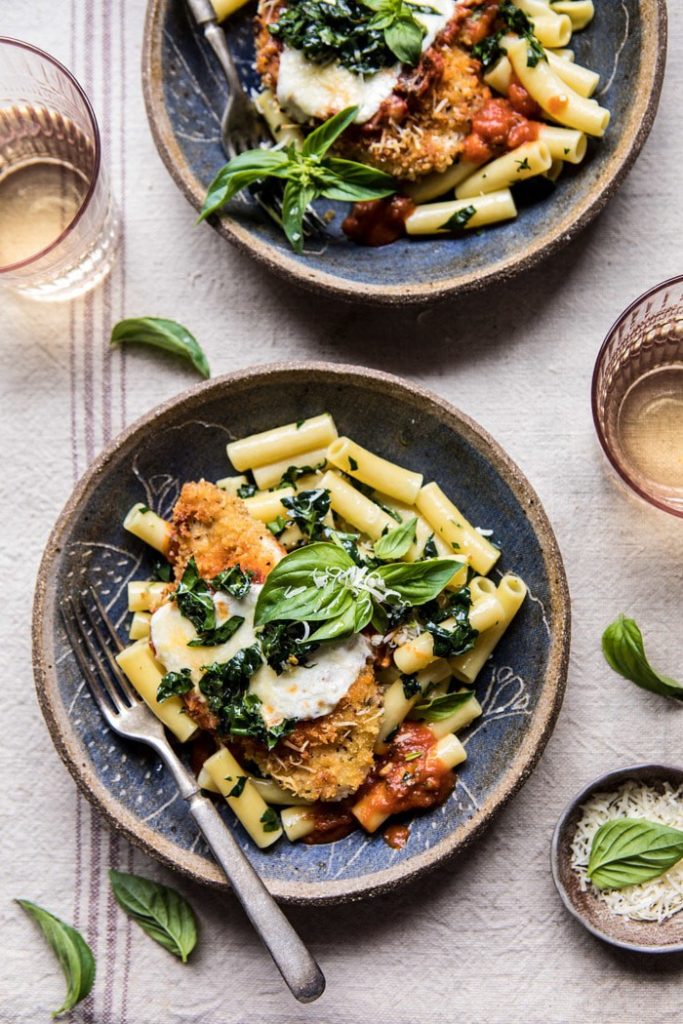 21. Spring Chicken Parmesan with Tuscan Kale Pesto
Half Baked Harvest's spring chicken Parmesan is a unique take on chicken Parmesan, topped with a Tuscan-inspired kale-basil pesto. It's sure to become an instant favorite in your household.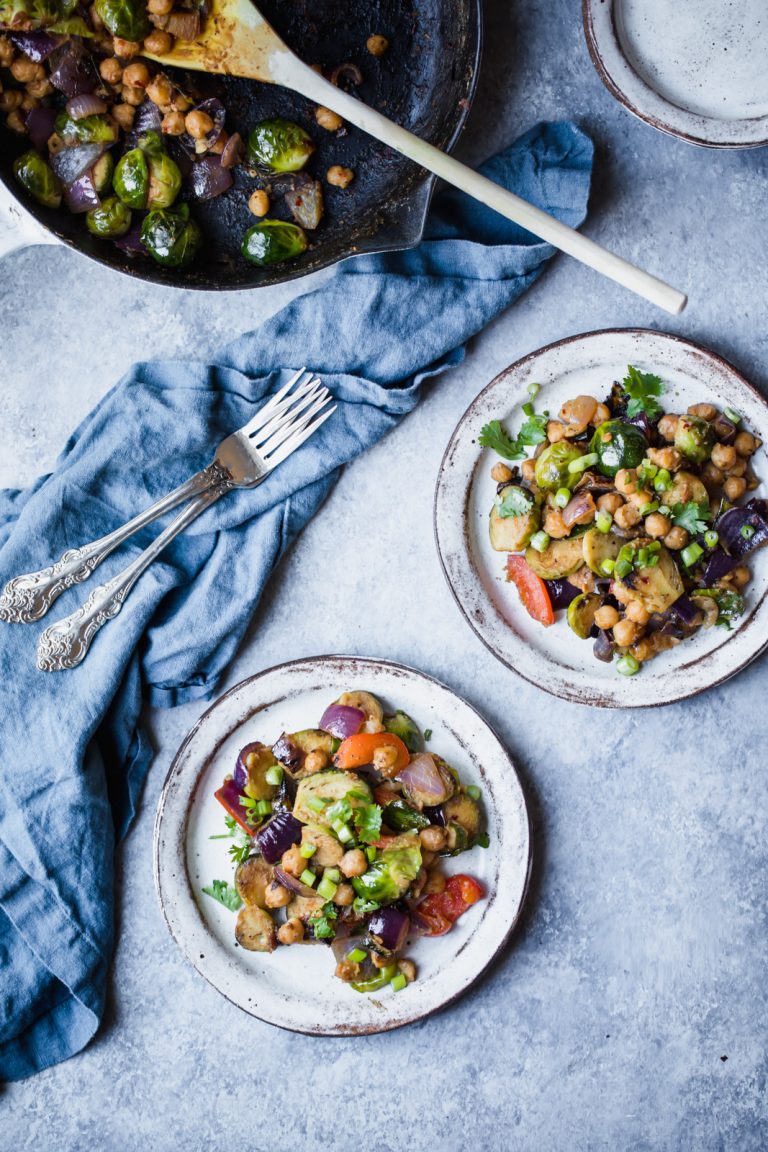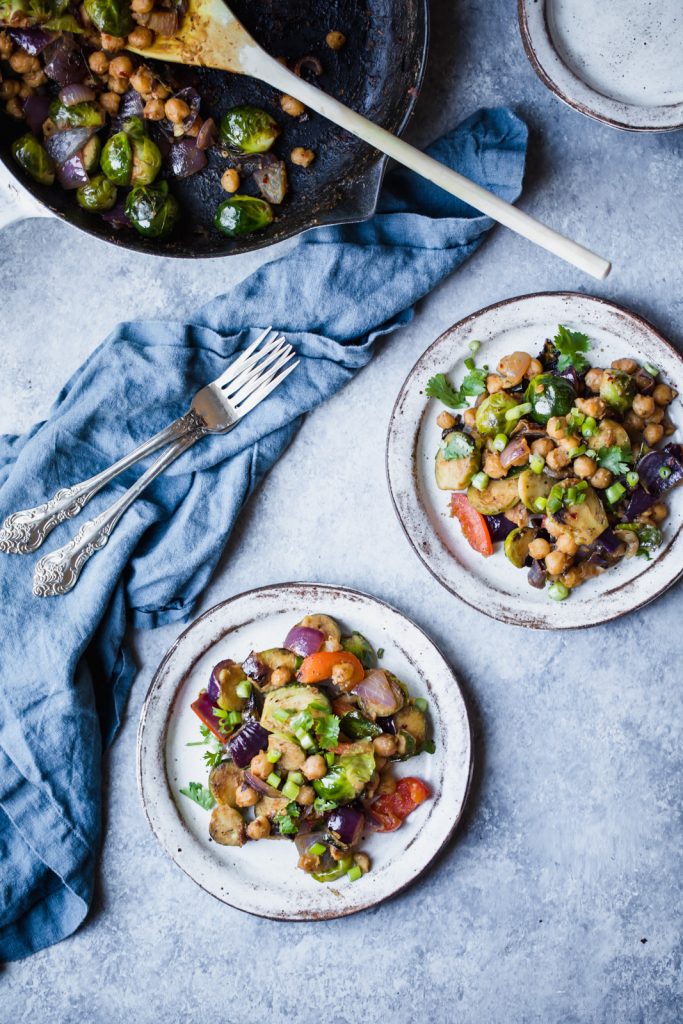 22. Kung Pao Chickpea and Brussels Sprouts Stir Fry
Ambitious Kitchen's Kung Pao chickpea and Brussels sprouts stir-fry is the perfect vegetarian meal when you're already hungry but want to eat healthily. It's so easy to make and packed with flavor.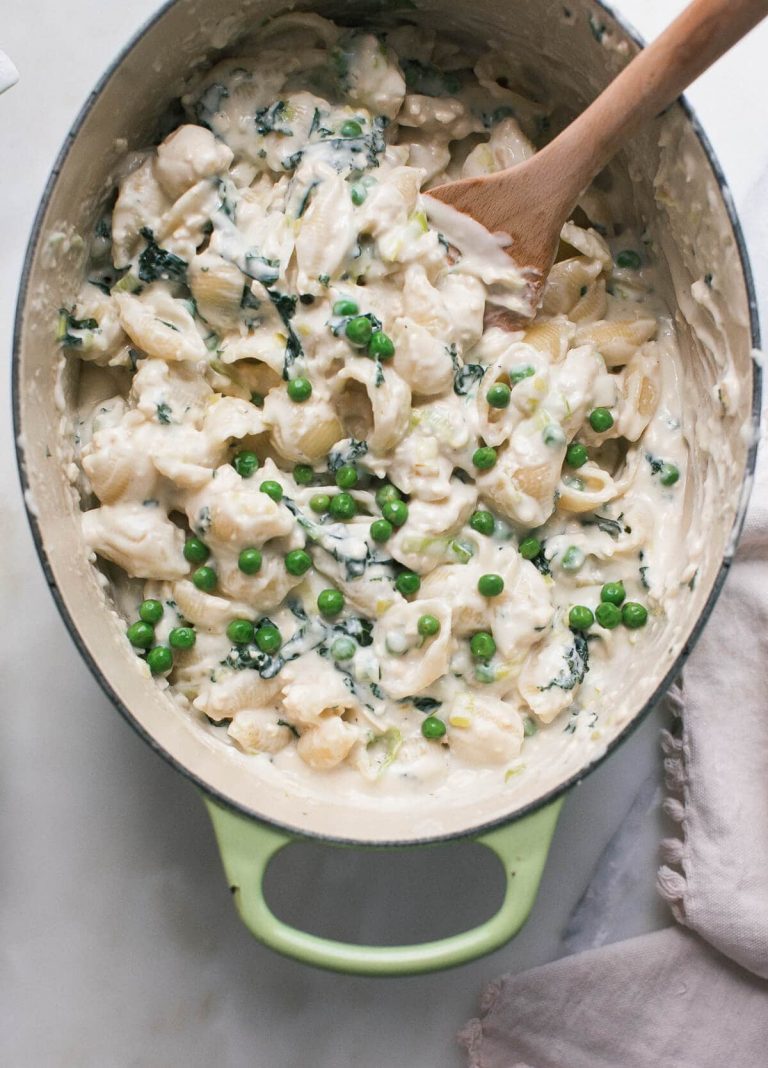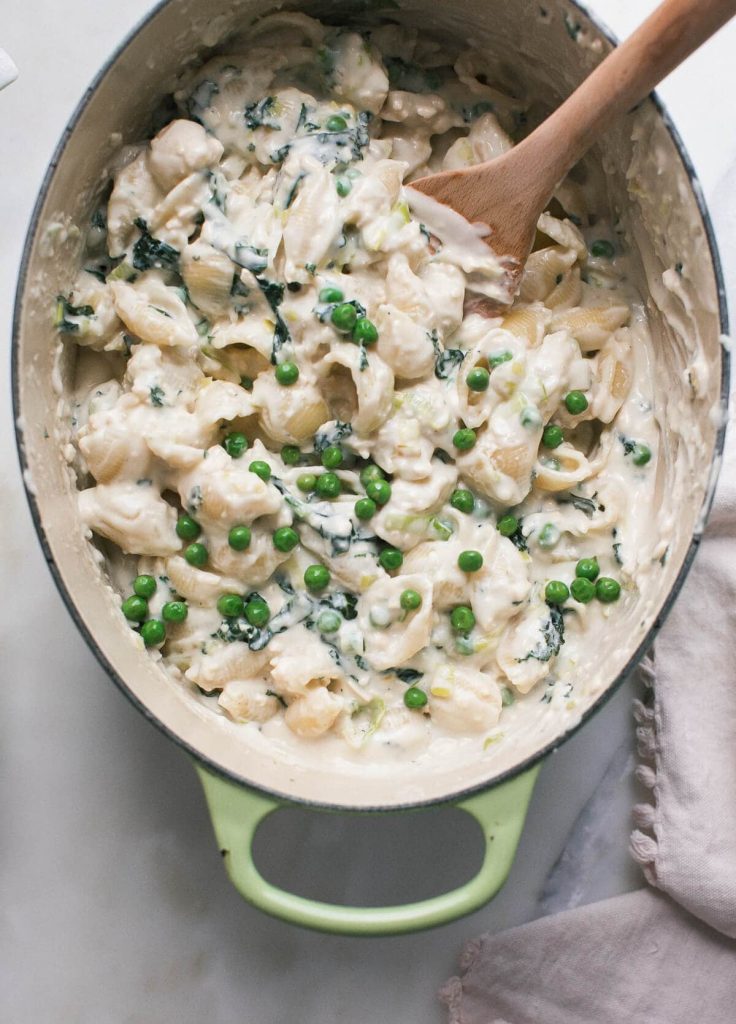 23. Creamy Smoked Gouda Stovetop Macaroni and Cheese
There are a ton of homemade baked and stovetop macaroni and cheese recipes, all of which are perfect for spring pantry staple dinners. I wanted to feature a few more unique mac and cheese options, such as A Cozy Kitchen's creamy smoked gouda stovetop macaroni and cheese. Smoked gouda is one of my all-time favorite cheeses. Featuring peas, kale, and leaks, this pasta dish is ideal for spring.
24. Sugar Snap Pea and Carrot Soba Noodles
Cookie and Kate's sugar snap pea and carrot soba noodles is a healthy, gluten-free noodle dish packed with delicious vegetables. You can sub in the vegetables of your choosing, and don't forget the ginger-sesame sauce.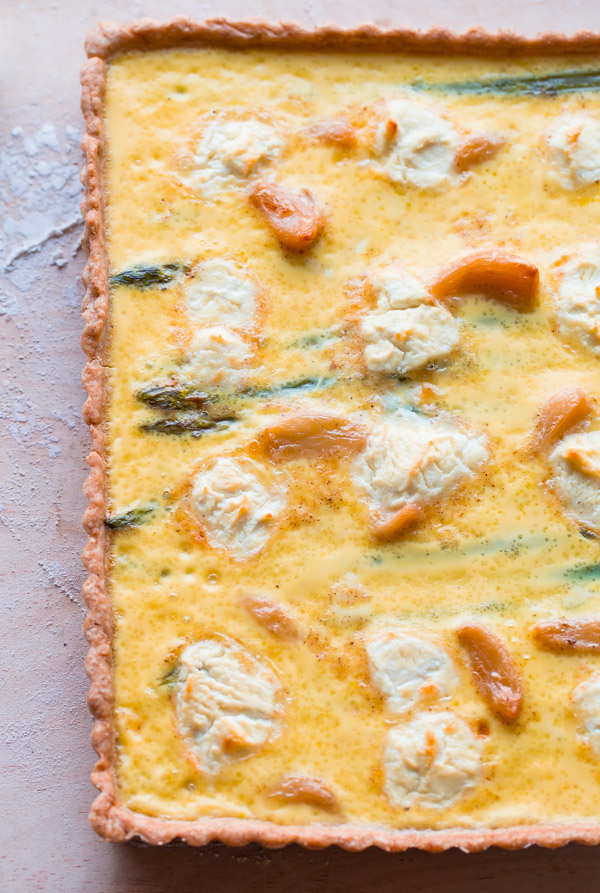 25. Spring Asparagus and Goat Cheese Quiche
A Beautiful Plate's spring asparagus and goat cheese quiche is the perfect combination of healthy and indulgent. It has whole milk (instead of cream), a whole wheat crust, and asparagus as well as lots of goat cheese. I love this quiche recipe for dinner because you can prep the dough and asparagus ahead of time in the afternoon or even the day before.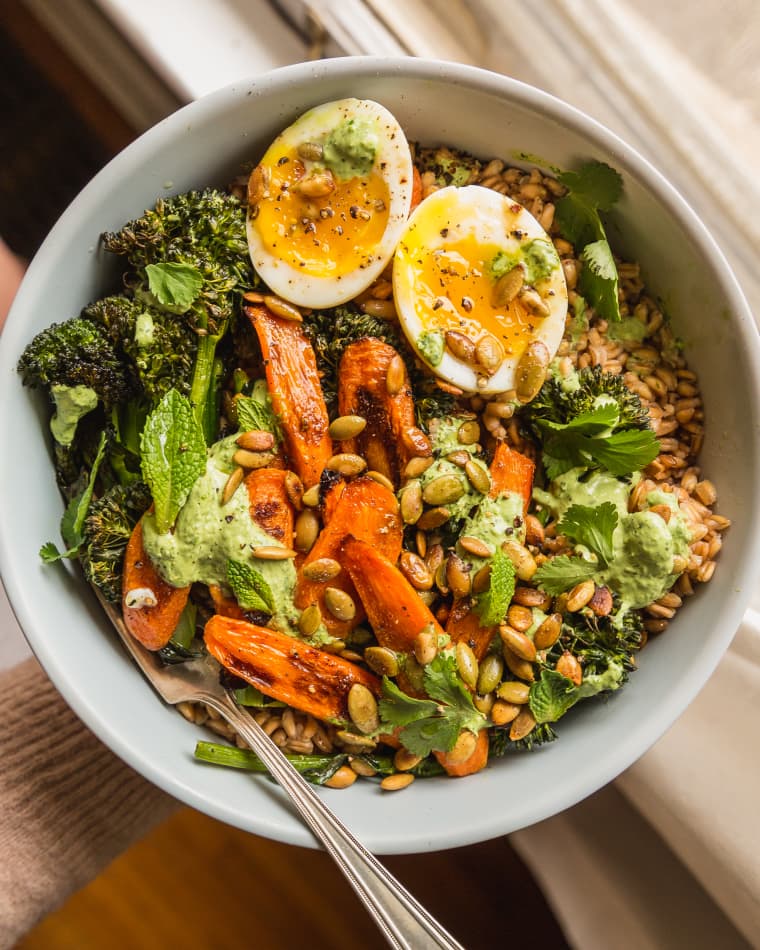 26. Farro Bowl with Carrots, Broccolini, and Yogurt Dressing
Kitchn's farro bowl with carrots, broccolini, and yogurt dressing is the perfect satisfying meal to help you make the transition from winter to spring. After making this grain bowl, you'll want to put the yogurt dressing and a sprinkle of pumpkin seeds on everything you eat.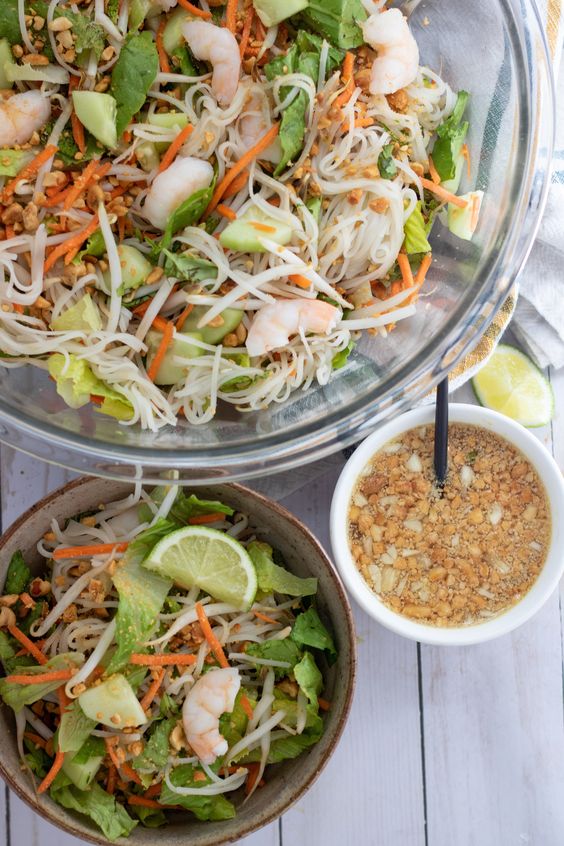 27. Fresh Shrimp Spring Roll Bowls
Wine a Little Cook A Lot's fresh shrimp spring roll bowls are another easy pantry meal to make when you have shrimp on hand. You get all the flavor you love of spring rolls in a bowl packed with salad and topped with a to-die-for peanut dressing.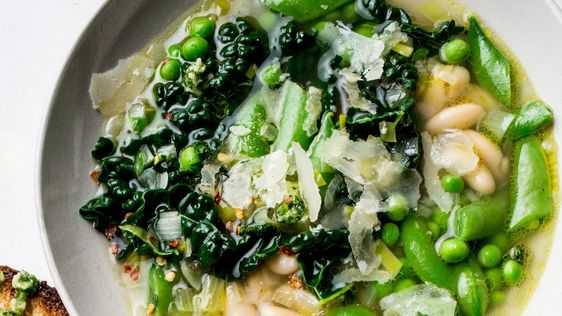 28. Spring Minestrone Verde with Pistachio Pesto
I'm also featuring Bon Appetit's spring minestrone verde with pistachio pesto because you need a couple of spring minestrone options. Make your soffritto and pesto ahead of time, so this soup will come together quickly when you're ready to eat dinner.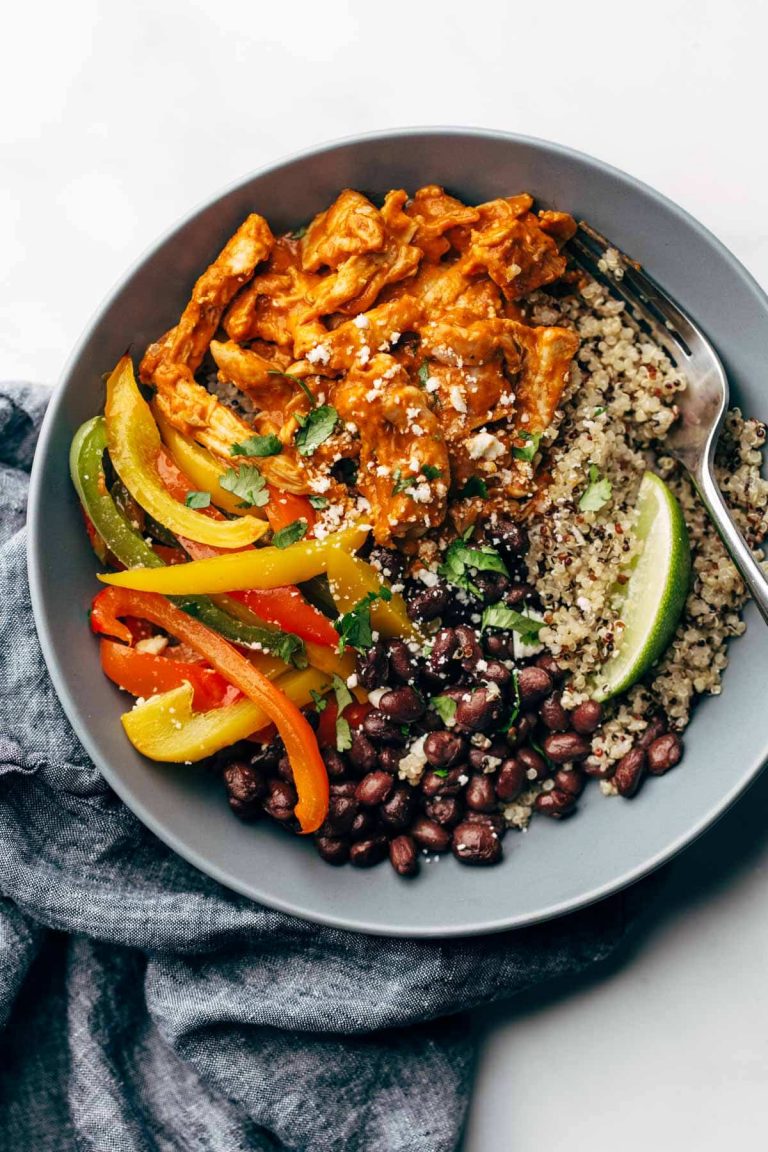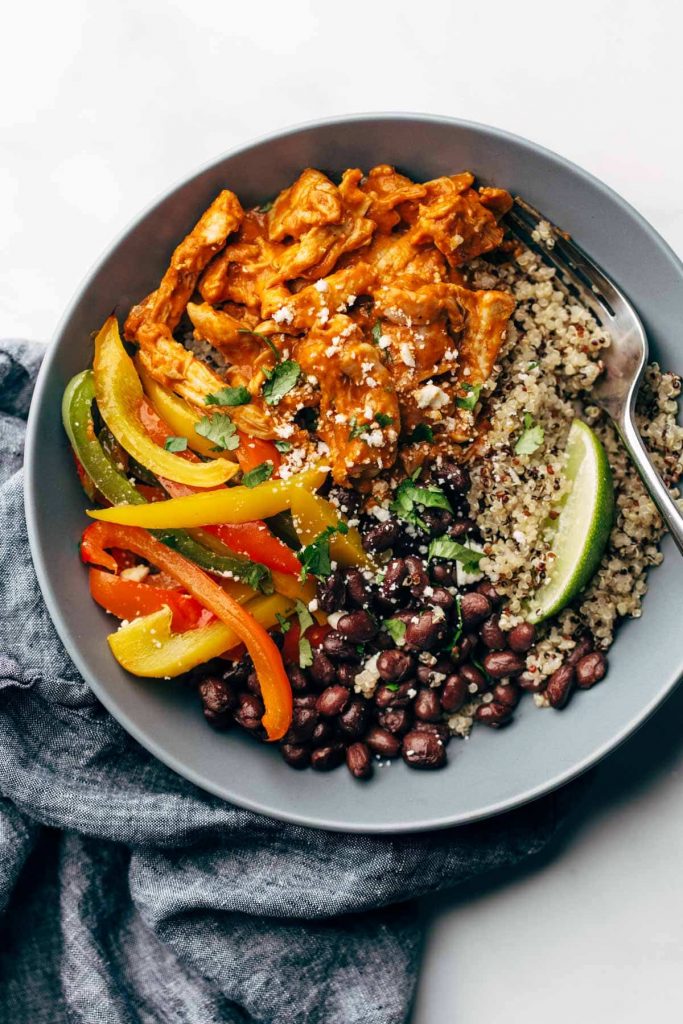 29. Sheet Pan Chicken Tinga Bowls
Pinch of Yum's sheet pan chicken tinga bowls are ridiculously easy and packed with so much flavor. Making the recipe into bowls with beans and quinoa or pasta is a perfect pantry staple option. The chicken and peppers are also great for tacos, fajitas, nachos, sandwiches, or wraps.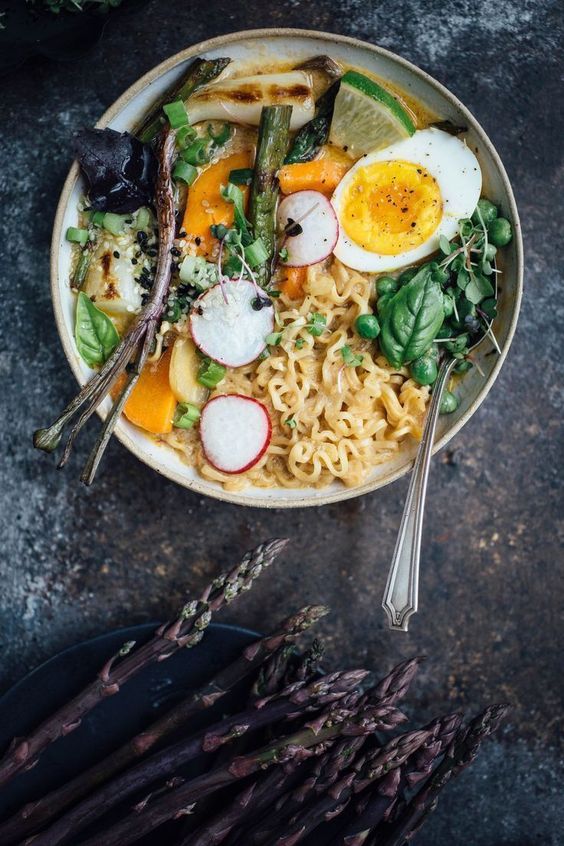 30. Vegetarian Spring Curry Ramen
You already know that I'm crazy about Ramen and make it all the time. It's one of those incredibly versatile bases that you can customize for any season or just based on what you have on hand. Vegetarian Venture's spring curry Ramen is chock full of veggies and of course, noodles in a delicious curry sauce.
Did you make one of the spring pantry staple dinner recipes?

I want to see it! Tag your images #RoseClearfield on Instagram or Twitter or post a photo to my Facebook page.
Pin this post for easy access to the spring pantry staple dinner ideas later!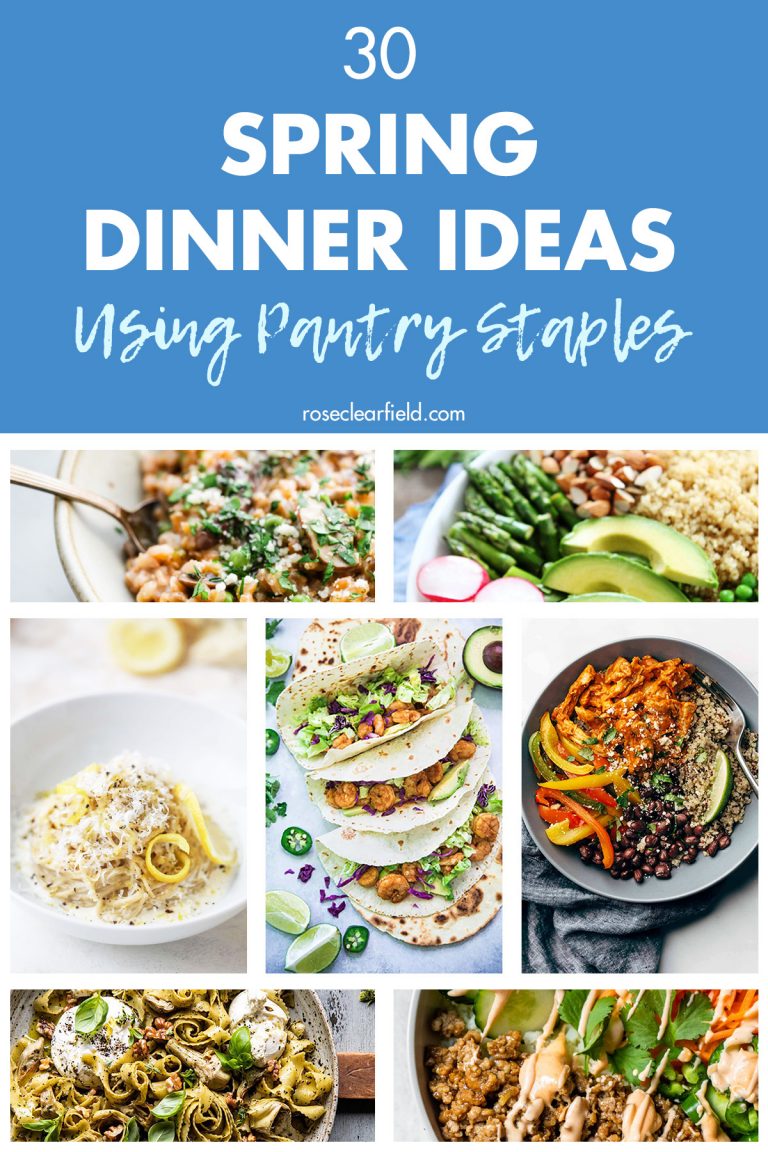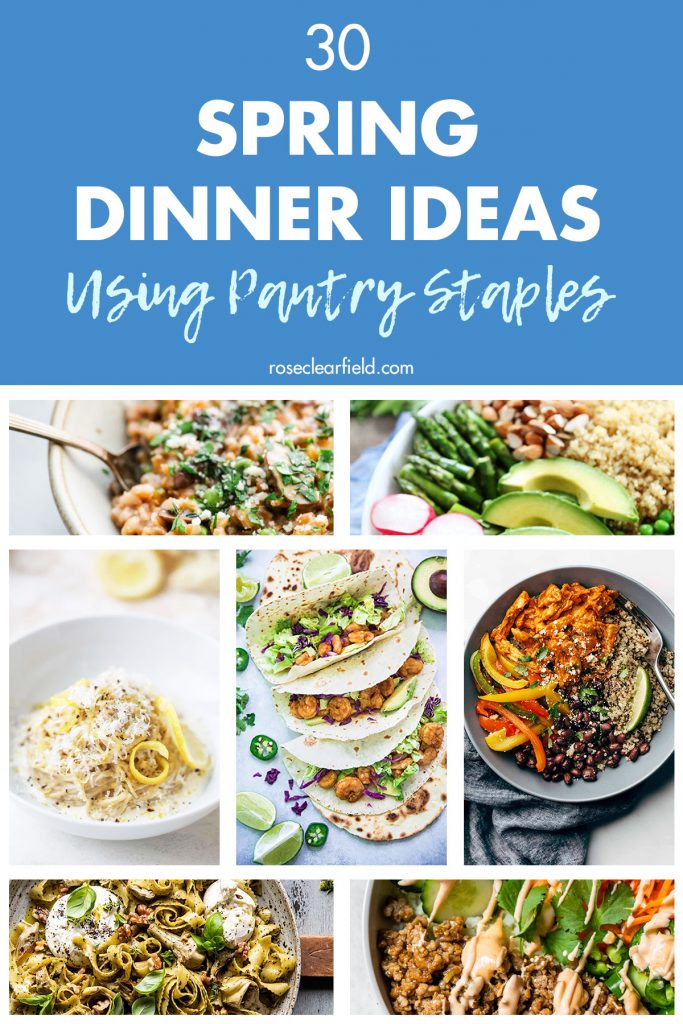 More recipe round-ups: