Easy cheap activities for toddlers at home make it simple to keep toddler- and preschool-age kids entertained for hours on end on a tight budget.
In light of the current situation in the world, I wanted to put together a resource for parents spending a lot more hours than normal at home with their toddler-age kids. Even when you stay at home full-time with kids, your schedule usually includes regular classes and activities as well as outings to the park, library, museums, etc. It's tough to be restricted to your house. You can only spend so many hours doing art projects and watching kid TV shows.
So I've rounded up a staggering 50 ideas for activities for toddlers at home. All of these activities are simple and affordable and don't require leaving your house, which is ideal for many families, particularly in the current environment. There is a mix of educational and fun activities to target fine and gross motor skills with options that will appeal to a wide range of interests and energy levels.
I also have toddler activity round-ups for Valentine's Day, St. Patrick's Day, and New Year's Eve. Many of the activities in these round-ups are easy to adapt for other seasons and holidays as well as daily use.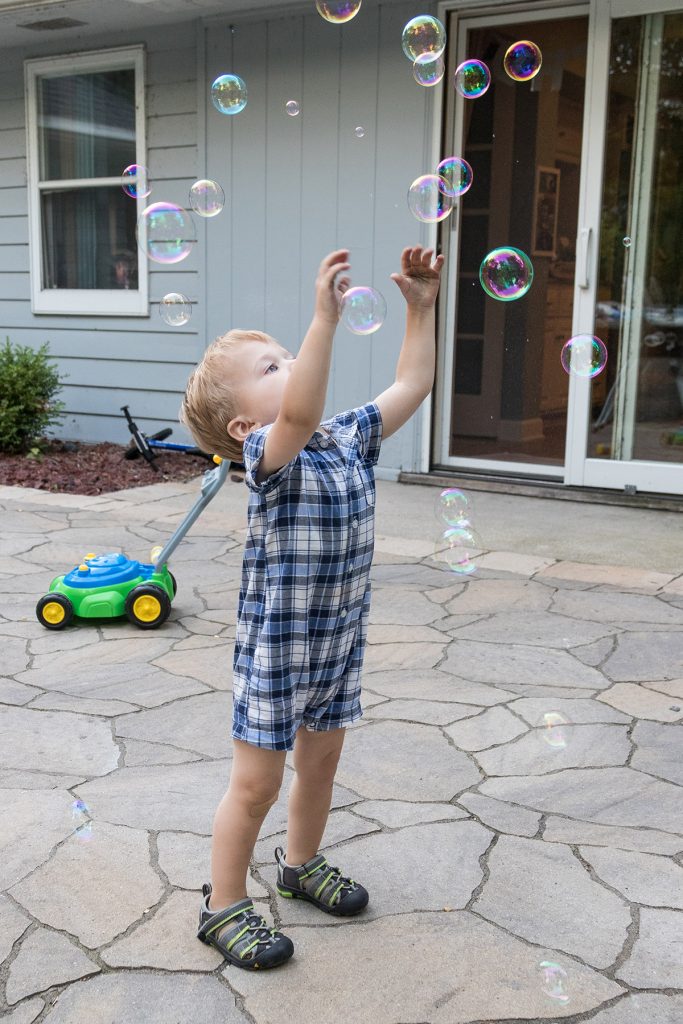 1. Bubbles
I can't even tell you how much my toddler son loves bubbles. You really don't need an organized activity for toddlers to have a ton of fun with bubbles. My top pick for kid bubbles remains the JOYIN big bubble wands. The wands make it easy to produce big bubbles, even for little kids, and you get a lot of high-quality solution at a great price. For toddlers, I also love the Fubbles no-spill bubbles, which really are impossible for little ones to tip.
If you want to take the bubble play up a notch, think about getting a couple of light-up bubble blower wands. My son got his first light-up wand at the zoo, and it was well worth every penny.
2. Flashlights in the dark
Similar to bubbles, you don't need an organized activity for toddlers to have so much fun playing with flashlights. Show them how to turn on the flashlights and turn off the overhead lights. In a matter of seconds, they'll be making up their own games, such as searching for buried treasure or running from a scary monster. I recommend using the most basic flashlights you can find that will minimize the risk of your toddlers blinding themselves.
3. Water in the sink
Nothing will make your toddler happier than letting him play in the kitchen or bathroom sink. Clear out the sink, fill it up with water, and let him/her go to town in it. Sometimes I'll leave the water running on a trickle for a while. We don't have any special toys for sink play. Typically, a few measuring cups and measuring spoons keep my son happily entertained for minutes on end. Bath toys are perfect for sink play as well.
4. Blanket fort
Making a blanket fort doesn't need a lot of explanation, right? Set up a blanket fort wherever it will work best with furniture and blankets. Sitting in a blanket fort makes the most basic toddler activities, such as reading books and eating snacks, infinitely more fun. If you want to take a blanket fort up a notch, string up some Christmas lights.
5. Wimmelbooks
Wimmelbooks are like Where's Waldo for little kids. Each page has a detailed picture with tons of fun items for kids to find and count, such as balloons, police cars, and surfboards. There are currently six Wimmelbooks with two more releasing this spring.
6. Picnic in the living room
When it's too cold to have a picnic outside, have a picnic in the living room. Spread out a blanket, and enjoy your favorite picnic foods, right in the comfort of your own home. You may even have more fun than you would with a regular picnic, as you won't have to deal with wind or bugs or hauling home dirty food items.
7. Put on Halloween costumes
I first published this article in March. My son is still going strong wearing his most recent Halloween costume on a weekly, if not daily, basis. If you haven't had a dress-up play activity in a while, extra time at home is the perfect excuse to pull out old Halloween costumes. If kids aren't excited about their most recent costumes, have them switch costumes or if they still fit, wear costumes from previous years.
8. Bake and decorate sugar cookies
Baking and decorating cookies is a timeless activity that kids love at any age. If toddlers don't have the patience for helping with the baking part, bake the cookies and then let them have fun decorating them. I recommend Bake at 350's perfect cut-out sugar cookie recipe.
9. Take Instax pictures and make a photo display
Toddlers love the instant feedback of seeing themselves in pictures that were just taken. They'll love the thrill of watching Instax pictures develop right before their eyes. There are so many fun ways to create hanging photo displays that are perfect for Instax pictures. Toddlers will have endless amounts of fun hanging and re-hanging the pictures (and carrying them all over the house).
10. Package up artwork to send to grandparents
When you find yourself with piles of your kids' artwork that you don't want to throw out but don't have room to store, choose a handful of pieces to give to grandparents and great-grandparents. Kids will have fun helping you choose specific pieces to send to each grandparent, packaging them up in envelopes, and writing notes to accompany the pictures.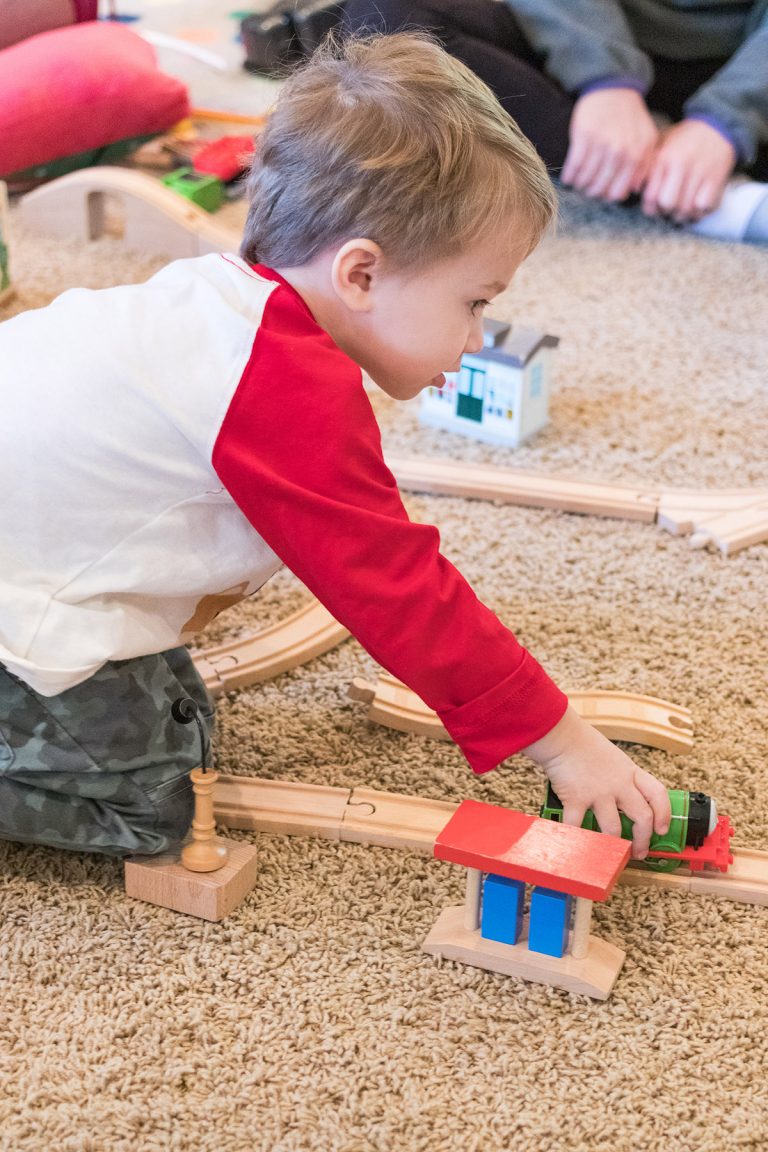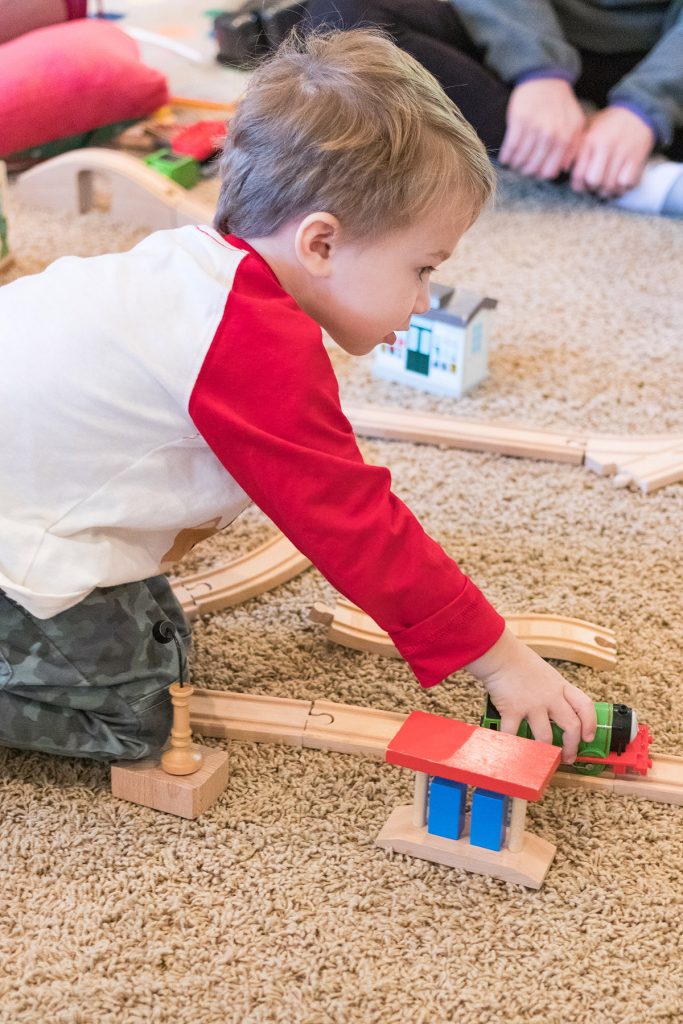 11. Build a huge train track
My son is in the middle of a huge train phase. Nothing makes him happier than having a huge wooden train track for his Thomas trains. I understand that you don't always want a huge train track taking over your entire house. When you're stuck inside for days on end, build that enormous train track right in your living room. It will be well worth it for the hours of entertainment it will provide.
12. Get creative with cardboard boxes
The next time you have cardboard boxes on hand (which I know you will soon if you don't already, thanks to ordering on Amazon, buying more diapers, etc.), save them and build your toddlers something cool with them. I can't even believe the number of creative cardboard box ideas for kids out there. People make houses, castles, marble/ball runs, tunnels, car garages, domes, washer and dryer sets, and much more.
13. Set up a Little Tikes basketball hoop
A Little Tikes basketball hoop is ideal for a finished basement, bonus room, playroom, or another large area of the house where there's minimal risk of stray basketballs breaking fragile items. I've talked before about how a Little Tikes basketball hoop may not necessarily be every toddler's absolute favorite toy. I do know that it makes for a great kid-adult activity that adults enjoy while hanging out with little kids for long stretches of time.
14. Have a movie night with popcorn
Sometimes you can't beat the classic family activities, and a movie right is no exception. Change into your pajamas early, choose a movie the whole family will enjoy, and make a couple of bags of your favorite microwave popcorn.
15. Camp out in the tent in the living room
Camping out in the living room is a lot more comfortable than camping out in the yard and ensures one or both of you will be able to go to the bathroom in the middle of the night quickly and easily. Just a few ideas for an indoor campout include "making" a fire with cardboard tube logs and tissue paper flames, having s'mores, and reading books by flashlight.
16. Lay down car tape on the floor
Car tape is an easy way to create long roads for cars and trucks anywhere in your house with very minimal effort. When your kids are done playing, simply pull it up without leaving any residue behind. I like the tape that I linked here because it's extra wide to accommodate a larger variety of vehicles.
17. Make a DIY box car wash
The DIY box car wash is one of the best shoe box ideas I've seen in a long time. An old tissue box or shoebox works great. It's such an inexpensive project that will make playing with toy cars infinitely more fun. The best tutorial that I've found is from Craft, Learn, & Play. I also love the pictured image, which you'll find on Pinterest, but I can't find an original source for it.
18. Go on a nature scavenger hunt
A nature scavenger hunt is a simple way to keep toddlers entertained and engaged on a walk around the neighborhood or even right in the back yard. My friend Natasha has a free printable nature scavenger hunt that's perfect for toddler- and preschool-age children. Follow it up at home with her free printable nature activity pack.
19. Set up an obstacle course
When you can't go to a gymnastics class or open gym time with your toddlers, the next best thing is to set up an obstacle course at home. How We Learn has a great round-up of obstacle course ideas for toddlers with both indoor and outdoor courses and lots of fun themes, such as dinosaurs, animal sounds, and the alphabet. I also love this simple indoor toddler obstacle course from Little Learning Club.
20. Have a dance party
Putting on music and dancing around is one of the simplest ways to help toddlers burn energy while having a lot of fun. Yes, they will want you to dance with them, and no, it doesn't matter if you can dance. They don't care.
21. Paint with cotton balls and water
Painting with water is a great way for toddlers to get the tactile experience of painting without the mess of real paint. If the weather allows for it, take your water painting outside. The water will dry up over time, leaving no mess to clean up. Water painting is also a great activity for a bathtub, sink, or large plastic tub. Cotton balls offer a nice sensory experience for little ones. Regular paintbrushes work great, too.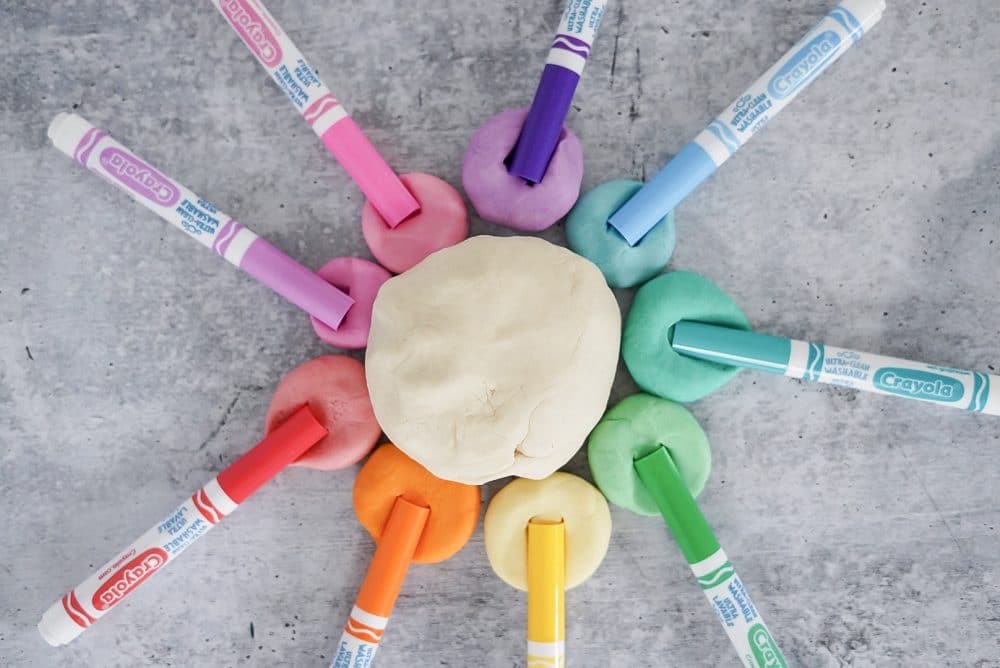 22. Make Playdoh
Homemade Playdoh is a fun activity for parents and kids alike and allows you to customize the colors and scents any way you like. The Sweeter Side of Mommyhood (pictured) has a classic recipe for homemade Playdoh and the best ideas for coloring and scenting the Playdoh.
Edible Playdoh is also very popular. Kimspired DIY's edible Playdoh is gorgeous and smells amazing. I love her tips for making it look just like ice cream.
23. Set up a pretend post office, store, or restaurant
I bought a couple of dollar spot metal mailboxes at Valentine's Day that inspired weeks of pretend mailbox/post office play. You don't need a lot of fancy toys for kids to have elaborate imaginary play scenarios. I love this setup for a pretend post office from Little Lifelong Learners, setups for a pretend grocery store from Paper and Glue and Lovely Commotion, and setups for a restaurant from Pre-K Pages and The Kindergarten Connection.
24. Bowl with Solo cups and a soft ball
Red Solo cups are inexpensive and easy to set up, making them a great material to use for indoor bowling games. Choose a medium or large soft ball that won't be too hard for little kids to aim at the pins and poses minimal risk of breaking anything.
25. Bounce or roll on exercise balls
Large exercise balls are perfect for burning toddler energy while improving their balance, strength, and stability. [Source] Parents and The Inspired Treehouse have great exercise ball games and movements tailored to little kids. Make sure to keep your hands on your child at all times while he/she is on the exercise ball to reduce the risk of injury.
26. Write and illustrate your own book
One of the most fun aspects of toddlerhood is watching children's imaginations take off and seeing the stories in their minds come to life. Have your child dictate a story to you. Then write it out with 1-2 sentences per page, so your child can add illustrations to it. When he/she is finished, punch holes and bind the book with yarn or twine. Your child will love having a book with his/her own story, and you'll treasure the finished creation for years to come.
27. Act out a play
Choose a favorite book that won't be too hard to create costumes for and act it out as a play. If possible, after a few practice runs, put on the play for a small group of family members or neighbors.
28. Set up a balance beam
A home balance beam is perfect for kids who want to practice their gymnastic skills at home or simply need another way to burn energy in the house. I like the beam that I've linked here because it's soft with an antislip bottom for minimal risk of injuries. It also folds up for easy storage.
29. Organize a color sorting activity
Toddlers love to talk about color and explore different colors through their favorite toys. There are so many ways to organize color sorting activities for toddlers. You can simply have them sort small objects into cups or you can turn the color sort into a game, such as feeding the fish, bringing home the bears, or sorting the mail.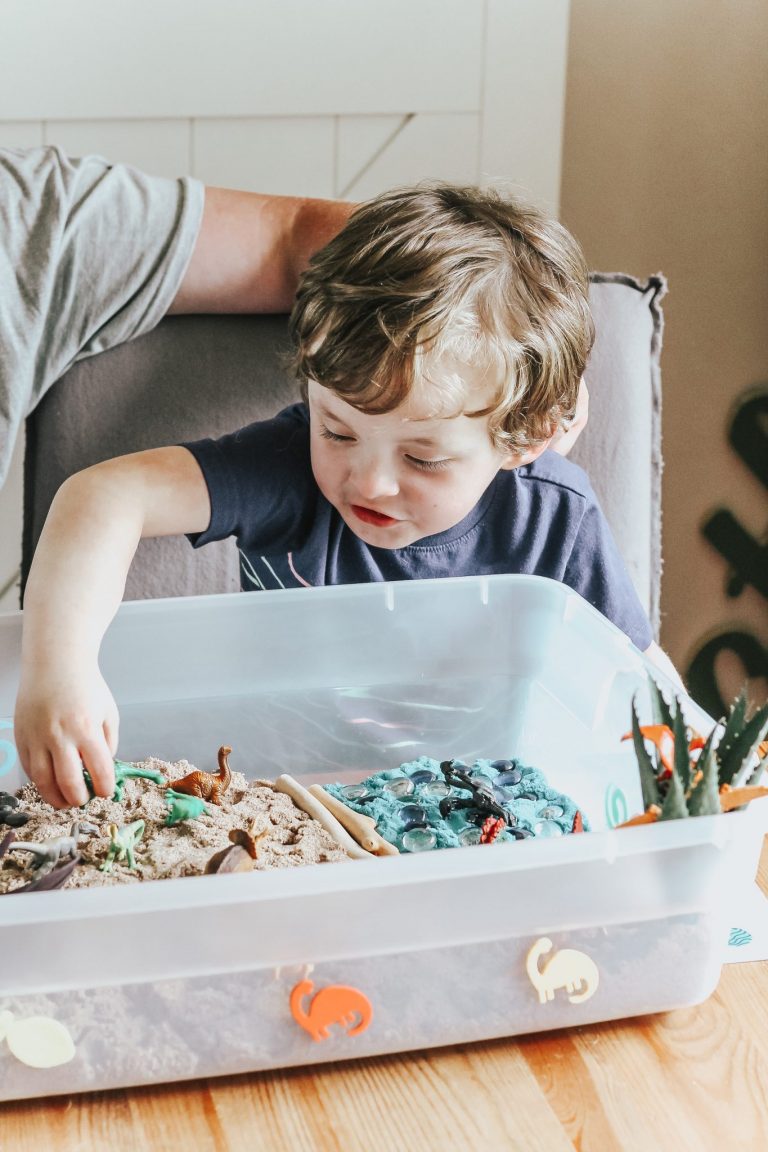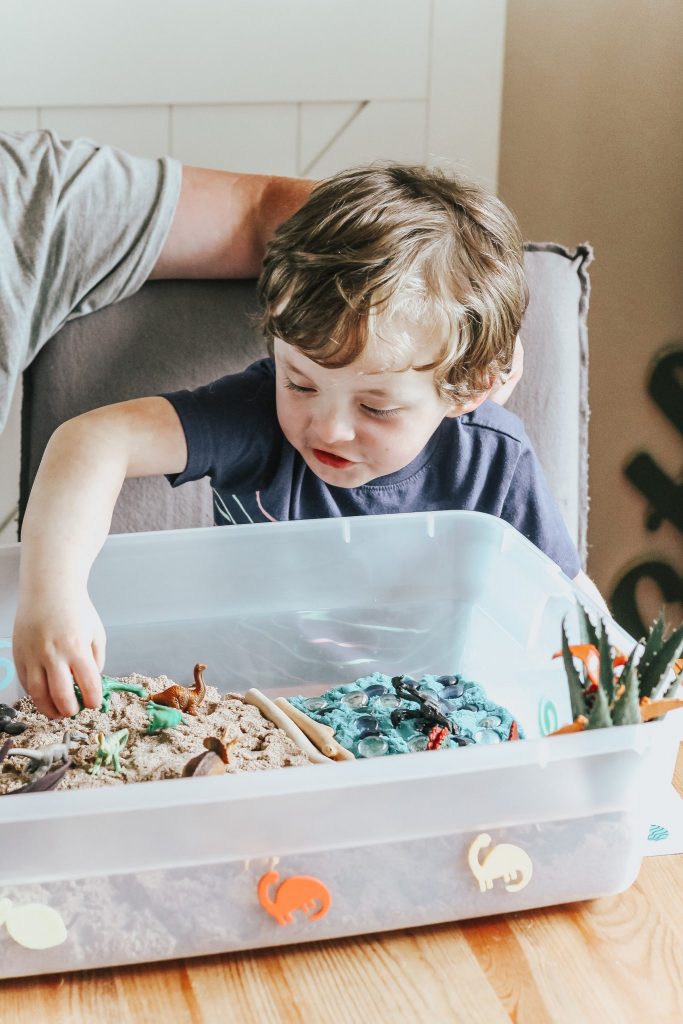 30. Make a sensory bin
Sensory play is such an important part of early learning. [Source] There are numerous ideas for toddler sensory bins. You can find bins themed around just about any season, holiday, or interest, such as dinosaurs (pictured), farm animals, and ice cream.
31. Set up a pom pom tube drop
Busy Toddler's simple pom pom tube drop is an easy way for kids to work on fine motor skills while having a lot of fun with pom poms. I have seen multiple setups of this activity. I love Busy Toddler's setup because she tapes the cardboard tubes to a piece of foam board as opposed to directly to the wall. You'll be able to use the activity for longer and move it around the house.
32. String beads or buttons
Many toddlers love the tactile experience of stringing beads and buttons and will spend minutes on end sorting and re-sorting and stringing and re-stringing their favorite beads and buttons. The bigger the beads and buttons, the better. Amazon has a nice selection of both large plastic buttons and lacing beads for toddlers.
33. Pop bubble wrap
I can't even tell you how much toddlers love popping bubble wrap, specifically stomping on bubble wrap. Put on some music, and urge your toddlers to stomp on the bubble wrap in time to the music. If you don't have bubble wrap on hand or leftover from a package, it's well worth ordering a roll for some indoor toddler entertainment.
34. Complete a wooden blocks matching activity
You can use any small wooden blocks set to make Toddler at Play's wooden blocks matching activity. Simply use a marker to trace the wooden blocks on a piece of cardstock. Then have your toddler find the blocks that fit in the corresponding spaces on the cardstock.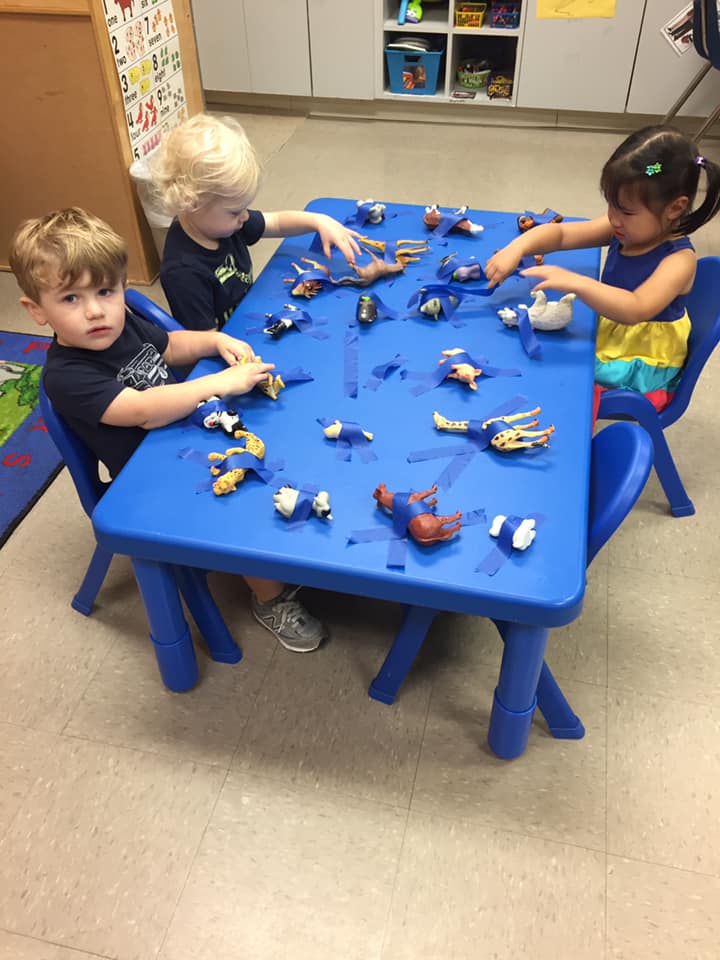 35. Rescue the taped animals
The rescue the taped animals game couldn't be more simple to set up and will keep toddlers entertained for minutes on end. Grab a roll of painter's tape (1″ width or narrower is ideal) and tape down a set of plastic animals to a kids' table or old cookie sheet. The kids must "rescue" the animals by un-taping them. The game will encourage lots of discussion and imaginative play about animals and the story behind the rescue. I have seen multiple versions of this game floating around. The above image is from the Teacher's Mag.
36. Hammer tees into a shoebox
My son loves his play tools and is always looking for opportunities to fix things around the house. The more ways you can channel hammering into a positive activity for toddlers, the better. Hammering golf tees into an old shoebox is perfect. The OT Toolbox has a variation where toddlers must hammer their tees into the alphabet letters on the box top. If you don't mind a few holes in your lawn, you can also take the hammering tees activity outside.
37. Complete a tongs activity
Tongs are an ideal tool for helping toddlers build their fine motor skills. They can use tongs to pick up virtually any small object. Adding tongs into a matching or sorting activity is an easy way to boost the fine motor element. You can also have toddlers use tongs to move objects from one location to another, such as from a bowl into a bucket. There is a wealth of tong activities for toddlers on Pinterest.
I know that not every toddler has the patience for a tongs activity. If it's a stretch, start with tongs for just a minute or two at a time.
38. Play with balloons
Playing with balloons is another highly underrated, embarrassingly easy toddler activity that they will enjoy so much. You don't need fancy balloons for toddlers to have hours of fun. Pick up a basic set of party balloons, and let your toddlers go to town batting them in the air and carrying them all around the house. Toddlers also have lots of fun with balloons taped or tied to a fence in the yard.
39. Set up a magnetic board with letters
A kids' magnetic board with letters is a great activity to introduce little ones to letters and provide some easy fine motor development. Even when toddlers are much too little to start learning their letters, they'll have fun arranging the letters in endless combinations. I also love this magnetic easel. In addition to letters and numbers, it includes math symbols.
40. Bring the plastic pool in the house without water
I have had a few friends bring in their plastic pools right before it rained, and it turned into the best activity of the month. Kids will have fun playing with their favorite toys, eating snacks, watching shows on the iPad, etc. right in the pool.
41. Make suncatchers
Suncatchers are a fun DIY project for toddlers and dress up any window quickly and easily. You'll find suncatchers for virtually any season or holiday. I especially like Simple Mom Project's butterfly suncatcher (she has templates for a couple of other spring suncatchers, too) and Hands on As We Grow's nature collage suncatchers.
42. Complete a card drop fine motor activity
Busy Toddler's card slot drop is so simple and sure to keep toddlers occupied for a few minutes while you cook dinner or switch the laundry. Cut a hole in the lid of a recycled container, such as an oatmeal container or ground coffee container, that's just large enough for playing cards. Have your toddler insert playing cards in the hole. You will eventually end up with playing cards all over the room, but it's worth it.
43. Cut up and glue old catalogs and magazines
Build your own HGTV-style inspiration boards toddler style, having them cut out favorite images from old catalogs and magazines and gluing them into collages. If cutting is too advanced for your toddlers, cut images ahead of time and have them help with the gluing.
44. Conduct a simple science experiment
Toddlerhood is the perfect time to start doing simple science experiments. There are so many easy experiments to try. Just a few options include Messy Little Monster's fizzy rainbows, Team Cartwright's rain clouds, Green Kid Craft's dancing rice, and What We Do All Day's salt volcano.
45. Play with a movement cube
My son's gymnastics center has a movement cube, and it's always one of his favorite activities. He will attempt movements when they come up on the cube that he will never do during the normal group warm-ups. You can easily make your own movement cube with the movements of your choice.
46. Have a bean bag toss
For a toddler bean bag toss, all you need is a set of bean bags and a large bucket. Position the bucket just far enough away that they'll have to work to throw in the bean bags but not so far that the activity gets frustrating.
47. Set up a shaving cream play area
Shaving cream is a cheap, fun sensory material to use in any sink, bathtub, or sensory bin, and it smells so good. It will wash right off plastic cups and toys. Take the activity up a notch with a little food coloring.
48. Complete a scissor cutting activity
For older toddlers, simple cutting activities are a great way to build their fine motor skills. I'm linking a basic free printable scissor cutting activity from Living Well Mom here. As with many toddler activities, you'll find scissor cutting sheets for a wide variety of seasons and holidays. I also love A Crafty Living's cutting busy box.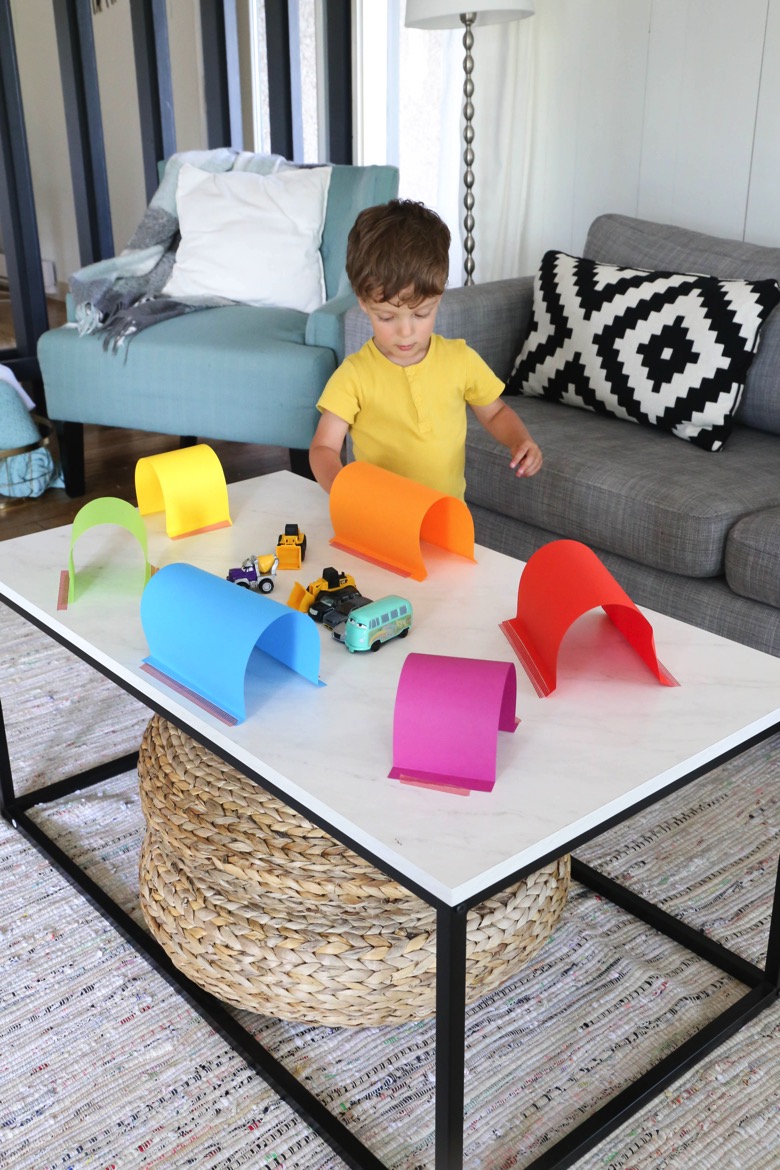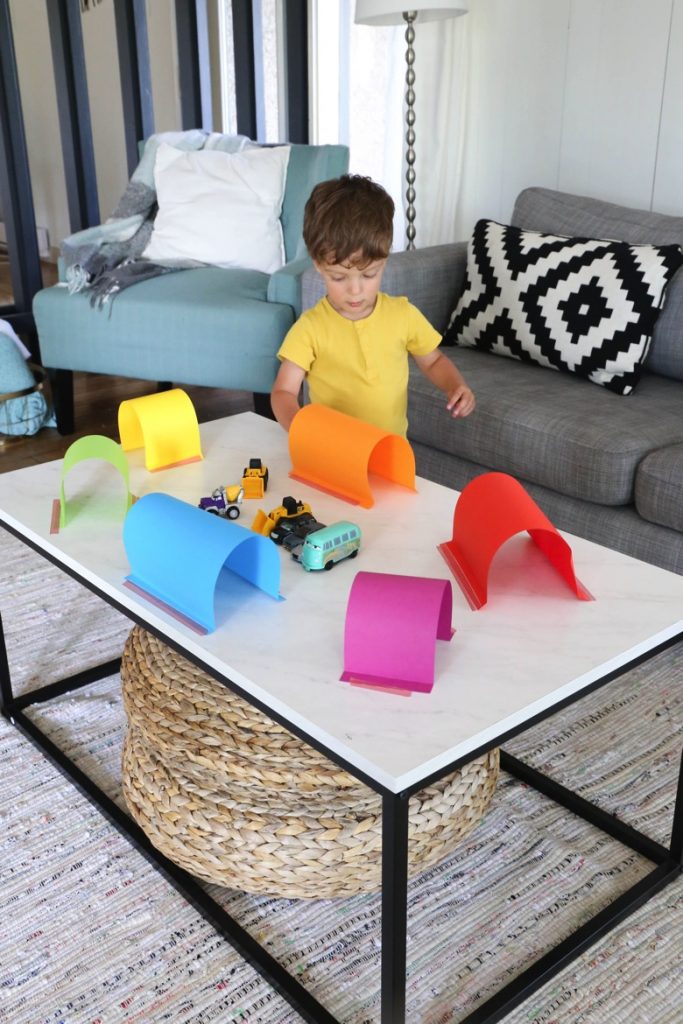 49. Make paper tunnels for cars
When you have toddlers who are already driving their cars all over the house, adding a few paper tunnels is perfect. Painter's tape is an ideal medium for attaching tunnels to wood, tile, or linoleum floors without leaving behind a sticky residue. Check out car paper tunnel inspiration at Mama Papa Bubba.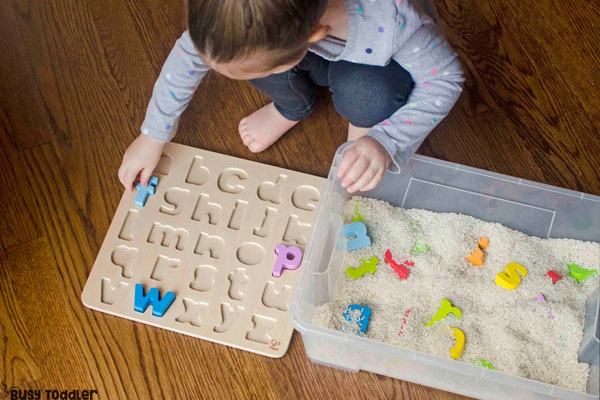 50. Turn a puzzle into a puzzle hunt
Susie of Busy Toddler has the brilliant idea of combining a puzzle and a sensory bin into a puzzle hunt sensory bin. Hide the puzzle pieces in a large plastic container filled with rice, beans, or other sensory filler. Then your toddler has to find the pieces to complete the puzzle. There are so many ways to switch up the activity with different puzzles and fillers.
[Disclaimer: There are a few affiliate links in this post. Thanks for your support!]
Toddler parents, I'd love to hear about your favorite activities for toddlers at home!
Share your best ideas in the comments!
Pin this post for easy access to activities for toddlers at home resource later!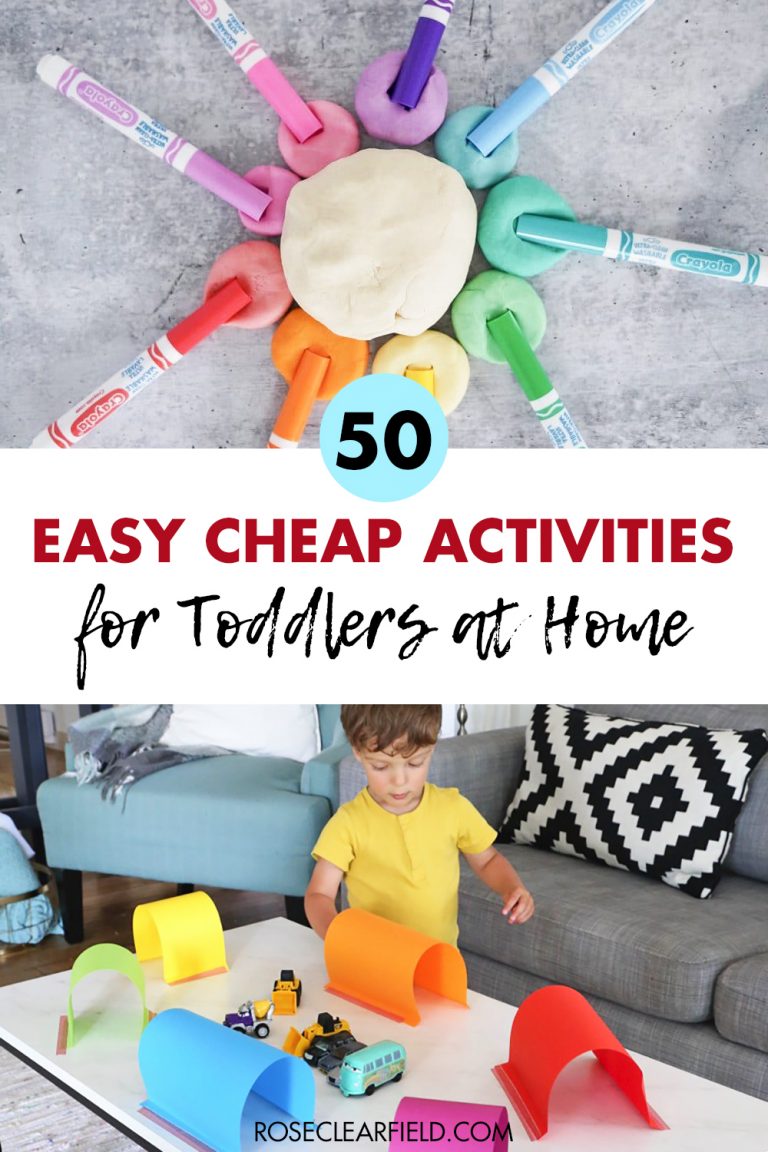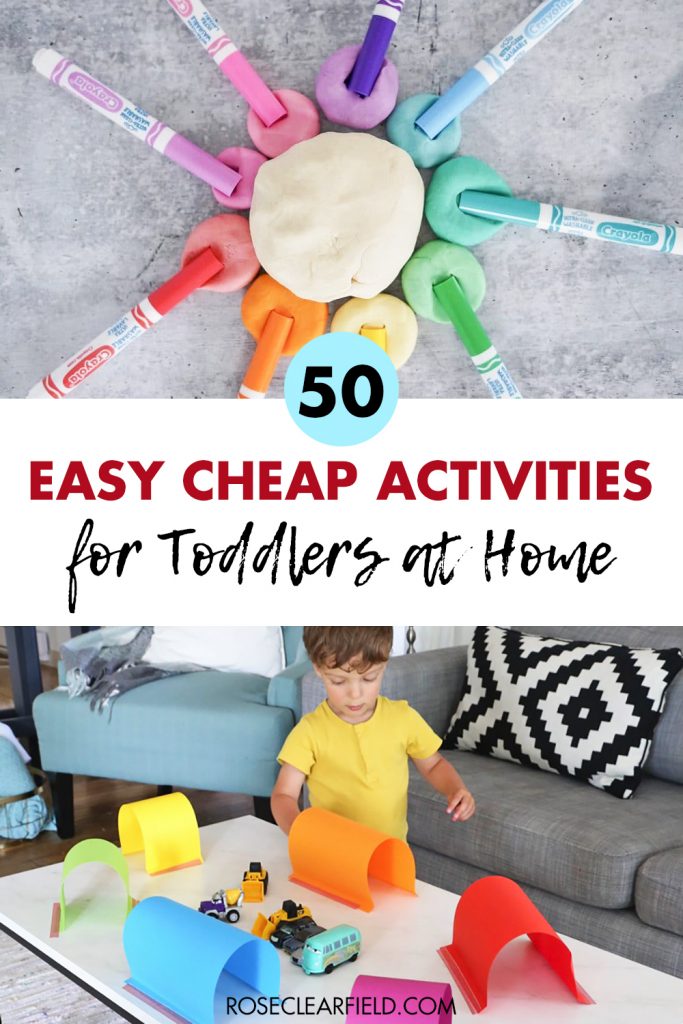 More at-home toddler activity resources: