Free printable gingerbread initial letter Christmas gift tags add a whimsical finishing touch to your gifts this holiday season.
Yes, I'm bringing you not one, but two, sets of free printable gift tags for the upcoming Christmas holiday. In addition to the watercolor presents gift tags, now I'm also giving you gingerbread initial gift tags. I love the gingerbread letters so much that after making them into holiday home decor prints, I also created gift tags with them.
Printing your own holiday gift tags is an easy, inexpensive way to complete your Christmas present wrapping, giving it a fun, customized touch. As already stated, I'm crazy about these gingerbread alphabet letters and love offering them as both wall art and gift tags. They're the perfect way to let the recipients know which gifts belong to them.
I have a full alphabet set of holiday gift tag designs with one tag for each letter. There is room around the letters for adding your own name or a little message. Additionally, as the tags are designed to be printed with blank backs, you can also fill in names and messages on the backs of your tags.
I've created 8.5″ x 11″ pages for all of the gingerbread letter Christmas gift tags for simple, at-home printing. Each page features nine gift tags. The gift tag designs don't have holes printed on them, which means you can punch holes or leave them as is, further customizing the aesthetic to fit your personal preferences.
Merry Christmas and happy gift giving!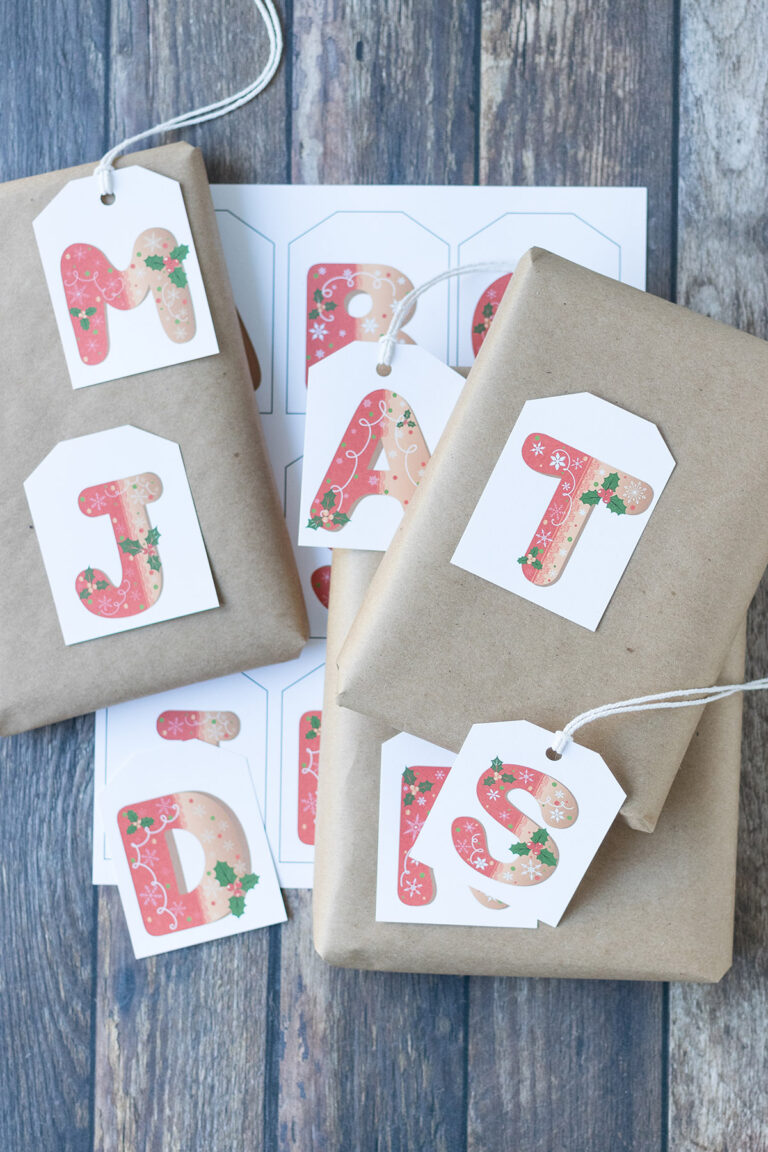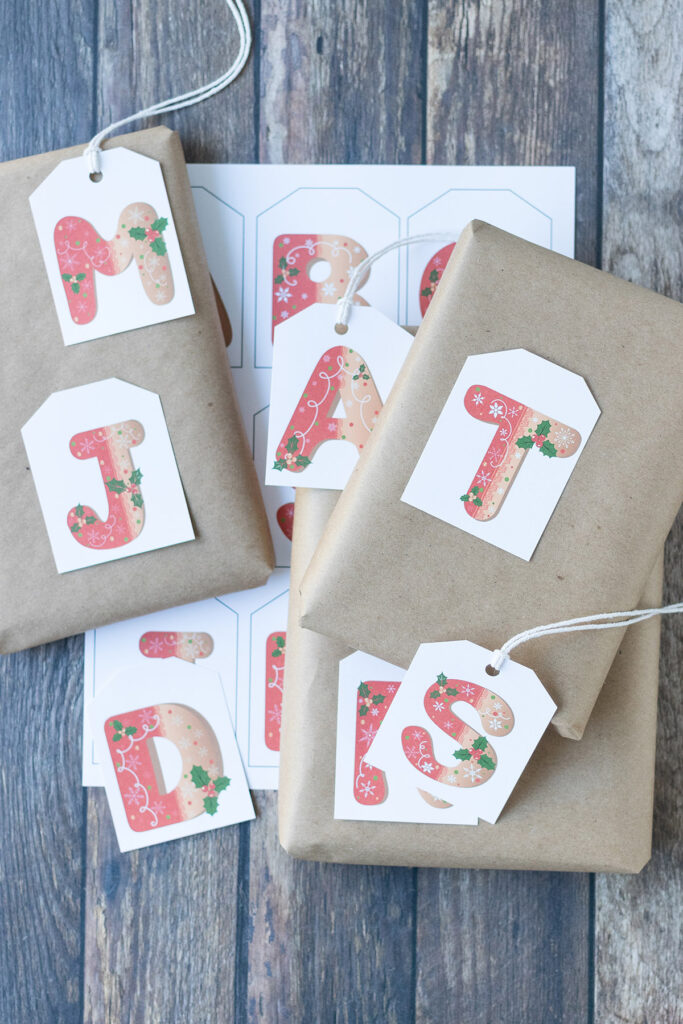 About the free printable gingerbread initial letter Christmas gift tags
The gingerbread initial letter Christmas gift tags are for personal use only. You're welcome to print them as many times as you like for your personal gift giving and for classroom use. You are not authorized to use the tags or the designs on the tags for any commercial purposes.
I also request that readers don't distribute the download files. If friends, family, or co-workers would like their own holiday gift tags, please send them a link to this post, where they can download the tags for themselves. Thank you!
Please note: The images in this post are solely intended for preview purposes. Please use the download links in the next section to access the high-resolution, 8.5″ x 11″ pages with the gift tags.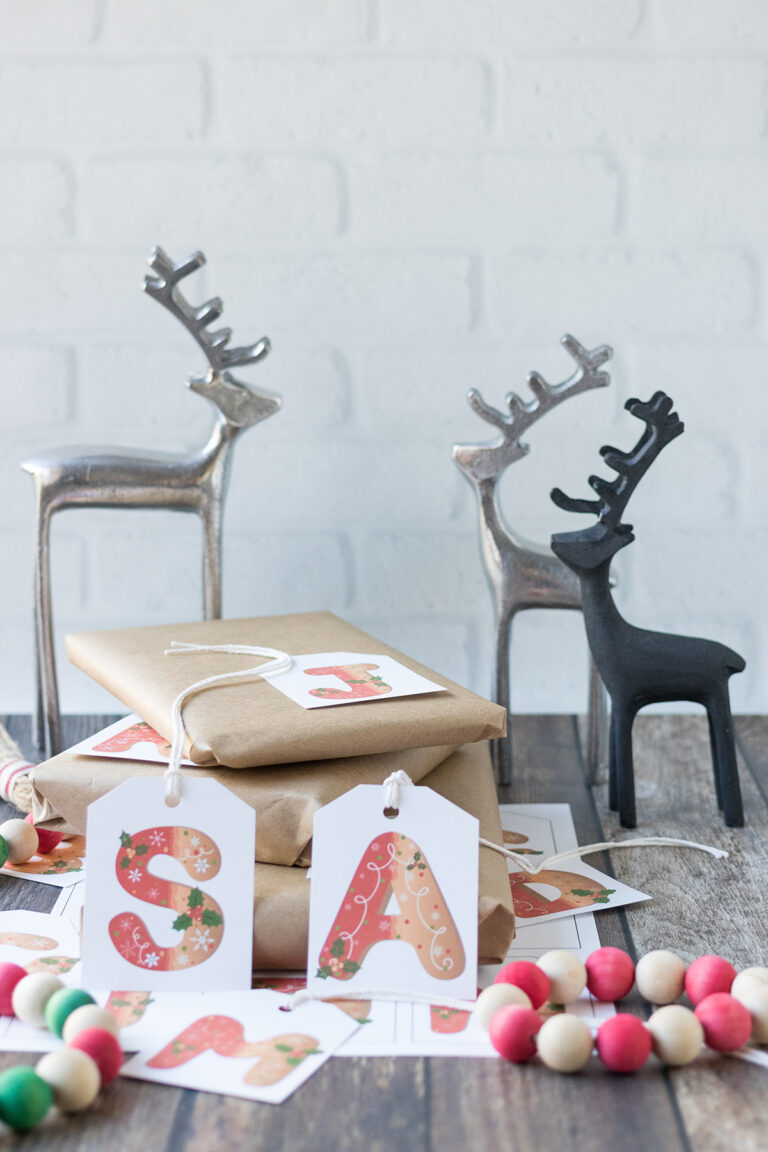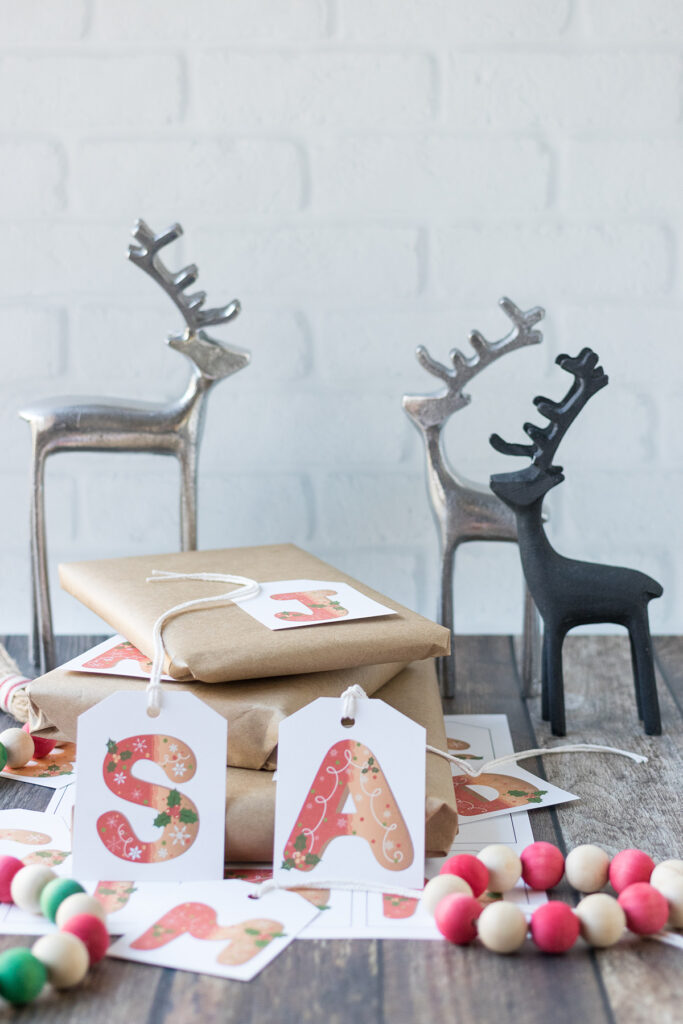 Free printable gingerbread initial letter Christmas gift tags
I've created six 8.5″ x 11″ pages containing all of the gift tags for easy printing. There are at least two of each letter except for Q, U, X, Y, and Z.
The download link below is for a single ZIP folder containing all six pages. I have directions for extracting and downloading the ZIP folder in my vintage dictionary pages post. The link takes you right to the directions you need.
>> [Free Printable Gingerbread Initial Letter Christmas Gift Tags] <<
If you would like 8.5″ x 11″ pages with specific letters or specific letter combinations, so you don't have to print so many pages, please let me know. I'm happy to create exactly what you need for your holiday gift-giving needs.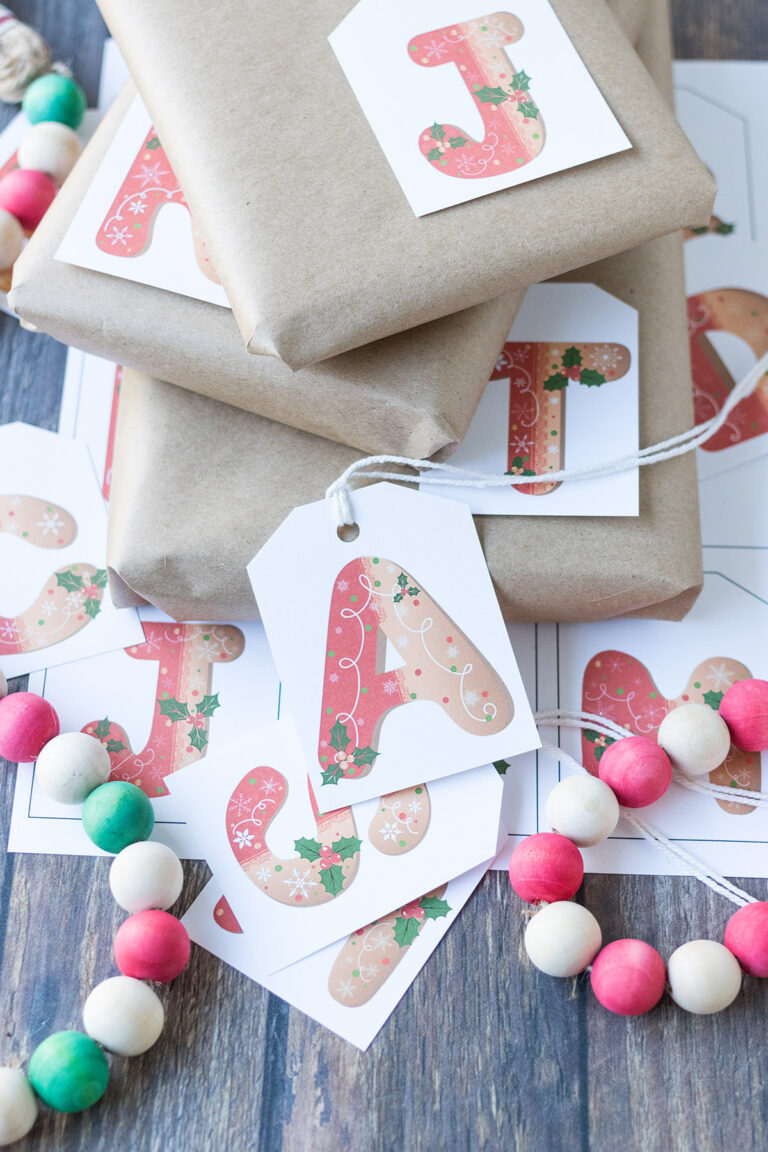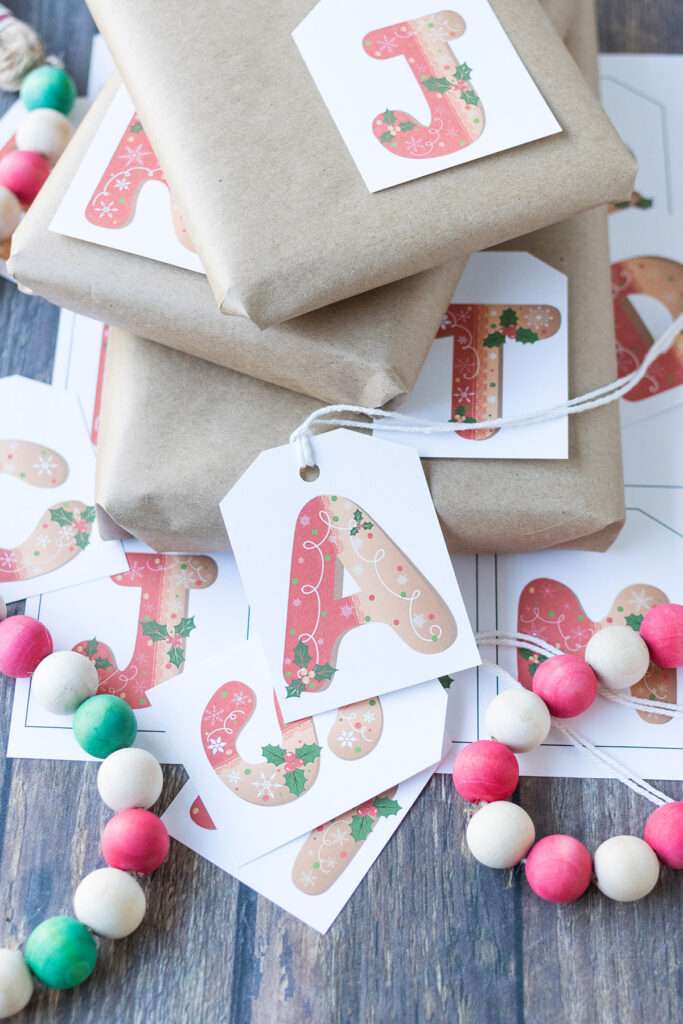 Printing, cutting, and punching your own Christmas gift tags
I highly recommend using white card stock for printing your new holiday initial gift tags. In a pinch, you can use regular paper. But it doesn't produce results that are quite as nice as using a thicker paper.
For the best results cutting your gift tags, use a paper cutter. A paper cutter makes the job quick and easy and ensures that the tag edges are straight. The paper cutter I'm linking here is the one that I've been using for over five years. I use it almost every single week and love it. Any high-quality paper cutter with a sharp blade will work well.
I've designed my gift tags to work with a standard single hole punch. As I created the tag designs without circles, you can decide if you'd like to punch holes in them or leave them as is. They are perfect attached to presents without any string, but of course, look great with punched holes and holiday twine or white twine, too.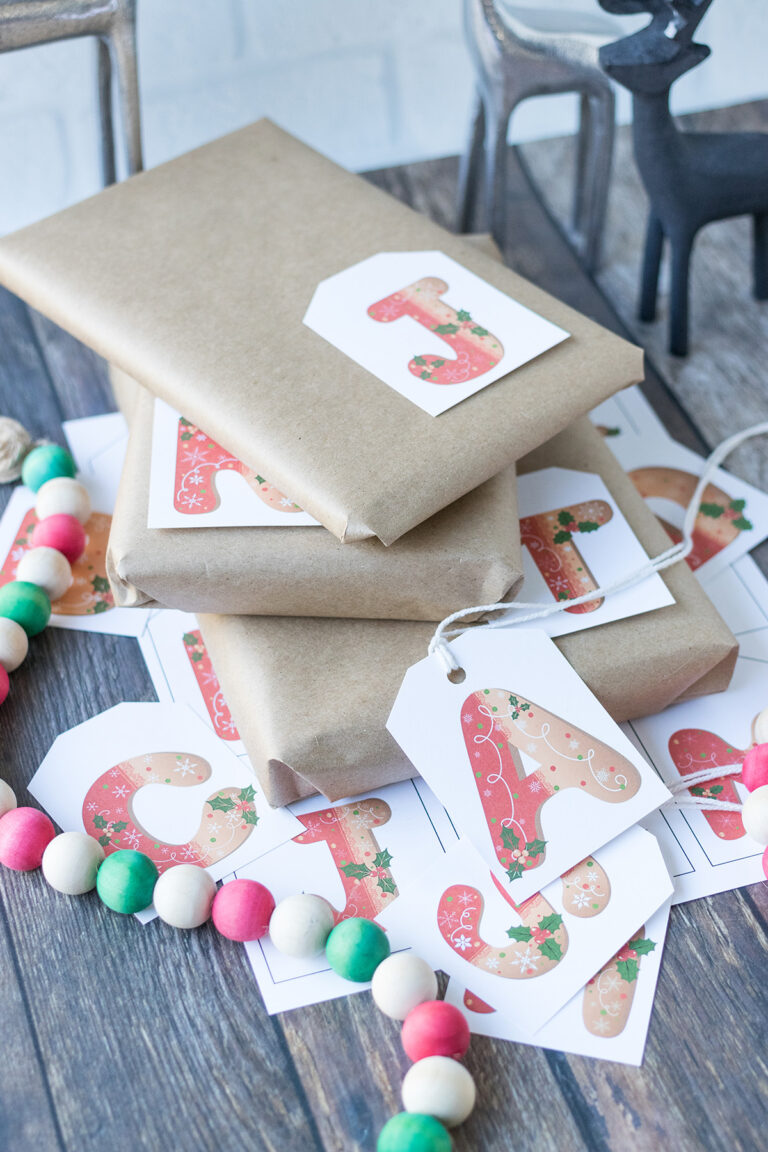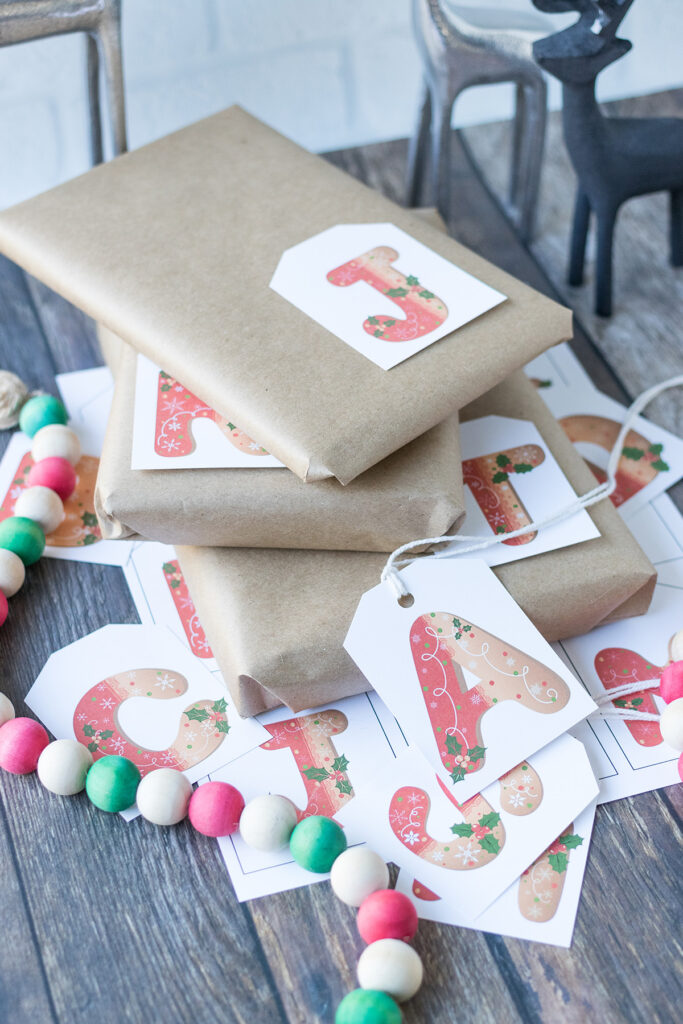 [Disclaimer: There are a few affiliate links in this post. Thanks for your support!]
Did you use one or more of the gingerbread initial letter Christmas gift tags designs for your gift-giving this holiday season?

I want to see them! Tag your images #RoseClearfield on Instagram or Twitter or post a photo to my Facebook page.
Pin this post for easy access to the free printable gingerbread initial letter Christmas gift tags later!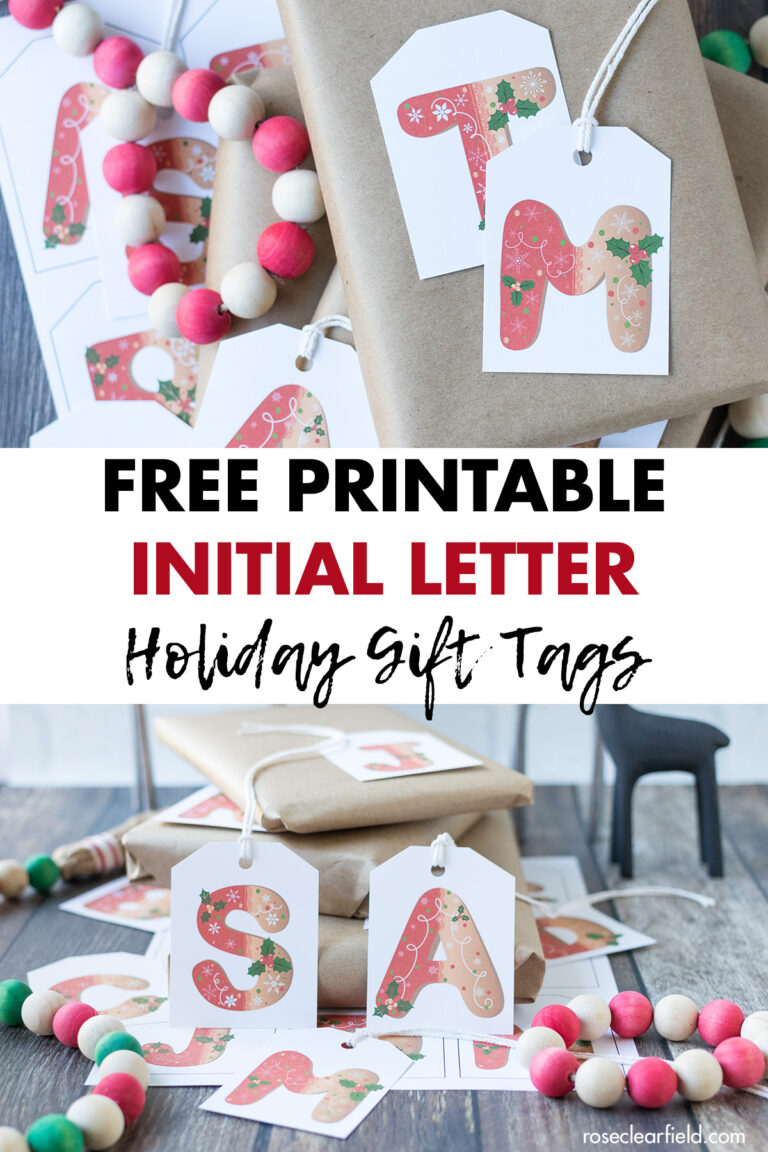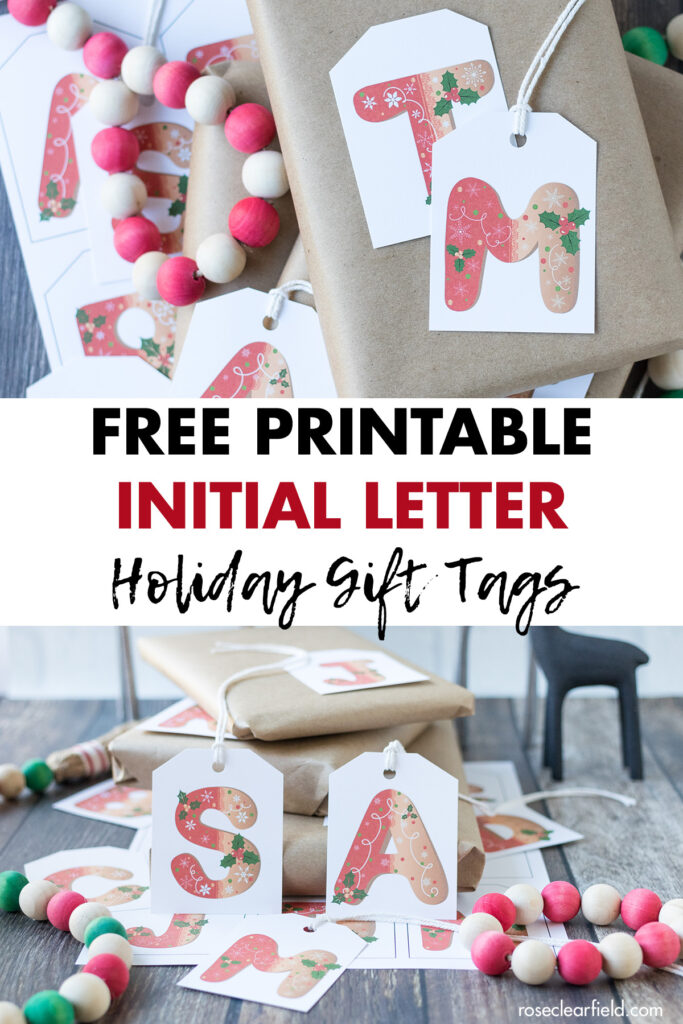 More free Christmas printables: