Free printable vintage The Bride's Book pages allow you to create the most beautiful wedding scrapbook to preserve the memories of your big day.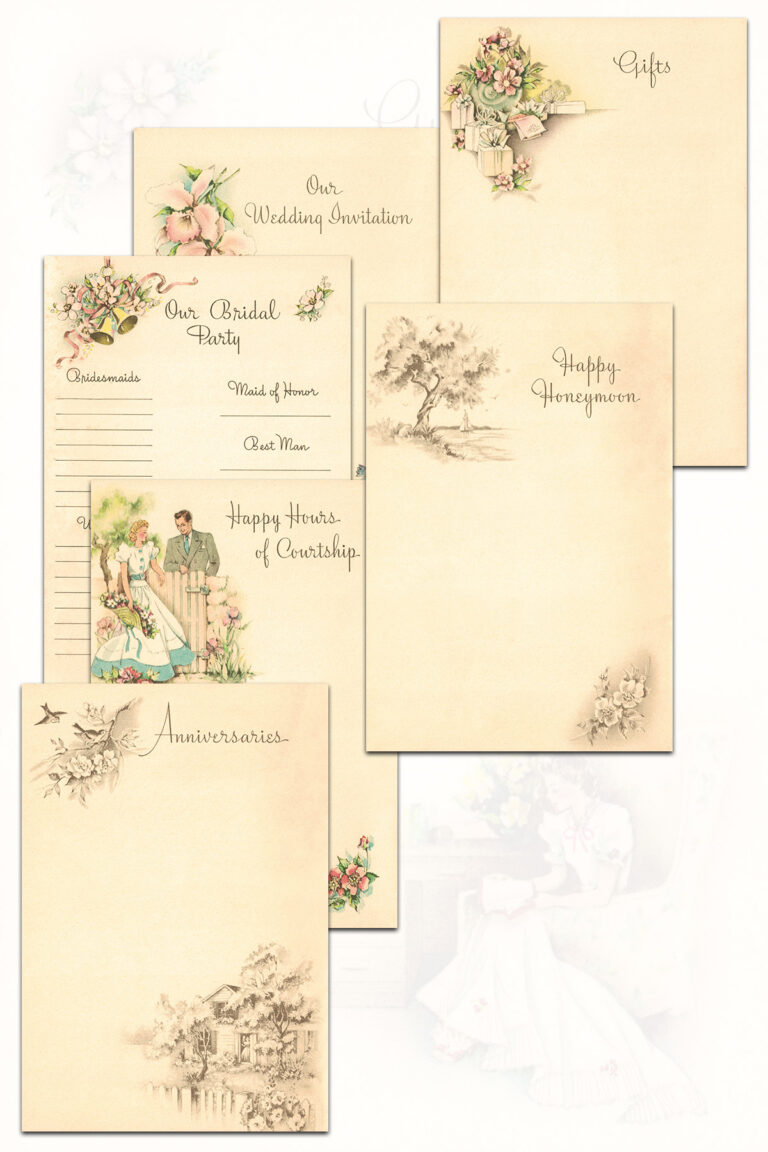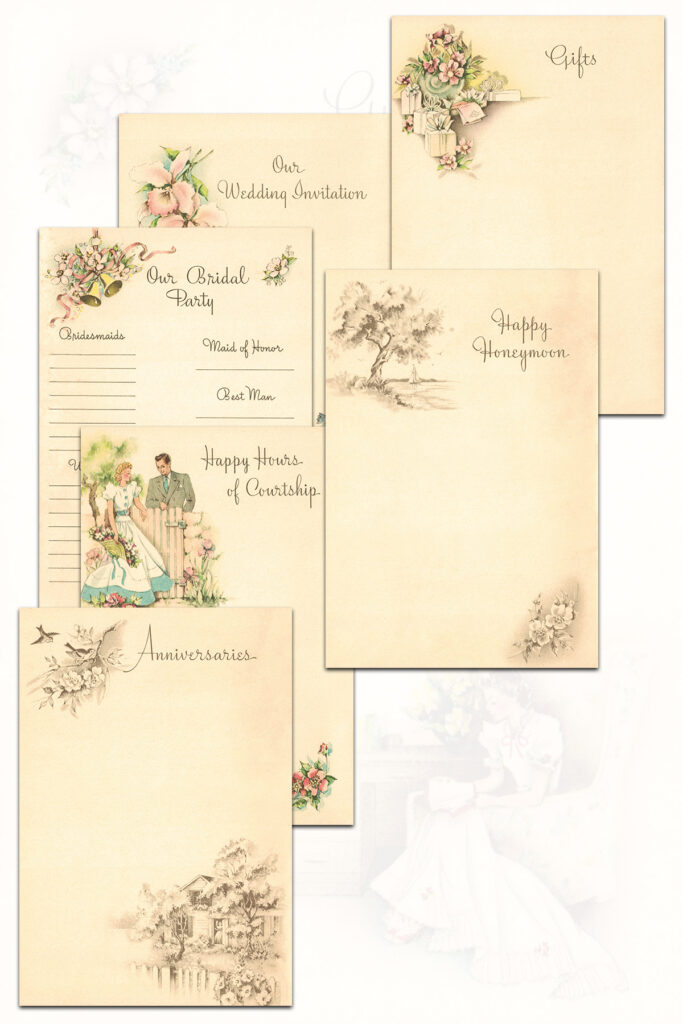 There's nothing like a physical scrapbook with handwritten pages. While it's convenient to share wedding photos and memories online, it's not the same as having a beautiful book that you pull out again year after year on your anniversary. Using vintage wedding scrapbook pages adds a whimsical aesthetic to your wedding memories album.
I don't know the exact publication date of The Bride's Book that I'm sharing in this post. Most bride's books that I've come across are from the 1920s-1940s. Similar to the Christmas carol books that you find from this era, many of them were given away as freebies with purchases from jewelers, bridal stores, and other retailers in the wedding industry. I love that our society placed such importance on preserving special memories in such beautiful little books.
The Bride's Book has 18 pages including the front and back covers. It features a wonderful vintage font and a nice mix of black and white and color illustrations. Some pages are very simple with little illustrations in one or two corners while other pages are more detailed with multiple sections to complete and larger images.
I hope that you enjoy using vintage The Bride's Book pages to preserve your own wedding memories. Enjoy!
About vintage The Bride's Book pages
The Bride's Book is for personal use only. You may print the pages and use them for as many personal projects as you like, which includes classroom use. If friends, family, or co-workers are interested in their own printables, please provide them with a link to this post so that they can download their own files. Thanks for your support!
How to use The Bride's Book pages
I'm sharing just a few possibilities for how you can turn your vintage The Bride's Book pages into a book. Please don't feel limited to these options. If you have other ideas for how you'll use your new printables, I'd love to hear about them!
Use them as full pages in a scrapbook album
There are lots of beautiful 12×12 scrapbook photo albums that work perfectly for housing all of your wedding memories. You'll even find wedding-themed albums. Print the full pages and glue or tape them into your scrapbook album.
Use them as decorative elements in a scrapbook album
If you don't love the look of the full pages or want to use elements from these pages alongside other vintage ephemera and other scrapbook embellishments, you can cut them apart and transform them into entirely new pages. I also love the concept of using some full pages alongside some pages that have been remixed with other elements.
Bind them into an unlaminated book with binder rings
Keep your project super simple and bind the printed pages together into an unlaminated book using ring binders, much like I do for my upcycled Christmas card books. You can print the pages back to back or tape or glue them onto cardstock or other thick paper.
Put them into page protectors in a 3-ring binder
Once you've completed your The Bride's Book Pages, slide them into page protectors and add them to a 3-ring binder to keep them safe.
Pull out individual elements digitally for scrapbooks, greeting cards, and more
There are so many gorgeous text and image elements in The Bride's Book Pages. You can use these individual elements for scrapbook pages, greeting cards, mixed media art, and much more.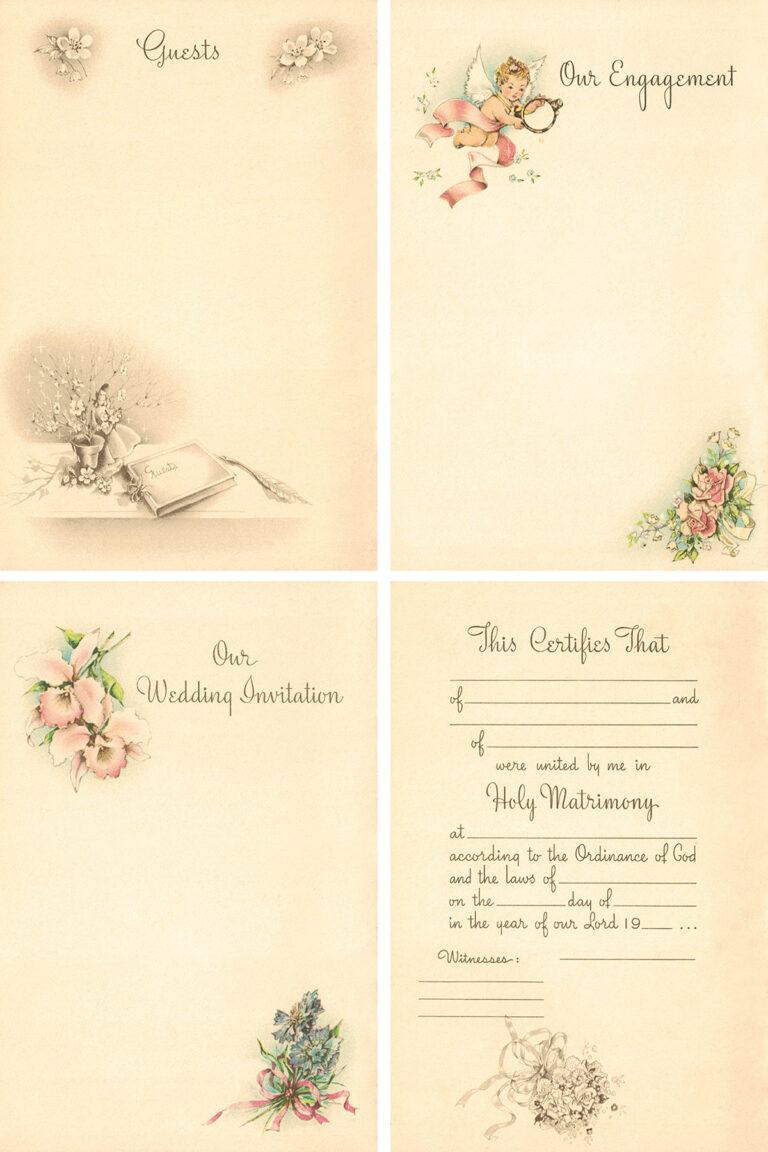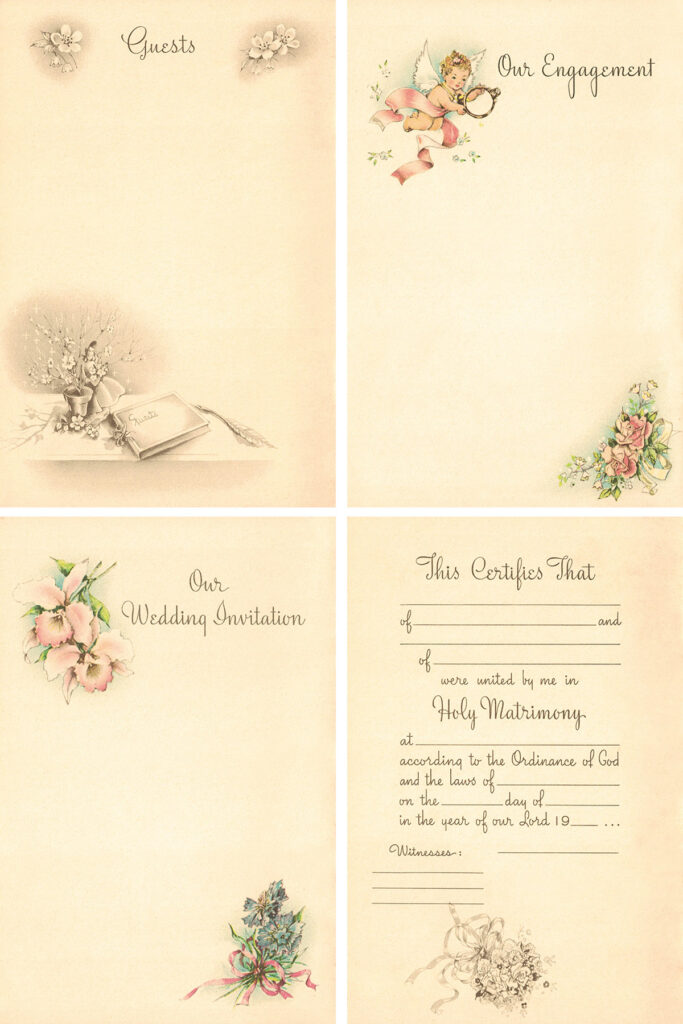 The Bride's Book full pages set
The Bride's Book features 18 pages, which are as follows:
Anniversaries
Back Cover
Certification
For Remembrance
Front Cover
Gifts
Guests 1
Guests 2
Happy Honeymoon
Happy Hours of Courtship
Home Again
My Trousseau
Our Bridal Party
Our Engagement
Our Wedding Invitation
Surprise Showers
The Momentous Proposal
Wedding Day Memories
I've split the pages into three ZIP folders so that you're able to download these large files easily. Each page measures 2930 x 4280 pixels and is 300 dpi to ensure the highest print quality possible.
I explain how to extract and download the ZIP folders in my free printable vintage dictionary pages post. The link takes you right to the directions that you need for this process.
Printing The Bride's Book pages
I recommend printing vintage The Bride's Book pages on card stock or another thicker paper to ensure that they don't rip when you write on them or cut them up into smaller elements.
I use white card stock for numerous DIY projects. It's extremely durable and very affordable. For home decor and other high-end printing, I use Finestra Art Paper. 8×10 paper is a versatile size for pasting into 12×12 scrapbooks and creating smaller printed books. 8.5×11 paper is ideal for inserting pages into page protectors that will be used in a 3-ring binder.
[Disclaimer: There are a few affiliate links in this post. Thanks for your support!]
Did you use vintage The Bride's Book pages for your wedding scrapbook?

I'd love to see how you're using your pages! Tag your posts #RoseClearfield on Instagram or Twitter or post a photo to my Facebook page.
Pin the vintage The Bride's book pages set for easy access to it later!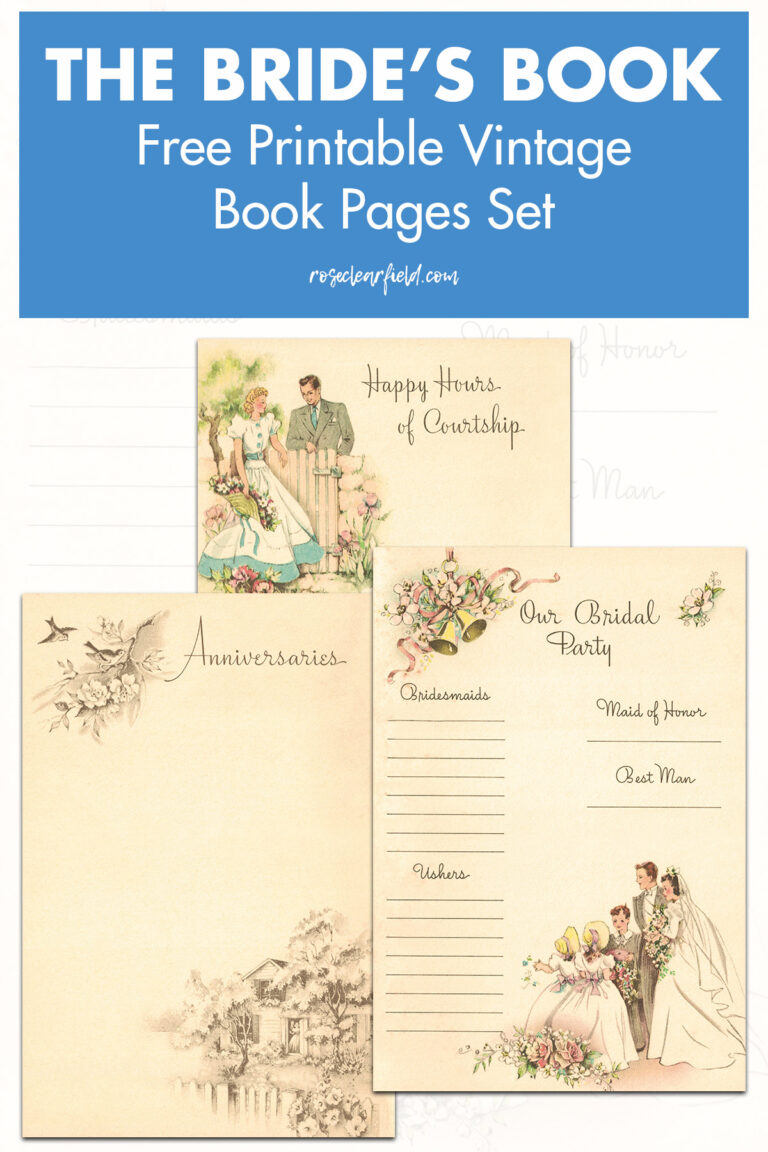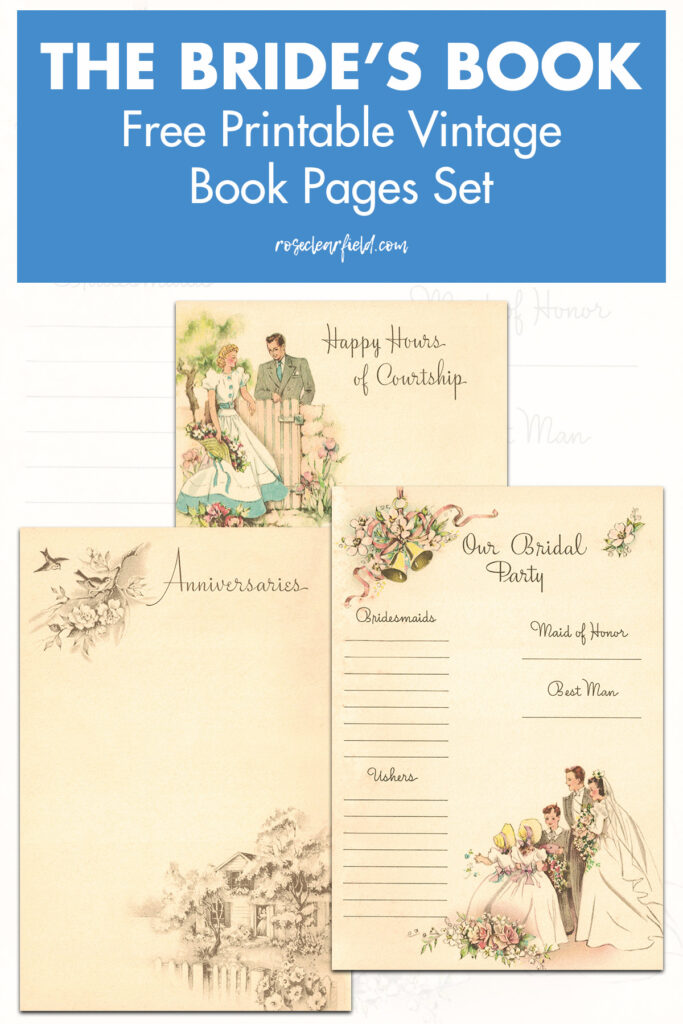 More free vintage book page printables: