Learning how to make your adoption profile unique is key for creating a stunning portfolio that stands out from the crowd, increasing your chances of a quicker adoption.
Why is it important to make your adoption profile unique?
Needless to say, creating a beautiful adoption profile that portrays your family accurately is really important for matching with expectant parents. In many instances, your profile is the first thing expectant parents will see about you. The cover and first few pages will determine whether or not expectant parents decide to meet with your family.
I know that sounds absolutely crazy. But it's true. When presented with multiple physical portfolios or browsing multiple online portfolios, most parents will go with a quick gut reaction before stopping their search because they've found a couple or family they want to meet or moving onto the next profile. Creating a boring, generic, or worse, offputting profile will get you passed over time and time again.
There are a ton of resources about the basics of creating an adoption profile. Here are a few resources that I really like:
If you're overwhelmed or don't know where to start, I highly encourage you to browse adoption profiles from couples or families currently waiting to adopt. Looking at real life examples will give you a good idea of an appropriate layout and the type of pages you might want to include (i.e., your neighborhood, your extended family, how you celebrate major holidays, etc.).
Beyond the basics of creating an adoption profile, it can be tricky to finetune your portfolio to make it truly unique. I highly encourage you to read my post 10 things not to include in an adoption profile, which will help you steer clear of the most common adoption profile book mistakes. Then I encourage you to think about the following ways to make your adoption profile unique.
Start working on your profile right away
I have talked before about how there is a common misconception that creating an adoption profile is easy and fun, especially for people who are crafty and enjoy photography. Don't underestimate the amount of time it will take you to create an adoption profile. The process of making an adoption profile is time-consuming and stressful. There is a lot of pressure involved, and you want to feel great about the every single page. You don't want to be scrambling to finish your profile as you complete your other home study tasks or get ready to re-enter the adoption waiting pool. If you're rushed, I guarantee your profile will suffer. Give yourself ample time.
Include as many pictures as possible
The old adage "a picture says a thousand words" stands true for creating an adoption profile. The more pictures you include, the more you'll be able to say about your family and the life you're prepared to offer a child without filling page after page with text. Of course, you do want to include written content. But you want to avoid having large blocks of text and pages with only text and no pictures.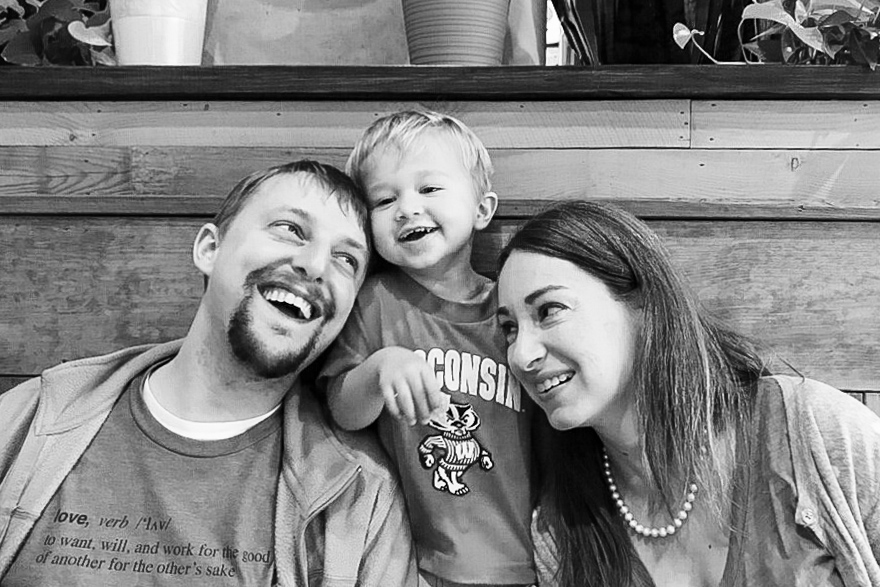 Have a mix of posed and candid pictures
It's ideal to have a mix of posed and candid photos in your adoption profile book. Posed photos are great because they showcase your entire family in their best light. Posed photos don't necessarily have to be professional photos. If you can schedule a professional photo shoot before you'll create a profile book, I would think about it, as it's nice to have a few professional photos. But it's definitely not a requirement. It's up to you to determine what works best for you and your family.
Even with a lovely selection of new professional photos, I still highly recommend including a large range of candid snaps. Candid photos will present a more complete picture of your family. Don't stress about the quality of every single photo. Expectant parents aren't going to choose a family because they look perfect in their photos. They're going to choose a family because their real life candid photos are appealing and relatable.
Let your personality shine
It's easy to get so hung up on putting your best foot forward for your adoption profile that your portfolio comes off a little boring and generic. You don't want your profile to look as though it could be from any family in any city in the country. Showcase your hobbies, passions, family life, and vacation adventures.
You also want to avoid the temptation to invent a character or portray the life that you want for your family. Again, expectant families aren't looking for perfect families. It's better to be honest about the fact that you live in a modest home than to pretend that you live in a large home and have expectant parents find out later on that it isn't true.
As you choose photos and write accompanying captions, keep it real. If you and your spouse are outgoing and known for your goofy sense of humor, let it show in your profile. If your family is more quiet and reserved, don't pretend otherwise.
Stay away from cliches
You know that I'm a big fan of many favorite adoption quotes. There is time and a place for these quotes. An adoption profile is not the right place for an adoption quote or other common adoption cliche. I know that it may seem sweet to create a page based around one of these adoption quotes. At best, it will come off a bit weird and out of place. At worse, it will come off as offensive. Expectant parents looking at adoption are already open to the possibility of adoption, which is great. You don't need to shove adoption in their faces.
Make a book that reflects you, not expectant parents or a potential child
The purpose of an adoption profile book is to help expectant parents get to know your family. You're not trying to cater your book to expectant parents or a potential child. When you've put your best foot forward and allowed expectant parents to get an accurate glimpse into your life, they'll be able to determine if your family is a good fit for them and their child.
I know that it's a scary process, but you have to trust it. When you start catering your book to expectant parents and potential children, you quickly enter dangerous territory. You'll end up including well-meaning phrases that are actually very offensive, such as "we will love your child more than you can possibly imagine." Let expectant parents process their thoughts and feelings about your family without any bias.
Create a video or short video series
A video or short video series is an easy, surefire way to make your adoption profile unique, instantly setting you apart from the crowd. Virtually all couples and families looking to adopt have a profile book. Only a small percentage of these couples and families will have a video, especially one that is readily available to the public. Even a short, cell phone filmed video will go a long way toward enhancing your adoption profile.
In an effort to keep it as real as possible, I'm sharing the link to our adoption video that we made the first time we were in the adoption waiting pool. We shot this video on a cell phone. My husband and I have zero video skills. We spent less than two hours on the entire project. At the time, we were the only people in our agency's waiting pool with a video, and it did make a difference. Don't let your lack of video skills deter you from creating an adoption video.
Should we hire a professional to shoot our adoption profile video?
There are professional videographers who specialize in adoption videos. Obviously, there are benefits to working with a professional. It definitely isn't a requirement. My one caution against using a professional is that it's easy to end up with a video that looks exactly like every other video that videographer has produced. Some adoption agencies require their families to use certain videographers. Expectant parents have a hard time choosing a family because the videos are all very similar. If you do go the professional route, focus on creating a video that showcases your family, not that checks off certain boxes for a perfect adoption profile.
Sharing your adoption profile video on YouTube
Once you've created your adoption video, even if you're sharing it through your adoption agency's website or your own blog, share it on YouTube as well. I don't think I need to spend a lot of time explaining that having a video on YouTube is another free, very easy way to promote your adoption profile. It's so simple to share a YouTube link via Facebook, text, email, etc. Use the description section of the video to include a link to your online adoption profile (more about that below!) and other details about your adoption story.
A few adoption video resources I really like:
For families with one or more adopted children in open adoption relationships, include a letter from the birth mom or birth parents
When we were preparing to go back into the adoption waiting pool for baby #2, our social worker suggested reaching out to our son's birth mom for a letter to include in our profile. She knows that we have an open adoption and that Tommy's birth mom and her family are very supportive of us adopting again. I share Tommy's birth mom's letter to expectant parents in our back in the waiting pool post. It gets more views than our profile book or our own letter to expectant parents. It's also available with our profile materials through our agency. We're so grateful to Tommy's birth mom for taking the time to add such an amazing, thoughtful resource to our profile.
If you have a relationship with an adopted child's birth parent(s) that you think is conducive to this type of letter, I encourage you to reach out to them. Give them time to make a decision. Then if they say yes, give them an appropriate amount of time (at least a few weeks) to write the letter.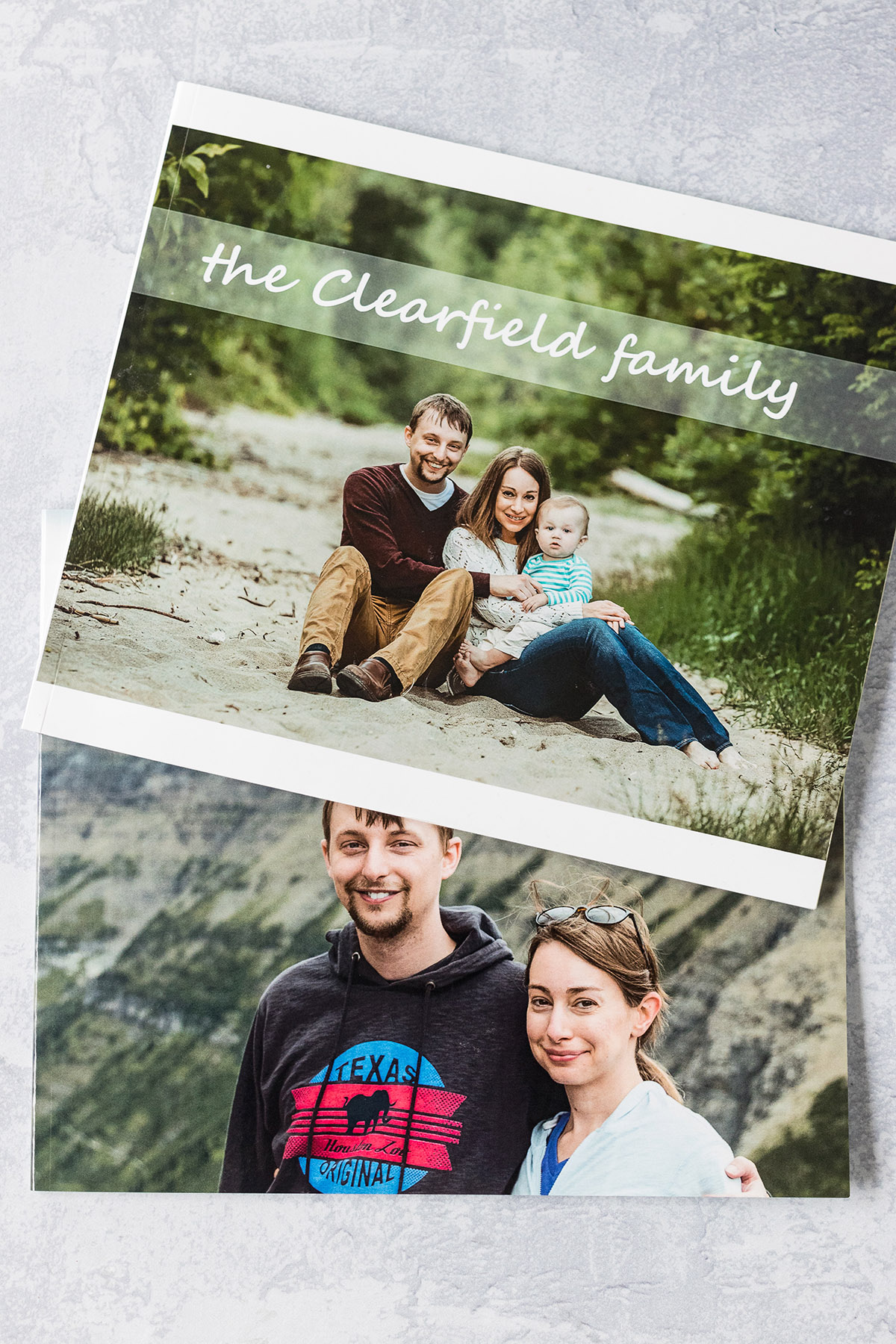 Create print and online versions
The more access expectant parents have to your adoption profile, the better. At a minimum, your adoption agency will request a print copy of your adoption profile. Many agencies have the option to display online versions as well. If you have the option for an online profile, take it. Many expectant parents are likely to come across profiles while researching adoption agencies. If parents approach an agency with a couple of profiles in mind already, you'll greatly increase your chances of having a meeting with them.
You never know where you'll make an adoption match. As such, it's worth having your own print and online adoption profiles as well. Keep a copy of your print profile that you can share with family and friends. If necessary, you'll be able to take with you to show expectant parents outside of your agency as well.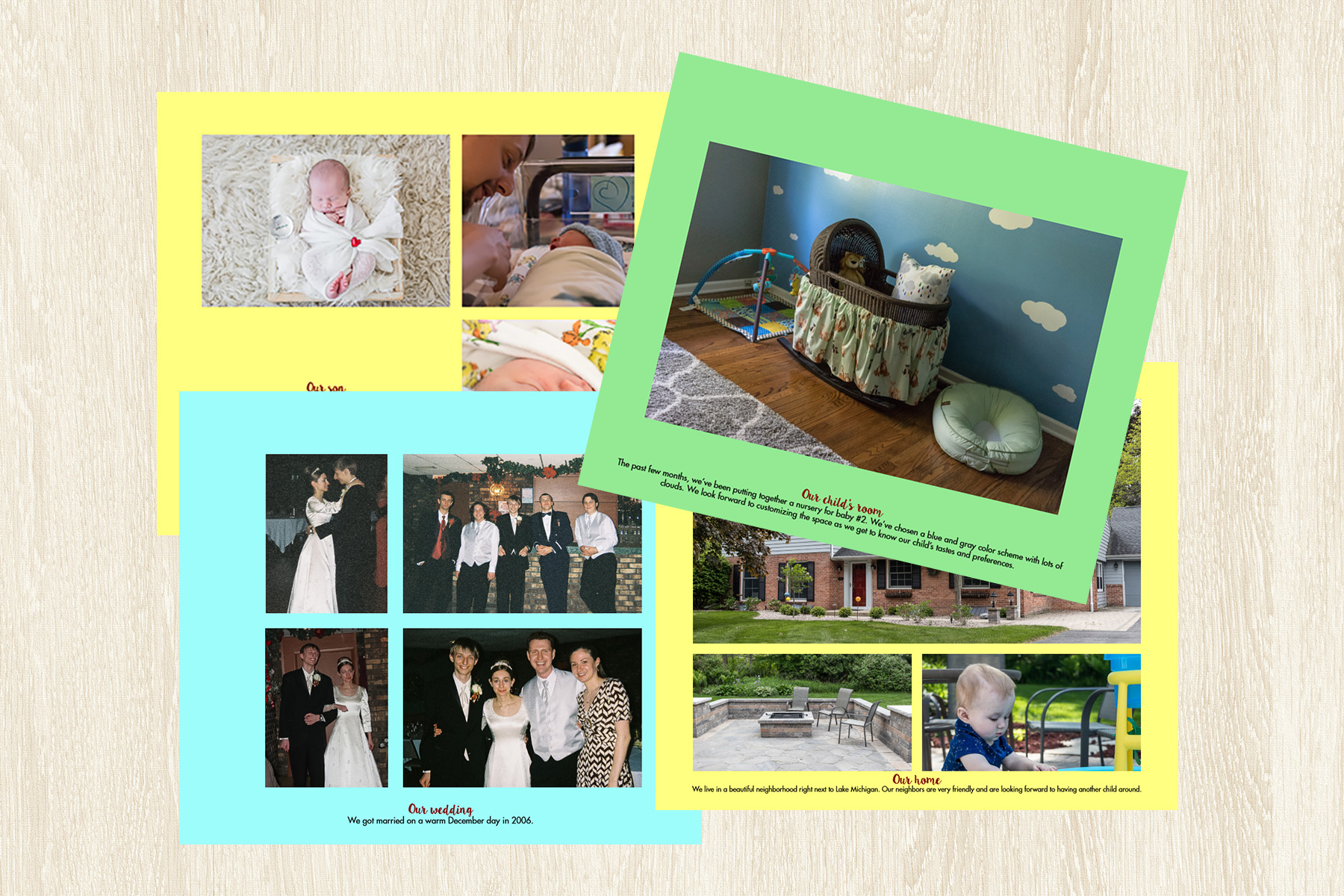 How do I create an online adoption profile?
It is easier than ever today to create an online adoption profile. There are numerous photo book sites, including but certainly not limited to, Shutterfly, Snapfish, and Mixbook. Personally, I use Blurb because their software is built into Lightroom, which is what I use for all of my DSLR photo editing. During the past six years, I've made over a dozen Blurb photo books and have always been happy with the quality.
If you're creating a print profile, most likely the software/website you're using has an option to save a PDF version as well. For example, Shutterfly has detailed photo book: export to PDF directions. Once you have a PDF version of your photo book, the easiest place to save and share it is Google Drive. After you've uploaded a PDF profile book to Google Drive, open the book in Google Drive. Look for the three dots More Actions menu in the upper righthand corner of the screen. Click Share, then Copy Link. The link will allow anyone to view your profile book.
Save a few dollars on your physical adoption profile books with Rakuten Ebates! All of the photo book sites I list above offer cashback with Rakuten Ebates.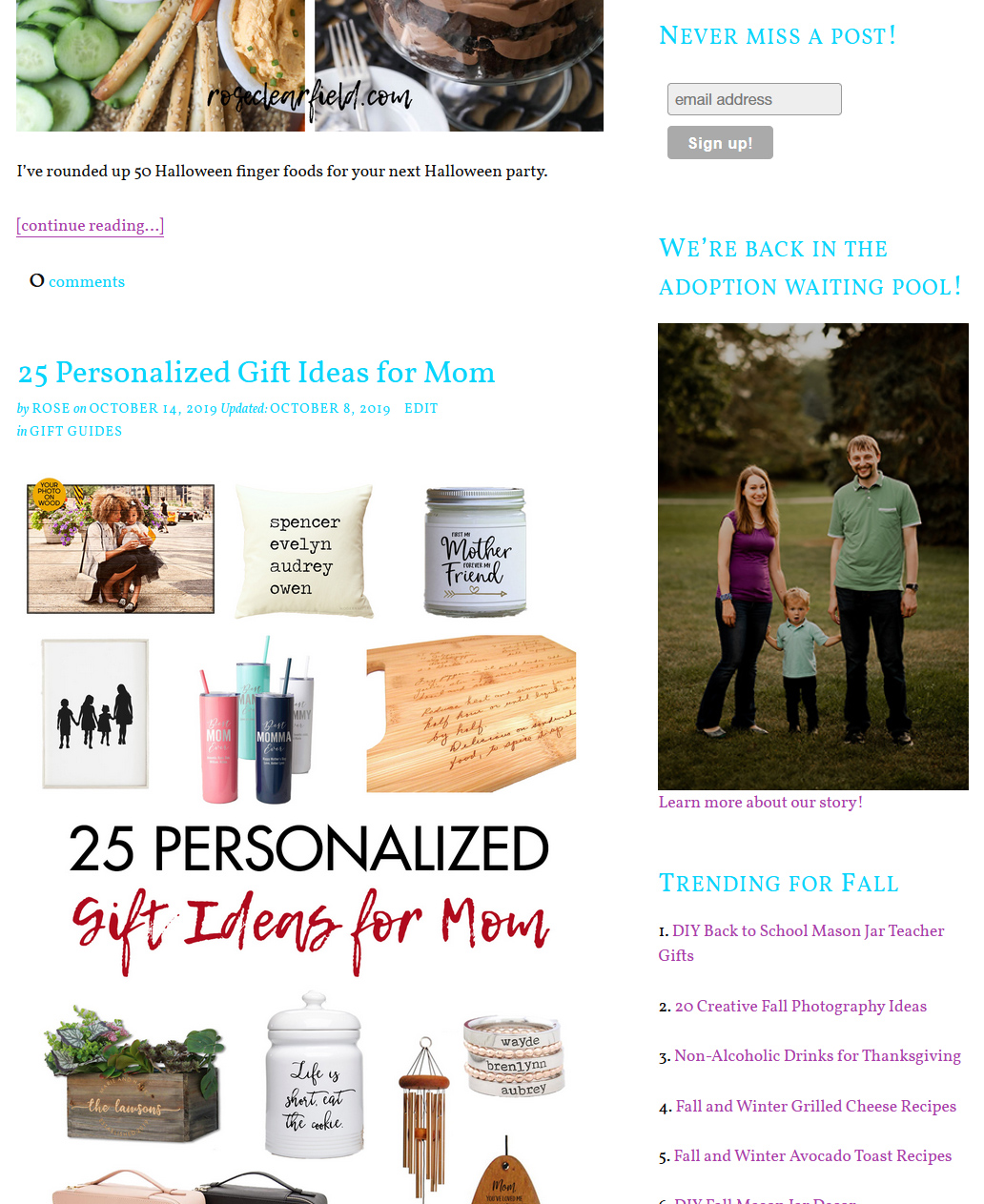 Where to post your online adoption profile for free
There are quite a few places where you can pay to create an adoption profile or list your adoption profile materials online. Personally, for what you spend on adoption itself, I don't think it's worth paying for a profile alone, even on a major site. You're better off using your own online channels to spread the word about your adoption. The following list includes a few of the most popular free options for sharing an online adoption profile.
Facebook
At a minimum, share your adoption materials on your personal Facebook profile. If you have a Facebook page and feel it would be appropriate to share your materials on it, share them there as well. Some families choose to create a Facebook page for their adoption journey. If you create a Facebook page, be prepared to update it at least once a week to maintain interest and engagement.
Twitter
Similarly, if you have a personal Twitter account, share your adoption materials on it. Consider pinning a tweet with your adoption profile, so it stays at the top of your profile.
Pinterest
There are a wealth of adoption resources on Pinterest. Numerous pinners are happy to share others' adoption resources, including profile materials. You don't need to have a ton of followers or a huge reach on Pinterest for a pin to gain major traction. Re-pin your profile materials once a month or so and create new pins periodically, to keep your content fresh.
Blog or website
If you already have a blog or website, consider whether it's appropriate to share your adoption materials on it. For most blogs of a personal nature, it will be appropriate. You may also want to create a separate blog or website for your adoption journey. My top recommendation for a free blog is Wix, which is where I host a family-only, password-protected blog for Tommy content. The free materials are sufficient for personal adoption blog needs, and the platform is fairly intuitive.
Craigslist
I know that listing adoption materials on Craigslist sounds super shady. But I know people personally who have made adoption connections through Craiglist. And I continue to read regular accounts of Craigslist adoption connections. Please be careful about the kind of information you post on Craigslist. Have people contact you through the listing or an email address. You can even request that they contact you via your adoption social worker. Don't list a personal address, phone number, or other identifying contact information.
As you start working on your adoption profile, refresh yourself on what not to include in your portfolio!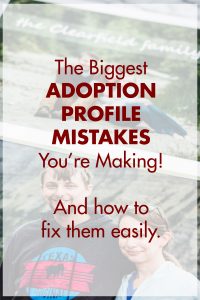 10 Things NOT to Include in an Adoption Profile
[Disclaimer: There are a few affiliate links in this post. Thanks for your support!]
Adoptive parents, are there any items you would add to this list or other advice you would share to make your adoption profile unique?
As always, I really appreciate your input!
Pin this post easy access later!