Understanding what birth moms look for in adoption profiles is critical for creating a beautiful adoption profile book that speaks directly to birth moms. The more relatable your book is to moms making adoption plans, the better chances you have of matching with a mom quickly.
[Disclaimer: I'm an adoptive mom. I'm not a birth mom or a social worker. I don't pretend to know what it's like to experience looking at potential adoptive parent profiles from a birth parent's perspective. I'm speaking on this subject from my personal experience on the adoption side and from my own research on this subject.
Additionally, I'm not trying to discriminate against birth dads by only addressing birth moms. There are numerous adoption situations in which the birth dad is involved significantly, which often includes reviewing profiles. It's simply easier to keep referring to birth moms than to switch back and forth or try to refer to birth moms and birth dads every time.]
Honesty
An adoption profile is not the place to describe the kind of life you want to have or to embellish the truth in any way. You have to trust that the life you can offer an adopted child will be the right fit for a mom. For example, don't pretend that you have a big house in the country when you have a small house in the city because you think the former scenario will be more desirable to a mom. Your situation will appeal to the right mom.
Relatability
Many birth moms end up being drawn to a certain couple or family because of something they relate to about their life. You never know what little detail will catch her interest. Don't be afraid to go into detail about your background, hobbies, etc. Having an uncle with the same college alma matter as you and your husband or being fans of the same sports team may spark a connection.
A positive perspective on adoption
A "saving the world" mentality is frankly, not a good reason to adopt in the first place and certainly not something to share with birth moms. Above all else, moms want couples and families who feel strongly about their chosen path to grow their families through adoption. Discuss how you will talk about adoption with your children from an early age and what you will do to celebrate adoption, such as honoring a child's ethnic background or connecting with fellow adoptive families.
Openness to open adoption
The vast majority (95% or higher) of domestic infant adoptions in the United States today have some level of openness. It's become the norm for birth families and adoptive families not only to meet before and surrounding the birth but to stay in regular contact afterward. Expressing your interest in an open adoption right from the start will appeal to quite a few moms and couples.
If you're back in the waiting pool for a subsequent adoption and have an open adoption with one or more of your adopted kids, make sure to share details about these relationships in your profile materials. Always talk to birth families about sharing names, even first names, and photos before including them in profile materials.
Depending on your relationship, you may want to consider asking your child's birth mom or dad to write a letter on your behalf to include in your materials as well. It will speak directly to your stance on open adoption and set you apart from the crowd.
I know that open adoption is intimidating. If you simply haven't thought much about open adoption at this point in your adoption journey, that's completely fine. I highly encourage you to read my FAQ about open adoption and 10 myths about open adoption debunked. I also urge you to seek out personal narratives from other families in open adoptions to gain more perspective on the topic.
A strong relationship
You and your spouse's relationship is at the heart of your family dynamic. Many moms and couples make adoption plans for their children because they are unable to provide a solid family structure. Knowing that their child is in a stable house with a mom and dad who love each other and are in a committed marriage provides a huge peace of mind.
A glimpse at everyday life
Moms need to be able to picture what day to day life will look like to imagine their children talking part in it. Having pictures in your profile of major milestones (i.e., weddings, birthdays, graduations) and other notable events (i.e., travel) is great. It's also important to have pictures of the smaller moments, such as hanging out in the back yard and enjoying dinner with close friends.
Your hobbies and adventures
Going into some depth about your hobbies and passions plays a significant role in the relatability factor for moms. It will help set your apart among a slew of profile books and give moms an opportunity to connect with you through some of the most important aspects of your lives. It may seem silly or trivial to include pictures of beekeeping or geocaching, but it isn't.
Your values
Make a point of including a couple of short paragraphs in your profile materials about your values. Talk about them in relation to your children or future children, such as that you plan to attend church as a family every week or that their education will be a high priority.
Lots of happy family pictures
One of the biggest reasons to start working on your adoption profile book as soon as you start the home study process is to ensure you have lots of good pictures to include. Even if you see extended family often, you may not have a lot of recent pictures of them. Make a conscious effort to take more pictures in the weeks leading up to getting home study approved. Happy family pictures doesn't mean perfect posed shots. Candid cell phone shots work just fine and again, are often even more relatable and personal.
As you put together your adoption profile materials, review tips for making your profile unique as well as what NOT to include in your profile. Arguablely, a bad faux pas will overshadow lots of positive elements of a profile. Tread carefully. You don't want to include anything that will detract from your profile.
Personalized letter
Finally, I highly recommend that you write a personalized letter to every mom you present to when you have the opportunity to do so. I realize that this isn't always possible. But take advantage of the opportunity when it's there. Please don't just include a form letter with a different mom's name.
You don't have to write a brand new letter from scratch for every single potential adoption situation. It's okay to have a template that you customize for each mom. For example, one mom may feel strongly about having a family of a certain religion. You may not want to include a lot of detailed information about this topic in your letter every time you present.
I wish every family pursuing adoption all the best in creating their adoption profiles. If there's any specific way that I can be praying for you on your adoption journey, please let me know.
Pin this post for easy access to this adoption profiles resource later!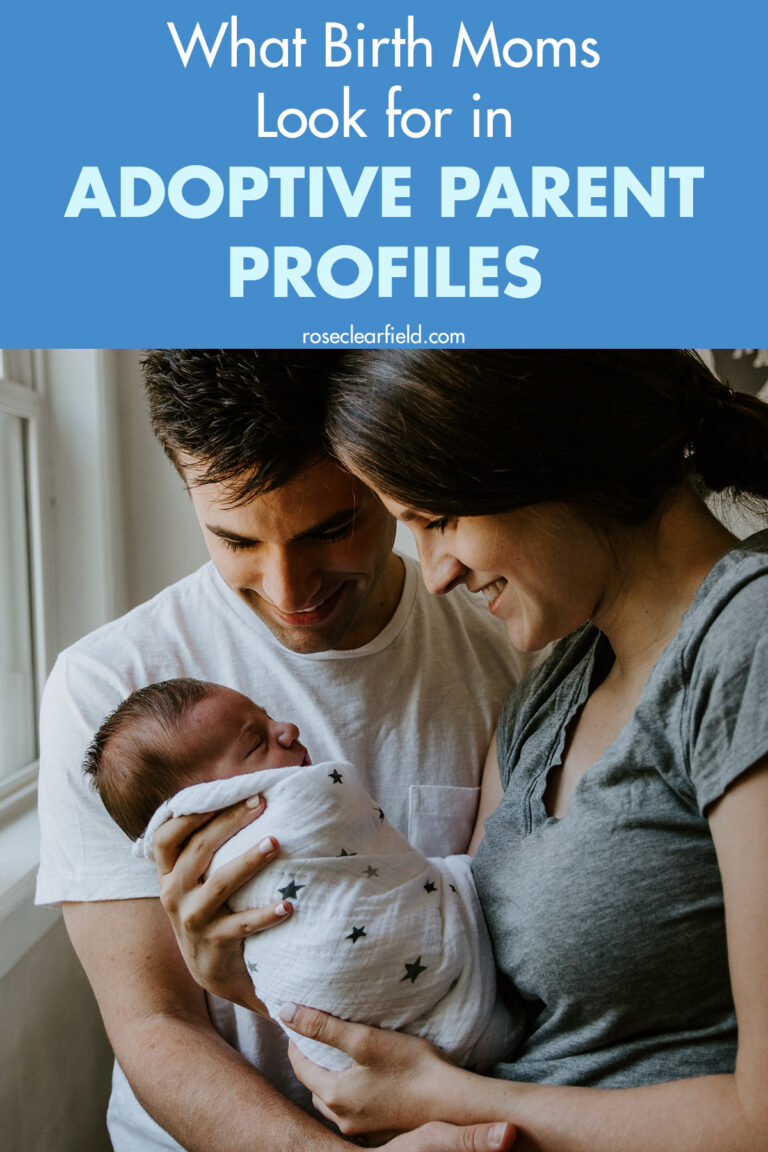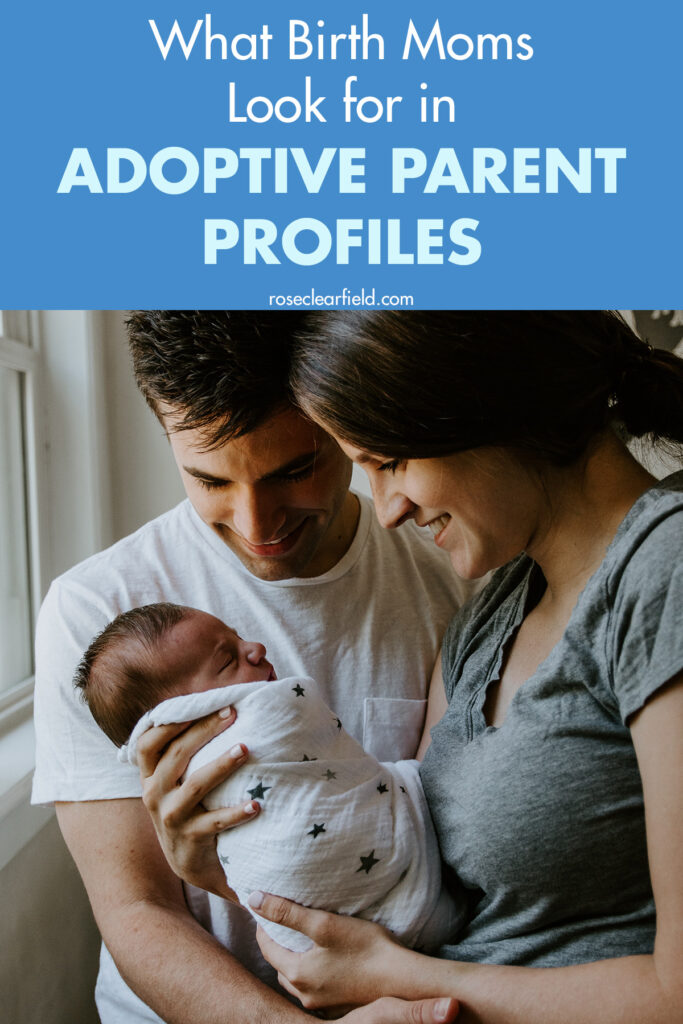 More adoption profile resources:
More adoption resources:
Visit the adoption section of the blog for even more adoption posts, including our adoption story, open adoption, and waiting to adopt.