Midwest grocery store alternatives give you convenient ways to shop local and support farmers and small businesses close to home.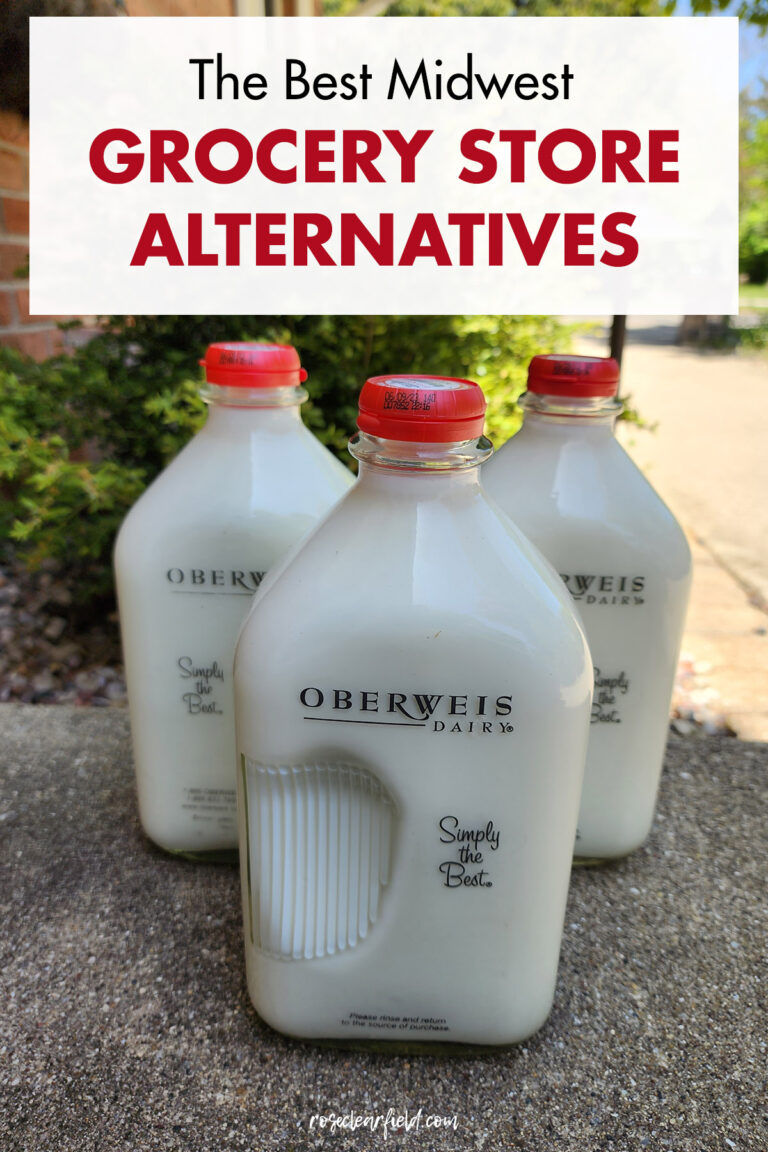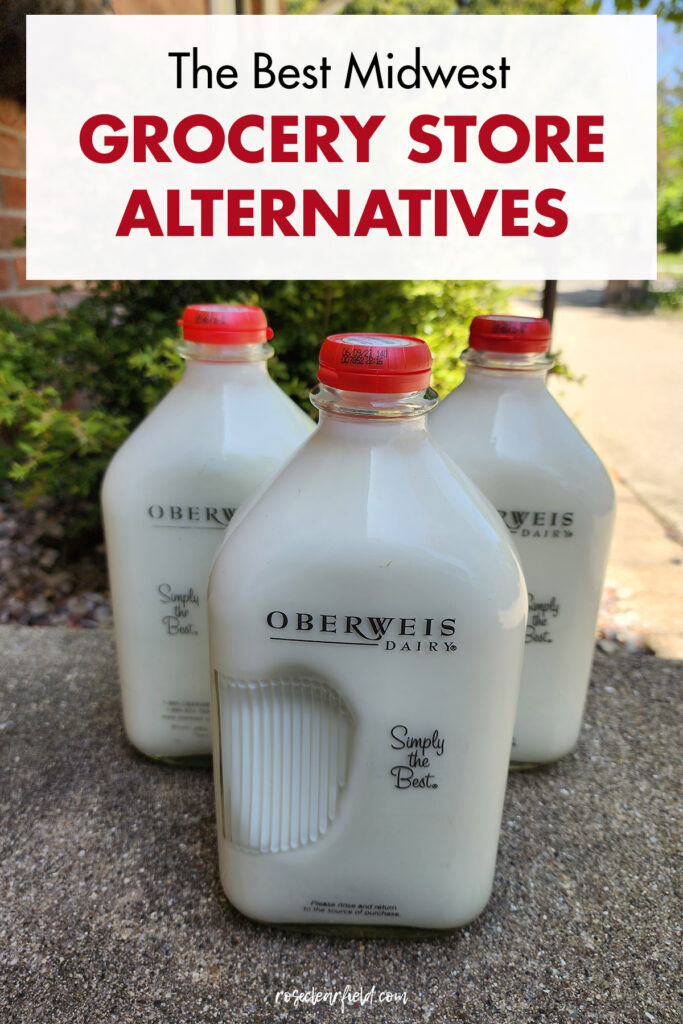 Why shop Midwest grocery store alternatives?
Support local farmers and businesses. All of the grocery store alternatives in this post give you direct access to local farmers and businesses. You know exactly where all of your food is coming from, and you know that it comes from within driving distance of your home. Many of these farms and businesses are small, family-owned organizations.
Gain access to a wider variety of organic foods. Over the past couple of decades, grocery stores have greatly expanded their organic offerings. There are also a lot more options for shopping online. Having local grocery store alternatives with organic products locally gives you even more options that don't come with steep shipping costs.
I want to make it clear that I did not write this post with the intention of helping you save money on groceries. Shopping Midwest grocery store alternatives can save you money, such as shopping in bulk. However, many of these alternatives are more expensive than grocery stores, especially big chains. While you do pay more money, you're getting higher-quality products that are less processed while supporting local farmers and businesses.
Please note: I've done my best to provide the most up-to-date, accurate information about all of these grocery store alternatives. Delivery zones, product availability, affiliate link offers, and other key information is subject to change at any time without notice.
[Disclaimer: I do receive a small commission if you use one of my affiliate links. I was not sponsored by any specific company to write this post. All options are 100% my own. Thanks for your support!]
Oberweis
I started shopping with Oberweis around the time that my third child switched to regular milk to save us from making extra trips to the grocery store just for milk. We've never looked back. While certainly not the cheapest option, having milk, eggs, and other high-quality dairy products that my whole family loves delivered weekly is well worth it. We also greatly appreciate the opportunity to drink milk from glass bottles and to have those bottles get reused.
Oberweis's dairy offerings include milk, eggs, cheese, sour cream, cottage cheese, yogurt, butter, ice cream, and ice cream cakes. They also carry additional beverages, charcuterie, meat, seafood, snacks, desserts, pet food, and prepared meals/food items. Oberweis has rotating specials and seasonal items and offers pre-orders for ham, turkey, lamb, etc. before major holidays.
When you use my referral link, you get $100 off your first order, six months of free delivery, and a free porch box.
Market Wagon
Market Wagon partners with over 2,500 local farms and artisans to deliver their goods to over 45,000 doorsteps. The specific products available to you will depend on your exact location. Their product categories include dairy, meat, produce, prepared foods, baked goods, pantry, and non-food items, such as candles and beauty products.
Market Wagon is another terrific resource for getting milk and eggs delivered weekly right to your front door. Personally, I've used it the most often for meat but have been happy with all of the products that I've ordered through it. If you don't have a lot of farmers' markets or farm stands in your area or simply prefer the convenience of delivery, Market Wagon is a great resource for seasonal produce in the late spring through mid-fall.
When you use my referral link, you get $20 off your first order.
Imperfect Foods
Imperfect Foods rescues produce, surplus items, and more from being wasted. They pre-fill your cart with available items. You have a certain time period during which you can add or remove items as you like. Then they make your delivery on a set day of the week. Imperfect Food's product categories include produce, pantry, dairy, snacks, meat, seafood, and wellness. Visit the our food section of their website to learn more about why the products you receive are considered imperfect and how that doesn't mean that they should be wasted.
Misfits Market
Misfits Market has a very similar model to Imperfect Foods. Their goal is to keep as much food as possible from being wasted and to make it available to consumers for less than you'd pay at the grocery store. You can build your own box or choose from curated picks. Then they make your delivery on a set day of the week. Misfits Market primarily focuses on offering an extensive selection of 100% organic seasonal produce, including hard-to-find items. They also have some pantry staples, cooking essentials, alcohol, and more. The Misfits Market website features recipes, how-tos, and lots of other helpful resources.
Generally, customers are very happy with both Imperfect Foods and Misfits Market. They have positive things to say about the food as well as the overall experience, including the shopping process, delivery, and customer service. It's up to you to determine if one service is a better fit for your particular shopping and cooking needs.
Azure Standard
Azure Standard is an independent, family-owned company dedicated to offering organic, natural, and non-GMO groceries, health and beauty products, household items, nutritional supplements, and outdoor and gardening supplies, which includes farm supplies. They offer regular and bulk orders to fit your shopping needs. You can have Azure Standard ship your order or pick it up from a pre-determined drop point.
With more than 12,000 items in their catalog, you'll be hard-pressed to find anything else quite like Azure Standard that offers a local pick-up option (as opposed to shipping only). If you do a lot of bulk food shopping and/or are frequently shopping for additional household/farm bulk items, such as fertilizer and animal feed, Azure Standard is a great option. As there is no membership fee, if you live in close proximity to a drop point, it's well worth giving it a try.
Fresh Midwest
Fresh Midwest offers delivery for local produce, meal kits, signature restaurant dishes, wine and spirits, and more. They have a wealth of grocery store products from local and high-end brands, such as baking staples, pickles, deli meats, and English muffins. It's a great way to get a mix of the best current local produce available as well as lots of high-end pantry and grocery staples and pre-prepared meals. Much like the other food delivery options in this post, you get a weekly delivery on a set day for your area.
Milwaukee Farmers United
Milwaukee Farmers United is an online farmers' market that does indeed have its roots in Milwaukee. While not as extensive as Market Wagon, the offerings are all hyperlocal, and there are no delivery fees for the entire greater Milwaukee area. They have more than three dozen producers. You can search by producer or product category. If you prefer to shop online and for the items of your choosing each week, as opposed to getting a CSA, Milwaukee Farmers United is a great option.
CSA
For more than two decades, Community Supported Agriculture (CSA) has been a popular way for consumers to buy local, seasonal food directly from a farmer. The basic concept of CSA is that a farmer offers a certain number of shares to the public. A share includes produce and possibly other products as well (i.e., eggs, honey). Consumers pay a membership or subscription fee and in exchange, receive a box of produce weekly for the duration of the season. [Source]
Local Harvest has more information about the advantages of CSA for both farmers and consumers as well as variations on this model and the shared risks involved for each party. Local Harvest has a search function to help you find a local CSA. Fairshare CSA Coalition is another great resource for finding a local CSA and learning more about this process.
Shop farmers' markets and farm stands
Farmers' markets and farm stands are a great way to see produce and other products in person while getting to know some of the farmers on a more personal level than you will with any of the above options. I'm linking a few resources below for finding farmers' markets in your area of the Midwest.
Please note that as of writing this post, I wasn't able to find a farmers' market directories for Indiana or Kentucky. If you live in one of these states, I recommend using the National Farmers Market Directory that I've linked above.
Farm stands are another great resource for buying produce, flowers, herbs, plants, and more directly from local farmers. Unfortunately, it's not quite as easy to find farm stands as it is to find farmers' markets. I'm fortunate to live in an area with an abundance of farm stands. I stumble across another one every time I drive a new county highway route. I know that this is not the case everywhere. If you haven't located farm stands on your own, I recommend asking in local Facebook groups and on Nextdoor.
Contact farmers directly
Many farmers don't have online resources and due to limited product availability, are only looking to work with a handful of customers each year. Keep your ears open, and don't be afraid to ask friends if they get their milk, eggs, meat, etc. from a local resource. You will need to reach out to farmers directly to find out more about their offerings, prices, etc.
If you don't have any direct connections with farmers, I recommend using online resources to get started, such as Good Meat Breakdown, which has fantastic resources for finding a good meat farmer.
Thrive Market
Finally, for anyone who's in the market for the best grocery store alternatives, I highly recommend Thrive Market. While Thrive Market is not limited to the Midwest, it is one of the best grocery store alternatives that I've found. Thrive Market has over a dozen product categories, which include meat and seafood, baby supplies, vitamins, beauty products, pets, and alcohol. You can shop by diet, brand, or curated shopping lists. There is a yearly membership fee, and they offer free shipping with certain minimums. You can't beat the convenience of having such a wide range of organic and minimally proceeded items shipped directly to you. Using my referral link for Thrive Market gets you 40% off your first order.
Pin this post for easy access to the Midwest grocery store alternatives resource later!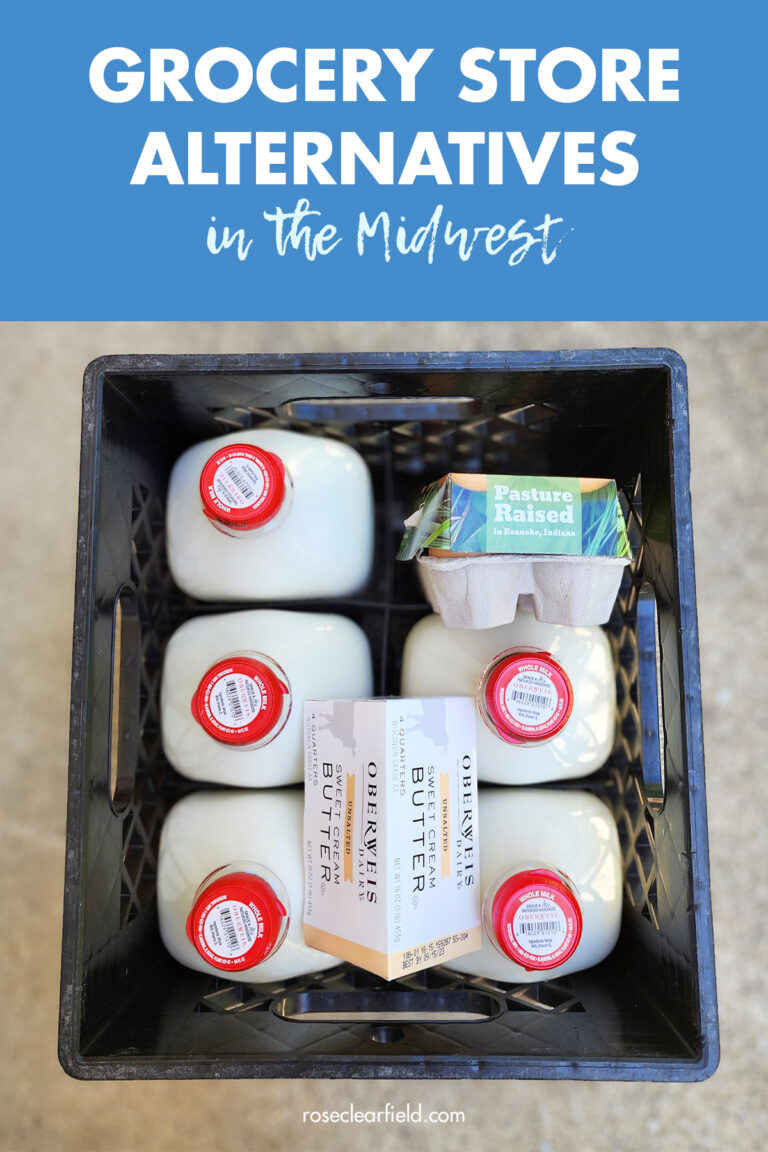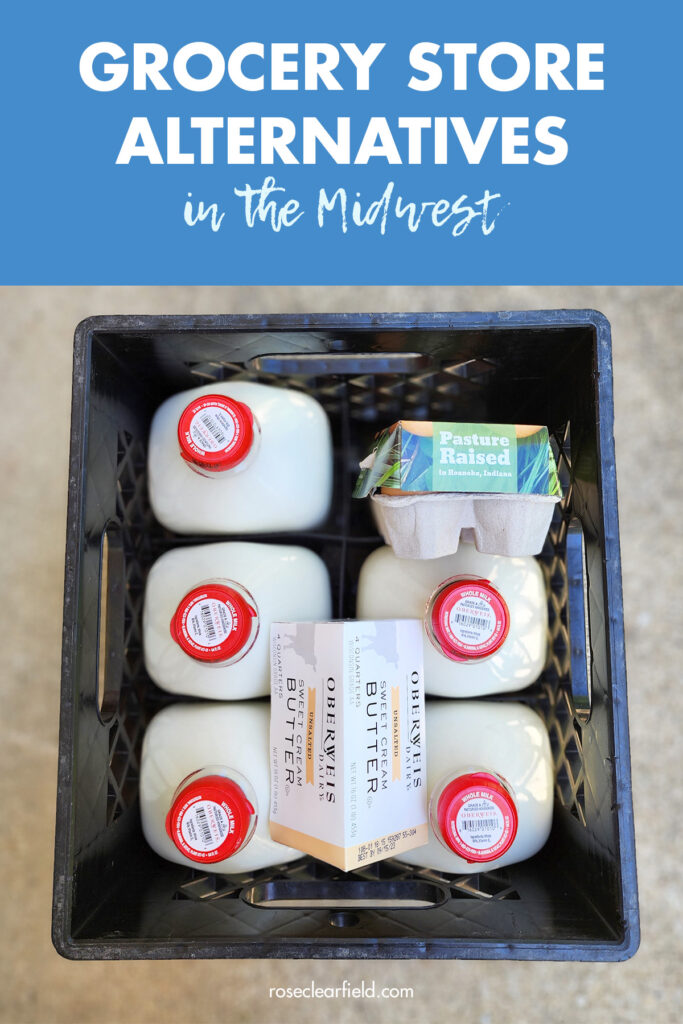 Top recipe posts for your newly acquired local Midwest food: