Familiarizing yourself with the top items to stock up on in August will help you take advantage of seasonal sales and get prepared for the fall months ahead.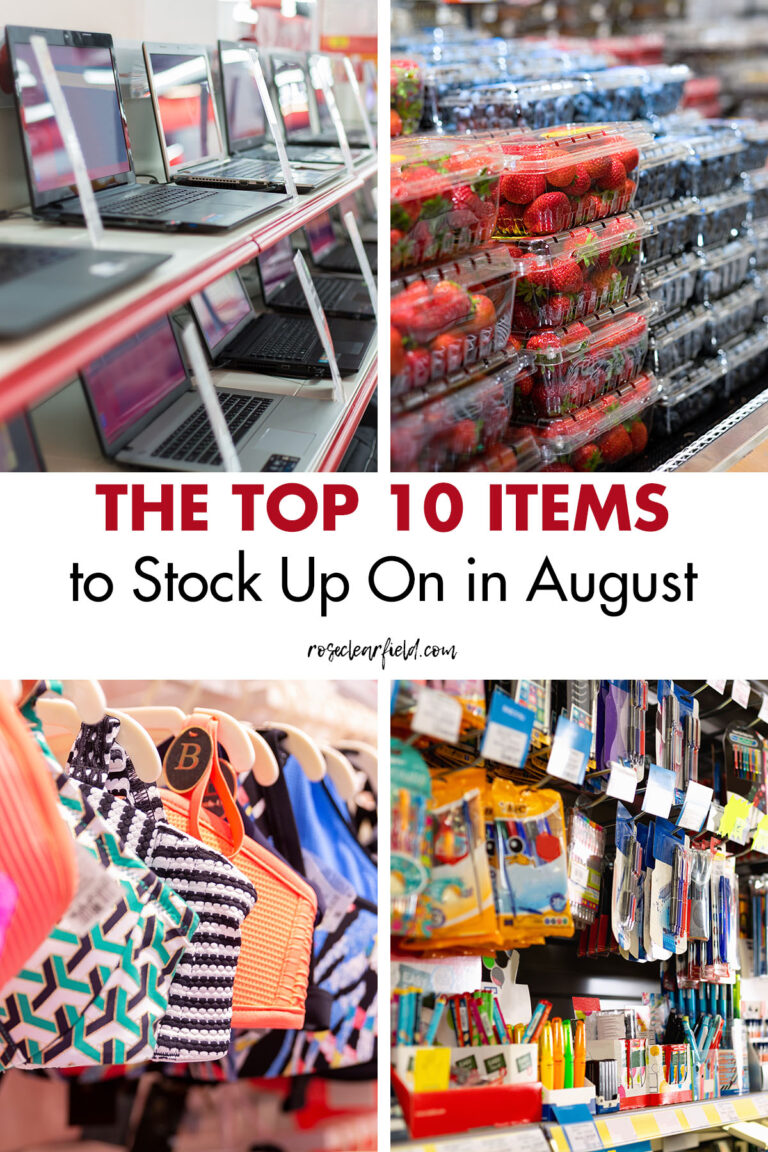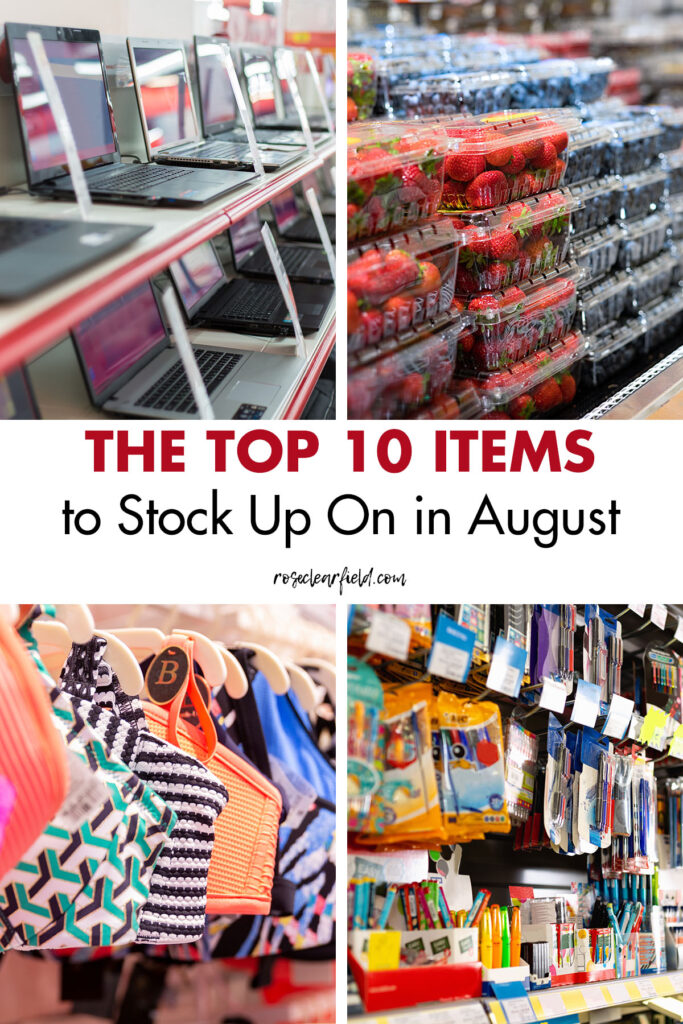 Learning which items to stock up during particular times of the year enables you to make the most of seasonal sales and get you and your family prepared for the coming months. The list of top items to stock up on in August is primarily items you'll expect to find good sales on this time of year. I also cover a handful of annual sales to watch for, such as Ulta 21 Days of Beauty and early Labor Day sales, which are ideal opportunities to save on anticipated larger purchases.
Office supplies
You'll find some of the lowest prices of the year on all sorts of office supplies during back-to-school season. It's a great time to stock up on spiral notebooks, three-ring binders, index cards, pens, and any other office supplies that you'll use up throughout the year. Make sure to look for sales on printer paper as well, and pick up a few reams for the coming months.
Kids' clothing
Numerous retailers mark down kids' clothing for back-to-school season. You'll save big on lots of basics, such as jeans and t-shirts, as well as essentials, including socks, underwear, and undershirts. While prices are low, take advantage of savings on big-ticket items as well, including shoes, boots, and jackets.
Computer and tablets
Of course, if you're shopping for a college student this August, wait to buy a new computer or tablet when you can get it at a great price. Always ask if a student discount is available for even more savings. If you're been thinking about making a tech upgrade for your household, it's also a good time of year for those purchases.
Household items
In preparation for school supply and dorm room shopping, many retailers discount a wide variety of household items. In addition to shopping for your kids' school needs, it's a great time to stock up on essentials for your own home, such as Kleenex, Lysol wipes, hand sanitizer, Ziploc bags, bleach, and ice packs.
Furniture and bedding for dorms
Take advantage of low prices on furniture and bedding for your college-age kids as well as younger kids who are still at home and in need of a room refresh.
Seasonal produce
In many areas of the country, the seasonal produce offerings decrease significantly after August. Enjoy the final produce while it's still here. Stock up on and freeze produce, such as blueberries, that you can use for smoothies, pancakes, and more.
Corn on the cob is another seasonal food that freezes well. Cook corn on the cob, then cut off the kernels and freeze them for later. Frozen corn is perfect for cornbread, soups, salsa, casseroles, and much more.
Labor Day party items
August is the last time you'll see big deals on hot dogs, grilling condiments, and paper and plastic food products for a while. Stock up on and freeze hot dogs, stock up on favorite grilling condiments that you'll use in the cooler months, and purchase paper and plastic food products for upcoming fall and winter events, such as birthday parties and Thanksgiving.
School breakfast and lunch foods
You know how busy your weekday routine gets once the kids are back in school. Having your pantry, fridge, and freezer well stocked for making breakfasts and packing lunches helps every day go more smoothly. Sale items to watch for include cereal, frozen waffles and pancakes, frozen breakfast sandwiches, granola bars, fruit snacks, and juice boxes. When you have the storage space, take advantage of sales on shelf-stable and frozen foods, so you're set for the months ahead.
Camping supplies
Late summer is a popular time for camping supply sales, as many retailers are interested in clearing out inventory at the end of the busy camping season. Watch for deals on sleeping bags, propane canisters, and coolers. Generally, you'll see savings of 15-30% from major brands, such as REI, Moosejaw, and Backcountry.
Summer clearance sales
Stores will mark down summer items that they have left at the end of the season at significant savings including clothing, swimwear, goggles, pool toys, and beach towels. Shop with the following season in mind, purchasing items in the next size up for your kids and replacing worn-out goggles, toys, and towels.
Sales to watch for in August
Final garage sales
Most people hold their garage sales during June, July, and August. The sales drop off significantly once you get past Labor Day weekend. If you've been thinking about hitting garage sales this summer, don't wait any longer. Garage sales are ideal for shopping for appliances, furniture, picture frames, baby and kid clothing and gear, exercise equipment, and holiday decorations. You'll often find gently used or like new items as well as pieces with plenty of life left in them, such as furniture that simply needs a new wood stain or coat of paint.
Ulta 21 Days of Beauty
Ulta 21 Days of Beauty starts at the end of August and boosts three full weeks of sales on makeup, skincare, fragrance, and more. Each day they offer a new selection of items at 50% off retail. There are other specials throughout the sale as well as exclusive details for Diamond and Platinum members. Watch for this year's specific sale dates toward the end of the month.
Early Labor Day sales
Numerous retailers start their Labor Day sales during the last couple of weeks of August. You'll find major markdowns on lots of end-of-the-season items including grills, patio furniture, summer clothing, and swim items. Watch for deals on appliances, mattresses, and computers/laptops as well. Additionally, if you're in the market for a new vehicle, late summer and early fall are great times to shop. With the latest car models debuting in September, dealerships often mark down older models this time of year.
Start planning ahead for Christmas
Finally, the end of the summer is an ideal time to start working on a few Christmas projects. I know that it seems early. But getting holiday tasks out of the way well in advance will free up time for more enjoyable pursuits as the season hits, such as taking your family to light shows and organizing a white elephant gift exchange with friends.
At a minimum, I recommend shopping for Christmas card supplies, including return address labels and stamps. If you take family pictures in the spring or summer, order cards as soon as you have the photos back. Then you'll be ready to send cards right away. If you take family pictures in the fall, you can still shop for address labels and stamps and preview card designs ahead of time.
I also recommend making a list of everyone you'll be shopping for this season, and brainstorming gift ideas. With a list ready, you'll be able to shop all fall as you have the time and find good prices on specific items.
Are there other items that you like to stock up on in August?

I'd love to hear about your favorite ways to save money and get ready for the autumn season ahead!
Pin this post for easy access to the top items to stock up on in August resource later!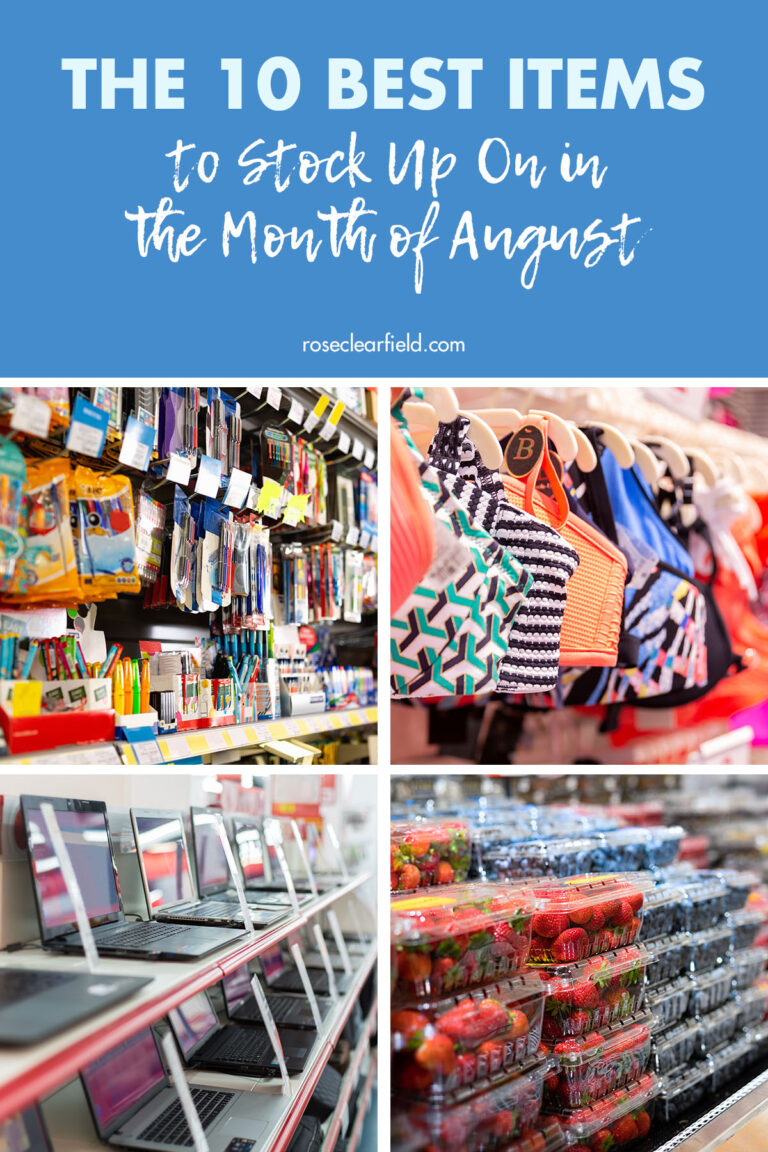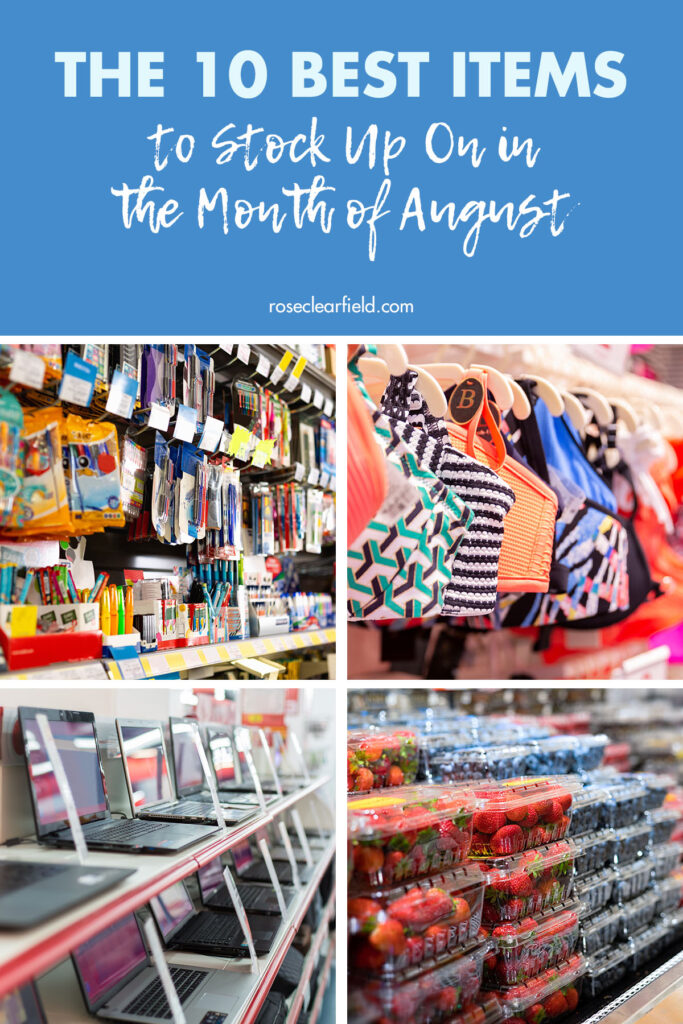 Are you looking for ways to save during other times of the year?
More late summer/early fall resources: