I'm sharing just a few of the newborn favorites that we've been loving with these first couple of months with Olivia.
This is basically an updated version of the first baby favorites post I wrote with Tommy. We still own and love quite a few of those items, so there are a handful of repeat items. I'm also sharing a few new items that we didn't use the first time around. Baby recommendation posts have always been a huge help to me as a mom. I hope that my posts are helpful for others as well.
Travel bassinet
Olivia was born out of state. We spent the first week or so post-hospital in an Airbnb before we were cleared to head home. The Munchkin Brica Fold 'N Go Travel Bassinet is where she slept at night and where we put her down, so we could eat, shower, etc. Like most travel baby/toddler beds, it's not very padded. I recommend padding it with a thicker blanket under the mattress. I love everything else about this model. It folds down so easily, which is great for the car. The whole thing is machine washable and air dries well, which I definitely tested before we even left town for her birth (thanks, cats).
Car seat cover
We had the J. J. Cole car seat cover for Tommy. I did use it with him a little bit. However, as he was born in the summer, by the time we hit winter, he was already six months old. By then, I wasn't nearly as worried about keeping him bundled up. We had a couple of weeks of near 0 degree temperatures this winter where the car seat cover was vital for going anywhere. We've also used it for lots of walks and little trips, like the zoo, while the weather is still colder.
Love to Dream Swaddle UP Original
Olivia is all about being swaddled. Typically, I use swaddle blankets to wrap her up as needed during the day. I bought a few swaddles as soon as she was discharged from the hospital because she doesn't want me to put her down at night. The Love to Dream Swaddle UP Original is by far her favorite. She loves the arms up position. It helps her go down at night, and she eats better in it during her night feedings. Putting her down after night feedings has still been a process. But I can't even imagine where we'd be without swaddles.
Winnie the Pooh Aden + Anais muslin swaddles
I severely underestimated how many swaddle blankets we'd need while traveling post-adoption, as Tommy never really liked to be swaddled. Unfortunately, I can't find a link for the swaddles I purchased in store at Target, but this Aden + Anais Winnie the Pooh set is very similar to the Winnie the Pooh set I bought. It was a bit of a splurge, but I love them so much, and the larger size has been awesome. At nearly three months old, I'm still using them to swaddle Olivia all the time.
PopYum baby bottles
Thanks to my friend Kara for the PopYum baby bottles recommendation! They were awesome for traveling home with a newborn and have been saving my life at night. I've never seen anything else like PopYum bottles. I love the concept. The execution could be better. It takes over 12 hours for the components to air dry fully, which means you really need two sets to use them every single day. The bottles take some practice to disassemble and reassemble quickly. They do vent as well as the Avent bottles, which is what's most important. But the nipple design isn't ideal. It's tough to find a good angle, especially with a newborn. Olivia and I both do a lot better with them now than we did two months ago.
Avent bottles
We used Avent bottles with Tommy and are using them again with Olivia the majority of the time during the day. They vent well and have a comfortable design with just three easy-to-clean components. I don't know why you'd ever spend more on baby bottles if you and your baby are happy with bottles at this price point.
Pacifiers
We're also using the Avent pacifiers, which is what we used with Tommy. Olivia has loved them right from day one. I know that there is a lot of controversy about pacifiers and when to start and stop using them. Please spare me your opinions. Tommy loved pacifiers, and they made such a difference with his sleep. I literally have no idea how I would survive without them with Olivia. Sleep has been much tough with her. The first couple of months, pacifiers were critical for getting her to settle for longer sleep stretches without me holding her.
Bibs and burp cloths
The biggest reason I run a baby/kids clothes load every day right now is because Olivia goes through so many bibs and burp cloths. When you're feeding a baby every two or three hours, they go quickly, even with a large set. If I had to do it all over again, I would only get bibs with snaps, not Velcro. Velcro wears out over time and is tough in the wash. I keep them in a mesh bag, so they don't destroy other items in a load. But they will still destroy the mesh bag. I love these muslin bibs and these waterproof bibs, both of which have snaps. For burp cloths, most recently I bought these Cloud Island burp cloths to put in rotation with what I already had for Tommy (which are very similar).
LeachCo Podster
The LeachCo Podster is an old recommendation from Jessica of How Sweet Eats, who used it with her oldest. We were gifted our podster when Tommy was about two months old. I said that I wished we'd had it from day one. I stand by that statement more than ever now that Olivia got to start using it when she was about two weeks old, as soon as we were able to travel home after her birth. She loves being able to snuggle deep in it while she's still so little.
Bouncy seat
We have two bouncy chairs, both similar to this bouncy seat, that we used with Tommy and are still going strong with Olivia. At almost three months old, Olivia is able to start bouncing herself. We use them all the time and carry them to different rooms of the house every day, so we can set her down to cook, eat, play with Tommy, etc.
Infant-to-toddler rocker
I didn't get the infant-to-toddler rocker until Tommy was about 18 months old and had already outgrown the bouncy chairs. At three and a half years old, he can still fit in the rocking chair, and Olivia has loved it right from about two weeks old. Like the podster, it's so deep for a newborn that she can really snuggle into it. The chair also has a vibration function, which helps her sleep in it.
Bath chair
I bought this bath chair specifically for travel because it folds up flat. Honestly, we didn't use it with Olivia until we got home. But now we use it for all of her baths, and I absolutely love it. Olivia had her first bath in it when she was about two weeks old. Right from the start, it kept her in place really well. The chair dries quickly. Again, it can be folded flat when not in use, which is great when you don't want it in your tub all the time or taking up a ton of space elsewhere.
Sit and stand stroller
I wasn't going to buy the Joovy Caboose sit and stand stroller until the summer when Olivia could sit up in the seat. But then I was browsing it again this winter and found out that it has an infant seat attachment! So I bought it right away, and we've been using it for the last month or so. Tommy does really well walking around the neighborhood and can easily go a mile or two without a rest. But he still gets worn out sometimes and is getting way too heavy to carry. And it's great for the zoo and larger outings. Tommy loves being able to hop on or off easily and having the option to sit or stand.
Clothes
One of my goals is for Olivia to wear as many of Tommy's old clothes as possible, especially during these first few years. I bought a lot of gender neutral pieces for him, and we've hung on to most of them. As Tommy was born in summer, we have had to fill in her wardrobe with warmer newborn items. As I mentioned in my one month update, Olivia was a scratcher early on, so I also wanted onesies and pajamas with the fold over cuffs. By two months, the scratching had improved considerably thankfully. I still buy a ton of baby and kids clothes from Old Navy. I've also bought a few of my favorite Primary items in pink and purple and a few new-to-me patterns, like polka dots.
Bows
I have not gone down the Etsy rabbit hole buying handmade bows (yet). Before Olivia was born, I picked up a set of thin headband bows and a set of turban bows and have been happy with both so far. The sets are huge, so there are plenty of color choices for every outfit imaginable. Olivia doesn't rip them off (yet), and they stay on as well as can be expected with a newborn. You can see bows from both of these sets in her one month and two month updates.
[Disclaimer: There are a few affiliate links in this post. Thanks for your support!]
Parents, as always, I'd love to hear about your newborn favorites!
Feel free to share links in the comments.
Pin this post for easy access to the newborn favorites later!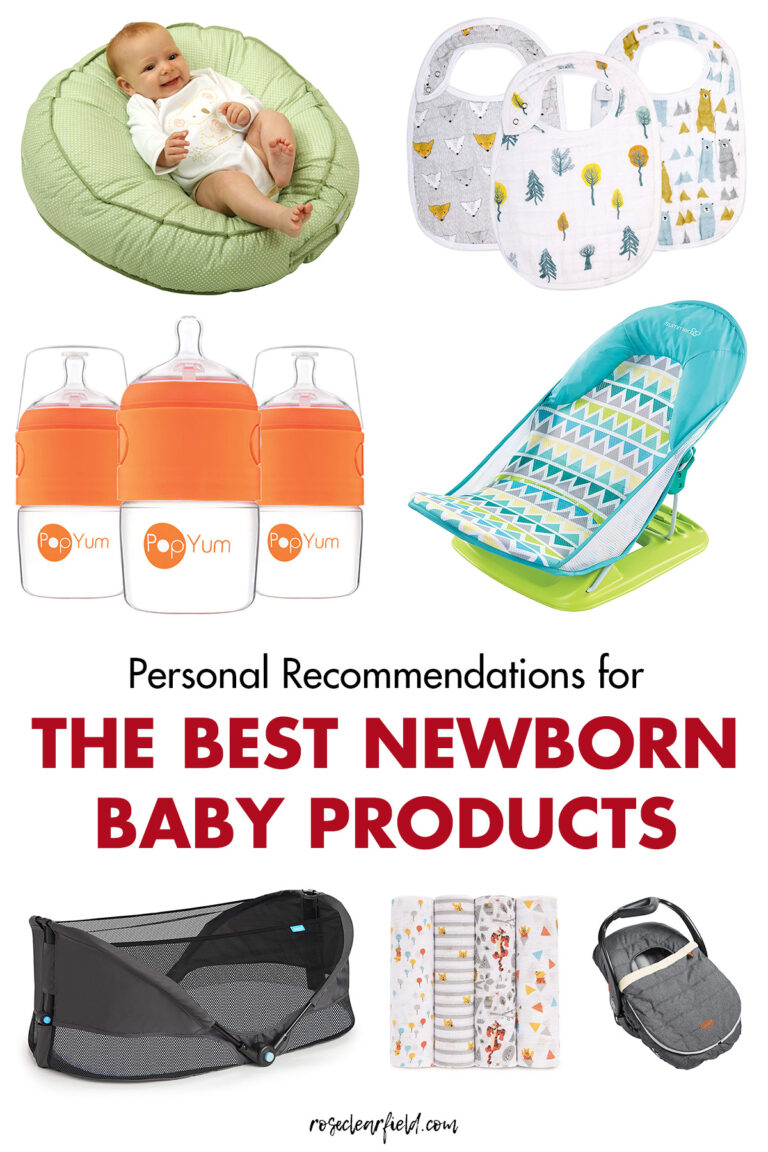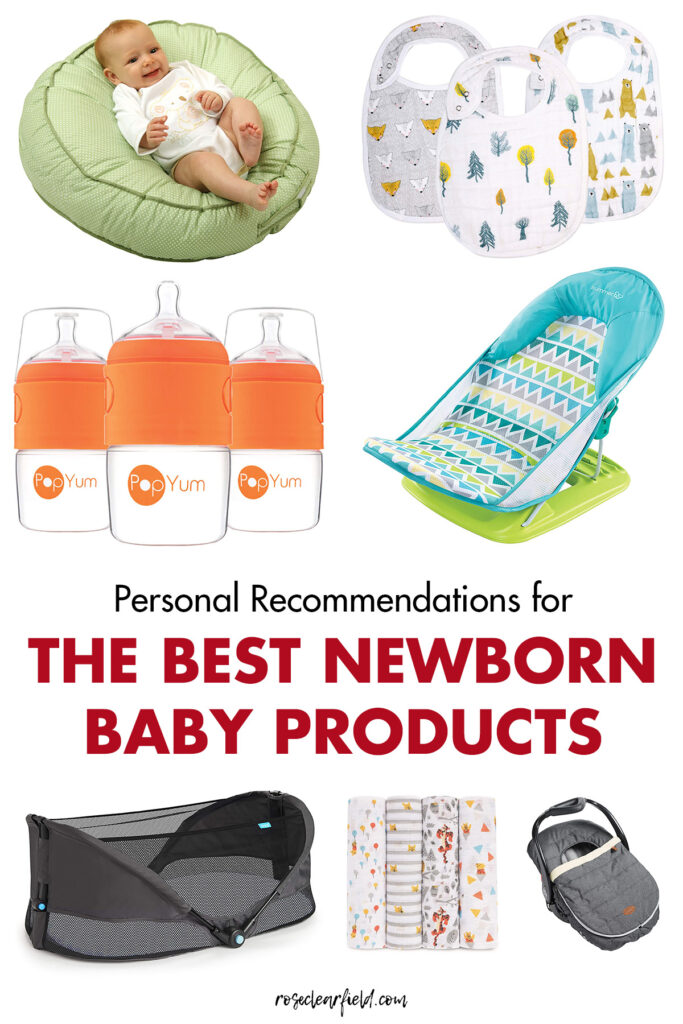 More baby gear recommendations: