Free printable Valentines to color are a fun way for kids to customize the Valentines they distribute to their friends and classmates.
I've created 10 printable Valentines to color, all completely free. Yes, it's so easy to purchase Valentines. But it's a lot of fun to print your own Valentines, too, especially when you love coloring. When you print your own Valentines, you have a lot more creative control. You can personalize each Valentine quickly and easily. Having a selection of Valentines to print also makes it easier to give different Valentine designs to different people without purchasing lots of boxes of Valentines.
I have nine Valentine designs perfect for friends and classmates. The Valentines feature classic holiday elements, including teddy bears, cupids, arrows, candy, and of course, lots of hearts. I also have one Valentine design just for teachers.
Happy coloring and Happy Valentine's Day!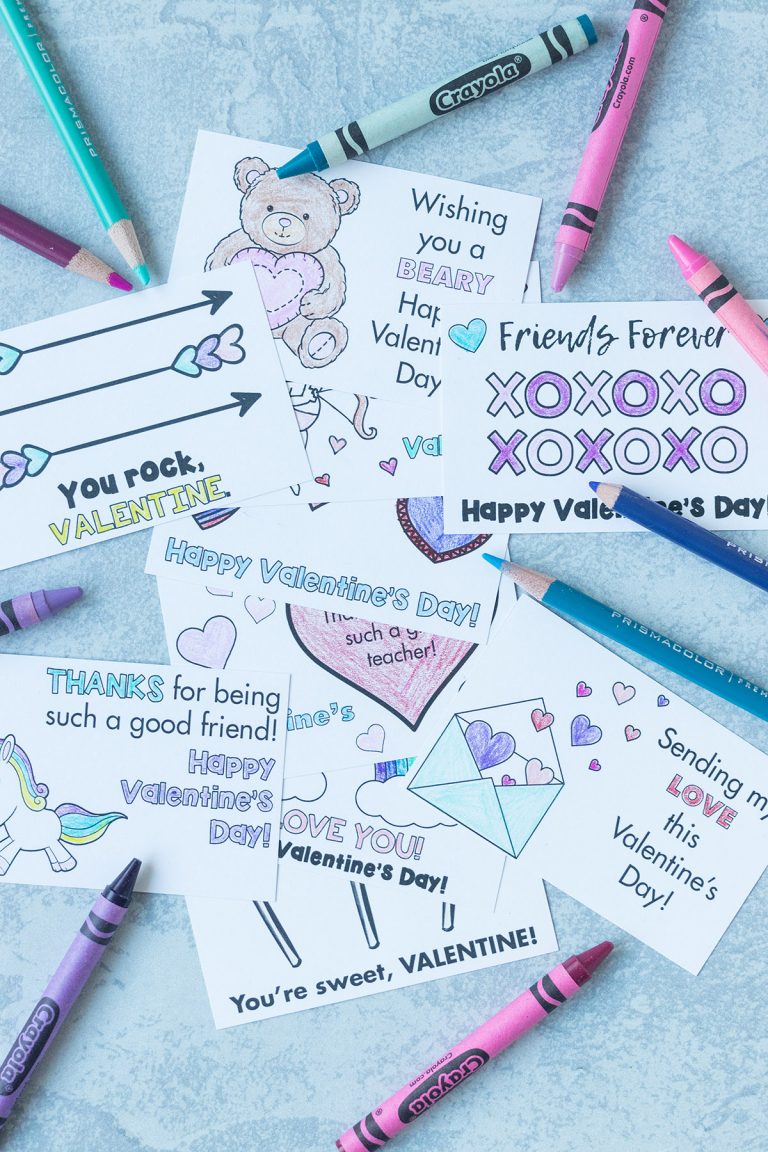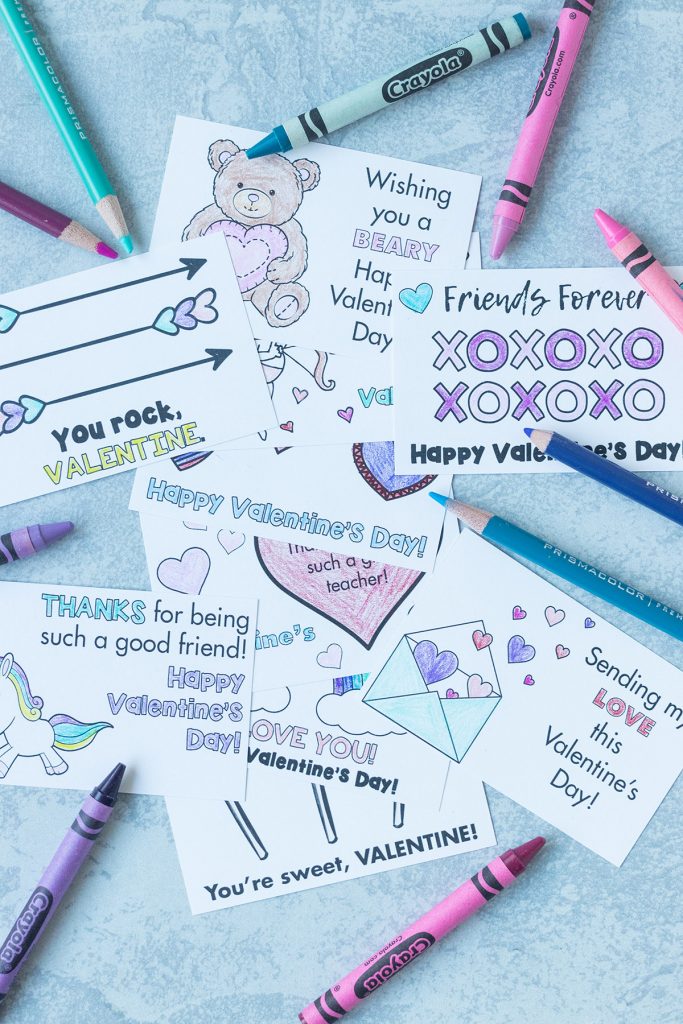 Recommended coloring materials for the printable Valentines
Most likely if you have kids interested in coloring their own Valentines, you already own an abundance of coloring materials. Kids are welcome to use any coloring supplies and other craft materials (i.e., sequins, glitter glue, etc.) that they like their Valentines. I'm sharing a few of my favorite coloring materials that I really like for these card designs.
Markers
You'll be hard-pressed to find washable fine tip markers with better color quality at a better price than Crayola Super Tips. You get a huge range of colors, and the finer tips are perfect for intricate coloring designs.
Crayons
For younger kids, you can't go wrong with Crayola Twistables crayons. You get a large selection of colors, and you don't have to worry about anyone eating crayon or getting crayon paper everywhere. For older kids who want even more colors, go for the 64-count Crayola crayon box.
Colored pencils
For younger kids, you also can't go wrong with Crayola Twistables colored pencils. I spent years coloring with a large set of regular Crayola colored pencils and always loved them. If you want to go up a notch with colored pencils, pick up a set of Prismacolor Premier colored pencils. The color quality and blending ability is worth every penny.
About the free printable Valentines to color
The printable Valentines to color are for personal use only. You may download and print them as many times as you like, including for classroom use. Please don't distribute the download files. If family, friends, or co-workers are interested in their own Valentines, please direct them to this post, so they can download their own files. Thank you!
The preview images above each Valentine are intended as just that: previews. They're small, low-resolution images. The PDF files linked below each Valentine contain five Valentines each, making it simple to download and print multiple copies of the Valentines.
Free printable Valentines to color downloads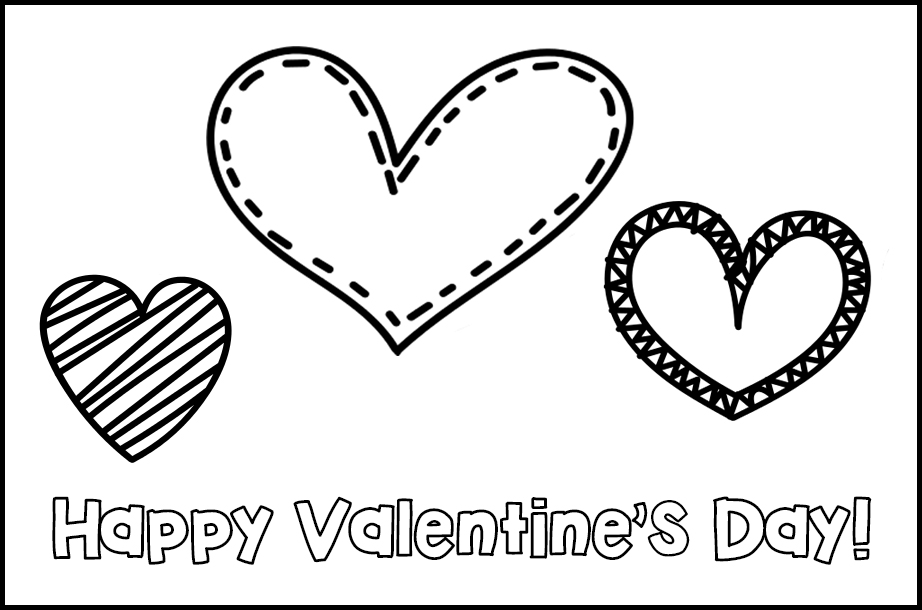 Assorted Hearts Happy Valentine's Day
Three doodle hearts with different designs to color with a "Happy Valentine's Day!" message.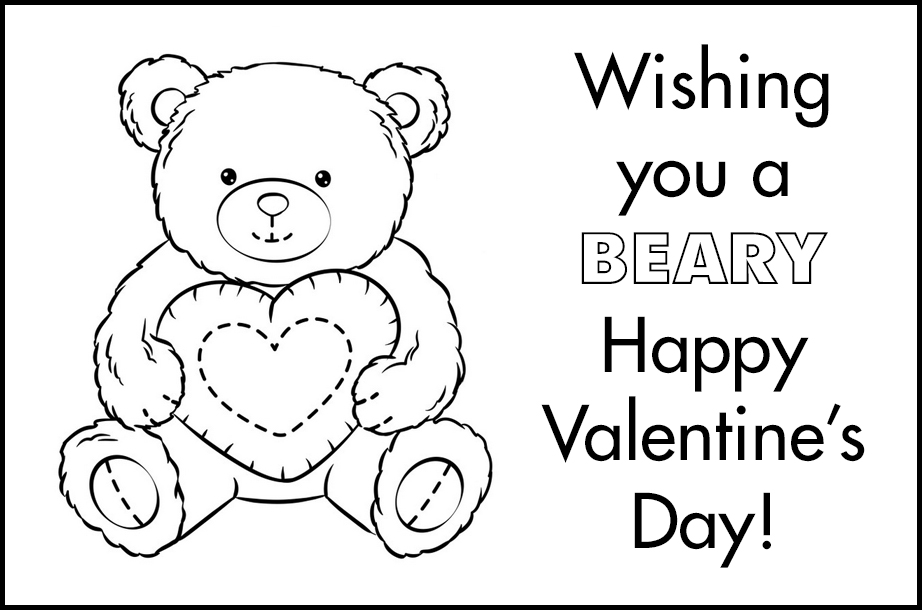 Beary Valentine's Day
A teddy bear with the message "Wishing you a BEARY Happy Valentine's Day!"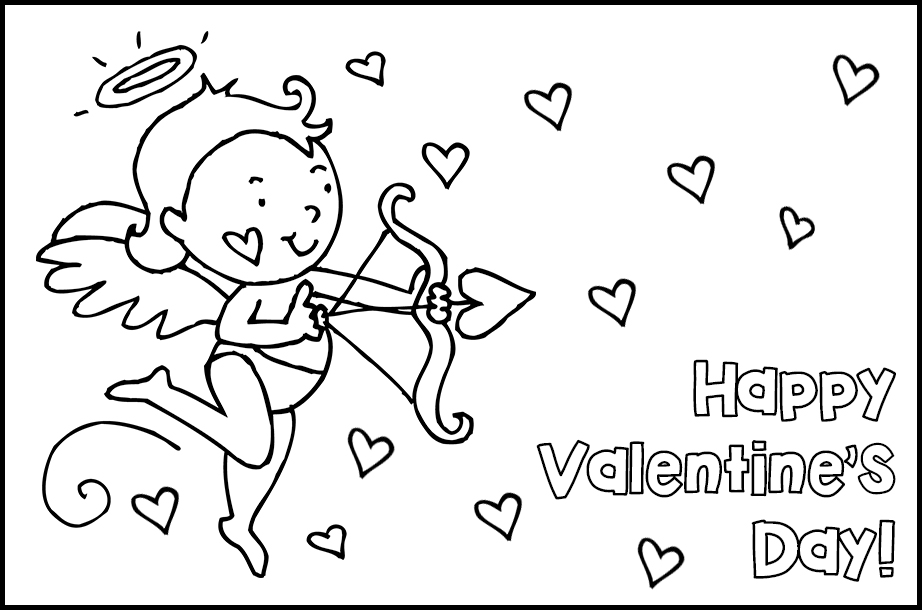 Happy Valentine's Day Cupid
A cupid with a bow and arrow surrounded by hearts with a "Happy Valentine's Day!" message.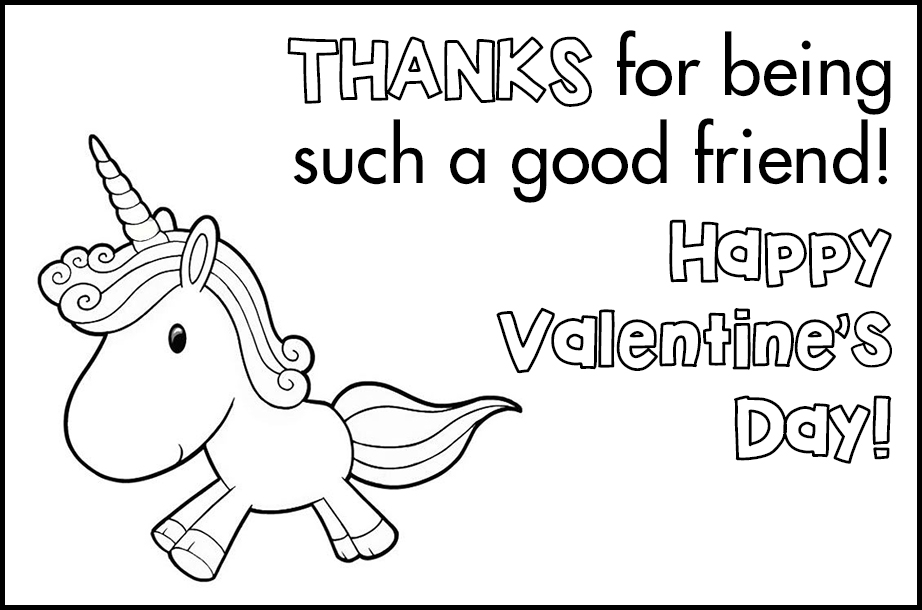 Unicorn Good Friend
A unicorn with the message "Thanks for being such a good friend! Happy Valentine's Day!"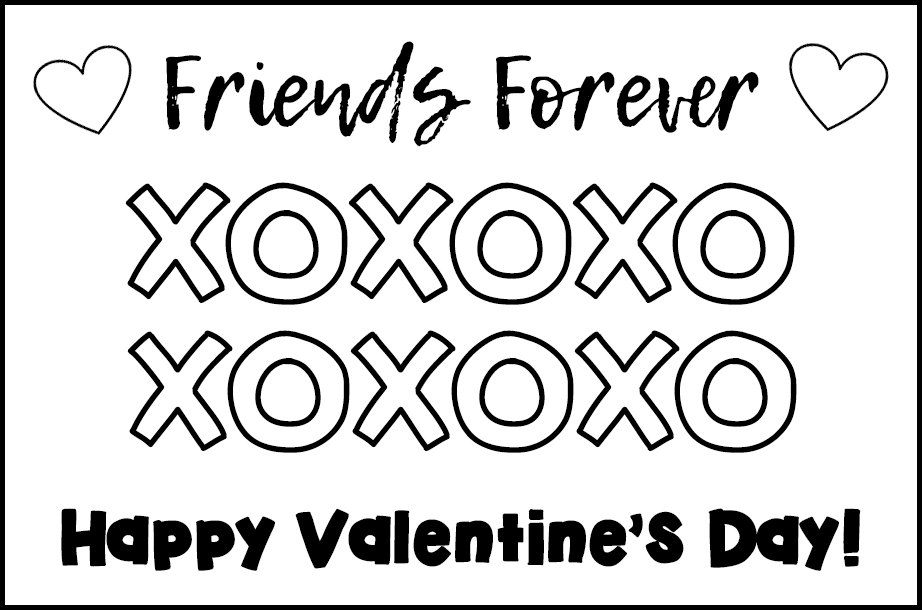 Friends Forever XOXO
The message "Friends Forever" at the top with a heart on either side, two lines of "XOXOXOXO" in the middle, and the message "Happy Valentine's Day!" along the bottom.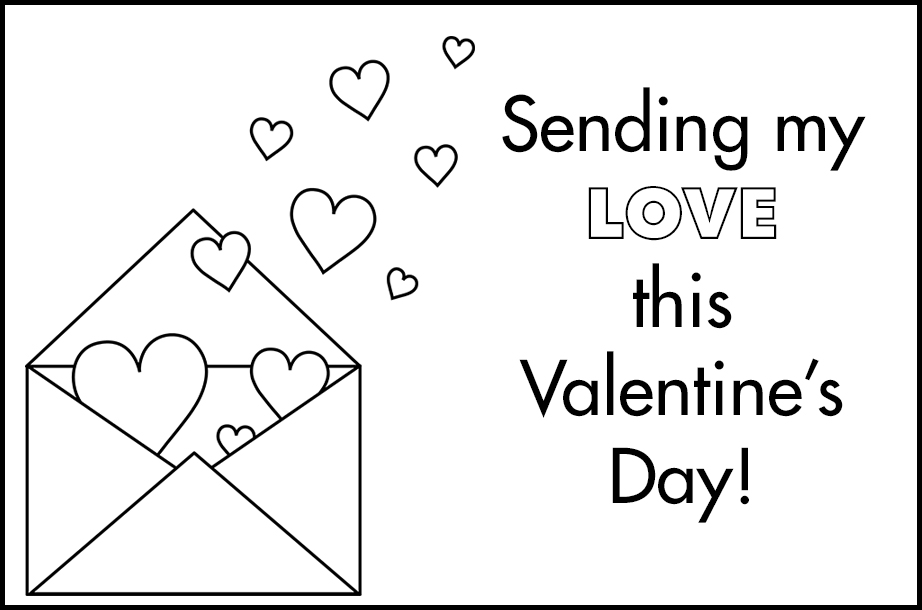 Envelope With Hearts Sending My Love
An open envelope with hearts spilling out of it and the message "Sending my love this Valentine's Day!"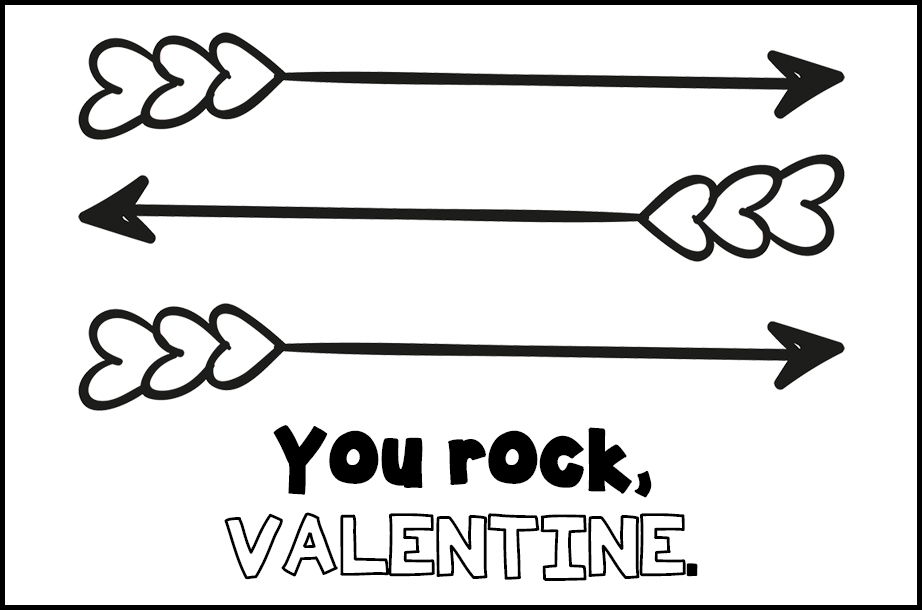 Heart Arrows You Rock
Three arrows, each with three hearts at the end, with the message "You rock, Valentine."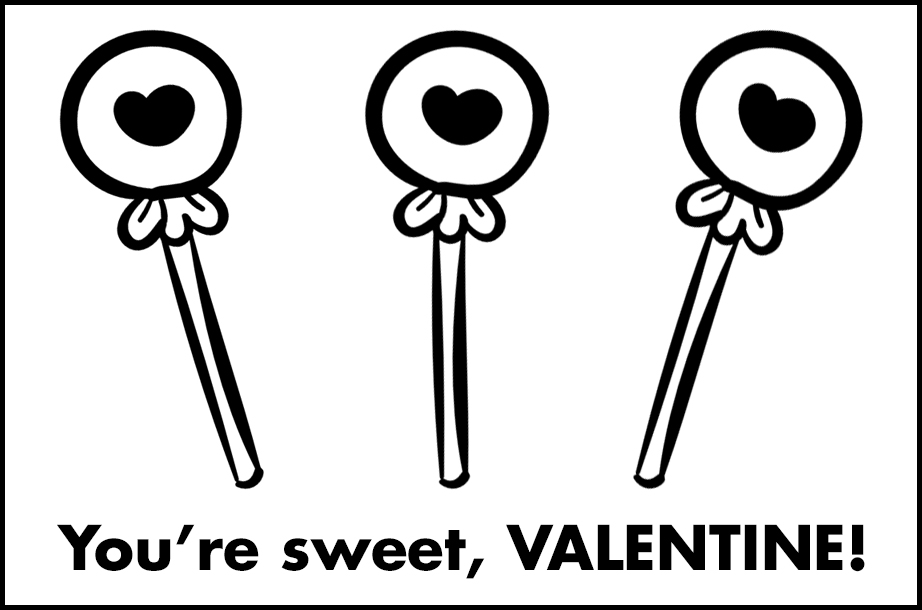 Lollipops You're Sweet
Three lollipops with hearts on the wrappers with the message, "You're sweet, Valentine!"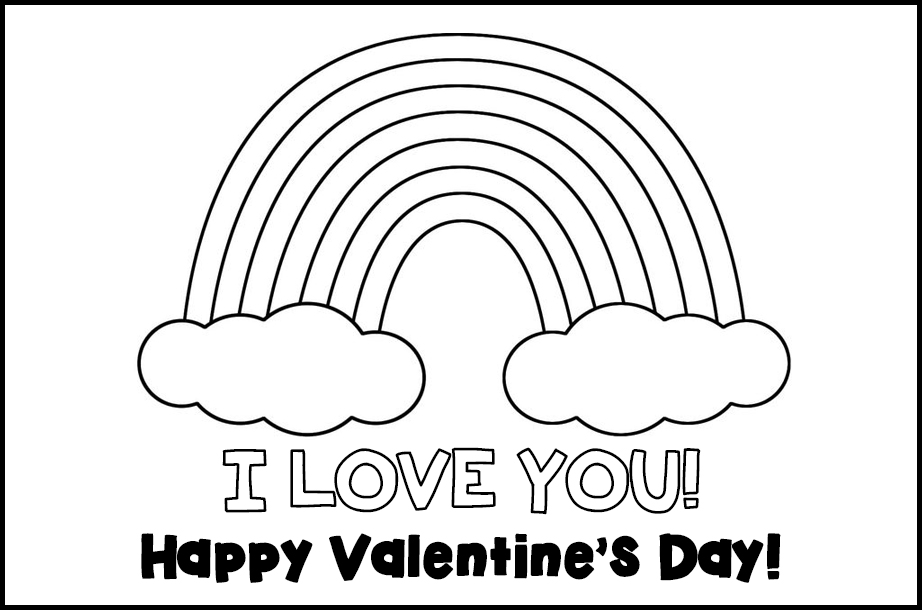 Rainbow I Love You
A rainbow with a cloud on either end and the message "I love you! Happy Valentine's Day!" underneath.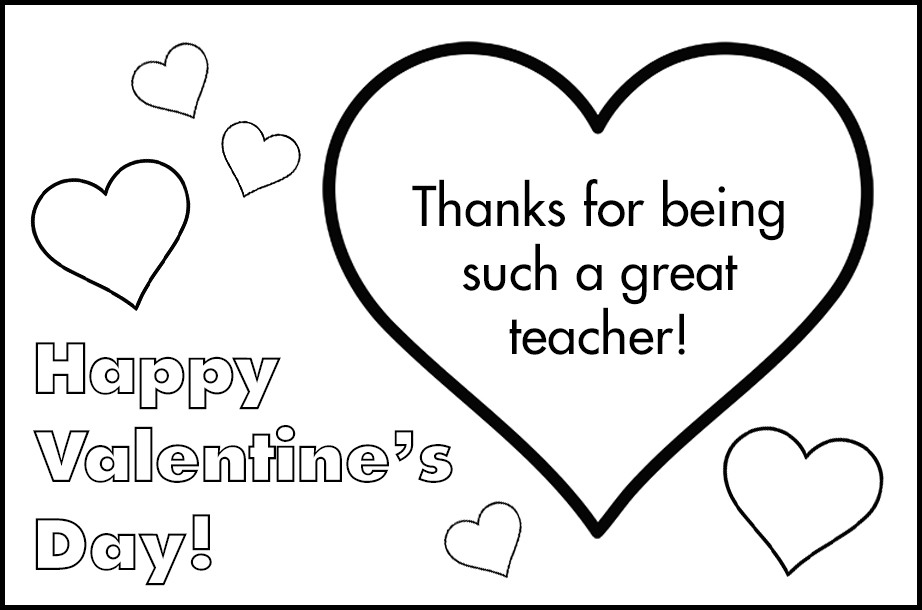 Hearts Great Teacher
The message "Thanks for being a great teacher!" in a heart surrounded by more hearts with a "Happy Valentine's Day!" sentiment in the corner.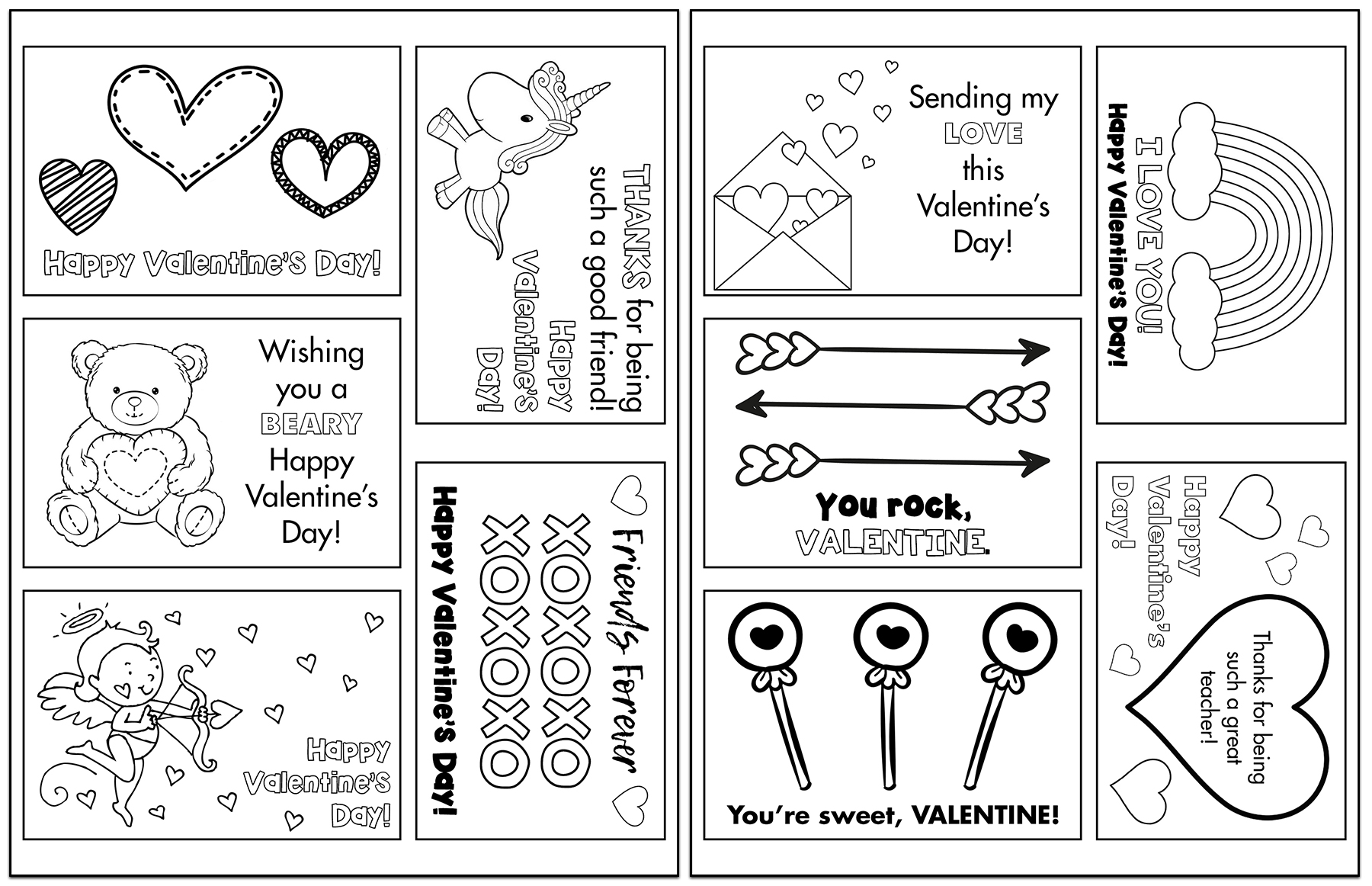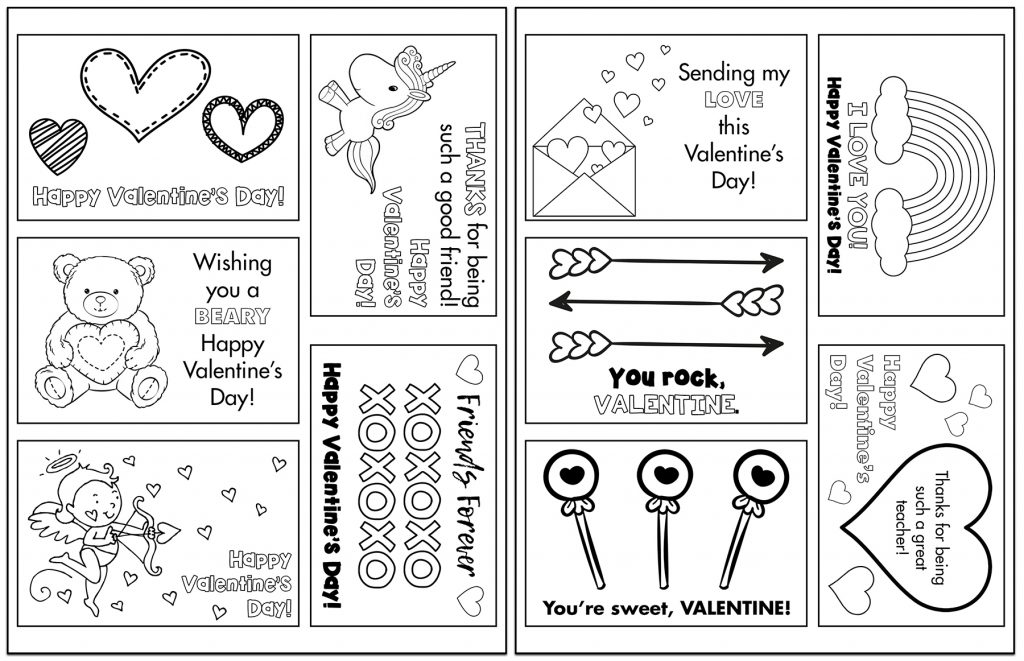 Assorted Designs
I also created two assorted designs PDFs. The first PDF features the first five Valentines, and the second PDF features the second five Valentines. Between the two files, you get one each of all ten Valentines.
Assorted Designs #1 PDF | Assorted Designs #2 PDF
If you would like other mixed design PDF files, please let me know! I'm happy to create any assortment of designs that best fits your needs and preferences.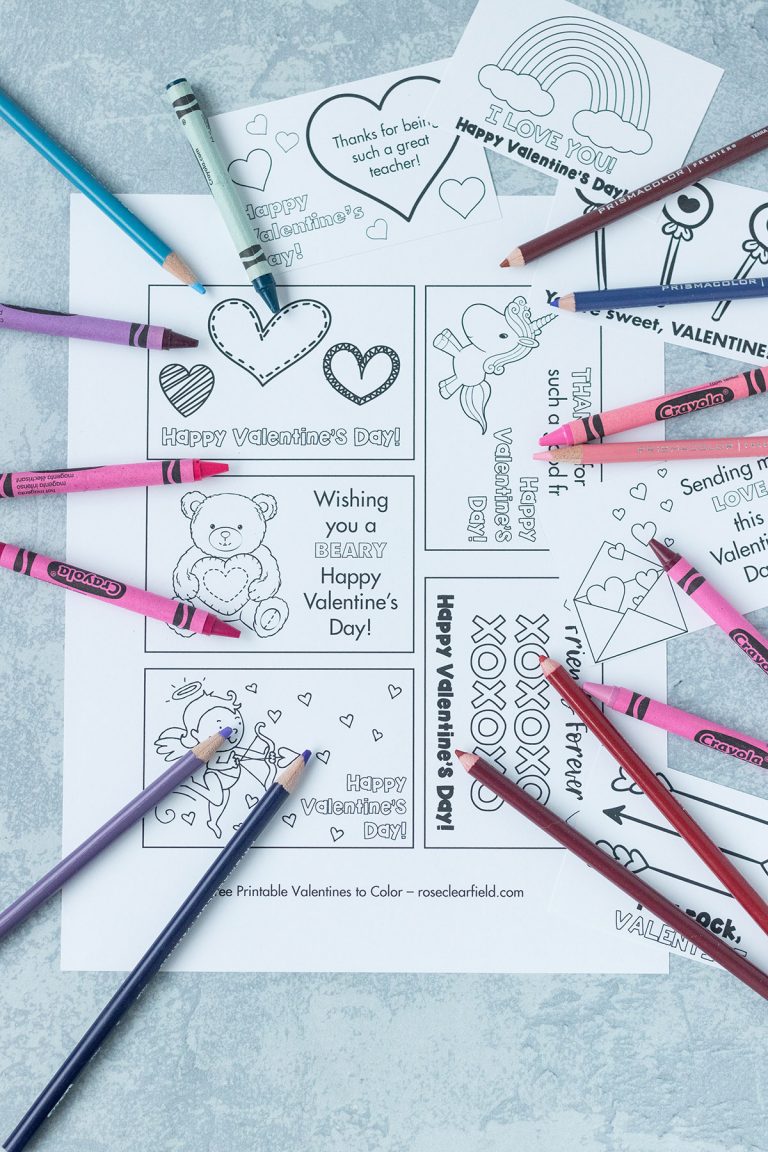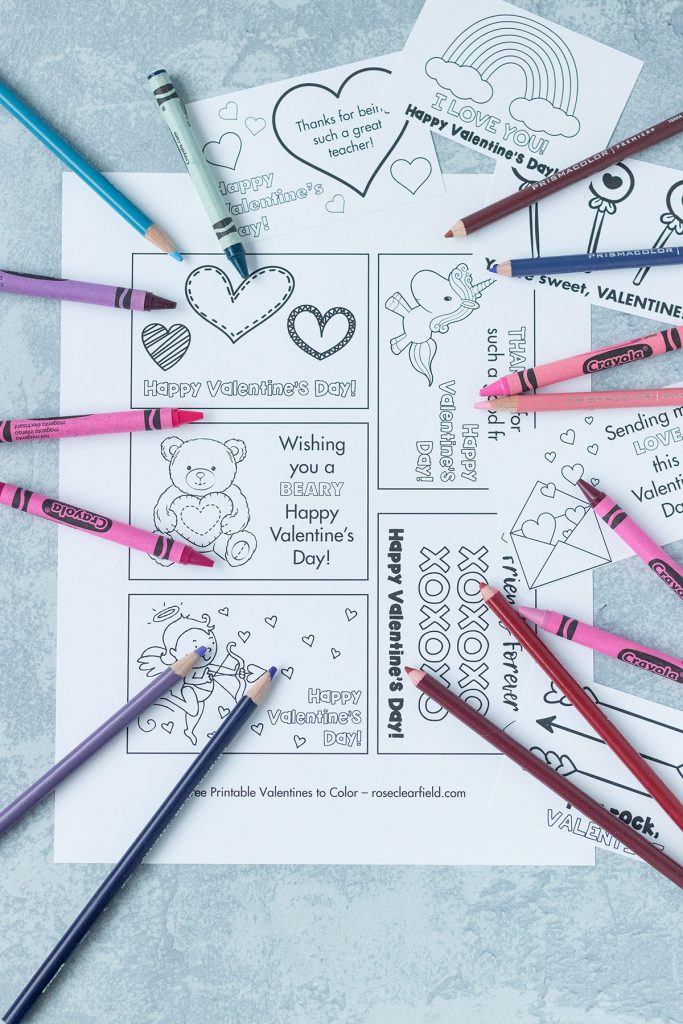 Printing and cutting the Valentines to color
The Valentines will look and feel the best on heavy-weight card stock. I always keep Neenah white card stock on hand for DIY projects. It's what I used for the Valentines pictured in this post. It has a nice weight for Valentines and a good surface for coloring.
When you print the PDF files, make sure "actual size" is selected on the scale drop-down menu. Actual size ensures the Valentines will print to the size that fits best for 4″ x 2.7″ envelopes.
I always use a paper cutter for this type of DIY project. A paper cutter makes the job quick and ensures straight edges. Depending on the age of your children, you may prefer to use the paper cutter yourself or have them cut the invitations by hand. With careful cutting, the invitations will look great cut by hand, too.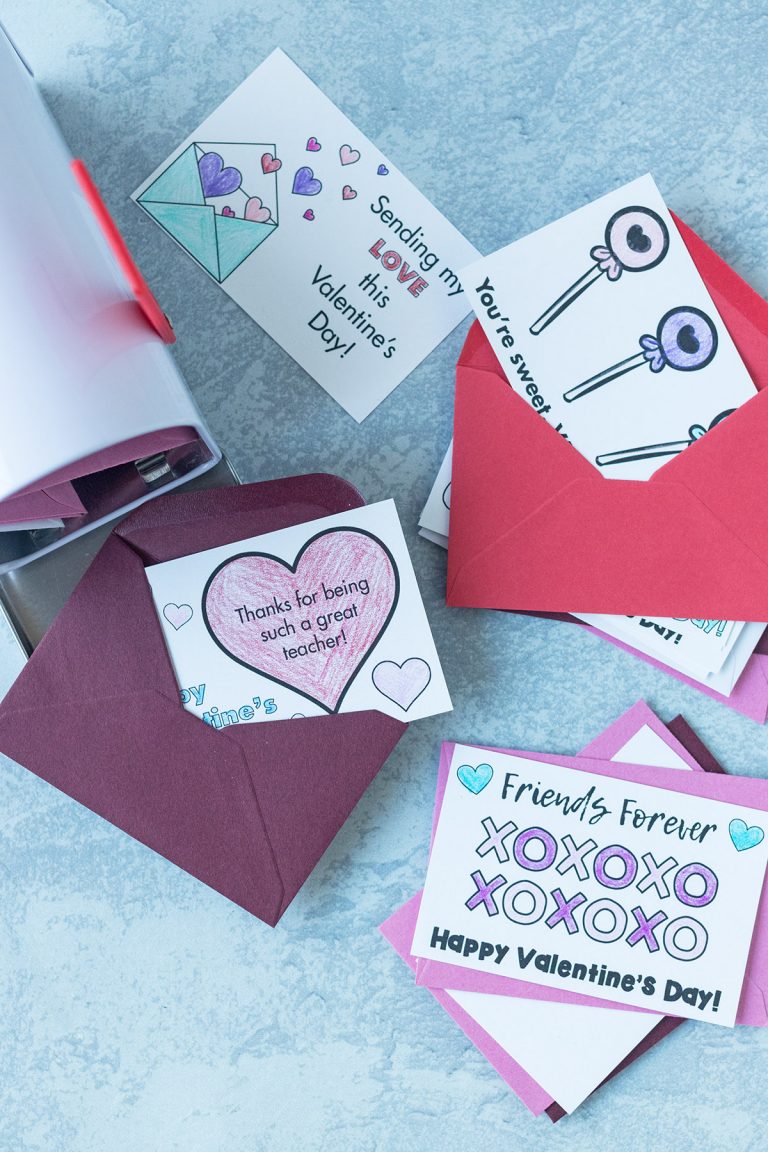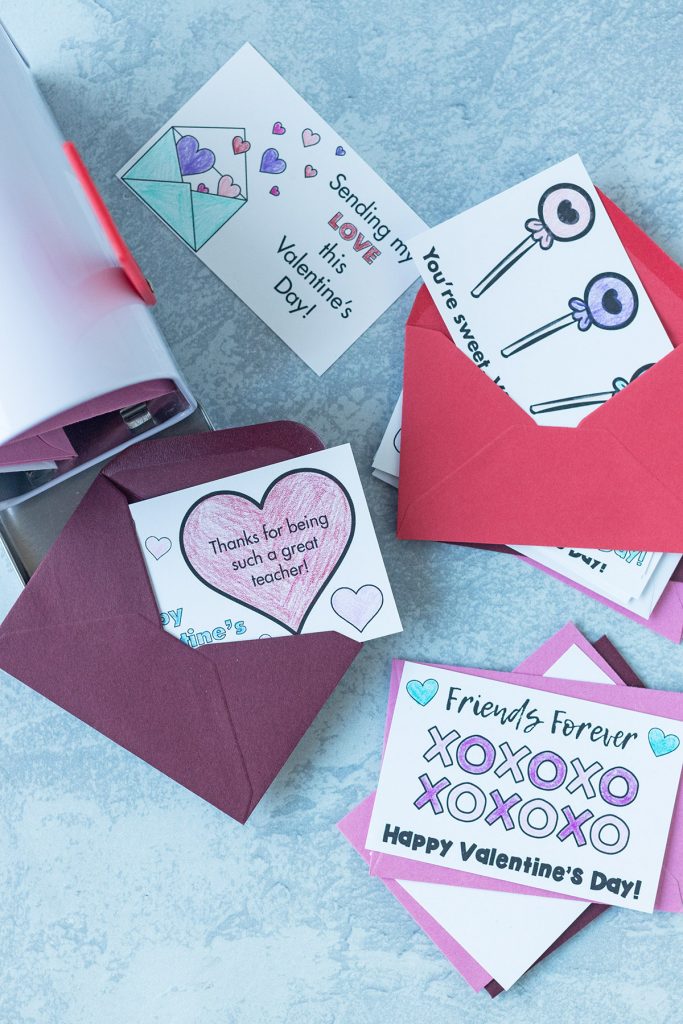 What envelopes work best for the free printable Valentines to color?
I designed the printable Valentines for 4″ x 2.7″ envelopes, which is a common envelope size. You can change the scale of your Valentines when you print them. But you may have more trouble finding envelopes that are a good fit.
The envelopes pictured in this post are from the Sulpa set of mini envelopes in red, pink, fuchsia, and white. I love the colors and quality. It's also the only envelope set I found in this size online that came in a quantity less than 100.
If you don't mind purchasing a larger quantity and are looking for a few more options, I also love silver or gold envelopes for Valentine's Day. You can't go wrong with kraft envelopes, too. Buying a larger quantity is perfect to split among multiple kids. Share them among your own kids or go in with a friend! They also keep well from one year to the next, which is great if you have kids that love to make their own Valentines every year.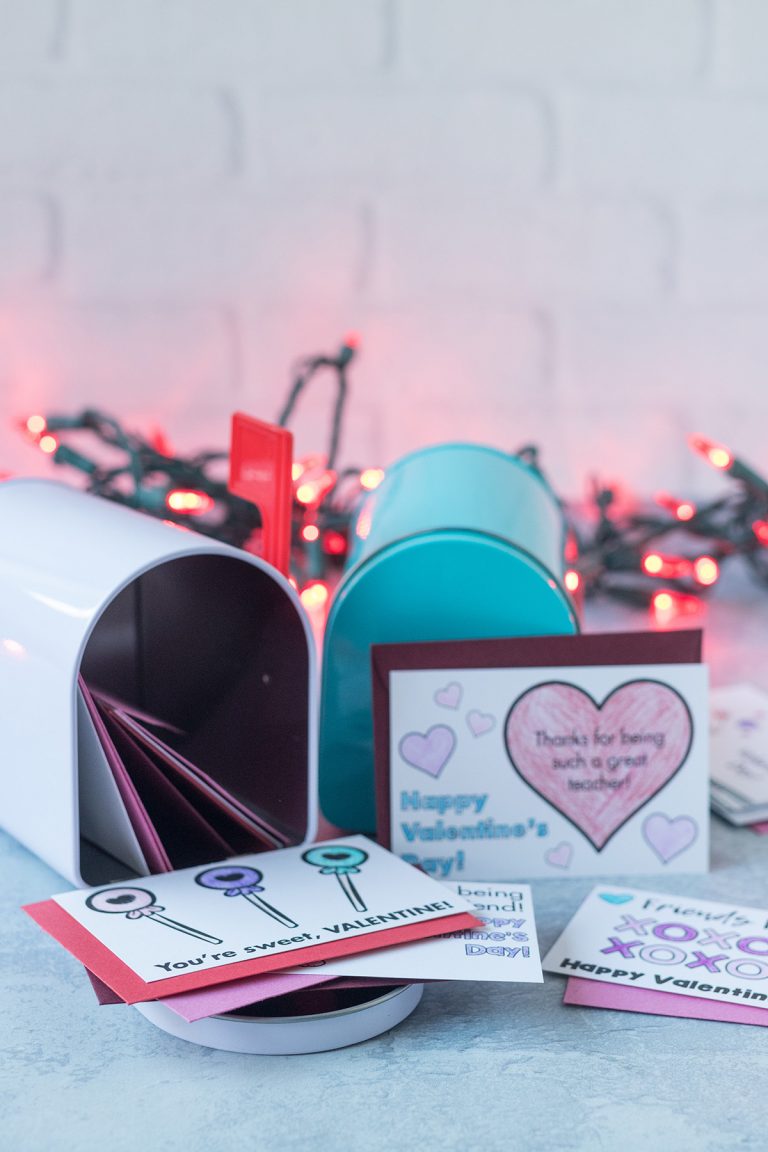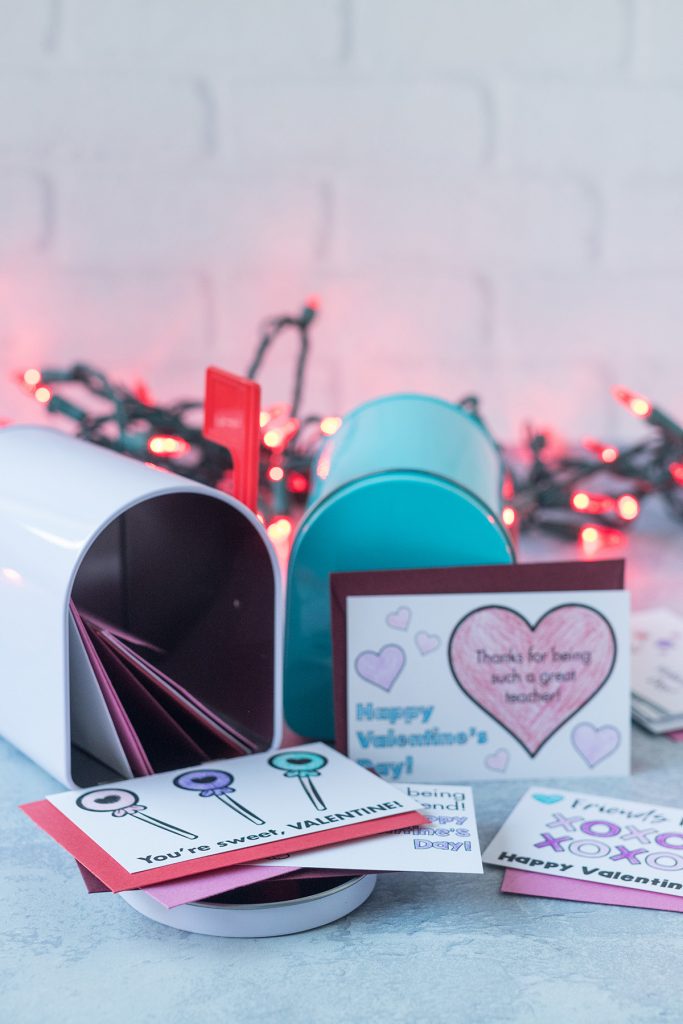 [Disclaimer: There are a few affiliate links in this post. Thanks for your support!]
Did you color Valentines for the upcoming holiday?

I want to see them! Tag your images #RoseClearfield on Instagram or Twitter or post a photo to my Facebook page.
Pin this post for easy access to the printable Valentines to color later!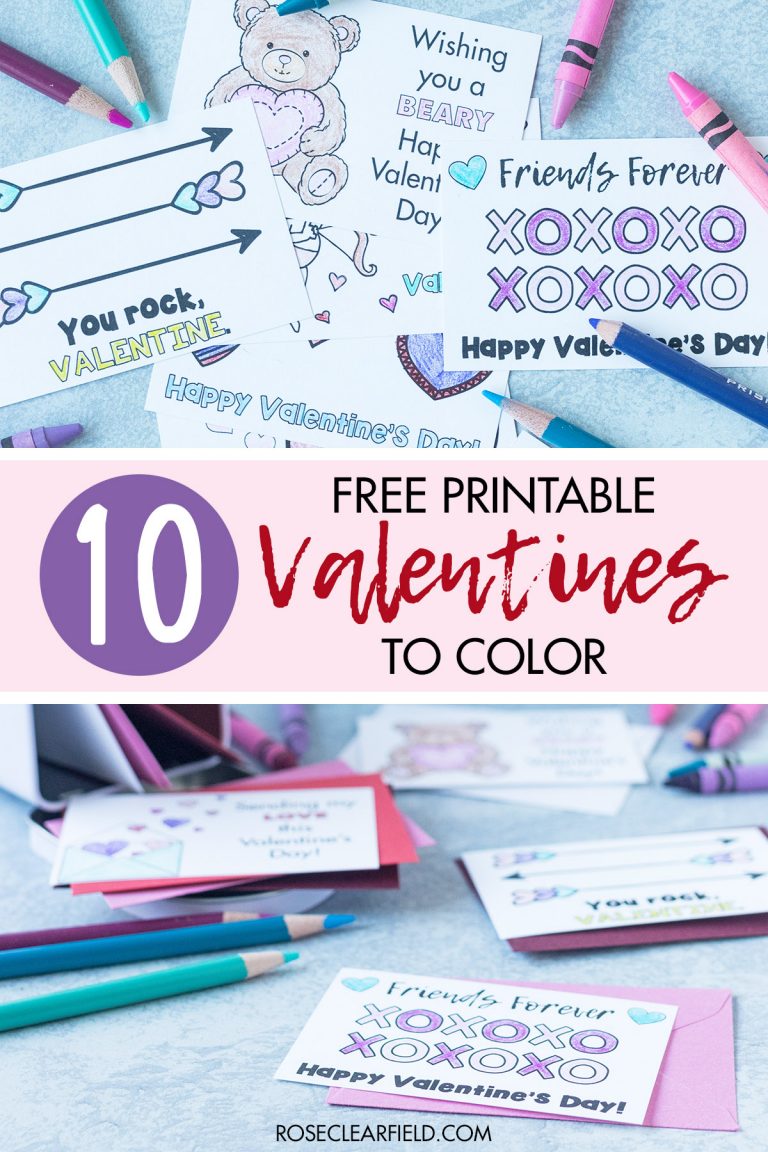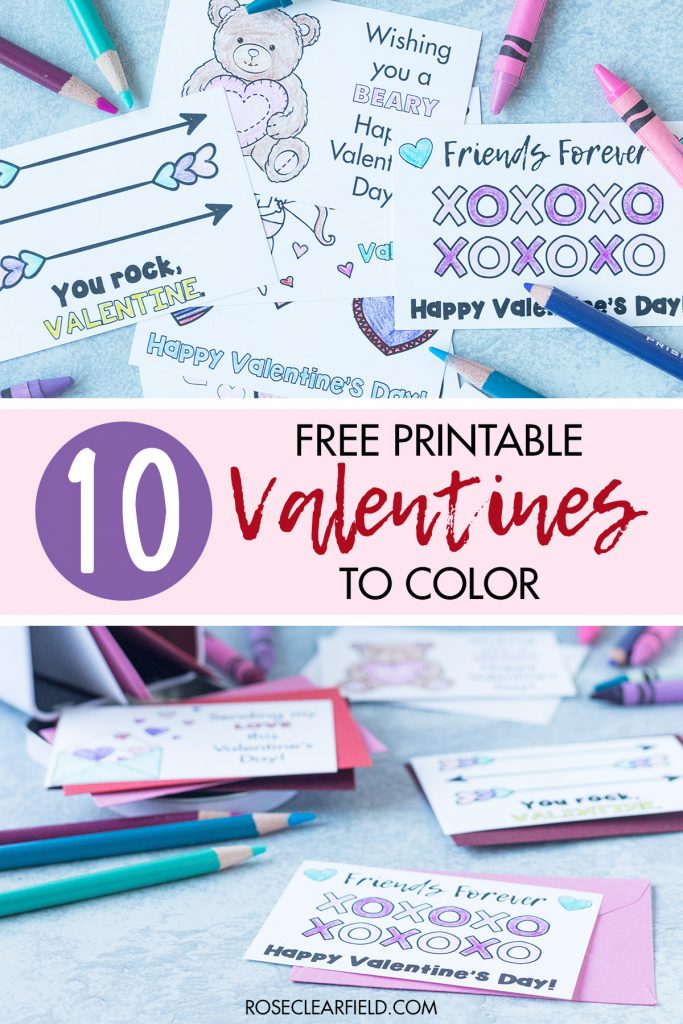 More DIY Valentine's Day resources: