A Valentine's Day hearts canvas wall art piece adds a festive, whimsical touch to any entryway, living room, or kitchen during February.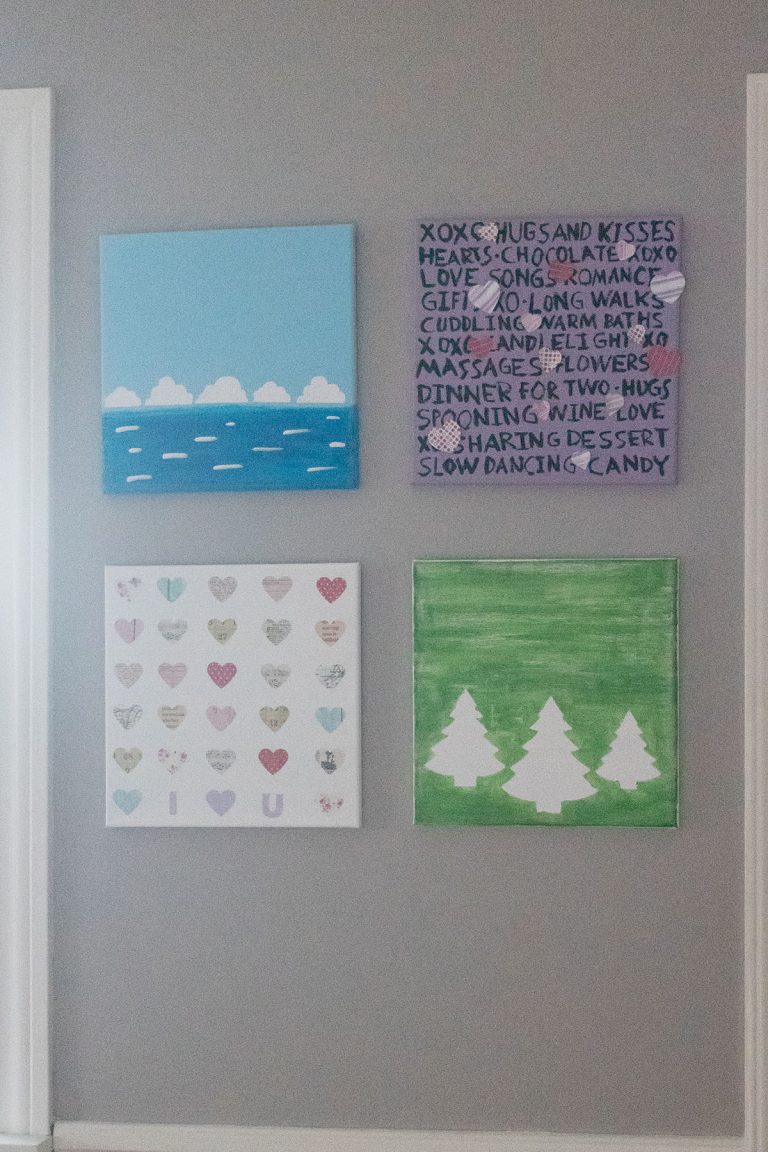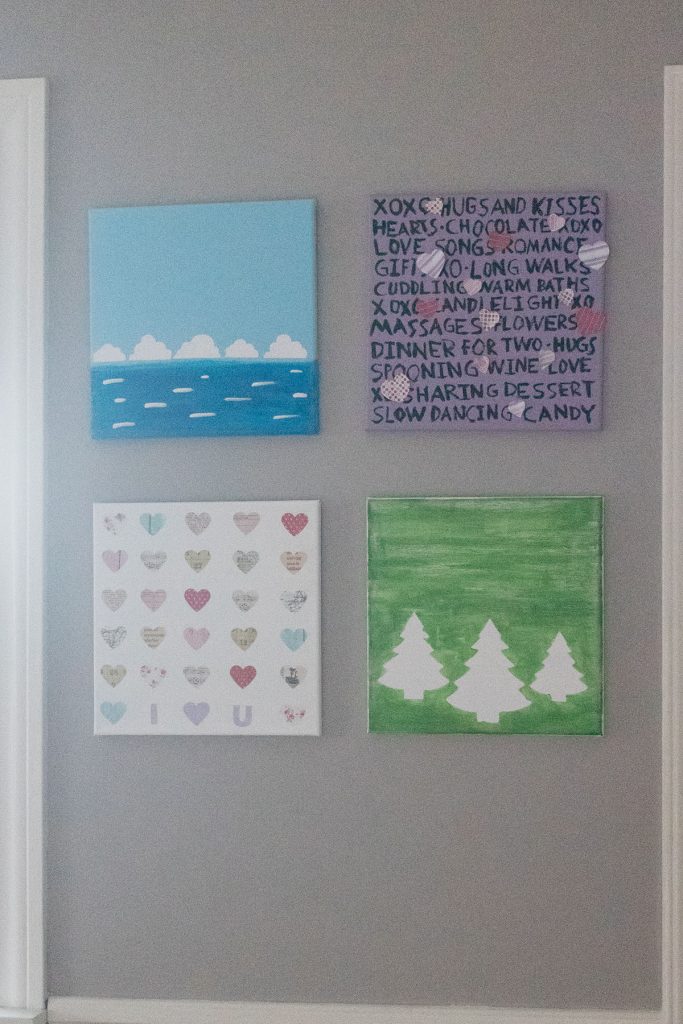 I have a display of four canvas wall art pieces in our entryway that I switch up for different seasons and holidays. You can see another version of this display in my DIY easy St. Patrick's Day decor ideas post. I have about a dozen pieces that I rotate through during the year. I've shared tutorials for a couple of these canvas wall art pieces here: DIY easy Valentine's Day subway art and DIY pine tree holiday decor canvas wall art (both pictured above).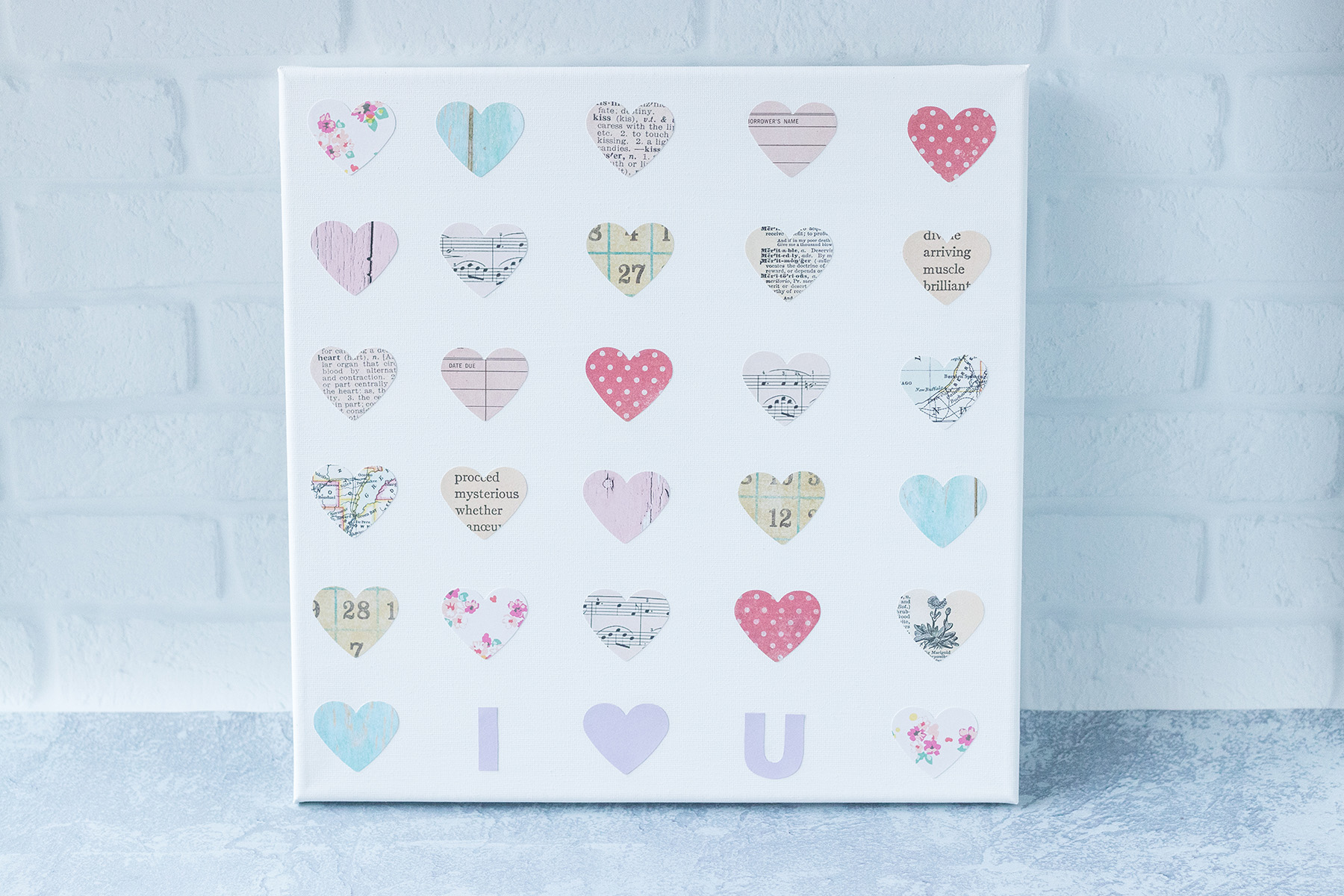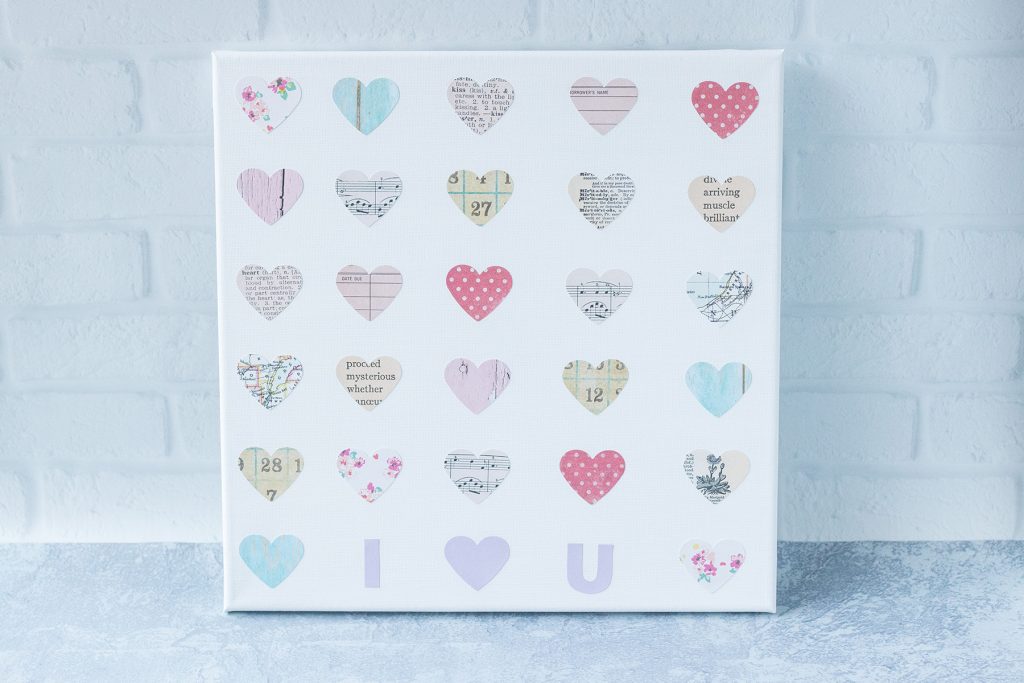 Now I'm bringing you Valentine's Day hearts canvas wall art. I'm one of those obnoxious women that loves hearts. I love decorating with hearts for Valentine's Day and never gets tired of receiving heart jewelry. As such, hearts were a natural choice for me for this Valentine's Day decor piece.
I went for a softer aesthetic for my Valentine's Day hearts canvas wall art with lots of pastels and vintage prints. You can easily switch up the look and go for bolder colors and patterns or even a color scheme that isn't traditional for Valentine's Day. It's also simple to switch up your piece with different sized hearts, a different paint color for the canvas, etc. There are so many fun possibilities here.
Supplies for the DIY Valentine's Day hearts canvas wall art
White acrylic paint (I'm linking a large container, but a 1 oz. container is plenty for this project. I recommend buying a smaller container in person at Michaels.)
1″ foam brush (Again, I'm linking a large pack here. You can find much smaller quantities at Michaels.)
Assorted card stock and scrapbook paper in the colors and patterns of your choosing for Valentine's Day decor. I recommend using a solid color card stock for the "I Heart U" detail.
I U letters template (free download!)
Scissors
Sawtooth hanger or other appropriate hardware for hanging canvas art
Hammer
The patterned papers I used for the canvas art include the following.
I share more of my favorite vintage paper resources in my DIY scrapbook embellishments tutorial.
How to make the DIY Valentine's Day hearts canvas wall art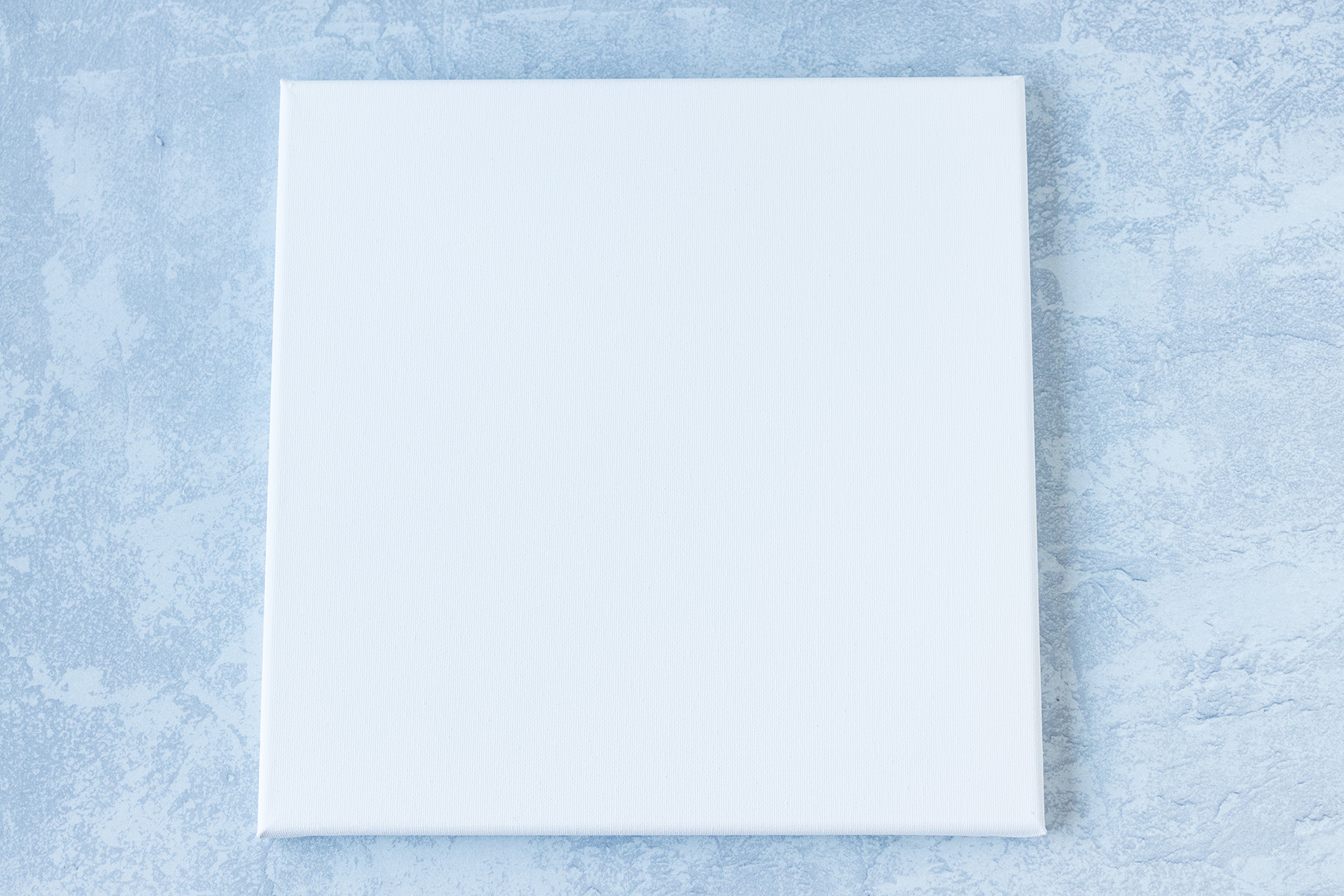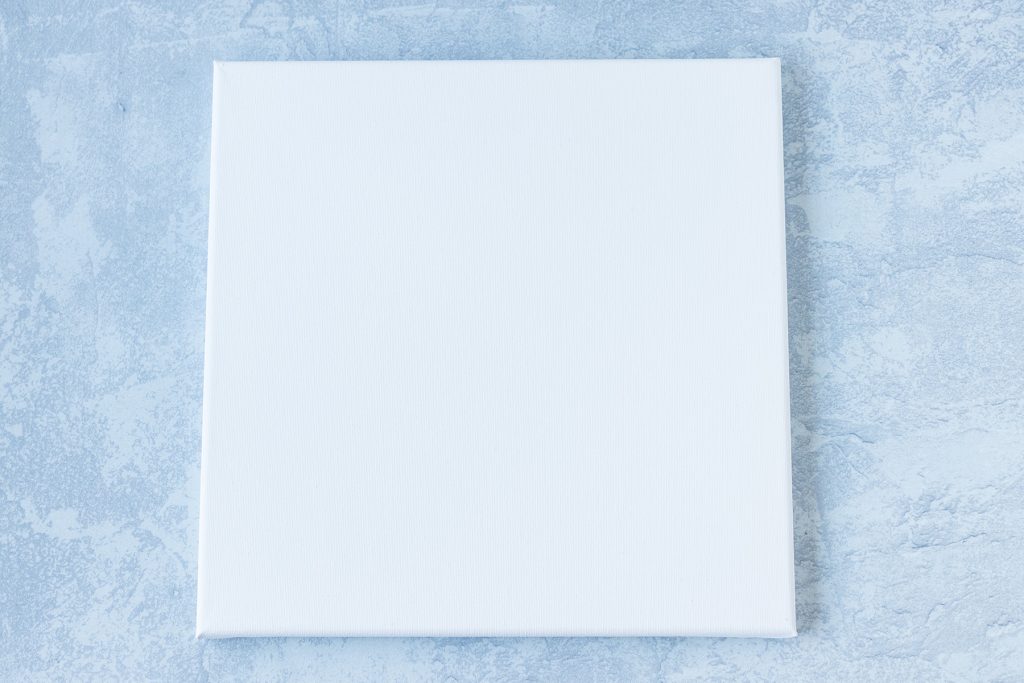 Grab your blank canvas.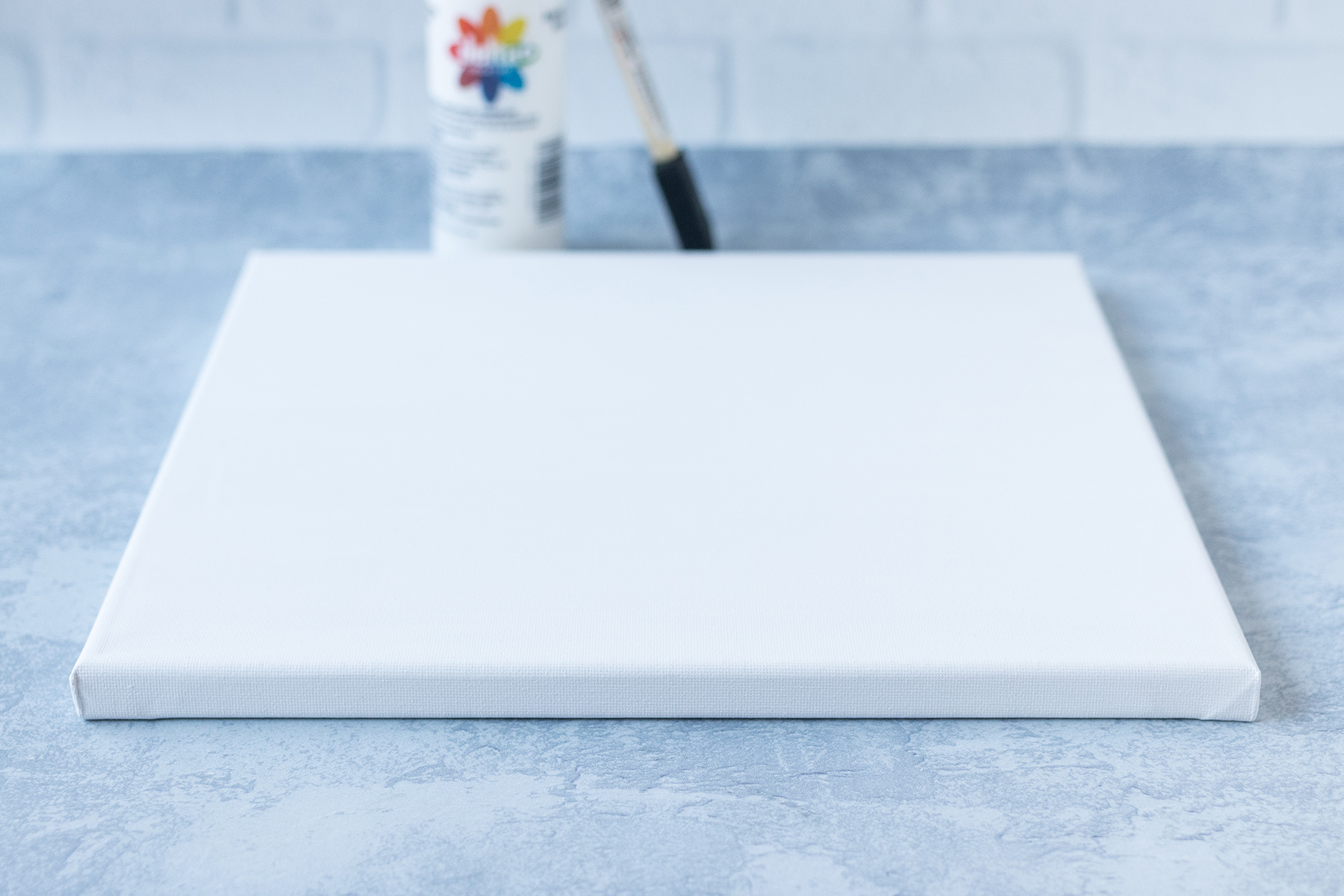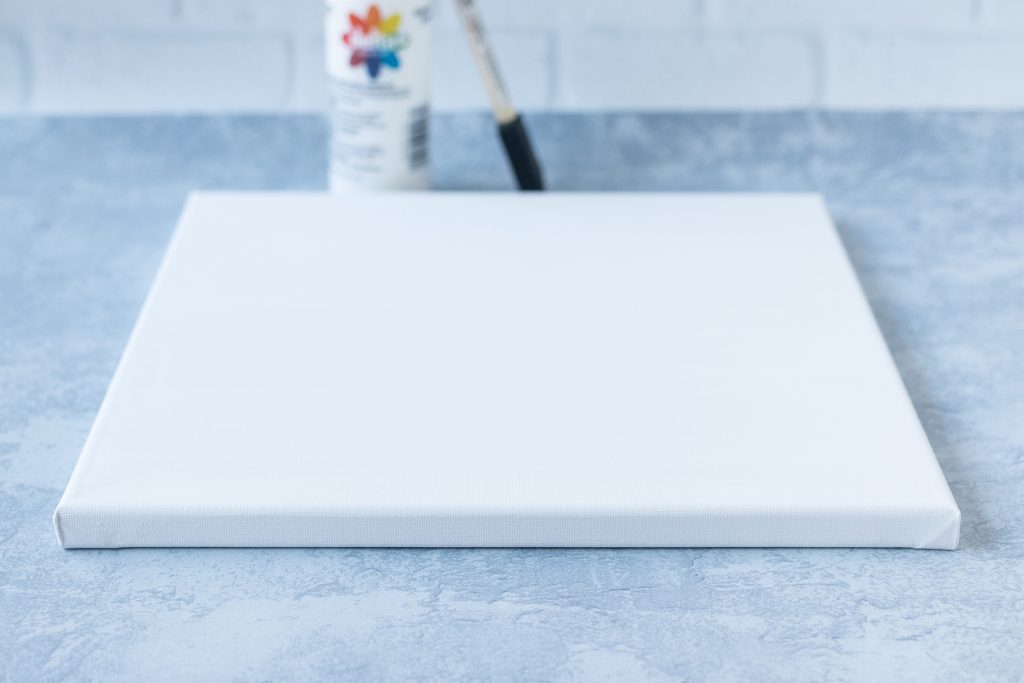 Use the foam brush to give the canvas a couple of coats of white acrylic paint, including the sides. Allow the paint to dry completely after each coat.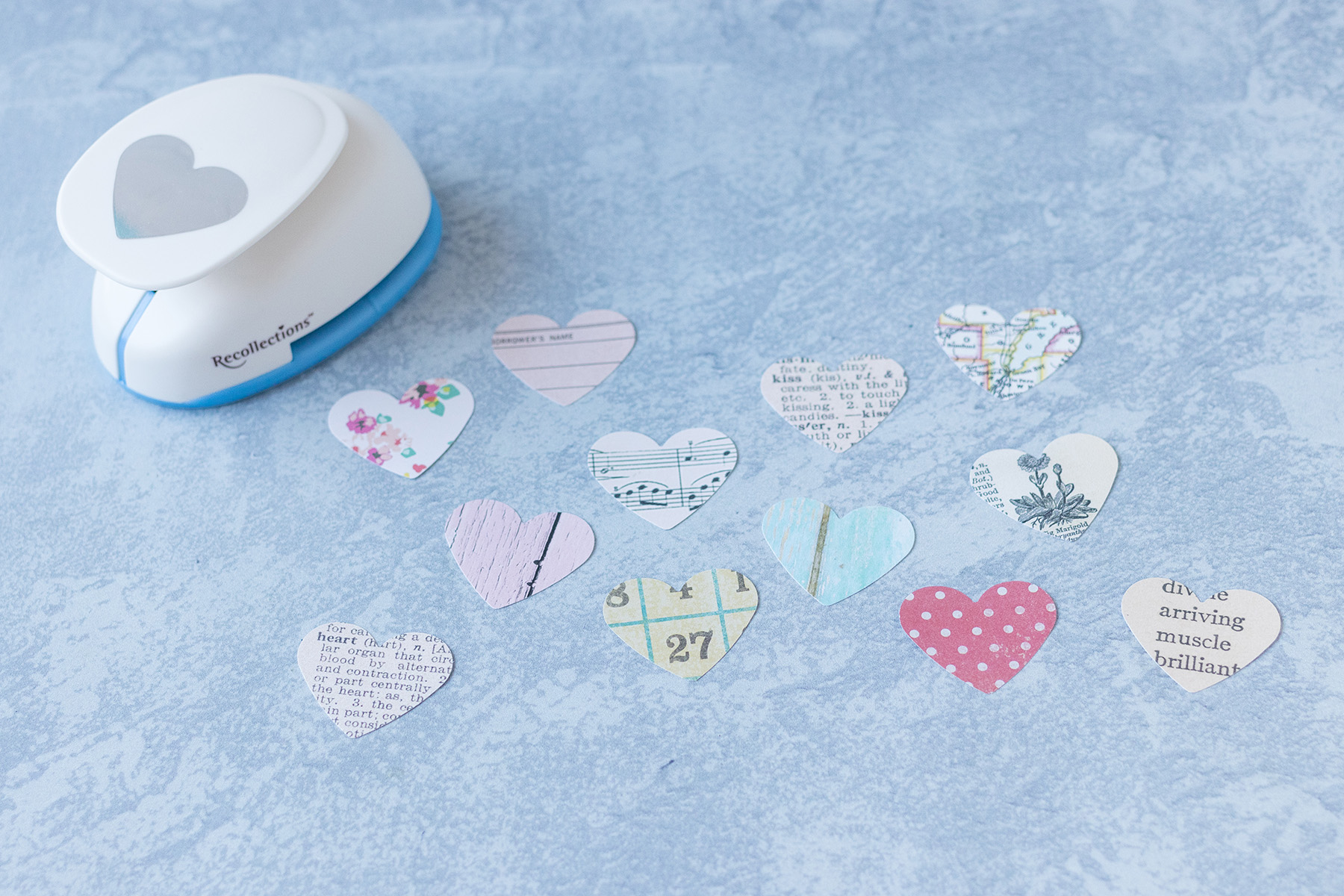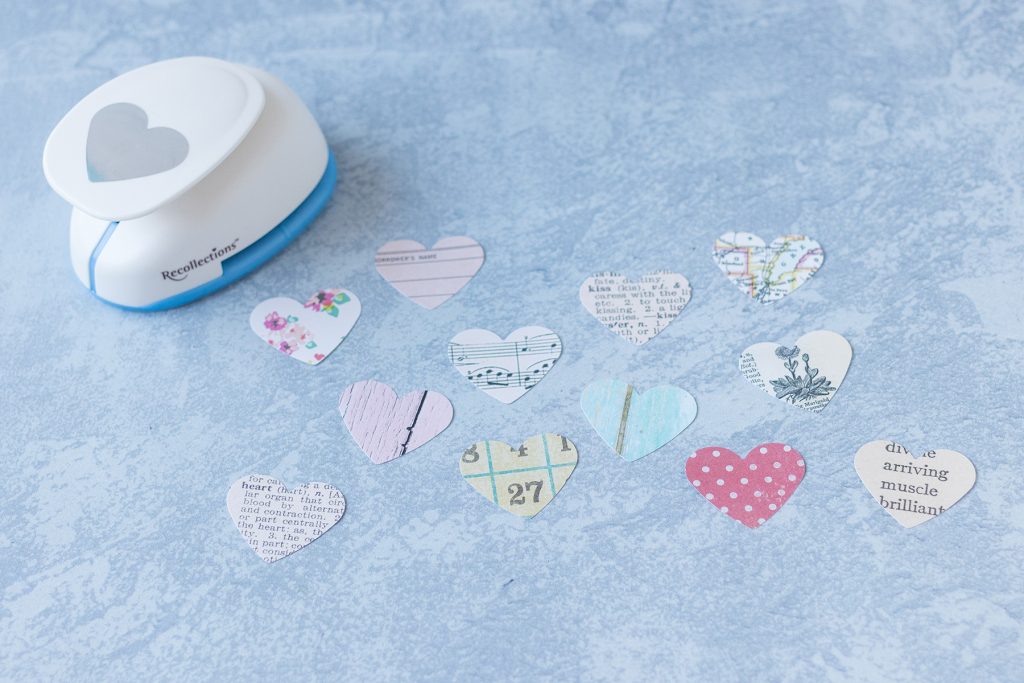 Gather your card stock and scrapbook paper. Use the heart punch to punch your hearts. I created six horizontal rows and five vertical rows, which makes for a total of 28 hearts. One heart will be the same solid color card stock that you use for your I and U letters.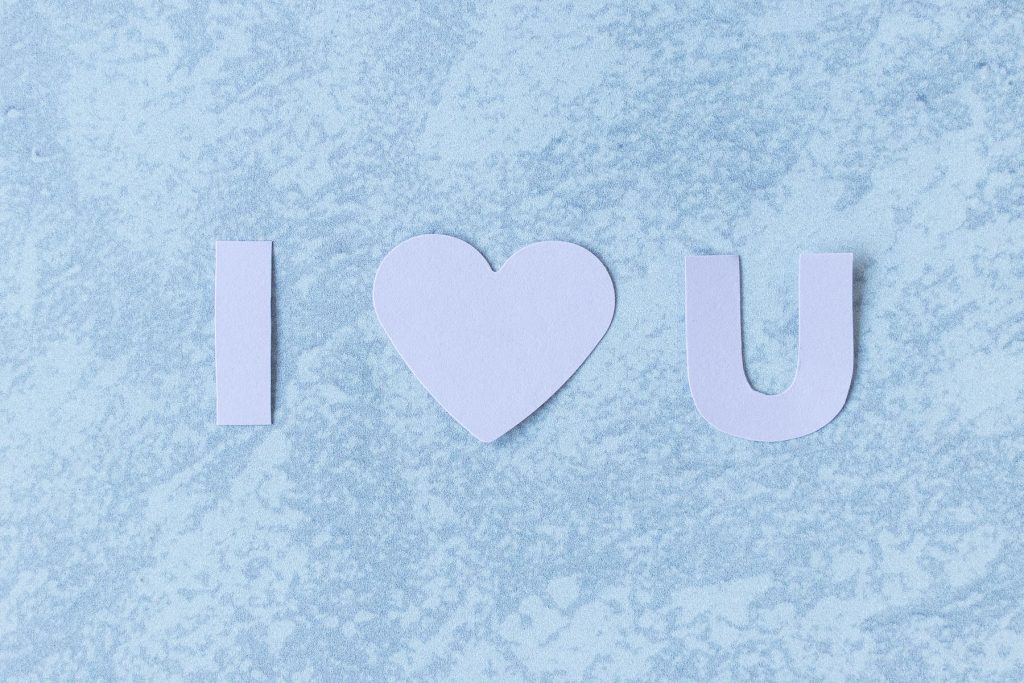 Download the I U letters template. Print the template on the card stock of your choosing. Cut out the letters, cutting just past the black border, so no border remains.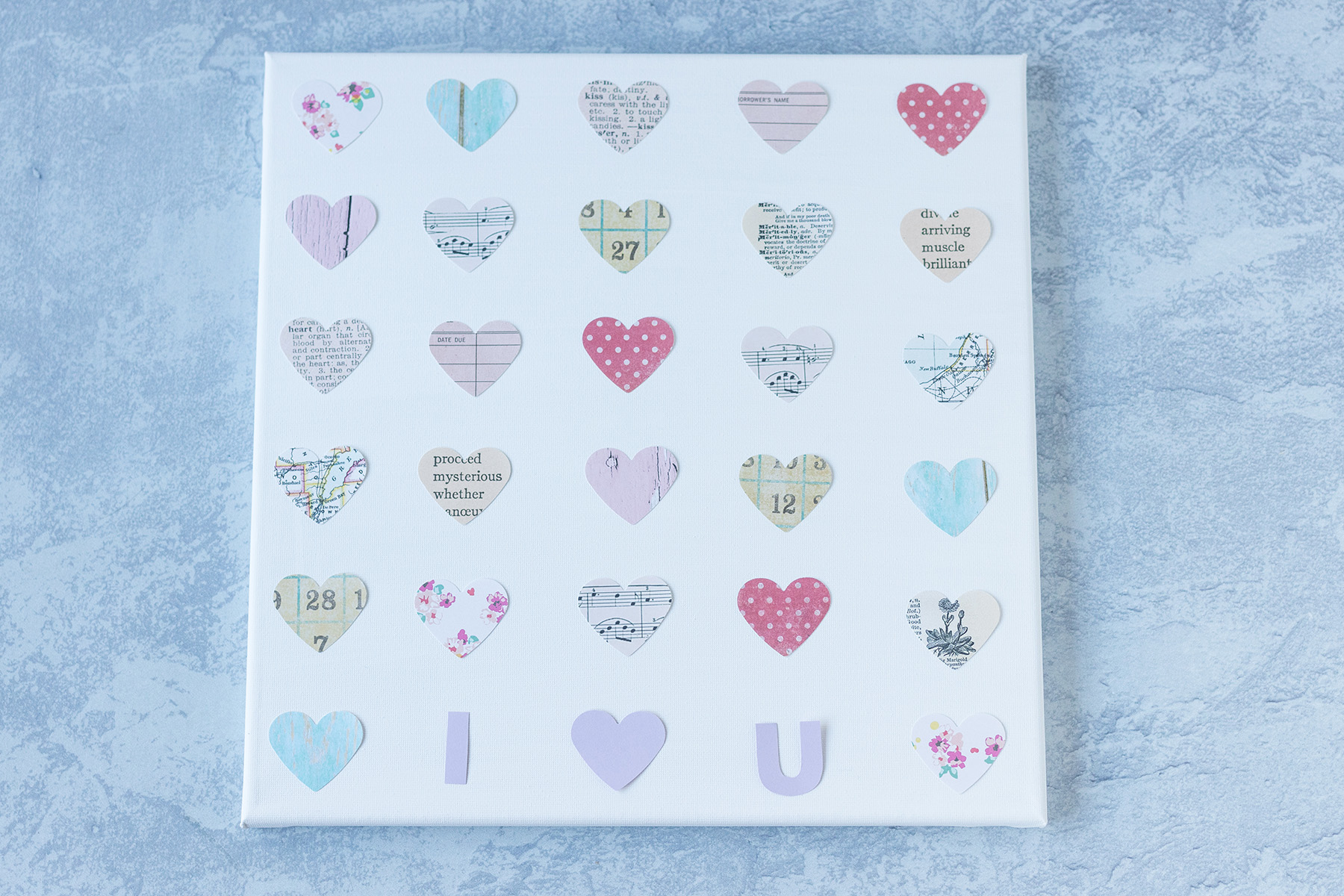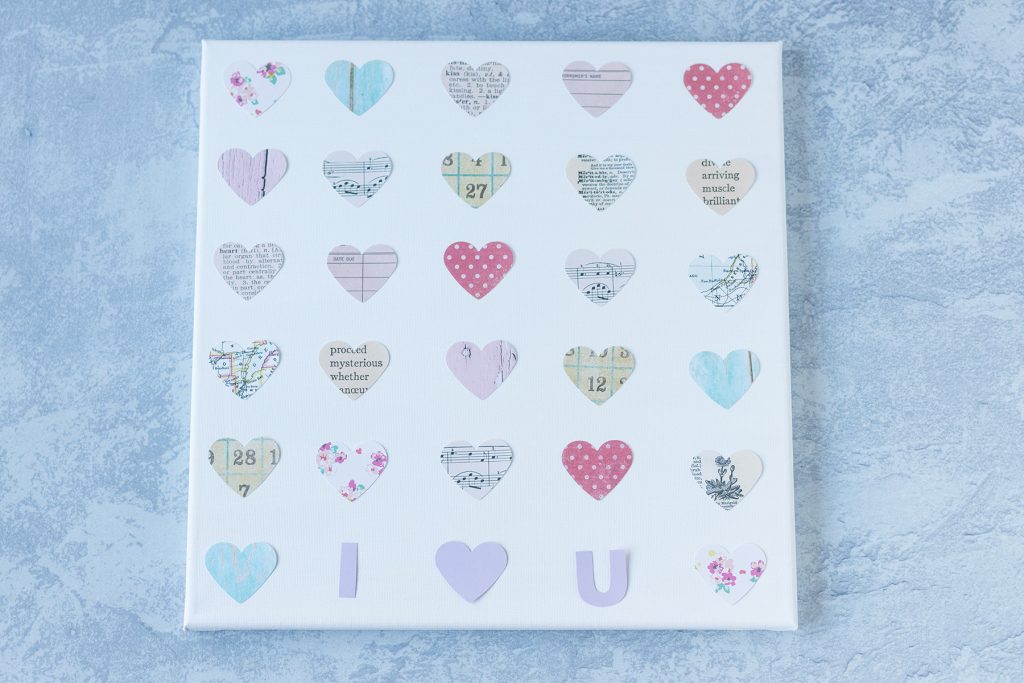 Arrange the hearts and letters on the canvas. Tweak the arrangement until you're happy with it.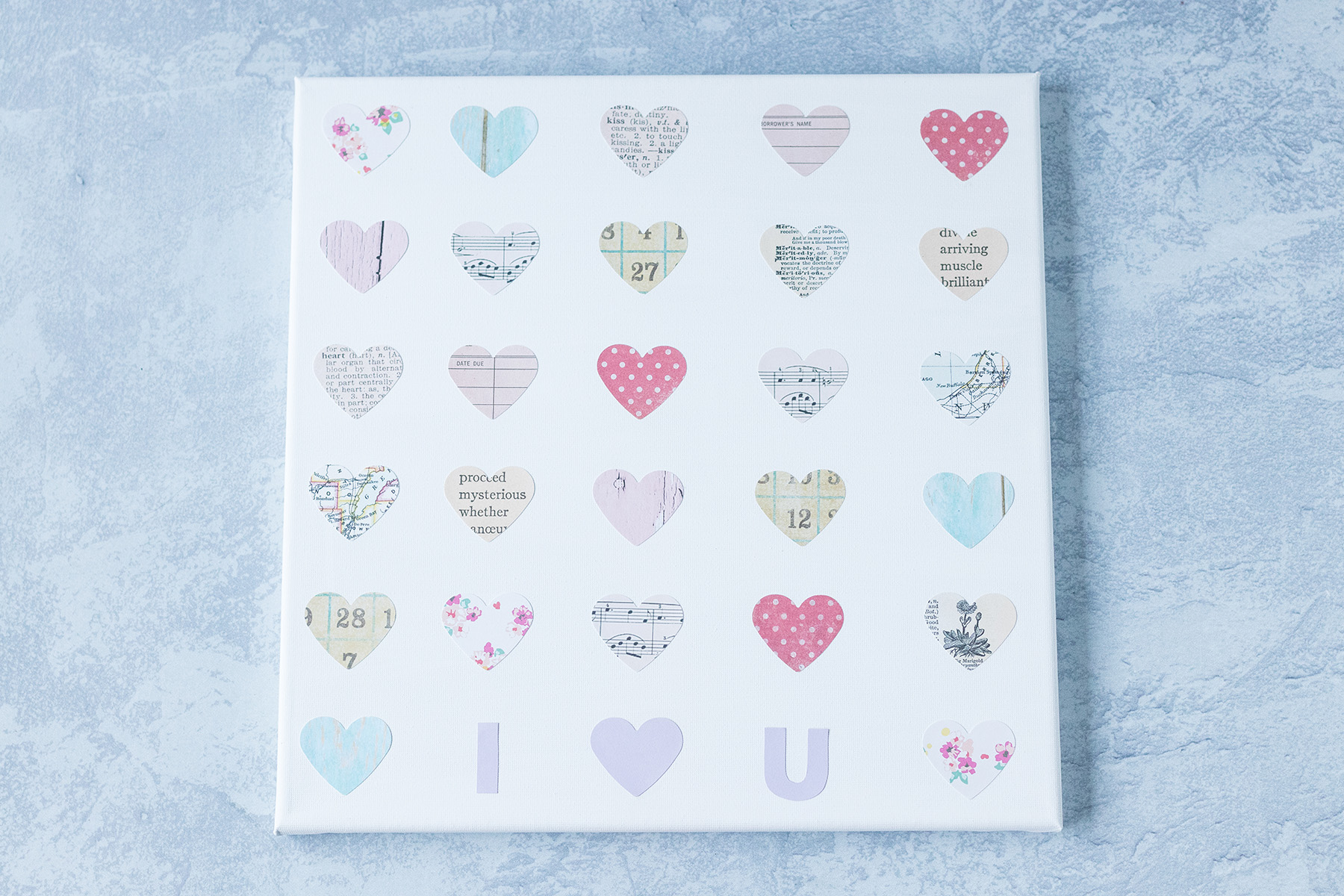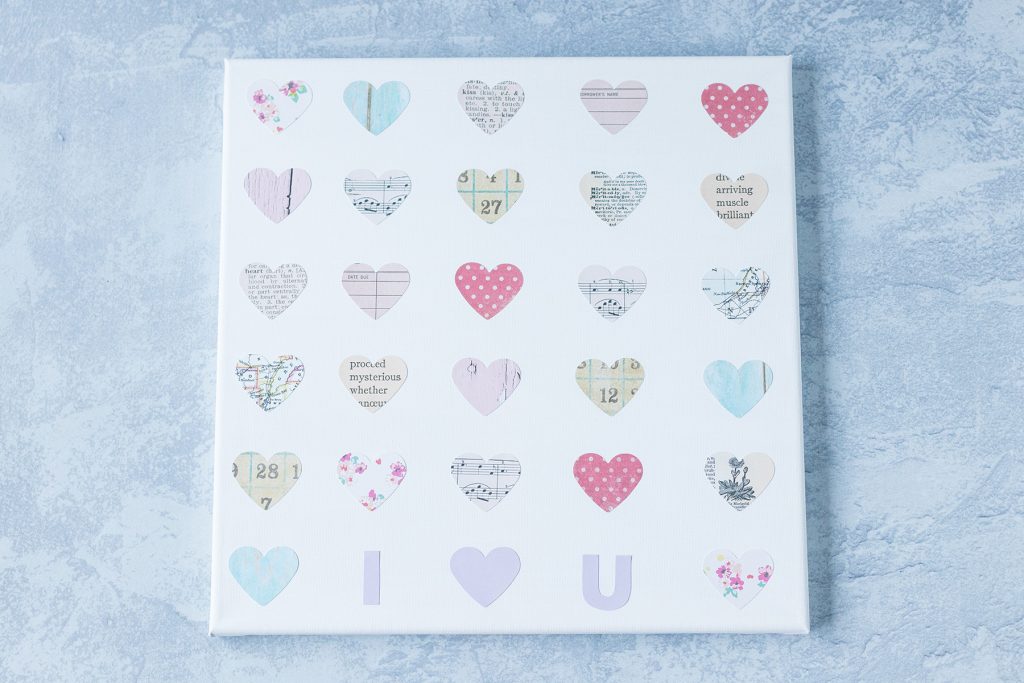 Use the scrapbook glue to adhere the hearts and letters to the canvas. Glue one or two hearts at a time, and allow them to dry completely before moving onto the next hearts. The glue dries in less than two minutes. Gluing in this method significantly minimizes wrinkling.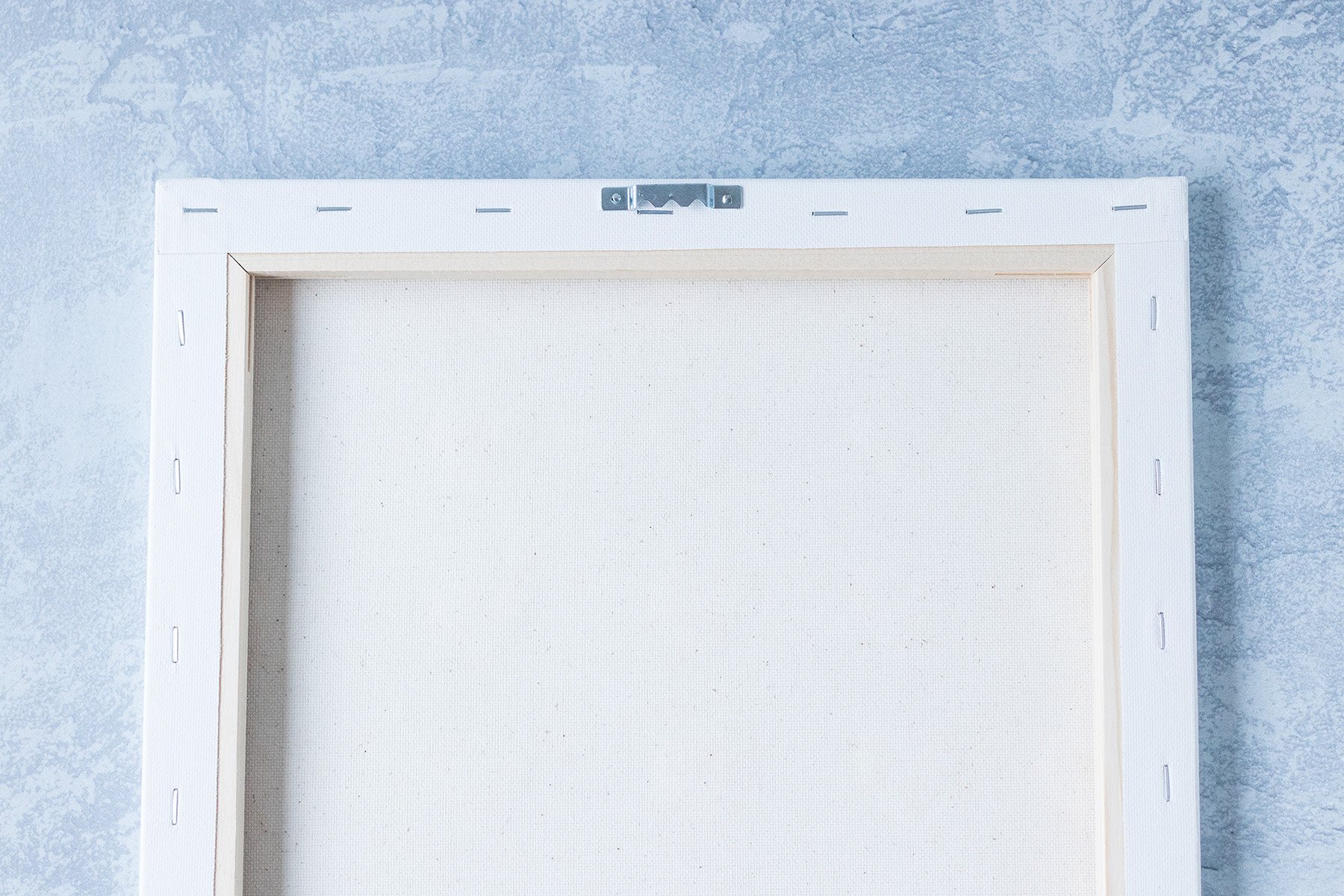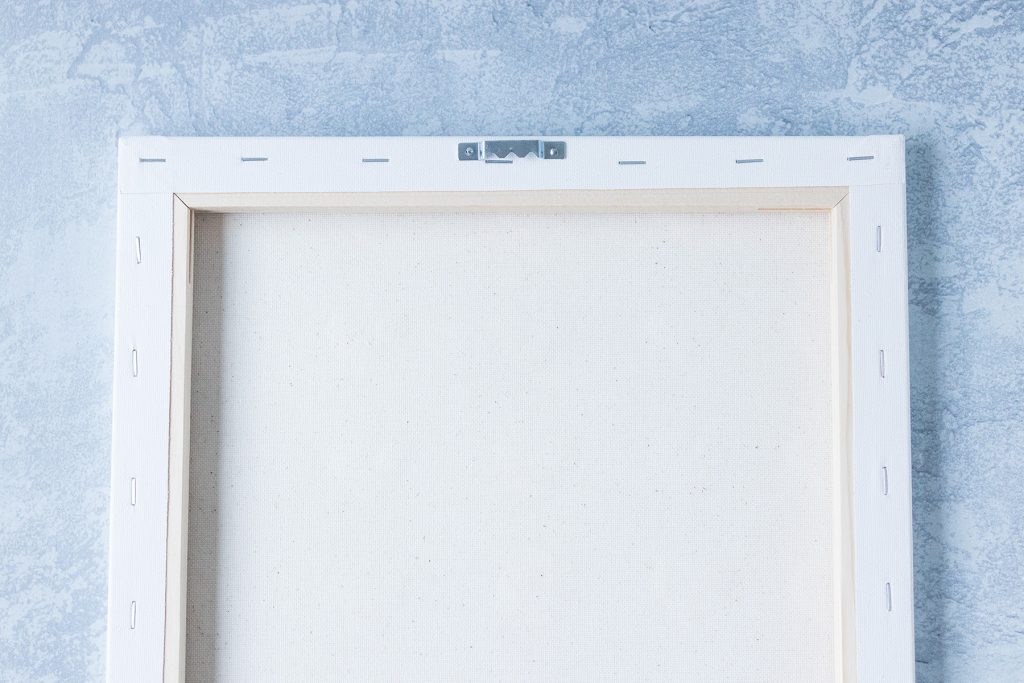 When all of the hearts are glued and have dried completely, flip over your canvas. Use the hammer to attach the sawtooth hardware or other hanging material to the top center of the back of the canvas. I like to use a measuring tape for this step to ensure the sawtooth hanger is centered perfectly.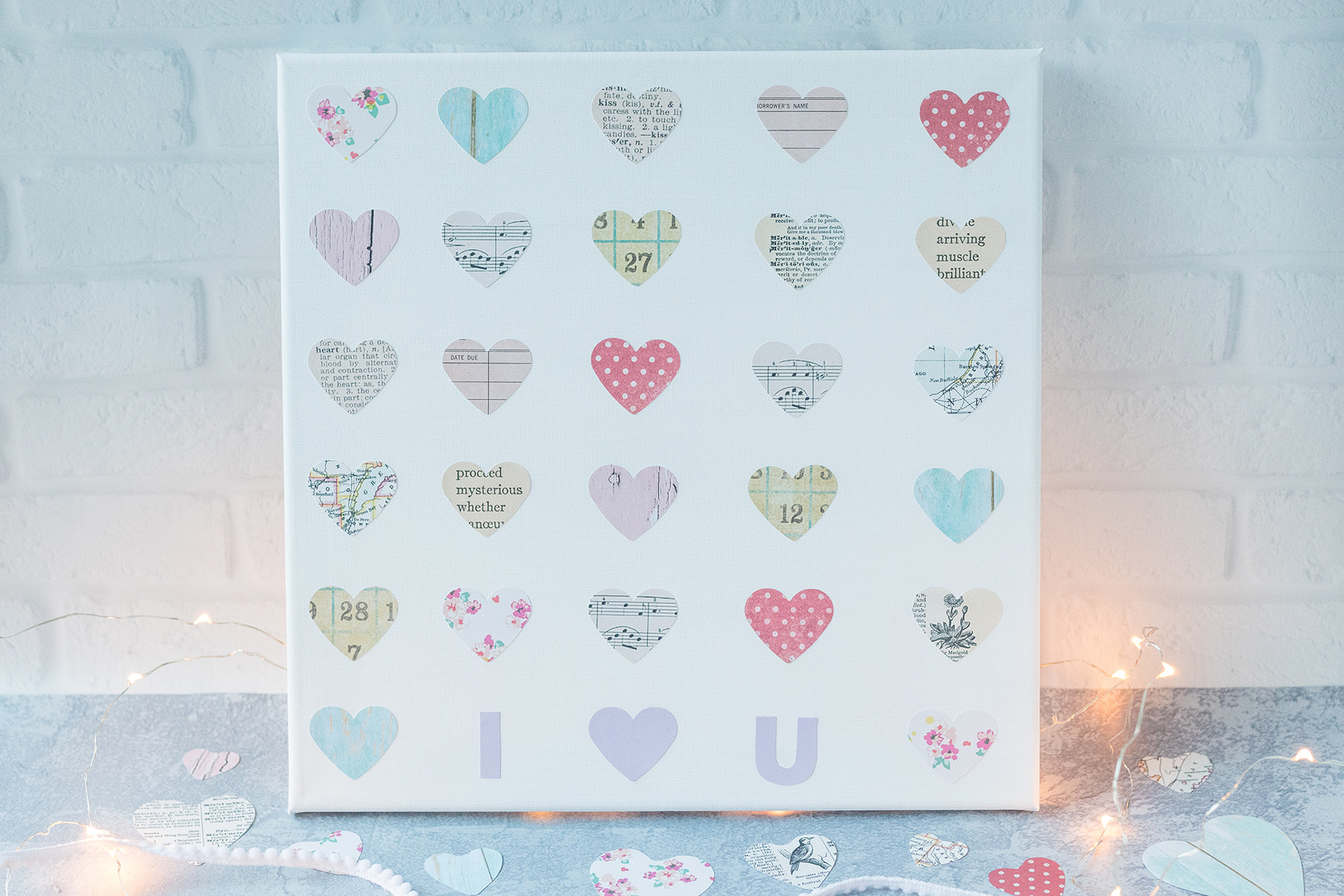 Your new canvas wall art is ready to display for the holiday! Happy Valentine's Day!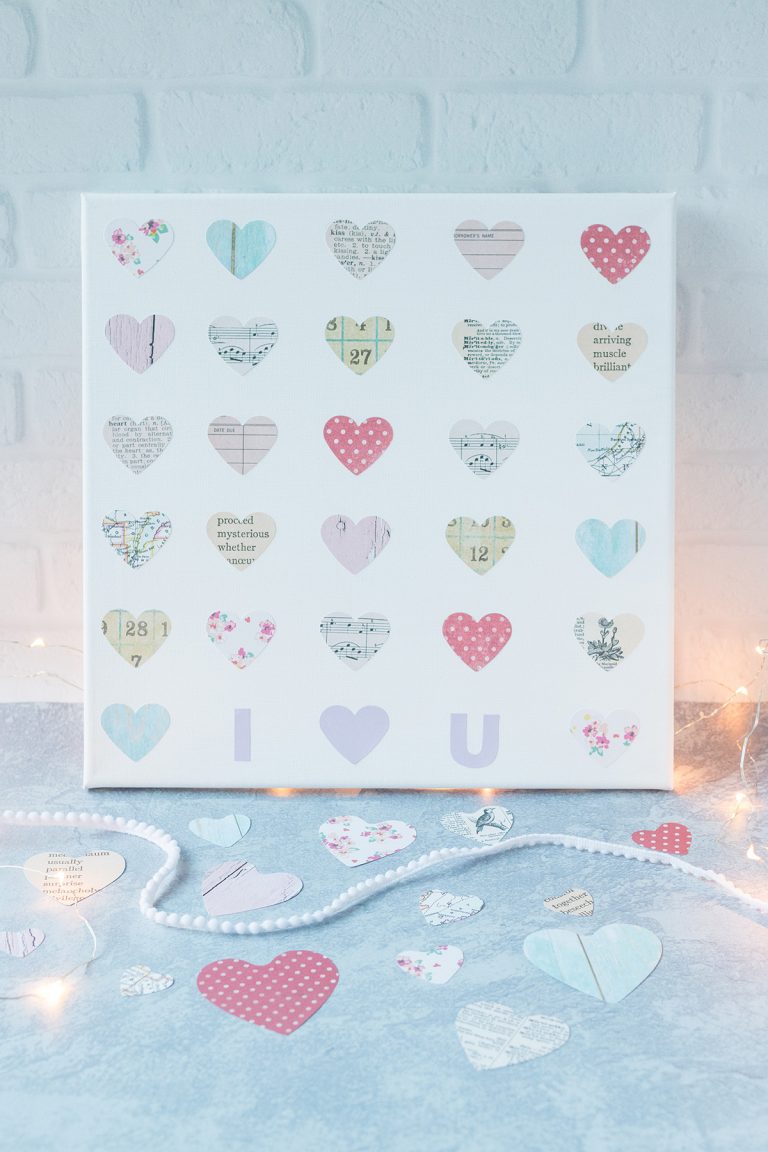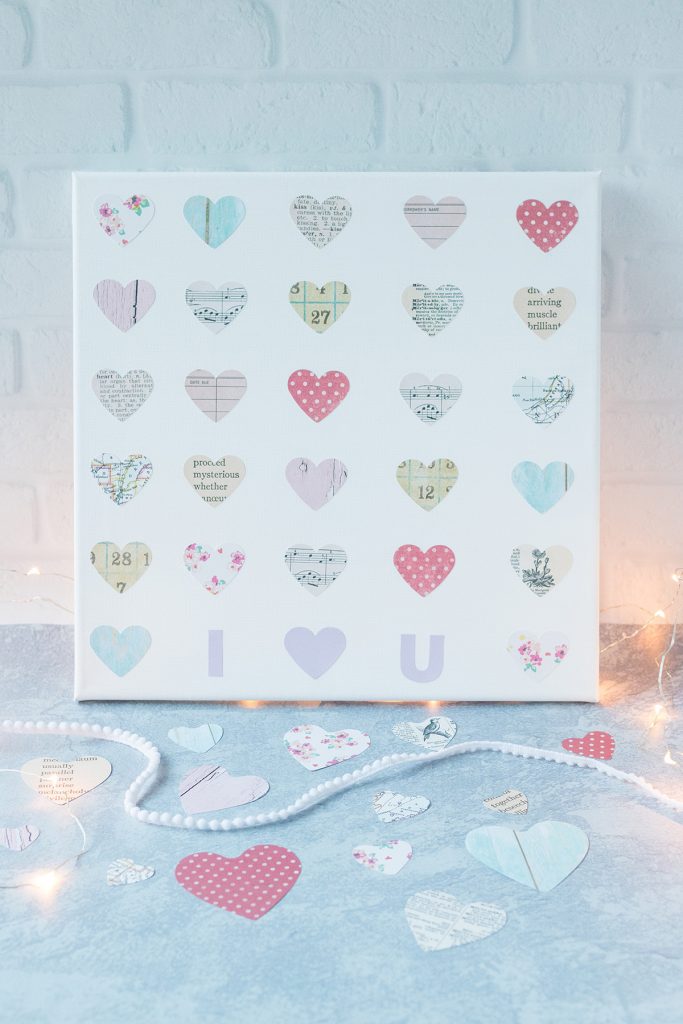 [Disclaimer: There are a few affiliate links in this post. Thanks for your support!]
Did you make the Valentine's Day hearts canvas wall art?

I want to see it! Tag your images #RoseClearfield on Instagram or Twitter or post a photo to my Facebook page.
Pin this post for easy access to the Valentine's Day hearts canvas wall art tutorial later!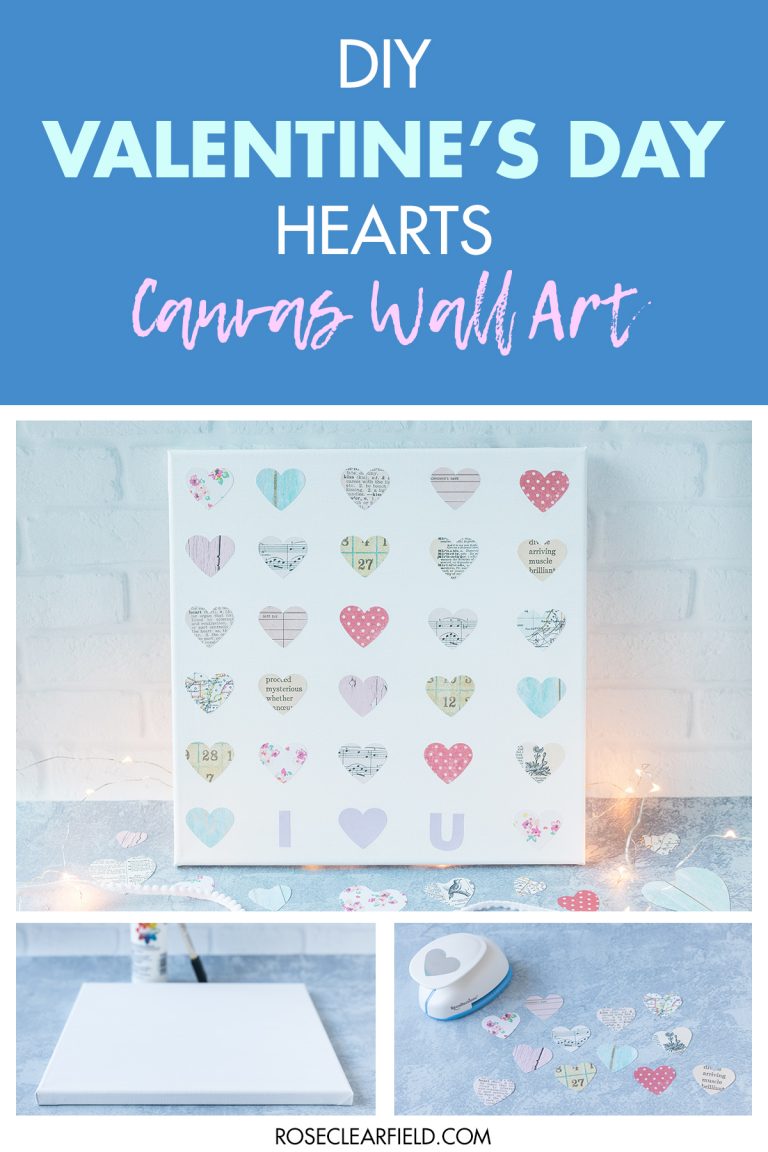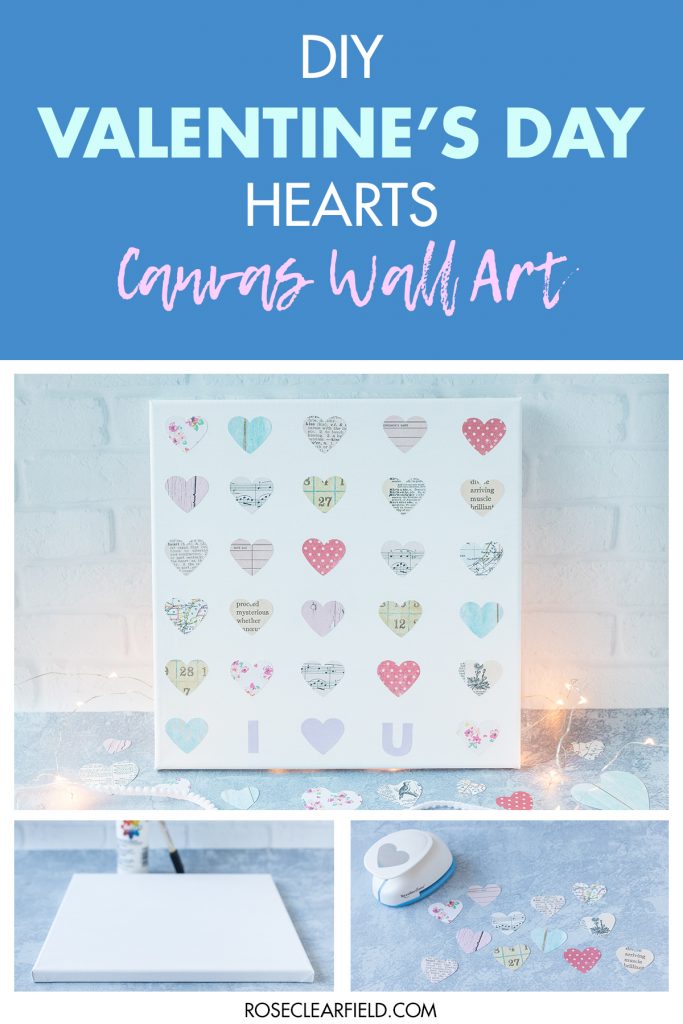 I also have a DIY subway canvas wall art tutorial for Valentine's Day!
More DIY Valentine's Day resources: