Continuing the healthy back to school lunches theme, I'm sharing a quick protein lunch with sweet potato and chicken sausage.
Minus the fried egg, it's a lunch that you can prep ahead of time for an entire week of packed lunches or quickly assembled lunches at home. Even without advance prep, as long as you bake the sweet potatoes beforehand, the entire protein lunch with sweet potato and chicken sausage comes together very quickly.
I've been making some version of the protein lunch with sweet potato and chicken sausage every single month for the past seven years. Like many of the recipes that I share here, it's very easy to customize this lunch concept. Simply adjust the ingredients as needed to fit your tastes or let's be real, what you have in the fridge right now. Creating your own dish variations also ensures that you can put lunch together quickly week after week without getting bored.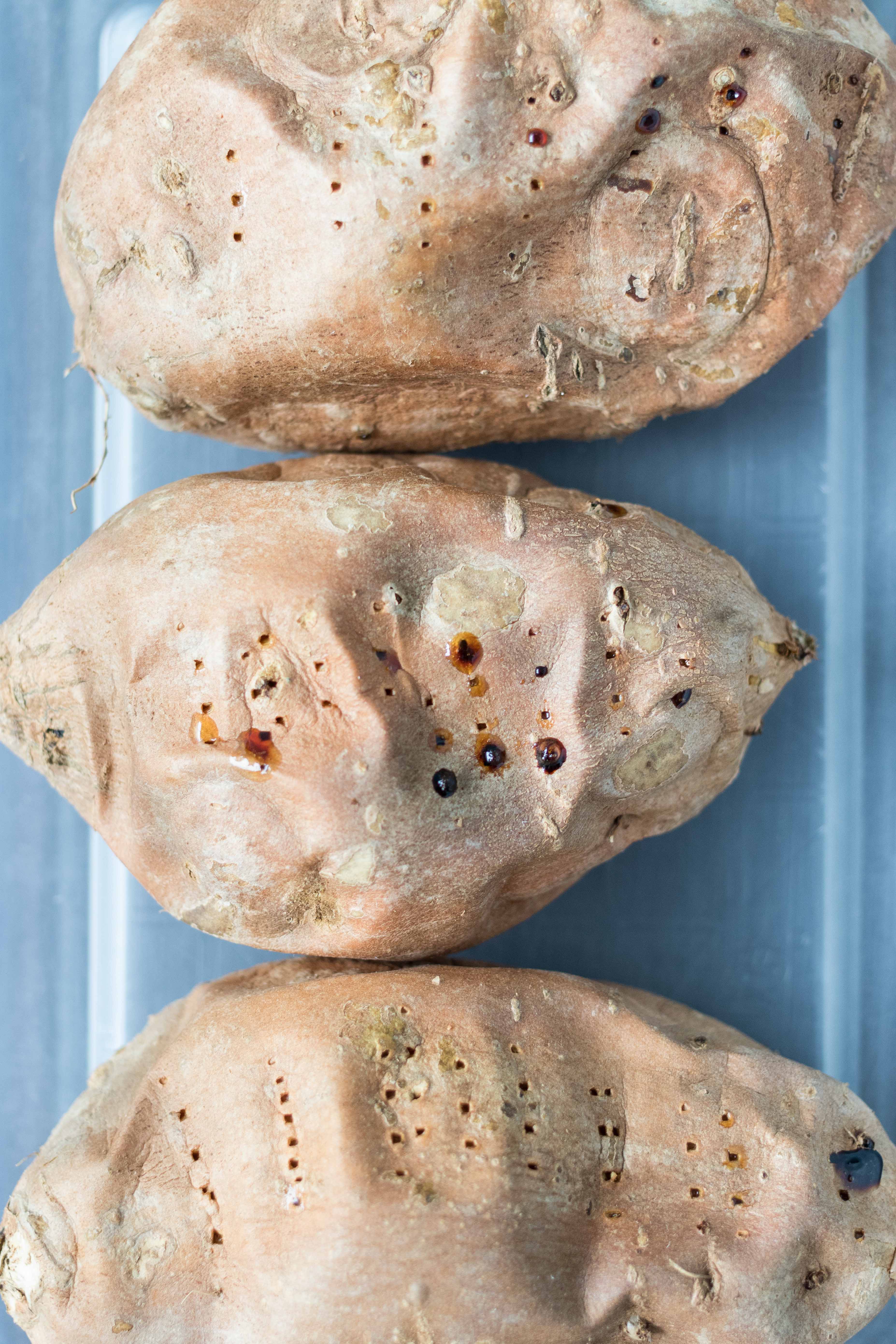 Baking sweet potatoes for the week ahead is one of my go-to meal prep methods. I don't do a lot of food prep for the whole week. But it doesn't get much easier than baking sweet potatoes. They're perfect for this type of simple healthy lunch. I also love eating them for breakfast sometimes, almost always alongside eggs. Since Tommy was born, I've had to up my breakfast game and make a point to eat something substantial in the morning every day. Otherwise, I'm starving again after just a couple of hours. Sweet potatoes are a great breakfast component.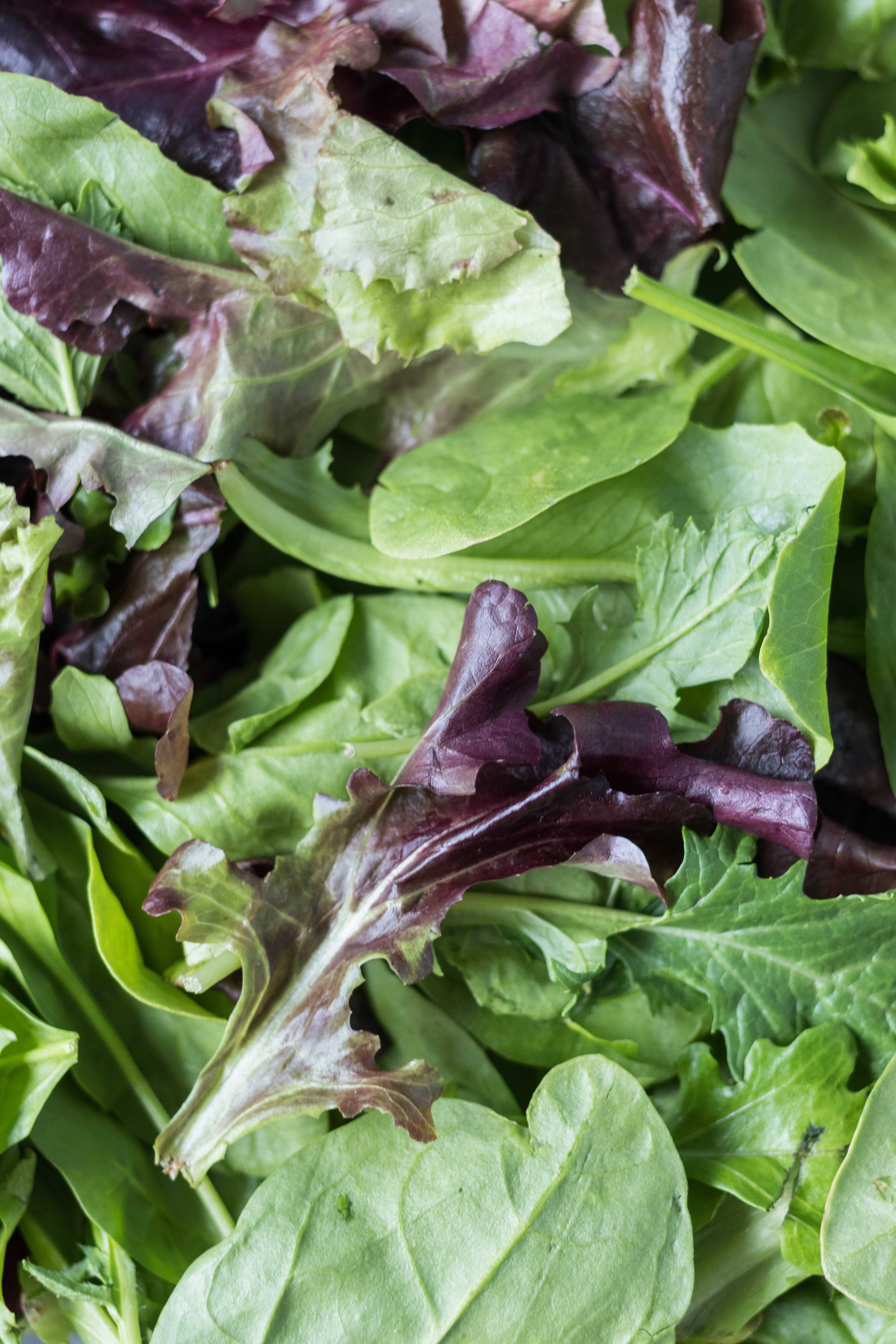 Can we talk for a second about the awesomeness that is bagged salad? And how far the bagged salad concept has come in the past decade? The bagged salad picture here is a 100% organic baby spring greens mix, packaged in a large plastic container. I think the container helps it stay fresh a lot longer than a bag would, and you can recycle it when you're finished. It's very affordable and keeps me eating greens all week long with ease. Of course, you can use whatever kind of salad or greens you like for your protein lunch with sweet potato and chicken sausage. But don't discount the option of a bagged salad.
The key to getting the sweet potatoes crispy is to let them cook for a full 5-7 minutes, or even a little bit longer, before adding the rest of the ingredients. Yes, getting your sweet potatoes crispy does mean that your lunch prep takes a little bit longer. But it's well worth the extra time. Stir the sweet potatoes occasionally, so that they are able to crisp up on all sides.
Pepper and onion is one of my all-time favorite food combinations. I eat it frequently on pizza, in stir-fries, and as part of any type of quick protein lunch like this one. So it's here, as part of the protein lunch with sweet potato and chicken sausage. Somehow I haven't featured pepper and onion in another recipe on this blog yet. I'm sure that I will at some point. Currently, Johnsonville apple chicken sausage is my chicken sausage of choice (not sponsored). Any chicken sausage works just fine, though.
I feel like a huge hypocrite for sharing a recipe with a fried egg. For many many years, I was in the anti-runny yoke camp. I know, I know, most of you are saying, what? Runny yokes are the best! It's taken me a long time to get on board. I still feel weird admitting that I eat them at all, much less regularly. I pass absolutely no judgment if you'd rather scramble your egg or cook it over medium, so it isn't as runny. I still eat scrambled eggs all the time, too.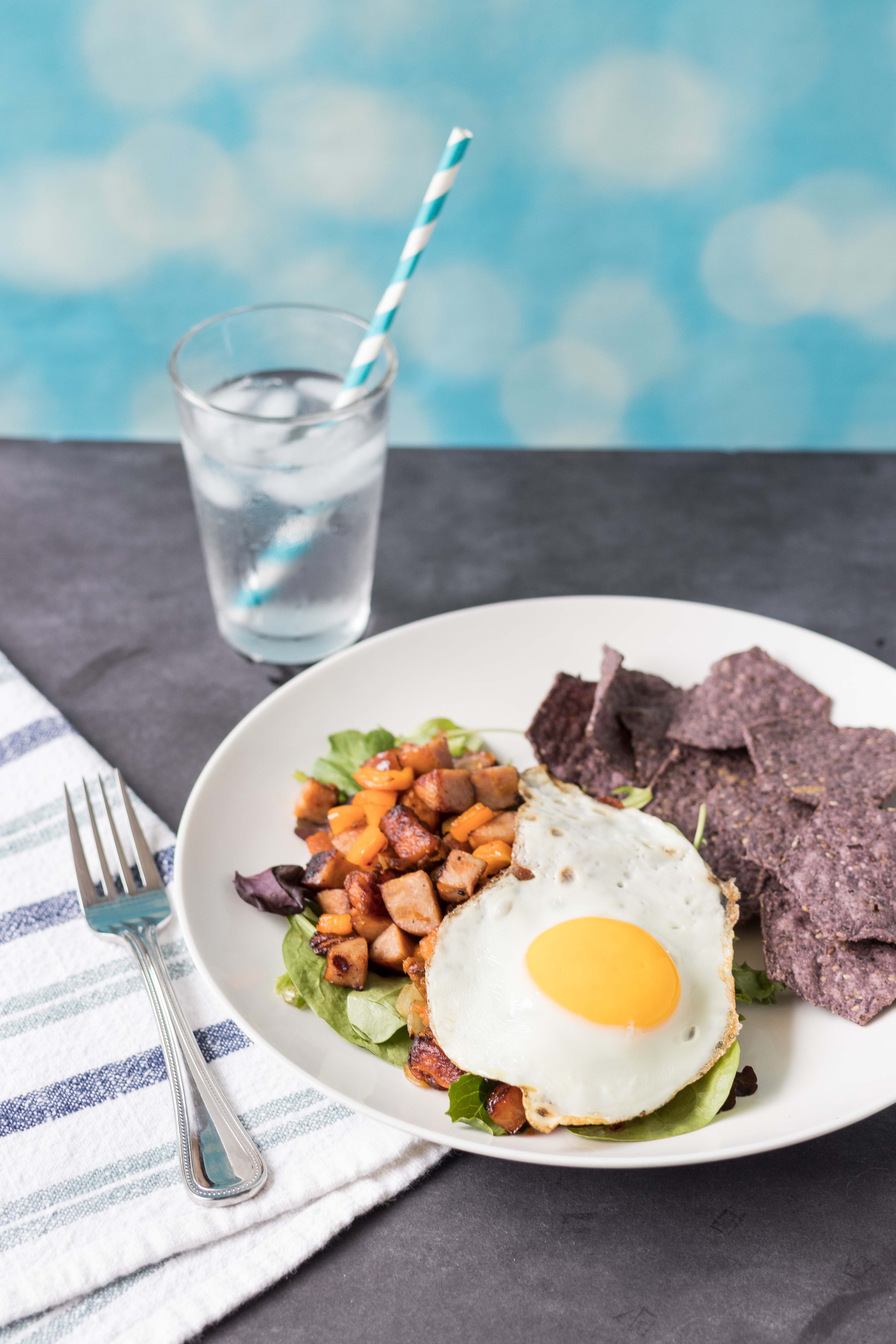 Despite how I've featured the recipe here, I tend to serve the veggies and chicken sausage over the greens but keep the egg on the side. (Even though, I'm pro-runny yoke, I can only take it so far.) I know putting the veggies and chicken over the greens isn't everyone's thing either. Keeping the greens on the side like a little salad is great, too. Then you'll have an excuse (not that you need one) to add your favorite dressing. My personal favorite right now is Bolthouse Farms Honey Mustard (again, not sponsored).
Quick Protein Lunch with Sweet Potato and Chicken Sausage
Ingredients
1/2

small-medium sized

sweet potato

baked and cooled, then cubed

1/4

red, green, or yellow pepper

diced

1/4

small

white or yellow onion

diced

1

cooked chicken sausage

chopped

1

small handful

baby spring greens or other bagged salad

1

large

egg

for frying

extra virgin olive oil

freshly ground salt and pepper

to taste
Instructions
Add a tablespoon of extra virgin olive oil to a medium-sized non-stick frying pan. Pre-heat the pan over low-medium heat.

Add the cubed sweet potatoes to the pan. Cook for 5-7 minutes, stirring occasionally until the sweet potatoes have crisped up slightly on all sides.

Add the pepper, onion, and chicken sausage to the pan. After a minute, season with salt and pepper to taste. Cook for 2-3 minutes, until the vegetables are fork tender and the chicken sausage has crisped up slightly.

Move the sweet potatoes, pepper, onions, and chicken sausage to one side of the pan. On the empty side of the pan, crack the egg. Cook for 1-2 minutes until the egg white has cooked through and the yolked to your liking.

Serve immediately over a small bed of baby spring greens or other salad.
Notes
Simply double or triple the recipe to serve more people.
To prepare the dish in advance, omit the fried egg. Keep the baby greens separate from the veggies and chicken sausage until serving.
Recipe URL: https://www.roseclearfield.com/protein-lunch-with-sweet-potato-and-chicken-sausage
Pin this post for easy access to the quick protein lunch recipe later!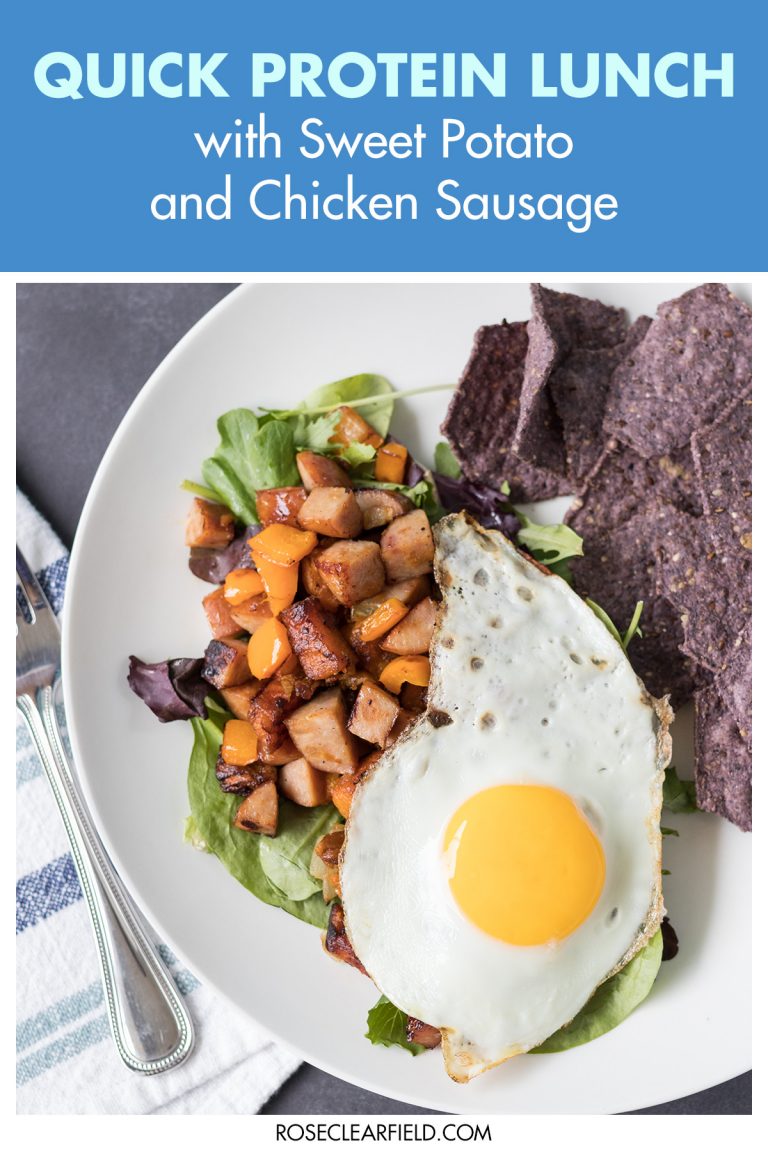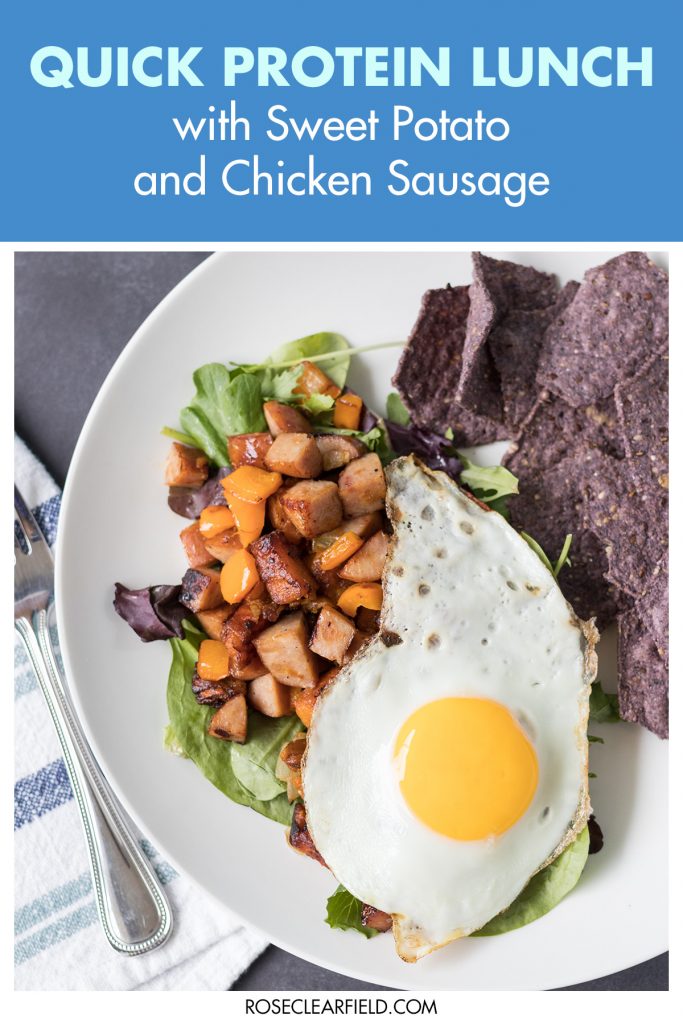 Did you make the protein lunch with sweet potato and chicken sausage?

I want to see it! Tag your images #RoseClearfield on Instagram or Twitter or post a photo to my Facebook page.
One of my other go-to quick lunches:
More healthy recipes: