Welcome to the new lunch recipe you need in your life: peanut sesame Ramen noodles with roasted broccoli.
Sometimes I feel like a broken record talking about my favorite things, which includes my favorite foods. It's no secret that I've loved Ramen noodles pretty much my entire life. Yes, I made another recipe inspired by Jessica, with some inspiration from a couple of peanut noodle recipes as well. What can I say? She's awesome, and she has so many great recipes. And yes, I made yet another recipe with roasted vegetables, this time roasted broccoli. My 2+ year stint with braces cemented my love of roasted veggies, and it isn't going anywhere any time soon.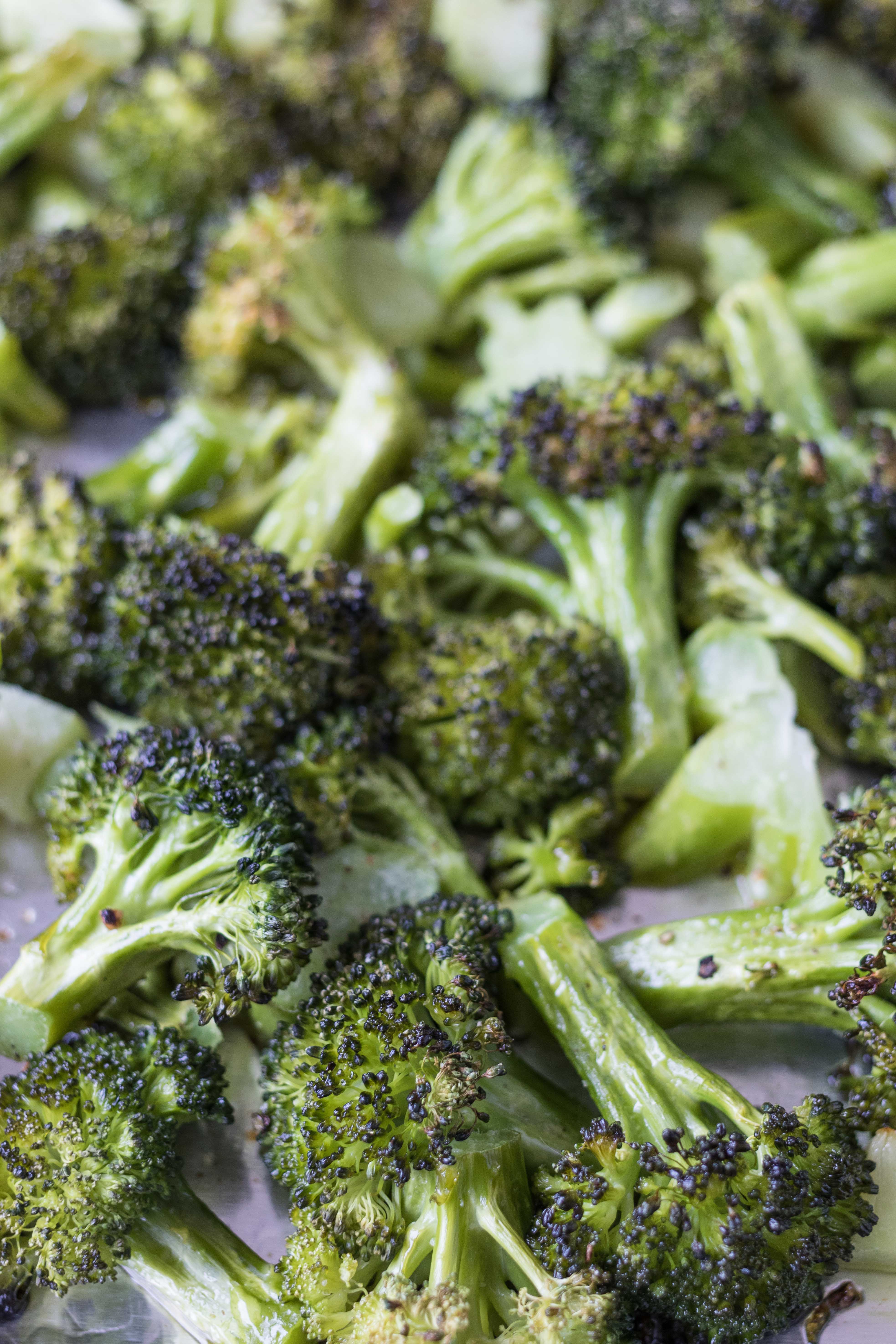 With all of that being said, it should come as no surprise that peanut sesame Ramen noodles with roasted broccoli is right up my alley. I make this recipe way more often than I like to admit. I've been tweaking Jessica's original sesame Ramen recipe for over a year because I don't like it as spicy as she makes it, and I wanted to add peanut to it. I'm one of those obnoxious people who doesn't like really sweet desserts but loves sweet savory foods. I unapologetically order pad Thai at every Thai restaurant. Of course, you can easily kick up the spice factor in this recipe if you like.
There is so much flavor here, and the dish comes together so quickly. Roasted vegetables are one of the few foods I routinely meal prep at the beginning of the week, so it's ready in advance for this type of recipe. When you're making lunch, the faster the recipe, the better. Otherwise, you just won't be motivated to make it very often. Or I won't, anyway. And I know that many of you are the same way. After you've made peanut sesame Ramen noodles a few times, you'll be pulling the ingredients and measuring them by memory or just eyeballing them. I promise it really is that easy.
The trick is to get the consistency of the sauce just right. I find that cold homemade peanut dressings are often lumpy. The peanut butter never blends quite right. So I like adding a single teaspoon of peanut butter to a heated sauce. It melts down and blends in with the other ingredients beautifully. Keep your heat in the low-medium range to achieve that not too thick consistency.
I know that this Ramen noodle recipe has a ridiculous ingredient list for a quick lunch recipe. First, if you make Asian/Asian-inspired recipes on a regular basis (hello, chicken lettuce wraps), you already have the vast majority of these ingredients on hand. If you don't, start stocking your pantry, because it's well worth keeping items like rice vinegar and toasted sesame oil on hand.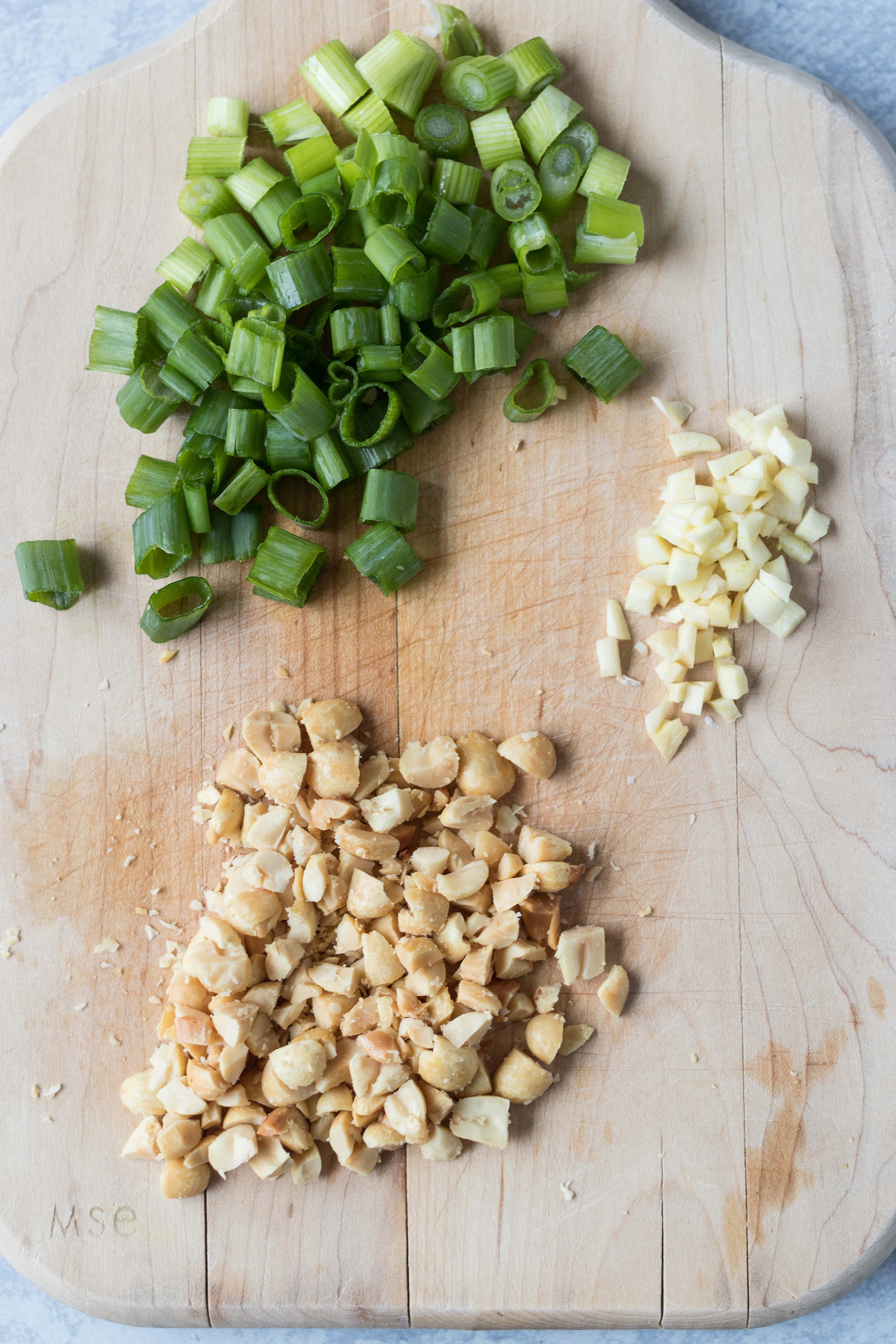 Second, you don't need every single ingredient on the list for peanut sesame Ramen noodles to taste great. Believe me, I don't make this recipe with this exact ingredient list most of the time. If you're out of teriyaki sauce, simply double the soy sauce. If you don't have chili garlic paste, add a little sriracha for a hint of heat. I think you get the idea.
I'm also sure you're thinking that it's completely ridiculous that I'm claiming that this recipe is two servings. I know, an ordinary pack of Ramen noodle is a single serving. Period. I don't care what the package says. But with the broccoli and peanuts, you get two full servings here. If you want to fill it out just a bit more, add some chicken and more roasted veggies, such as cauliflower.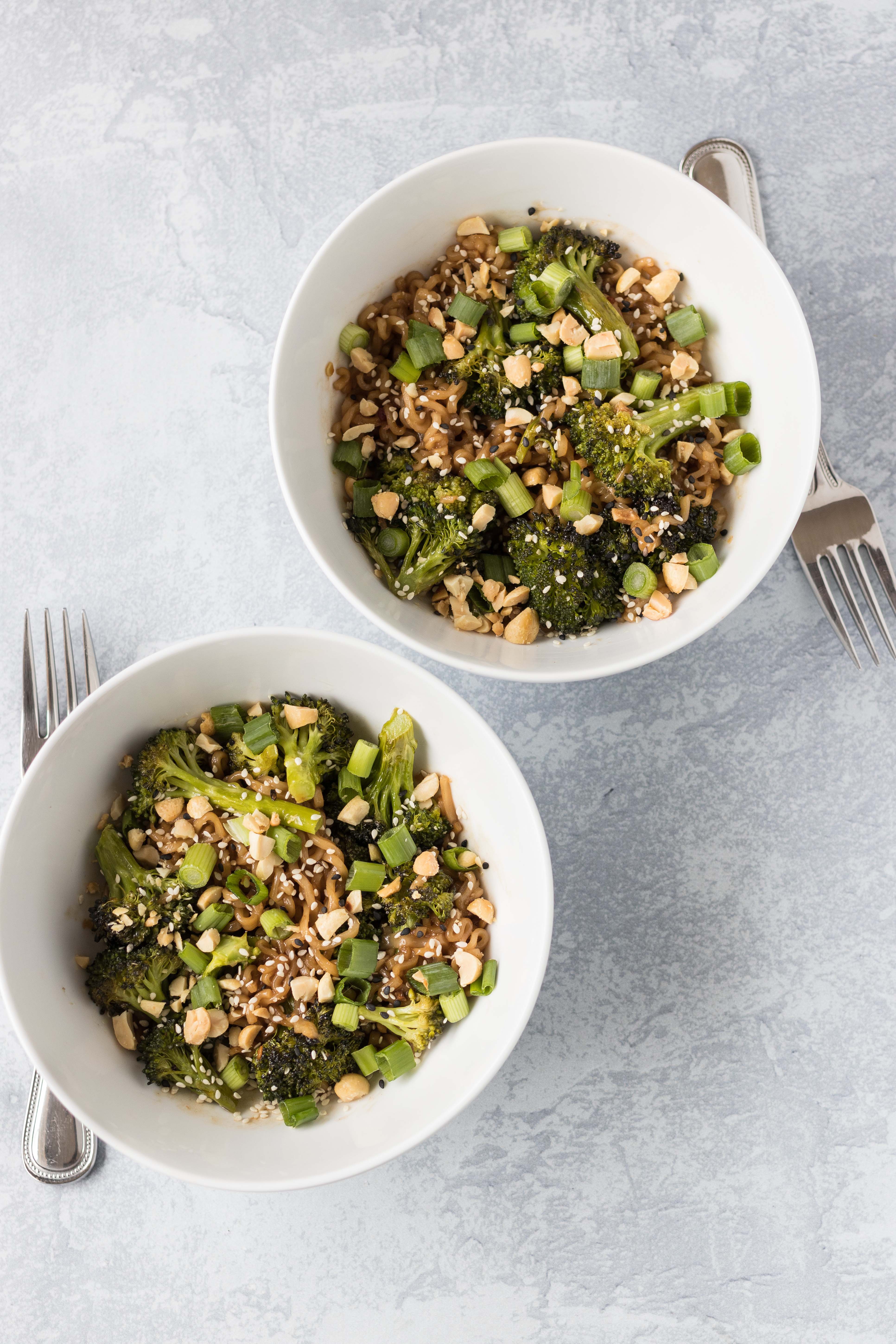 I have always made my peanut sesame noodles with Ramen because my love for Ramen is strong and because it's just so darn easy. But you shouldn't feel limited to this option. Brown rice noodles or soba noodles work great, too. Basically any type of leftover pasta, drenched in an amazing peanut sesame sauce, will taste awesome.
Finally, I have to mention the nonstick pan I always use for my peanut sesame Ramen noodles sauce. I sprung for this GreenPan Padova ceramic nonstick pan set during a Black Friday sale and have never looked back. They are so much better than any other nonstick pans I've ever used. The pans heat up and cook so evenly and are a breeze to clean, and the nonstick coating is very durable. I use the smaller pan for scrambled eggs nearly every day and the larger pan for breakfast potatoes or this type of lunch recipe 2-3 times per week. So the pans are in constant rotation and still holding up great. You can also find a soft grip handle version on Amazon.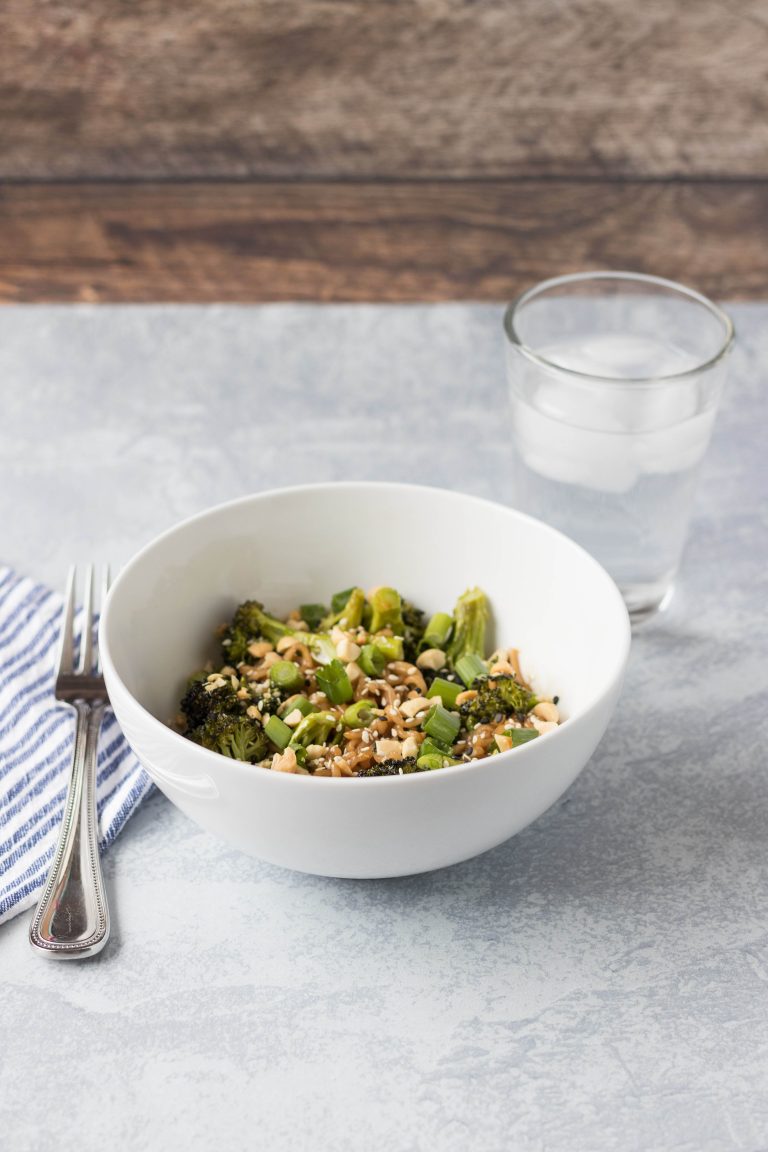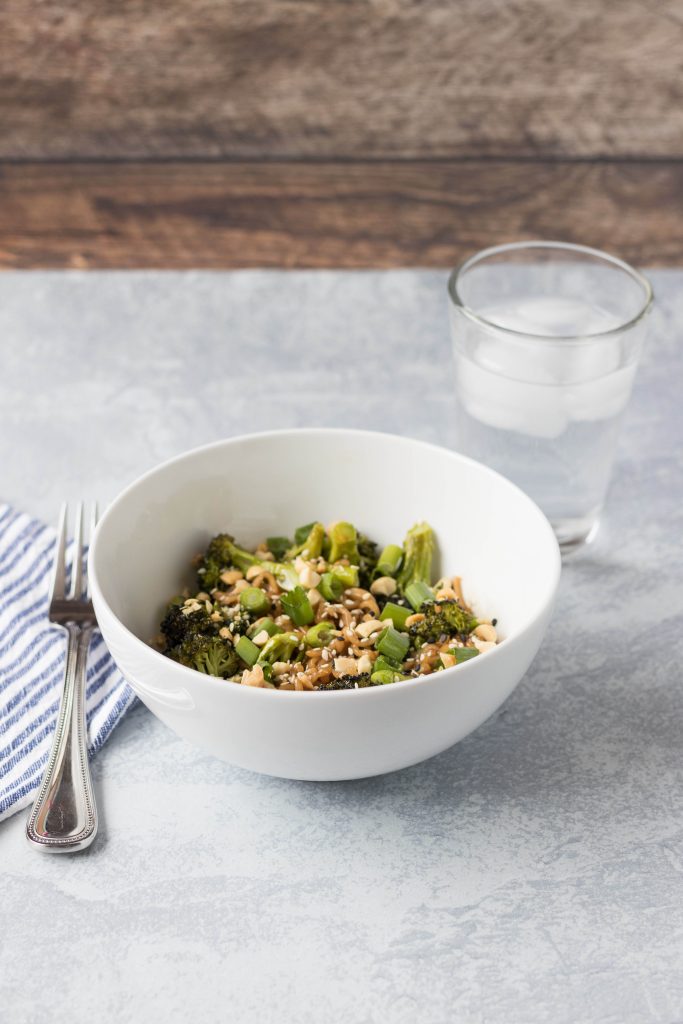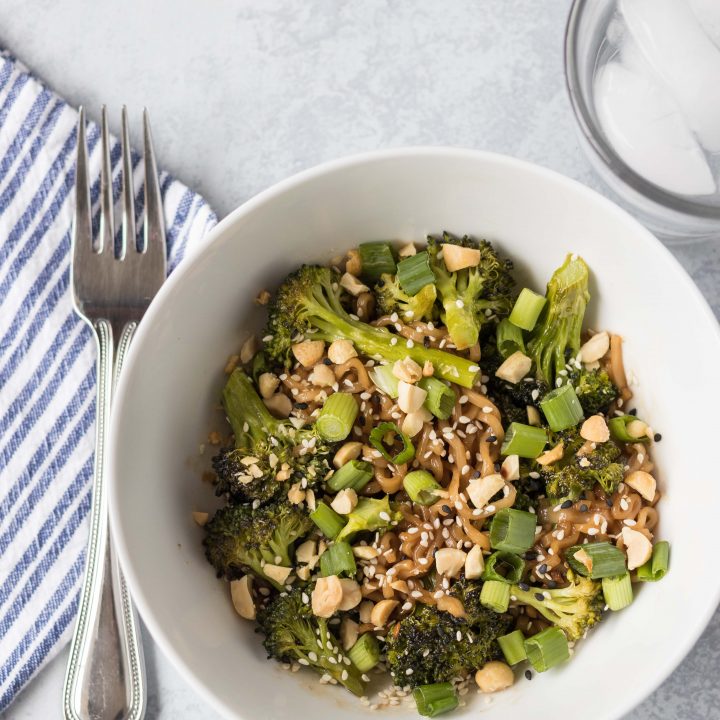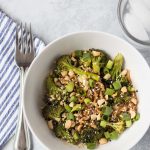 Print Recipe
Peanut Sesame Ramen Noodles with Roasted Broccoli
Peanut sesame Ramen noodles with roasted broccoli are packed with flavor and so quick to make. A lunch recipe staple!
Ingredients
1

tablespoon

coconut oil

2

cloves

garlic

minced

1/4

teaspoon

ground ginger

1

tablespoon

brown sugar

1

tablespoon

soy sauce

1

tablespoon

teriyaki sauce

1

tablespoon

rice vinegar

pinch of

chili garlic paste

1

teaspoon

peanut butter

1

tablespoon

toasted sesame oil

plus more for drizzling

2

green onions

chopped

1

cup

roasted broccoli

1

generous handful of

lightly salted peanuts

chopped

white or black toasted sesame seeds

for sprinkling
Instructions
Prepare the Ramen noodles according to the directions on the package.

As the Ramen water is heating, chop the garlic, green onion, and peanuts.

While the noodles are cooking, make your sauce. Over low-medium heat, melt the coconut oil. Once melted, add the minced garlic and ground ginger. Cook just until fragrant, less than one minute.

Add the brown sugar, soy sauce, teriyaki sauce, rice vinegar, and chili garlic paste. Stir until combined.

Slowly add the peanut butter, stirring constantly until the peanut butter is completely melted and the sauce has thickened slightly.

Turn off the heat and add the toasted sesame oil. Stir until combined.

Using a slotted spoon, drain the cooked Ramen noodles and add them to the sauce. Add the roasted broccoli. Turn the heat on low to heat the broccoli through while you cover the noodles and broccoli in sauce.

Top the noodles and broccoli with a drizzle of toasted sesame oil, peanuts, and green onions. Serve immediately.
Notes
This recipe can be easily doubled or even tripled.
If you don't eat the sesame Ramen noodles right away, keep the peanuts, green onions, and sesame seeds separate until serving.
Recipe URL: https://www.roseclearfield.com/peanut-sesame-ramen-noodles/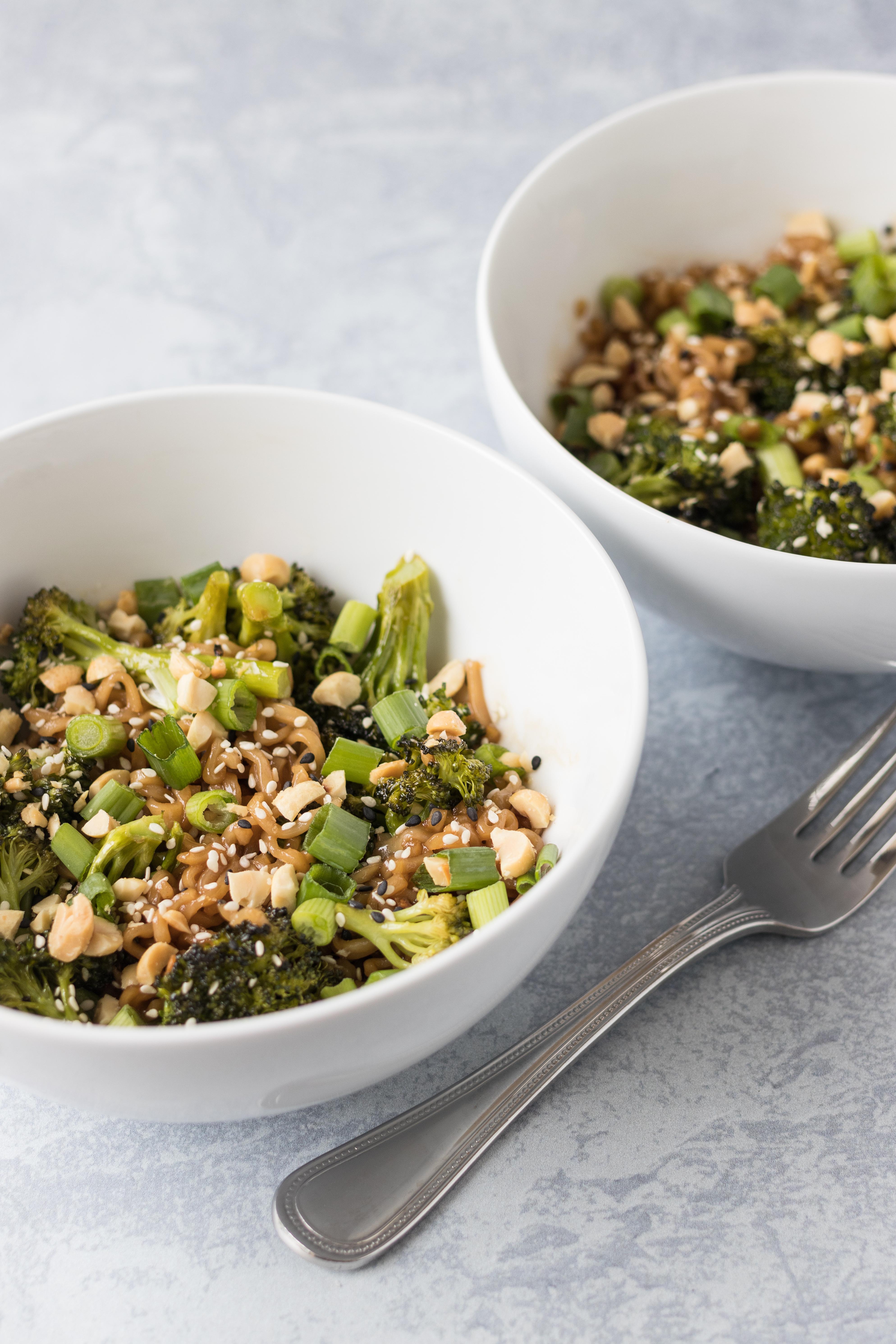 Lunch will never be the same again. You're welcome.
[Disclaimer: This post contains a few affiliate links. Thanks for your support!]
Did you make the peanut sesame Ramen noodles with roasted broccoli?

I want to see it! Tag your images #RoseClearfield on Instagram or Twitter or post a photo to my Facebook page.
Looking for even more Ramen noodle recipe inspiration?
I have an entire round-up of healthy Ramen noodle recipes!
More quick lunch ideas: