Toddlers have a lot of energy, especially toddler boys. Once toddlers become mobile, they seem to go from walking to running overnight and then they don't stop. Learning to channel their energy through positive outlets that they enjoy is crucial for developing their gross motor and social skills (and minimizing the risk of breaking one of your windows). Supplying them with the best outdoor toys for high energy toddlers will help them develop these important skill sets while having a lot of fun.
How much physical activity should my toddler get every day?
As a parent considering the best outdoor toys for high energy toddlers, most likely you're simply looking for a few new options for your already very active one-year-old or two-year-old toddler. As you grow your toddler outdoor toys collection, it's important to consider his/her ideal daily physical activity schedule.
Minimum of 30 minutes of structured physical activity. Children need at least half an hour per day of adult-led physical activity, such as a dance party, calisthenics (i.e., jumping jacks, push-ups), and games like Simon Says or Red Rover.
Minimum of 60 minutes of unstructured physical activity. Children need at least an hour per day for self-led physical activity, such as time in the backyard with the basketball hoop or playing at the park.
Maximum of 60 minutes of inactive time at a stretch, except for sleeping. Having cool down periods during the day, particularly before naptime and bedtime, is good. Kids learn to unwind and prepare for rest with favorite books and TV. It's important to limit inactive stretches to one hour. [Source]
The Best Outdoor Toys for High Energy Toddlers
Little Tikes Push and Ride Racer
The Little Tikes Push and Ride Racer is an ideal vehicle for toddlers to use by themselves or with other children or adults. When toddlers are first learning to walk, it serves as an awesome "walker" and only becomes more fun as they develop their gross motor skills. Toddlers can have someone push them on it, push it with or without someone riding on it, or push themselves independently. While the Push and Ride Racer doesn't have the handle that a lot of push cars do, it's more versatile.
Up & Down Rollercoaster
Equipped with the Push and Ride Racer or a similar toddler vehicle, kids can ride their vehicles on the Up & Down Rollercoaster. It's just the right size for toddlers, making for a fun but not overwhelming ride. The track features multiple safety elements, so kids can board their vehicles and ride without incident. The track fits together with a simple snap design, making for quick assembly and easy storage when it's not in use. I like the basic multicolored rollercoaster I've featured here best. There are also themed rollercoasters available.
Balance Bike
A balance bike is an awesome way for kids to start biking as early as 18 months and potentially make the transition to a pedal bike without training wheels. Balance bikes help develop core muscle strength and endurance, develop balance and coordination skills which is key for self-regulation and injury prevention, and set the stage for future fine motor skill development. [Source]
When you're purchasing a balance bike for your toddler, don't forget a helmet! The earlier kids learn and practice bike safety, the better.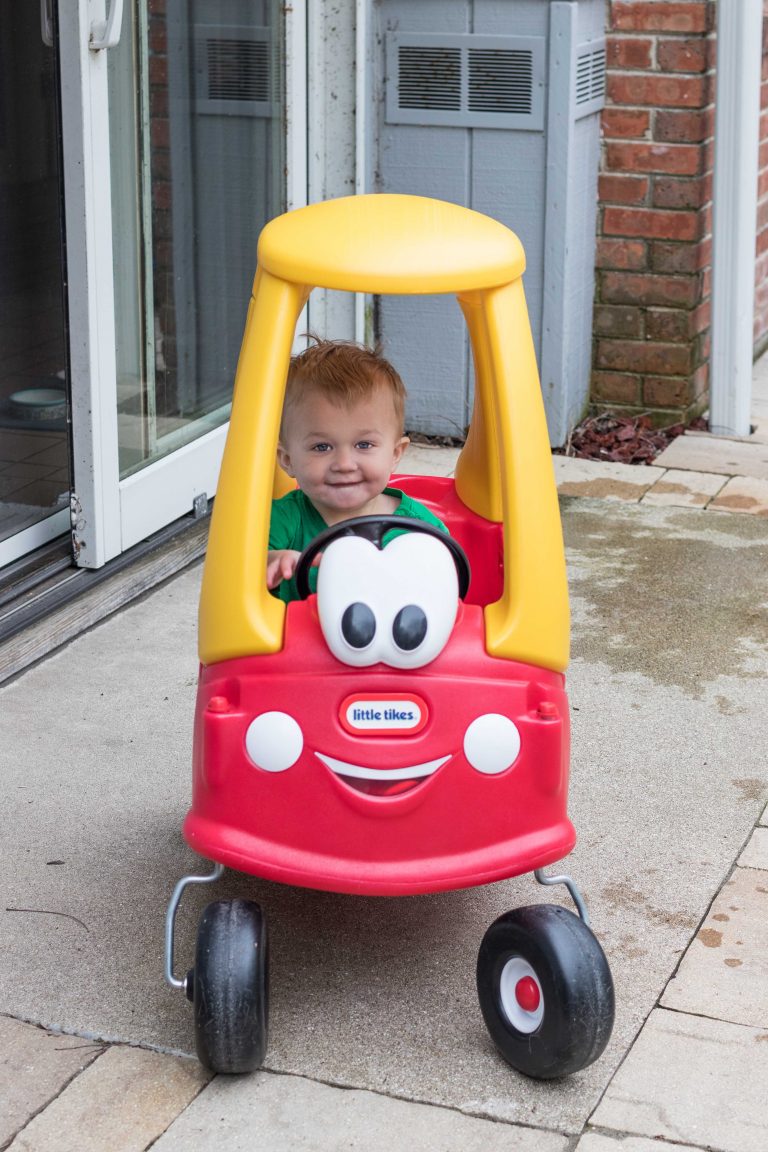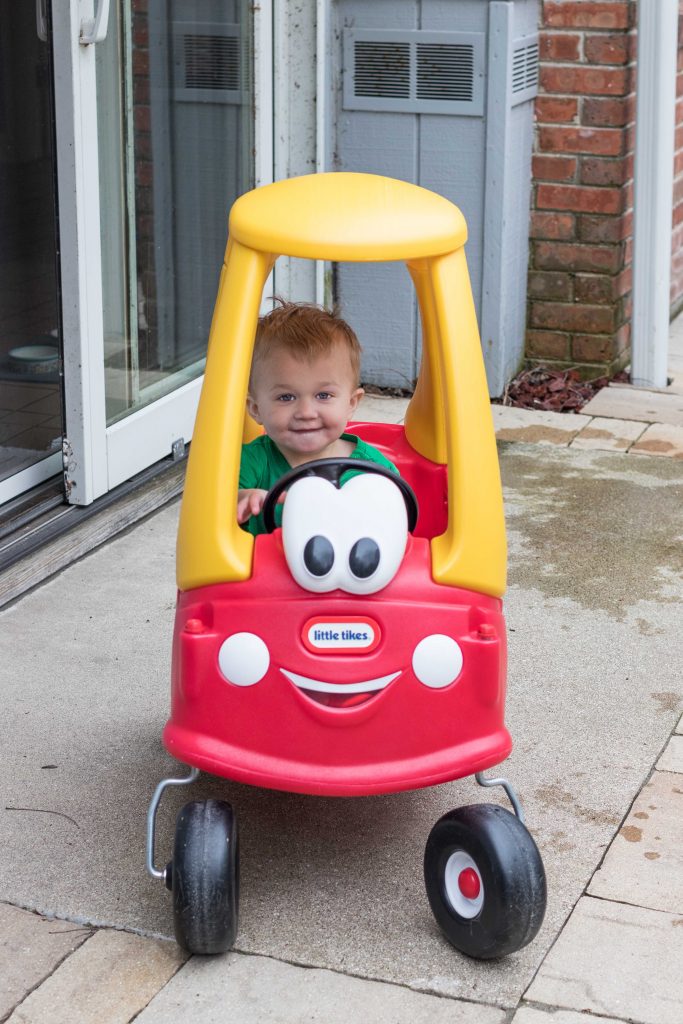 Little Tikes Cozy Coupe
The Little Tikes Cozy Coupe Car may be one of the best kid vehicles ever invented. There is a reason that this classic toy is still widely popular and has basically never been updated. Similar to the Push and Ride Racer, the Cozy Coupe is a great toy for independent play or cooperative play with adults or children. It has a removable floor, which is great for younger toddlers. As they get taller, they can learn to maneuver the vehicle with their own feet. Also, if you get a Cozy Coupe, you can create an adorable Cozy Coupe Christmas picture for your holiday cards.
Little Tikes EasyScore Basketball Set
The Little Tikes basketball hoop is a personal favorite in my house among both kids and adults. The adults may actually enjoy it just as much as the kids. With an oversize rim and adjustable height, it's a fun toy to engage a wide range of ages. The basketball hoop is very light and the balls are soft, making it a good option for both indoor and outdoor use. When you're finished playing with it on the patio or driveway, simply bring it into the garage or den.
T-Ball set
A basic t-ball set is perfect for first learning how to hit a baseball and then working on batting skills as preschoolers join early t-ball and baseball teams. It features an adjustable height tee and a compact storage system, making it easy to hang on the wall or bring along in the car while taking up virtually no space. Similar to the basketball hoop, it's extremely lightweight, making it easy to move and setup as needed.
Bubble lawn mower
The Sunny Days bubble-n-go toy mower is sort of the ultimate outdoor toddler toy. If your toddler loves push toys, watching real lawn mowers, and/or blowing bubbles, the bubble lawn mower will be right up his/her alley because it combines all of these elements. (Yes, my toddler son fits the bill here and absolutely loves his mower.) Whether your toddler is following behind Dad with the big lawn mower or simply zipping up and down the driveway, the lawn mower is sure to be a hit.
Playground balls
Playground balls are perfect for toddlers and will remain an outdoor favorite for many years to come as kids learn to play keep away, four square, dodgeball, etc. Look for a set that includes a hand pump, so you can keep your balls in top condition. I like the range of the colors in the set I've linked here, but don't feel limited to this option. There are also smaller sets available.
Slide
If you don't live near a park or have an active toddler who just can't get enough of slides, no matter how many times you do go to the park, a backyard slide is great. You can't go wrong with the classic slide design. There are a number of fun variations as well for added play value, including the hide and seek climber, sports climber, and castle slide.
Rocking seesaw/teeter totter
For older toddlers (age three and up), the rocking seesaw/teeter tooter is a fun way to burn energy with one or two other children. I love the metal rocking seesaw teeter totter from HearthSong because it's weather-resistant with comfy seats and sturdy handlebars. The seesaw is another extremely lightweight toy that you can move indoors or into storage with ease when the season changes or the weather turns nasty.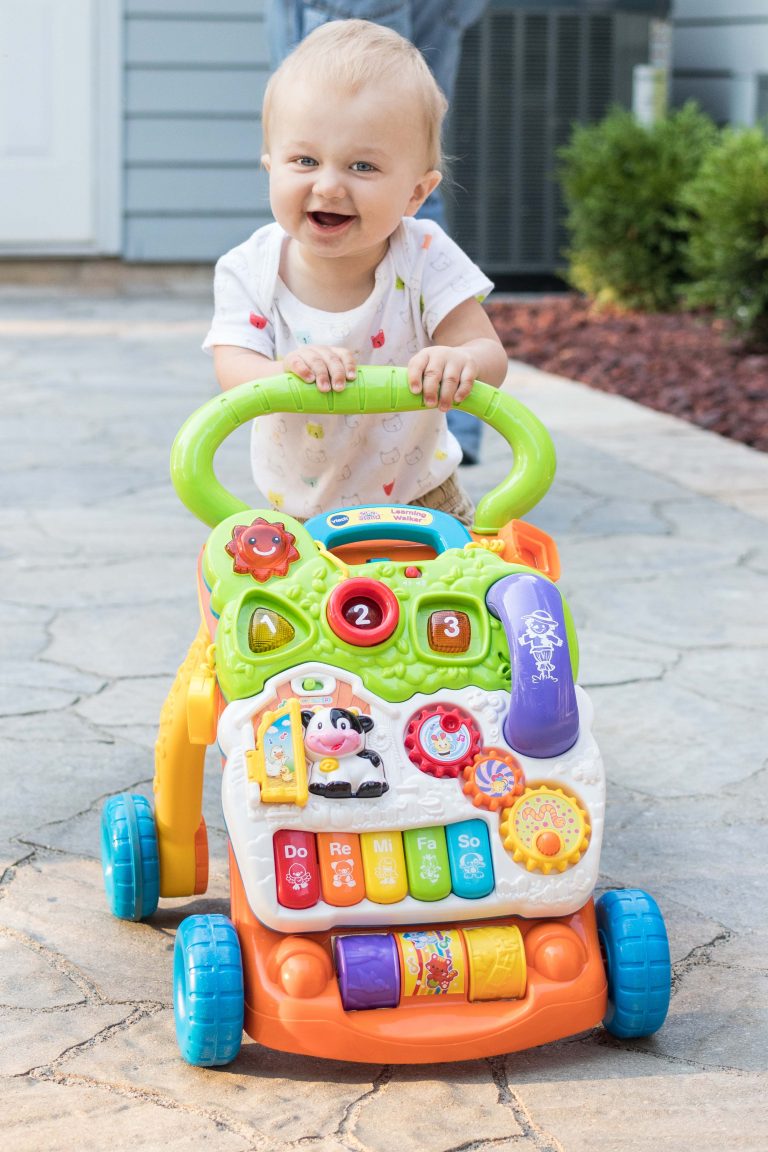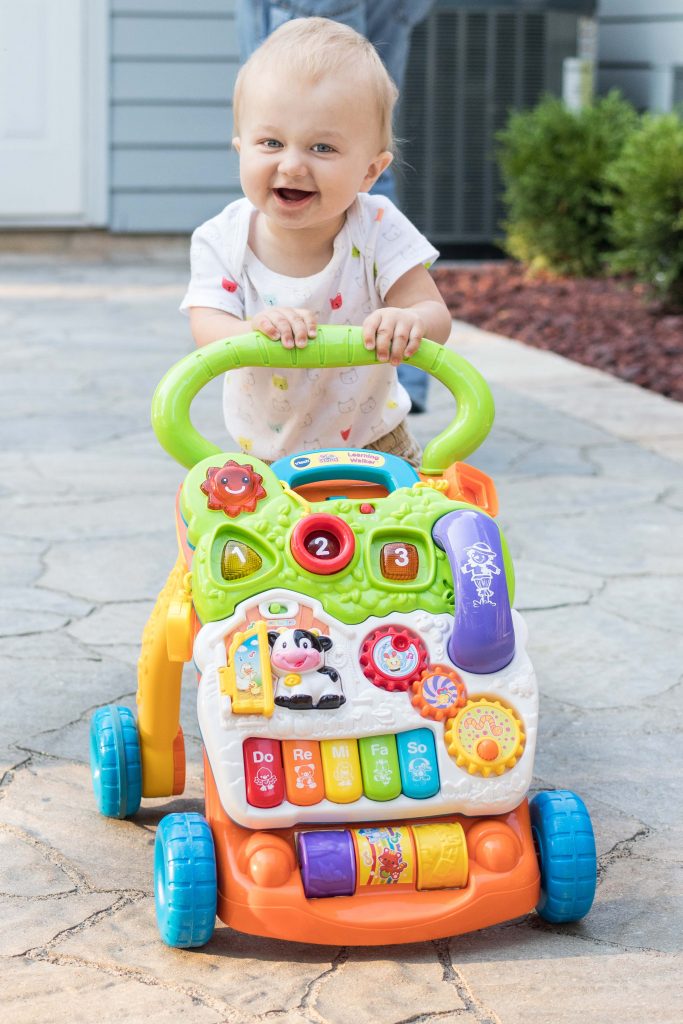 V-Tech Sit-to-Stand Learning Walker
The sit-to-stand learning walker is one of the all-time best toddler toys. My son started playing with it around five months and is still going strong at almost two years old. As soon as toddlers become mobile, it's a great toy to bring out on the patio or driveway. At nearly two years old, my son in no way needs the walker for support walking or running around, but he still loves pushing it everywhere.
Little Tikes Gas 'n Go Mower
From a very young age, kids love to "help" parents around the house. Outdoor chores are no exception. A toy mower allows kids to work right alongside Mom and Dad. The Little Tikes mower features popping beads, a pull cord with engine sounds, clicking key, moveable throttable, and removable gas can. I also love the Melissa & Doug kids' mower, which offers similar features and a cute turtle design.
Gardening/yard tools
Giving kids their own gardening and yard tools is another perfect way to let them help out and stay occupied while you're working on the yard. While they may just want your tools instead of their own, having some child-sized tools will keep them from getting completely frustrated. Most kid-sized rake sets will work for toddlers, but it's nice to get a toddler-sized rake as well. As an added bonus, many gardening/yard tools also make great sand toys.
Sand/water toys
Summer offers so many opportunities for toddlers to use sand and water toys including the pool, the beach, and a backyard water table. Sand and water toys are also great in the bathtub and even the kitchen sink. Toddler sand toy sets are inexpensive, which means it's easy to get a small assortment to rotate through, ensuring kids stay engaged. I also love that many sand toy sets, including the one I've linked here, have a carrying bag for easy transport to and from the pool or beach.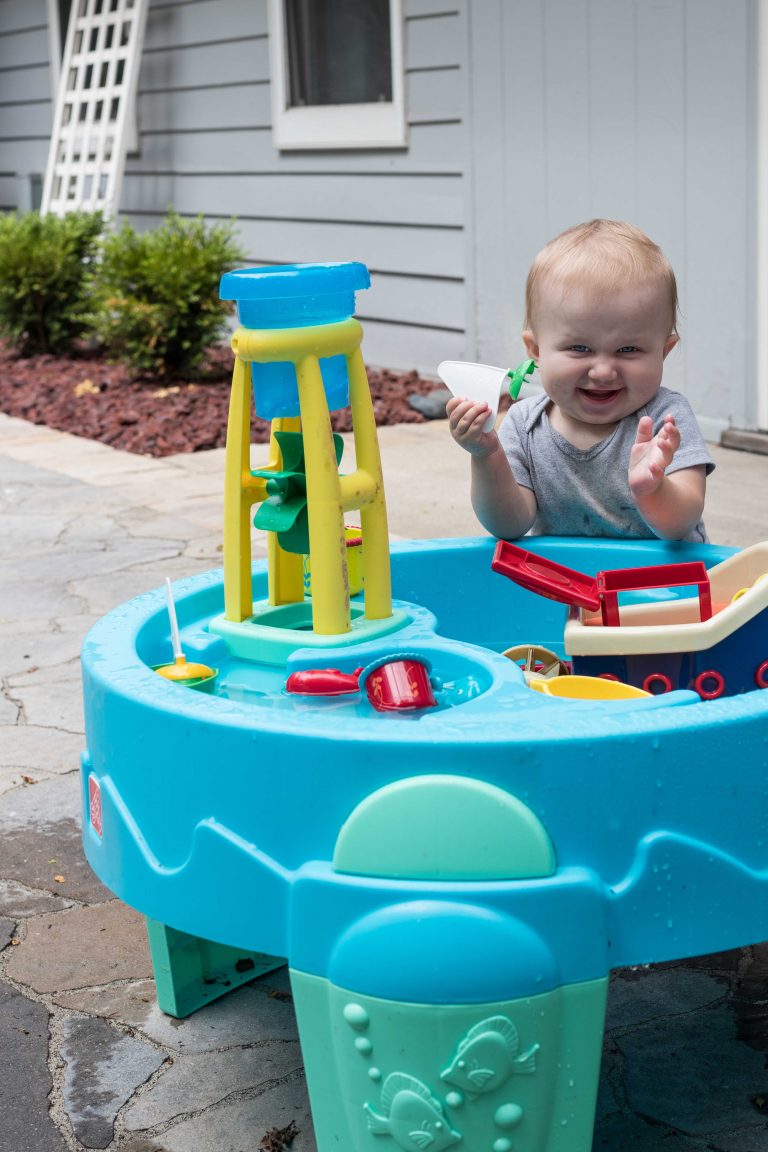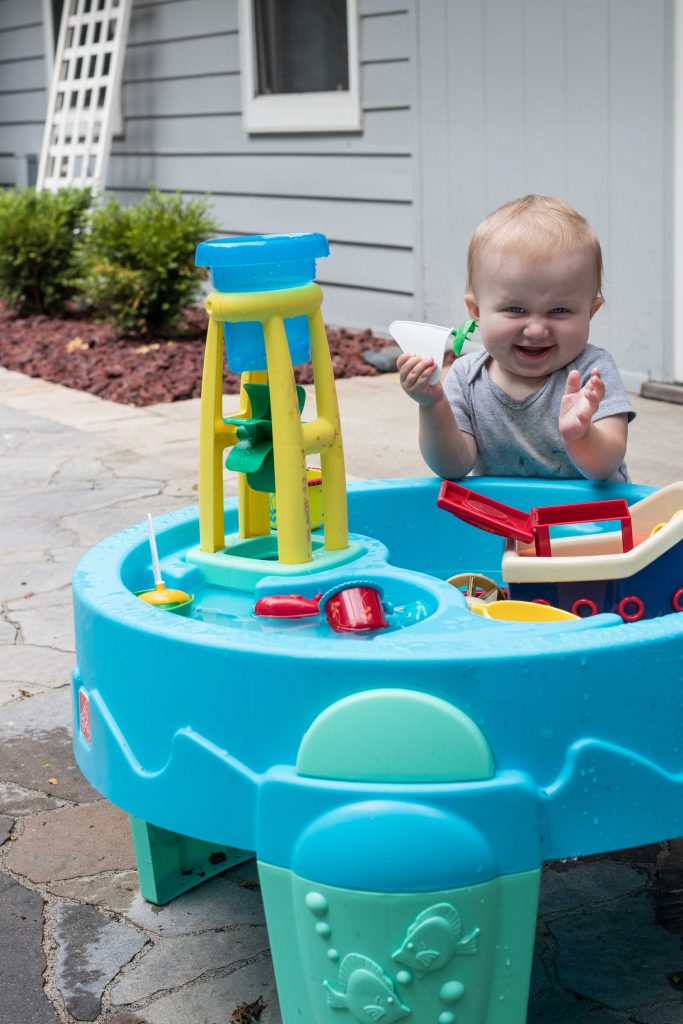 Water table
A water table is one of those seemingly simple toys that you won't believe will be so amazing until you see a toddler or preschooler play with it. When toddlers are first learning to walk, a water table is great for building muscles. Kids are motivated to play, so they'll stick with standing, even when it's a little difficult. Water tables remain fun well through preschool age. For one year olds, I love single level water tables, like the Little Tikes Frog Pond Water Table. For two year olds and up, multi-level water tables are awesome, such as the Step2 Sun Shower Water Table.
Sprinkler/splash pad/wading pool
There are tons of great sprinklers, splash pads, and wading pools for toddlers and preschoolers. While it's fun going to the pool or beach, sometimes it's fun staying home and playing in the backyard, too, especially when kids are really little. For a basic plastic or inflatable pool, I would check the seasonal section at Target. My top toddler sprinkler/splash pad pick is the SplashEZ 3-in-1 Sprinkler, which is very shallow and has nice sprinkler jets.
Pop-up tent
Our pop-up tent set is one of our most popular toys for both our toddler son and our cats. They all sit in it, play in it, chase each other around in it, etc. I love the tent sets because you can set up a single tent or create a larger tent set up with multiple tents and tunnels. It's fun to move the tent setup outside in the summer and spread it out in the backyard instead of having it take over your entire living room. I think that a three-piece tent set, which is what I've linked below, is plenty for toddlers. If you want a larger set for kids of multiple ages, you can find sets all the way up to an eight-piece set.
Playhouse
If you have the backyard space for a playhouse, it's well worth the investment. Kids will enjoy hours of imaginative play in a playhouse by themselves and with friends through preschool or even early elementary school. Step2 offers a number of playhouse models, such as the cottage & grill and seaside villa, which are perfect for toddlers. Their open concept designs allow you to keep an eye on your kids easily. If you prefer a wooden playhouse, the Backyard Discovery Timberlake Playhouse is a nice model.
What other activities help promote gross motor skill development for toddlers?
As you plan your daily structured activity time and other summer commitments, consider the following activities to promote gross motor skill development for your toddler and keep everyone in the family more active.
Walk to the park or other nearby destination. If you bring the stroller and your child wants to walk, let him/her walk as much as he/she is able.
A parent/child fitness class.
Swimming at the pool or lake.
Impromptu family dance parties.
Classic backyard games, such as Simon Says and freeze tag.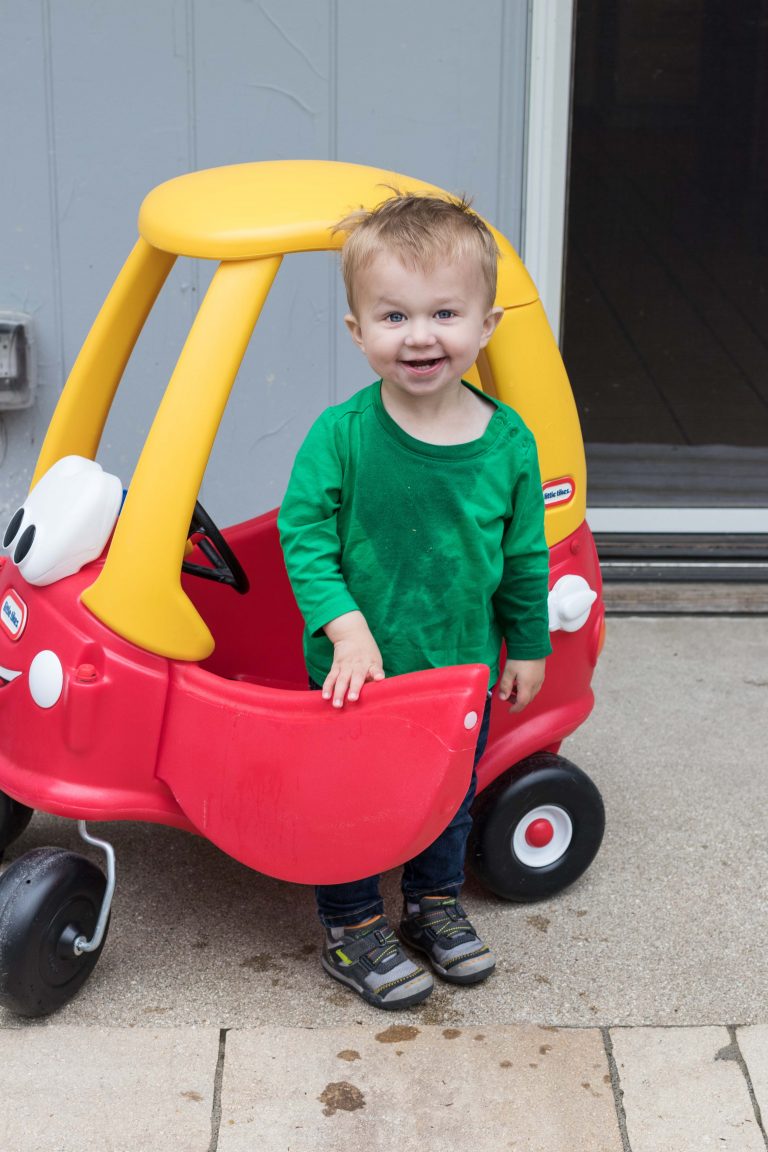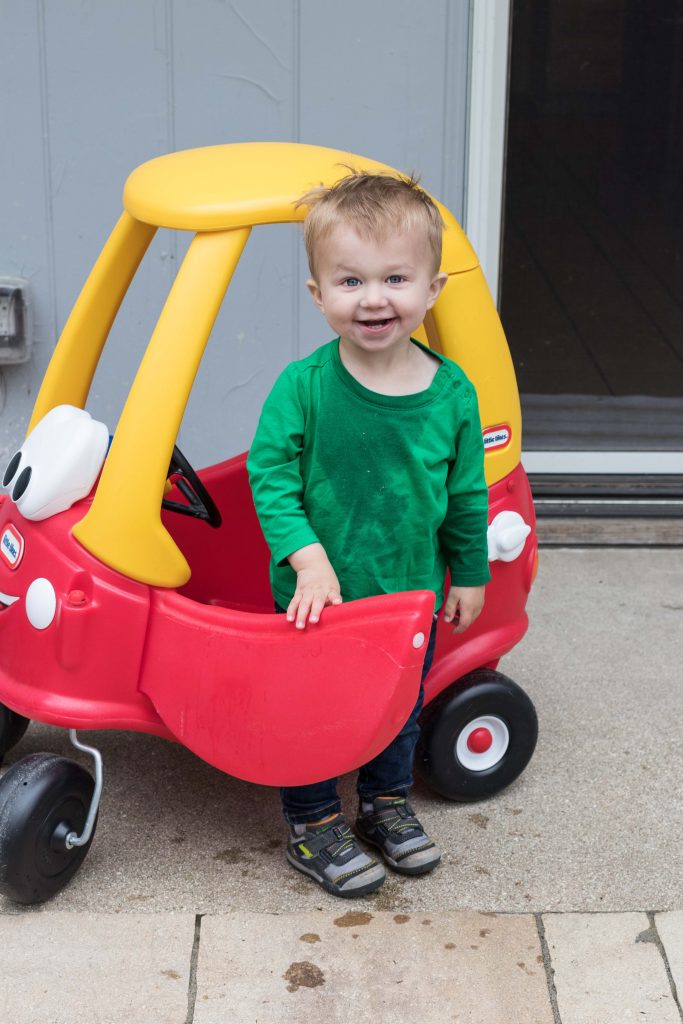 [Disclaimer: There are a few affiliate links in this post. Thanks for your support!]
Toddler parents, what outdoor toys for high energy toddlers do you and your little ones love?
I'd love to hear about your recommendations in the comments!
Pin this post for easy access to the best outdoor toys for high energy toddlers recommendations later!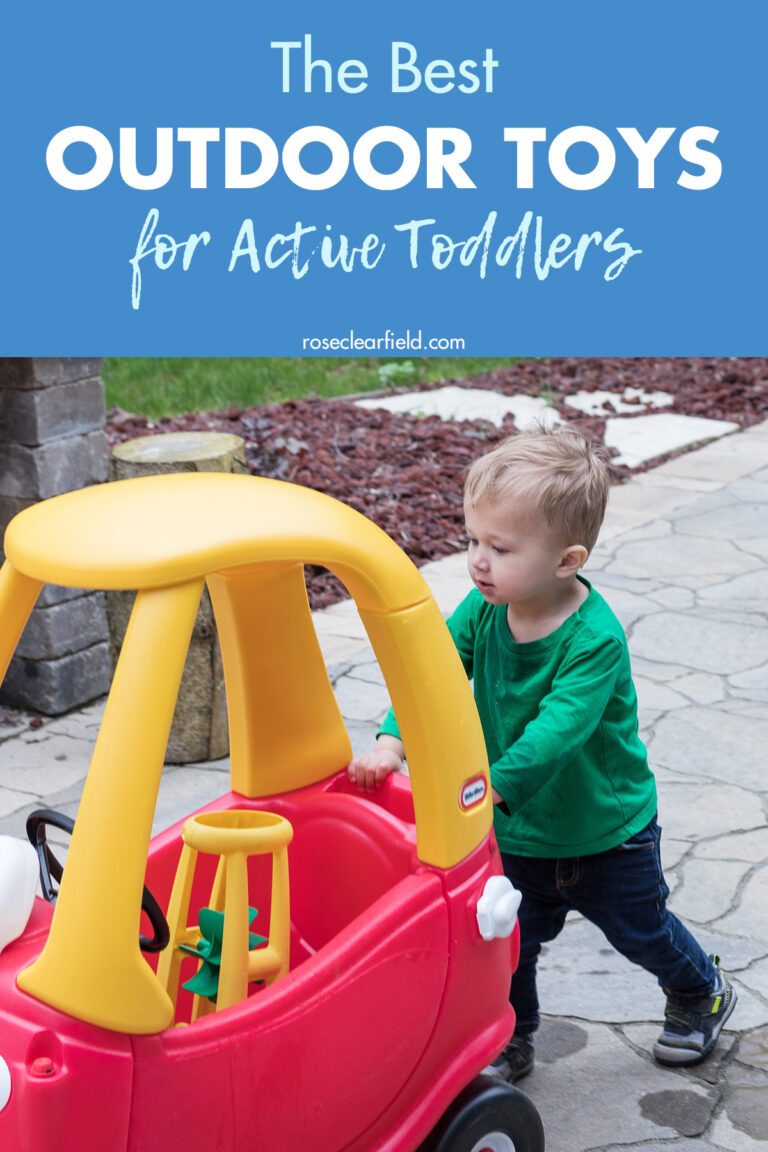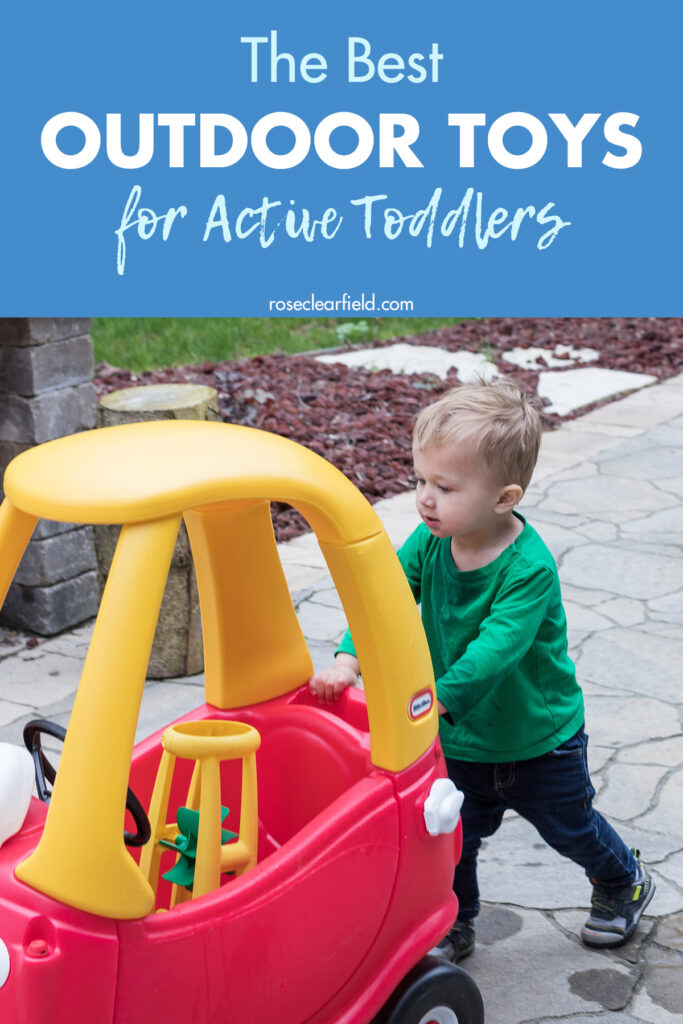 More toddler parenting resources: