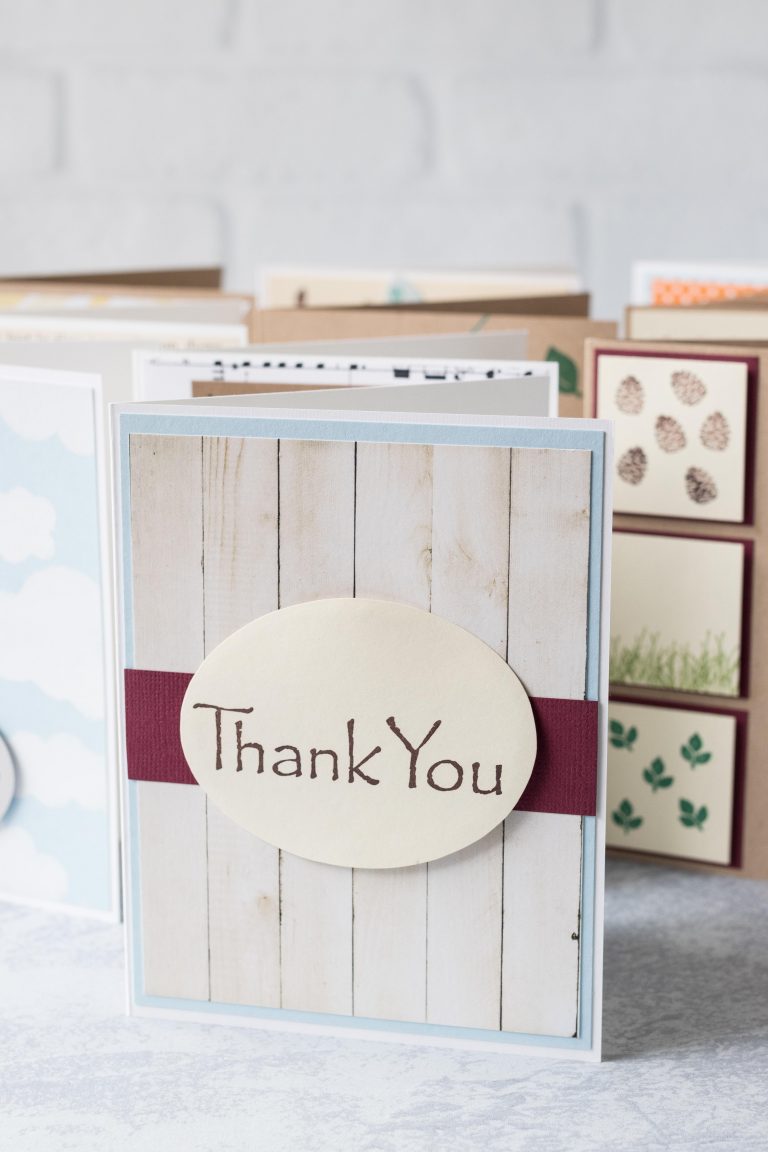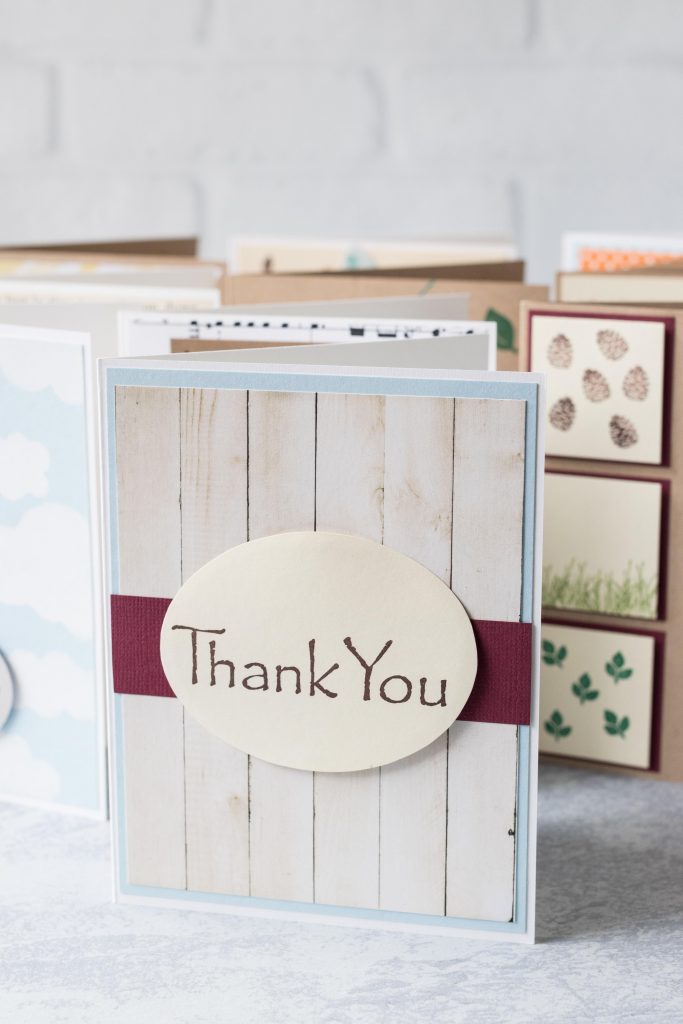 After birthday cards, thank you cards are some of the most versatile greeting cards you can have on hand. You never know when you'll need a note for a loved one, a teacher, or an acquaintance who helped out when you needed it the most. Having a little stash of simple DIY thank you cards on hand for notes and gifts is always useful.
Please note: all of the templates I've created are designed for A2 size cards. I use A2 size for the vast majority of my homemade greeting cards, as I find it to be the most versatile. If you would like templates formatted for other sizes or with different fonts, different colors, etc., please don't hesitate to ask.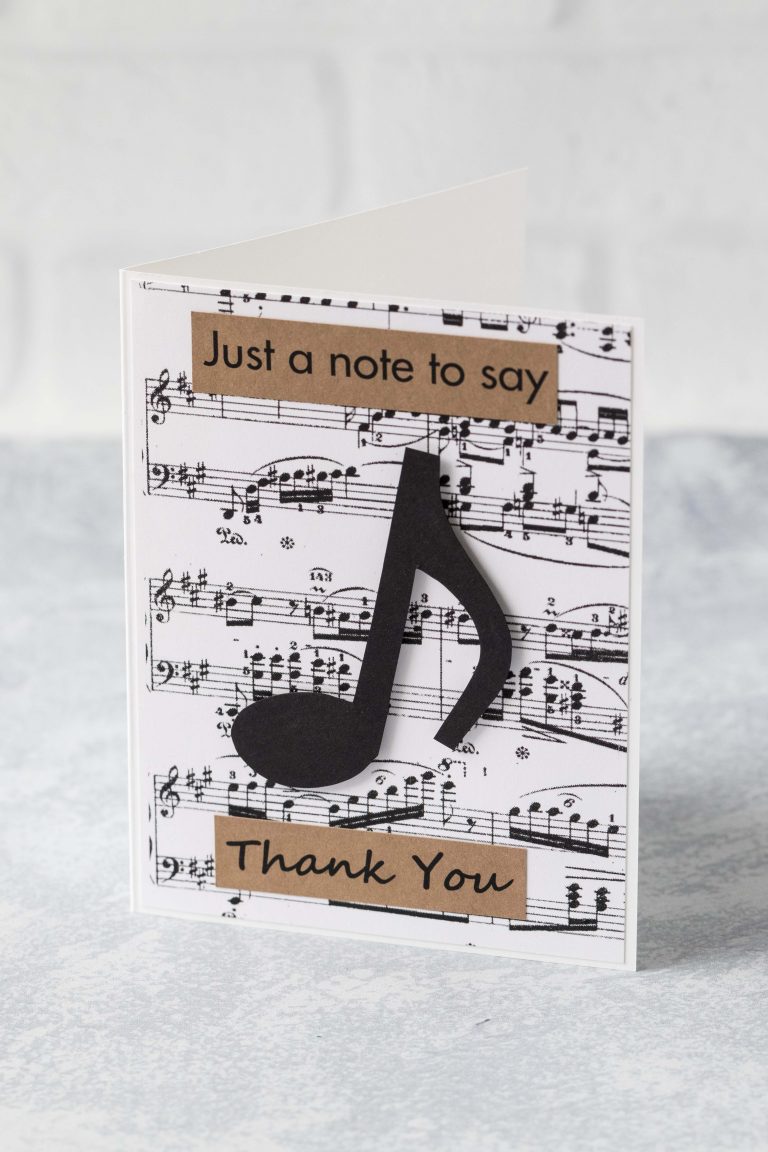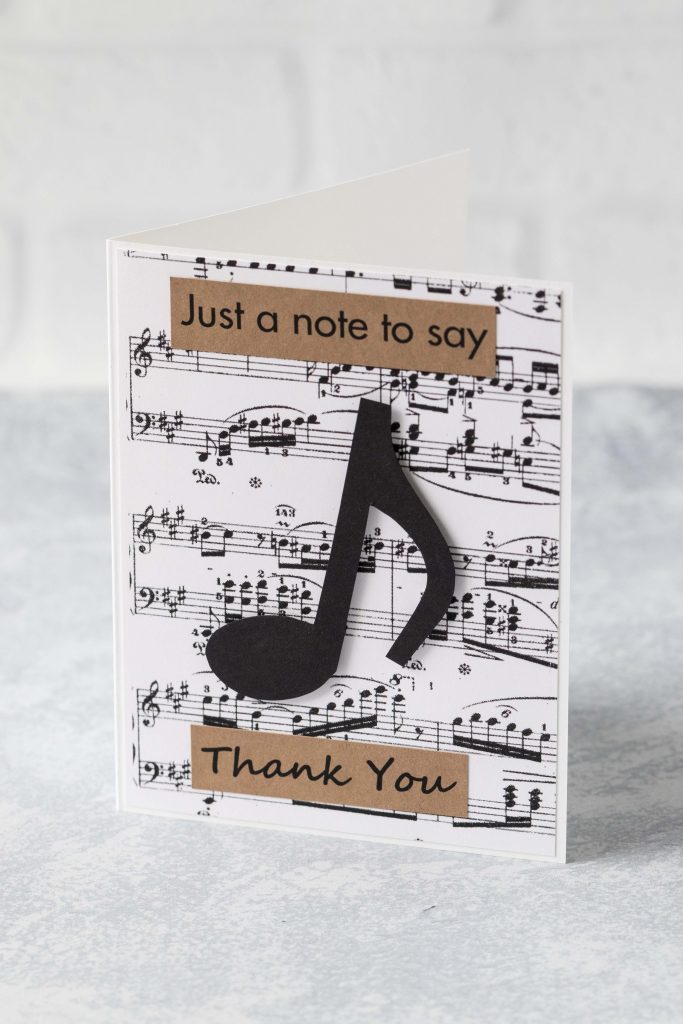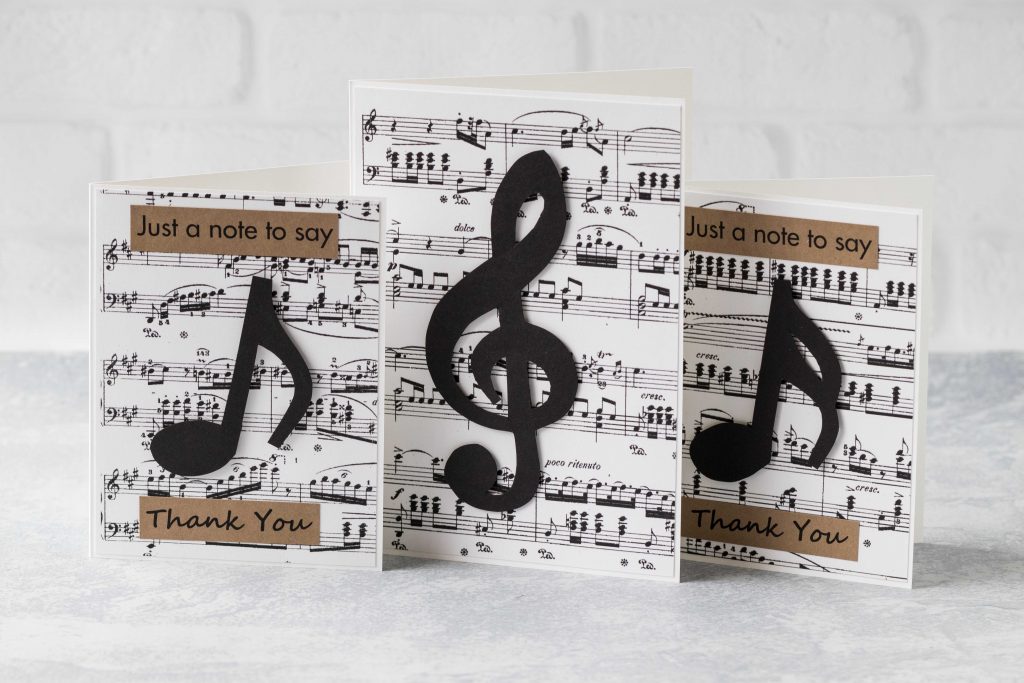 I developed a little set of three music note cards: two thank you cards and one plain card. The eighth note card is the only one I can claim as a simple card, as an eighth note is pretty easy to trace and cut by hand. The sixteenth note and treble clef are much more finicky. Feel free to use a cutting machine to make the job much easier. I mount the music notes with foam squares to give them a little dimension.
Templates: music notes and treble clef (original source) | "just a note" text
Sheet music source: ALL Piano Scores – Chopin (printed on white card stock)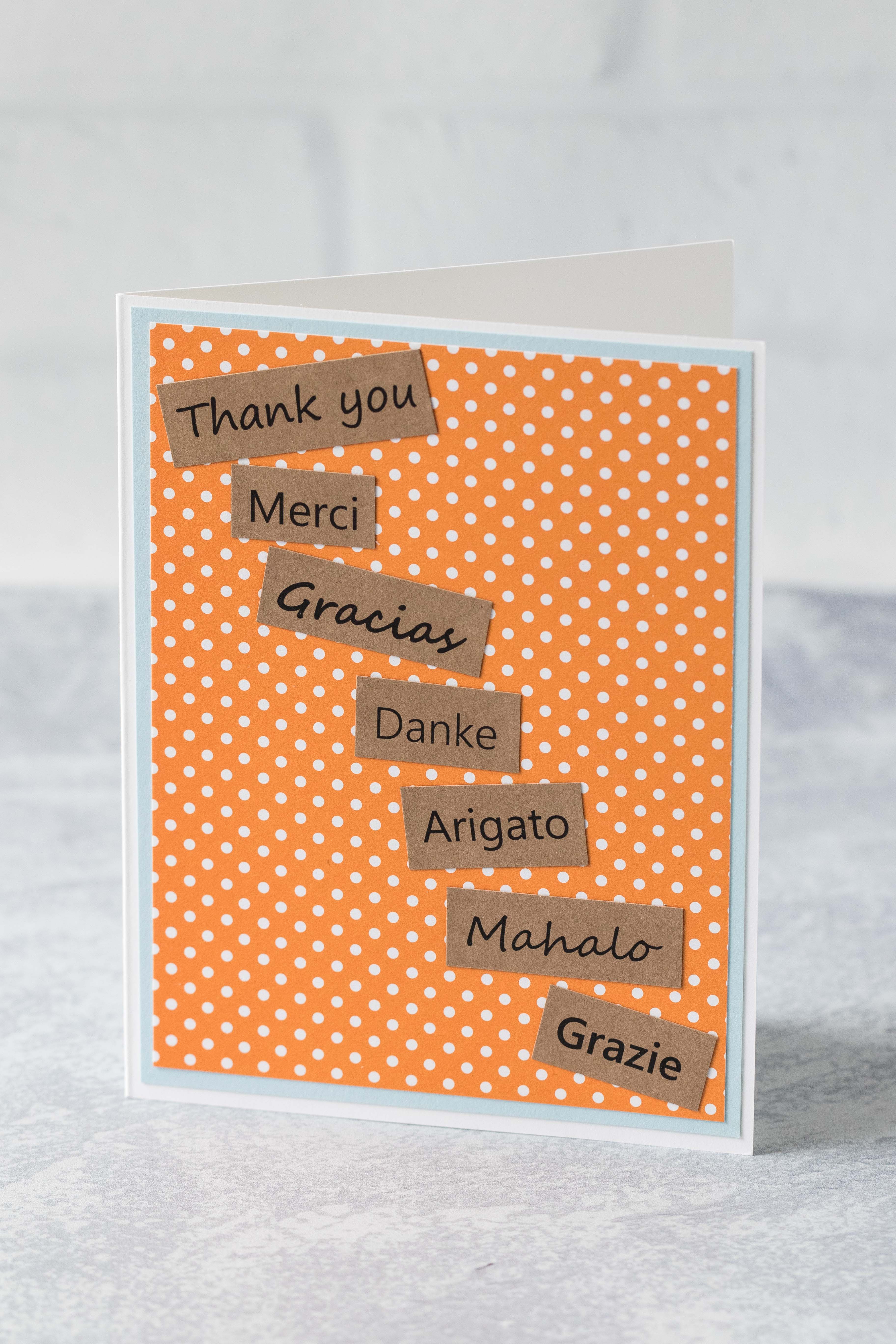 I liked the mom in multiple languages card I created for Mother's Day so much that I designed a thank you in multiple languages version. I'm crazy about polka dots and went for a bold background, but you could easily tone it down with a more subtle pattern or color.
Template: thank you in multiple languages A2 size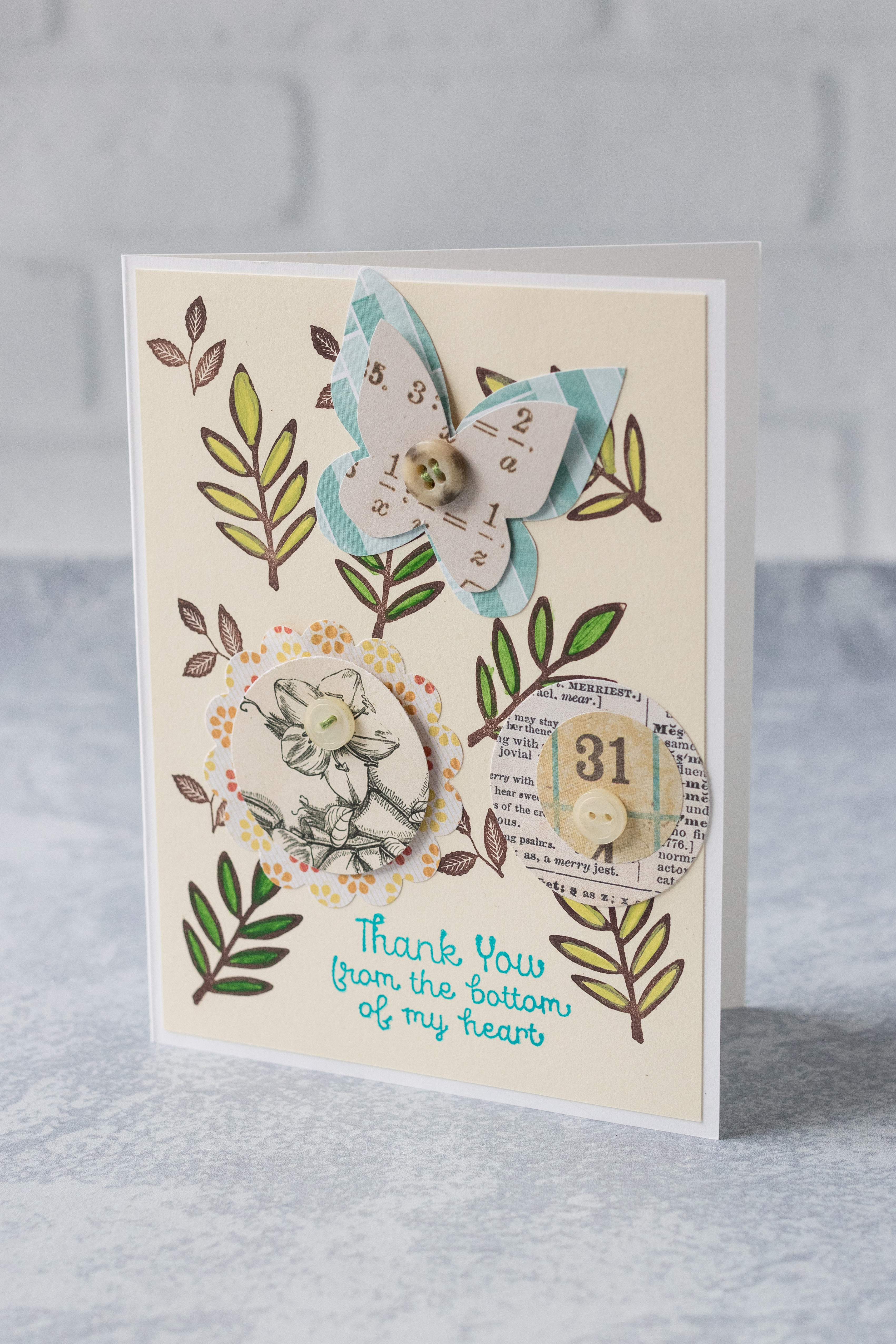 I come back to leaves over and over again for DIY projects, and greeting cards are no exception. This card is not the first design I've created with acrylic painted detail on the stamped leaves either. I added a few DIY scrapbook embellishments to complete the thank you card.
Leaf stamps: norajane | creatiate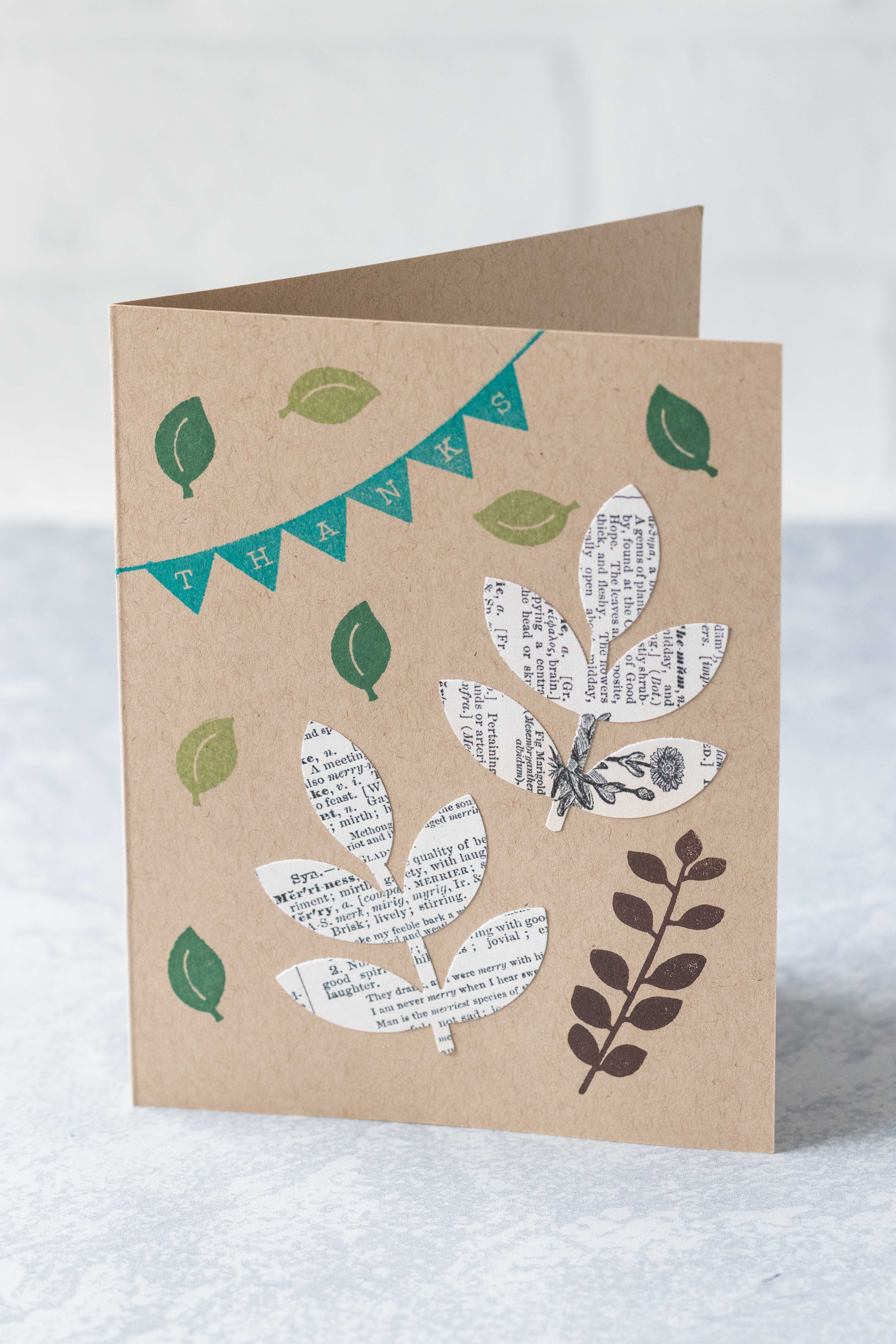 For this leafy thank you card design, I punched leaves out of a vintage dictionary page and then filled out the design with a couple of different stamped leaves and a thank you banner. I've linked the original source for the dictionary page you see on this card. I also have a comprehensive collection of free printable vintage dictionary pages now.
Leaf stamps: single tiny leaf | floral leaf | large leaf punch | thank you banner stamp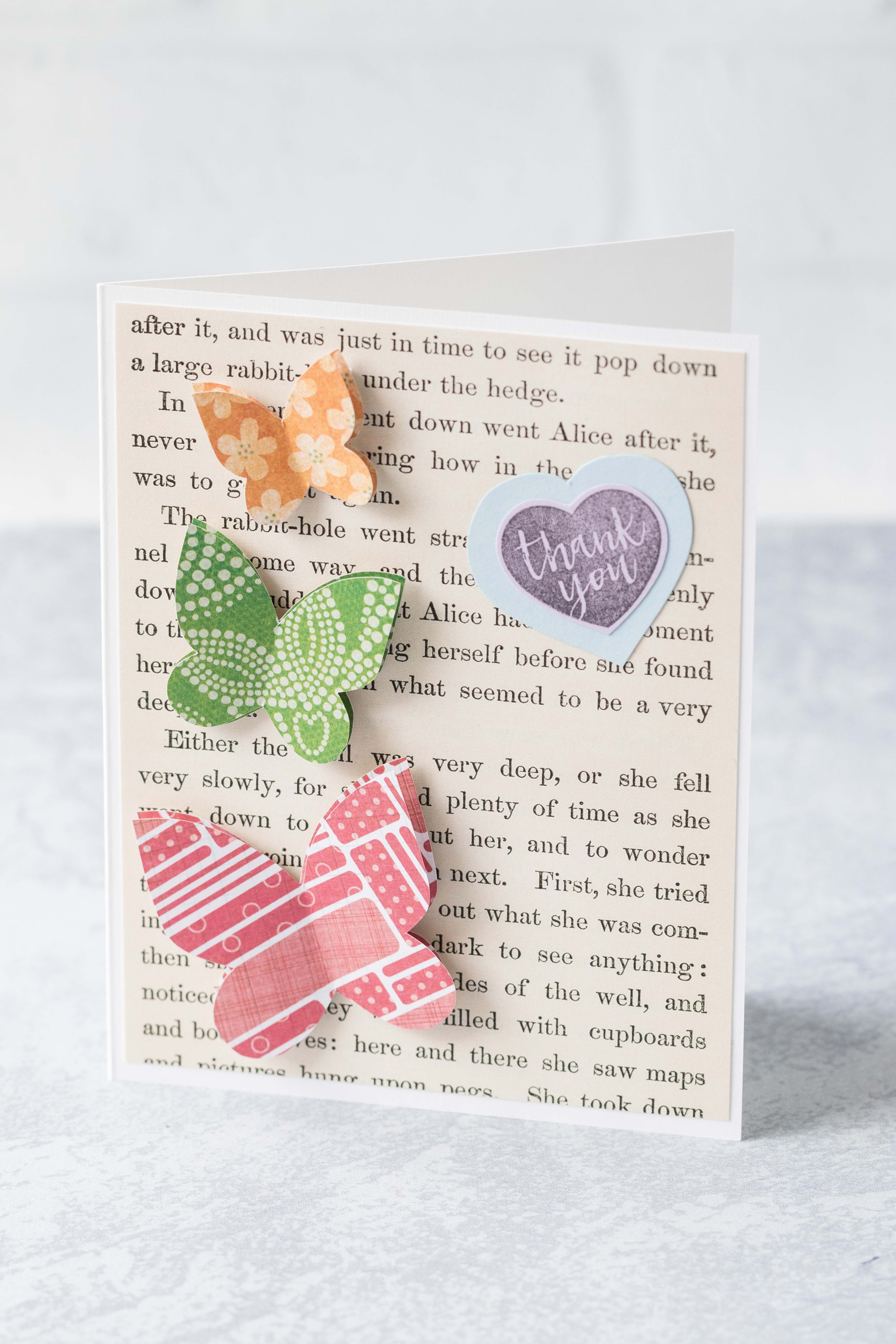 I really wanted to create a greeting card with a book page background. I love the whimsical pairing of Alice in Wonderland and butterflies. You can customize this design concept for virtually any type of handmade card.
Alice in Wonderland book page (printed 4×6 size) (original source), butterflies template (original source)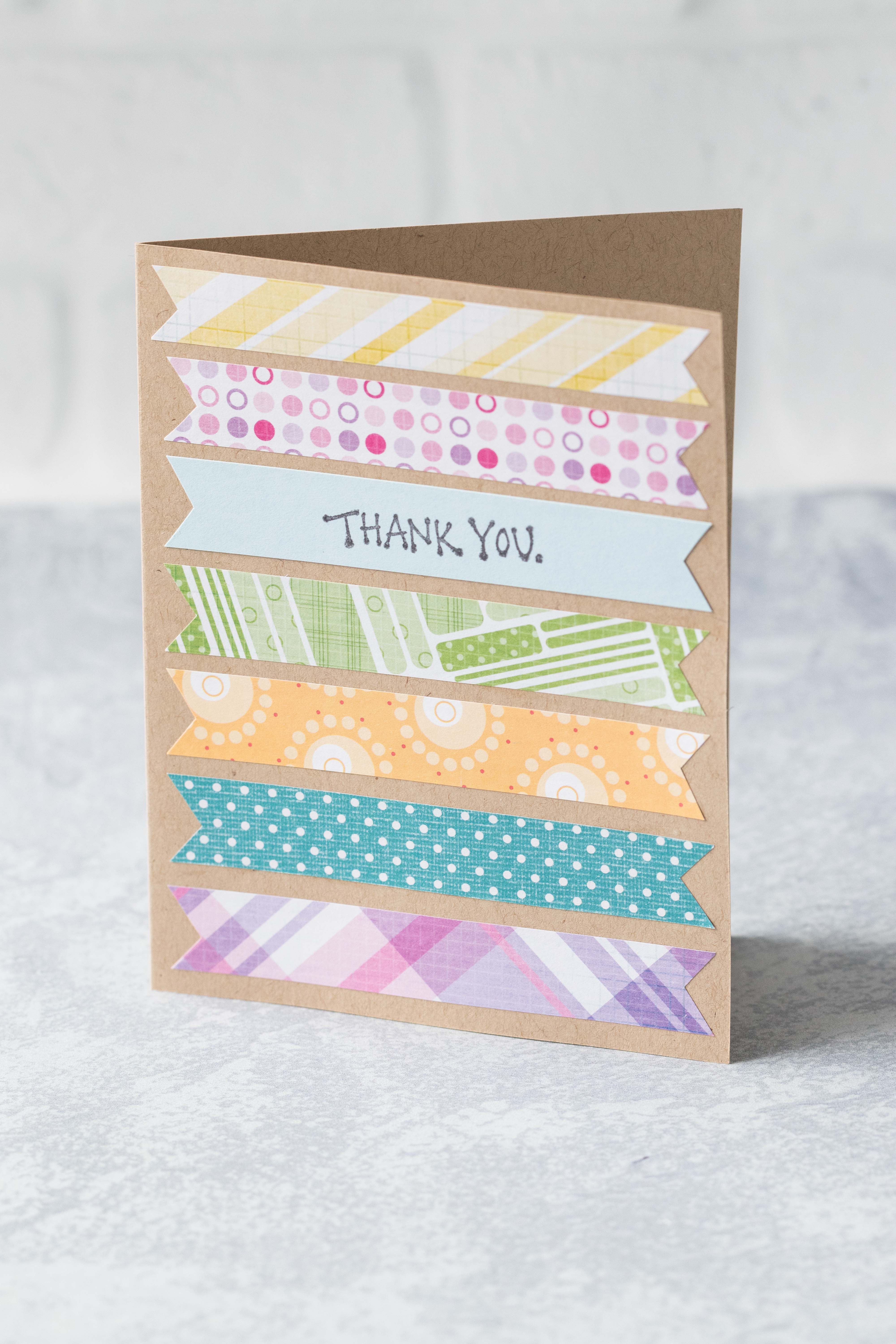 I love paper crafts that use up all of those little scraps you can't bear to throw away. Shockingly (not), I went for bright scraps with vivid patterns, but you can customize this aesthetic any way you like.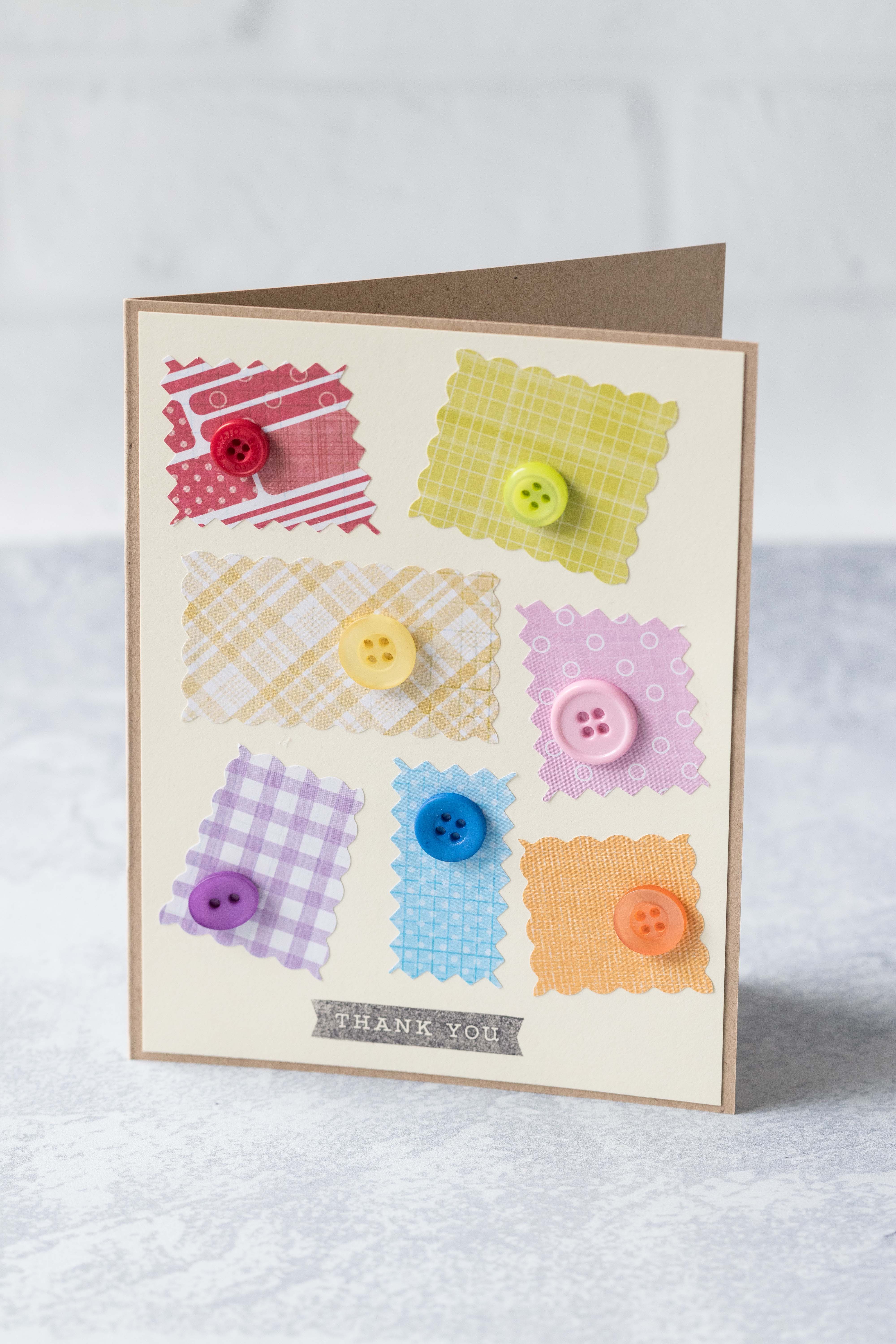 I created one more scrappy thank you card, this time with buttons. Sometimes I'm so predictable, I don't really know what to tell you. I have way too much fun finding buttons to coordinate with paper scraps for this type of project. The design would be awesome with a single color palette as well.
Currently, my favorite source for buttons is MellowMoonSupply on Etsy.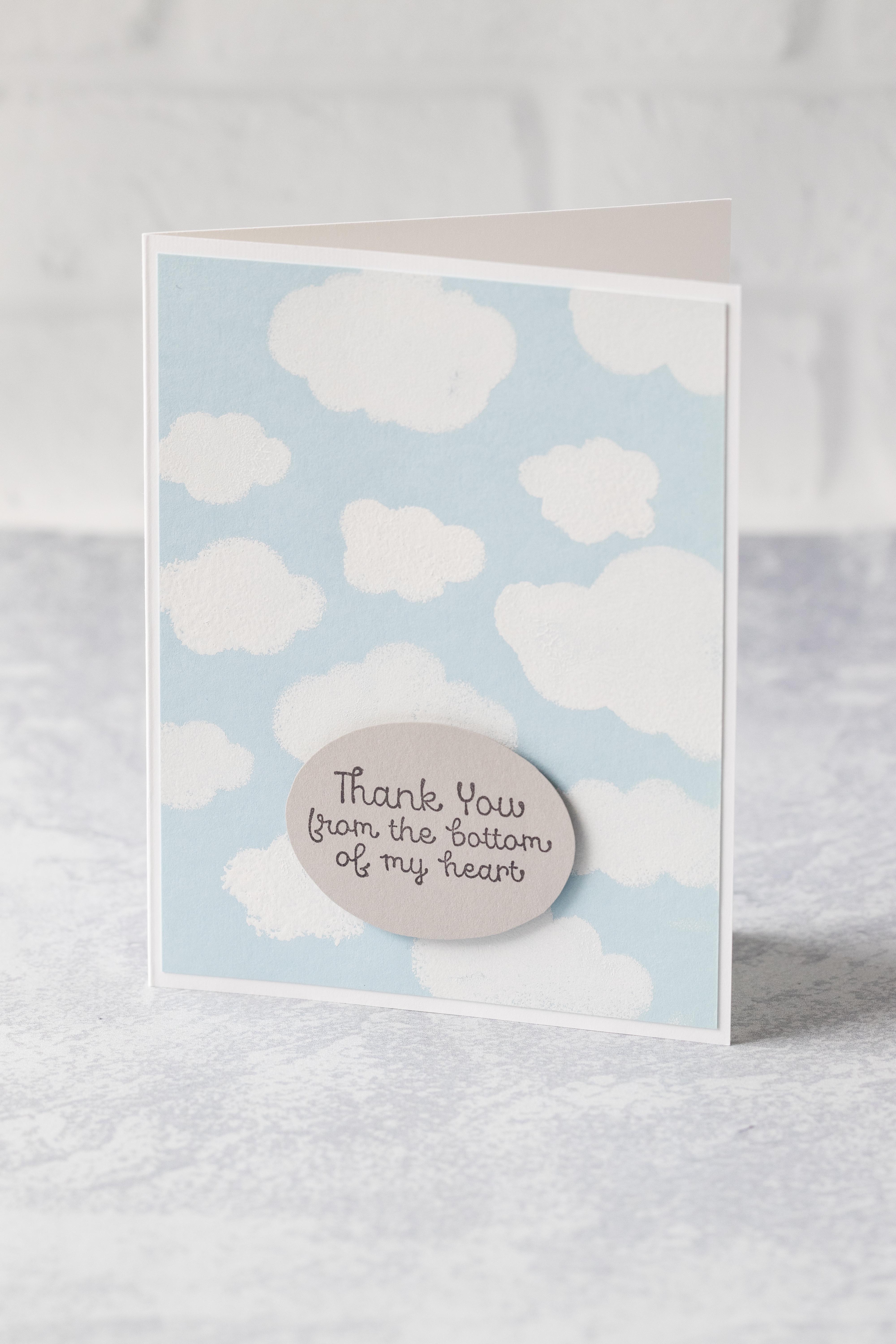 You know that I'm crazy about clouds. (Yes, I unintentionally hit all of my favorite crafty themes with this set of simple DIY thank you cards.) I created a greeting card version of the wall art I made for nursery #2 with a foam square mounted "thank you from the bottom of my heart" in a gray oval. To make the clouds, I used acrylic paint, a couple of cloud stencils, and a small pouncer brush.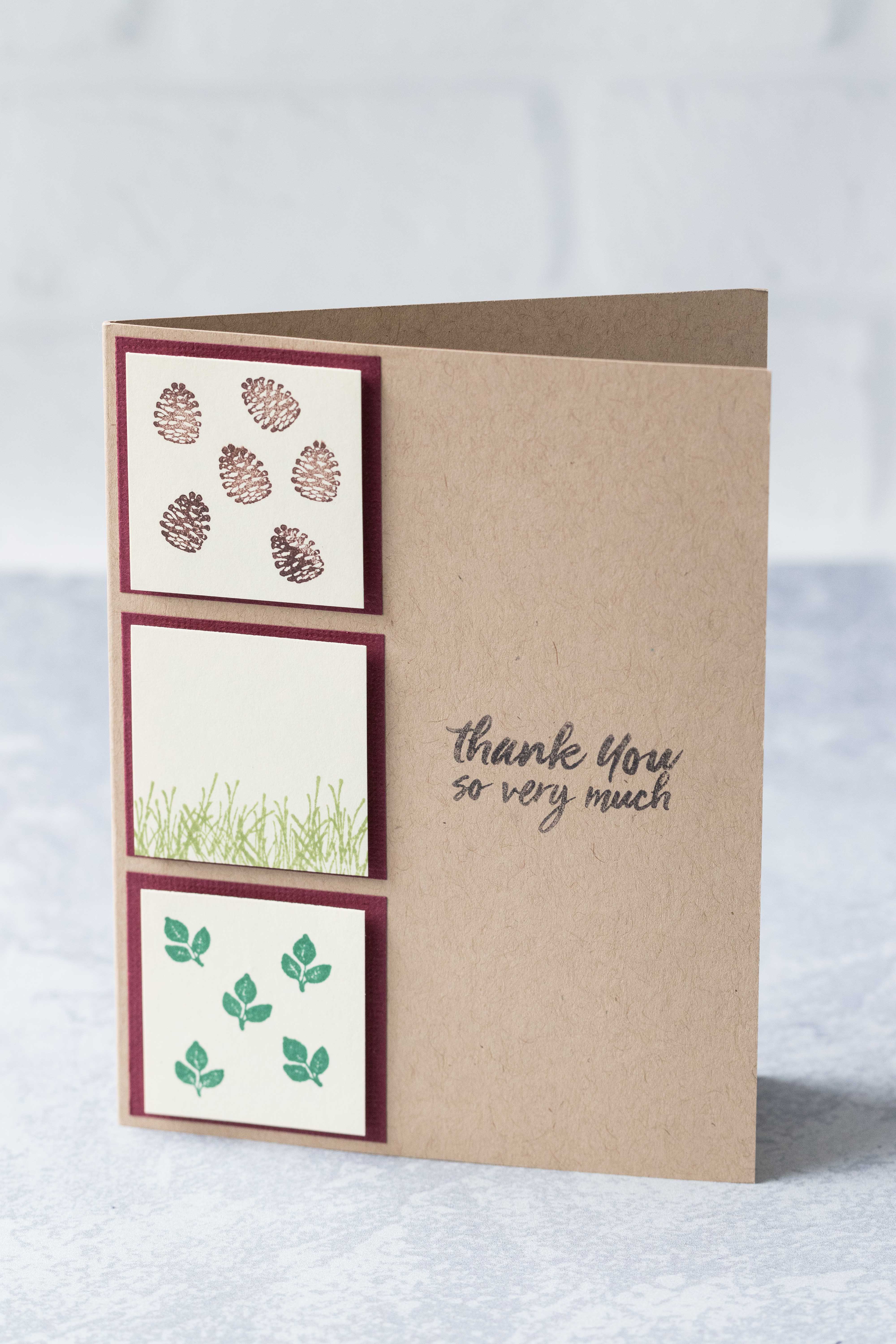 I'm crazy about this squares design and think that there are so many fun ways you could customize it. I used a nature theme with pine cone, grass, and leaf stamps from norajane.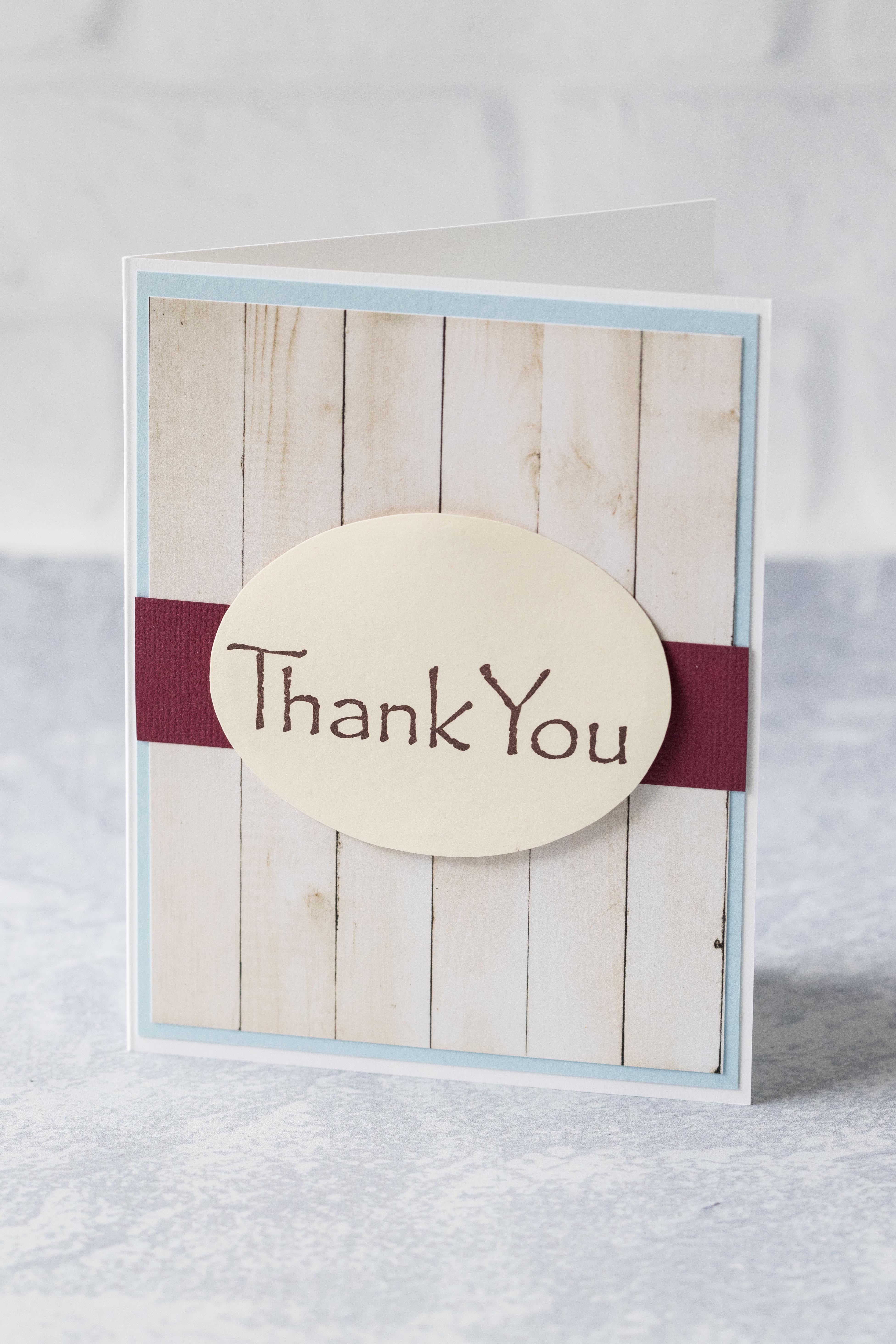 I tend to adopt a "the more color, the better" attitude with DIY projects. (Remember what I was just saying about my bold pattern scrappy card?) I'm very proud of the above card design because I reigned in this tendency a little to create a more polished, professional design. I'm also crazy about this wood backdrop. I used foam mount squares to give the "thank you" oval dimension.
Templates: wood backdrop (printed 4×6 size) (original source)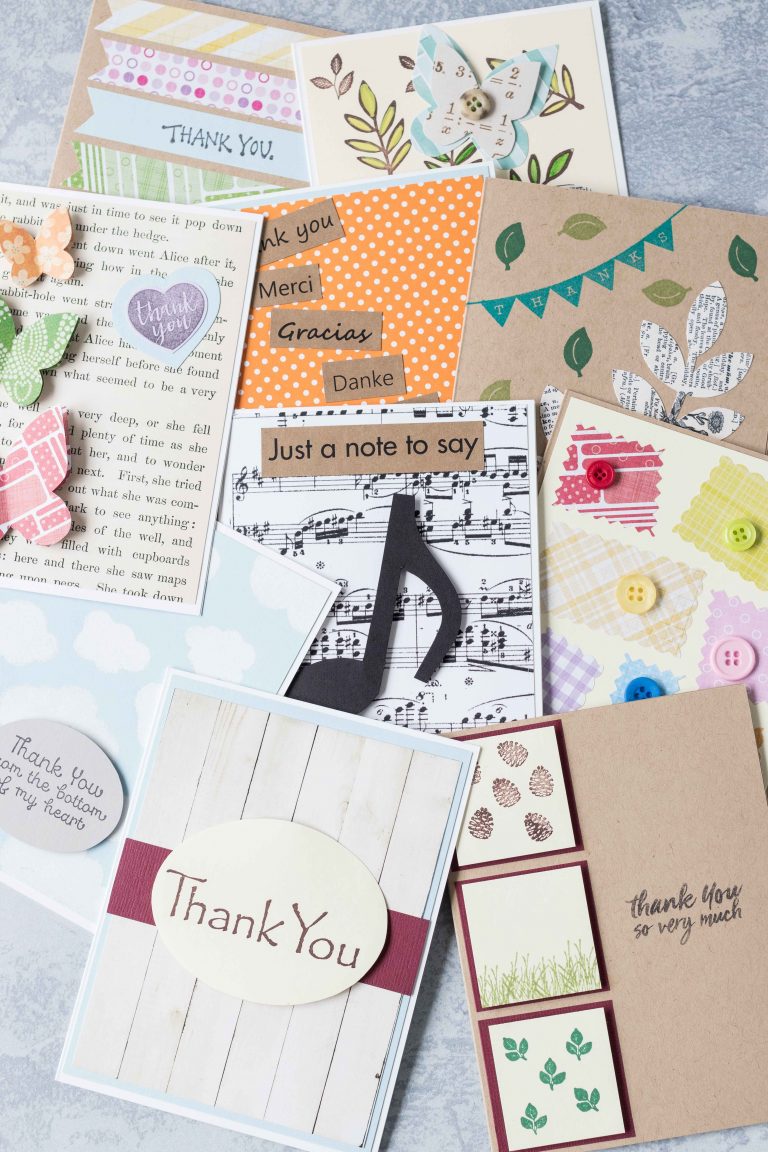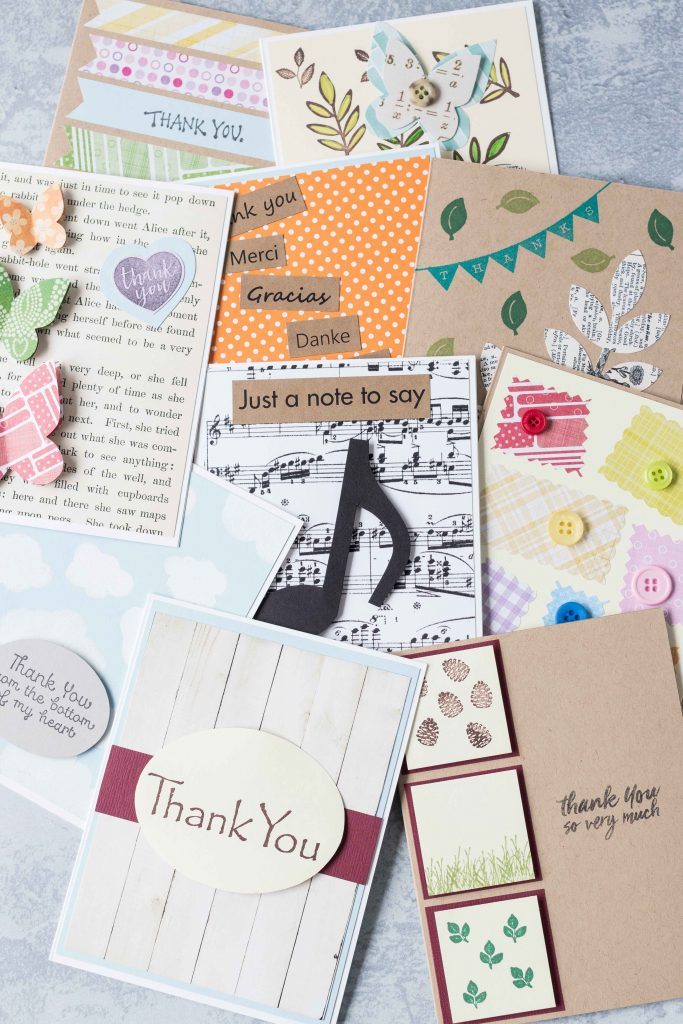 I purposely left my simple DIY thank you cards blank inside. It's up to you to include messages inside your homemade cards!
The best thank you note rubber stamp set!
The majority of the thank you note stamps I used to create my simple DIY thank you cards are from the Hero Arts thank you messages set. I love Hero Arts clear rubber stamp sets. I mount all of my clear stamps on acrylic blocks.
My go-to greeting card supplies
I share all of my favorite basic card making supplies and tools in this comprehensive post!
Complete your thank you notes with sweet kraft "thank you" stickers!
[Disclaimer: There are a few affiliate links in this post. Thanks for your support!]
Did you make one or more of the simple DIY thank you cards in this post?

I want to see them! Tag your images #RoseClearfield on Instagram or Twitter or post a photo to my Facebook page.
Pin this post for easy access to the simple DIY thank you cards later!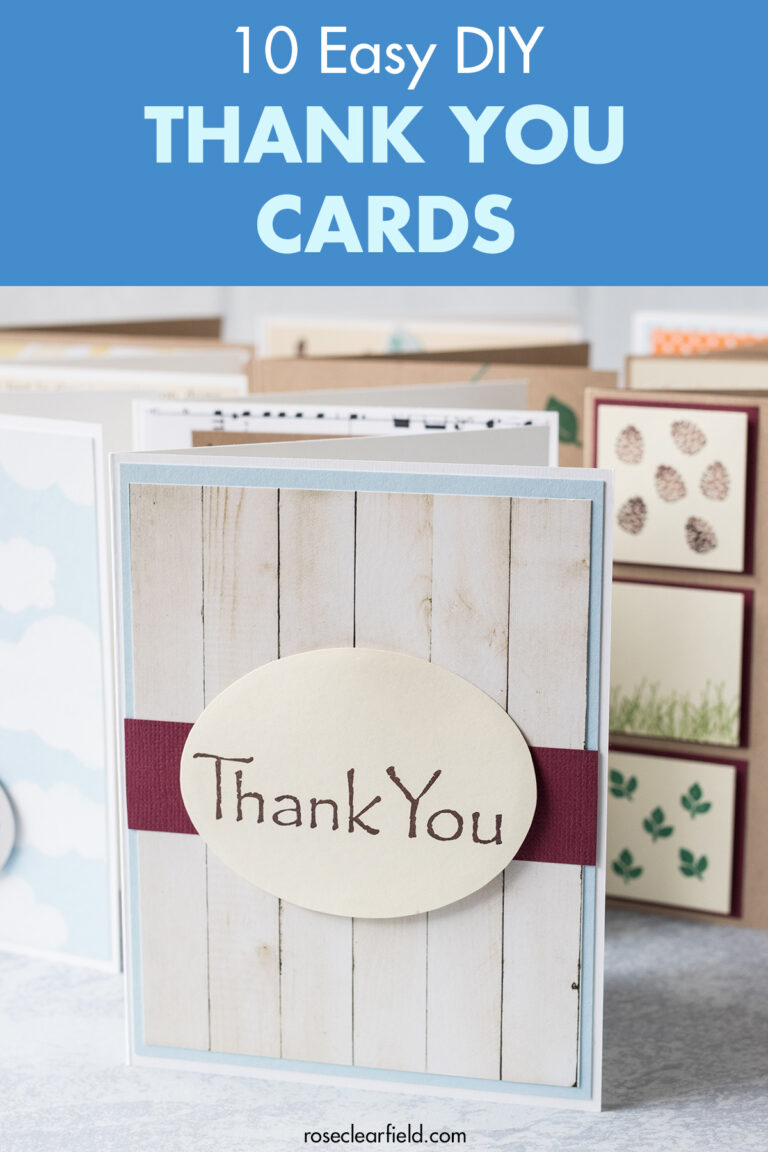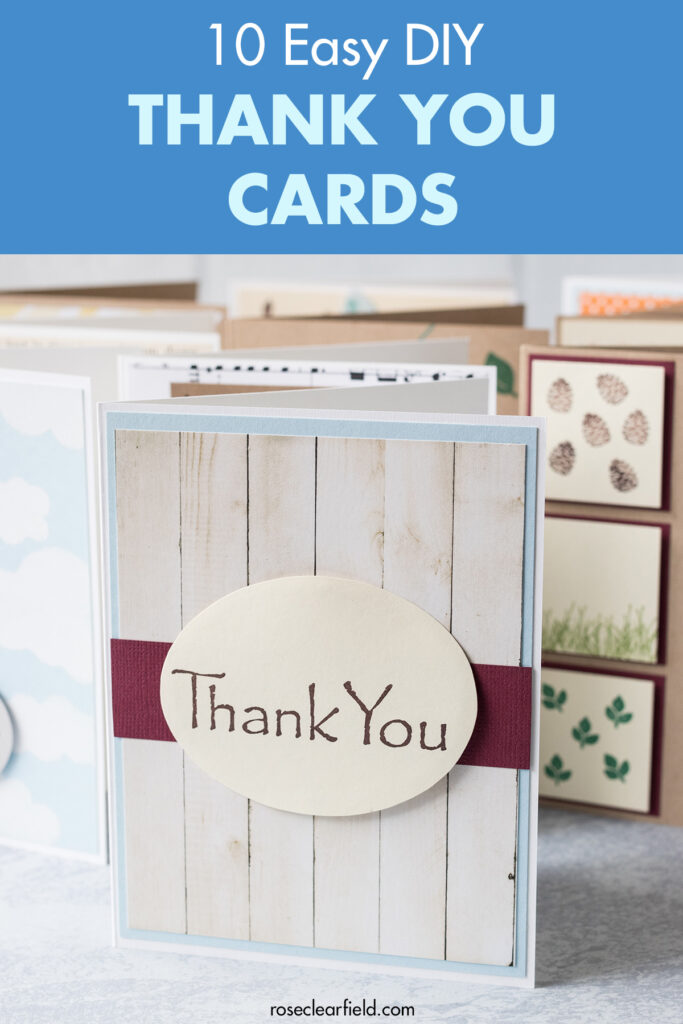 More DIY greeting card inspiration:
Head to the greeting card section of my blog for even more tutorials!