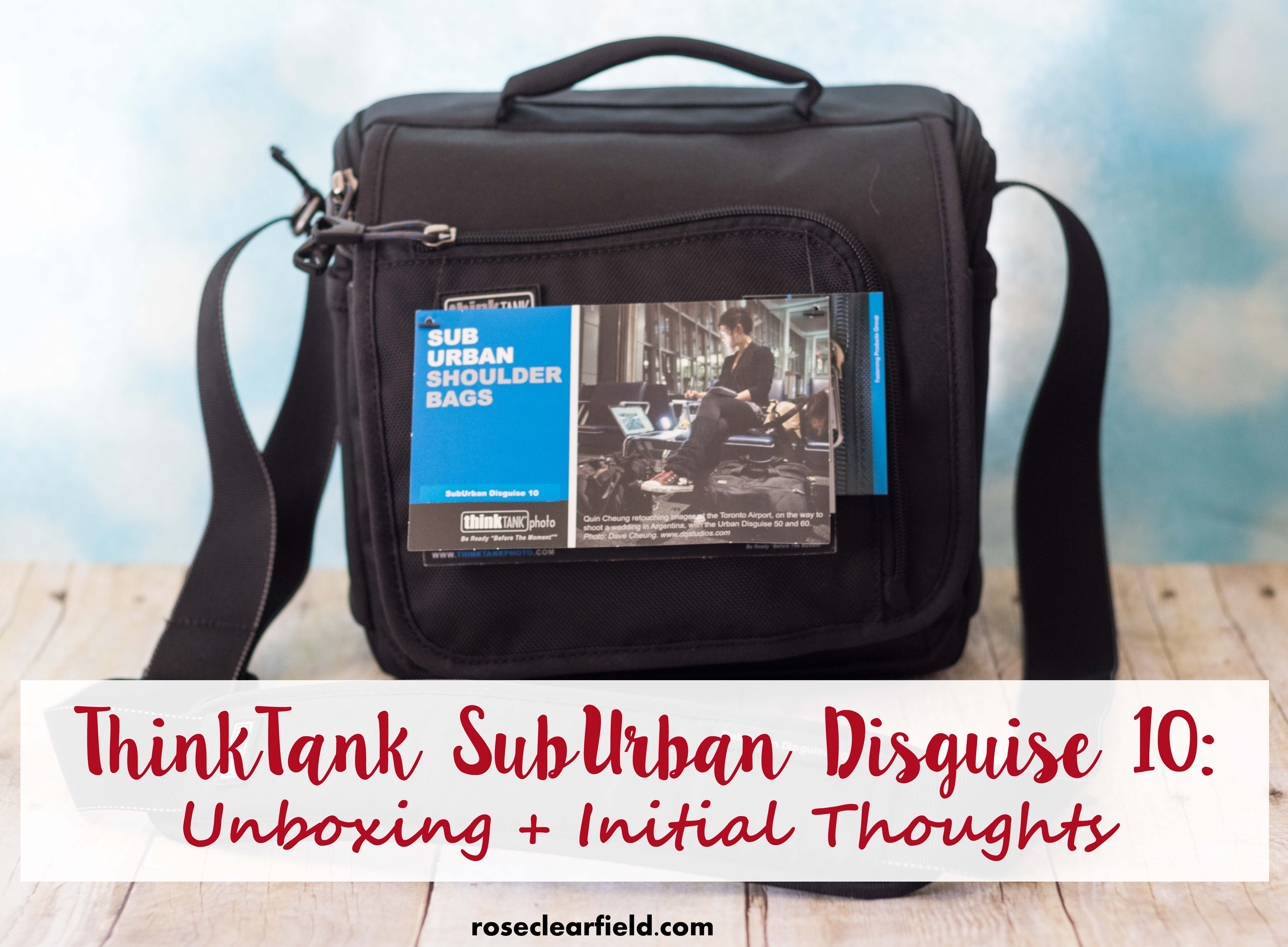 [Disclaimer: I purchased the ThinkTank SubUrban Disguise 10 with my own money. ThinkTank did not reimburse me or endorse me to write this post. I do receive a small commission if you use one of my links to purchase ThinkTank gear. As always, all opinions are 100% my own.]
Recently, I purchased the ThinkTank SubUrban Disguise 10, primarily for an upcoming trip. I have mentioned this trip a few times but purposely been pretty vague about it because I don't like to announce my travel plans to the greater public. I will be sharing the full details afterward. Not surprisingly, I already own a couple of camera bags, which I love. But neither of them is quite what I want for this trip.
LowePro Fastpack. I bought the LowePro backpack right after I bought my first DSLR, and it's been awesome. It houses both a DSLR and laptop safely, and it's very comfortable and practical for extended wear and use during trips. It's been my go-to carry-on and everyday use trip bag ever since. I am still planning to use this bag as my carry-on for the upcoming trip. (It will also be my backup if the unthinkable happens and my checked luggage doesn't make it.) But it's too bulky for a trip of this length and nature to use every single day. (Note: I've linked the updated version, which features an all-weather cover.)
ThinkTank CityWalker 20. Unfortunately, ThinkTank discontinued the CityWalker line. The line is very similar to their MindShiftExposure series. I bought the CityWalker 20 to serve as my walk-around bag for day trips and other shorter excursions. It's perfect for this purpose. But again, it's too bulky for this trip. For many people, the weight and size would be fine. But I'm 5'2″ and petite, so it gets to be a lot of weight on my shoulder, especially with extensive walking.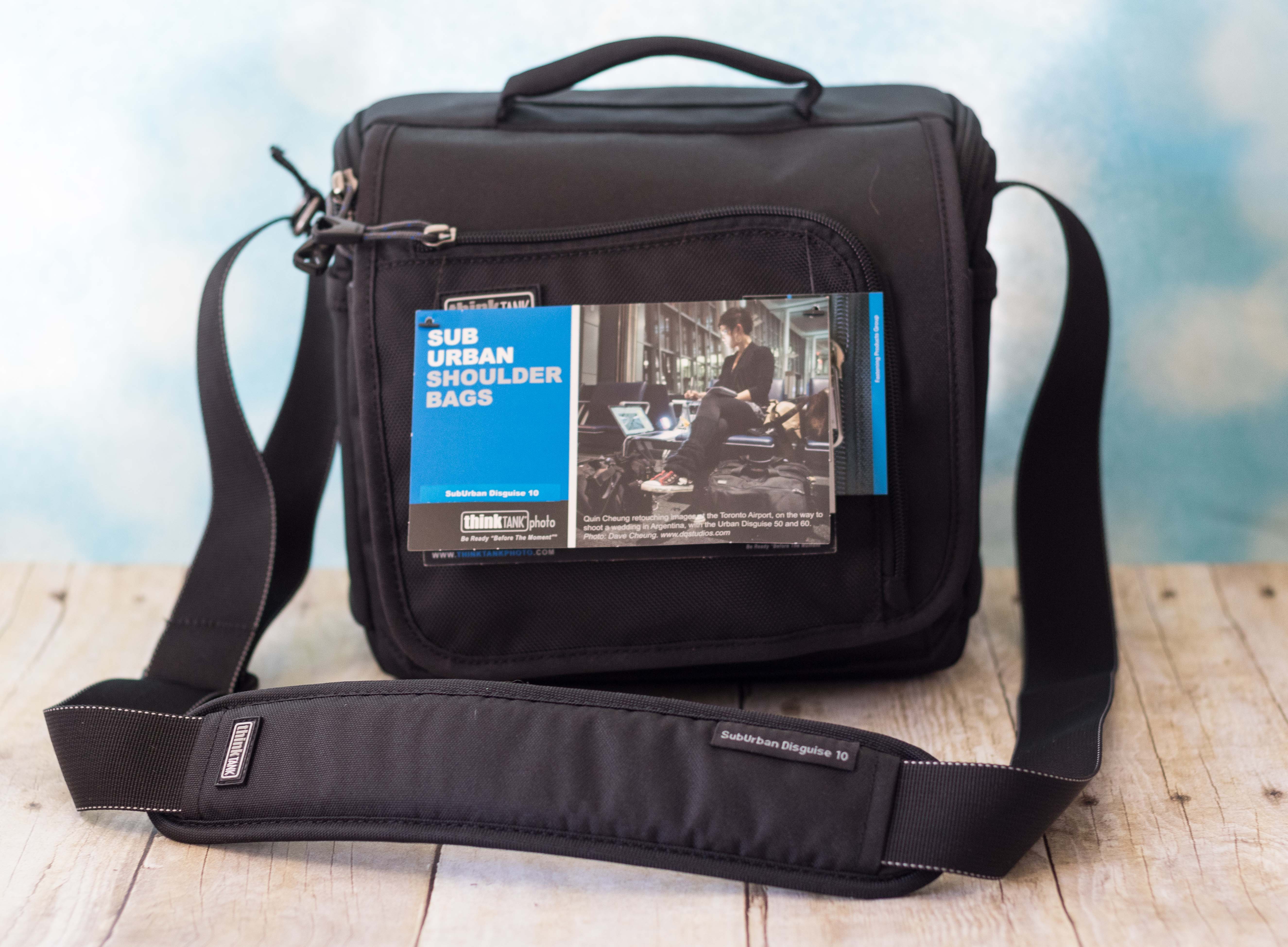 Enter the ThinkTank SubUrban Disguise 10. I consulted with the Photorec.tv support group and then a ThinkTank rep before making my purchase. I was already leaning toward this bag before consulting with ThinkTank. It was one of the rep's two recommendations, which sealed the deal.
In this post, I'm going to take you through the unboxing and my initial thoughts of the ThinkTank SubUrban Disguise 10. Please note that this is not a full review. I am planning to write an extensive review of this bag following my trip. When it's available, I'll link it to this post.
Here's the shipping box, unopened, just as I received it from ThinkTank. Upon receiving the box, I didn't know why it was labeled Mixed Styles. But ThinkTank actually explained this label via Instagram. Mixed Styles just means that the warehouse has used a box that has more than one item in and isn't the original box it shipped in from the factory."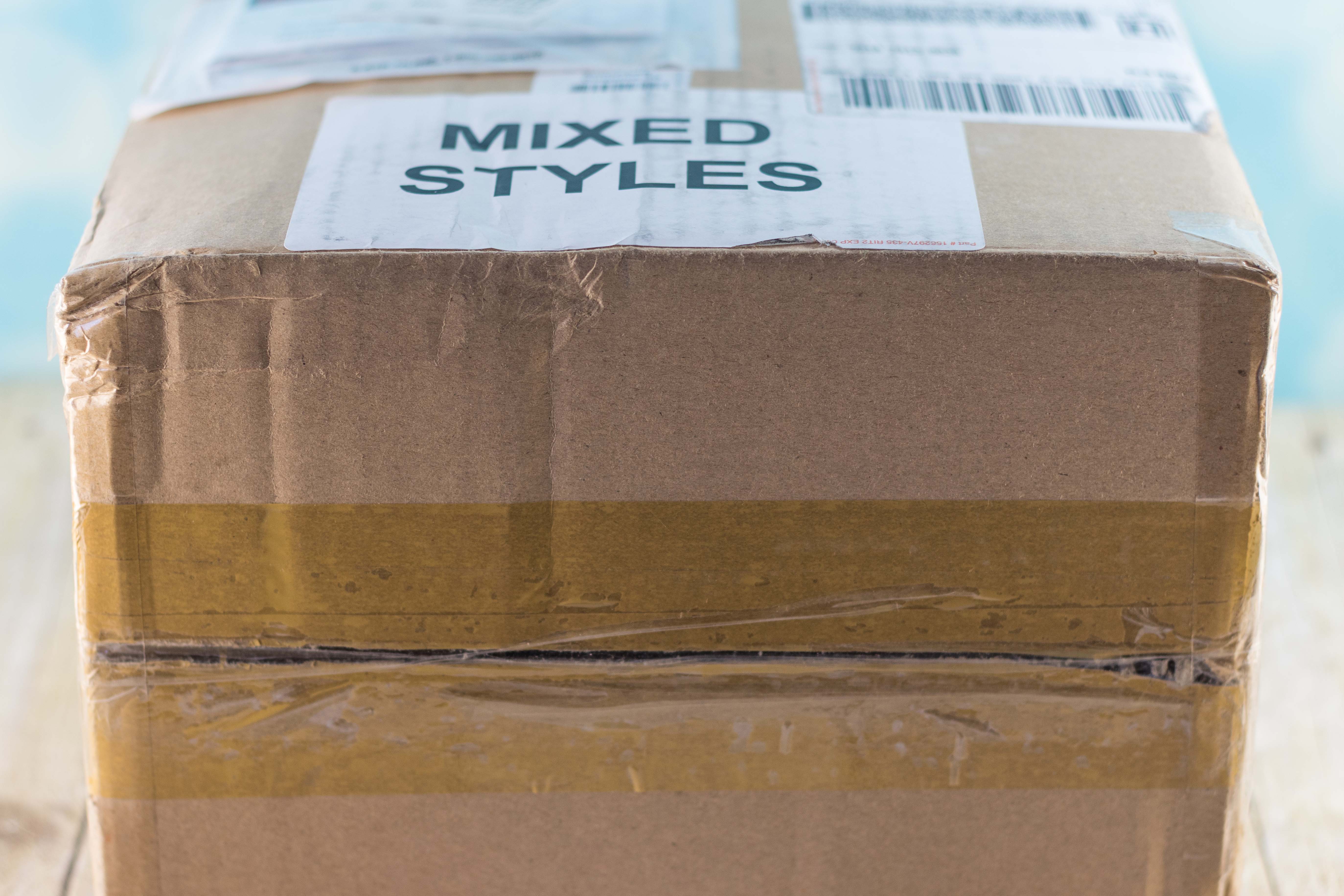 The camera bag came in a thick, sealed plastic packaging. If the box got opened or damaged during transit (which it didn't), the bag would have been well protected.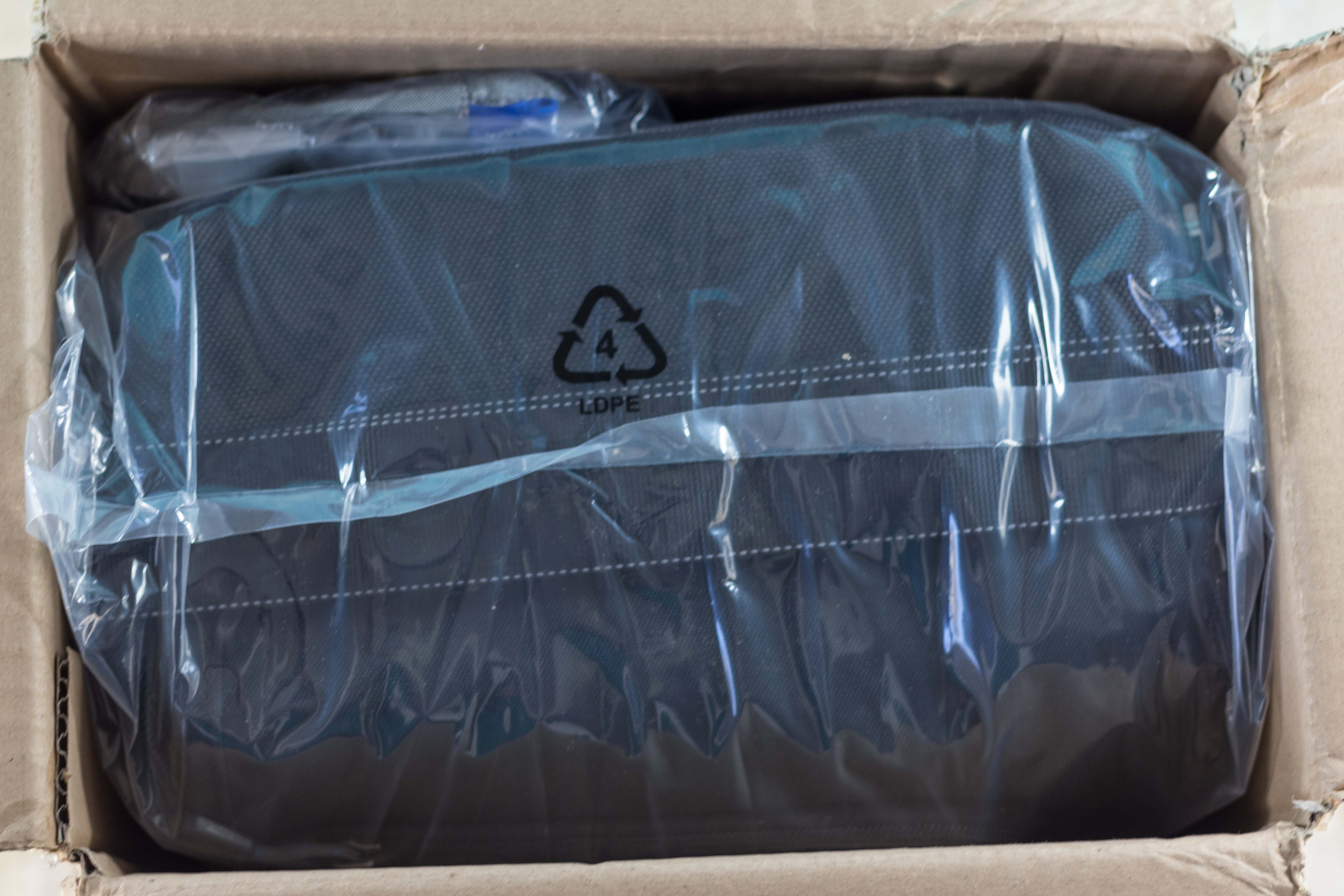 Here it is in the plastic packaging, out of the box.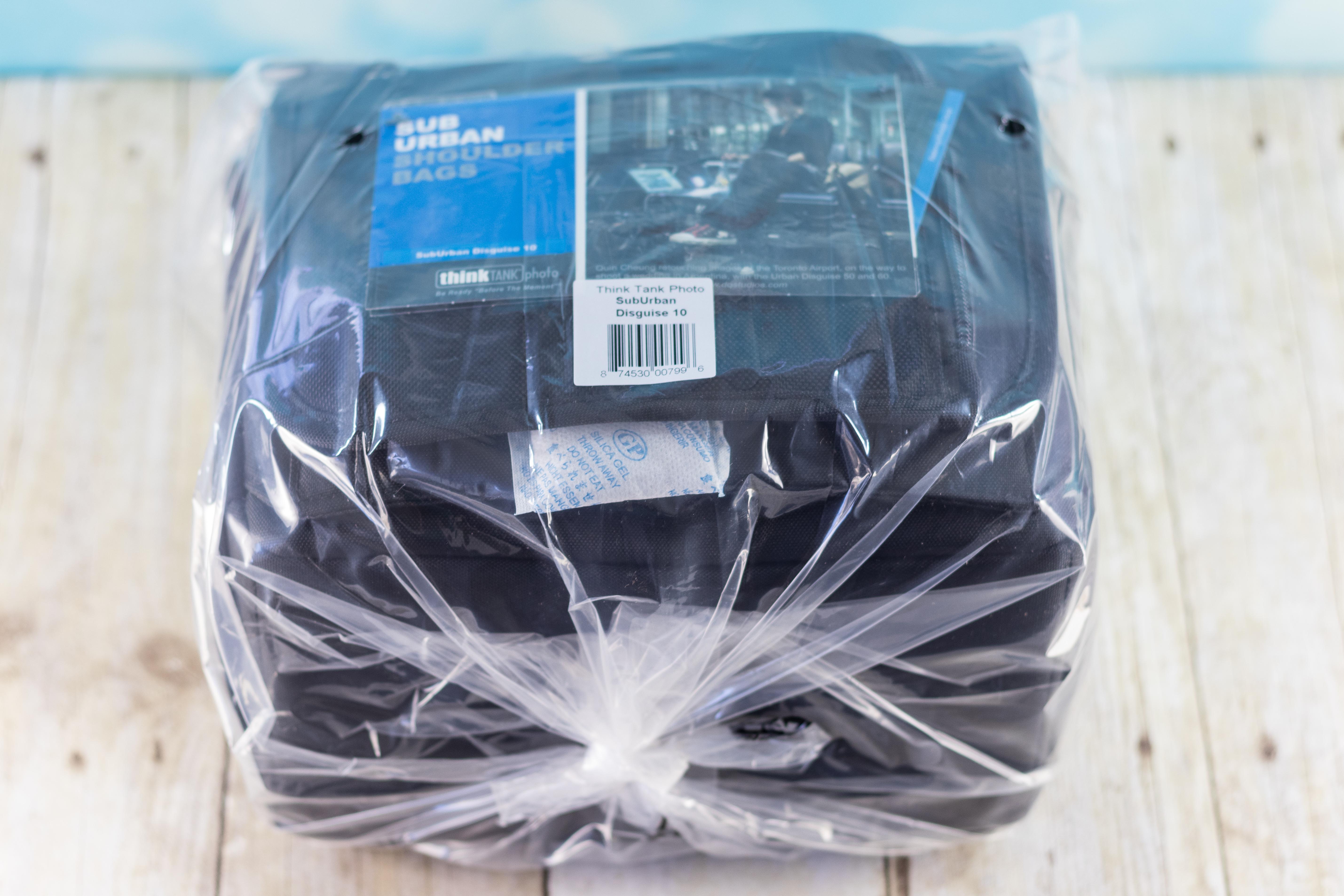 I also ordered a DSLR battery holder, and I got the Cable Management 10 V 2.0 as a free gift for using another photographer's affiliate code. (If you use any ThinkTank affiliate link in this post, you'll receive a free gift, too! I include more details about the free gift at the end of the post.) I received both of these additional items in the same package.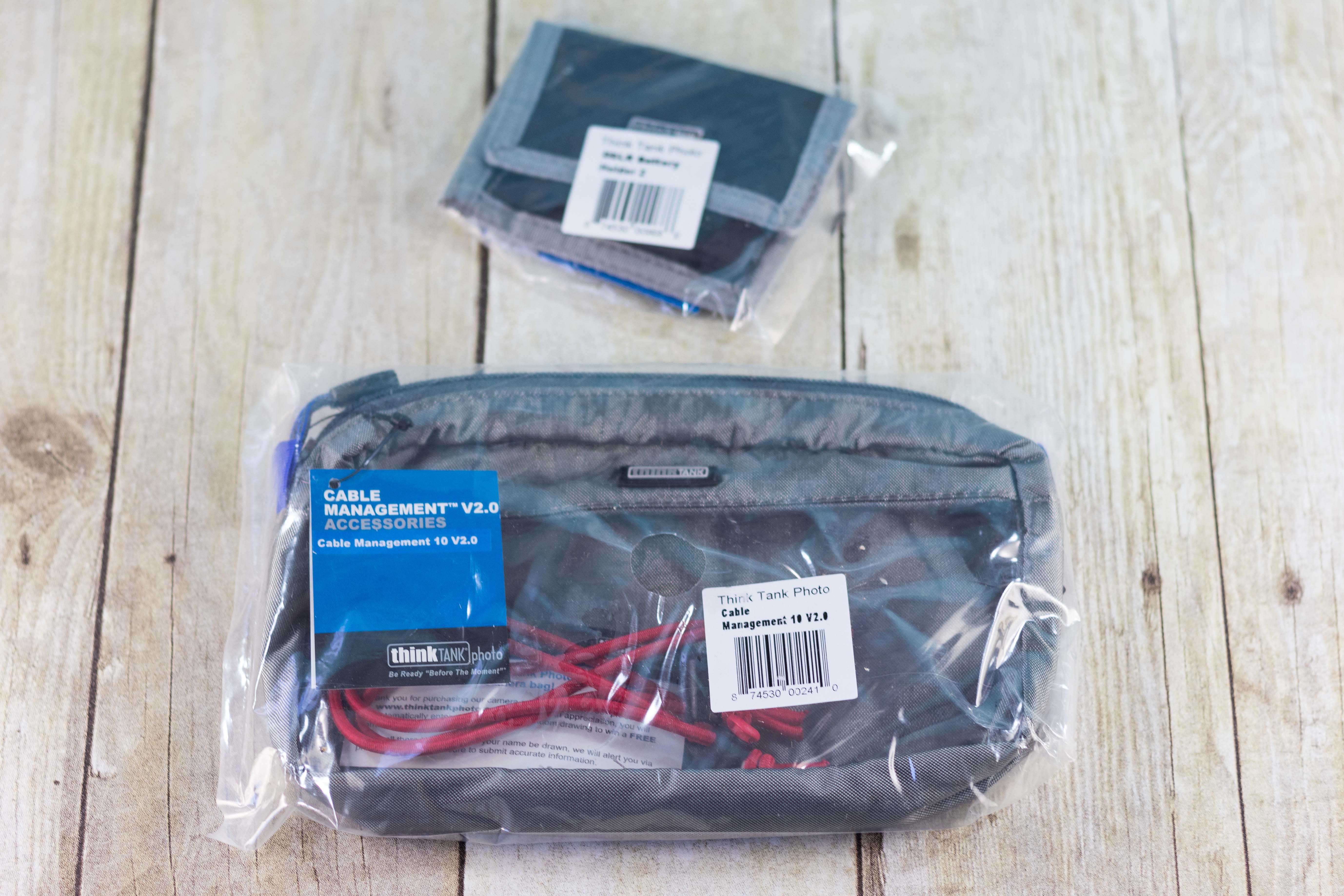 Here's the ThinkTank SubUrban Disguise 10 out of the plastic packaging, tags still attached.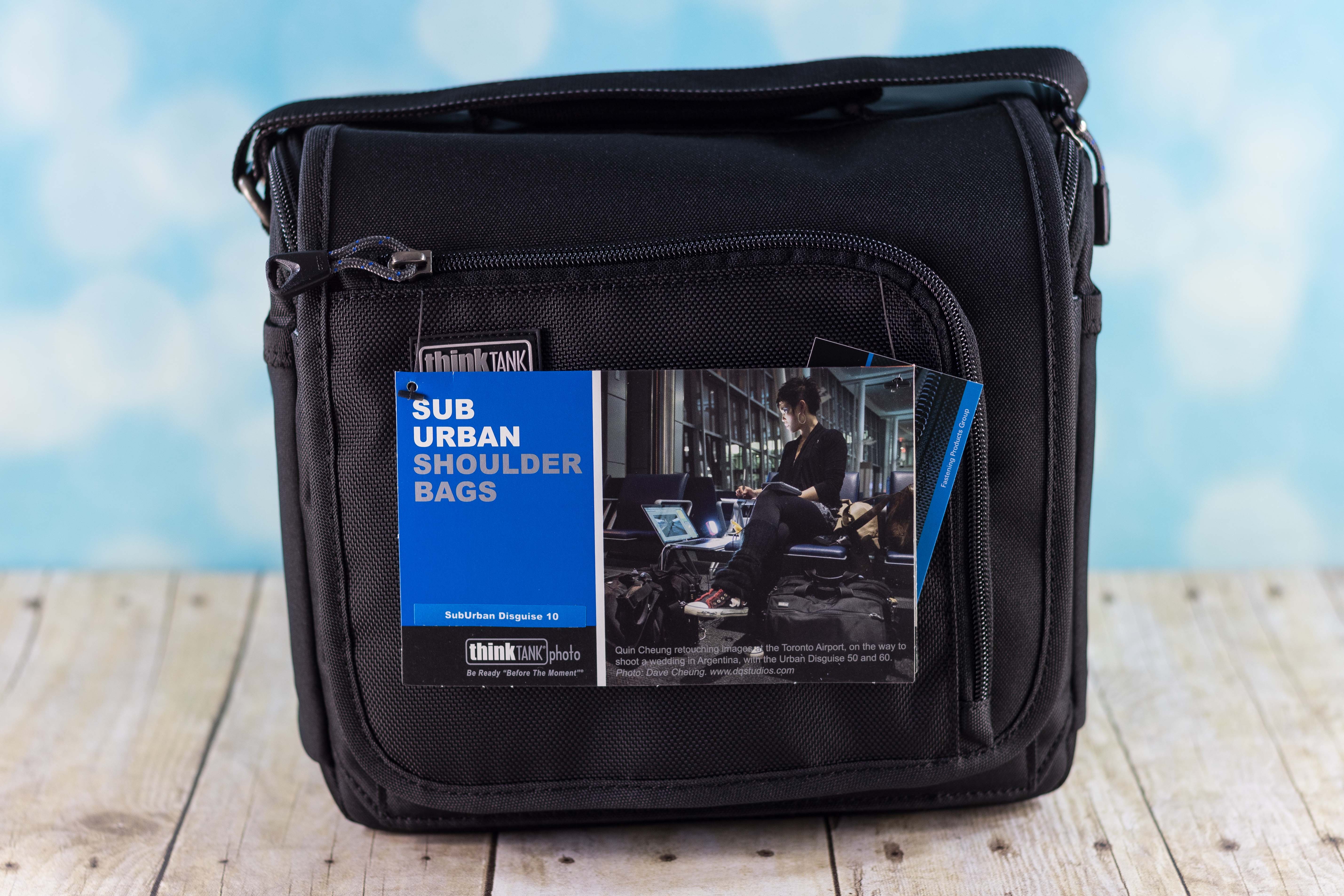 This view shows the top open. ThinkTank bags feature lots of pockets, and the SubUrban Disguise line is no exception. Here you can see the flat open pocket on the back (which is great for tickets and other items that require easy access) and the Velcro mesh pocket under the front flap. There is also an organizer pouch and an accessory pocket on the front of the bag.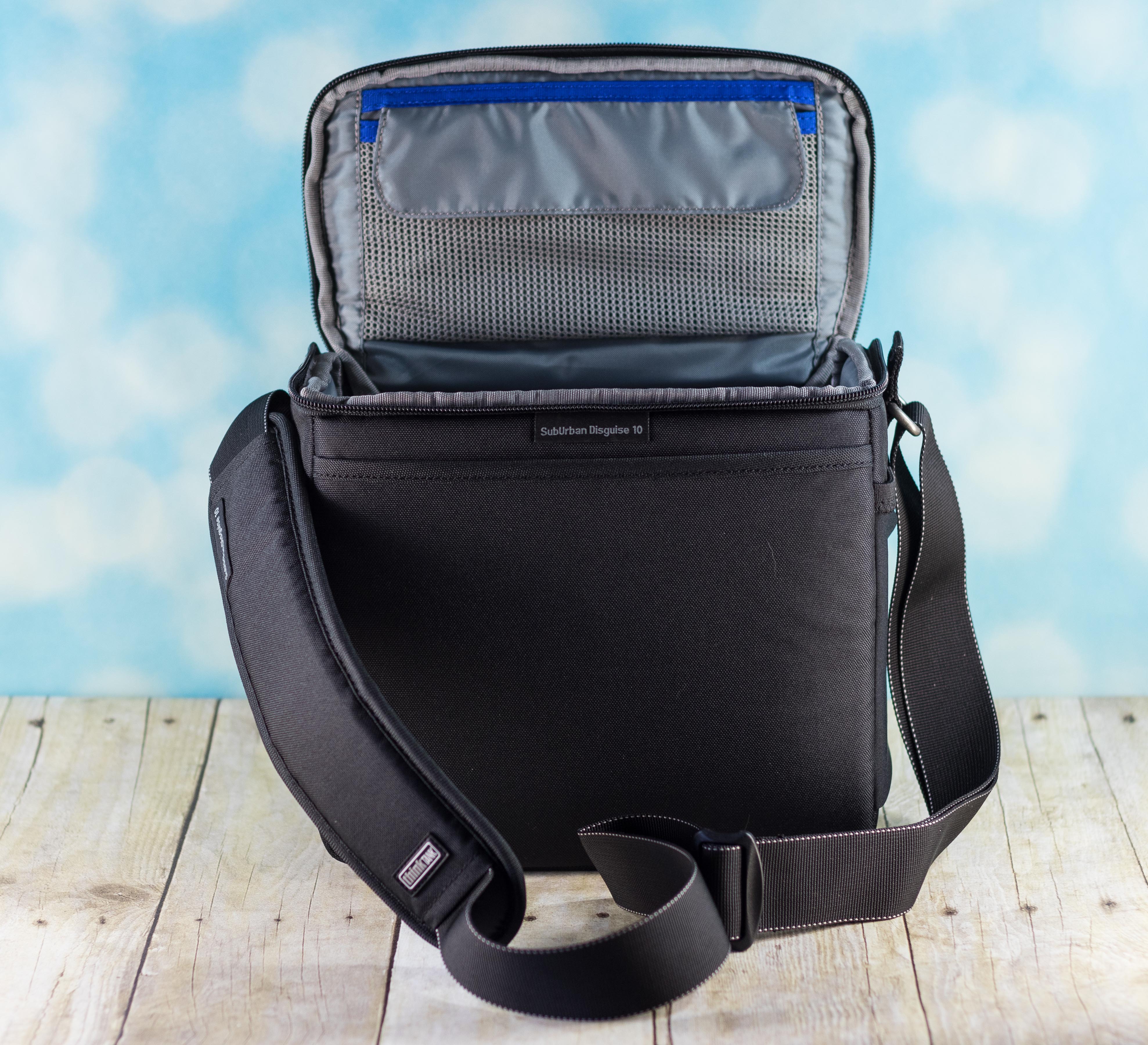 Inside is a standard DSLR configuration. There are four removable cell foam dividers with Velcro, offering endless possibilities for customization.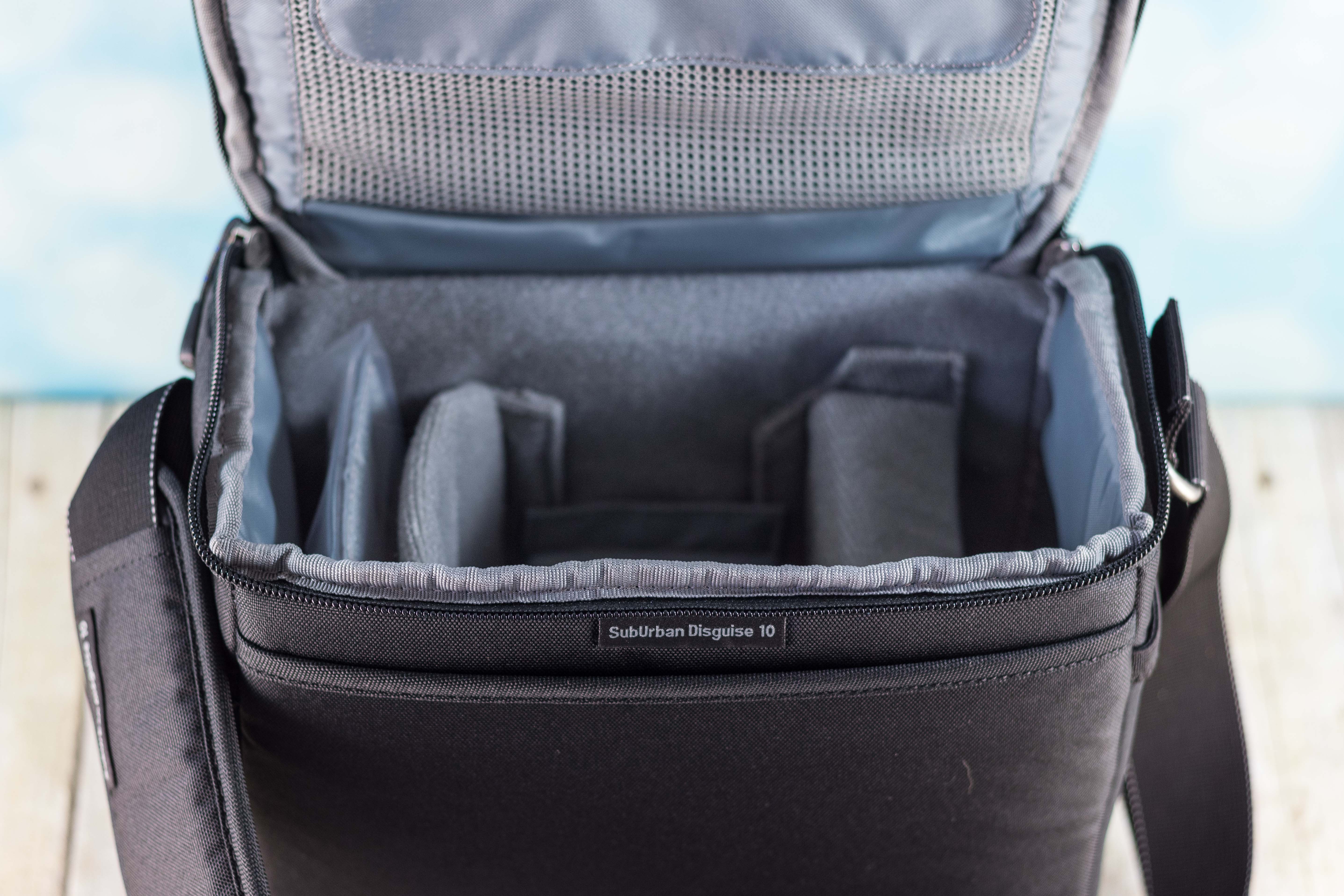 The gear I'm bringing for this trip is pretty minimal, hence the need for a smaller bag. I'll be shooting with the Canon 80D, Canon 24-105mm f/4L, and Canon 50mm f/1.8.
I'll also be carrying the following photography gear: OP/TECH rain sleeve, cleaning cloth, two spare batteries, one spare 64GB memory card, and CPL filters for both lenses.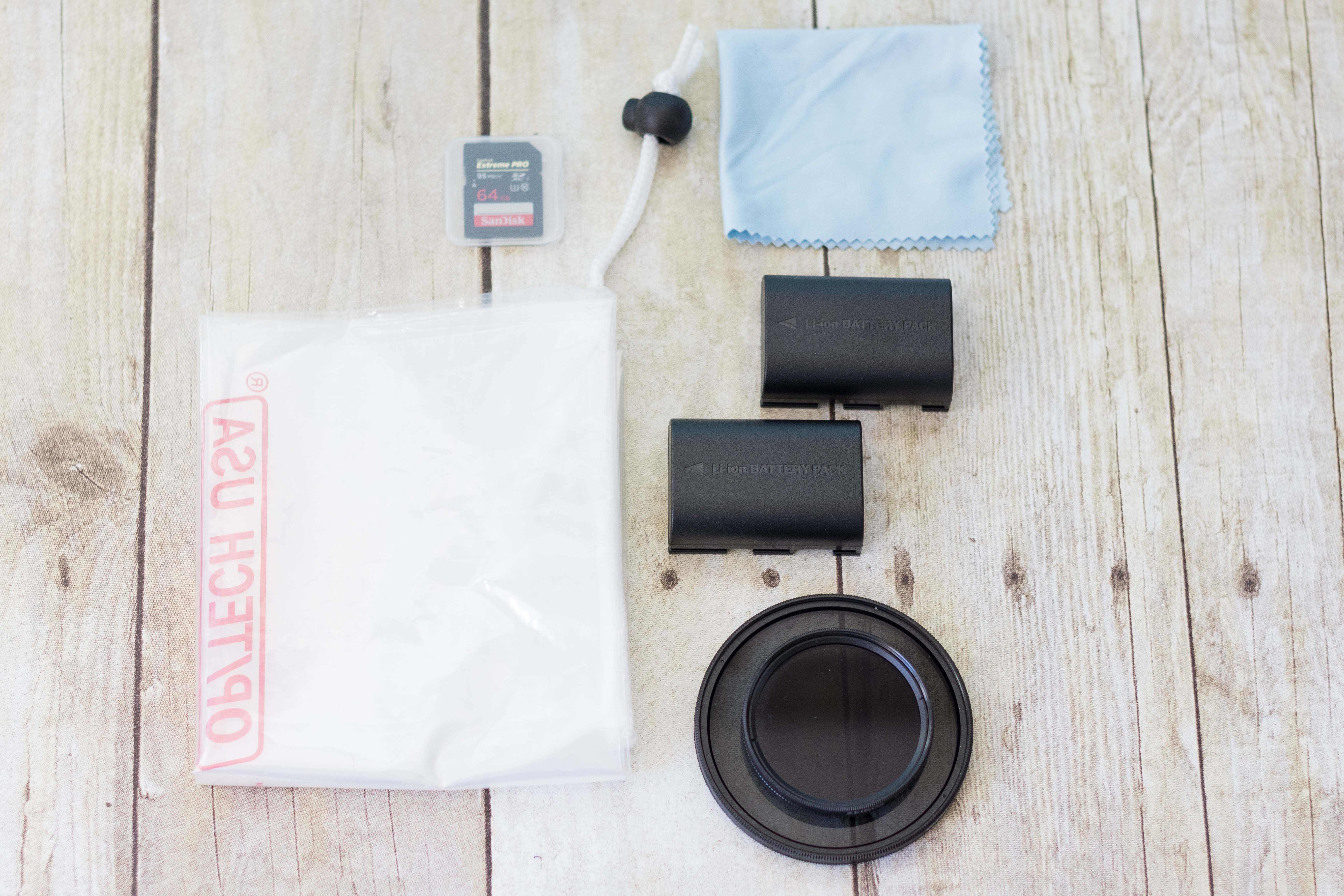 I will have the following items in the ThinkTank SubUrban Disguise 10 as well: wallet, Kleenex, sunscreen, chapstick, sunglasses, cell phone, and external battery. I may house my credit cards, license, and cash in an interior pocket and forgo the wallet, as I won't need my library card, zoo pass, etc. while traveling, which would free up a lot of space. Most likely I'll have a couple of other small items with me as well, such as a room key, Ibuprofen, and any tickets or other paperwork I need on a given day.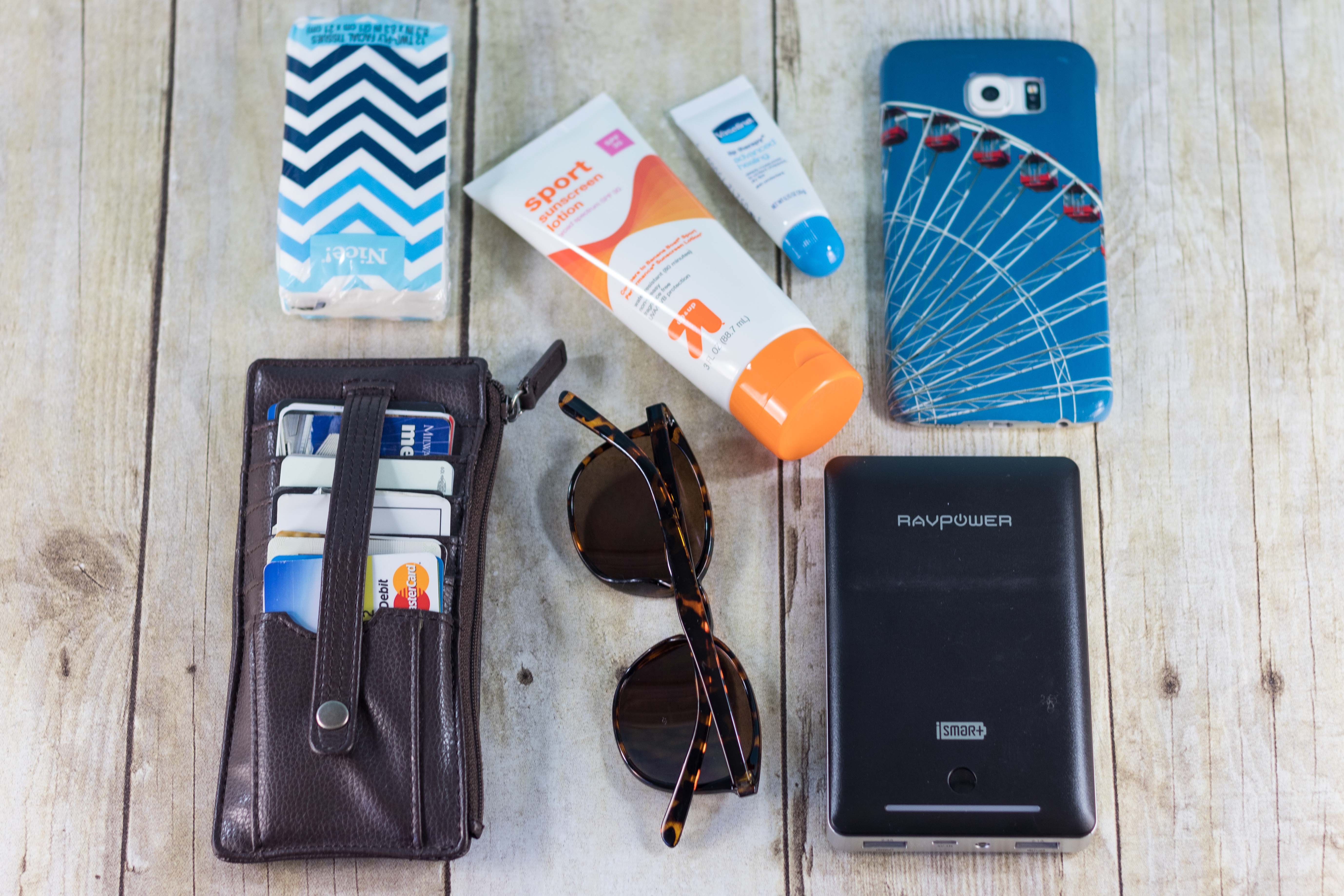 Here's an interior shot of the bag with all of my gear loaded. The camera gear I'm bringing for this trip fits perfectly. Until I'm traveling, I won't figure out exactly how I'll arrange my other items. But I enough room for my essential gear and not much more, which is exactly what I wanted.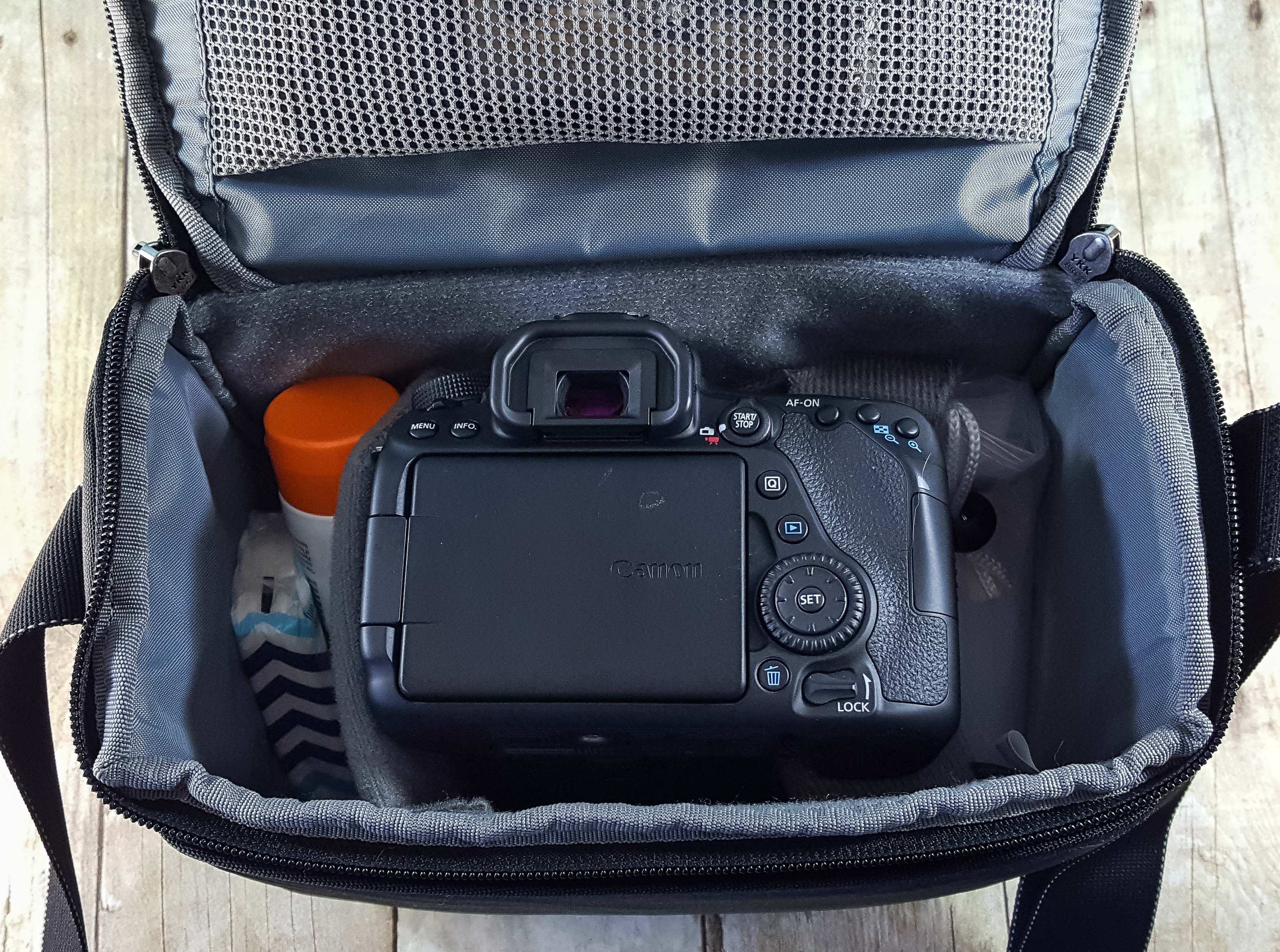 The ThinkTank SubUrban Disguise 10 includes a seam-sealed rain cover. Many of you don't know that my first DSLR took a major hit in the rain a couple of years back before I invested in a waterproof camera bag. It did survive (the rice trick really does work), but it's not something I want to repeat. If you find yourself in a major downpour, the rain cover is critical.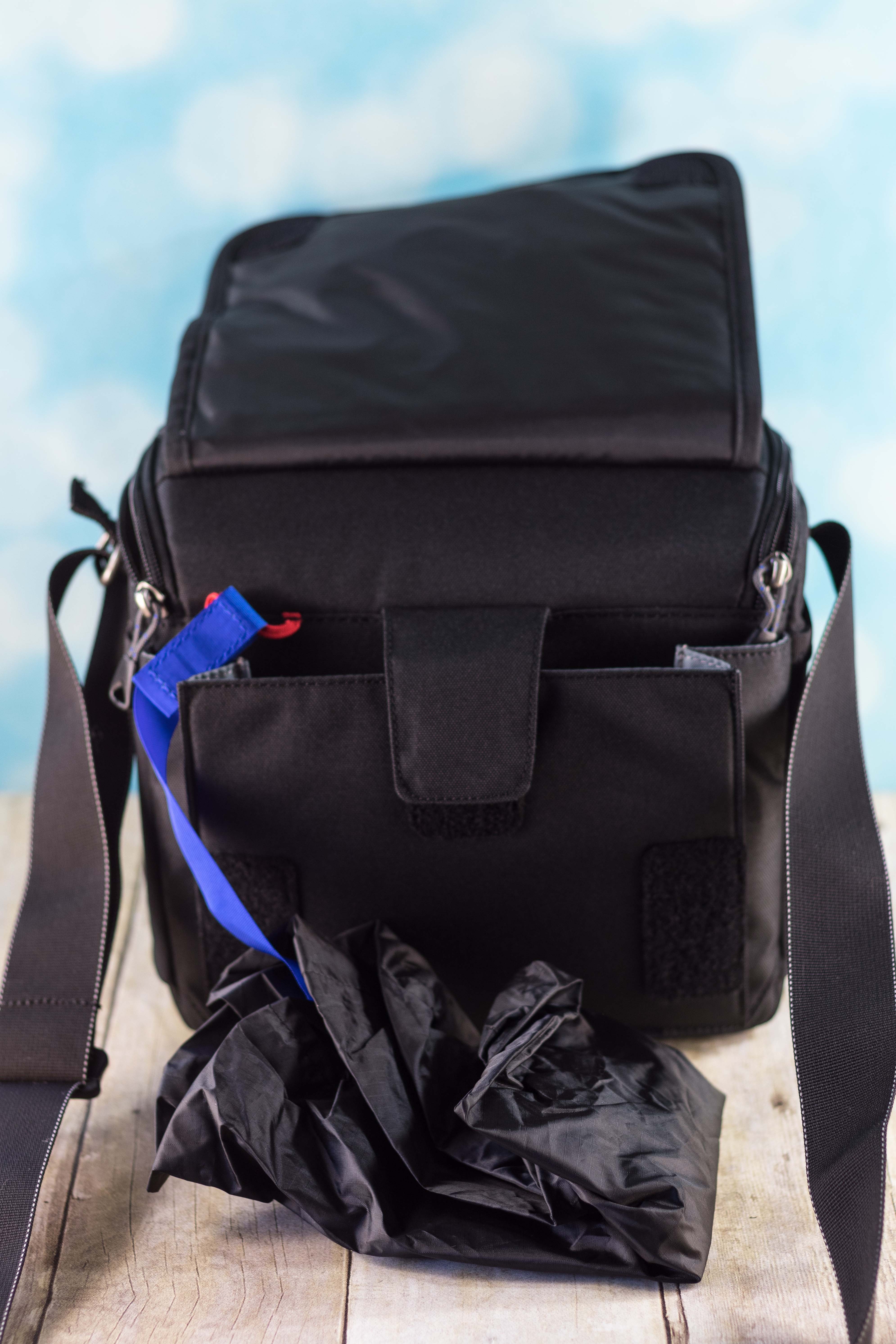 The ThinkTank cover is very easy to fit around the bag, and it Velcros securely across the bottom.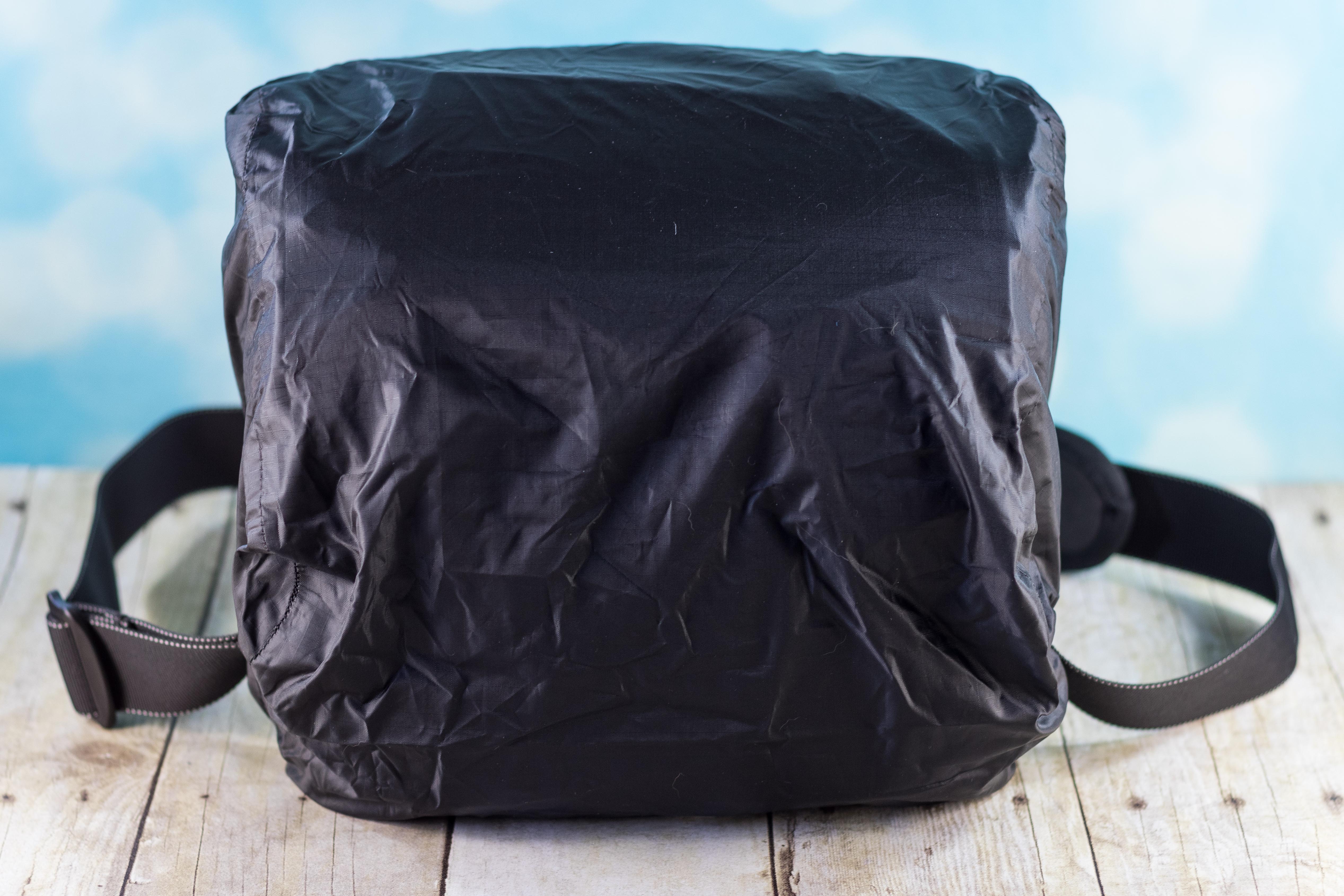 One reason I love my CityWalker 20 and I already love my SubUrban Disguise 10 is that these bags have side pouches, which are perfect for water bottles. I always have a water bottle with me for day trips and during long days away from the hotel on vacation.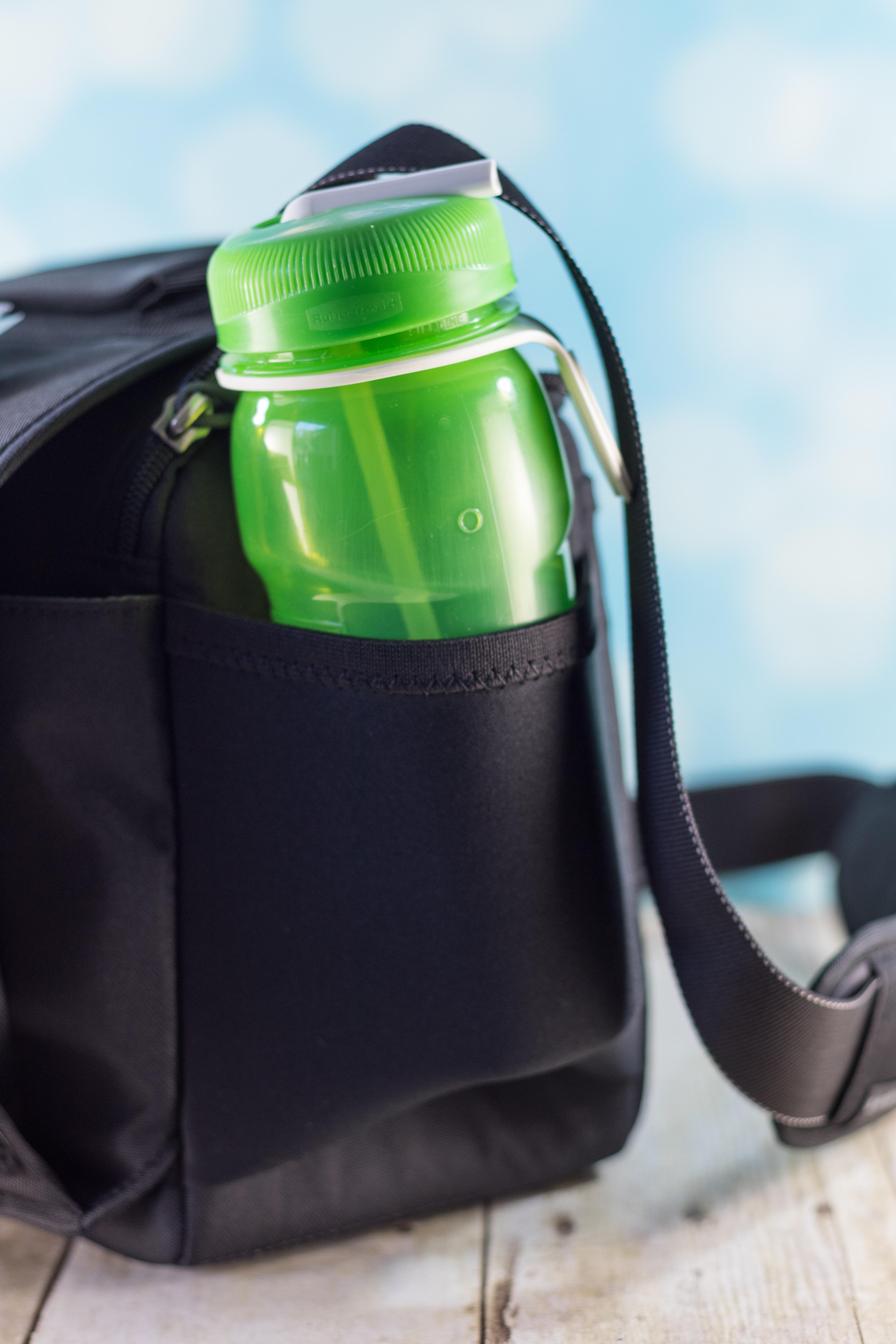 Another reason I love my CityWalker 20 and already love my SubUrban Disguise is the top of the bag creates the perfect surface for resting my camera when I'm not shooting, which is actually a better weight distribution than having everything in the bag. It also eliminates the need for a camera strap. I love my BlackRapid strap, but not using a strap means one less thing to pack for a vacation.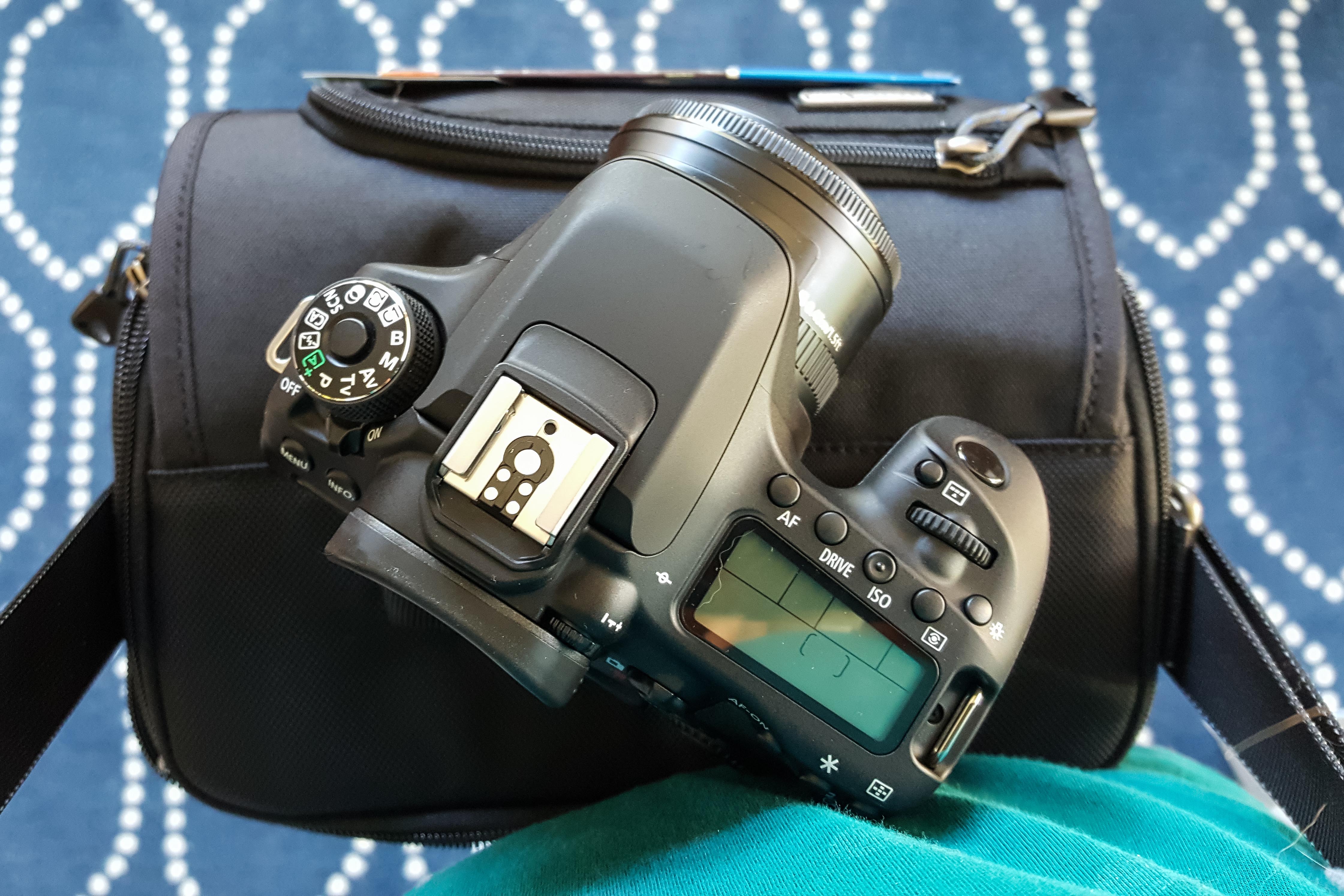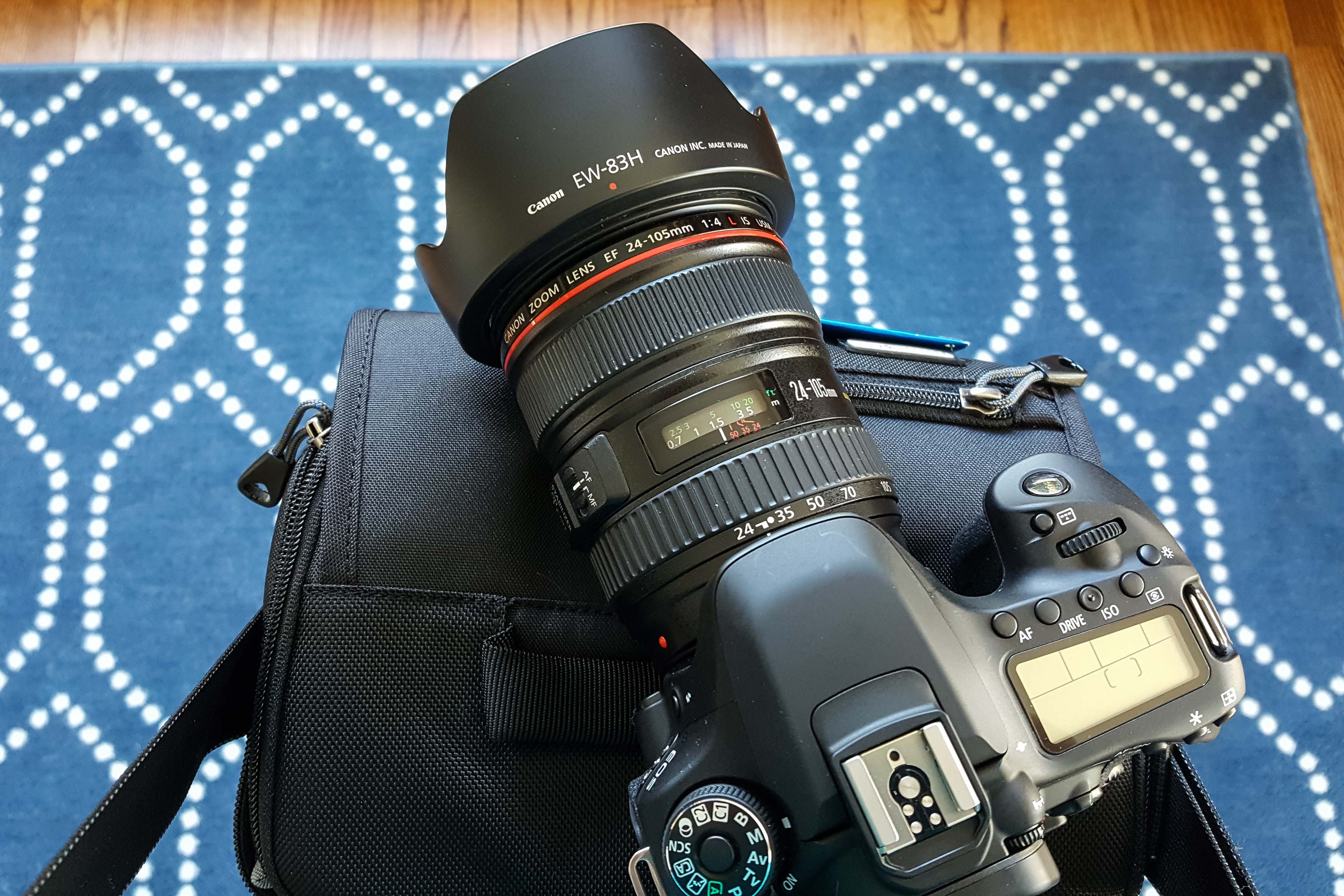 ThinkTank makes great bag straps. They are well-padded, and the padded portion doesn't slide around. Again, I think for most photographers, the strap is great as is, even when the bag is loaded up with gear. But the CityWalker 20 padding isn't sufficient for me, given my size. And the SubUrban Disguise strap has even less padding. So I bought a separate shoulder strap pad, which I can use with both bags. Aside from a couple of quick walks around the house, I haven't tested it yet, but will be sharing my thoughts in the full review.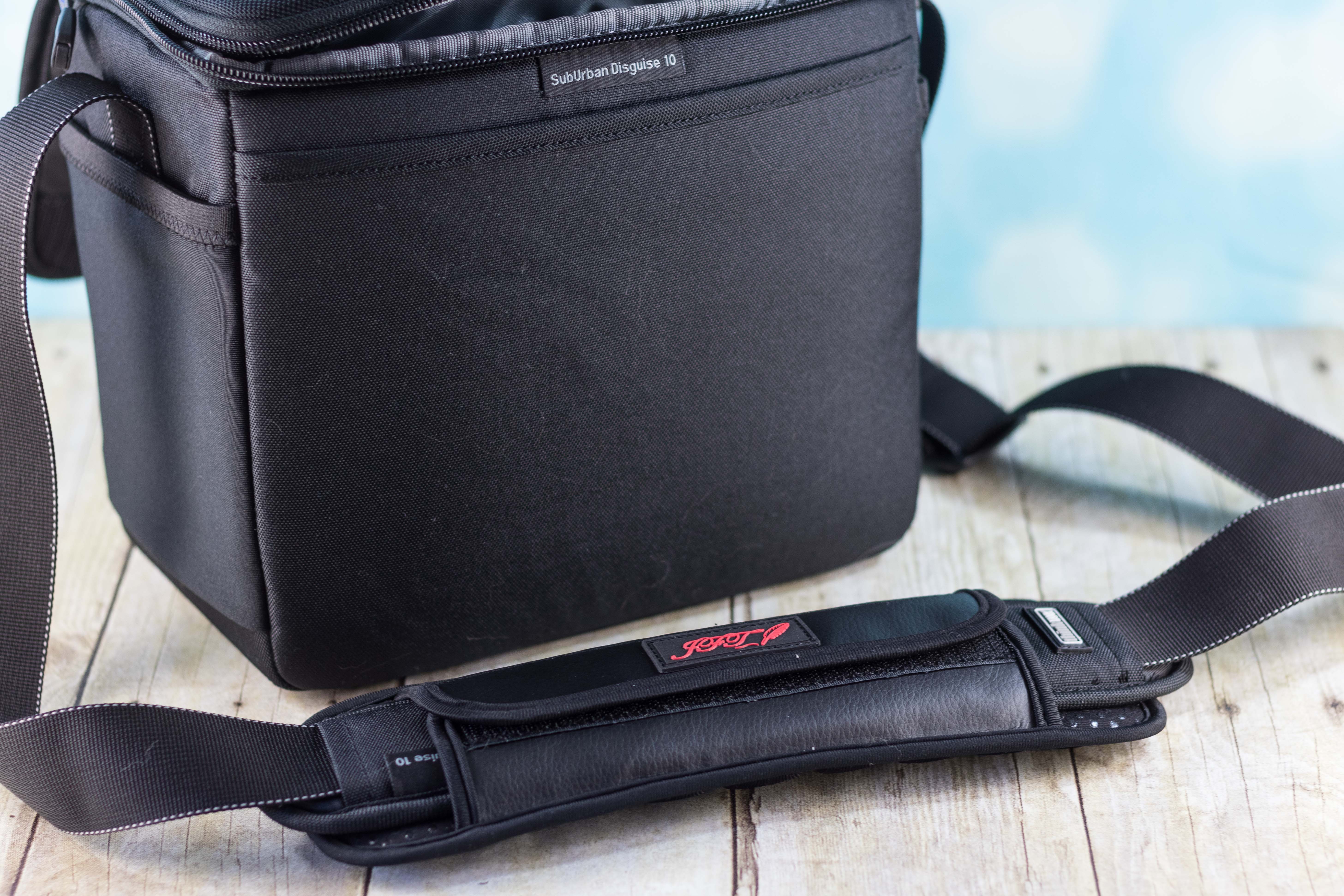 When I write my full review, I'll include pictures of me wearing the bag out and about, so you can get a better idea how it looks in use. But here's a little shot of me modeling it at home to give you some idea how it fits with my 5'2″ frame.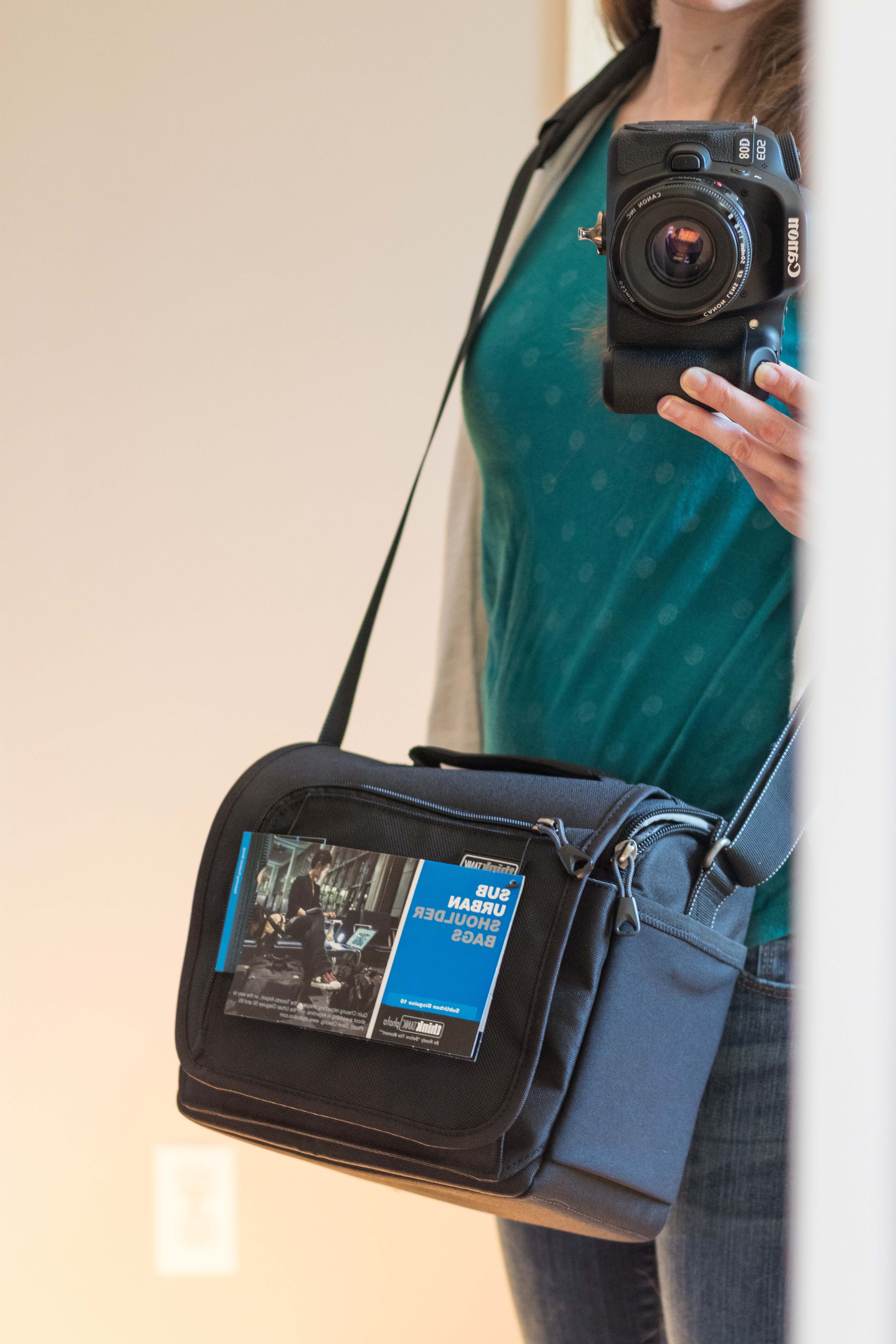 Some final initial thoughts:
ThinkTank is known for their high-quality, long-lasting construction, and the Suburban Disguise 10 doesn't disappoint. Every aspect of this bag is well made. I have no doubt that it will hold up through many years of extensive shooting.
ThinkTank bags are also well thought out. Your gear and personal items stay safe, and you can get to what you need while you're shooting. I'm hopeful that most of the time during this trip, I can get my camera ready prior to leaving for the day and won't need to be in and out of my bag all the time. I'll keep most gear tucked in the bag and will simply put my camera away as needed for restroom breaks, food breaks, bus travel, etc. It's hard to know exactly how it will all work and whether the SubUrban Disguise bag layout will be conducive to these logistics. But so far it seems like it will go pretty smoothly.
I think the size of the bag is perfect for this trip. I wasn't 100% sure when I ordered it. But now that I've seen it in person and loaded all of my photography gear and other items into it, I'm much more confident. It is considerably smaller than my other two camera bags but holds everything I need without a lot of extra space or unnecessary weight.
Carrying a DSLR is still going to get heavy. I'm doing everything I can to minimize the weight. But I know some days I'm going to be sore, which is okay.
If you use any of the links in this post (or click on the banner below) to purchase ThinkTank gear, you'll receive a free gift! When you check out, you'll see a screen where you can select your free gift. For some reason, if you don't see the free gift screen, manually enter the code 583378.fe9643.1108 in the affiliate code box during check out. (It's long, I know. Just copy and paste it, and you'll be good to go.)
Do you have the ThinkTank SubUrban Disguise 10?
I'd love to hear your thoughts on this bag!
More photography resources: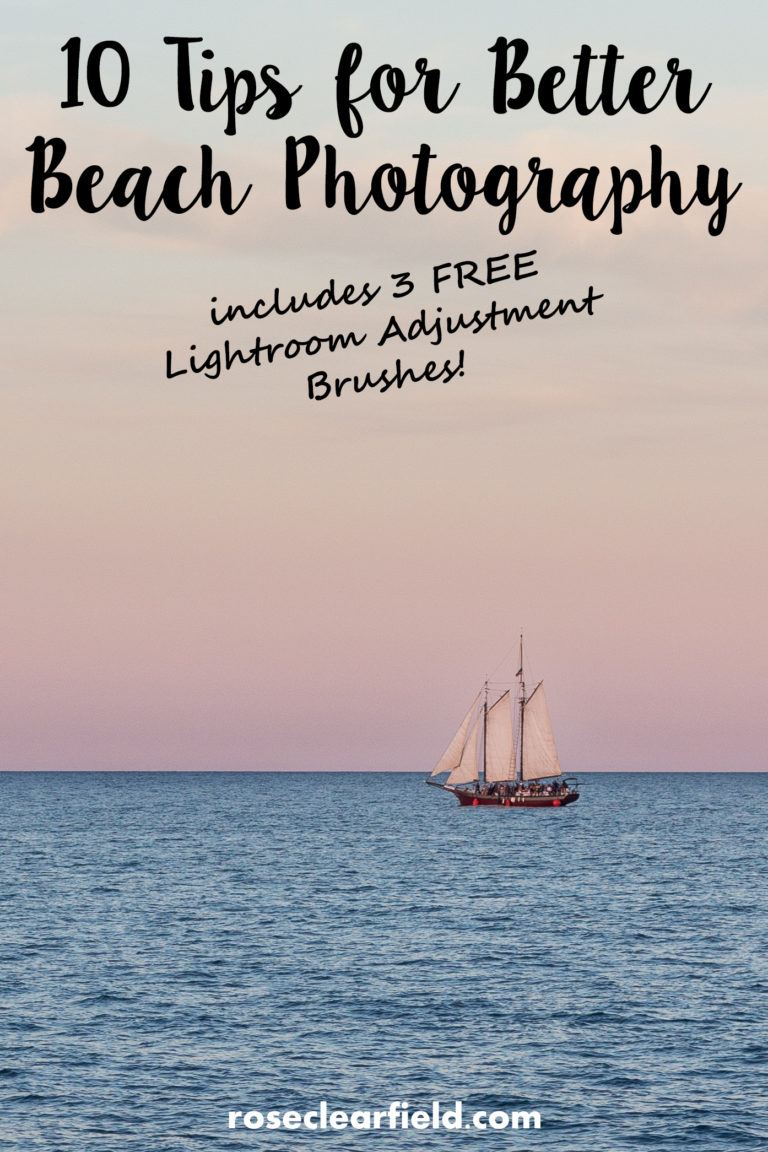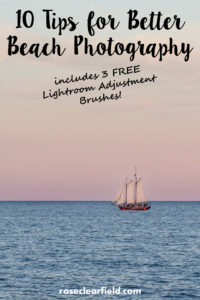 10 Tips for Better Beach Photography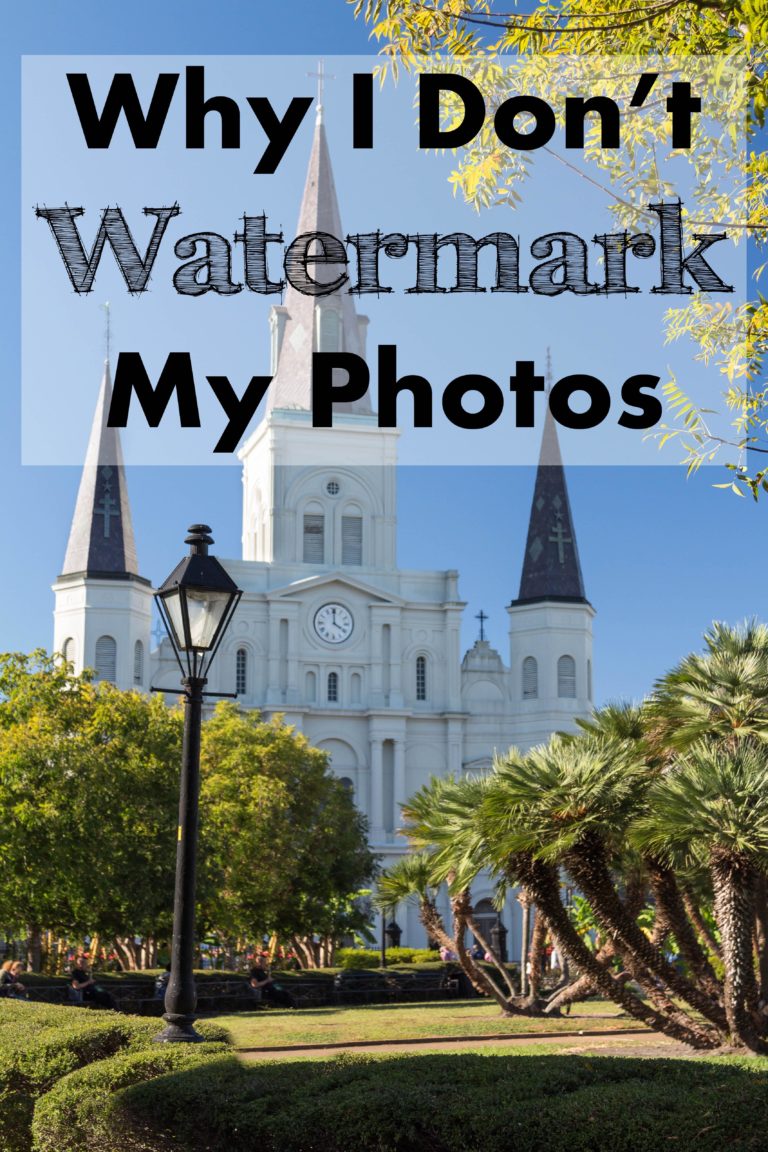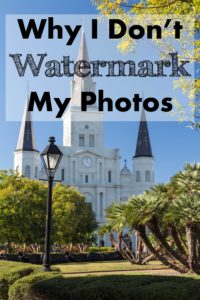 Why I Don't Watermark My Photos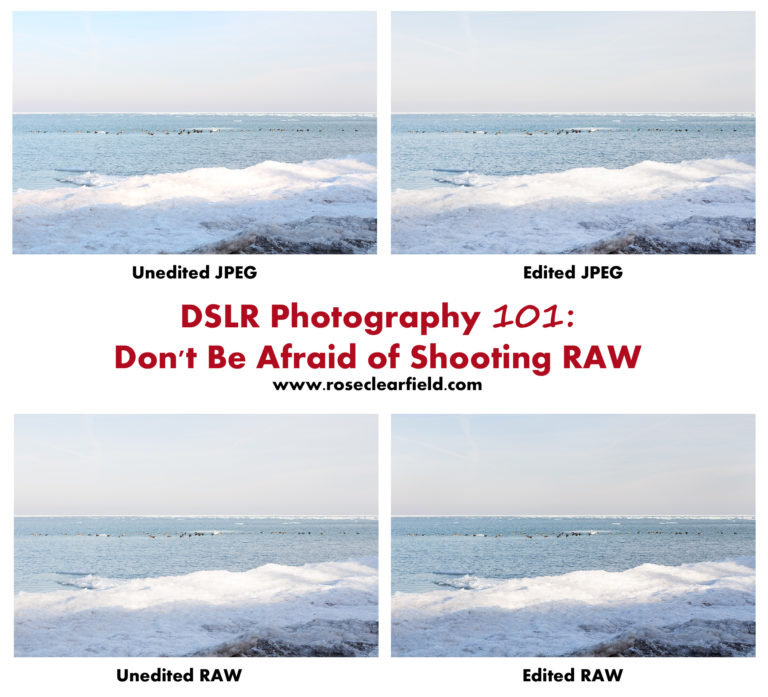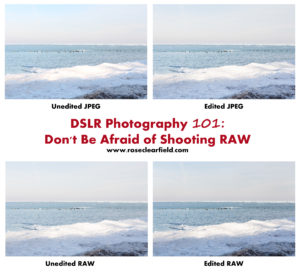 DSLR Photography 101: Don't Be Afraid of Shooting RAW
Save
Save
Save
Save
Save