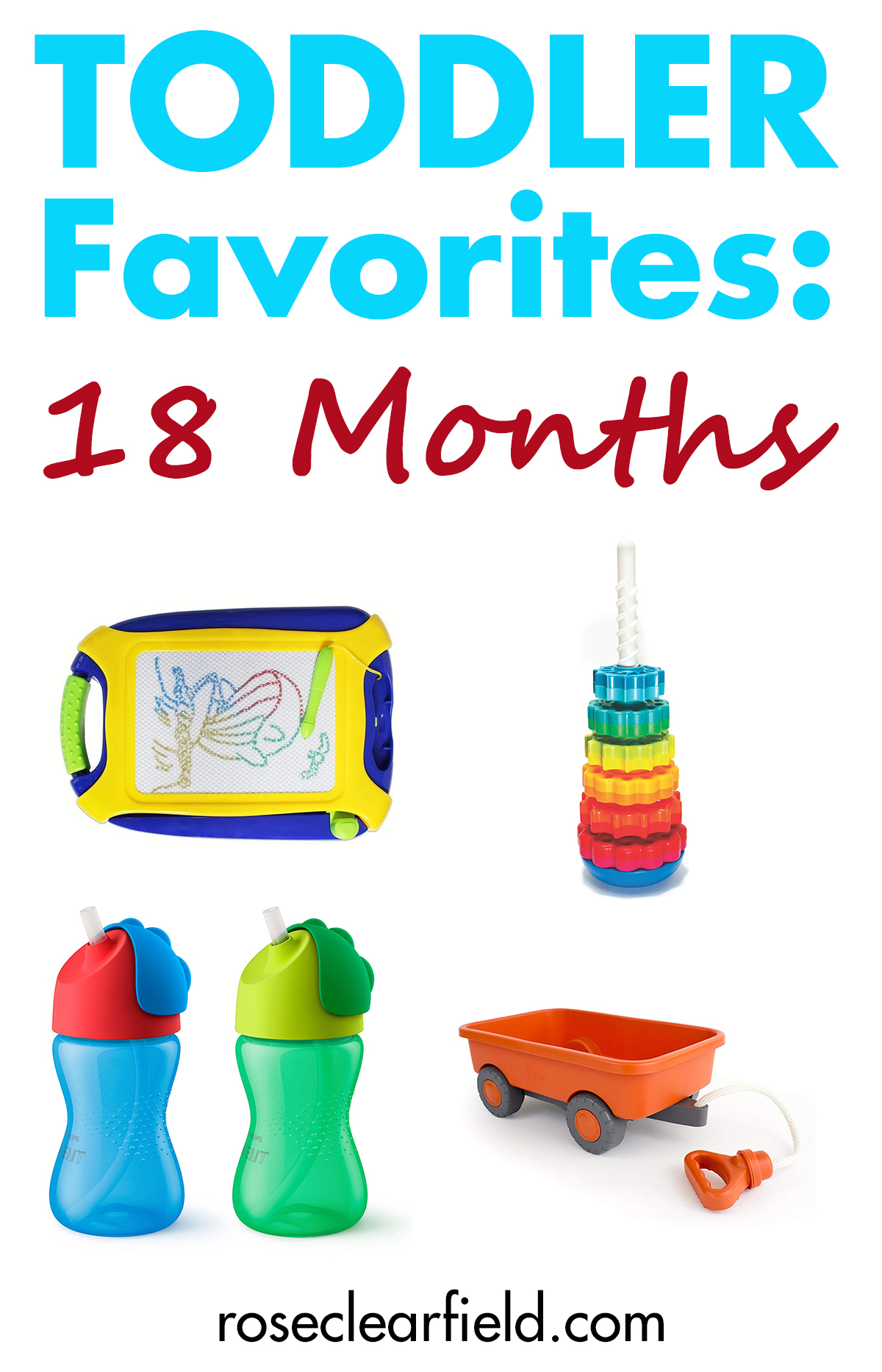 Today I'm sharing a few of the favorite items Tommy has been loving since my 12 months favorites post. As it's been six months since the last post, I'm covering a lot of items! Enjoy!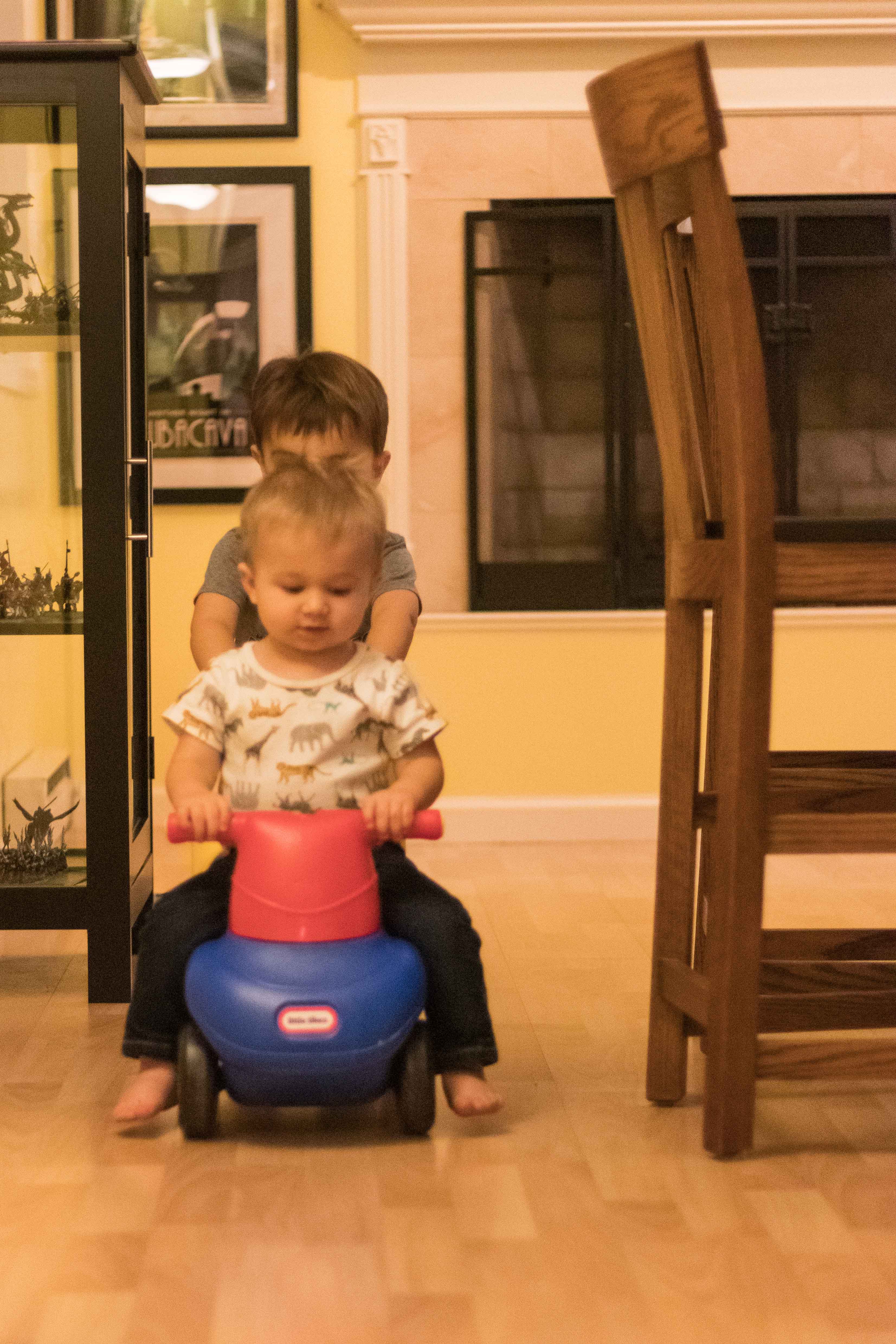 Tommy got a Little Tikes Push and Ride Racer for his birthday. He's just starting to be able to push himself around independently and still mostly wants us to push him around. When we have other toddlers over, they will push each other on it which is fun (and only a little bit dangerous). It'll be even more fun when he can push himself independently around the patio and up and down the driveway this spring and summer.
I never would have bought the Fisher-Price Zoom 'n Crawl Monster or Fisher-Price Go Poppity-Pop Musical Dino (similar). Tommy received them both as first birthday presents, and I completely underestimated how much he would enjoy them. When Jake set up the dino and got it going for the first time, Tommy was like a kid who's just arrived at Disney World. Both toys come with plastic balls. Tommy does play with the balls. But he sticks all sorts of toys and other items (i.e., pens, calculators) in them as well, which is pretty funny.
The other first birthday present that Tommy loves and plays with all the time (that I didn't already talk about in the 12 months favorites post) is his 3-piece pop-up tent set (similar). Usually we have one tent in the living room and one tent with the tunnel in the bonus room. Tommy and the cats crawl in and out of them chasing each other almost every day. Tommy is just starting to crawl in more on his own and play peek a boo, peek out of the top of the tent, etc. I know that this is a toy that will become even more fun as he gets older.
I've bought a couple of items off of Jessica's baby/toddler recommendation posts that have been huge hits. The first item is this Green Toys wagon. Let me be clear that it's a little wagon intended for toddlers to pull around. Toddlers can't ride in it, although they definitely attempt it. Tommy loads up stuffed animals, plastic balls, crayons, etc. and pulls them around the house. I think as he gets older and engages in more imaginative play, the wagon will be even more fun.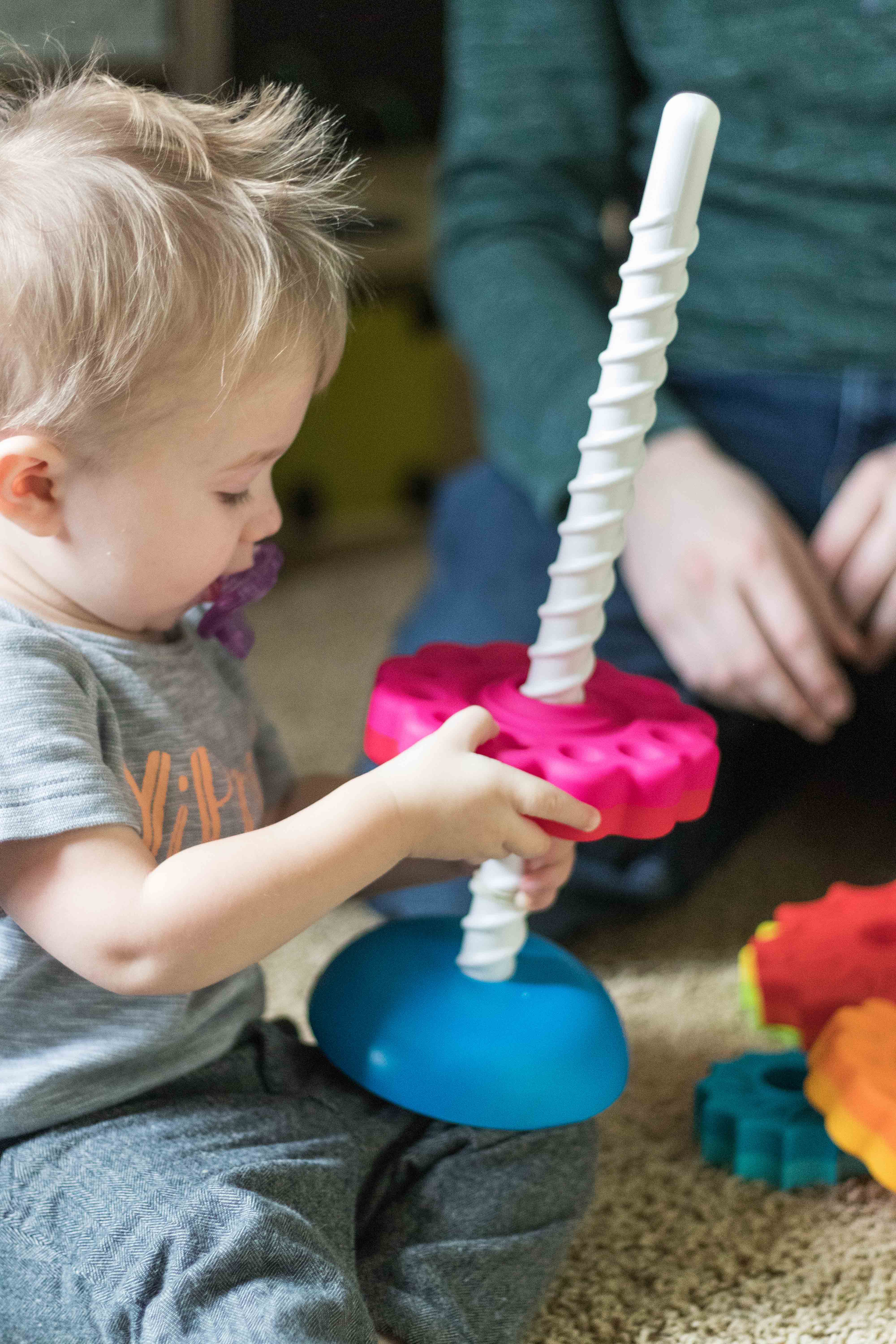 The second item I got on Jessica's recommendation is the Fat Brain Toys SpinAgain. Tommy knew how to work it right away and plays with it independently all the time. He loves the corkscrew pole and carries it around the house on its own. The gears are high quality and nice bright colors and well sized for toddlers.
Tommy got a travel size magnetic doodle board for Christmas. I love this version because it writes in multiple colors (there are different colors in different quadrants), and the size really does work well for transporting it. You can easily fit it in a bag for grandma's house, restaurants, car trips, plane trips, etc. I would still buy a larger one for at home, especially for a preschool/early elementary school age kid. But the travel size is great for a toddler.
Hands down, the two items Tommy has been playing with consistently since he was about nine months old (the sit-to-stand even earlier) are the VTech Sit-to-Stand Learning Walker and LeapFrog Learn and Groove Musical Table. Tommy seeks out these toys on his own often and still pushes the walker around the house, even though he's been walking independently for about four months now.
I picked up a sled from Target online back in the fall when I was buying a few other items. It's labeled infant, which is somewhat hilarious, as you wouldn't put a kid under six months in a sled. But it's perfect for six month olds all the way up to two, even three year olds. Tommy loved it right away, and we've had it out in the house for months. We pull him around on the carpet, and on occasion, he'll pull it around as well, sometimes with a toy or stuffed animal in it. Of course, we do use it outside now that it's winter and there's snow on the ground. But we got our money's worth well before snow arrived.
Tommy has a ton of board books and we rotate the ones we keep out in the living room on a regular basis. He is still most excited about board books with sensory elements (i.e., bunnies with soft fur). There are days that he will sit through five or six book in a row and other days where he won't sit through more than a couple of pages. Two of his absolute favorites have been the Usborne Time for Bed, Hippo! and Splish-Splash, Seahorse! He also really loves The Itsy Bitsy Duckling.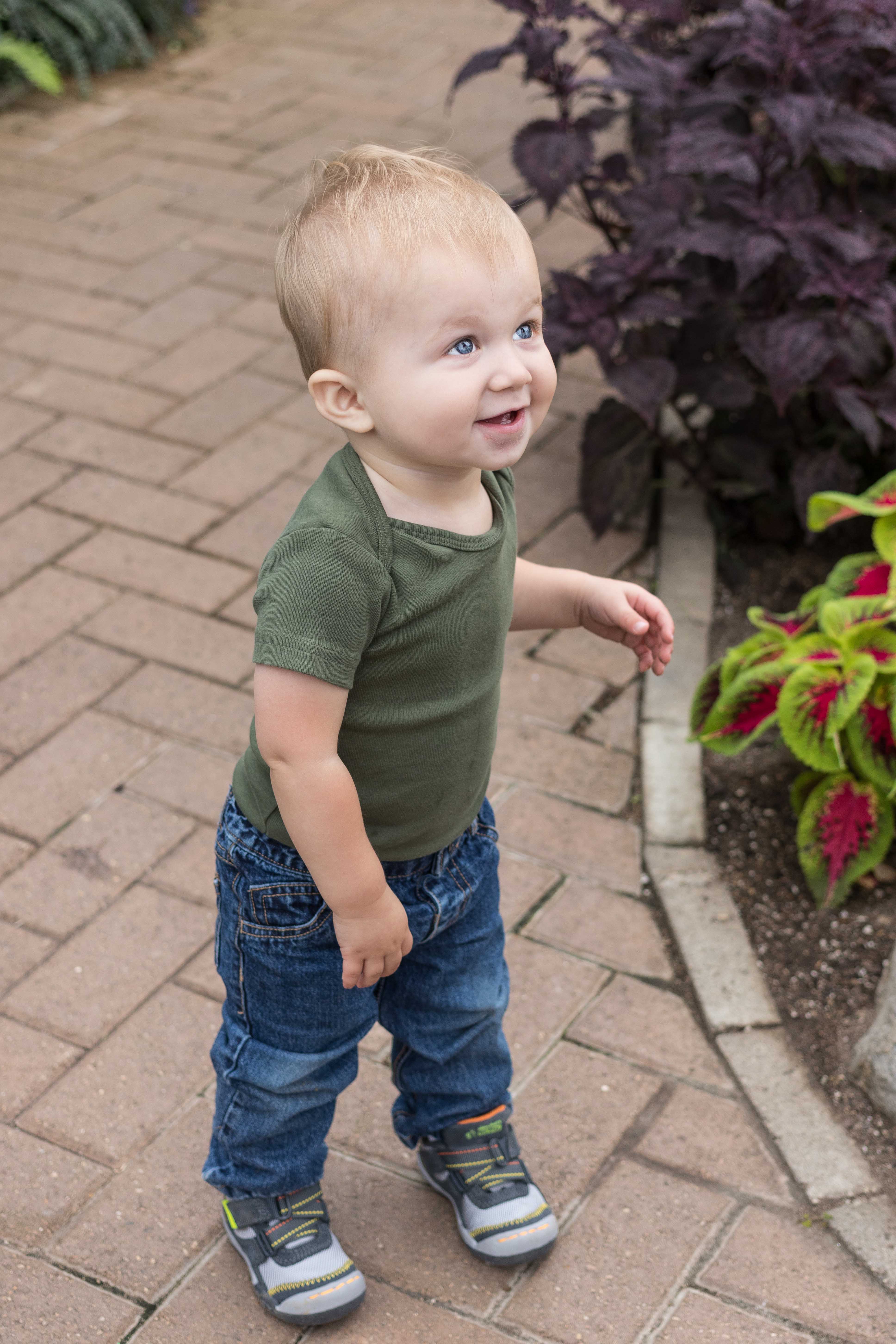 I get a lot of compliments about Tommy's footwear and wanted to share details about the shoes/boots he's been wearing for the past few months. He has Sketchers sneakers right now, which are awesome. We'll have to size up for the spring. Most likely I'll get something very similar. The boots he'll end up wearing the most in the snow are hand me downs. I also wanted a pair of winter shoes that weren't snow boots and got Tucker + Tate Oliver low bootie sneakers, which have been perfect. The style I bought is sold out now. However, you can also buy Chelsea boots for toddlers, which is about the next best thing.
I talked about Tommy's/our favorite food/drink items fairly extensively in the 12 months favorites post. There are just a few new additions to that list. Tommy learned to drink from a straw around 15 months and has been going strong ever since. Among other cups, we have the Philips Avent My Bendy Straw Cup in a couple of different sizes, which is by far Tommy's favorite. We have a variety of the Pillowfort plates and bowls, which is what we use with Tommy for meals and snacks the majority of the time. They are very durable and ridiculously affordable. I've linked just a couple of their items here. There are multiple sizes, styles, and colors available. Tommy also uses the Gerber Graduates Bunch-a-Bowls, which I like because they come with lids.
During the past six months, we've started using diaper doubler pads with Tommy at night. He isn't ready to move up a diaper size, and all of the overnight diapers have mixed reviews. So we add a diaper double pad to his regular diaper at night, which has helped a lot. The pads are also perfect for travel and any other extended period where it will be challenging or just a bit of hassle to change a diaper (i.e., festival, state fair, baseball game).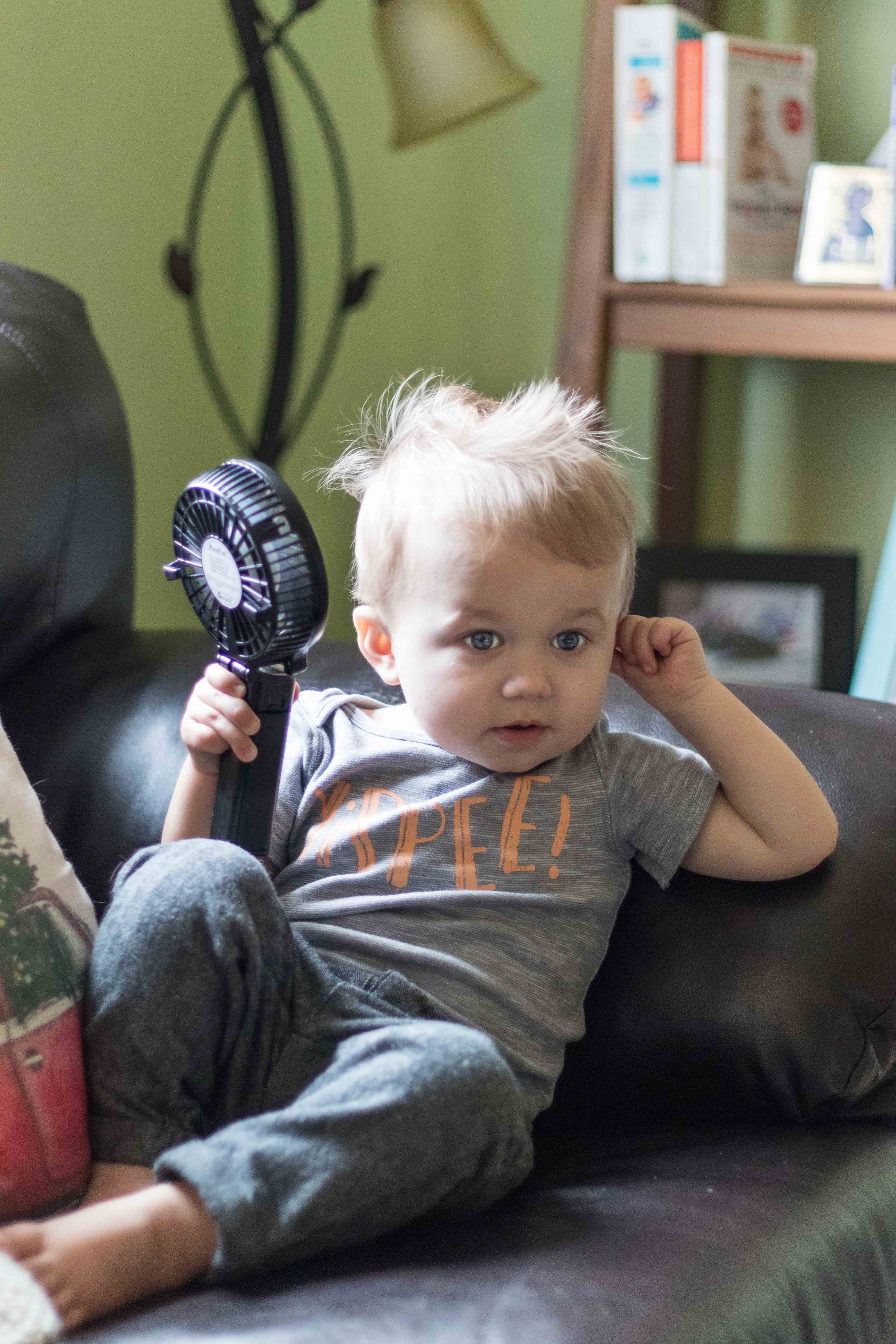 I'm a little embarrassed to be discussing these final three items. But they really are some of Tommy's absolute favorite items right now. One of Tommy's stocking stuffers this Christmas was a personal handheld fan. He's been crazy about fans from an early age and always wants the fan on in his room, wants people to turn on their ceiling fans in their homes, etc. I knew that he would love having his own fan that he could control. It didn't disappoint. He can operate the single on/off/speeds button independently, and the slats are narrowly spaced, so he can't stick his fingers through them.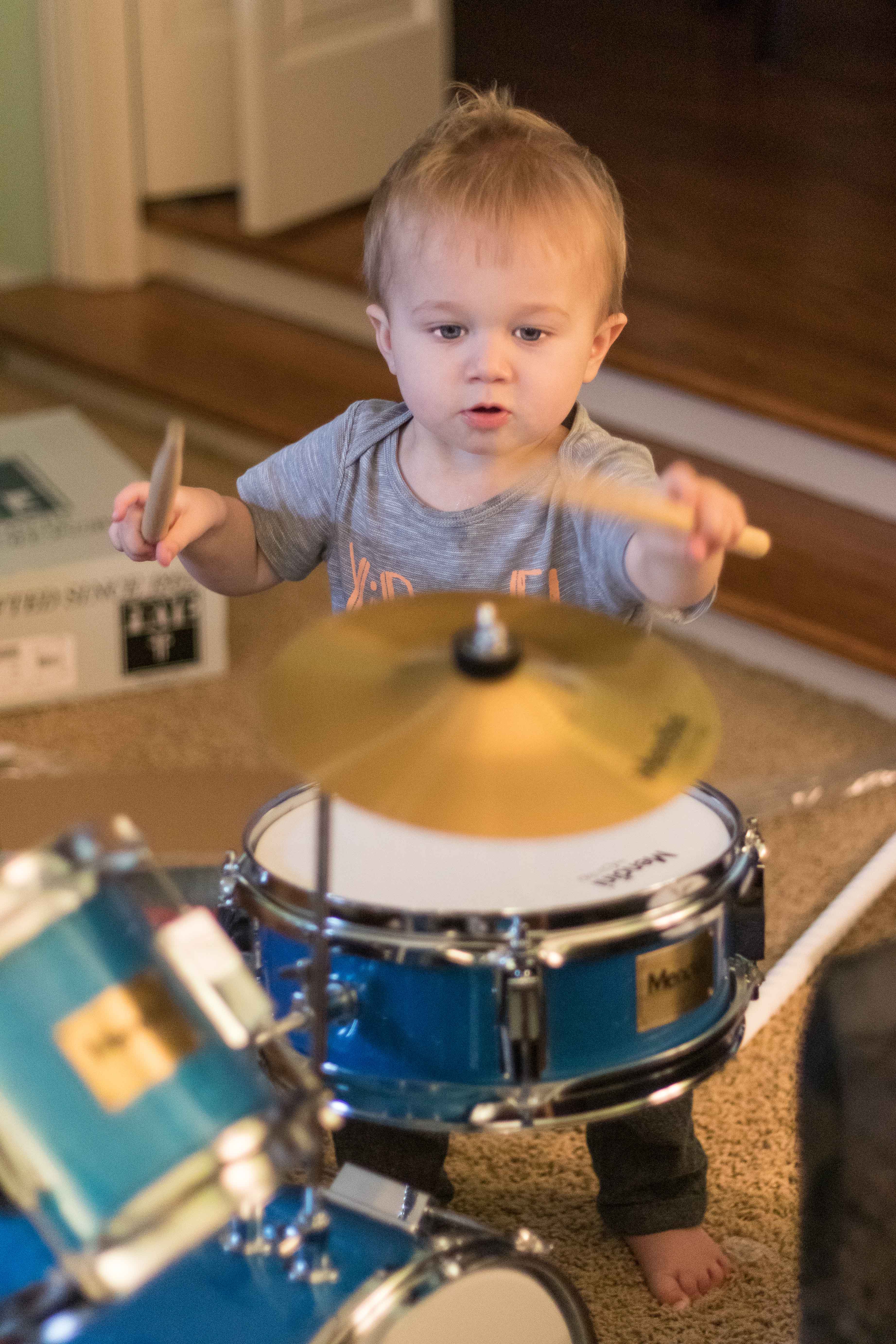 Our big present for Tommy this Christmas was a kids' drum set. I know, what parents voluntarily buy their toddler a drum set? Everyone has expressed shock at this decision but then also how well Tommy drums in rhythm, holds the sticks, etc. So…we're standing by it. For the price and size, it's a great quality. It's also small enough that you can take it apart and store it without it taking over your house, so family members don't lose their sanity.
Finally, for Jake's birthday this summer, I picked up a couple of light sabers from Target, figuring it would be a fun set of toys for him and Tommy as Tommy got older. Tommy embraced the light sabers immediately and has been going strong ever since. From toddler friends to Jake's co-workers to grandparents, Tommy light saber fights with everyone. I bought original triology character (not new character) light sabers from Target, which sold out very quickly. You can find similarly priced models on Amazon.
[Disclaimer: I was not sponsored to talk about any of the products in this post. All of the items I discuss are items we bought ourselves or received as gifts. There are a few affiliate links in this post. Thanks for your support!]
Tell me about all of your favorite toddler items!
Feel free to link products in the comments.
More kid favorites: