Upcycled Oui yogurt jar pastel vases are an easy beautiful home decor project for spring.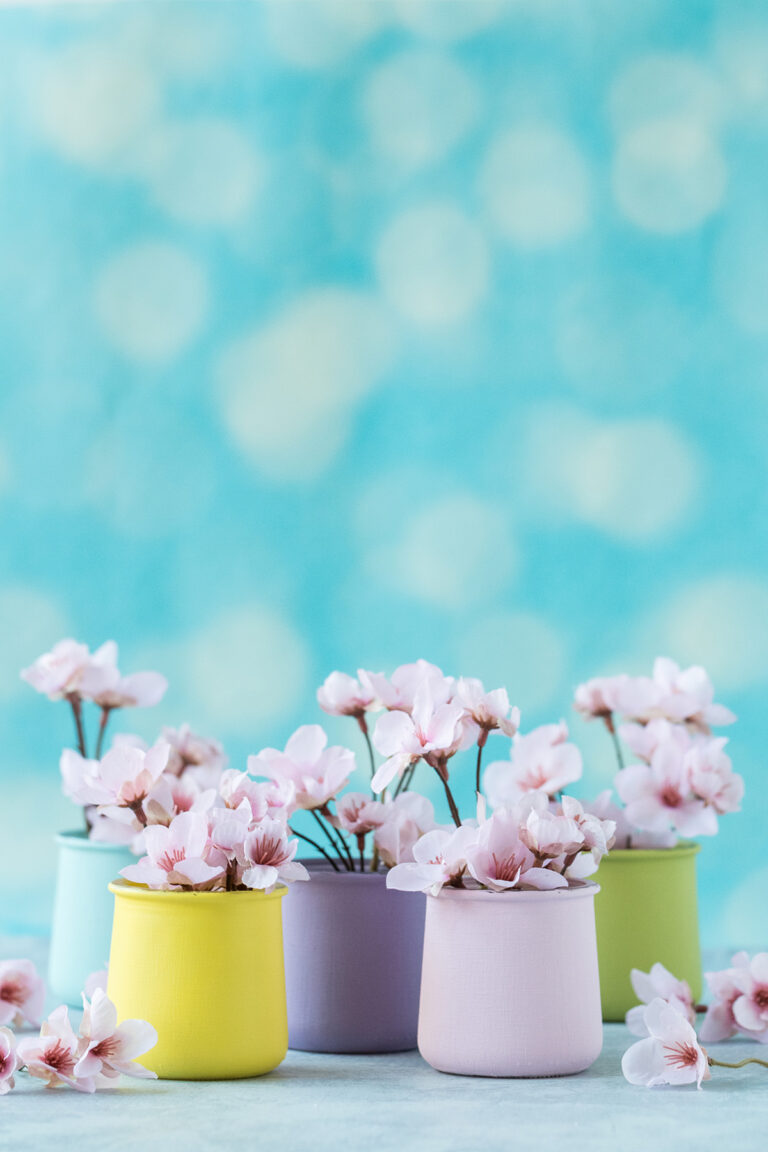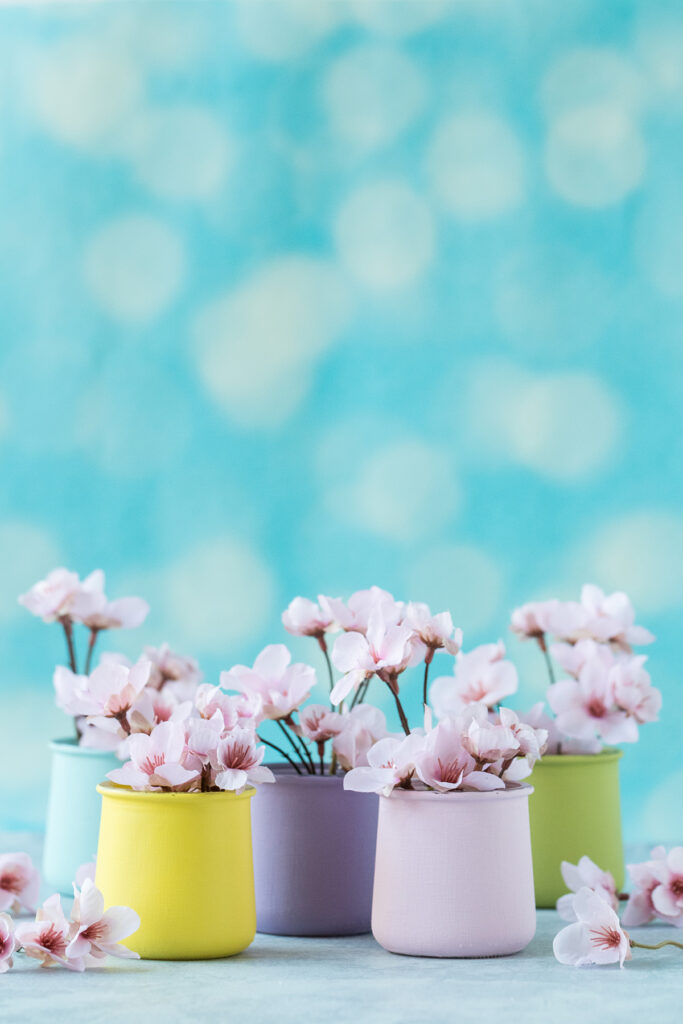 Oui yogurt jars are so easy to paint with the acrylic paints of your choosing. Then you can style them with faux or real flowers, creating a whimsical display for the spring season.
This is such a simple concept that you can customize or personalize for virtually any season or occasion. I would love to see glass Oui jar vases styled for fall or Christmas or customized for a specific event, such as a baby shower or wedding.
Happy crafting!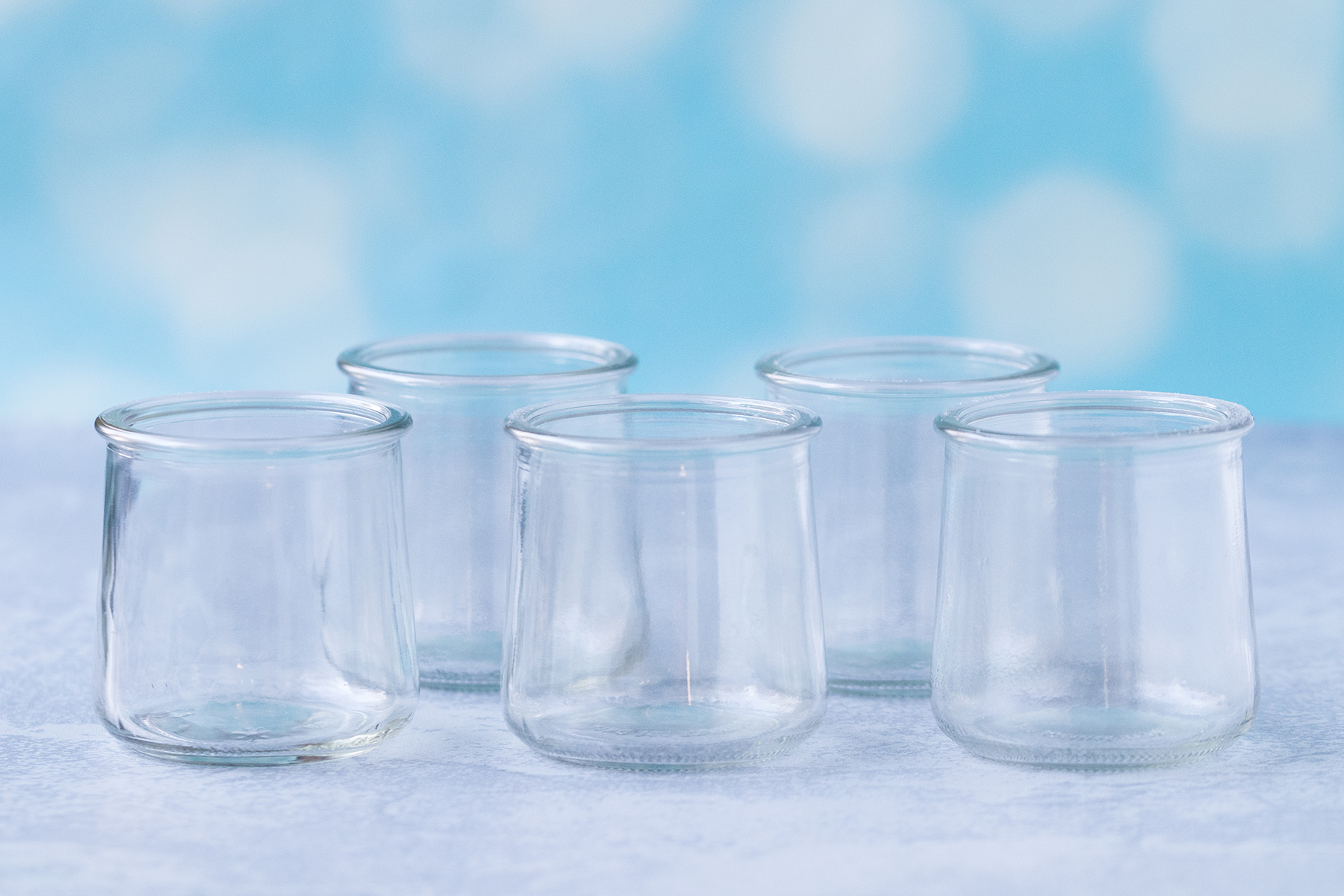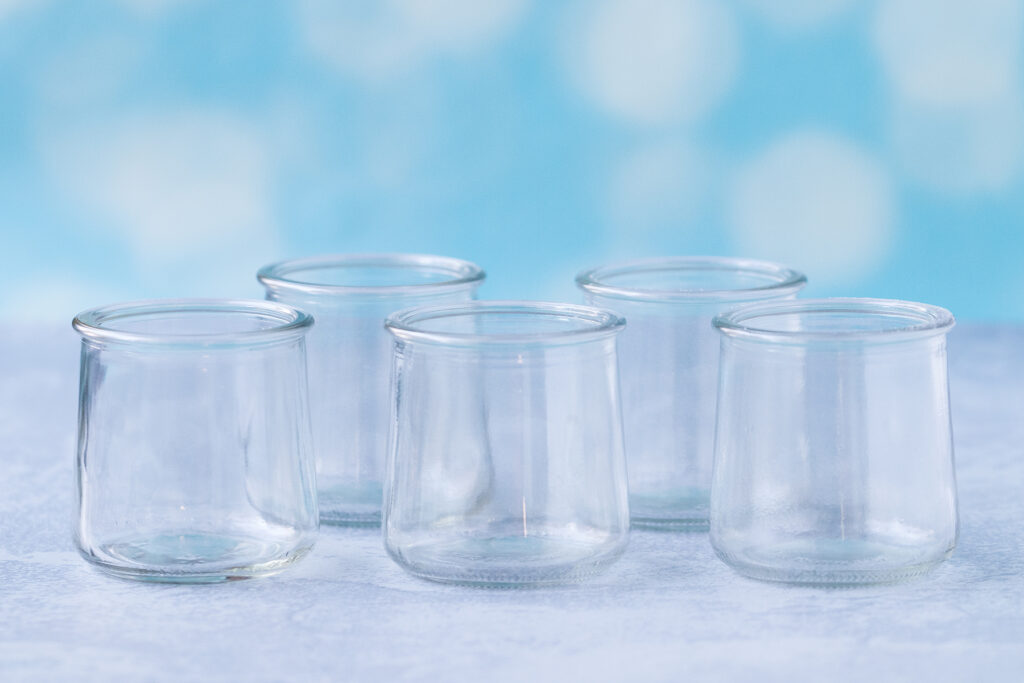 How to clean Oui yogurt jars
As with any craft project that involves using food containers, you want to make sure that the jars are completely clean and dry before beginning your project. The good news is that Oui yogurt jar labels peel off easily all in one piece and leave behind minimal residue, making the cleaning process quick and easy.
Pull off the labels. A Oui yogurt jar label always comes off easily all at once, making the labels so easy to remove.
Clear off the remaining residue. Give your Oui jars a couple of sprays of Goo Gone. You don't need much product. The spray container works beautifully, providing even distribution of a thin layer of Goo Gone.
Scrub thoroughly with soap and hot water. Goo Gone is greasy. Once you've removed the residue, wash the inside and outside of the jar thoroughly with hot water and your favorite dish soap.
Allow to dry fully. I place my jars in the dish drainer and collect them the next day.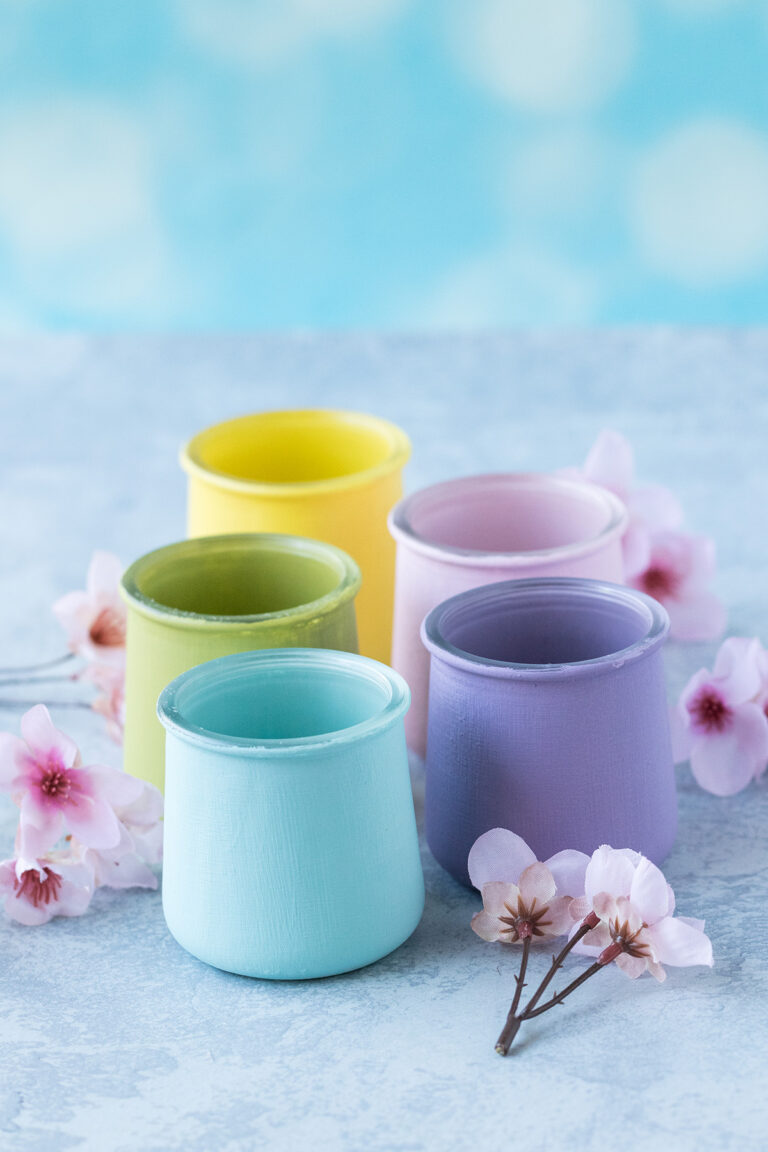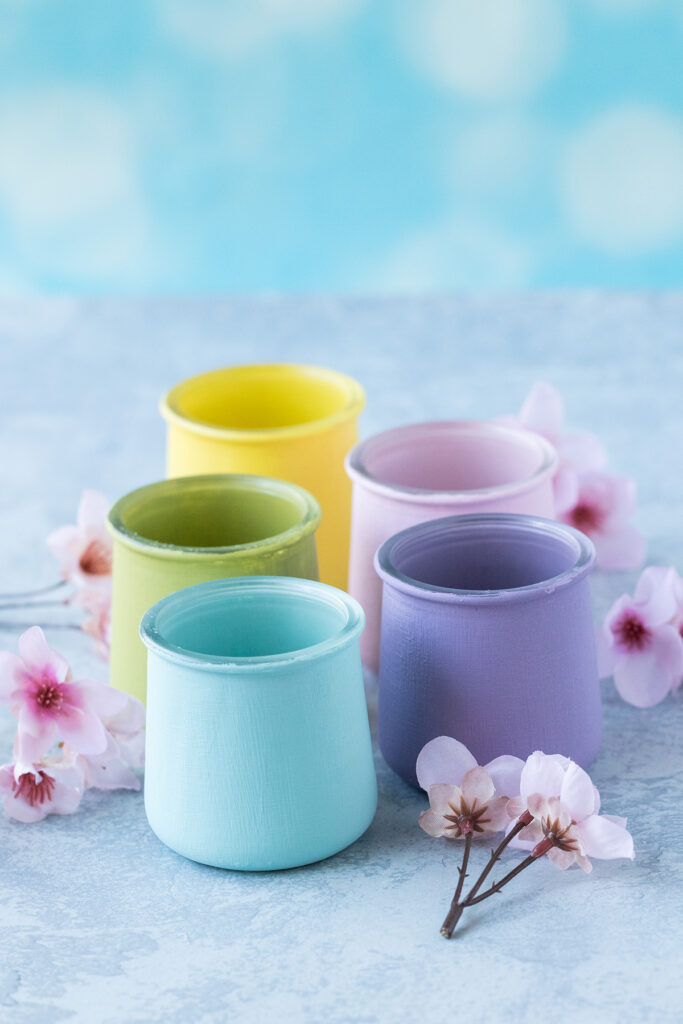 Supplies for upcycled Oui yogurt jar pastel vases
Flower frogs
I know that it seems a little extra to purchase flower frogs for this sort of project. However, if you enjoy creating your own floral displays, real or faux, they will make all the difference, transforming average floral displays into stunning centerpieces. Flower frogs are very sturdy and with proper care, will last you through years and years of DIY vase displays, centerpiece bouquets, and much more.
I purchased my flower frogs from the Etsy shop OverThe HawaiianMoon and couldn't be happier with them. This shop has a great selection of flower frogs in various sizes and shapes.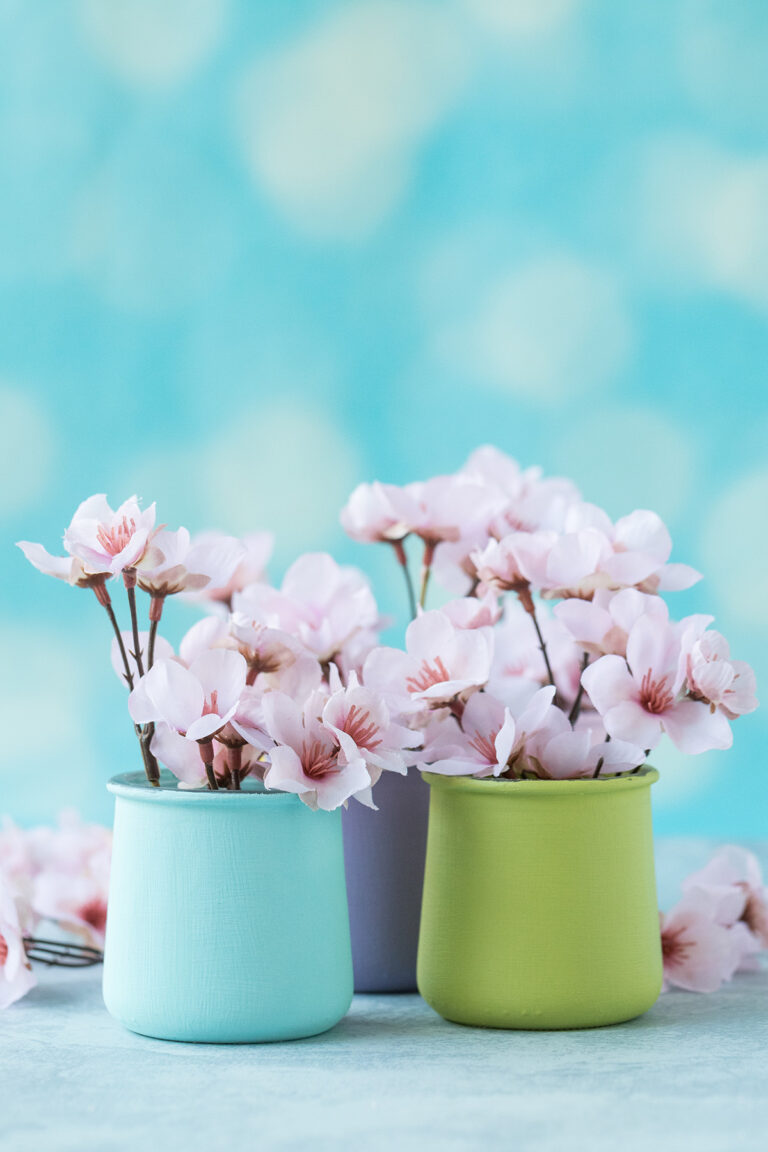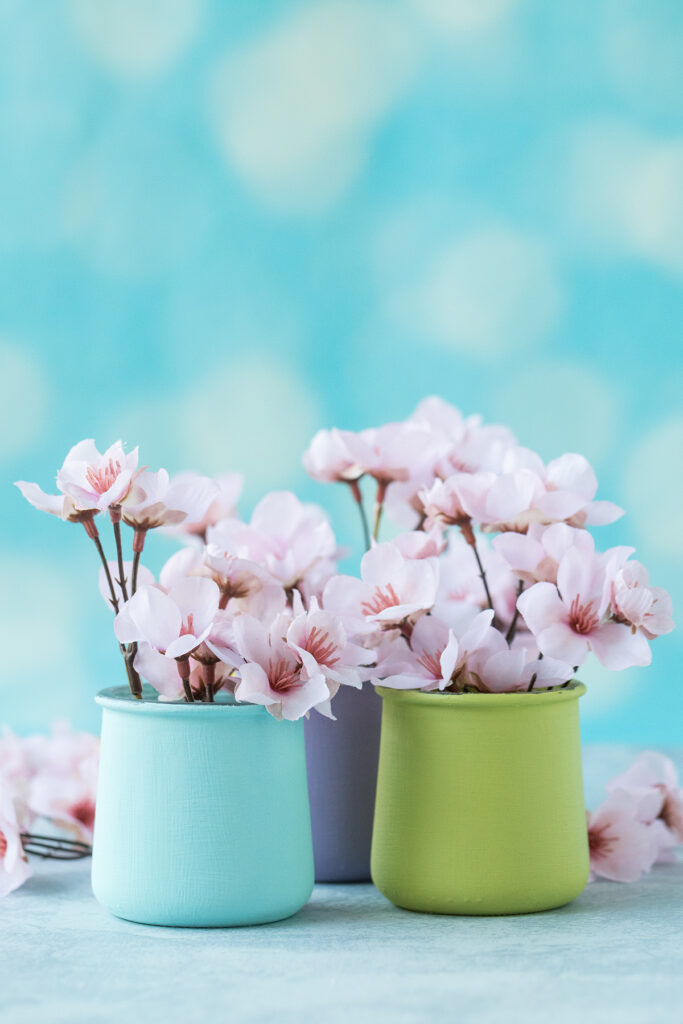 Instructions for upcycled Oui yogurt jar pastel vases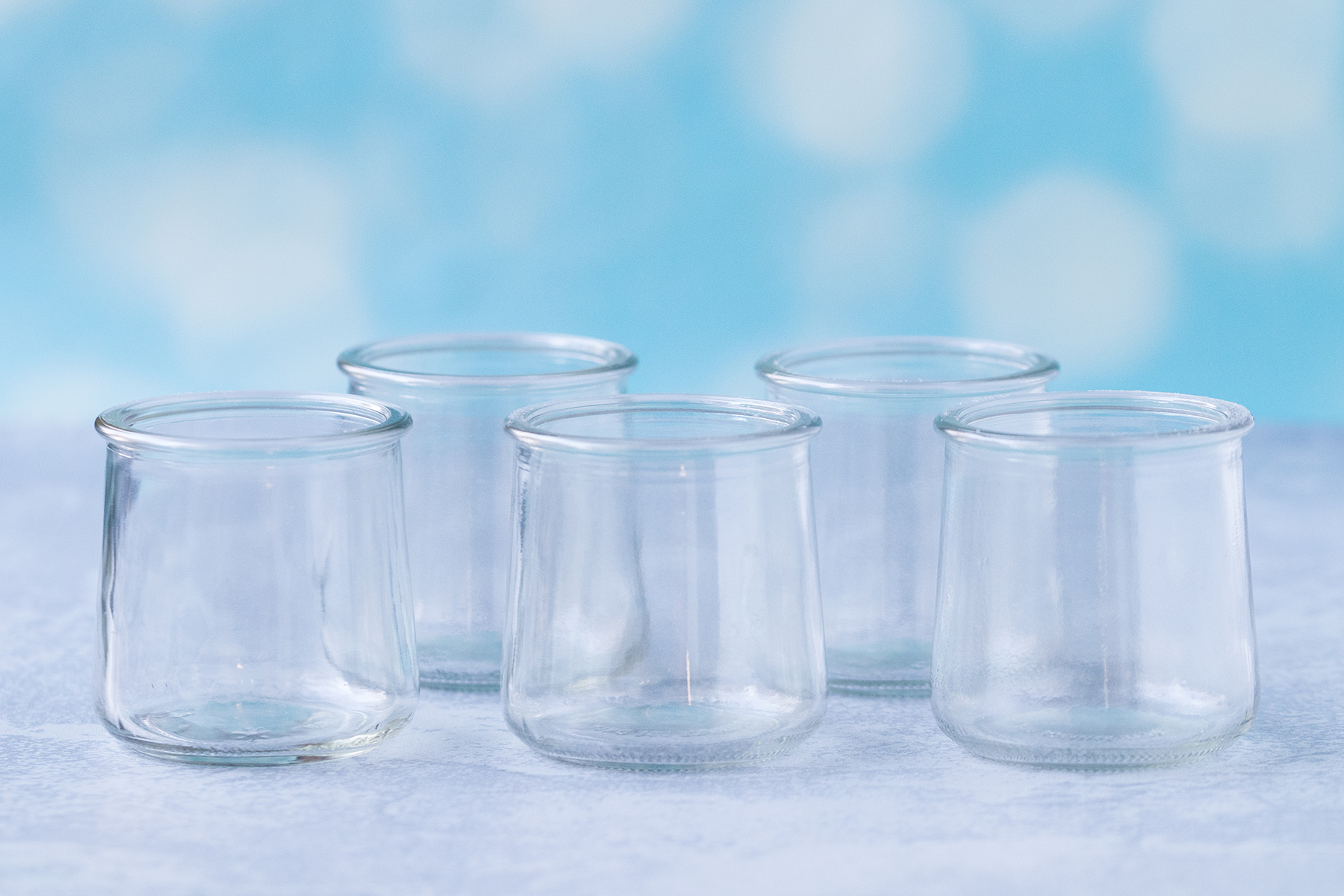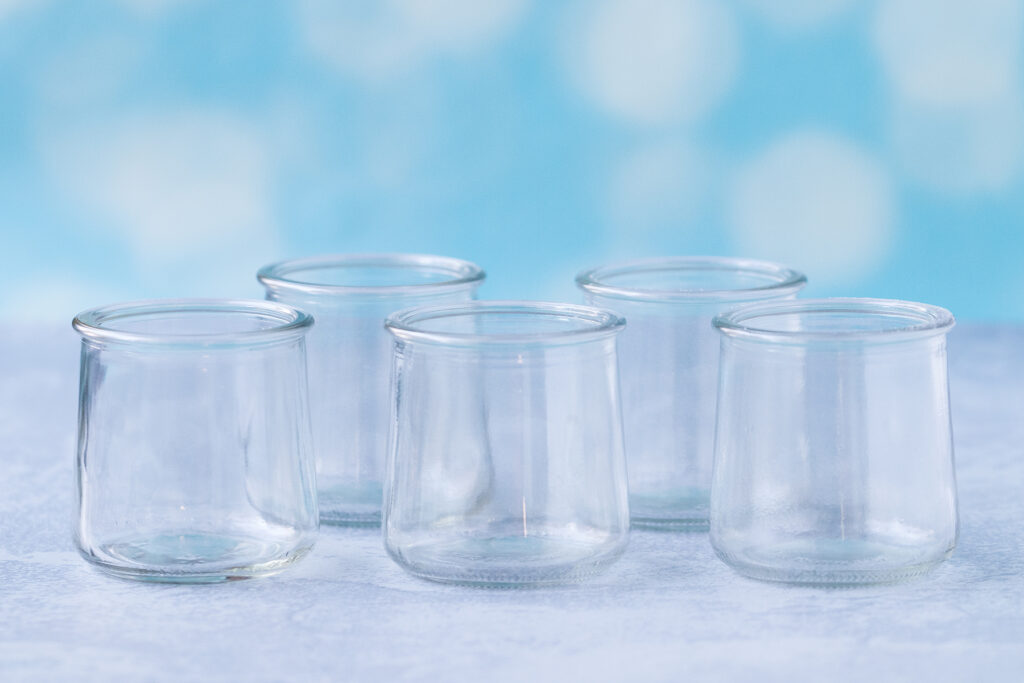 Take your clean, dry yogurt jars. Put a small amount of rubbing alcohol on a paper towel. Wipe the jars to remove any oil and other residue. Allow them to dry.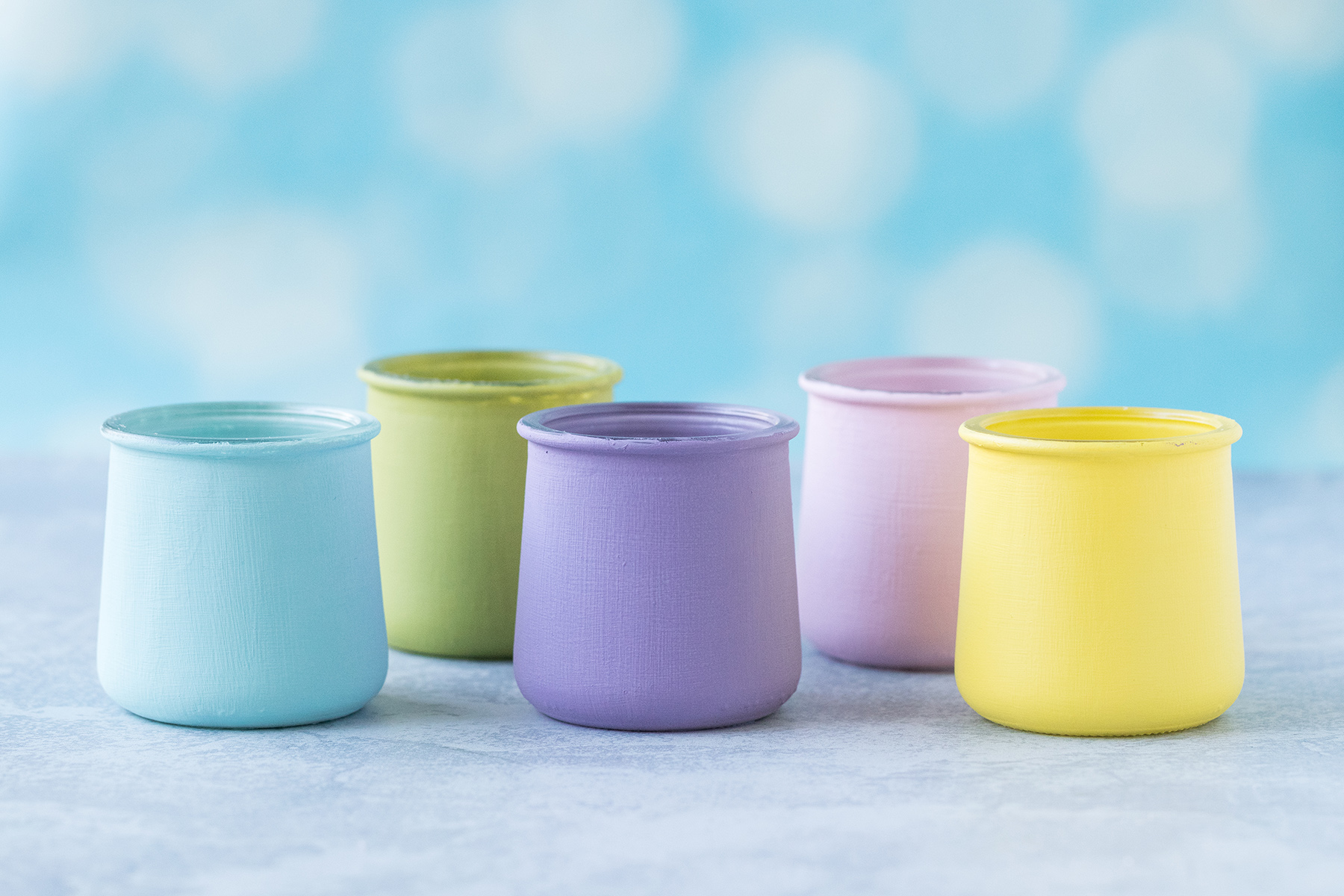 I applied six coats of acrylic paint to each jar in the following sequence.
From the bottom up
From the top down
All the way around
From the bottom up
From the top down
All the way around
This method ensures good coverage and minimal visibility of brush strokes.
I squeeze small amounts of paint right on the jar to waste as little paint as possible and avoid the hassle of cleaning a painting tray.
If you don't get the coverage you want in a given coat of paint, trust that you'll get it with the next coat. Going over the same spots on glass will just pull off the paint.
After each coat of paint, wash your brush and allow the jar to dry completely. I dried my jars upside down on a small flat dish drying rack.
If there are any spots on the jars that need additional coverage, you can fill them in at the end with a small paintbrush. There were a few little spots around the top edges of my vases. But I chose to leave them as is, so they look slightly worn. It's completely up to you if you want to fill in these spots or not.
When you've finished painting your jars, give them a couple of coats of acrylic spray to seal the paint and minimize chipping. Give the acrylic spray a full 24 hours to set before you handle your vases again.
Place one flower frog in each vase.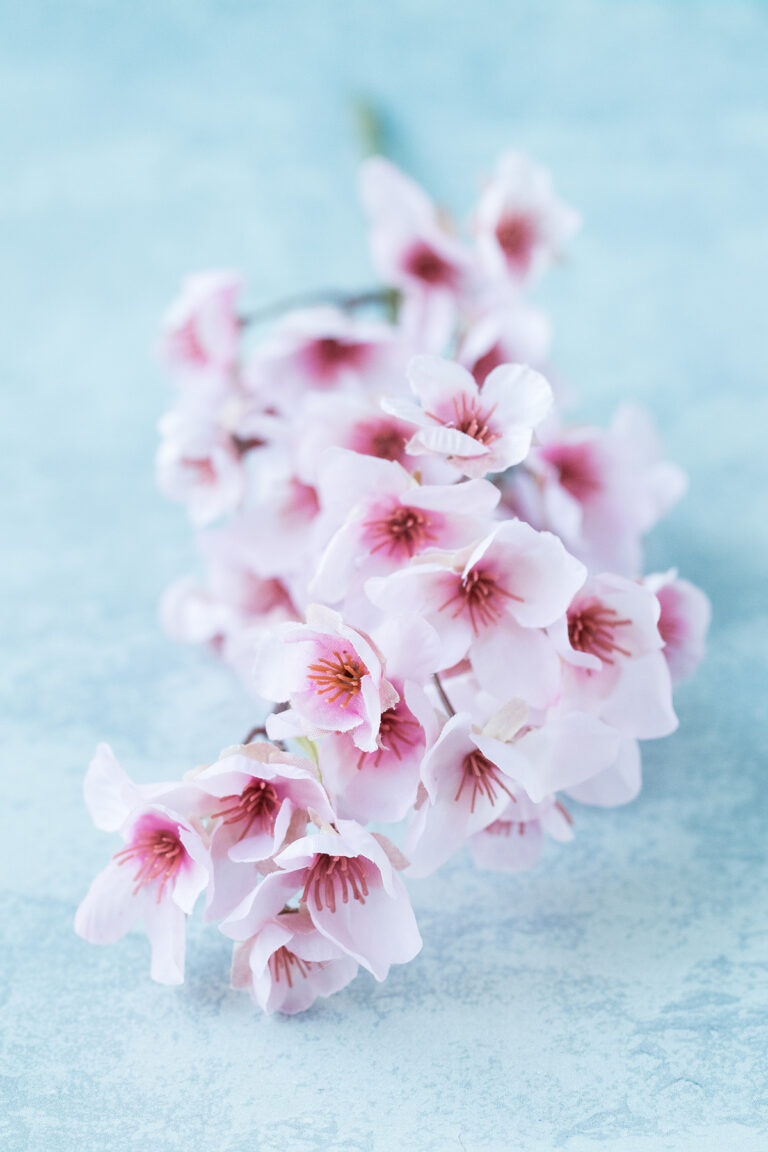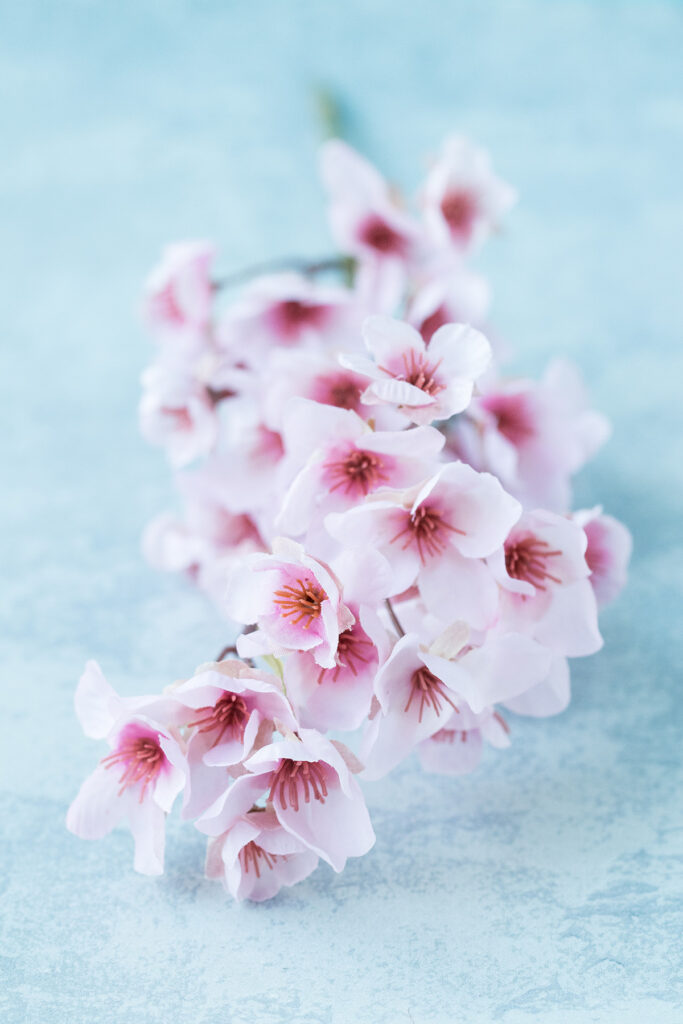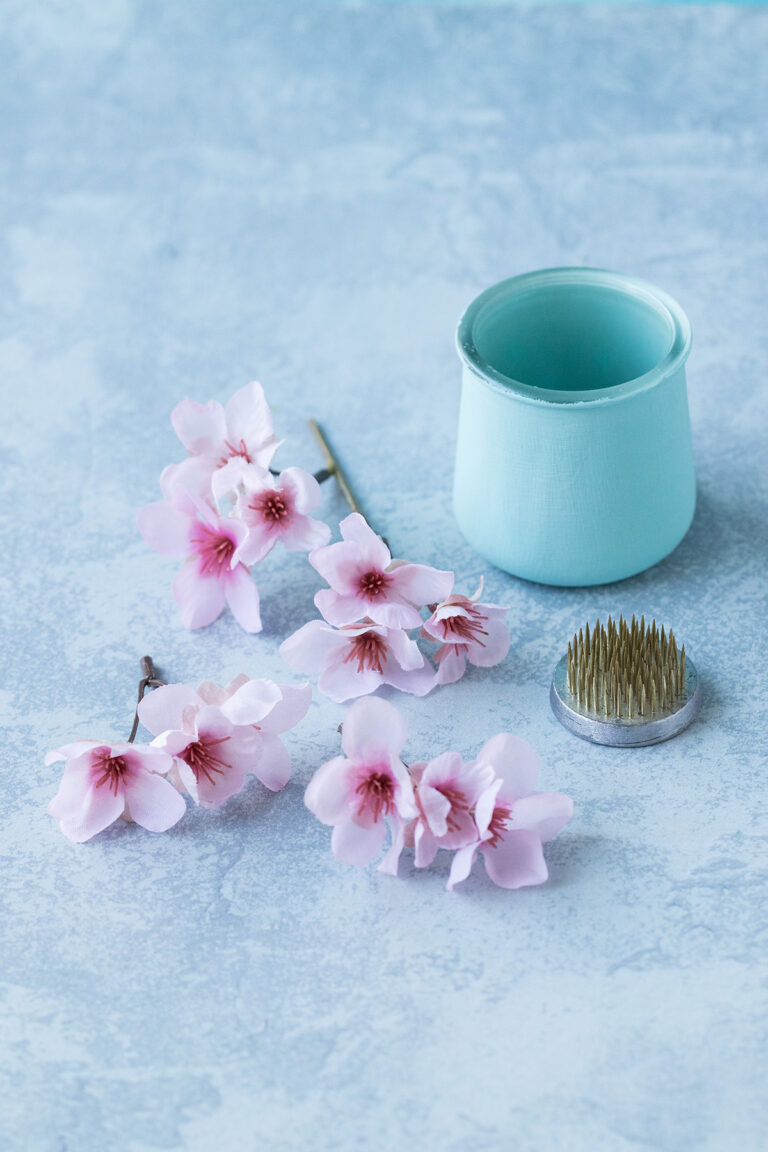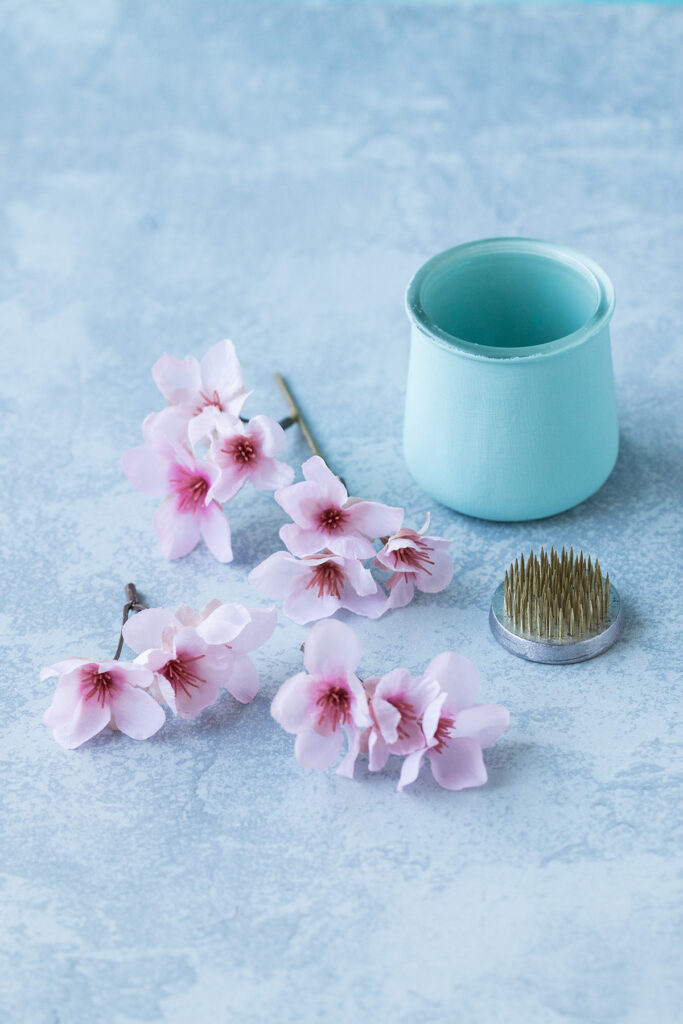 Use the wire cutters to trim down the faux cherry blossoms or other flowers to size for the vases. I'm showing you an example with about how many pieces you'll need for each vase and how big you want to cut them. It's up to you exactly how you want to cut and style your flowers to achieve your desired aesthetic.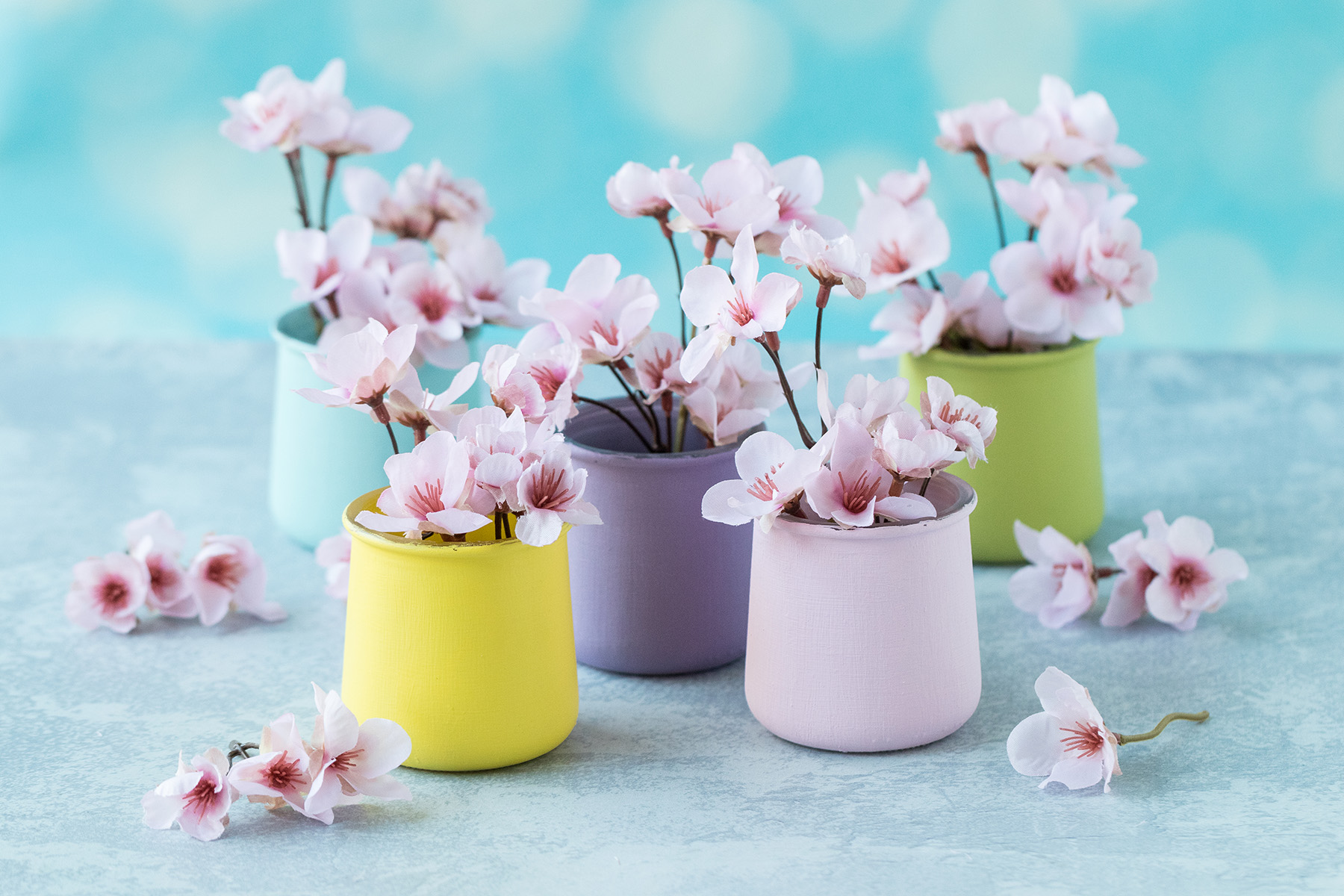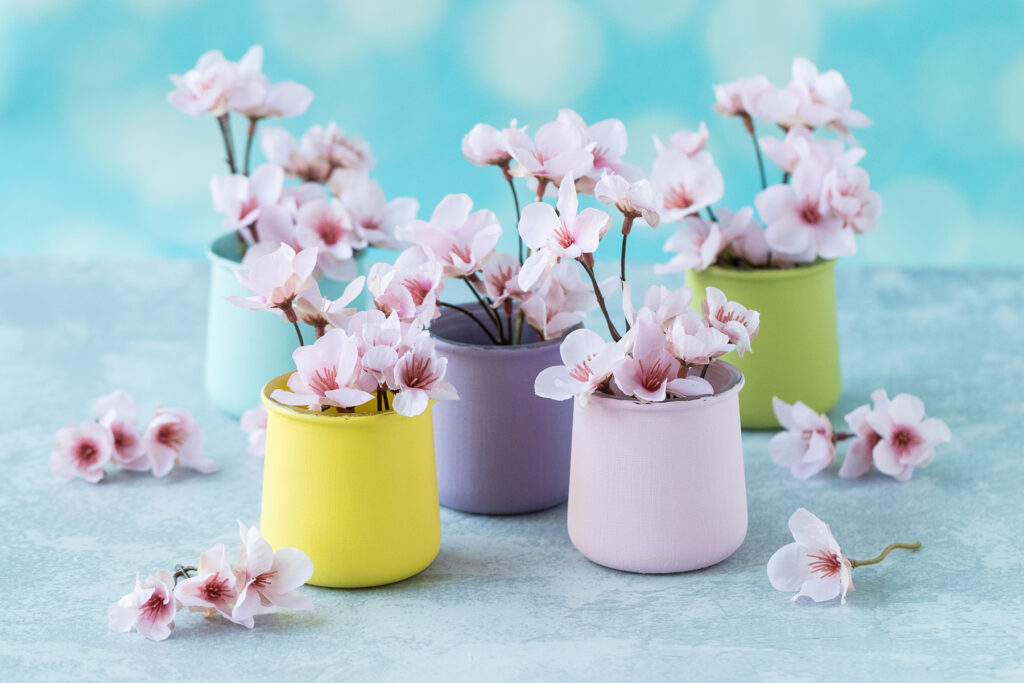 Once you've finished arranging your flowers, you can display them in your home. There are so many possibilities for these simple spring vases. They look great on an entryway table, mantel, dining room table, or kitchen windowsill. I also think that they would make a whimsical display on a nightstand.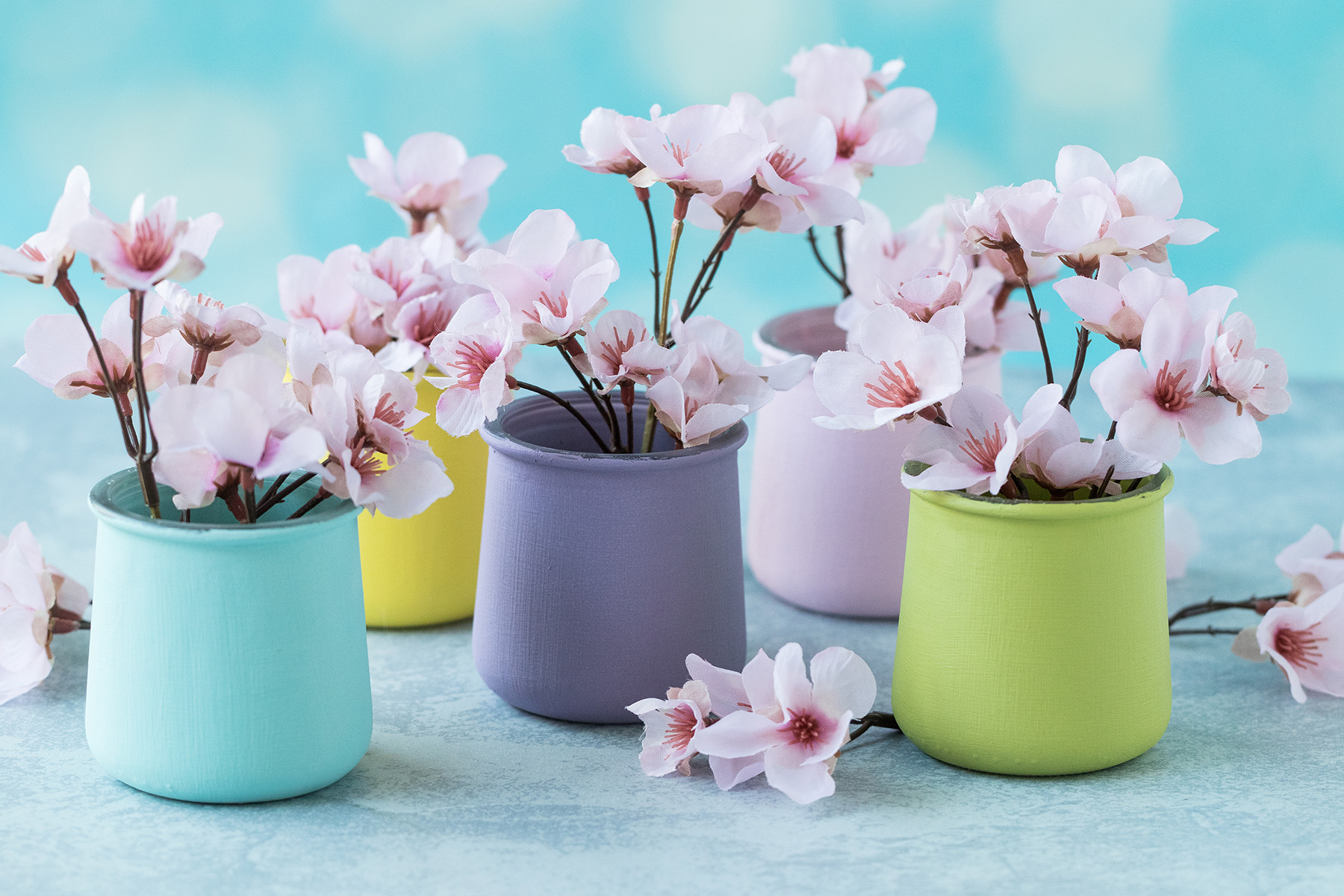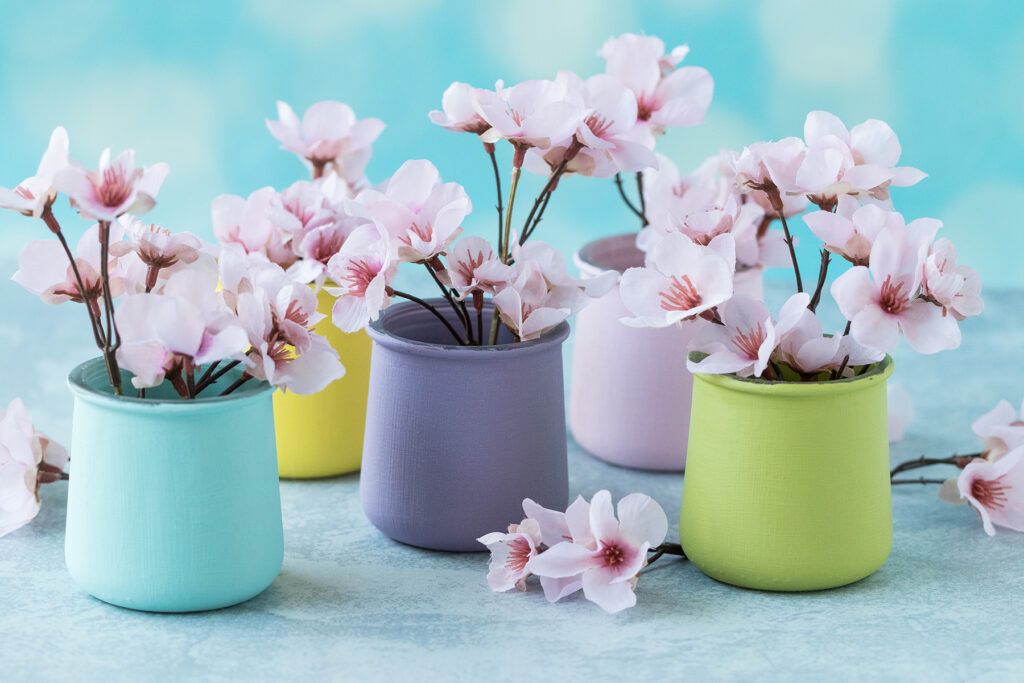 I want to make the pastel vases but don't have any Oui jars. Where can I get them? Will other small glass jars work?
You can always find listings for Oui yogurt jars on eBay and Etsy. If you belong to any local buy/sell or freecycle groups, I would check them as well. You can put out your own request in these groups if don't see any jars listed.
Other small jars work well, too. For example, small mason jars are a good option.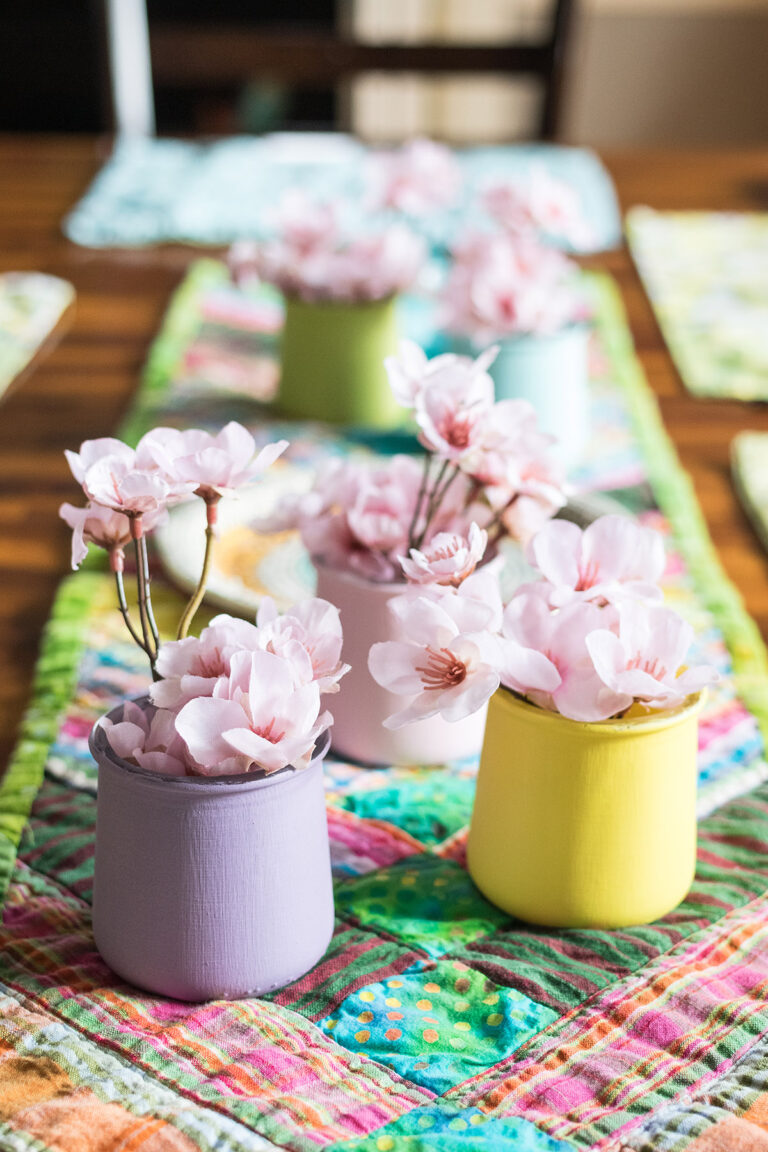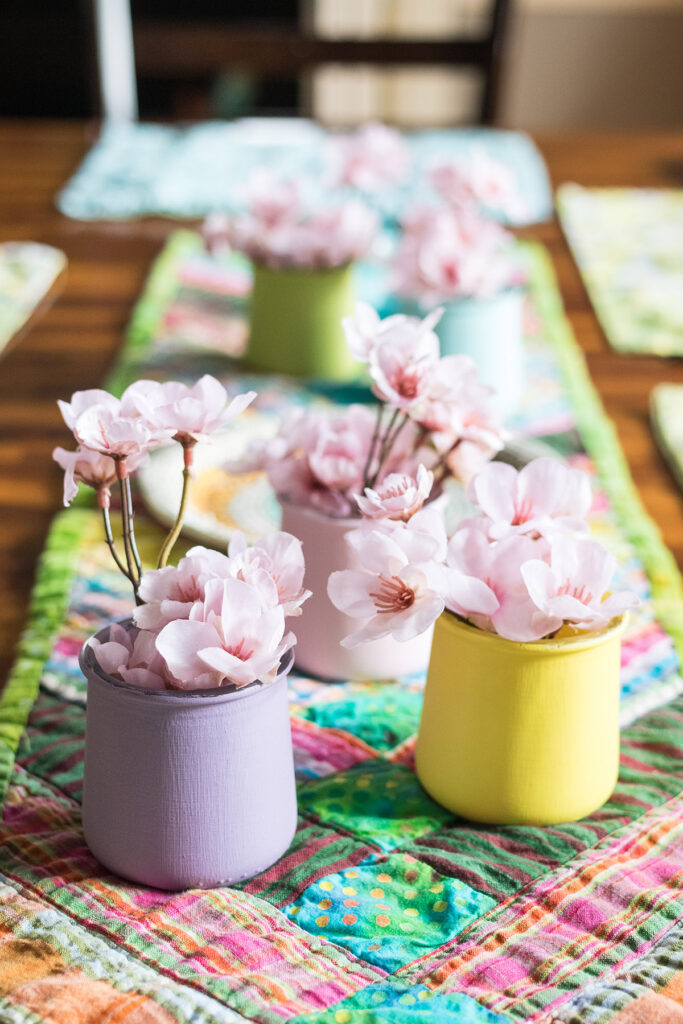 Trays for displaying your vases
Currently, as you can see in the above photo, I'm not using a tray for my pastel vases. But I wanted to include a few links for trays for styling your new vases. A tray is a perfect way to anchor your vases, creating a beautiful focal point.
ALGARY wood candle holder with metal handles. I actually purchased this wood candle holder for another Oui yogurt jar decor tutorial that I'll be publishing later this spring. It fits five Oui yogurt jars perfectly. I never get tired of this dark wood aesthetic. It's timeless and fits seamlessly into so many decor styles.
MyGift vintage aesthetic gray wood tray with metal handles. This wood candle holder is similar to the one above but in a lovely vintage-inspired weathered gray and with a slightly different handle design. It's a very similar size and as such, will also fit five Oui yogurt jars.
TERRA HOME wood decorative tray. This wood tray is slightly smaller, most likely a better fit for three Oui yogurt jars, and includes three metal plates, which would work nicely with the glass jars.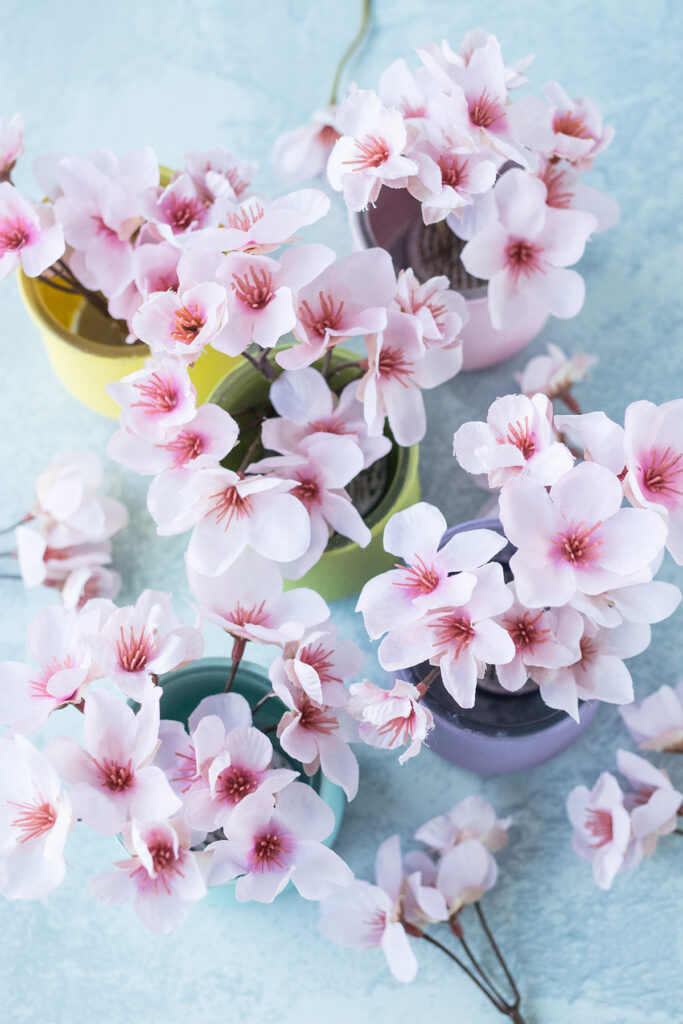 [Disclaimer: There are a few affiliate links in this post. Thanks for your support!]
Did you make the upcycled Oui yogurt jar pastel vases?

I want to see them! Tag your images #RoseClearfield on Instagram or Twitter or post a photo to my Facebook page.
Pin this post for easy access to the upcycled Oui yogurt jar pastel vases later!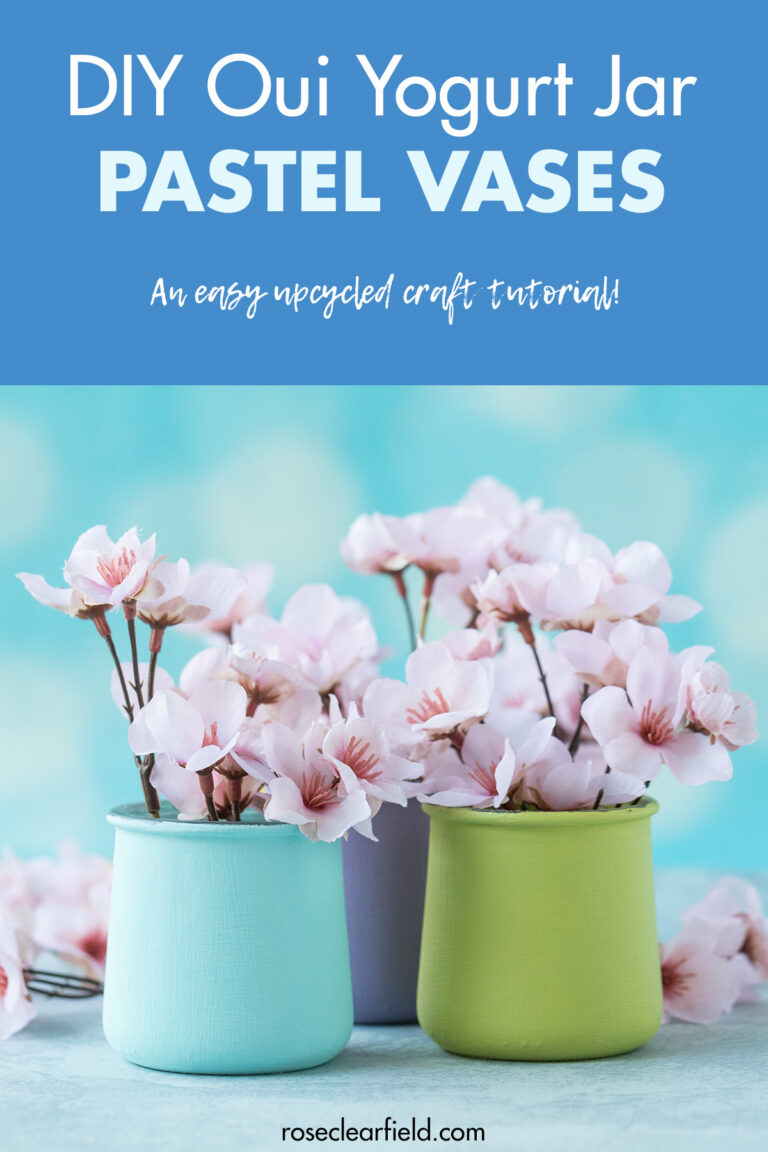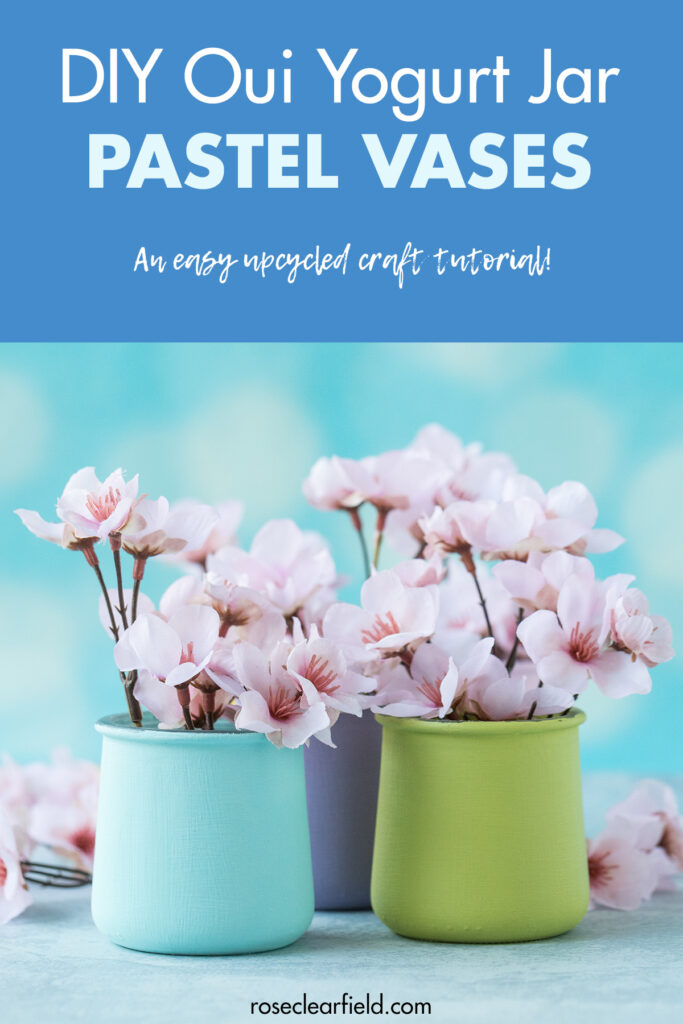 More spring DIY projects: