This is the preemie edition of the newborn favorites! I'm sharing just a few of the items we've been loving these first few months with Genevieve.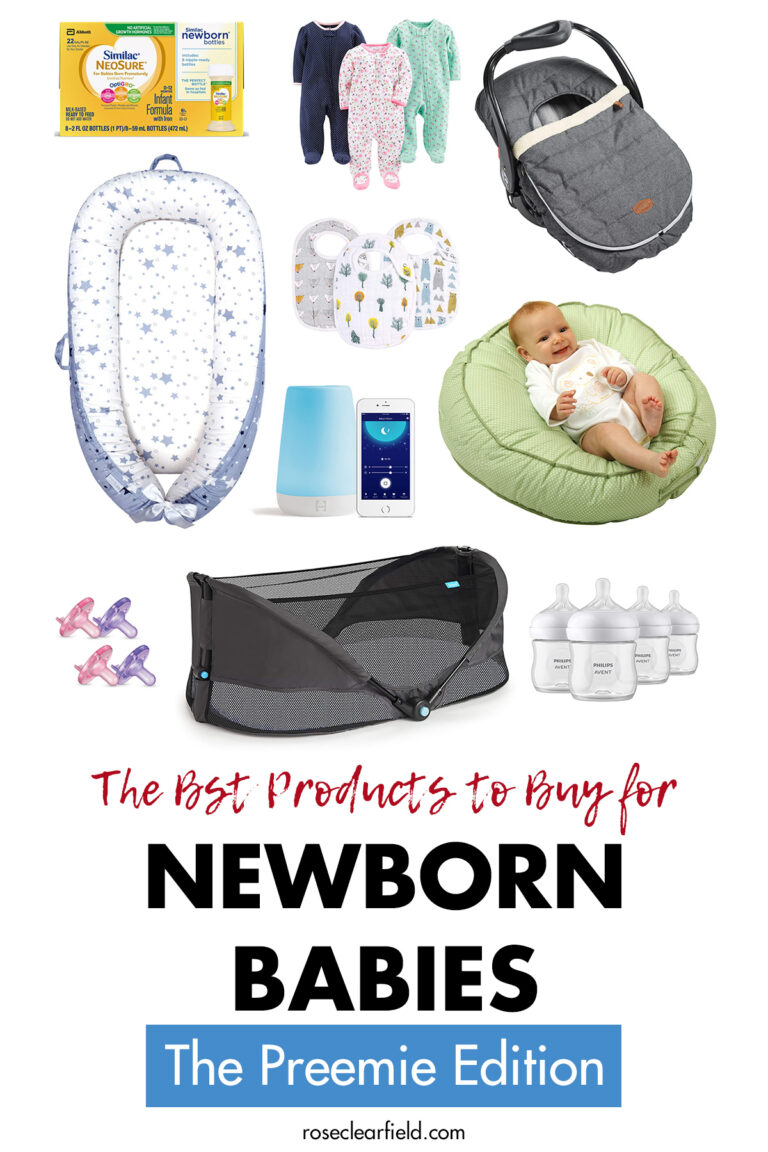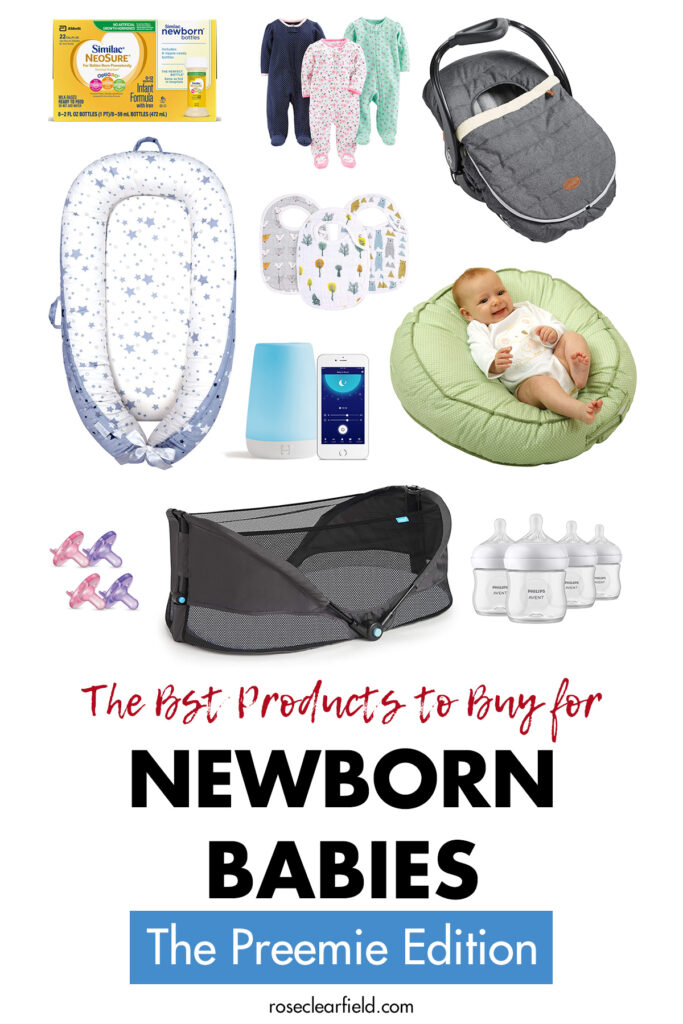 I know that it seems crazy to be sharing another newborn favorites post less than a year since I shared Olivia's newborn favorites. But it's been such a different experience with a preemie. There are quite a few items that we didn't use with Tommy or Olivia.
There are a few repeats as well. I have some tried-and-true newborn favorites that I've used with all three kids and can't recommend enough. There are also a few new-to-Olivia items that we've been able to use with Genevieve as well, which has been great.
Baby recommendation posts have always been really helpful to me as a mom. I hope that my posts are helpful to others as well.
Travel bassinet
We still own the Munchkin Brica Fold 'n Go Travel Bassinet from Olivia's adoption and were able to use it for Genevieve as well. Our Florida Airbnb actually had a bassinet, which is where she slept the first couple of nights out of the NICU. We still used the travel bassinet to put her down elsewhere in the Airbnb and at our other Airbnbs on the way home.
My only complaint about this travel bassinet is that like most baby/toddler beds, it has almost no padding. I know that they don't want you lining/layering anything else in it, but I always have. I love everything else about it. The bassinet folds up so easily, and you can wash it.
Winter car seat cover
We brought both girls home to Wisconsin in winter and used the J. J. Cole car seat cover for lots of outings. It's been vital for going to the doctor's office and church, and we've used it for other excursions, like walks, when the weather has been colder.
Lightweight car seat cover
I bought a new lightweight car seat cover (similar) for Genevieve, as I didn't like the one I bought for Olivia. We've kept the girls much more covered when we've been out and about than we did with Tommy, both due to it being winter and with everything going on the last couple of years.
I was dubious about this style of stretchy car seat cover, as I don't need a nursing cover. But it stays on well and is so easy to remove and then set up again. The lightweight cover is also much more breathable than the winter cover. Sometimes I actually bring both, so I can switch to the lightweight cover once we're inside.
Car seat insert
Genevieve was still so tiny when she left the NICU (about five pounds). We bought this car seat insert to help her. I had no idea it would make such a big difference, especially for the drive home from Florida. Her poor little head would have slouched so much otherwise. You can use it in strollers and bouncy seats, too. Genevieve outgrew it around two months.
LeachCo Podster
I have used the LeachCo Podster with all three of my kids and can't recommend it enough. Both Olivia and Genevieve were able to use it from three weeks old on, which was so great. As Genevieve was so tiny, it was the first place you could put her down and have her feel really snug. She's just starting to benefit from a seat that rocks or bounces (that was not her thing early on at all) but still loves the pod.
Similac Neosure pre-mixed bottles
I only ever used the premixed formula with Tommy and Olivia for a few days after leaving the hospital. The NICU staff recommended continuing with the Similac Neosure pre-mixed bottles for a longer period with Genevieve, as they're such a good size for preemies. While the bottles are so expensive and create a huge amount of waste, they are still the bottles Genevieve likes best. They're also so convenient. We used them exclusively for the drive home from Florida and still use them on the go and for night feedings. I save and wash the tops, so we always have lots of tops ready.
Dr. Brown newborn bottles
I feel like I have to mention the Dr. Brown preemie bottles because they're the only reusable preemie bottles I've found. They've worked all right while Genevieve has had time to grow. It takes Genevieve forever to eat with them. She blows right through the premixed bottles. And I hate washing them. The small size and extra pieces for better venting are more tedious than even the smallest Philips Avent bottles. The small size of the bottle opening also makes it impossible to fill the bottles neatly. Even when you hold the bottle over the formula container, it's still messy.
Philips Avent bottles
Thankfully, around the two-month mark, Genevieve was big enough that I was able to switch to the Philips Avent bottles, which are what I used with both Tommy and Olivia. Genevieve likes them a lot better than the Dr. Brown bottles, too. She eats much more quickly and neatly with them. The Avent bottles are so much easier to fill and wash. Even though they don't have the extra venting components, I don't feel like there's any real difference.
Pacifiers
I know that there is always controversy about pacifiers. But all three of my kids have used the Philips Avent pacifiers and loved them. Genevieve took to pacifiers pretty much right from the start. I can't imagine trying to soothe her and put her to sleep without them.
Snap bibs
I bought a couple of sets of muslin snap bibs for Olivia, knowing that we'd be able to use them with Genevieve, too. One set is from Harmonybebe, and one set is from Little Grape Land. I run all of these bibs through the wash at least twice a week. They remain soft, all of the snaps have held up, and the colors haven't faded much. Both sets are big. But I would rather have too big than too small. And at over a year old, Olivia can still use them.
Bassinet
We caved and bought a new bassinet for Genevieve, the Fisher-price Soothing Motions Bassinet. I absolutely love the one we used for Tommy. But neither of my girls did, and it just wasn't worth fighting it with Genevieve.
Let me be clear that this bassinet didn't work miracles. It was still a process getting Genevieve to first go down at night without flipping out completely. And it was still a process getting her to go down quickly after eating during the night and then sleep two or three hours stretches. She was about two and a half months old before I felt like we'd really turned a corner. Ultimately, the bassinet has been worth it. The light, noise, and vibration features do help. I just wish that they'd run for a little longer before shutting off automatically, especially the lights, which shut off before the noise and vibration.
Bassinet insert
Before we bought the new bassinet, I bought the Mamibaby baby lounger nest to use in the original bassinet. Needless to say, it wasn't sufficient. I'm still using it in the new bassinet, and it does help. The whole bassinet is smaller, so she feels a lot more tucked in with the insert. I know there are a zillion warnings about this sort of thing. As Genevieve can't roll over yet, I have zero worries, and it's been absolutely fine.
I love that you can take it apart and wash the cover easily. I also love that it's so portable. You can bring it on vacation, for days at grandma's house, etc.
Hatch
All of my kids have some sort of light/sound combination in their rooms. I didn't start Tommy or Olivia on white noise nearly as early as I did with Genevieve. Right now we run the Hatch in our room all night. I also turn on the white noise on the bassinet every time I put Genevieve back in it.
Preemie pajamas
These Carter's preemie pajamas were the only preemie clothes I was able to find that shipped quickly and weren't really fiddly. A number of places, like Old Navy, have preemie sizes but only online and you pay through the nose for expedited shipping. When you need preemie clothing, you need it right now, so that wasn't an option. I was able to get a few preemie outfits in person at Target. They're okay, but again, fiddly (i.e., lots of snaps, you have to pull them over the head, there are multiple pieces, etc.).
Genevieve has now outgrown these pajamas. But it was so nice to have comfy pajamas that fit so well for the first month or so.
Swaddle
Genevieve is using the Love to Dream Swaddle UP original swaddles. They've worked well for Olivia, so they're what I tried for Genevieve. Obviously, her sleep hasn't been perfect, but swaddles still help a lot.
Muslin blankets
I still have all of the muslin blankets I used for Tommy. I also picked up a similar Winnie the Pooh muslin blanket set for Olivia. We own muslin blankets in a couple of different sizes. I like the bigger size of both of the blanket sets I've linked here for wrapping babies tightly.
Both girls have needed a lot of swaddling. For the past 15 months, I've washed all the blankets at least twice a week. They've held up so well. The blankets are still so soft, and any fading looks completely natural. They don't have any rips or holes or anything.
[Disclaimer: There are a few affiliate links in this post. Thanks for your support!]
If you're looking for even more baby favorites for this stage of life, I wrote separate newborn favorites posts for Tommy and Olivia!
Pin this post for easy access to the newborn favorites resource later!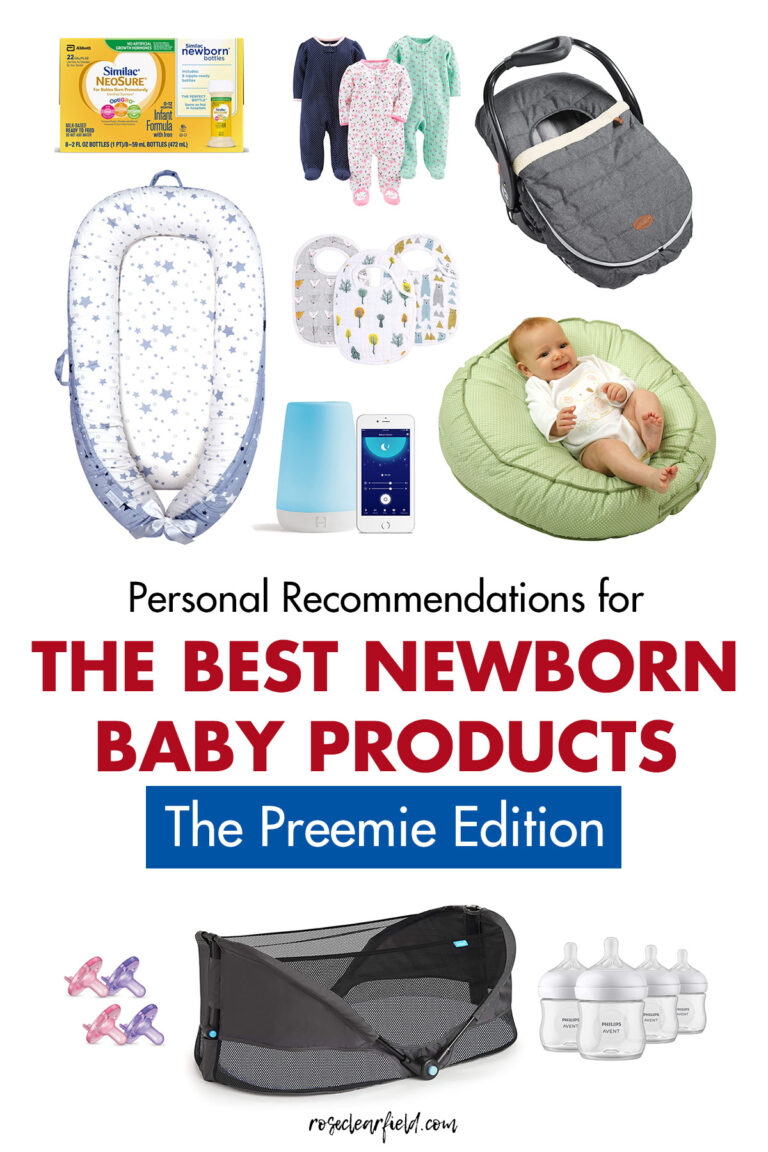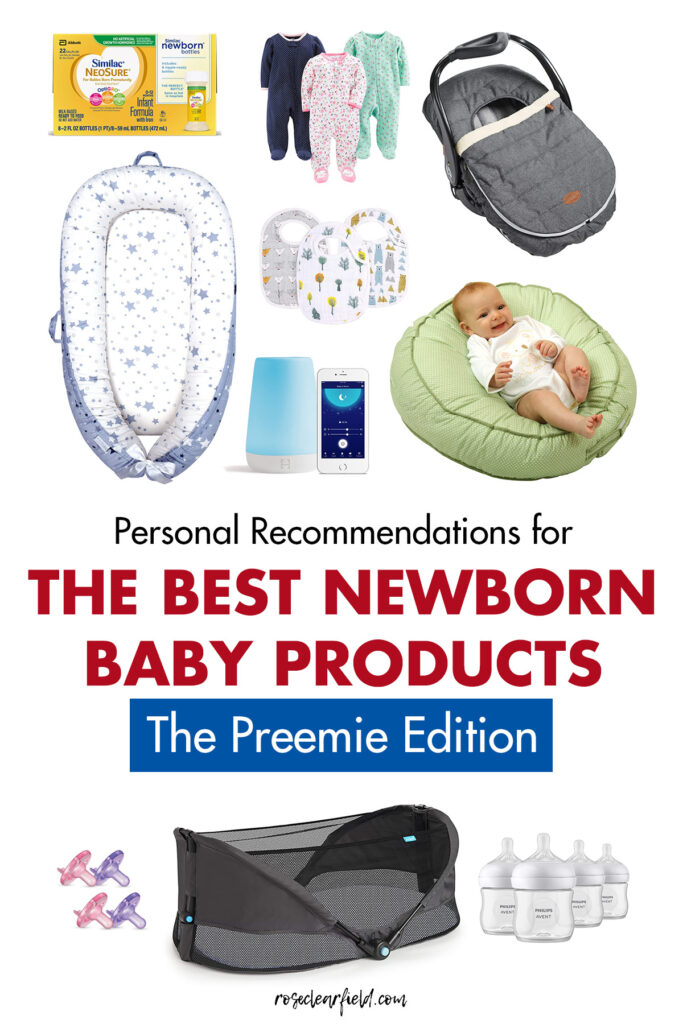 More baby favorites posts: