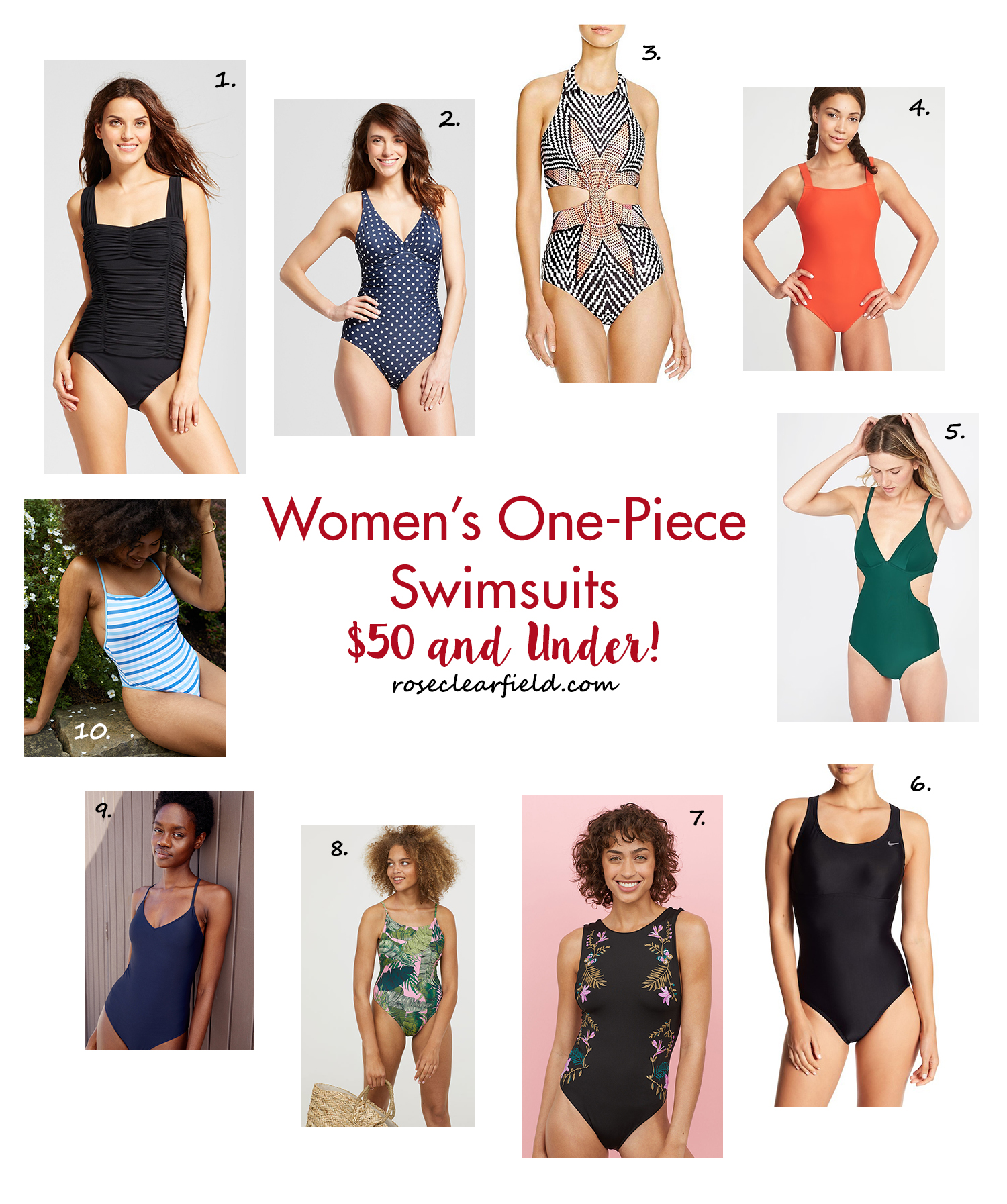 I'm not going to lie: having a kid has been a huge motivation to update my swimsuit collection. I've bought exactly one new swimsuit in the past decade. While I don't get to the pool much these days (obviously, right?), this still seems ridiculous. With a few vacations on the calendar and a lot of backyard pool time on the horizon, I picked up a few new women's one-piece swimsuits.
I am super picky about swimsuits and don't want anything low-cut or revealing, which is nearly impossible to find anywhere. I love two-piece suits. The one swimsuit I bought a couple of years ago is a two-piece, and I couldn't be happier with it. But I decided as a mom in my mid-30s (still getting used to saying both of those things), women's one-piece swimsuits were the way to go this year.
So I'm talking about the swimsuits I bought (#1 and #2 on the list) and a few of my other favorite women's one-piece swimsuits, too! All of the suits I've highlighted are $50 and under. I don't like spending a lot of money on clothes and believe that you shouldn't ever have to spend more than $50 to get an attractive swimsuit that you love.
1. Shirred – Black. Black is classic. Swimwear is no exception. This swimsuit is available in olive green, too. But I like the shirring a lot better on the black. It adds just the right amount of detail to this timeless swimsuit style.
2. Polka Dot Pleat Front – Navy. I am a huge sucker for polka dots. Navy/white is great color pairing that will never go out of style. The cut is so simple and flattering with a nice open back and criss-crossed straps.
3. Tropical Tribal Padded Knot Front Monokini. Kristy posted about this swimsuit a couple of years ago. It's still available and still so cute. You can't beat the price either. There are a couple of other styles available as well.
4. Square Neck – Orange. I am always wary of trends, but square necks are so flattering and a great option to have in your wardrobe. There are almost no sizes left in this style except for orange. It's a nice shade for ladies who want a bold suit.
5. Cut-Out – Spruce Mountain. Similar to the tropical tribal suit, this cut-out design offers visual interest and leaves some bare skin without being low-cut. I love the green shade I've linked, but it comes in a few other options, too, including floral.
6. Racerback Spliced – Black. I'm in awe that this Nike women's one-piece is under $50. I have owned a few Nike swimsuits over the years and wear a lot of their athletic clothing, all of which holds up really well. If you're looking for a very simple suit in classic black, this is a great option.
7. Embroidery – Black. A one-piece swimsuit in black with beautiful embroidery that you can put in the washing machine? This concept seems way too good to be true. But it's not! I love the embroidery detail so much.
8. Leaf-Patterned with a Lacing Back. I can't resisit a leaf pattern. Pink/green is a great combination. The lacing back adds such a fun detail.
9. Tie-Back – Navy. This swimsuit is another classic option with a timeless front cut and a really fun tie-back design on the back. I linked the navy here, since I'm only highlighting one other navy suit. It also comes in black and green.
10. Apron – Blue/White Striped. Finally, I can't put together a clothing feature without including at least one striped pick. I can wear this color palette every week and not great tired of it. If it isn't your favorite, though, search their site for apron suits for some more selections.
[Disclaimer: There are a few affiliate links in this post. Thanks for your support!]
Do you have any favorite women's one-piece swimsuits?
Feel free to leave links to your favorite items in the comments!
More summer fashion inspiration: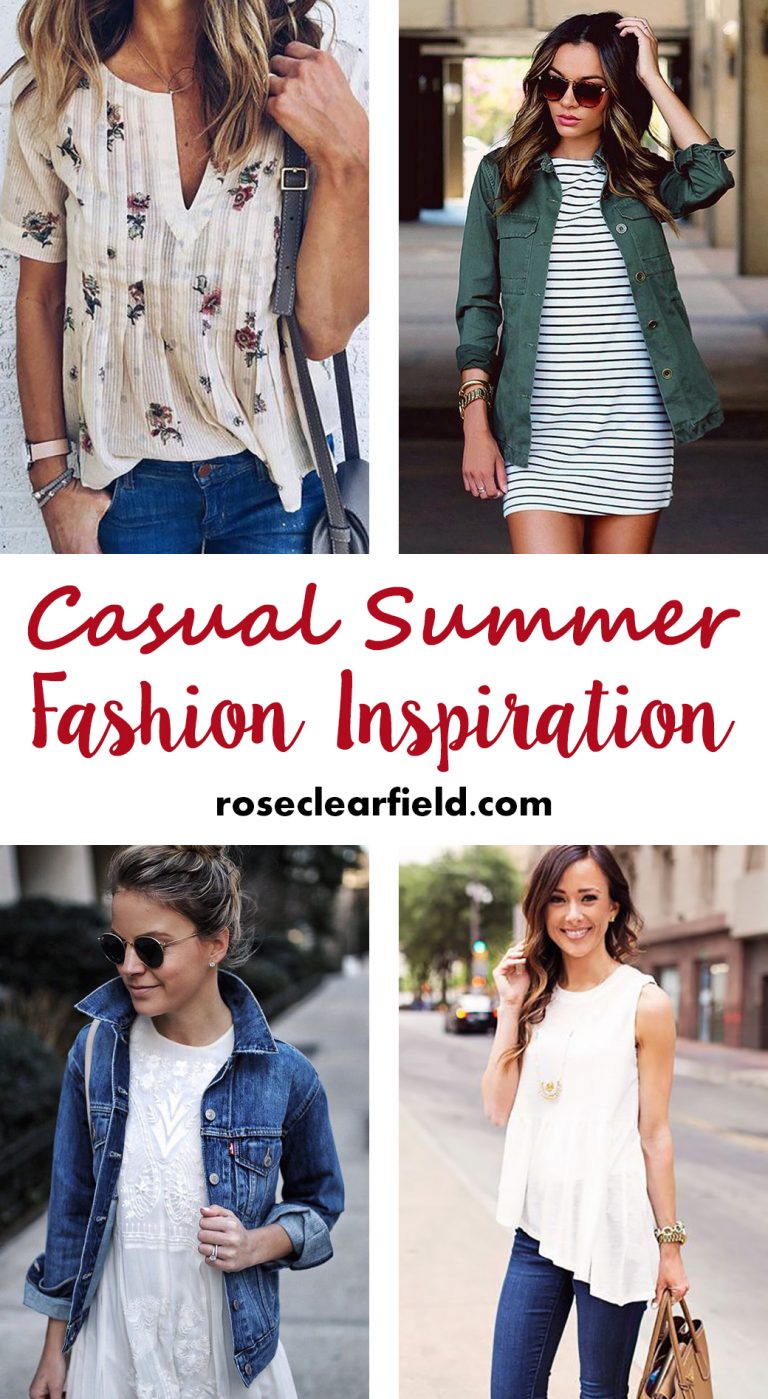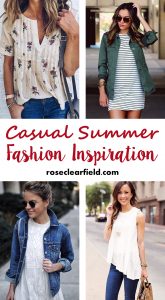 Casual Summer Fashion Inspiration