[Updated for 2020] I love decorating for different seasons and holidays within a small budget. I also love finding ways to swap in new home decor periodically without devoting tons of storage space to out of season items. Enter cheap fall throw pillow covers on Amazon.
Purchase a base set of throw pillow inserts. Then purchase the covers you'd like for varying seasons and holidays. Done. You need a lot less storage space for throw pillow covers than full throw pillows. And you'll be able to rotate your home decor with ease all year long. Win-win.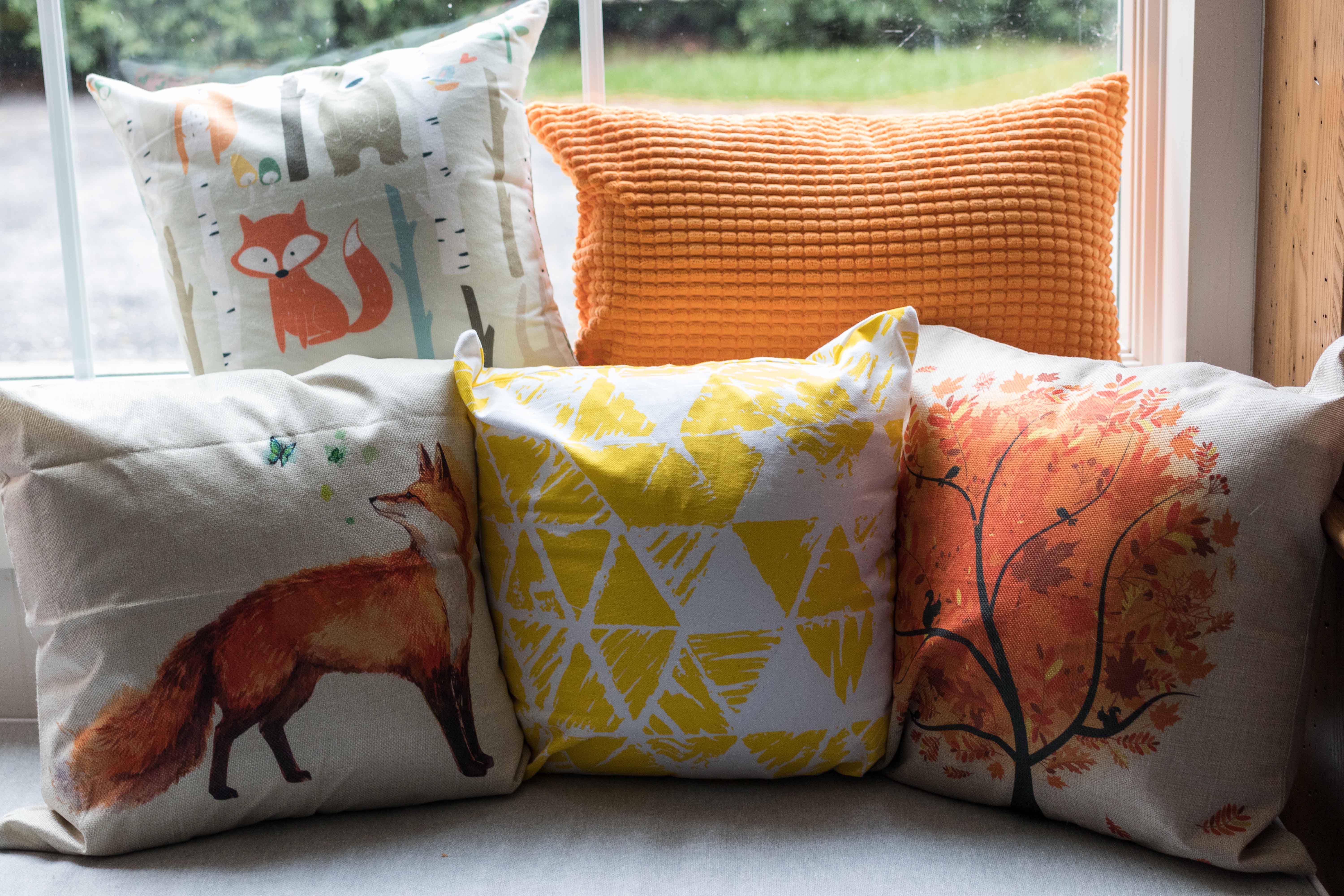 Since I started this blog, I have slowly overhauled my entire embarrassingly outdated, worn-out throw pillow collection. I share a little more about this process in my first cheap throw pillow covers on Amazon post. Since I put together that original throw pillow post, I have added a few more pillow inserts, so I can distribute pillows around the living room and my office. I have also updated both window seat cushions, yay! You can see one of them in the pictures in this post.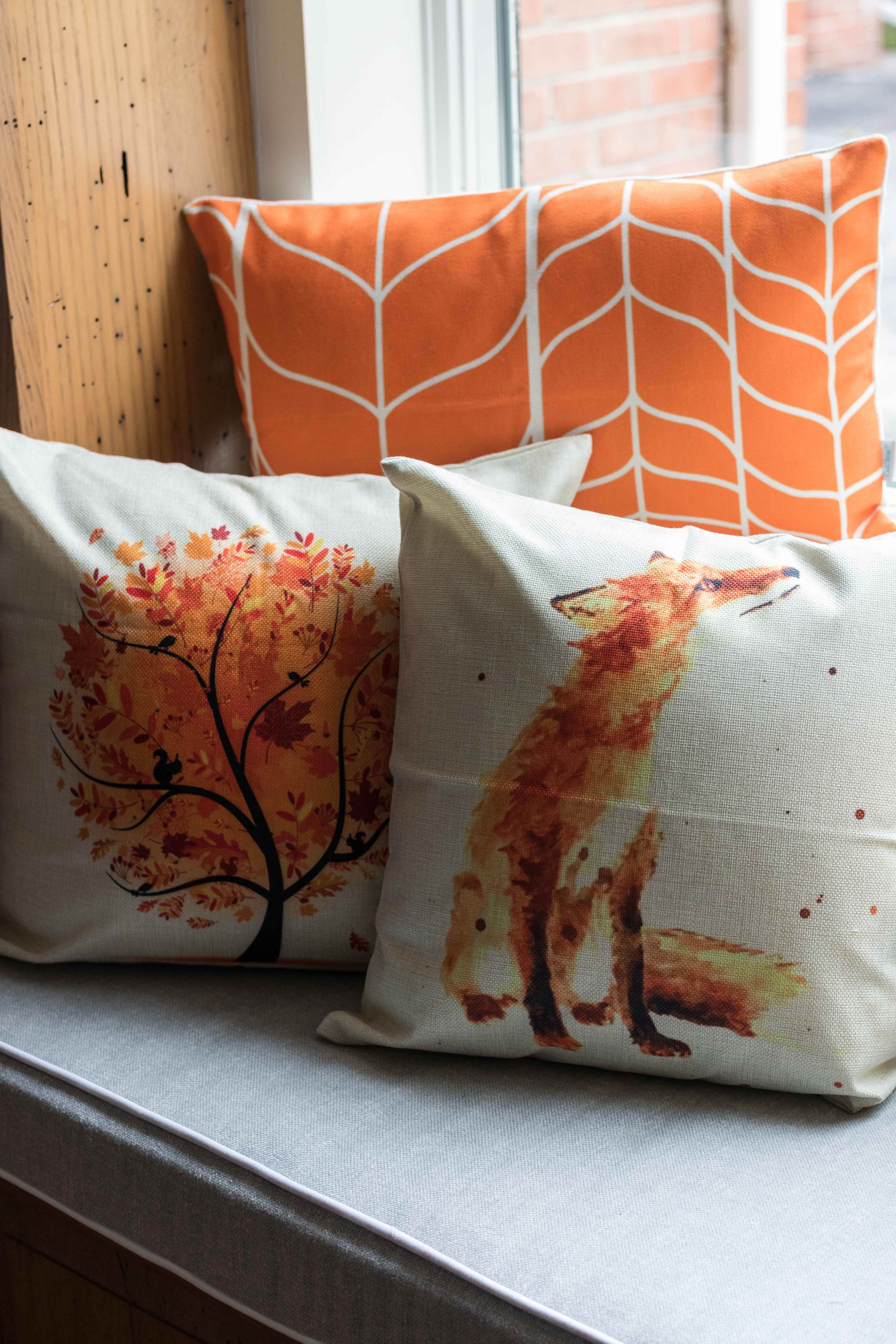 You will spend more than $10 on a throw pillow insert. However, it's well worth the investment. When you care for your throw pillows properly, the covers will past for years and years. You'll just have to replace the inserts every once in a while. Overall, you'll spend far less than you would on an entire new set of throw pillows, even from the most affordable big box stores. And you won't have to devote nearly as much storage space to seasonal and holiday home decor. Win-win. I suggest purchasing a mix of square and rectangle pillow inserts and covers in multiple sizes to create visual interest with your throw pillow displays.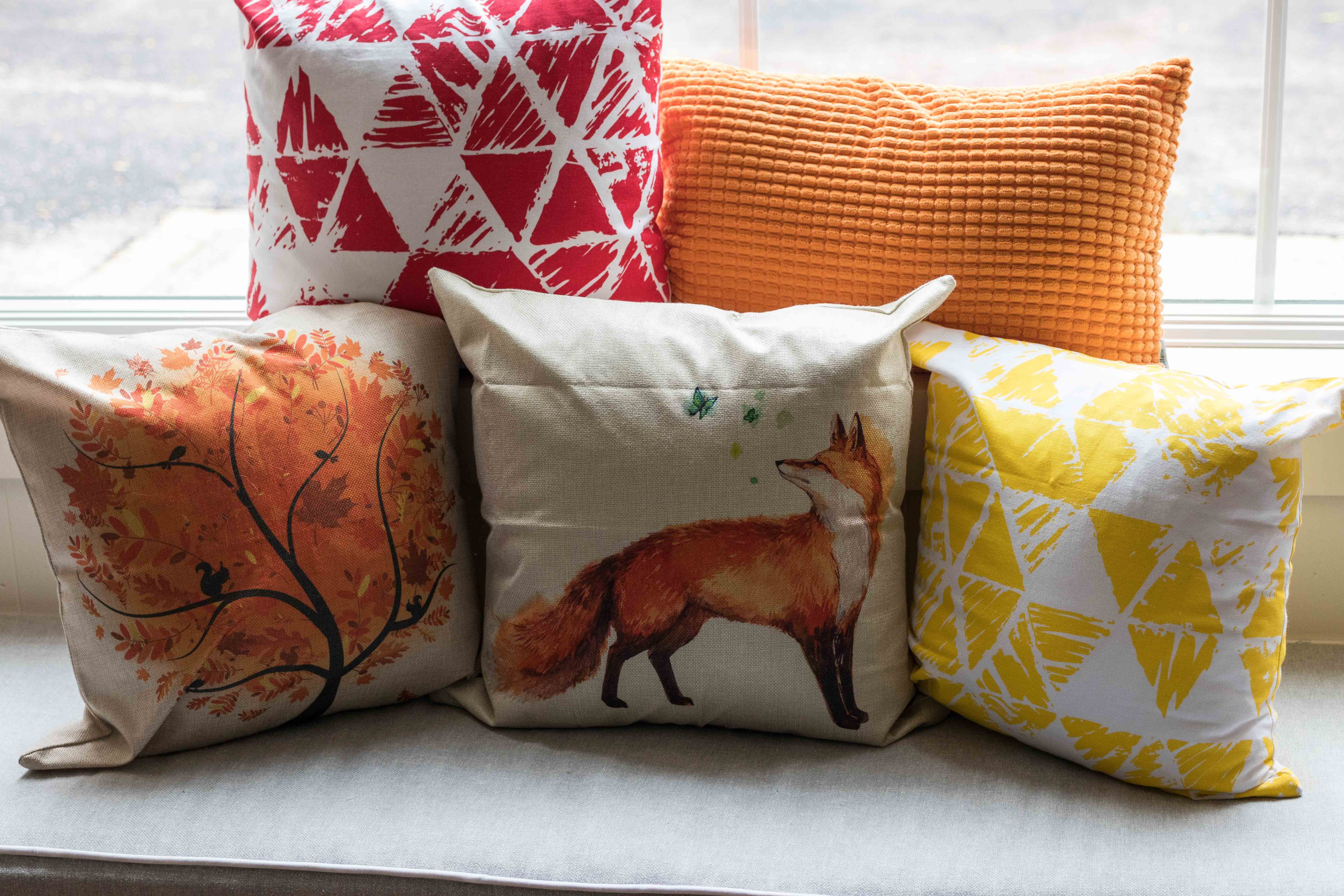 I've linked all of the cheap fall throw pillow covers on Amazon that I've purchased as well as a selection of other options. If you have any questions about specific throw pillows I've featured in this post, don't hesitate to ask.
General cheap fall throw pillow covers on Amazon
maple leaf – single // maple leaf – set of 2 // maple leaf – set of 4 // fox oil painting // fall tree with bicycle // fall trees with birds scene // vivid fall tree painting // fall tree // yellow and orange leaves // pumpkin // embroidered pumpkins – set of 2 // fall foxes – set of 5 (also sold separately) // pumpkins // hello fall with acorns // fall cart with pumpkins and leaves // fall apple tree // squirrel // woodland animals // multicolored fall aspen trees // watercolor pumpkins and fall flowers // hello autumn with acorns
Solids and patterns for autumn
orange and white buffalo check // bright orange // modern chevron stems – orange // chili pepper red // yellow // dark brown // burgundy modern quatrefoil pattern // orange and white stripes // yellow modern circles rings chain pattern
Halloween throw pillows
jack 'o lantern // Halloween silhouettes – set of 4 // Halloween silhouettes II – set of 4 // Halloween silhouettes III – set of 4 // trick or treat – black and white // trick-or-treat – set of 4 // black cat // October 31 with spider
Thanksgiving throw pillows
give thanks – black and white // give thanks with a grateful heart // there is always something to be thankful for with birds // thankful with pumpkins // Happy Thanksgiving with turkey
More and more cheap throw fall throw pillow covers on Amazon are available on Prime each month. However, a number of cheap throw pillow covers are so inexpensive because they ship directly from China. As such, shipping often takes a few weeks. Make sure to doublecheck the shipping options before placing a throw pillows cover order, so there are no surprises.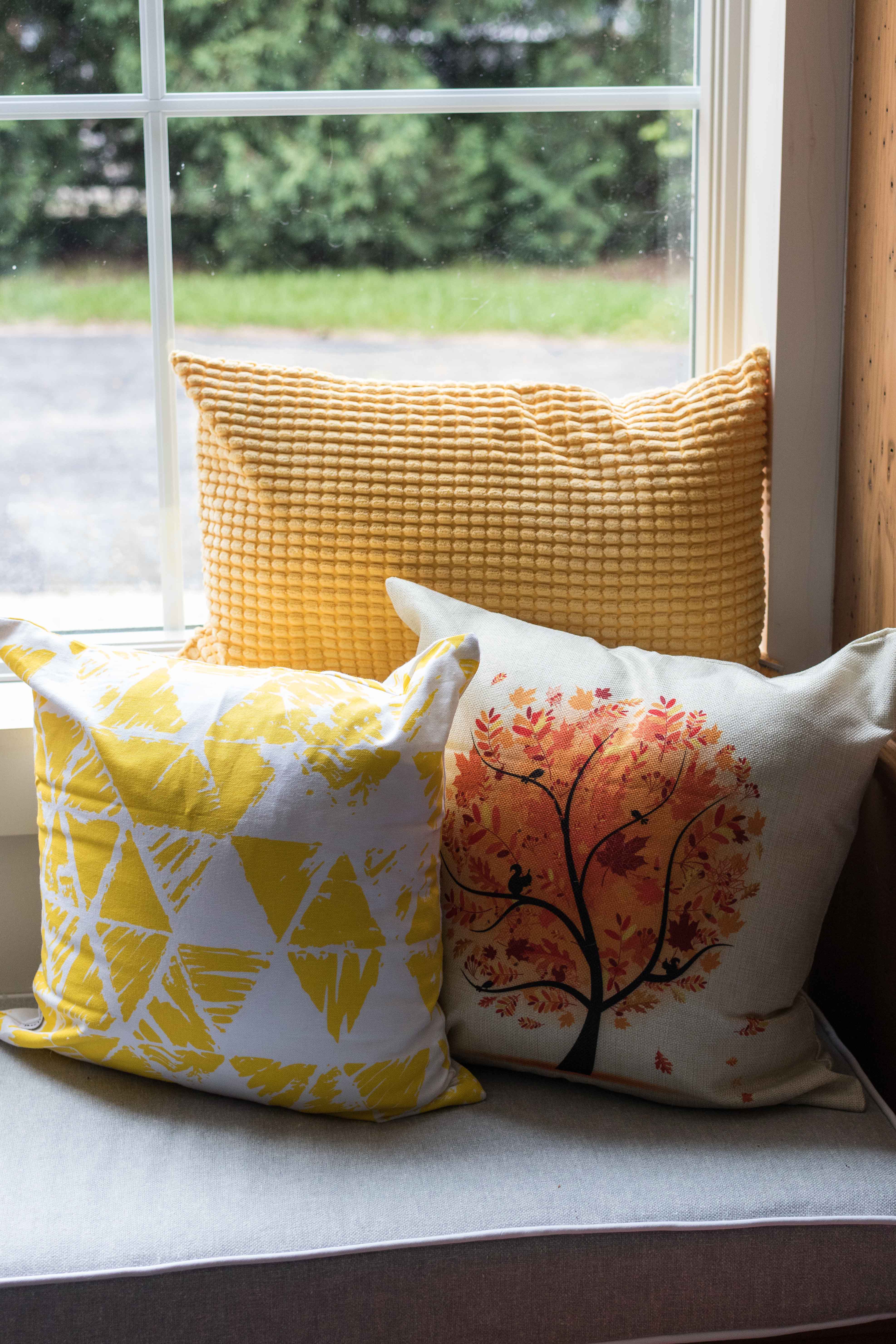 [Disclaimer: Amazon didn't sponsor me to write this post. The Amazon links are affiliate links. Thanks for your support!]
Did you purchase one or more cheap fall throw pillow covers on Amazon?

I want to see them! Tag your images #RoseClearfield on Instagram or Twitter or post a photo to my Facebook page.
Pin this post for easy access to the cheap fall throw pillow covers on Amazon later!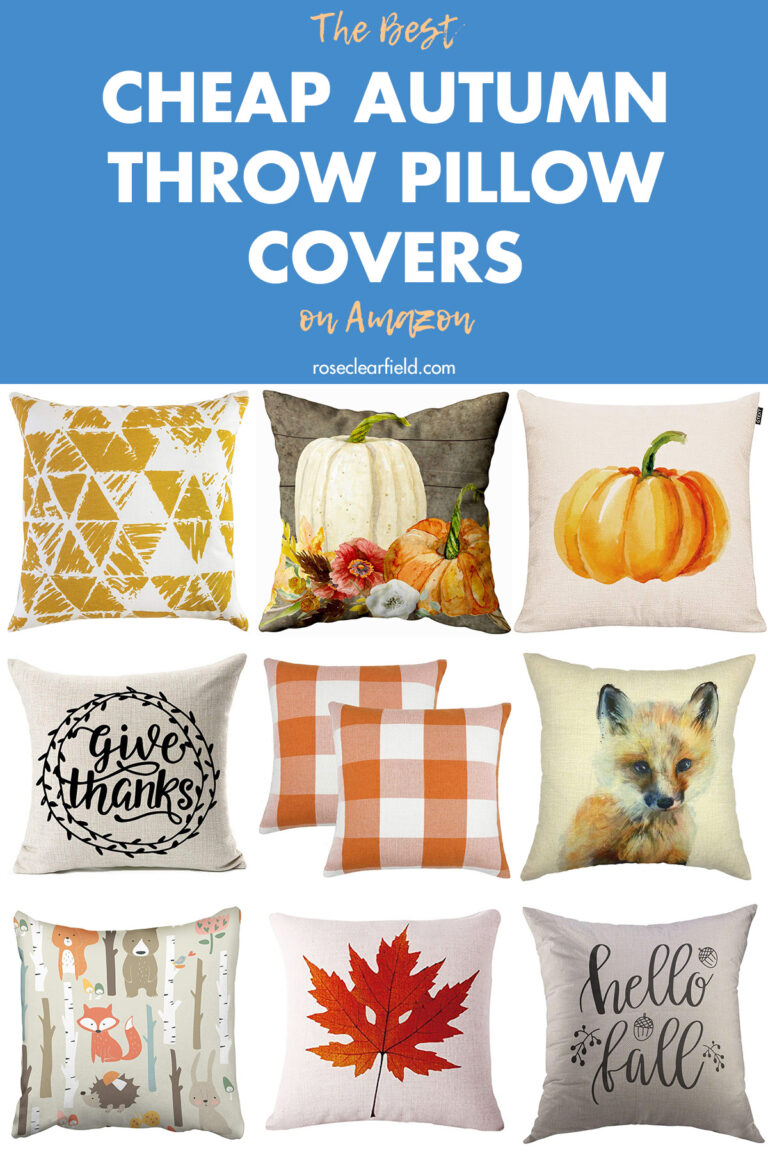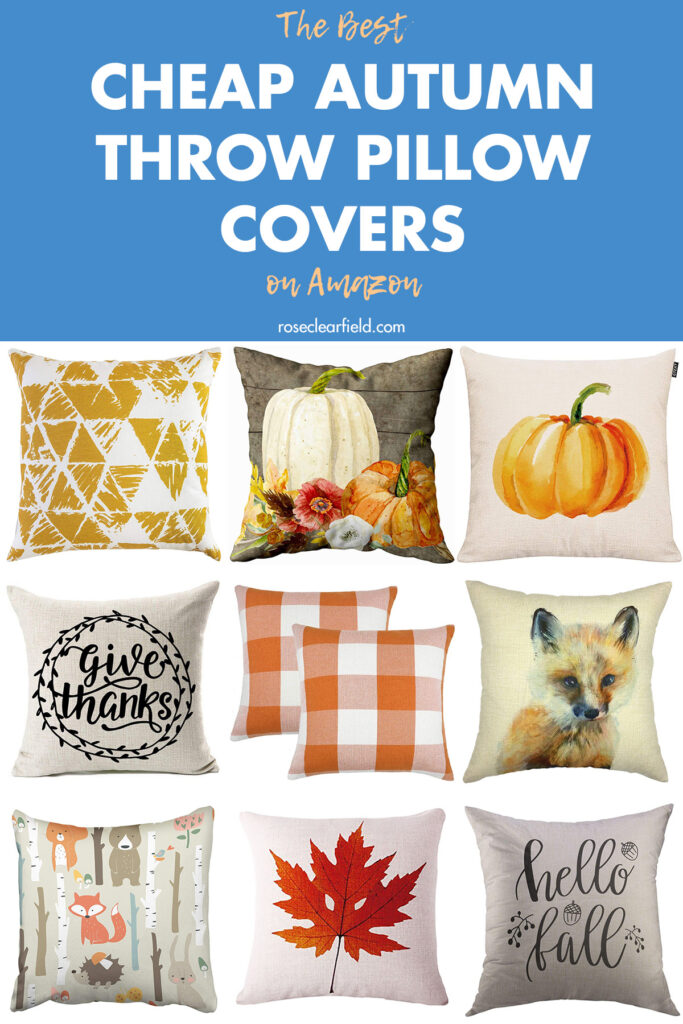 Shop Amazon for throw pillows all year round!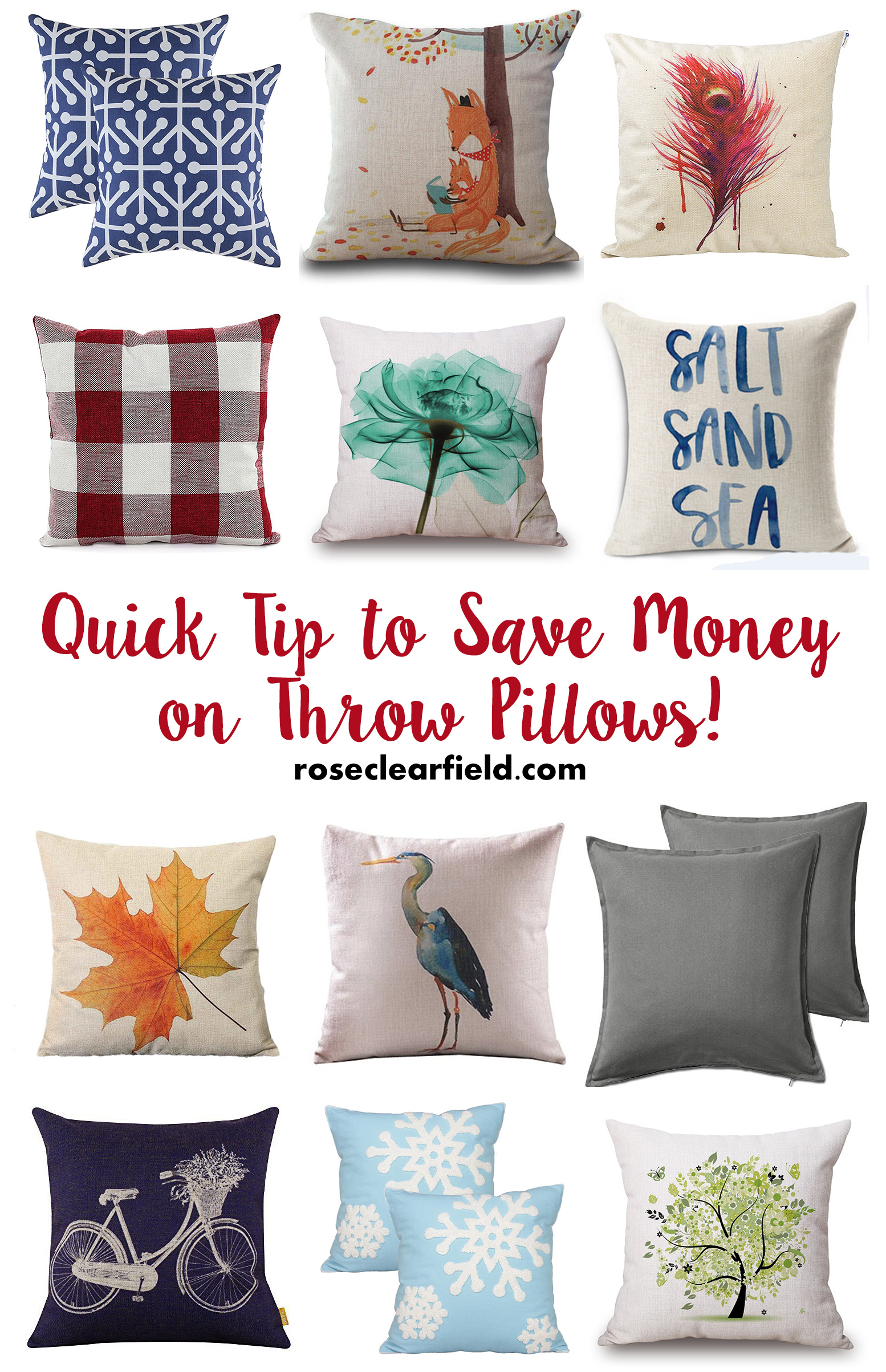 $10 and Under Throw Pillows on Amazon
More fall decor resources: