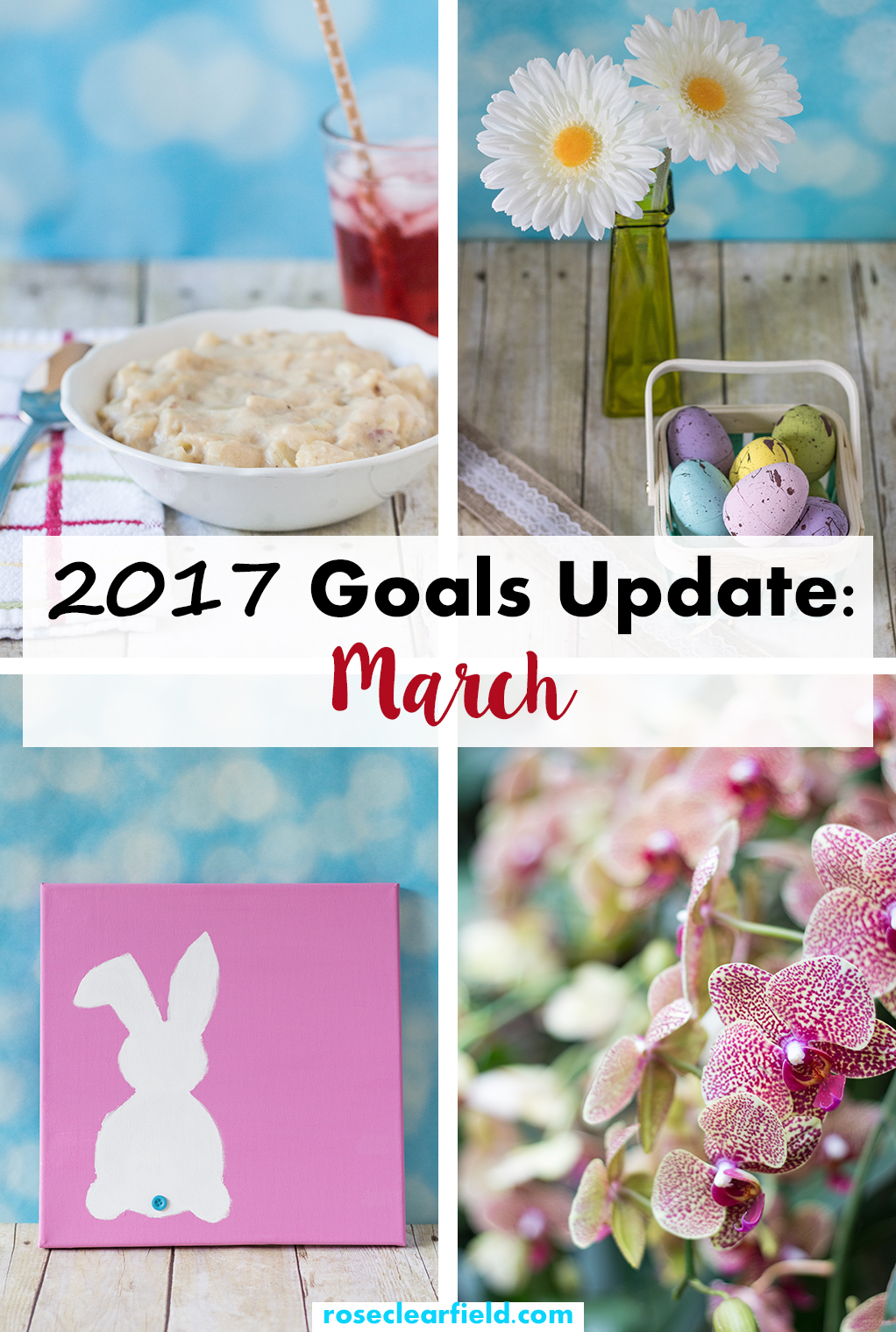 I set some really ambitious 2017 goals. In an effort to keep myself accountable, I'm sharing my monthly progress here on my the blog.
Reach five figure monthly blog page views.
After a pretty mediocre traffic month in February and a very slow start to March, I'm so excited that I crushed my monthly blog page views target for March. My monthly blog page views for December 2016 were 3,093 views. To reach 10K visitors by the end of December 2017, I need to increase my page views by about 570 per month. Here are my monthly blog page view benchmarks and actual views thus far in 2017.
January benchmark – 3,663, actual – 5,561
February benchmark – 4,233, actual – 3,505
March benchmark – 4,803, actual – 6,079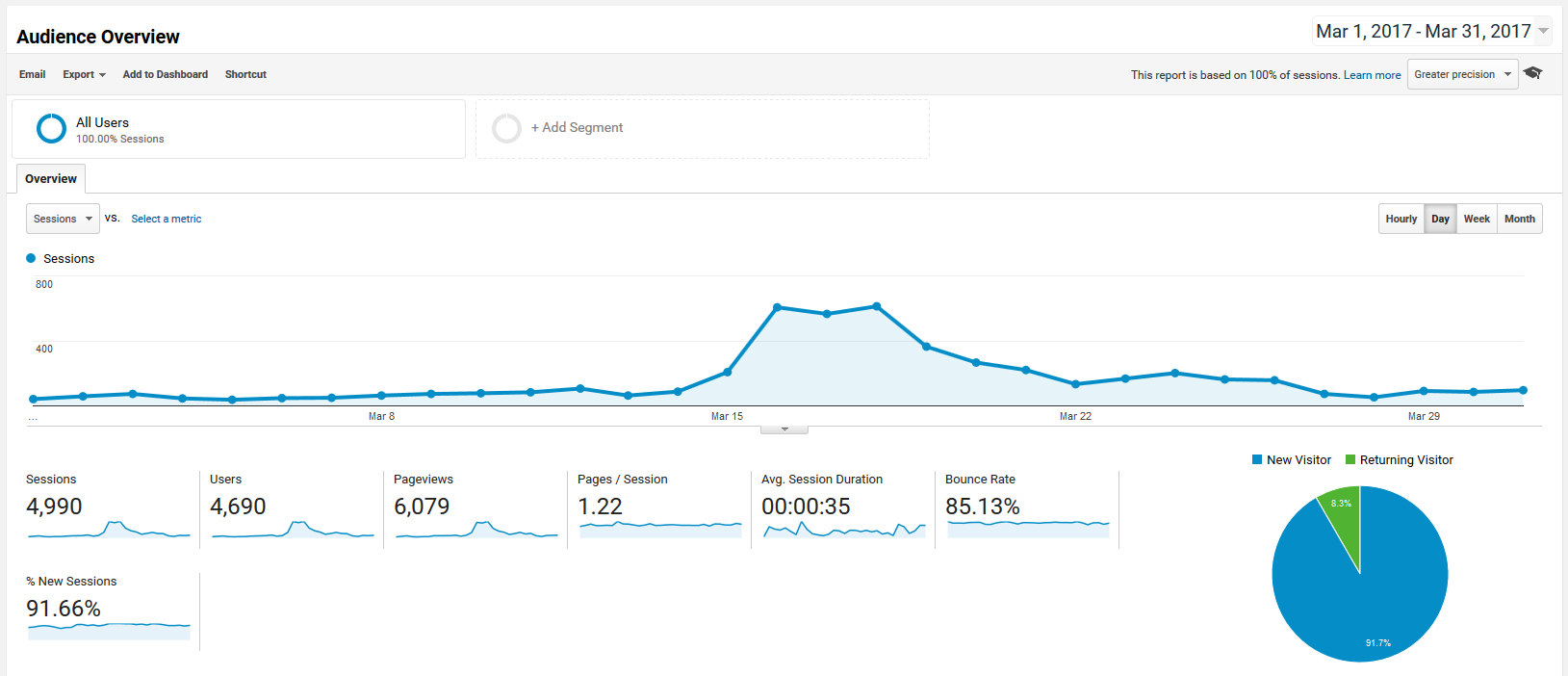 As you can see from the analytics screenshot, I had a Pinterest traffic spike in the middle of the month with this post and have seen (mostly) higher traffic numbers since then (higher than the beginning of March, anyway). After such a disappointing traffic month in February, it was definitely exciting to see such a boost this month. March was my highest traffic month to date.
A few more positives:
I'm continuing to see more diversity in page views. I still have one post far and away above the rest, but I have a couple of others gaining traction. I see daily traffic to a larger number of posts every single week.
I'm also continuing to see diversity in traffic sources. I know most bloggers don't seem too concerned about their traffic sources as long as Pinterest is bringing in views. Pinterest is great, don't get me wrong, but it could change drastically overnight at any time. I want to keep building other strong referrals.
Reach 2,000 Pinterest followers and 1,000 Instagram followers.
My projected social media figures for March were 1,395 Pinterest followers and 565 Instagram followers. My actual March figures were 1,453 Pinterest followers and 546 Instagram followers.
I hit my Pinterest followers target in mid-March was exciting. I had a great Pinterest followers month in February, so I was on track for a good March, but it was still awesome to hit this mark so early. Also, now I'm on track for an even better April!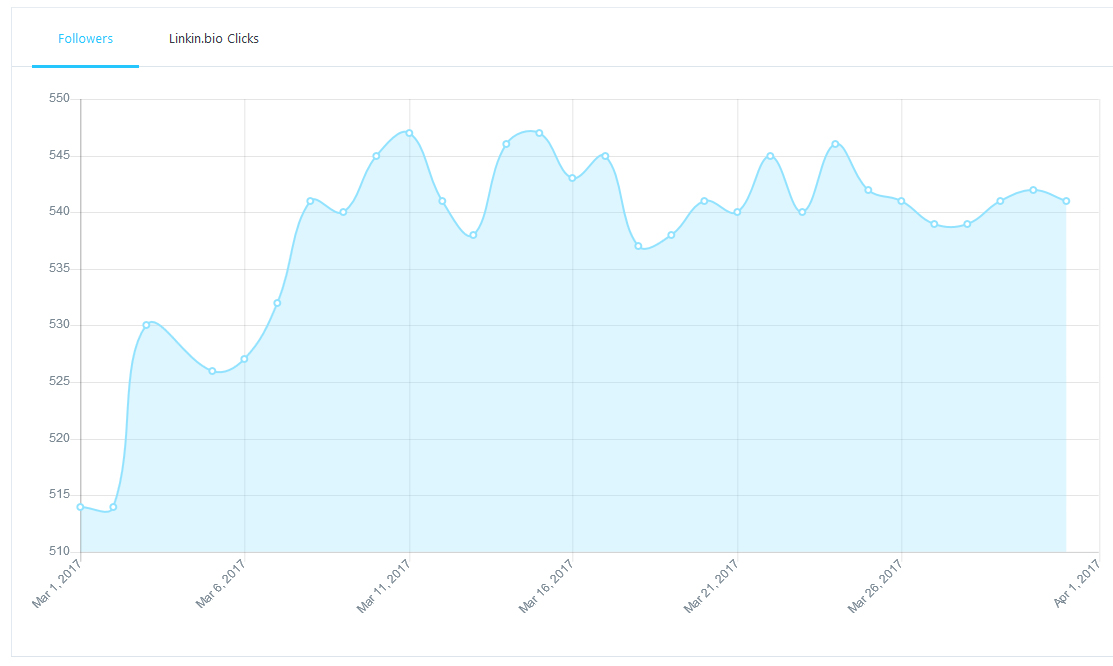 (This graph is from the analytics section in the pro version of Later.) Unfortunately, my Instagram growth (and engagement) really flatlined in March. I didn't change my strategy at all this month, but I couldn't seem to get that number up. I am up slightly from the end of February (514 followers), but this lack of growth is disappointing.
I know that I'm not alone. If you struggled on Instagram this month, too, I definitely sympathize. I don't think this has happened to me, but it is 100% happening to a lot of Instagram users. And the platform's response is less than encouraging to say the least.
On the plus side, I do have a lot of awesome followers who are liking and commenting on my Instagram pics every. single. day. If you're among that list, thank you!
I'm still using the following social media strategies, which I outlined in my goals post.
Participating in Facebook blogging groups.
Using Later to schedule Instagram content in advance.
Commenting on non-follower Instagram accounts daily.
I mentioned in February that I'd modified my social media strategy slightly and had started using Tailwind alongside Boardbooster. I really didn't want to pay for Tailwind and Boardbooster, especially because I also pay for Later, but I am. Tailwind is the better program, but there are a few features of Boardbooster I don't want to give up. I had a lot of content scheduled on Boardbooster (which I wasn't going to re-schedule in a new program because no one has time for that) and am still making the full transition to this new social media scheduling routine. My plan for using both programs is as follows.
Boardbooster
Scheduling to boards where I want regular content posting daily or twice daily.
Scheduling to group boards where I want my "best of" blog content re-posted weekly.
Campaign pinning to group boards for select high performing pins.
Looping for my "best of" blog board and one or two upcoming holiday boards (i.e. right now Easter is looping).
Tailwind
Scheduling the vast majority of the content I post from other bloggers.
Scheduling new blog content to my own boards and group boards and adding it to Tailwind Tribes
Regular pinning from Tailwind Tribes to meet the requirements for varying tribes
I also do some live pinning because it seems to help my Pinterest engagement. I live pin content I come across while randomly browsing Pinterest (that I would pin anyway, regardless of whether I'm trying to grow my Pinterest presence) and/or that fits into boards not directly related to my blog (i.e. Amazing Cats, Turquoise and Red).
Here are my Pinterest Analytics for March. The numbers are all over the place, largely due to the mid-month traffic spike, but my averages are all up from the previous month. (Here's my February update if you want to compare.)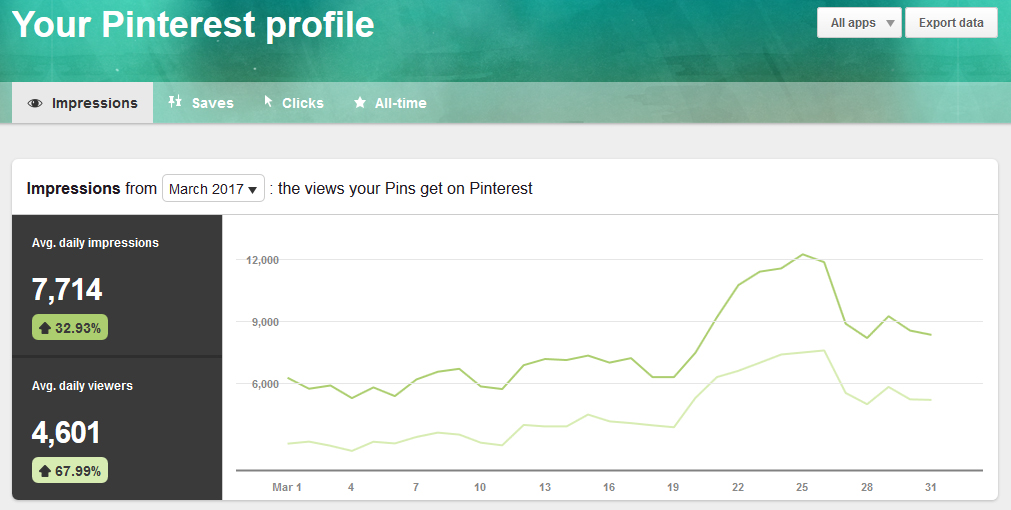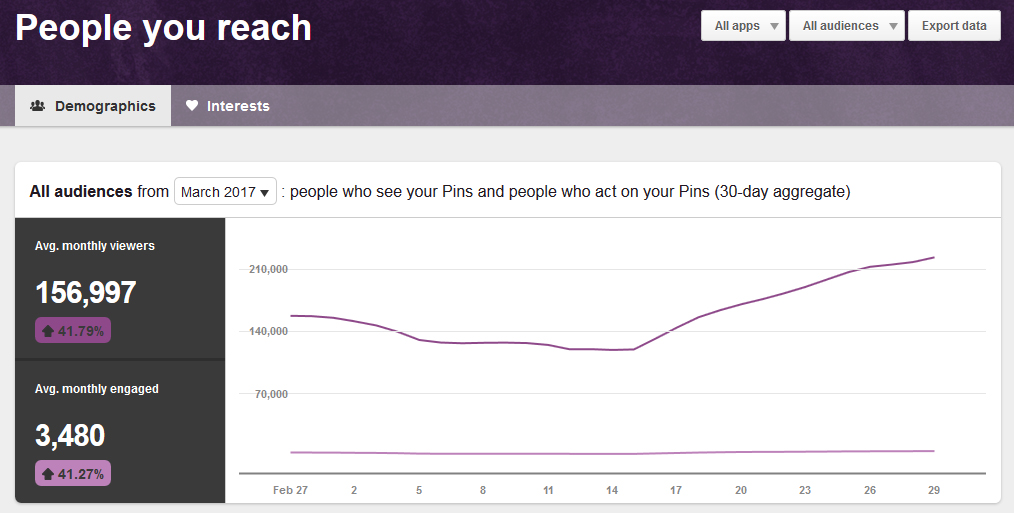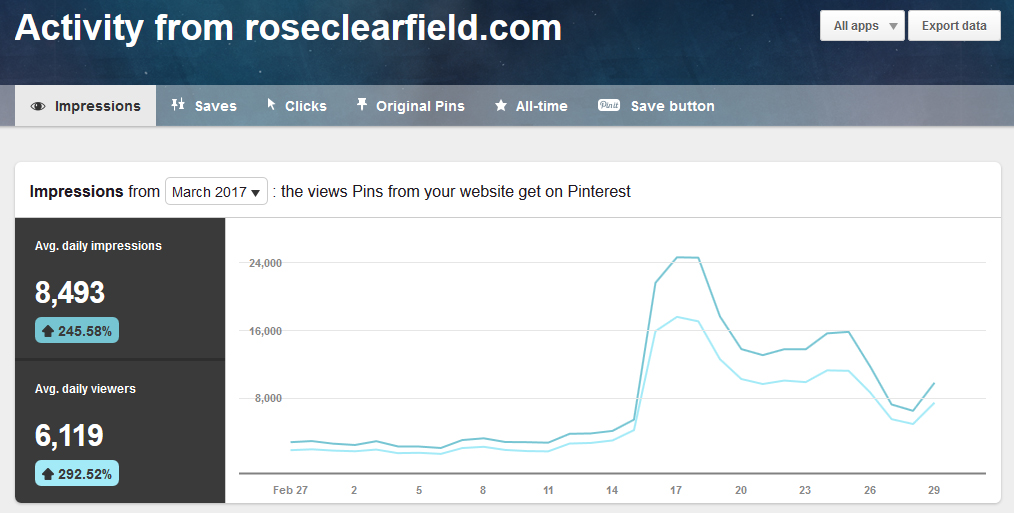 Finish all major home painting projects, home framing projects, and other major home organization projects.
This month I accomplished the following tasks for this goal.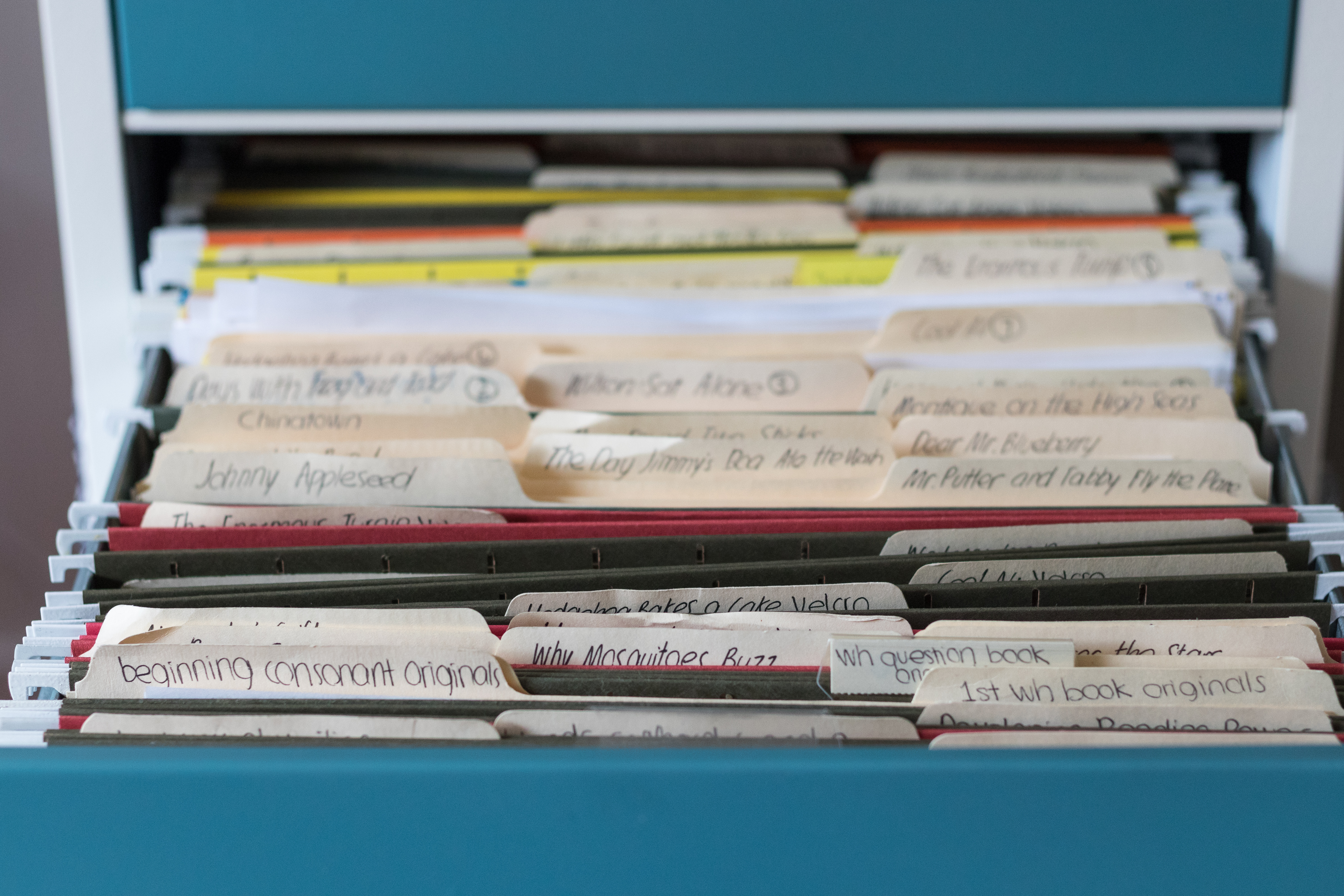 Moved my old teaching files into my file cabinet. (I actually have two full and one partial drawer of teaching files.) I've wanted to start offering content on Teachers Pay Teachers and similar sites for years. I may actually get motivated to make that happen now that I've unpacked the files. Getting the file boxes unpacked also cleared out a lot of much-needed space in our bedroom closet. I'll talk more about what I'm going to do with this newfound space in a future update.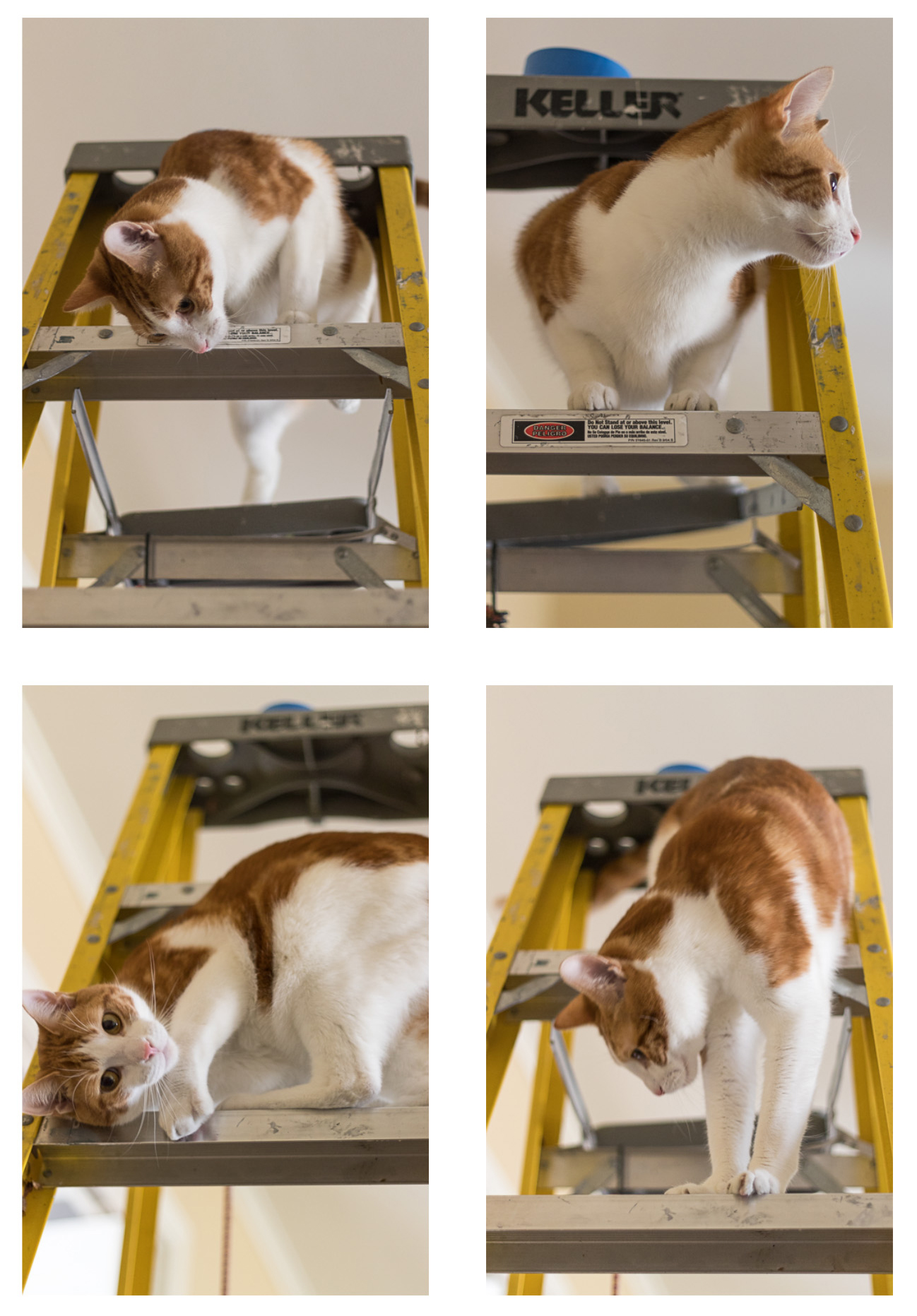 Prepped the living room for painting! To prepare for painting, I moved all of the frames, books, book cases, and decor out of the room; covered the large furniture that's staying in the room during painting in plastic painting tarps; and completed the painting prep – taping, spackling, and covering the floor. Painting another tall room means that the 8′ ladder came back into the house. Hobbes is over the moon excited.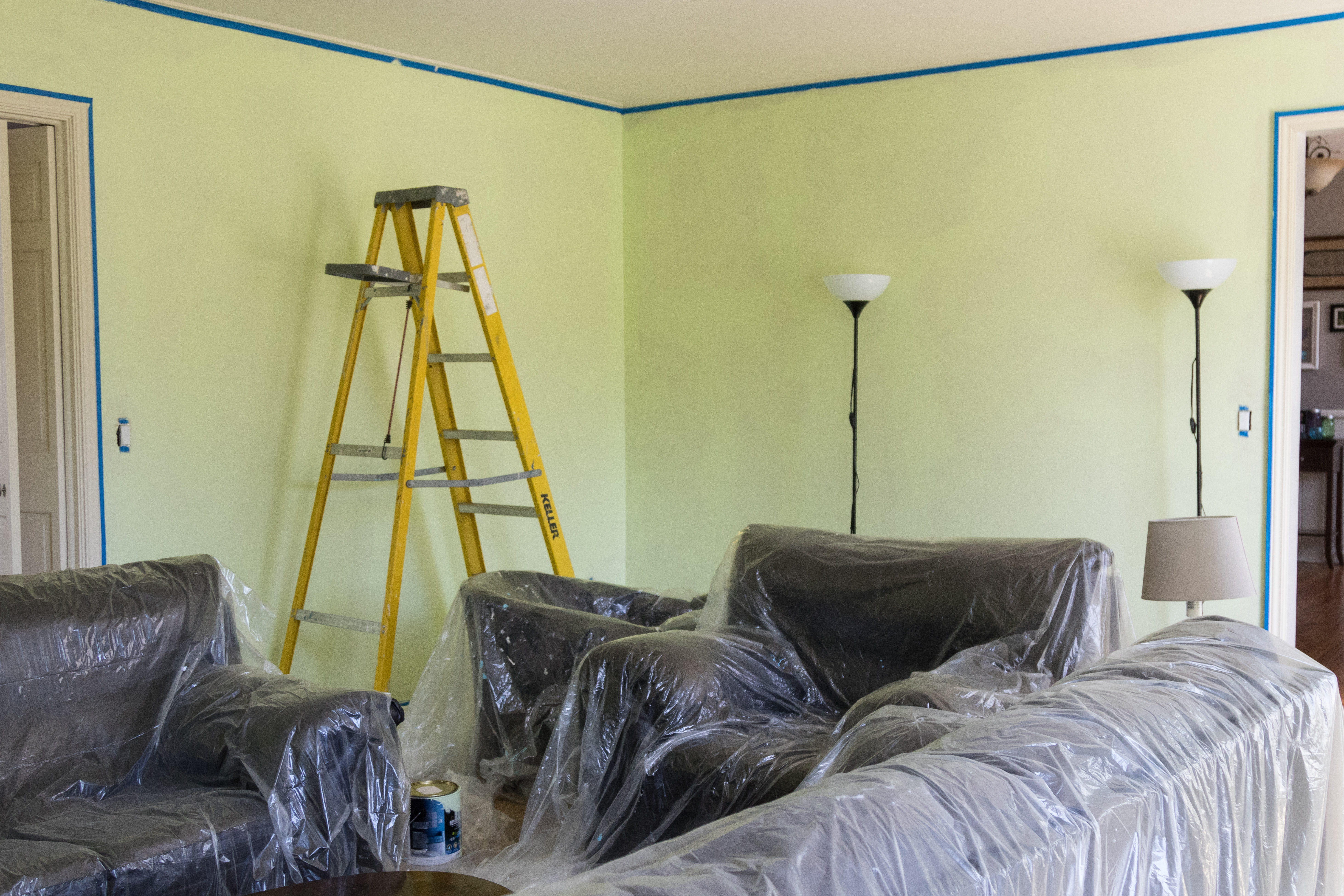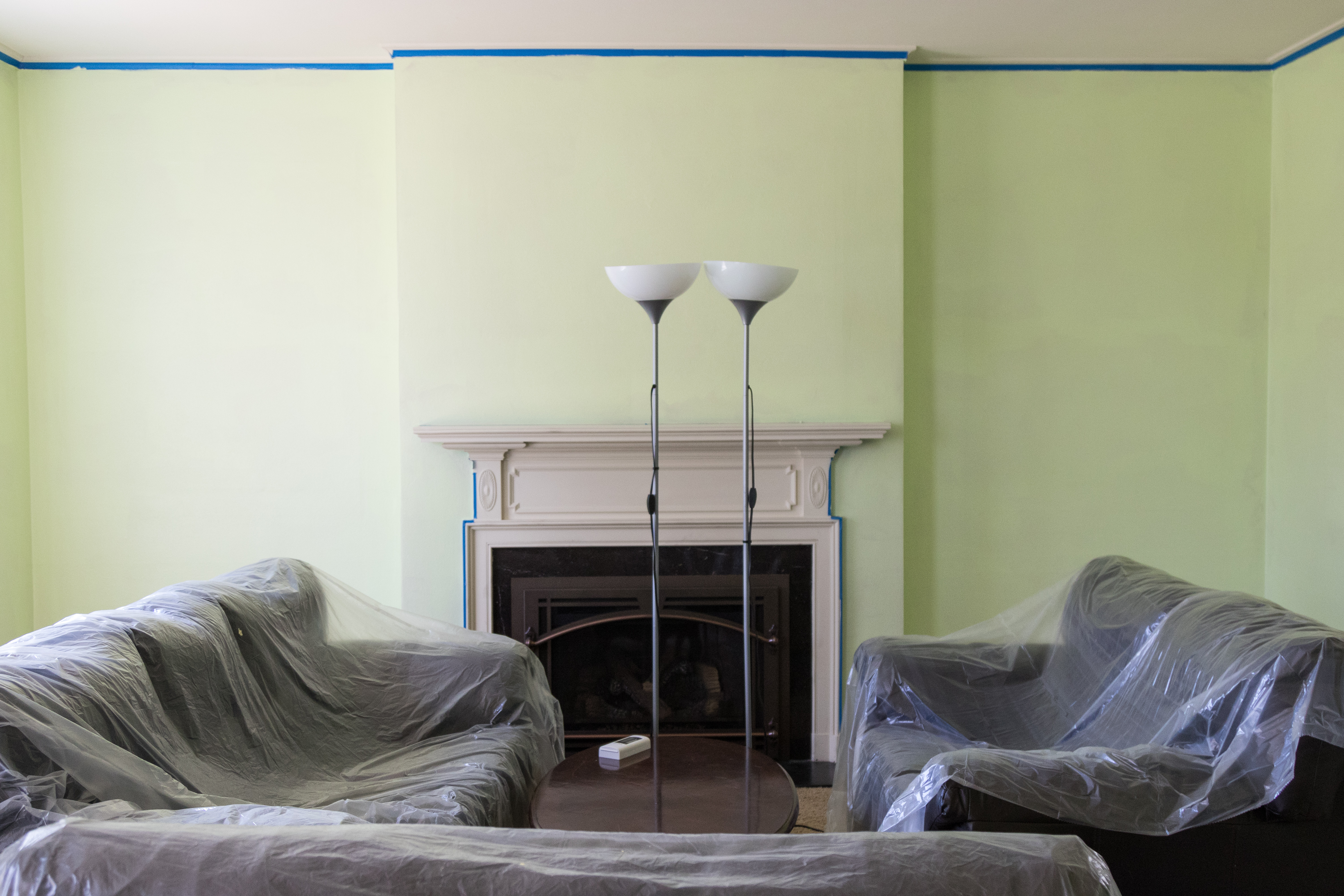 Completed the first coat of painting! I wrapped up the first coat of paint on Friday, March 31 and am planning to finish the painting in early April. I really love the new color (Prairie Grass by True Value). It brightens up the space so much.
Finish editing, exporting, and backing up all of my 2015 and 2016 photos.
To finish out all of my 2015 and 2016 photos by the end of 2017, I need to work through about 1,200 photos per month in addition to editing 2017 photos. I ended February 2017 at 4,820 2015 photos and 7,140 2016 photos. I ended March 2017 at 4,240 2015 photos and 6,494 2016 photos.
I learned my lesson in January about not keeping close track of this goal and have done a better job keeping track of it throughout each month since then. In January and February, I was primarily exporting and backing up photos I'd already edited but just never cleared out of Lightroom. I did a lot more editing in March. Also, I've continued to keep up with my 2017 editing, exporting, and backing up. I do have a few in progress folders from 2017, but I've edited the majority of the photos in those folders already.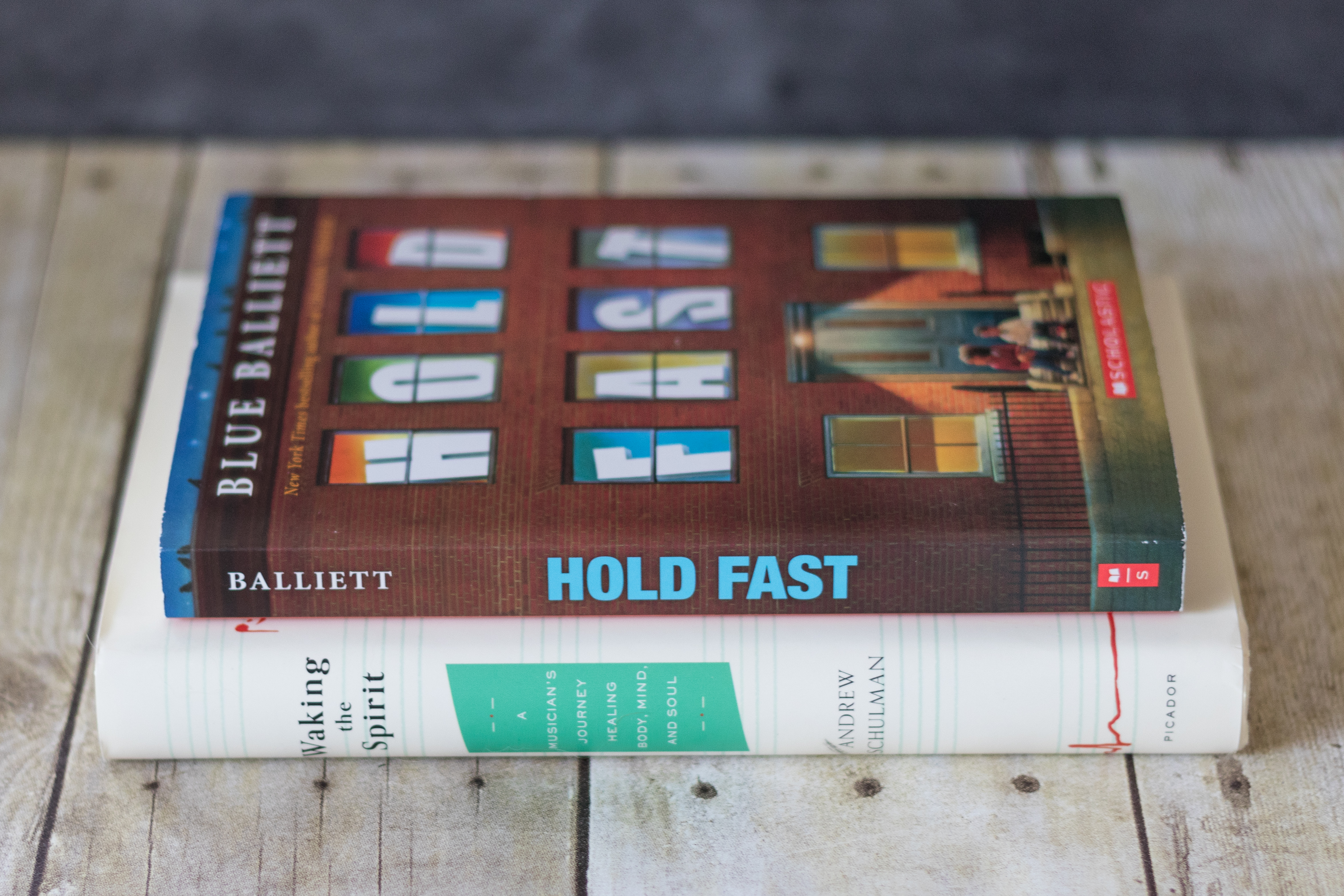 Read 30 books.
In March, I listened to nine (yes, nine!) audio books and read one book. This brings my running total for 2017 up to 23. To meet my goal, I need to read/listen to 2-3 books per month, so I'm continuing to knock this goal out of the park. I want to talk about the books I'm reading but also don't want this goals post to be 2,000+ words long. So I've decided to write a separate post about what I read in March. Stay tuned Thursday!
News!
This month I officially re-released Product Photography Made Simple. I completely overhauled it and added 22 new pages.
My new Photography Tips and Tutorials Pinterest board is going strong. If you have your own tips and tutorials to share, leave a comment with your email address, and I'll add you to the board. If you simply love photography, please follow the board!
[Disclaimer: There are a few affiliate links in this post. Thanks for your support!]
How are your 2017 goals going?
If you wrote a goals update post for March, leave a link in the comments!
A new month is a perfect time to start an editorial blog calendar! I have a free calendar download for 2017.
Past 2017 Goals Updates:
Save
Save
Save
Save