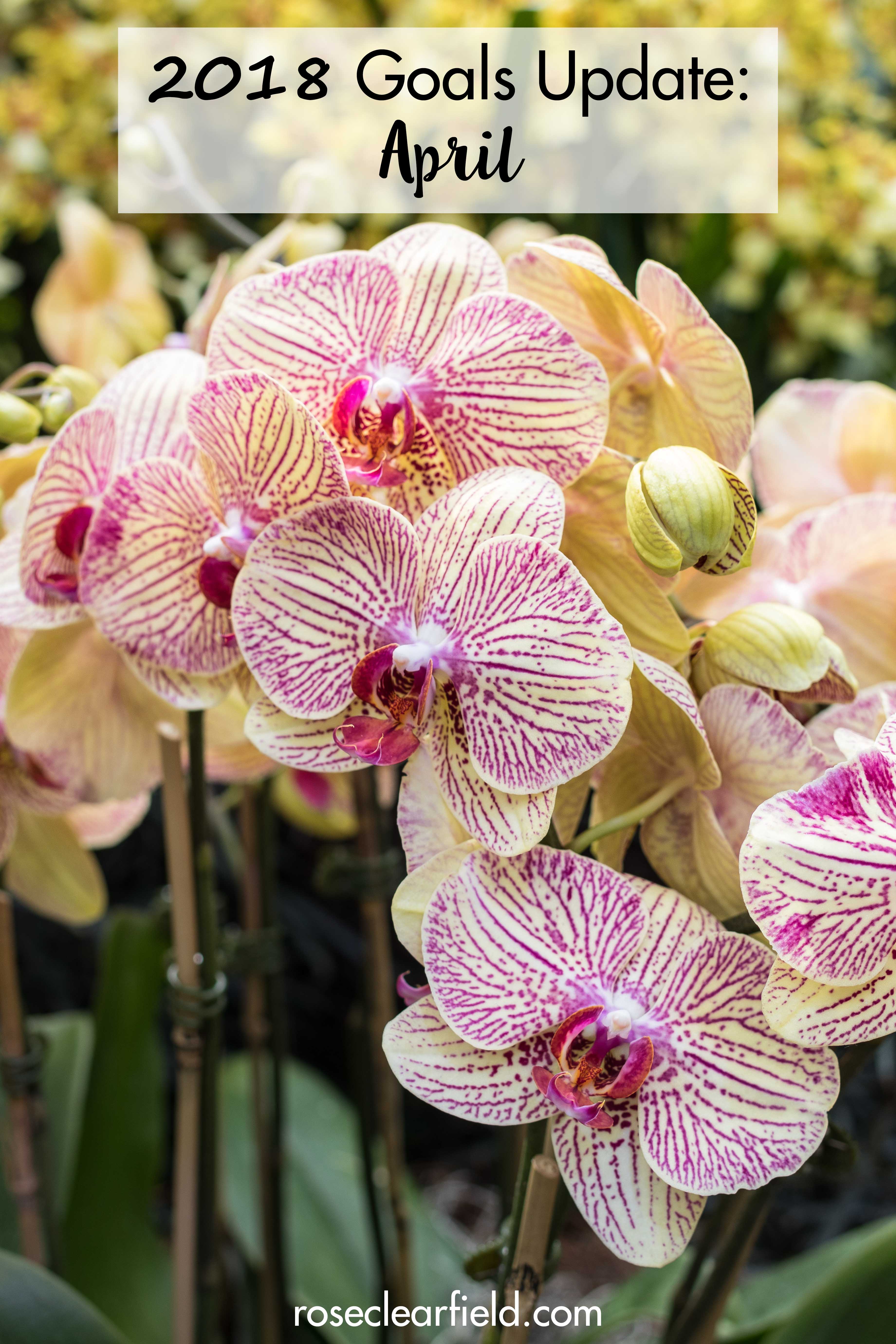 In an effort to keep myself accountable, I'm sharing monthly progress updates for my 2018 goals. The April update is also known as the update I didn't want to write because I completely dropped the ball on a couple of my goals this past month. But part of the point of writing these updates is to share what really happened, good or bad. So here we are.
Reach five figure monthly blog page views.
To reach 10K page views by the end of December, I need to increase my page views by about 372 per month. Here are my 2018 monthly page views benchmarks and actual views.
January benchmark – 5,610, actual – 7,373
February benchmark – 5,982, actual – 10,151
March benchmark – 6,354, actual – 12,129
April benchmark – 6,736, actual – 9,956

Once Easter was over, my page views dropped, and I knew it was unlikely I'd be able to match my March views in April. I'm happy (and still a little bit surprised) that my April total is so close to my March total. My daily averages were way down from March (around 260, down from 390), but a couple great traffic days helped make up the difference.
The one huge spike early in the month came from a Facebook share of my post How to Clean a Glass Shower the Easy Way. Mique of 30 days shared my post on her Facebook page. As of writing this post, her page has over 886,000 followers. Her post generated over 50 shares, which undoubtedly contributed to the traffic as well.
There are two primary methods I'm using to achieve my page views goal. Needless to say, thus far, they're going pretty well. Here are the two strategies and how they went in April.
Clearly, even though I've reached 10K twice and nearly reached it one more month, it takes a lot of work to maintain consistent high traffic numbers. It's as important as ever to keep up with my key strategies for achieving this goal.
Reach 4,000 Pinterest followers.
To reach 4,000 followers by the end of the year, I need to gain 138 new followers monthly or 4-5 followers daily. My April benchmark was 2,889 followers. My actual April total was 2,708 followers.
I'm lagging about a month and a half behind my projected figures to meet this goal. For the record, I averaged 3.4 new followers per day, which was up slightly from March but not enough to put me back on track with this goal. At all. Not surprisingly, with a major drop in daily blog traffic in April, my Pinterest engagement numbers were way down the past month. I certainly haven't lost all momentum, but I'm not driving the kind of traffic that I was for March.
My Pinterest strategies remain the same.
April on Pinterest was definitely less than stellar but hopefully just a bit of a setback.
Publish one article per week on Constant Content.
I didn't publish any articles on Constant Content in April. I also didn't sell any previously published articles. Moving on.
Paint and decorate nursery #2.
While Tommy isn't crawling or walking, he's quite mobile, which makes painting increasingly difficult. I do get work on nursery #2 done while he's napping, but I can't always devote that time to the nursery. Now that he's nearly 10 months old, I feel like the pressure's really on to get the room done before his first birthday. (To recap, we're going back in the adoption waiting pool for baby #2 when Tommy turns one, and I want to have pictures of the nursery in our profile book. We included pictures of Tommy's room in his profile book and believe that it grately increased our odds of matching with birth parents.)
So I put a lot of time and energy into nursery #2, which makes me feel somewhat better about my lack of progress on a couple of other goals. I did fail to get any new DSLR pictures, so I'll make it a priority to include a few in the next goals update. (If you follow me on Instagram and watch my stories, you have seen a lot of peeks!)
In April, I got all of the painter's tape down from painting the walls and trim. I painted the closet interiors, closet doors, and main door, all of which got a fresh coat of my neutral for this house (Baby Chick by True Value). I also made a lot of progress on the dresser that I thrifted in March. I have re-painted several dressers (you can see the one I did for Tommy's room here) but never done a full sand down and paint with sanding in between each coat. Needless to say, it's time consuming and way out of my comfort zone. But I'm happy with how it's coming along. I'm also fitting the dresser with new hardware. I have all of the drawers done and am just working to finish up the main dresser frame.
Finally, I finished the one big canvas project that I wanted to do for nursery #2. (If you follow me on Instagram, you've also seen peeks of this project!) It's ready to go with hanging hardware and everything. I'm not putting anything on the walls until I'm done painting the dresser, but I can't wait to get it displayed.
Finish editing my Europe photos, and keep up on current editing.
Editing Europe photos was my other big goal wash this month. I did cull the next 220 photos, but I didn't edit any of them. I could make excuses, but the truth was that I was 100% unmotivated to edit photos this month.
Read 36 books.
April reading total: 5 books, bringing my yearly total to 24 books. To meet my goal, I need to read 3 books per month, so I'm ahead of schedule. Here's my list of April titles.
Listened to:
Read:
I'm still re-reading Harry Potter and the Order of the Phoenix (which if you didn't know, is pretty long). As such, my April reading (as opposed to listening) total is a little light.
I'm already publishing this monthly update late and am scrambling to get my other blog content together for the next few weeks. So I'm skipping my full reading post for April and picking it up again with a double post in May.
[Disclaimer: There are a few affiliate links in this post. Thanks for your support!]
Did you set any 2018 goals?
I'd love to hear how they're going! Feel free to leave a goal update link in the comments.
Previous goal posts: