The DIY Scrabble tile picture frame is the perfect project for those of us who spend way too much time on Pinterest and also love to display way too many photos around our homes.
I don't even like to talk about how many frames I have up in my house, how many different DIY frames and photo displays I've created over the years, and how many photo-related ideas I still browse on Pinterest all the time. It should come as a shock to no one that a handmade Scrabble tile picture frame is right up my alley.
Supplies for DIY Scrabble tile picture frame:
A plain wood picture frame, new or thrifted
New or used regular sized or mini wood Scrabble tiles (see note below)
Acrylic paint in the color(s) of your choosing
Tacky glue
Foam brush
Small paintbrush
Note: I used regular sized tiles for the "Family" frame and mini tiles for the "Merry Christmas" frame. You can always find new regular sized Scrabble tiles on Amazon. I recommend searching Etsy or eBay for mini tiles.
Additional note: I didn't use acrylic spray or any other type of sealer over my painted frames. Acrylic spray will minimize chipping, fading, and other damage. If you choose to seal your frame, apply the spray after you've painted it and before you've glued the Scrabble tiles.
For the two picture frames I created for the DIY Scrabble tile picture frame post, I used 4×6 Belmont frames from Michaels. For the record, I love the Belmont frame line and have a ton of unpainted Belmont frames up on my walls. I love their finishes. But I wanted to create a slightly different aesthetic for my Scrabble tile frames. (Belmont frames are also a fantastic deal for the quality. Michaels runs sales on them all the time, so don't ever pay full price.)
Instructures for DIY Scrabble tile picture frame: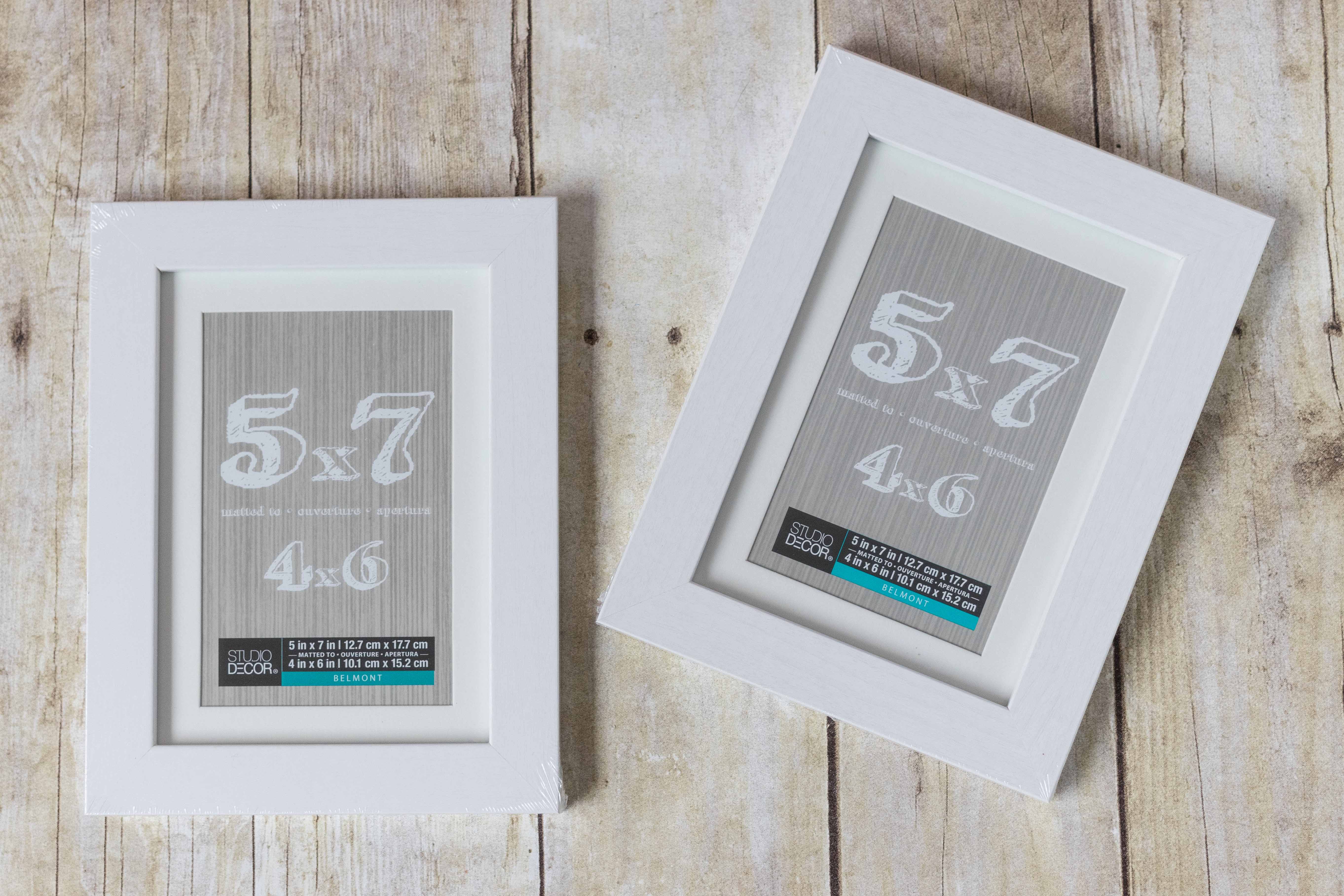 Once you've selected your frames, carefully remove the backing and glass, so you don't get any paint on the glass.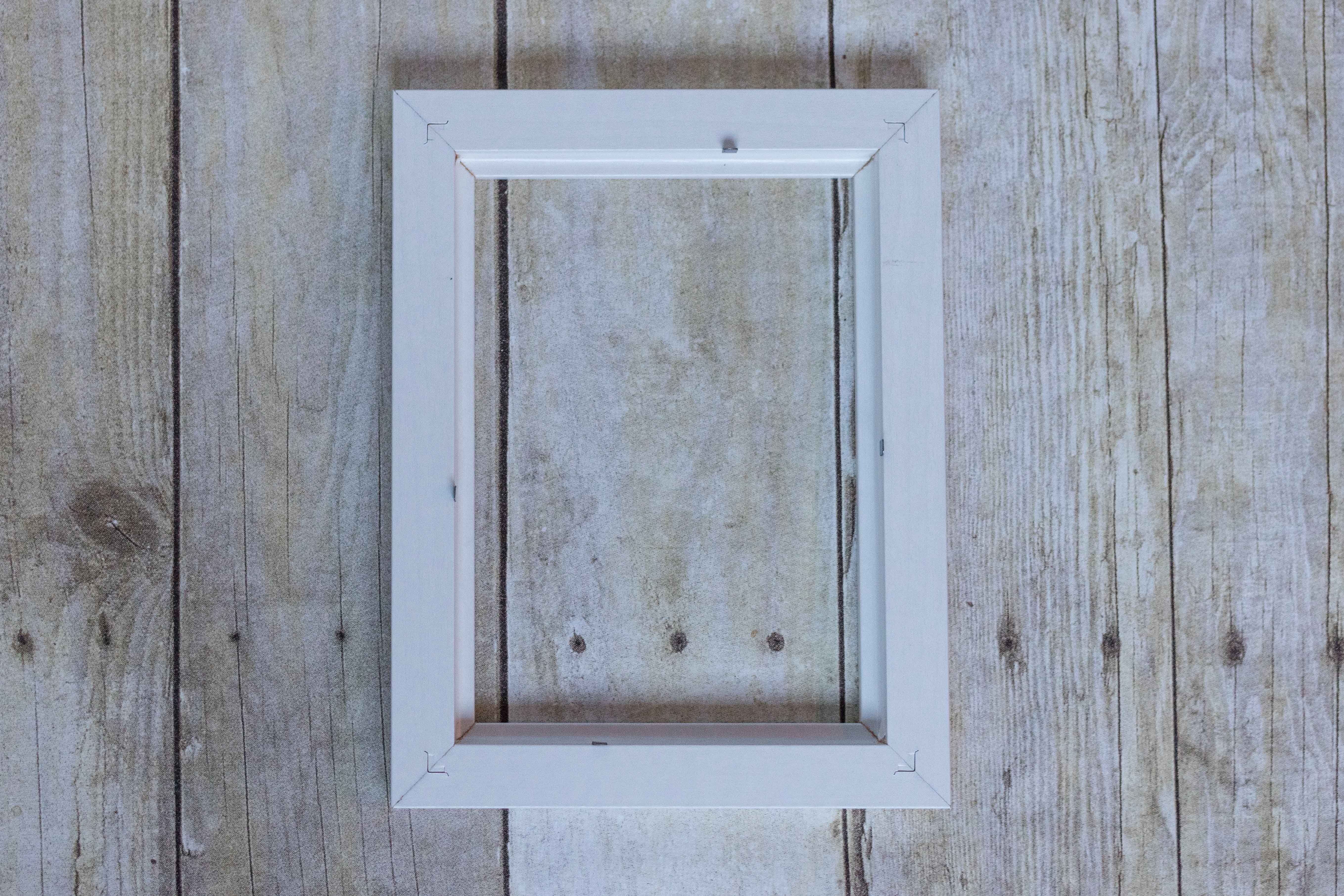 Use your foam brush to paint the large areas of the frame and the small paintbrush to fill in any small details or hard to reach areas. Depending on the finish of your frame, the first few layers may be streaky.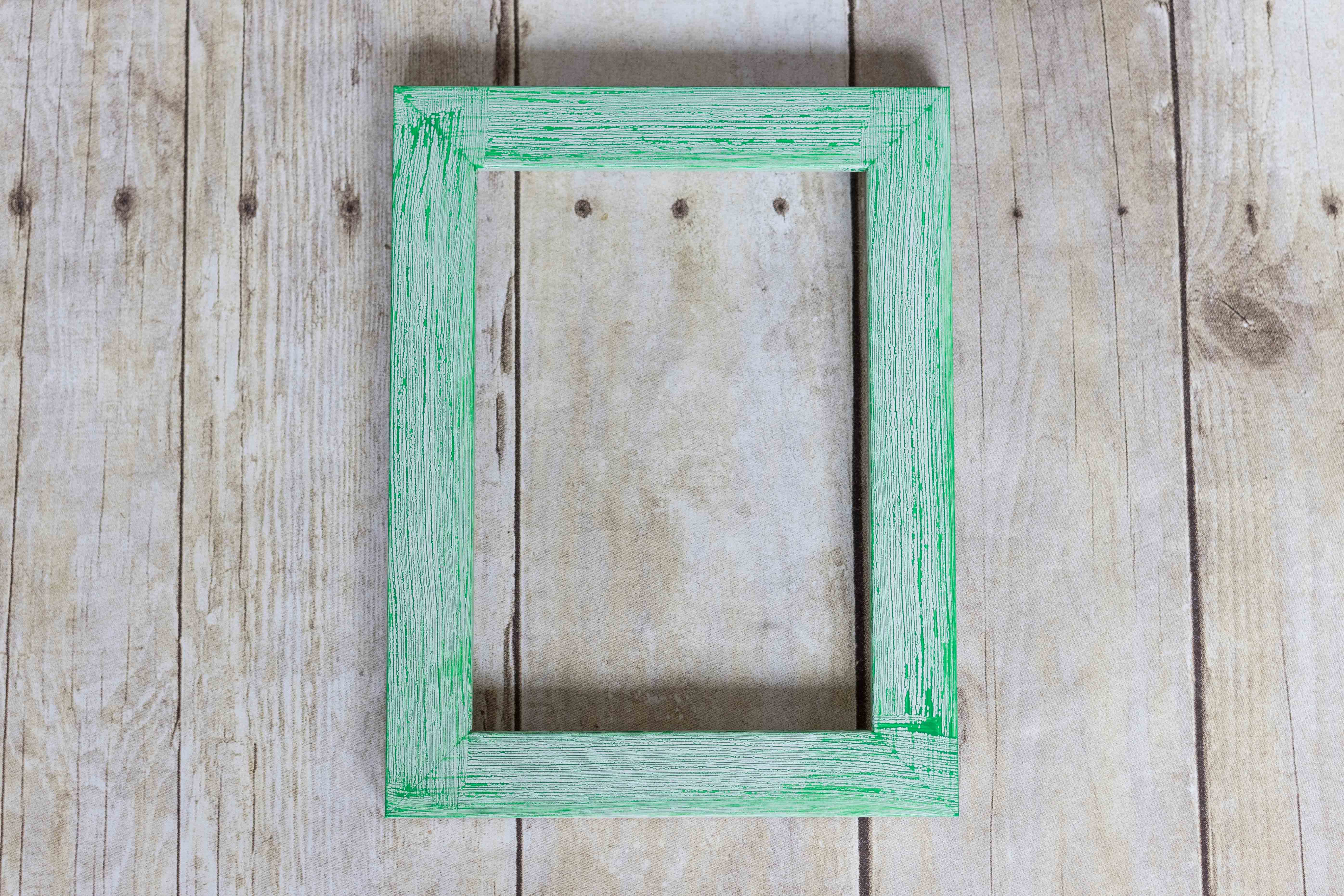 It's okay! Keep painting, and you'll slowly create a uniform finish. It may take as many as 8-12 coats to achieve this aesthetic. Allow the paint to dry fully in between coats.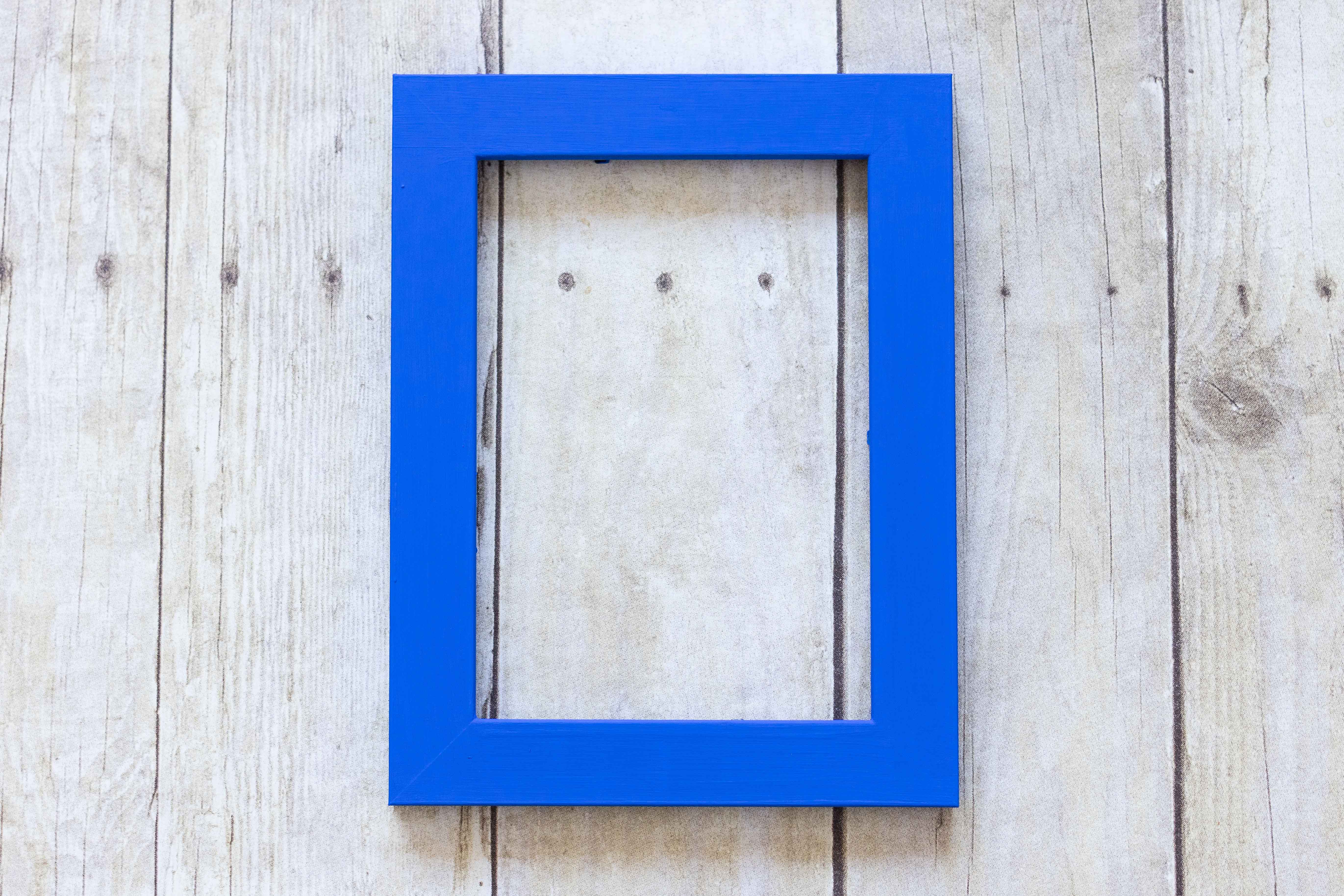 I like to paint the front and back of my frames. It's completely up to you how much of the back you want to paint, especially if you're creating a DIY Scrabble tile picture frame that will hang on the wall, as no one will ever see the back.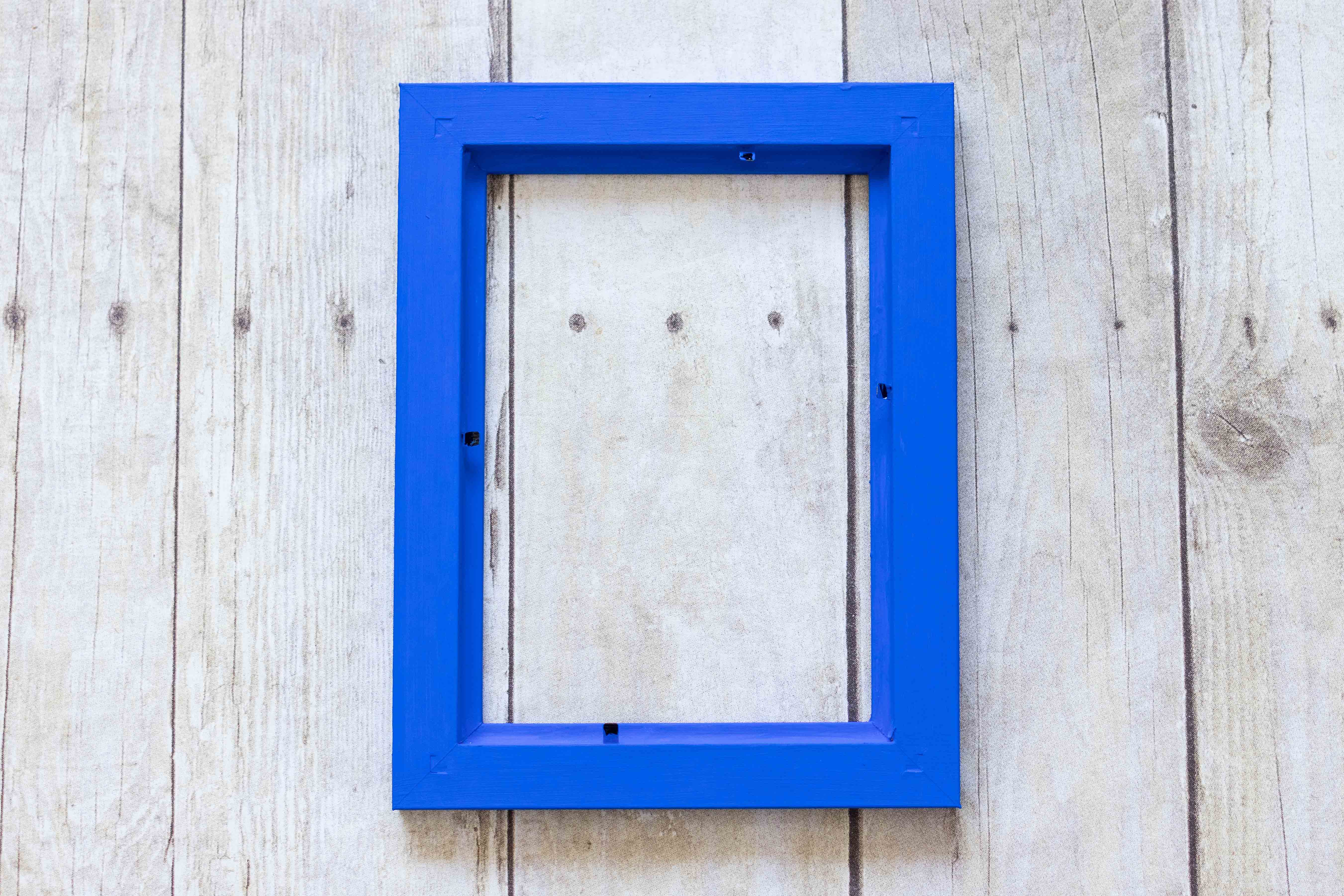 When your frame is fully painted and dry, select your Scrabble tile letters. Decide how you'd like to arrange them on the frame, then use the tacky glue to secure them in place.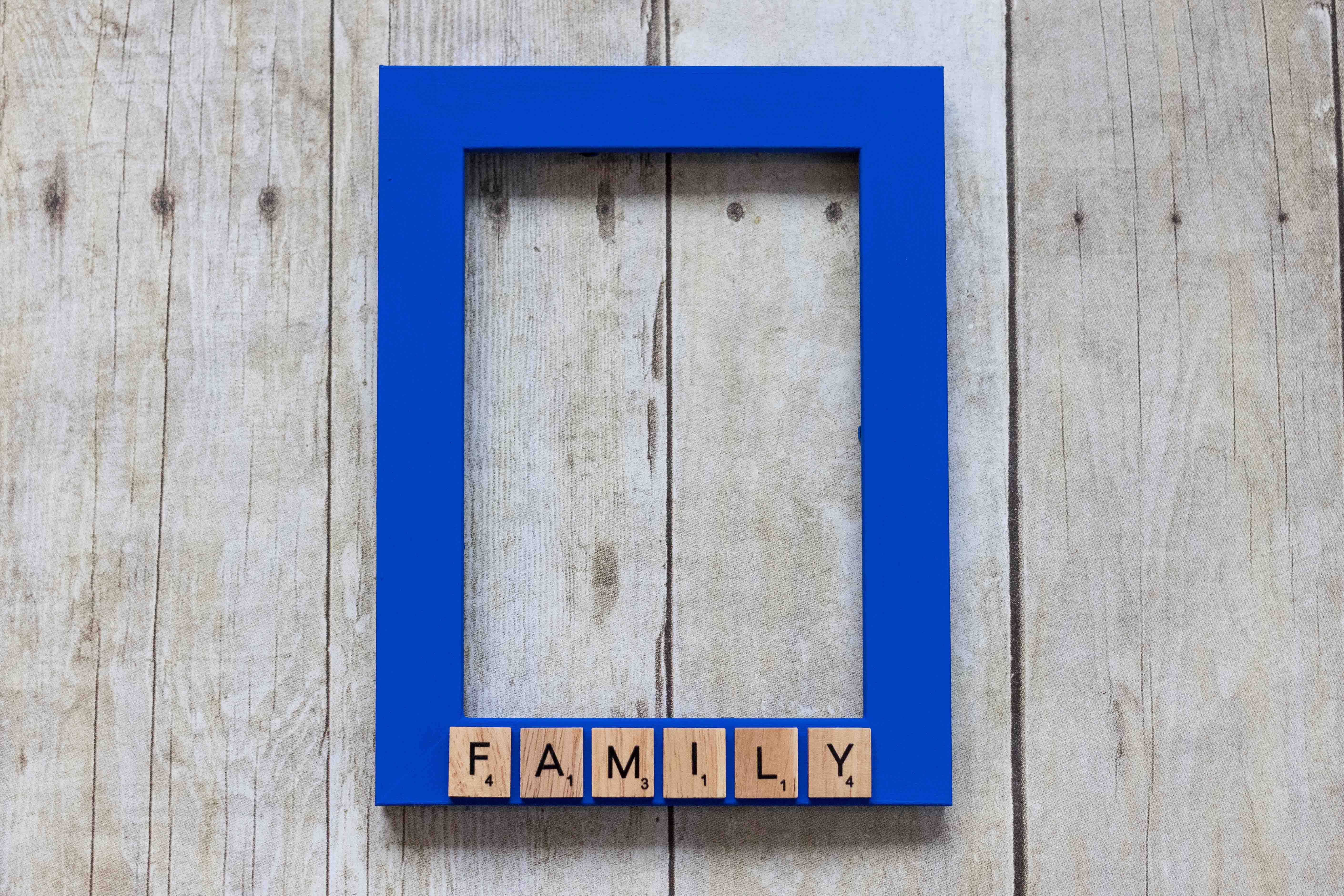 Replace the glass in the frame. Add a picture and secure the backing to complete your new DIY Scrabble tile picture frame.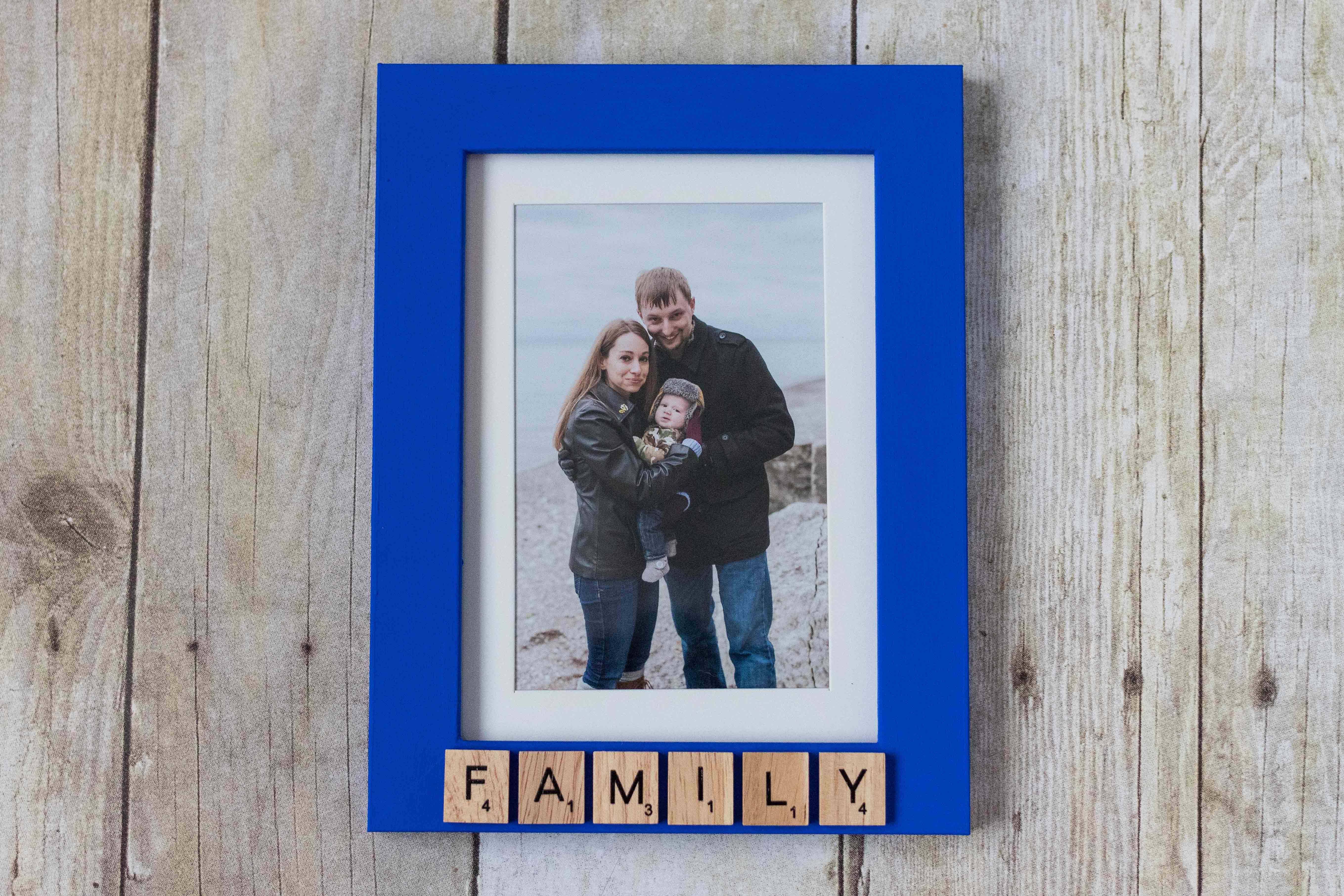 I love it so much. (Photo credit: Lottie Lillian Photography)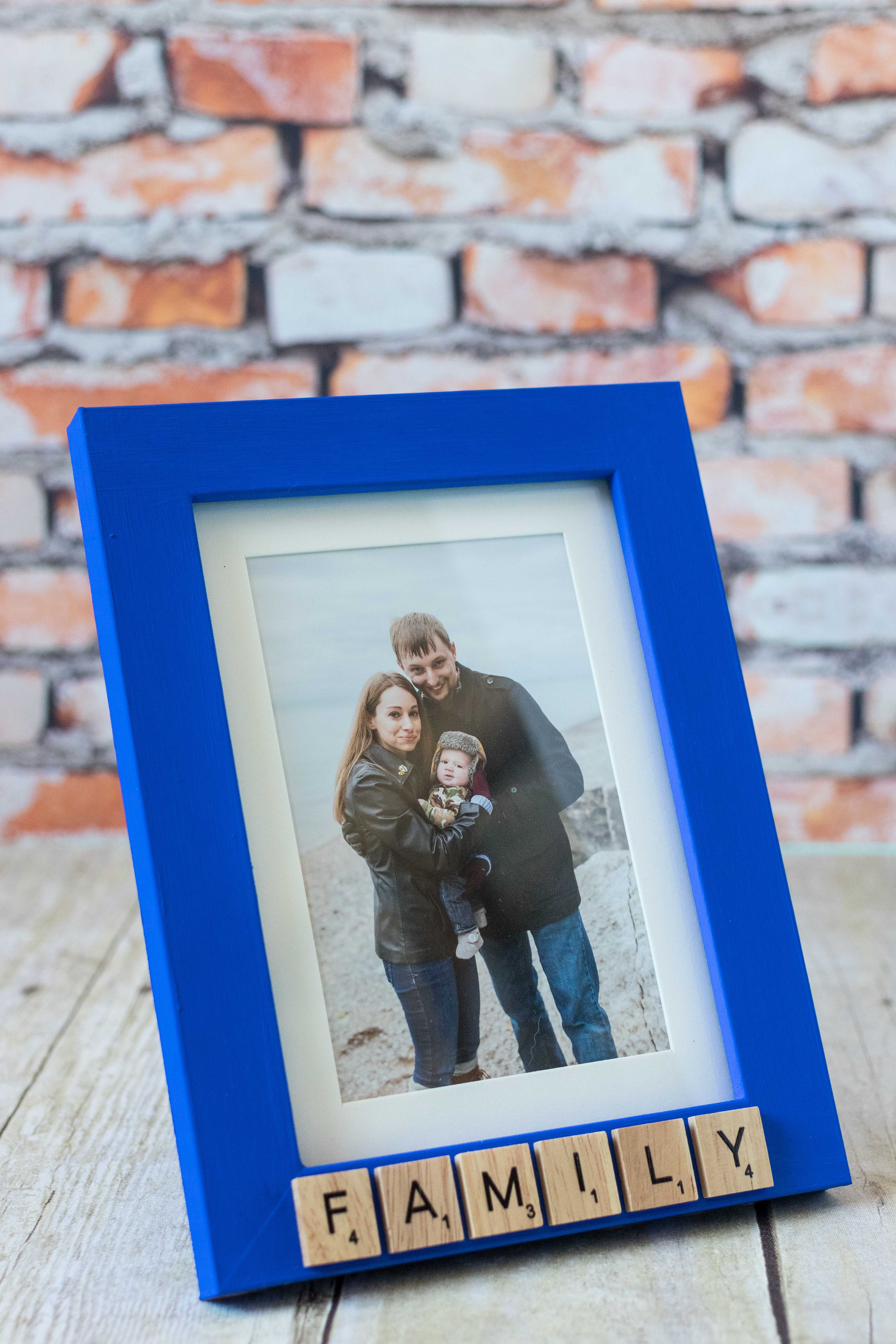 I created a DIY Scrabble tile picture frame with mini tiles, too. One of my favorite holiday decorations is a Christmas frame with a holiday photo of me and Jake that I display during the holiday season. Now I have a frame for Tommy as well that I can update with new Christmas photos over the years.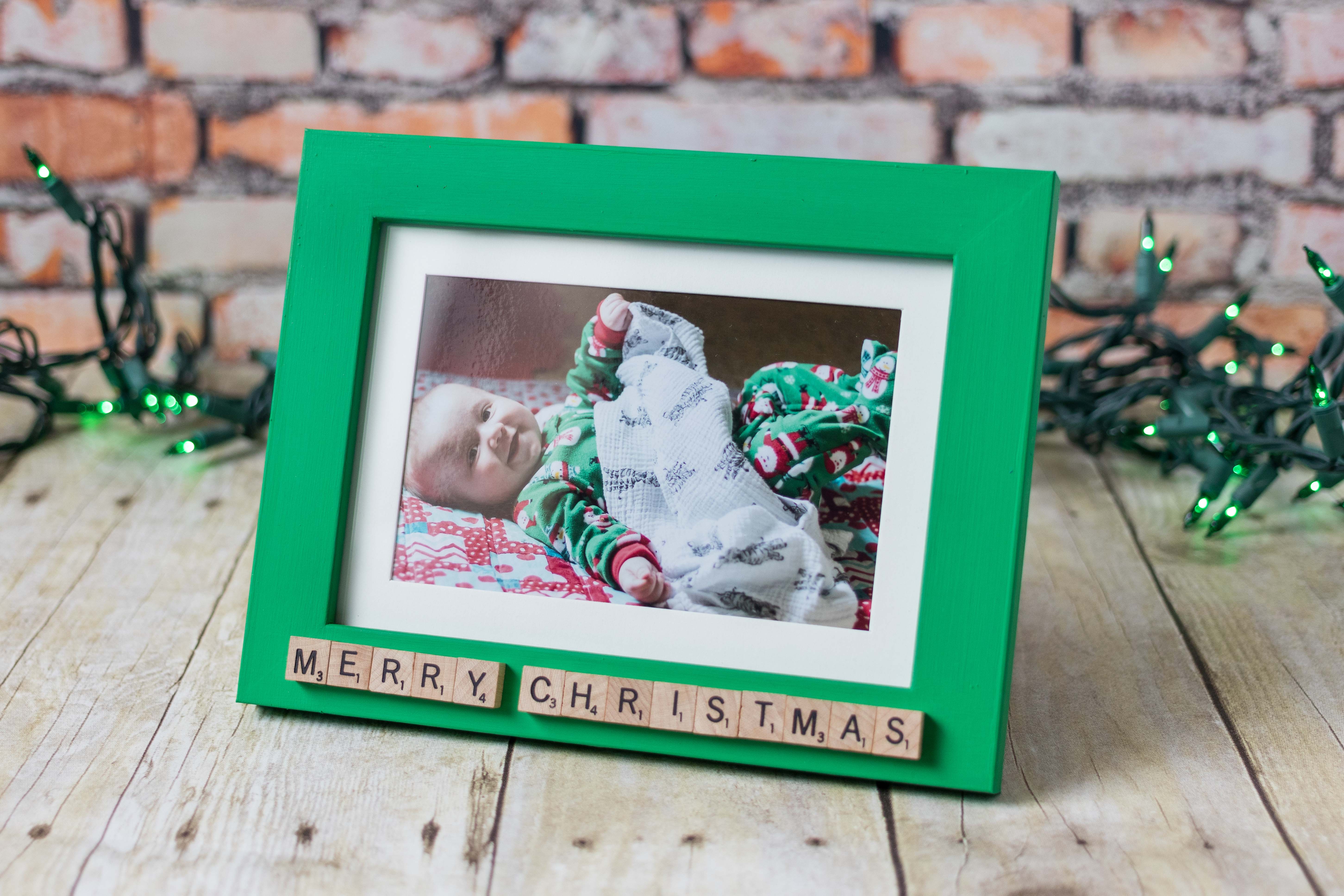 When I purchased my mini Scrabble tiles, I also picked up a couple of sets of wood Sudoku numbers. I love the idea of making date frames with number tiles or adding a date to a Scrabble tile frame. You don't see nearly as many Sudoku tiles as Scrabble tiles, but watch Etsy and eBay as they do come up for sale sometimes. (Also, it was pure luck that I got a round set. Most sets are square.)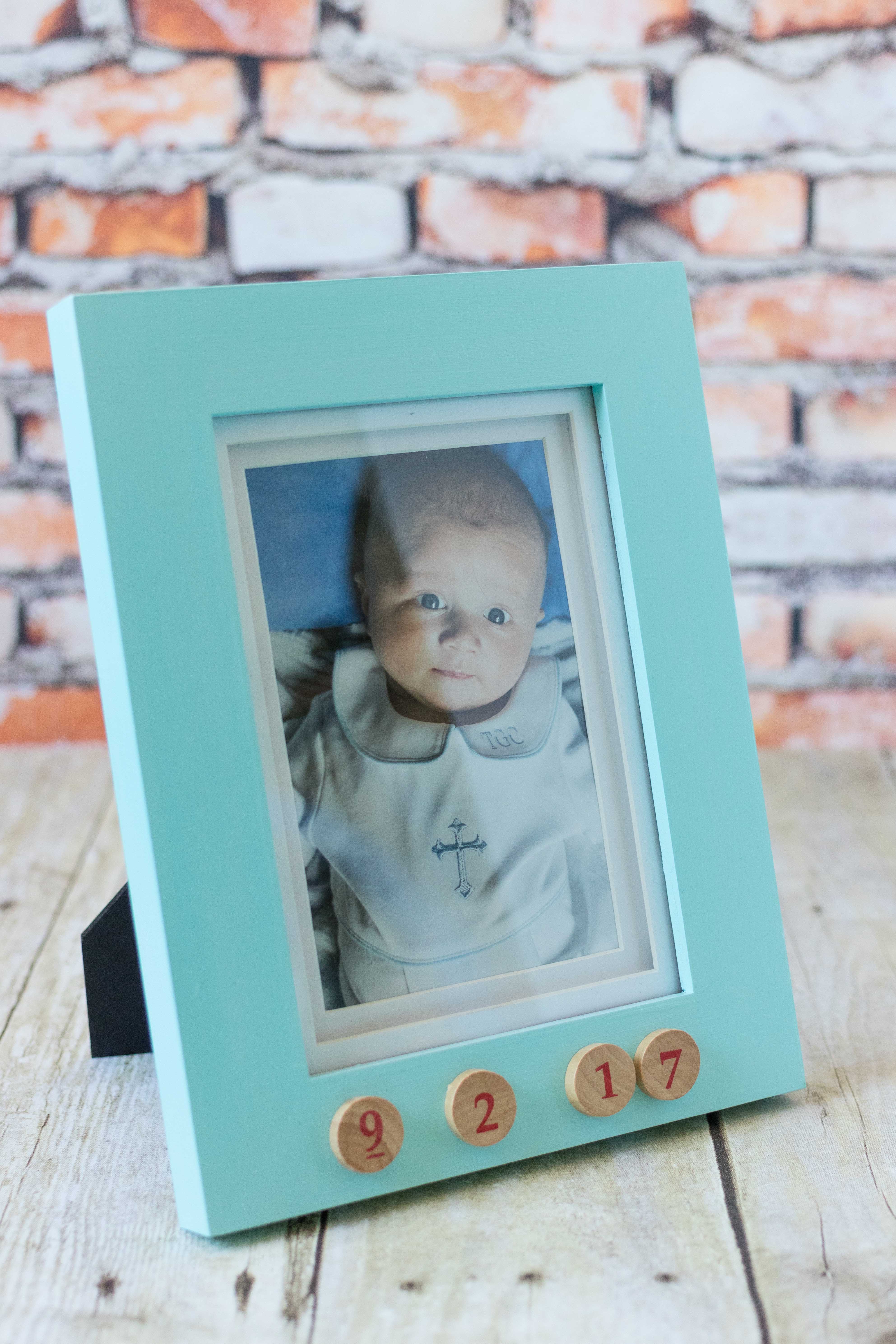 The possibilies for Scrabble tile photo frames are endless. You can customize them for different family members, holidays, seasons, and more. A DIY Scrabble tile picture frame also makes a great teacher gift!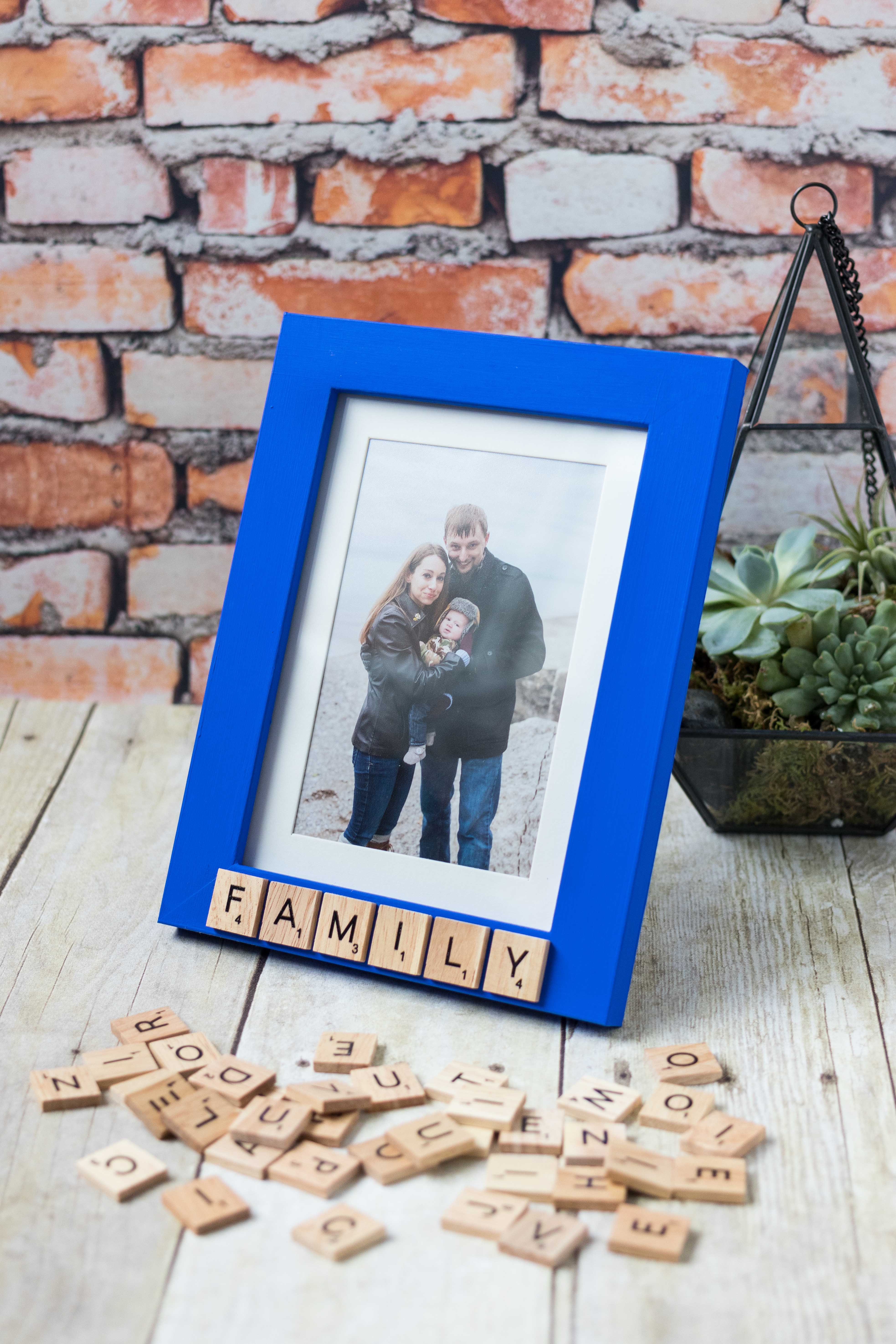 [Disclaimer: There are a few affiliate links in this post. Thanks for your support!]
Did you make a DIY Scrabble tile picture frame?

I want to see it! Tag your images #RoseClearfield on Instagram or Twitter or post a photo to my Facebook page.
Pin this post for easy access to the Scrabble tile frame tutorial later!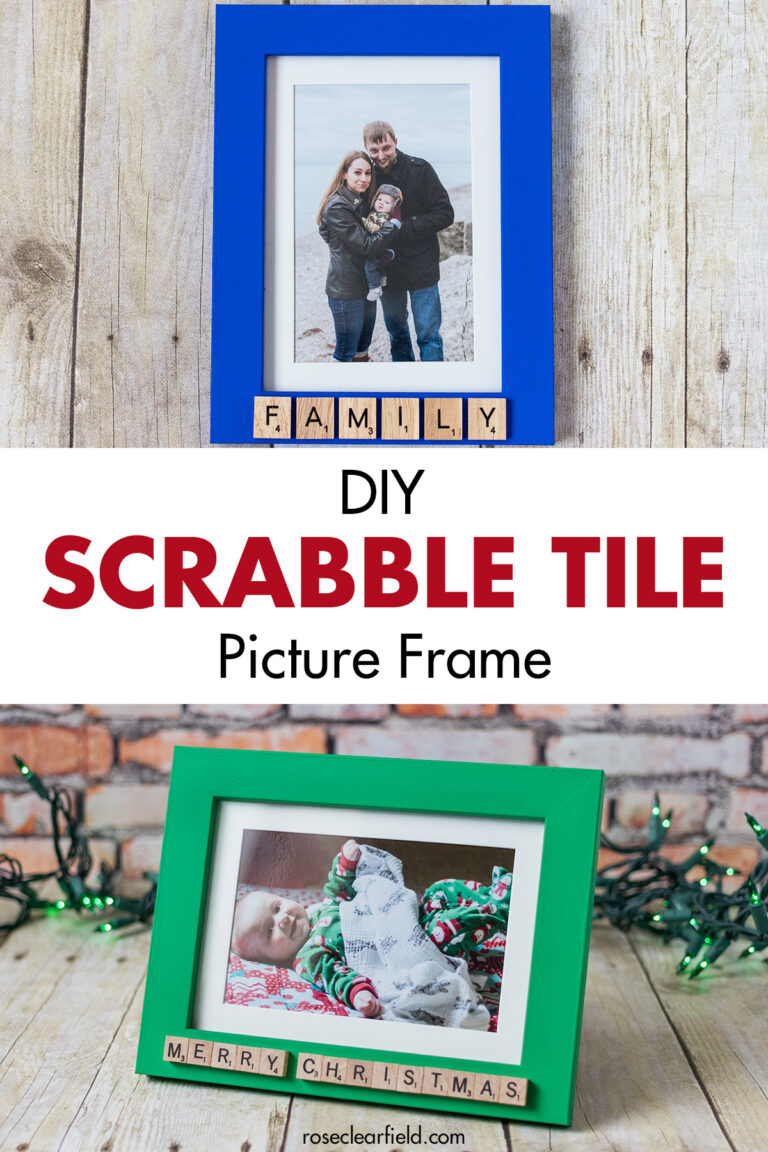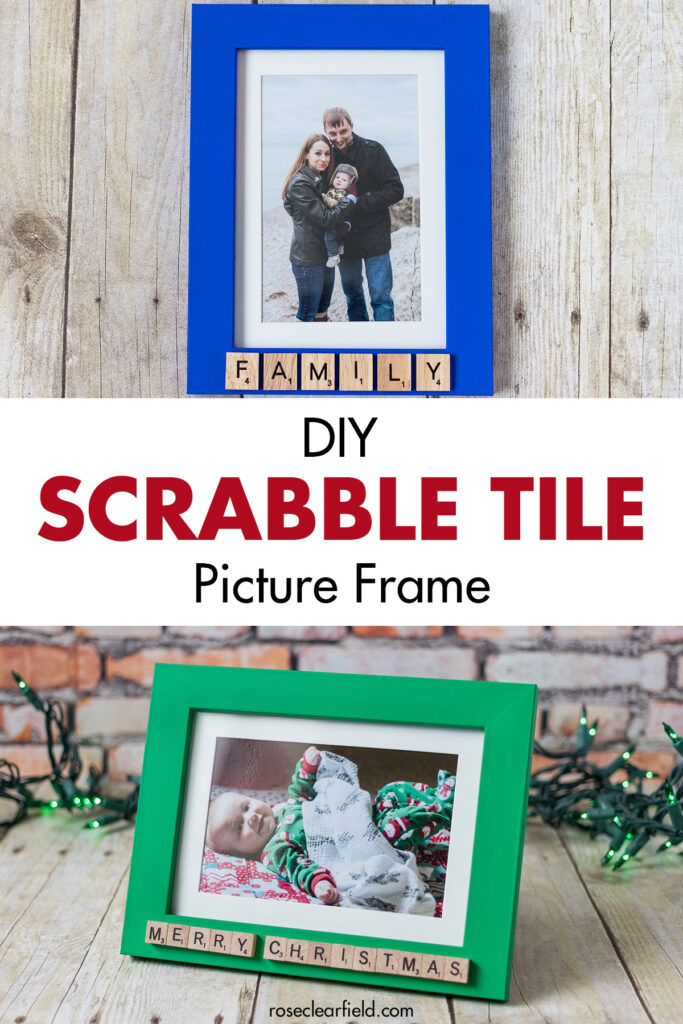 More DIY decor projects: