30-minute healthy summer dinner ideas keep you serving tasty nutritious meals all summer long while having as much time as possible to spend outside.
I live for quick dinner ideas in summer even more than I do during the school year. The warm weather months go so quickly. We like to enjoy every nice evening outside, which means that the less time I have to spend in the kitchen, the better. I also know that the summer dinner routine tends to involve a lot of burgers and brats. Planning healthy dinners in between the standard grill fare helps provide a good balance.
There is something here for everyone with lots of dishes for the grill as well as the stove and oven. I've included classic pasta dishes, bowls and salads, chicken recipes, fish and shrimp, and much more. With 40 different recipes, you'll have an extensive variety of meals to keep you eating delicious healthy dinners week after week without getting stuck in a rut.
As with many of my healthy recipe round-ups, a lot of the recipes here are unintentionally vegetarian. For summer, grilled chicken, pork, steak, shrimp, or even fish is always an easy pairing to boost the protein without a ton of prep.
30-minute healthy summer dinner ideas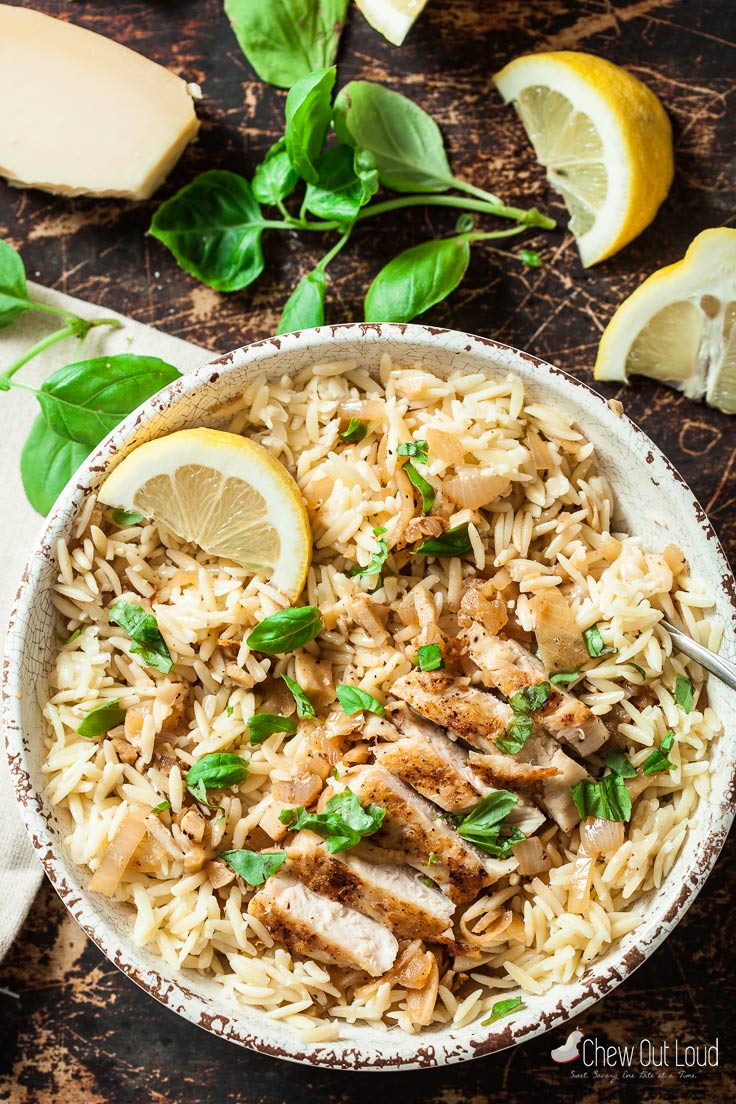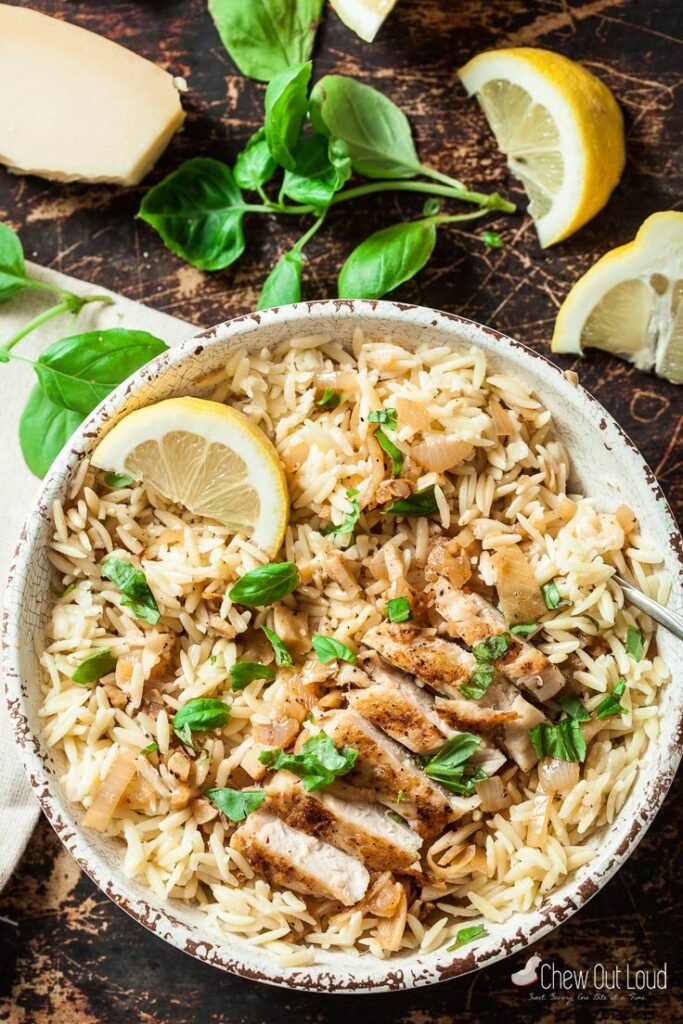 1. Lemon Basil Orzo with Chicken
Chew Out Loud's lemon basil orzo with chicken has the light flavors that you crave in a summer dinner and is still hearty and satisfying. It's hard to beat a lemon basil pairing with chicken. I love orzo and think it works well here. But you can easily swap in other pastas or grains with what you have on hand.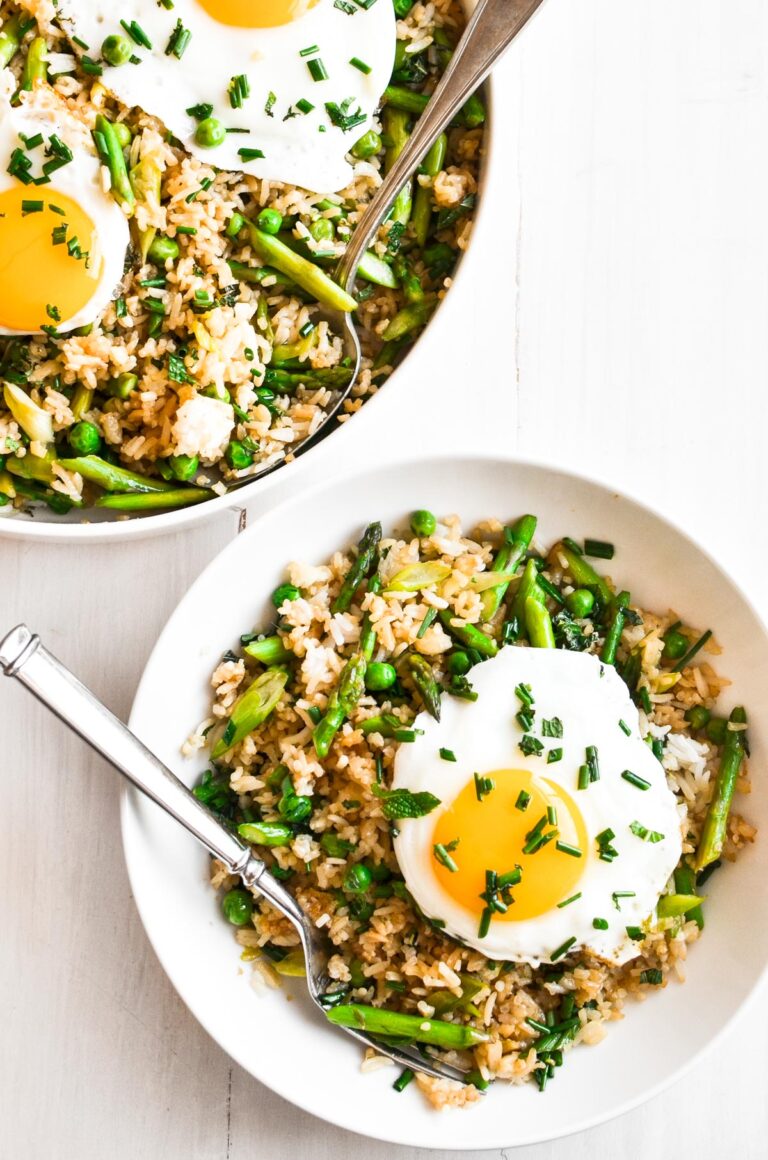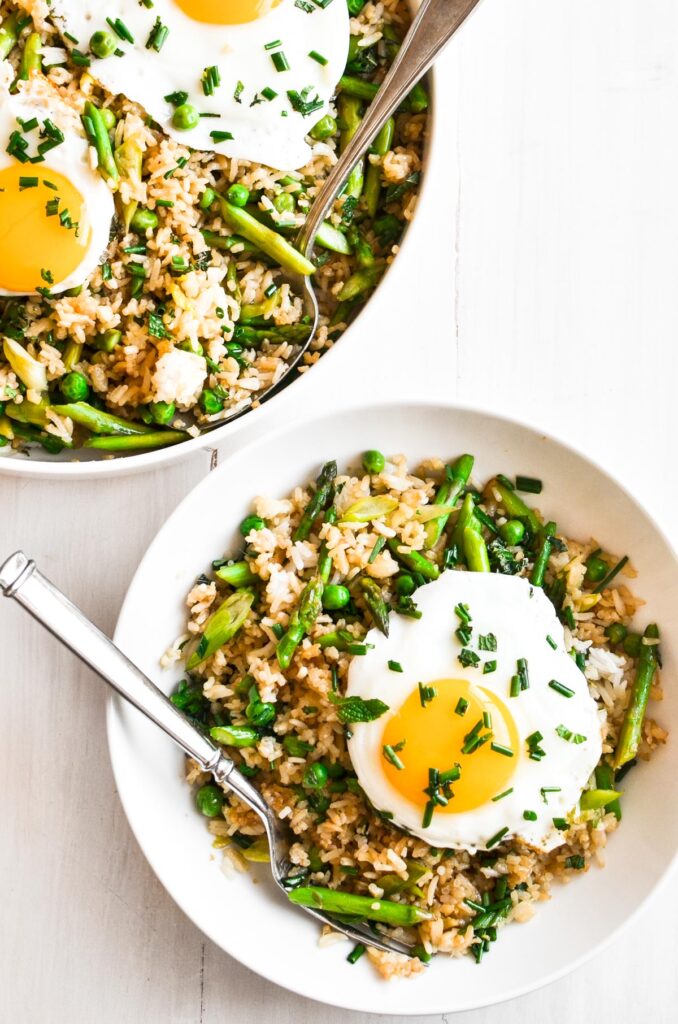 2. Fried Rice with Asparagus and Peas
Using asparagus and peas for the veggies in fried rice is the perfect way to make it into a summer meal. The View From Great Island's fried rice with asparagus and peas couldn't be simpler and has so much flavor. She tops it with an egg, which always works well, and again, is so easy. You can also scramble the egg and/or add the meat of your choosing to bulk it up a bit.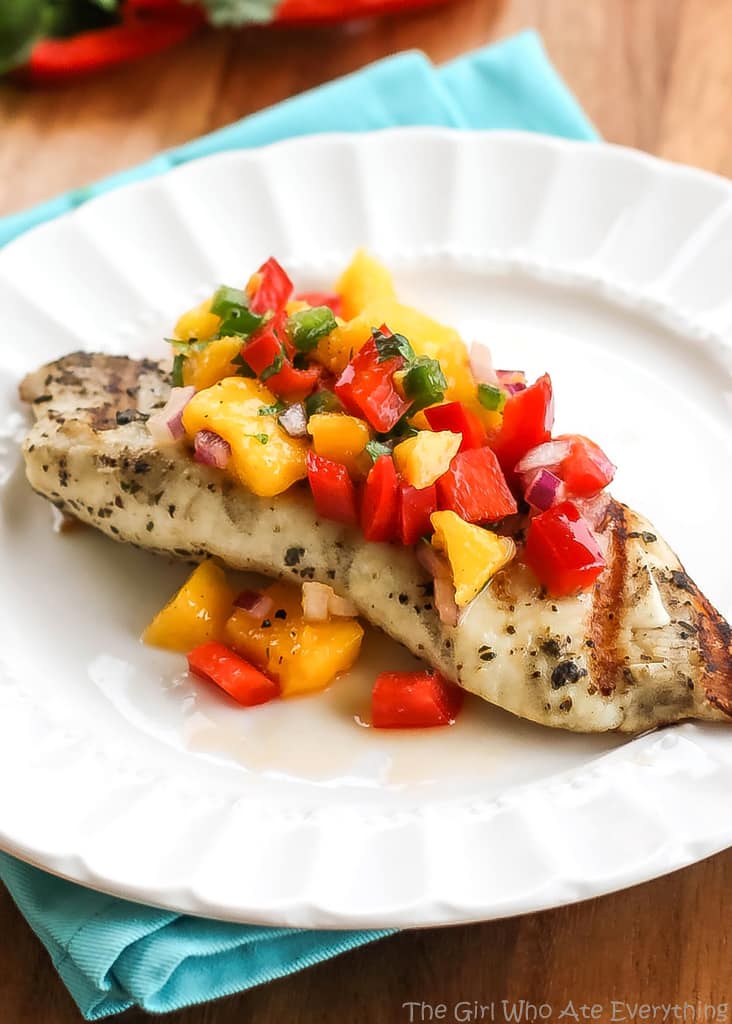 3. Grilled Tilapia with Mango Salsa
Tilapia has such a mild, versatile flavor that pairs well with so many different toppings and sauces. For summer, The Girl Who Ate Everything's grilled tilapia with manga salsa couldn't be more perfect. Tilapia tastes great baked or pan-fried, too. You can also swap in another summer fruit for the salsa.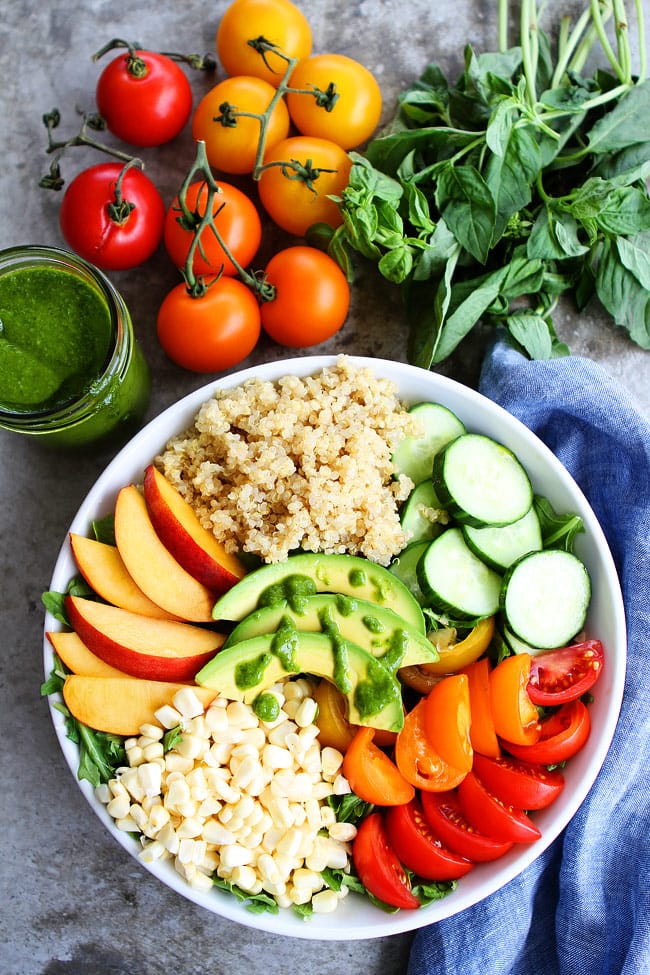 4. Summer Quinoa Bowl
Two Peas and Their Pod's summer quinoa bowl has a greens and quinoa base, is topped with all of your favorite summer ingredients, and is finished with a to-die-for basil vinaigrette. You can easily customize this concept to fit your own tastes and what you have in the fridge at any given time. It's the perfect reset meal after a weekend of burgers and eating out.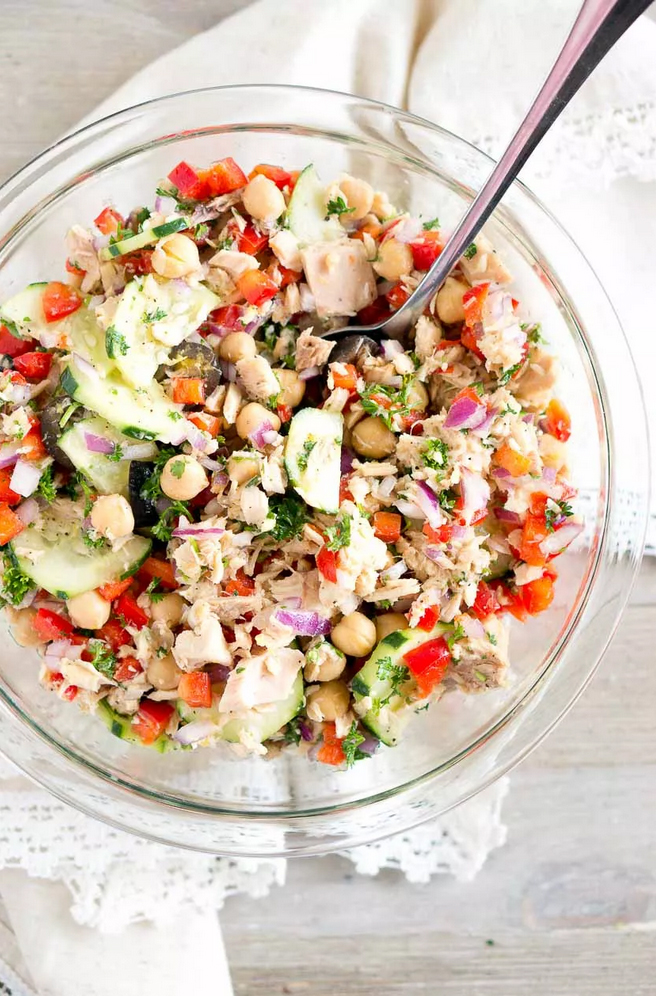 5. Mediterranean Tuna Salad
I know that tuna salad isn't everyone's first choice for dinner. First, until you try it, don't knock it. Tuna salad is so easy, and tastes amazing paired with macaroni and cheese or just about any other pasta dish imaginable. Second, Delicious Meets Healthy's Mediterranean tuna salad is not your average tuna salad. It doesn't contain any mayo, just all of the fresh ingredients you'd expect in a classic Mediterranean dish. For a pasta dish pairing, I like Rachael Ray's cheesy orzo.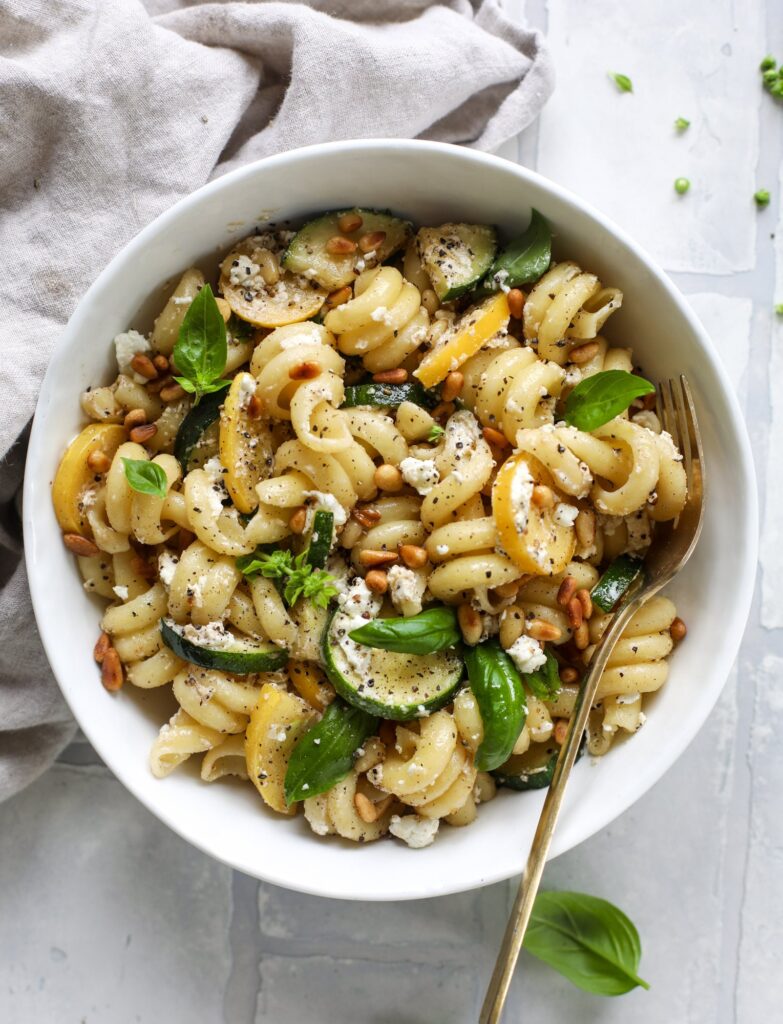 6. Summer Squash Pasta Skillet
How Sweet Eat's summer squash pasta skillet with brown butter and goat cheese will surprise you with all of its flavor. It looks like any other pasta dish, but every bite packs a punch, thanks to the pine nuts, browned butter, and goat cheese. You don't want to skimp on the add-ins here.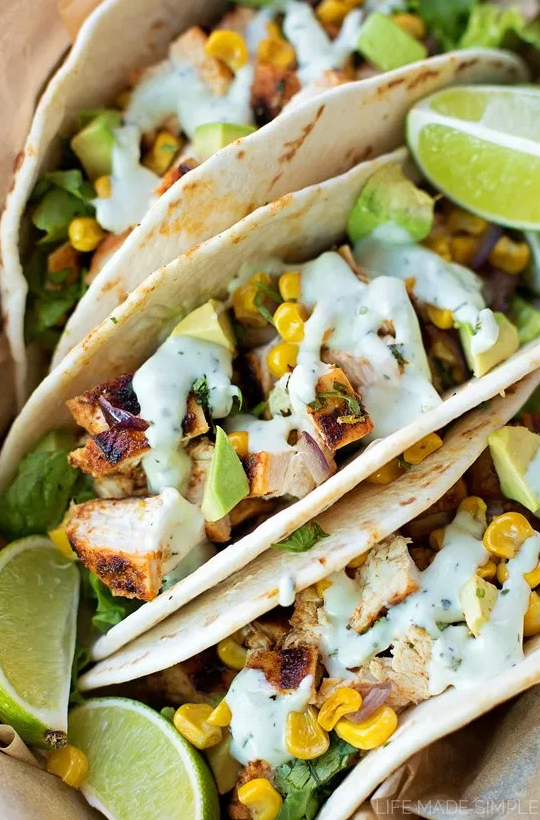 7. Chili Lime Chicken Tacos
Don't let the ingredient list for Life Made Simple's chili lime chicken tacos deter you. I promise that you have most of them on hand already. Chili lime is perfect for summer, and the roasted corn takes the flavor over the top. Make sure to allow time earlier in the day for the chicken to marinate. Then the tacos come together quickly and easily when you're ready to eat.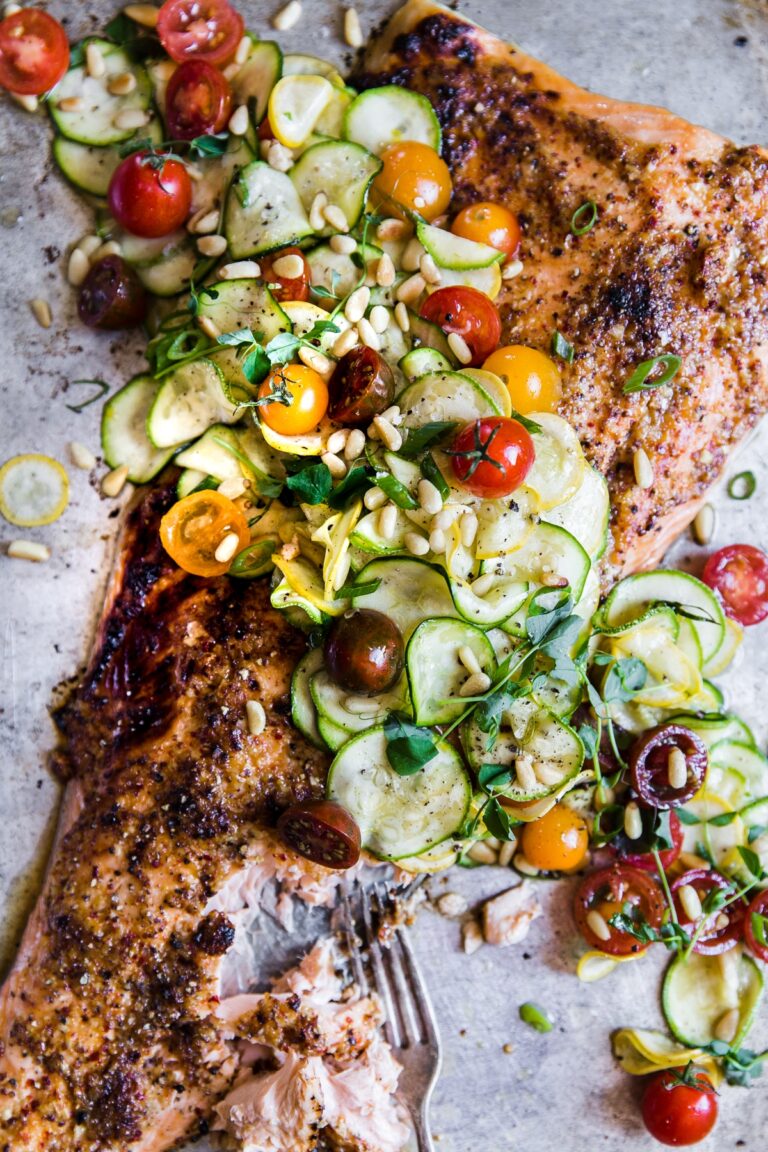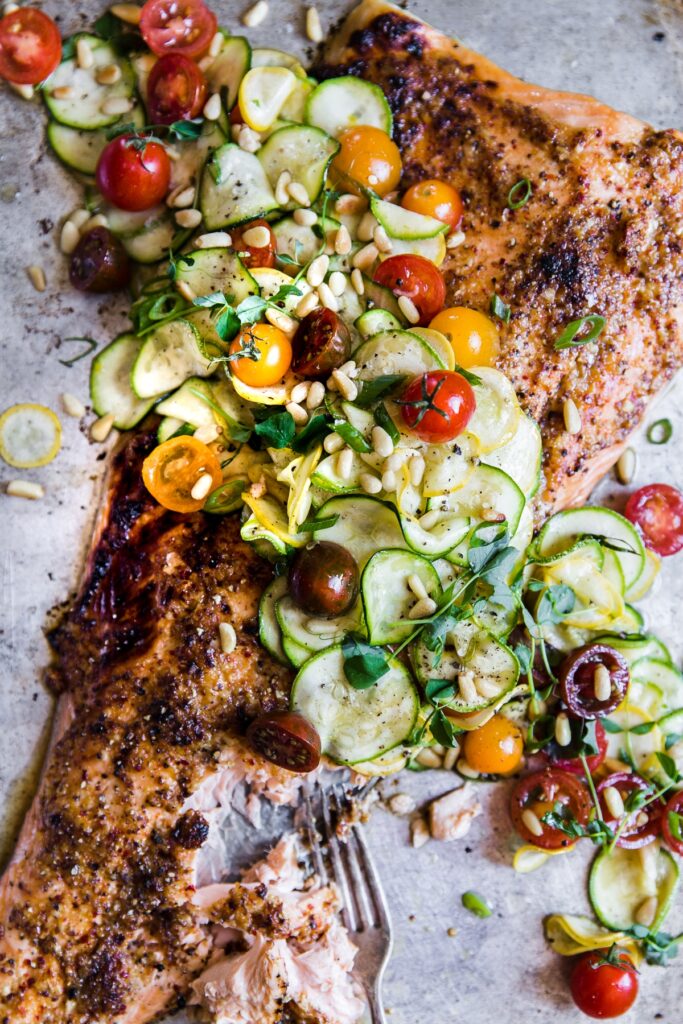 8. Honey Mustard Salmon
The Modern Proper's honey mustard salmon is the perfect addition to your weeknight dinner rotation. I love the more popular sesame salmon, but honey mustard is a great alternative when you need to switch up your routine. For summer, she pairs it with a raw zucchini and summer squash salad. Topped with tomatoes, green onions, and a lemon-honey dressing, you get so much flavor and crunch in this unique seasonal salad.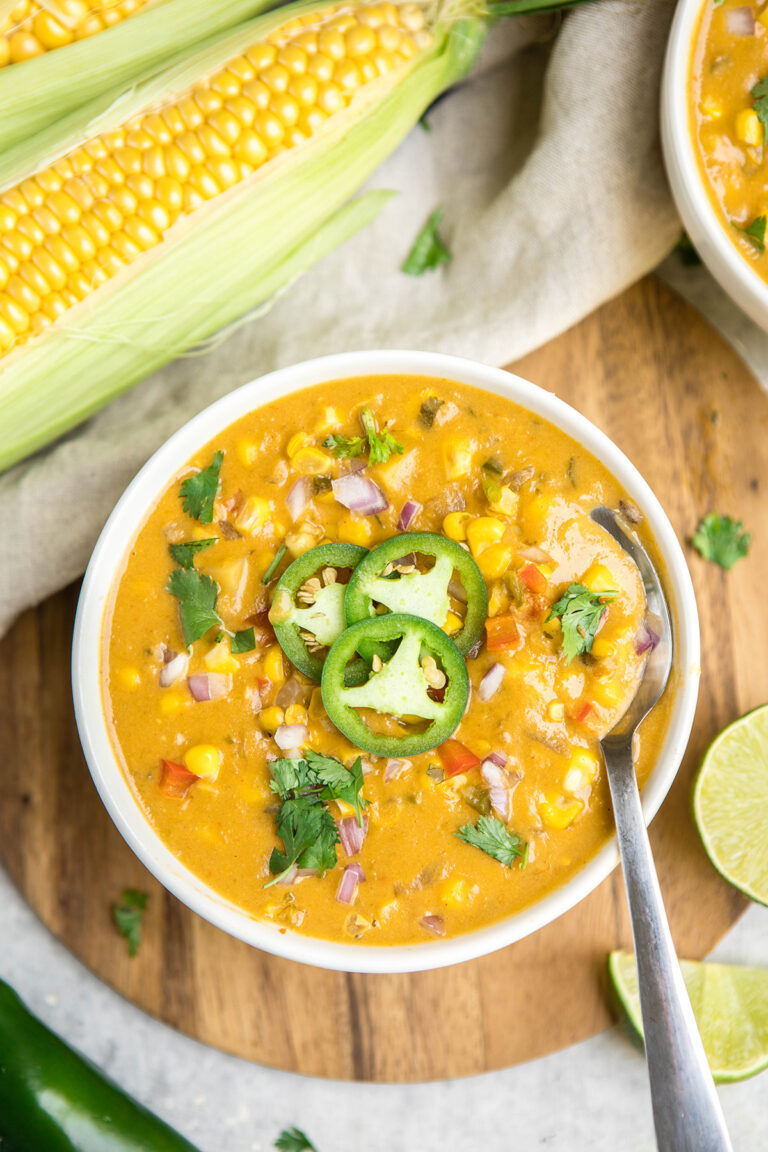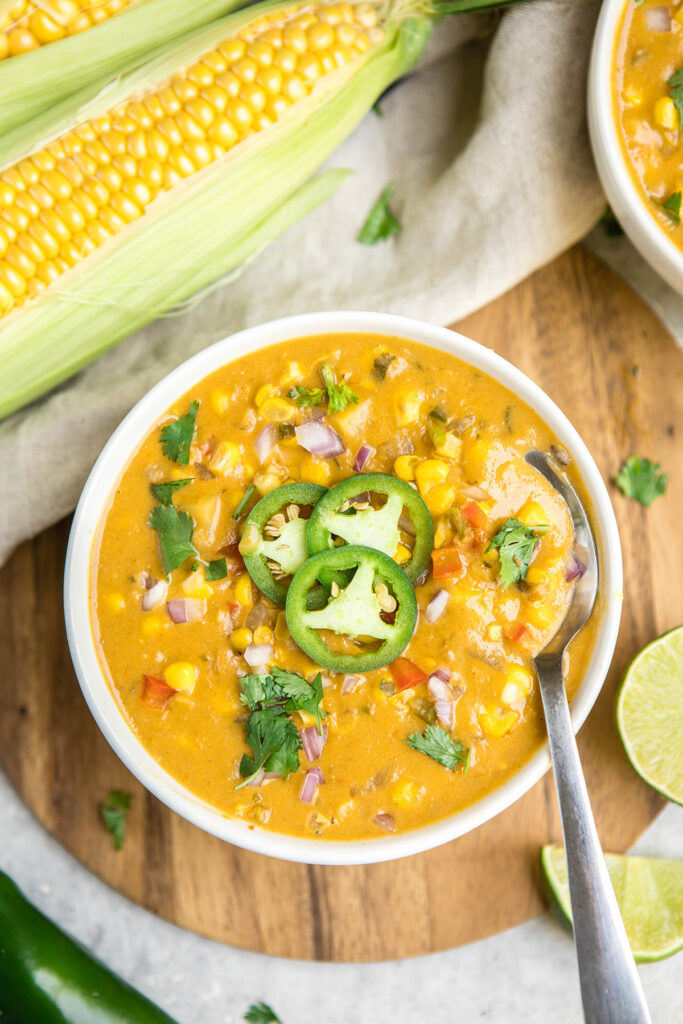 9. Summer Corn Chowder
From My Bowl's summer corn chowder is so thick and creamy that you'd never guess that it's dairy-free and vegan. (Of course, you can use regular cream cheese, too.) It's packed with summer vegetables and so much flavor, with just the right amount of kick from the jalapeno.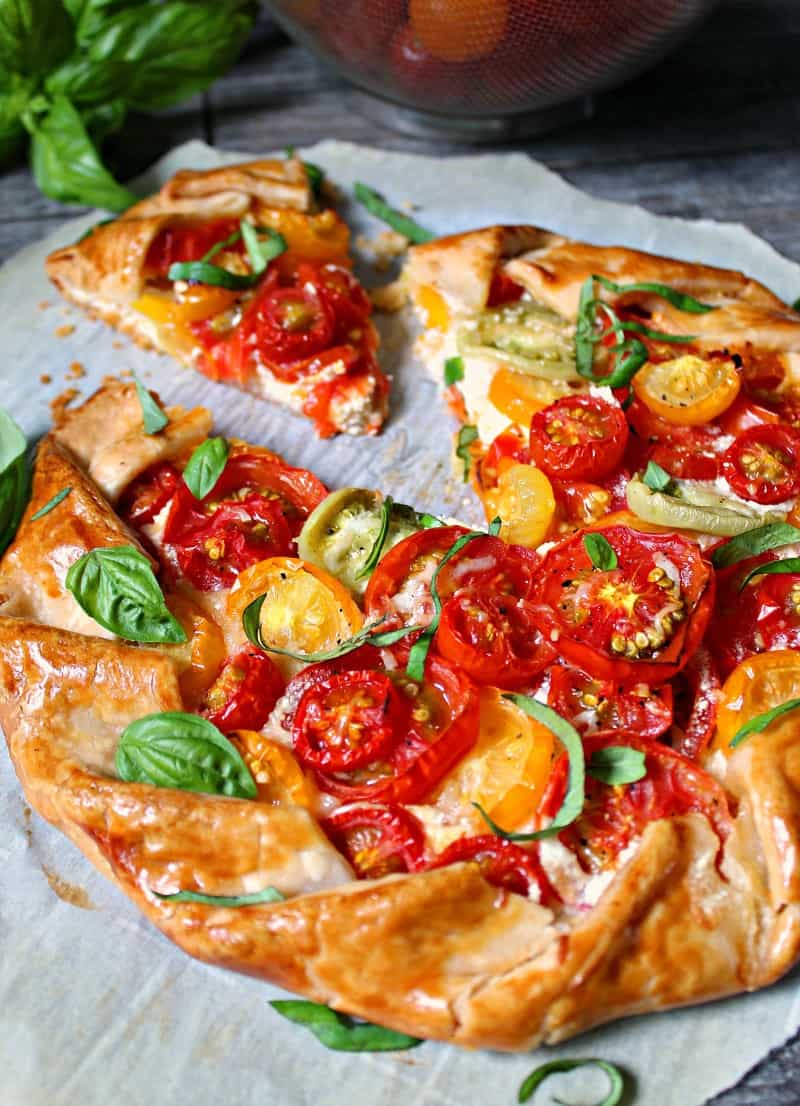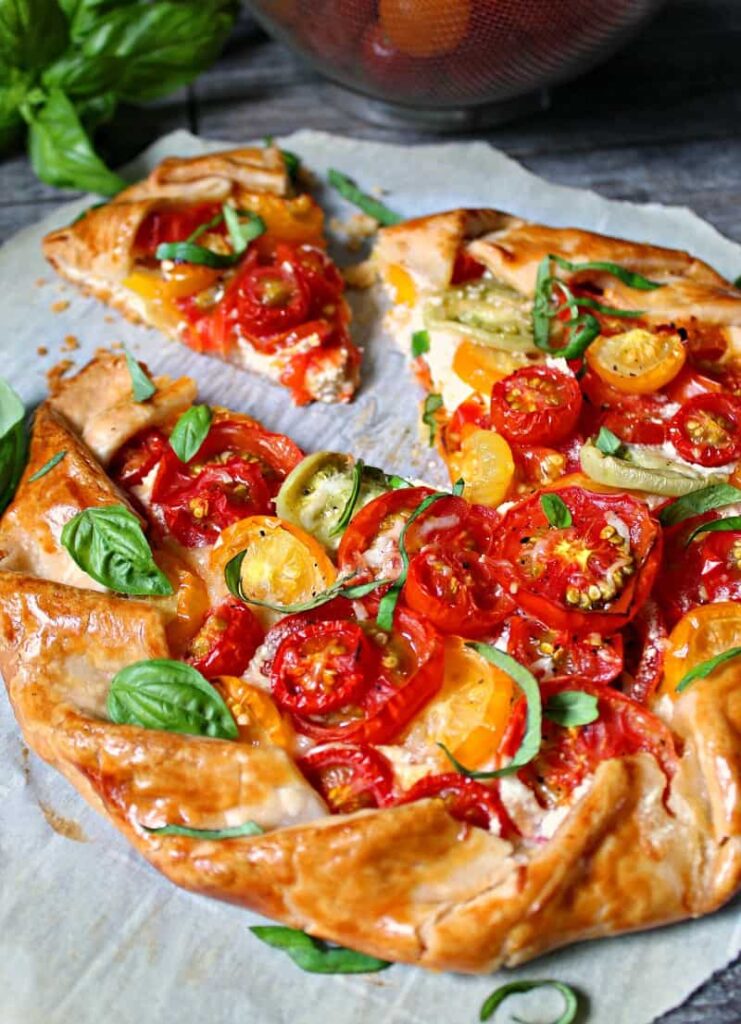 10. Tomato Galette
Is there anything prettier than a tomato galette? A Gouda Life's tomato galette features tangy goat cheese, fresh basil, and thyme, all wrapped up with flavorful summer tomatoes in a buttery, flaky pie crust. I would add a few more veggies or serve it alongside a big green salad to boost the nutrition for this meal.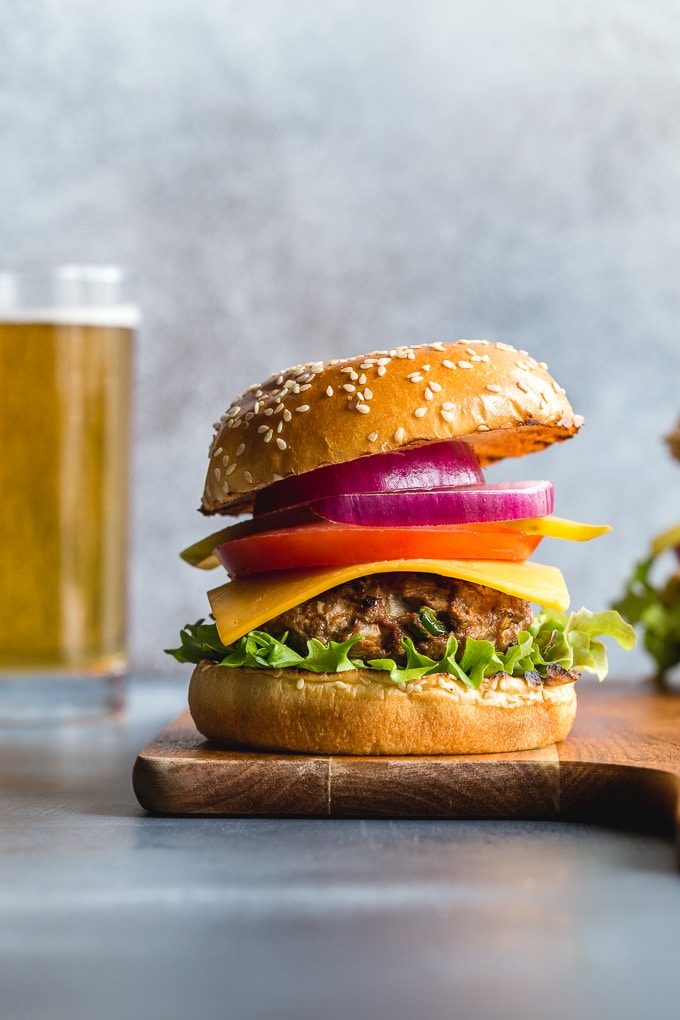 11. Turkey Jalapeno Burgers
Crumb Top Baking's turkey jalapeno burgers are a lightened-up burger idea that provide a nice alternative to traditional ground beef burgers any time of the year. Please note that you will need to allow a little extra time earlier in the day to prep and refrigerate the burgers. When you're ready to cook, they'll come together in less than half an hour.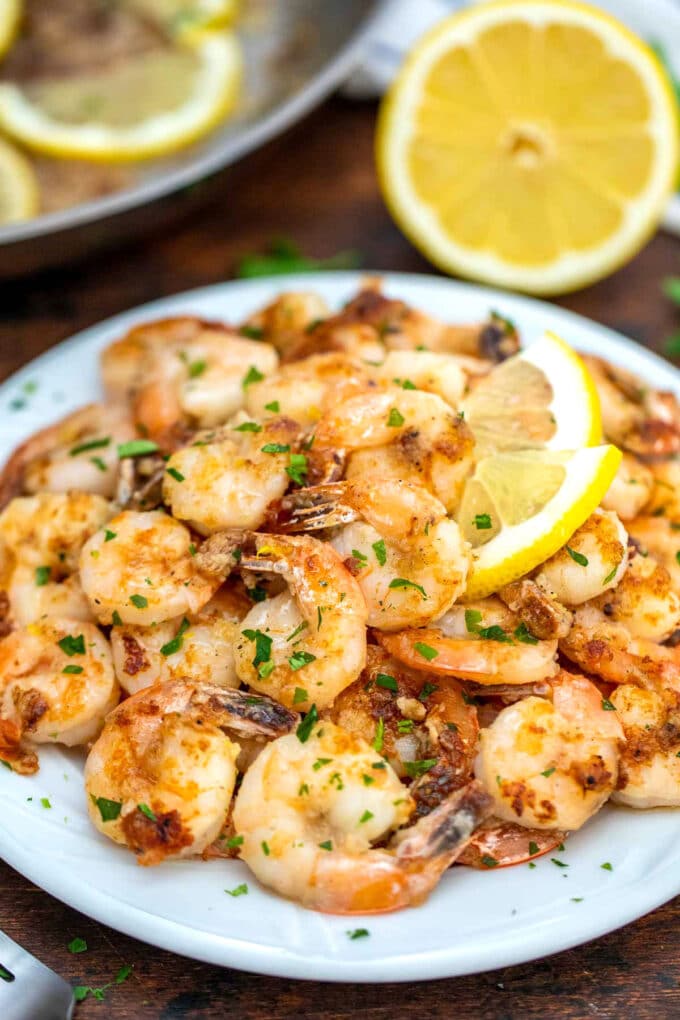 12. Lemon Pepper Shrimp
Lemon pepper is not a flavoring pairing I normally gravitate toward. Clearly, I should more often because it couldn't be simpler or more flavorful. I guarantee that Sweet and Savory's lemon pepper shrimp is one of those recipes you already have almost everything for already. I would pair it with a simple greens salad or roasted veggies.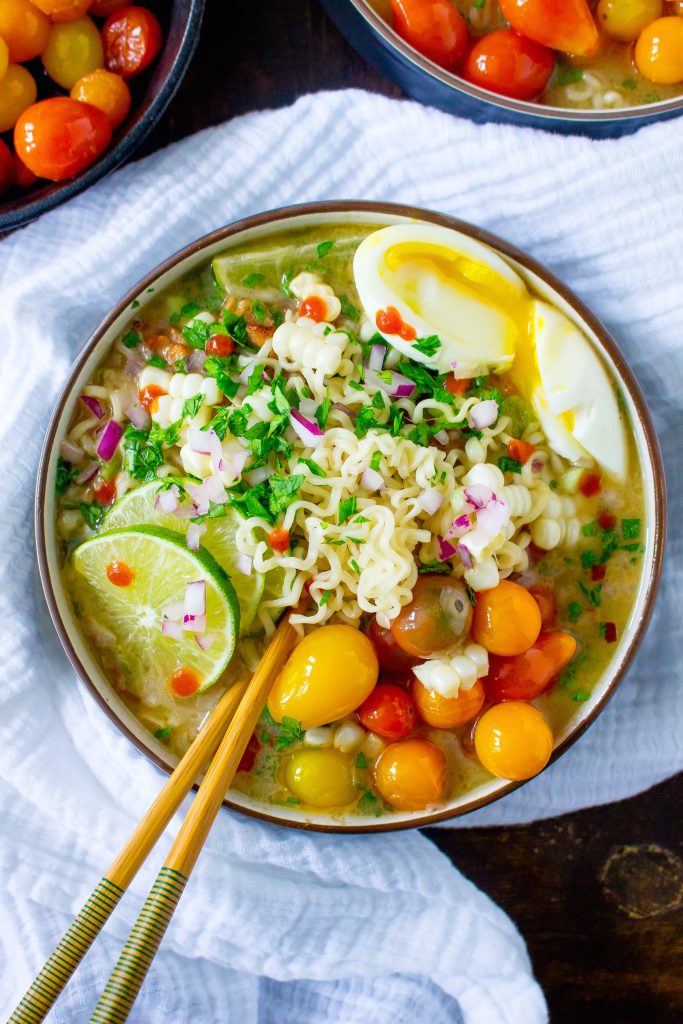 13. Summer Ramen Noodles
You know how much I love Ramen noodles. Yes to Yolks' summer Ramen noodles with fresh corn and blistered tomatoes is one of the most inspired Ramen flavor combinations I've seen yet. This recipe is huge, but you can easily scale down the concept for 2-4 people. You can also prep the broth and tomatoes ahead of time for quick assembly at dinner time.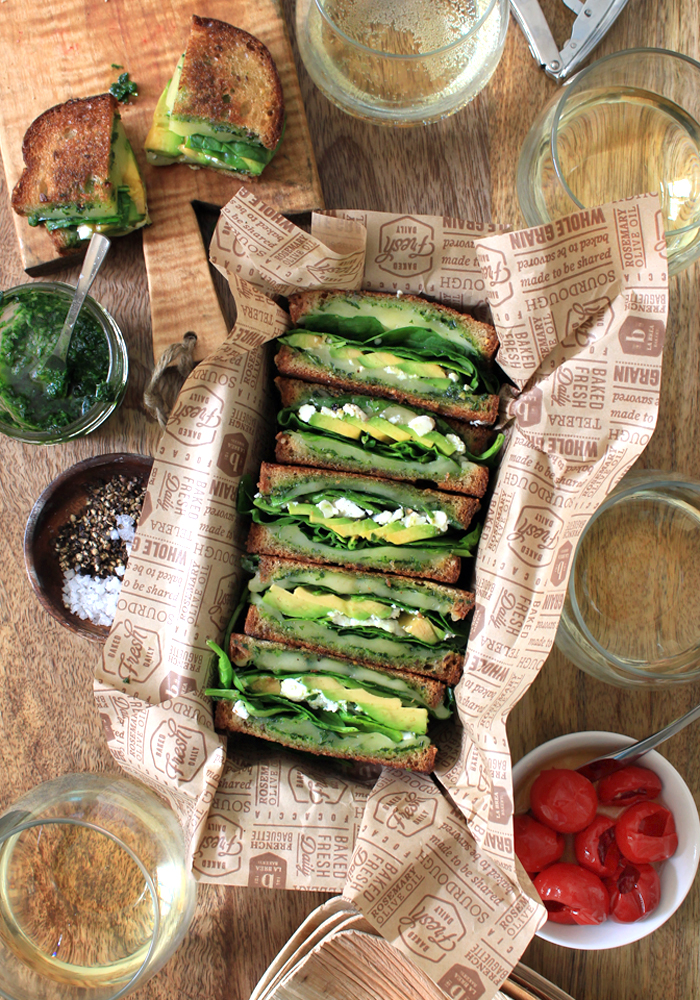 14. Green Goddess Grilled Cheese Sandwiches
Grilled cheese is one of my favorite super quick lunch and dinner meals. The Delicious Life's green goddess grilled cheese sandwich is exactly what you want for a grilled cheese summer dinner. It's bright and savory and is healthier than a traditional grilled cheese sandwich. Make the green goddess herb pesto ahead of time for quicker dinner prep.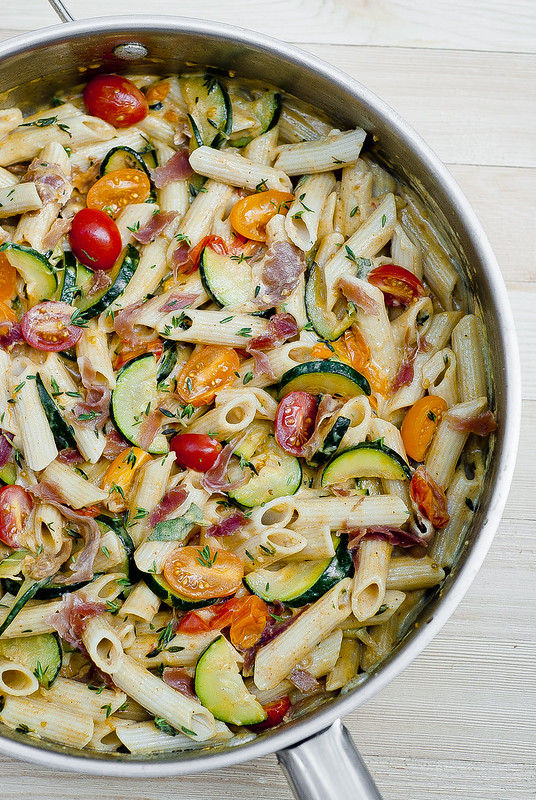 15. Creamy Prosciutto Pasta
It's hard to beat creamy, cheesy pasta packed with veggies. What's in the Pan?'s creamy prosciutto pasta with zucchini and grape tomatoes has an ideal flavor and texture balance. It's filling and flavorful without being too heavy, and the prosciutto gives it just the right amount of salt.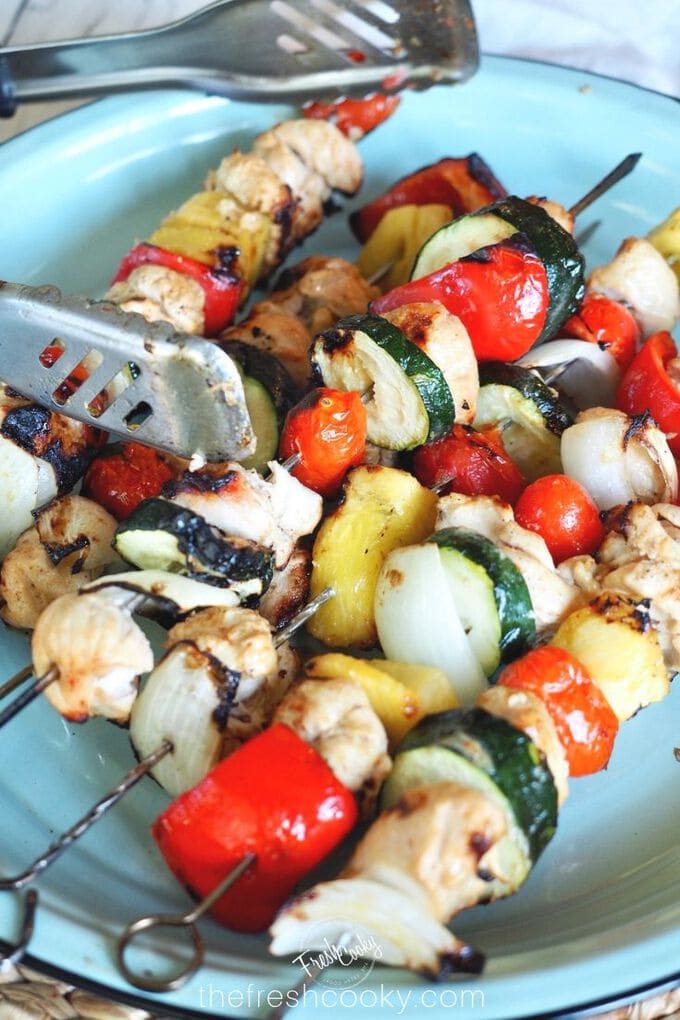 16. Shish Kebabs
Shish kebabs are one of our go-to summer dinners because you can do the majority of the prep ahead of time. When you grill kebabs, they cook in a matter of minutes. The Fresh Cooky's shish kebabs recipe has everything you need to know about making amazing kebabs. Don't skimp on the marinade because she's absolutely right that it's how the meat gets such great flavor. She serves her shish kebabs alongside Caprese salad, which is great for summer.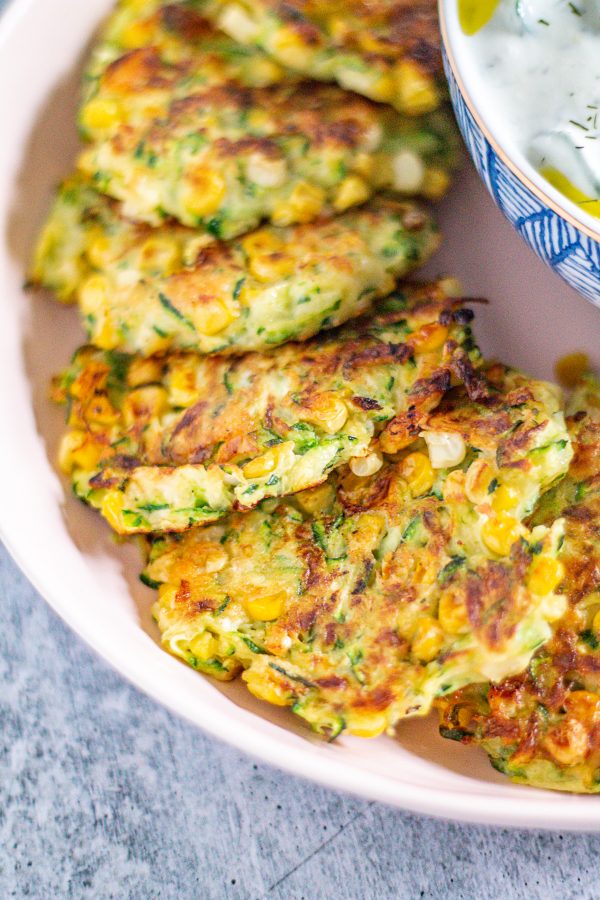 17. Corn fritters
I know that corn fritters aren't exactly health food. But The Kittchen's zucchini and corn fritters is about the healthiest corn fritters recipe you'll find. The corn fritters are also packed with zucchini and lightly fried in just enough healthy olive oil to coat the pan. Serve them alongside a summer salad or roasted vegetables. They're also perfect with the grilled meat or fish of your choosing.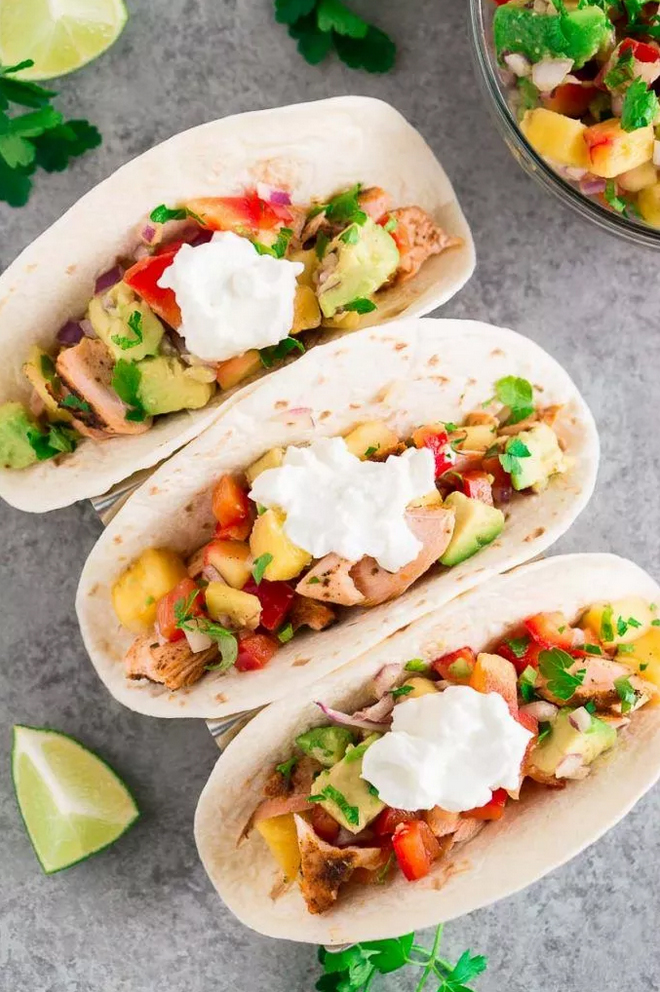 18. Blackened Salmon Tacos
Delicious Meets Healthy's blackened salmon tacos with pineapple avocado salsa provide a refreshing change of pace to your normal tacos routine. Blackened salmon is so easy and flavorful, and you'll want to start putting pineapple avocado salsa on everything (or just eat it with a spoon).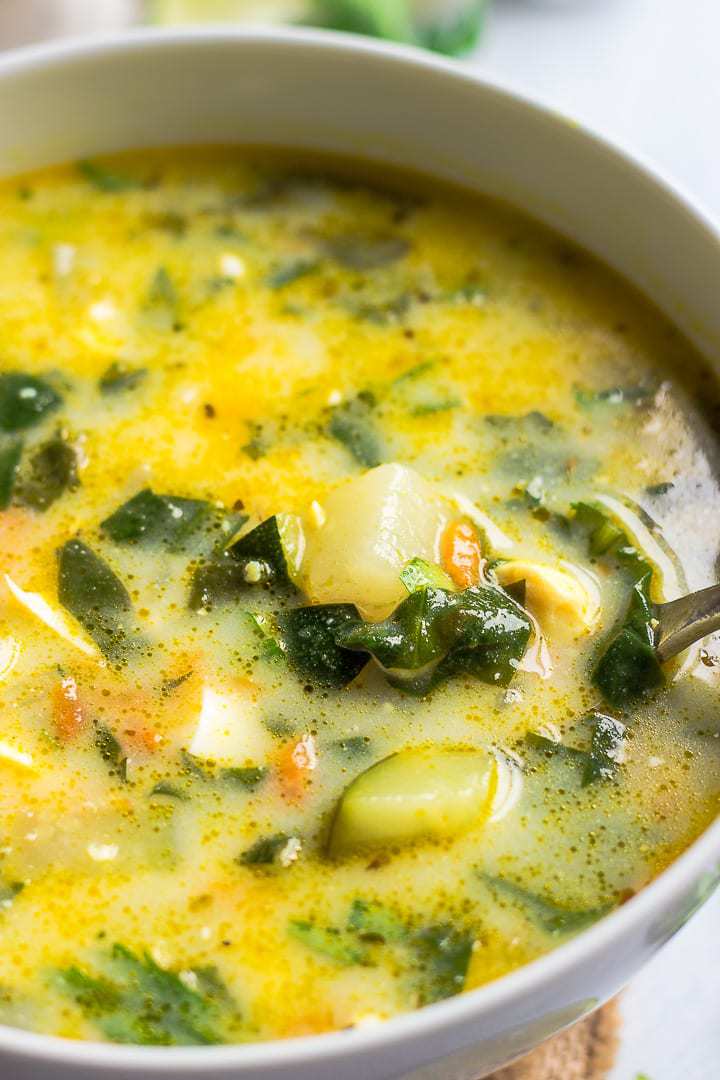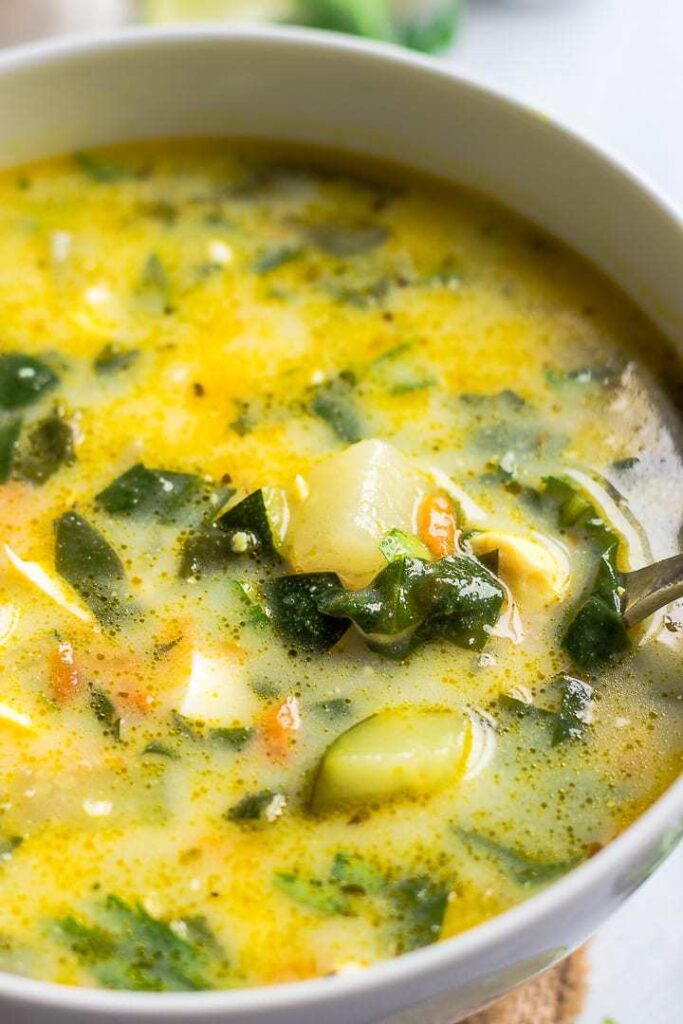 19. Green Borscht
Lavender and Macaron's green Borscht is a Ukrainian spinach soup. The flavor palette couldn't be more fitting for summer, and it's full of healthy greens. The recipe makes a big batch, which means you'll have easy leftovers for lunch or dinner the next day.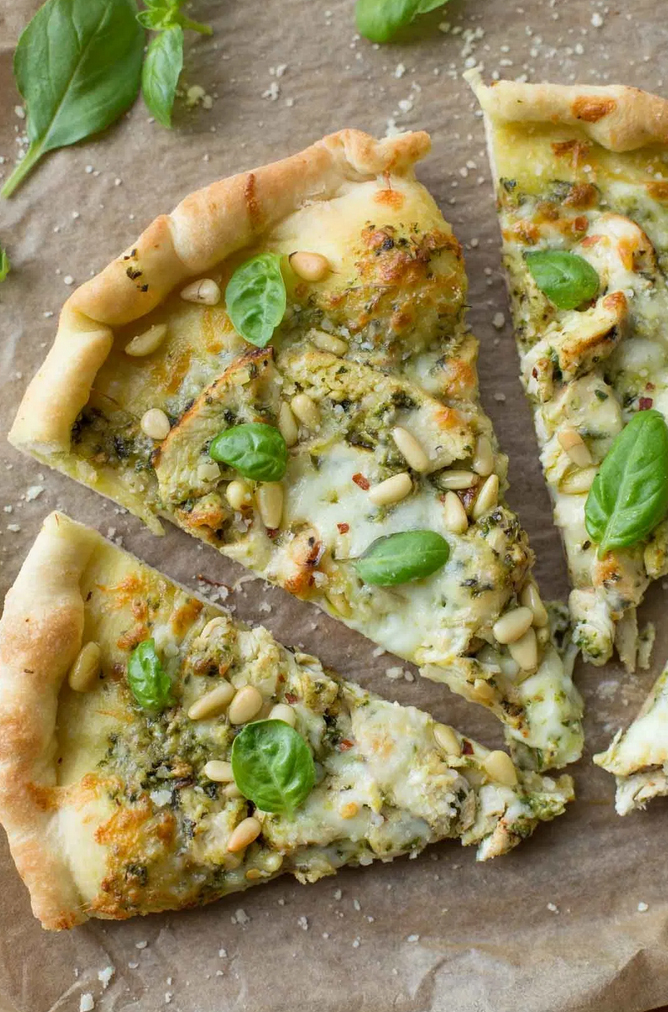 20. Chicken Pesto Pizza
Chicken and pesto is one of my all-time favorite pizza pairings. When you need a break from tomato-based pizza, pesto pizza is a great option. Life Made Simple's chicken pesto pizza is the perfect pizza recipe for summer when fresh basil is plentiful.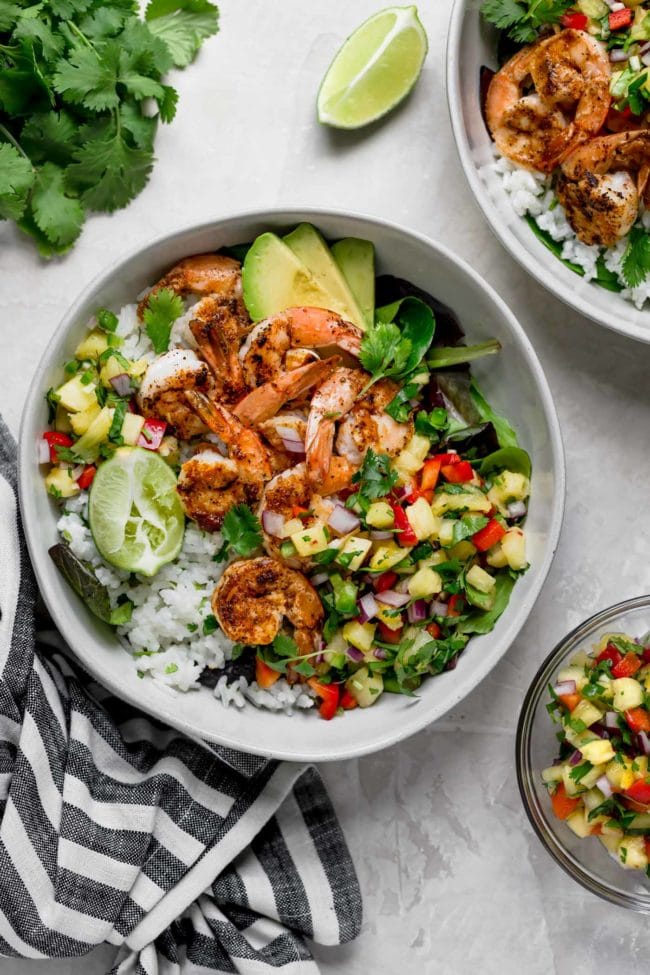 21. Shrimp Bowls
Two Peas and Their Pod's shrimp bowls start with a simple, versatile shrimp preparation that you can customize for any season. For summer, it doesn't get any better than coconut cilantro lime rice and pineapple salsa, which is how she makes it for this post.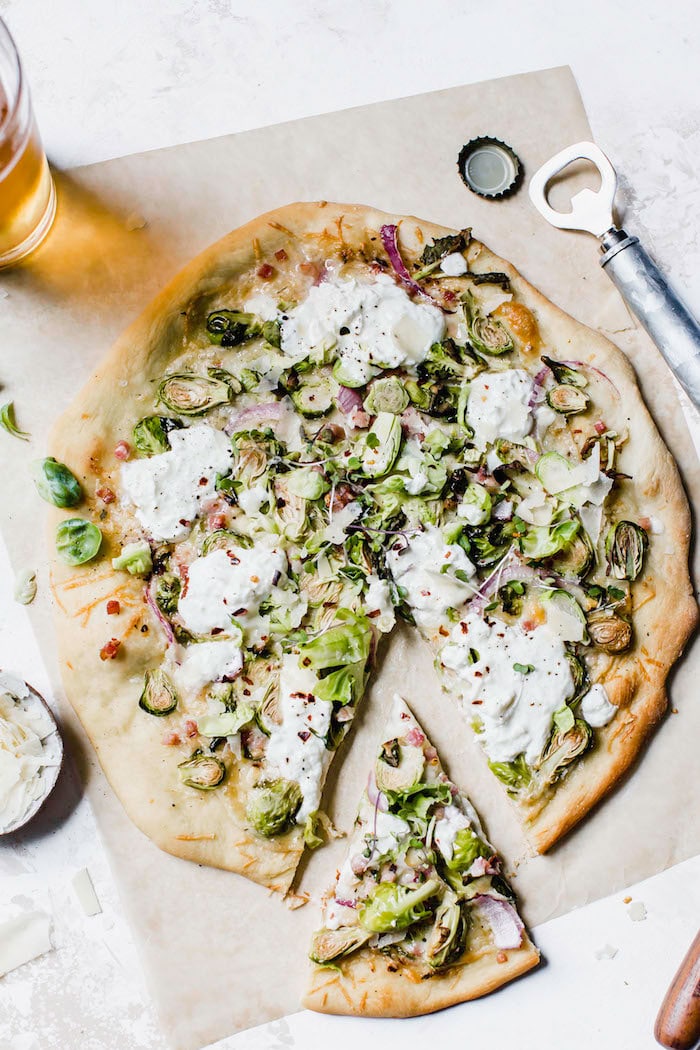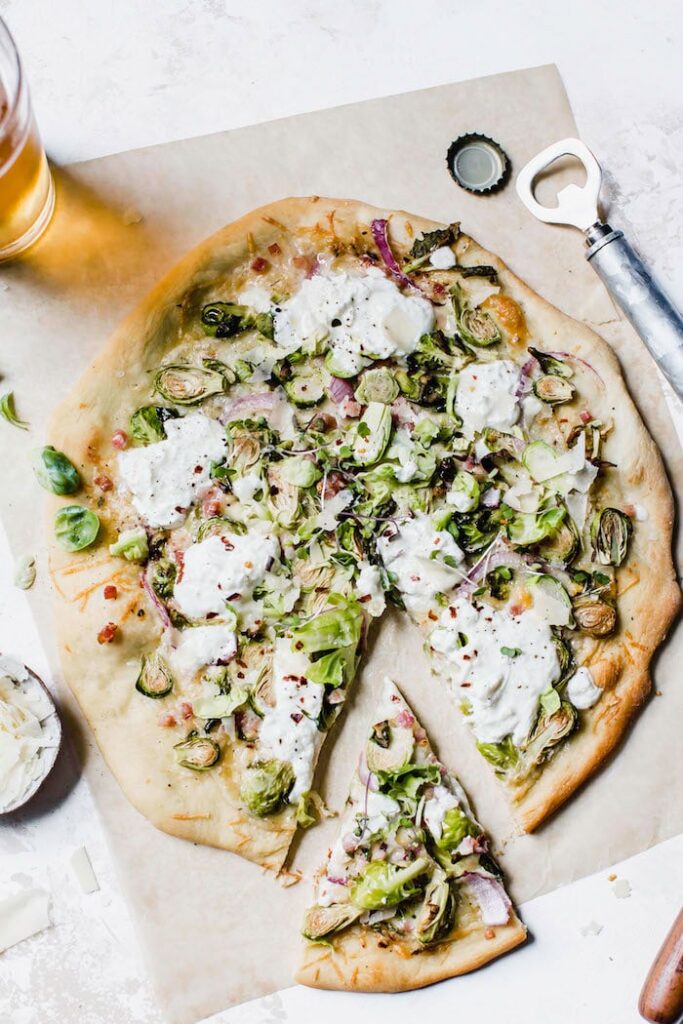 22. Burrata Brussels Sprouts Pizza
Burrata is one of the best cheeses ever and such a great pick for a summer pizza. The Almond Eater's burrata Brussels sprouts pizza also includes red onion and pancetta. Make your pizza dough ahead of time or use pre-made dough for a quick dinner prep.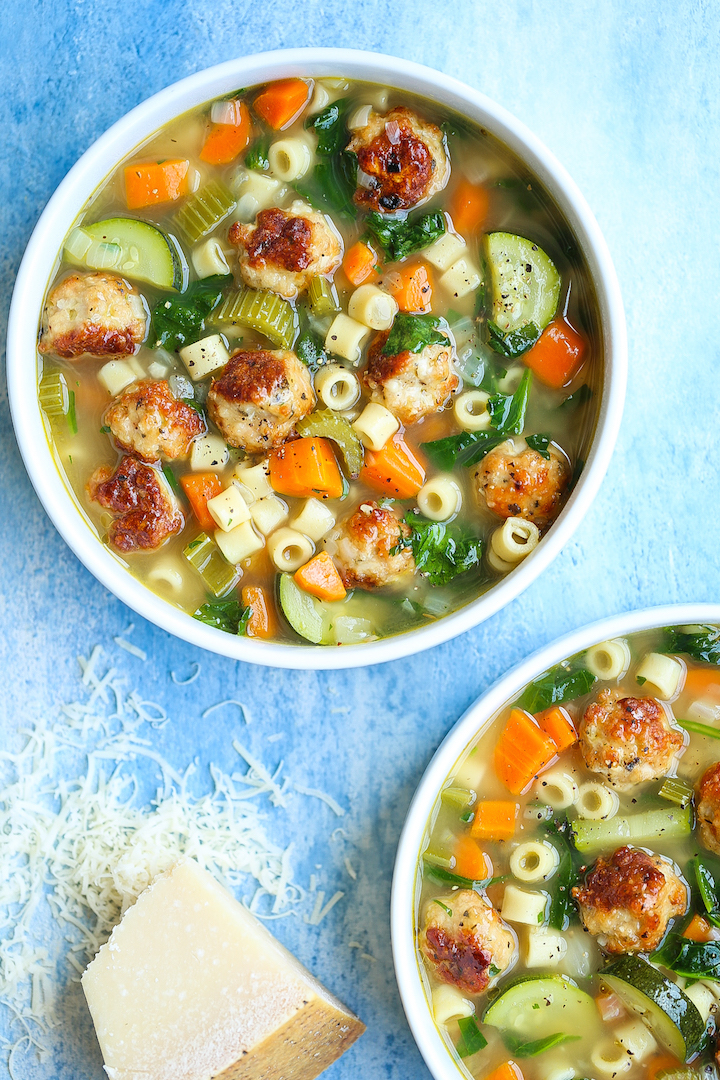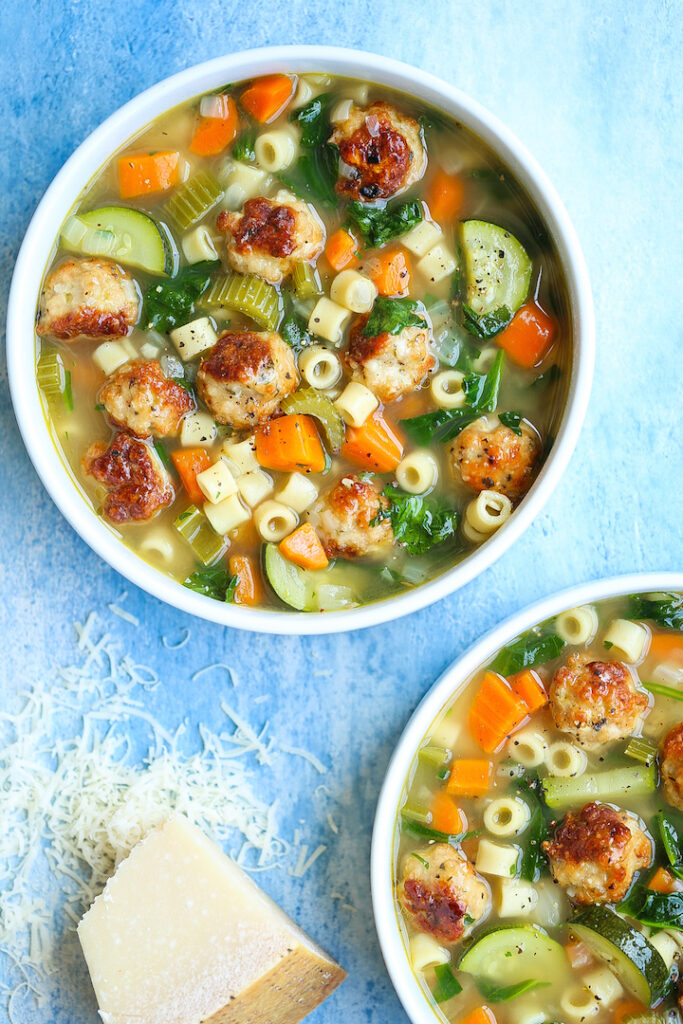 23. Summer Minestrone Soup
When you're in the mood for soup in the summer, Damn Delicious's summer minestrone soup will fit the bill perfectly. It's packed with all of your favorite minestrone vegetables and finished off with turkey meatballs.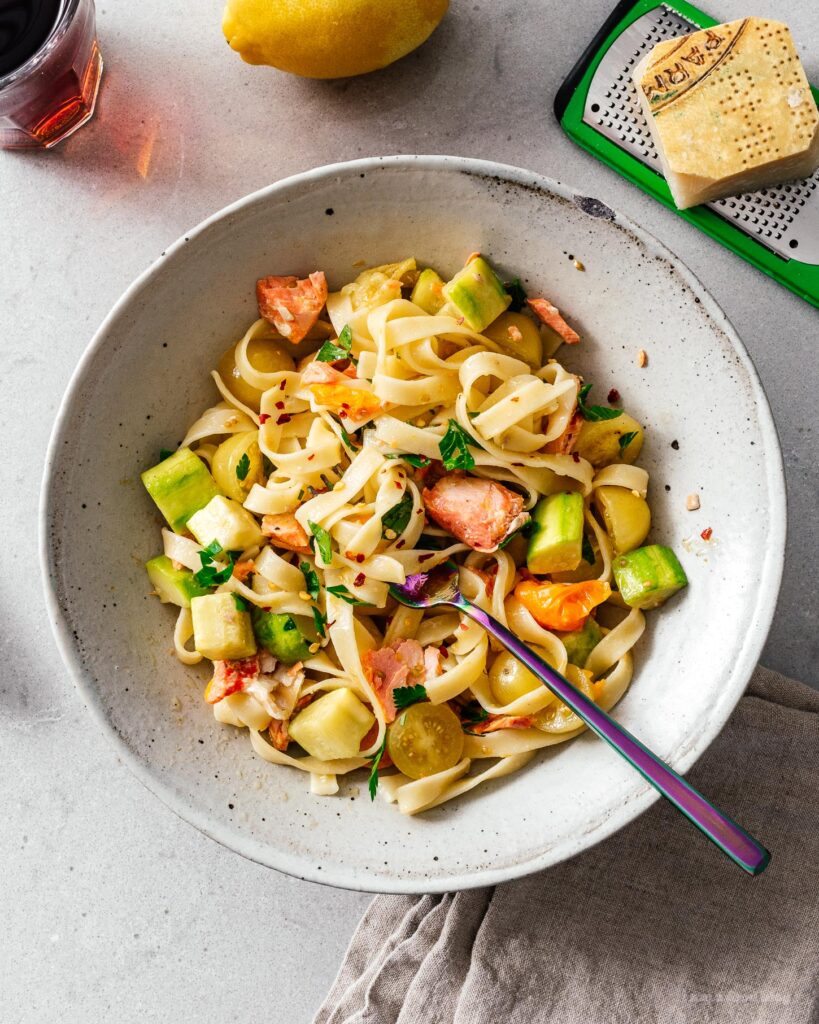 24. Salmon Tomato and Zucchini Tagliatelle
I am a Food Blog's salmon tomato and zucchini tagliatelle feels really fancy but comes together quickly enough to make on any busy weeknight. You can easily customize this concept with lots of different pasta, veggie, and meat combinations.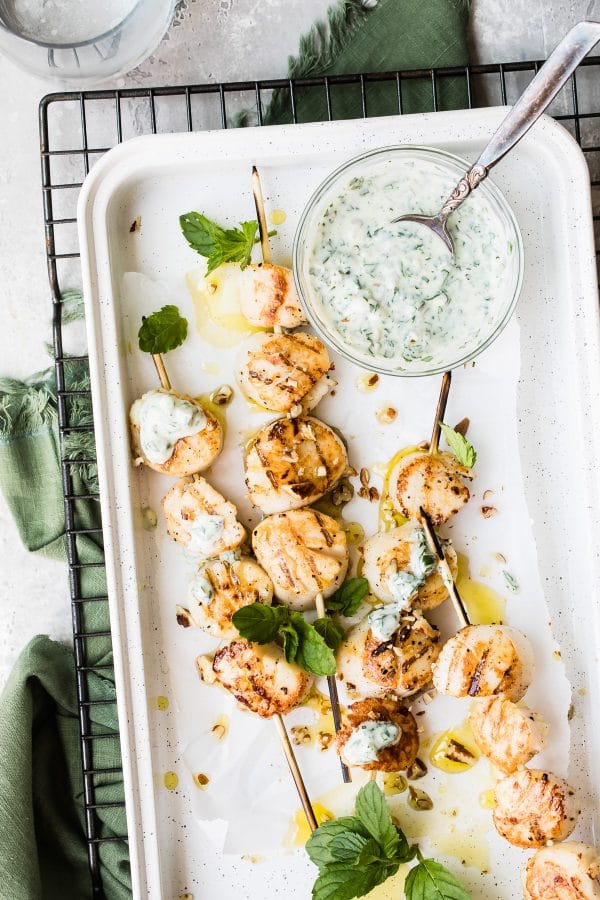 25. Grilled Scallops with Cilantro Yogurt Dip
Scallops seem intimidating but couldn't be easier to make. Foodness Gracious's grilled scallops with cilantro yogurt dip is no exception. The creamy dip balances out the grilled flavor nicely.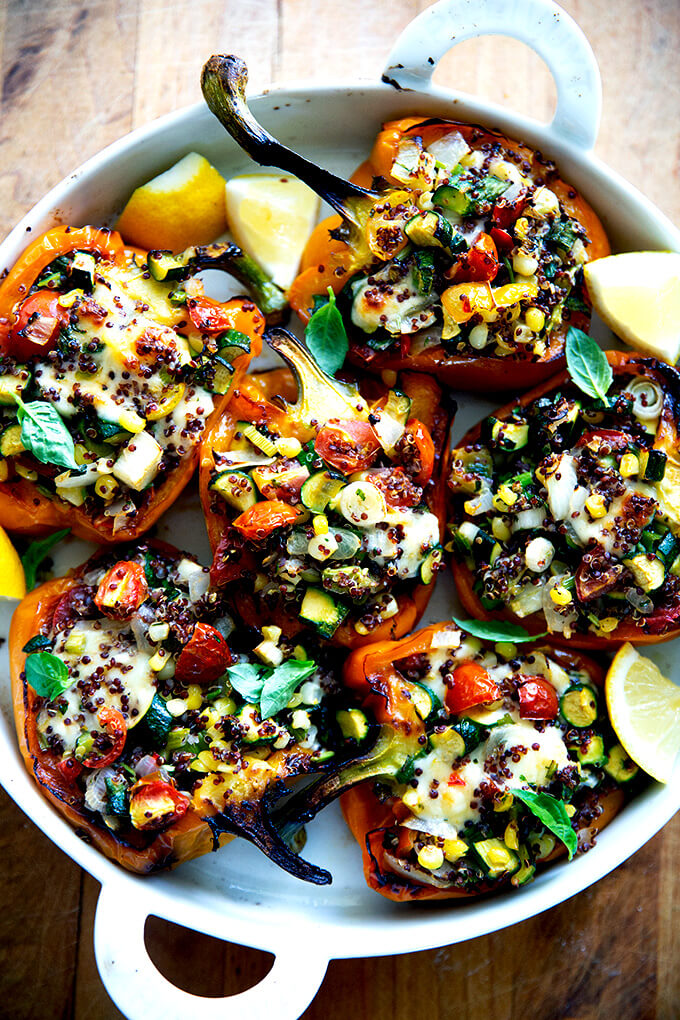 26. Stuffed Peppers with Quinoa, Corn, Zucchini, and Tomatoes
I love Alexandra's Kitchen's twist on stuffed peppers for summer with a quinoa base and a corn, zucchini, and tomatoes vegetables mix. Onions, scallions, a few garnishes, and of course, lots of cheese finish out the dish.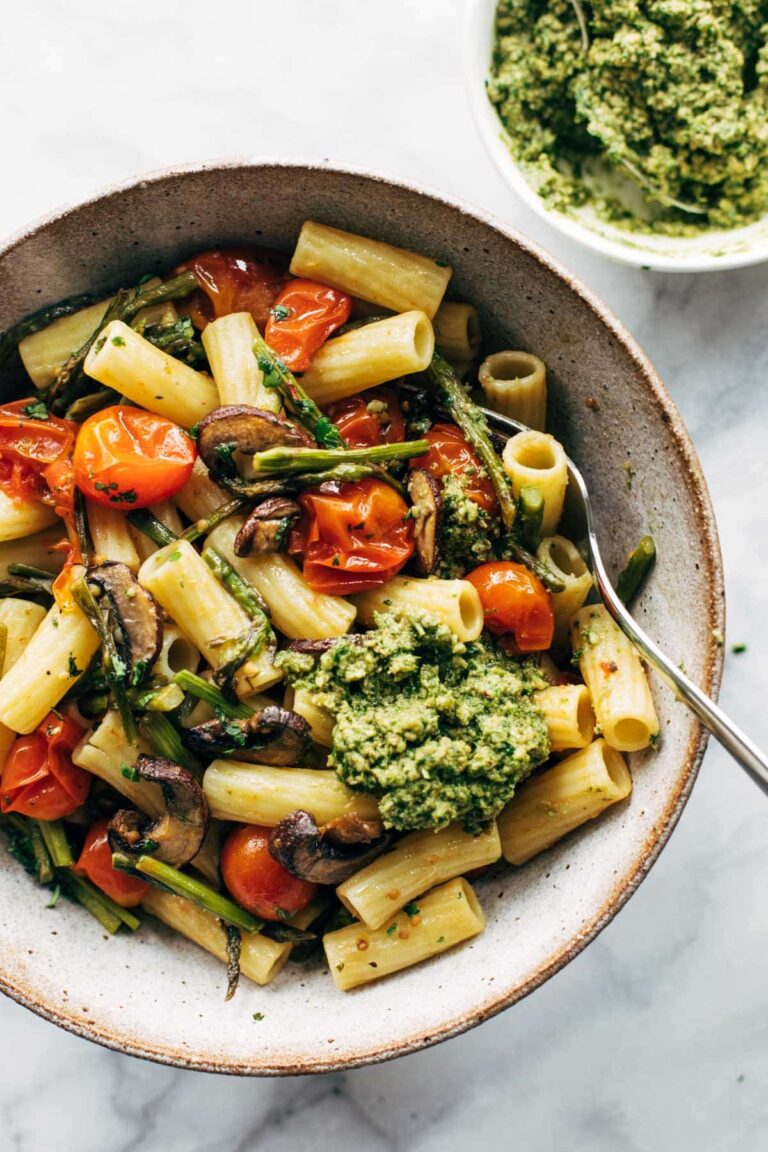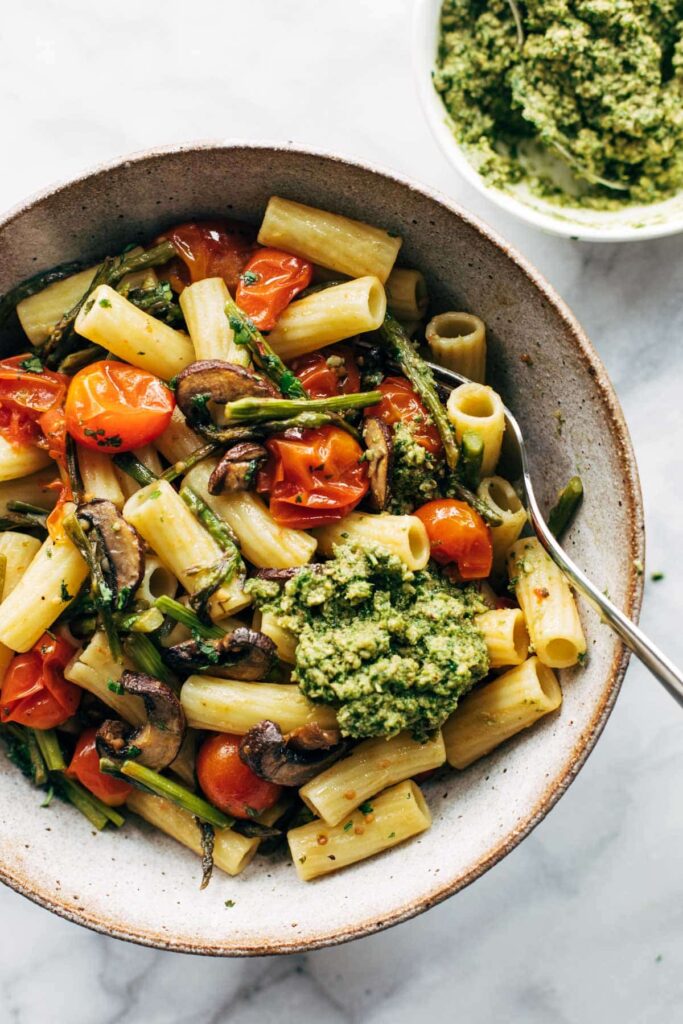 27. Farmers' Market Pasta with Walnut Pesto
Your next trip to the local farmers' market is the perfect excuse to load up on all of your favorite produce and make Pinch of Yum's farmers' market pasta with walnut pesto. There are about a million variations of this recipe online, but the walnut pesto is really what sets this one apart. When you need a change from traditional pine nut pesto, go for the walnut version.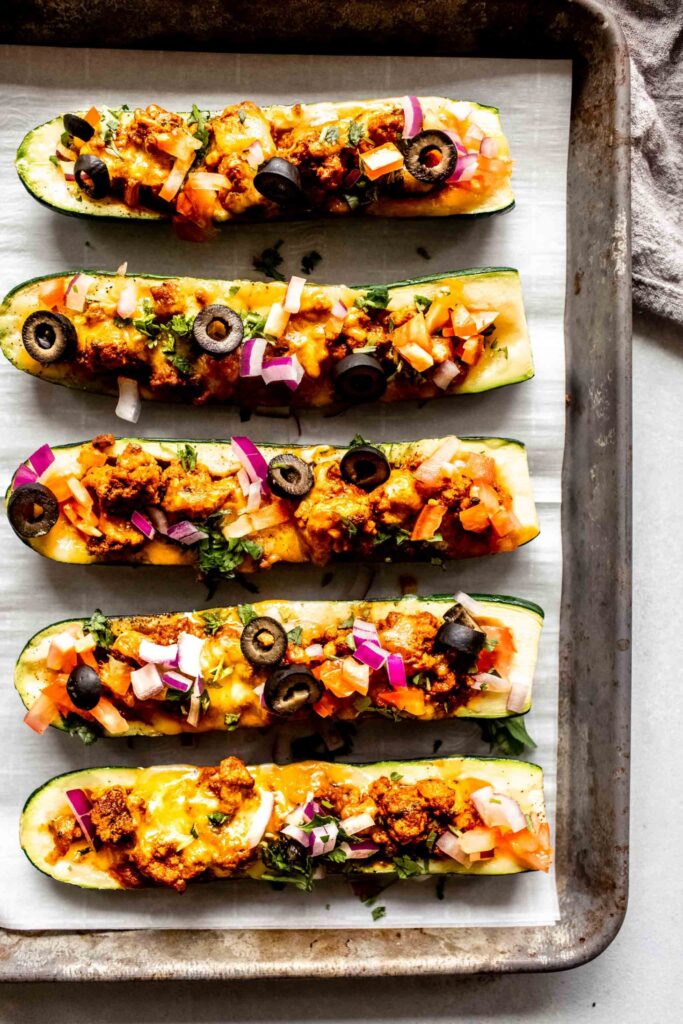 28. Taco Zucchini Boats
Mix up your taco Tuesday night routine in the summer with Plates and Pairing's taco zucchini boats. You can bake or grill them and switch up the toppings as you like to fit your family's taste preferences.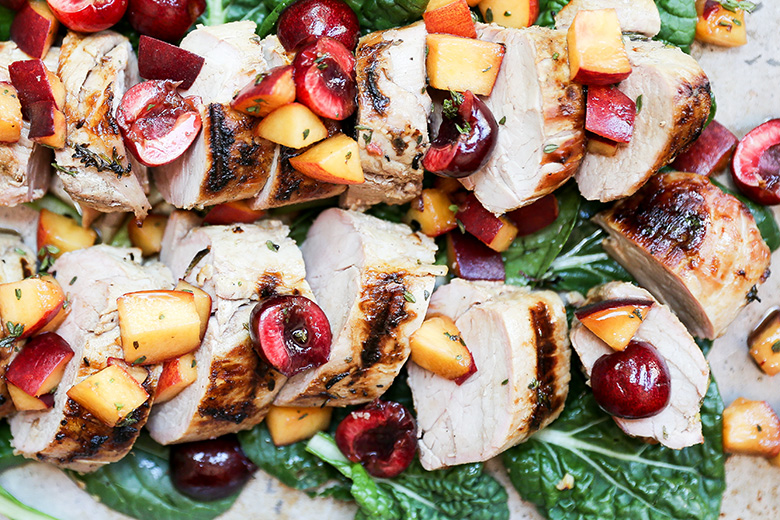 29. Grilled Pork Tenderloin
A stone fruit salsa is a very inspired pairing for pork tenderloin. Floating Kitchen has a grilled pork tenderloin with peach-cherry salsa recipe. She has great tips for preparing perfectly done pork every time, and the salsa recipe couldn't be easier.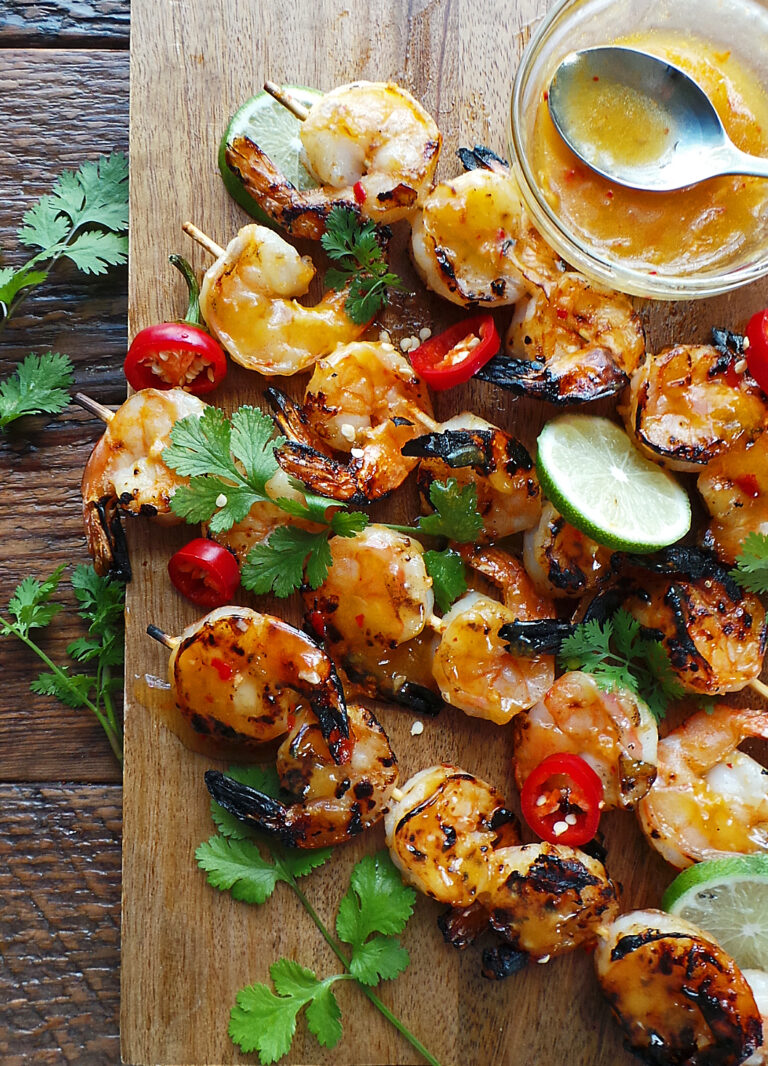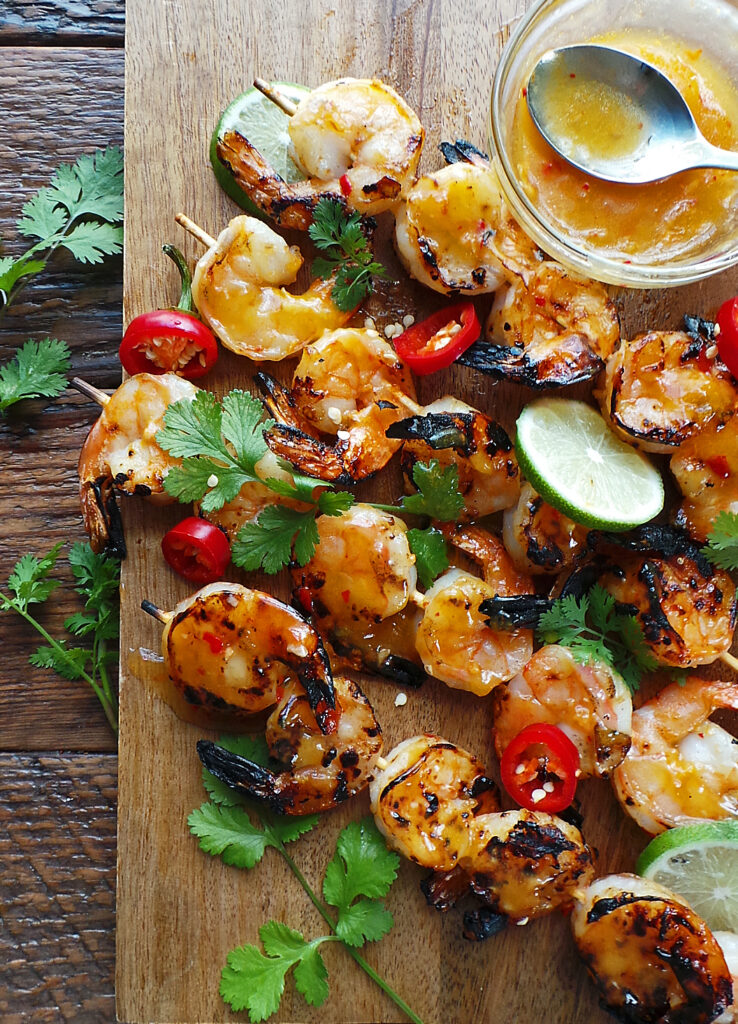 30. Orange Chili Grilled Shrimp
Vodka and Biscuit's orange chili grilled shrimp is the dish you need when you're craving orange shrimp from your favorite Chinese restaurant but want something lighter. You get wonderful chili orange flavor without a ton of calories. Put together a quick greens salad to finish off the meal.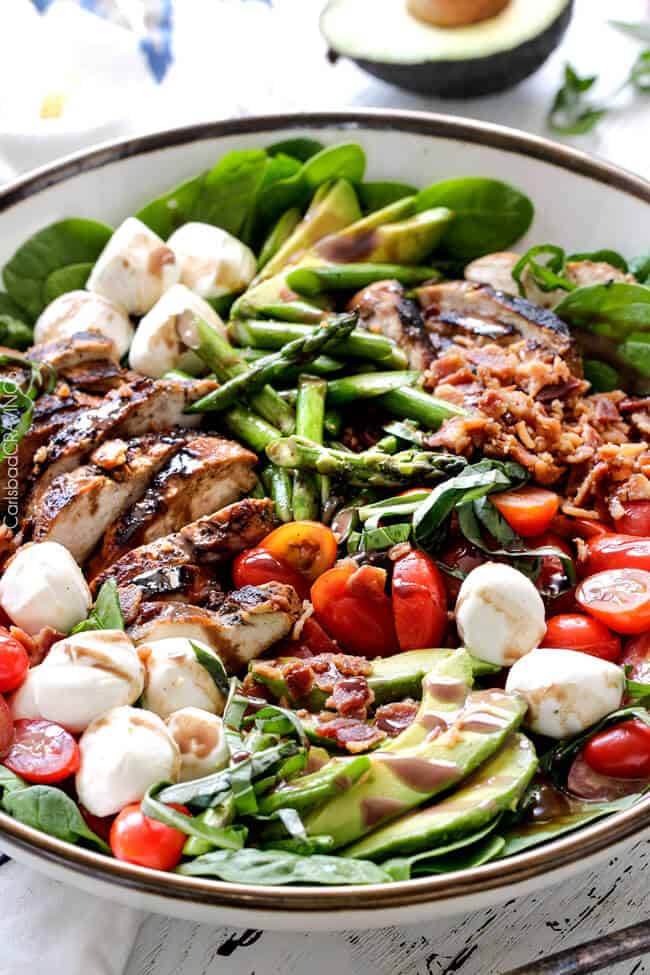 31. Caprese Chicken Salad
You knew that I had to include at least one Caprese recipe in my healthy summer dinner ideas round-up. (I have a lot more summer Caprese dishes if you need additional options.) Carlsbad Cravings finishes out her Caprese chicken salad with avocado and bacon and tops it with reduced balsamic. It's hard to go wrong here.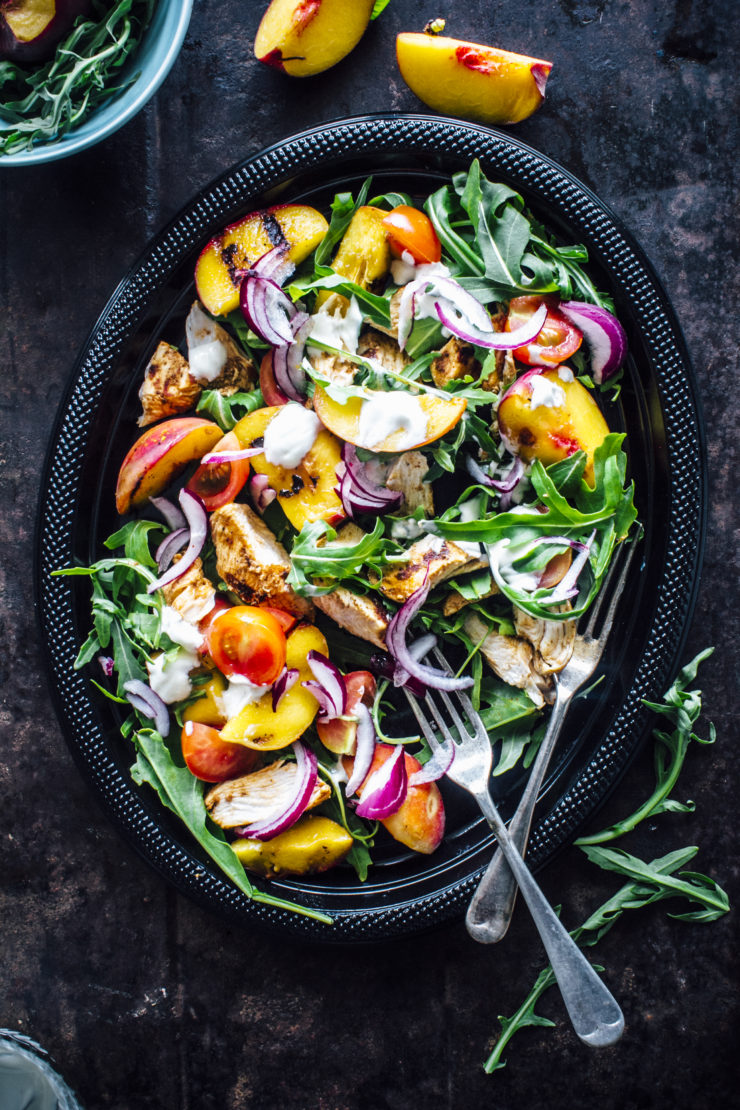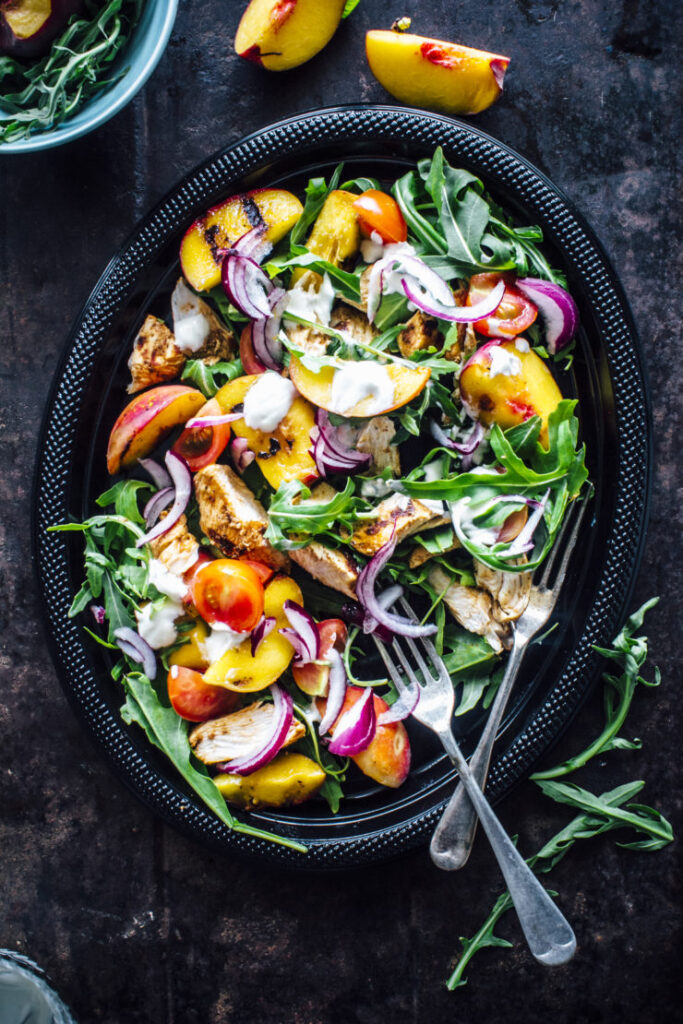 32. Tandoori Chicken and Grilled Peach Salad
I never get tired of tandoori chicken. While not authentic when made at home (and you know, not in a Tandoori oven), it's still extremely tasty. Sugar at Al has a great summer twist with tandoori chicken and grilled peach salad to lighten up this classic dish for warmer weather.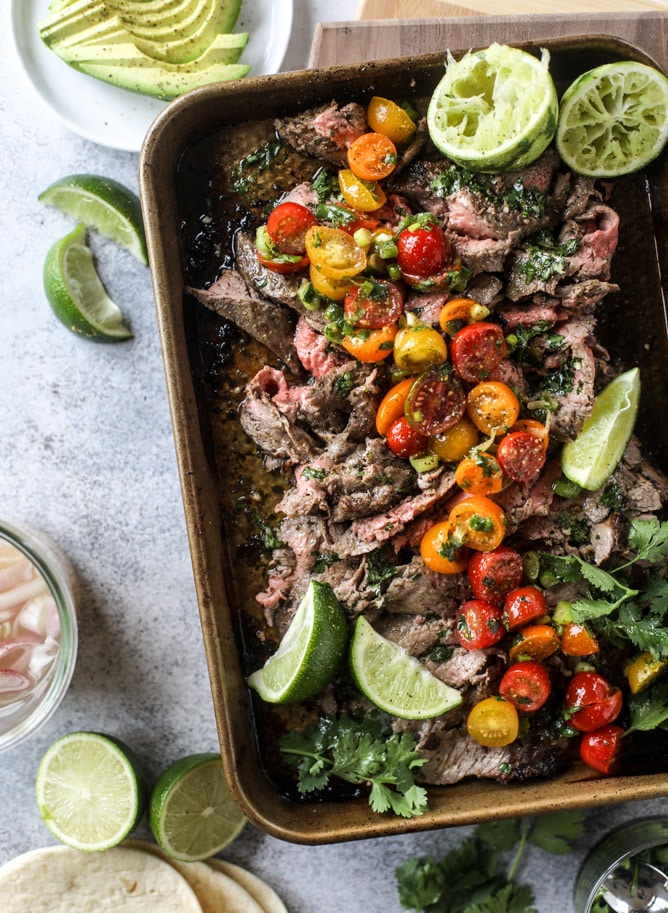 33. Cilantro Lime Flank Steak
How Sweet Eat's cilantro lime flank steak is so versatile. You can keep it simple and serve it with potatoes or sweet potatoes and vegetables. You can also use it for just about any recipe imaginable, such as tacos, nachos, salads, bowls, and wraps. Make it your own for a dinner you'll really enjoy.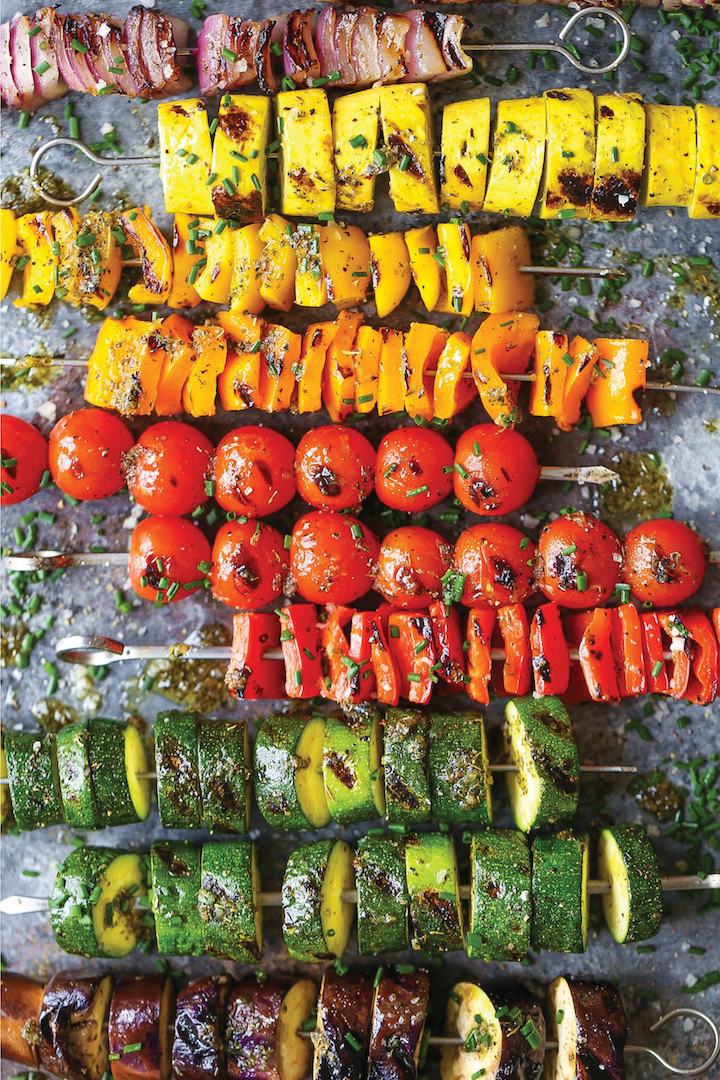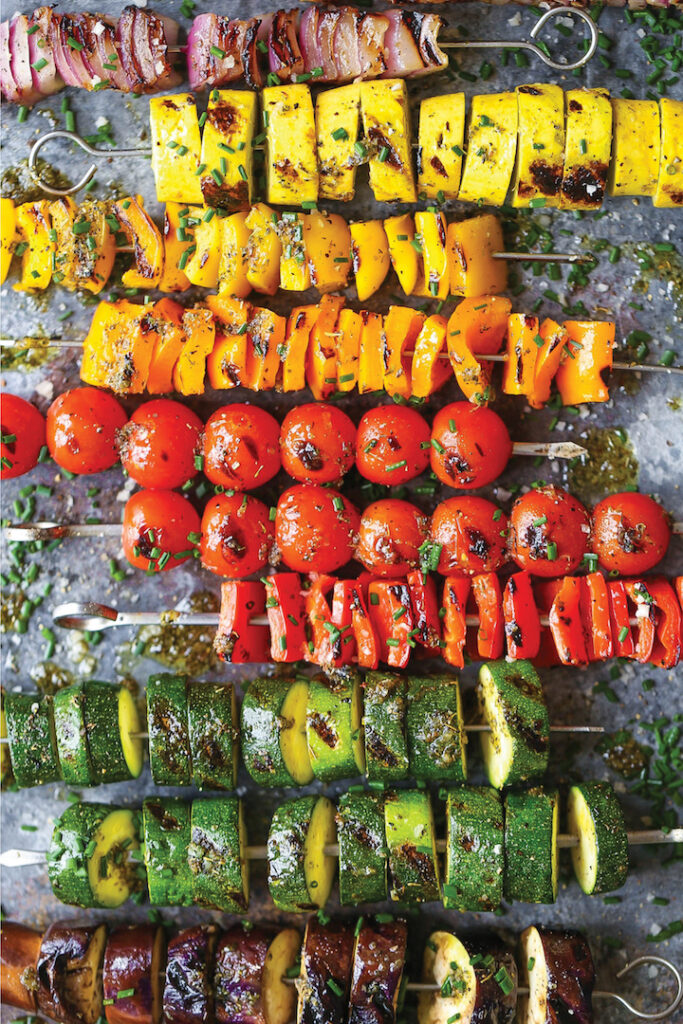 34. Rainbow Vegetable Kabobs
How pretty are these rainbow vegetable kabobs from Damn Delicious? The marinade comes together quickly with pantry ingredients and gives the vegetables amazing flavor. I like putting one vegetable on each skewer, so you can give each one a slightly different cooking time as needed. You can easily add a couple skewers of shrimp or meat to fill out the meal.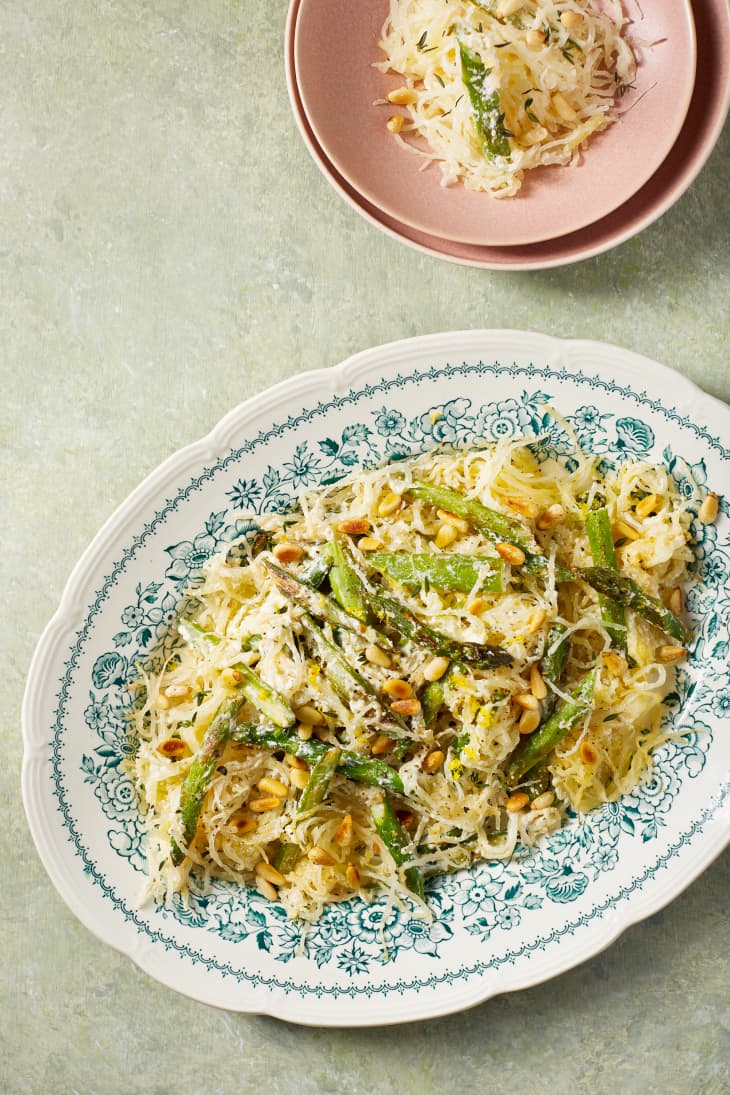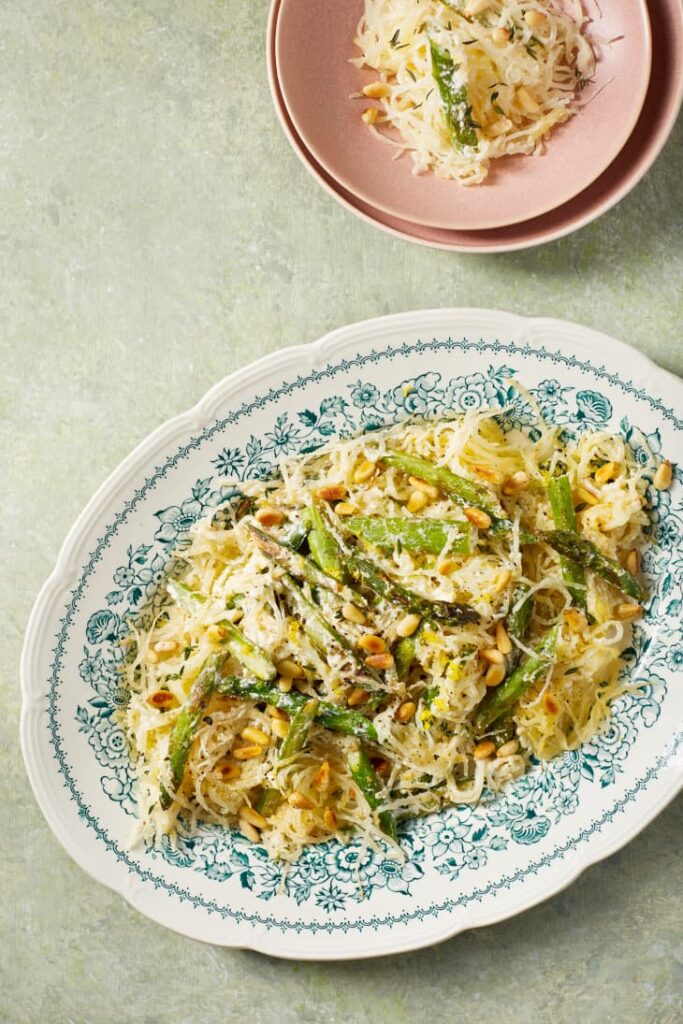 35. Summer Spaghetti Squash
Spaghetti squash is one of my all-time favorite bases for vegetarian meals and frankly, a lot more satisfying than spiralized vegetables. The Kitchn's summer spaghetti squash features asparagus, ricotta, lemon, and thyme. You'll be hard-pressed to find a brighter, more inspired summer flavor palette that works so well with spaghetti squash.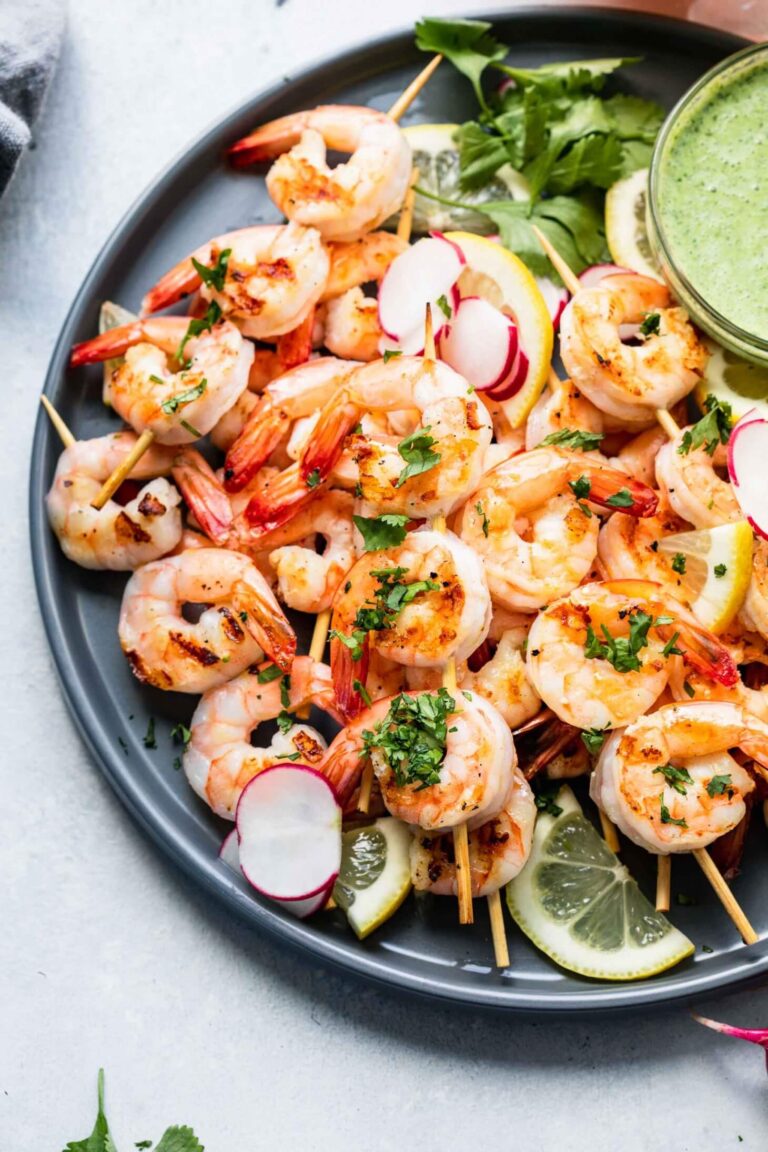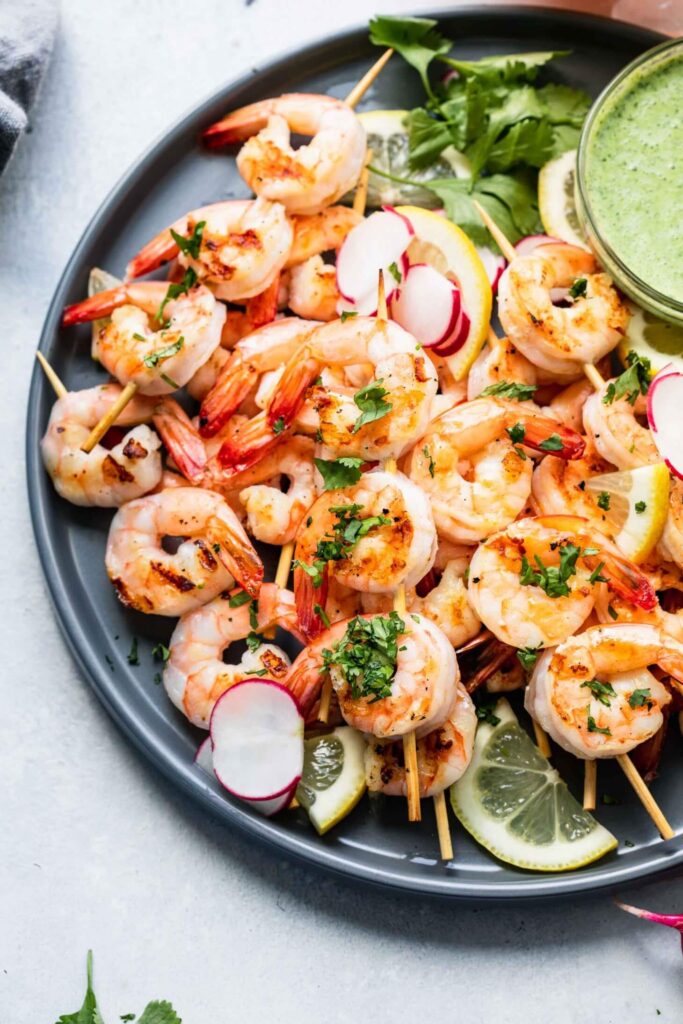 36. Shrimp Skewers
In case you need one more summer healthy dinner recipe that involves shrimp, it should be Plates and Pairing's grilled shrimp skewers with green tahini sauce. Tahini is one of my favorite ingredients (hello, hummus) and an amazing flavor pairing with shrimp. You'll want to put this sauce on everything.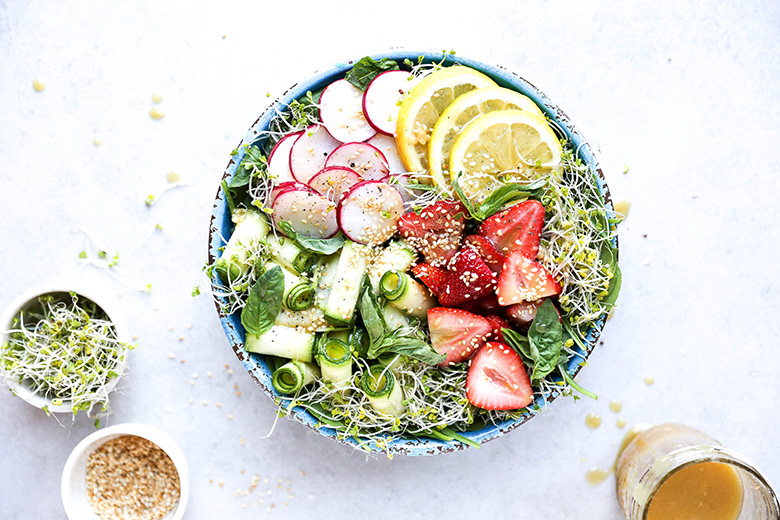 37. Summer Salad Bowls
Floating Kitchen's summer salad bowls are packed full of fresh greens and topped with a salty-sweet honey-miso dressing. The bowls are loaded with spinach, sprouts, zucchini, and strawberries and a sprinkle of basil, radishes, and sesame. It sounds like a lot, but the assembly process is so simple. This is a great salad to pair with or top with grilled chicken or shrimp.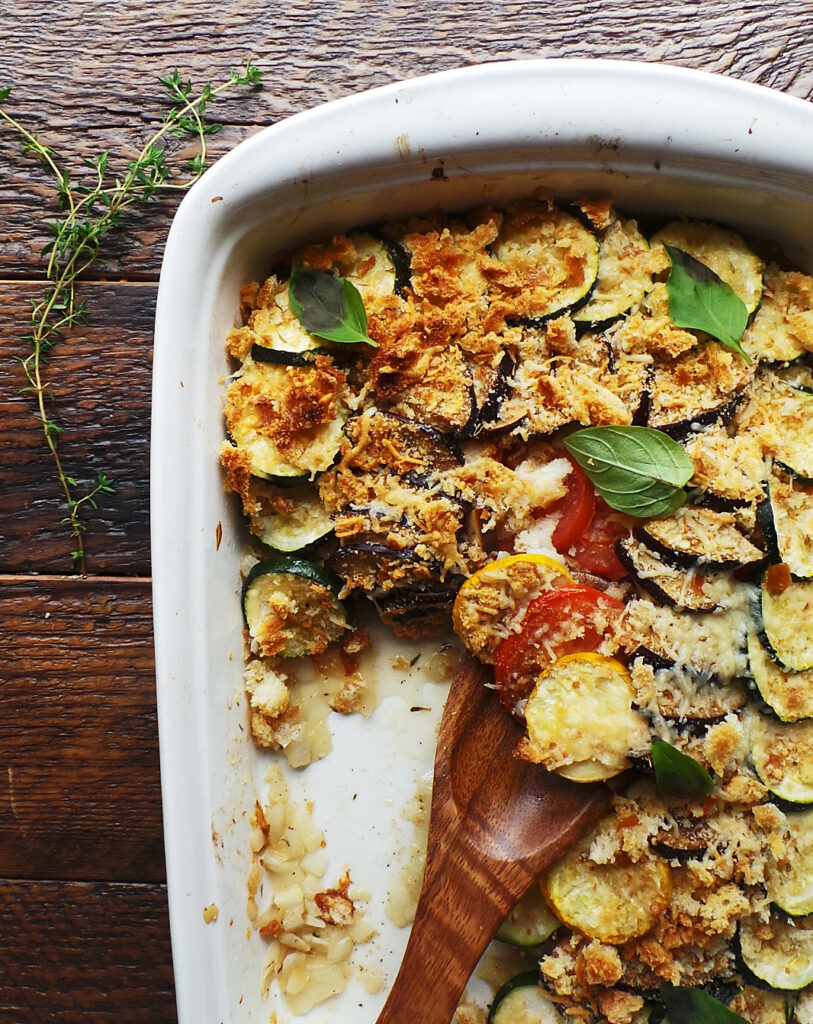 38. Summer Au Gratin
Vodka and Biscuit's summer au gratin is so hearty and satisfying, you won't even believe that it's all vegetables. It's sort of like eggplant Parmesan but with more vegetables and without tomato sauce, which is great for a summer dinner.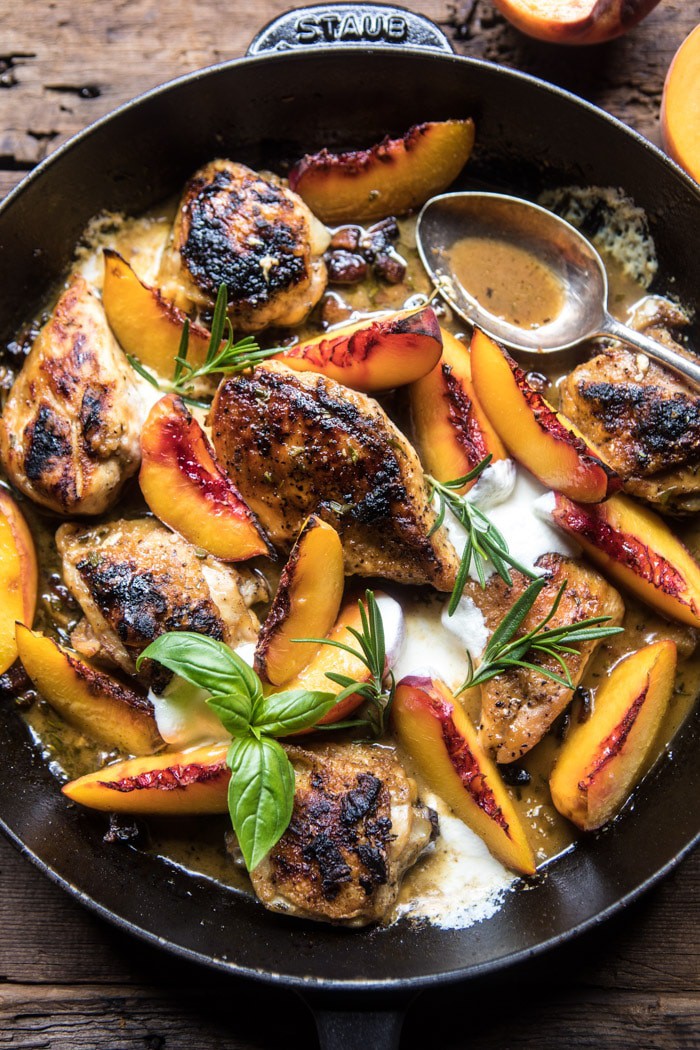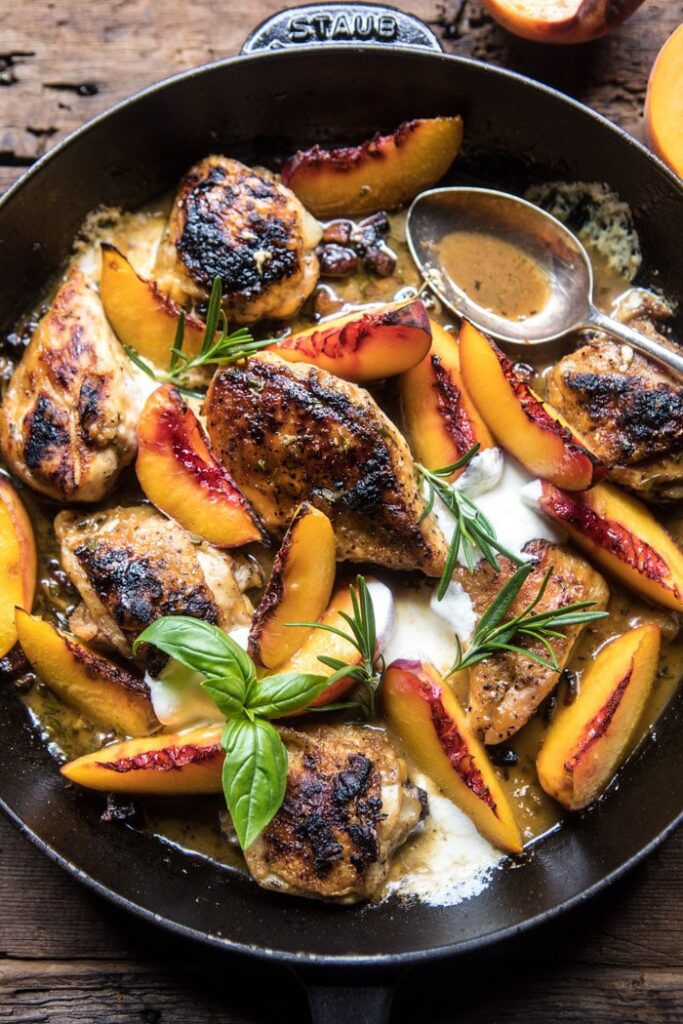 39. Rosemary Peach Chicken
Half Baked Harvest's rosemary peach chicken is a great summer recipe when you want chicken but want a change from grilled chicken. Rosemary is an ideal pairing with peaches, and the recipe comes together nicely with a white wine pan sauce.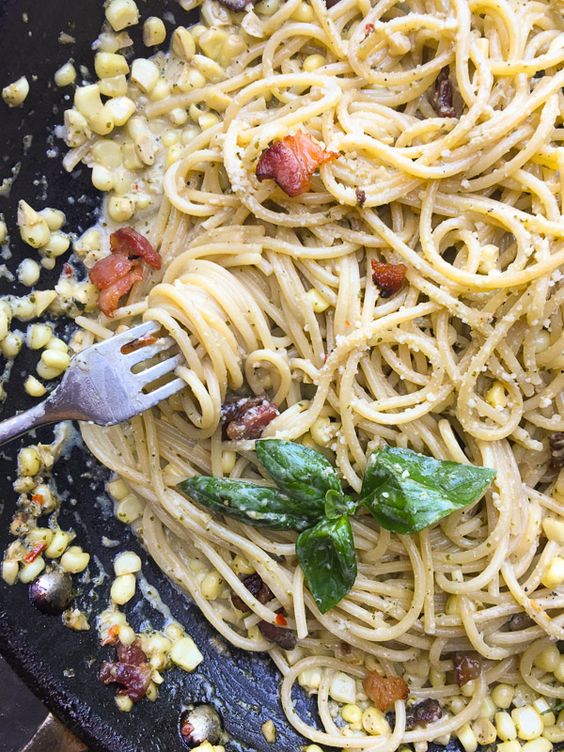 40. Creamy Corn Basil Pasta
You need another excuse to eat more corn this summer, right? Shutterbean's creamy corn basil pasta has lots of garlic and pesto and is topped with a little bit of bacon. I would serve it alongside broccoli or cauliflower, but any veggies will work well here.
Did you make one or more of the 30-minute healthy summer dinner ideas?

I want to see it! Tag your images #RoseClearfield on Instagram or Twitter or post a photo to my Facebook page. Make sure to tag the recipe creator as well!
Pin this post for easy access to the 30-minute healthy summer dinner recipes later!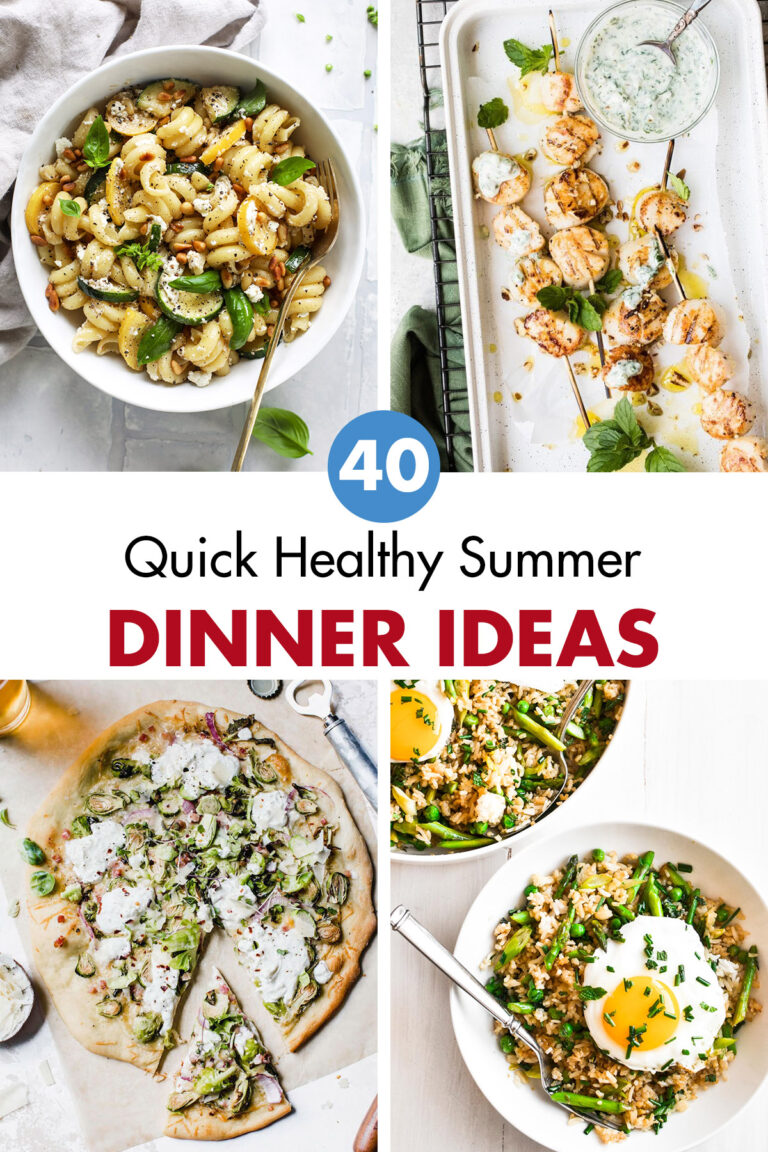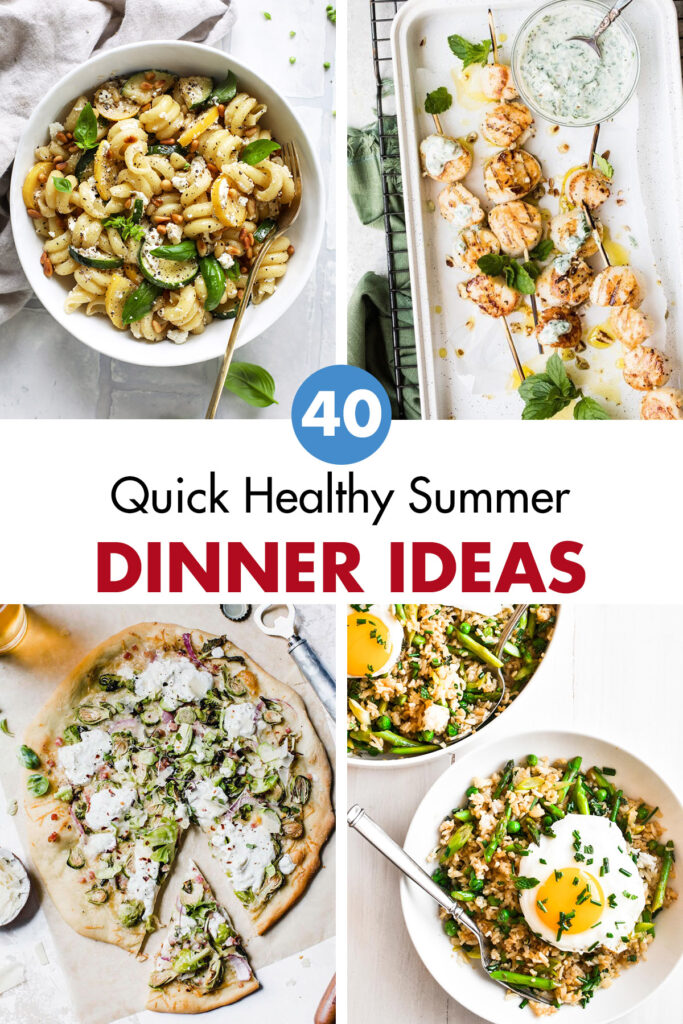 More healthy dinner ideas: