DIY easy fall egg carton crafts are such fun autumn projects for kids and adults alike.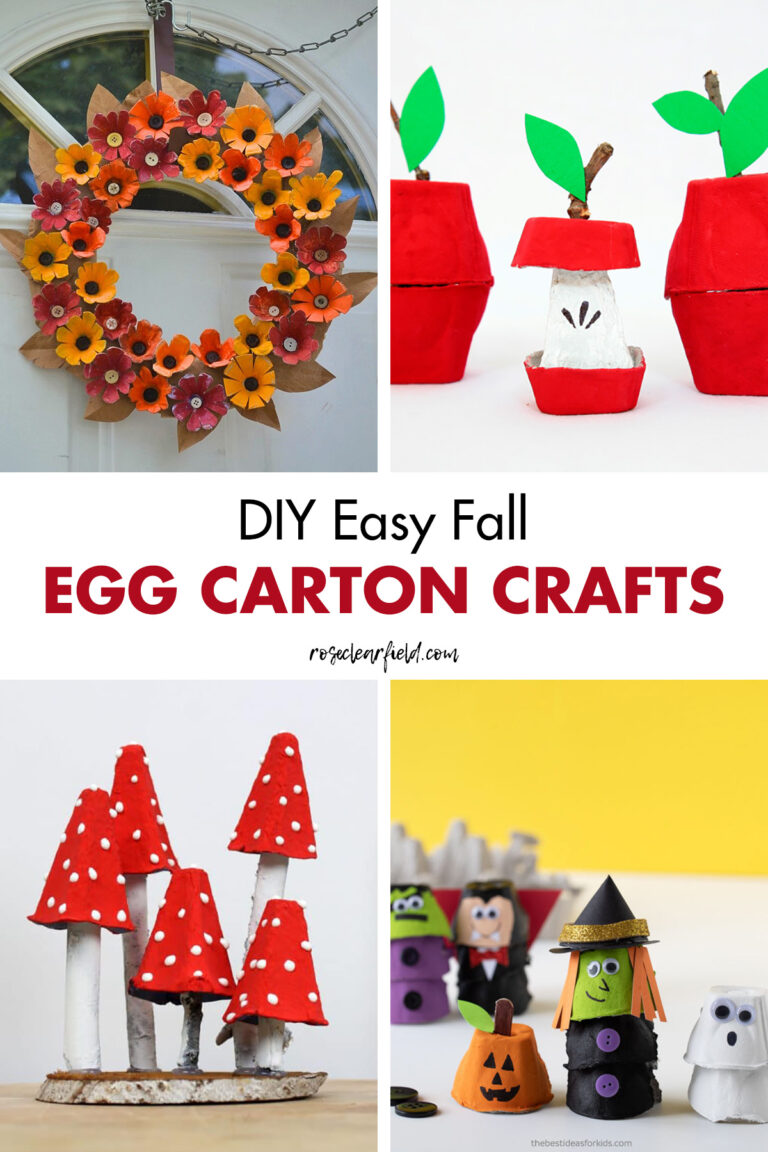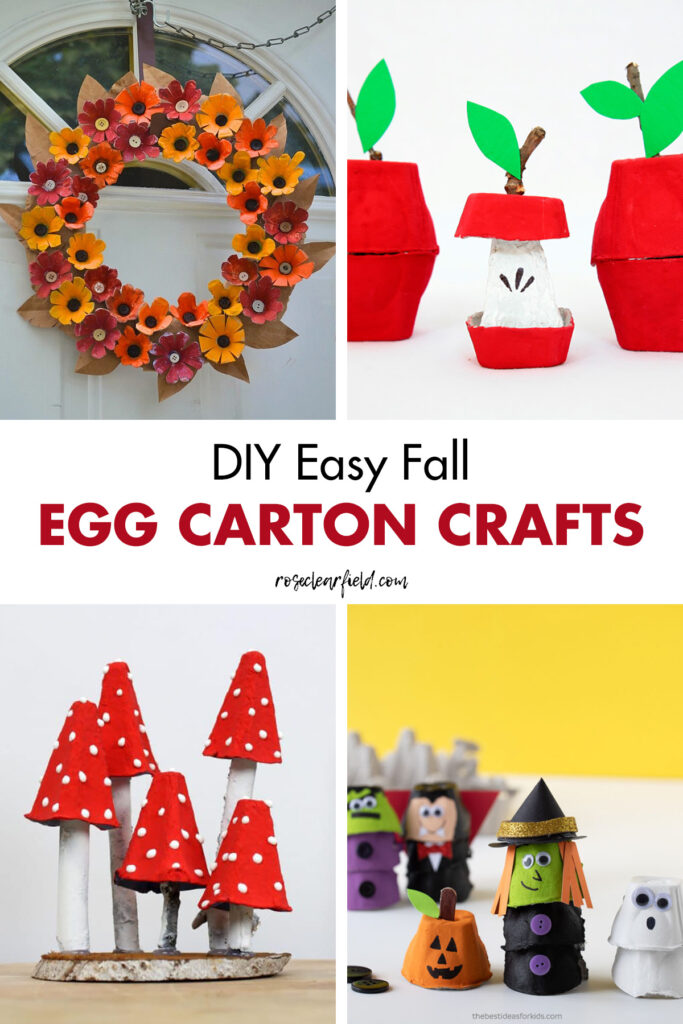 It's no secret that I firmly believe that you don't need a big budget for craft projects. One way that I save money on DIY projects is to use recycled and upcycled materials. Paper egg cartons are a readily available, versatile medium for endless craft projects. You won't even believe how you'll be able to transform them for fall-themed DIY projects.
I've rounded up tutorials for mushrooms, acorns, toadstools, apples, foxes, and wreaths as well as Halloween- and Thanksgiving-themed projects, including pumpkins, monsters, spiders, ghosts, and turkeys.
Happy fall and happy crafting!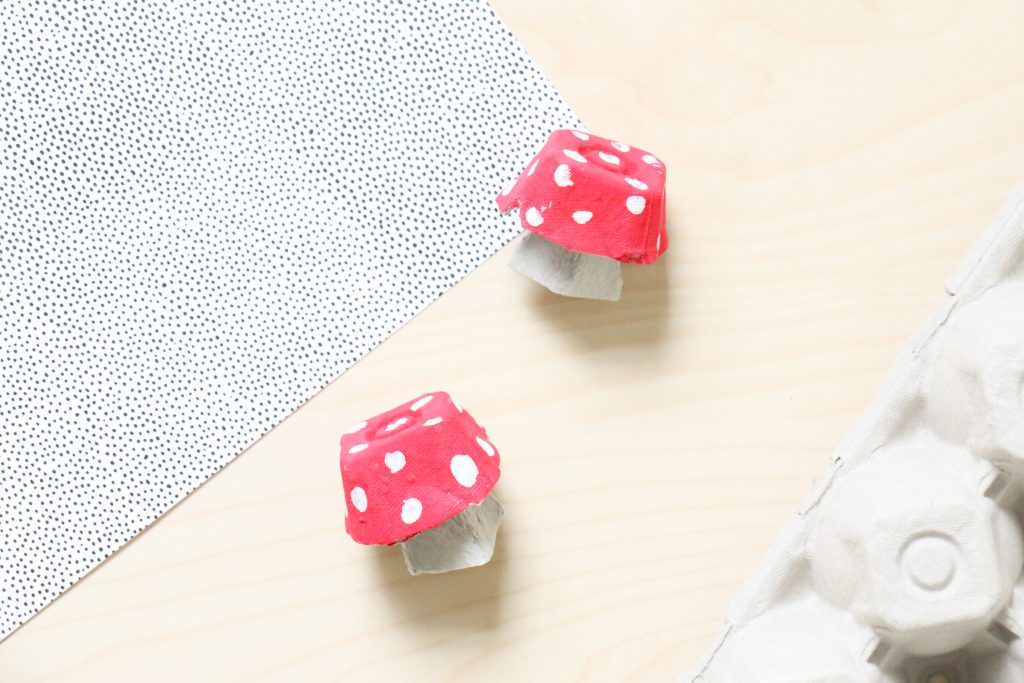 Mushrooms
Toddler at Play's egg carton mushroom craft uses egg carton sections for the mushroom caps and separators for the mushroom stems. The mushrooms are so tiny and adorable. I love the red with white dots painting pattern that she uses. Of course, you can switch up the colors any way that you like.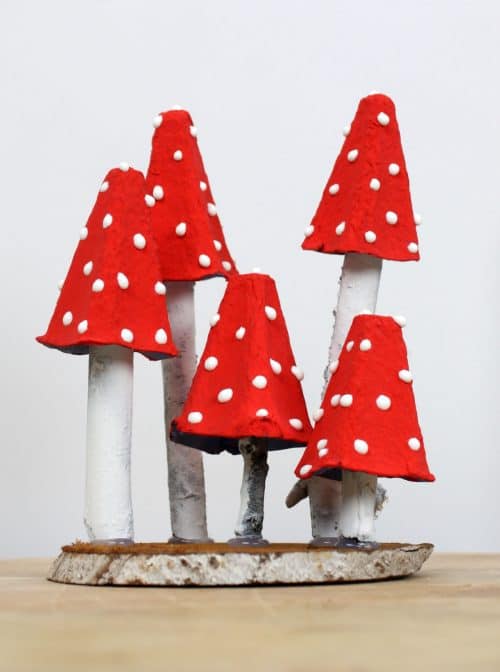 Toadstools
Emma Owl's egg carton toadstool craft uses egg carton sections for the toadstools and sticks or wooden pegs for the stems. I love the natural aesthetic of the sticks, especially paired with a tree slice as she did for the tutorial. I also love the added dimension of puff paint for the dots on the toadstools.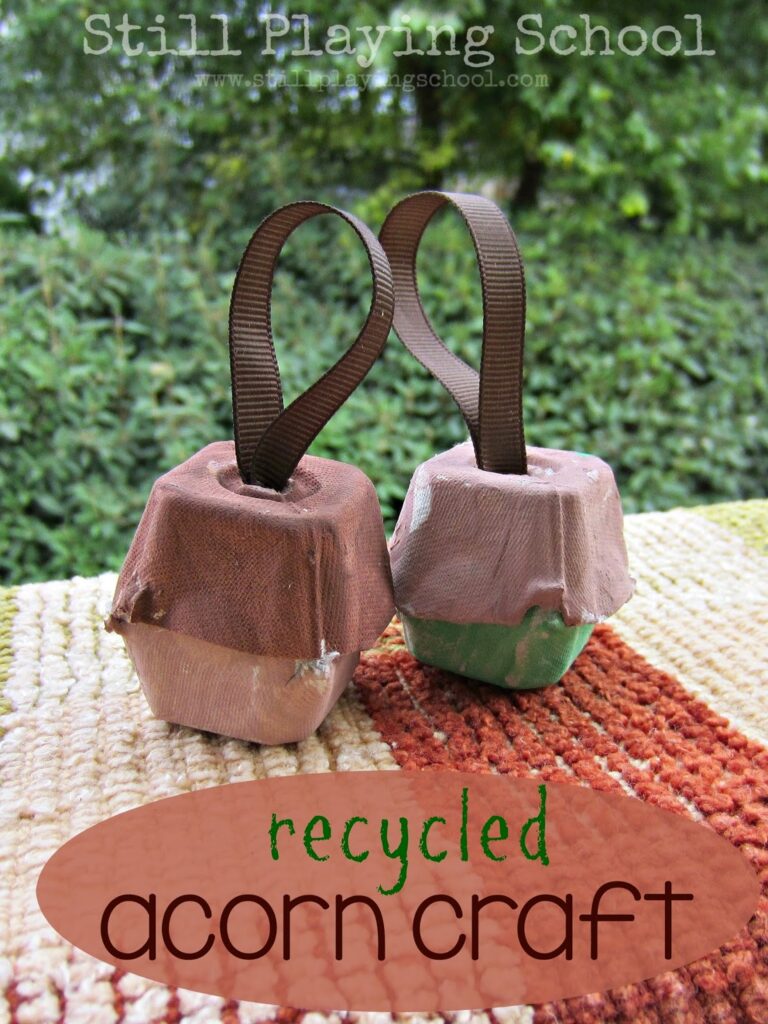 Acorns
Still Playing School's egg carton acorn ornaments are an ideal fall craft for toddlers and preschoolers. Young kids will enjoy painting the egg carton sections. Then adults can string a ribbon through the top of the acorns and fit them together to create little ornaments. Simple recycled painted acorn ornaments make great autumn decorations for homes and classrooms.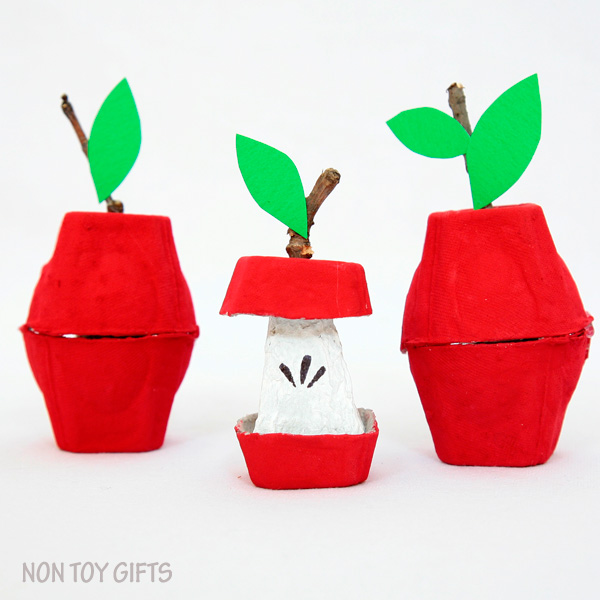 Apples
The shape of egg carton sections is ideal for making Non Toy Gifts' egg carton apple craft. I love how she uses another component of the egg carton to create apple cores as well. They make such a fun addition to an egg carton apple display. Real twigs with green cardstock or construction paper leaves add the perfect finishing touch.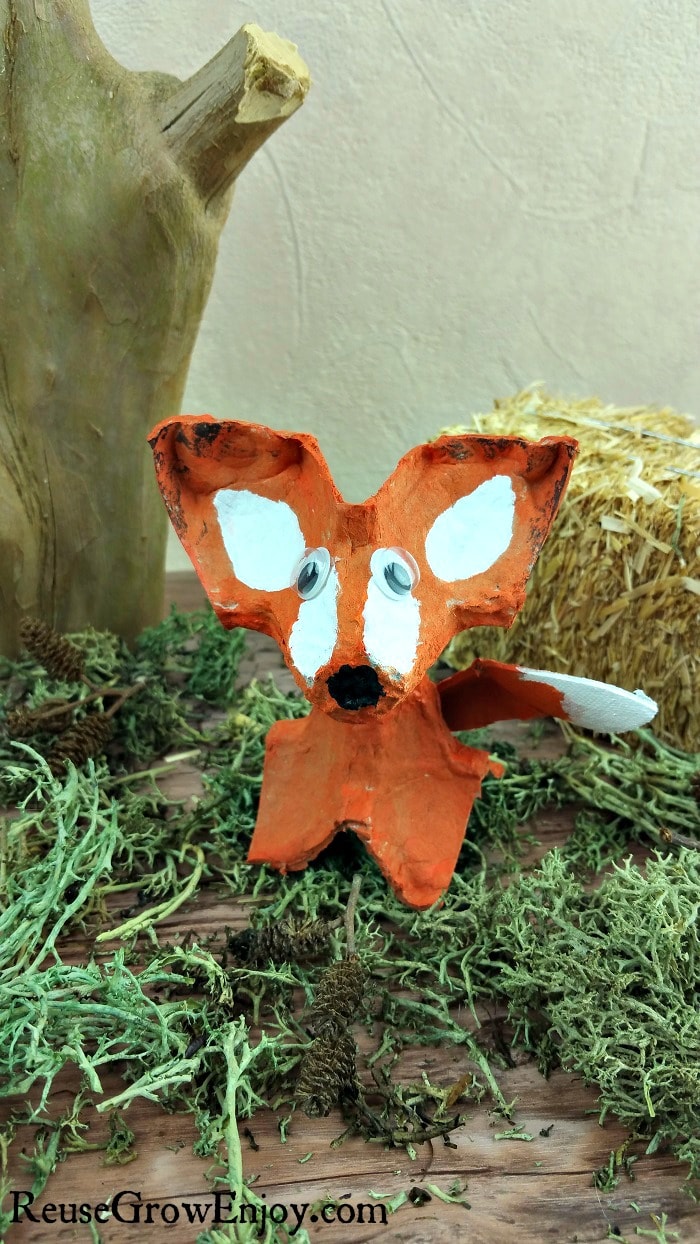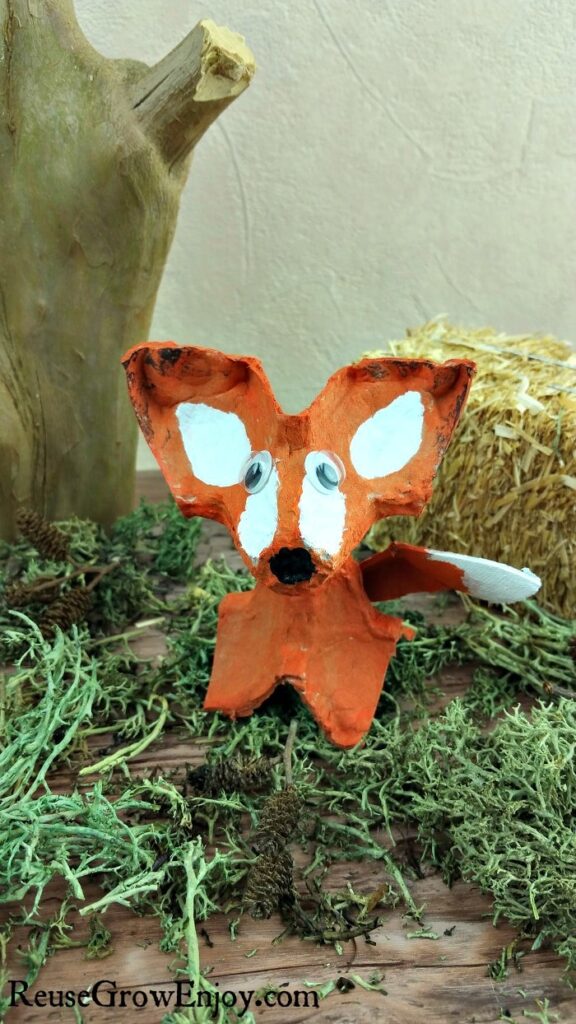 Foxes
I am crazy about foxes and love the idea of decorating for the fall season with a few of Reuse Grow Enjoy's egg carton foxes. It will take a little more adult direction and supervision to cut the egg carton pieces and to help kids paint and assemble them than it will for some of the other projects in this round-up. But it's well worth the effort for the cute result. Googly eyes are just the right element to complete the face.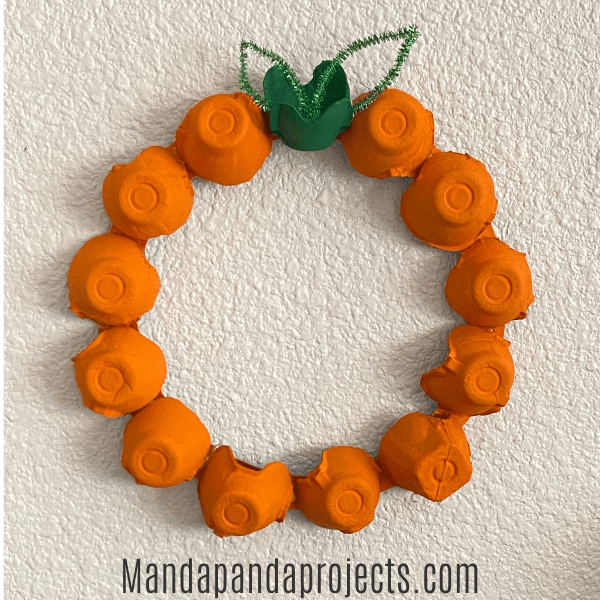 Pumpkin wreath
Manda Panda Project's egg carton pumpkin wreath is a fun project for kids and adults to complete together. Adults can do the cutting and assembling and kids can do the painting. The wreath makes a whimsical decoration for the front door or anywhere in your house that you'd like a little autumn decor.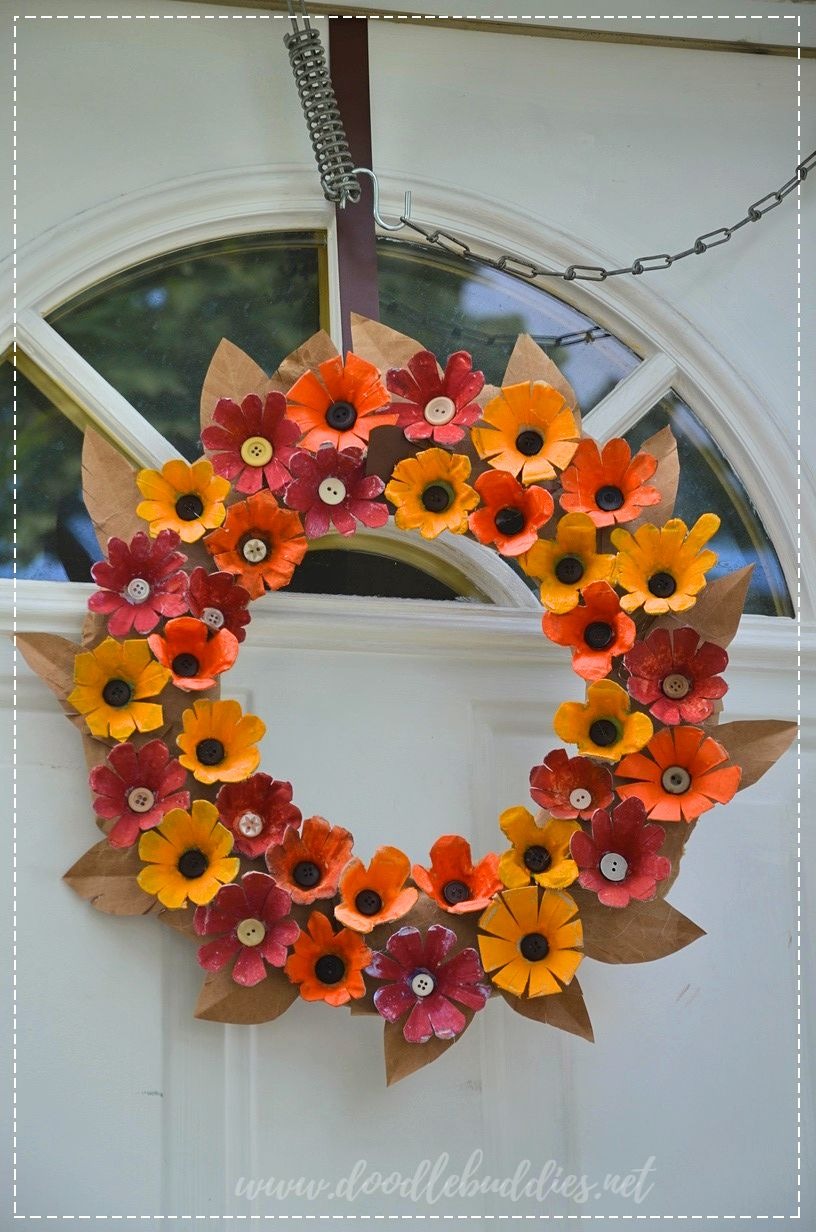 Floral wreath 1
There are so many creative egg carton flower tutorials. I love the concept of turning some of your new flowers into a wreath. Doodle Buddies has a video tutorial for her DIY fall wreath from an egg carton. Cutting the egg carton sections into various shapes and painting them multiple fall colors gives the wreath so much visual interest. Unpainted brown leaves are the perfect finishing touch.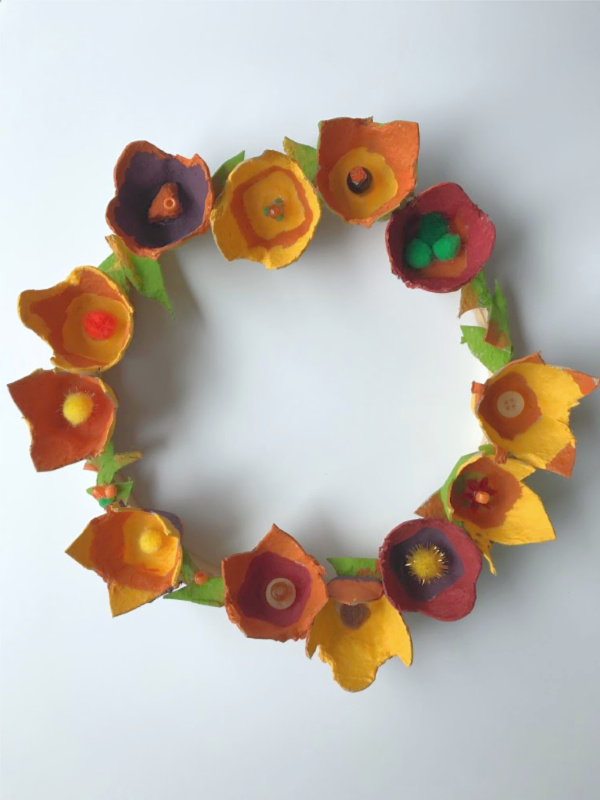 Floral wreath 2
If you're looking for another autumn floral craft project option, I also really like Kitchen Counter Chronicle's fall egg carton wreath. She creates simpler flower shapes than the tutorial above but paints each flower in multiple colors and adds 3D embellishments, such as buttons and pom poms, to keep the visual interest high.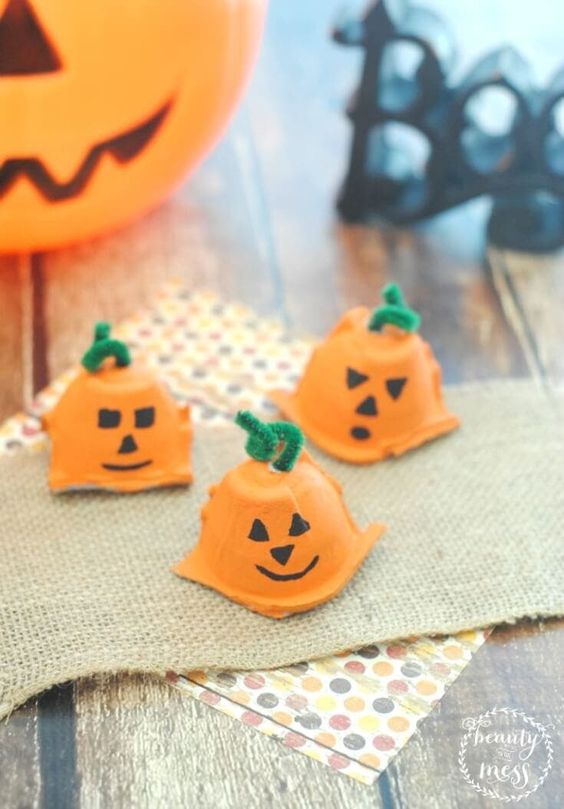 Pumpkins
Of course, you can't go wrong with Simplifying Family's egg carton pumpkins any time during the fall season. Pumpkins make wonderful general fall decor, or you can save this sort of project for Halloween. Kids and adults alike will have fun painting different faces on each of their pumpkins.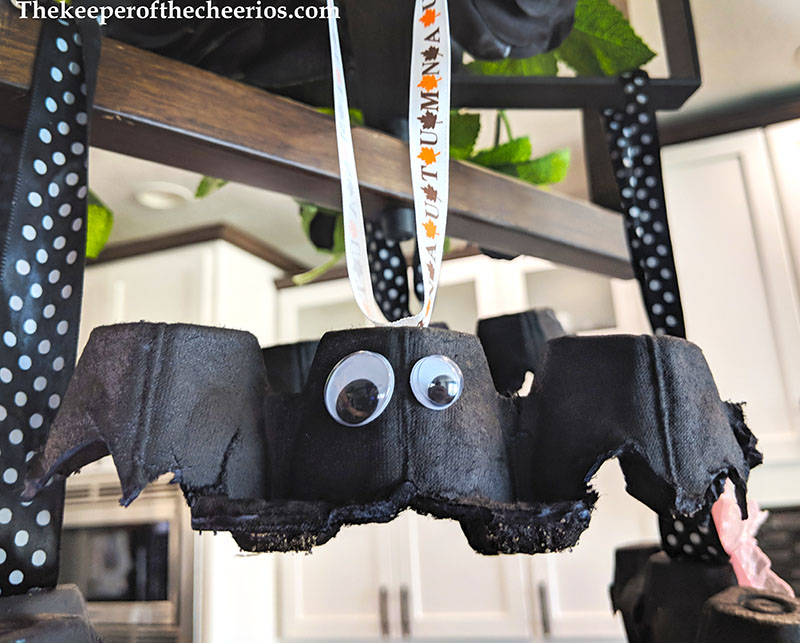 Bats
It wouldn't be an autumn craft round-up without a few Halloween DIY projects. It's so easy to cut just the right shape for The Keeper of Cheerio's egg carton bats. Paint, googly eyes, and a ribbon will complete this simple project.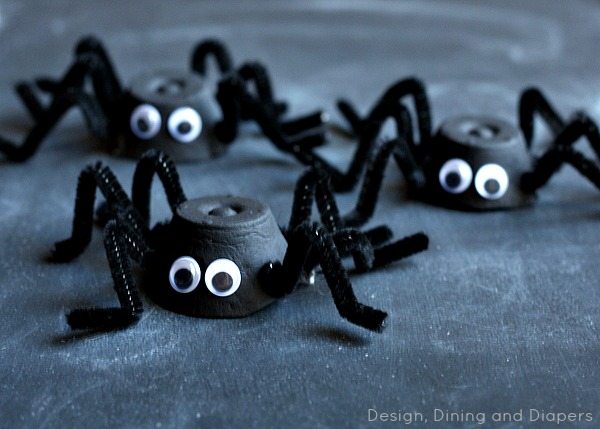 Spiders
Taryn Whiteaker's egg carton spider craft might not seem like much. But I guarantee that toddler- and preschool-age kids will have hours and hours of imaginative play fun with their new spiders. Kids will enjoy painting the egg cartons and attaching the googly eyes. Then adults can attach the legs to finish the spiders.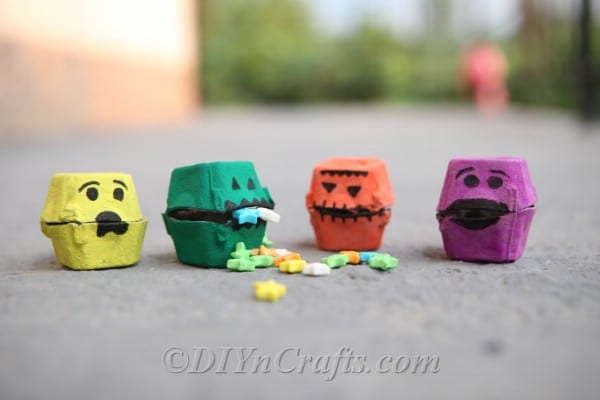 Monsters
DIY 'n Crafts designed her Halloween egg carton monsters to be treat boxes, which is a great idea for distributing candy to trick-or-treaters and at Halloween parties. They also make great decor. Egg carton monsters are another craft project where both kids and adults will have fun painting different faces on each monster.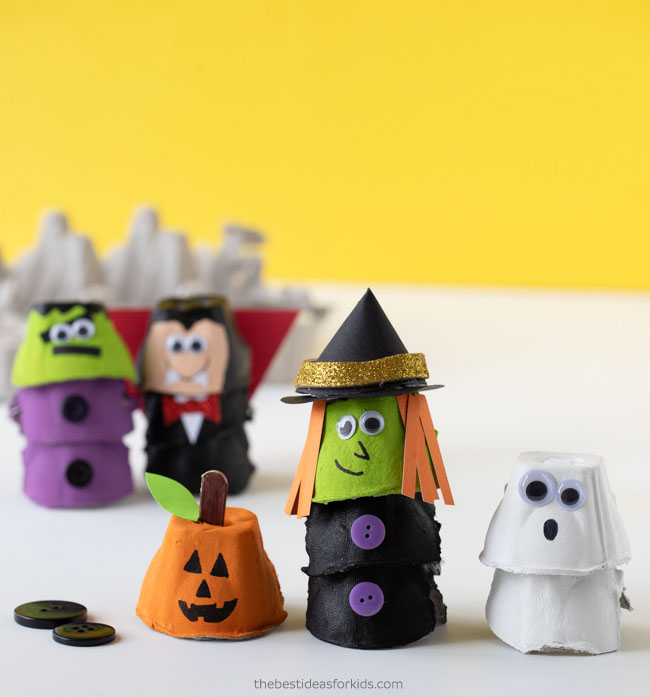 Halloween set
The Best Ideas for Kids has a DIY egg carton Halloween set with full supply lists and tutorials to make a witch, Frankenstein, ghost, pumpkin, and vampire. Pick and choose as you like, or work through the whole set over the month of October.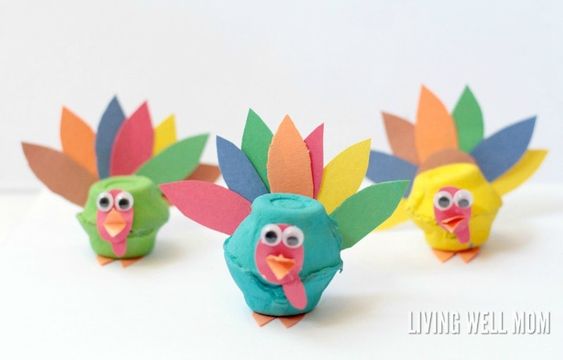 Colorful turkeys
Finish out your autumn egg carton crafting with a couple of Thanksgiving projects. Living Well Mom paints each of her egg carton turkeys a different color and then uses lots of different colored papers for the feathers. She completes the turkey faces with paper mouths and waddles and googly eyes. Homemade turkeys are such a fun centerpiece for the Thanksgiving holiday.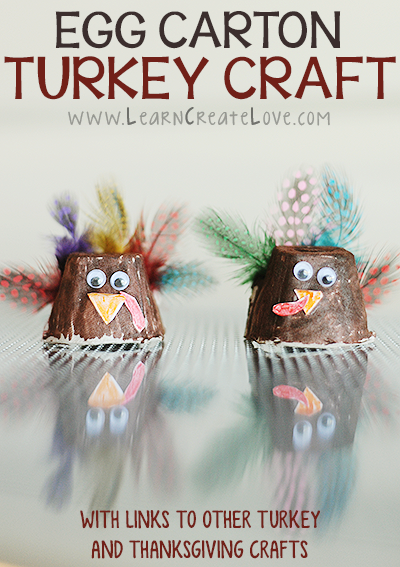 Turkeys with feathers
I also love Learn Create Love's egg carton turkeys, which feature faux feathers, that are so colorful and add such nice texture.
Did you make one or more of the DIY easy fall egg carton crafts?

I want to see them! Tag your images #RoseClearfield on Instagram or Twitter or post a photo to my Facebook page. Make sure to tag the original tutorial creator(s) as well!
Pin this post for easy access to the DIY easy fall egg carton crafts later!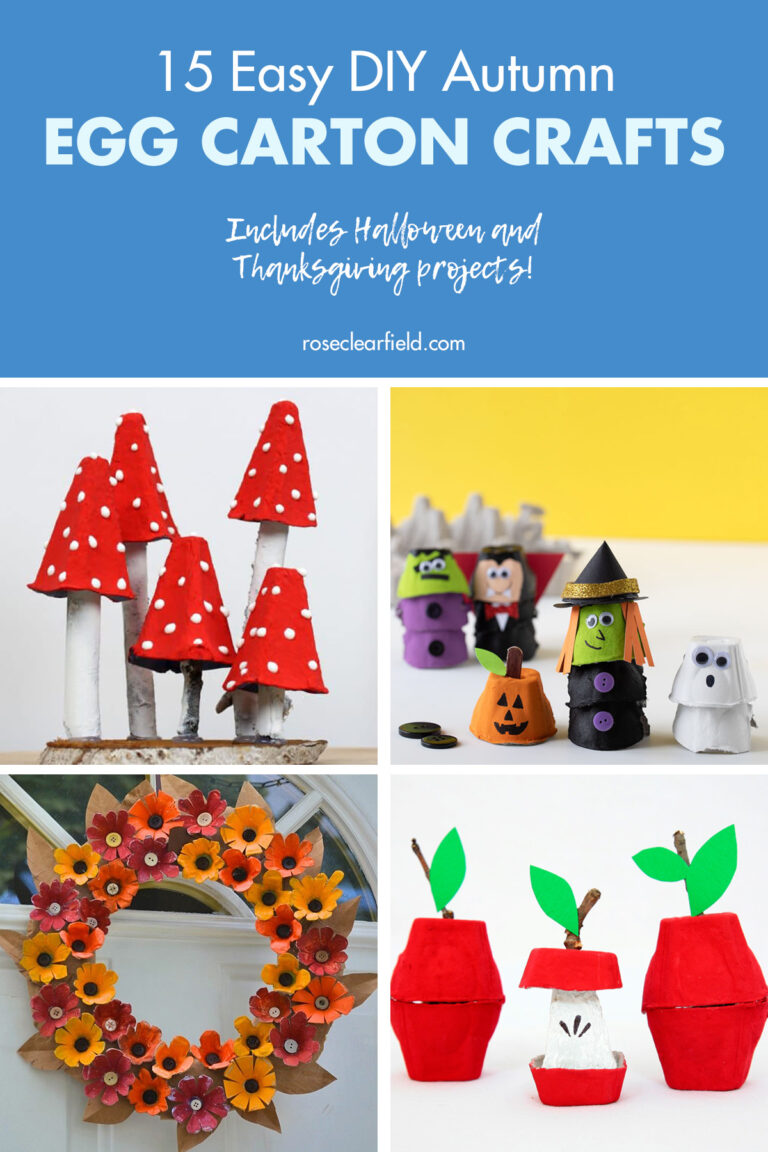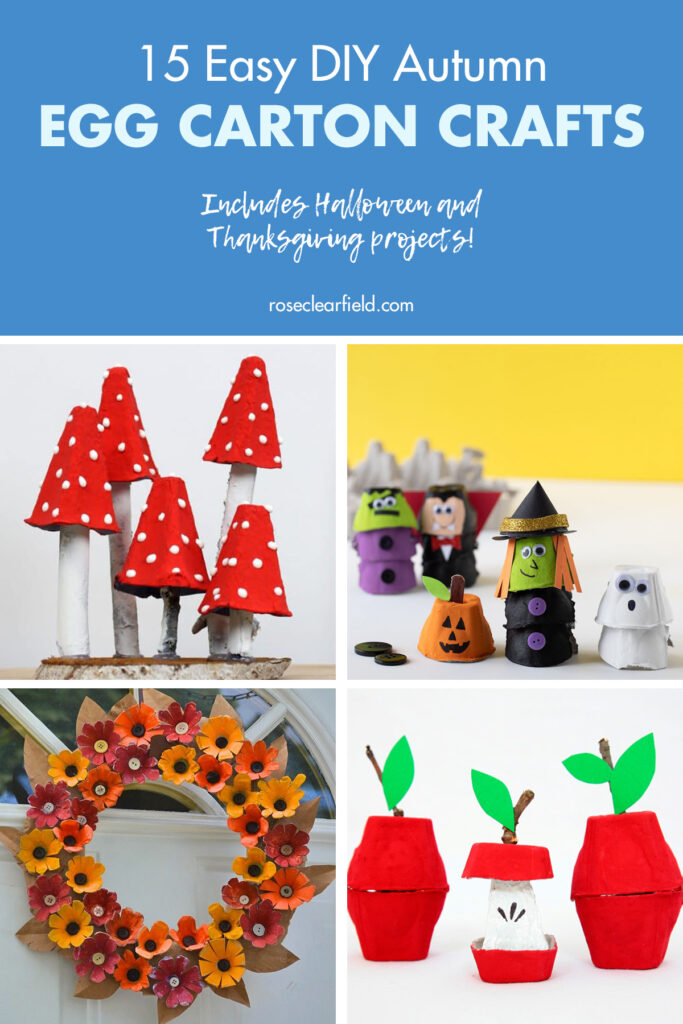 More DIY fall projects: