Fall twine-wrapped Oui yogurt jars are a simple upcycled seasonal home decor project. They add a whimsical touch to an entryway, living room, dining room, or kitchen, just perfect for the autumn season.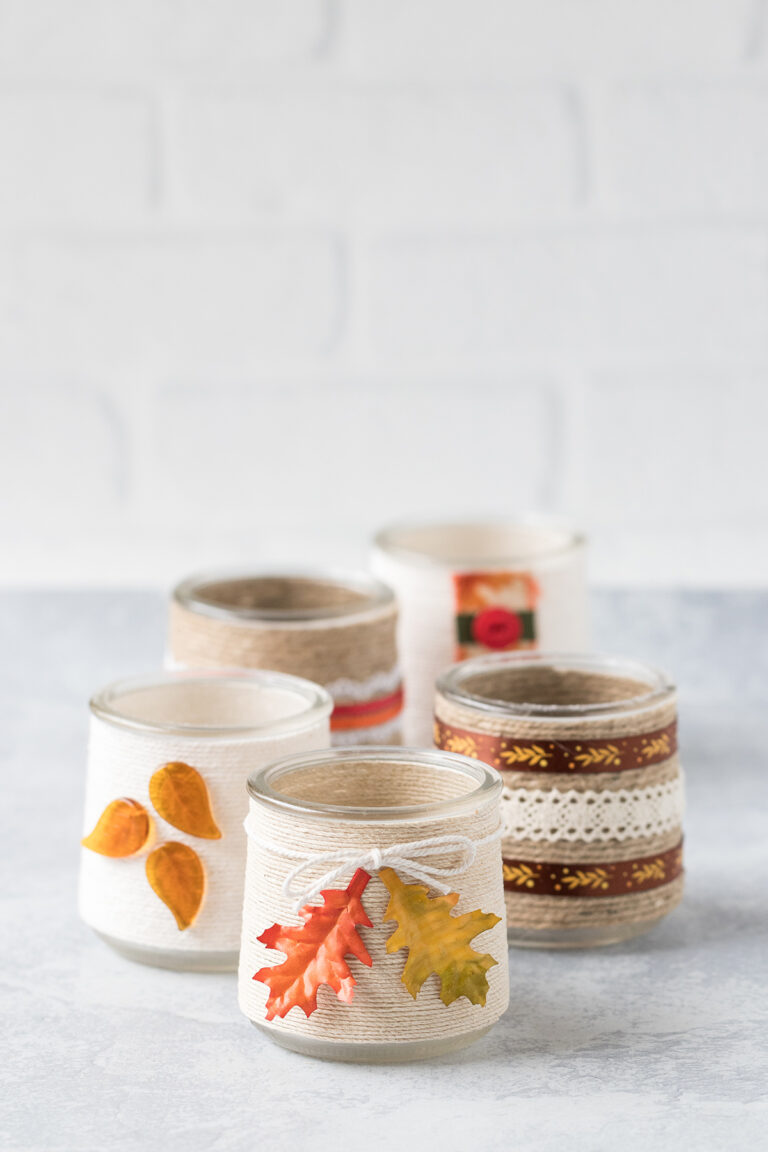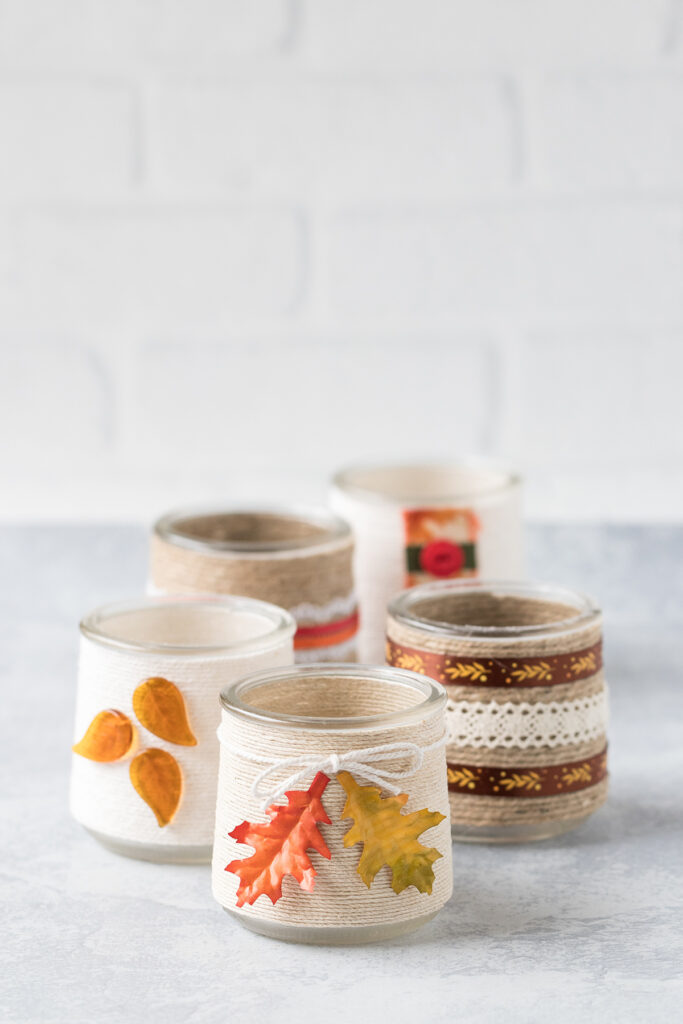 Twine wrapping is such an easy, gorgeous way to transform plain glass jars. Twine-wrapped jars are beautiful as is. There are so many ways to embellish your newly-decorated jars. For this tutorial, I chose fall details that are perfect for autumn decorating. I selected some of my favorite crafting materials, including buttons, vintage-inspired lace, and glass leaves. You can re-create the jars as they're pictured here or use my creations as inspiration for your own jar designs. Twine-wrapped glass jars are understated and timeless and will blend in seamlessly with a vast array of popular decor styles.
Twine wrapping is an ideal crafting technique for many types of glass jars. For this particular tutorial, I'm using glass Oui yogurt jars, as I've been on a huge Oui yogurt kick this past year. I've also released tutorials for sheet music votives, pastel vases, faux succulent planters, and vintage-inspired twine-wrapped jars, all using Oui jars. I have plans for many more Oui jar tutorials in the coming months. If there's anything you'd like to see here, please let me know!
I also made a set of fall twine-wrapped jars using upcycled baby food jars to provide further inspiration for your autumn glass jar creations.
Happy crafting!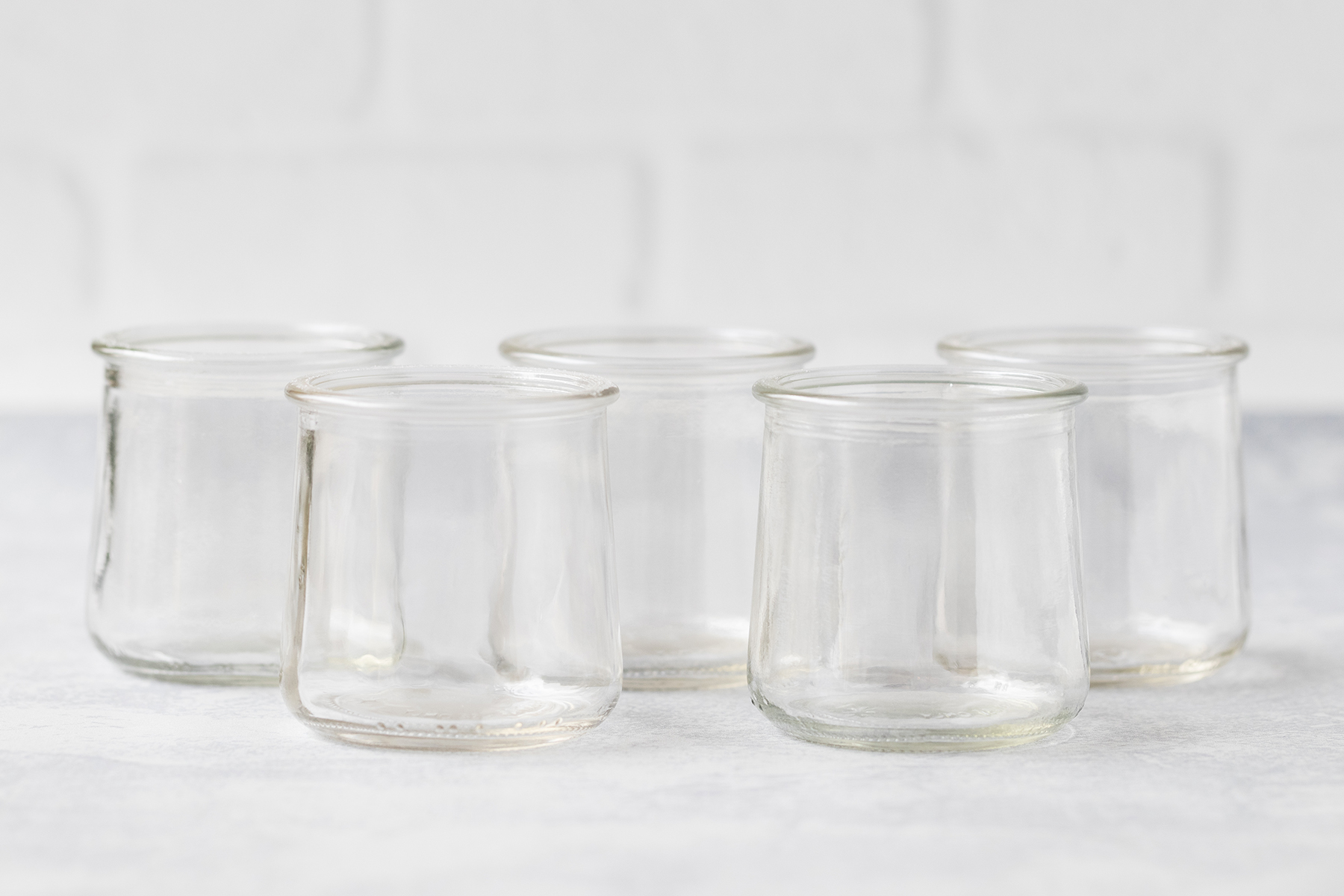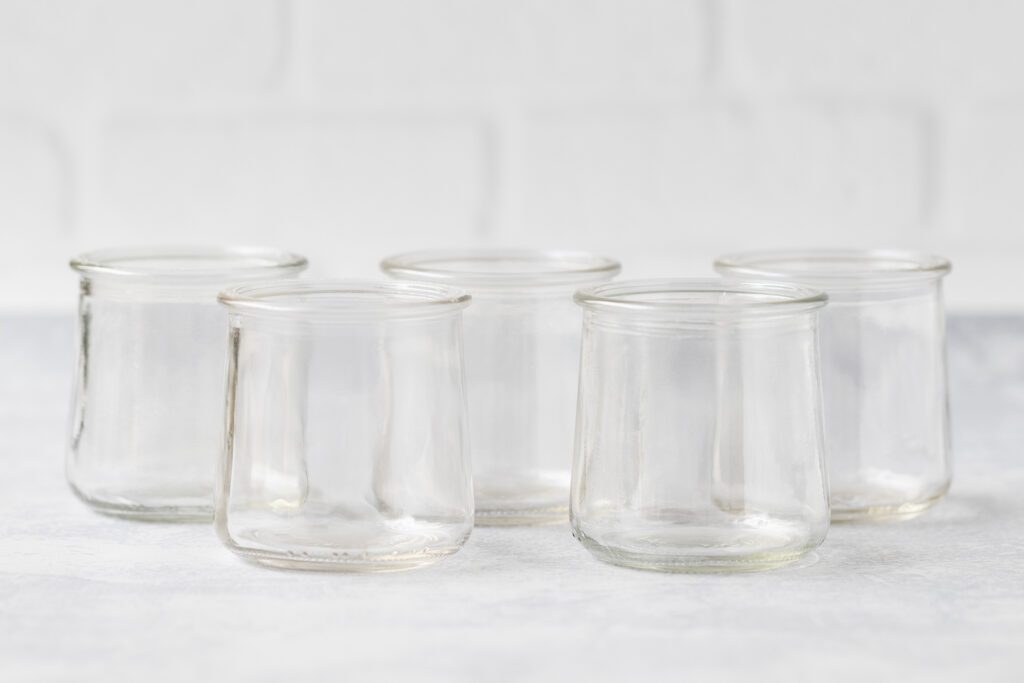 How to clean Oui yogurt jars
Oui yogurt jar labels are extremely easy to remove. You'll always be able to get a label off in a single piece and have a minimal amount of sticky residue left behind.
My favorite kind of Goo Gone is the Goo Gone spray gel. I highly recommend it for removing the residue. The spray bottle applies a thin, even layer of product without making too much of a mess. Leave the product on the jar for a couple of minutes. Then use dish soap to wash it off and clean your jar.
Allow your Oui jars to dry completely before you begin wrapping them with twine.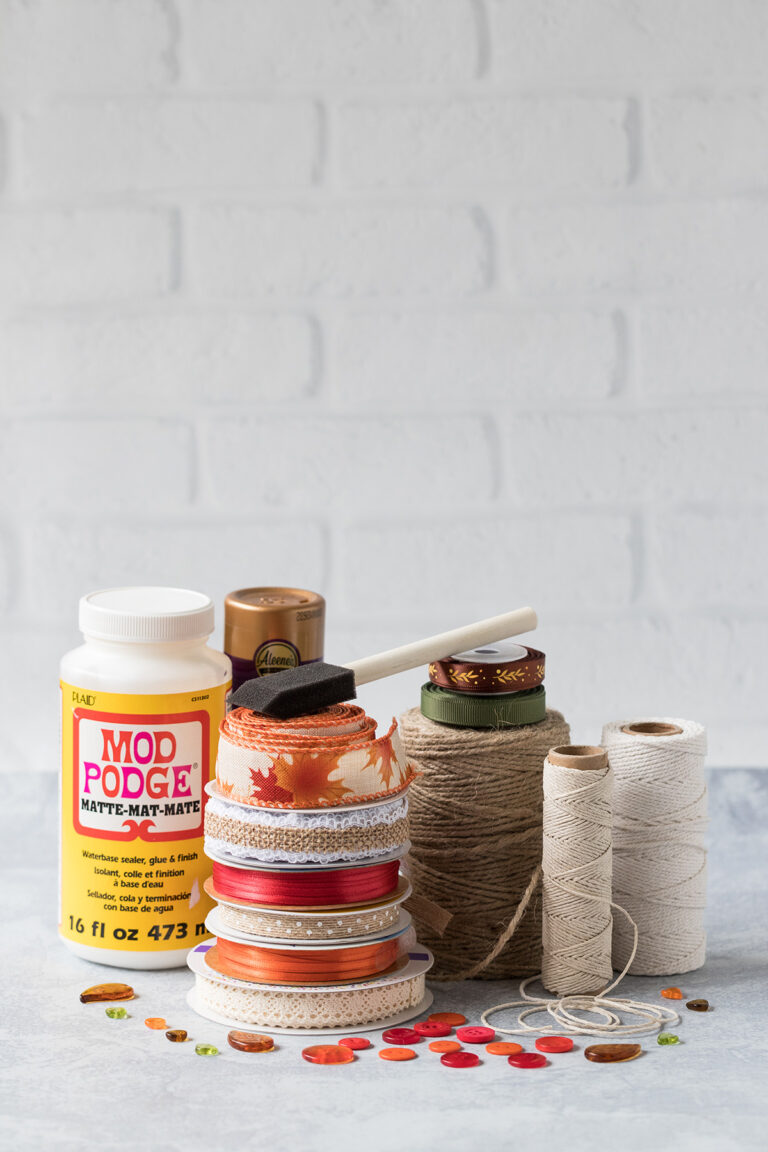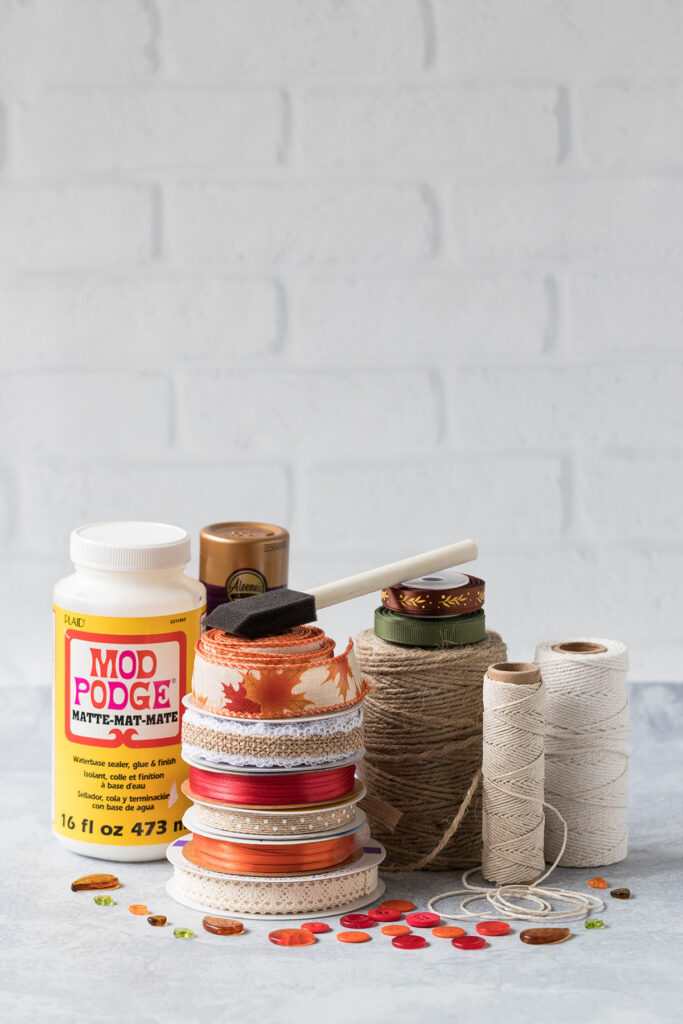 Supplies for fall twine-wrapped Oui yogurt jars
Oui yogurt jars, as many as you'd like to use, clean and dry
Twine, in the color and size of your choosing. I've purchased most of my twine from Michaels and at estate sales. You can also buy it on Amazon.
Mod Podge. A gloss or matte finish works well. It doesn't matter which one you use, as it will all get covered by the twine. I don't recommend a specialty Mod Podge.
Two or three 1″ foam brushes. As Mod Podge is hard on foam brushes, it's good to have a few on hand for this project.
Tacky or other all-purpose glue. Currently, my favorite all-purpose glue is Aleene's Always-Ready tacky glue.
Fall-themed embellishments of your choosing, such as ribbon, lace, beads, and buttons. I link a few sources for specific products or similar offerings within the instructions. If you're having trouble finding certain items, please let me know. I'm happy to help in any way that I can.
Instructions for fall twine-wrapped Oui yogurt jars
How to twine wrap glass jars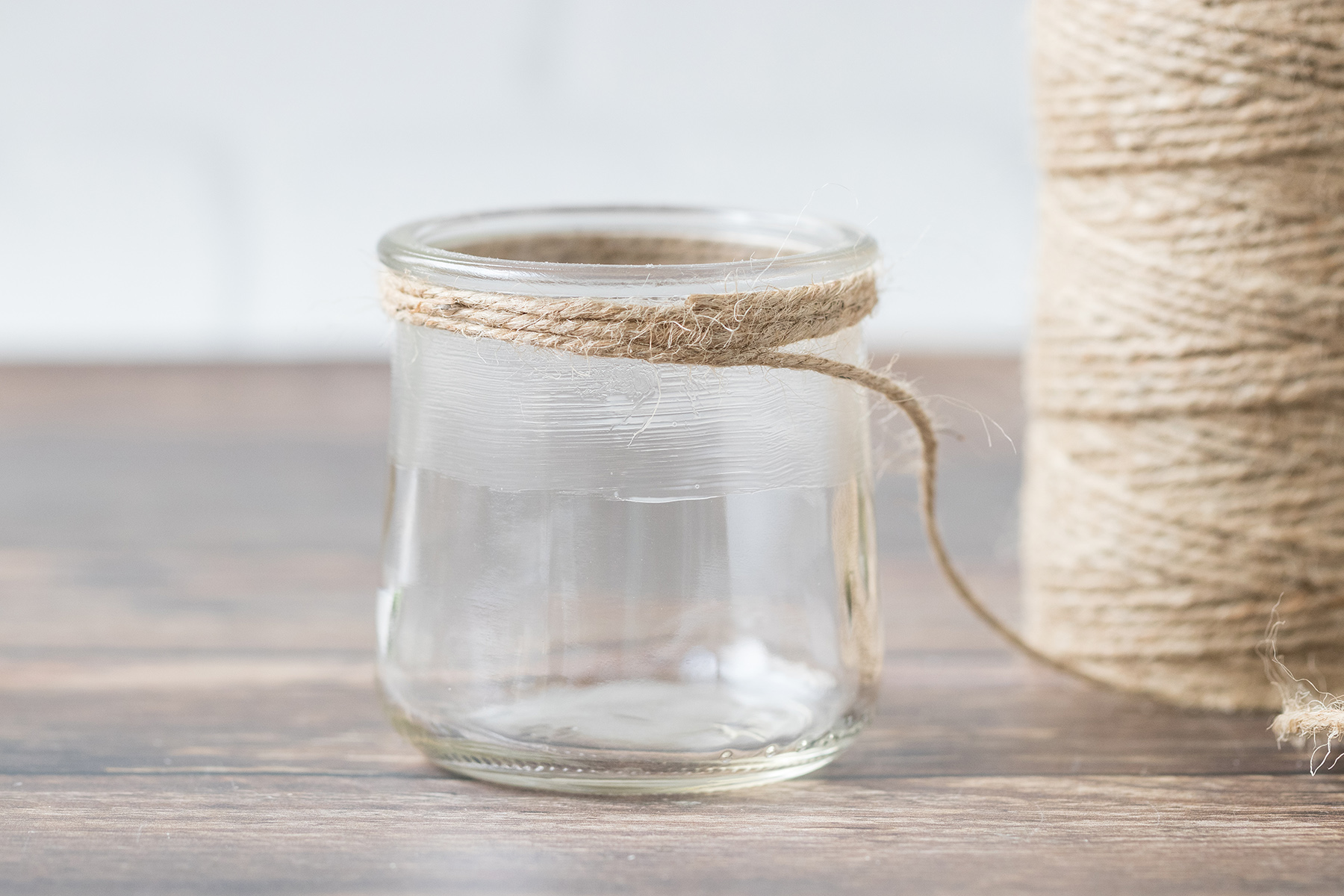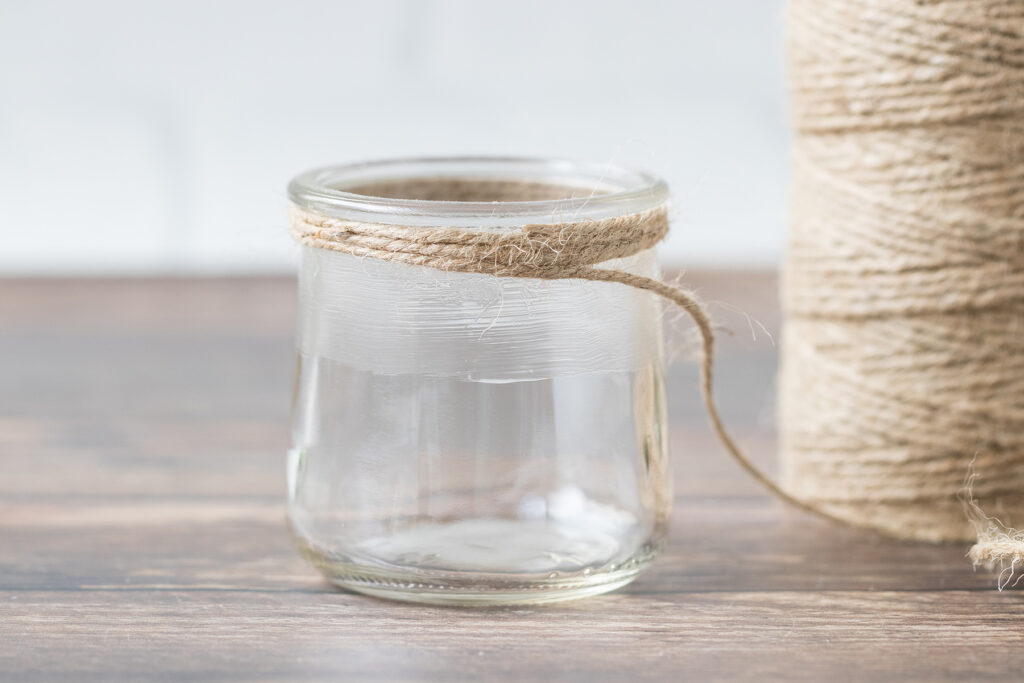 Using a foam brush, apply a thin layer of Mod Podge around the top of the Oui jar. Start wrapping as close to the lip of the jar as possible. Once you've wrapped a few rows, stop and gently push the twine together to create tight, even rows.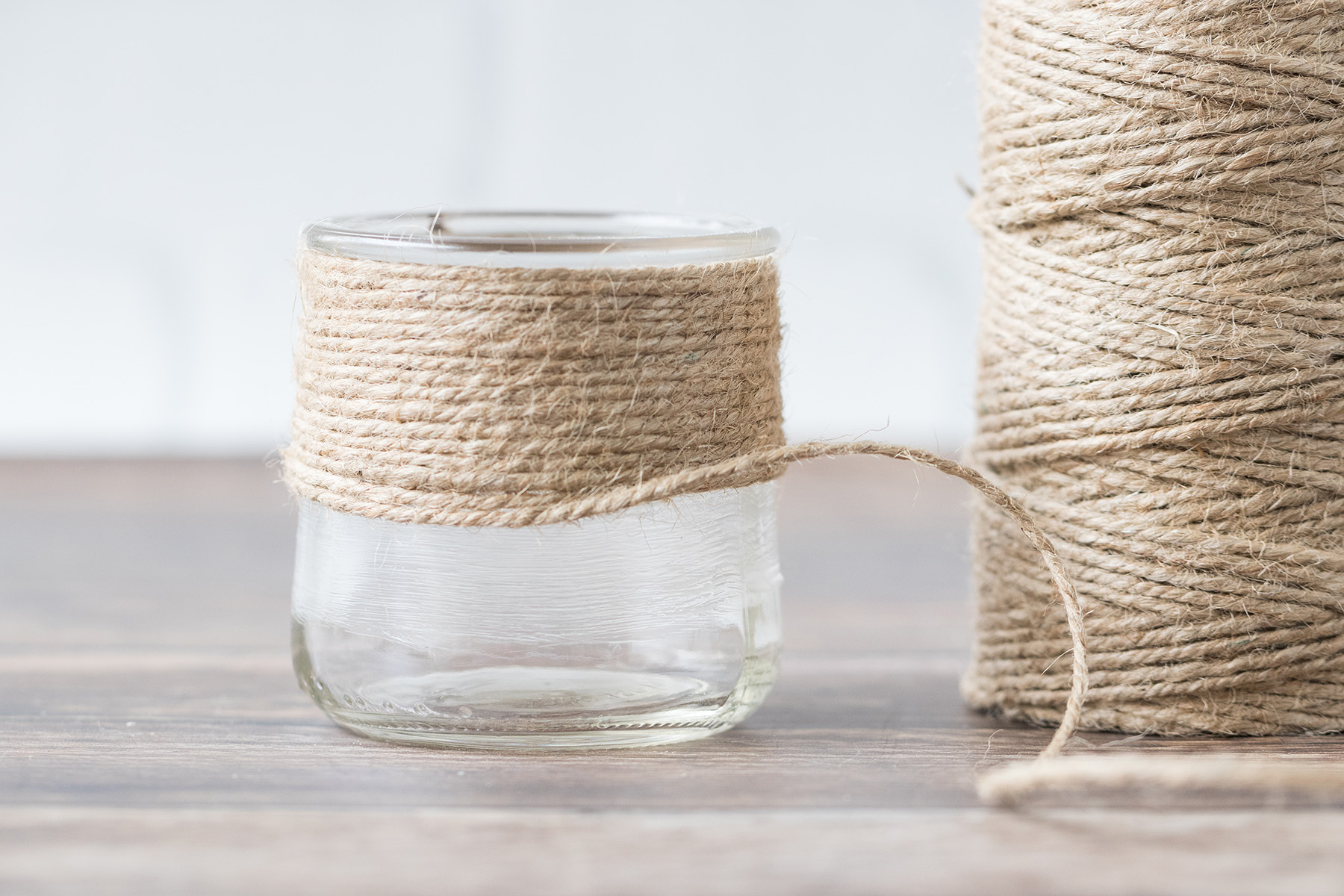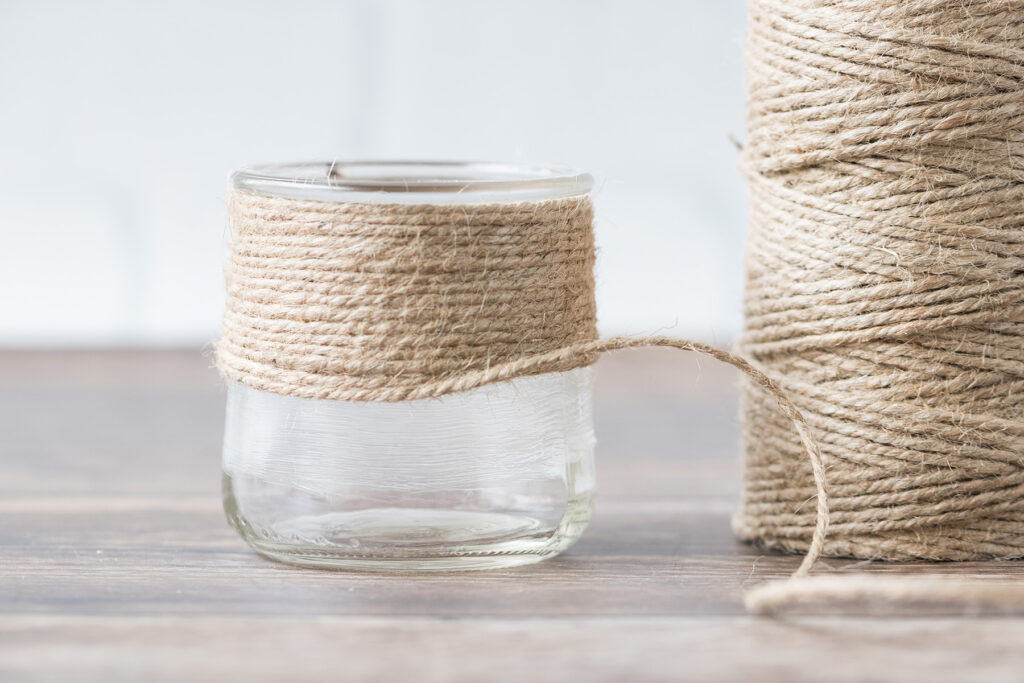 Keep wrapping the twine down the jar, applying more Mod Podge as needed. Stop every three or four rows and tighten them up as needed to keep your rows even.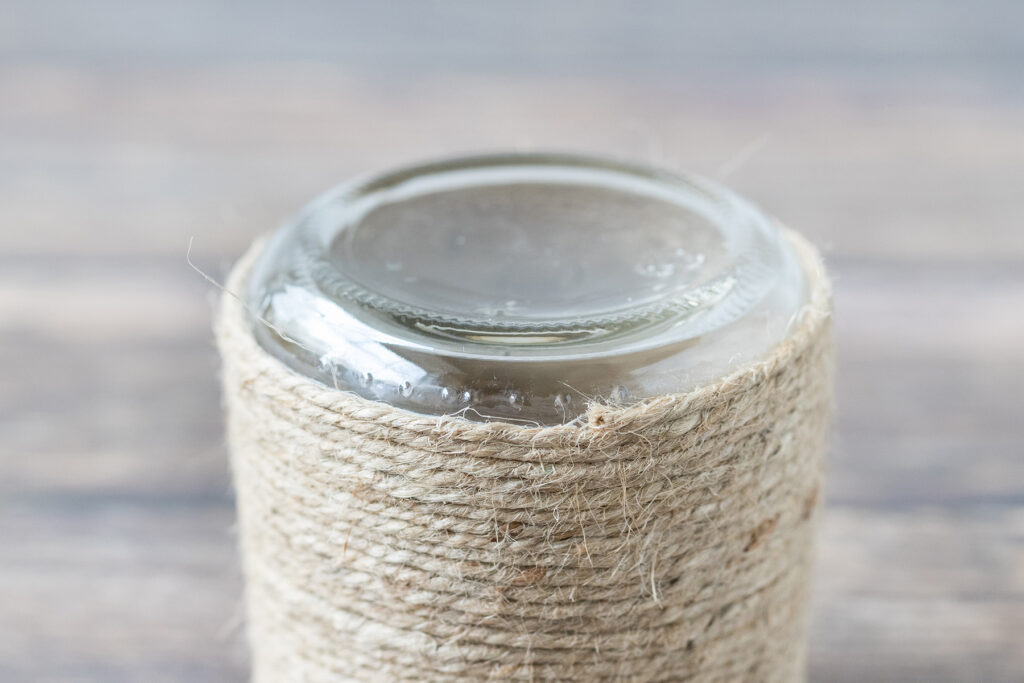 After wrapping a few Oui jars with twine, you'll get a feel for the natural place on the jars where it's best to stop wrapping. When you don't wrap further than this spot, the twine will stay in place, and the last couple of rows won't slip. All Oui jars have a set of dots near the bottom. You'll quit wrapping right before or right at the dots.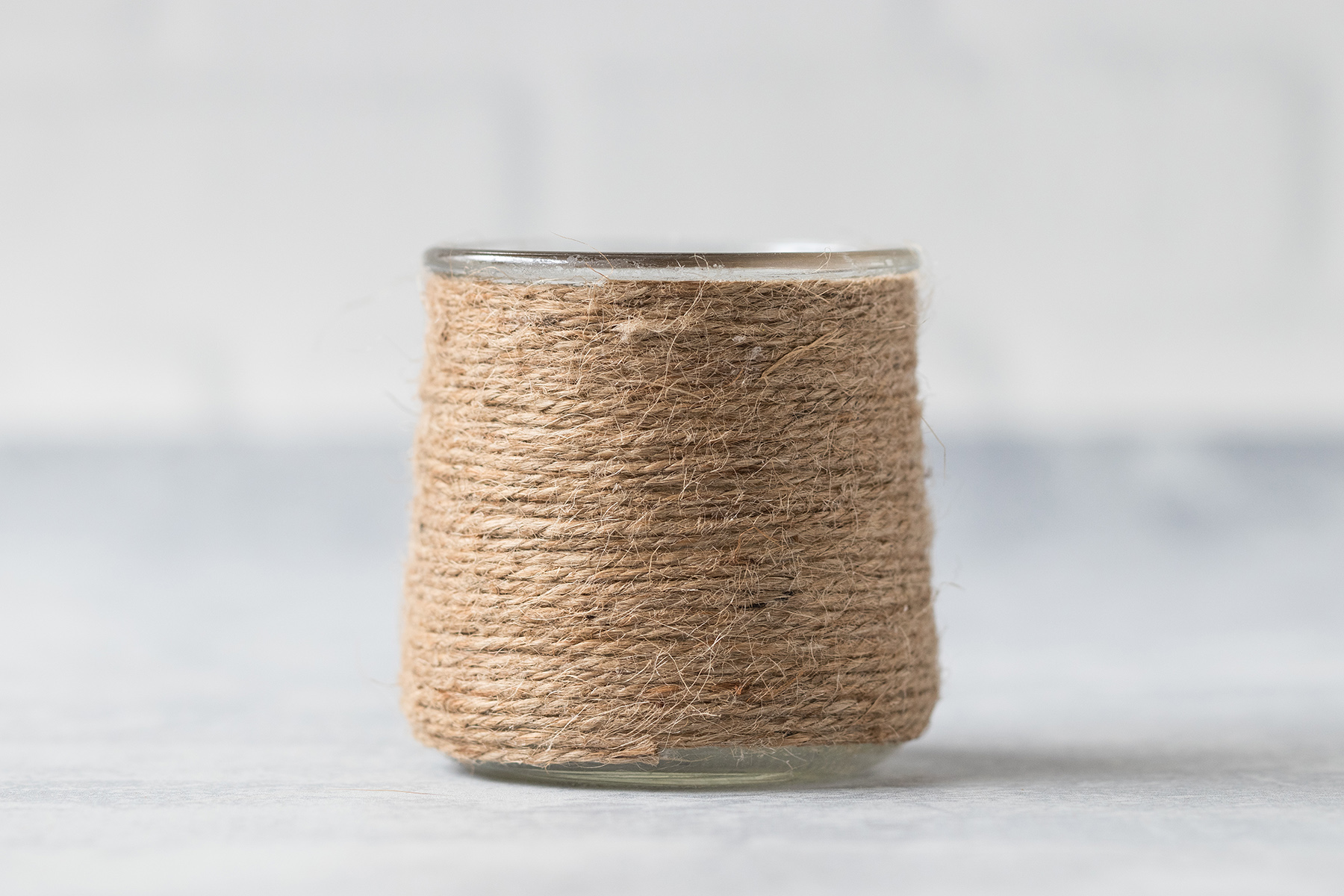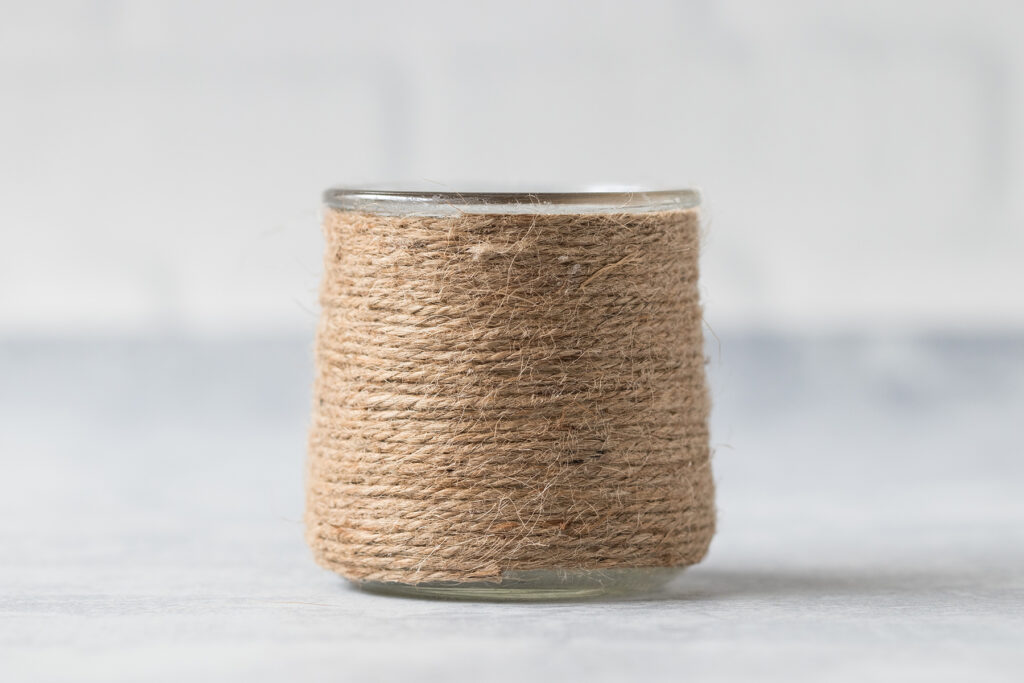 When you're ready to stop wrapping, cut the twine. I like to line up the spots where I begin and end the twine, so there is a clear back to the jar. This method keeps the start and stop places hidden when the jar is displayed. Once you've cut the twine, add a dab of Mod Podge to the end of it. Hold the twine in position for one or two minutes until the Mod Podge starts to dry. Ensure that the final twine rows don't slip out of place while the end of the twine is drying.
There may be a little bit of Mod Podge remaining on the bottom edges of the jar. If there is, take a damp paper towel, and gently wipe it away.
Place a small amount of rubbing alcohol on a paper towel. Rub down the inside of the jar to clear away oil and other residue that got on it while you were wrapping the twine.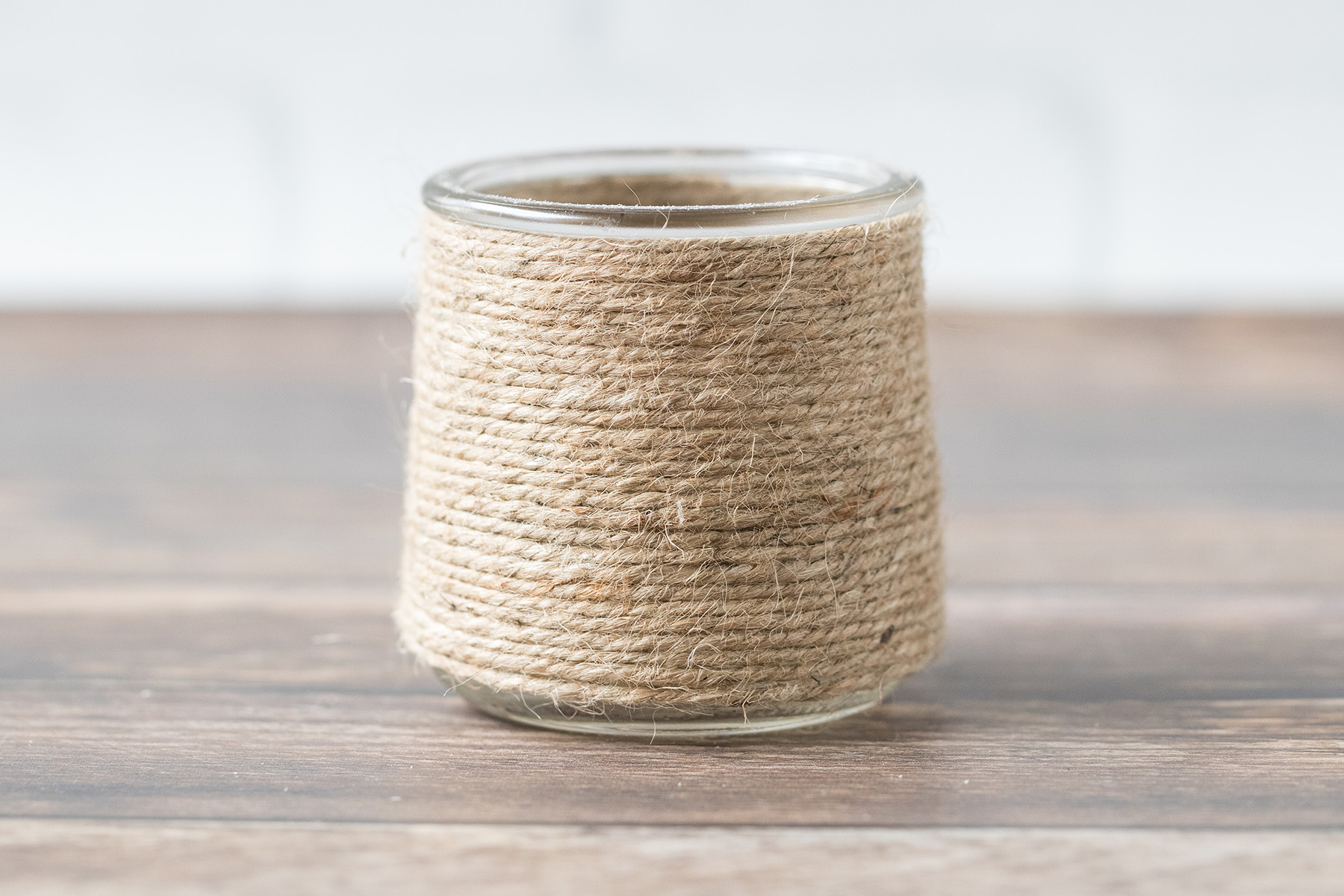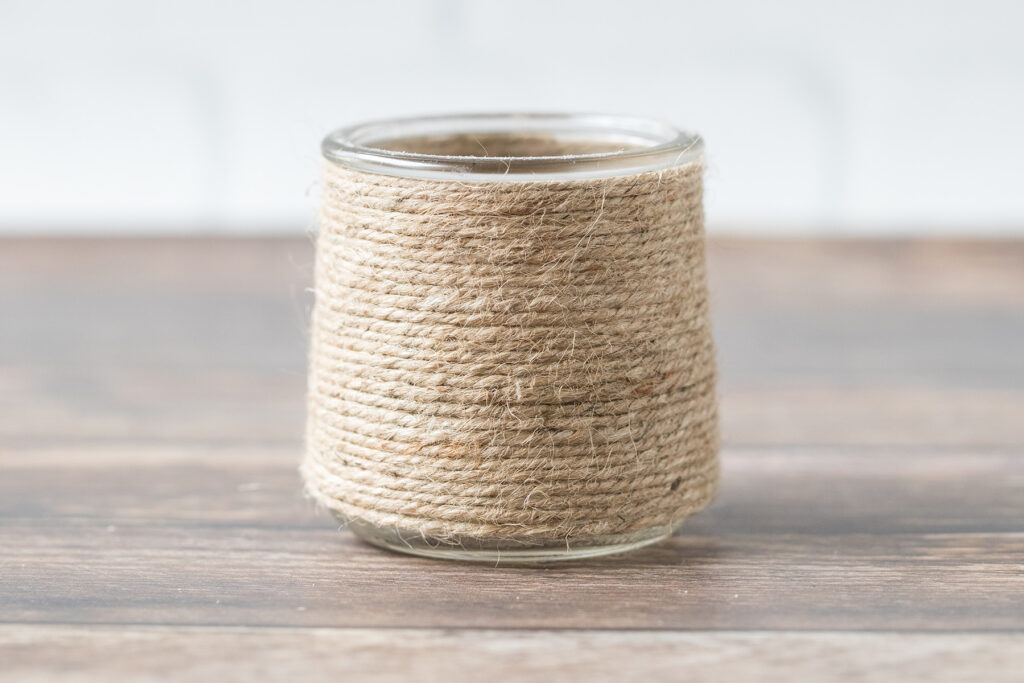 Allow the jar to dry fully before adding any autumn elements.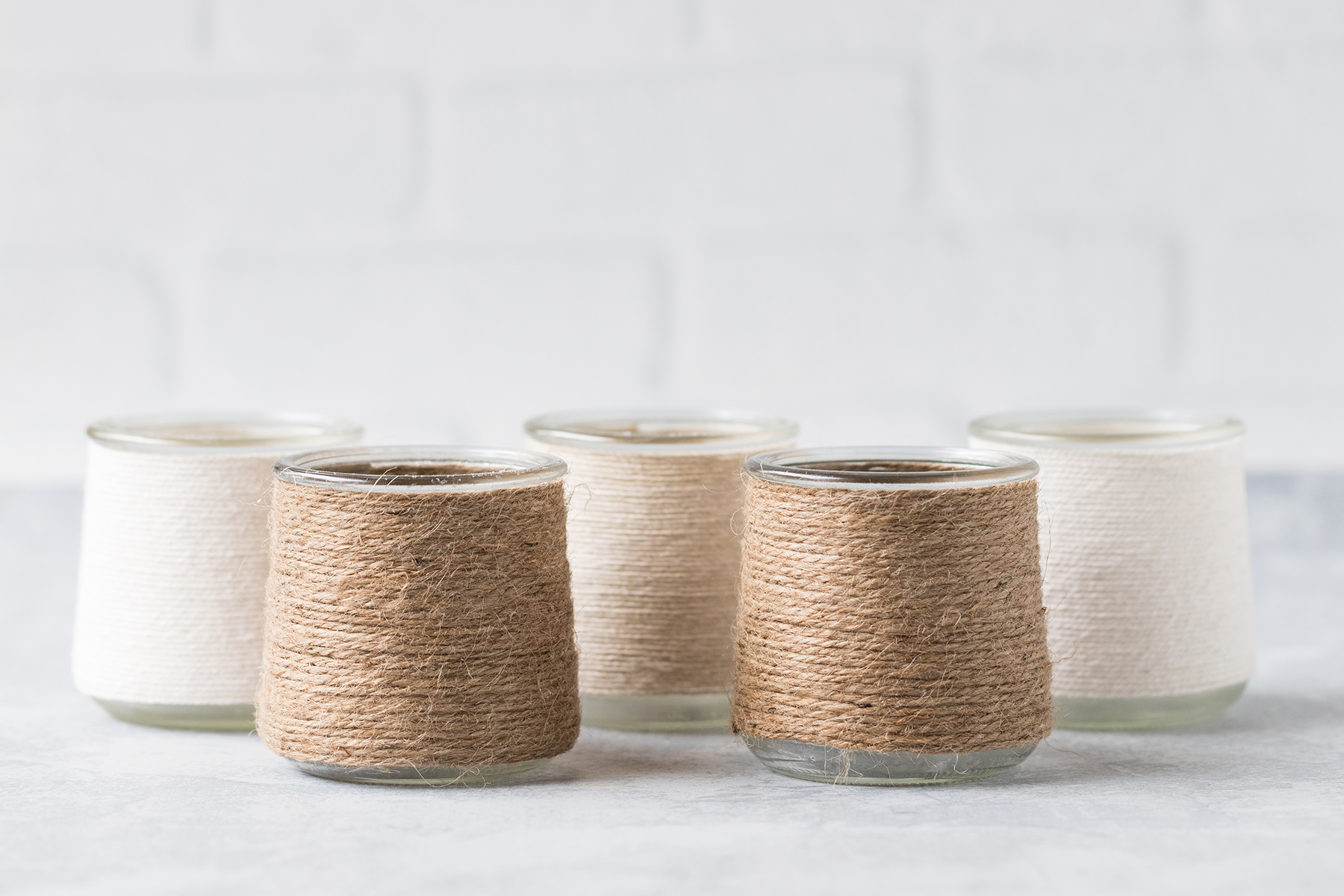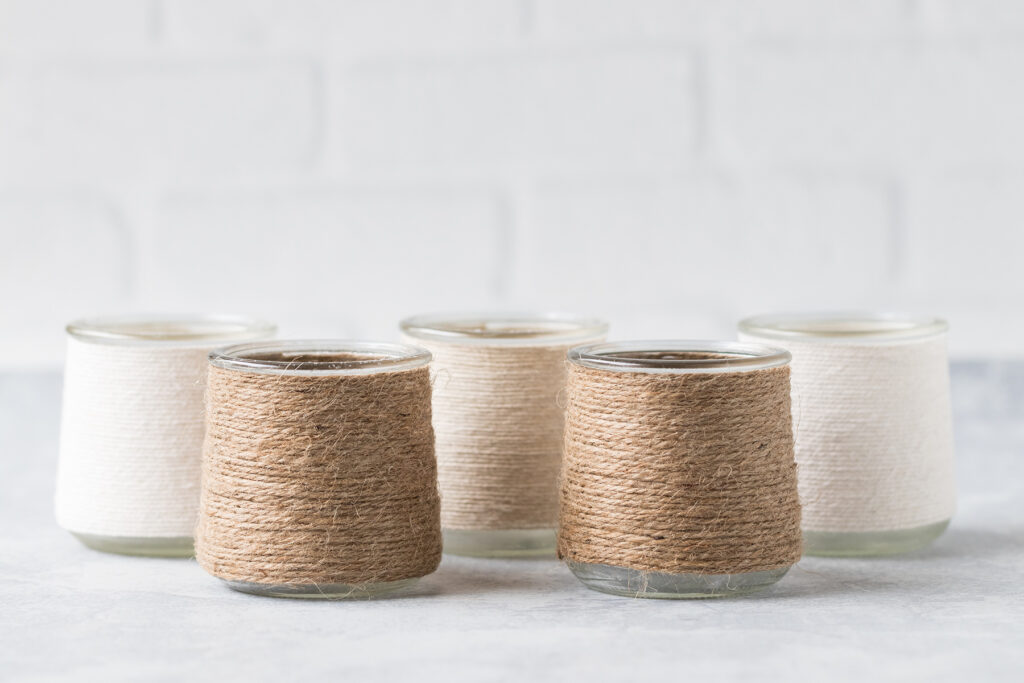 A few tips for success with twine wrapping glass jars
Don't apply Mod Podge to the whole jar at once. As you can see from my step-by-step photos above, Mod Podge dries extremely fast. Even when you wrap twine quickly, you'll need to apply more product every half an inch or so. Apply the Mod Podge as you go, so it doesn't get too layered.
Pause regularly to check that your rows are tight and even, making adjustments as needed. After every three or four rows, inspect your progress. Adjust the twine as necessary to keep your rows tight and even. After the Mod Podge has fully dried, it's all but impossible to make adjustments.
Quit wrapping when you get to the natural ending place on the jar. Once you've wrapped a few Oui jars, you'll get comfortable finding the natural ending spot for the twine. Ending in this place ensures that the twine stays put and the final couple of rows don't pull out of place. Don't force the twine to wrap further than this spot.
Don't let the twine get twisted as you work. As with any craft project that involves moving twine or thread in a repeated movement, it's easy for the twine to get twisted. Take a break every once in a while and untwist your twine spool to keep it from twisting up as you wrap the jar.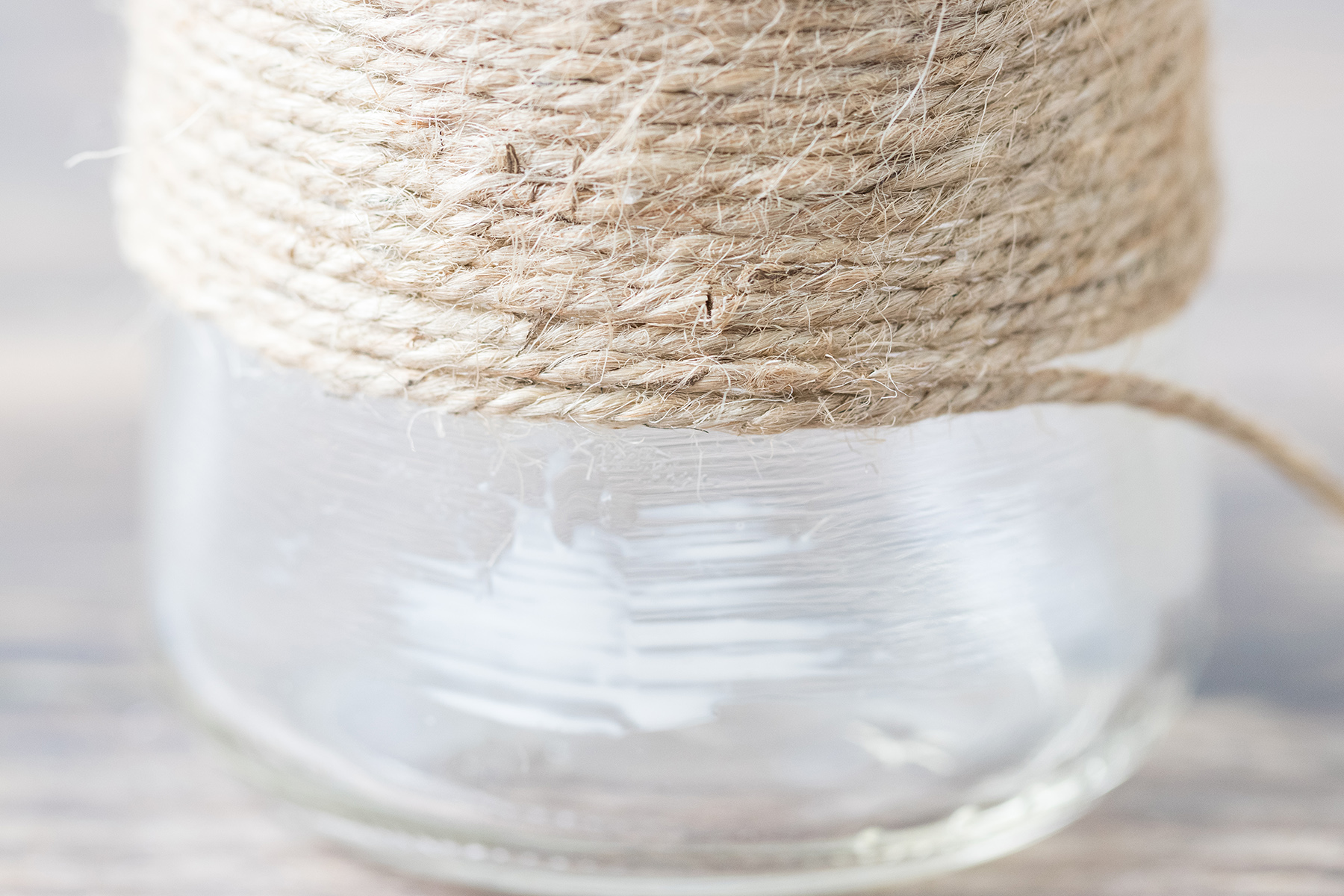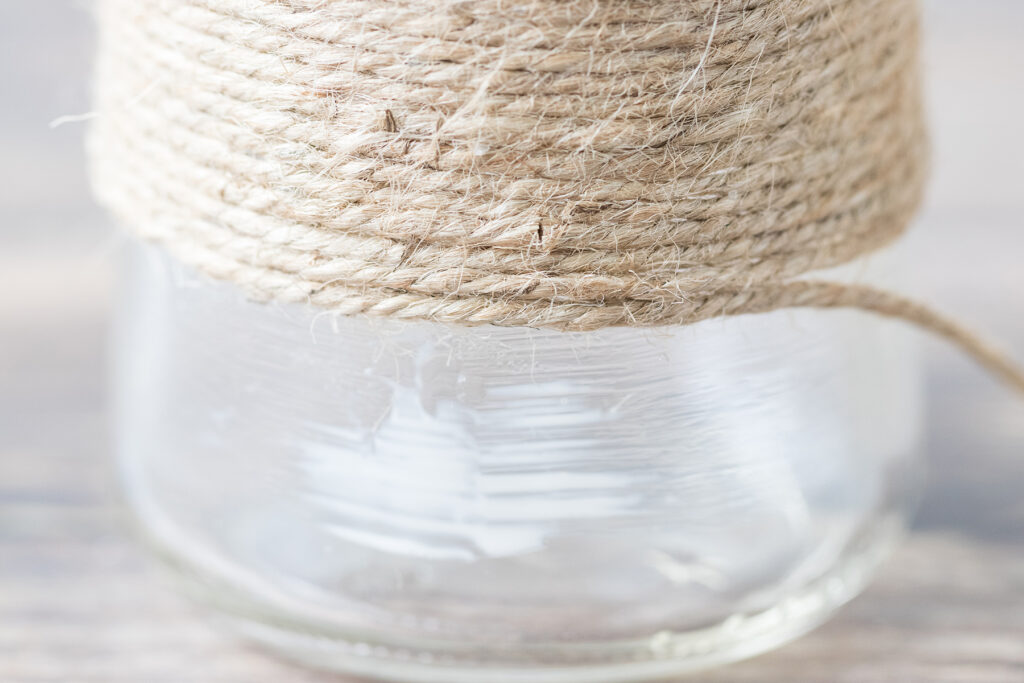 Finally, if needed, cut out thick, gnarly sections of the twine, then restart your wrapping to keep the rows tight and even. Depending on the kind of twine you're using, you may sometimes get a thick, gnarly section that will warp your rows. In my experience, it's better to cut out this section and restart the twine than to try to make it work. I'm showing you a close-up example of an occasion where I stopped and restarted the twine. When you do it carefully, no one will ever notice this little break in the twine.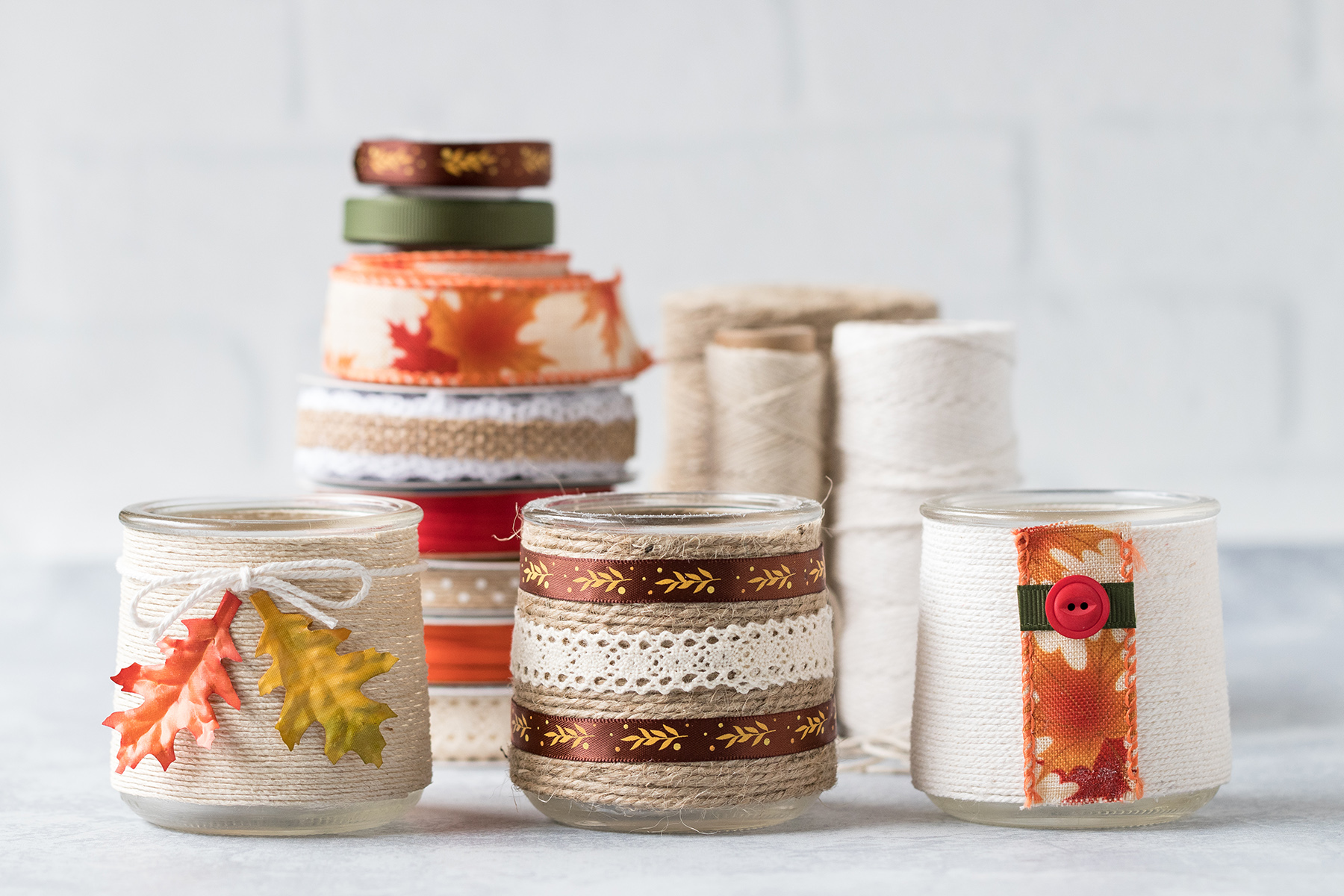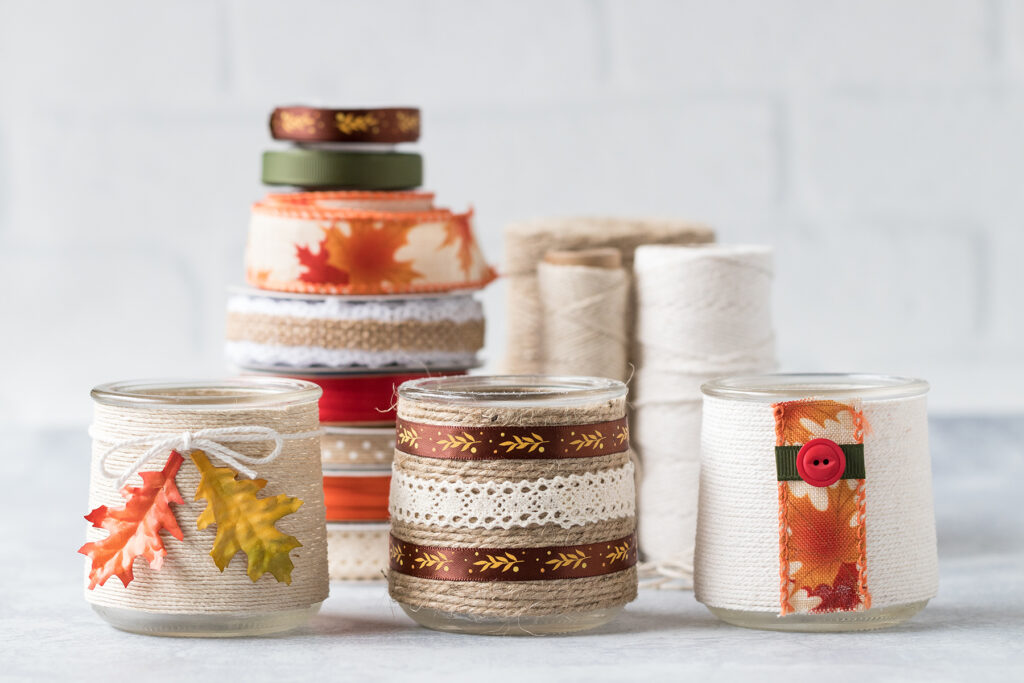 Decorating twine-wrapped jars with fall details
After you've completed the twine wrapping, you're ready to add autumn embellishments. I recommend laying out all of your fall components and trying out different combinations until you're happy with the results. Then begin cutting your ribbons and lace and gluing your materials.
I used tacky glue to secure all of my ribbon, lace, and buttons to my twine-wrapped jars. For lace and ribbons, depending on the width, apply either one or two thin lines of glue all the way around the jar. Wind your lace or ribbon into place. Then add a small dab of glue to the end of the lace or ribbon. Hold it in place on the jar for one or two minutes until the glue begins to dry.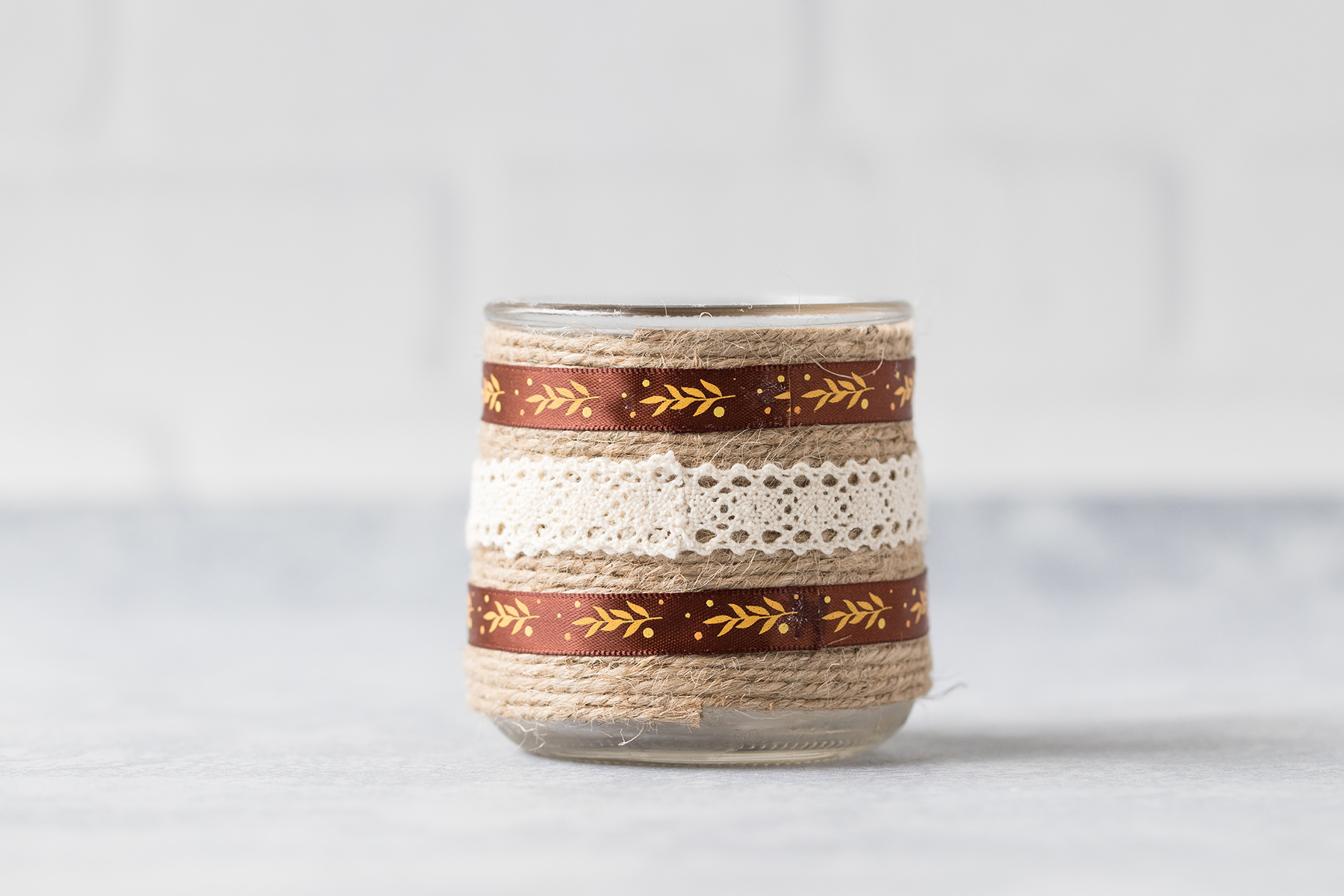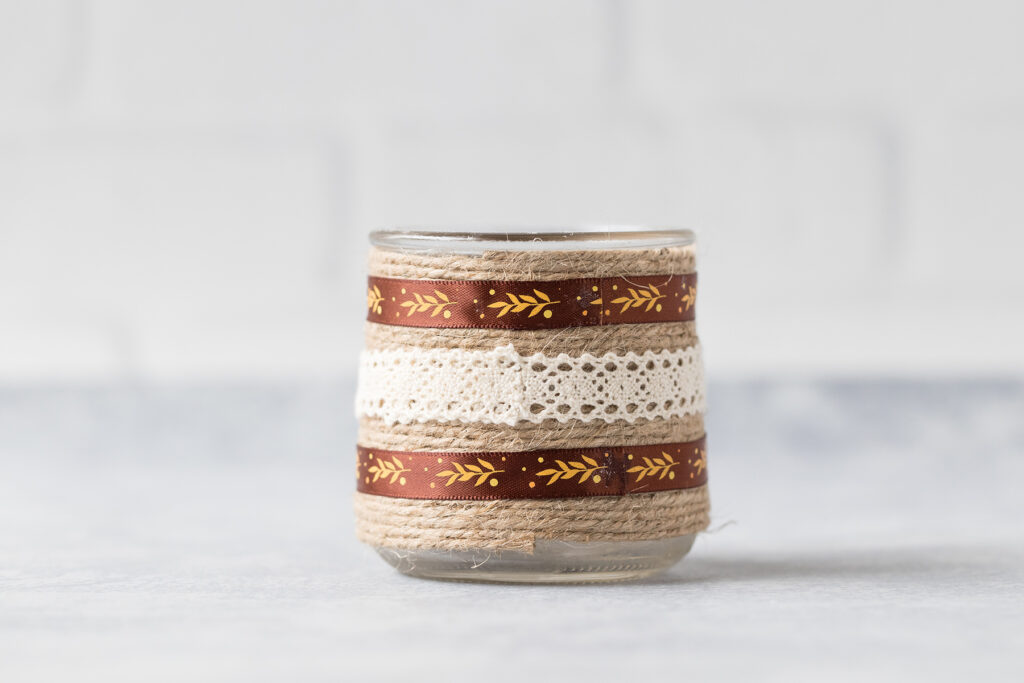 I highly recommend lining up the ends of the ribbon and lace with the ends of the twine, so that none of them will show when the jars are facing forward.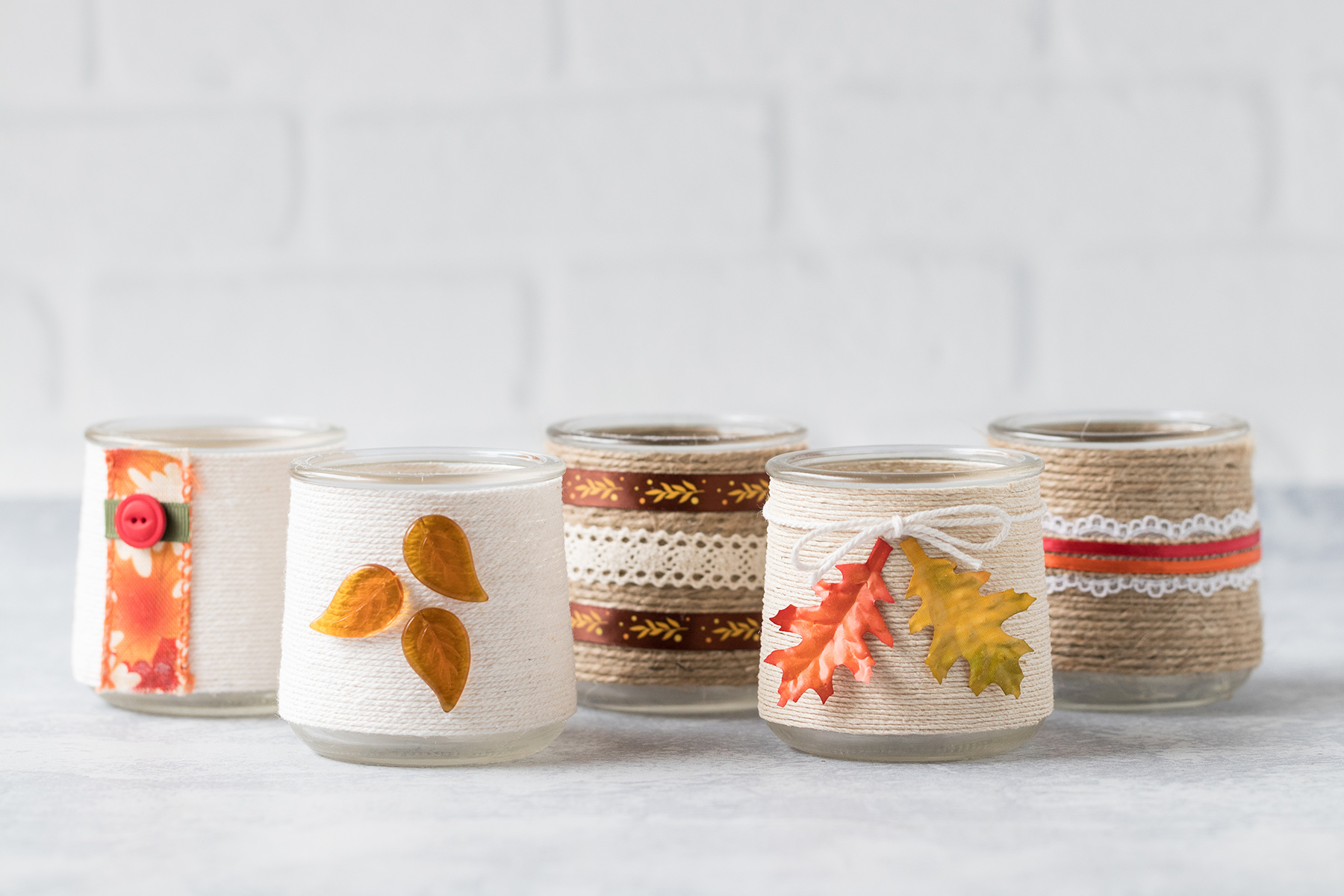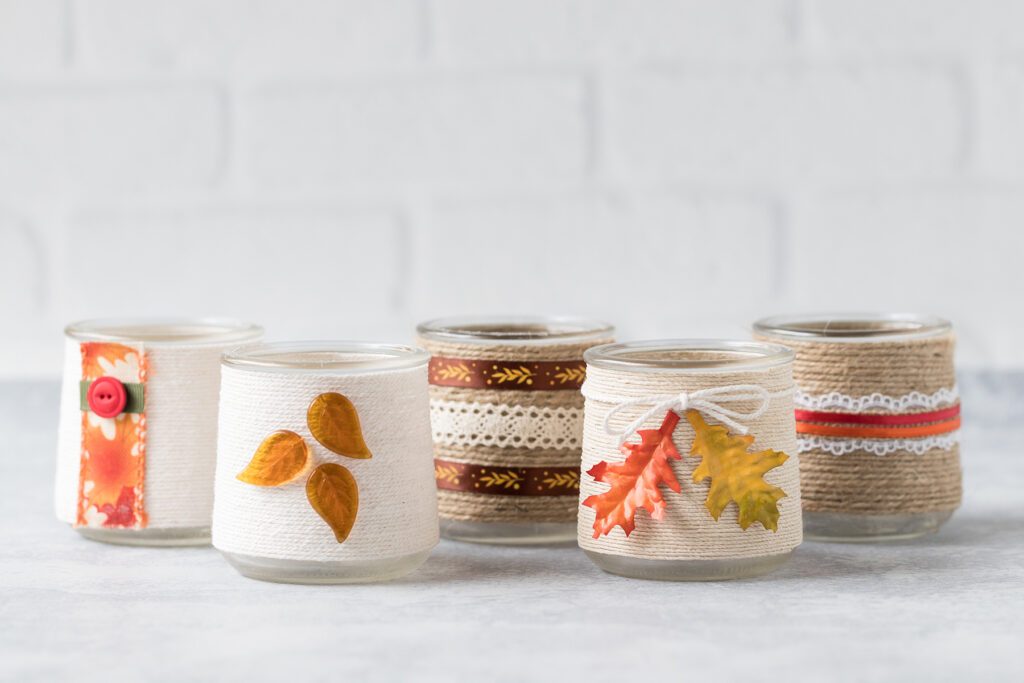 Individual jars
I'm sharing more details about every single jar, so that you can see them up close and get more information about the specific materials that I used.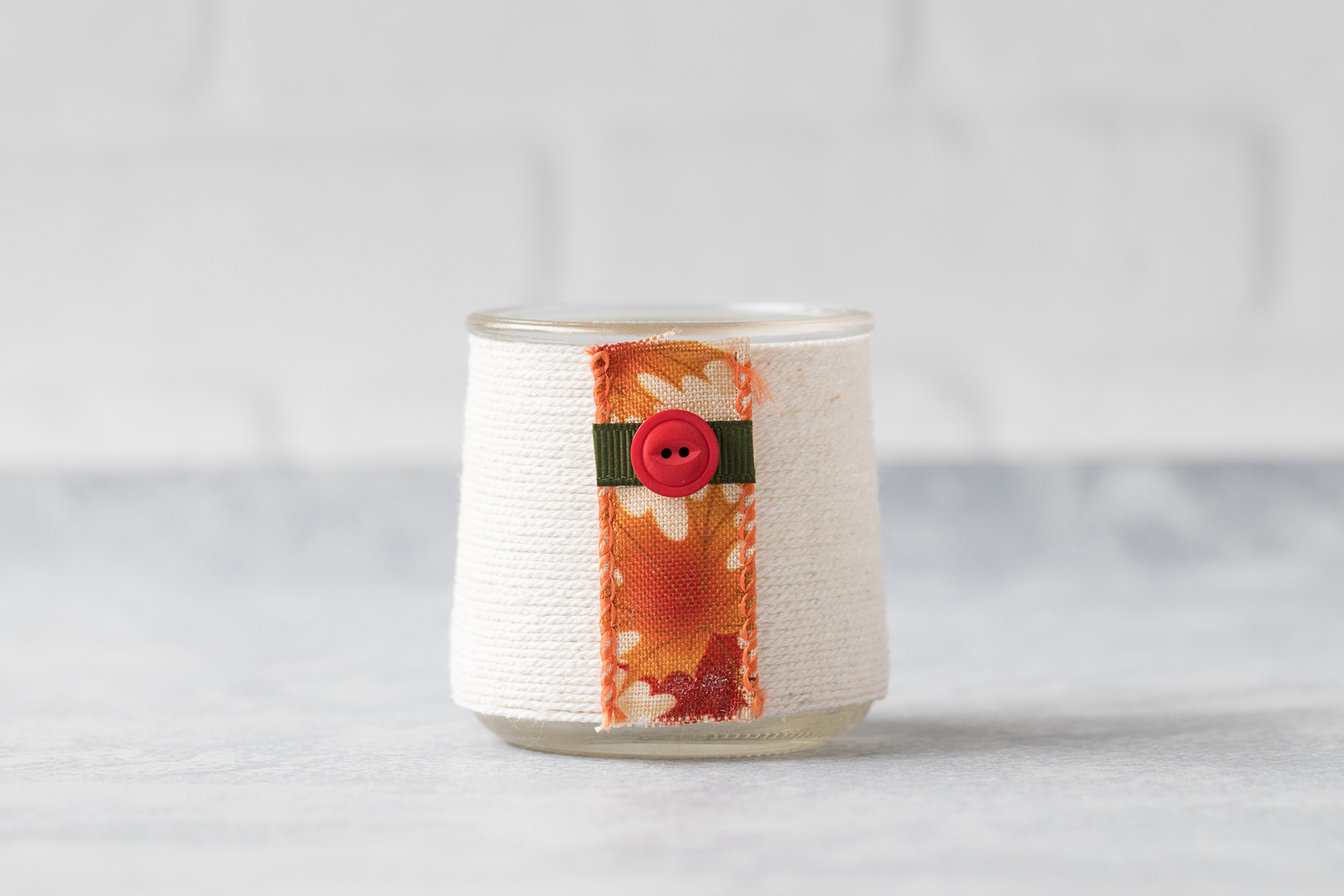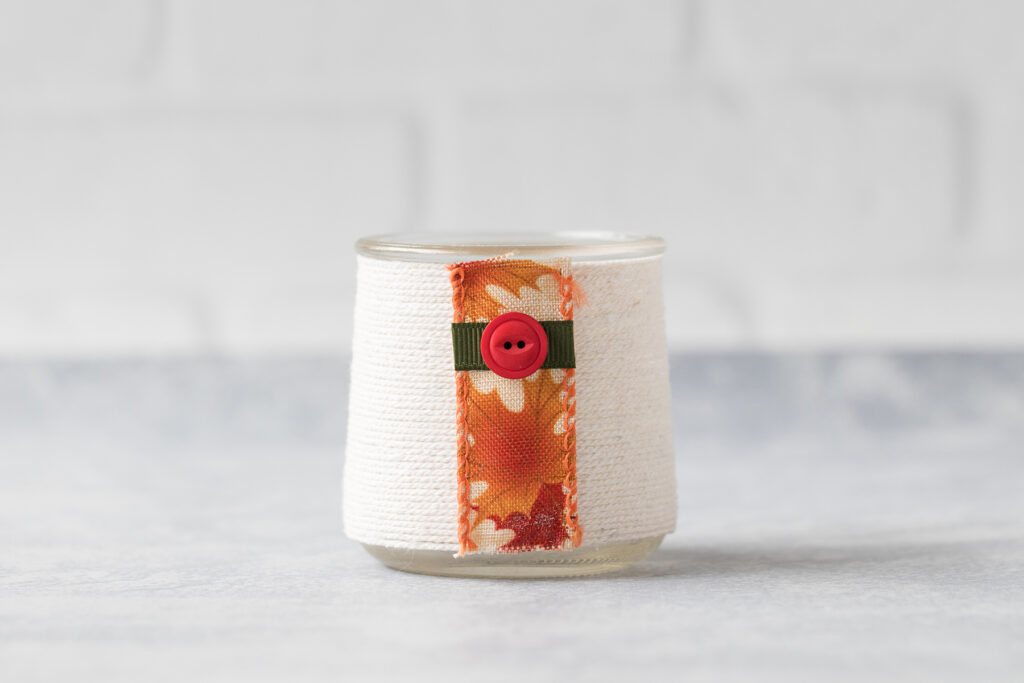 I layered a wide leaves ribbon with a narrow dark green ribbon and then a red button. I'm linking the exact sources for the ribbon. You may or may not know that I'm crazy about buttons. I buy most of my buttons from MellowMoonSupply and can't recommend Lynda's shop enough. She always has a fantastic supply of new and vintage buttons.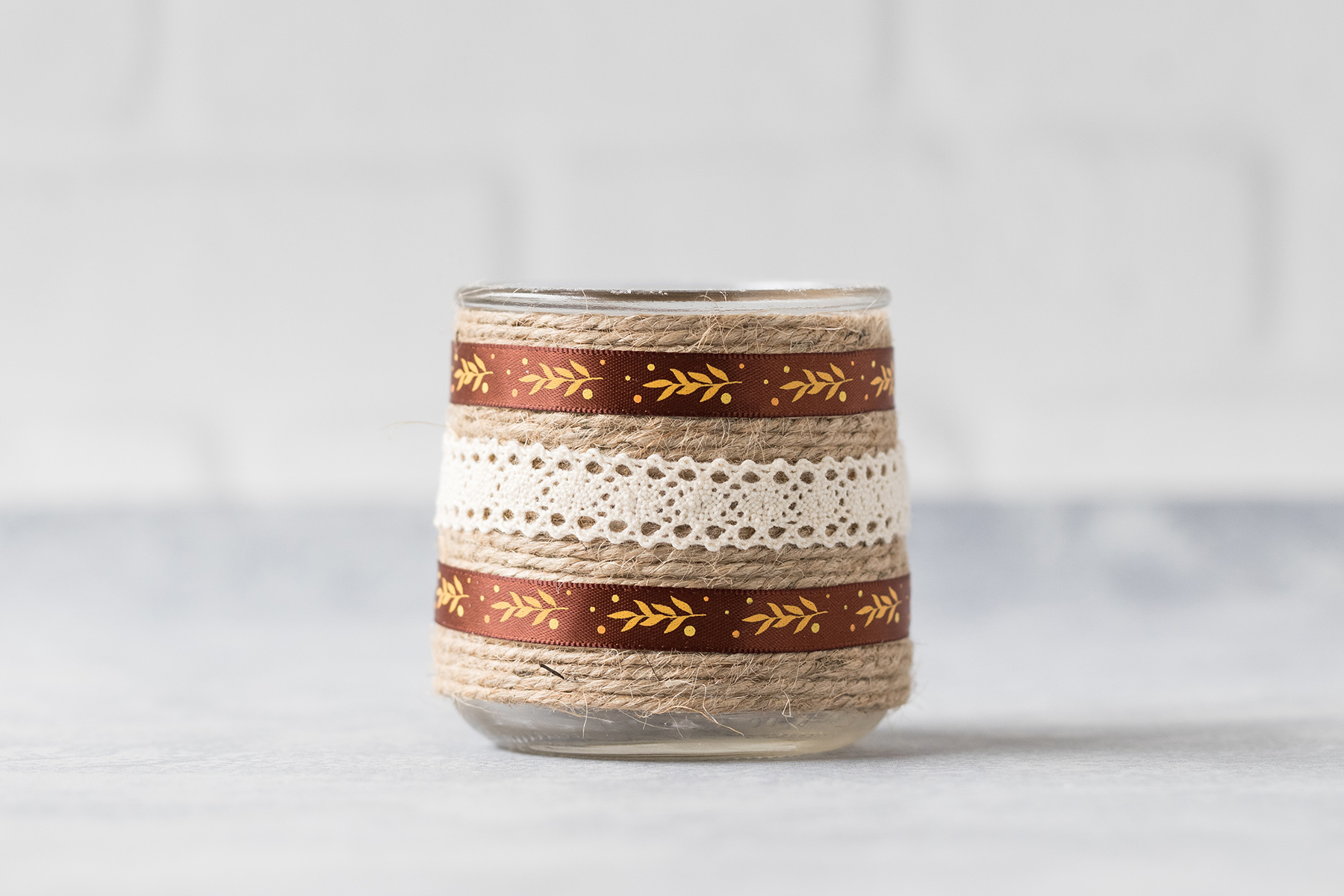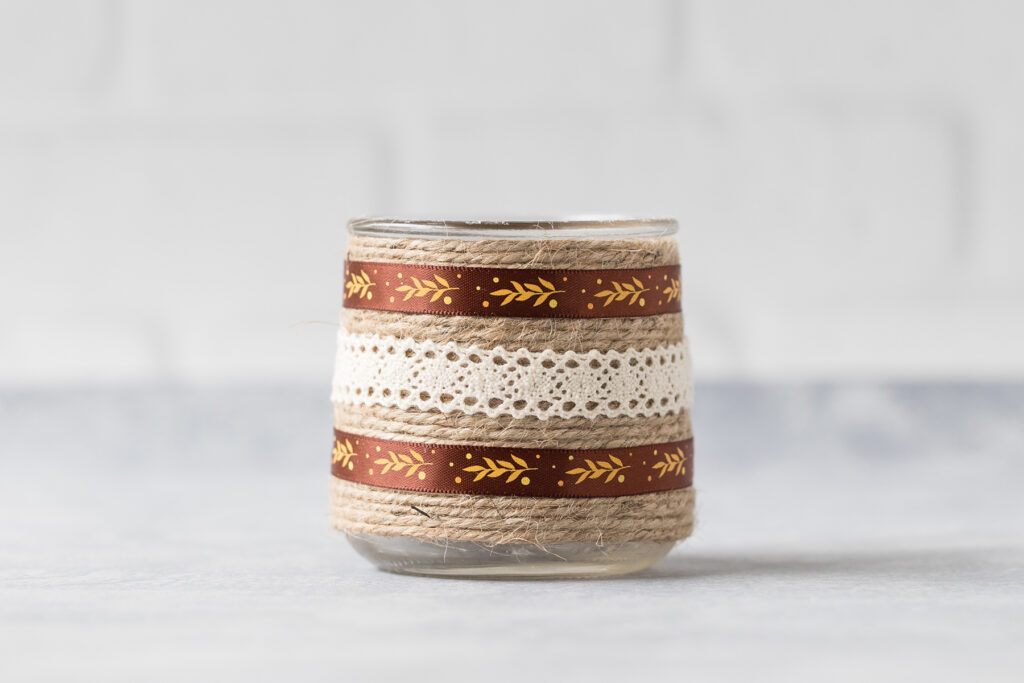 I haven't gotten over the vintage-inspired ribbon that I purchased for my vintage-inspired Oui jars. I paired one of those ribbons with dark brown leaf ribbons from the same narrow fall ribbons set thaI linked above.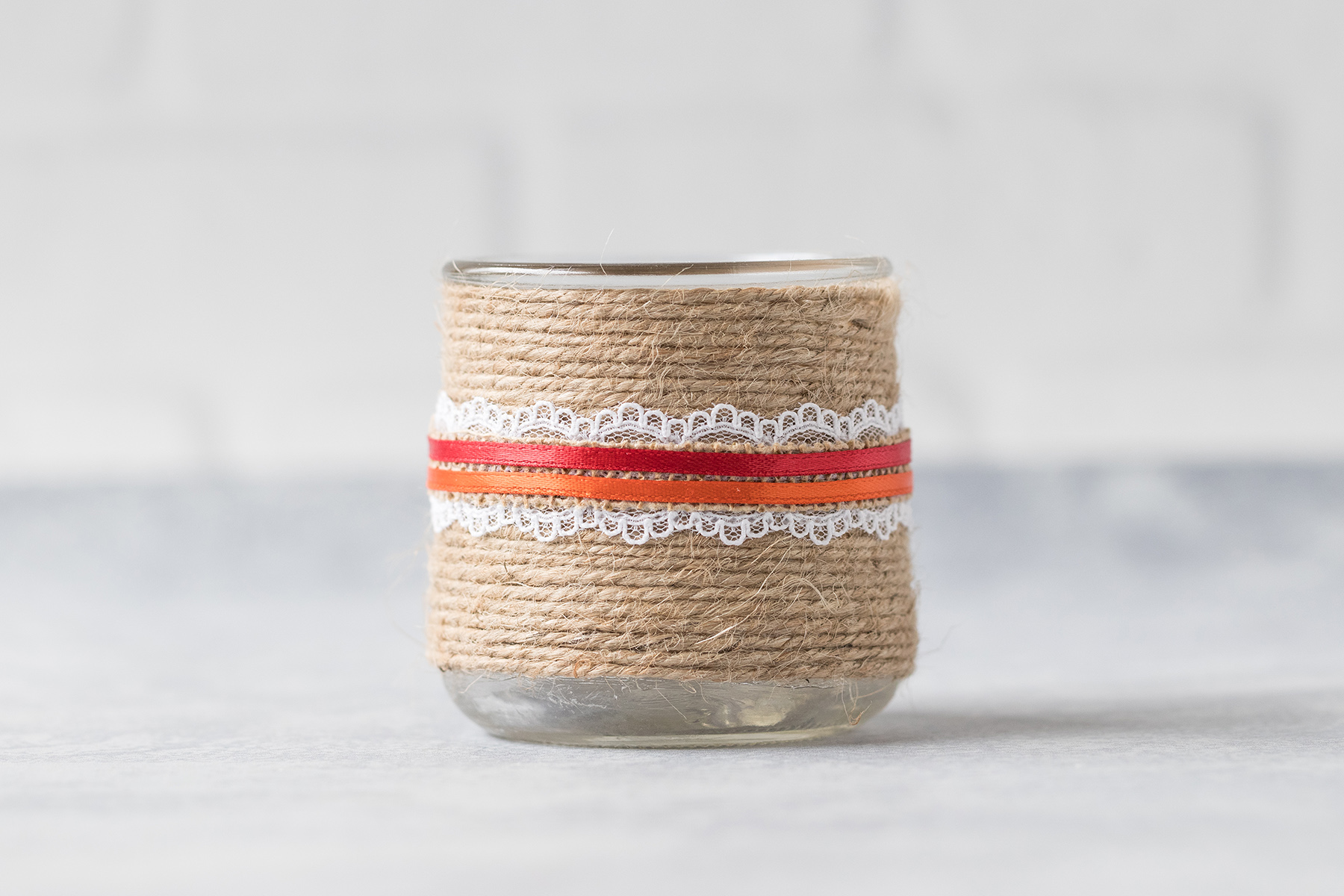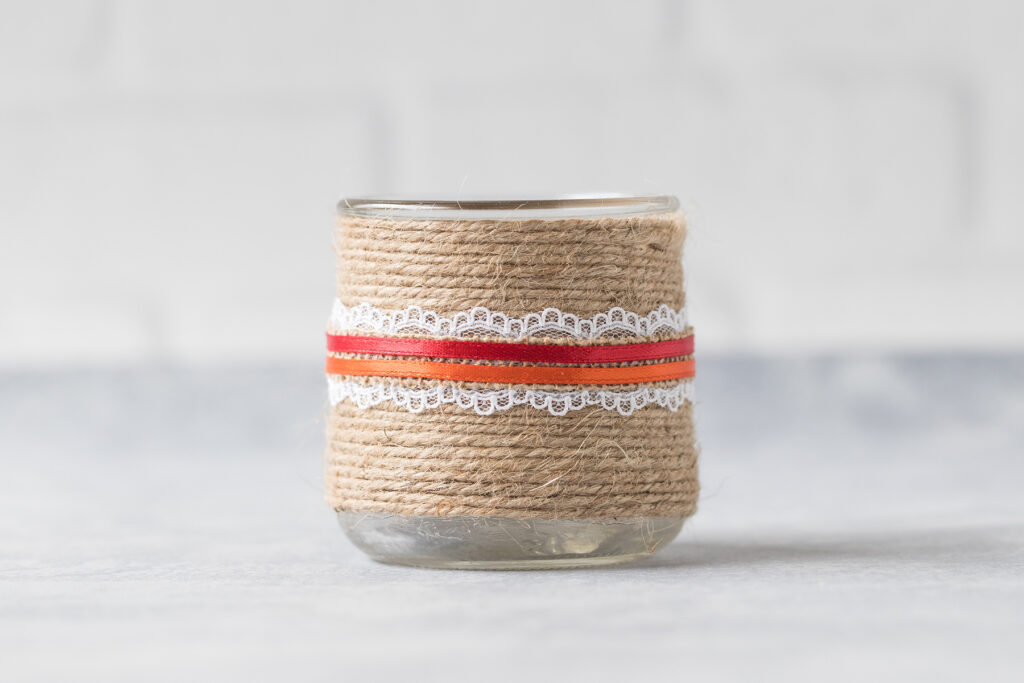 Layering faux burlap with lace edge with 1/8″ ribbons is one of my all-time favorite aesthetics for all sorts of different craft projects. This time I chose the burlap with a white lace edge and added both red and orange ribbons. Typically, Michaels doesn't list 1/8″ ribbons on their website. But I've always been able to find them in store.
If you love this aesthetic, check out my twine-wrapped Easter eggs, sheet music Easter eggs, cardstock Easter eggs, and vintage-inspired twine-wrapped Oui jars.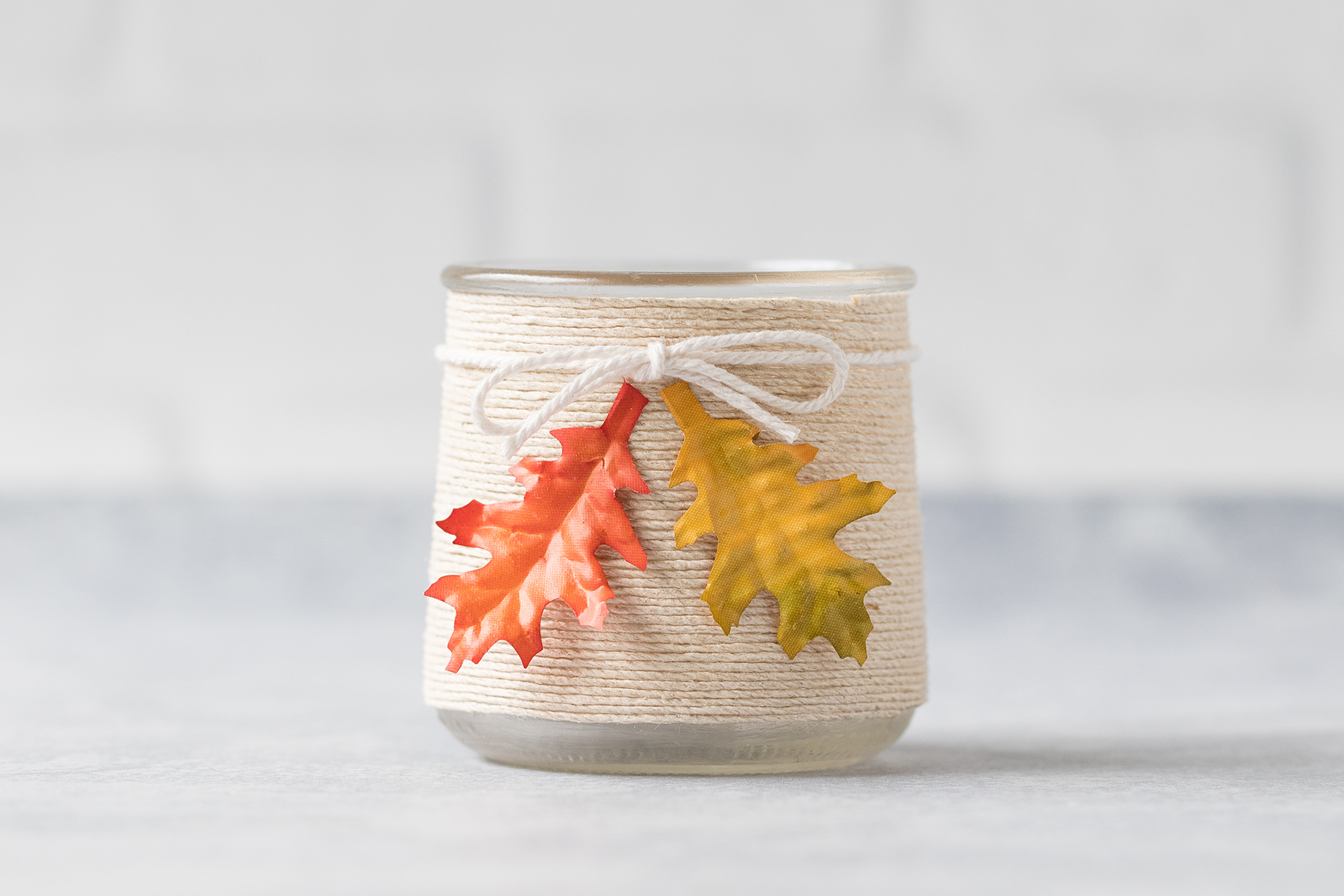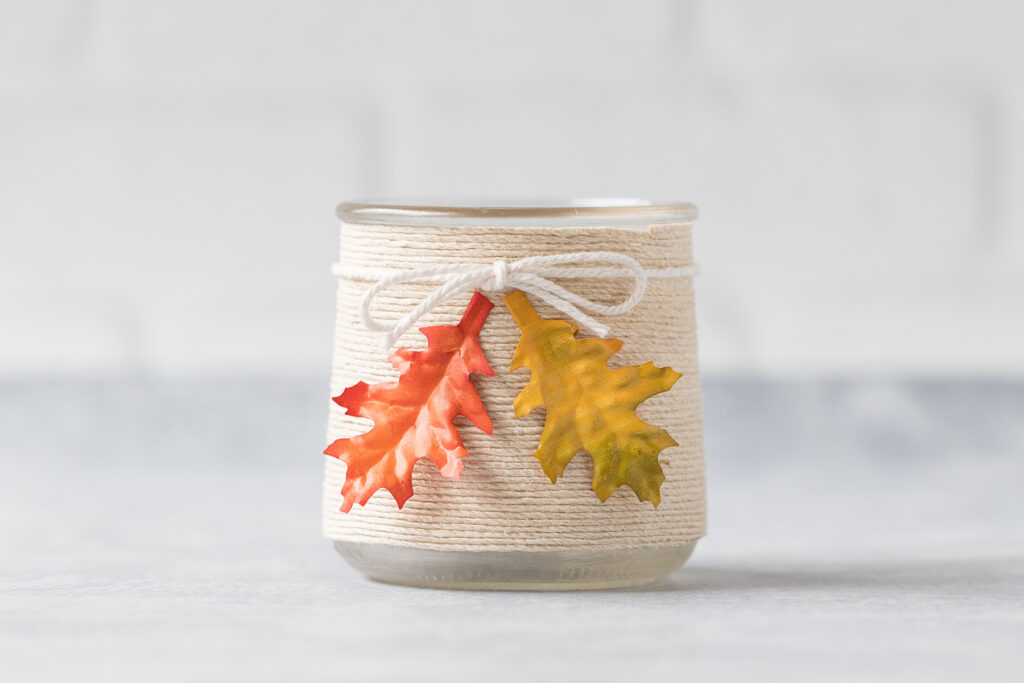 You can't go wrong with a classic leaves aesthetic for a fall DIY project. I added a white twine bow at the top. If you're worried about the twine slipping, add a few glue dots.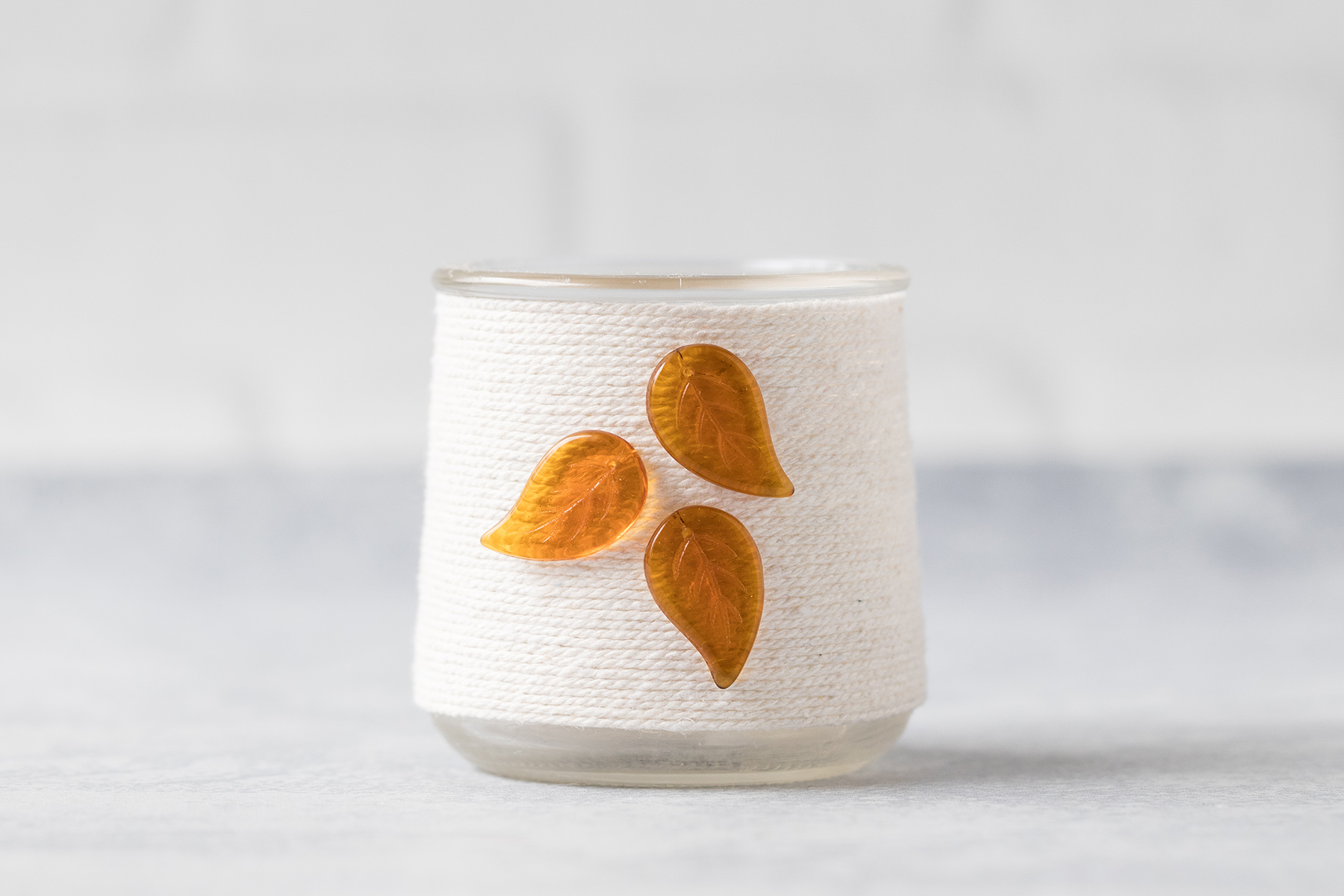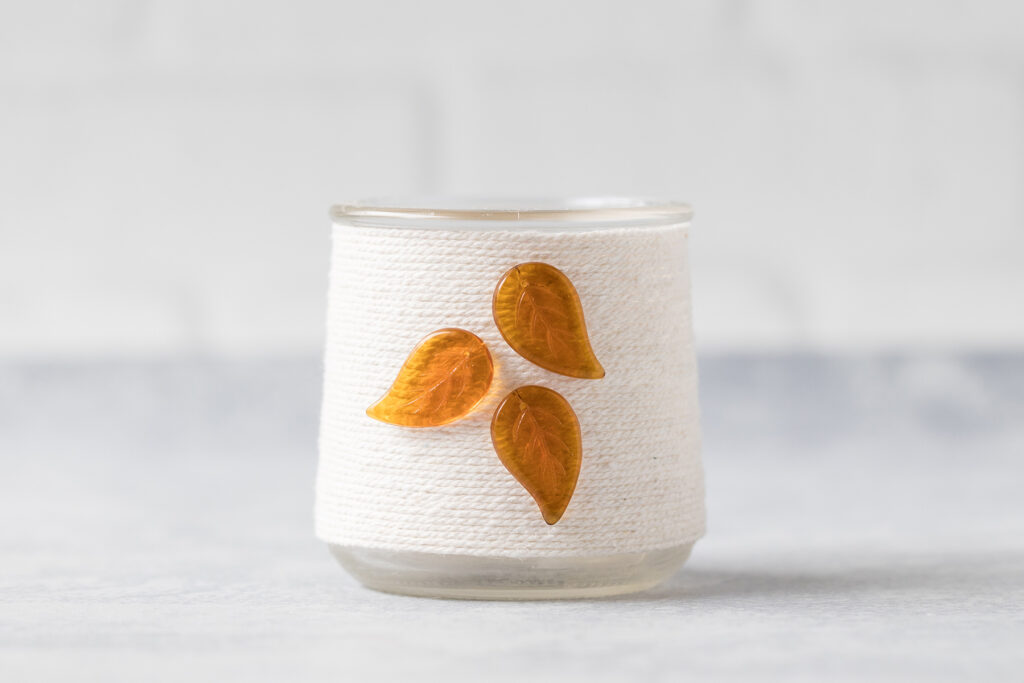 I love the simplicity of a few large glass leaves without any other embellishments. Many glass leaf beads are rounded or curved, which adds a nice dimension to jewelry but doesn't lend itself well to gluing. I recommend selecting flat glass leaves like the set that I've linked here.
While I cannot guarantee availability for this specific item, when I'm searching for beads, I always check beadsandbabble on Etsy. I've been shopping at Shannon's store for over a decade and am always amazed at the quality and scope of her inventory.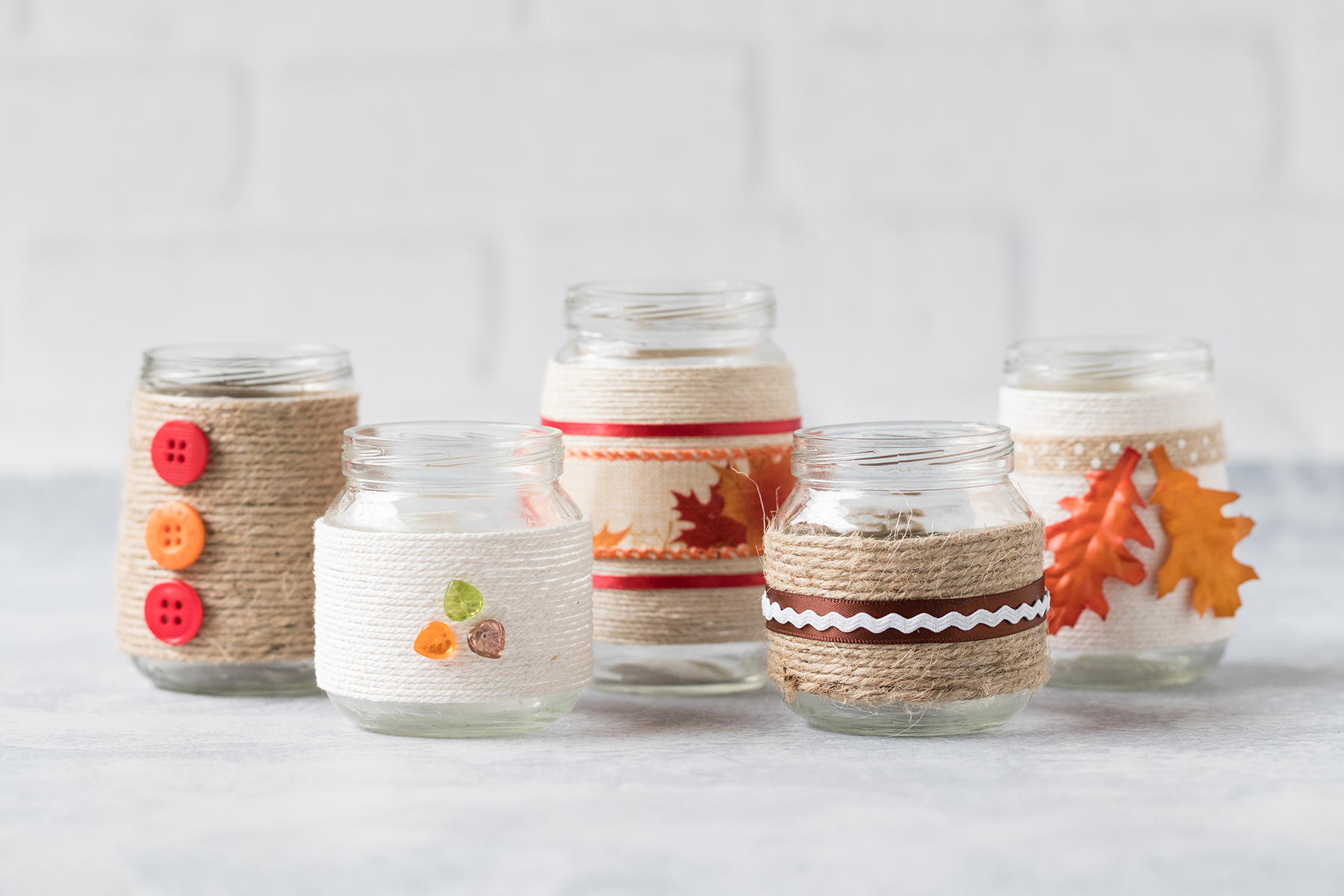 Baby food jars
I wanted to share a few more autumn twine-wrapped jars using another kind of glass jars. I have an abundance of baby food jars on hand from feeding my daughter Olivia, so that's what I decided to use for this tutorial. I'm using three different sizes of baby food jars. While baby food jars do work well, you shouldn't feel limited to this option.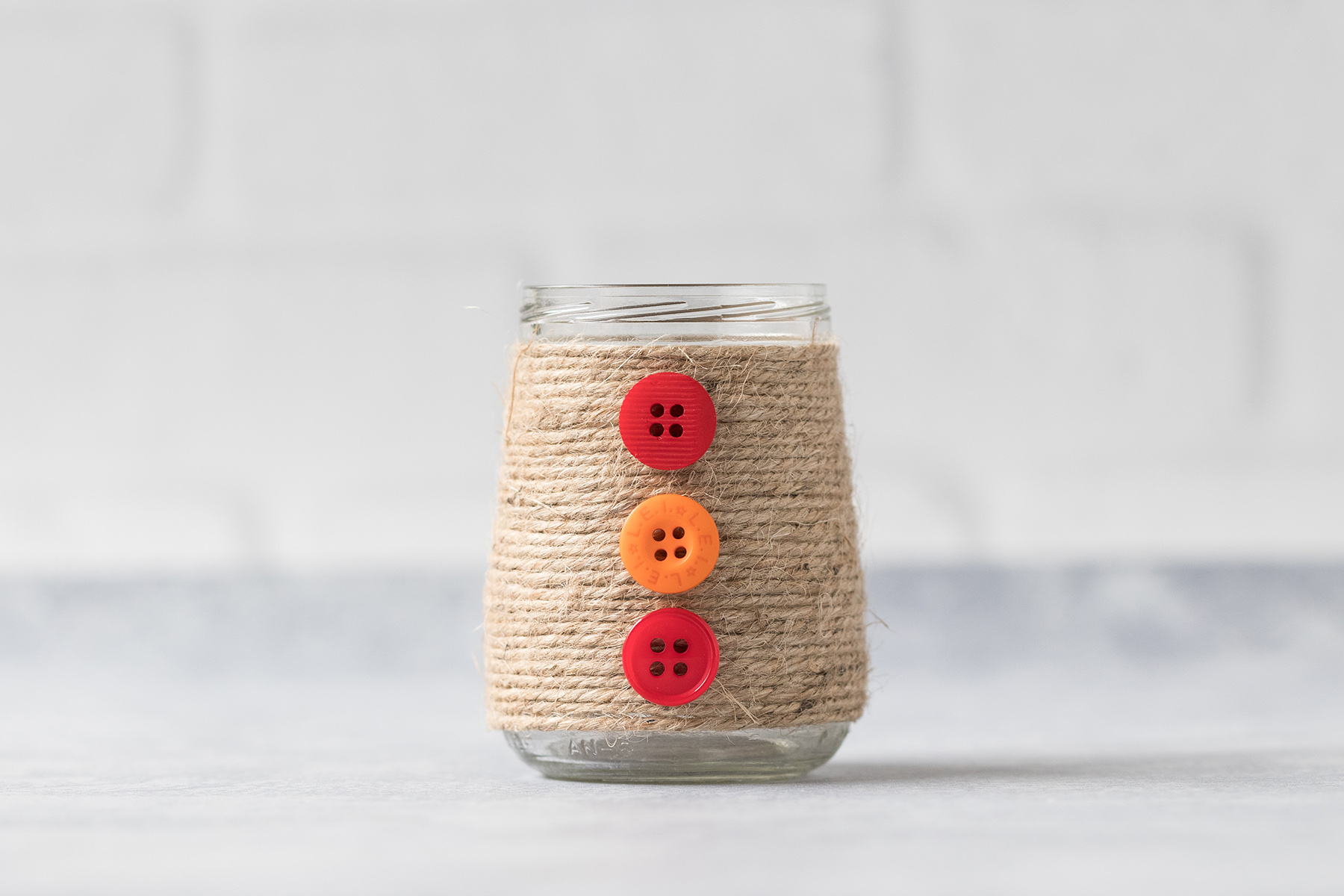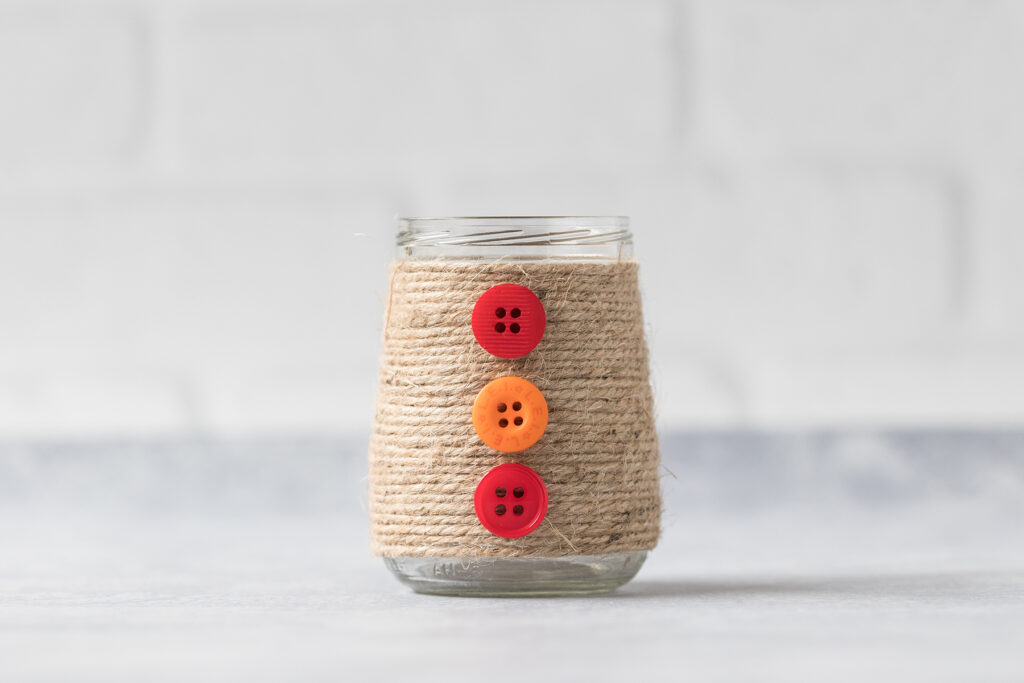 I'm sharing another example of a twine-wrapped jar finished with buttons, this time two red buttons and one orange button. 1/2″-1″-inch buttons work well for Oui yogurt and baby food jars. Again, my go-to shop on Etsy for new and vintage buttons is MellowMoonSupply.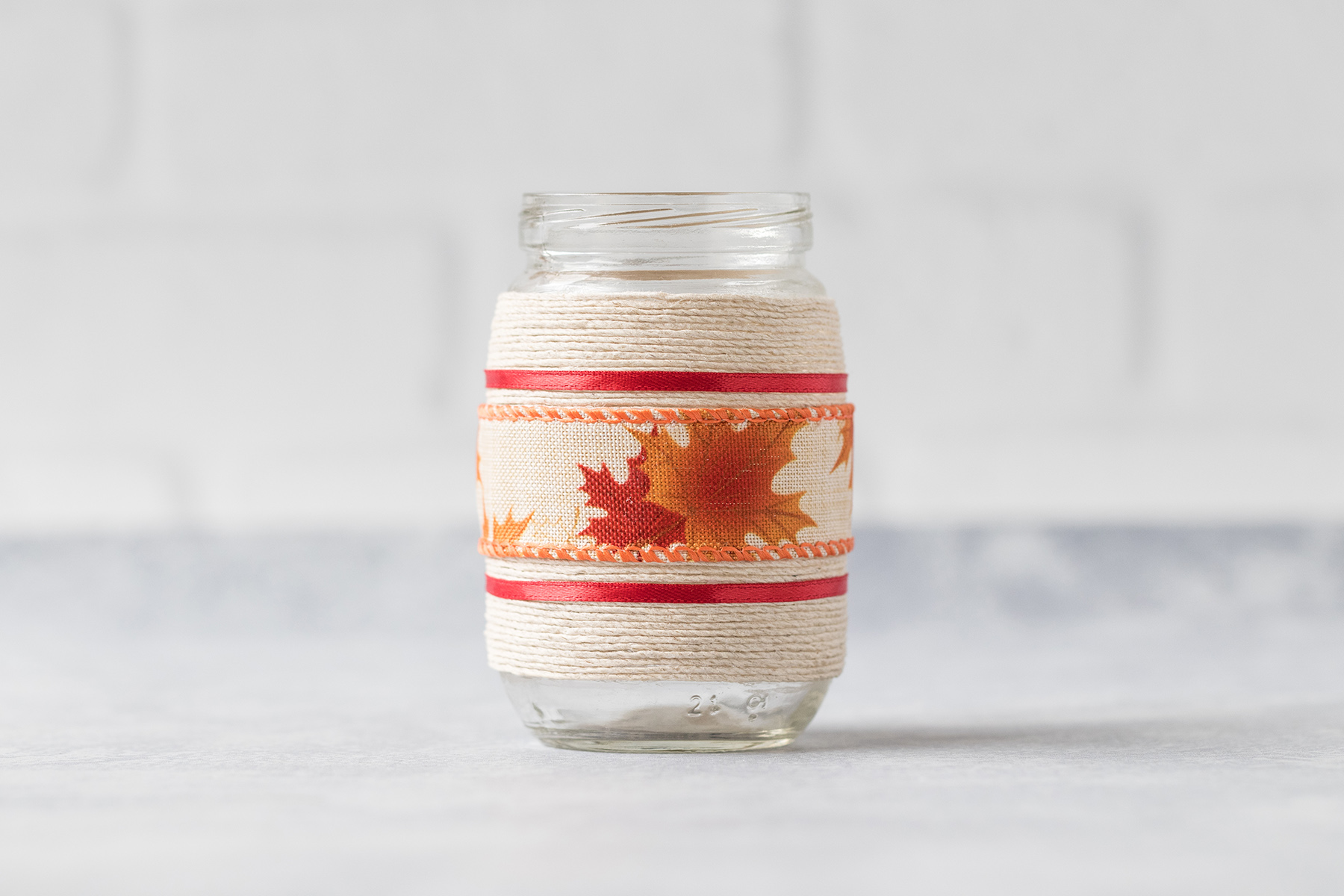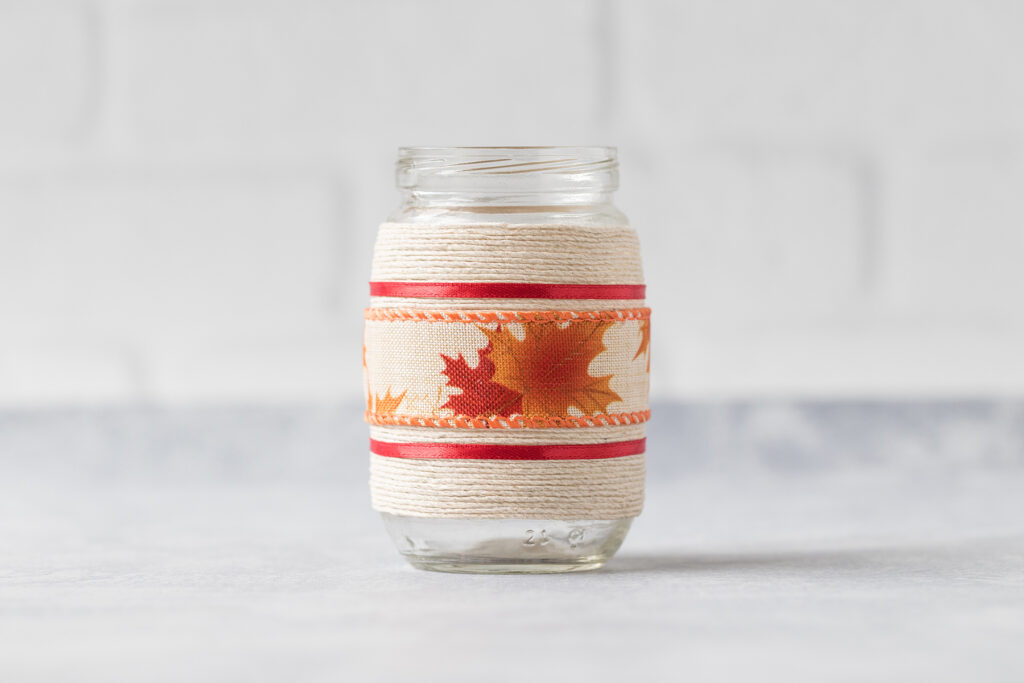 Pairing multiple ribbons is so easy and adds so much to the aesthetic of a decor piece. I used the wide leaves ribbon again and paired it with red 1/8″ ribbons, which you can always find in-store (although not online) at Michaels.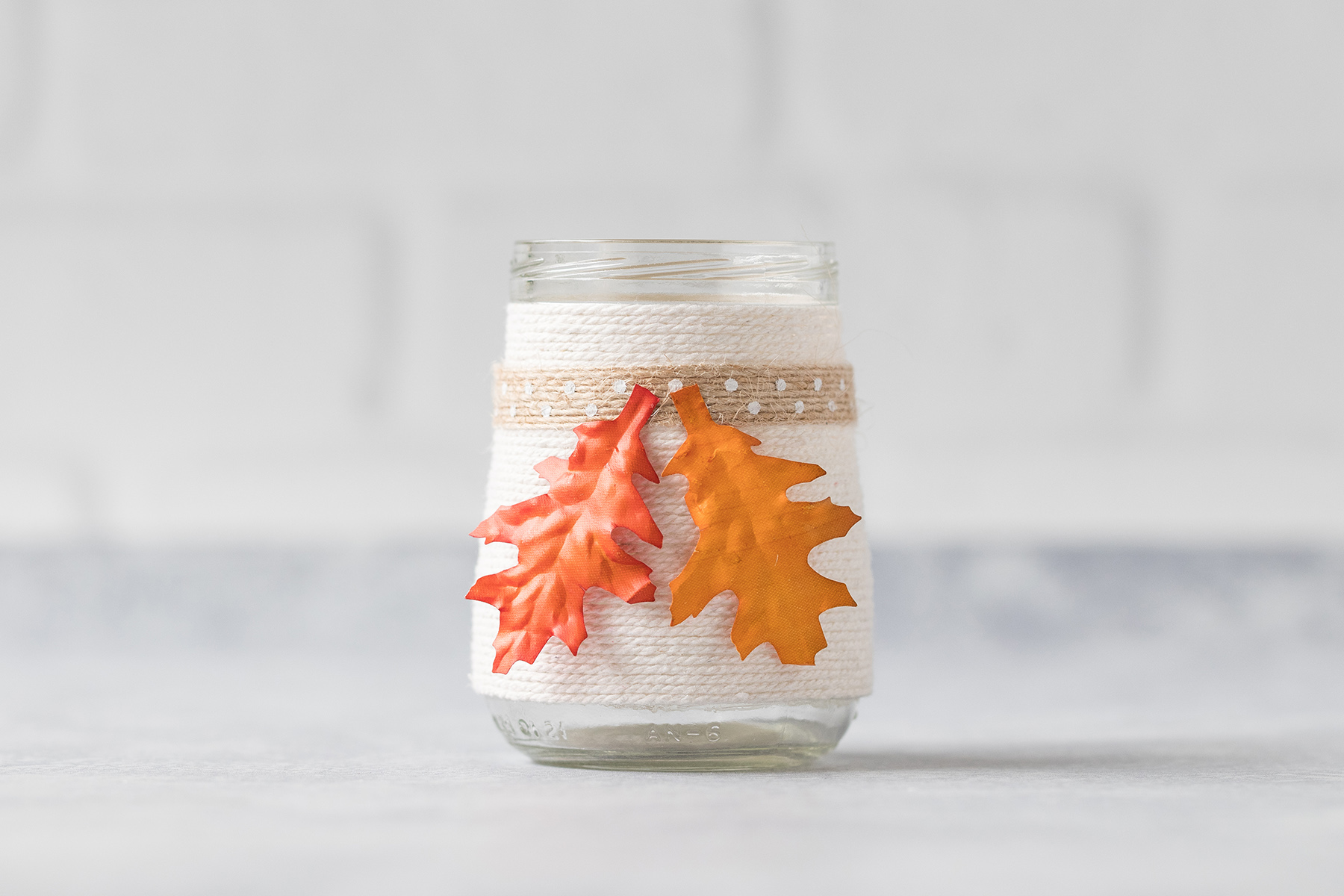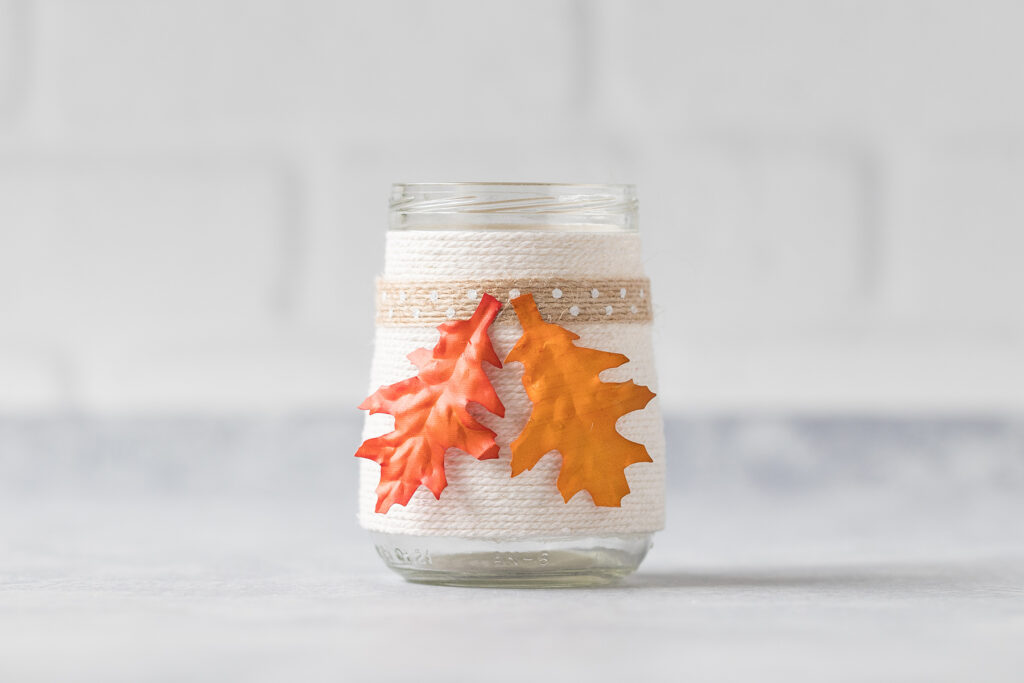 I'm sharing one more idea for a pair of leaves, this time with a narrow burlap ribbon with white polka dots. I'm pretty sure that I purchased the ribbon at Michaels. Unfortunately, I can't find an exact listing for this product at this time. Any type of 3/8″ cotton twill ribbon or burlap ribbon will work well.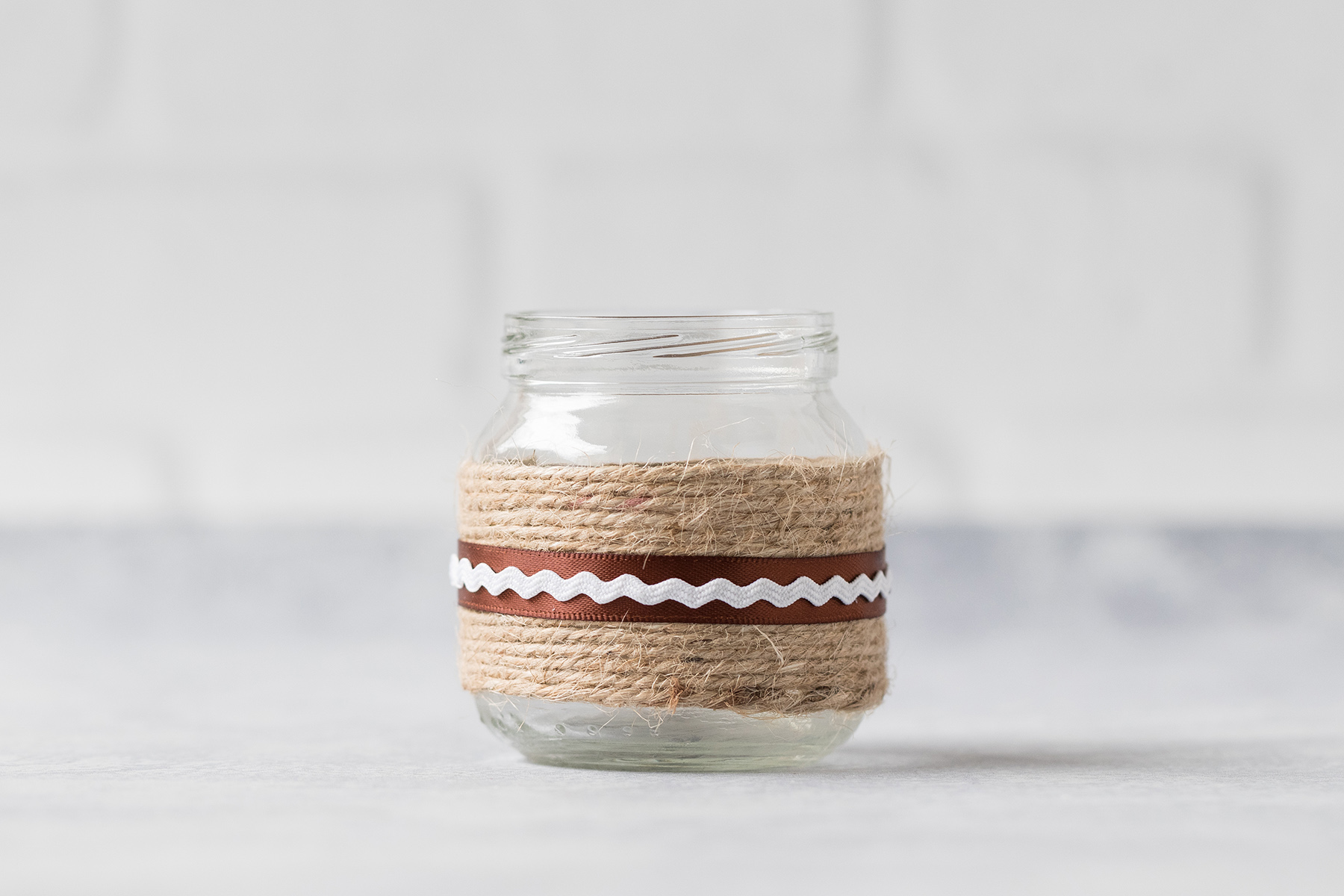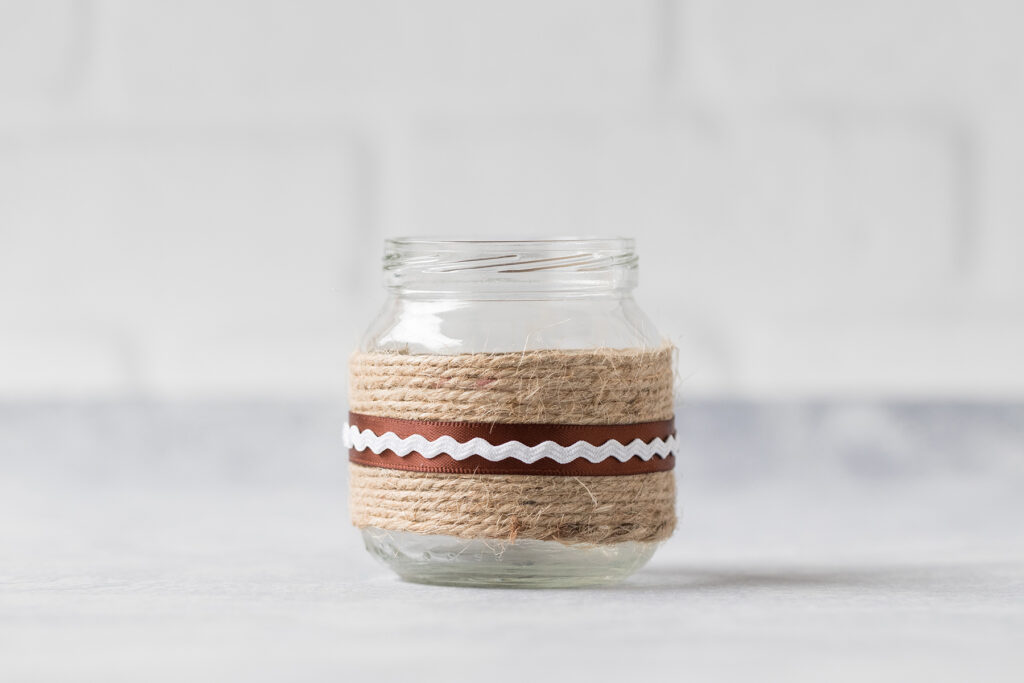 I paired another narrow ribbon, this time in dark brown, with a thin white ric rac. I love the simplicity of this design, but you could easily add other embellishments, too.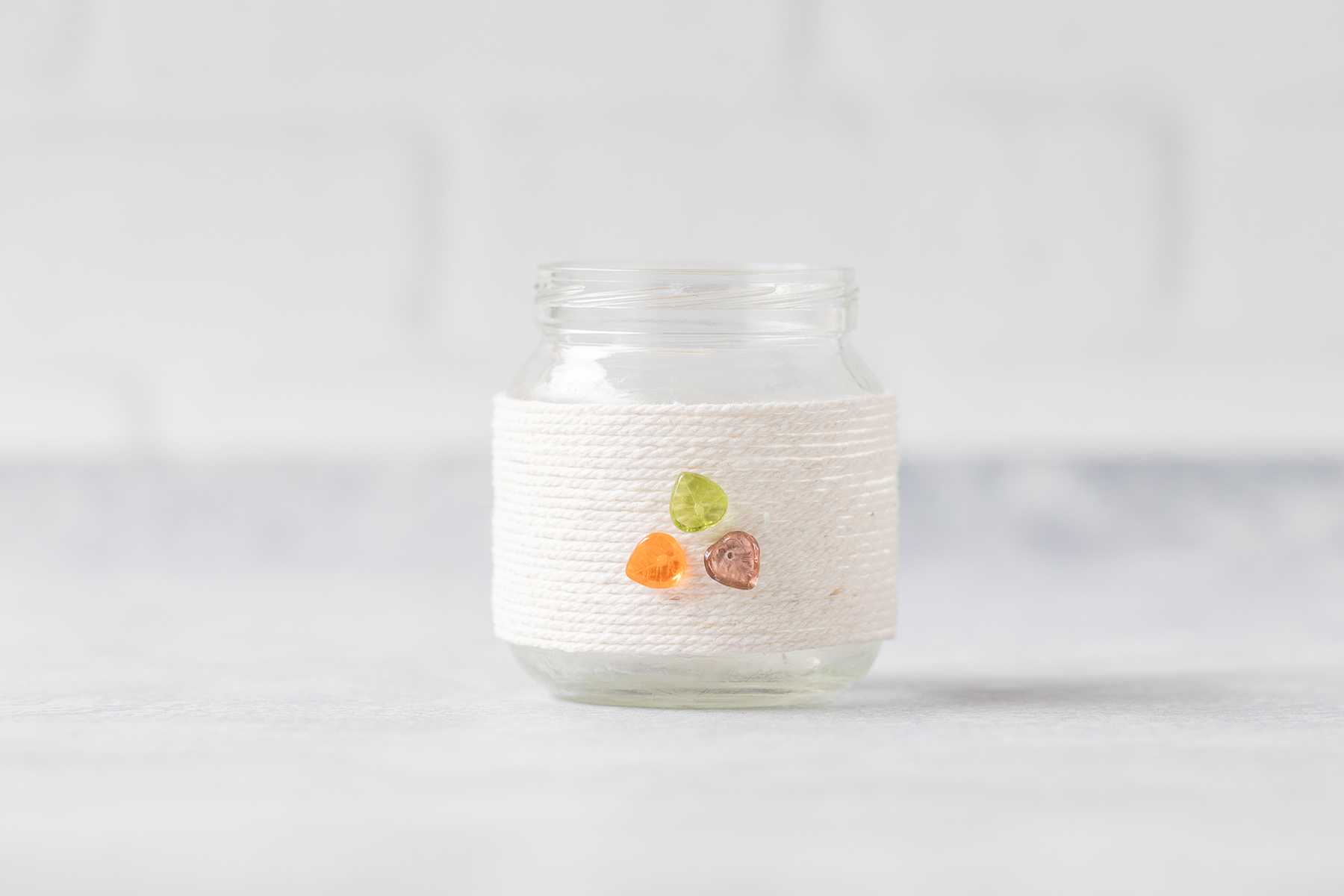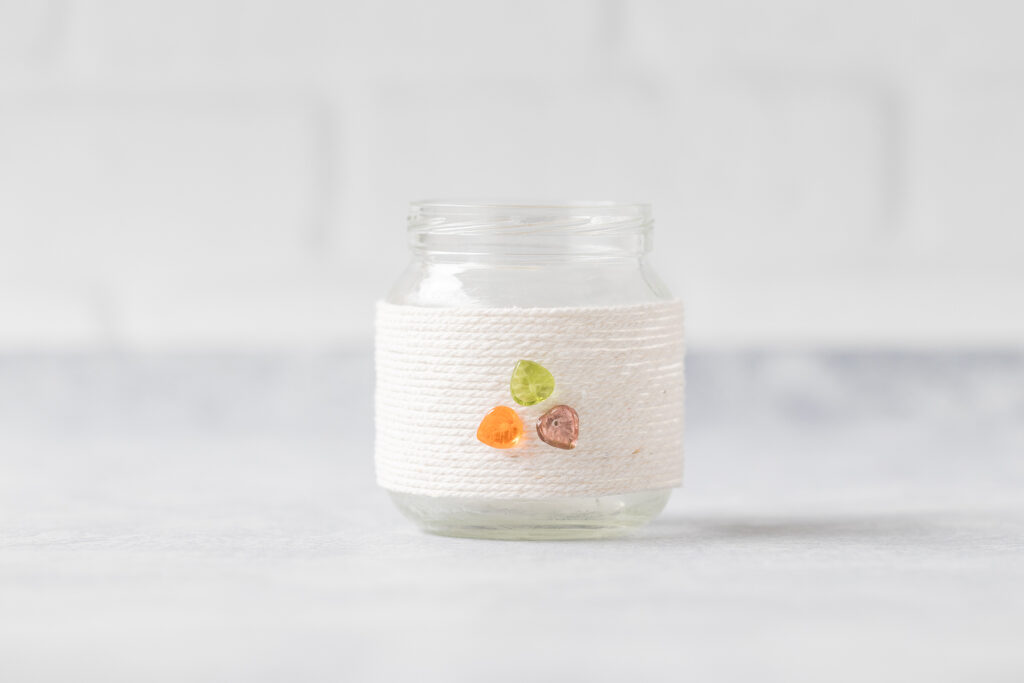 Heart leaf beads have always been some of my favorite glass leaf beads. Their size and shape is so versatile, and they're available in a wide range of colors and finishes. Search "heart leaf beads" on Etsy to see current listings.
I want to make the fall twine-wrapped jars, but I don't have any Oui yogurt jars. What other small glass jars work well?
You can always find listings for Oui jars on eBay and Etsy. Local freecycle and buy/sell groups can also be good resources for acquiring recycled glass jars. If you don't see any listings, you can put in your own request.
Other small glass jars work well, too. I share examples with baby food jars in this post. Small mason jars are another good choice.
What can I do with my new fall twine-wrapped Oui yogurt jars?
Decorated Oui jars make gorgeous decor on their own. You can also use them for an extensive variety of purposes, including but not limited to the following.
Vases. Twine-wrapped jars have the most whimsical aesthetic for vases. I have a tutorial for pastel vases filled with faux cherry blossoms that's ideal for spring. You can tweak this concept to fit virtually any season or holiday. I also love twine-wrapped vases as decorations or centerpieces for weddings and baby and bridal showers.
Planters. Similarly, twine-wrapped jars make the cutest small planters for faux or real plants. Succulents and herbs are both well-suited for Oui jars, as they will thrive in smaller containers. I love giving twine-wrapped planters as gifts for housewarming parties, teacher presents, and much more.
Candle holders. One of the most popular ways to upcycle Oui jars is to transform them into beeswax or soy candles. Homemade candles are another great gift idea and are perfect for selling online and at craft fairs. Candle-making supplies are affordable and readily available.
Storage containers. Oui jars are a nice size for storing office supplies, craft supplies, bathroom essentials, and more. Plain glass jars will work just fine. However, decorated jars add to the aesthetic of a household space, which is nice when they're in a visible area.
Do you have other plans for your newly-decorated twine-wrapped glass jars? I'd love to hear about them!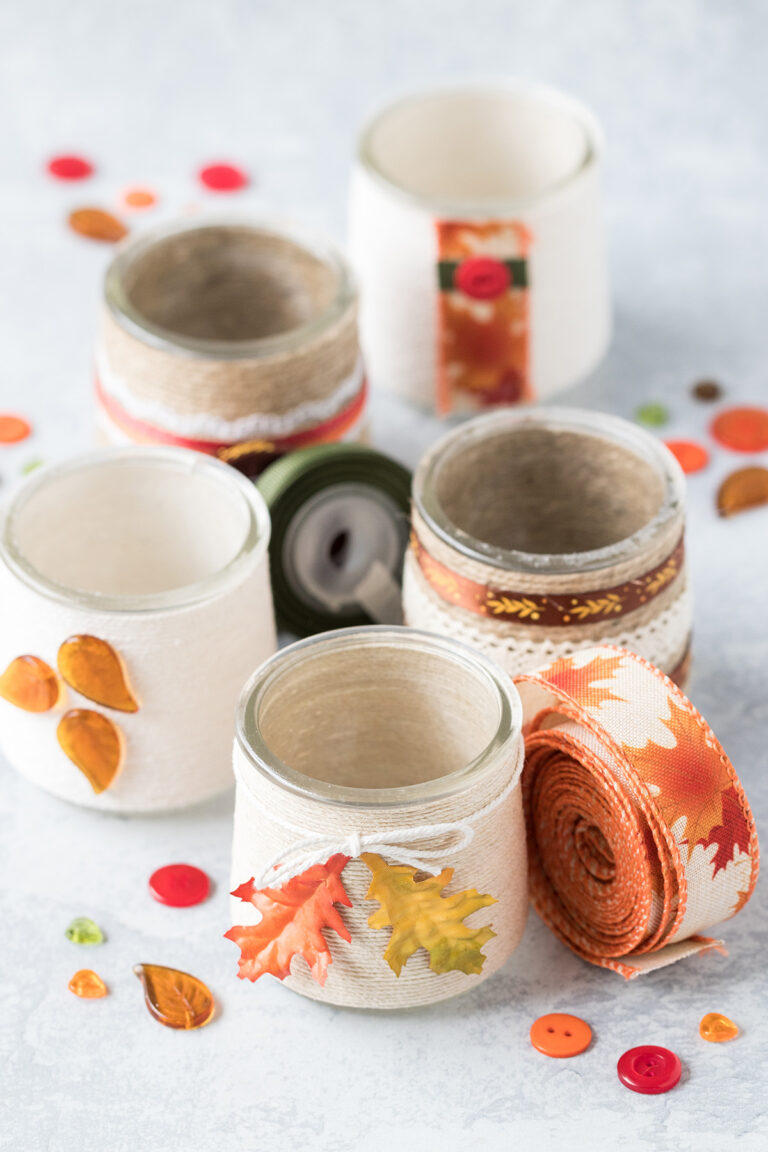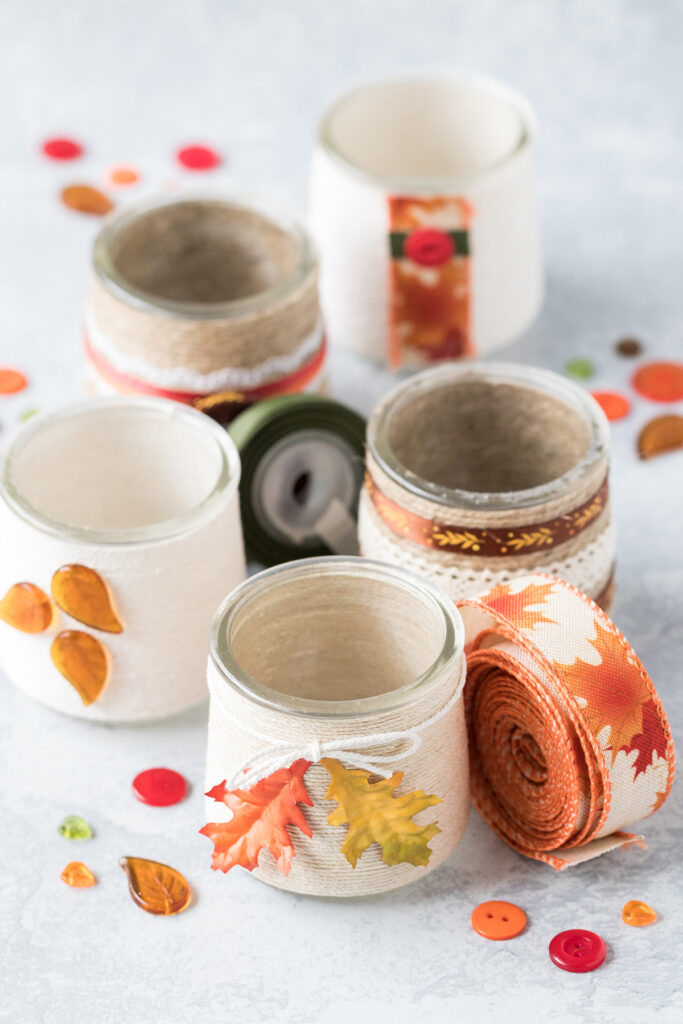 [Disclaimer: There are a few affiliate links in this post. Thanks for your support!]
Did you make the fall twine-wrapped Oui yogurt jars?

I'd love to see them! Tag your images #RoseClearfield on Instagram or Twitter or post a photo to my Facebook page.
Pin this post for easy access to the fall twine-wrapped Oui yogurt jars tutorial later!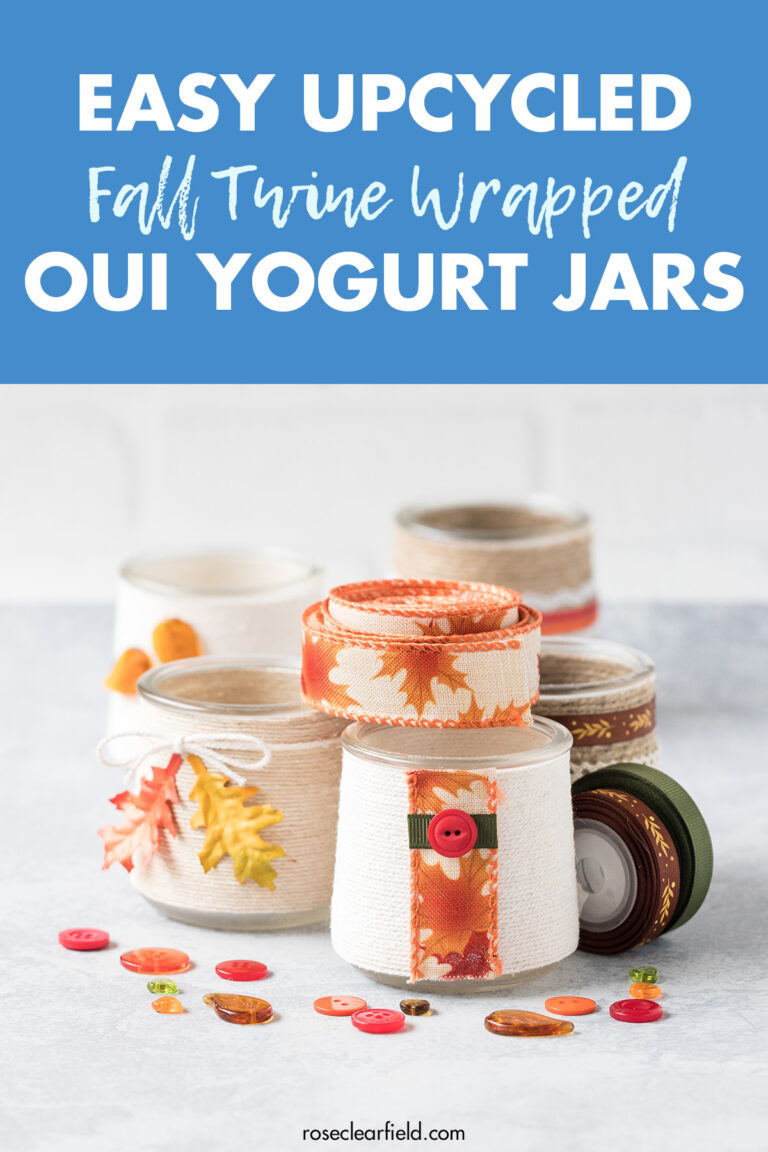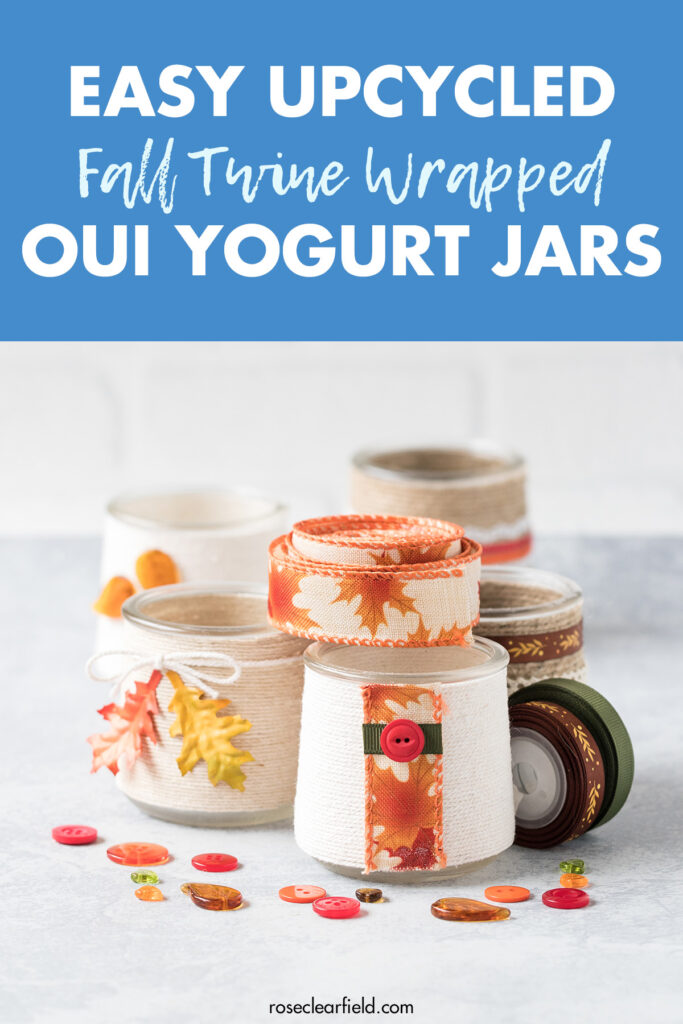 More Oui yogurt jar DIY projects: