Maybe it's the teacher in me, but I've always loved the "April showers bring May flowers" theme.
I've been working on "April shower bring May flowers for Mother's Day" cards for years. You can see my newest version in my easy DIY Mother's Day cards post next month. But today I'm focusing on an April showers bring May flowers baby shower theme. I love anything rained themed and think that the decor scheme and party ideas for it are just perfect for a baby shower any time in April or May.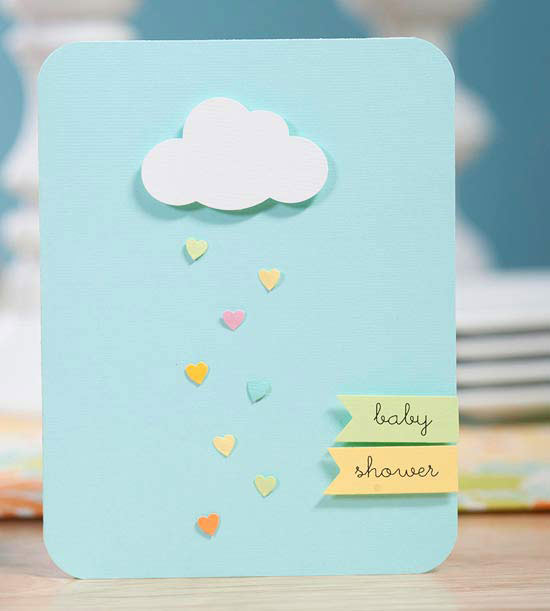 Kick off the April showers bring May flowers baby shower theme with rain drop / cloud invitations. You know that I'm all about really simple cards. This raining hearts baby shower invitation from Better Homes & Gardens is right up my alley. It's adorable, and you can get a whole set of them put together in a single afternoon. Of course, you'll find a wealth of great baby shower invitations on Etsy, too. Check out this tag style baby invitation from LittleIndieStudio.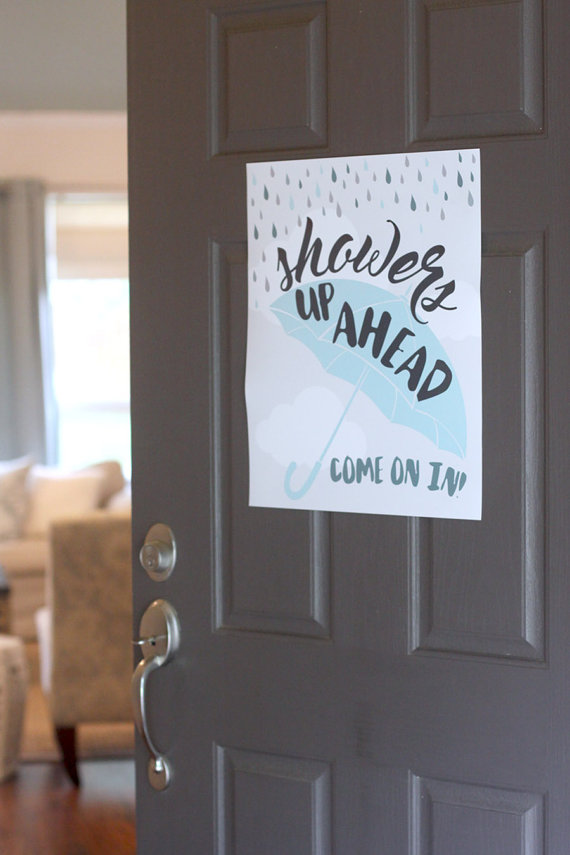 When guests arrive, greet them with a cheery shower sign, so they know they're in the right place. A printable baby shower welcome sign makes decorating quick and stress-free. Grab your "showers up ahead" printable sign from PrettiestPrintShop. Here are a couple of "welcome" door decorations for further sign inspiration: Catch My Party and Cook, Craft, and be Merry.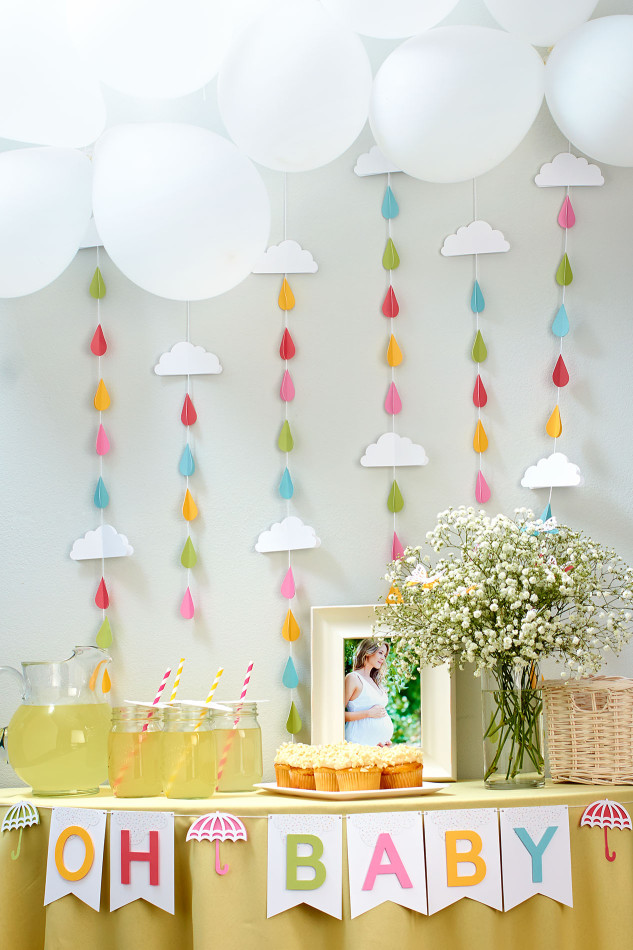 A rain drops backdrop is so simple and cute. The backdrop makes for a wonderful display behind food tables or guest tables. It's also ideal as a stand alone feature for photo ops. There are a few different common materials for clouds at the top of the backdrop, including balloons, stuffing or batting, and crepe paper flowers. The featured rain drops backdrop image is from Close to My Heart. I also love this backdrop from Parsimonia Vintage.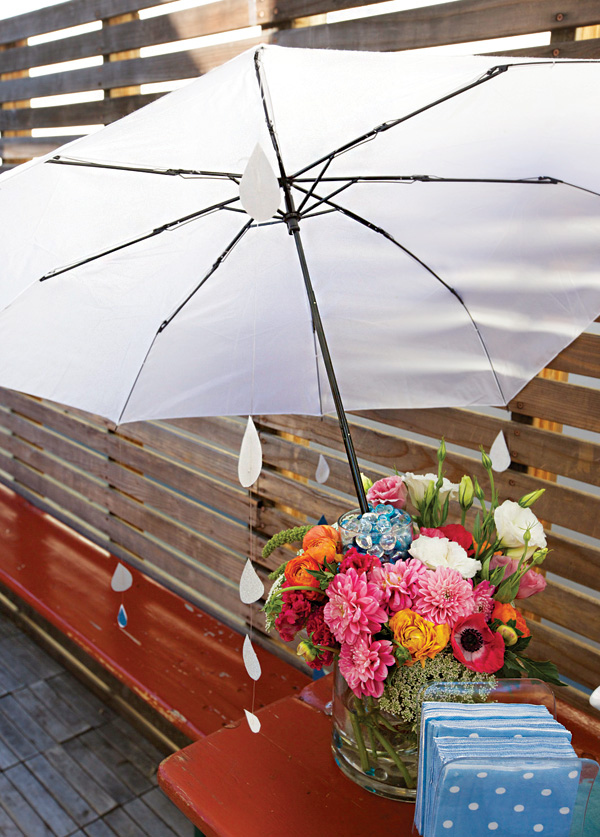 Another fun rain themed baby shower decor idea is to hang umbrellas from the ceiling or use them in centerpieces. Umbrellas add a whimsical touch on their own and work well in combination with other cloud decor elements. The umbrella floral centerpiece inspiration is from Hostess with the Mostess.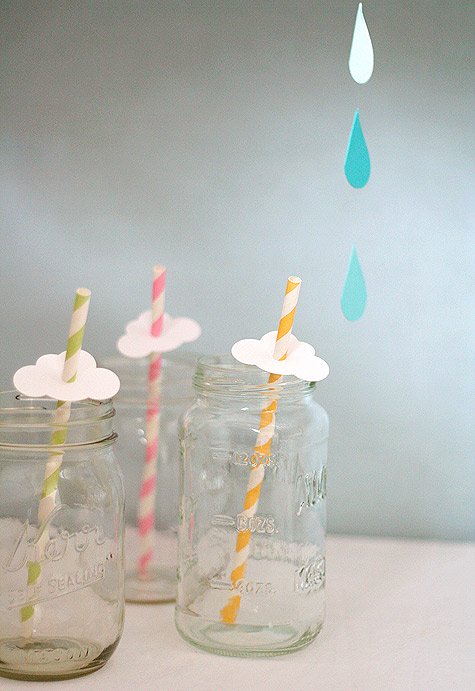 Sometimes the smallest details bring the entire theme together. Cloud straws are a perfect example. Set up your drink station glasses ahead of time with paper straws and clouds to make the display festive and inviting. I love to pick up cheap paper straws from the dollar store or the dollar section at Target. The cloud straw inspiration is from Cutest Baby Shower Ideas.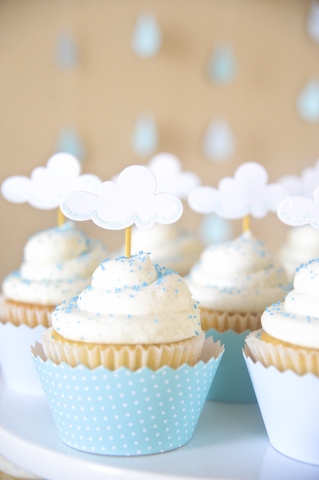 Cloud cupcake toppers are quick and festive. I've seen April showers bring May flowers baby shower cupcakes with various combinations of white and blue (i.e. white wrappers and blue frosting), all of which work beautifully with the theme. The cupcakes I'm featuring are from Dicas pra Mamae. There are tutorials out there for cloud frosting as well, which is also cute for a shower. Your Cup of Cake has a great cloud frosting how to post.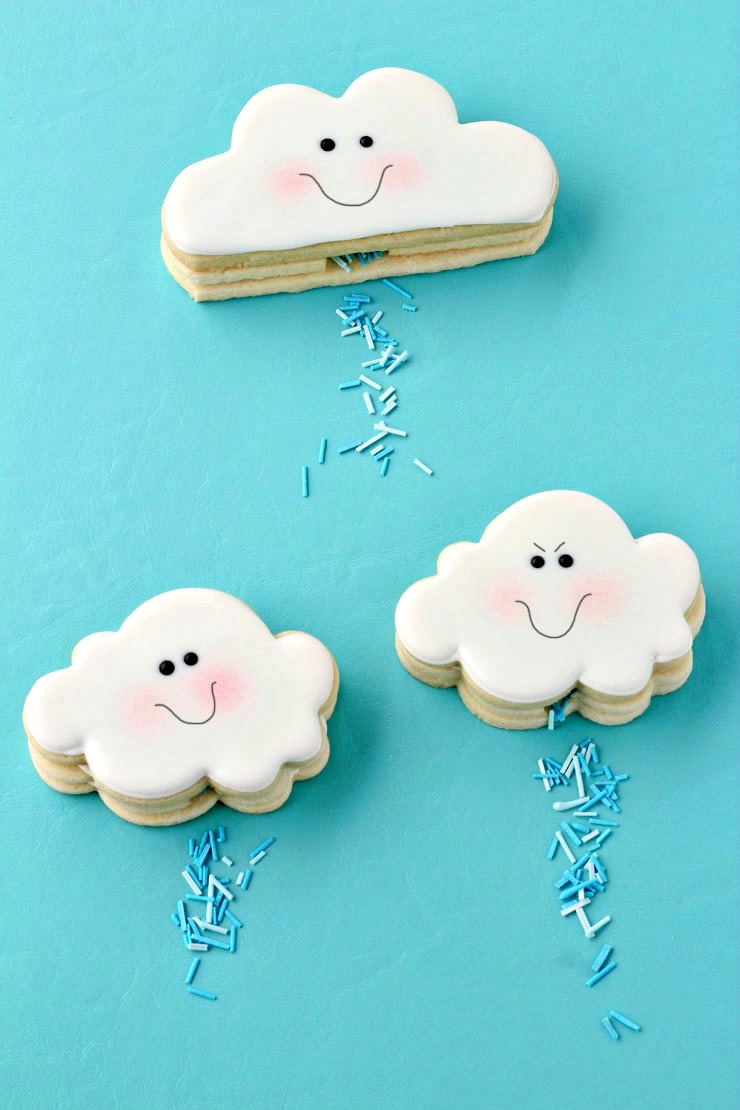 If you don't want to make cupcakes, cloud shaped sugar or shortbread cookies are great, too. Pick up a cloud cookie cutter, grab your favorite cut out cookie recipe, and you're good to go. The Bearfoot Baker has a fun tutorial for cloud cookies that actually rain, which are pictured above. You can use her cloud cookie decorating tips for regular sugar cookies as well.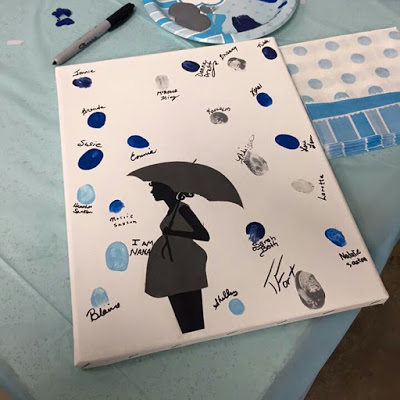 How cute is this thumbprint guestbook? I love the idea of creating a guestbook that you'll want to display, instead of stick in a drawer and forget. This thumbprint guestbook is so simple and can be customized for virtually any theme. There isn't a tutorial, but this concept is pretty self-explanatory. The original post was at Hipster's Hollow and is no longer available.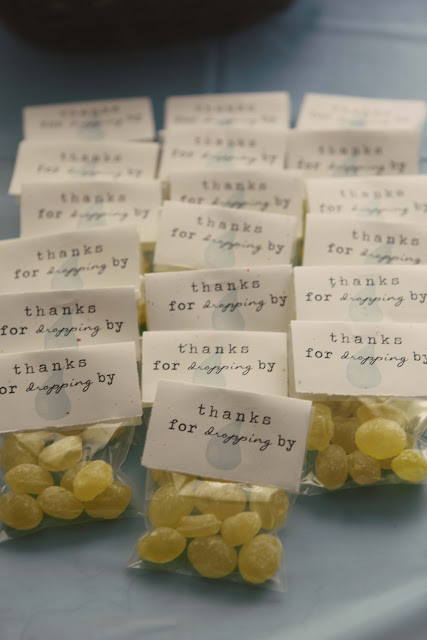 Finally, send your baby shower guests home with a little something. I truly believe that party favor showers should be inexpensive and quick to assemble. You can't go wrong with a classic "thanks for dropping by" favor. Attach your "thanks for dropping by" tag to a treat bag with a decorated cookie, candies, or another small treat. Check out an example from A House Should Be Homey. For an April showers bring May flowers baby shower, an umbrella-shaped treat bag is really sweet. Creative Cynchronicity shares her umbrella favors and a free printable.
Have you ever thrown or attended an April showers bring May flowers baby shower?
I'd love to see your shower pictures or hear about other April showers bring May flowers baby shower ideas that you love.
Pin this post for easy access to the April Showers Bring May Flowers baby shower ideas later!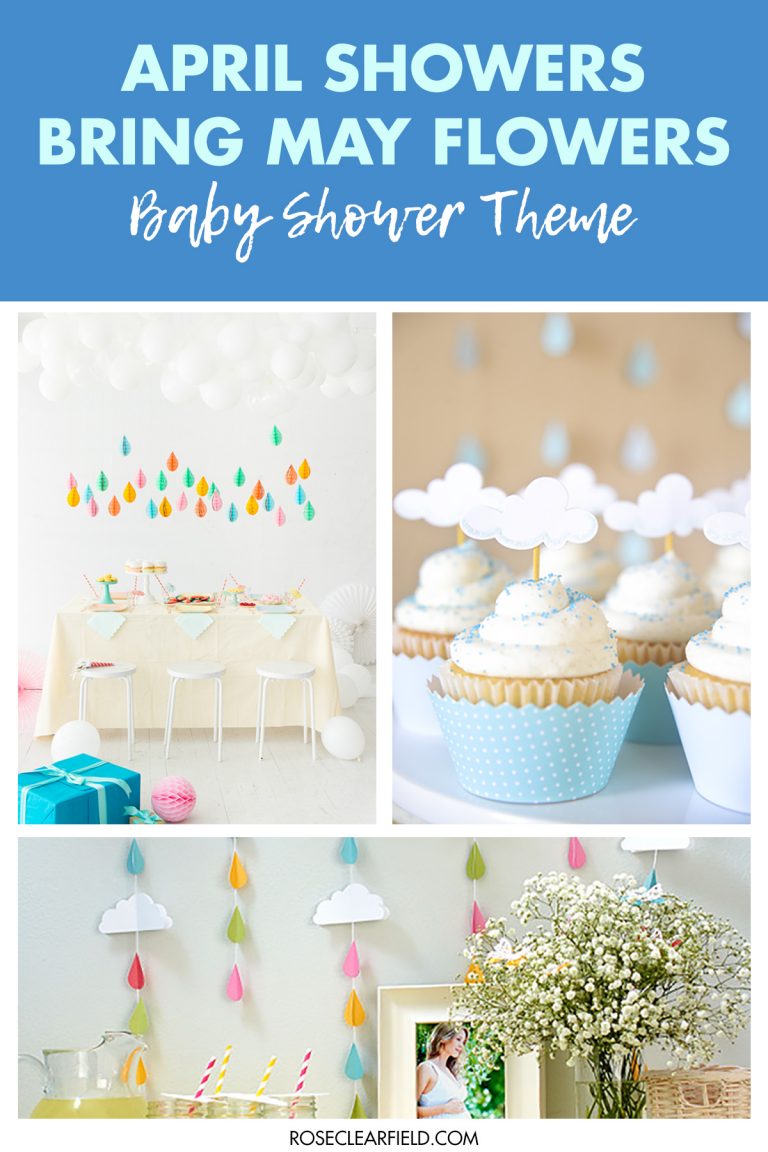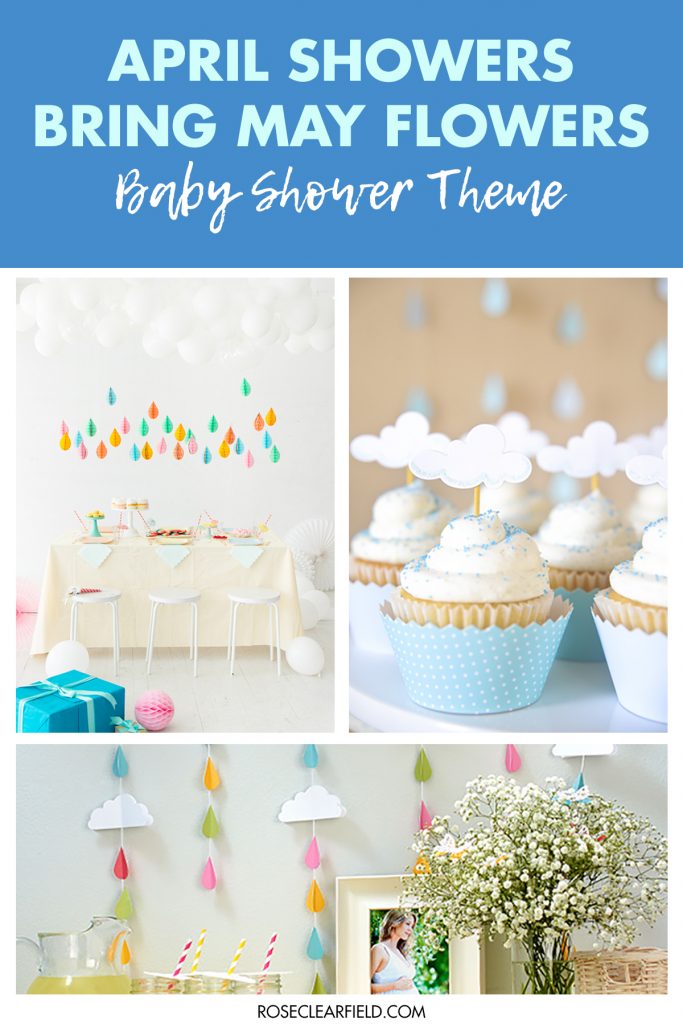 More baby shower inspiration: