Easy ways to enjoy summer at home make even the most low-key days around the house with family more fun, creating great memories that you'll look back on fondly for years to come.
I've done my best to keep a positive frame of mind about all of the time at home these past few months. I'm not going to lie: it was a lot easier in the spring than it is in the summer. Now we're missing out on planned vacations, lots of gatherings with family and friends, and favorite local fairs and festivals. While restrictions have lifted slightly and we're doing more than we were through the spring, it certainly isn't a normal summer.
As such, more so than ever, I need to focus on ways to enjoy summer around the house. I know that I'm not the only one. So I've put together a list of 35 easy ways to enjoy summer at home. There is something for everyone here, with lots of ideas for families as well as single individuals and child-free couples.
35 easy ways to enjoy summer at home
1. Gardening
The only reason that I'm recommended gardening as a way to make summer life at home more enjoyable is because I've already had a few months of success growing sprouts and microgreens and starting herbs in mason jars. I am not a gardener. It's a true sign of how much I've been home lately that my little plants are still thriving. Gardening doesn't have to be anything overly complex or complicated, nor do you have to take on plants that are high-maintenance.
If you want to start super easy, sprouts and microgreens are the way to go. Both alfalfa sprouts and bean sprouts do very well in a tiered sprouter. You'll literally start seeing growth in just a few hours, and they'll be ready to eat in a few days. Microgreens need slightly more maintenance to ensure they're getting enough water but are still very easy. Most varieties of microgreens start sprouting within a week and are ready to eat within two weeks.
You can grow almost any type of herb in mason jars, which will do well outdoors during the warm months of the year. Then you can move them indoors in the fall. I recommend starting with one or two herbs that you eat all the time and will enjoy cooking with regularly. It will take months, not weeks, to see results, but it will be well worth it.
My best advice for remembering to water plants is to build it into a routine you already have. For me, it's feeding the cats. Choose a time of day when you can fit in a few minutes for a quick watering.
2. New patio furniture
When you spend a lot of time outside relaxing on your patio or deck, high-quality patio furniture that you love will make every single warm weather day a little better. Be realistic about your spending limit, the size of your outdoor space, and the number of people you have in the yard regularly. If a full set of brand-new furniture isn't in the budget, scout sales at stores, and watch for garage sales and estate sales in your neighborhood. If your existing furniture is in decent shape but you don't love it, consider ways to give it a facelift. For example, a new coat of paint, wood stain, or set of fabric cushions will completely transform a worn set of chairs.
3. Fire pit
Similar to patio furniture, when you're hanging out in the yard every single night, you'll appreciate having a fire pit. A basic steel outdoor fire pit is ideal for almost any backyard space and is portable, which is ideal if you anticipate a move in the near future or simply like having the flexibility to move it when you aren't using it.
4. S'mores
Now that you're set up with a fire pit, s'mores in the backyard are a must. Pick up a set of roasting sticks and stock up on s'mores ingredients, so you're ready to roast marshmallows all summer long.
No products found.
5. Backyard games
Picking up a few new backyard games will help you keep a steady rotation of games going each week. Giant backyard games remain extremely popular. You can purchase them or make your own. Don't discount classic lawn games, such as croquet, bocce ball, and cornhole. If you have space, pick up a net for badminton and volleyball.
6. Special meals
When you're spending more meals at home with a smaller group of people and not going out as often, make a point to have special meals that you wouldn't normally. Allow time for pancakes or waffles in the morning especially on weekends, break out the panini press for lunches, and indulge in a nice grocery store purchase, such as steaks or lobster, for dinner once in a while.
7. Camping in the backyard
Camping in the backyard is a memorable experience that kids will talk about for years to come. Set up a tent, roast marshmallows, and if it won't be too scary, tell a few ghost stories. While not quite the adventure of camping out in the wilderness, you also have the convenience of the house if the weather turns or kids aren't up for spending the whole night in a tent.
8. Flashlight tag in the dark
Flashlight tag is a fun after-dark game for kids and adults alike. The darker, the better, as the harder it will be to see the other players.
9. Sidewalk chalk art
Tape-resist chalk art has been all over social media during these months at home. Here's a great example of tape-resist sidewalk chalk art on Instagram. If you have crafty kids or are simply looking for a new artistic challenge, tape-resist chalk art is a great option. Depending on the age and patience level of your kids, you may want to prep it ahead of time, so they aren't over the activity before they've even started.
Starting with a rectangle and taping off simple shapes (i.e., squares, triangles) within it is the easiest way to begin. However, there are endless possibilities for tape-resist chalk art designs. Any 1″ painters tape and chalk works well for this project.
10. Family Olympics
Family Olympics are the perfect activity to get the whole family active and involved in some friendly competition. Having a mix of individual and cooperative games is ideal. Family Olympics can include anything from relay races to watermelon eating contests to Frisbee golf. Physical Kitchness and Playtivities have great round-ups of ideas for family Olympics. If you're looking for additional inspiration and get stuck searching for "family Olympics," try searching for "family reunion games" as well.
11. Date night on the patio
Planning regular date nights at home ensures you have consistent quality time together away from work, kids, and tech distractions. Pick a night of the week that works well for both of you or set aside a few days on the calendar in advance, so you're more likely to stick with it. Date night doesn't have to be fancy or complex. Enjoying coffee or a glass of wine around the fire while listening to favorite music and talking will go a long way toward strengthening your relationship and improving your moods for the week ahead.
12. Bubbles
I always feel like a broken record talking about bubbles because I mention them so often. They really are one of my toddler son's favorite things and something we do often, especially when we have other families over. Our all-time favorite bubble wands are the Joyin big bubble wands, which hold a ton of high-quality bubble solution, produce great bubbles, and are very durable. I love Fubbles as a no-spill option for toddlers. For older kids, a giant bubble wands kit provides so much fun.
13. Bubble painting
If you want another option for bubbles, bubble painting is a great one. Bubble painting is such a fun craft project that's ideal for outdoor weather. Learn the basics of bubble painting from Early Learning Ideas. Once you've mastered the concept, there are so many fun ways to use it. Just a few possibilities including making notecards, flowers, and butterflies.
14. Play
With the school year over, you have the time and energy for more ambitious projects with kids, such as putting on a play. Choose a favorite story that you can act out with the number of people in your family and that will be an appropriate length for your kids. Spend a few days putting together costumes, props, and scenery and rehearsing your parts. When your play is ready, invite a few family members or neighbors to watch at a safe distance in the yard.
15. Popsicles
Homemade Popsicles are so delicious and generally, a lot less intimidating (and often healthier) than homemade ice cream. Making your own Popsicles is a fun project with kids and a perfect treat to offer when you're having people over. Pick up a couple of sets of Popsicle molds, and you're ready to go. There are so many amazing Popsicle recipes. For the whole family, I love The Busy Baker's strawberry lemonade Popsicles, WonkyWonderful's Oreo cookies 'n cream Popsicles, and One Lovely Life's Dole Whip Popsicles. For adults, I love How Sweet Eat's salted watermelon margarita Popsicles, The Beach House Kitchen's bourbon-white peach Popsicles, and The Modern Proper's coconut cream Popsicles with vanilla bean and Malibu rum.
16. No-bake cookies
No-bake cookies are a great option in the summer because you don't have to heat up the whole house with the oven. Our all-time favorite no-bake cookie recipe is no-bake chocolate oatmeal peanut butter cookies. They are a classic that will remind you of going to your grandparents' house as a kid. I also love making a version of that recipe without the chocolate.
17. Sprinkler
Even the most basic sprinkler will keep kids cool and entertained for hours outdoors. Splash pad sprinklers are very popular these days and a great option for preschool and young elementary school-age kids. We own this sprinkler splash pad, which is very well rated. I also love novelty sprinklers for kids, such as a narwhal sprinkler or Splash Patrol sprinkler.
18. Picnic in the yard
Eating meals outdoors is one of the easiest ways to switch up your routine in summer and build in a little more time outside A picnic in the yard doesn't have to be anything fancy. However, it can be a great way to enjoy a little romantic date on a very low budget. My Sweet Home Life has a great round-up of picnic food ideas for couples to step up your picnic in the yard game.
19. Water balloon or water gun fight
Water balloons and water guns provide a refreshing break from the heat on scorching summer days. One Crazy House has an awesome round-up of 15 water balloon games for kids. I also love Design Dazzle's glow-in-the-dark water balloons and Raising Dragon's water balloon painting.
Water balloon refill kits are a great idea for water balloon activities all summer. For easy assembly, self-sealing water balloons are ideal.
For water guns, we love the JOYIN aqua phaser high capacity water guns. To mix up the water gun games, I love Birthday Party Ideas 4 Kids's water squirt gun games round-up and The Krazy Coupon Lady's 15 squirt gun hacks for an epic summer.
20. Donuts and coffee for breakfast
When you can't go out for coffee and donuts and you're really missing coffee from your favorite local place, making a to-go run is the next best thing. Kick off the weekend with a coffee and donuts run, or surprise your significant other by getting treats before work one morning.
21. Summer decor
While I don't switch out all of my home decor for different seasons, I do switch up a few pieces to keep the house fresh and inviting. Free summer home decor printables are one of the easiest ways to swap in a couple of new decor items in your entryway, living room, or kitchen. I also have a set of free summer dictionary page printables that instantly cheer up any room for the summer season ahead.
22. Lemonade or iced tea from scratch
It is so easy to make lemonade or iced tea from scratch. Unfortunately, most restaurant lemonade or iced teas are made from powder mixes and taste terrible. Once you get used to drinking real lemonade and iced tea, you'll never go back. Keep a pitcher of homemade lemonade or iced tea in the refrigerator all summer long, so you always have it ready for meals and when people come over. My favorite teas for iced tea include Stash peach tea and Bigelow vanilla Chai tea.
23. Carnival games
A backyard carnival is so much fun and another one of those experiences that will stick with kids for years. The post I'm linking here has a ton of great ideas. You can mix and match different options and make it as simple or complex as you like. A basic setup with a few games will still provide so much fun for the whole family.
24. Sunrise or sunset
There is nothing quite like watching the sunrise or sunset. If you follow me on Instagram or have been following here for a while, you know that I sort of live for summer golden hour. While you get golden hour all year, summer golden hour light lasts a lot longer and has a different quality to it. We never see the lake colors that we do during the summer golden hour any other time of year. Make a point to get in the yard or get out somewhere nearby with a beautiful view to enjoy the spectacular colors of summer sunrise or sunset.
25. Sparklers
Sparklers are a lot easier, safer, and more affordable than fireworks. They're also a better option with kids and in city and suburban neighborhoods. You don't need to wait until the 4th of July to bust out a set of sparklers. A summer birthday is also the perfect excuse to use sparklers for How Sweet Eat's firecracker cupcakes.
26. Self-portraits or kid portraits
The fantastic summer light (see #24) and the extended hours at home give you ample opportunities to have fun taking self-portraits or kid portraits. I have a post with my best tips for taking great pictures of your own kids. A smartphone tripod with a wireless remote makes it quick and easy to take self-portraits and even family portraits right in your backyard on a very low budget.
No products found.
For fun summer photography, especially with kids, I also love the Instax camera. It's lightweight and easy to use. You can purchase color or black and white film for it.
27. Milkshakes
You can never have too many summer dessert options, right? Making milkshakes with dinner is one of my favorite ways to elevate summer meals at home quickly and easily. You can't go wrong with a classic vanilla or thick chocolate milkshake. When peach season hits, you have to make a peach milkshake with your fresh fruit.
28. Summer art projects
Summer is an ideal time to take on a few messy art projects that are really best to do outdoors. Obviously, I already covered bubble painting in #13, which I love as an outdoor activity. Just a few other fun options include ice dye, ice cube painting, and sun prints.
29. Bird feeders
When you live in a neighborhood with birds, putting out a few bird feeders is a guaranteed way to bring more of them into your yard for prime bird watching while ensuring they stay well fed all year long. My favorite manufactured bird feeders are the Brome standard squirrel-proof feeder and the SEWANTA hummingbird feeder. Of course, you can make your own bird feeders as well. Just a few great homemade bird feeder options include toilet paper roll bird feeders, pine cone bird feeders, and cookie-cutter bird feeders.
30. Movie night in the yard with a projector
Movie night in the yard is one of the most expensive ways to enjoy summer at home in this list, as it involves owning both a mini projector and a projector screen. However, if you watch a lot of movies as a family, it will be well worth the money. You'll have the flexibility to set it up wherever works best in your yard. When the warm weather ends, move it down the basement to keep the movie watching tradition going. Pick a dedicated day of the week for a backyard movie, so it becomes part of the routine. Freshly made popcorn in popcorn buckets will complete the movie-watching experience.
31. Family game night
A weekly family game night is another fun family tradition that everyone will look forward to all week long. Set aside time after dinner or on one of the weekend days. Keep a rotation of games on hand that will be fun for everyone. There are tons of game recommendation posts if you need help finding games that are appropriate for your kids' ages/skill levels.
32. Leisurely breakfasts
When kids don't have to rush off to school or you don't have to be anywhere first thing on weekend mornings, take the time for a slow breakfast. Make bacon and eggs or mix up overnight waffle batter the night before. Then enjoy a couple of cups of coffee or tea with your meal before moving forward with the day.
33. Work outside
You may still be working most days, but that doesn't mean that you have to sit at your desk all day, especially when you work from home. Take advantage of the nice weather, and bring your laptop computer outside for a while.
34. Sleep with the windows open
There's nothing quite like feeling a soft breeze blowing across the bedroom while you fall asleep. When the evening is pleasantly cool, leave the air-conditioning off and the windows cracked at bedtime.
35. Learn the constellations
As you sit outside night after night enjoying the beautiful summer weather, make a point of learning at least a few of the constellations. Astronomy.com and the Society for Popular Astronomy are great resources to get you started.
My final advice for making the most of summer life at home is to keep taking pictures. If you read my family updates or follow me on Instagram, I'm sure it's not a surprise that photos of everyday moments are always some of my absolute favorites. If you have a DSLR or mirrorless camera, bring it out at least once or twice a week to document those little moments. I share my all-time favorite DSLR equipment that isn't crazy expensive and won't weigh you down, which will motivate you to purchase it and keep shooting with it.
[Disclaimer: There are a few affiliate links in this post. Thanks for your support!]
Are there any additional ways to enjoy summer at home that you and your family are taking advantage of this year?
I'd love to hear about how you're making the most of a quiet summer at home!
How are you enjoying summer at home? Did you take inspiration from one or more of the ideas from this post?

I want to hear about it! Tag your images #RoseClearfield on Instagram or Twitter or post a photo to my Facebook page.
Pin this post for easy access to the ways to enjoy summer at home resource later!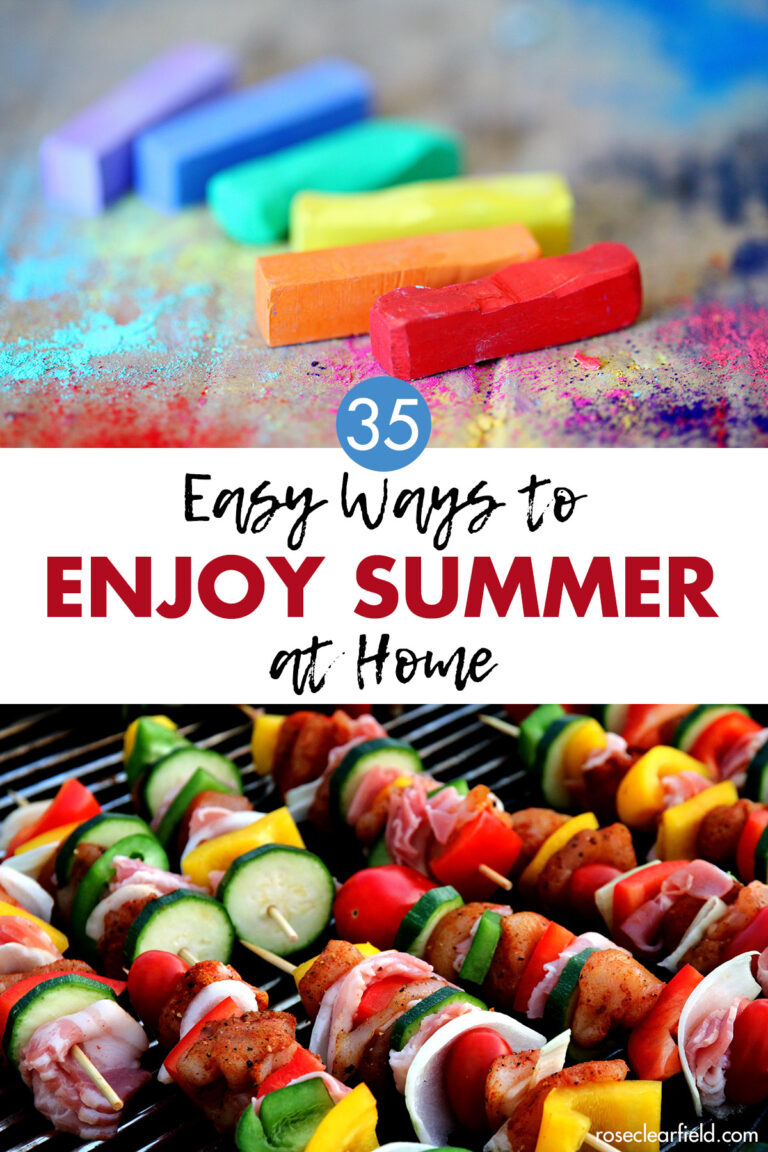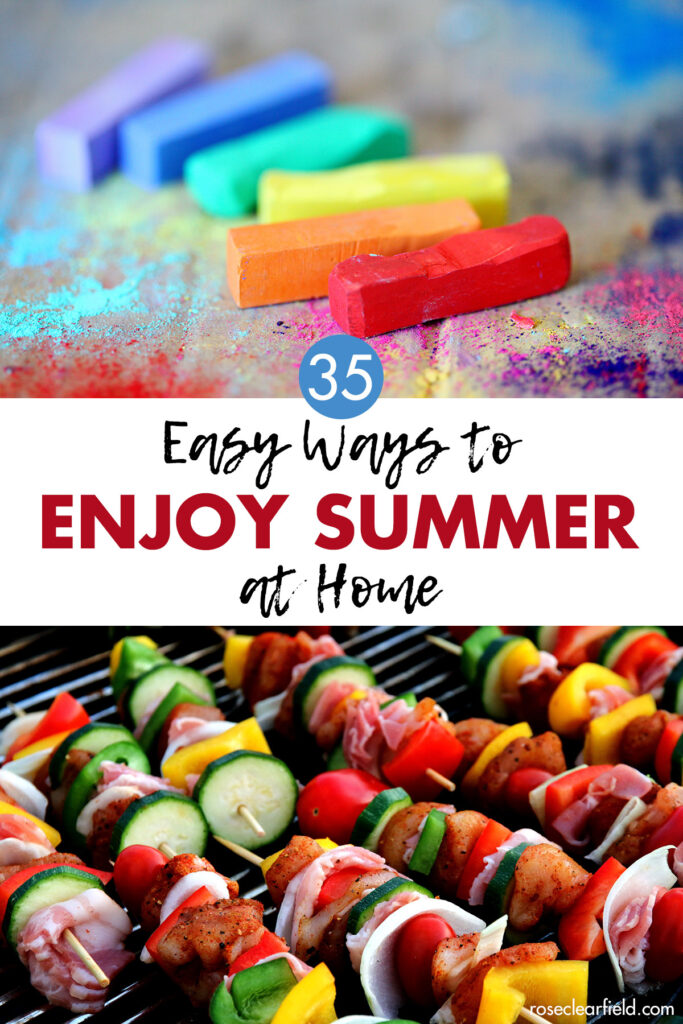 More summer resources: