I'm sharing just a few of the items that Tommy has been loving since my 2-year toddler favorites post. There are quite a few things on the 2-year favorites that Tommy still loves, especially the toys. I try not to repeat too many items from one favorites post to the next, so I encourage you to check out both posts. Enjoy!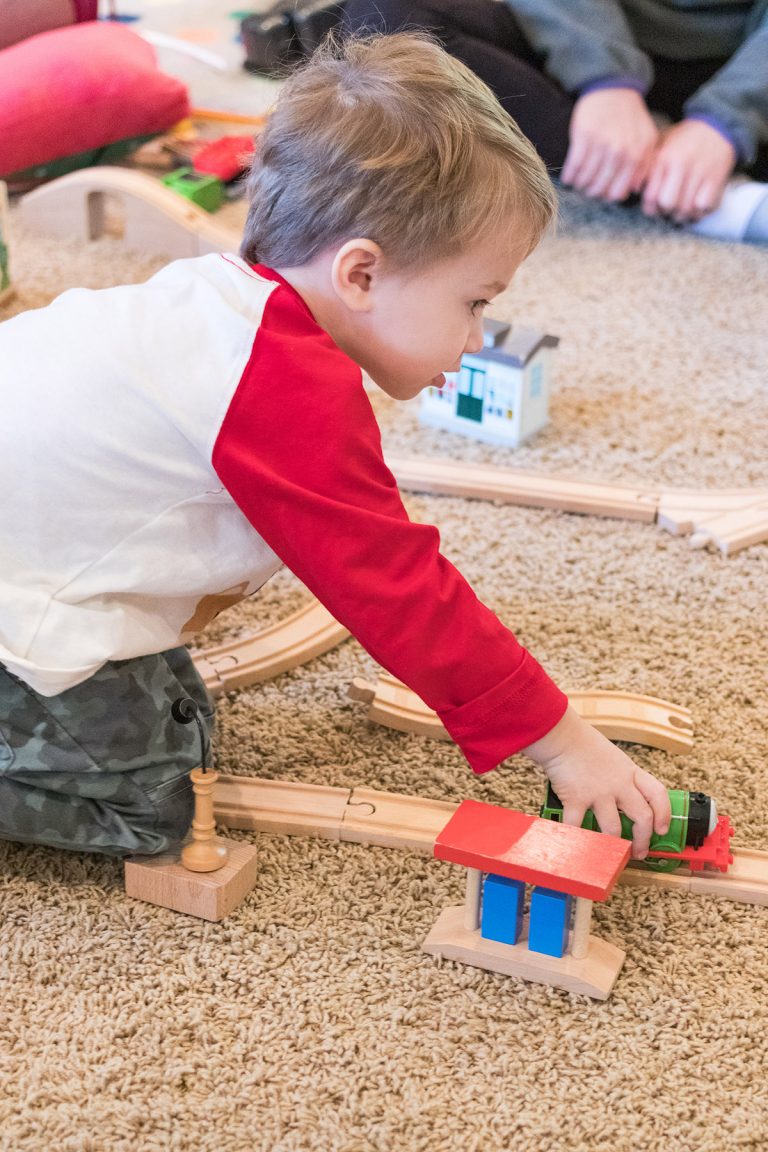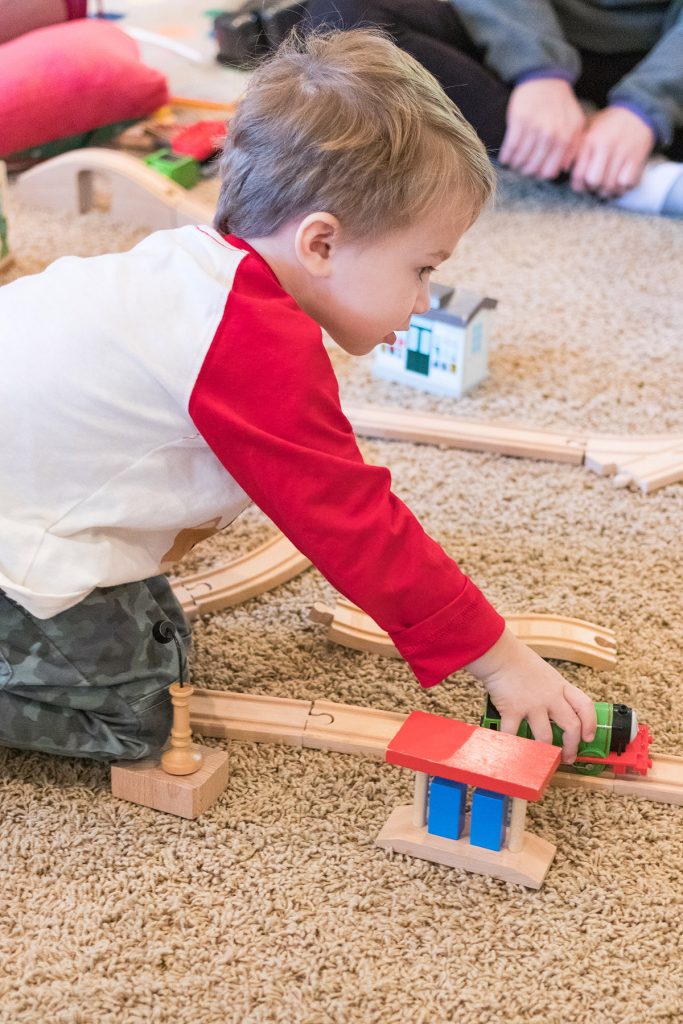 Tommy got a huge set of wooden train tracks, trains, and accessories from his birth family this past Christmas. It's similar to this wooden train and accessories set from On Track USA but without quite so many small pieces. He's played with it every single week since then. Tommy does still need help setting up the tracks. But then he'll play with the trains by himself for long stretches. I love this sort of toy because there are endless possibilities for creating different track configurations.
Tommy is crazy about all things vehicle related and has a bunch of different trains, trucks, cars, and construction equipment. Among his favorites are the CatToysOfficial construction vehicles and the construction vehicles in this vehicles play set with road map.
He also has a bunch of the Green Toys vehicles and sets. For toddler vehicles, they're some of the sturdiest you'll find, and they come in great colors. The cars that come with some of the larger sets, like the parking garage and the car carrier, are among his favorites. They're a great size to mix and match with lots of other vehicles. I love that you can run Green Toys items through the dishwasher.
Tommy goes in phases with dinosaurs and has stretches where he plays with them every day. I'm linking the set he has, which we like. They're very sturdy and a good size for toddlers and preschoolers.
Tommy is so funny with his Rockin' Rider 2-1 pony. He rides it all over the house and involves the horse in lots of different knight stories as well as other narratives. You can use it as a rocking horse or take it off and use the wheels.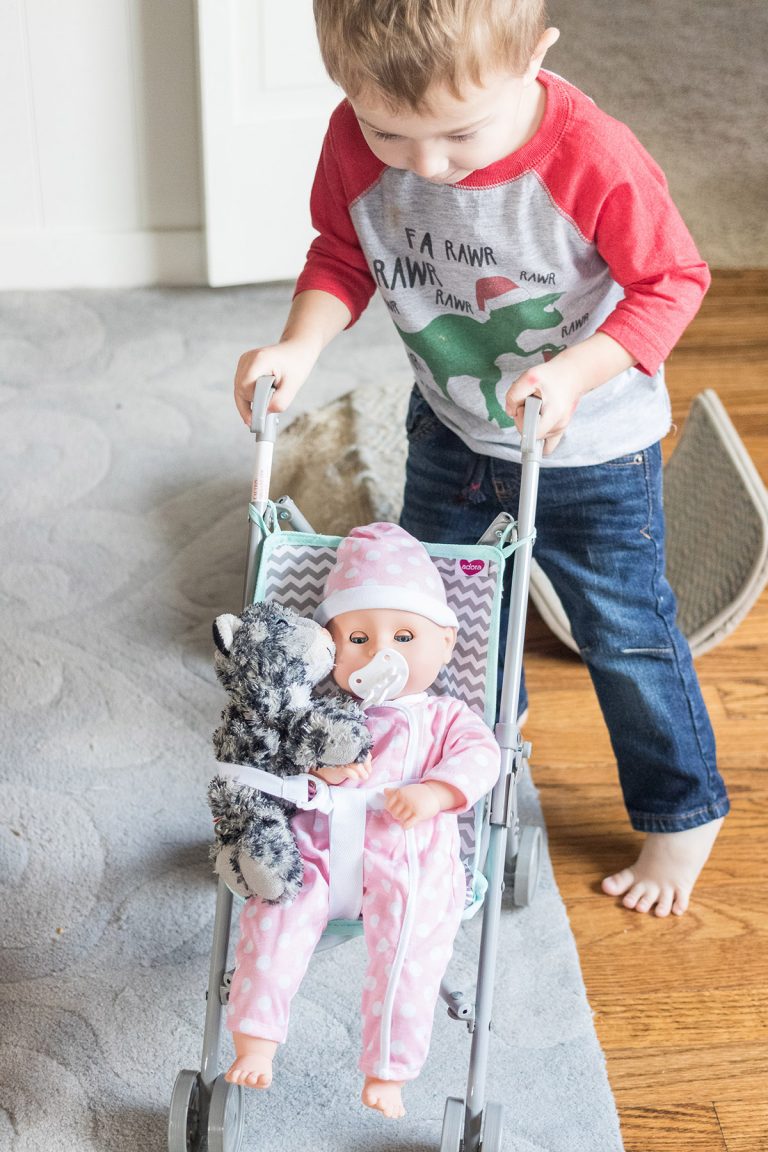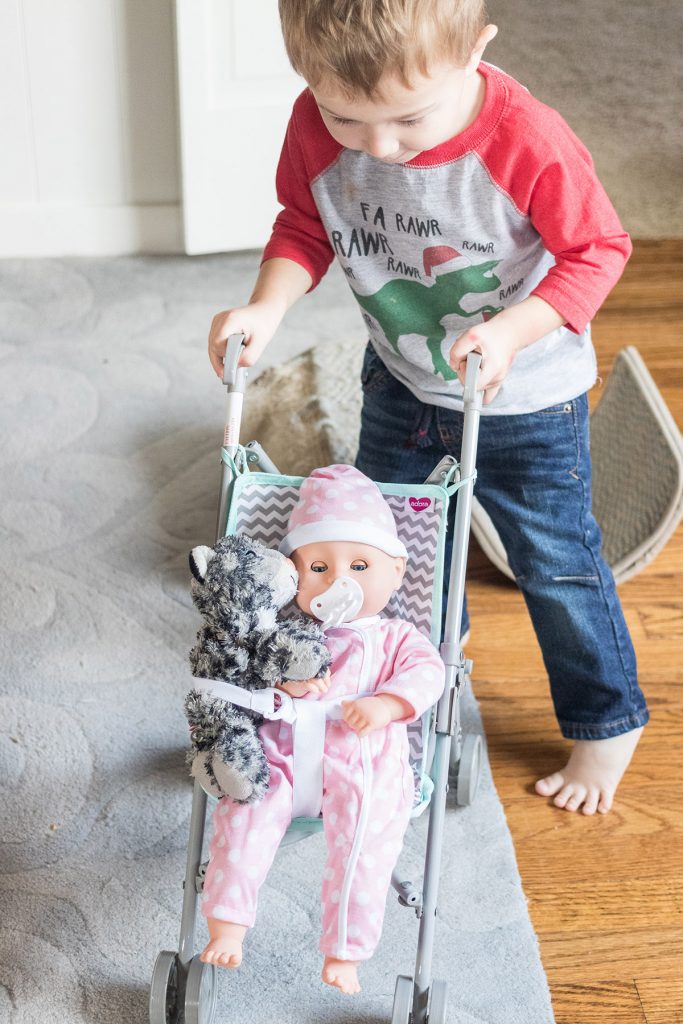 I got Tommy the Melissa & Doug Luke & Lucy baby dolls for Christmas because Tommy is crazy about babies. I also thought that they would be a good tool for talking about babies if we are able to adopt again, especially because we won't be talking about me being pregnant. So many baby dolls are frankly, really creepy, and I love the look and feel of the Melissa & Doug babies.
Tommy is so sweet with his baby dolls. He carries them all over the house, pushes them in a stroller (sometimes even out on walks in the neighborhood), and takes care of them.
The sheep pillow is one of the few long-time favorites that I'm mentioning again in this favorites post. Tommy got it for Easter two years ago and still sleeps with it for every single nap and at night. He takes it all over the house and even in the car, too. I've never been able to find the exact sheep he has online. But there are lots of similar animal pillows available.
I got Tommy a toddler dinosaur bedding set in the fall. He runs really warm and has always done okay with smaller blankets. But I wanted a full toddler bed-sized comforter for winter. He loves the prints, and I've been happy with the feel and quality of the items.
No products found.
The scooter is one of the best things we bought for Tommy early in the full stay-home period. As with all athletic activities, Tommy took to it right away. Within a day, he was scooting confidently up and down the driveway and all over the neighborhood. We've been happy with this scooter model. It's sturdy, the operation is pretty intuitive, and you can adjust the height of the handle. The LED lights are awesome. It's crazy how far we've come with that technology. The lights look so neat as it gets dark outside.
After the scooter, the lawnmower is the outdoor toy that Tommy comes back to over and over again that I didn't already cover in my two-year favorites post. The model we have does leak bubble solution, which is a common issue with this type of mower. I'm linking one that's pretty well-rated, so hopefully, it has fewer issues with leakage.
Once the bubbles ran out, we just never refilled it, and Tommy hasn't really missed them. He still loves moving all around the yard and sometimes takes it out in the neighborhood when we go for walks.
Most of the books that we rotate through with Tommy on a regular basis are in my dragon and knight books for toddlers and preschoolers post. Tommy remains crazy about all things knight-related. The longer knight books are some of the few longer books he'll sit through consistently right now.
I've known about Blippi for years but didn't start watching him with Tommy regularly until a few months ago. Blippi is some of the best kids programming period, on YouTube or otherwise. As Tommy loves all things vehicle related, we've watched almost every Blippi episode about garbage trucks, trains, dump trucks, etc. While we aren't able to get out and do much these days, we've also been living vicariously through Blippi visiting aquariums and children's museums and whatnot.
Tommy's other most requested shows these days are Peppa Pig and Masha and the Bear.
At some point this past last year, we switched Tommy from his high chair to a booster seat at the table. I just strap it right onto one of the regular dining room chairs. Crumbs do collect around the edges. But otherwise, it's very easy to wipe down. I just have to remember to take it off once in a while and clean around and underneath it, as crumbs collect under it, too. Tommy's getting to the point now that he often prefers to sit in the chair without the booster seat. But the booster seat is still a great fit for him, size wise.
I'm not really crazy about most of the plastic silverware available for kids. Honestly, a lot of it just doesn't work very well. Tommy has been using silverware regularly for months now but isn't ready for full-size pieces yet. So I picked up this stainless steel kids' silverware set in the spring and have been happy with it. The pieces are sturdy and hold up well in the dishwasher. I also like that the set is just forks and spoons. A lot of kids' silverware sets include a bunch of knives, which is so silly.
I haven't talked about the VAVA Rechargeable Night Light before because it's a more recent purchase. I wish we'd bought it years ago. The light weighs almost nothing and charges with a USB cable. It's so easy to use, too. Tommy can turn it on and off and change the settings all by himself. I love that it has a one-hour sleep setting, so it doesn't run all night or for hours during a nap.
No products found.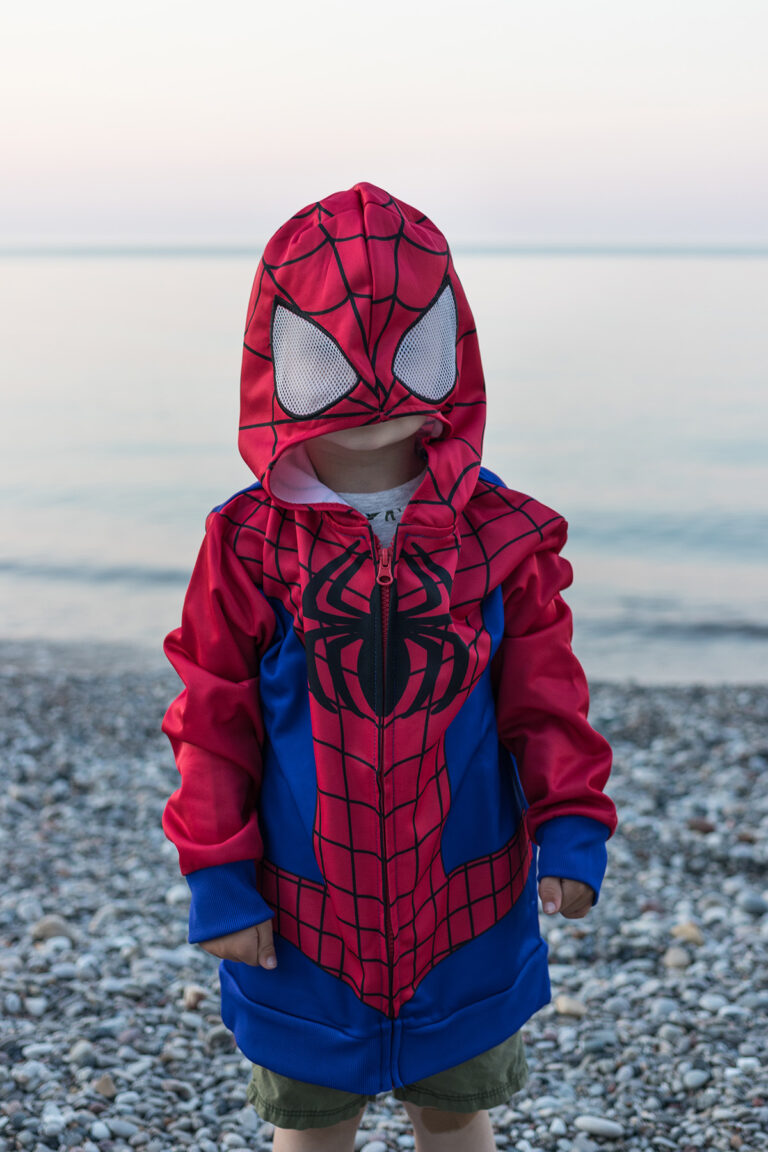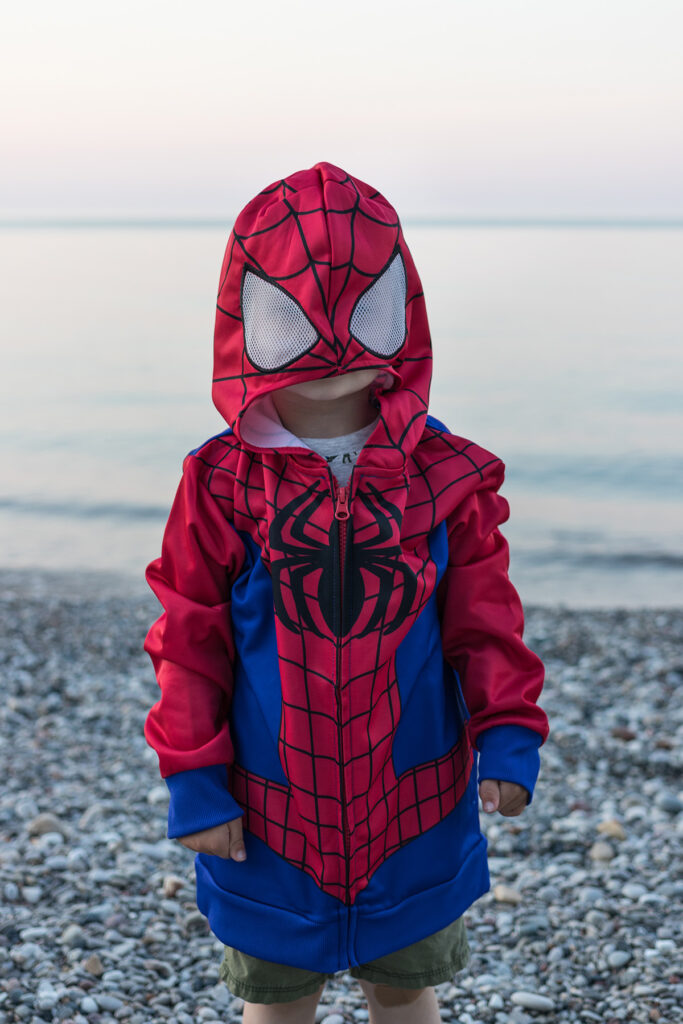 One of Tommy's friends has a similar Spiderman jacket that Tommy has been crazy about for months. I picked up one for him this summer. He wears it all around the house and even to sleep and outside in the hot summer weather. I have to sneak it into the wash once in a while when he doesn't take it to sleep. I love this version of the jacket because the eyes in the hood are mesh. The smallest size (4-5 or XS) is huge on Tommy now. The jacket will only get better as the weather gets cooler and he grows into it more.
Aside from the Spiderman jacket and a few other things I've ordered on Amazon, since the stay-home period started this spring, I've bought almost all of Tommy's clothes from Old Navy. Amazon is very hit or miss, and Target didn't have their shipping thing together at all until very recently. Old Navy has remained reliable and continues to offer some of the best kid patterns and prints out there. I did a big stock up before summer and will do another one as the weather gets cooler.
Keens remain my go-to brand for Tommy's summer shoes. He's wearing his third pair this summer. They are so durable, and you can throw them in the washing machine. At three years old, Tommy can take them on and off himself, which is great. The one downside to Keens is that they're so popular, sometimes you have to hunt a little to find in stock sizes. I have bought them through Nordstrom but have the best luck finding them through shoes.com and Amazon.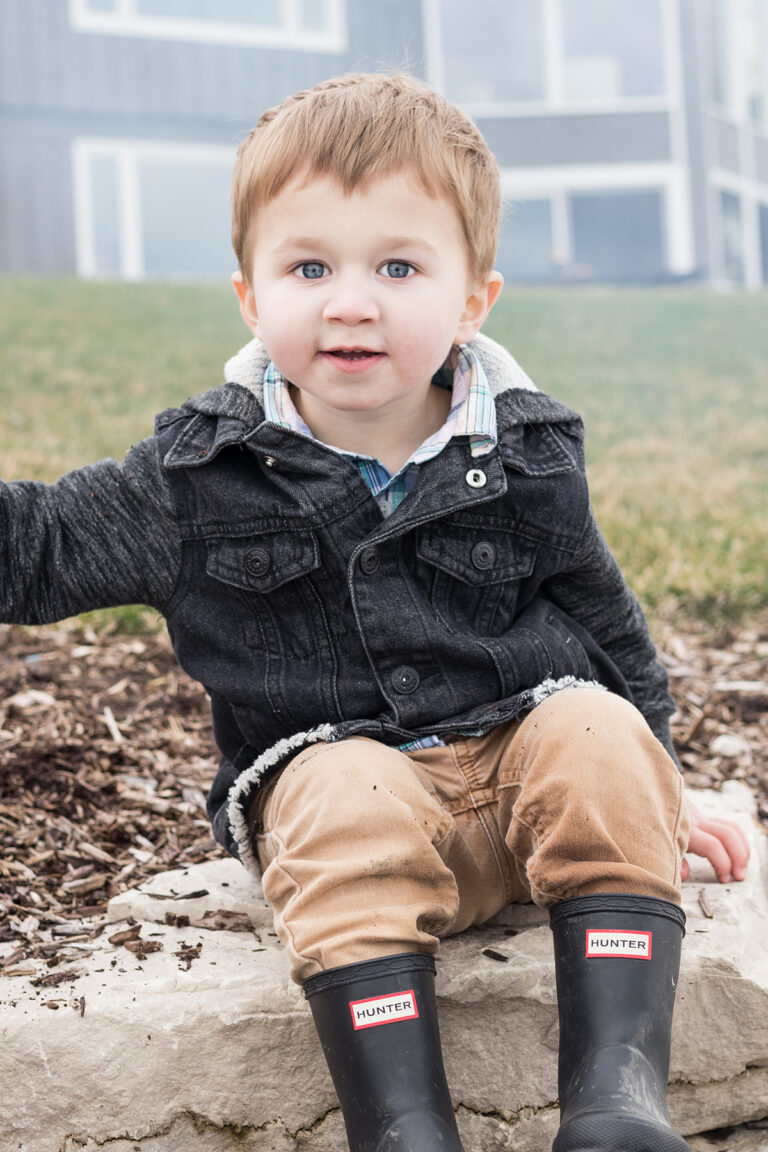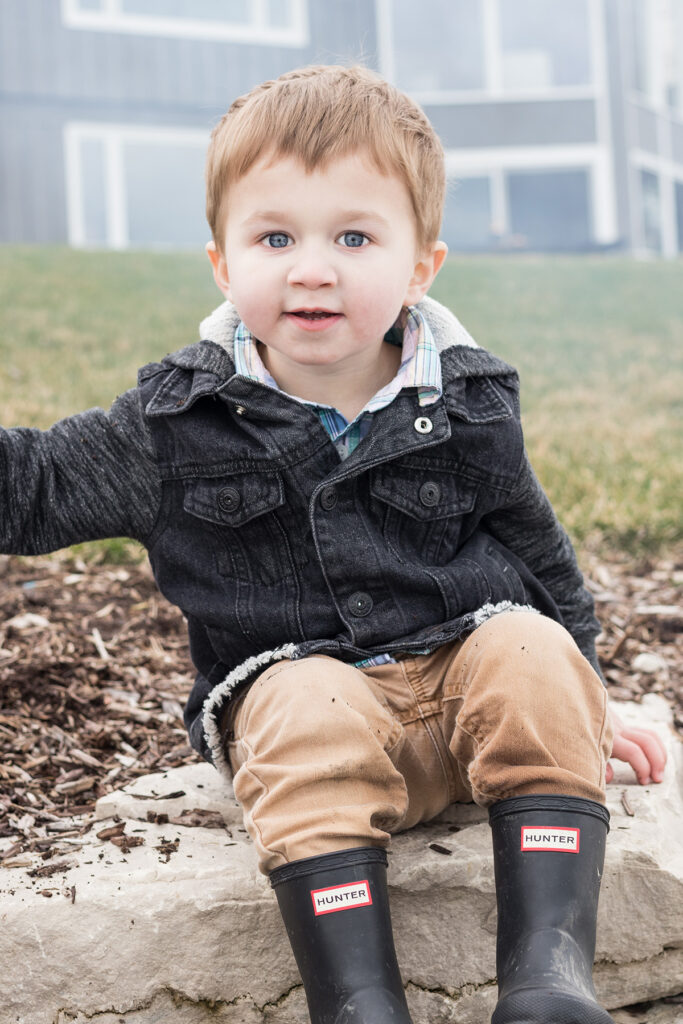 I know that Hunter boots seem like a crazy purchase for a toddler or preschooler. But they've definitely been worth the money. Tommy's finally outgrowing the pair that he got at 18 months old. They still look great, even after months of regular toddler wear (by which I mean a lot of regular wear and a fair amount of abuse). Tommy loves that he can put them on and take them off himself. He's worn them more than ever this spring and summer. I get them at Nordstrom.
I've talked about the diaper doublers a few times before. We were already using them when I wrote the two-year favorites post and are still going strong a year later. While Tommy is in underwear full-time during the day, until we transition him out of his crib, he's in a pull-up for naps and overnight. The diaper doublers remain a lifesaver overnight. Even with pull-ups, he would still soak right through without a liner.
[Disclaimer: There are a few affiliate links in this post. Thanks for your support!]
Did you purchase one or more of the items in this post for your toddler or preschooler?

I want to see it! Tag your images #RoseClearfield on Instagram or Twitter or post a photo to my Facebook page.
Pin this post for easy access to the three year old favorites later!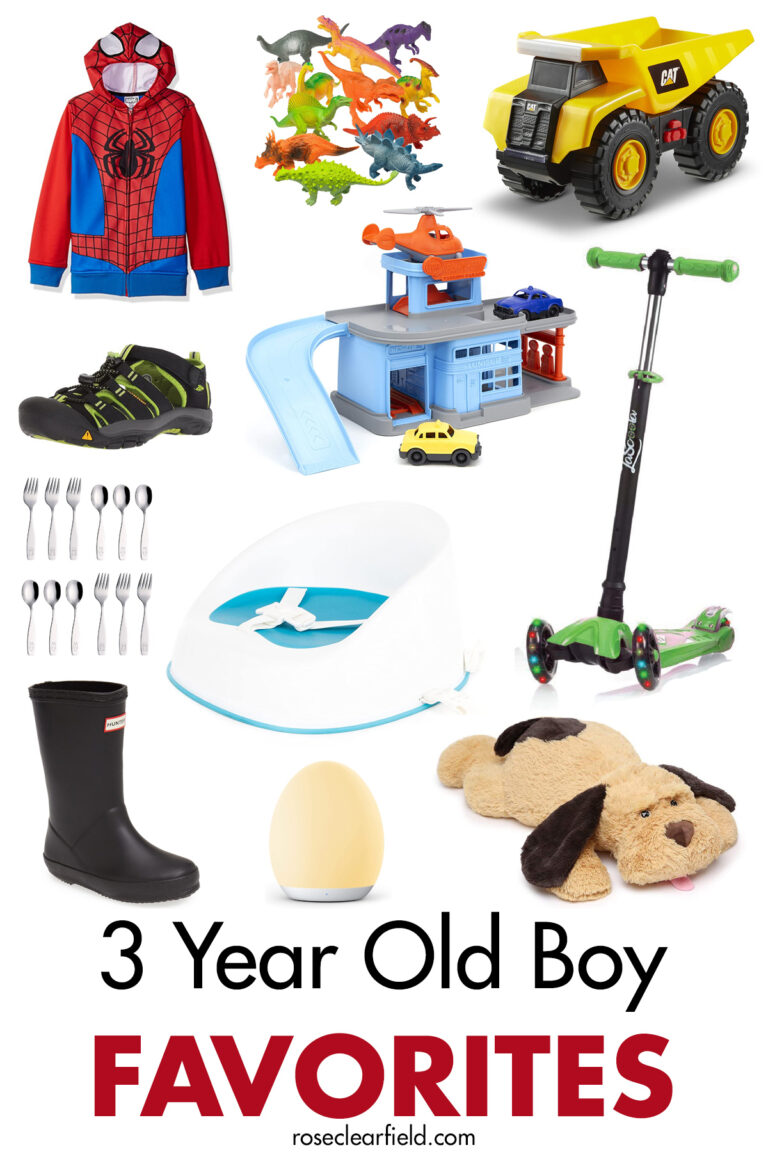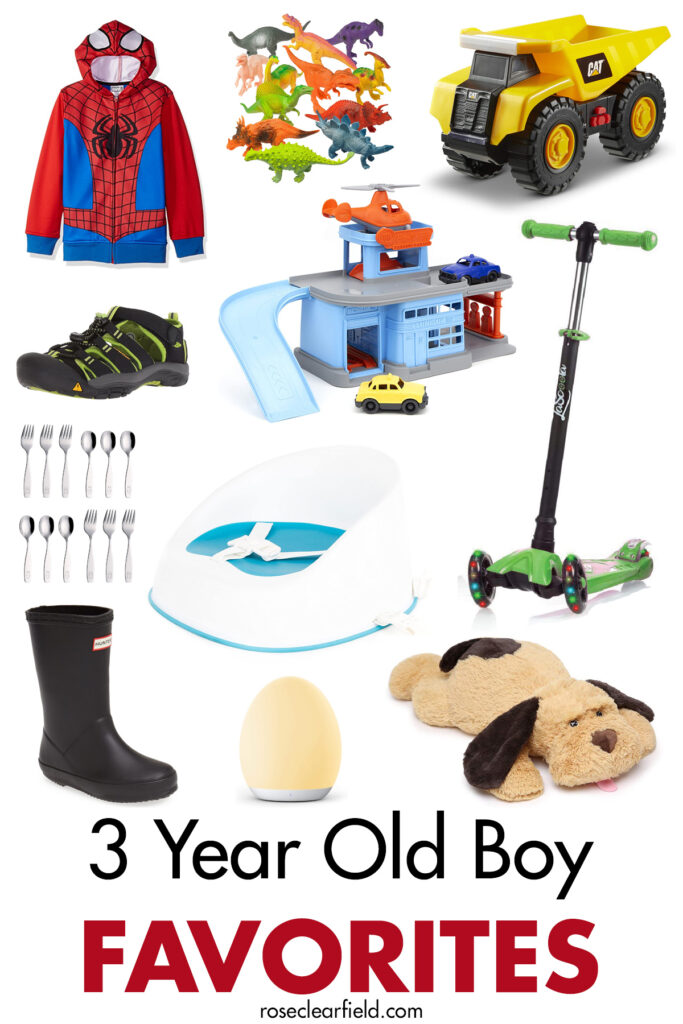 More toddler/preschooler resources: