It's no secret that I love shopping on Etsy. As such, that's where I'm sending you to shop for my personalized gift ideas for Mom.
I've been recommending gifts from Etsy for years. It should come as no surprise that I immediately headed to Etsy for personalized gifts for Mom. Etsy offers a selection and quality of personalized gift items on Etsy that you won't find anywhere else.
I'm featuring the best of the best, including jewelry, clothing, kitchen items, home decor, and wall art. I've included classic gifts for Mom, such as initial necklaces and family name wall art, as well as more unique but meaningful gift ideas, such as personalized ice cream bowls and monogrammed makeup cases.
You're sure to find gifts that are just right for the moms in your life for Christmas, Mother's Day, and birthdays. Happy shopping!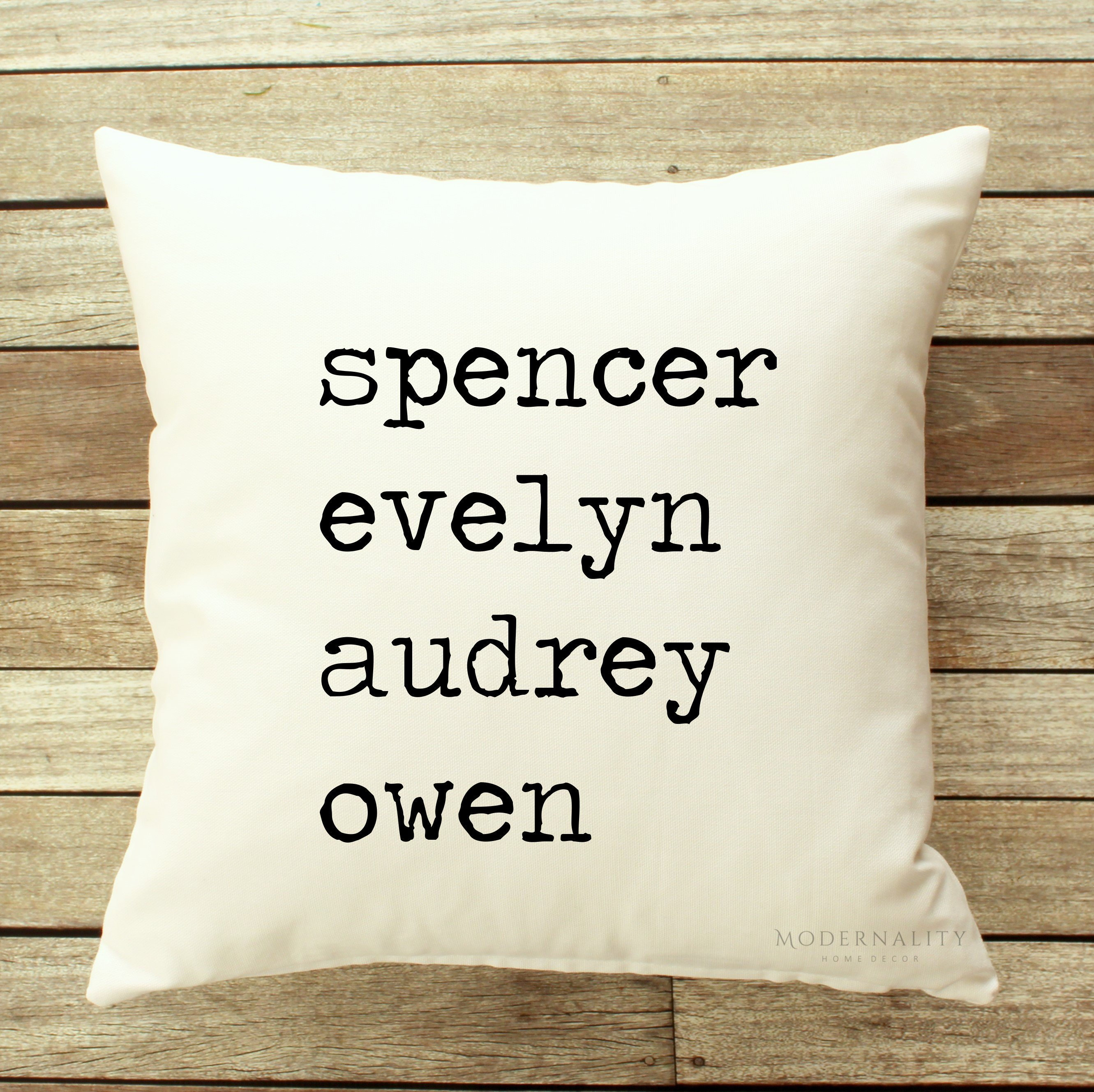 1. Family name pillow
You know how much I love throw pillows. Having a customized pillow with each family member's name on it is even better. I absolutely love the font on the pictured pillow from ModernalityHomeDecor. You can customize the fabric, ink color, and pillow size. If you love this concept but don't love the font, check out a similar offering from Qualtry. There aren't as many customization options, but there are a few different font choices. Both shops offer multiple additional custom family pillows as well (i.e., last name, monogram).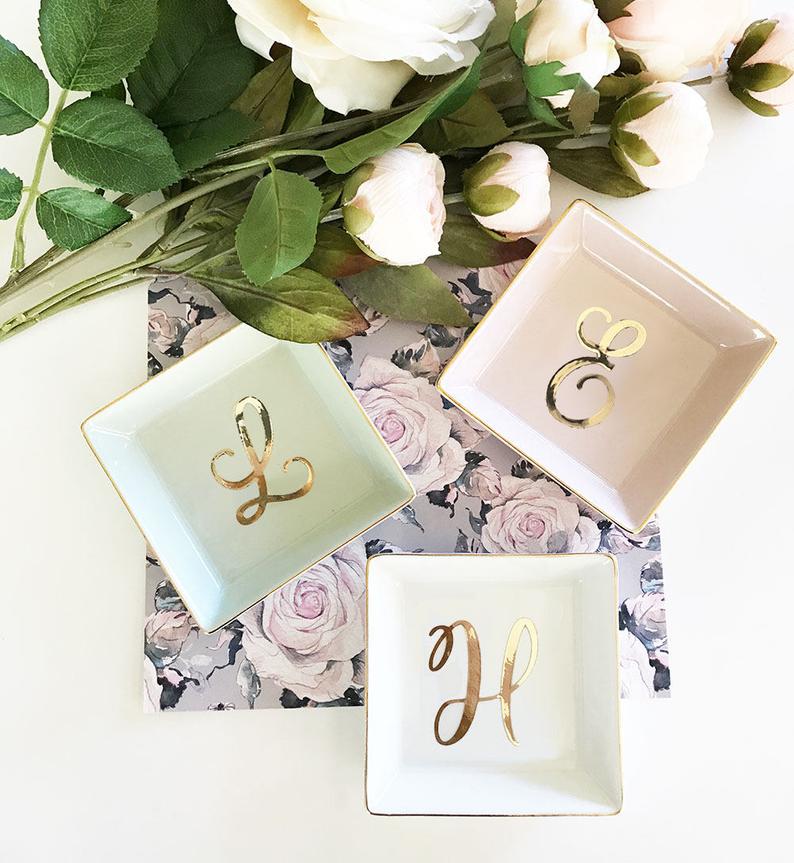 2. Monogram or name ring dish
Most shops promote monogram or name ring dishes as a bridesmaid gift. They also make great mom gifts. Having a dedicated place to store your rings in the kitchen, bathroom, or bedroom is much appreciated. Even when you already have a ring dish, it never hurts to have another one for a different room in the house. I love DezCustomCreation's simple white ring dish with script font and your choice of lettering and ModParty's neutral and pastel ring dishes with gold monograms.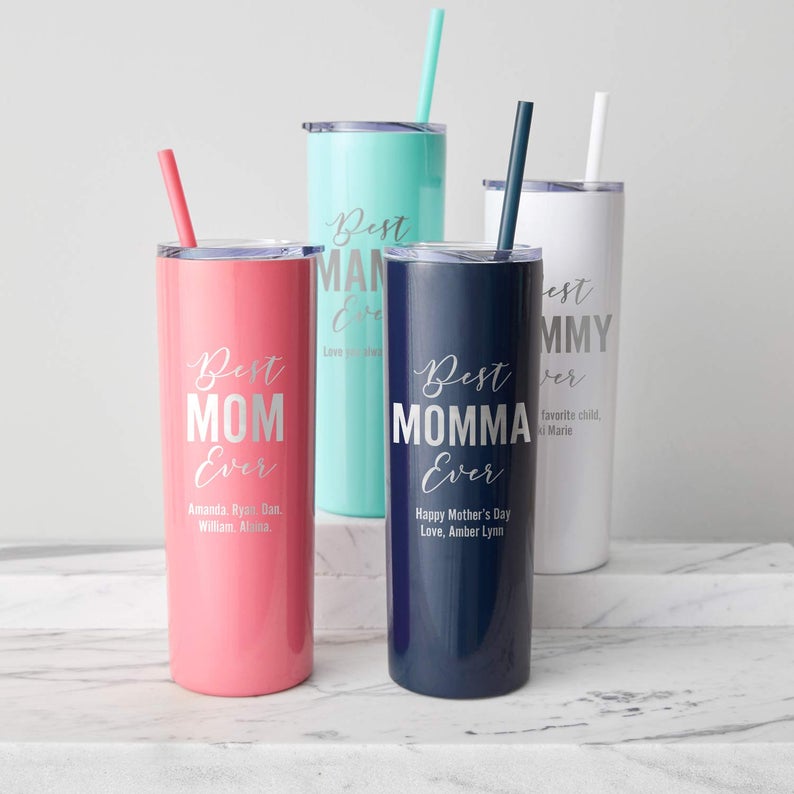 3. Best mom tumbler
Since becoming a mom, I've relied on my tumblers more ever to keep me hydrated while on the go. Receiving a custom tumbler like the personalized best mom tumbler from LifetimeCreations is a sweet gift to receive from your kids and makes it easy to keep track of your tumbler when you're with friends. I love the tumbler colors and personalization options.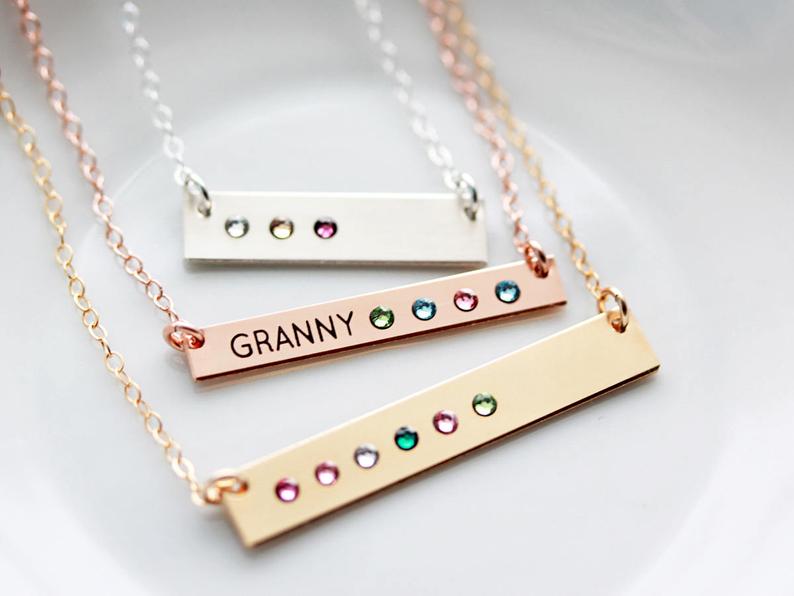 4. Birthstone bar necklace
I know that birthstone jewelry is a bit overplayed and not for everyone. I'm really picky about jewelry but absolutely love the birthstone bar necklace from TomDesign. The metals are so beautiful. In addition to the metals and birthstones of your choosing, you can customize the thickness, length, and optional engraving.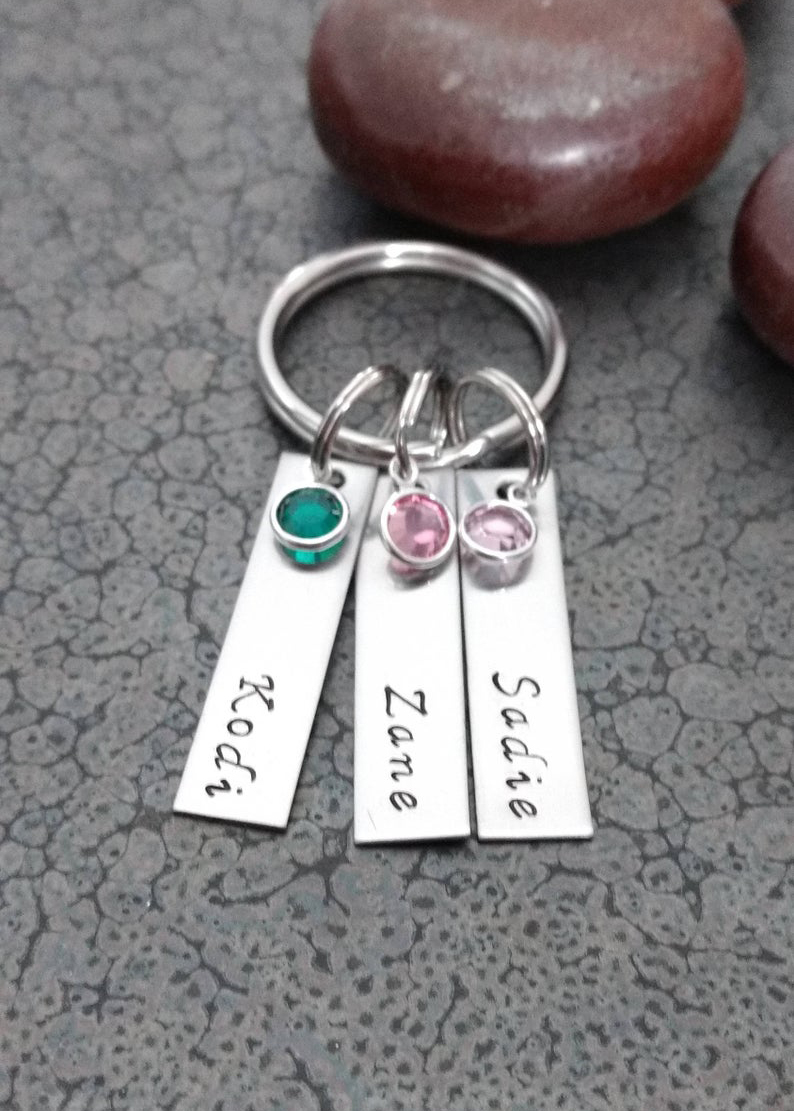 5. Birthstone keychain
If Mom likes birthstone items but isn't crazy about a jewelry pick, think about a personalized birthstone keychain from DawnsMetalDesign. I love the simplicity of the design and endless customization possibilities.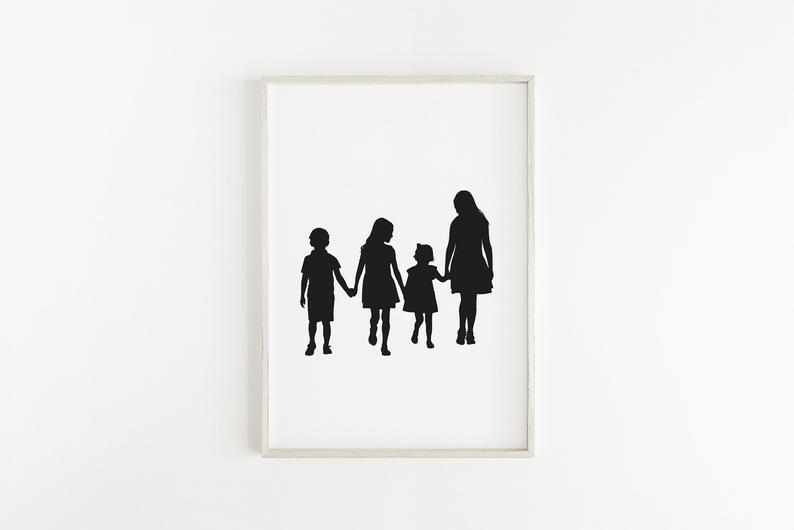 6. Family full body silhouette
OliveandBirch's custom full-body silhouette is much more meaningful and creative than the family car stickers you see everywhere. I love that she creates her prints from photos, which adds so much character to each piece.
7. Candle gift for Mom
I love gifting candles because they're an item that you use up. For moms who have everything and don't need tons of huge gifts, candles are perfect. ThoughtfulWick's candle gift for Mom is available in more than two dozen scents and allows you to feature a custom message of your choosing.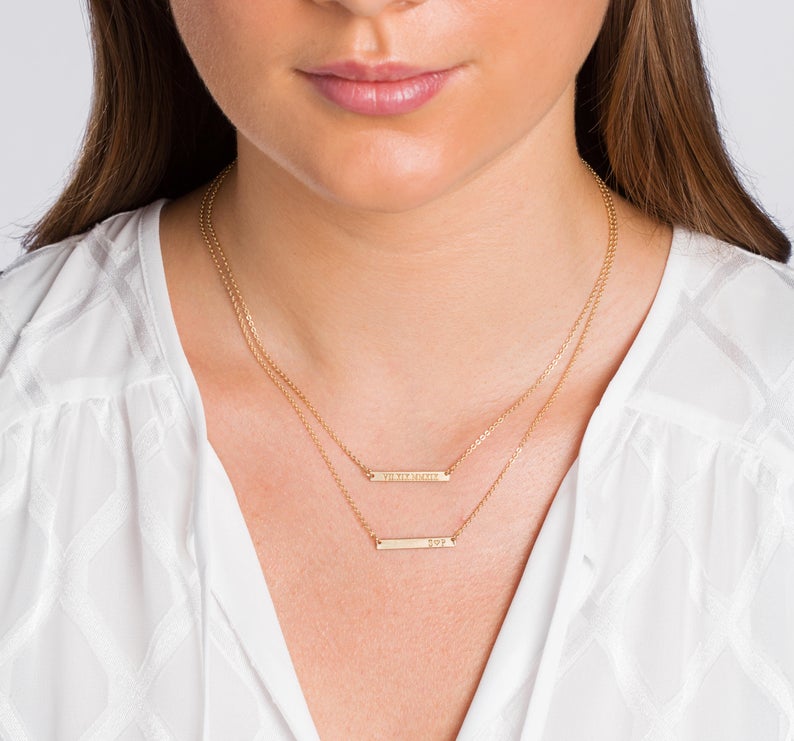 8. Skinny MINI bar necklace
I had to include one more bar necklace gift idea because bar necklaces are so versatile and timeless. CustomBrite's skinny MINI bar necklace is simple and understated, exactly what I like for most of my everyday jewelry. You can customize the metal, necklace length, font, message, and message layout.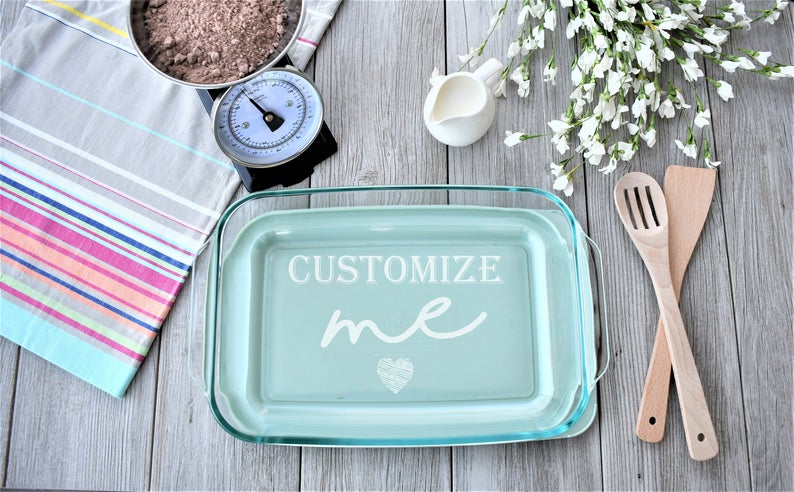 9. Pyrex casserole dish
A custom casserole dish is a thoughtful gift for moms who love to cook and bake. RusticRootDesign's personalized Pyrex casserole dish comes in multiple sizes with warmer options, all with personalization as you want them. RusticRootDesigns has a number of other customizable casserole dishes in her shop as well.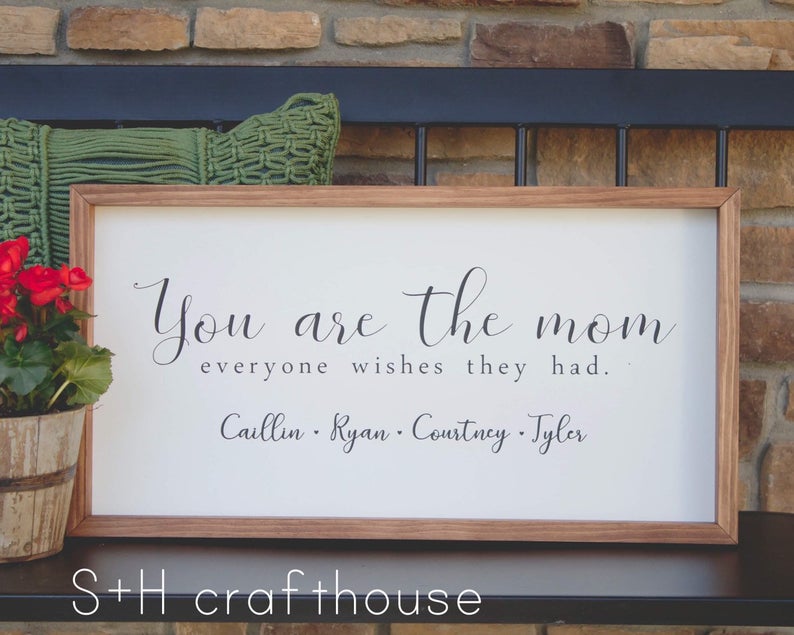 10. "You are the mom everyone wishes they had." sign
You'll make Mom's entire Mother's Day, birthday, or holiday season with SandHcrafthouse's personalized "You are the mom everyone wishes they had" sign. The design is beautiful with a wood frame that you can leave unfinished or have stained.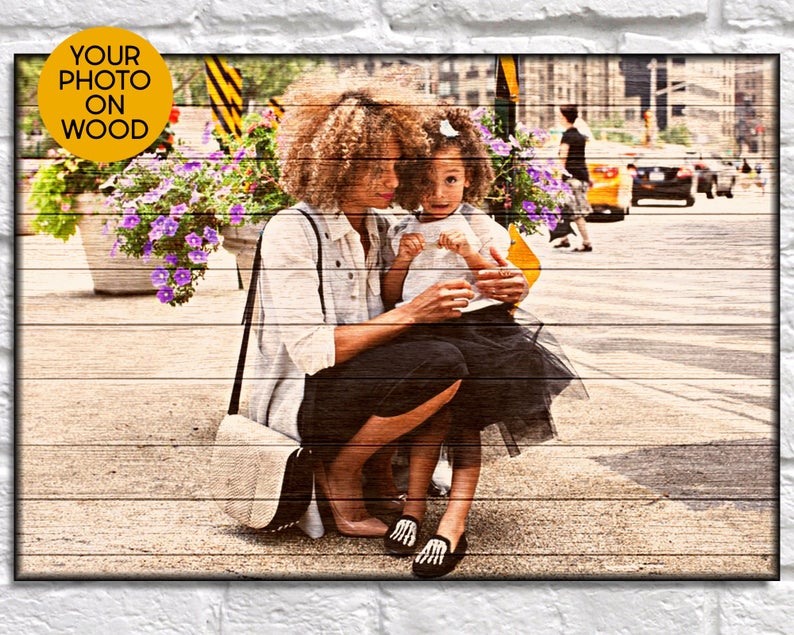 11. Wood photo print
I'm always looking for unique photo gift ideas for mom presents that aren't gimmicky and haven't been done to death. Woodprintz's wood photo print is beautiful and really different from a framed printed photo or canvas print. I love that it's available with or without a wood panel effect. I encourage you to check out Woodprintz's other offerings for additional gift ideas, as they have so many amazing prints, including city maps, classic art, and travel posters.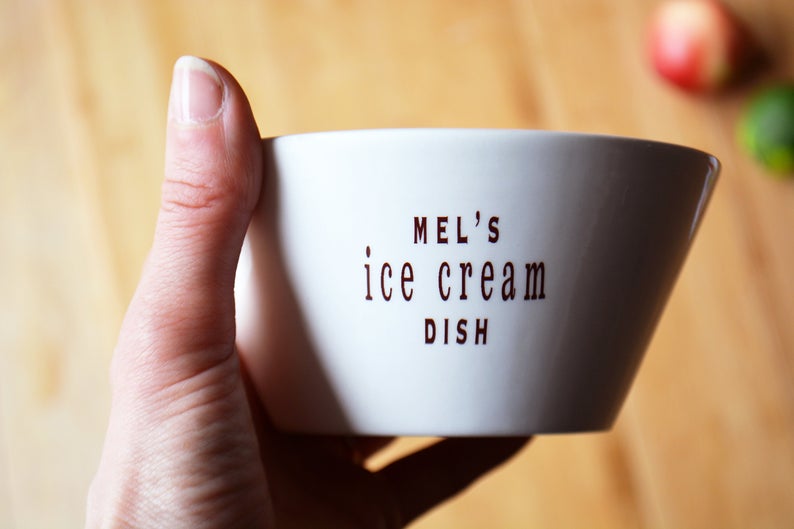 12. Ice cream dish
I'm over the snarky mom wine glass/tumbler trend and always looking for more creative food/drink gift ideas for moms. Hallesophiagift's personalized ice cream dish makes me so happy. You'll look forward to this beautiful custom bowl or dish every single day. She even includes a gift box at no extra charge. Hallesophiagifts offers so many lovely gift items including ornaments, catchall trays, platters, and vases.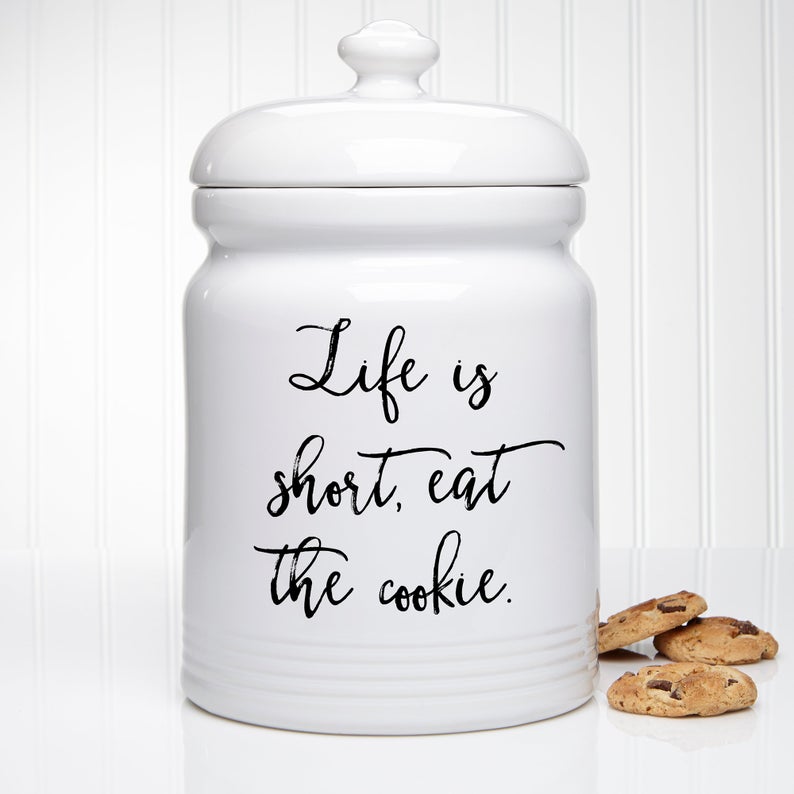 13. Cookie jar
Having a personalized cookie jar from PersonalizationMall on the counter adds a fun touch to any kitchen. The jar is made of high-quality stoneware for ensured durability. I love that you have three lines of text to personalize, allowing for endless possibilities for name personalization as well as favorite food and cooking quotes. You can also customize the font style.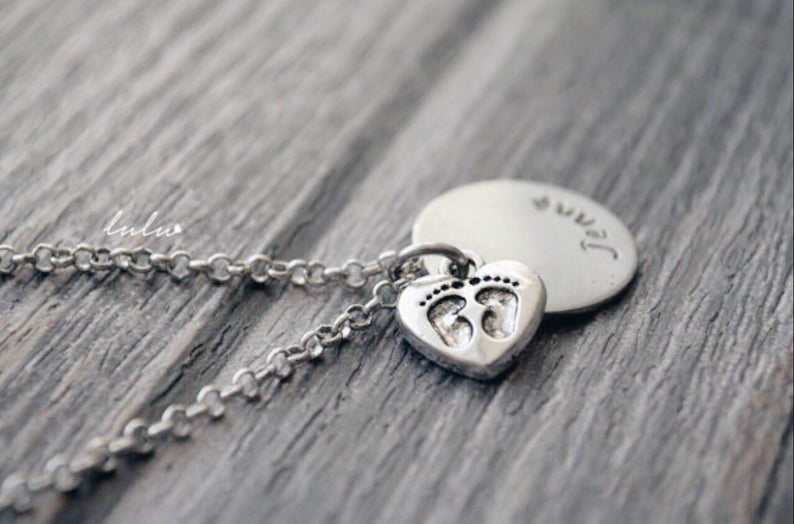 14. Newborn feet necklace
I love newborn feet imagery and think that the personalized newborn name and footprint on heart necklace from LuluLifetimeDesigns couldn't be sweeter. It's simple and understated, which is what so many moms want for everyday jewelry. In addition to the name personalization, you can customize the length of the necklace.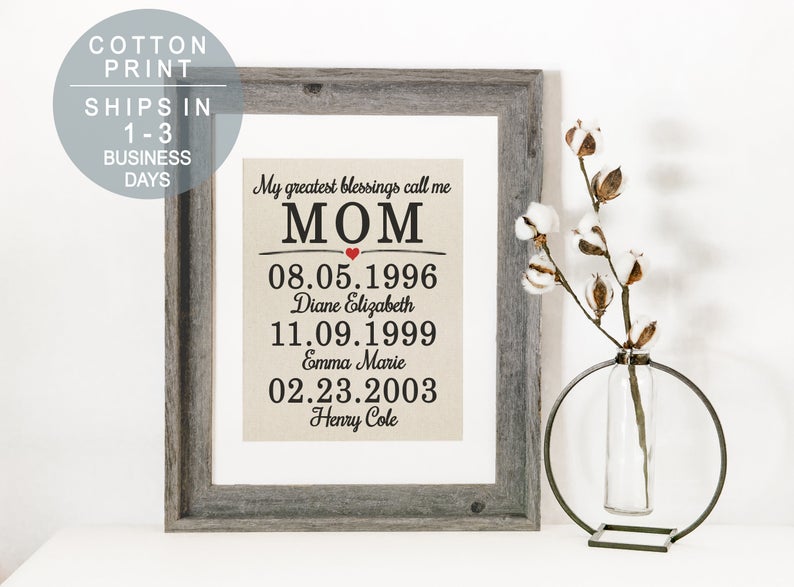 15. "My greatest blessings call me Mom" sign
"My greatest blessings call me Mom" personalized sign from nestNbranch is a beautiful way to display your children's names and birthdays. Instead of using regular paper, nestNbranch prints their signs on fabric for a unique aesthetic. You can add up to 20 names and birthdays and customize the "mom" language (i.e., mommy, grandma, etc.).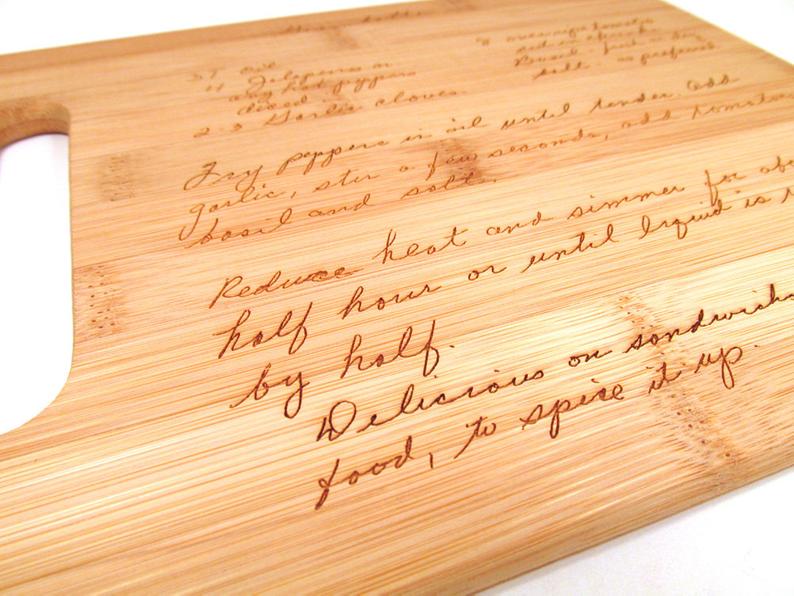 16. Recipe engraved cutting board
I've gifted my friend Edi of memoriesforlifesb's engraved wooden items numerous times over the years and always get positive feedback on them. Her handwritten recipe engraved wooden cutting board is one of her most popular items, and it's not hard to see why. Giving a loved one the gift of a handwritten recipe preserved on a cutting board is priceless.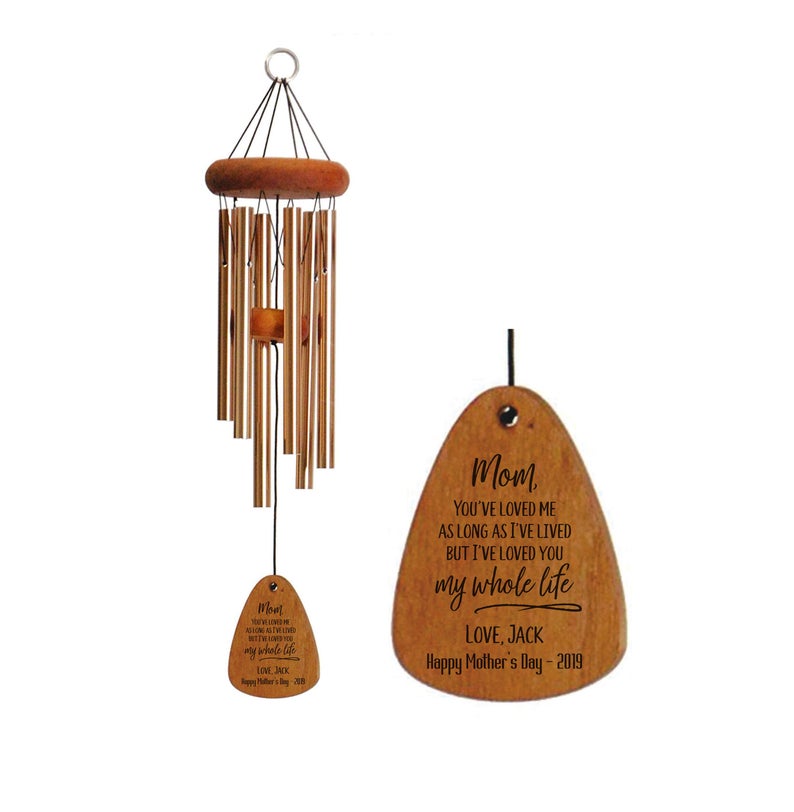 17. Wind chimes
It's worth spending more on a larger set of wind chimes for the beautiful sound they produce. A larger set is heavier, which means it won't play constantly, and when it does play, the notes are rich. The fact that you can personalize FireWoodCreations' 30-inch bronze wind chime is an added bonus for this unique gift item. The shop offers multiple sizes and colors for their wind chimes.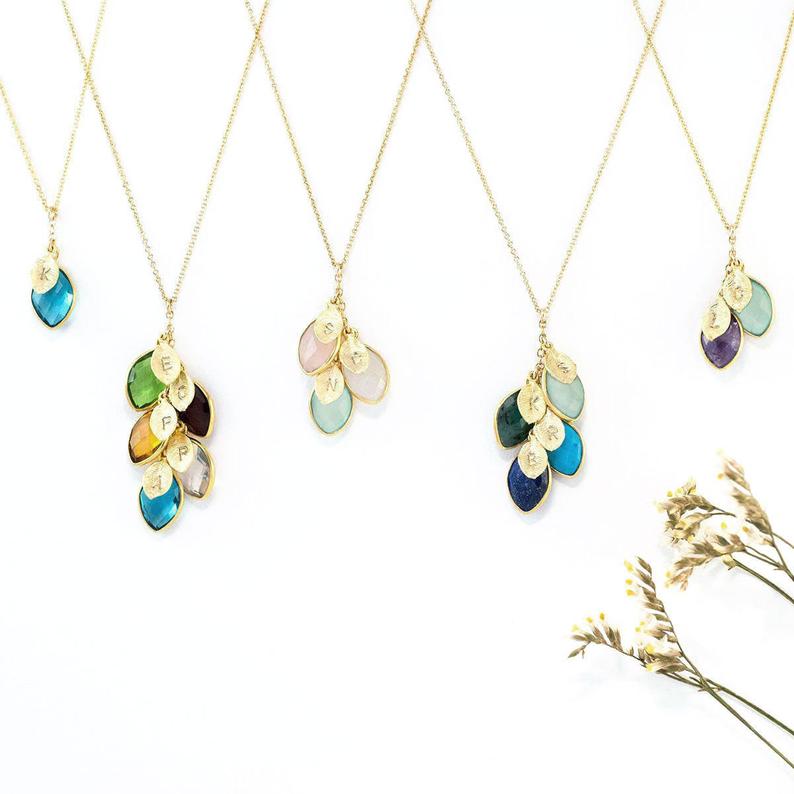 18. Leaves birthstone initial necklace
I had to include one more birthstone jewelry pick because delezhen's leaves birthstone initial necklace isn't what you'd normally expect with birthstone jewelry, and I mean that in the best way possible. The leaves are such a subtle, beautiful way to display the birthstones. You can customize the metal and necklace length.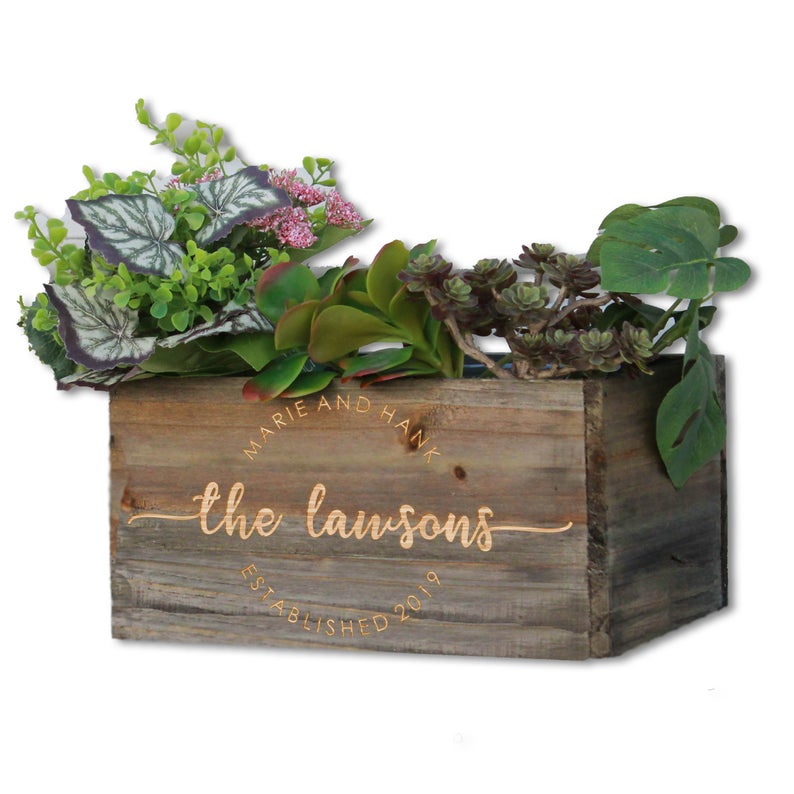 19. Wooden planter box
EngraveOutlet's personalized wooden planter box is such a tasteful way to display a family name or give mom her own special planter with a fun quote. I really love the engraving style for this piece. The wooden planter works well in a front or back yard, especially on a porch or patio. If you're looking for another planter gift option, I also love SophiaVictoriaJoy's enamel planter, which is a refreshing change from more traditional terracotta pots.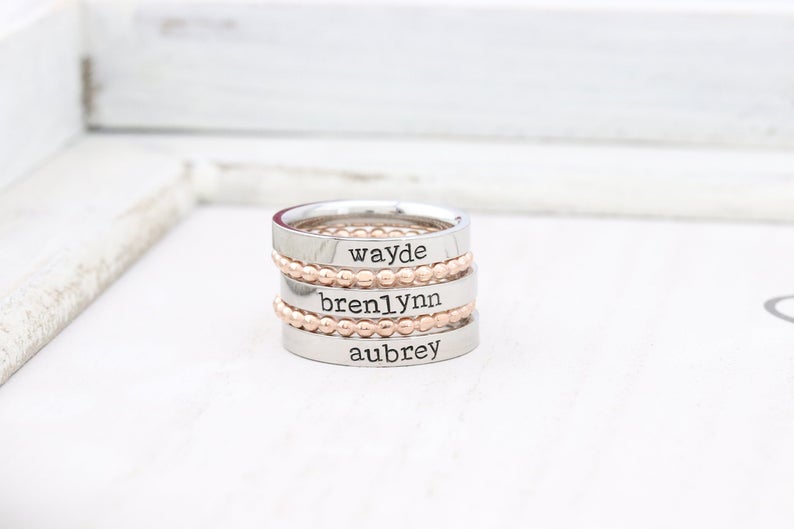 20. Stackable rings
DesignsByKaramarie's stackable rings are sweet and simple with that custom homemade touch that you only get with authentic hand stamping. The rings are very narrow, which is ideal for daily wear. Read the listing carefully, as the listing is for one ring and involved multiple personalization options.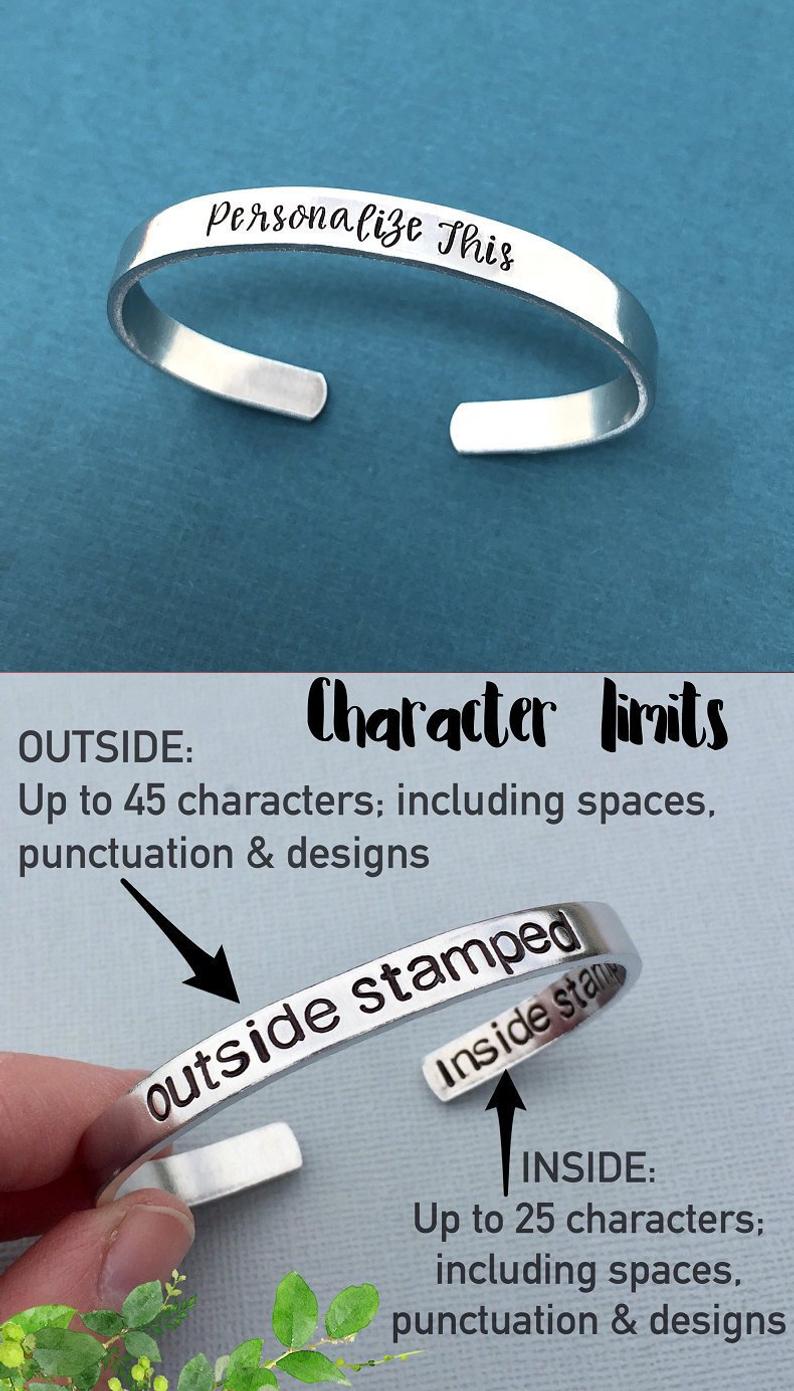 21. Cuff bracelet
Silver and gold cuff bracelets never go out of style and make for an easy, versatile jewelry pick with almost any outfit. StampedExpressionsCo's hand-stamped bracelet includes the option to personalize the outside and/or inside, which I really like, with a choice of fonts.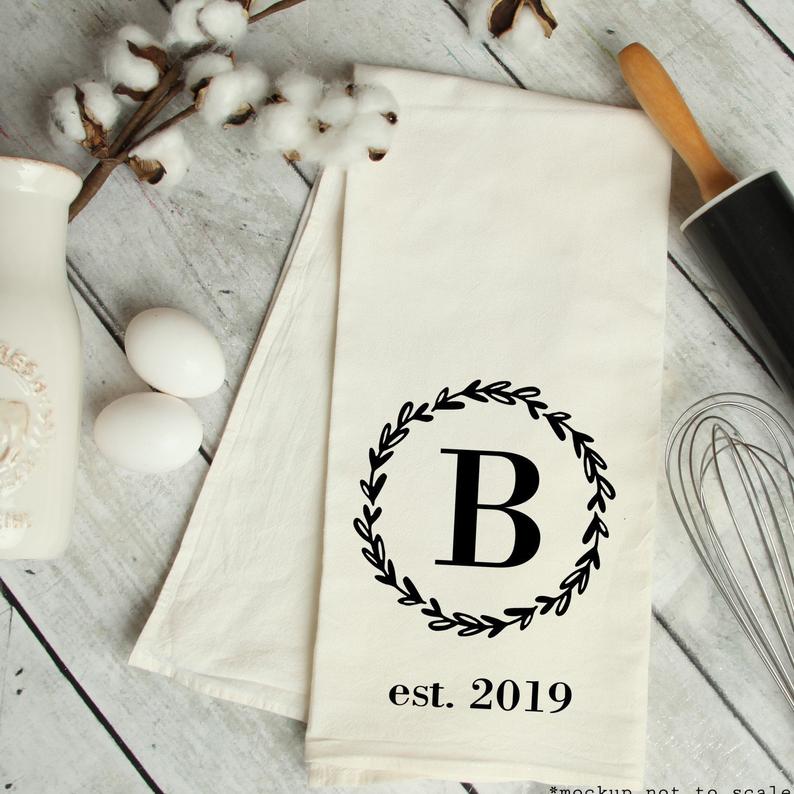 22. Flour sack towel
I go through a lot of kitchen towels each week and really enjoy having kitchen towels that I love. TwoBraveCo's personalized monogram flour sack towel would get so much use in my kitchen. The floral wreath around the monogram is perfect, and the personalization is available in a wide range of colors.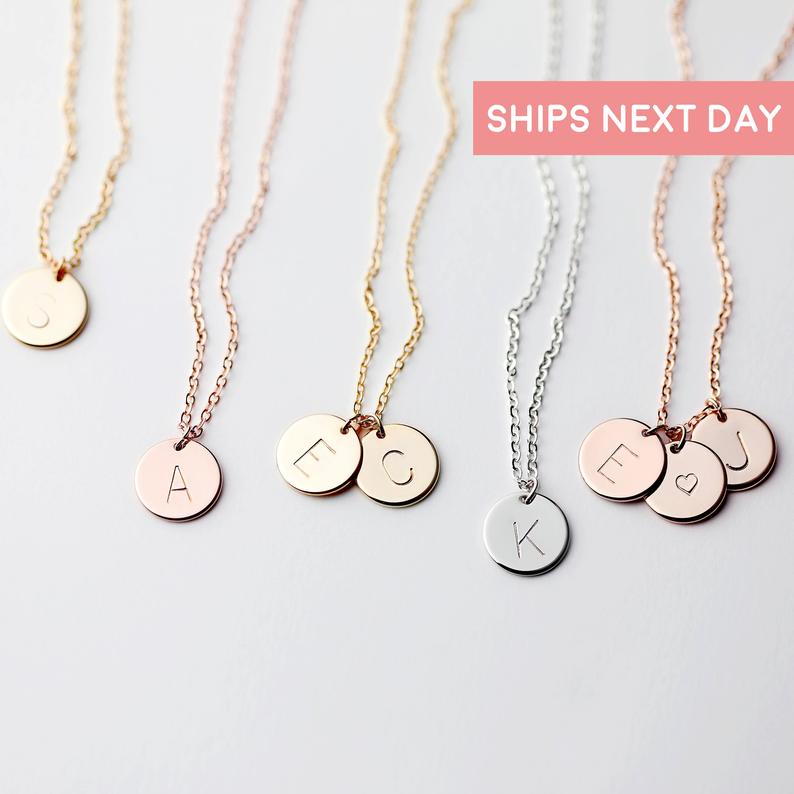 23. Initial necklace
MignonandMignon's initial letter necklaces are gorgeous and an absolute steal. I've seen very similar designer necklaces go for four times the price, and I know that the quality isn't any better. I love the simplicity and timeless nature of this type of jewelry.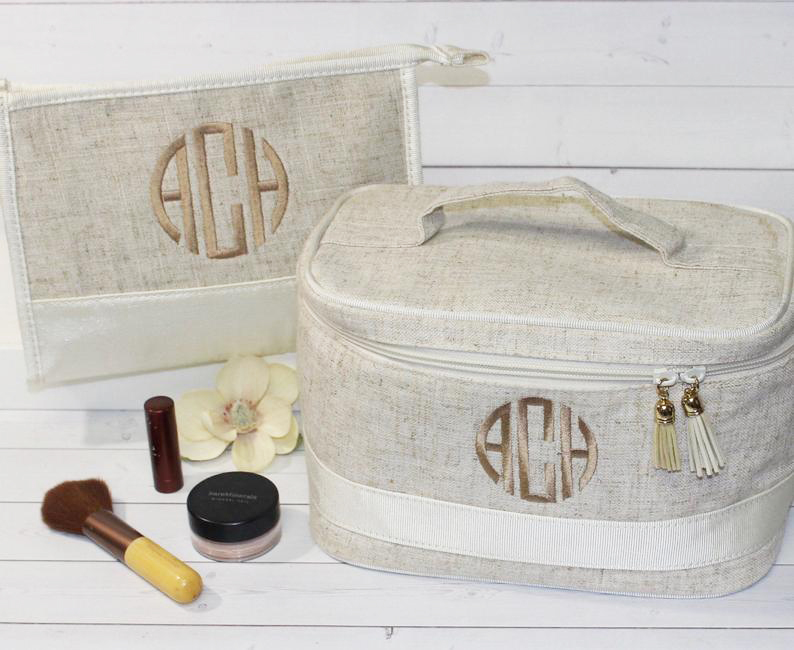 24. Makeup case
You can find tons of personalized small makeup bags, which make great bridesmaids gifts and bridal shower favors. For a Christmas or Mother's Day gift for a special mom, I like taking this gift concept up a notch and choosing a personalized makeup case. Happythoughtsgifts's monogram train case and makeup bag set is adorable and guaranteed to become a staple travel items. For a high-end gift, LullaBoutique's leather makeup cases are absolutely stunning.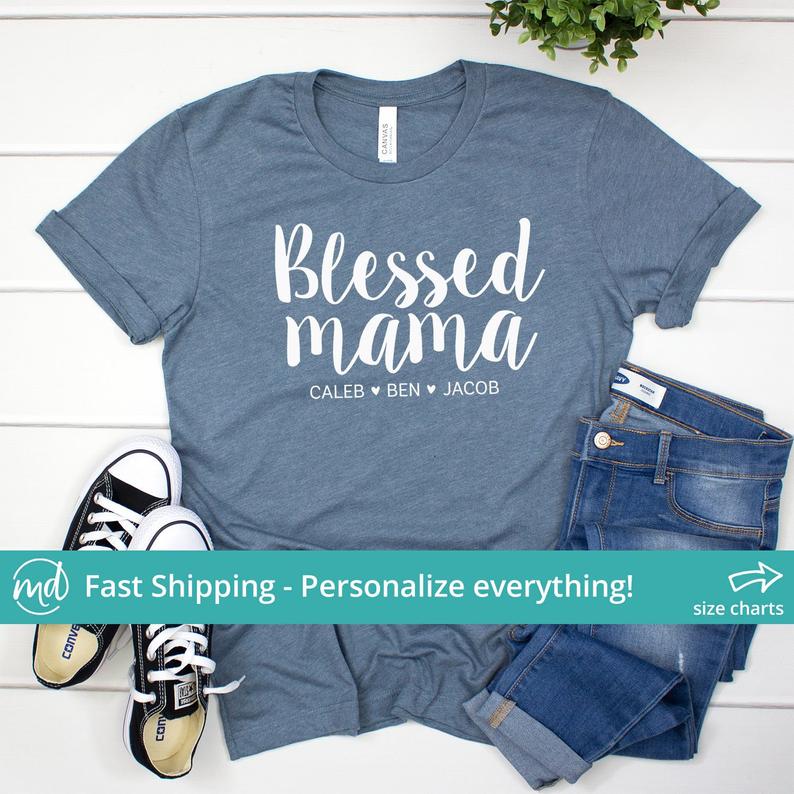 25. Blessed mama t-shirt
There are a ton of mom t-shirts out there. MaleyDesign's blessed mama t-shirt is by far one of the best I've ever seen. I love the font combination, and you can tell that the shirt and print job are high-quality. You can order it with or without the names.
[Disclaimer: The product links are affiliate links. I wasn't sponsored by Etsy or any particular shop to promote specific products. Thanks for your support!]
What are your favorite personalized gift ideas for Mom? Are there any items you would add to this list?
I'd love to hear about your favorite Mom gift ideas!
More gift ideas for Mom: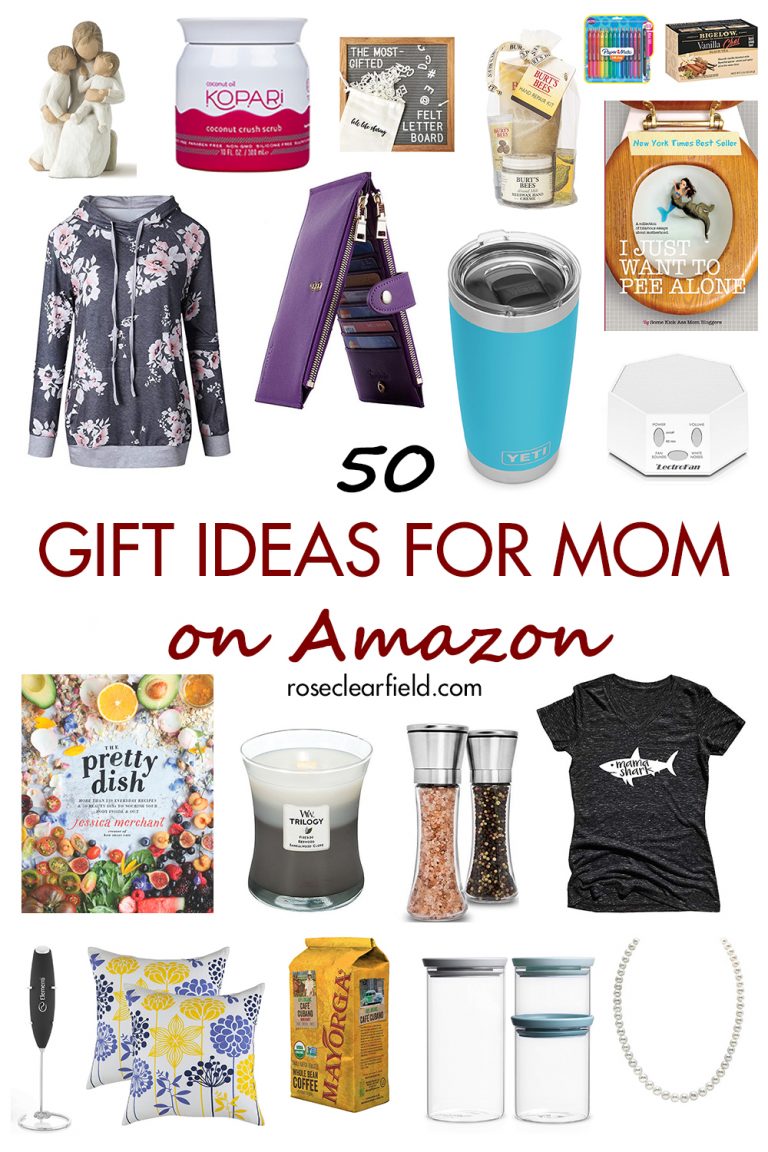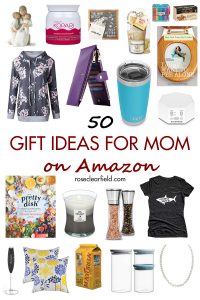 50 Gift Ideas for Mom on Amazon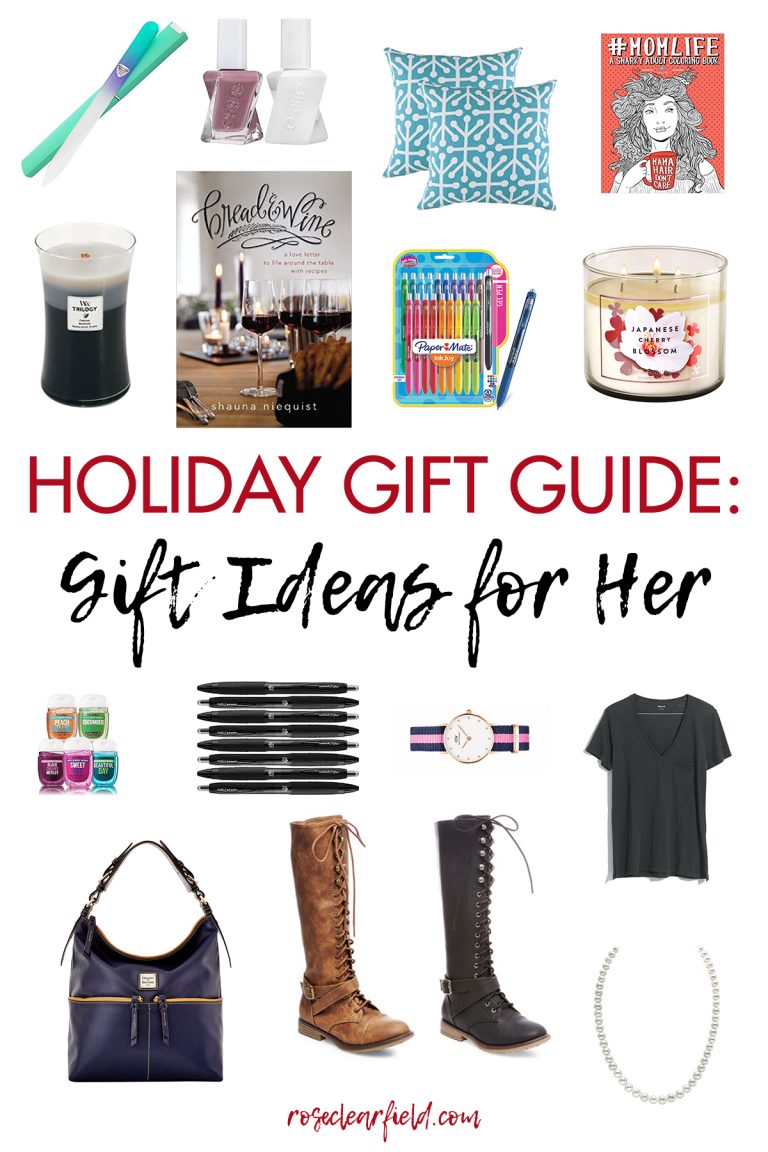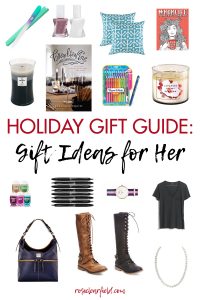 Holiday Gift Guide: Gift Ideas for Her