Coming up with interesting new lunches every single week is always a challenge.
Everyone likes eating lunch. No one likes to think about what to make for lunch and then actually make it. As such, it's easy to get into a boring lunch rut or start falling back on less healthy choices. Enter quick healthy hot lunch ideas for work. (P. S. I already have a separate cold lunch ideas for work round-up.) I've collected 50 quick, easy hot lunch ideas, ideal for packed lunches, including grain bowls, pasta meals, soups, and lots of Asian-inspired dishes.
I've limited this round-up to quick healthy lunch ideas for work to hot lunch recipes. I know that cold lunch ideas are more versatile, as you don't have to worry about finding a microwave. However, personally, I prefer to have a mix of cold and hot recipes in rotation for work lunches. I know that many of you do, too.
Tips for packing work lunches
When you make your own lunches for work on a regular basis, it's worth learning how to pack a lunch well. Here are a few tips for maximum flavor and texture in hot packed lunches.
Invest in staple kitchen prep items, high-quality glass containers, and a good lunch box
Packing work lunches is much more straightforward and efficient when you have the proper tools on hand. You don't need anything complicated or expensive to meal prep effectively. A basic set of pots and pans, good knives, a handful of utensils (i.e., spatulas, wooden spoons), and a set of mixing bowls will cover the majority of the prep you need to do for the lunch recipes in this post. A number of the recipes call for a slow cooker as well, which is a versatile kitchen item you'll find yourself using all the time.
After you've prepared your food, pack it in glass food storage containers. Glass containers are safer and more durable than plastic containers. Purchase a nice lunch box as well for safe transport and storage.
Keep dressings and toppings separate to prevent sogginess
For the recipes in this post, I do my best to give specific tips about when you should pack ingredients separately. With a little practice, you'll quickly learn when it's best to store certain ingredients apart from the remainder of the dish.
Generally, it works well to pack individual servings of hot lunches at the beginning of the week
For cold lunches, some recipes work best when you prep the ingredients at the beginning of the week and then assemble the individual portions each night, such as sandwiches and chopped salads. For hot lunches, typically, it's fine to prep individual servings all at once at the beginning of the week.
Get as much as you can ready the night before
With hot lunches that you pack for work, you're never making a recipe right before you get ready to go to work. Pack anything else you'll need, such as silverware, the night before, too, so you can grab the food out of the fridge and go when it's time to leave for work.
Don't be afraid to make ingredient substitutions and omissions
No recipe is set in stone. Tweak recipes as needed to cater to your personal tastes or the ingredients you have on hand. If you don't love a particular flavor pairing or you're getting burned out on a recipe, swap in new ingredients. A different dressing, grain, or protein can completely transform a dish.
Hot lunch prep methods
There are two primary ways that I like to prep hot lunch recipes for work to keep the weekday work routine as stress-free as possible. I've chosen the hot lunch ideas for work in this post with these prep methods in mind.
Make a large batch recipe for dinner over the weekend. Prepare the recipe and serve it for dinner one night. Then pack up the leftovers in individual containers, so they're ready to go for the week ahead.
Prep as many of the ingredients as possible over the weekend. When you won't be eating the meal over the weekend, you can still do a lot of prep to save yourself time on weekdays. For example, for a salad with chicken, cook the chicken, chop the veggies, and make the dressing.
50 Quick Healthy Hot Lunch Ideas for Work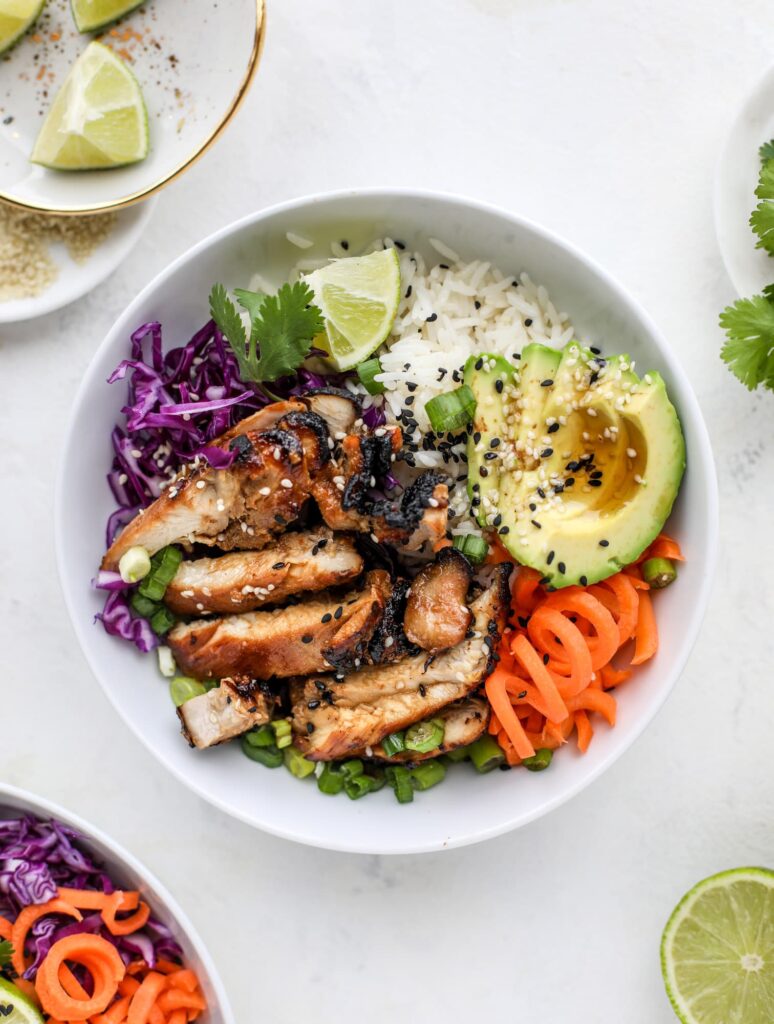 1. Korean Chicken Bowls
How Sweet Eat's Korean chicken bowls are one of our all-time favorite dinner recipes. I always look forward to having the leftovers for lunch. You can customize it with the meat and veggies of your choosing. Both raw and roasted vegetables work well. For a work lunch, keep the rice and chicken separate from the raw veggies and other toppings. It's fine to pack the rice and chicken with roasted vegetables.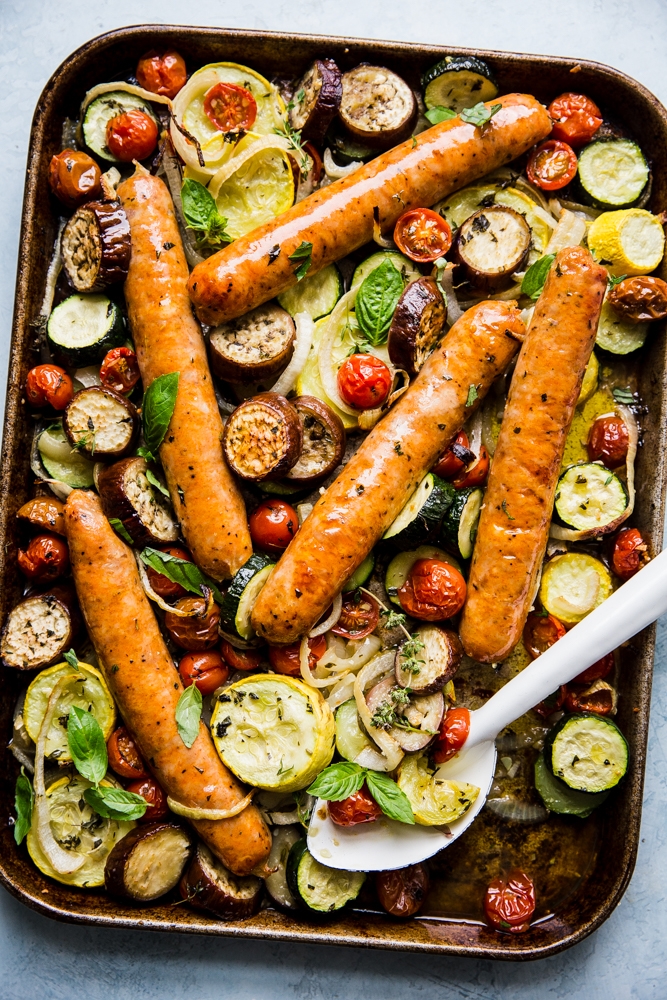 2. Sheet Pan Ratatouille with Sausage
I love The Modern Proper's take on ratatouille. You make it as a sheet pan meal and add sausage to fill it out a bit. There are so many ways to customize this concept.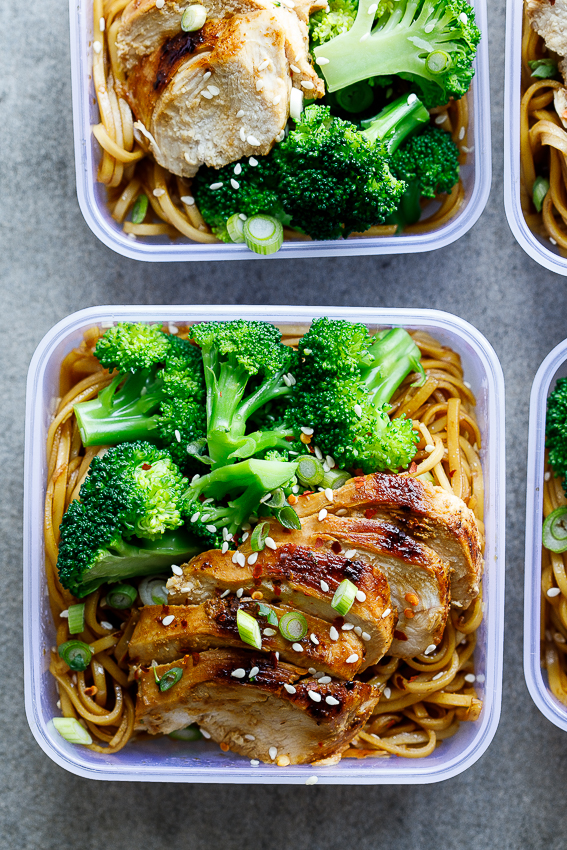 3. Soy Honey Noodle Salad
I'm pretty sure that I could eat Simply Delicious's soy honey noodle salad at least once a week for a year and never get tired of it. The sauce is so flavorful, and the noodles soak it up perfectly.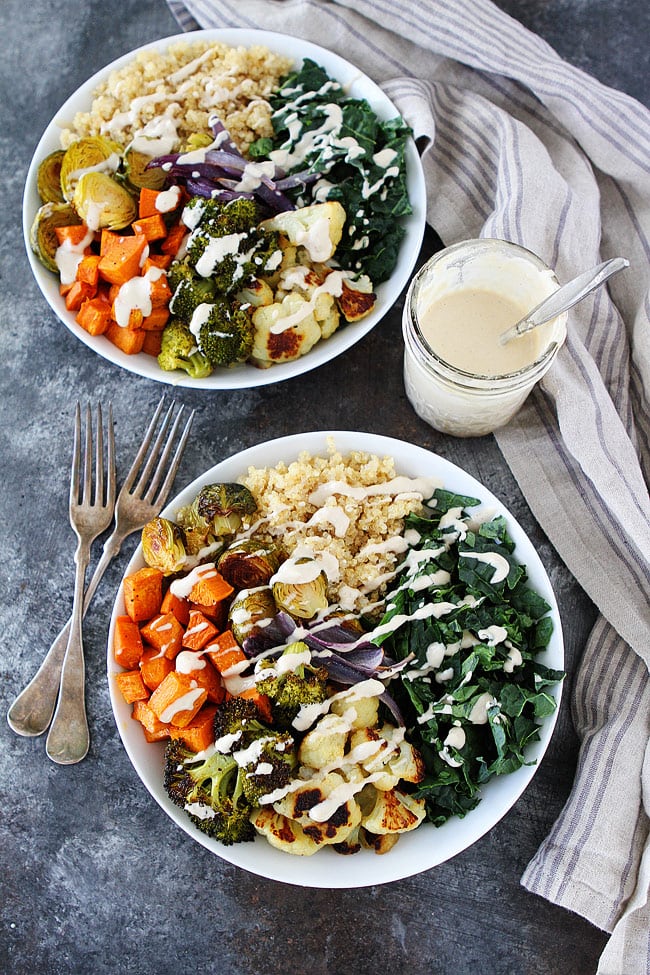 4. Roasted Vegetable Quinoa Bowls
Two Peas and Their Pod's roasted vegetable quinoa bowls are so healthy and flavorful. You can easily swap in the veggies and grains of your choosing. For packed lunches, keep the lemon tahini dressing separate until you're ready to eat.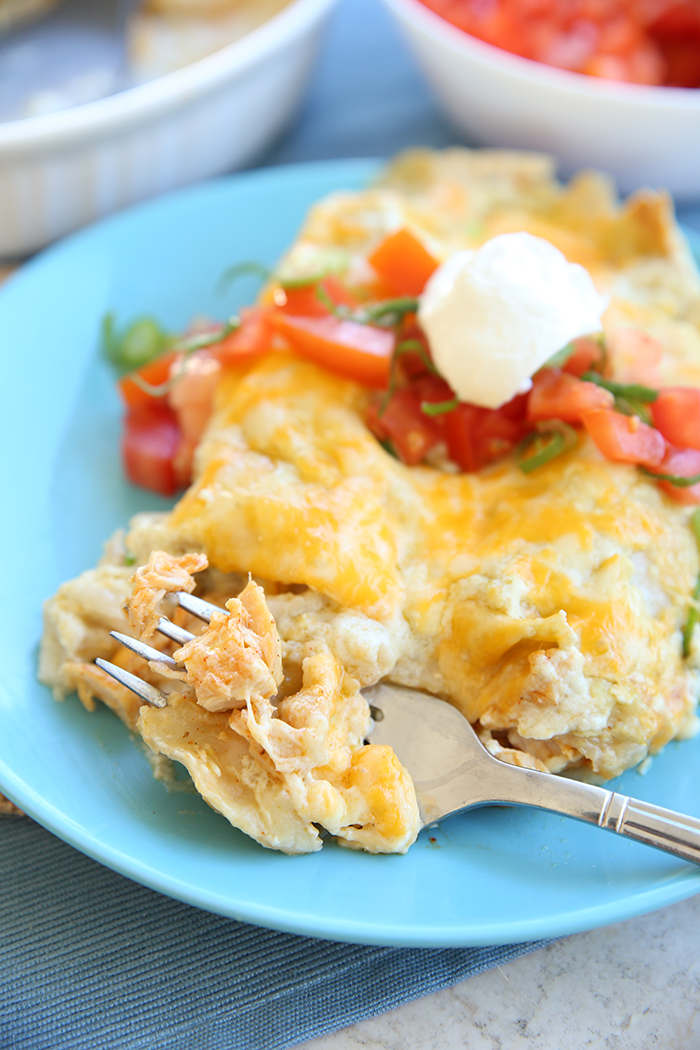 5. Honey Lime Chicken Enchiladas
Real Life Dinner's honey lime chicken enchiladas is the perfect meal to make for dinner with the plan to eat the leftovers for lunch at least a couple of days that week. The recipe makes a ton, and the dish tastes great when reheated.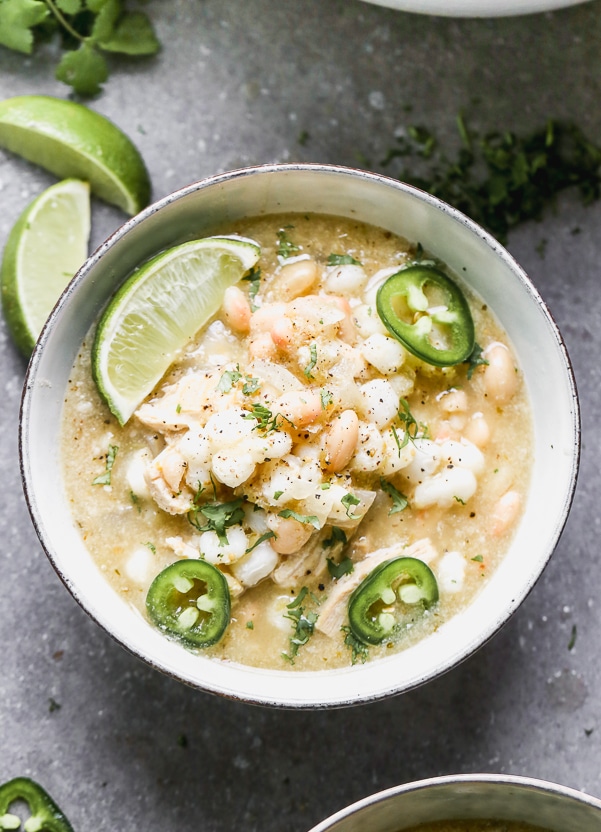 6. Chicken Verde Soup
Cooking for Keeps' chicken verde soup is one of those recipes that warms you from the inside out. It comes together so quickly and has just the right amount of kick, thanks to the store-bought salsa verde.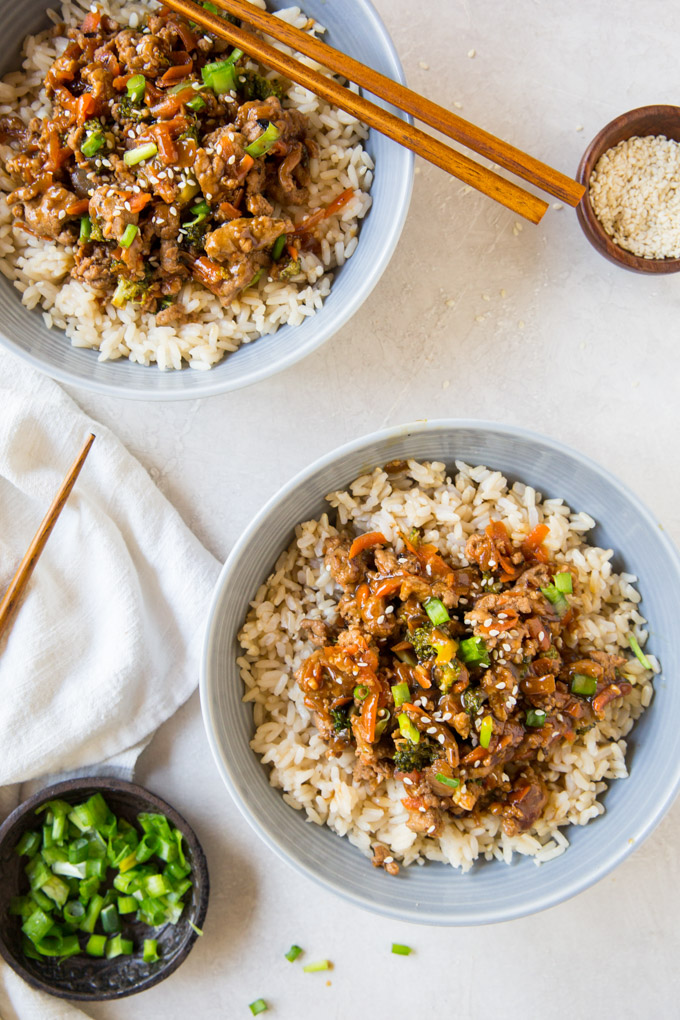 7. Teriyaki Turkey Rice Bowl
The homemade teriyaki sauce for Yellow Bliss Road's teriyaki turkey rice bowl really takes the flavor up a notch. This is one of those versatile concepts that you can customize with the meat and grain of your choosing.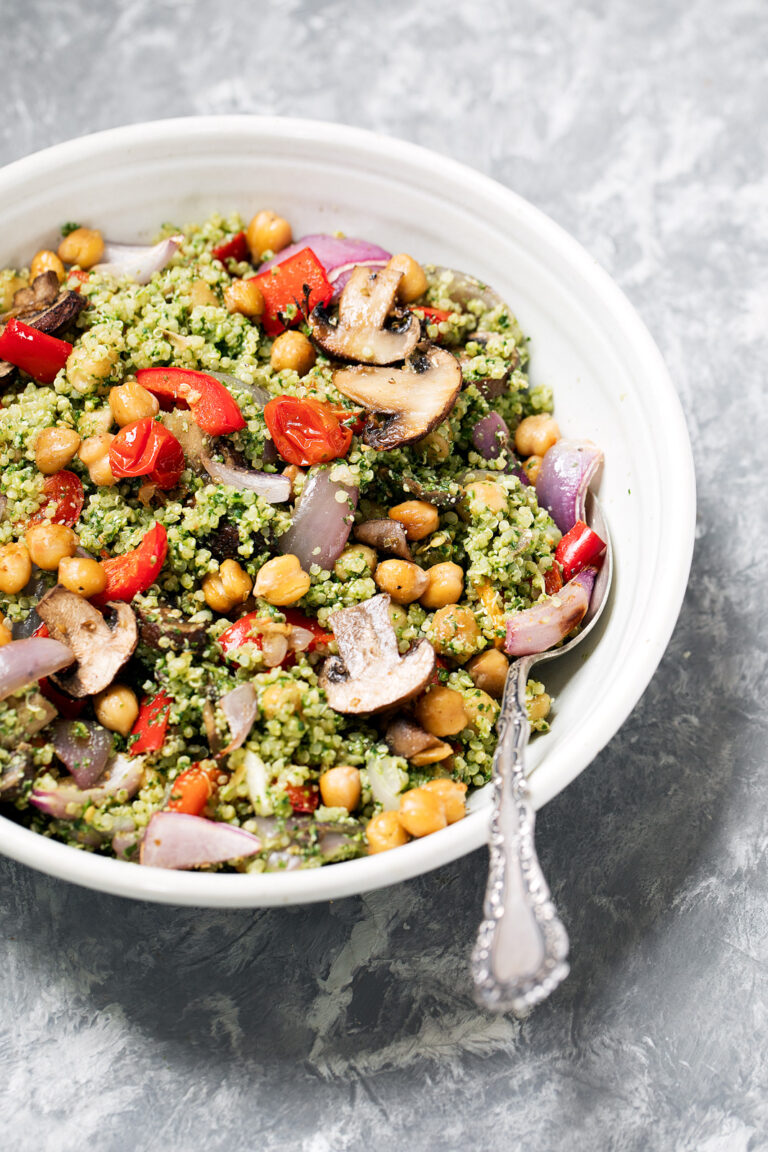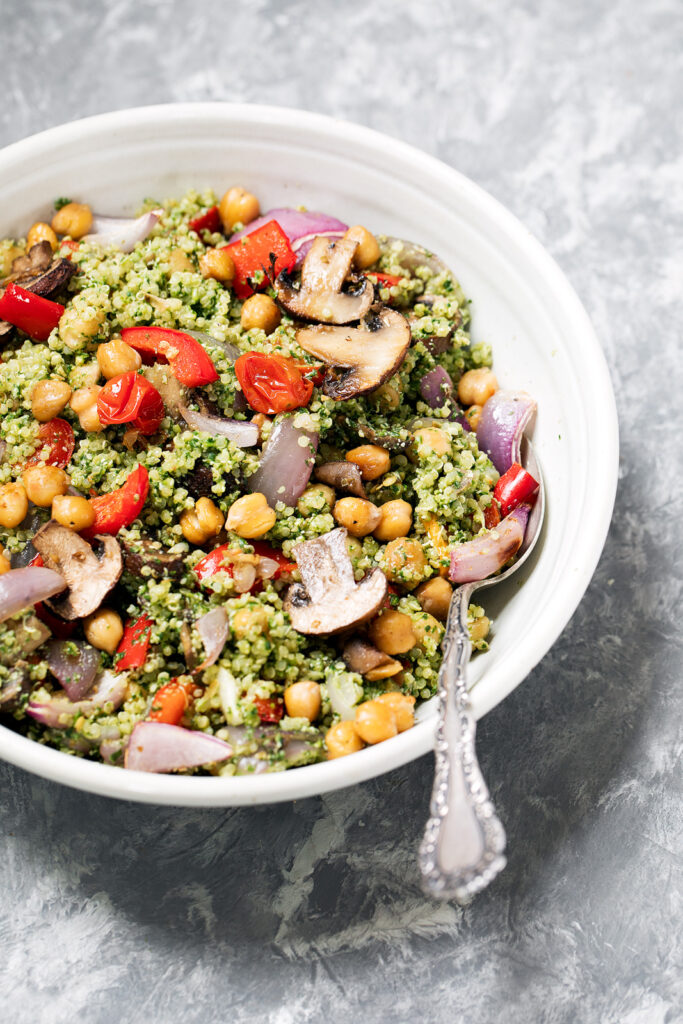 8. Roasted Veggie Quinoa Salad
Ambitious Kitchen's roasted veggie, chickpea, and pesto salad comes together easily on a sheet pan with lovely char on the roasted veggies and a strong garlic flavor (I mean that in a good way) from the chickpeas and pesto. As it's packed with protein, you don't need to add meat but certainly can if you like.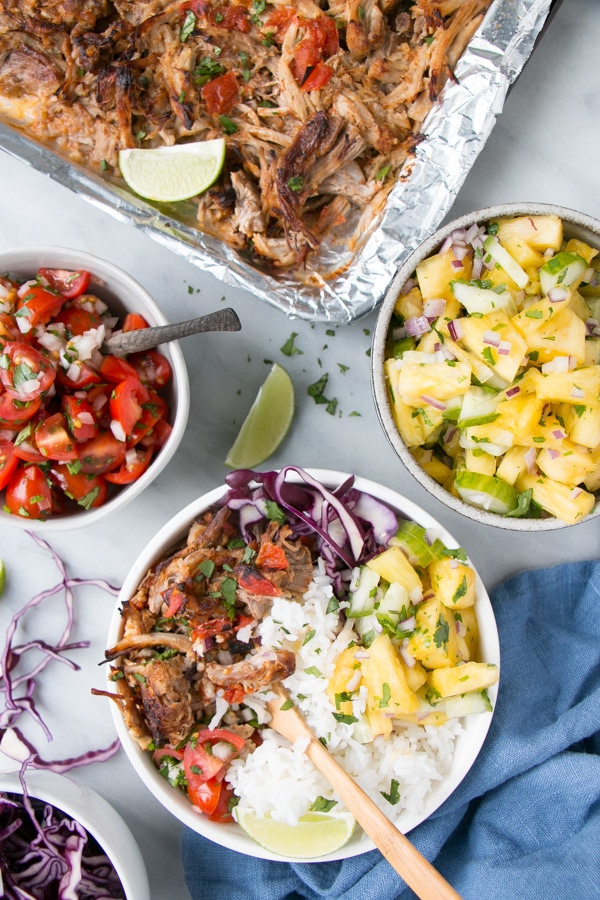 9. Pork Carnitas Burrito Bowls
My Kitchen Love's pork carnitas burrito bowls are so flavorful and couldn't easier, as the slow cooker (or instant pot) does most of the work. Don't skip the pineapple-cucumber salsa, as it takes the flavor in these bowls over the top. For work, pack the salsa separately.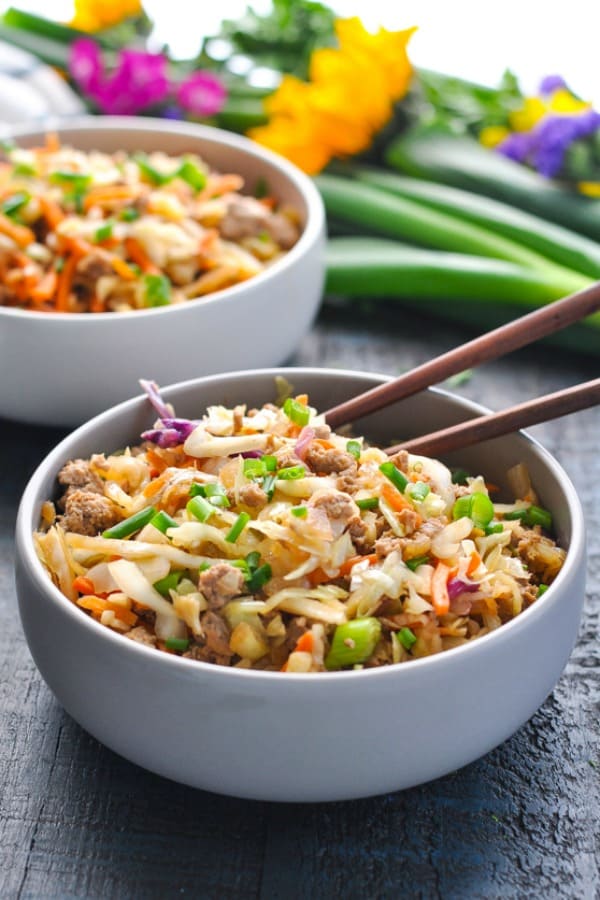 10. Egg Roll in a Bowl
The Seasoned Mom's egg roll in a bowl is a lightened up version of egg rolls that you can make at home quickly. You get all of the flavor you love in egg rolls without all of the calories and grease. Ground chicken is my favorite meat for egg rolls as it's flavorful and moist without being too salty. But any sort of ground meat works well. You can easily make a vegetarian version, too.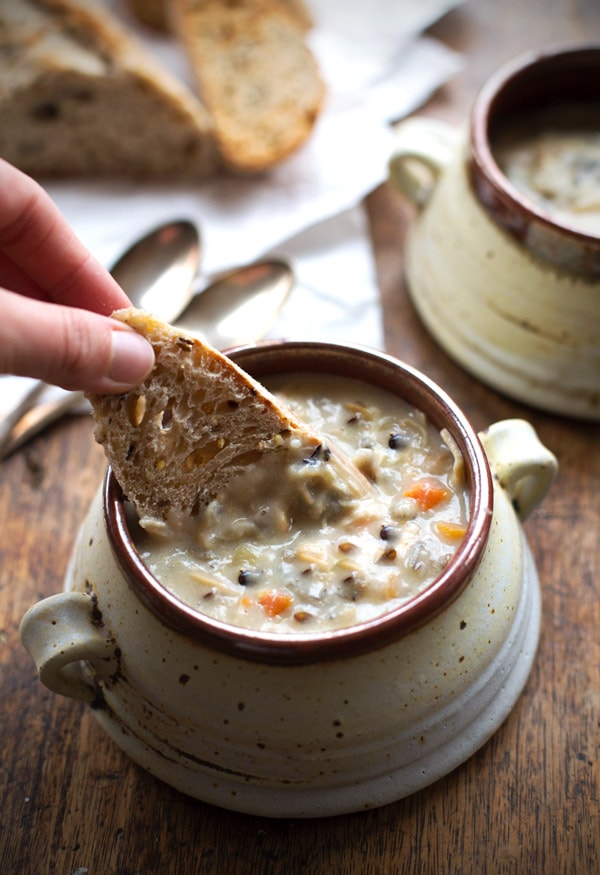 11. Chicken Wild Rice Soup
Pinch of Yum's chicken wild rice soup is so easy to make and exactly what you want on a chilly day. The ingredient list is simple, letting the chicken and rice shine.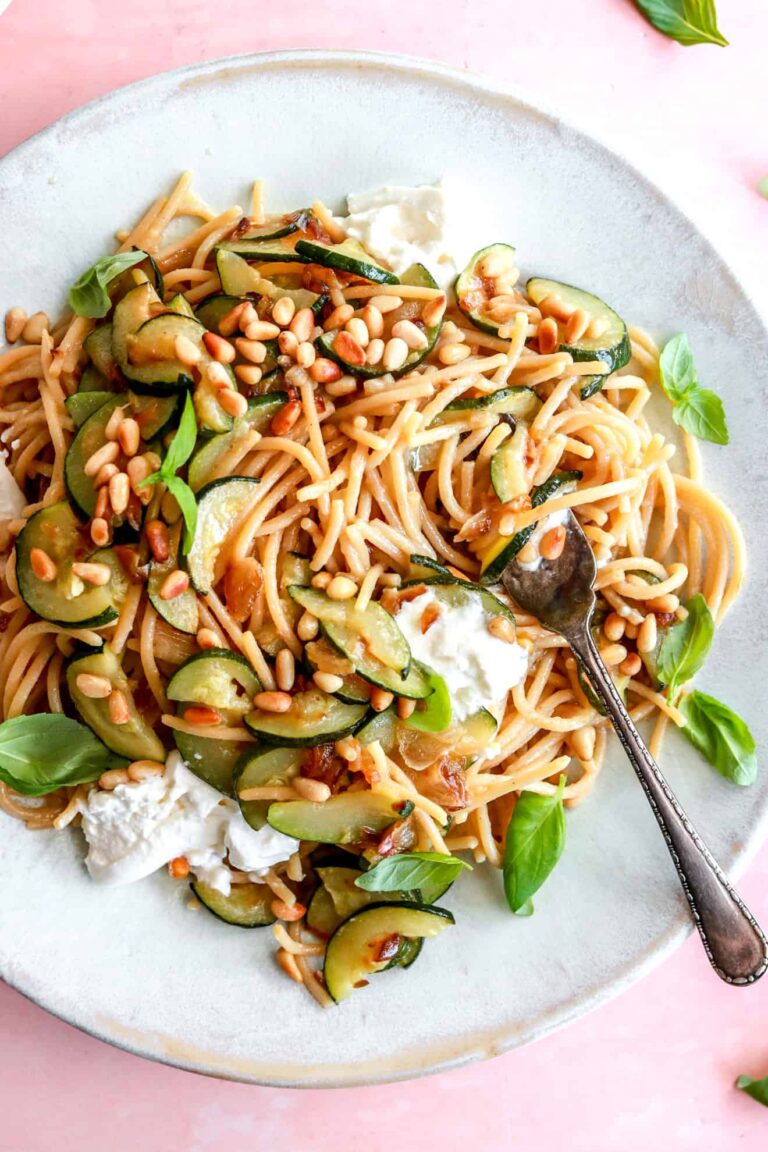 12. Lemon Zucchini Burrata Pasta
The Toasted Pine Nut's lemon zucchini burrata pasta is one of those ridiculously easy recipes that tastes like something you'd get at a restaurant but can now make in your kitchen in half an hour. Pack the pine nuts, basil, and burrata separately, and add them to the pasta and veggies just before you eat.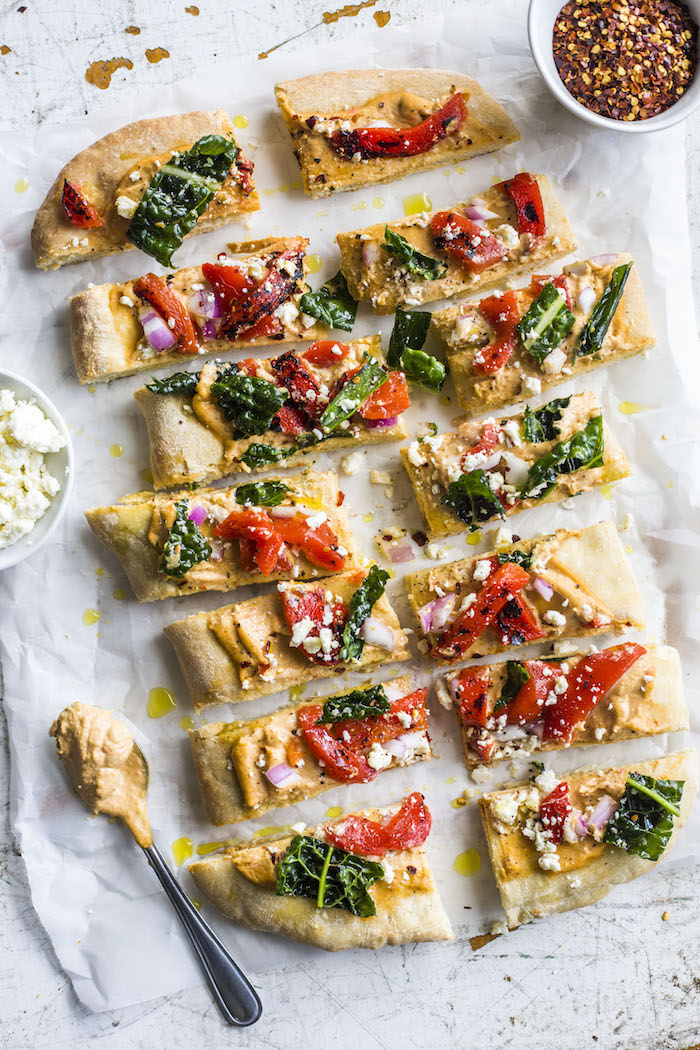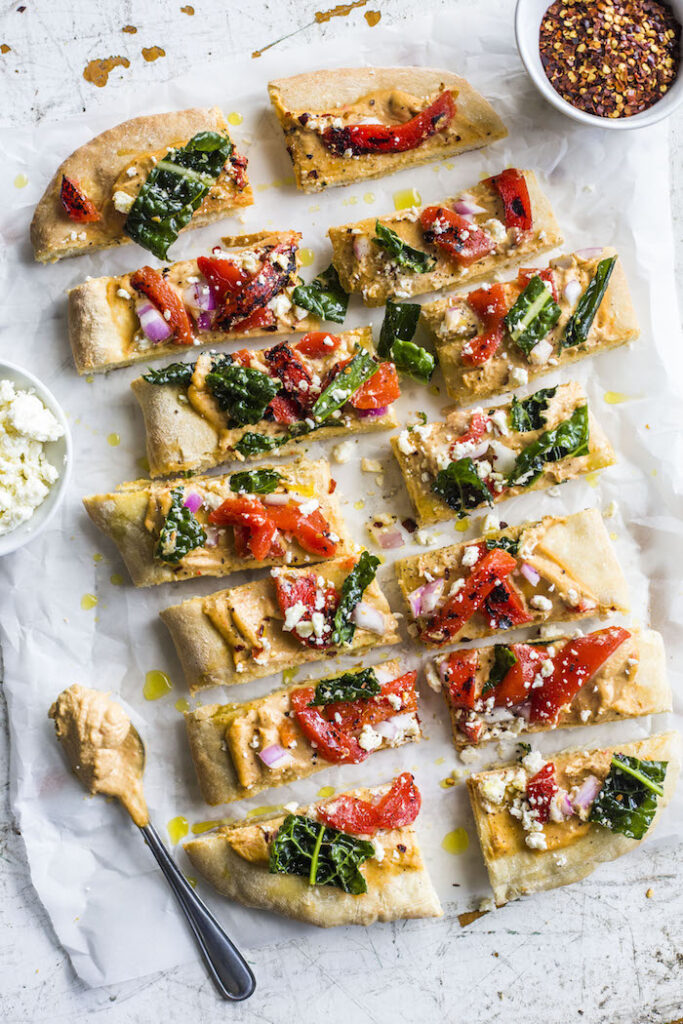 13. Roasted Red Pepper Hummus Flatbread
When you're in the mood for pizza but also want to eat something healthy, The Almond Eater's roasted red pepper hummus flatbread is a great choice. It's made with pizza dough and topped with roasted red pepper hummus, red peppers, and feta cheese.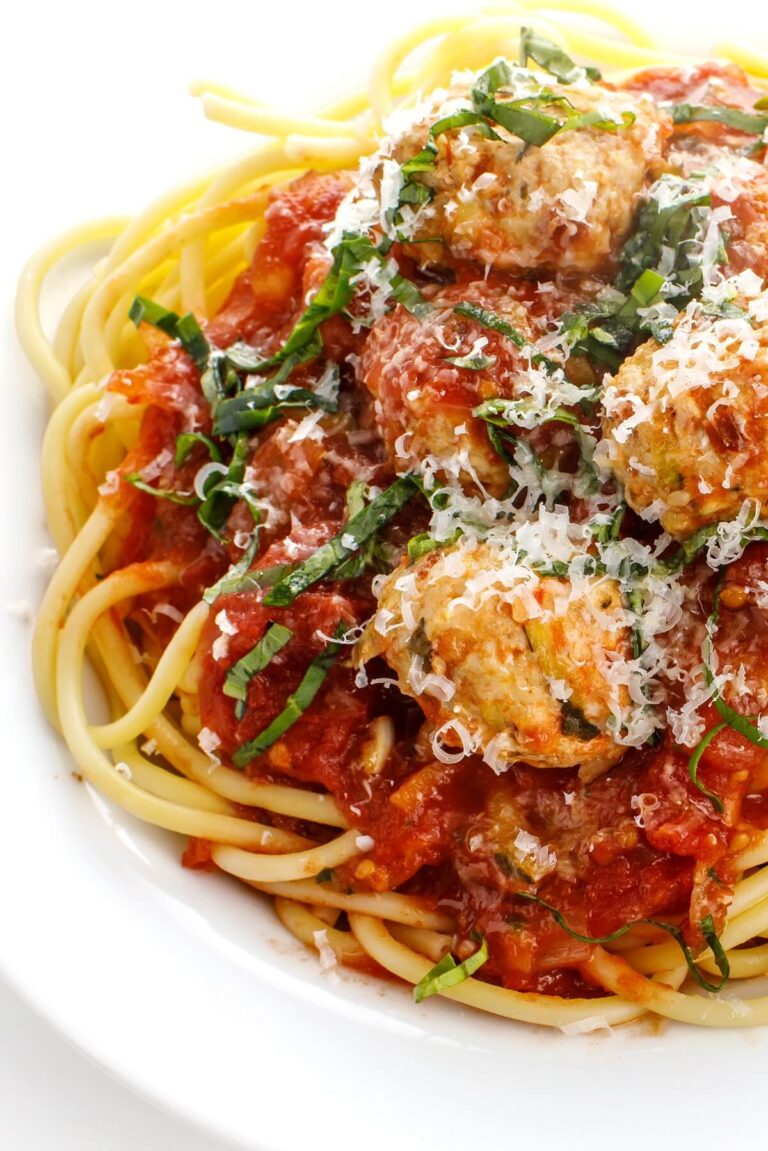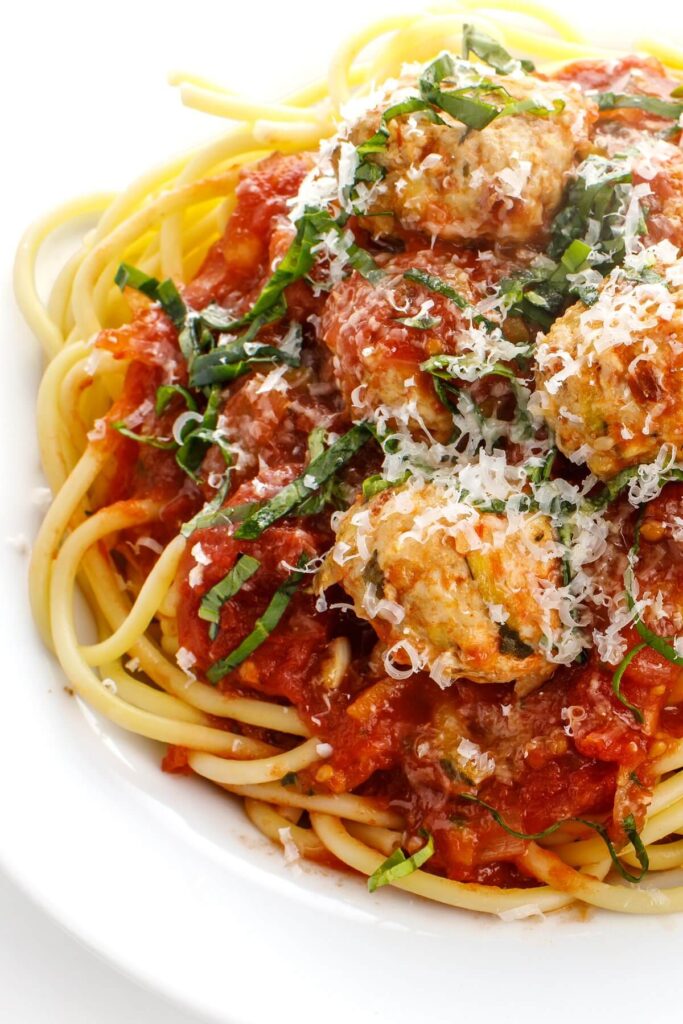 14. Baked Turkey Zucchini Meatballs
The Lemon Bowl's baked turkey zucchini meatballs are made with grated zucchini for a boost of nutrition and to keep them perfectly tender. The post also includes a recipe for tomato basil sauce.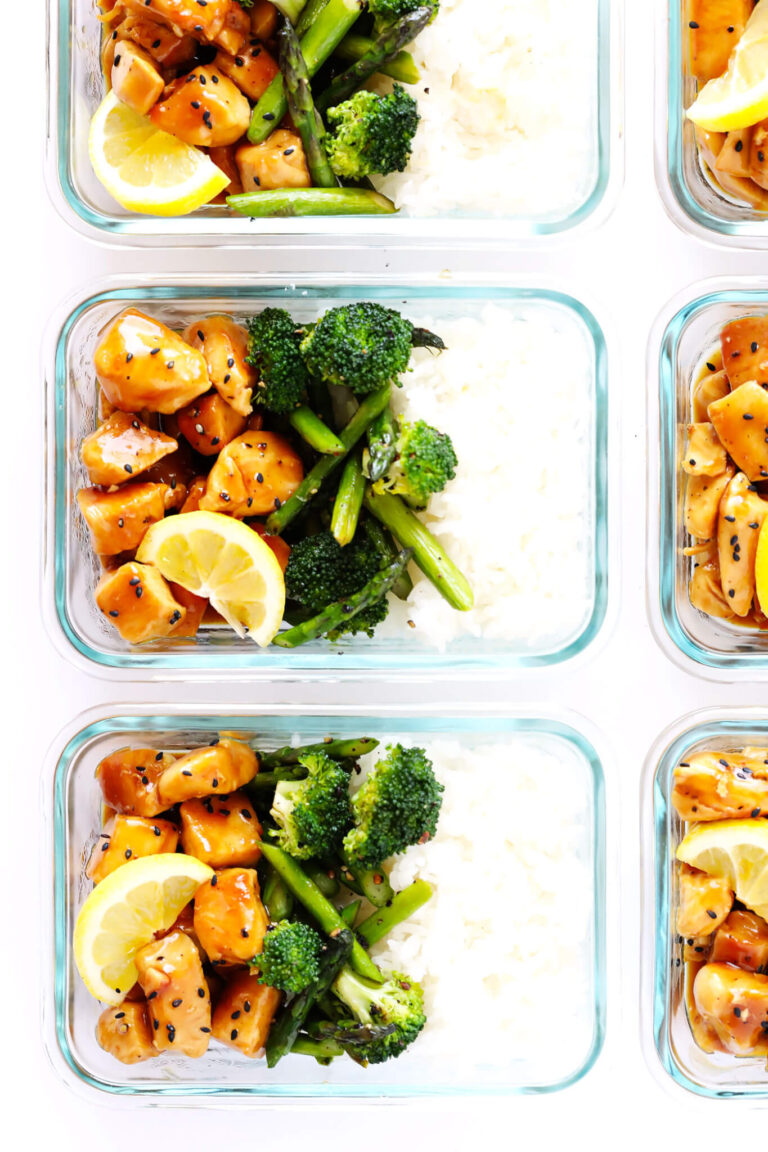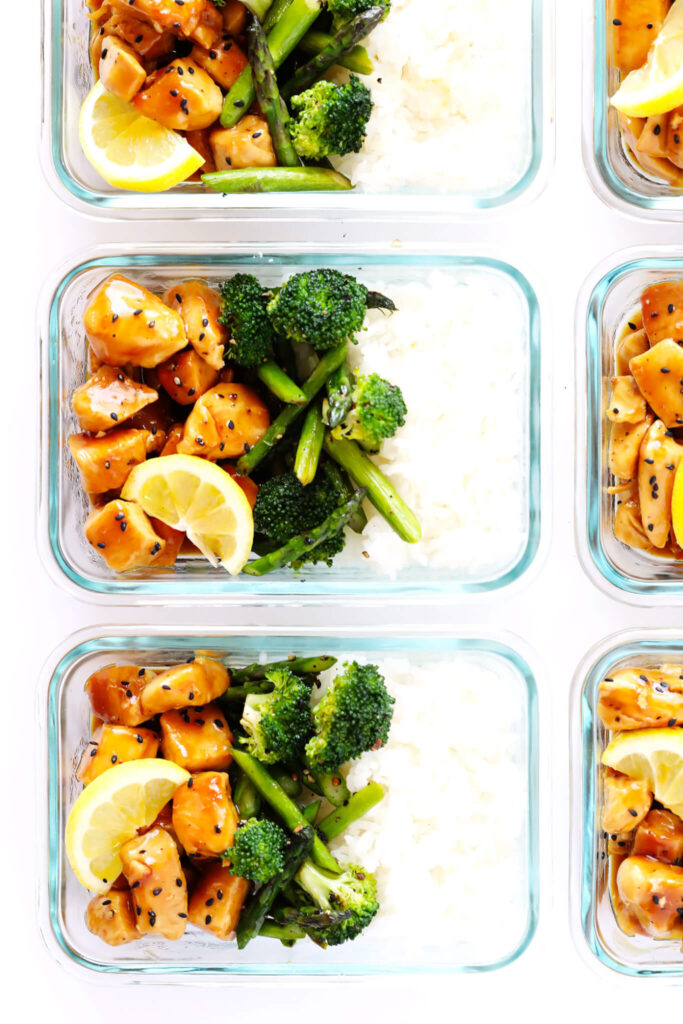 15. Honey Lemon Chicken Bowls
Gimme Some Oven's honey lemon chicken bowls come together quickly with whatever veggies you have on hand and can be served with rice or quinoa. Finish the dish off with a generous sprinkling of sesame seeds.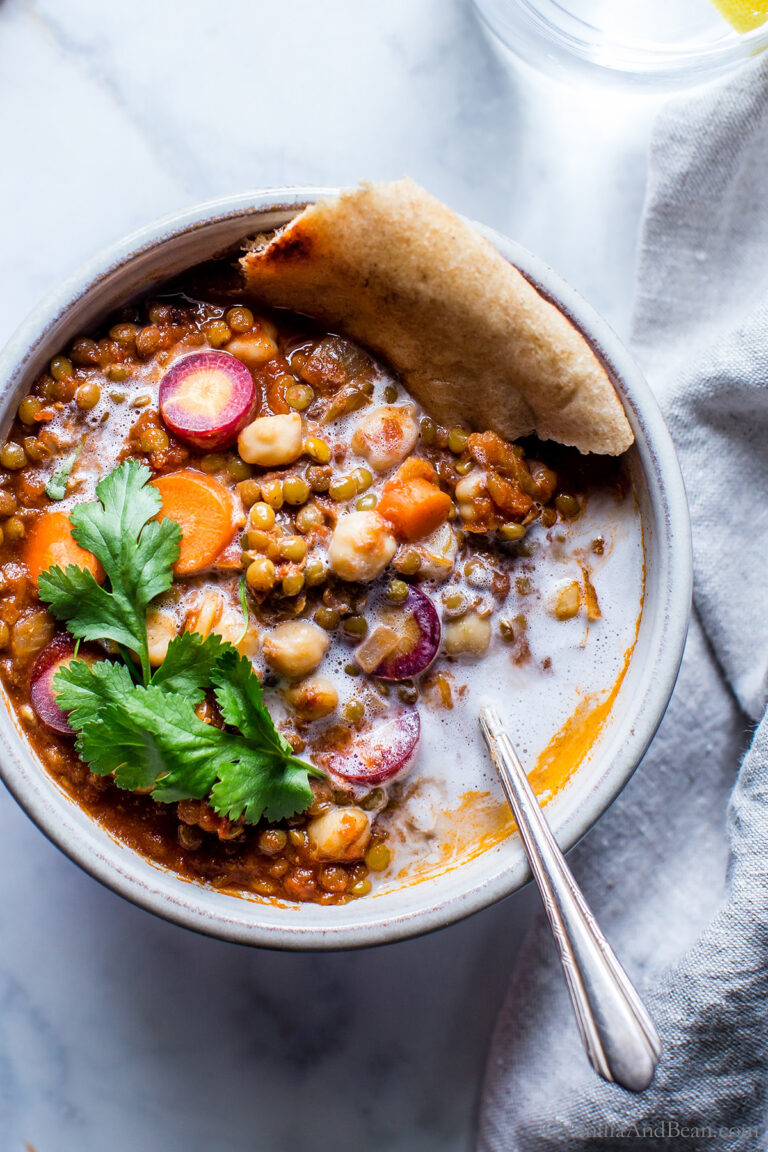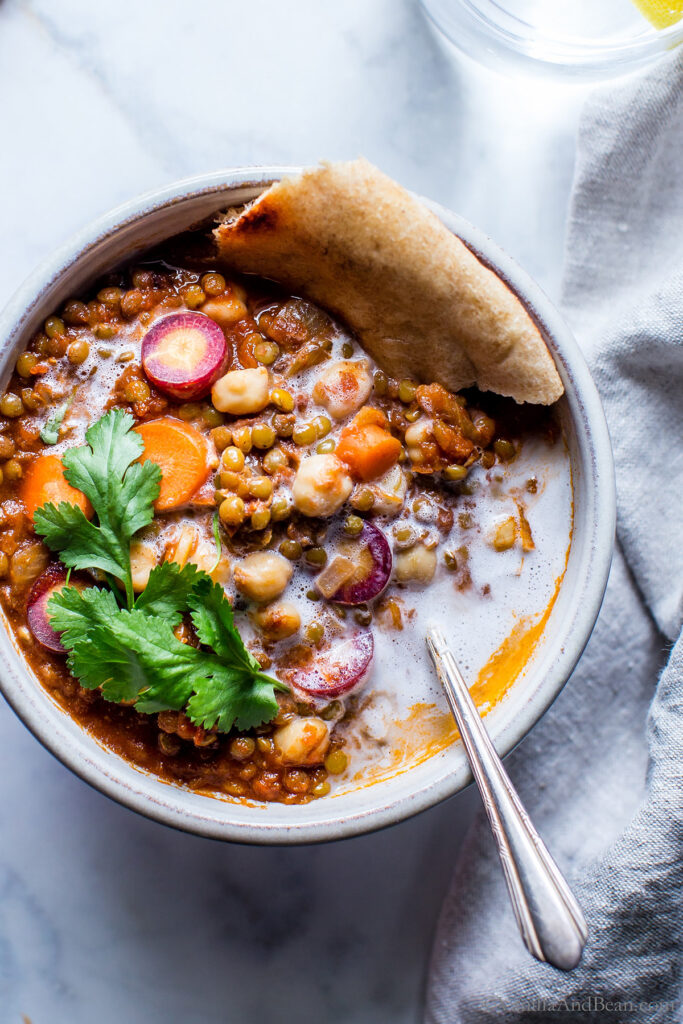 16. Moroccan Lentil Chickpea Stew
Vanilla and Bean's Moroccan lentil chickpea stew features simple ingredients and rich texture and flavor. Pack a couple of slices of crusty bread to finish off the meal.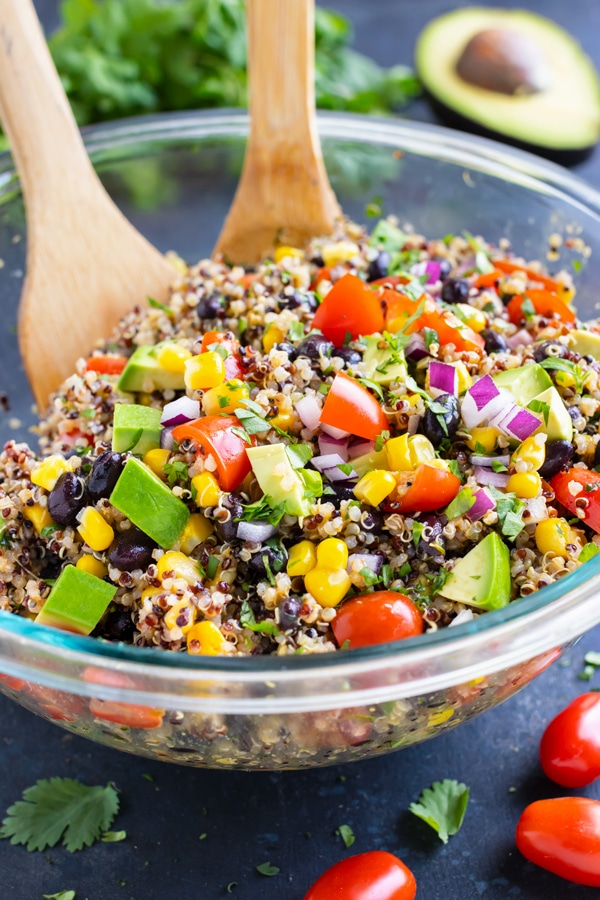 17. Mexican Quinoa Salad
Evolving Table's Mexican quinoa salad can be served hot or cold and can be filled out as a main dish for lunch with avocado and chicken or another protein. Wait to cut the avocado until you're ready to eat.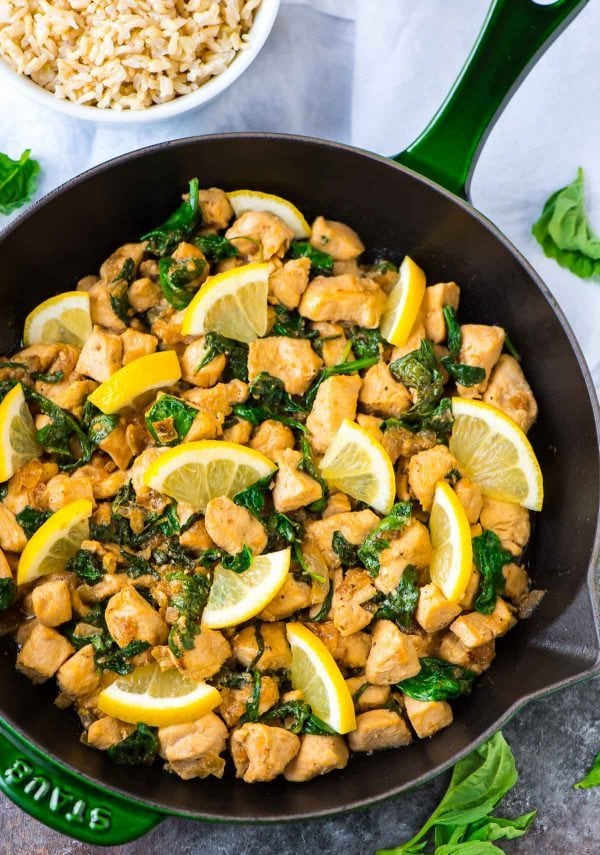 18. Lemon Basil Chicken
Well Plated's lemon basil chicken has the simplest ingredient list that creates such a flavorful dish. I would prepare roasted veggies or have green salad ingredients on hand to pack alongside it for a work lunch.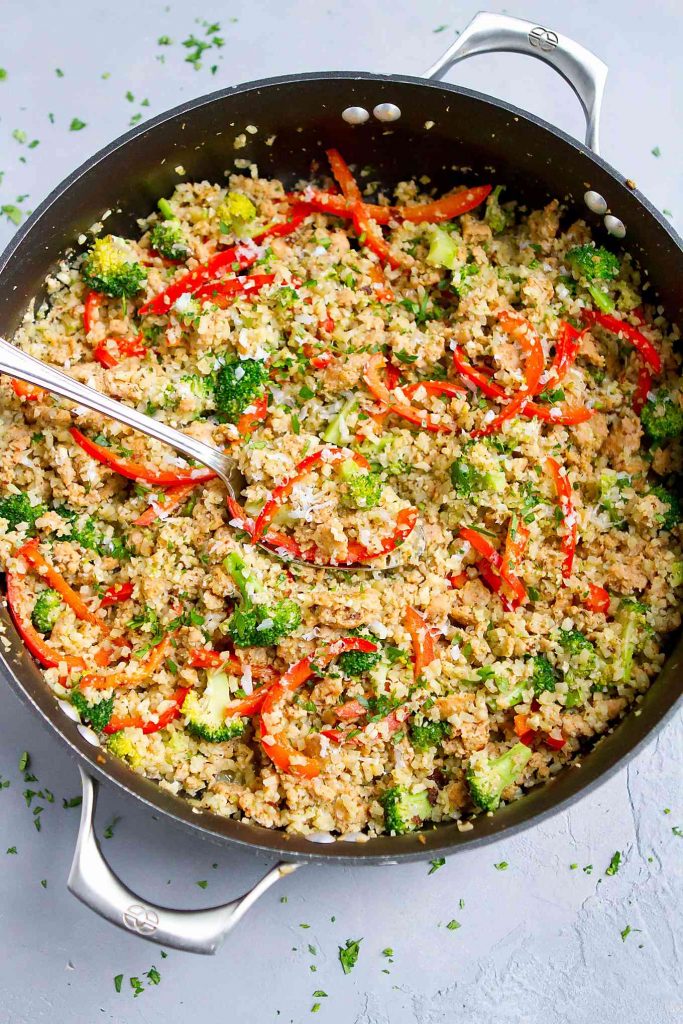 19. Sausage Cauliflower Rice
Cookin Canuck's pesto sausage cauliflower rice is packed with vegetables and comes together in one pan. You can easily swap in white, brown, or jasmine rice, too.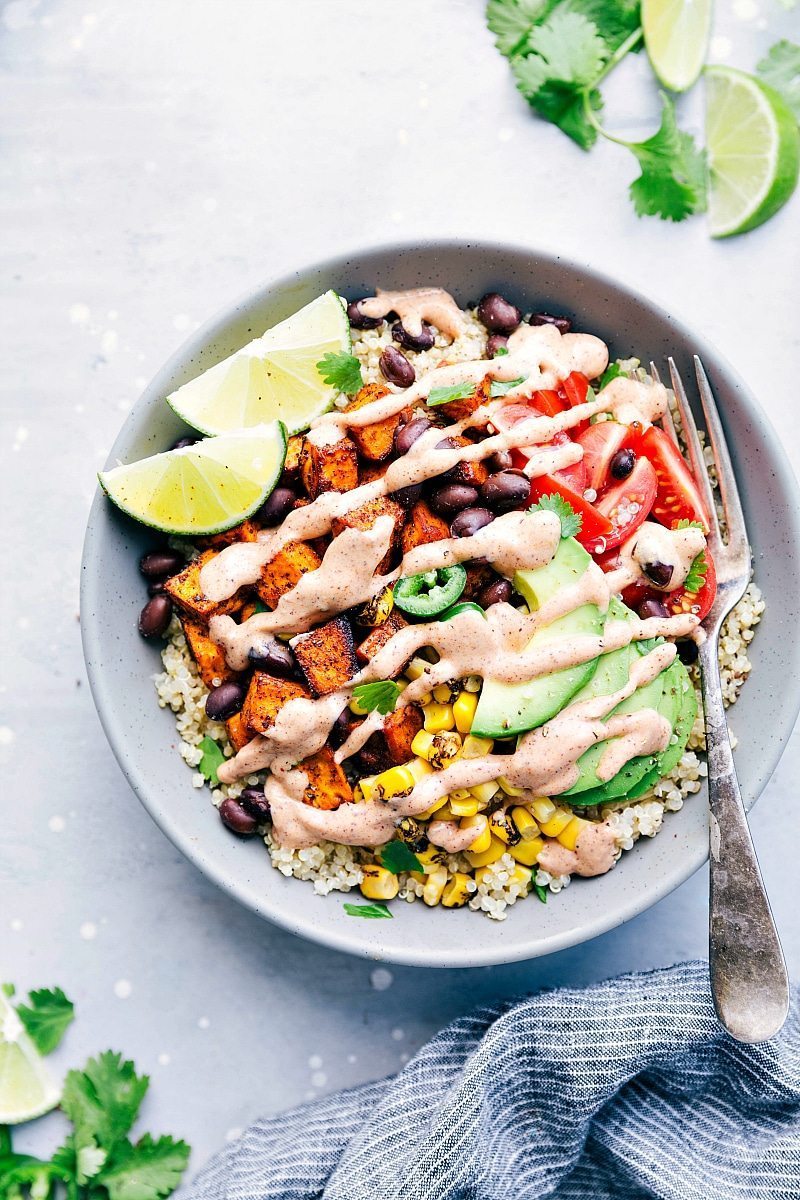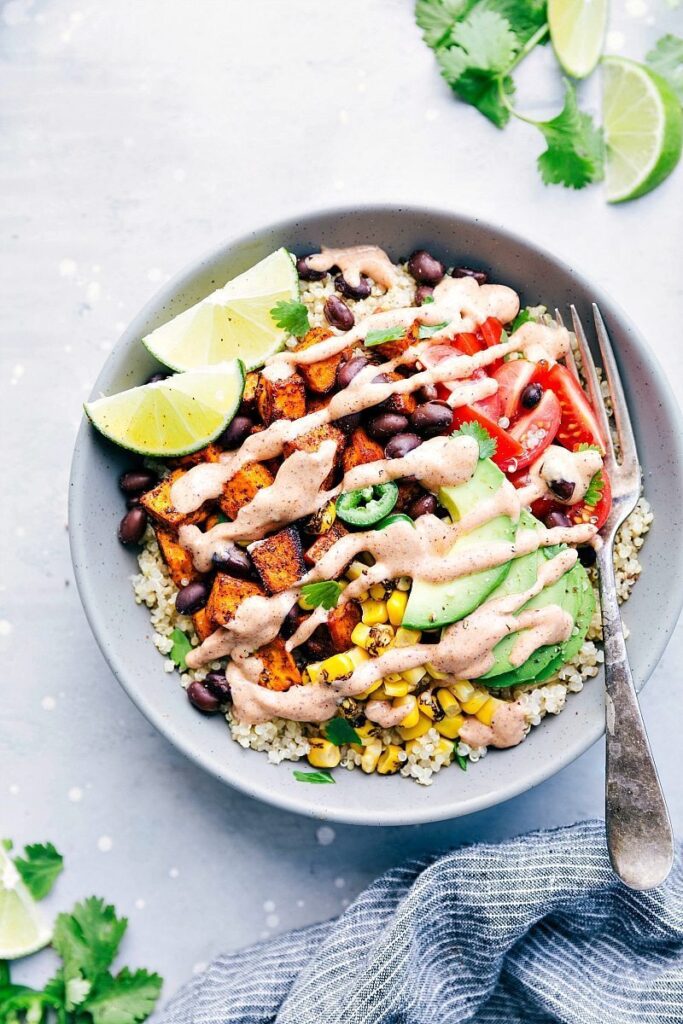 20. Sweet Potato Taco Bowls
When you need a change from your regular Taco Tuesday meals, Chelsea's Messy Apron's sweet potato taco bowls fit the bill perfectly. Make it with cilantro-lime rice or quinoa and finish it with the toppings of your choosing.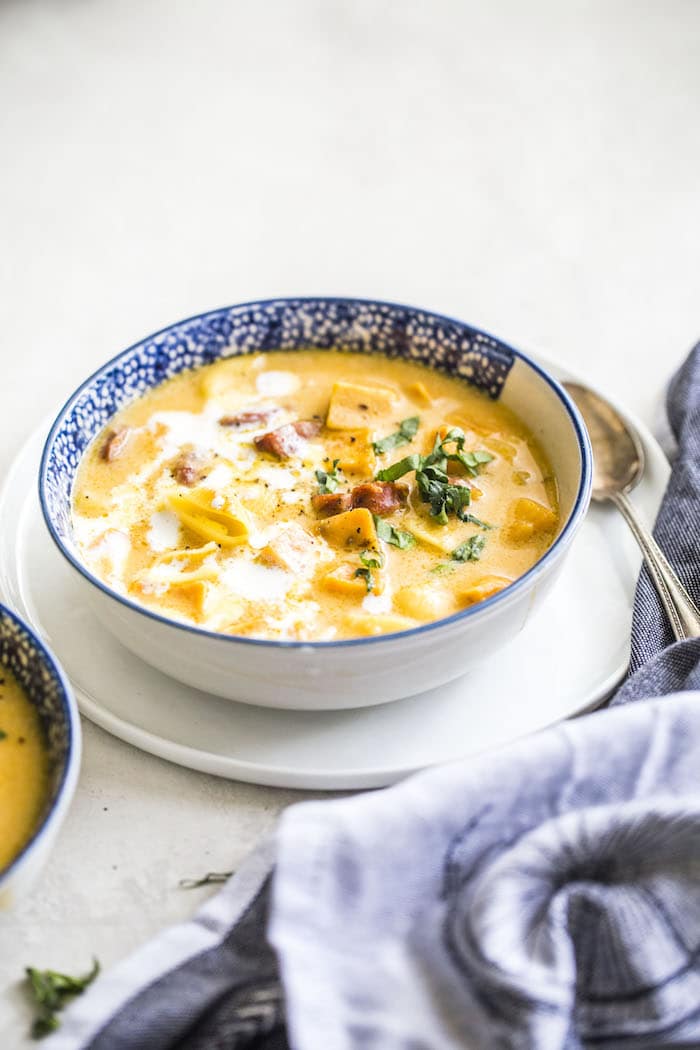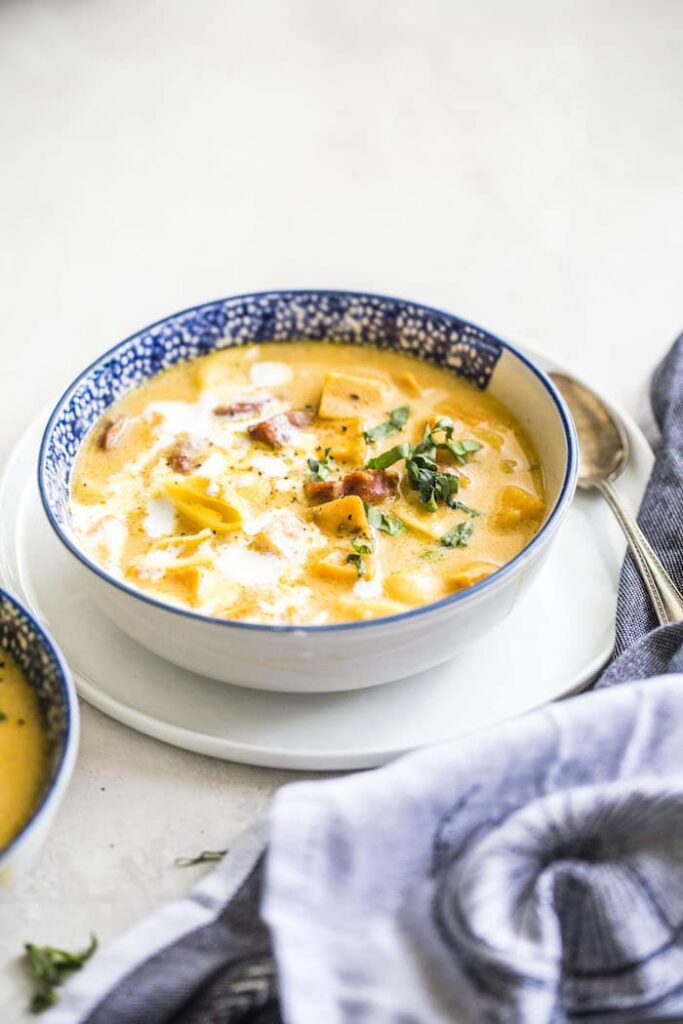 21. Chorizo Sweet Potato Soup
The Almond Eater's chorizo sweet potato soup includes sweet potatoes and pasta. Chorizo and lightened-up cream sauce bring everything together beautifully. What more could you want, right?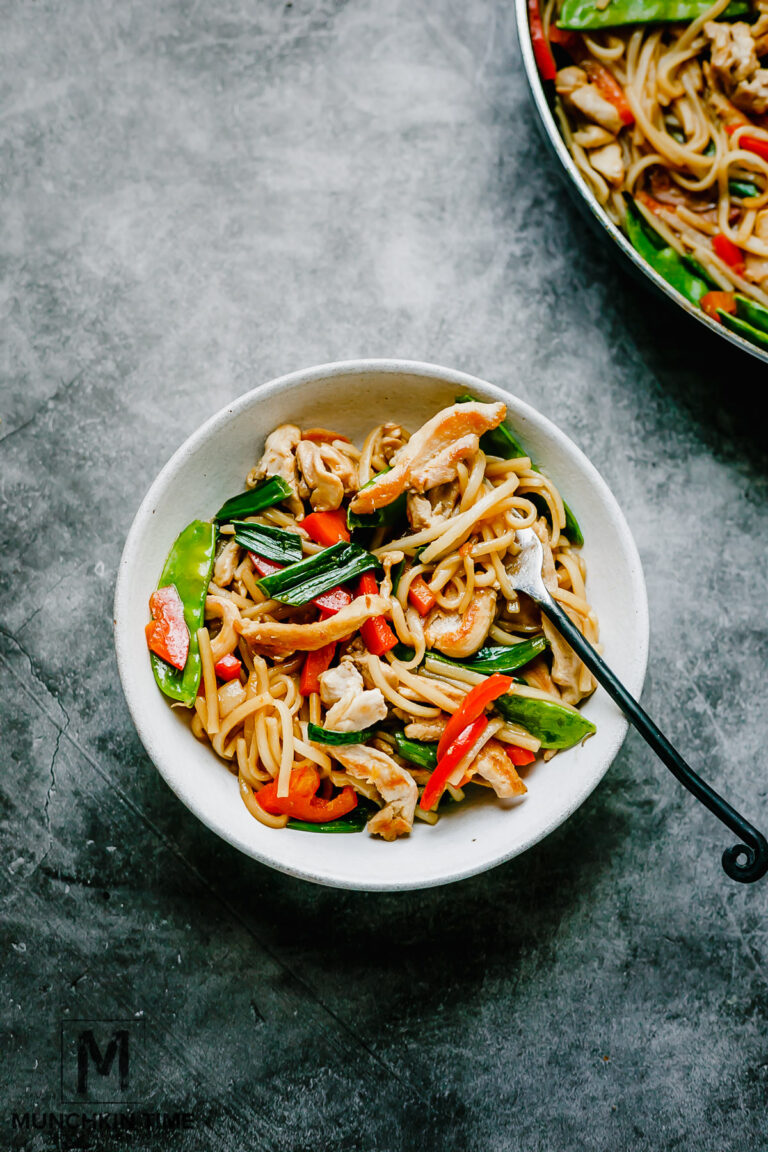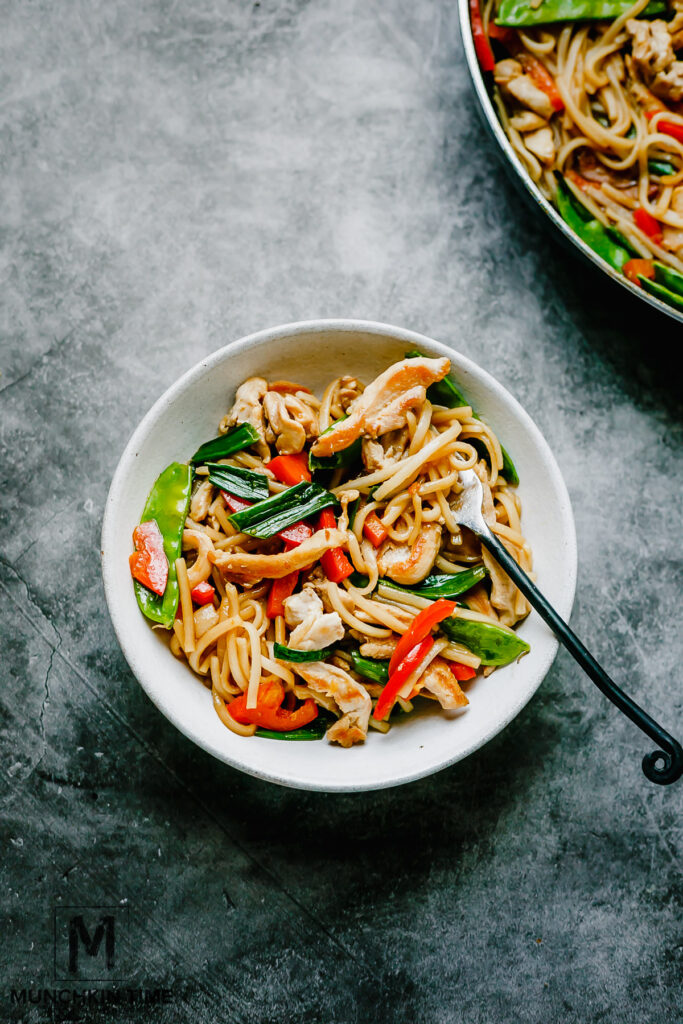 22. Chicken Stir Fry
Munchkin Time's 30-minute chicken stir fry is one of those ridiculously easy recipes that you want to keep in your back pocket for when you want to eat healthy and don't know what to make. Don't skip the sauce, as it's where the recipe gets most of its flavor.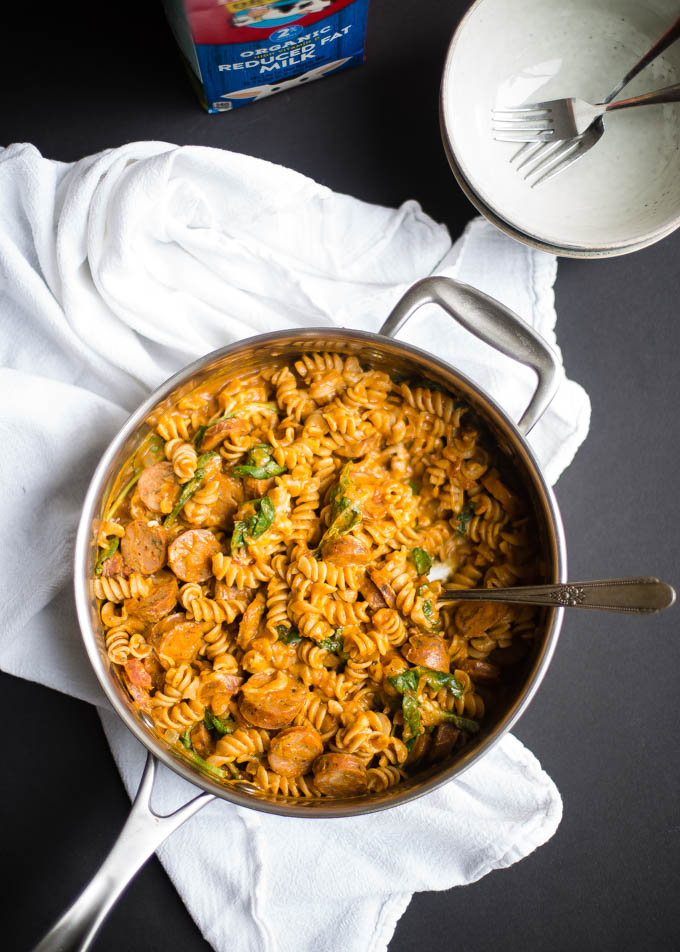 23. Creamy Pumpkin Pasta
Boys Ahoy's creamy pumpkin pasta with chicken sausage is the perfect fall lunch recipe. I know that pumpkin and tomato sounds like a weird combination, but it's so good. The pumpkin adds just the right amount of creaminess without an overwhelming pumpkin flavor.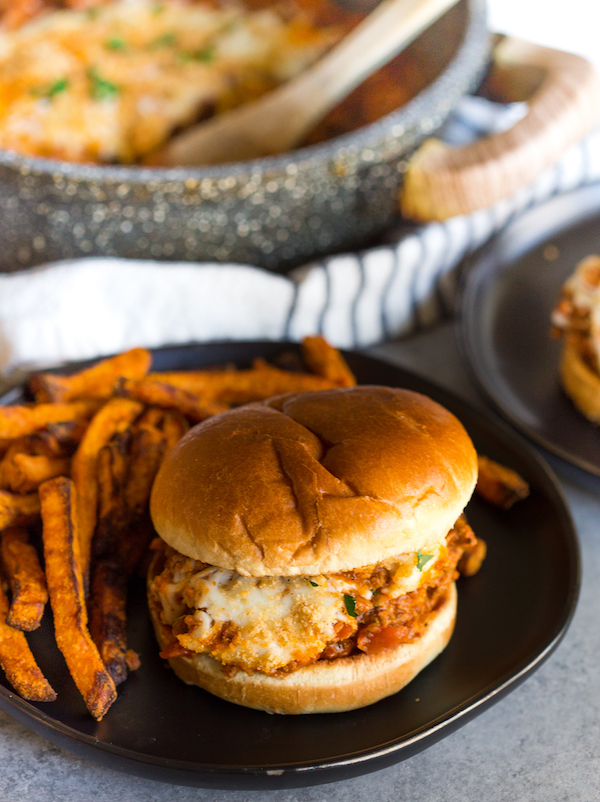 24. Chicken Parmesan Sloppy Joes
Greens and Chocolate's chicken Parmesan sloppy Joes are such a creative take on traditional sloppy Joes. This is one of those recipes that your whole family will always look forward to eating for dinner and that you'll look forward to having as leftovers for your work lunch the next day.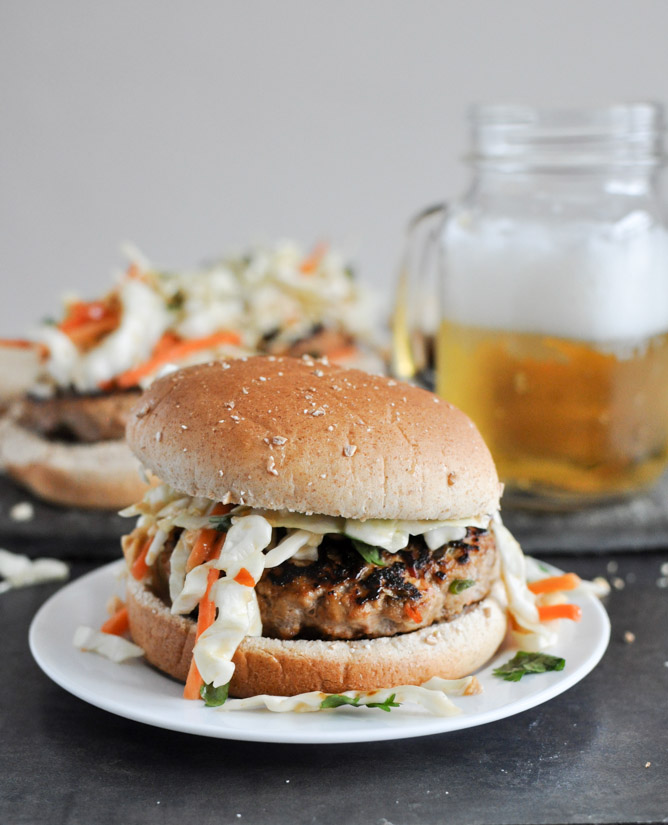 25. Thai Turkey Burgers
How Sweet Eat's Thai turkey burgers have so much more flavor than your average turkey burger. For a work lunch, I would pack the turkey burger separately. After reheating it, I would break it into pieces and serve it with greens and the slaw in the recipe.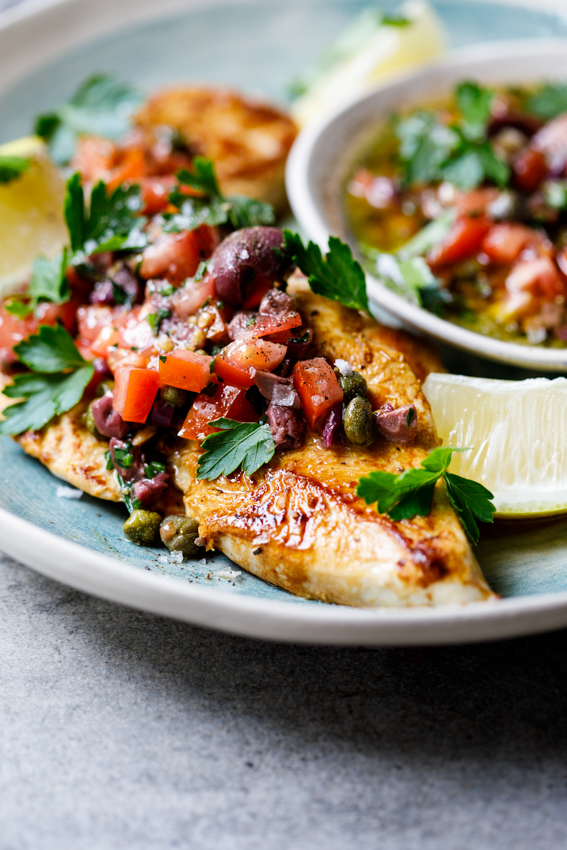 26. Chicken Breasts with Olive, Tomato, and Caper Dressing
Simply Delicious's chicken breasts with olive, tomato, and caper dressing feels fancy even though it isn't complicated at all. It's not a combination I would think of putting together on my own but would enjoy eating once in a while to mix up my lunch routine.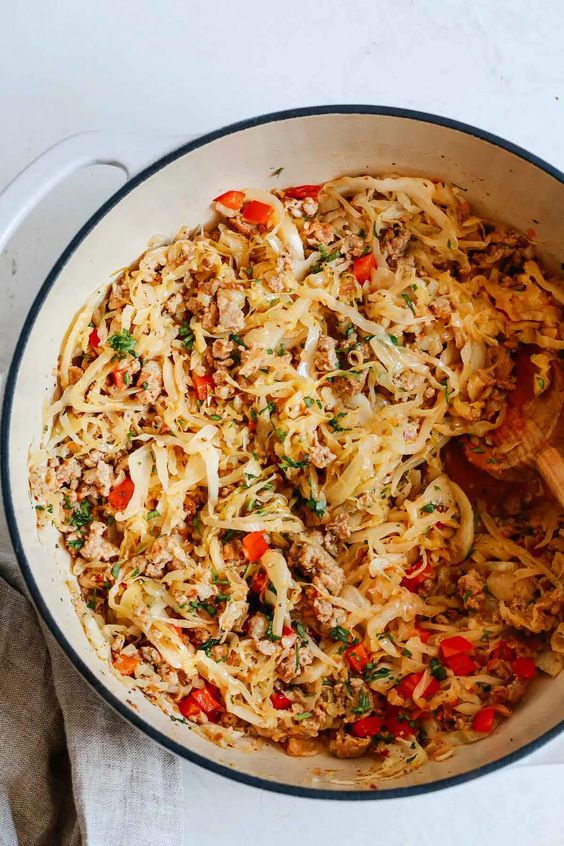 27. Cabbage and Sausage Skillet
Primavera Kitchen's cabbage and sausage skillet features a combination of ingredients that you probably haven't made a hundred times already. But the ingredient list is so simple and the dish is so awesome that it will quickly make it into your regular rotation. She has a lot of great substitution ideas to mix it up as well as a list of other easy skillet recipes on her blog for even more options.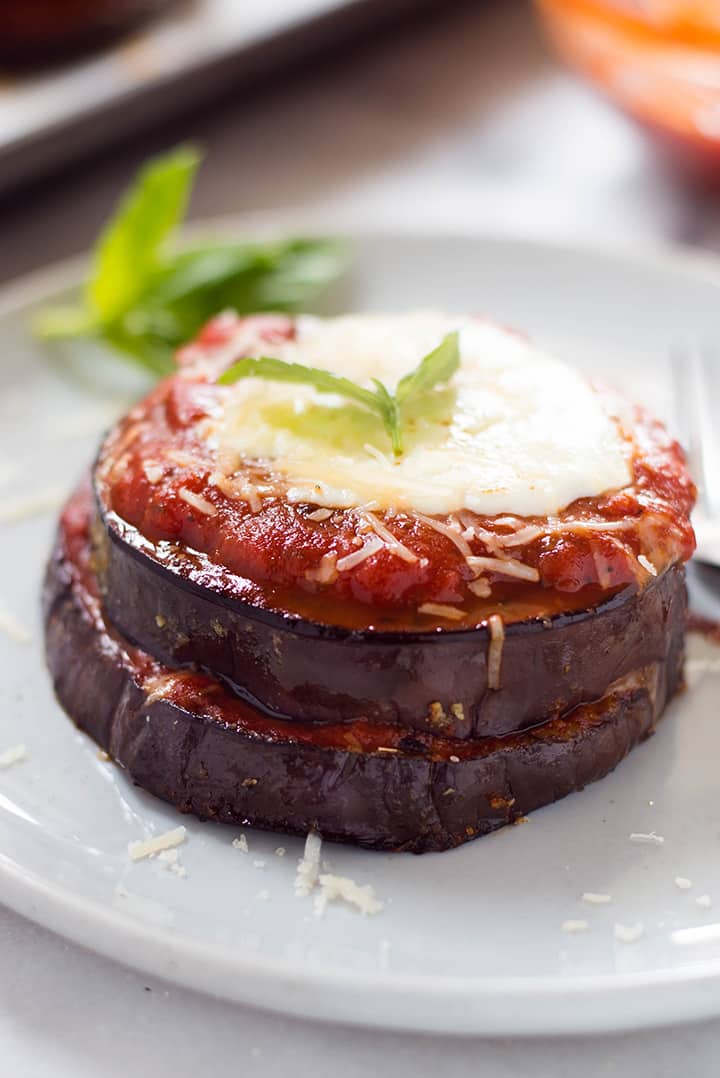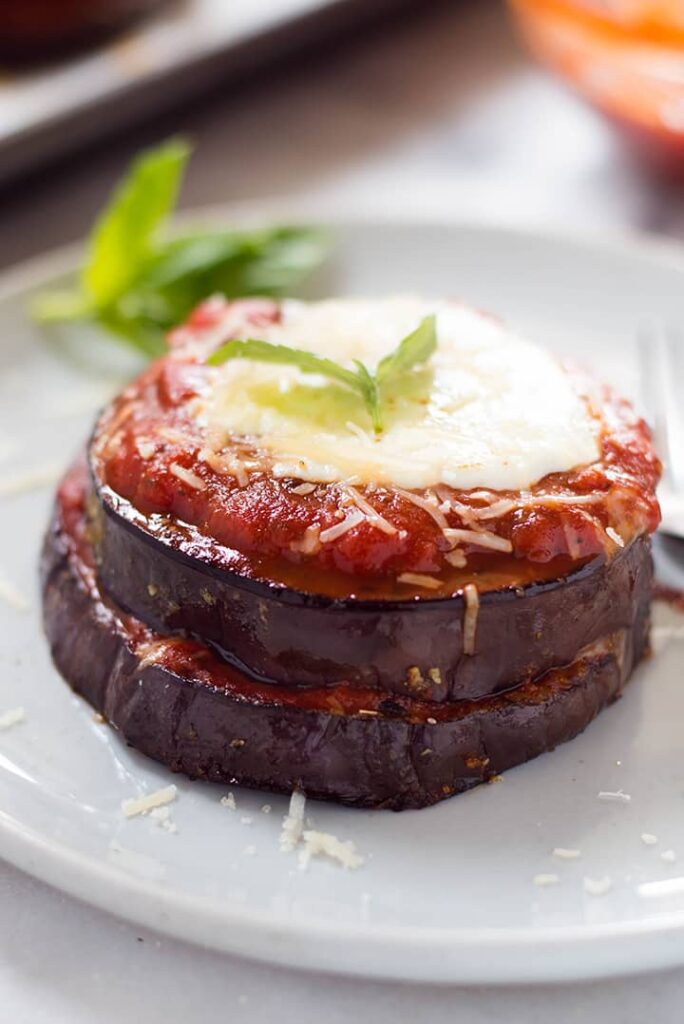 28. Eggplant Parmesan
A Sweet Pea Chef's baked eggplant Parmesan is a lightened-up version of the recipe that's baked instead of fried and comes in at under 300 calories per serving. It's the perfect way to enjoy eggplant Parmesan without a ton of carbs.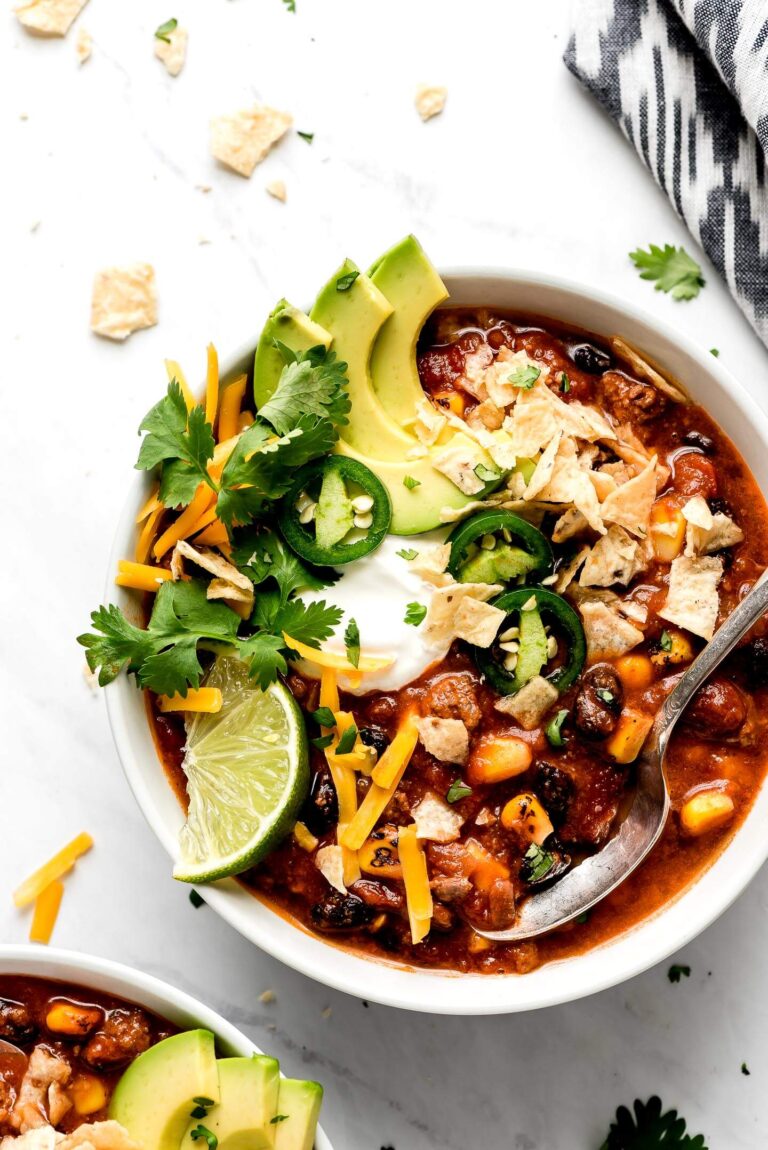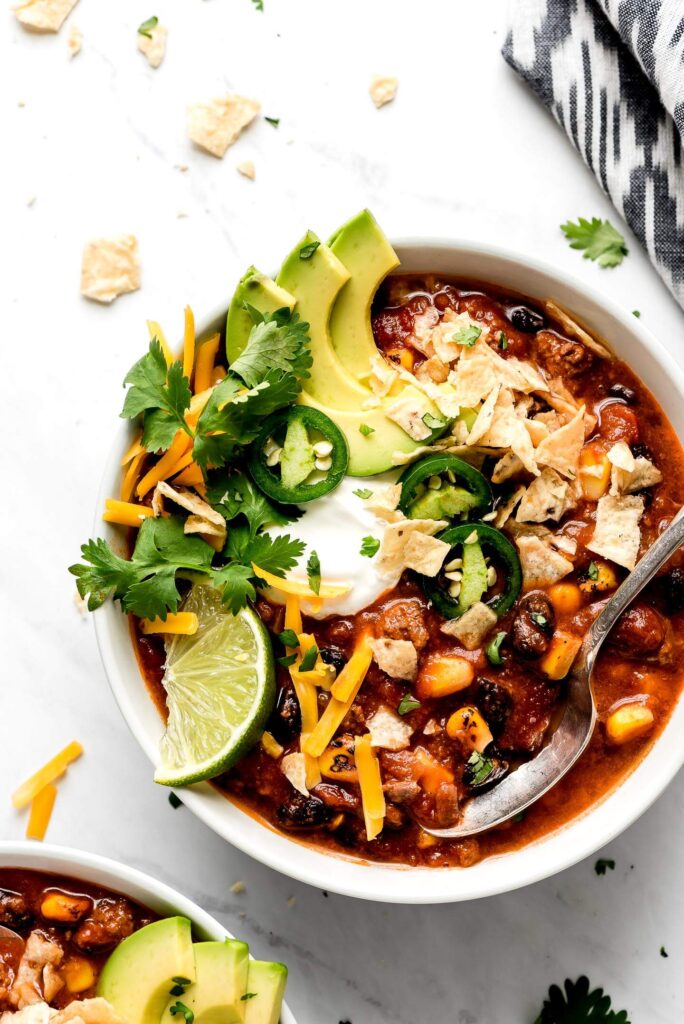 29. Taco Soup
Garnish and Glaze's slow cooker taco soup contains just 10 ingredients and takes only 10 minutes of prep time. The slow cooker does the rest of the work for this delicious healthy soup.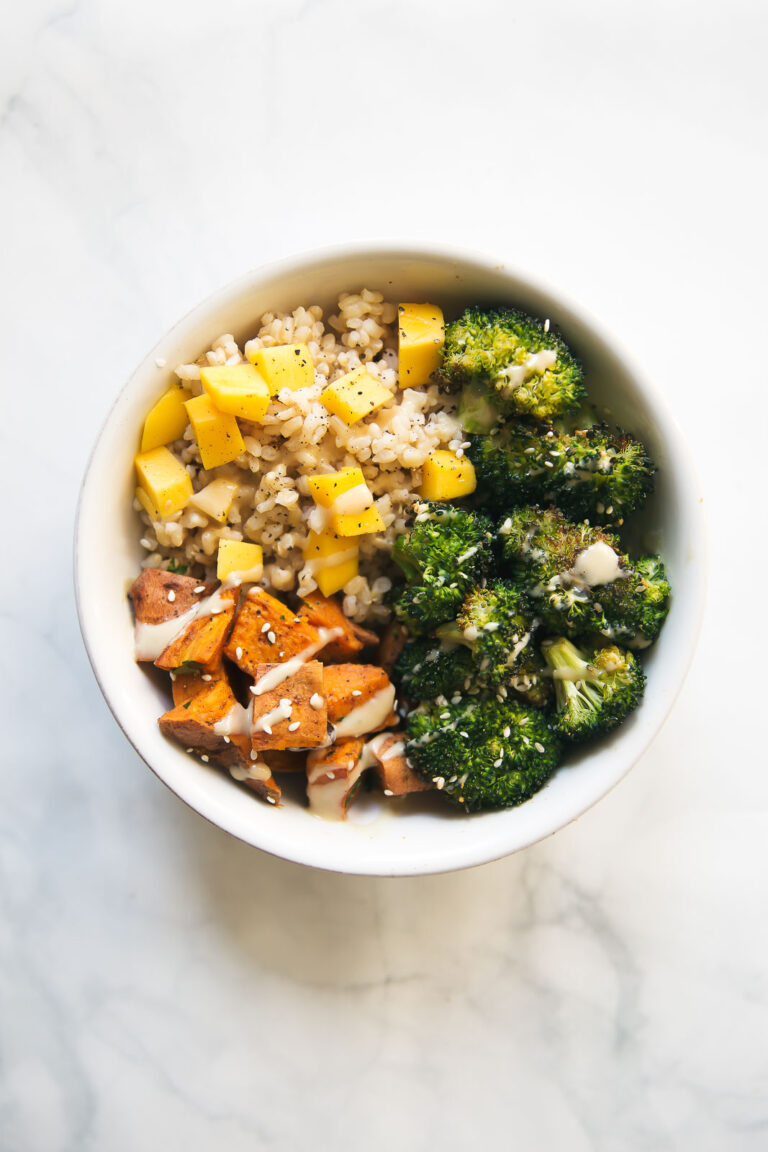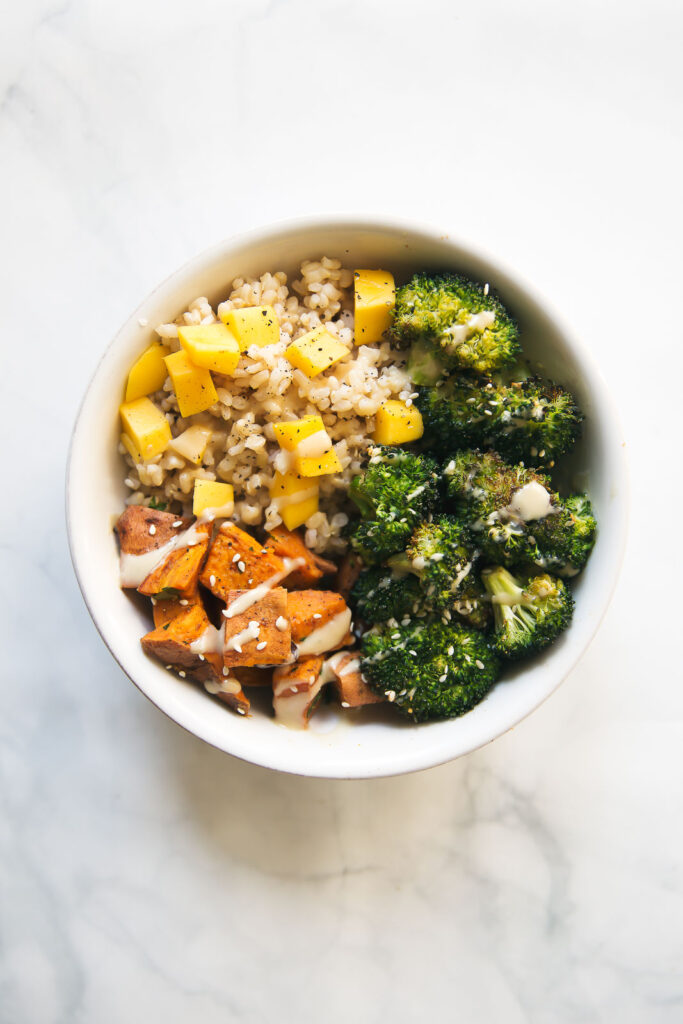 30. Sweet Potato Buddha Bowls
Ambitious Kitchen's vegan sweet potato Buddha bowls with almond butter dressing feature a mango coconut brown rice and a creamy almond butter dressing. The flavors come together perfectly with the sweet potato and broccoli.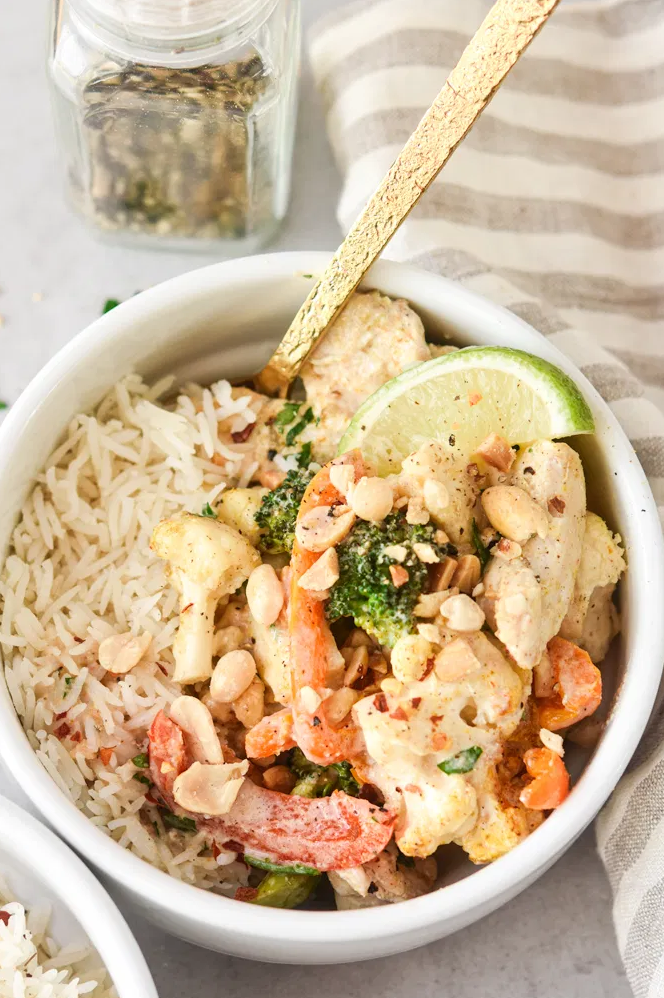 31. Peanut Chicken Curry
Meal Plan Addict's sheet pan peanut chicken curry seems very basic but the complexity of the flavors will surprise you. Personally, I would make this dish in a single pan on the stove. If you prefer the sheet pan method, go for it.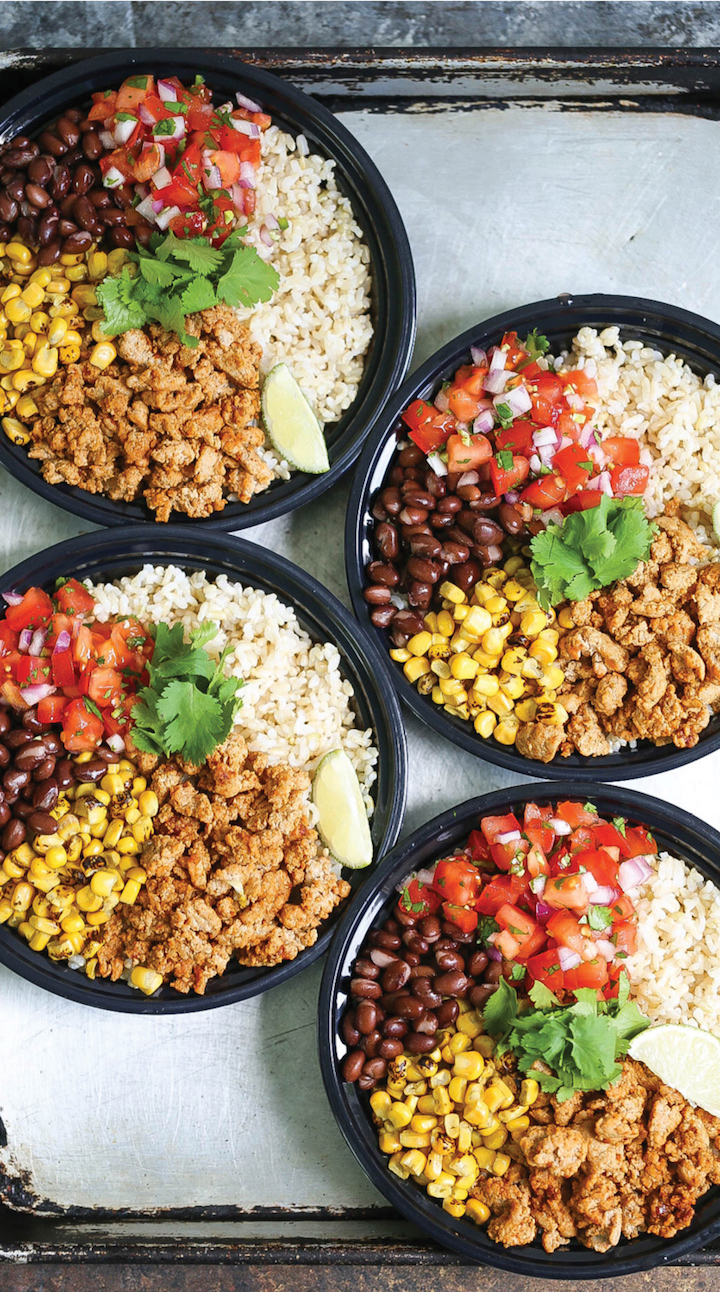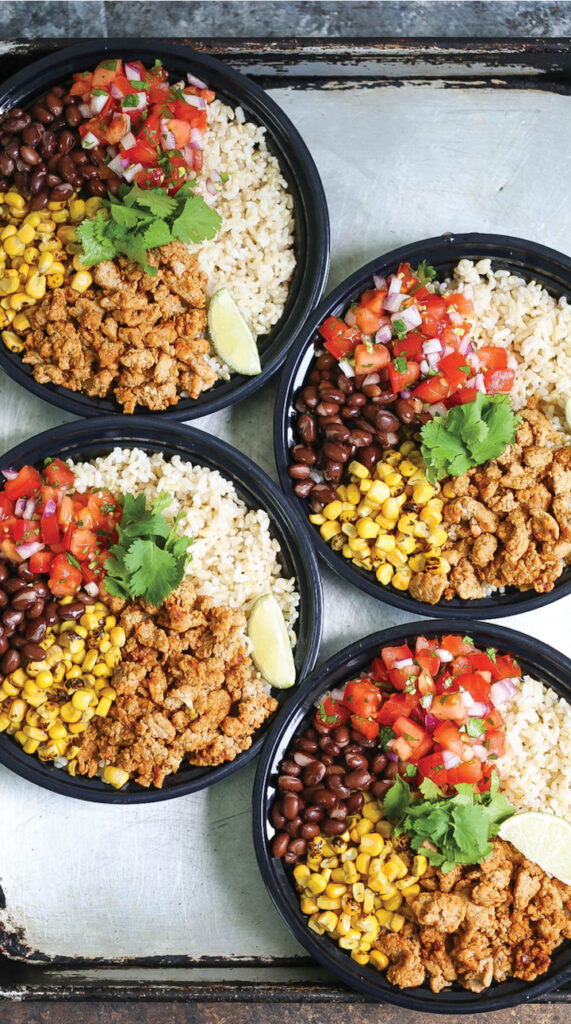 32. Chicken Burrito Bowl
Damn Delicious's chicken burrito bowls are essentially deconstructed burritos packed with fresh healthy ingredients. You can customize them any way you like with different grains, veggies, and proteins.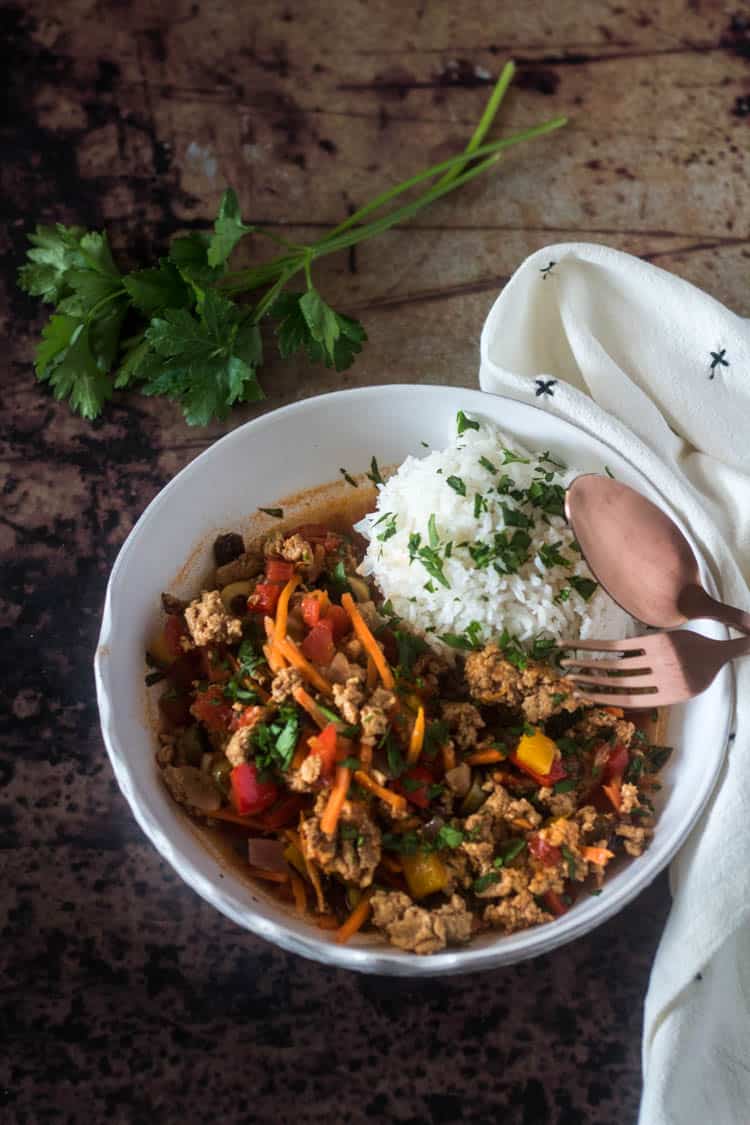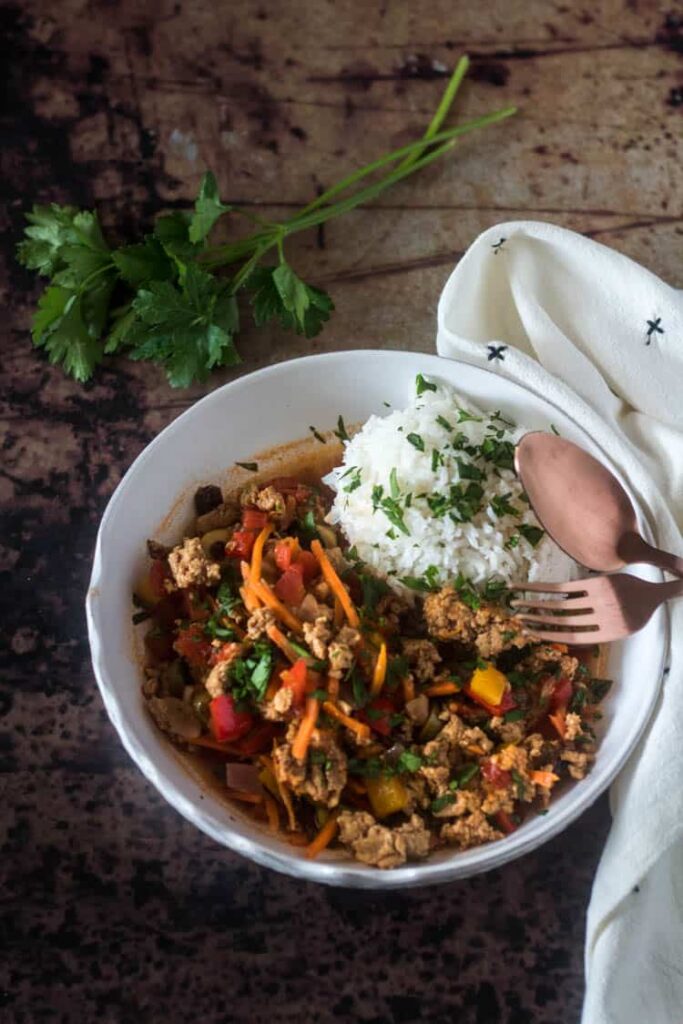 33. Picadillo
Picadillo is a traditional dish in many Latin American countries that somewhat resembles hash. Beyond Mere Sustenance has created a healthy, quick picadillo packed with vibrant Cuban flavors, including garlic, onion, oregano, cumin, bell pepper, and bay leaf.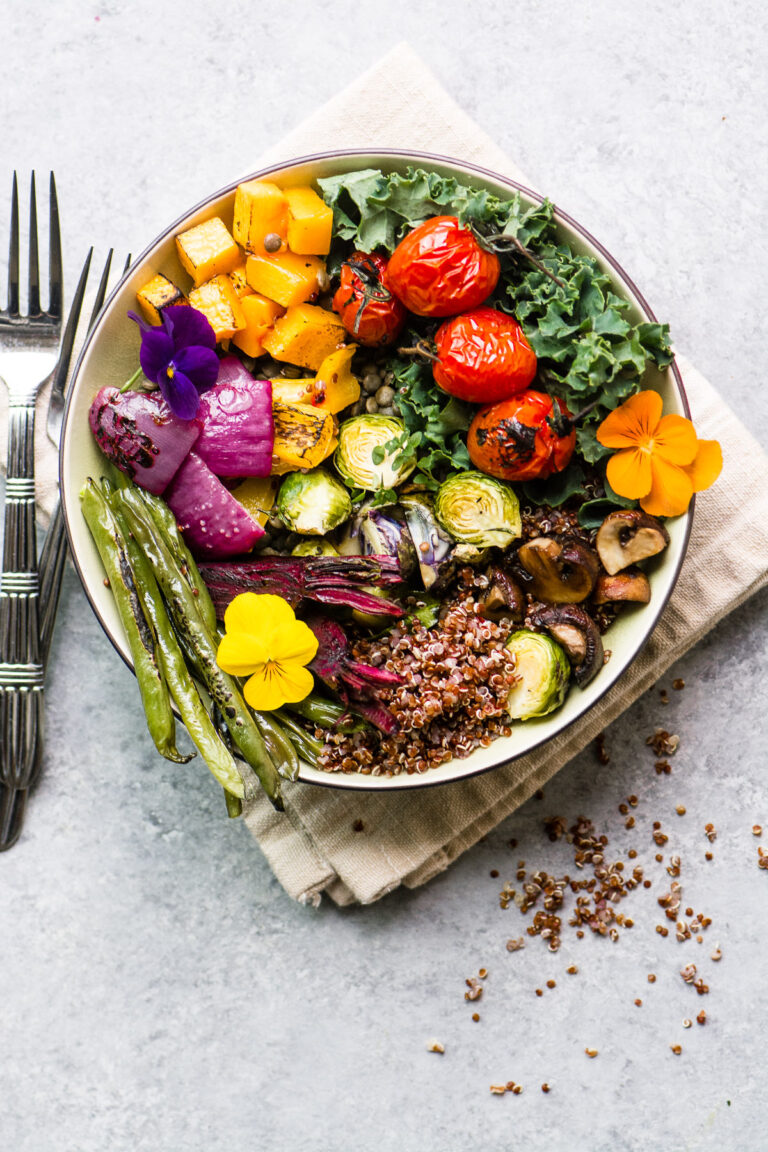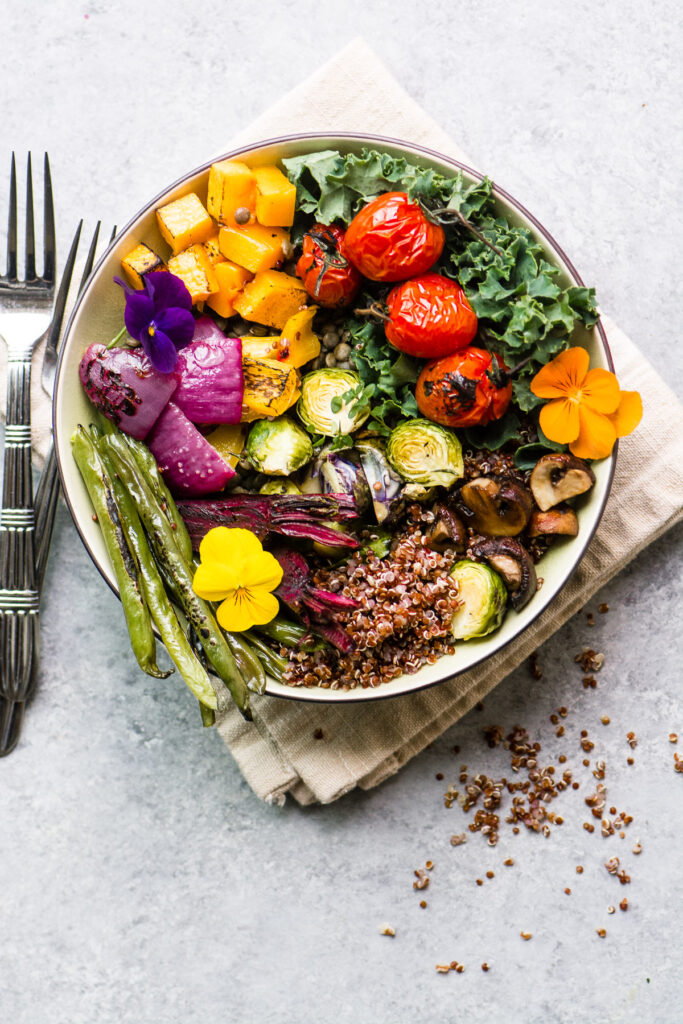 34. Roasted Veggie Grain Bowls
How gorgeous are The View From Great Island's roasted veggie grain bowls? She's tailored this recipe for winter, but of course, you can easily customize the concept for any season with the grains and veggies of your choosing.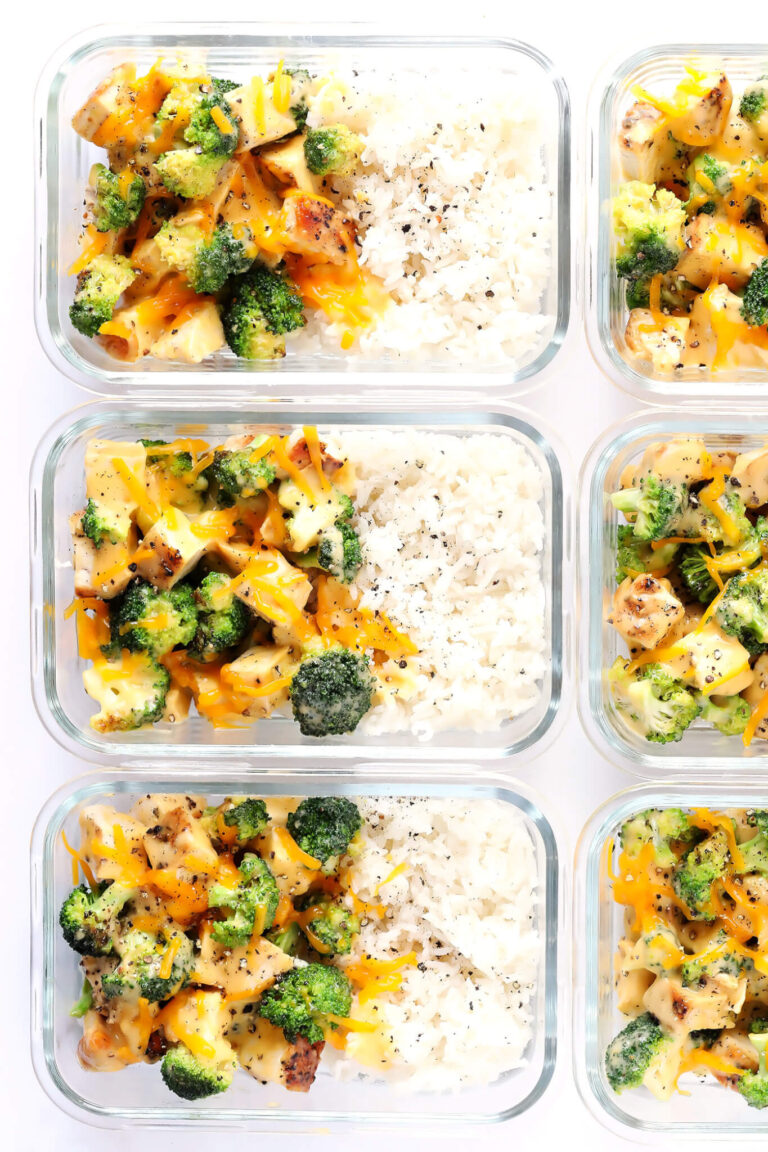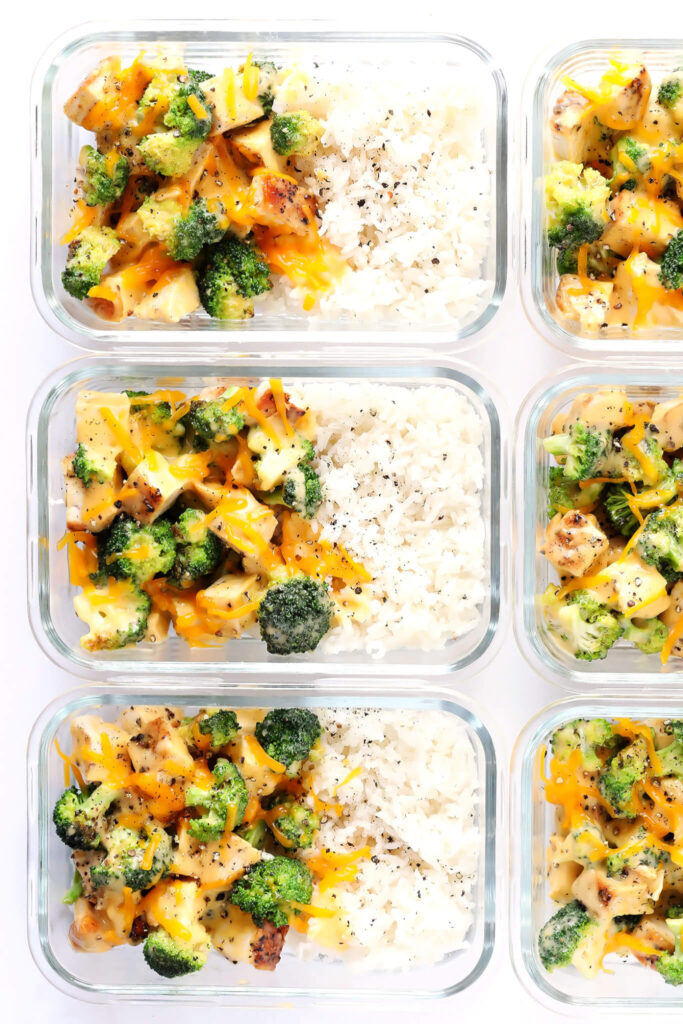 35. Cheesy Broccoli, Chicken, and Rice Bowls
Cheesy broccoli is one of those tried-and-true flavor combinations you just never get tired of eating. Chicken and rice fill out the meal perfectly. Gimme Some Oven tops her cheesy broccoli, chicken, and rice bowls with a lightened-up cheese sauce to keep the meal as healthy as possible.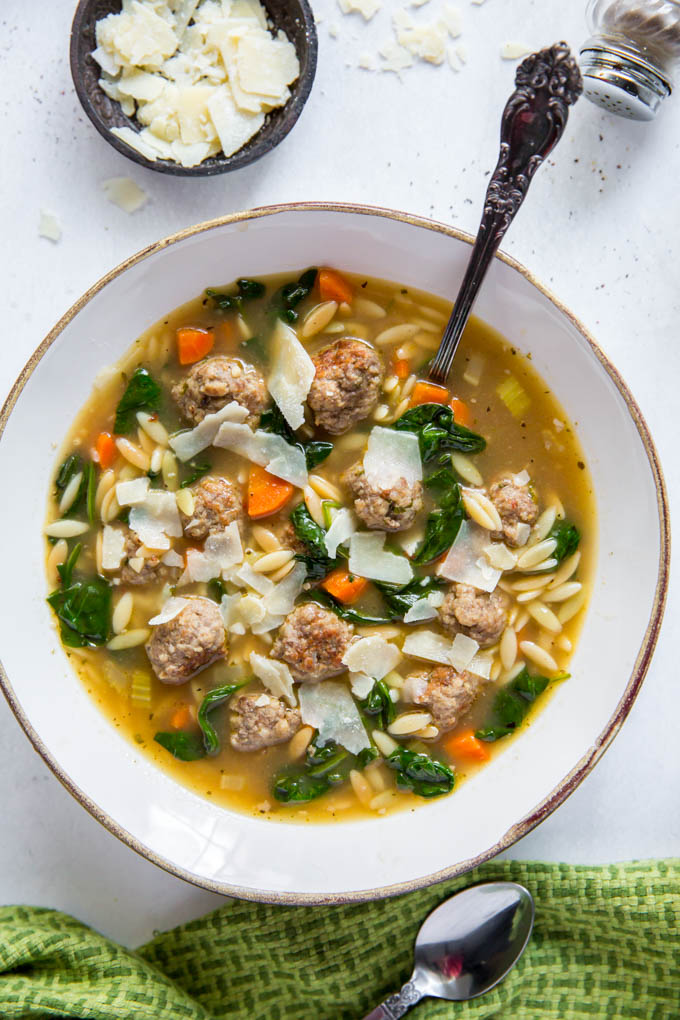 36. Italian Wedding Soup
Yellow Bliss Road's Italian wedding soup is a classic version of this iconic dish, which is exactly what you want because there's nothing to change about such a great recipe.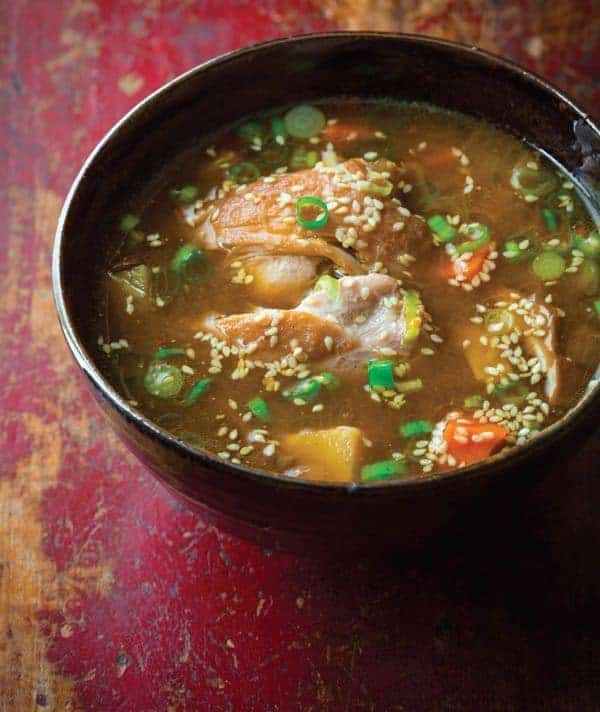 37. Chicken Thigh Hot Pot
While The Lemon Bowl's chicken thigh hot pot is made in a slow cooker so it's not technically authentic, no one will care because it's so delicious. Pack sliced green onion and sesame seeds for serving after it's heated.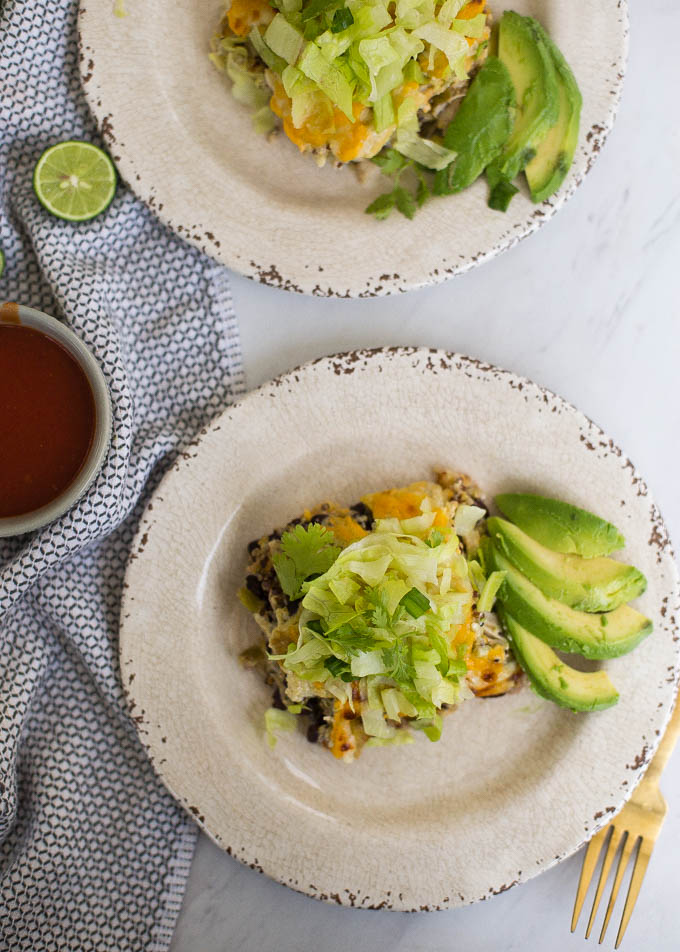 38. Chicken Quinoa Enchilada Casserole
Boys Ahoy's honey lime chicken quinoa enchilada casserole is a lightened-up recipe that will satisfy your craving for Mexican food without a ton of calories. Kristy has a great list of topping suggestions.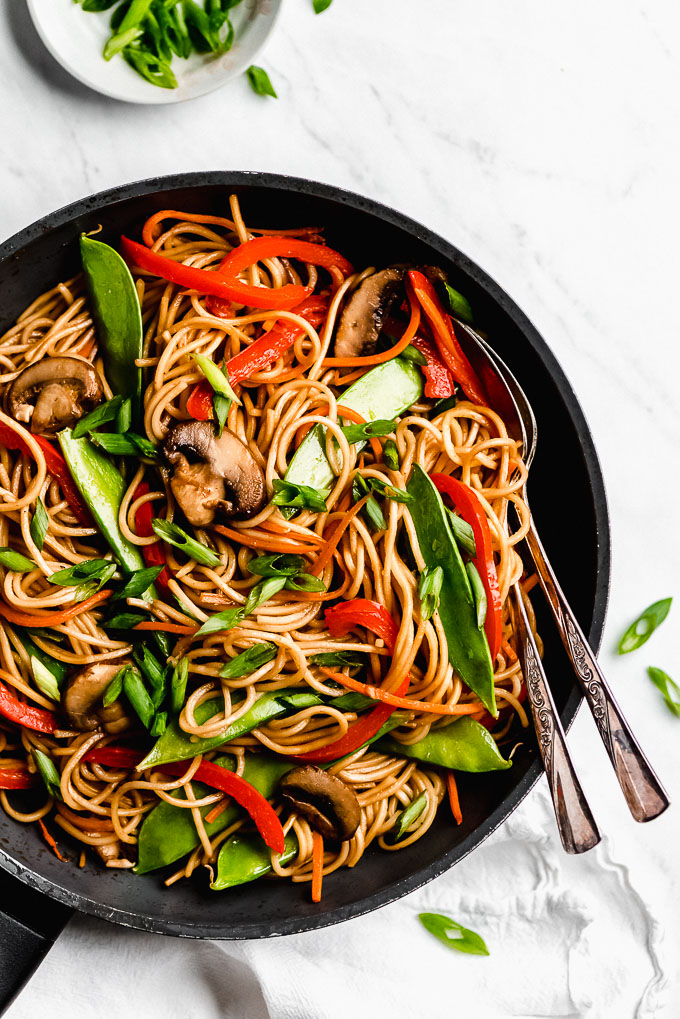 39. Vegetable Lo Mein
Garnish and Glaze's 15-minute vegetable lo mein is the perfect recipe for really busy weeks when you want to use up the veggies in your fridge. It uses a minimum amount of oil to keep it as healthy as possible and comes together ridiculously quickly.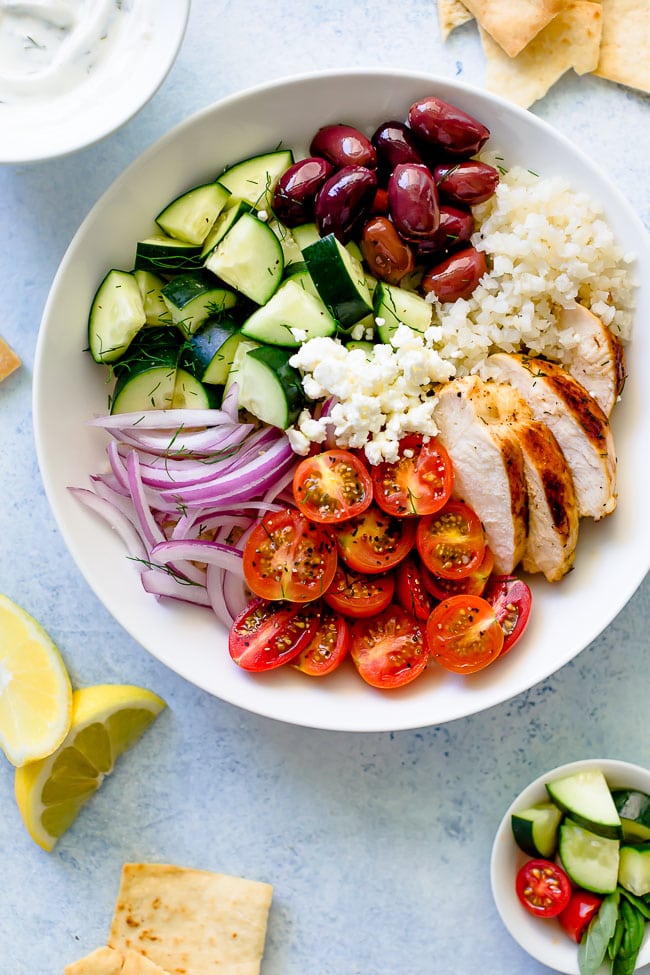 40. Greek Chicken Bowls
Two Peas and Their Pod's Greek chicken bowls are exactly what you'd expect from this recipe. It has a flavorful chicken and rice base and is finished with tzatziki sauce and all of your favorite Greek toppings.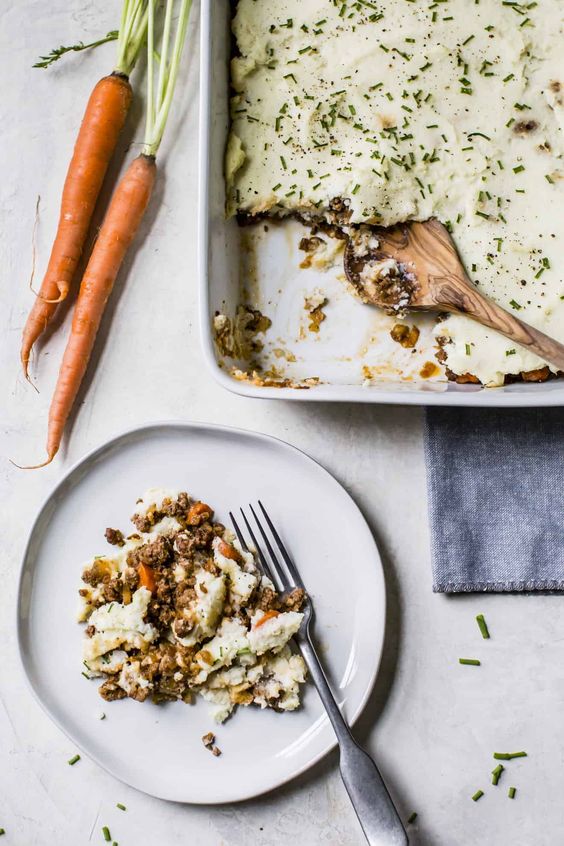 41. Skinny Shepherd's Pie
The Toasted Pine Nut's skinny shepherd's pie is a lightened-up version with cauliflower instead of potatoes. If you don't keep ghee on hand, you can easily substitute butter.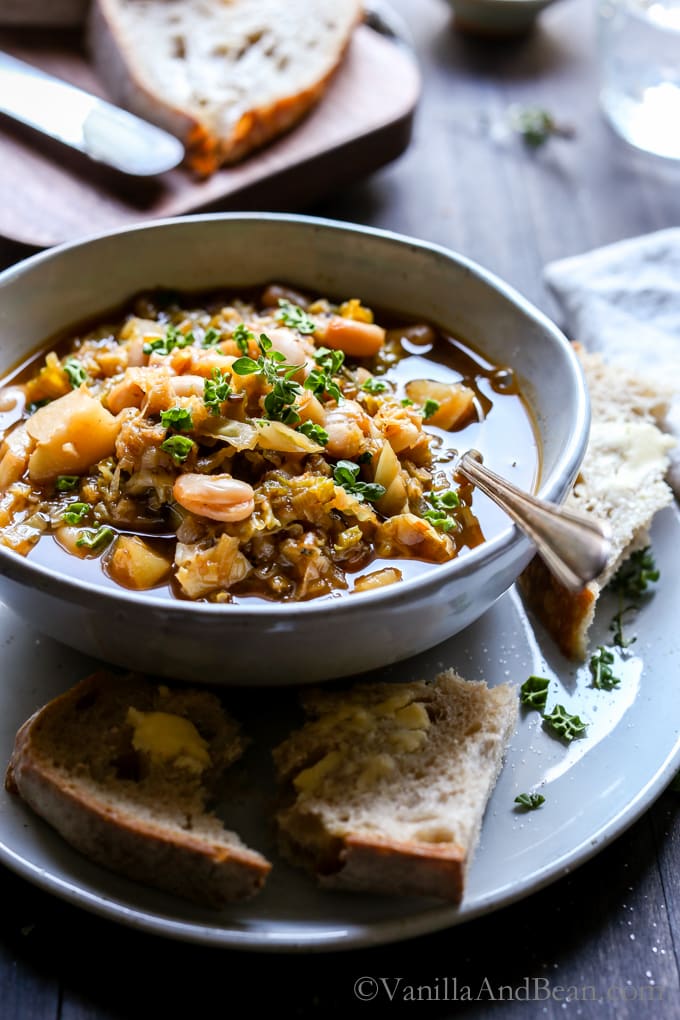 42. White Bean Cabbage Potato Soup
Vanilla and Bean's white bean cabbage soup is a hearty, nourishing recipe that's ideal for the coldest months of the year. This vegetarian soup is also gluten-free and freezer-friendly if you want to make an extra large batch.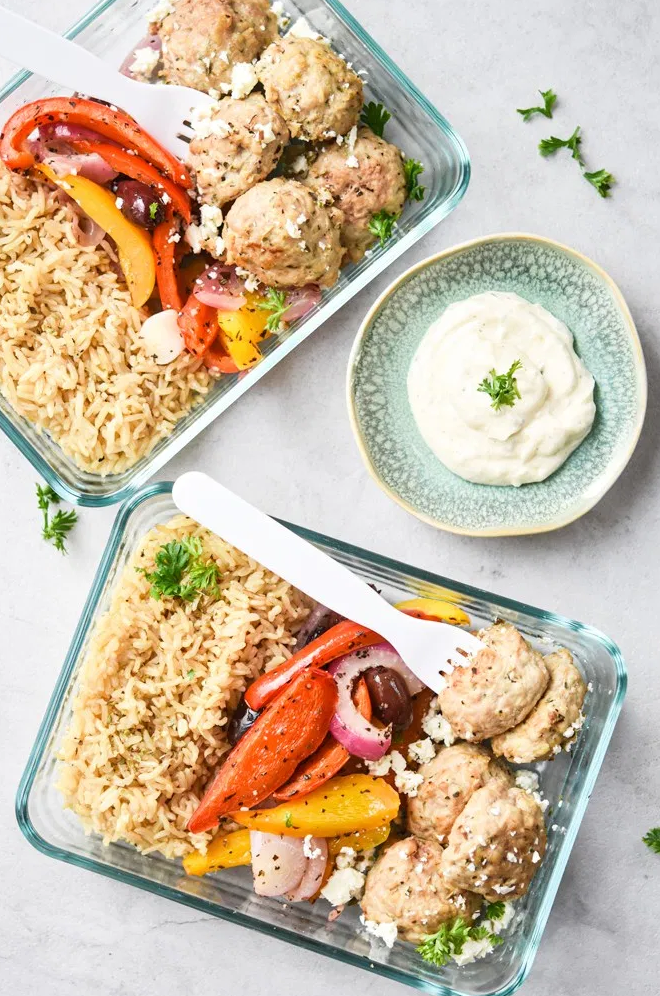 43. Greek Meatballs
Meal Plan Addict's Greek meatballs have all of the Mediterranean flavors you love. You cook the meatballs on the same pan as the veggies for super efficient meal prep.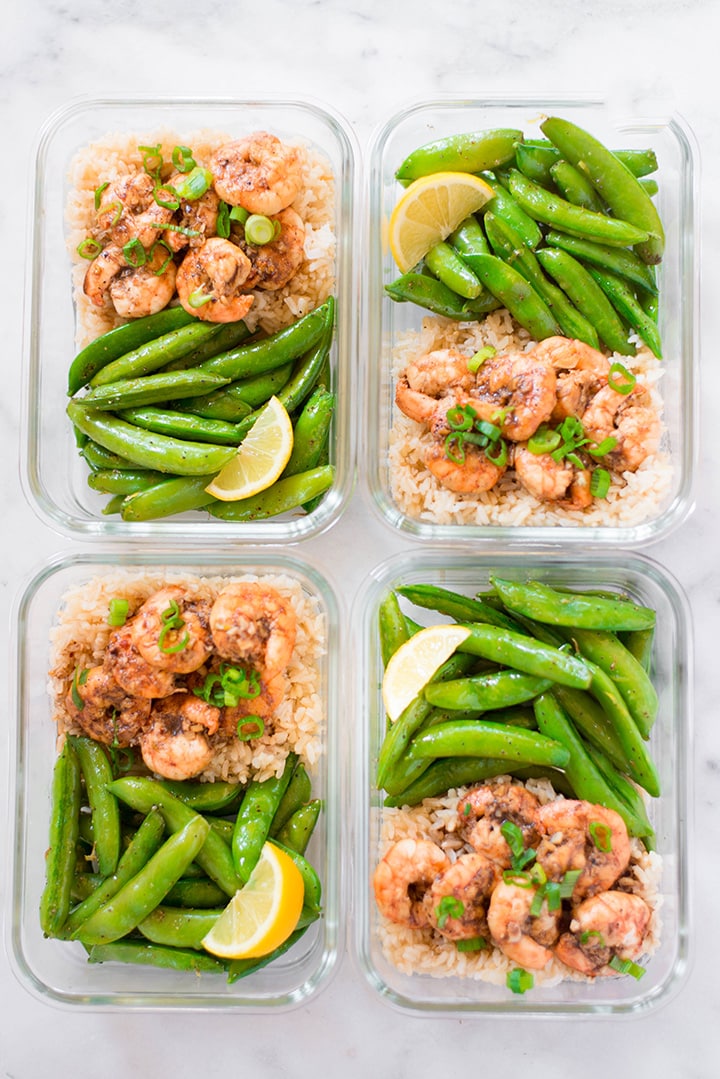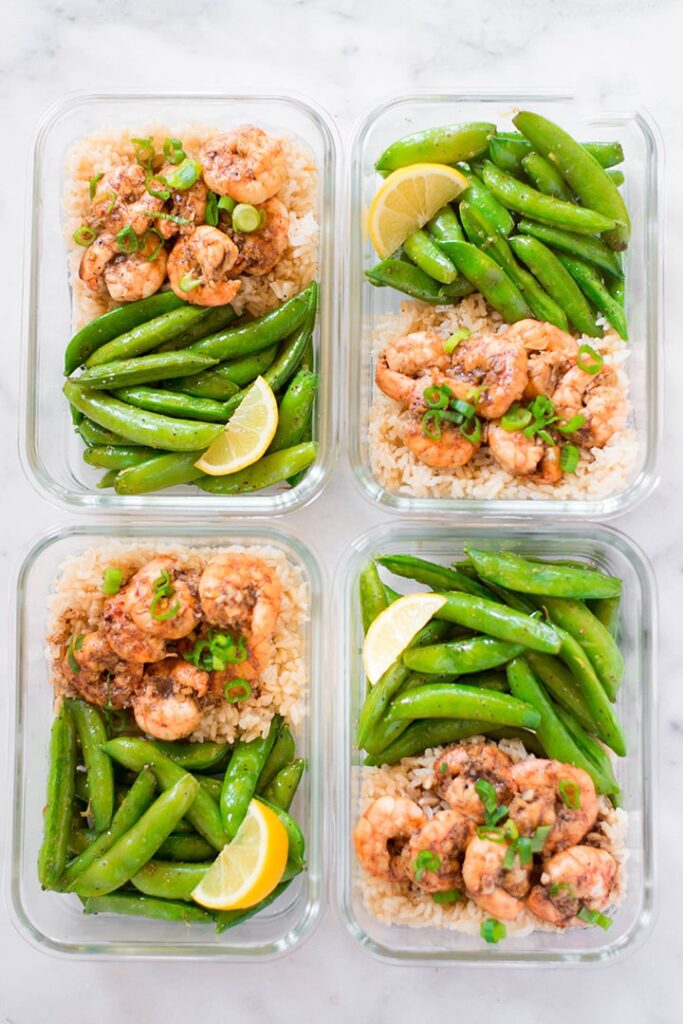 44. Honey Garlic Shrimp
A Sweet Pea Chef's honey garlic shrimp is high in protein and low in fat with lots of flavor and nutrition. She prepares the shrimp alongside lemon sugar snap peas, which is a nice change of pace from broccoli.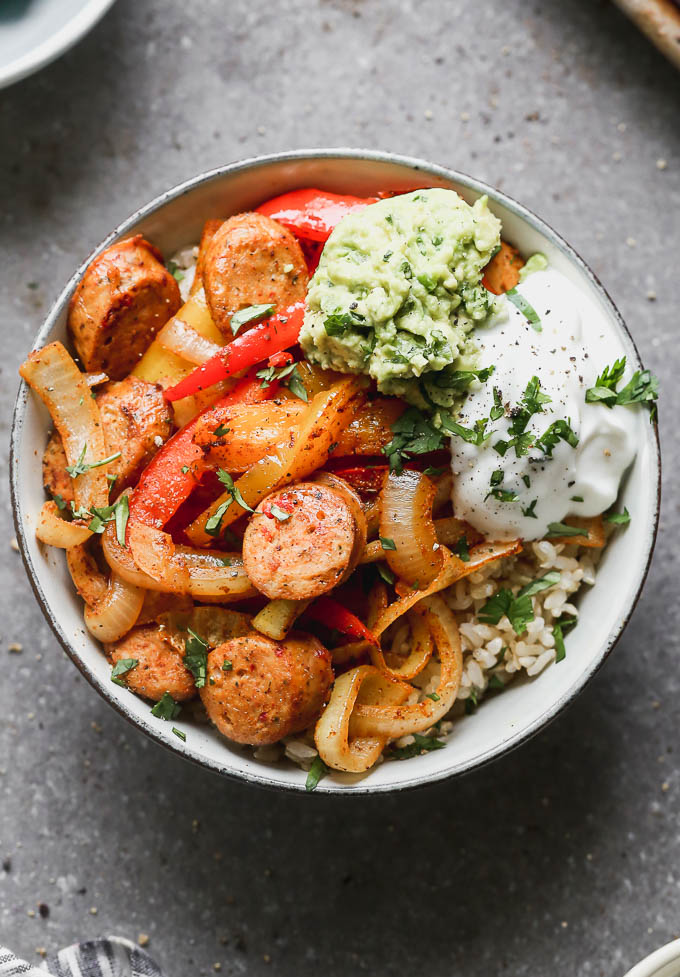 45. Fajita Bowls
I love the concept of using chicken sausage for fajitas. Cooking for Keeps' sheet pan fajita bowls with chicken sausage has the simplest prep and is packed with flavor. For work, keep your toppings separate until you're ready to eat.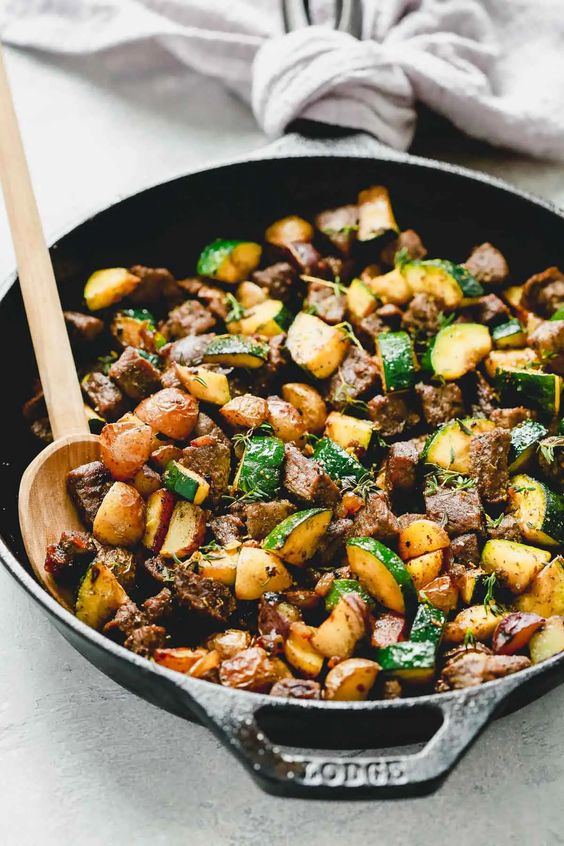 46. Beef and Zucchini Skillet
When you're ready for a change from beef and broccoli, Primavera Kitchen's beef and zucchini skillet is a great option, especially when you have fresh zucchini from the garden. Baby potatoes fill out the dish perfectly.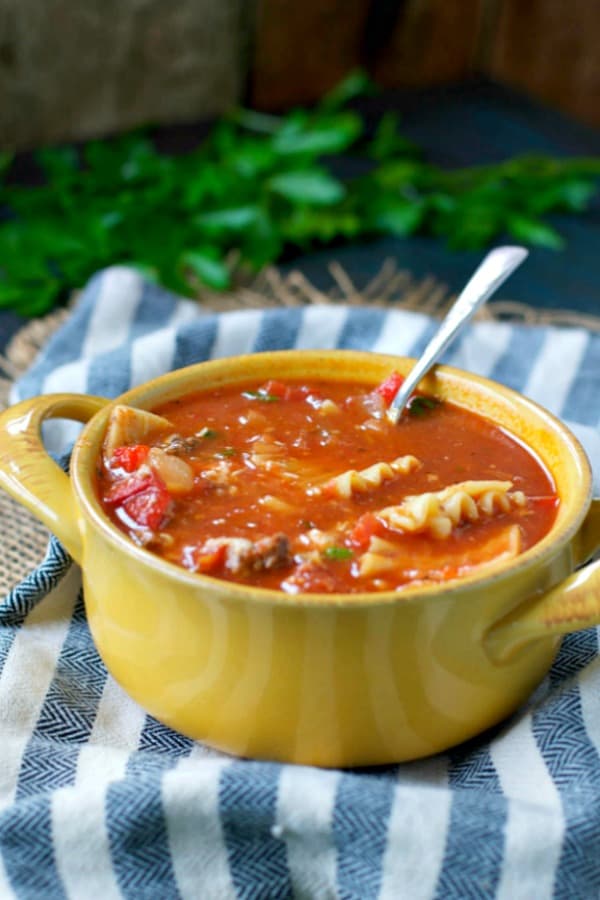 47. Slow Cooker Lasagna Soup
The Seasoned Mom's slow cooker lasagna soup is comfort food at its best. You get a warm cozy bowl with the lasagna flavors you love that's also full of veggies. Pack shredded cheese to sprinkle on top after you heat it up at work.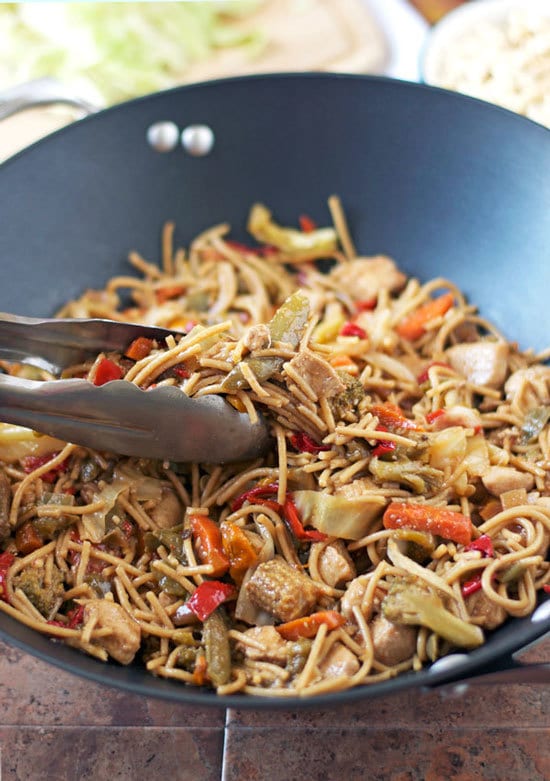 48. Hot and Sour Noodle Stir Fry
When you're ready to mix up your pasta or stir fry game, Well Plated's hot and sour noodle stir fry with peanut chicken is the way to go. You can customize this concept with the meat of your choosing or make it vegetarian with tofu or extra vegetables.
49. Parmesan Herb Spaghetti Squash
Spaghetti squash with Parmesan and fresh herbs is my absolute favorite way to eat spaghetti squash. Cookin Canuck rounds out her Parmesan herb spaghetti squash with chicken to turn it into a full meal. While the recipe doesn't call for it specifically, a little extra melty cheese, such as mozzarella, doesn't hurt either.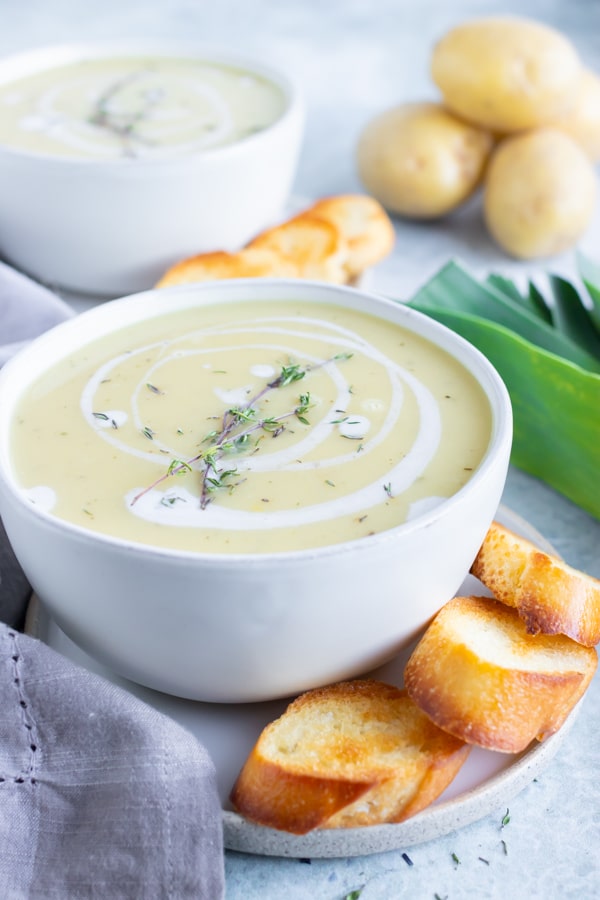 50. Potato Leek Soup
Evolving Table's potato leek soup is so creamy that you'll never know that it's dairy-free and as such, doesn't contain heavy cream. It's hearty and filling without being too heavy. You can easily double the recipe and freeze most of it for lots of easy work lunches.
[Disclaimer: There are a few affiliate links in this post. Thanks for your support!]
Did you make one or more of the quick healthy hot lunch ideas for work in this post!

I want to see it! Tag your images #RoseClearfield on Instagram or Twitter or post a photo to my Facebook page. Be sure to tag the recipe creators as well!
Pin this post for easy access to the quick healthy hot lunch ideas later!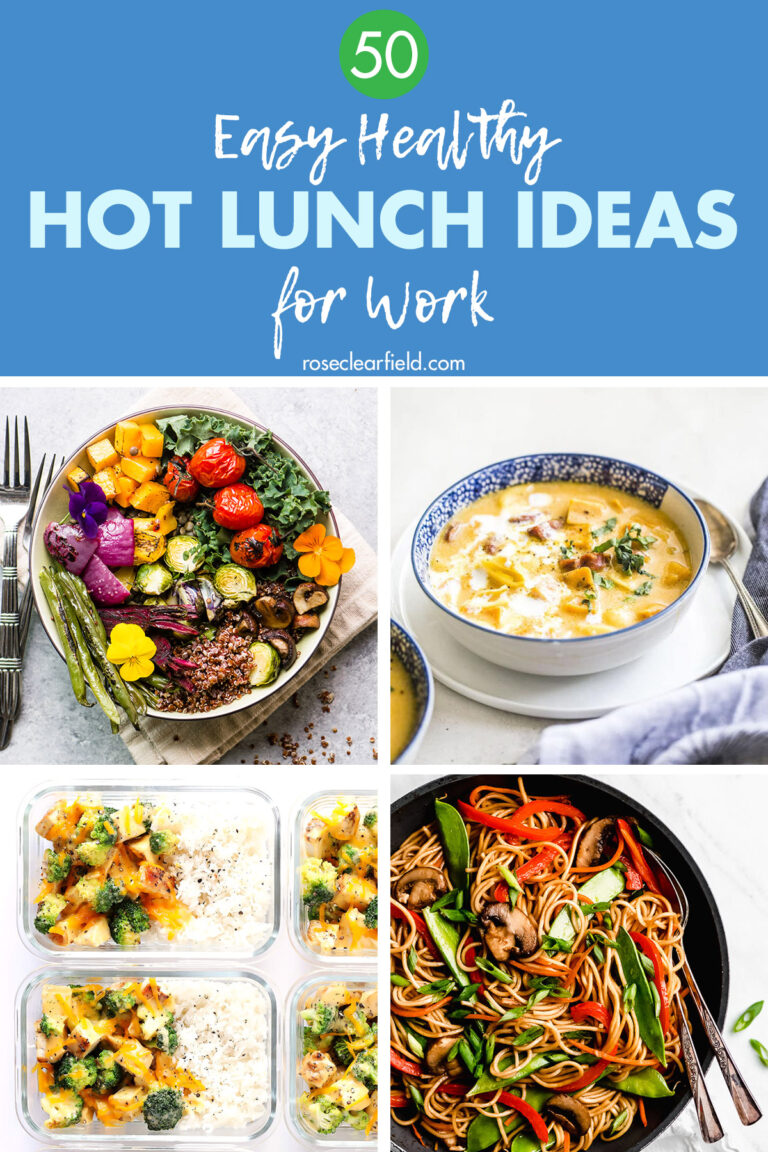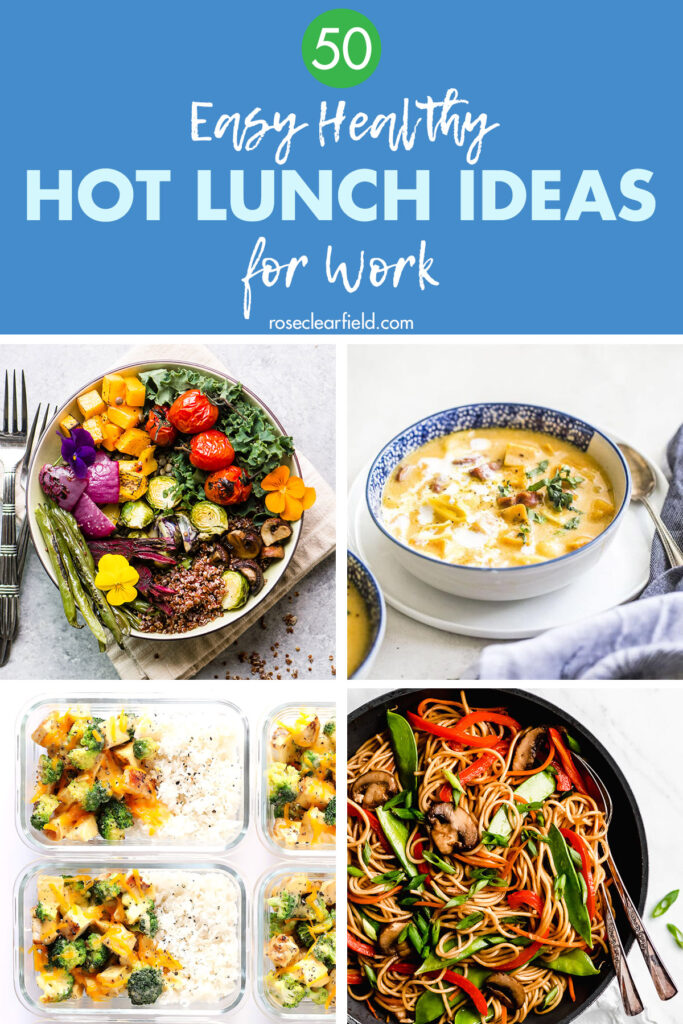 More healthy work lunch ideas:
Even more healthy eating resources: