The essential baby and toddler gear list is a comprehensive overview of my all-time favorite baby and toddler items that have stood the test of time with multiple kids.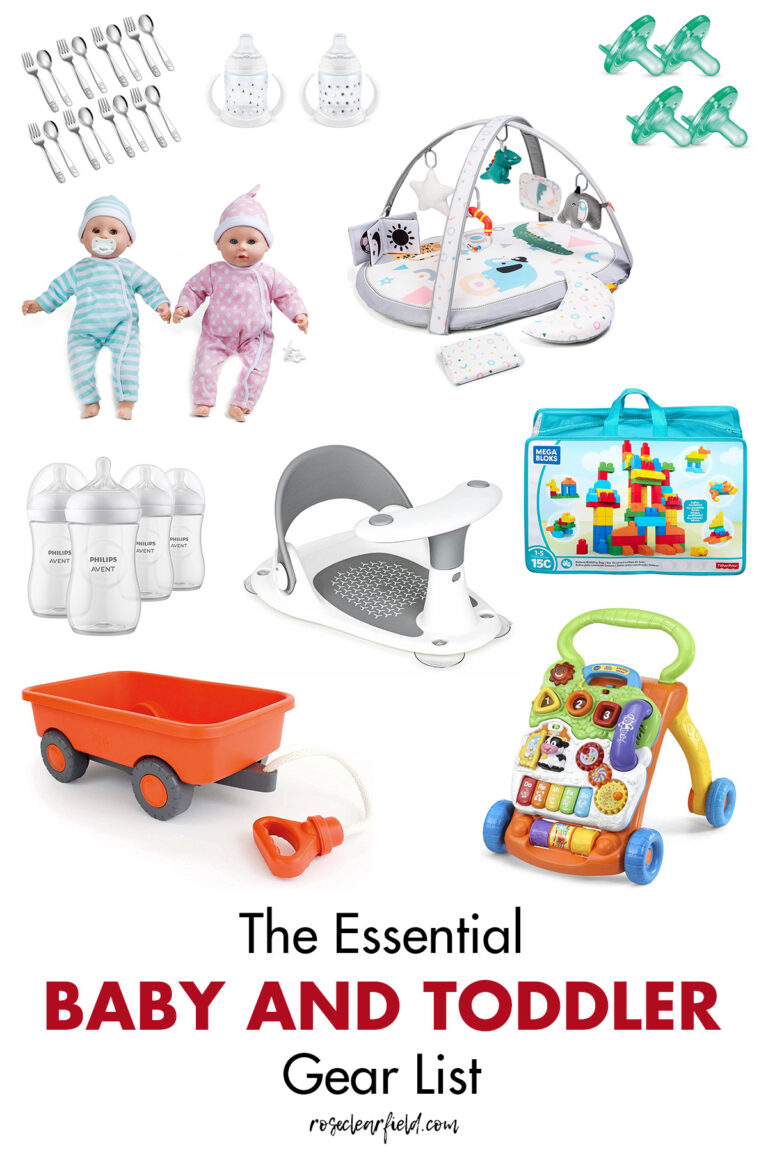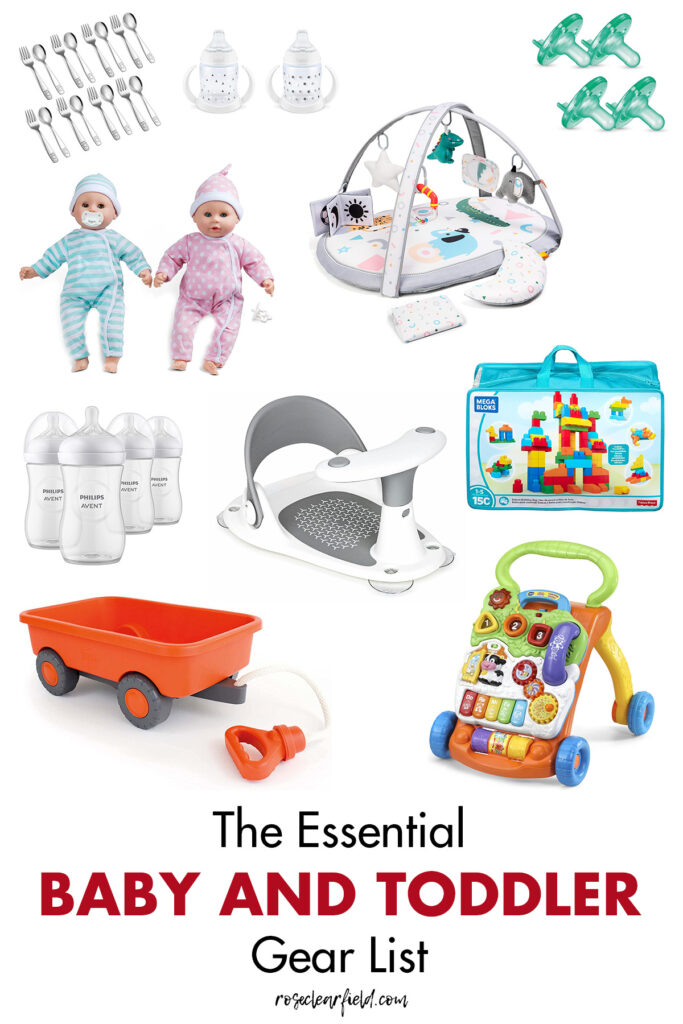 In my essential baby and toddler gear list post, I'm only sharing the items that I truly love, have used over many years with two or more kids, and will gift to other parents. I am by no means sharing every single thing I've used. If you're looking for recommendations beyond what I've shared here, don't hesitate to ask!
I've covered all of the gear here (and much more) in my baby favorites and toddler favorites posts.
Muslin swaddle blankets
I love the weight of muslin swaddle blankets. All of the swaddle blankets that I've bought from Target have held up so well. The patterns do fade a little over time. But they still look good, and the blankets haven't frayed or ripped at all. I bought a slightly larger size with Winnie the Pooh designs for Olivia and Genevieve that I love, especially as babies get bigger.
Newborn lounger
Tommy, Olivia, and Genevieve all absolutely loved spending time in the newborn lounger. Unfortunately, the one we have is no longer available. But I linked a similar one. I know that it's not nearly as popular as items like the BabyBjorn bouncer. But it's a fraction of the price. And my kids also liked the rocker that I'm linking below to mix up the routine when they're younger and provide an alternative when they're older.
Infant-to-toddler rocker
The infant-to-toddler rocker is truly one of those items that you can use from newborn days all the way through toddlerhood. I love that it has a belt and that you can flip a bar so that it won't rock really little babies.
Baby bather
The baby bather is so much better than the basic plastic bath seats. I put the seat right in the regular tub and add enough water so that it just touches the seat. The seat makes it so easy to bathe newborns up through somewhere between six and nine months old babies. I love how simple the seat makes it to wash hair.
Toddler bath seat
Once babies outgrow the baby bather, the toddler bath seat is the perfect transition until babies are able to sit up independently. It gives you such peace of mind knowing that babies can't tip over very easily. The toddler bath seat is rated up to 18 months, but both Olivia and Genevieve started climbing out of it somewhere between 12 and 15 months.
Avent baby bottles
The Avent baby bottles are the only bottles that Tommy, Olivia, and Genevieve used. I had zero issues with them. All three kids took to them immediately. The bottles vent so well and with only three parts, are about the easiest bottles to clean that I've seen anywhere.
Nuk sippy cups
Hands down, Nuk sippy cups are the best sippy cups I've ever used. They're so intuitive for kids to learn, and they don't mold or leak, even when kids throw them. The Nuk sippy cup tops make them easy to use on the go.
Unfortunately, the straw cups I used with Tommy were discontinued a while back. I haven't found anything that I like nearly as much. If you have a favorite straw cup, I'd love your recommendations!
Kid-sized metal silverware
Most plastic kids' silverware is pretty much useless. The kid-sized metal silverware is so much better. Children get the weight and functionality of real silverware at a size that's just right for them. Look for silverware sets with just forks and spoons. You don't need knives for babies and toddlers.
The exact age that babies and toddlers will start using silverware varies a lot. Some babies are very motivated to learn silverware as soon as they start eating food in a high chair. Other kids prefer to use their hands well into toddlerhood.
Grass driers
Grass driers are the very best way to air dry bottles, sippy cups, straw cups, and kids' water bottles. They work so well and free up valuable space in your regular dish drainer. I love that the grass driers come in different sizes. Grass driers are essential for baby bottles and remain so helpful for toddler and kid sippy cups, straw cups, and water bottles.
Whenever possible, I travel with the medium- or large-size grass driers. On occasion, when I've flown or had limited space in a hotel, the smallest size grass drier has been a lifesaver.
Stain remover
OxiClean's stain products are the very best. They actually work every time, and they work on everything – blood, blueberries, marker, etc. I use the spot spray for stains. Then I always use the powder for baby and kid laundry loads.
Lysol disinfectant
I originally bought Lysol disinfectant for towel loads. It does improve gross towel smell significantly. Lysol disinfectant is also essential for puke loads. I run them the same way that I run towels – a hot water cycle followed by a rinse and spin cycle with disinfectant. It works perfectly every time.
Avent pacifiers
Avent pacifiers are the only pacifiers I've used with my kids, and they've all loved them.
Gerber onesies
I have raved about the couple of sets of Gerber onesies that I bought for Olivia and that Genevieve is now wearing. It's so hard to find sets where I love every color or pattern. Gerber knocks it out of the park. And the onesies are so stretchy. Genevieve is long on top and quickly growing out of a lot of onesies. But the Gerber onesies still fit so well.
Old Navy jeans
Old Navy jeans are well worth the money, as they hold up so well through multiple kids. I love the dark washes and the unisex style. Olivia has been able to wear all of Tommy's old jeans, and I'm now passing them on to Genevieve.
Old Navy jackets and coats
Old Navy jackets and coats are also worth the money. I've bought all of Tommy's parkas from Old Navy (except for one from the Gap), and we haven't worn out one yet. I also love that even toddlers and preschoolers can wear their coats for two full seasons. We own a number of their lighter weight jackets and love them, too. As our light coat is so short, they hold up even better than the parkas.
Hanna Andersson pajamas
My personal pick for high-end baby and kid pajamas is Hanna Andersson. All of my kids have been able to wear the original Hanna pajamas that I bought for Tommy. A couple of the zippers wore out during Genevieve's stint with them. But otherwise, they've held up so well. I love that the pajamas are all cotton.
Zutano booties
I'll be honest: I didn't want to shell out for Zutano booties for Tommy. I wish that I had because I've loved using them with Olivia and Genevieve. The snap design helps them stay on better than any other booties/shoes I've tried for babies. Toddlers do wear through them once they start walking. But they hold up really well through the pre-walking stage. And they come in so many fun colors and patterns.
Hunter boots
In general, I've found that brand-name kid shoes are worth the money. Kids are tough on shoes. You don't want to end up going through multiple pairs per size when they already outgrow shoes so quickly. From about 18 months through three years old, I was able to save Tommy's shoes for future kids. Brands have included Sketchers, Uggs, Keen, and Hunters.
I'm mentioning Hunter boots here because Tommy was so rough on his first two pairs. But he was able to wear both of them for almost two years each, and they still look great. Slip-on boots and shoes are so easy for toddlers to put on themselves, which is a big plus.
MEGA BLOKS set
For the amount of play that my kids have gotten out of a basic set of MEGA BLOKS, you can't beat the price. Tommy still builds with them regularly. I recommend getting a set with a plastic storage bag for easy cleanup.
Green Toys
I could do commercials for Green Toys. We own so many Green Toys items. I've gifted quite a few of them over the years as well. While their vehicles aren't necessarily my kids' favorites, they hold up so well and are always ones that make it back in the rotation over time. We've never had a Green Toys car or truck wheel break off, which I can't say about any other toy vehicle, except Hot Wheels.
The Green Toys boats are great in the tub and water table and don't mold. My kids also love the wagon and tea set.
Baby Einstein light bar and piano
I love Baby Einstein products. They're well-made, and I love that they teach classical music. My kids have both the Glow & Discover Light Bar and Magic Touch Piano and keep them in regular rotation.
The light bar has three settings that you can do in English, Spanish, or French, which gives you a lot of options, so you don't get tired of listening to it. The piano comes with color-coded music, making it a toy that kids will play with up to at least four or five years old.
Baby dolls and stroller
I got Tommy the Melissa & Doug twins and a baby doll stroller (I'm linking a similar one) when he was 18 months old. My kids haven't stopped playing with the dolls since. They put stuffed animals and other toys (namely Grogu) in the stroller as well. We have other doll accessories, but the stroller is by far the favorite. I love the faces on the Melissa & Dough baby dolls. They're realistic and not creepy.
Musical instruments
My kids own quite a few musical instruments and play them regularly. It's worth investing in high-quality instruments. They last longer, sound better, and are more satisfying to play. Our most recent favorite is the Fat Brain Toys Beethoven's Band set. I love every single instrument in it.
Activity gym
For babies up to about six months old, you can't go wrong with a classic activity gym. While it's not something that they use for very long, they get a lot of use out of it during that time. Activity gyms hold up well and can be used with multiple kids or passed along to family and friends.
Exersaucer
For the right babies, the Exersaucer is the absolute best and will be a lifesaver for getting ready, making dinner, etc. I've linked the Evenflo Exersaucer that we own currently. There are quite a few standing/jumping activity centers available at varying price points.
Baby Einstein jumper
If you're looking for another baby jumper option, I also recommend the Baby Einstein Neighborhood Friends jumper. Our jumper has held up through extensive use with all three kids and is still in great shape. I love that you can switch up the notes/music on the keyboard. With the adjustable height, babies can use it for up to a year or even a little longer.
If you don't want to shell out for an Exersaucer or Baby Einstein jumper, I recommend asking for one as a gift or searching Facebook marketplace and buy/sell groups.
Vtech sit-to-stand walker
All three of my kids loved using the toys on the Vtech sit-to-stand walker at a very early age and used the walker extensively through early toddlerhood. The entire toy has held up so well over the past five years, including the electronics. Somehow we still even have the phone that comes with it.
Rock 'n Rider pony
We never imagined when we bought the Rock 'n Rider pony that it would be such a lasting hit. Tommy rode the pony for years. Now both Olivia and Genevieve are crazy about the pony and ride it regularly. Having the option to ride it on wheels or use the rockers extends the play even more.
Never Touch a ____ books
My kids have so many books that they love and want to read regularly. I'm focusing on just a couple of series that we all really like and that are great for babies and toddlers. One series is the Never Touch a ____ books. My kids gravitate toward any book with a sensory component, and the Never Touch a ____ books are no exception. We have completely worn out a couple of them.
Grund French music books
My parents bought a few Grund French music books during their first trip to visit my brother in France four years ago, and we've never looked back. My kids have a dozen of them or so now. Olivia has especially taken to the books and plays a few of her favorites constantly. You can change the batteries, which is a huge plus. New batteries have always kept the books going. We haven't worn out one yet.
The books are a little pricy and harder to come by in the United States but are well worth the occasional splurge.
Play area
We bought our play yard when Olivia was about a year old and have used it a lot with Olivia and Genevieve. The full setup is large enough that older kids and adults can go in it with babies and toddlers. It folds down for easy travel, which is great for visiting family and friends. Even when toddlers don't tolerate long stretches independently anymore, it's a lifesaver for short stretches, such as bathroom breaks and finishing food prep.
Again, you'll find all of the baby and toddler gear that I've covered here as well as lots more in my baby favorites and toddler favorites posts. If you're looking for additional recommendations, please let me know! I'm happy to help in any way that I can.
[Disclaimer: There are a few affiliate links in this post. Thanks for your support!]
Fellow parents, is there anything that you would add to this essential baby and toddler gear list?

I'd love to hear about your favorite products!
Pin this post for easy access to the essential baby and toddler gear list later!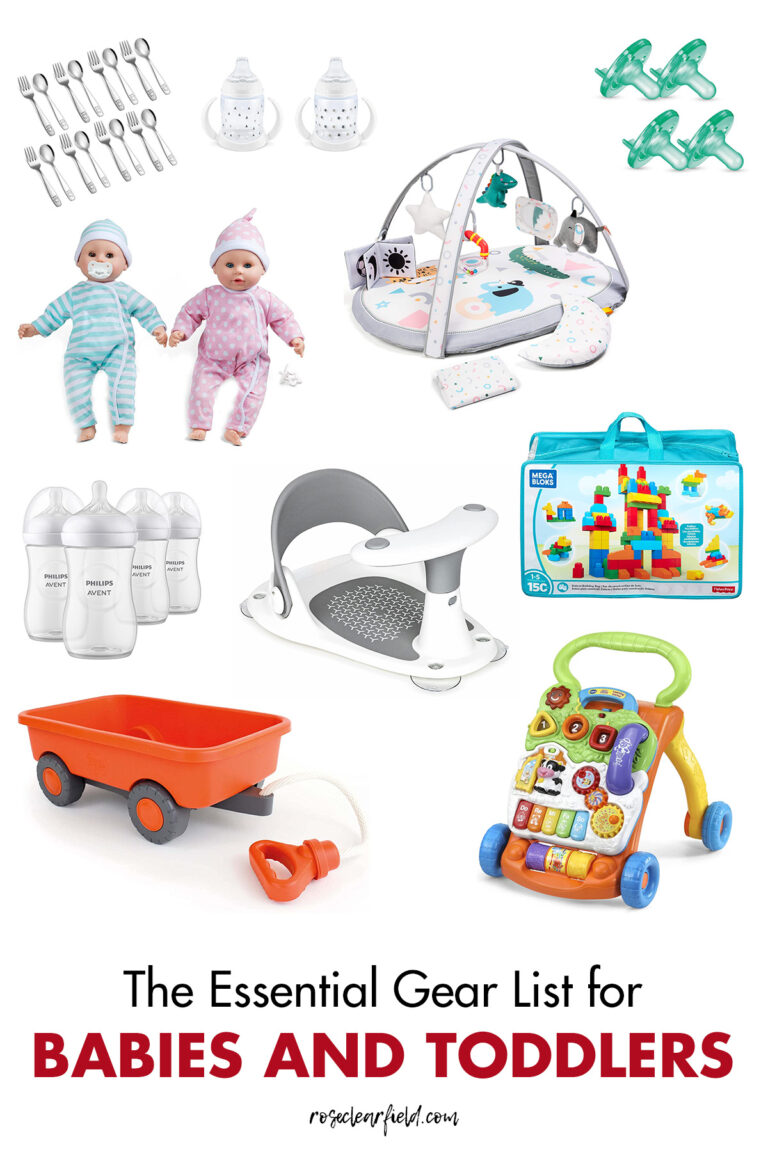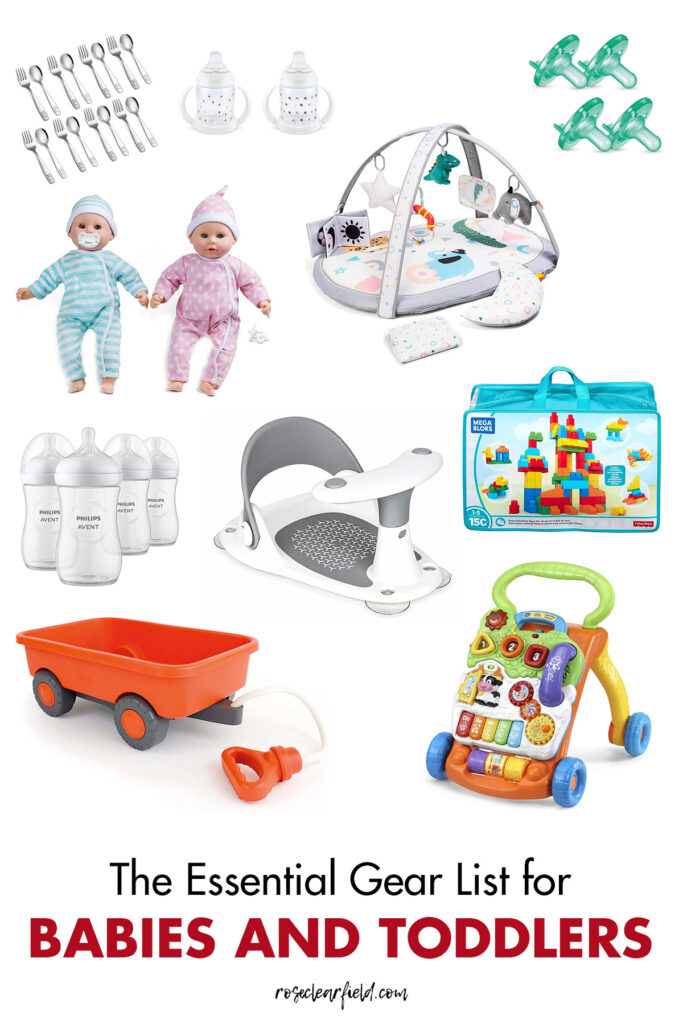 More baby and toddler recommendations: