Today I'm sharing just a few of the items that Olivia (and we!) have been enjoying since my nine months #2 baby favorites post. Enjoy!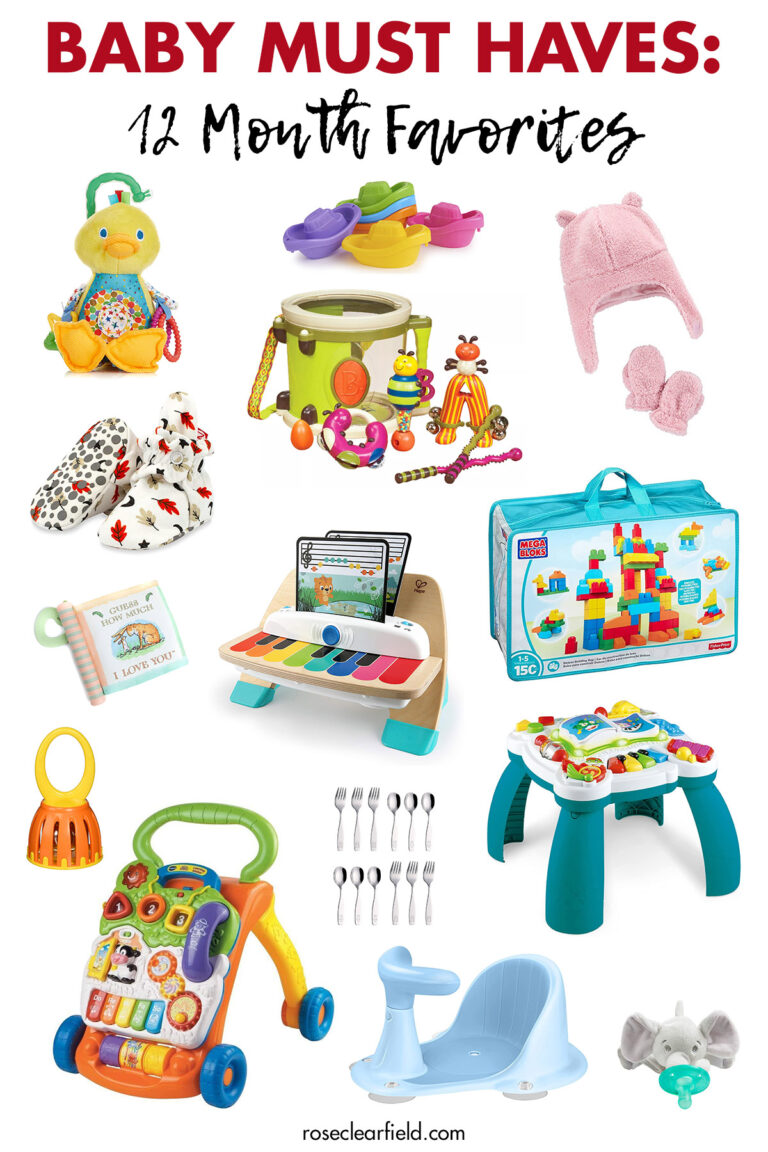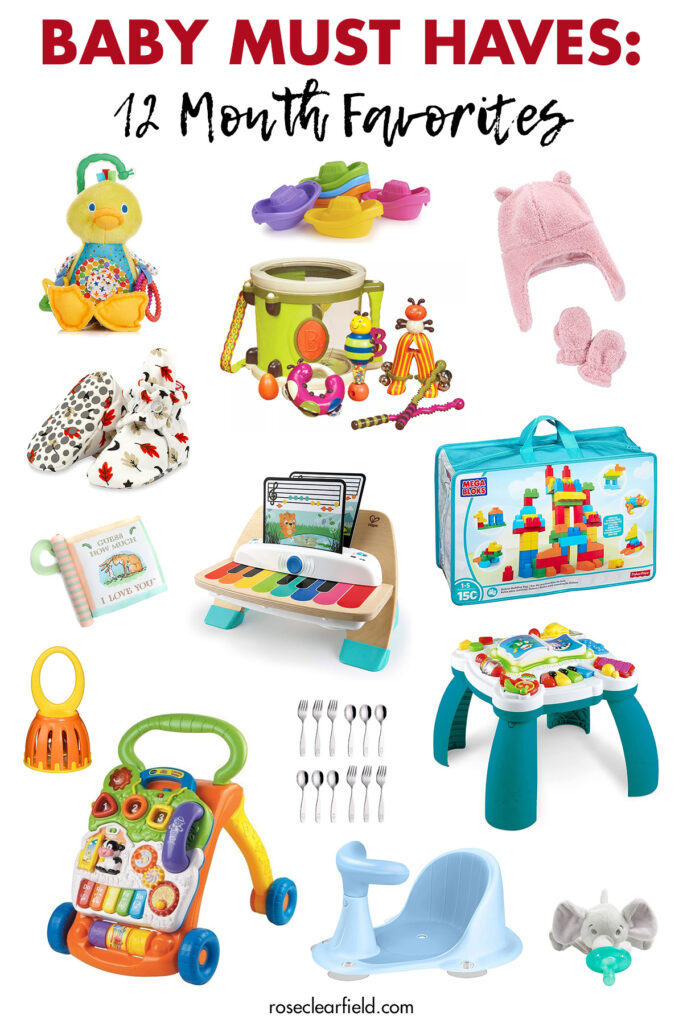 Olivia is still loving and using every single item that I covered in her nine-month favorites post. I'm recapping just a few of them here and sharing lots of new items that have made all the difference these past three months.
VTech Sit-to-Stand Learning Walker
The Vtech walker is one of those rare toys that kids will start playing with as young as six months and will still enjoy when they're three or four years old. Olivia was around nine months old when she really got into the farm toy component. She plays with it every single day now. Olivia is big enough to start using the walker but hasn't too much yet.
It should also be noted that four years later, we still have the purple phone. It's truly a miracle ha, especially as it's one of the most popular features.
LeapFrog Learn and Groove Musical Table
Similarly, the LeapFrog musical table has been going strong in our house since Tommy was eight or nine months old. It was one of the first toys that Olivia was motivated to pull herself up at and play with on her own. She plays with it every single day.
I like the Vtech walker and Leapfrog musical table because they both have such a wide range of sounds and fine motor activities. Kids are always discovering something new and adults don't get tired of listening to them.
Percussion instruments
Olivia is all about anything that makes noise. She loves rattles and egg shakers. We also picked up a cage bell and a tambourine (the specific one I bought isn't available currently, unfortunately) for her, which have been big hits. Never underestimate how much babies will love the hard rattles. We have soft raffles, which she likes, but nothing compares to a hard rattle, although they're hard to find. We've had this percussion set since Tommy was little, and she loves it. We rotate through all of the instruments regularly.
Baby Einstein and Hape Magic Touch Piano
Olivia got the Baby Einstein piano for Christmas. She's played with it every day since then. The size is nice for in a pack 'n play or even in a high chair. I like that the piano comes with music for older kids to start picking out familiar tunes.
Beach ball
Of all of the balls we own, a basic beach ball is Olivia's favorite right now. As an inside toy, it's a good one because it's so light. Olivia takes after Tommy and loves passing a ball back and forth with balls of all sizes.
Mega bloks
The bag of Mega bloks will keep Olivia entertained for minutes on end. She most enjoys dumping them out, banging them together, and putting them in her mouth. Olivia is just starting to be able to put them together and take them apart.
Eric Carle duck
We have a few of these sensory animals. The Eric Carle duck has always been Olivia's favorite.
Board books
Olivia loves looking at board books, both by herself and with other people. We own a ton of board books, so I keep rotating new ones into the living room and her pack 'n plays. She'll look at books on her own while I'm getting ready in the morning for minutes on end. Just a few of her recent favorites include Guess How Much I Love You, Sip Chew Yum, Camp with Me ABCs, Baby Faces, and That's Not My Squirrel.
Zutano boots
I cannot say enough good things about the Zutano boots. I bought a couple of pairs for Olivia at the end of October, and they've been in constant use ever since. The boots snap instead of Velcro, so Olivia can't rip them off. They're hard to kick off as well, which means they stay on in the car, in the stroller, etc. The boots are so versatile and go with everything. We've gotten so many compliments on them. They also have rubber grips on the bottom, like socks, which is ideal for this age.
The boots come in so many fun colors and prints. I really can't justify owning more than two pairs for Olivia. She'll need more substantial boots as she starts walking, so it doesn't make sense to buy more in the next size up either. But it's so tempting.
BLANDSTRS baby bath seat
I absolutely love this bath seat. It's a random item that showed up as a recommendation on Amazon. I really wish I'd had it for Tommy. It's been a total game-changer for making the transition out of the baby bath chair. Olivia is just starting to feel a little limited by it. But she's been going strong with the seat since the end of the summer.
Bath toys
Olivia loves playing in the bath, which is good because she's still eating a ton of purees. I let her feed herself at dinner, and then she gets a bath. The Munchkin stacking boats are some of our long-time favorites and just the right size for her right now. The kids like the little squirty animals, too. They always end up moldy, so we rotate in new ones pretty often. Currently, we have this set of animal bath squirters. I like the size and variety.
Hanna Andersson pajamas
Olivia has been wearing all of Tommy's old Hanna pajamas for the last six months. They're just as good as ever and hold up so well under repeated washings and wearings. I love the weight and style under the swaddle at night. The combination is so good. I just ordered Olivia a few more pairs of pajamas in the next size up.
Love to Dream swaddle
Olivia is still going strong in the swaddle for naps and at night. Se just sized up to the large transition swaddle. I've always ordered them through Target. But Target was out of this size at the time (as of writing this post, it's back in stock). So I got them right through the manufacturer's website, which was great, too.
Elephant Wubbanub
Olivia has really taken to the elephant Wubbanub over the past six months. It's so nice when we're out and about because it makes it much easier to keep track of the pacifier. A single pacifier gets lost so easily.
When Tommy had a Wubbanub, it was all one piece. Olivia has the Philips AVENT brand elephant, which doesn't have an attached pacifier. The plus side is that you can replace the pacifier and it's easier to wash. The downside is that your kid can rip off the pacifier and throw it. Thankfully, Olivia doesn't very often these days (I shouldn't stay that too loudly).
Old Navy clothes
Old Navy has always been one of my go-to places for kids' clothes since Tommy was little. The past couple of years, as I've bought so few clothes in stores, I've shopped their website more than ever. Old Navy continues to have some of the best graphics on kids' clothes within a ton of words. I absolutely love their baby and kid jeans. And everything holds up so well.
Primary
Primary remains a long-time favorite for kids' clothes as well. I ordered a lot of Primary clothing for Tommy until he was about two. Olivia has been wearing so many of those onesies and pants. I've bought onesies and pants in pink and purple for her, too. Primary has a few patterns that I love for her as well, such as hearts and stars.
Velcro hat and mittens
I bought a similar Velcro hat and mittens set for Tommy and have loved seeing them on Olivia (pictured in her 10 month post). She isn't a huge fan of wearing the mittens, but I still like them. I just ordered the next size up for her in the set that I linked to get her through next fall and hopefully winter.
Baby Yoda pants and sweatshirt
This Baby Yoda pants and sweatshirt set is the cutest Baby Yoda clothing I've seen so far and so soft. Tommy is still crazy about all things Star Wars and actually picked it out for her this fall. Just beware that it runs really small.
High chair
We're still going strong with the high chair that Tommy used. Olivia has done well in it. Lately, I've been loving that the chair has a reclining feature. Olivia will eat her solid food and puree sitting up and then recline for her bottle. This model also converts to a booster. Most likely we'll get Olivia a separate booster, though, and have Genevieve use the high chair.
Baby spoons
I greatly prefer metal silverware for babies and kids over plastic silverware. It's much sturdier and more effective. The set I'm linking also comes with forks, which we love, too.
Play yard
Left on her own these days, Olivia goes right for the cat bowls, outlets, computers, etc. and wants to climb the stairs constantly. The play yard has been a total game-changer. Olivia is too big to stay in the pack 'n play or jumper for too long. The play yard gives her so much more freedom and is great for building her walking skills. It's big enough that Tommy or a grown up can be in there with her.
If you're looking for even more baby favorites for this stage of life, I wrote a separate baby favorites: 12 months post for Tommy!
[Disclaimer: There are a few affiliate links in this post. Thanks for your support!]
Pin this post for easy access to the 12-month-old baby favorites later!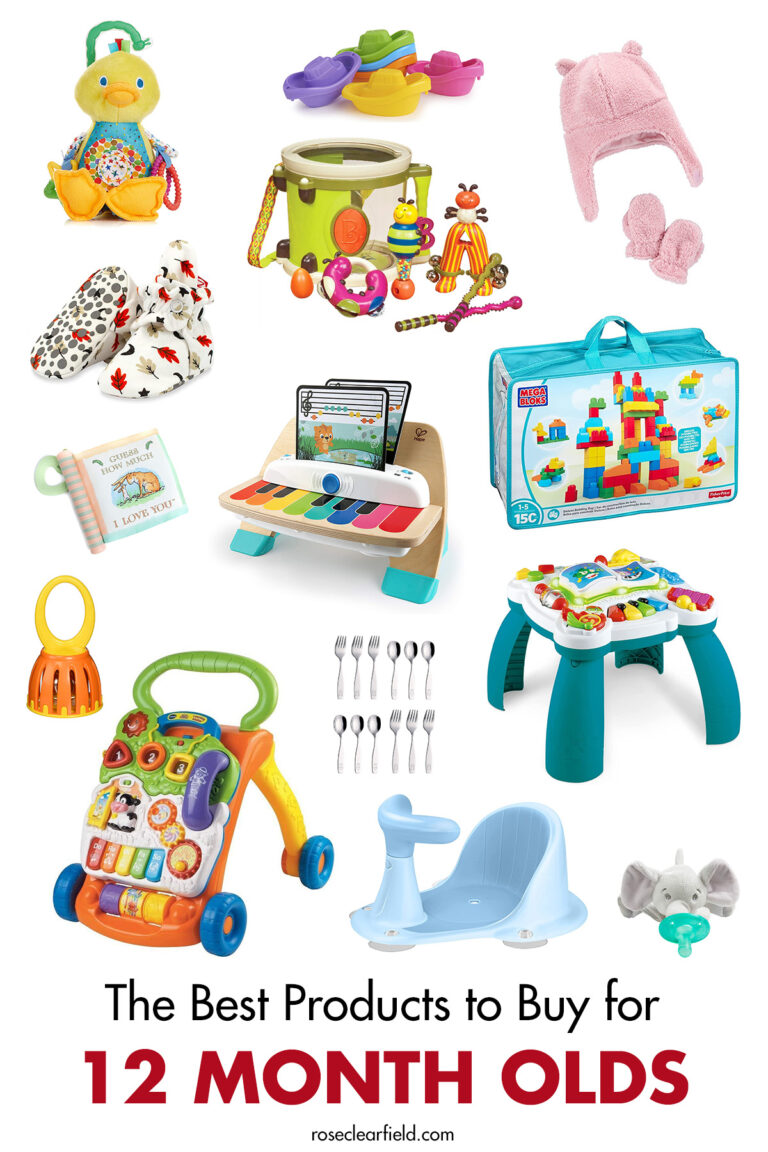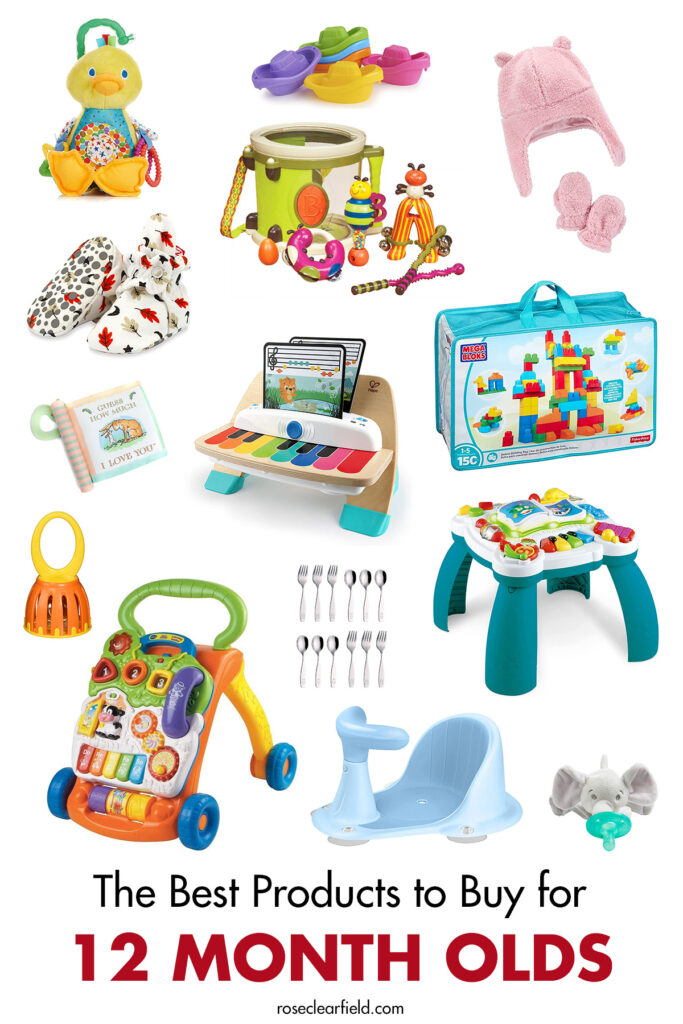 More baby/toddler favorites posts: