Today I'm sharing just a few of the items that Olivia (and we!) have been loving the past year!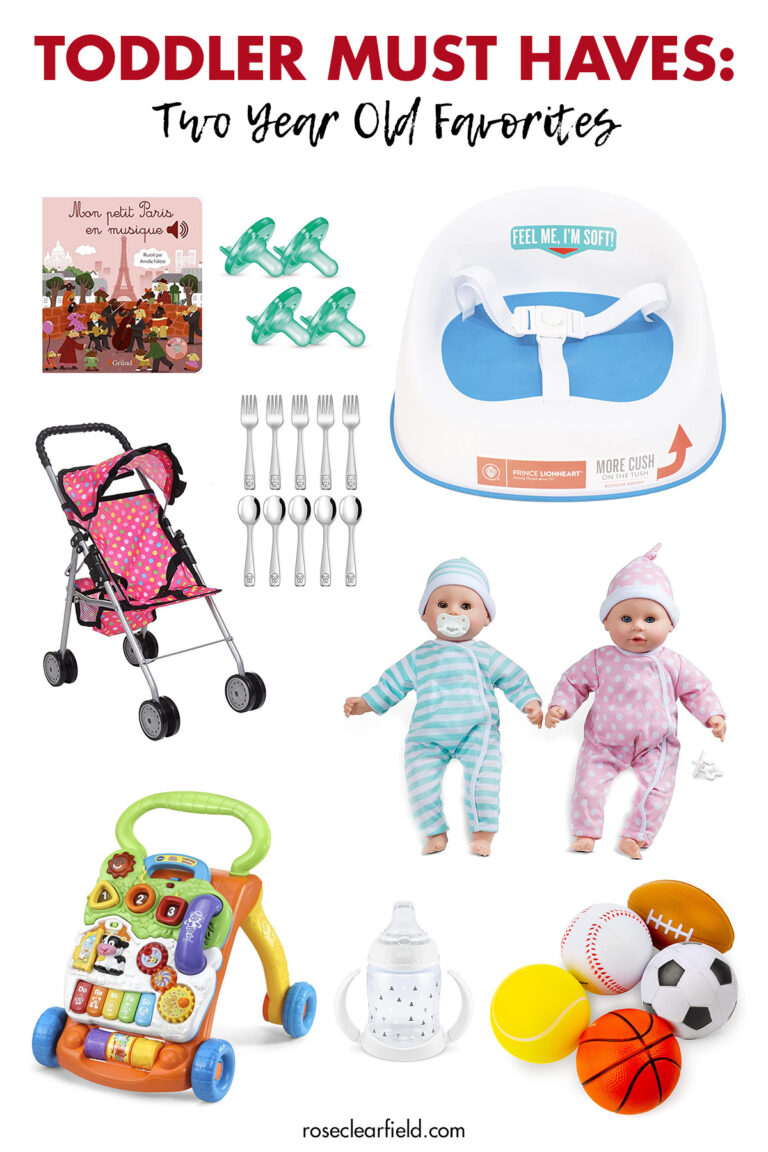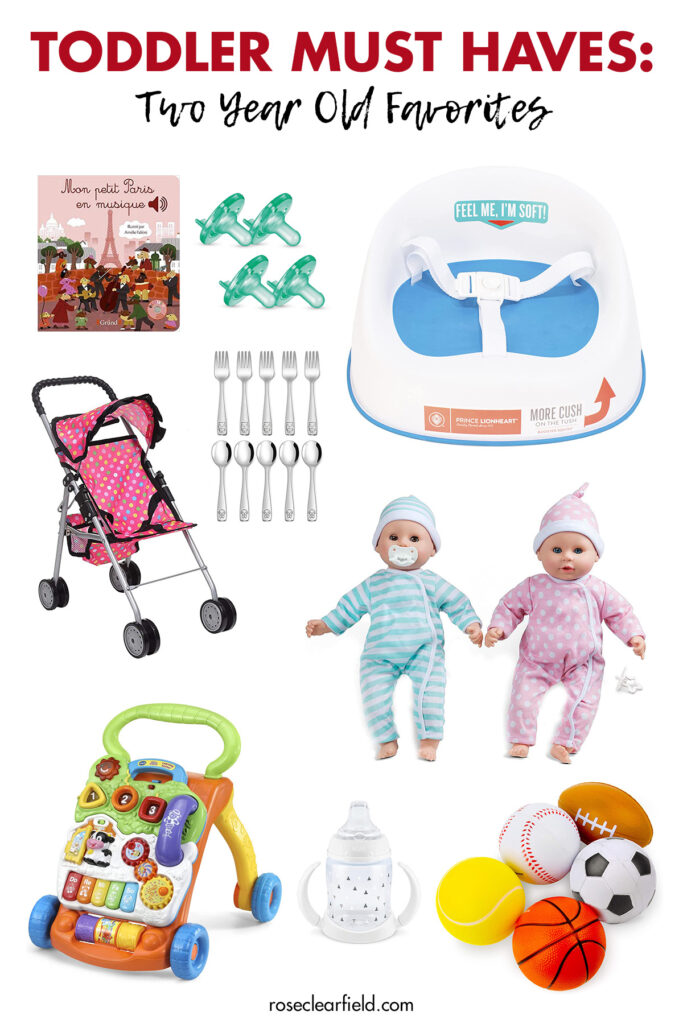 Baby dolls
Olivia is crazy about babies and loves taking care of her baby dolls. Mostly she pushes a baby doll around in a stroller. Sometimes Olivia will pretend to feed a baby doll or put him/her to sleep. I bought the Melissa & Doug twin boy and girl for Tommy a few years ago. They remain some of my favorite baby dolls. I love the faces and eyes, and they've held up so well.
Baby doll stroller
Ever since she learned how to walk, Olivia has loved pushing a baby doll in a stroller. You can make multiple loops in our house, and she will take the baby around and around and around.
We've owned our baby doll stroller for several years. Unfortunately, the specific one we own is no longer available. But I'm linking a similar one that comes with a couple of baby bottles.
Balls
Like Tommy, Olivia has always had quite an arm and taught herself how to throw overhand before she turned one. She loves to play catch. Since Tommy started soccer last fall, Olivia has been obsessed with kicking balls. We have a big assortment of small and large soft balls that the kids can play with in the bonus room.
Besides the previously mentioned toys, Olivia mostly plays with toy cars and dinosaurs, which remain some of Tommy's favorites.
Olivia is crazy about books. She loves having a book to look at in the car or while she's sitting at the table waiting for food. Olivia chooses books as an activity on her own all the time, too. We own a ton of board books and rotate them constantly. I'm highlighting just a few of Olivia's all-time favorite books.
Baby Faces book
Baby Faces remains one of Olivia's all-time favorite books. It has been ever since she got it, and she's still going strong with it. I cannot recommend this simple book enough.
Grund French music books
My brother and his wife have been living in France for the past few years. My mom brought back a Grund music book the first time they visited a few years ago, and we've been hooked ever since. Olivia is especially obsessed with them. She plays the music spots in the books so much that she wears them out.
Unfortunately, the Grund French music books are a little hard to come by in the US. When they are available, they cost about twice as much. I think that they are worth the splurge. They also make a great gift.
VTech Sit-to-Stand Learning Walker
Obviously, Olivia is well past the point of needing the walker to help her get around. But she still loves pushing it around as she does with the stroller. Olivia also plays with the toy panel regularly. This fall Genevieve was just getting to the point that she was interested in the toys. Tommy played with the walker for years. It's fun to see the girls still getting so much use out of it.
Blippi
I've been saying for years that Blippi is one of the best kid programs out there and still stand by this statement. Olivia is very into Blippi these days. It's one of the few programs that she and Tommy will watch together and both really enjoy.
Nuk sippy cups
Tommy loves his straw cups. Unfortunately, they aren't manufactured anymore. The couple he still has are in rough shape. So the Nuk sippy cups were a new purchase for Olivia. I love that they are spill-proof and very easy to clean. Also, I would think that it would be a given that kids' cups have screw-on lids. But many of them don't?! Nuk gets points for making a screw-on top. Olivia loves milk and drinks tons of it out of her Nuk cups. I also use them to give her water to take to bed with her.
Metal silverware
I am not a big fan of all plastic for feeding kids and love the look and feel of metal silverware so much better. Olivia was very sensitive to food textures for a long time. As she did so many purees early on, she's been using her own spoon for well over a year. Olivia was very motivated to start using a fork as well and always wants silverware with meals, even when she doesn't need it.
Wooden plates and bowls
Similarly, I'm really over using tons of plastic plates and bowls with the kids. Stainless steel bowls look too much like pet bowls to me ha. Wood plates and bowls aren't the cheapest. But the quality, feel, and aesthetic is so nice. Both Tommy and Olivia love using them.
Booster seat
When we transitioned Olivia out of her high chair, we put her in Tommy's old booster seat. I don't love how easy it is to get food trapped in the lip around the bottom. Otherwise, it's been great. The seat is comfortable, and Olivia can climb up in it herself. It's so easy to take on and off the chair for cleaning and transport.
Avent pacifiers
I have only used Avent pacifiers with my kids, and they all love them. Around 18 months, Olivia had given up pacifiers except for in her crib. Then one day she started wanting them again all the time. So we still have a nice stash of pacifiers.
I tried using a Wubbanub animal with her pacifiers. But it became a whole thing that she would pull off the pacifier, throw it, and laugh, including in the middle of the night. So we've been sticking to the pacifiers on their own.
Transition swaddles
As Olivia still wakes up every few nights, I haven't even tried weaning her off of the transition swaddles yet. She's continued to use the Love to Dream brand. While not cheap, they've held up well and both girls have used them.
Hatch
Olivia is my one kid who has used the Hatch consistently for naps and at night. It does seem to help, especially for naps. I just cycle through the default settings periodically and don't program anything through the app. I'm linking an older version, which is what we have. All of the newer versions have a clock.
Sposie liners
I always put both Olivia and Genevieve down at night in a Huggies overnight diaper with a Sposie liner. It's the only way that they stay dry all night.
Gerber onesies
I bought a set of 6-9 month Gerber onesies for Olivia that I absolutely loved and that Genevieve has now gotten so much wear out of as well. Then I bought a set of 12-18 month Gerber onesies that Olivia wore for a solid year that I'll also be able to pass on to Genevieve. It's so hard to find sets where I love all of the designs. The colors and patterns in these sets are so great, and the onesies have held up really well.
Hanna pajamas
I've always loved Hanna pajamas. All three kids have worn all of our Hanna pajamas. We've only had a few zippers wear out. I especially like the one-piece design with the transition swaddles. Additionally, as the pajamas don't have feet, kids can wear them for so long, sometimes a full year or even longer.
Hanna and Old Navy dresses
Almost all of Olivia's dresses are from Hanna and Old Navy. I've been so happy with every single one of her dresses from both of these brands. As always, Hanna has some of the cutest patterns, and the quality is fantastic, even after month after month of toddler wear. I absolutely die over Old Navy's tutu dresses. The skirts are just so cute, and they always have nice colors and patterns.
Tights
I've been buying the same brand of tights ever since Olivia was a newborn. They're available in sizes from newborn through eight years, which is amazing. As so many of Olivia's dresses are patterned, the solid colors are perfect. Frankly, four pairs in a single size is overkill at this age. But it's nice to have the mix of colors, and as Olivia didn't come close to wearing out any of them, Genevieve is able to wear all of the tights as well.
Old Navy jackets
I've bought a variety of lightweight and heavier-weight jackets for Tommy from Old Navy, and they've held up so well. Olivia wore his hand-me-down 6-12 month parka for over a year and moved up to his 18-month parka this winter, both Old Navy. I also bought a lightweight flowered jacket for Olivia that I absolutely love and get compliments on all the time. Once you reach the 18-month size, most likely your kids will get a full two years of wear for each parka, which is amazing at this age.
Rash guards
The swimsuits that I've used for Olivia the past two summers are the rash guards from Primary. While Olivia doesn't burn easily, she does have very light skin. I prefer the more covered style of the rash guard at this age as well. In addition to their classic colors, Primary always has such nice patterns.
Leotards
Finally, when Tommy did toddler gymnastics a few years ago, almost none of the toddler girls wore leotards. Now they all do apparently ha. So shortly afterOlivia started gymnastics, I got her a couple of these leotards. They are super cute and easy to put on/take off. I don't expect them to hold up forever at this price point. But so far, the leotards have done well going through the wash.
[Disclaimer: There are a few affiliate links in this post. Thanks for your support!]
Pin this post for easy access to the two-year-old toddler favorites later!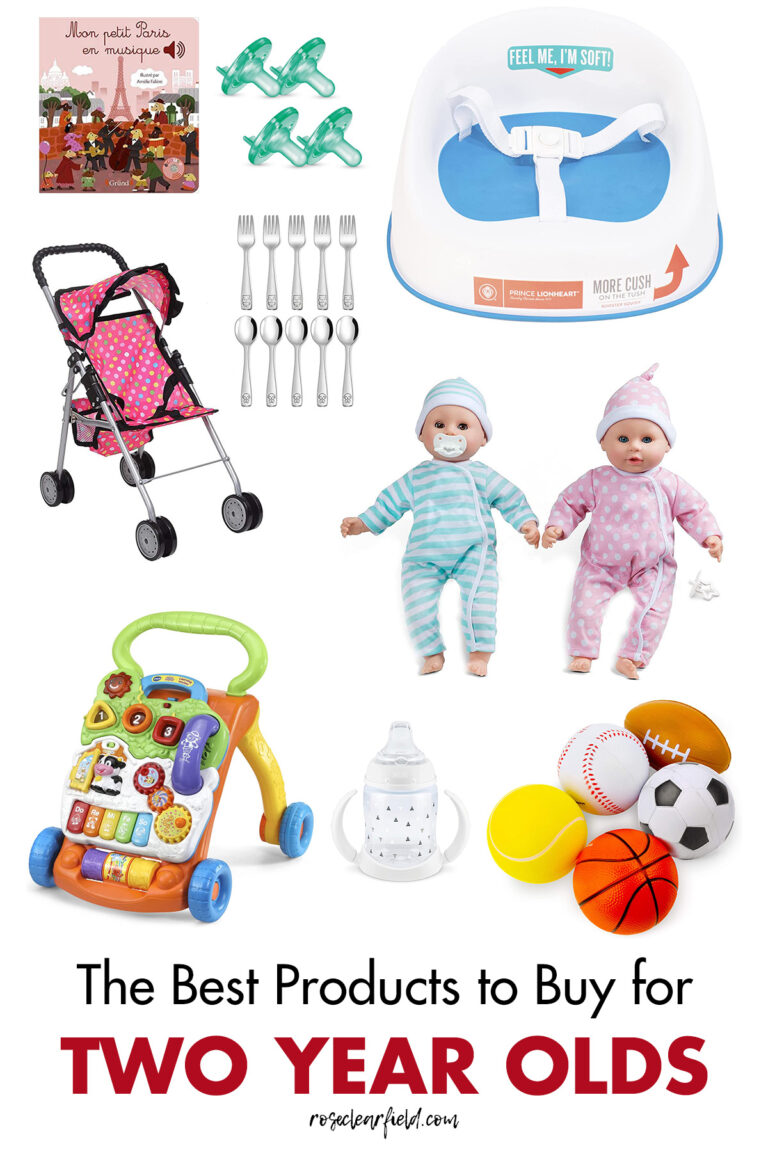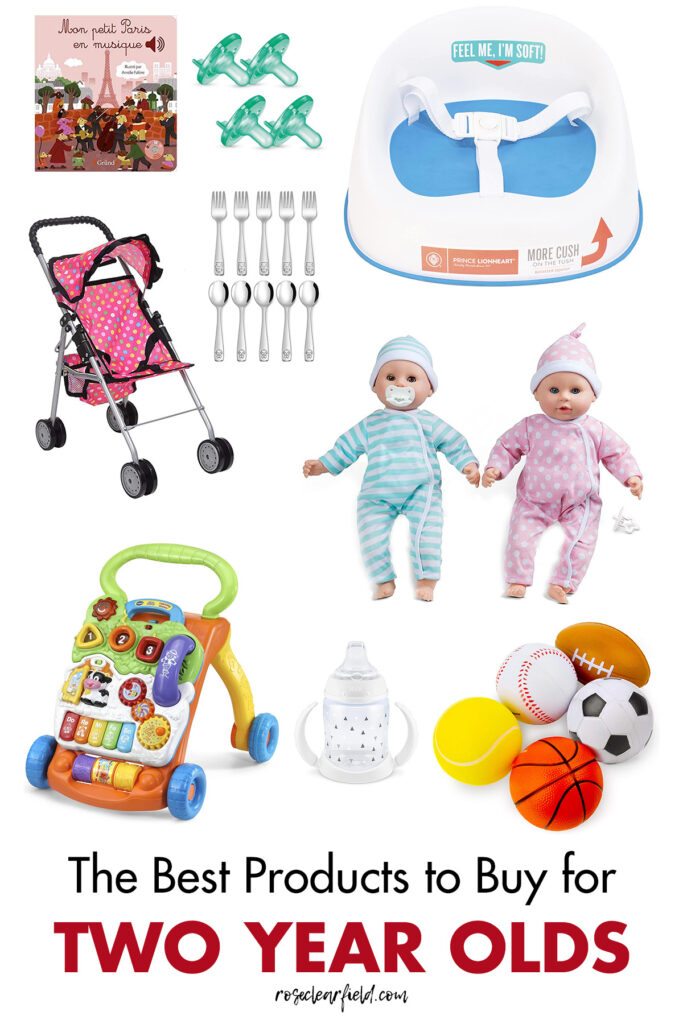 Olivia baby favorites:
I have all of my baby/toddler/kid favorites posts in the Parenting section of the blog. If you're ever looking for specific recommendations that you don't see here, don't hesitate to ask!