Today I'm sharing just a few of the items that Olivia (and we!) have been loving since my six months #2 baby favorites post. Enjoy!
There aren't a ton of new items I have to add since the six-month post. She's still enjoying so many of the things that I discussed then. There are just a few items that I wanted to highlight here.
Stroller toys
Tommy liked but never loved stroller toys. By the time he was old enough to manipulate them independently, he was ready to play with more complex toys. Olivia absolutely loves being able to manipulate them herself. We can't go anywhere without at least one or two stroller toys these days. She also loves having other people interact with the toys with her in the car, while we're waiting for Tommy's soccer practice, etc. We have a few stroller toys from Tommy that she plays with all the time. The one new stroller toy we got this summer that has been a huge hit is the Skip Hop silver cloud. Olivia loves the pull function and the various sensory elements.
Baby Einstein light bar activity station
For our trip to Michigan this summer, I picked up the Baby Einstein Glow & Discover light bar activity station. I knew that both kids would love it and that it would be something Olivia will continue to play with for several more years. Tommy does love it and has played with it just as much as Olivia has these past few months. Usually, it lives in the car, but sometimes I bring it in the house for Olivia to use in the pack 'n play.
The activity station has modes for animals, colors, and musical notes, all in English, Spanish, and French. It also plays various classical music selections when you spin the center ball, which is Olivia's favorite. With so many different activities, it doesn't get nearly as obnoxious to listen to for minutes on end as so many noisy baby toys do.
Cage bell
I talked in my six-month favorites post for Olivia about how much she loves the hard rattle, just like Tommy did, as well as percussion instruments in general. She seeks out his drum and drum sticks frequently and also loves the set of egg shakers that we've had since he was little. More recently I bought Olivia a cage bell. She loved it right from the start, even when it was a little big for her and somewhat difficult to manipulate. I'll start shaking it for her when I bring it over. She gets a huge smile on her face before it's even in her hands.
Love to Dream Swaddle Wrap UP transitional bag
Olivia did so well with the regular Love to Dream swaddles. Now she's in the Love to Dream Swaddle Wrap UP transitional bag. As of writing this post, Olivia is wearing a medium, and she's always sleeping without the arms. I was so nervous about this transition, but she loves being able to move around more freely and not having to sleep on her back. The only downside to the transitional bag only being available in stripes is that it ends up being kind of lot with any pajamas with stripes and other patterns, which is pretty much all that we have. What can you do, right? It's not like anyone else sees it.
Grow by Gerber onesies
I mentioned in my six-month favorites post that I picked up this Grow by Gerber onesies set in the grey/pink/ivory color palette for the summer months and was so happy with them. I went ahead and picked up the orange/yellow/green/ivory color palette in the next size for her to wear this fall and winter. It is so hard to find a clothing set where you love every single item. I love every single one in BOTH color palettes so much. As Olivia is so long, she was able to start wearing the new set right away.
Snap bibs
We have nearly worn out all of Tommy's old Velcro bibs. As the Velcro likes to attach to everything in the washing machine, I wanted to get bibs with snaps this time around. I bought the largest set offered for these muslin snap bibs. I absolutely love the muslin material and the patterns. The only thing I would change is that I would add a second snap, so the neck can fit a little more snugly. They're still a little big on Olivia at nine months old. If you've run into this issue, I would also check out this set of muslin snap bibs, which does have a second snap.
Hatch
As part of my most recent efforts to get Olivia sleeping better, I got a Hatch sound machine/night light for her room. She almost always crashes well before Tommy does at night. Having the white noise helps her tune out everything else still going on upstairs. The white noise function is so nice for her naps now, too, as she's much more alert but still sleeps a lot during the day.
Olivia does have a regular night light in her room. But Tommy has liked having the changing color light so much that I figured it couldn't hurt. I don't love keeping Bluetooth on all the time and having another app connected to my phone and collecting more data. As such, so far I've just been changing the settings right on the device. If it would be helpful to use timer settings and some of the other functions in the future, I may reconsider.
Nighttime diapers
I mentioned in Olivia's nine-month update that even though she just moved up to size 3 diapers, they weren't cutting it at night. So I got her the Huggies Overnites, and they've been so great. I didn't do research for this purchase, just bought what is the highest rated on Amazon.
Sposie pads
I used the Sposie pads with Tommy for about a year maybe toward the end of his diaper days and loved them. When I bought Olivia the nighttime diapers, I went ahead and got the Sposie pads and started using them right away. Her night diapers are so heavy, and she's had so much trouble sleeping through the night already. I just didn't want to mess around. I still love Sposie pads and will continue using them with Olivia at night for the foreseeable future.
If you're looking for even more baby favorites for this stage of life, I wrote a separate baby favorites: 9 months post for Tommy!
[Disclaimer: There are a few affiliate links in this post. Thanks for your support!]
Pin this post for easy access to the nine-month-old baby favorites later!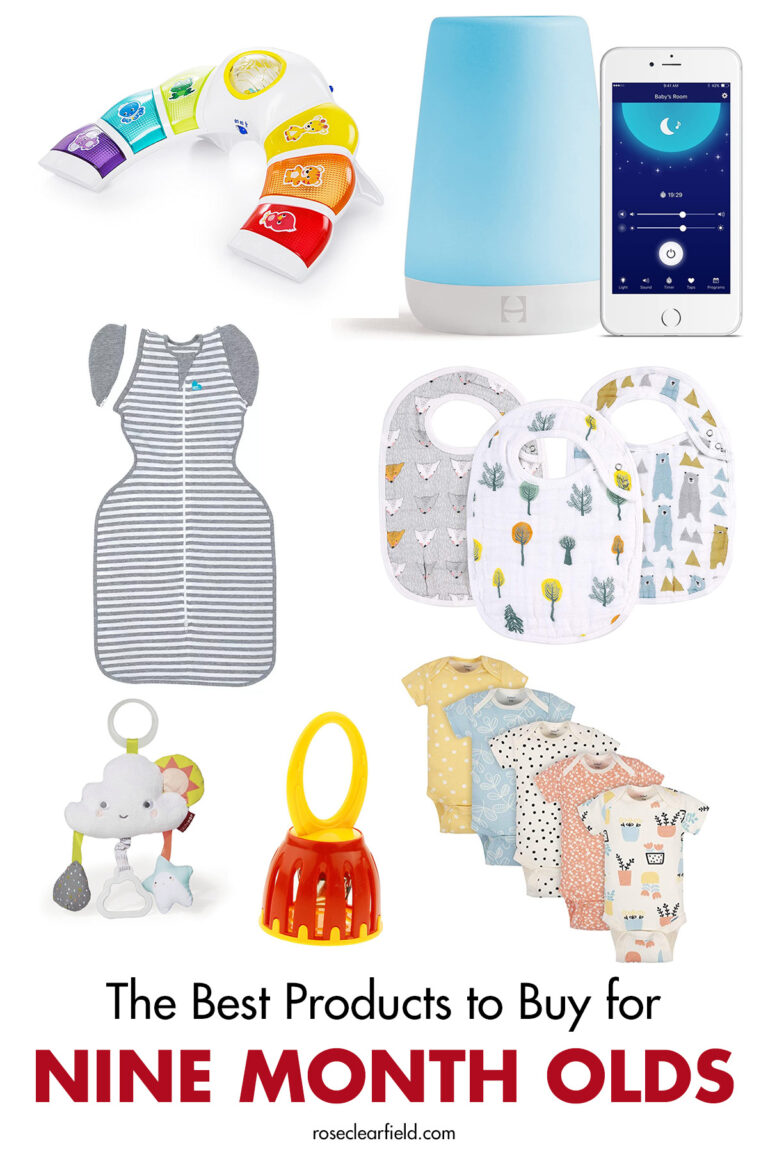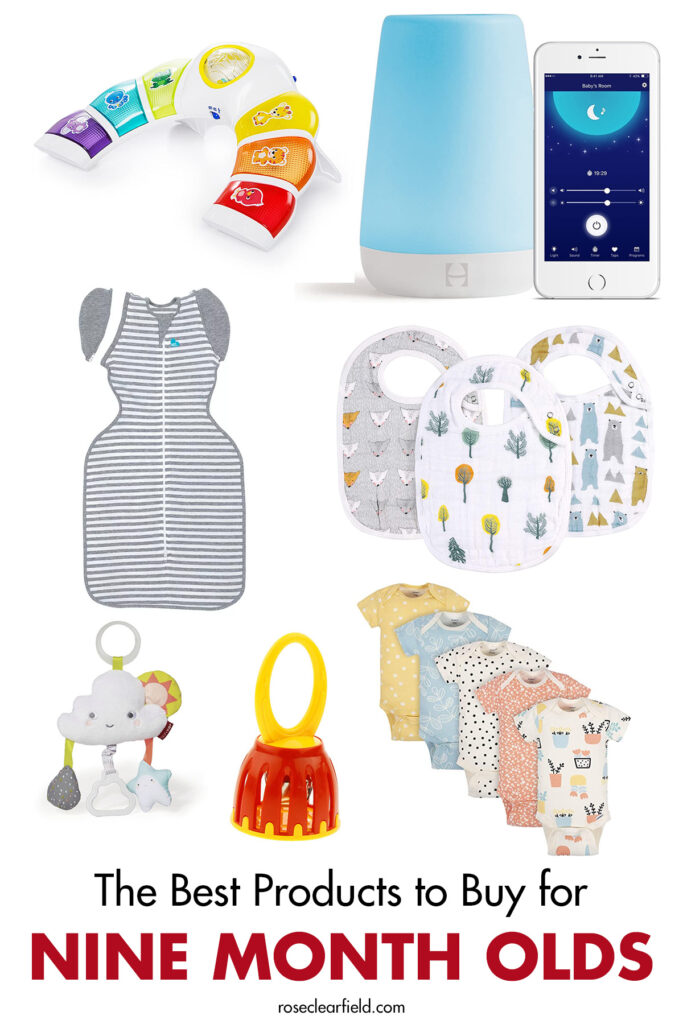 More baby/toddler favorites posts: