Familiarizing yourself with the top items to stock up on in May will help you take advantage of seasonal sales and get prepared for the summer months ahead.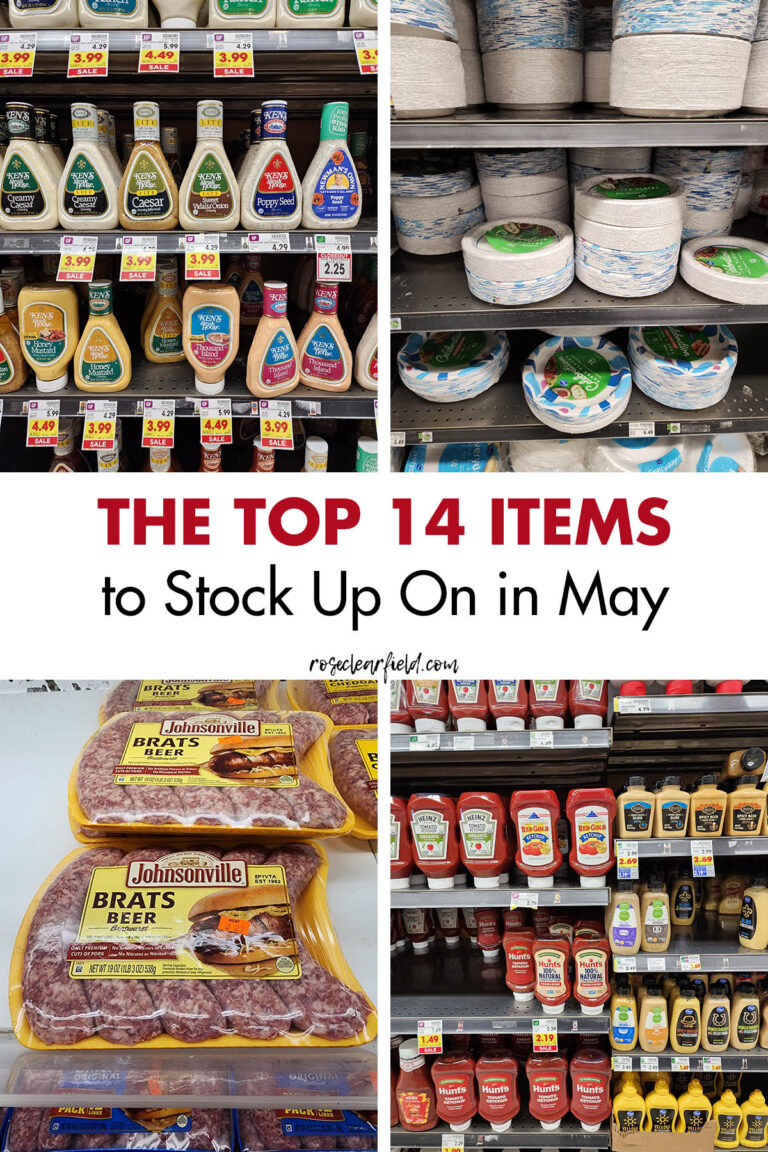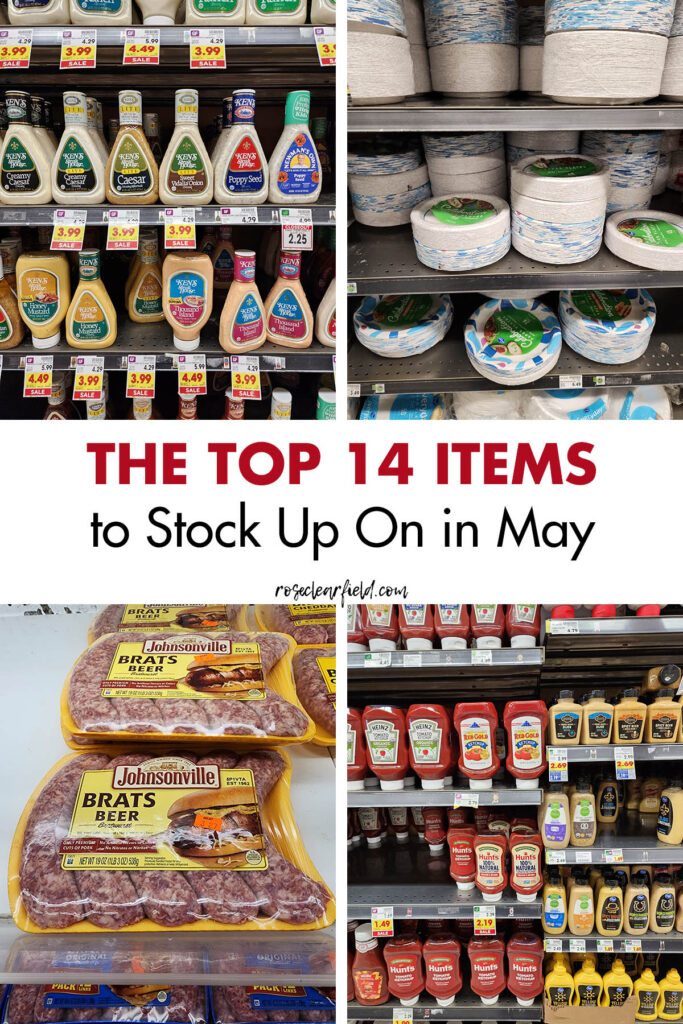 Learning what to stock up for at certain times of the year allows you to maximize seasonal sales and prepare you and your family for the months ahead. The list of top items to stock up on in May is a combination of items you'll expect to find good sales on and items that are worth buying sooner rather than later, so you don't have to scramble with last-minute shopping trips and worry about low inventory during June, July, and August. For example, you won't necessarily save money buying swimwear early in the season. But you will ensure that you get the gear that you need in time for pool parties and vacations. May is also an ideal time to take advantage of Memorial Day sales and to start shopping garage sales.
Seasonal produce
I don't need to spend a lot of time explaining that you'll always spend less money on the produce that is in season now. May is an ideal time to shop seasonal produce because many areas of the country are just starting to experience a much greater variety of local offerings than they did through the winter and early spring. Seasonal Food Guide is a great resource for determining exactly what is in season in any particular state during any month of the year. You can also simply watch the produce sales at your local grocery store and shop accordingly.
Paper and plastic food products
Retailers discount paper and plastic food products, including plates, napkins, cups, silverware, and towels, in anticipation of people having Memorial Day gatherings. May is a great time to stock up on all of these items for future summer parties as well, including Father's Day, graduation parties, the 4th of July, and summer birthday parties. Having extra paper and plastic food products on hand is also ideal for summer picnics.
Hot dogs and other grilling meats
You'll find great sales on hot dogs early in the grilling season. You may find sales on other grilling meats as well, such as hamburgers, brats, and steaks. Stock up on anything that you know you'll be cooking all summer long. Freeze meat that you won't use immediately. Always make sure to package your frozen meat items in small portions (i.e., two or four hamburgers in a package as opposed to eight hamburgers) and to label them with the date and the name of the food item.
Summer condiments
Watch for sales on ketchup, mustard, barbecue sauce, pickle relish, and other popular summer condiments. All of these items are shelf stable and will last you well into the fall and winter.
Mexican foods
With Cinco de Mayo right at the start of May, many grocery stores offer sales on Mexican food items, such as tortillas, salsa, refried beans, and chips. Even if you don't have a Cinco de Mayo celebration, it's a good time of the year to stock up on Mexican staples that you'll use for taco nights and beyond.
Grilling gear
Stock up on enough grilling essentials, such as propane tanks, charcoal, and lighter fluid, to get you through the height of grilling season. Take advantage of low prices when you can, and then enjoy having what you need on hand for all of your summer gatherings without making extra trips to the store. During the month of May, you may also find deals on grills and grill accessories, such as spatulas, cleaning tools, and spice sets.
Gardening gear and other yard supplies
During the month of May, watch for deals on potting soil, outdoor plants and flowers, and other yard supplies, such as weed killer and turf builder, so you'll be set for a full season of gardening and lawn maintenance.
Pet products
National Pet Week is the first full week of May. As such, many stores offer sales on pet products during this week. It's a great time to stock up on food and treats and to replace worn-out collars and toys.
Salad dressings
May is National Salad Month, and you'll also see sales on salad products, including pre-packaged salads, salad dressings, and other salad toppings (i.e., croutons).
Star Wars products
Star Wars Day is May 4th. Many retailers that offer Star Wars product lines, such as Target and Amazon, have savings for Star Wars Day. Take advantage of this rare sale to shop ahead for birthdays and Christmas.
Allergy medication
May kicks off the start of allergy season in many parts of the country. Stock up on over-the-counter products while they're on sale.
Sunscreen and bug repellant
Go through your collection of sunscreen and bug repellant. Discard products that are expired or have a funny smell. Stock up on new sunscreen and bug repellant as needed.
Spring clothing clearance
Numerous retailers mark down their remaining spring clothing significantly to make way for swimwear and summer clothing. Seasonal clothing sales are especially great for stocking up on baby and kid clothing in a size up for next year.
Swimwear
When you know that you and/or members of your family are in need of new swimwear, buy it early in the season. Swimwear will get discounted later in the summer. But you'll get the best selection when you shop early. Don't stress yourself out waiting until the last minute to buy new swimsuits, cover-ups, and goggles right before vacations and pool parties.
Sales to watch for in May
Memorial Day sales
I don't need to spend a lot of time explaining that numerous stores have Memorial Day sales. I strongly recommend shopping Memorial Day sales with specific items in mind. Holiday weekend sales can be a great way to save on big-ticket items. However, without a set shopping agenda, it's easy to spend money on things you don't really need.
One of the biggest sales you'll see every Memorial Day is on mattresses. If you've been in the market for one or more new mattresses, watch for deep discounts over the holiday weekend. Appliances are another popular big-ticket item, especially refrigerators. Take advantage of a great sale when you see one instead of waiting until your old refrigerator has died completely.
Memorial Day weekend is also an ideal time to shop for outdoor furniture. Like any seasonal merchandise, the prices will get discounted later in the summer. But you'll get the best selection when you shop early. Picking up new chairs, tables, and other outdoor furniture over Memorial Day also ensures that you'll get to use it for as much of the warm season ahead as possible.
Garage/yard sales
As the weather warms up in many areas of the country, people start holding garage sales. You'll see a handful of garage sales throughout May with the season really ramping up Memorial Day weekend and then going strong through the summer. It's worth watching for garage sale signs if you're in the market for furniture, appliances, baby and kid clothing and gear, picture frames, holiday decorations, and exercise equipment. You may be able to score great deals on gently used or even like new items as well as pieces that still have lots of life left in them, such as furniture that needs to be refinished.
Are there other items that you like to stock up on in May?

I'd love to hear about your favorite ways to save money and prepare for the summer season ahead!
Pin this post for easy access to the top items to stock up on in May resource later!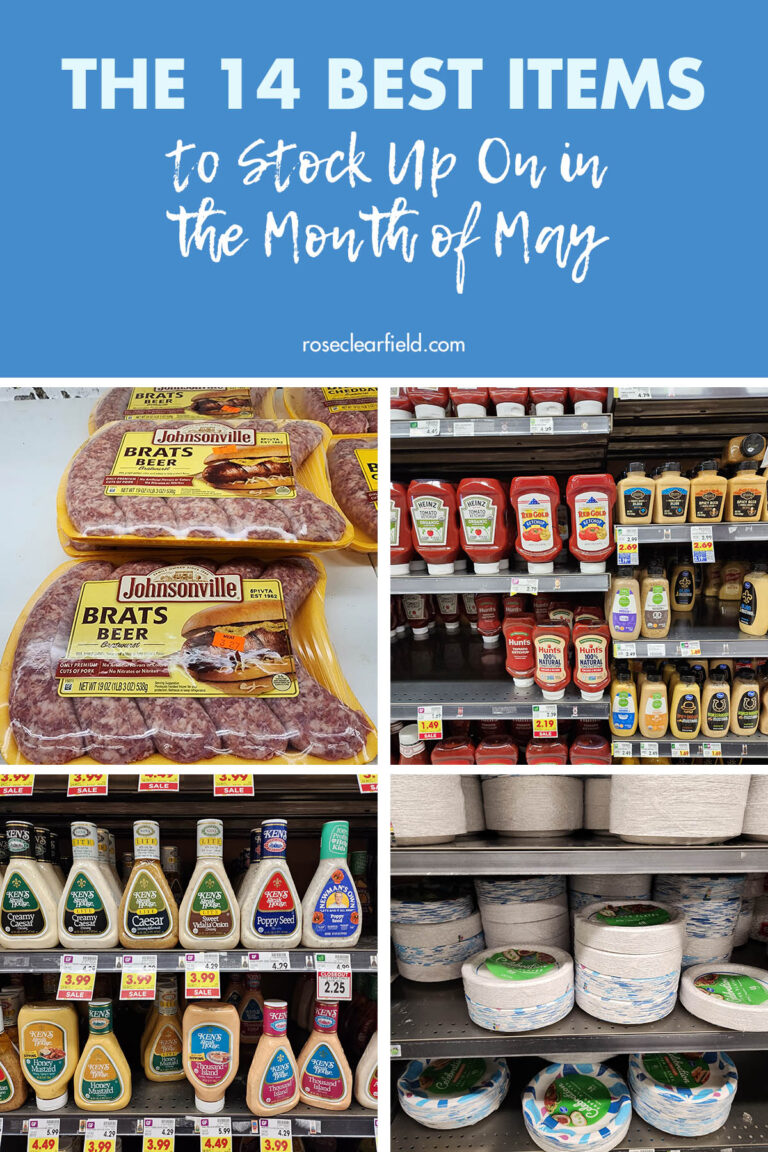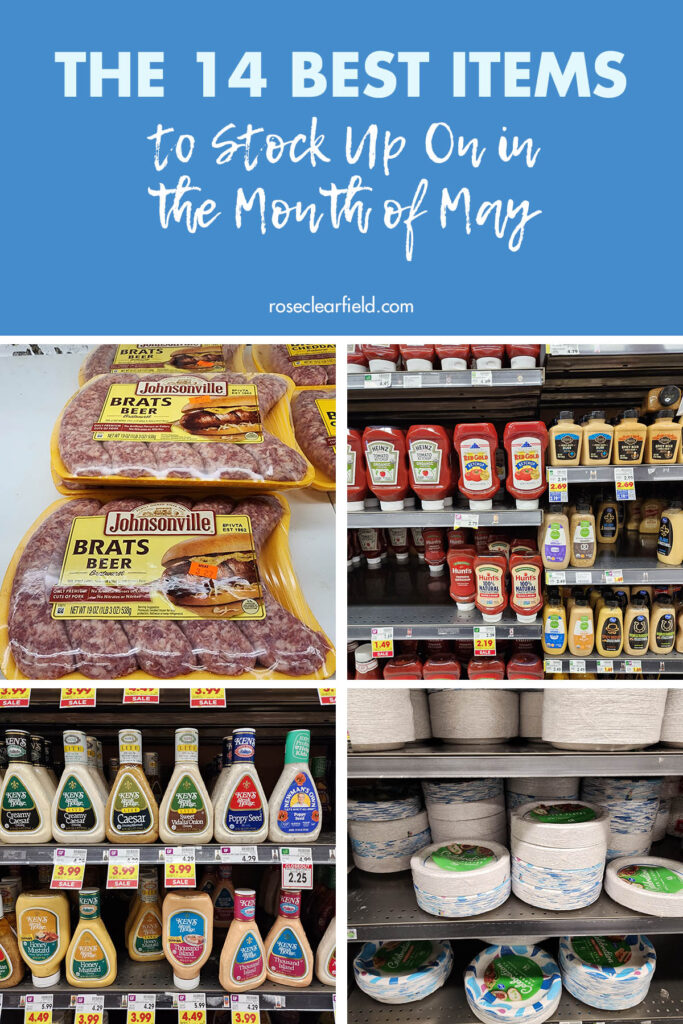 More late spring/early summer resources: