One of the hardest parts about the new school year is getting back in the regular dinner routine. Easy sheet pan dinner recipes are coming to the rescue.
After weeks of leisurely, late grilled dinners on the patio, it's tough to get into making quick dinners around school, work, and extracurricular activities. You want to eat healthy. But it's difficult when you're juggling so many priorities. Creating a solid rotation of quick family-friendly meals, including easy sheet pan dinner recipes, makes meal planning much simpler and less stressful. (I'm a big fan of breakfast for dinner once a week or so, too.)
The trick to easy sheet pan dinner recipes is finding protein and vegetable combinations that taste great together and cook at the same time and temperature. You don't want perfectly cooked meat with mushy veggies. I recommend making a new sheet pan recipe as written before experimenting with significant changes, so there are no surprises.
I've rounded up a selection of 30 easy sheet pan dinner recipes, all perfect for busy weeknights during the school year. I've included chicken, pork, beef, and fish recipes as well as a few vegetarian dishes. Here's to healthy eating and a great school year ahead!
Easy sheet pan dinner recipes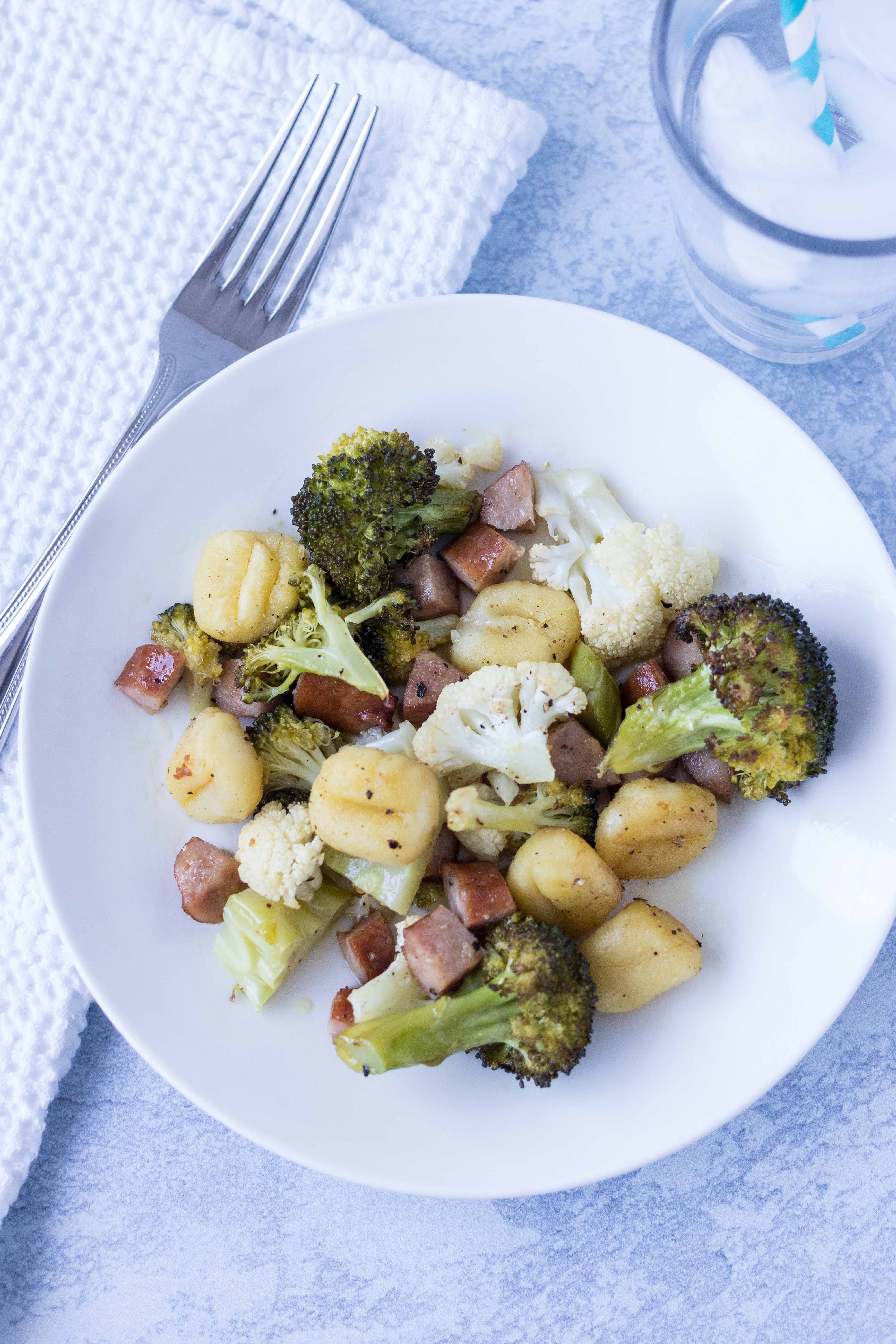 1. Sheet Pan Gnocchi with Chicken Sausage and Vegetables
Sheet pan gnocchi with chicken sausage and vegetables is so good that I make it constantly and burn myself out on it. But it slowly makes its way back into the rotation, and I love it again.
2. Sheet Pan Sweet and Sour Meatballs with Roasted Potatoes and Broccoli
Mel's Kitchen Cafe's sheet pan sweet and sour meatballs with roasted potatoes and broccoli features homemade meatballs and lightly seasoned potatoes and veggies, finished with a mouthwatering homemade sweet and sour sauce. You can't go wrong here.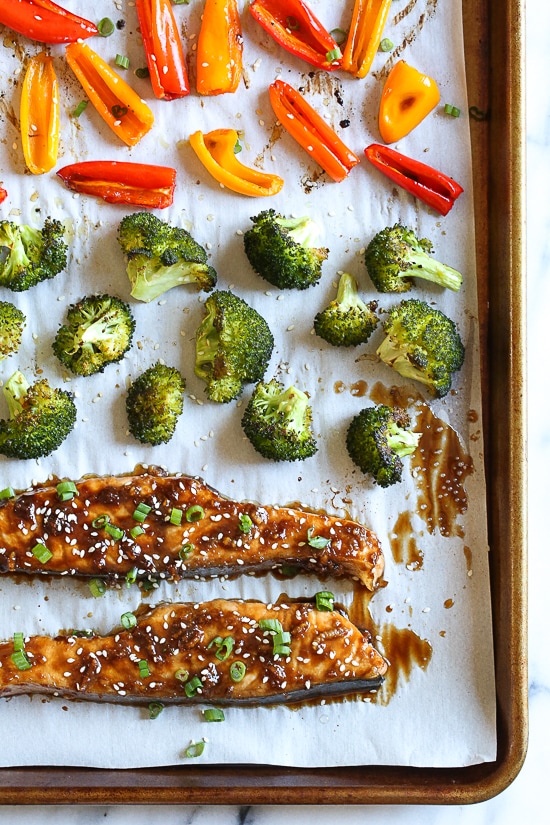 3. Sheet Pan Teriyaki Salmon and Vegetables
Skinnytaste's sheet pan teriyaki salmon and vegetables is exactly what you'd expect, which is perfect. I love that she uses mini bell peppers and that she coats the veggies in sesame oil, which gives them a hint of nutty flavor.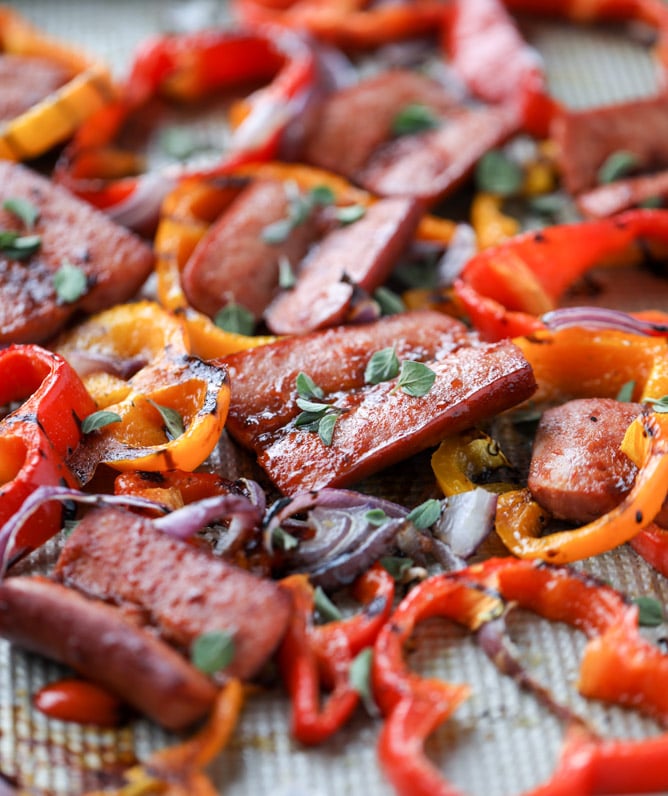 4. Sheet Pan Sausage and Peppers
How Sweet Eat's sheet pan sausage and peppers is everything I want in an easy dinner recipe. I make a similar dish on the stove and serve it with pasta, and we love it. Making it as a sheet pan recipe is even easier.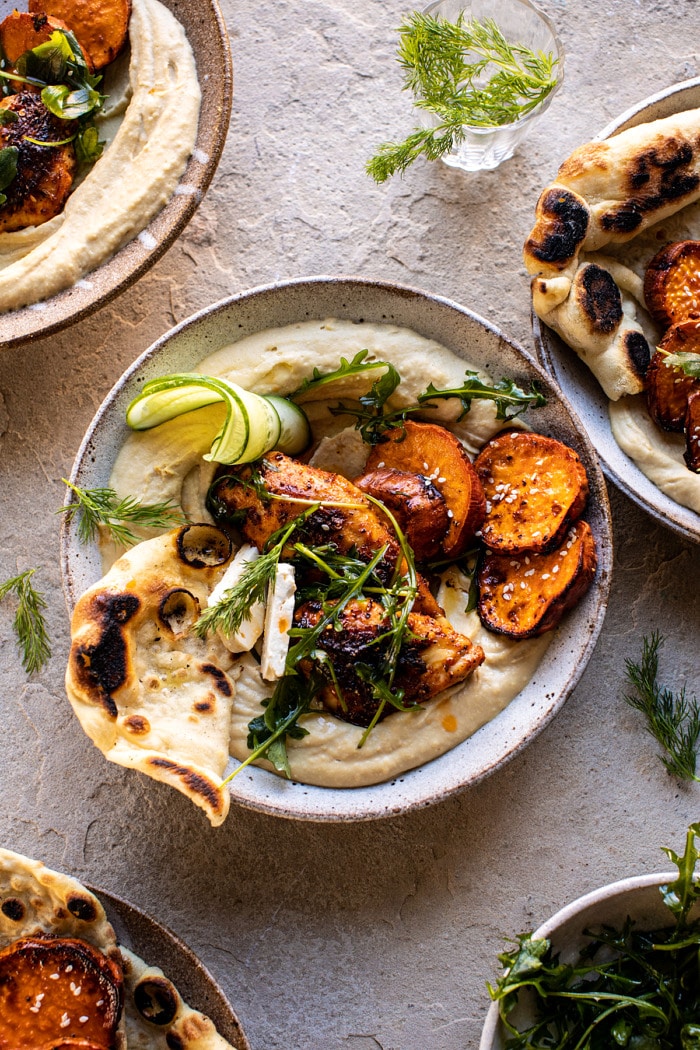 5. Sheet Pan Chicken Shawarma with Sesame Sweet Potatoes and Hummus
I love chicken shawarma and order it often at Mediterranean restaurants. Half Baked Harvest's sheet pan chicken shawarma with sesame sweet potatoes and hummus looks like something straight off a restaurant menu. No one will ever guess it's a sheet pan meal.
6. Sheet Pan Pork Chops and Potatoes
When I make pork chops, I tend to go for basic spices like The Beader Chef's sheet pan pork chops and potatoes. Don't overwhelm good meat with too much seasoning. Make a side salad, and you're all set for dinner.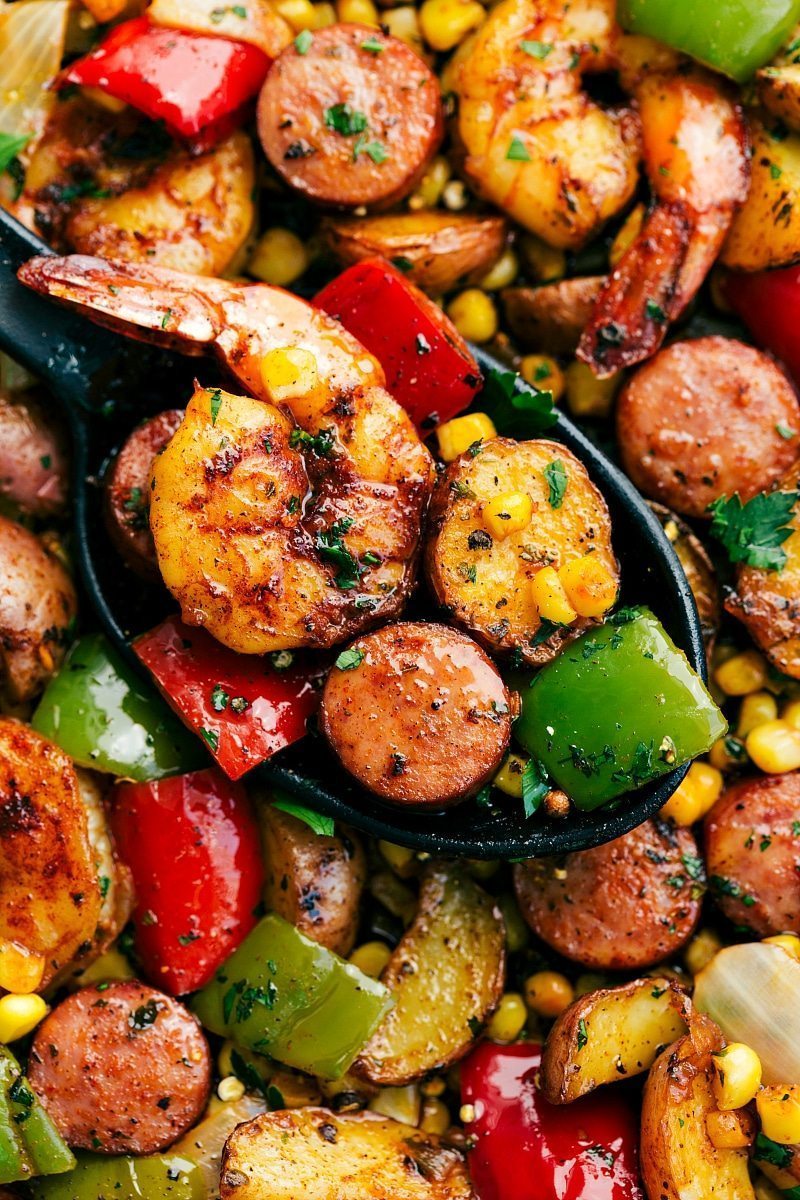 7. One-Pan Garlic Herb Shrimp and Sausage
Chelsea's Messy Apron's one-pan garlic herb shrimp and sausage pairs surf and turf for an easy sheet pan meal. The garlic butter and herbs add so much punch.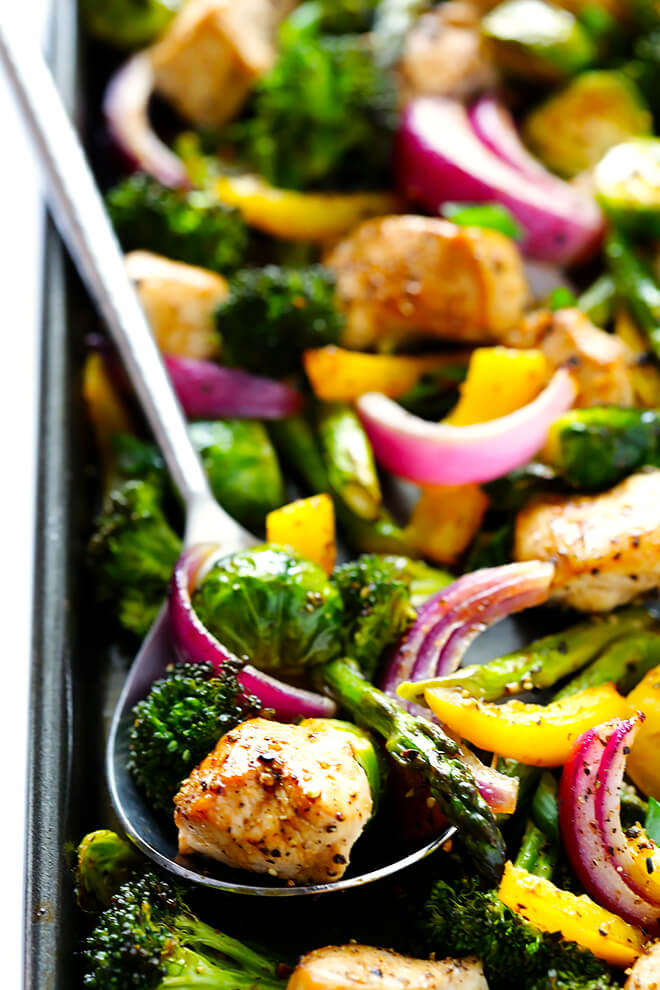 8. Sheet Pan Chicken and Veggie "Stir Fry"
Gimme Some Oven takes the concept of a classic chicken and vegetable stir fry and transforms it into a sheet pan meal. Her sheet pan chicken and veggie "stir fry" is flavored with a delicious soy-sesame sauce.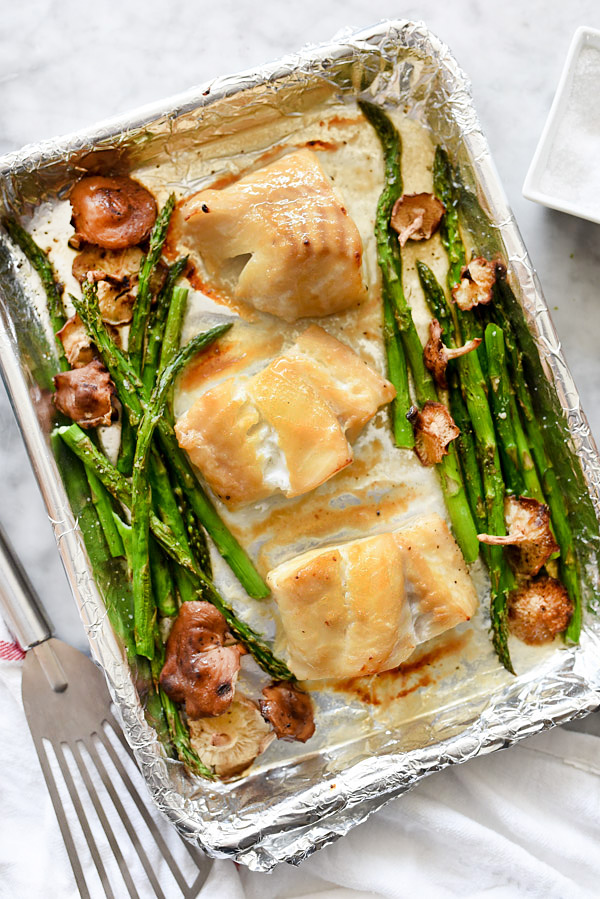 9. Broiled Miso Cod with Vegetables
When you need to mix up your dinner routine from tilapia or salmon, Foodiecrush's broiled miso cod with vegetables is a nice choice. She has asparagus and mushrooms, which I love, but don't feel limited to these options.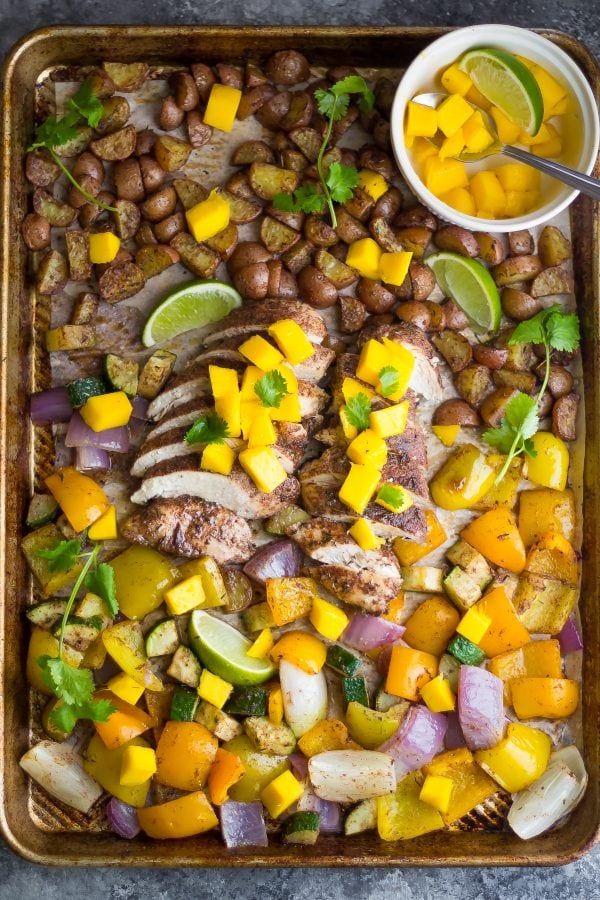 10. Jamaican Chicken Sheet Pan Dinner
Sweet Peas and Saffron's Jamaican chicken sheet pan dinner offers a refreshing twist on a traditional chicken recipe with a spicy Jamaican spice rub. The dish is filled out with peppers, onions, and potatoes, all perfectly flavored.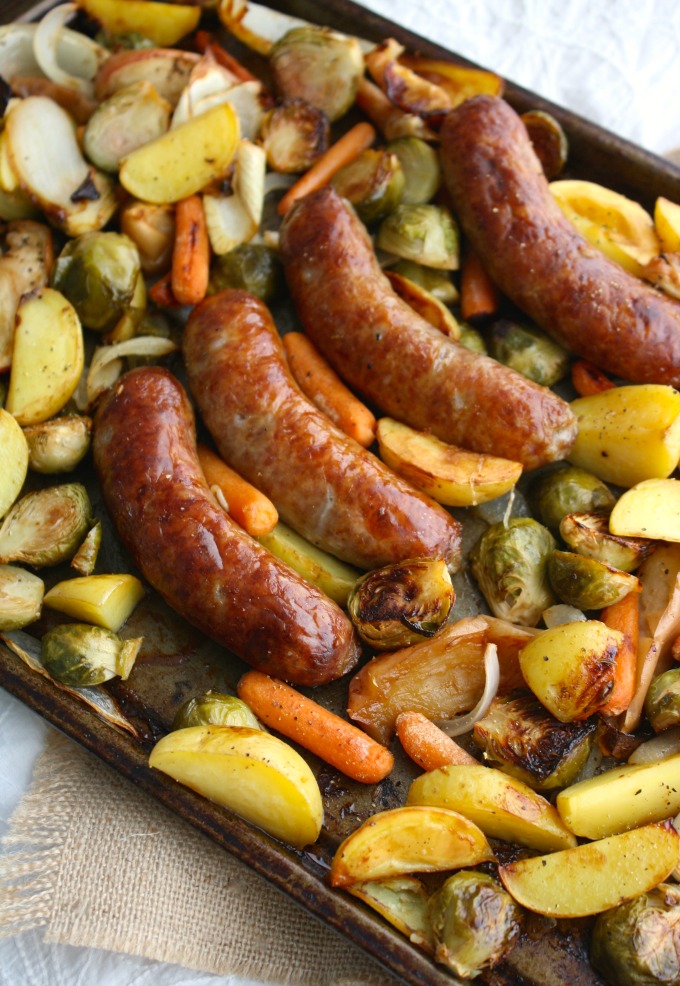 11. Oktoberfest Sheet Pan Brats with Roasted Vegetables
Grab a Plate's Oktoberfest sheet pan brats with roasted vegetables offers the fall flavors you crave on chilly nights. The apple cider, mustard, and brown sugar sauce is the perfect mix of tangy and sweet.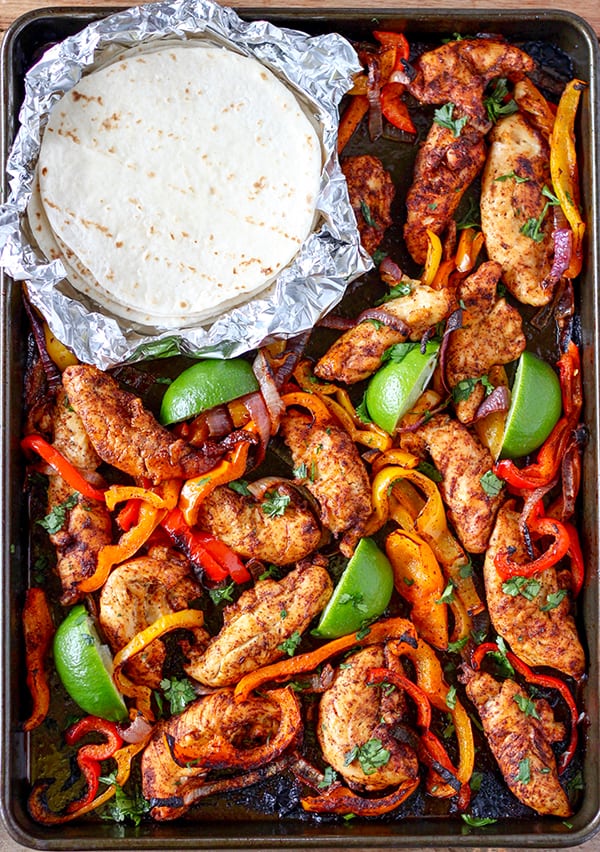 12. Sheet Pan Chicken Fajitas
Number 2 Pencil's sheet pan chicken fajitas are loaded with veggies and flavor. Bell peppers and red onions taste amazing with lime juice and cilantro. She uses chicken here, which I always love, but you could easily swap in steak or pork to mix up the recipe.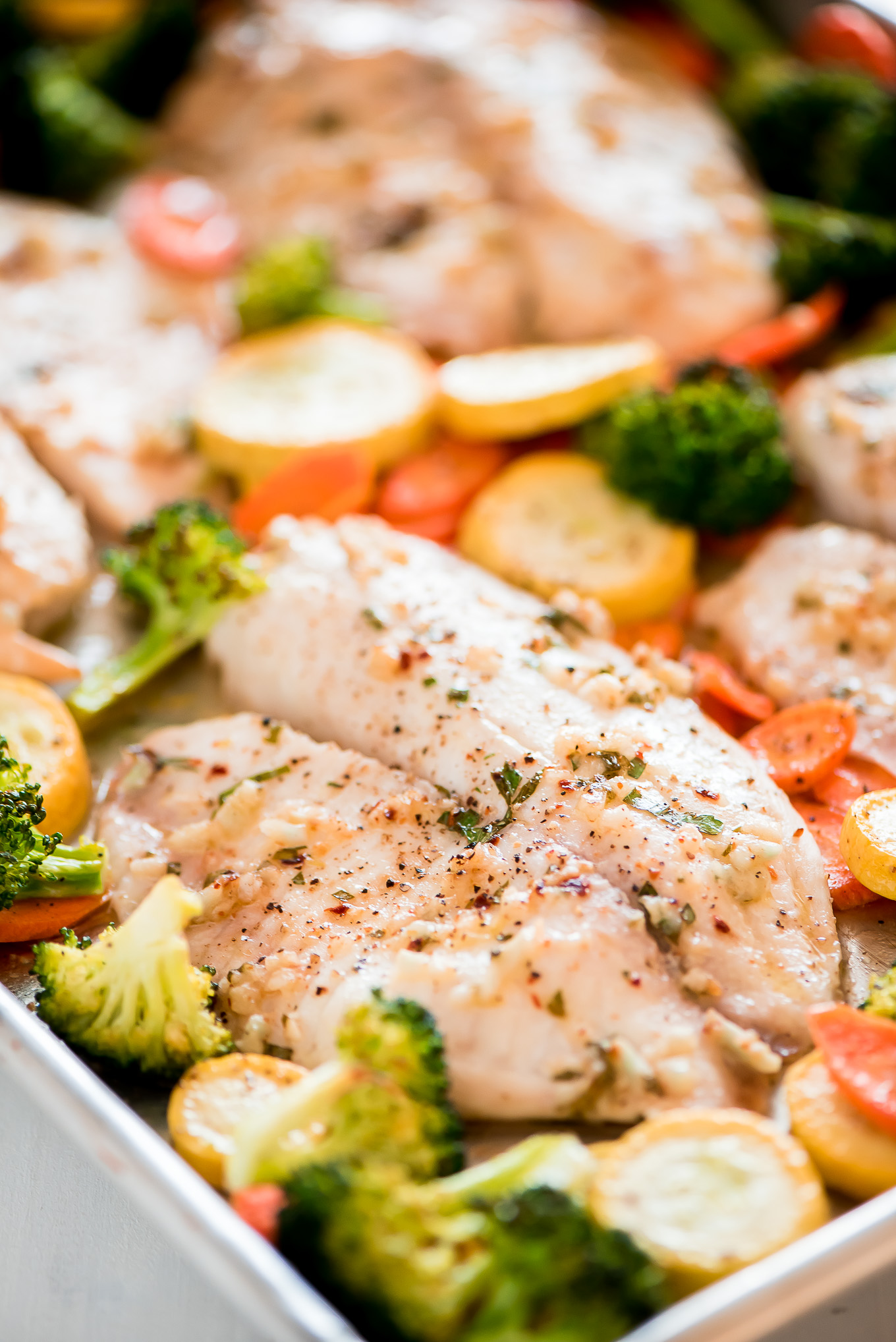 13. Sheet Pan Baked Tilapia and Vegetables
When I'm cooking fish, I almost always choose tilapia. It has such a light, pleasant flavor, and it works well with a variety of side dishes. I love Garnish and Graze's sheet pan baked tilapia and vegetables because you bake everything right on the same pan. It doesn't get any easier.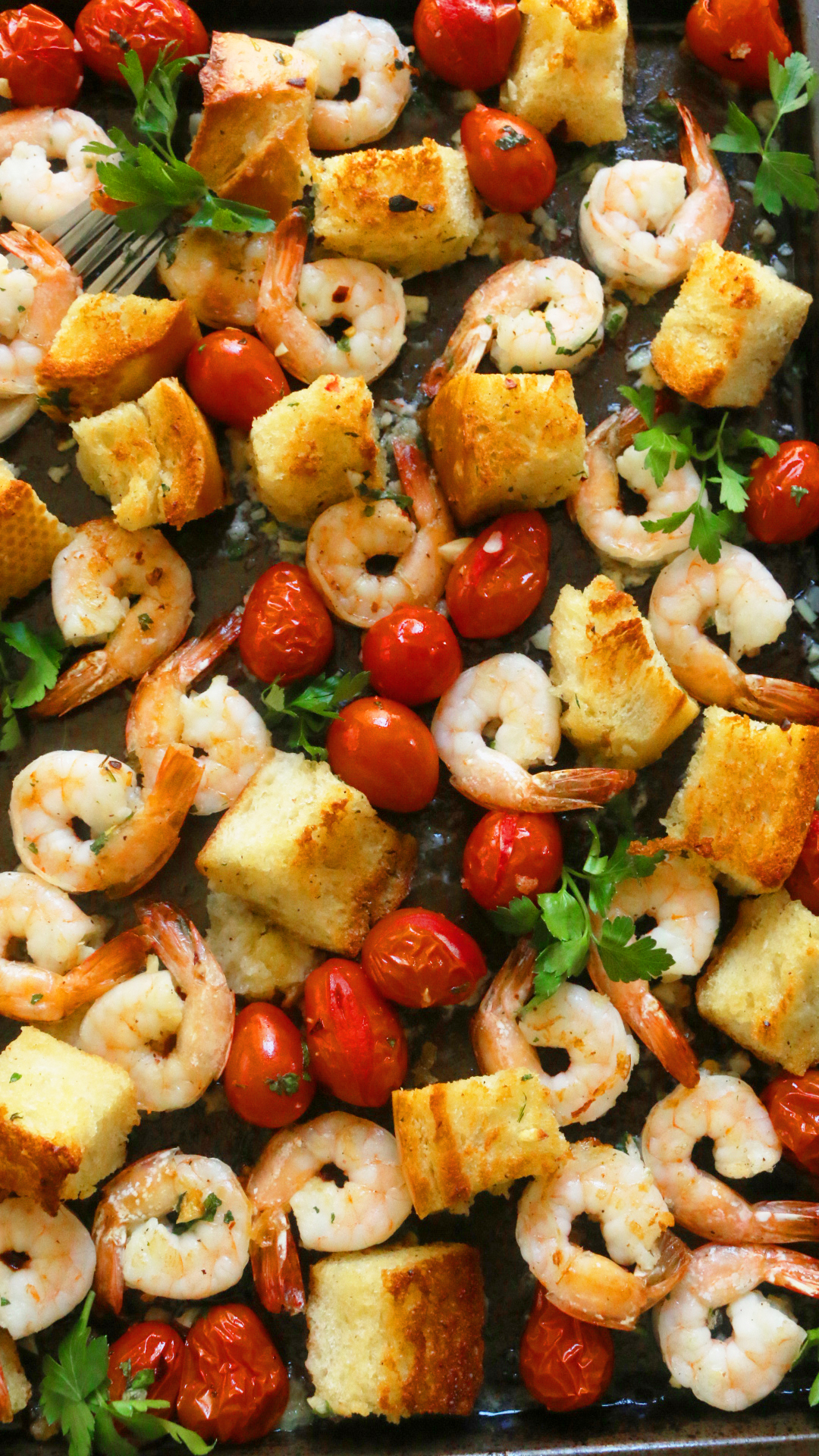 14. Garlic Bread and Shrimp Sheet Pan Dinner
Kitchen @ Hoskins's garlic bread and shrimp sheet pan dinner is genius because Maria opted to cut the garlic bread into bite-sized pieces. I would remove the shrimp talls before baking as well, so you can create easy bites with equal parts garlic bread, tomatoes, and shrimp.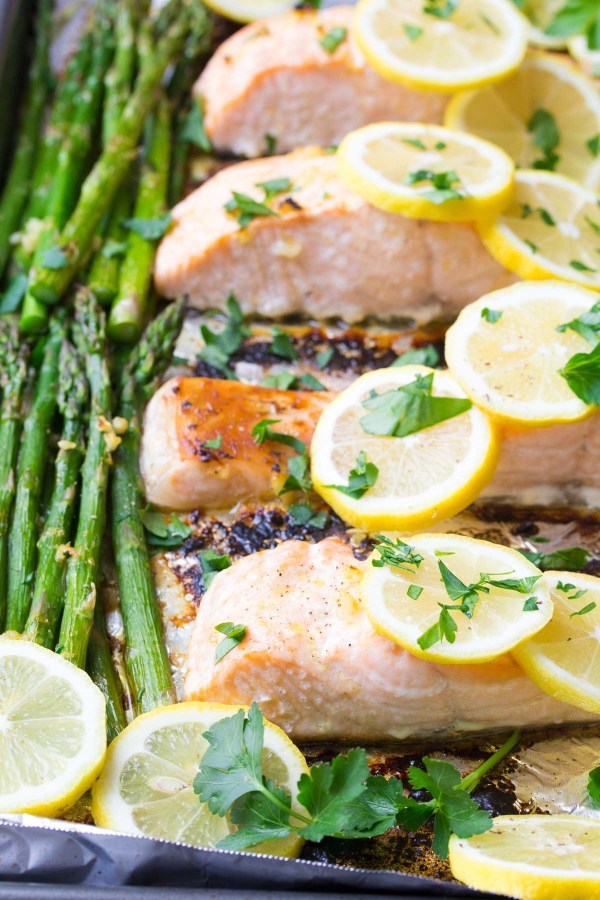 15. Sheet Pan Lemon Garlic Salmon and Asparagus
It's hard to go wrong with a lemon-garlic seasoning for a sheet pan meal. Kristine's Kitchen's sheet pan lemon garlic salmon and asparagus is easy, healthy, and flavorful.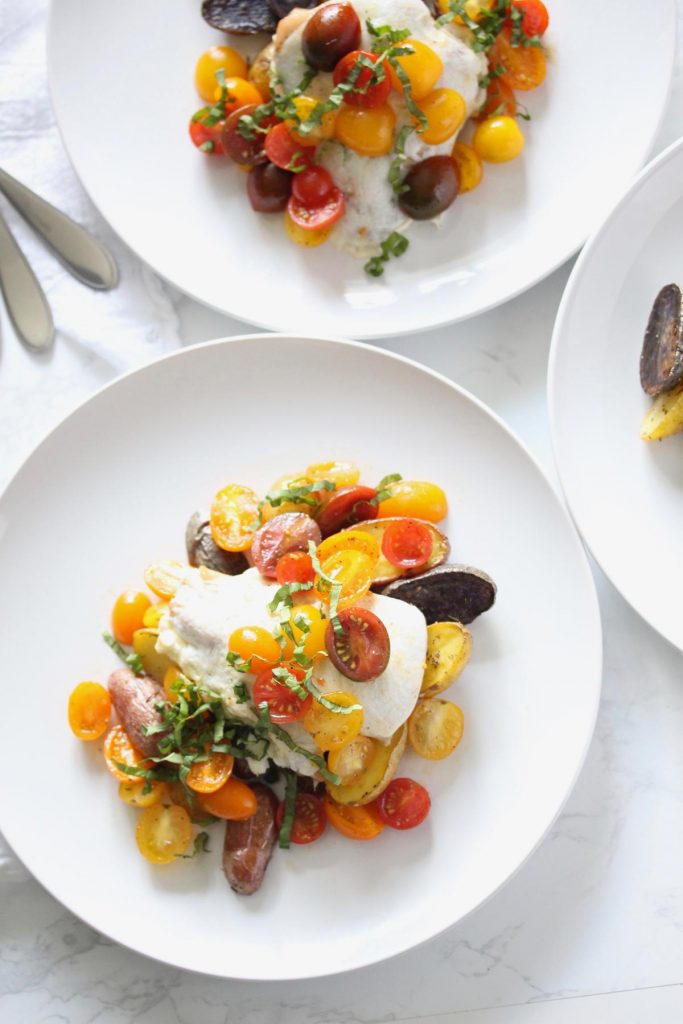 16. One-Pan Caprese Chicken and Baby Potatoes
You know how I feel about Caprese recipes. I love that Zested Lemon fills out her one-pan caprese chicken with potatoes for a dinner recipe. The crispiness of the potatoes takes the texture for this dish over the top.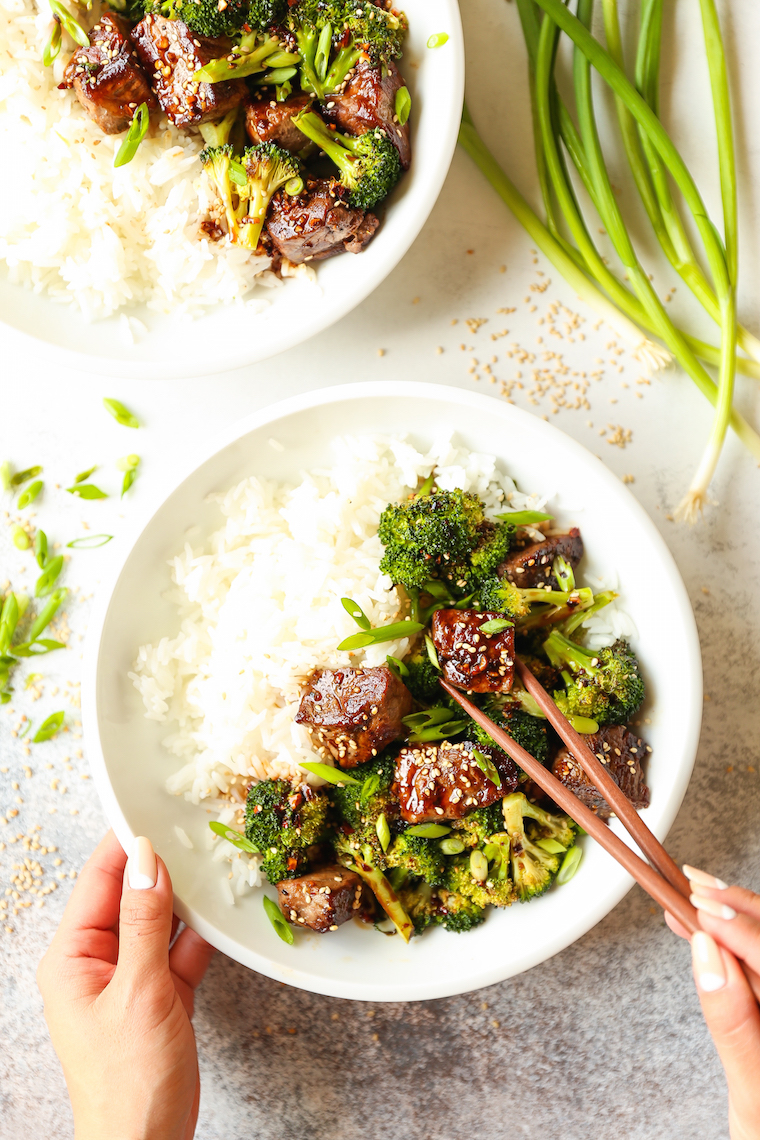 17. Sheet Pan Beef and Broccoli
I am always up for beef and broccoli, and I love that Damn Delicious's sheet pan beef and broccoli means that everything comes together quickly in the oven while you cook the rice on the stove.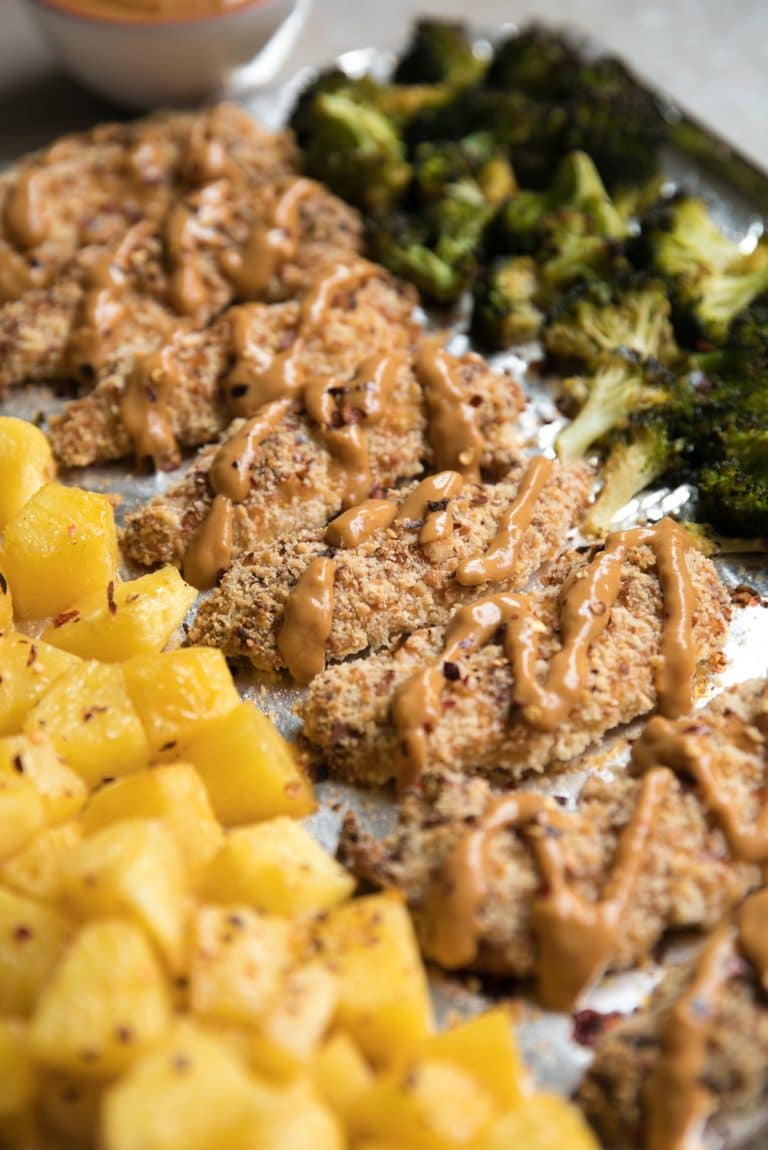 18. Sheet Pan Macadamia Coconut Crusted Chicken Tenders with Peanut Sauce
As I'm crazy about all things coconut, both sweet and savory. I can't say no to peanut sauce either. As such, The Forked Spoon's sheet pan macadamia coconut crusted chicken tenders with peanut sauce.
19. Sheet Pan Sausage and Shrimp Jambalaya
Tasty Thin's sheet pan sausage and shrimp jambalaya has all of the flavors you love in traditional jambalaya in a simplified, sheet-pan form. It's perfect for busy weeknights.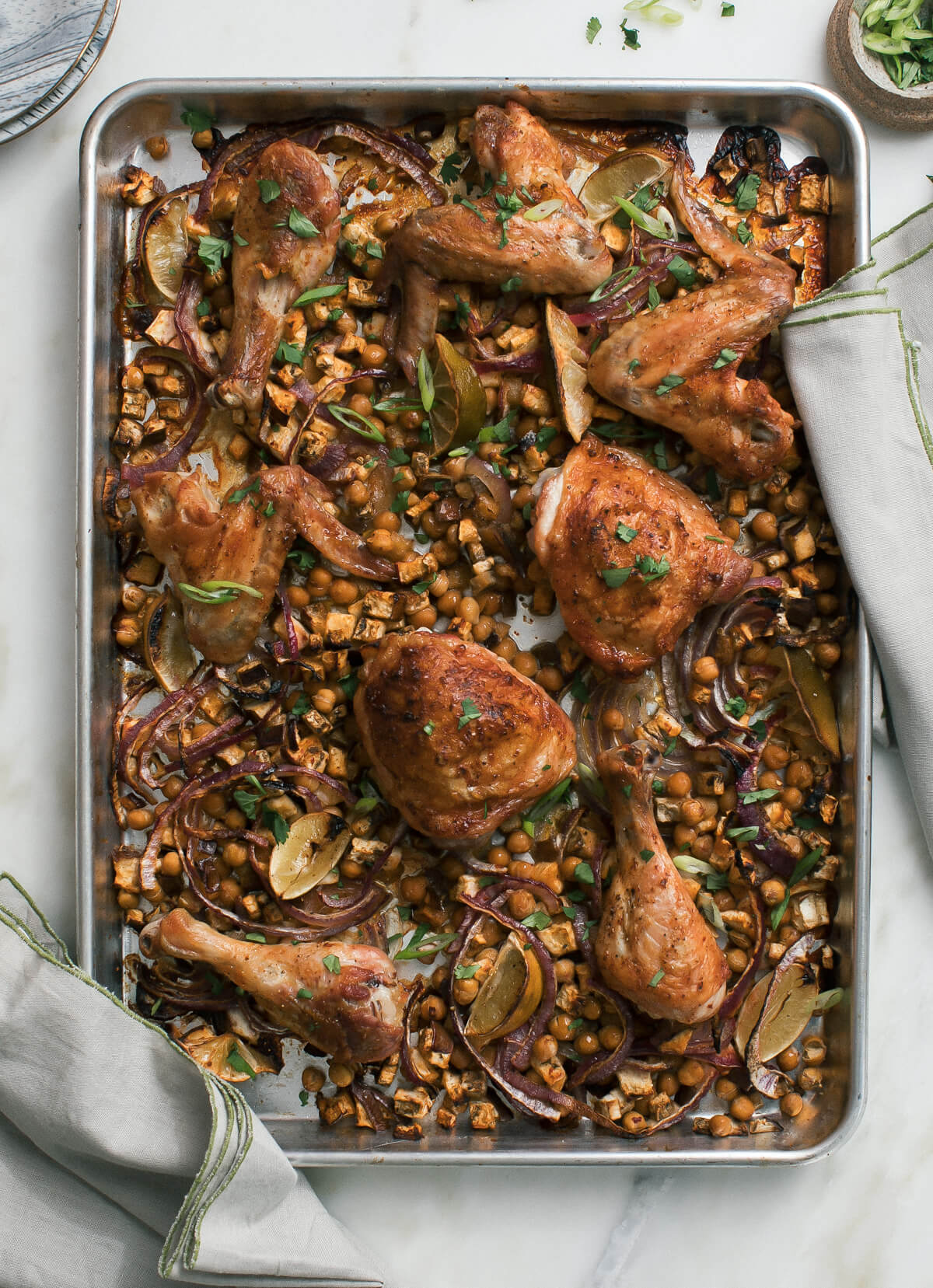 20. Sheet Pan Harissa Chicken with Chickpeas and Eggplant
A Cozy Kitchen's sheet pan harissa chicken with chickpeas and eggplant is an easy way to mix up your roast chicken routine. The sauce is so flavorful with very little effort.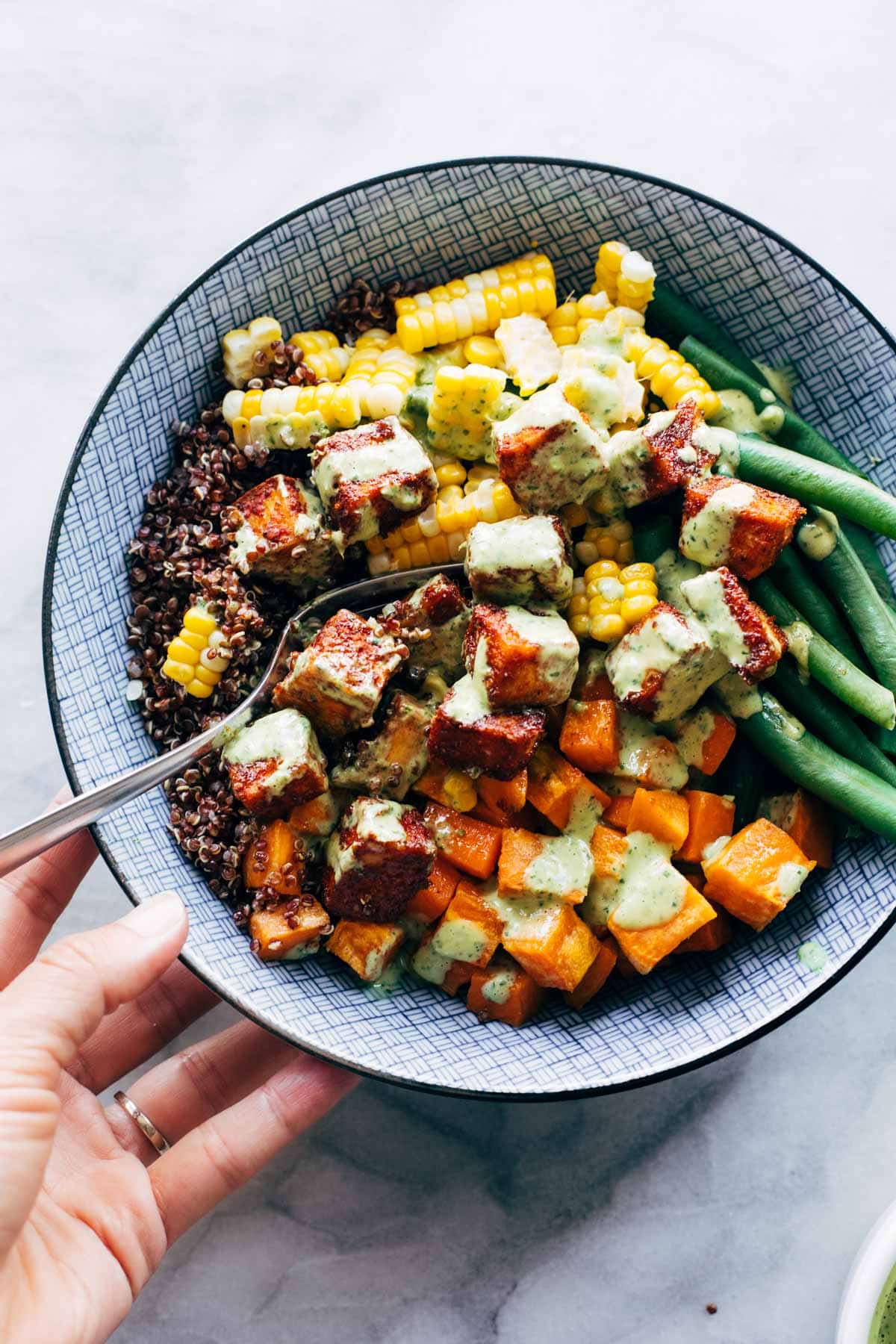 21. Sheet Pan Barbecue Tofu
Pinch of Yum's sheet pan barbecue tofu is a perfect option for families looking for vegetarian sheet pan meals. You won't miss the meal at all in this colorful dish.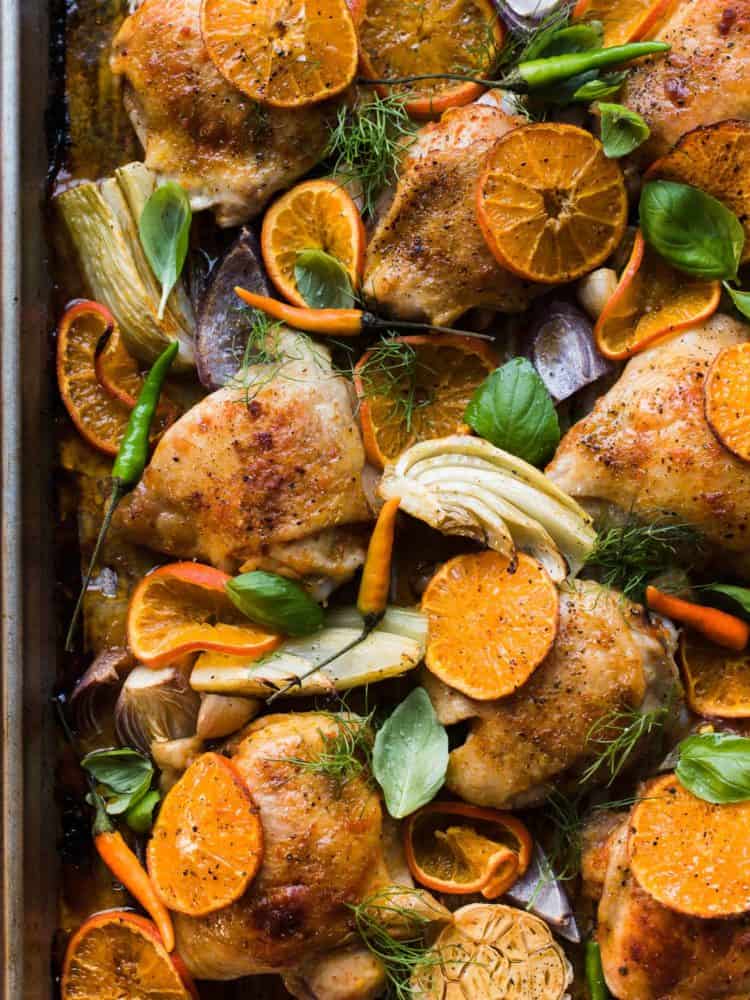 22. Thai-Spiced Mandarin Orange Roasted Chicken Thighs
Kitchen Confidante's Thai-spiced mandarin orange-roasted chicken thighs features a red curry rub infused with citrus. No one will ever believe that this meal is made on a single sheet pan.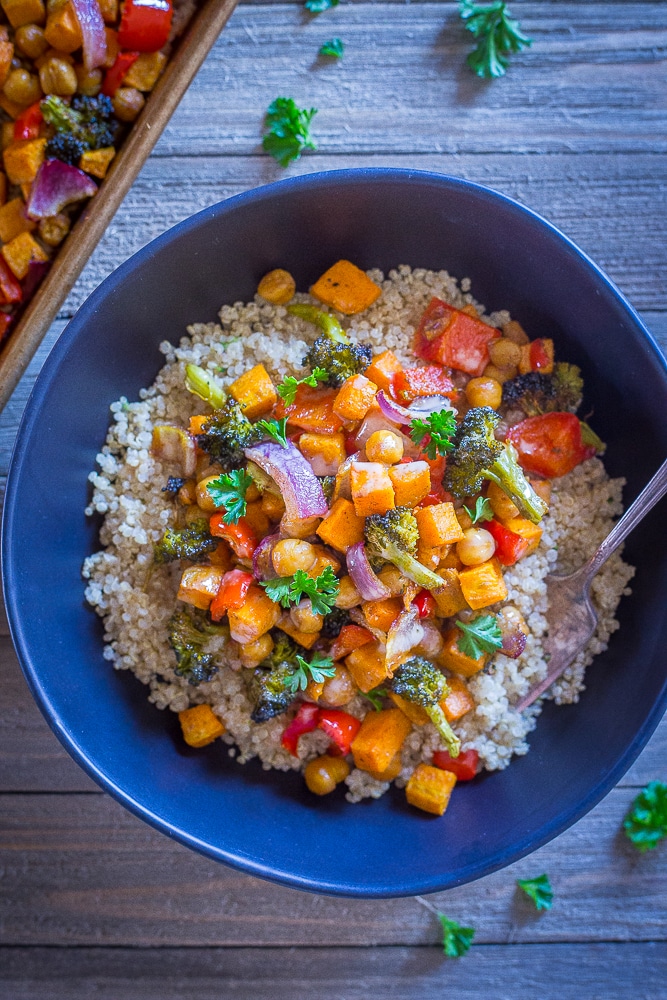 23. Sheet Pan Roasted Vegetable and Chickpea Bowls
She Likes Food's sheet pan roasted vegetable and chickpea bowls is another great sheet pan option for families looking for vegetarian dinners. The sweet potatoes and chickpeas crisp up nicely in the oven, giving the dish tons of texture.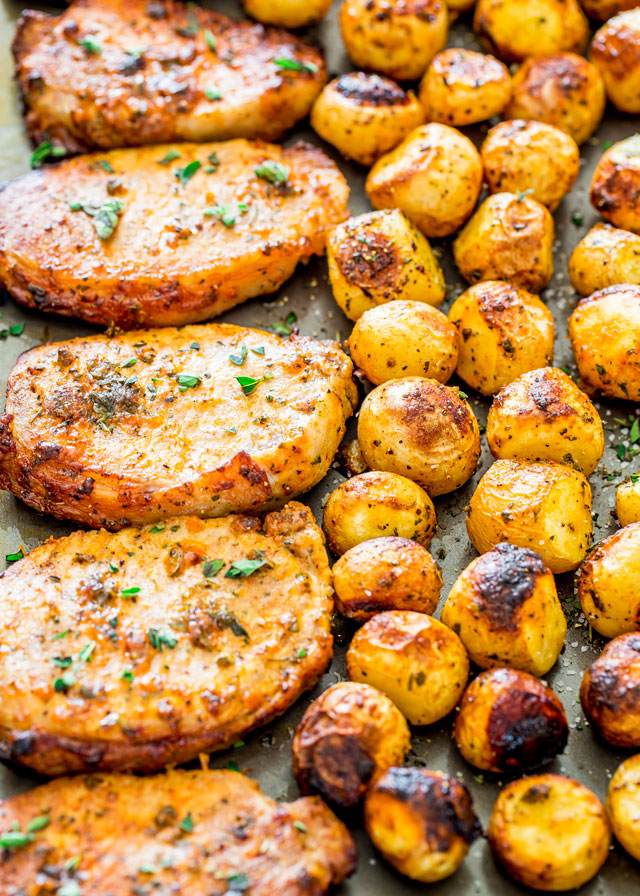 24. Ranch Pork Chops and Potatoes Sheet Pan Dinner
Baked pork chops are one of our favorite dinners. I love the ease of making Jo Cook's Ranch pork chops right on the same pan as the potatoes. Of course, it's hard to go wrong with Ranch, too.
25. Sheet Pan Salmon Primavera
The View From Great Island's sheet pan salmon primavera is packed with all of the veggies you'd expect in pasta primavera, but without any of the carbs. A primarvera dish is easy to customize with the vegetables you have on hand or that will taste best in a given season.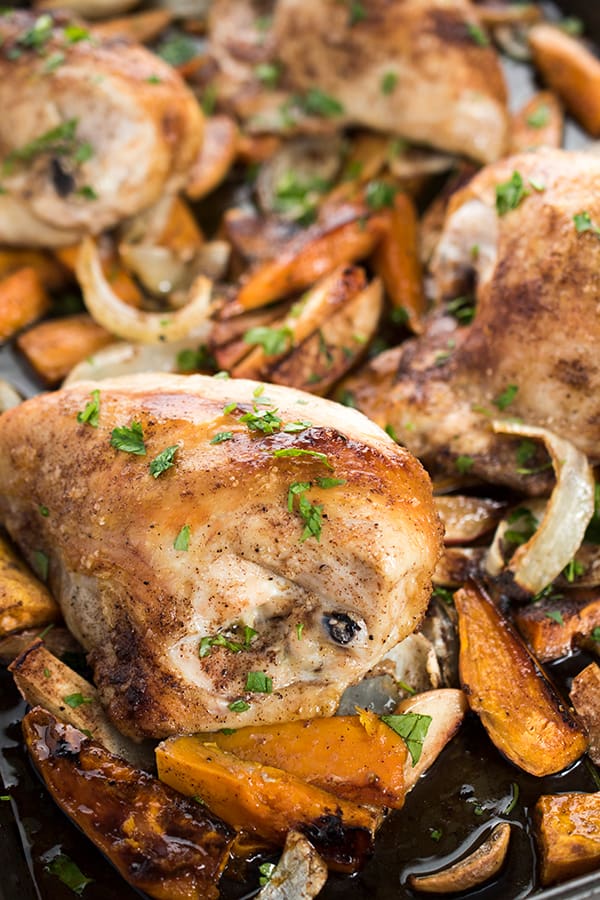 26. Roasted Sheet Pan Chicken and Sweet Potatoes
It would take me a long time to get tired of chicken and sweet potatoes. The Lemon Bowl's roasted sheet pan chicken and sweet potatoes features apples, onions, and cinnamon, making for a cozy winter or fall dinner.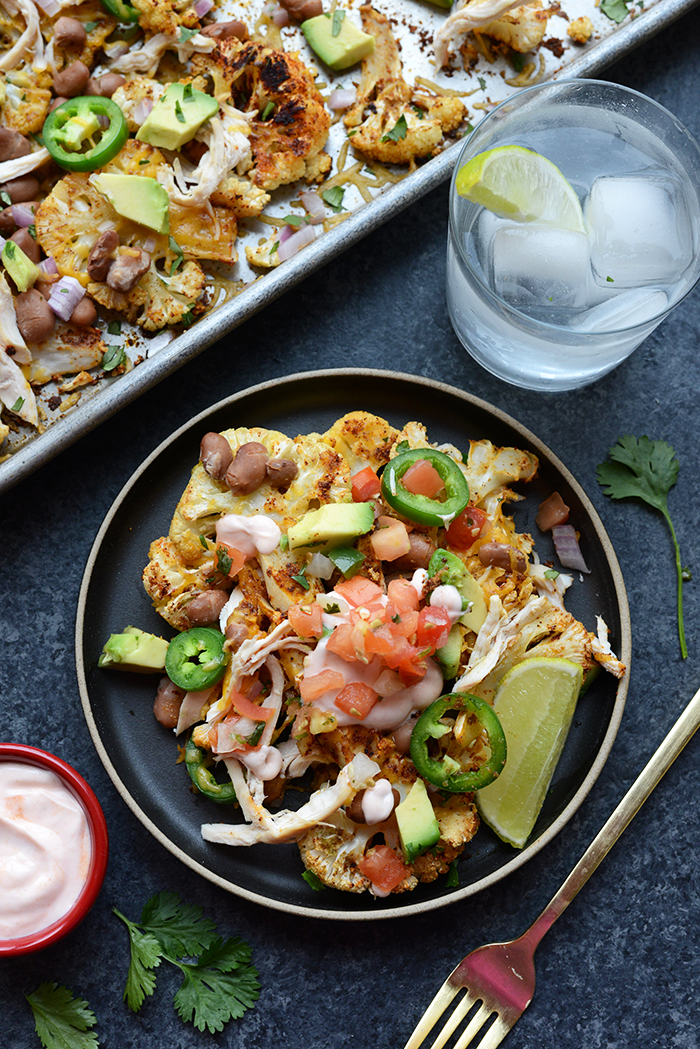 27. One-Pan Cauliflower Nachos
Fit Foodie Find's one-pan cauliflower nachos are lightened up with cauliflower instead of chips for a healthy weeknight meal. Choose flavorful, nutritious toppings, such as shredded chicken breast, black beans, and avocado.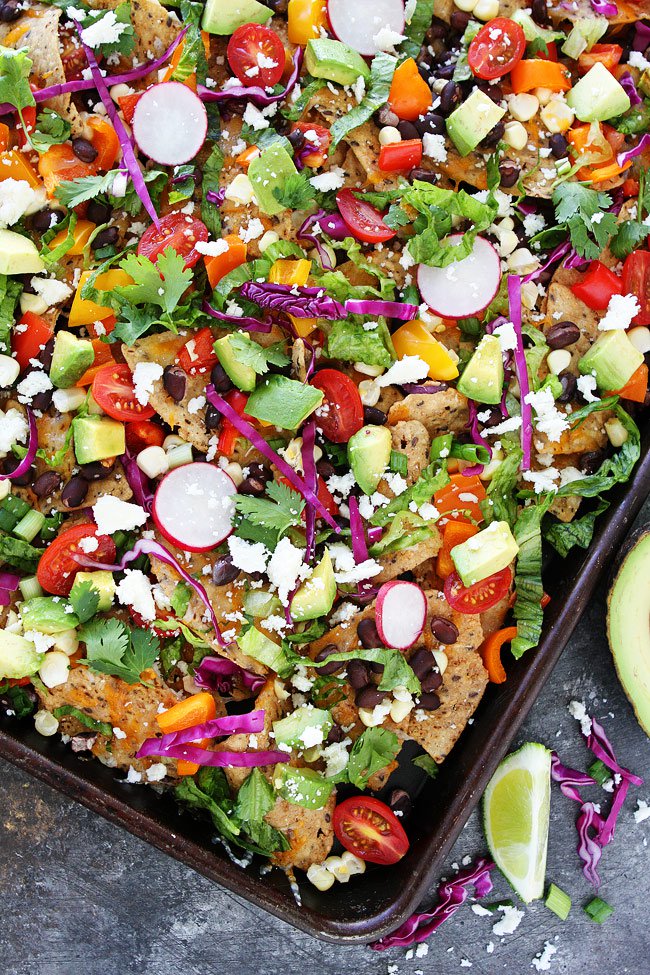 28. Veggie Sheet Pan Nachos
For those who want healthy sheet pan nachos with tortilla chips, Two Peas and Their Pod's veggie sheet pan nachos are a great option. Loaded with peppers, tomatoes, corn, avocado, radishes, cabbage, and more, there is so much color and consequently, nutrition here.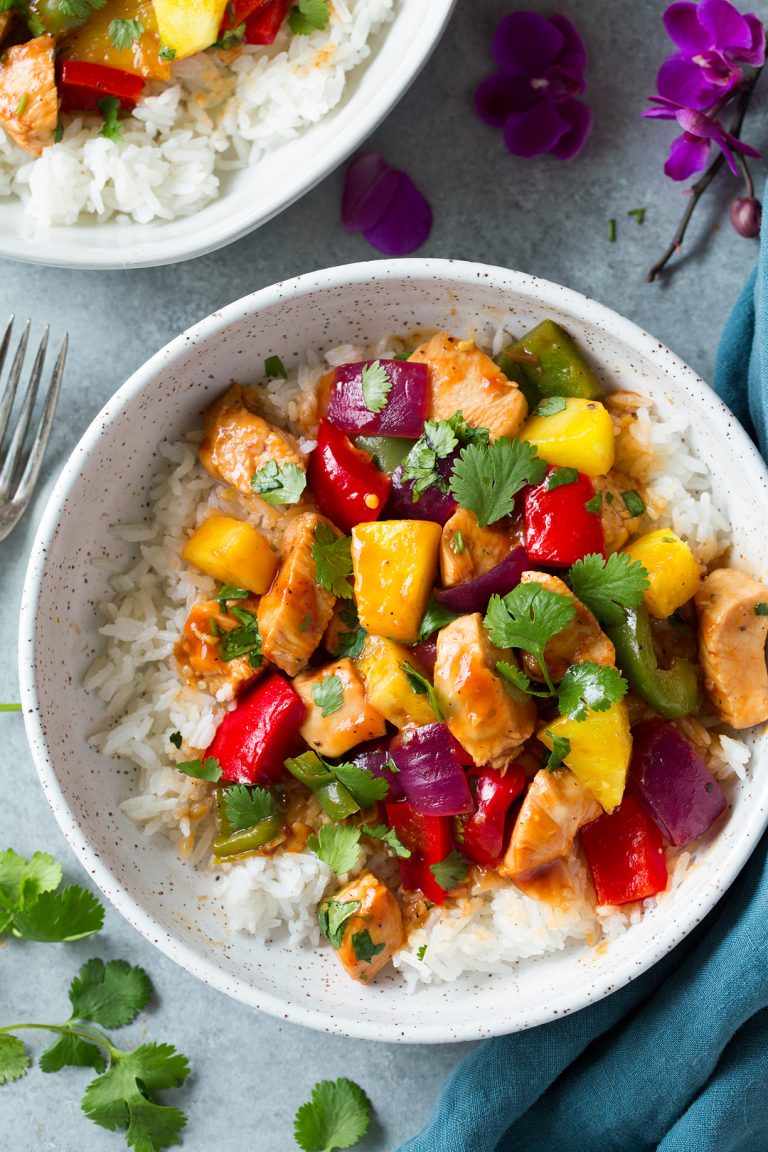 29. Sheet Pan Hawaiian Chicken
Cooking Classy's sheet pan Hawaiian chicken is essentially Hawaiian chicken kabobs with a lot less work. You don't get the same charred flavor, but a sheet pan meal is a nice alternative in the middle of winter.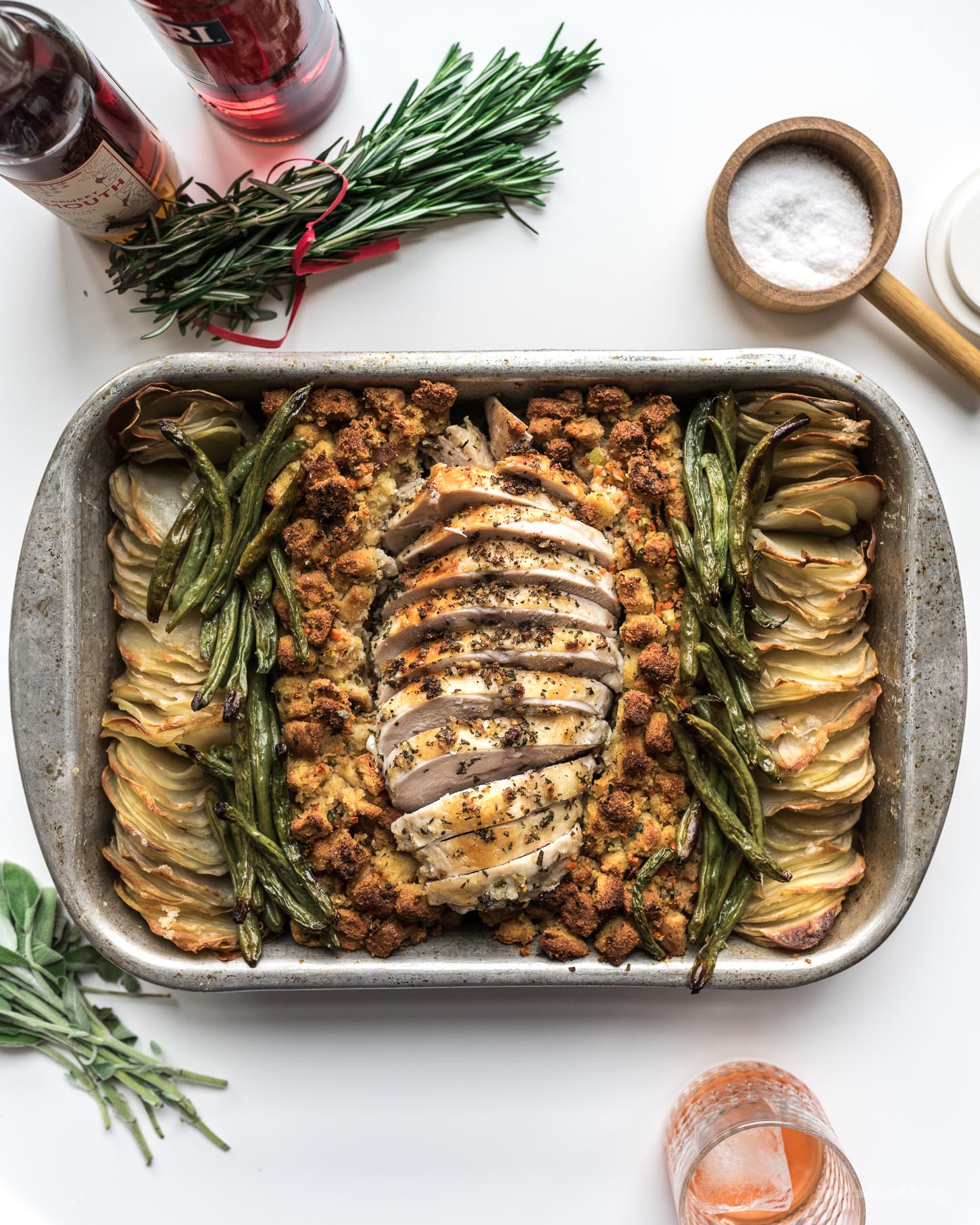 30. Sheet Pan Turkey Dinner
I am a Food Blog's sheet pan turkey dinner has everything you love about Thanksgiving dinner in a simplified form. When you aren't serving a huge crowd, a turkey breast is perfect. It cooks a lot more quickly, too.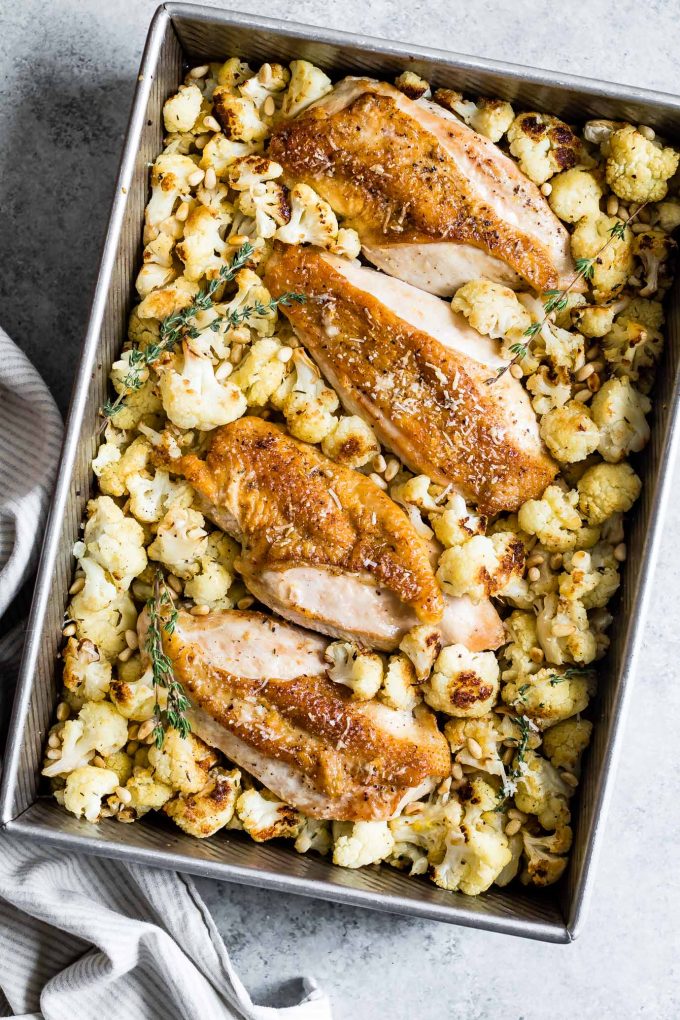 31. Parmesan Roasted Cauliflower and Chicken Sheet Pan Dinner
Snixy Chicken's parmesan roasted cauliflower and chicken sheet pan dinner offers an easy alternative from asparagus or broccoli. The cauliflower is seasoned in lemon juice and Parmesan, giving it so much flavor.
What are your favorite easy sheet pan dinner recipes?
Tell me about the quick weeknight one-pan meals you and your family love!
Pin this post for easy access to the easy sheet pan dinner recipes later!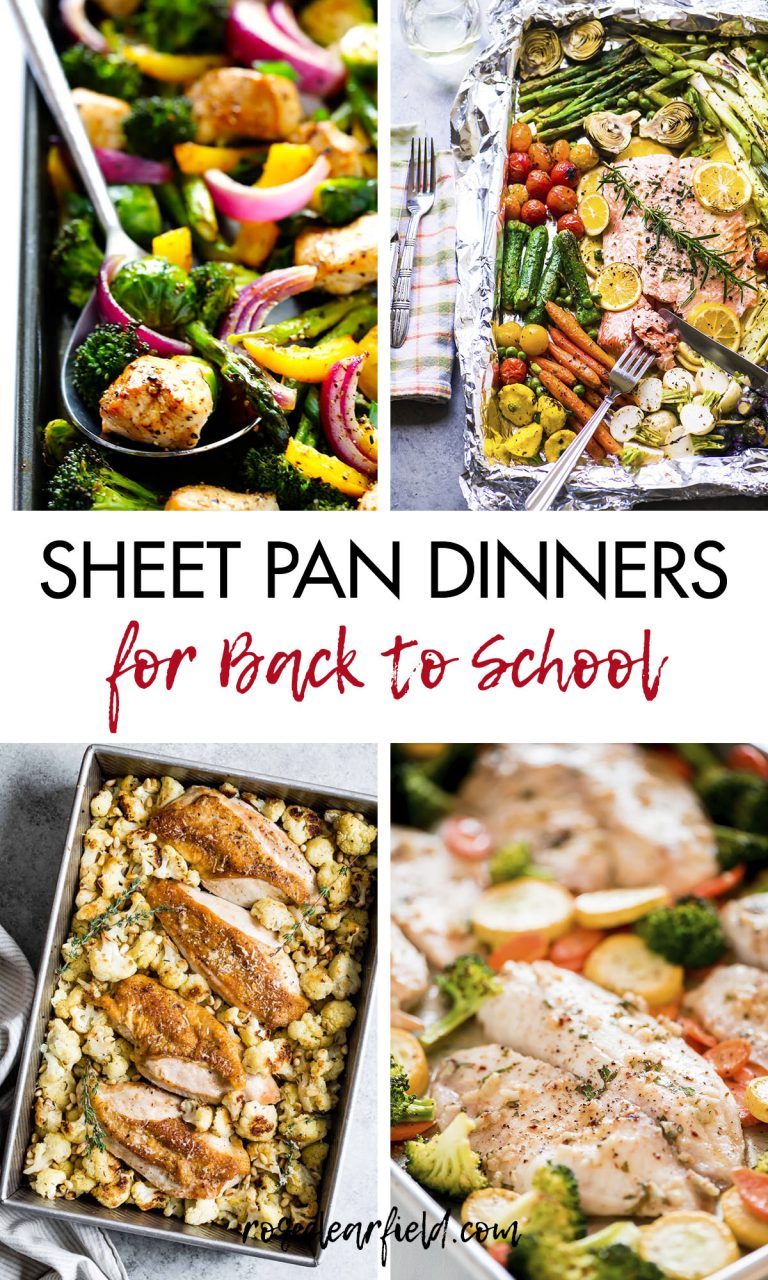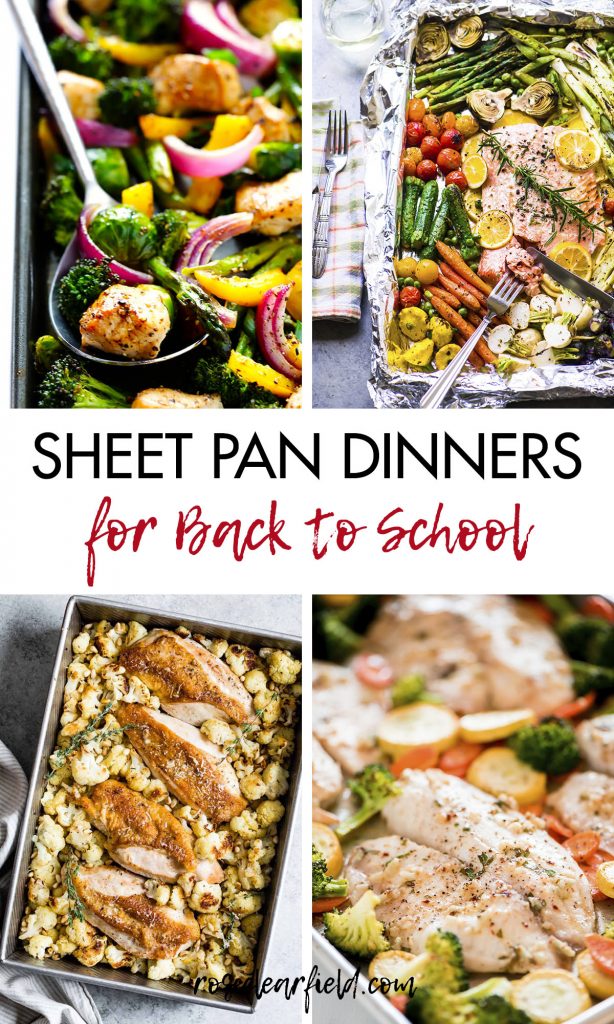 More healthy back to school dinner ideas:
Grab a few new lunch recipes for back to school season, too!