Our recent vacation on Lake Delton with young kids was the perfect way to enjoy the Wisconsin Dells with a lot less noise and crowds.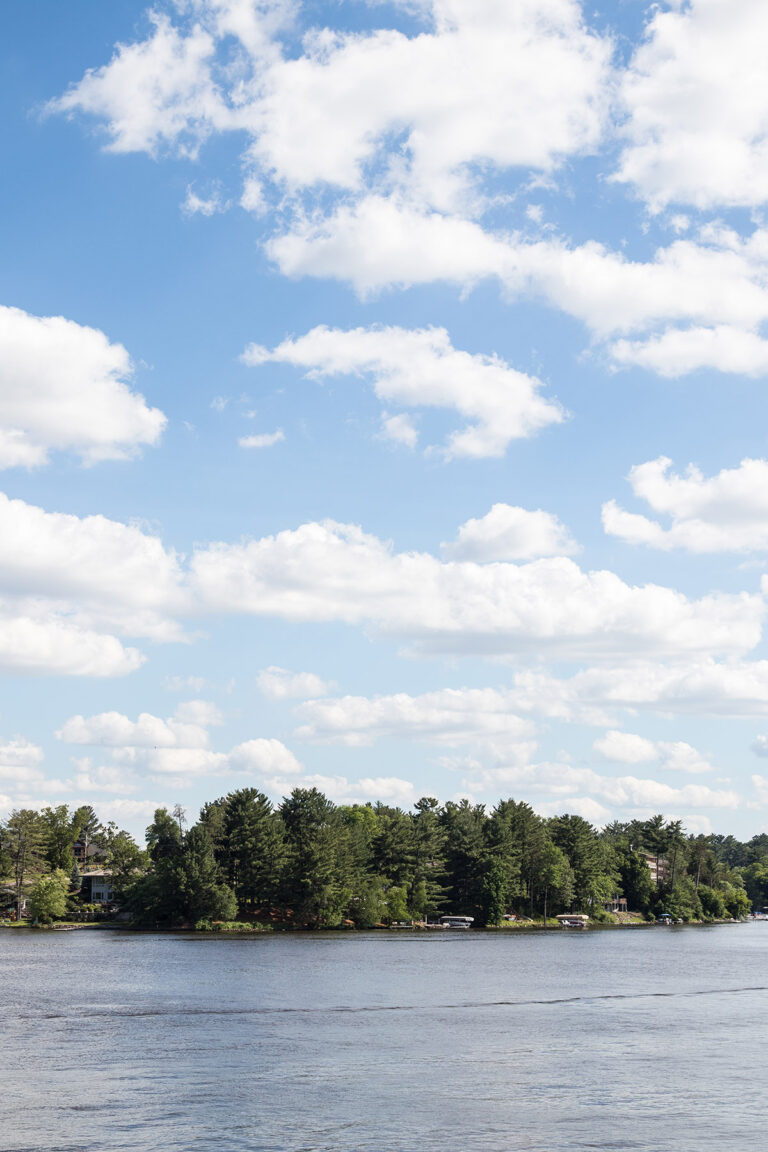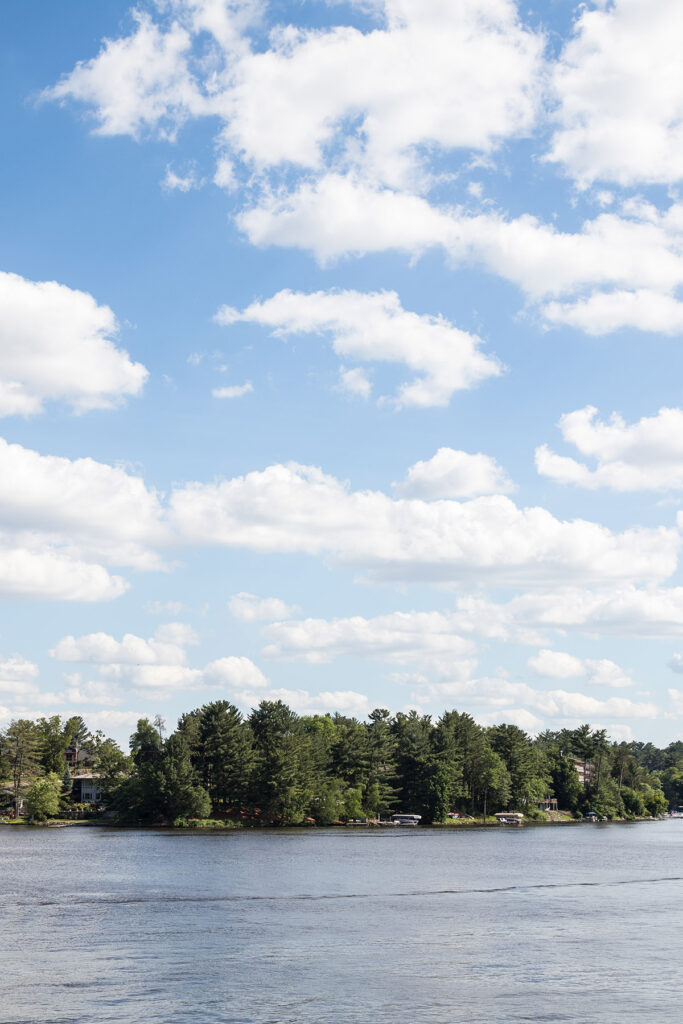 For our Wisconsin Dells vacation this summer, we decided to stay in a new-to-us location: an Airbnb condo on Lake Delton. With two kids under two years old, we knew that we didn't want to stay at a resort this year, as we wouldn't make use of the water park. In future years, when the kids are older, we look forward to many more water park stays. But for this vacation, an Airbnb condo on Lake Delton made a lot more sense.
If you've been following my blog for any length of time, you know that the Wisconsin Dells is one of our favorite vacation destinations. We took a two-year break from the Dells for 2020 and 2021. Otherwise, I've been every year or every other year for the last decade and a half. From here on out, we're planning to make it an annual trip. I have a post about taking a Wisconsin Dells vacation with toddlers, which has more details about a lot of the attractions and restaurants that I cover here as well as water park recommendations, a packing list, and more. I also have posts about how to plan a Wisconsin Dells vacation on a budget and 53 things to do in the Wisconsin Dells to provide even more resources on vacationing in this beautiful area of the Midwest.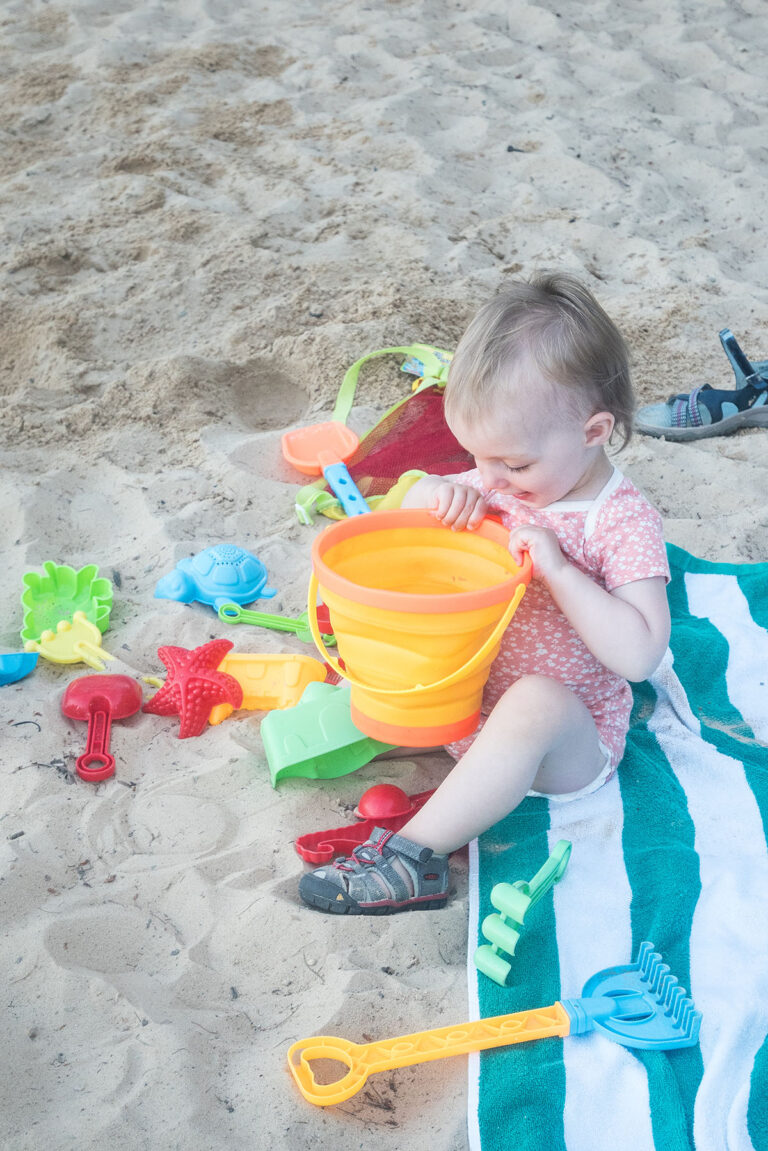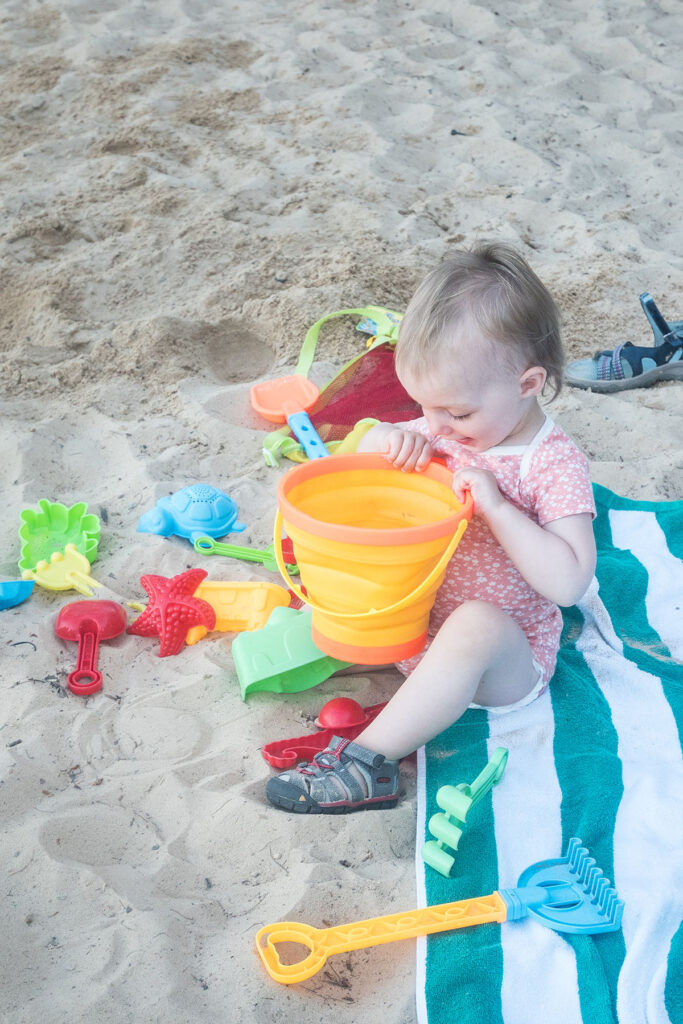 If you've been thinking about renting a condo on Lake Delton or a similar area of the Wisconsin Dells, here are a few factors to consider.
Cost
There are a lot of factors that go into the price of any type of lodging in the Wisconsin Dells, including the time of year, how long you're staying, whether your stay includes a weekend, how far in advance you're booking, and the size and amenities of the lodging. We booked our Airbnb about six months in advance. The cost was comparable to the base price for a standard suite at one of the big water park resorts. We definitely spent less than we would have at a water park resort because we didn't have to pay any extra resort fees and because we didn't eat out for every single meal.
If you're looking to spend less than you would at a resort, an Airbnb is definitely a good option. But it's important to keep all of these factors in mind when planning your trip to ensure that you do come out ahead in the end.
Sleeping arrangements
One of the reasons that we chose an Airbnb condo is so that we could have multiple bedrooms without paying an arm and a leg for them like you would for a deluxe water park resort suite. Both of my girls nap every single afternoon and go to bed at least an hour earlier than my son. Having the girls sleep behind closed doors gave me, my husband, and my son a lot more freedom to watch TV, play games, etc. without being super quiet the entire time. I brought all of the sleeping items that my girls used while traveling. While sometimes you'll be able to get a rental with baby/toddler sleeping accommodations, it's best to be prepared with everything you need.
Kitchen access
Again, you can find water park resorts with in-suite kitchens. But the rooms with substantial kitchens tend to be expensive. I don't love cooking and doing dishes on vacation. However, not eating out every meal with babies and toddlers is a lifesaver. Having a full kitchen with a full-size refrigerator makes it much easier to prepare basic meals and store and re-heat leftovers. Additionally, when you're bottle feeding babies, having a full sink to wash bottles and adequate counter space to air dry them is very helpful.
On-site washer/dryer
Similarly, I don't love doing laundry on vacation. But with three kids age five and under, I do laundry almost every single day at home. It's very challenging packing enough clothes to last everyone an entire week. It's also tough to manage wet swimsuits and towels without laundry machines. I did laundry every day in our Airbnb. It was so nice not to have wet swimsuits and towels sitting around, and I didn't come home to piles and piles of laundry.
Beach/pool access
Even when you don't want to do the full water park experience during your Wisconsin Dells vacation, you may still want to spend time on the beach and/or at the pool. There are numerous Wisconsin Dells condos, townhouses, and cabins on the Wisconsin River and Lake Delton with private or shared beach access. The building association may also have one or more pools. Airbnb listings will include information about private/shared beach and pool access. If you aren't sure what amenities are available, ask prior to booking.
Proximity to popular Wisconsin Dells attractions
You may or may not want close proximity to popular Wisconsin Dells attractions. Generally, you will spend a little more to be in close proximity. But obviously, the trade-off may be worth it to enjoy a short five or 10-minute drive to lots of restaurants and attractions.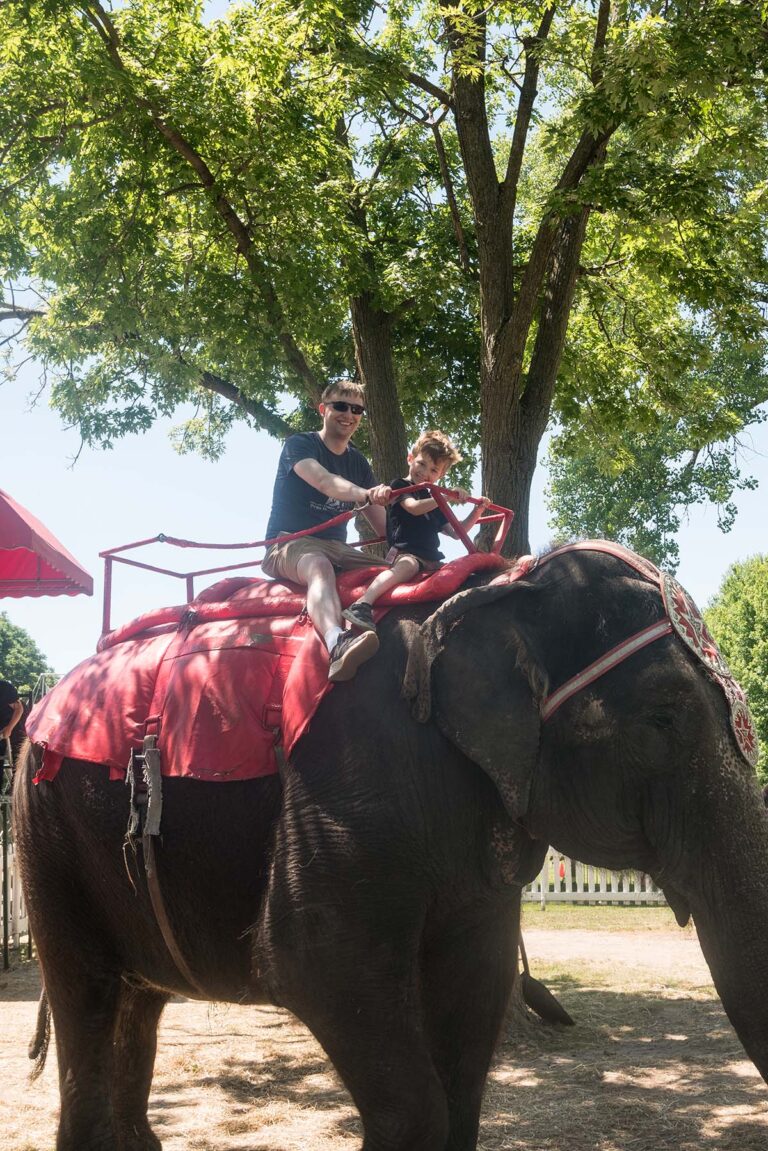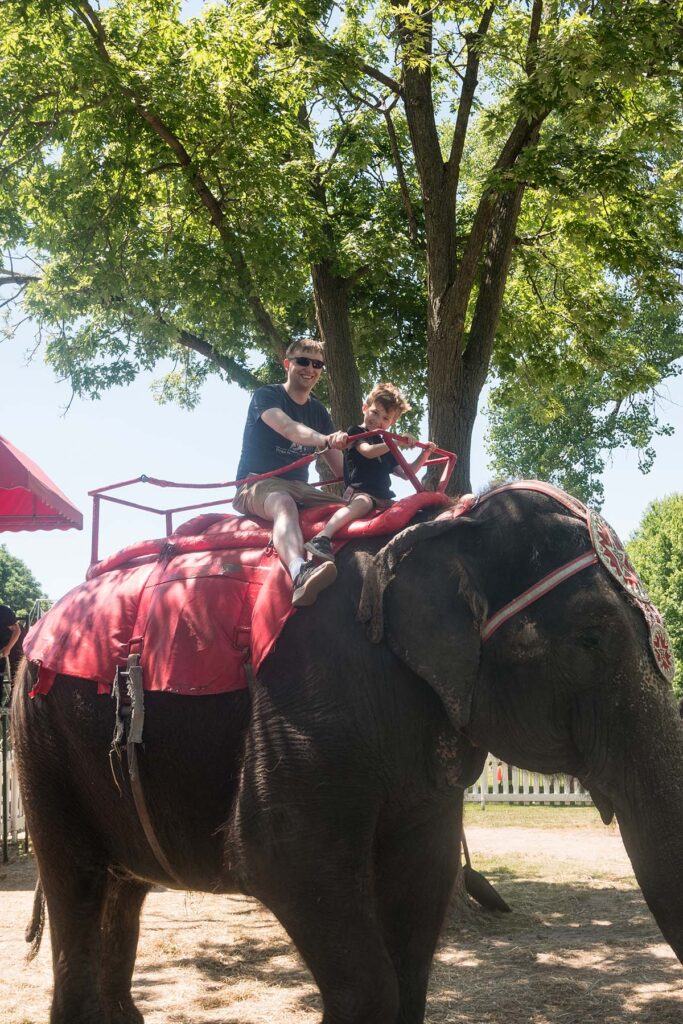 What we did
For this trip to the Wisconsin Dells, we prioritized a few familiar, kid-friendly outings that we knew Tommy would really enjoy and that would be manageable with the girls.
Circus World
Circus World is one of the most underrated attractions in the Wisconsin Dells. Most people don't realize it's just 20 minutes away and don't think to go there as part of the Wisconsin Dells vacation. The big top circus show is one-of-a-kind and worth the price of admission, even if you don't do anything else. It's truly one of those places that the whole family will enjoy. The rotation of shows changes periodically. Over the years, we've seen acrobatics, magic shows, music demonstrations, circus wagon tours, and much more. They also offer animal rides, including elephant rides, before and after the big top shows. Circus World's circus wagon collection has to be one of the biggest in the world. You can easily spend an hour exploring the wagons.
Wisconsin Deer Park
The Wisconsin Deer Park is right in the heart of the Dells and always a neat experience. The park is home to over 100 deer and other wildlife. You can pet and feed the deer and observe lots of other animals from goats and chickens to buffalo and elk. The park offers amazing opportunities for animal interaction and lots of great photos.
Riverside & Great Northern Railway
The Riverside & Great Northern Railway is a must-visit Wisconsin Dells destination for train enthusiasts of all ages. The trains are the same size as the ones at the Milwaukee County Zoo and offer a beautiful ride through a natural Wisconsin Dells setting. Their setup includes a train depot, several interactive train and vehicle features for the kids, and a gift shop.
Knucklehead's
We went to Knucklehead's both times that we dined at Buffalo Phil's. I recommend purchasing your arcade tickets and checking out the games and rides while you wait for your table and then coming back and playing after your meal. This vacation was the first time we'd been in the Dells that Tommy was old enough to jump on the giant bouncy pillow and play a few of the arcade games. Knucklehead's also features a trampoline park, virtual reality attraction, bowling, and indoor amusement park rides.
My other top picks in the Wisconsin Dells for kids under five are Timbavati Wildlife Park and Country Bumpkin Farm Market. If you want to spend more time at the beach or enjoy other outdoor activities, it's definitely worth spending a half-day or full day at Devil's Lake State Park.
Otherwise, we made time for the beach or pool every day and spent a lot of time relaxing at our condo.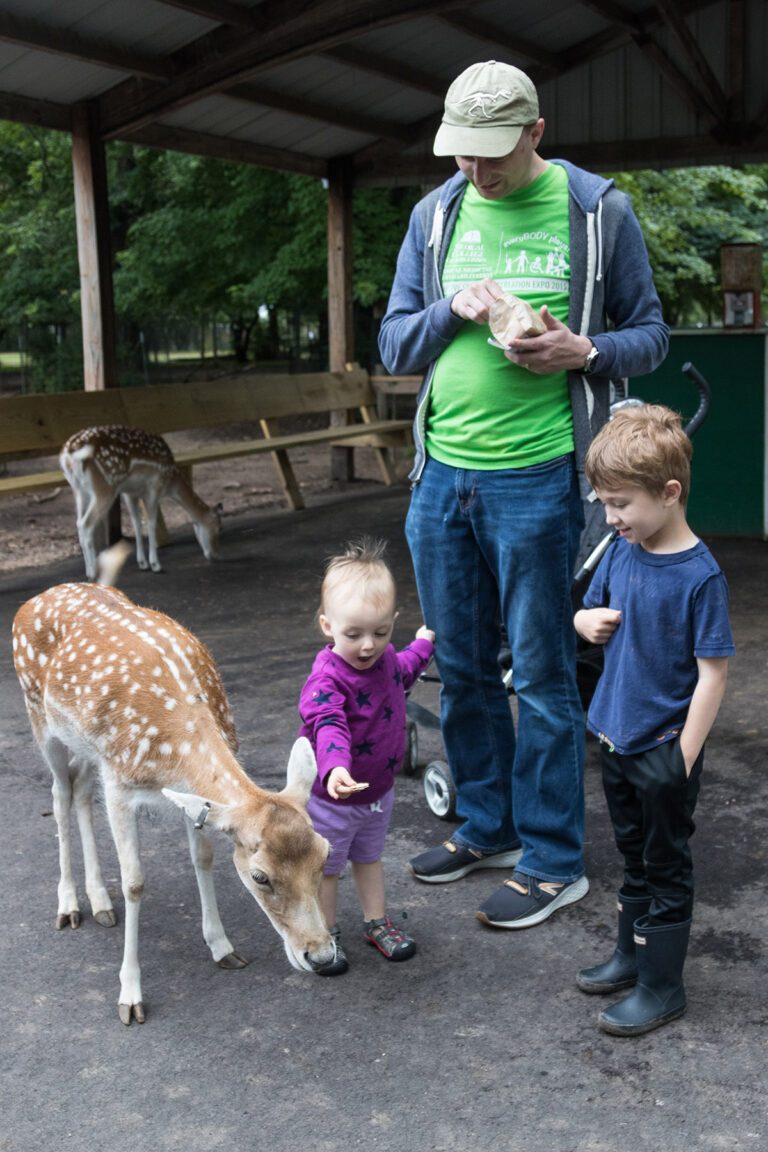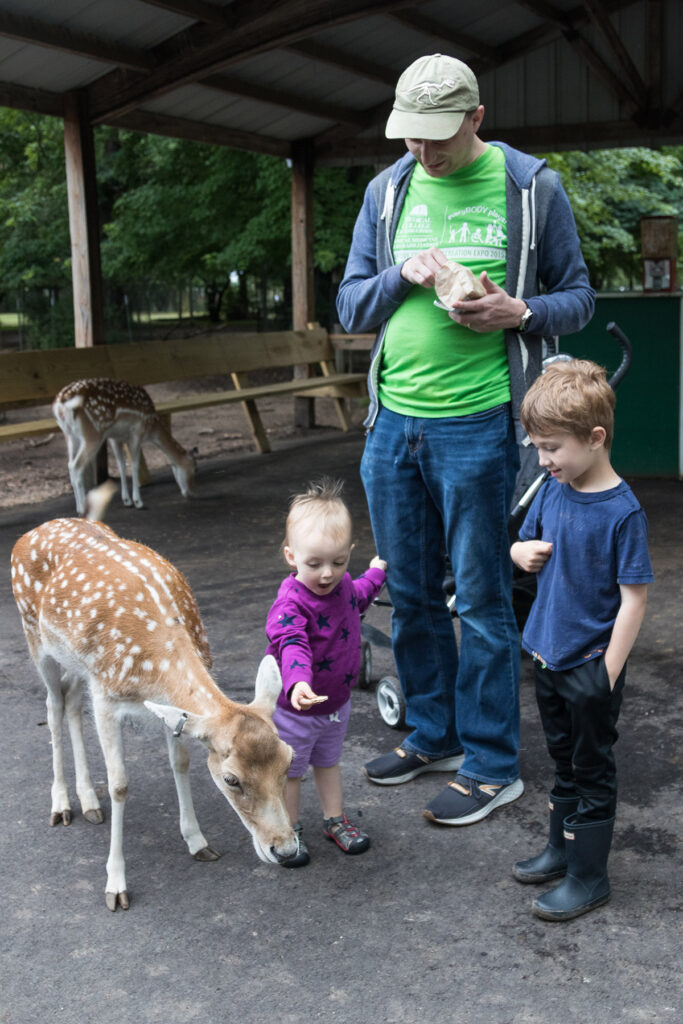 Where we ate
Moosejaw
Moosejaw Pizza & Dells Brewing Co. is one of the most popular restaurants in the Wisconsin Dells and with good reason. They have an extensive menu with lots of good food and a wide variety of beers and sodas. Be prepared, as there are often wait times, even on weekdays and especially for large groups, during the summer. We chose to get carry out from Moosejaw, and I'm glad that we did.
Pizza Pub
We also ordered carry out pizza from Pizza Pub and thought that the quality was compatible to Moosejaw. Tommy and Olivia both really like pizza right now and happily ate the pizza from Moosejaw and Pizza Pub. I like that both of these restaurants offer a selection of good salads as well. We all know that it's way too easy to overindulge on vacation. Ordering salads regularly provided a nice balance.
Buffalo Phil's
Like many families who vacation regularly in the Wisconsin Dells, Buffalo Phil's is one of our staple restaurants for dinner and the only place that we ate dinner out with the kids. The food is very good, and both Tommy and Olivia really enjoyed the trains this year. There are always tons of families at Buffalo Phil's, many with more people and younger kids than us, so we never felt like the crazy, loud family.
Paul Bunyan's
Paul Bunyan's Cook Shanty is the other restaurant that we prioritized for our dining out meals. We had breakfast twice at Paul Bunyan's. Their donuts remain some of the best I've had anywhere, and all of their breakfast food is good. Both Tommy and Olivia enjoy multiple breakfast foods and did so well eating at Paul Bunyan's. It's another restaurant where you'll find lots of big groups with kids of all ages, and you'll never be the only loud family.
Of course, our family vacation to the Wisconsin Dells isn't complete without a stop at Carr Valley Cheese. I know that it's the most Wisconsin thing ever to shop for cheese on vacation. Carr Valley carries numerous original cheeses unlike anything that I've found elsewhere. They always offer samples in their stores. Carr Valley also carries specialty butters, olive oils, meats, jams and jellies, maple syrup, honey, crackers, and more.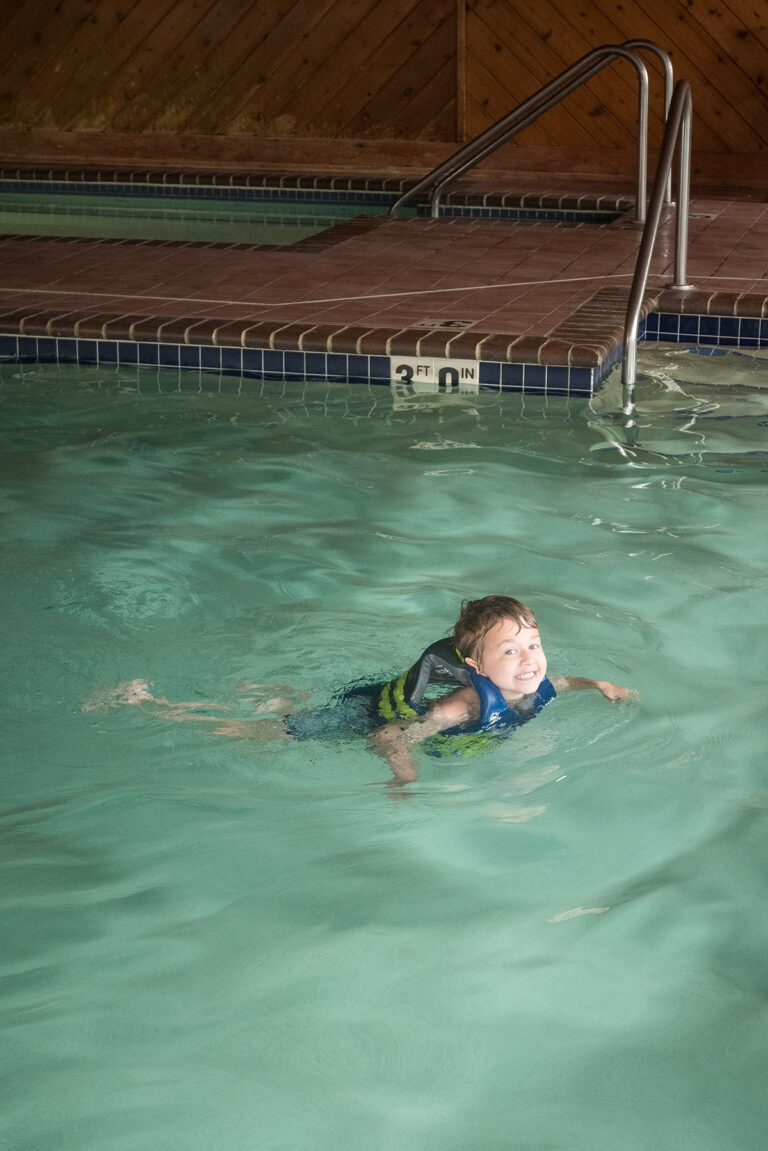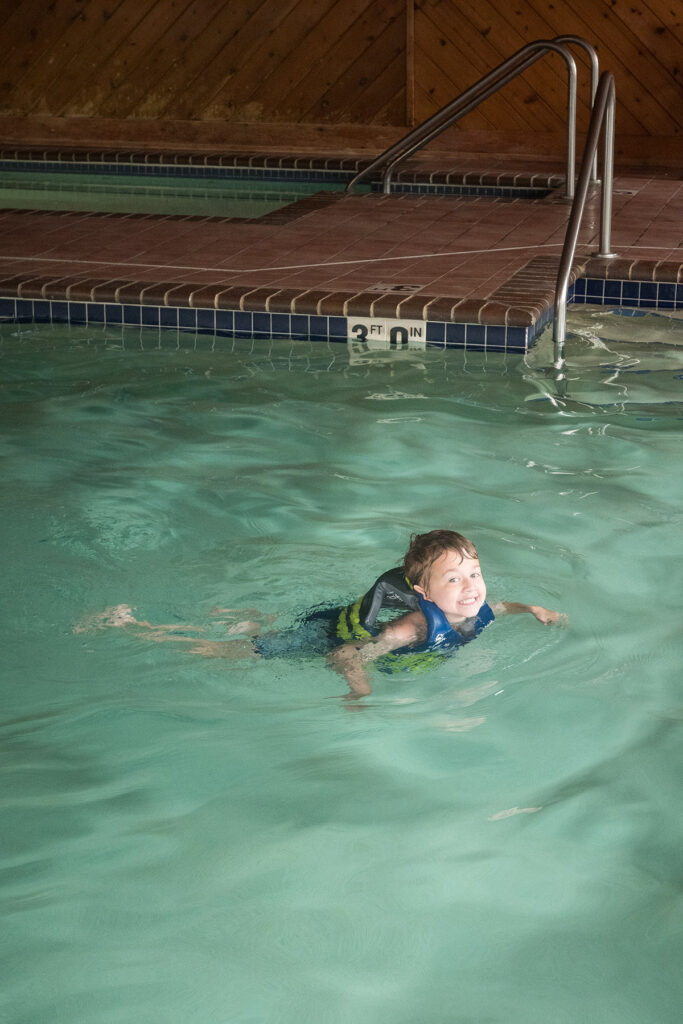 Overall thoughts
We were very happy with the Airbnb condo on Lake Delton that we stayed at for our week in the Wisconsin Dells. It matched the description perfectly, giving us the sleeping arrangements and kitchen that we wanted. The kids really enjoyed the beach and pool. The setting was beautiful with gorgeous water views right from the balcony. Even though there were lots of families with kids of all ages staying in the complex, it was very quiet. We were never awakened or kept awake by screaming kids or loud groups of teenagers the way you often are in many water park resorts. The condo was just a few minutes from the heart of the Wisconsin Dells, offering close proximity to numerous restaurants and attractions.
With that being said, taking a vacation with three young kids is always challenging. At best, it can take a couple of days to get everyone sleeping decently well for naps and at night. It takes forever to get going anywhere, possibly even more than it does at home because you're out of your normal routine. Your kids will tire out quickly. As such, you don't want to plan to be out and about for more than a few hours at a time. Even with well-planned days, your kids will still have occasional meltdowns, sometimes majorly so and in public.
I believe that it is absolutely worth taking vacations with young kids. For this particular vacation, my husband and I really needed the time away this summer. The change of scenery was good for all of us. People have flat-out told us that we're crazy or that it isn't worth traveling with kids when they won't remember it. I'm not in a hurry to take my crew to Disney World or Europe. However, I do think that vacations with little kids are worth it. Prepare as much as possible in advance, and keep your expectations realistic.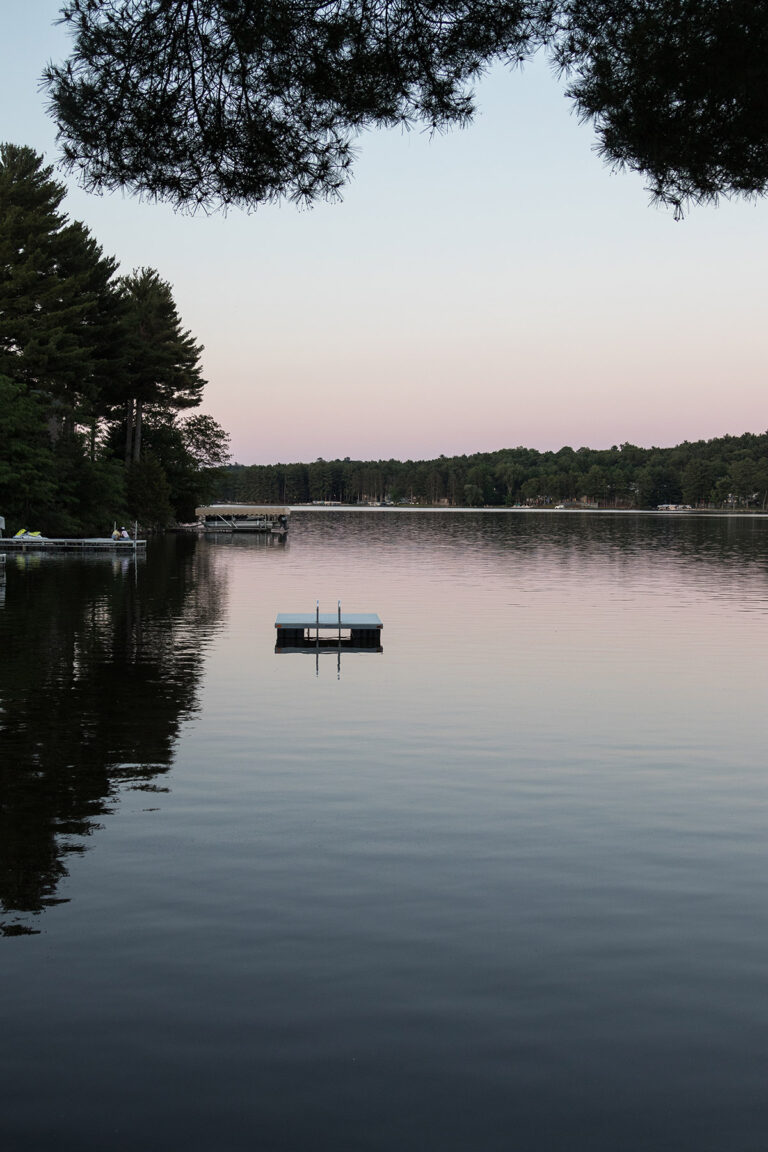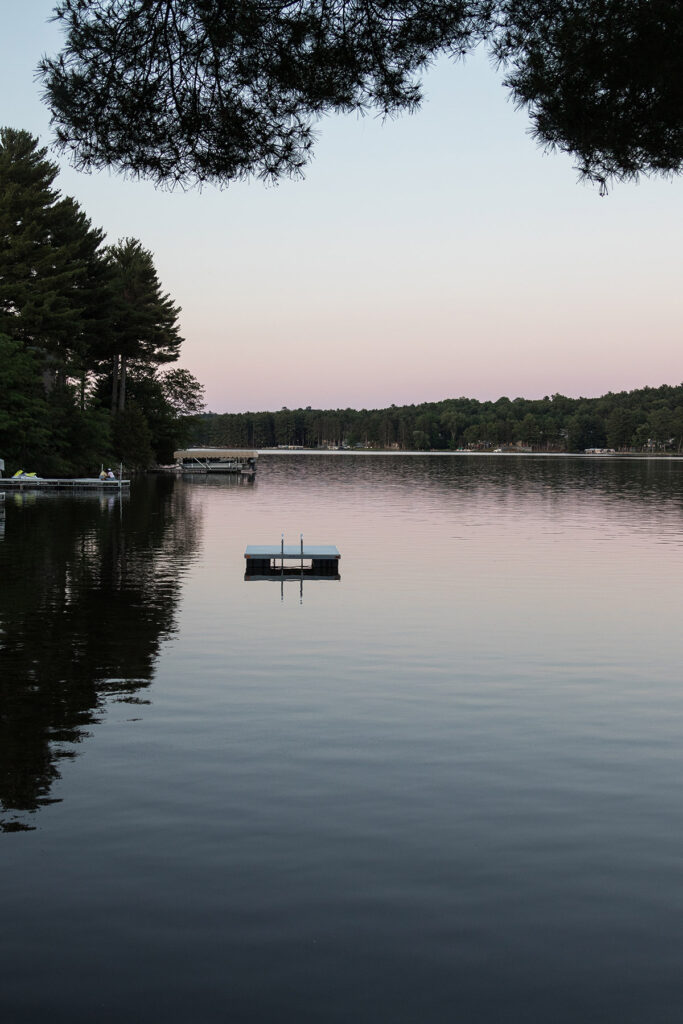 If you've taken a Wisconsin Dells vacation on Lake Delton with young kids, I'd love to hear about your experience!
More Wisconsin Dells vacation resources: