A list of 53 things to do in the Wisconsin Dells will help you plan a successful Dells trip that your whole family is sure to love.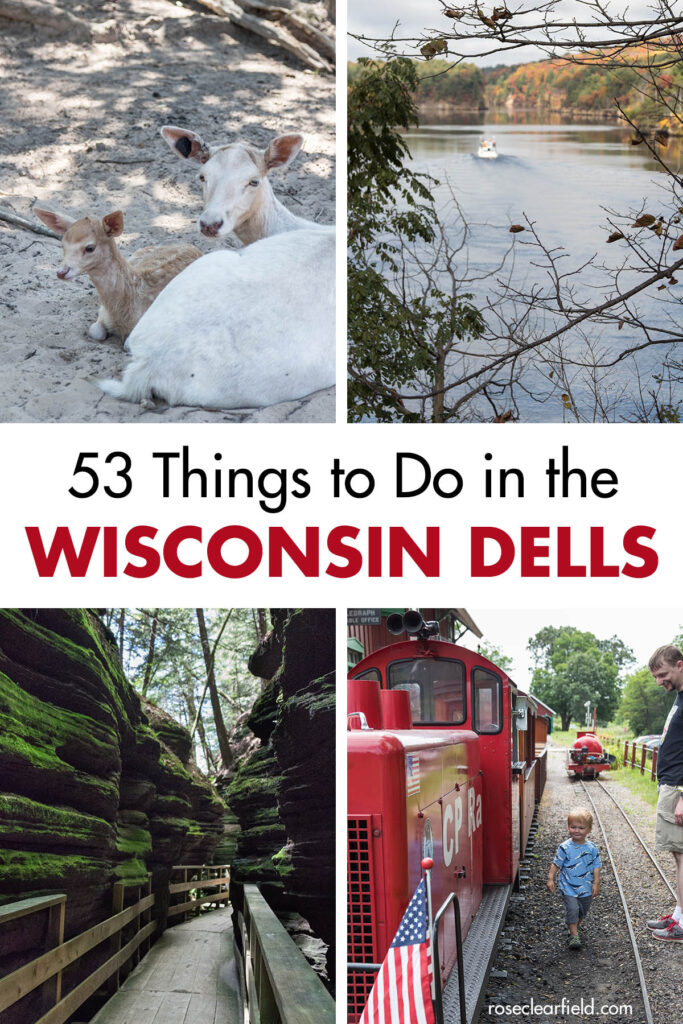 The Wisconsin Dells is one of our all-time favorite places to take a vacation. Pre-2020, my husband and I went every year or every other year of our marriage. As our kids get a little bit older, we look forward to making it an annual destination again. The area is so beautiful, and there are so many things to do in the Wisconsin Dells. You'll have no trouble filling an entire week or more with activities that everyone will enjoy.
Please note: Most Wisconsin Dells attractions are open seasonally from Memorial Day through Labor Day or a slightly extended season from March through November. Most hotels and resorts are open year-round and offer indoor waterpark access year-round. Please plan accordingly.
[I've done my best to provide accurate information and then to update it accordingly. All activities and events are subject to change without notice.]
1. Water parks
Of course, you can't talk about the Wisconsin Dells without talking about the water parks. If you're planning to hit one or more water parks during your stay, it's well worth staying at a resort with a water park and/or purchasing discounted passes ahead of time. Many of the hotels and resorts that don't have their own water parks include passes for nearby parks.
There are so many great water parks in the Wisconsin Dells. Think about what will work best for you and your family, such as the types of water features your kids will want and whether or not you want the park to include an indoor area. Our personal favorite place to stay with young kids is the Great Wolf Lodge, and we love their water park. But you shouldn't feel limited to this option.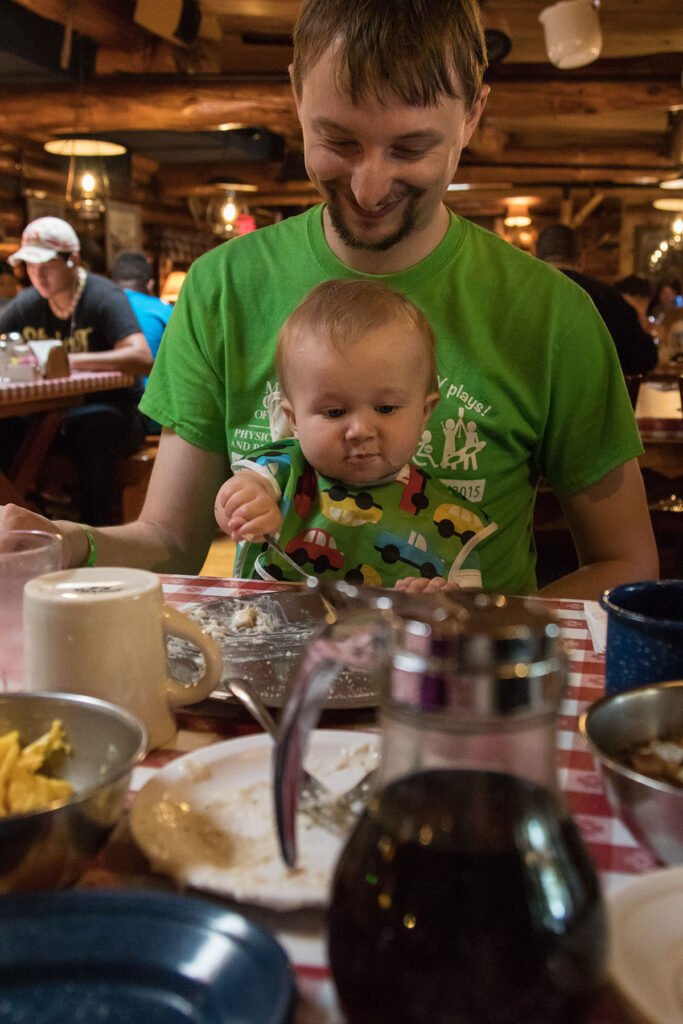 2. Paul Bunyan's Cook Shanty
The only restaurant we make sure we visit on every single Dells trip is Paul Bunyan's Cook Shanty. Yes, it's cheesy, but it's fun, and the food is so good. We only ever go for breakfast, but their lunches and dinners are very good as well. If you don't dine in for breakfast, pick up a half dozen or full dozen cinnamon sugar donuts from the store. They are some of the best donuts ever.
Please note: Paul Bunyan is open seasonally. The past couple of years, they have not always been open, even during the summer season, due to health concerns and staffing shortages. Sometimes they've only been open for breakfast. Please check ahead and plan accordingly for your Dells trip.
3. Lumberjack show
Paul Bunyan's Cook Shanty has a lumberjack show right on the premises. You won't find anything else quite like it in the Wisconsin Dells. The show features a wide range of events performed by professional lumberjacks, medalists, and athletes, including the standing block chop, spring board chop, axe throw, hot saw, obstacle pole, and log roll. Consult the website for current show dates and times.
4. Duck boats
DUKW boats, more frequently referred to as simply duck boats, were amphibious, military vehicles that are shaped like boats and can travel on land and water. They were used to transport soldiers and goods over land and water. Today the Wisconsin Dells is one of a handful of places in the country that you can ride duck boats to tour the area. The boat ride provides a beautiful tour of the Wisconsin Dells. Be prepared that you will most likely get wet.
The duck boats are not something that we do every year in the Dells. But they are definitely worth doing at least once. Visit Wisconsin Duck Tours for current available times and to purchase tickets.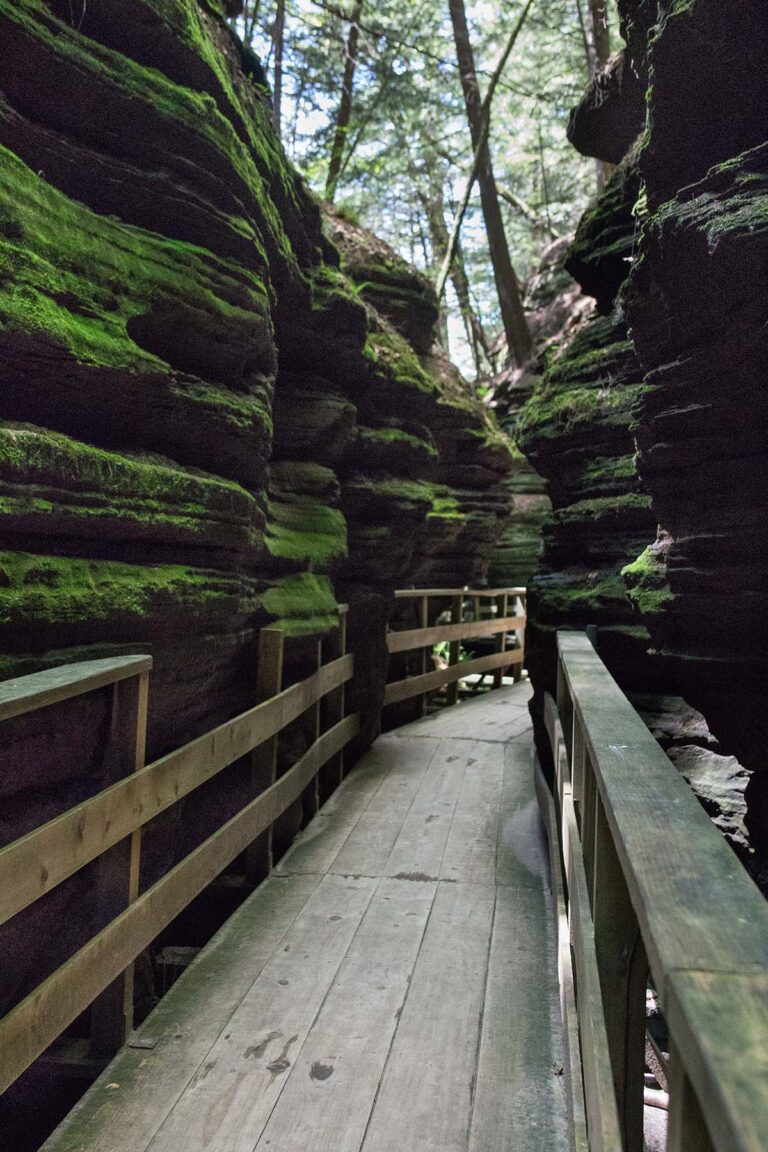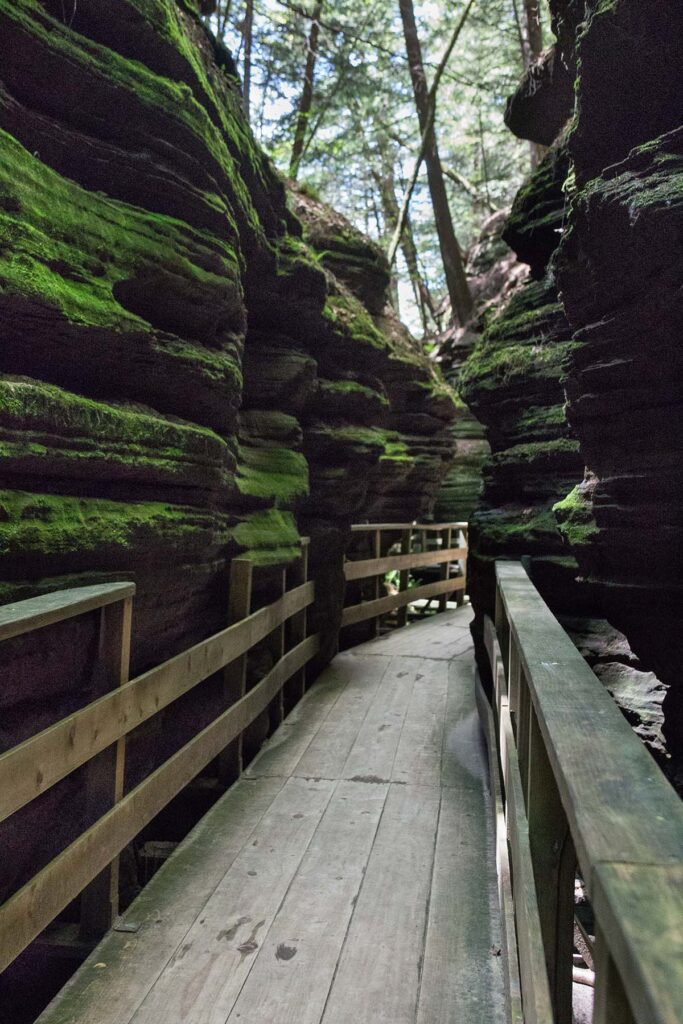 5. Boat tours
The Dells Boat Tours are the perfect way to experience areas of the Dells that are not accessible via land without renting your own boat and to get up close to the stunning rock formations. Personally, I like the Upper Dells Tours better because you can't rival the views at Witches Gulch. But both tours are stunning and take you through gorgeous areas with some of the Dells' most famous rock formations.
The Dells Boat Tours also offer a sunset river cruise. Visit the Dells Boat Tours to check out available times and to reserve tickets.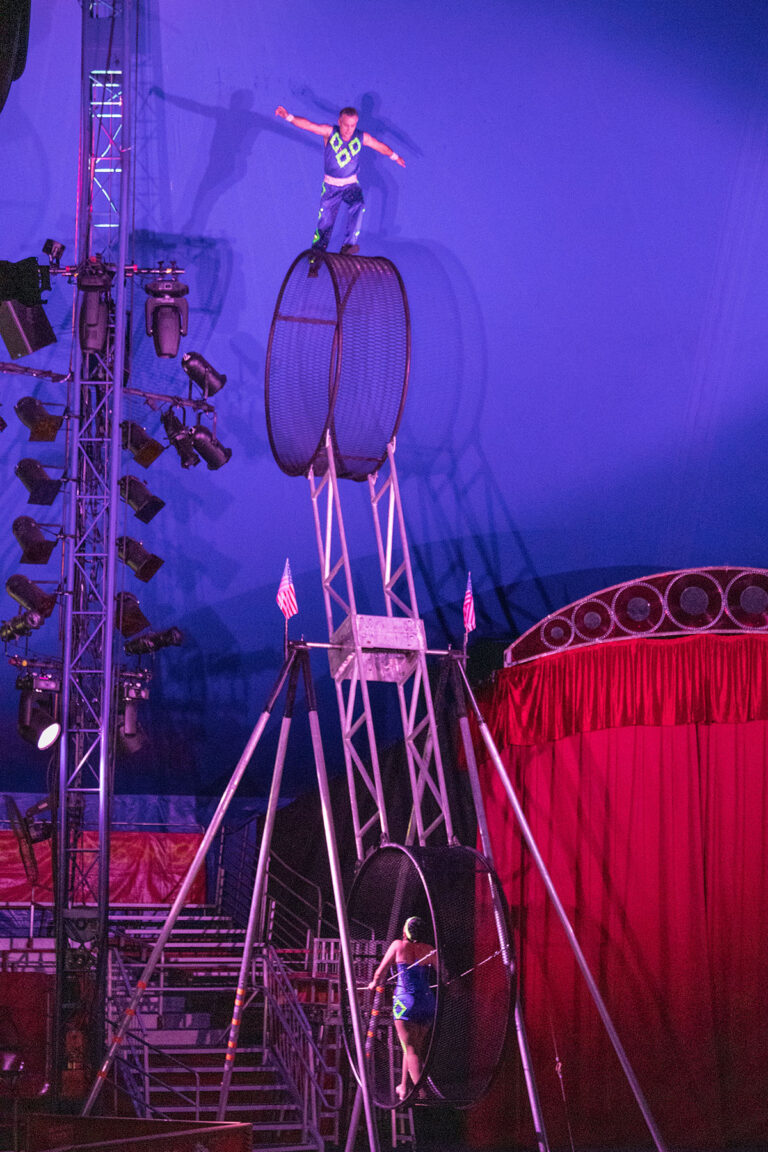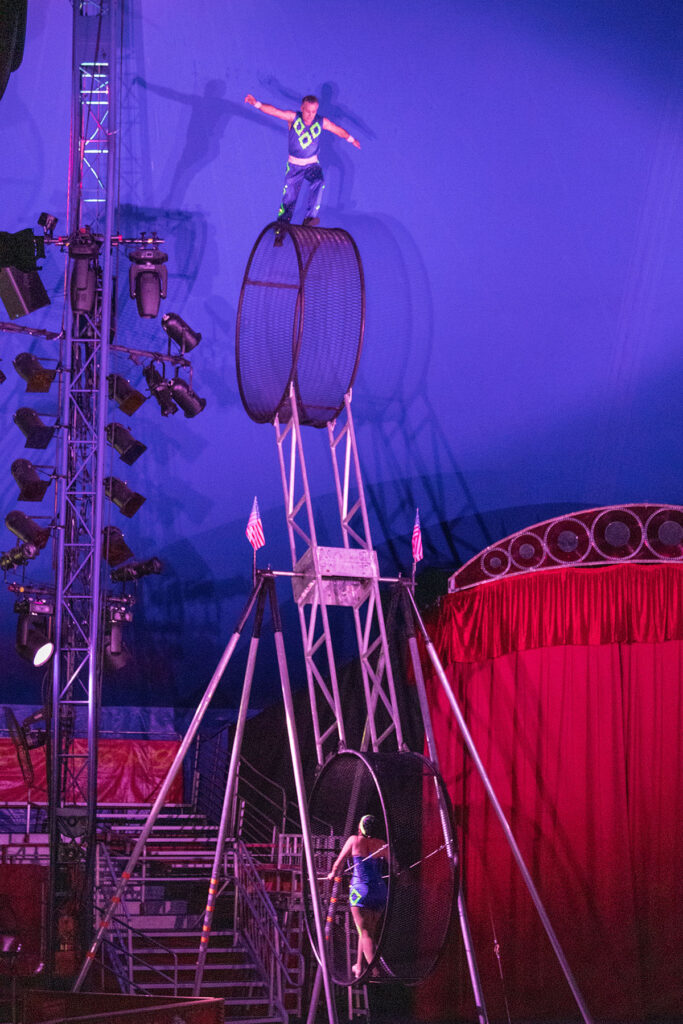 6. Circus World Baraboo
Located just 15 minutes away from the heart of the Wisconsin Dells, Circus World is a one-of-a-kind destination in Baraboo, Wisconsin. Their daily schedule includes events such as a Big Top Circus show, animal shows, music shows, magic shows, and guided tours. Circus World is home to one of the largest circus wagon collections in the world and also features a comprehensive exhibit about the history of the Ringling family and their circuses.
A day at Circus World is one that your whole family will be talking about for months to come. Visit Circus World Baraboo to see the current daily schedule and purchase tickets.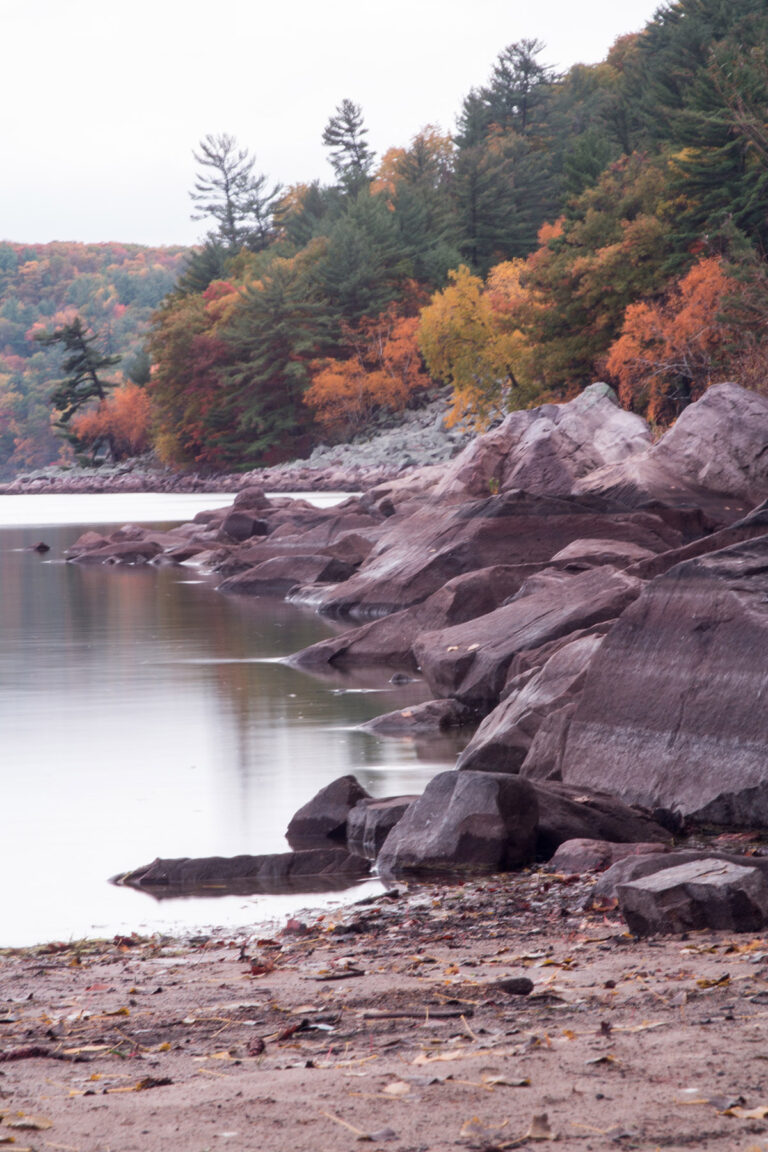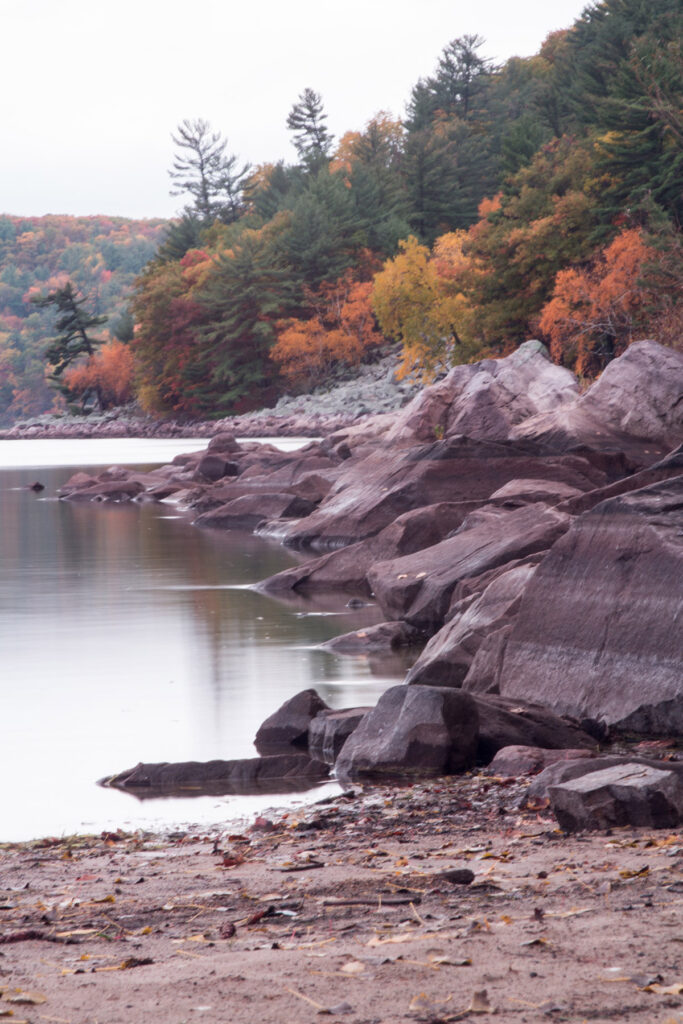 7. Devil's Lake State Park
Also located just 15 minutes away in Baraboo, Wisconsin, Devil's Lake State Park is Wisconsin's most popular state park, attracting around three million visitors annually. The park features an extensive range of warm weather and cold weather activities including, but not limited to, swimming, hiking, biking, rock climbing, boating, sledding, snowshoeing, and skiing.
Devil's Lake is ideal for a day trip or an extended visit. The park is home to three campgrounds. There are also lots of nearby options for renting cabins and condos or staying in an RV.
8. Mirror Lake State Park
Mirror Lake State Park is another state park in the Wisconsin Dells region. It's named for its centerpiece, Mirror Lake, which is often so still that the surface doesn't contain a single ripple. The cliffs along the lakefront stand 50 feet high. The park features a swimming beach, wetlands, picnic areas, wooded campsites, a cabin for people with disabilities, and a variety of summer rentals, such as boats, canoes, and bikes. About the fifth the size of Devil's Lake, Mirror Lake still offers gorgeous views and lots of opportunities to enjoy the outdoors.
9. H. H. Bennett Studio & Museum
The H. H. Bennett Studio & Museum is a historic photography studio and museum dedicated to H. H. Bennett, a Civil War soldier turned photographer who made the Dells famous through his stunning work. His artistry and innovations were well ahead of his time. He was critical for putting the Dells on the map, helping establish it as the tourist destination that it remains today. You can tour his original studio, learn more about his life and work, and purchase prints of his work.
10. Go karts
There's nothing like the thrill of racing go karts to make you feel like a kid again. The Dells is home to six go kart tracks, each with different features, such as the fastest go karts and an underground track. The Wisconsin Dells website has a great blog post with everything you need to know about go karts in the area.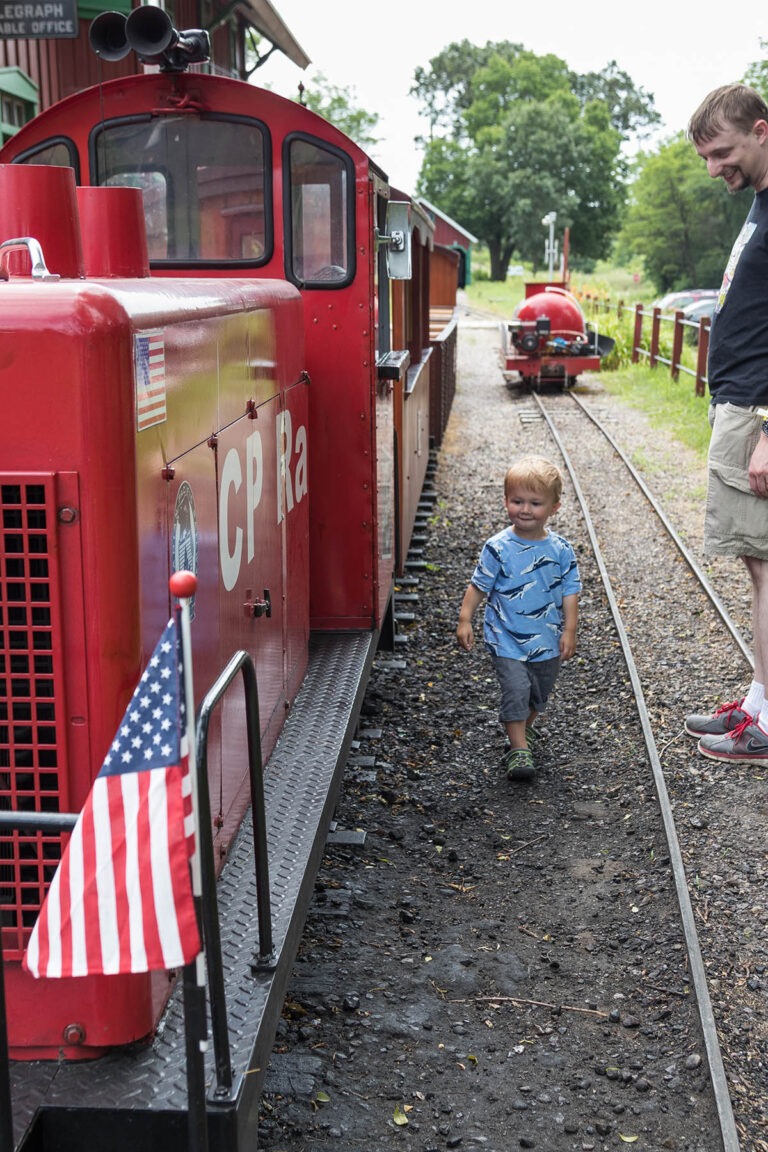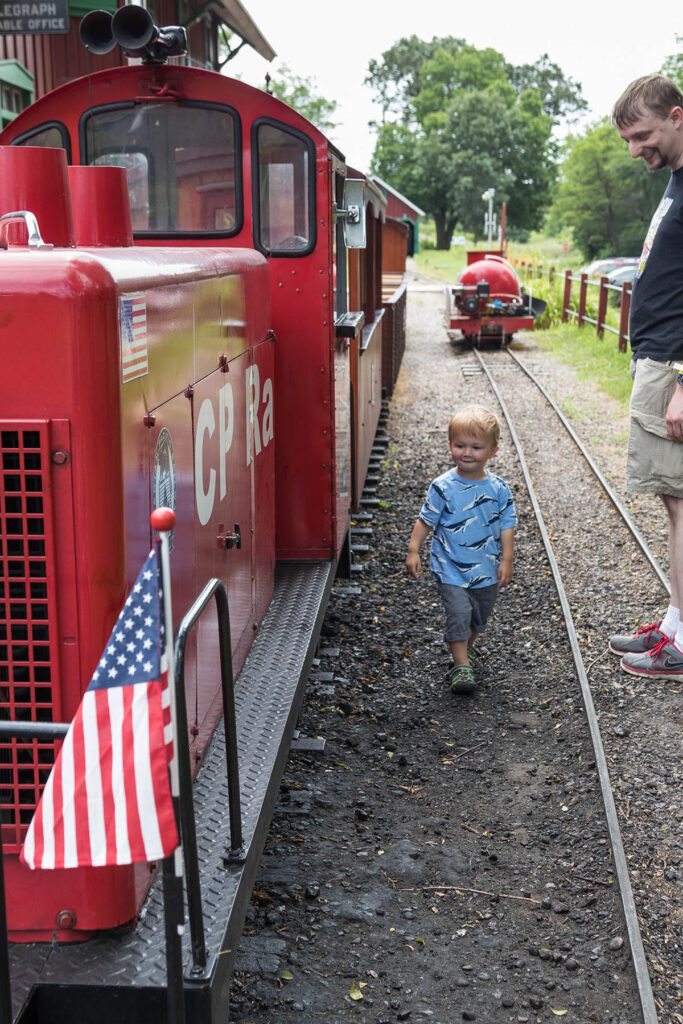 11. Riverside & Great Northern Railway
The Riverside & Great Northern Railway is a must-see Wisconsin Dells destination for train enthusiasts of all ages. The miniature train offers a gorgeous ride through the Dells. The grounds feature a train station, a gift shop, and a wooden train for kids to climb. All tickets are purchased on site. Consult the website for current hours and train schedule.
12. Mid-Continent Railway Museum
The Mid-Continent Railway Museum is another must-visit destination for train enthusiasts. Located 20 minutes away in North Freedom, Wisconsin, Mid-Continent is an outdoor living history museum and fully operational railroad, dedicated to recreating, preserving, and interpreting the small town/shortline way of life from the "Golden Age of Railroading." The train ride is seven miles long and takes just under an hour. There are over 40 train cars on display in the museum with more in restoration. Mid-Continent offers a selection of onboard dining experiences and special events throughout the year. Purchase tickets online.
13. Virtual Reality (VR) games
There are multiple places to play virtual reality (VR) games in the Wisconsin Dells. The VR Lounge offers the most comprehensive VR experience, with several dozen games in their inventory and multiple play time packages. Other VR opportunities include The Arena at Tom Foolery's Adventure Park, Underwater Virtual Reality at Kalahari Resorts, and Hologate Virtual Reality at Knucklehead's.
14. Cheese sampling
Is there a more quintessential Wisconsin experience than tasting and shopping for cheese while on vacation? Our all-time favorite cheese shop is Carr Valley, which offers some of the most unique, flavorful cheeses you'll find anywhere as well as delicious oils, butters, jellies, and more. Market Square Cheese is another fantastic cheese shop in the Wisconsin Dells with a large variety of Wisconsin cheese and sausage as well as fudge, jam, honey, maple syrup, and ice cream. Both cheese shops offer samples.
15. Outlet shopping
Shopping on vacation can be the best because you actually have time to visit multiple stores and try on clothing. The Wisconsin Dells is home to Outlets at the Dells, which features top name-brand stores for clothing, shoes, accessories, toys, home goods, beauty, fitness, eyewear, and more. The outlet mall features a small selection of restaurants, snack shops, and drinks stands as well.
16. Tommy Bartlett Exploratory
Unfortunately, the classic Tommy Bartlett Show recently closed up shop permanently. However, the Tommy Bartlett Exploratory, which re-opened in 2018, is still open. It features over 175 science, space, and technology-themed interactive activities with lots of updated exhibits. The Tommy Barlett Exploratory is the only place on the planet where you can see, feel, and experience a genuine Russian Space Station MIR core module.
17. Rick Wilcox Show
The Rick Wilcox Show features master illusionists Rick and Susan Wilcox who deliver live entertainment that combines magic and comedy with their exceptional grand illusions and charming on-stage chemistry. The family-friendly, award-winning show has been a staple of the Wisconsin Dells for over two decades. Visit the website to view upcoming show dates and times and to purchase tickets.
18. Glockenspiel
The far west end of the Wisconsin Dells shopping area on Broadway is home to the Bavarian Village, which features a restaurant and a variety of specialty shops as well as a glockenspiel. A glockenspiel clock uses moving figurines that act out a play or skit at different times of the day. Many glockenspiels also play music, which may include carillons of cast bronze bells. [Source] The Bavarian Village glockenspiel reenacts the classic Pied Piper of Hamelin tale every half hour. In this tale, a man played his flute to rid a town of rats. Then he put a spell on the children, so they had to follow him.
19. Wollersheim
Wollersheim is situated on a scenic hillside across from the Wisconsin River in Prairie du Sac. Their vineyards produce wine, whiskey, gin, and absinthe. The complex includes a winery, distillery, and bistro. Tours and tastings are available at both the winery and distillery. The bistro is open daily for lunch and serves local and seasonal fare, paired with their own brews. Order tickets online for tastings, tours, and wine and dine kits from the bistro.
20. VIP at The Dells Distillery
The Dells Distillery is a rustic country-themed, family-friendly restaurant and bar in the historic downtown of the Wisconsin Dells. In addition to being a great place to enjoy lunch or dinner, they offer a VIP package for parties. Choose from 1/6, 1/4, and 1/2 barrels that are loaded into your own personal keg table to enjoy with family and friends. Fill out the form on the VIP page to get started or call the restaurant to book your party.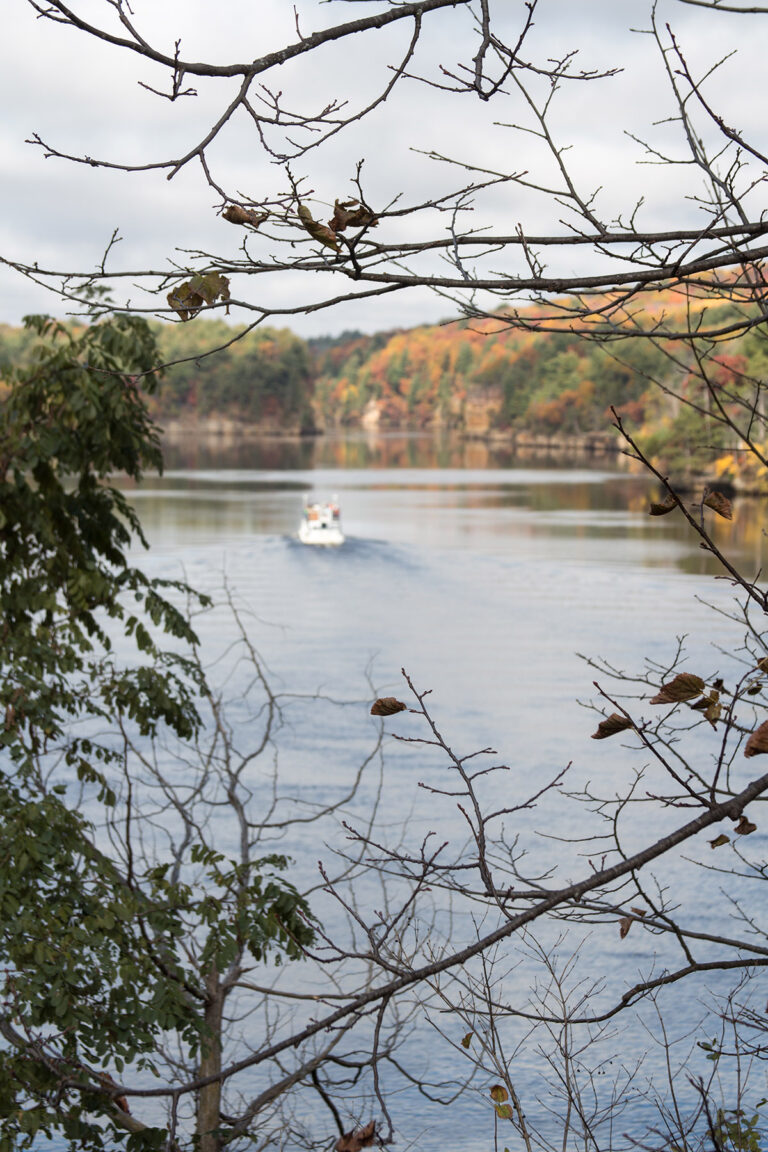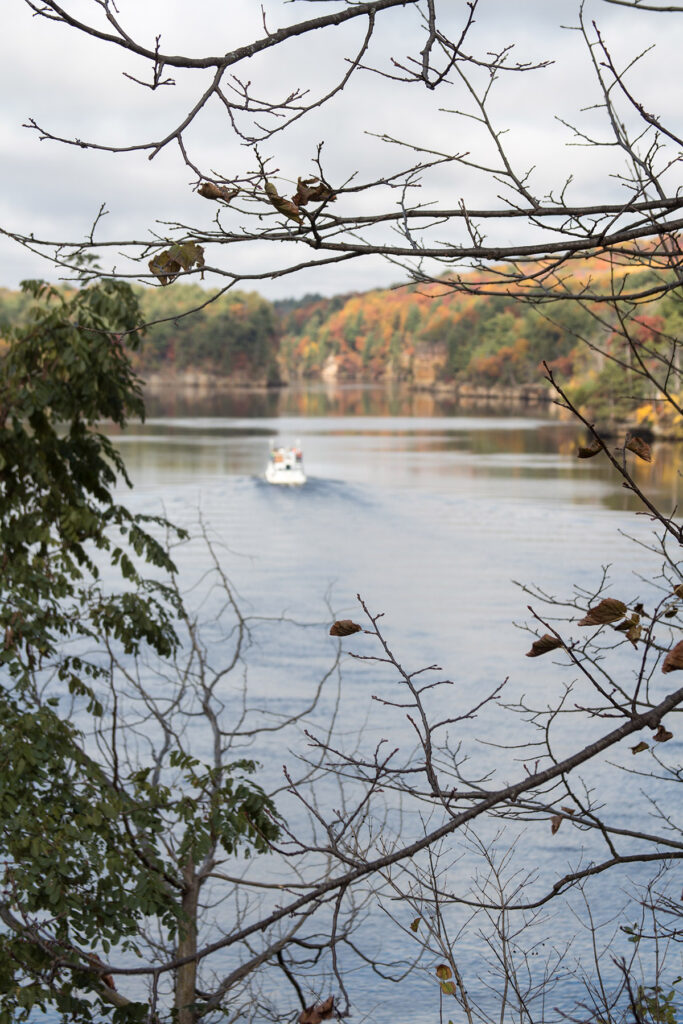 21. Scenic River Walk
Located right off of the historic downtown, the Wisconsin Dells' Scenic River Walk is a quarter-mile paved path offering stunning views of the Dells' scenery with game tables and benches along the way. The Scenic River Walk is free and open to the public year-round to walkers, runners, and bikers.
22. Hiking
In addition to Devil's Lake State Park and Mirror Lake State Park, there are lots of places to enjoy a hike and take in the stunning views in the Wisconsin Dells. Paulina on the Road has a great overview of popular places for hiking in the Dells, ranging in length and difficulty, from very easy to difficult.
23. Kayaking
There's nothing quite like experiencing the beauty of the Wisconsin Dells from a kayak. In addition to rentals in the state parks, you can rent kayaks from Vertical Illusions and Dells Watersports. Vertical Illusions also offers guided kayak tours. The Outbound has a great article about where to launch your own kayak and how to avoid motorized boats and boat tours, especially in the summer. Book your tour or rental online.
24. Rock climbing
Devil's Lake State Park is the ideal spot for rock climbing in the Wisconsin Dells. Devil's Lake Climbing Guides offers a variety of trips and courses for climbers of all levels while Vertical Illusions offers half-day rock climbing adventures with advanced climbing options and other add-ons, such as paddleboarding. Book your climbing adventure online.
25. Ziplining
Ziplining is an unforgettable experience that the whole family will be talking about for years to come. Vertical Illusions offers the ultimate zipline experience in Chimney Rock Park in the Wisconsin Dells. They have a canopy tour and a full advanced course, both with optional add-ons, such as kayaking and rock climbing. Book your zipline adventure online.
26. Miniature golf
Is there a better vacation activity than miniature golf? For a classic mini golf vacation experience, you can't beat Pirate's Cove and Timber Falls Mini Golf Adventure Course. Pirate's Cove features five courses as well as a playground, ancient sundial, and covered picnic table area. Timber Falls features three courses, all with ample shade. Both places have lots of neat terrain, including multiple waterfalls.
For a different miniature golf experience, check out indoor black-light mini golf at Wilderness Resort and 3D black-light Avatar-themed mini golf at Wild Fun Zone.
27. Ripley's Believe It or Not
Ripley's Believe It or Not is home to some of the world's greatest oddities. There are 11 galleries spread over three different floors with lots of interactive exhibits.
28. MagiQuest
When you stay at Great Wolf Lodge, play MagiQuest, turning the entire lodge into a four-story, live-action adventure game. Armed with magic wands, the players explore an enchanted kingdom to solve puzzles, help mystical characters, discover hidden treasures, and even slay a dragon. The experience combines video gaming, storytelling, and roleplaying for a one-of-a-kind experience.
You can use your wand over and over again during different stays to complete more quests. With unlimited play, you can complete one or two quests at a time and then come back and pick up the game again later.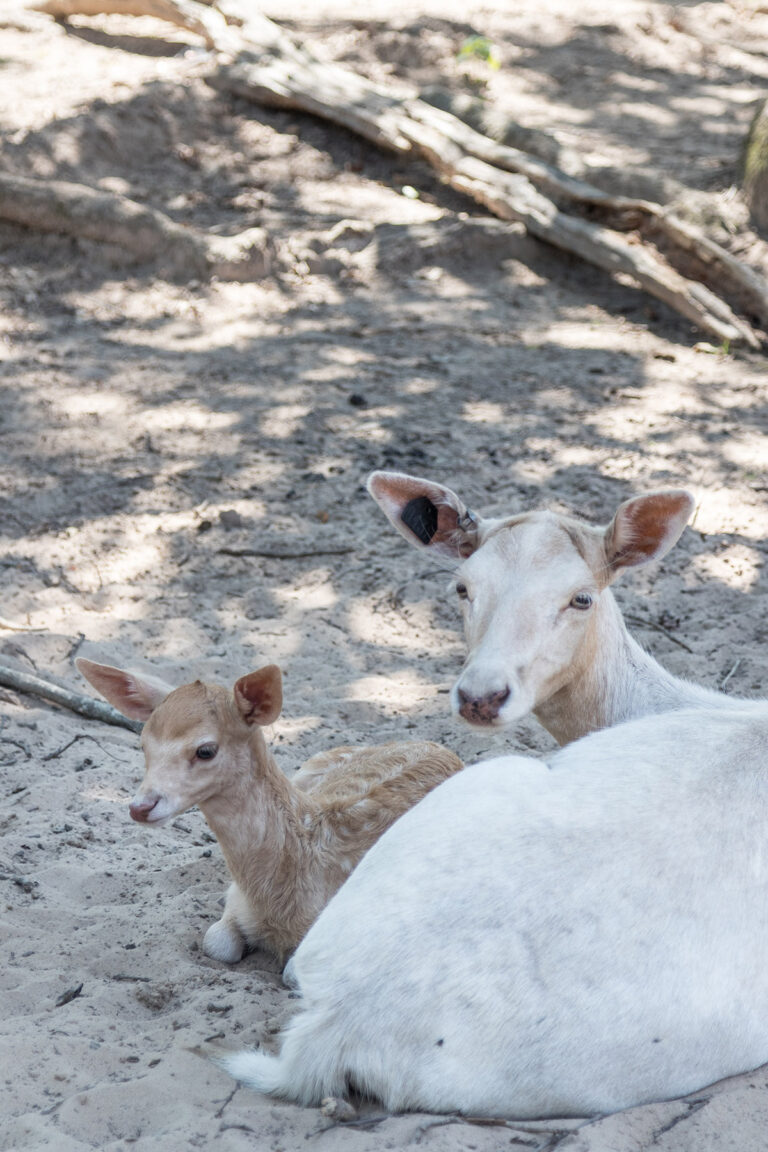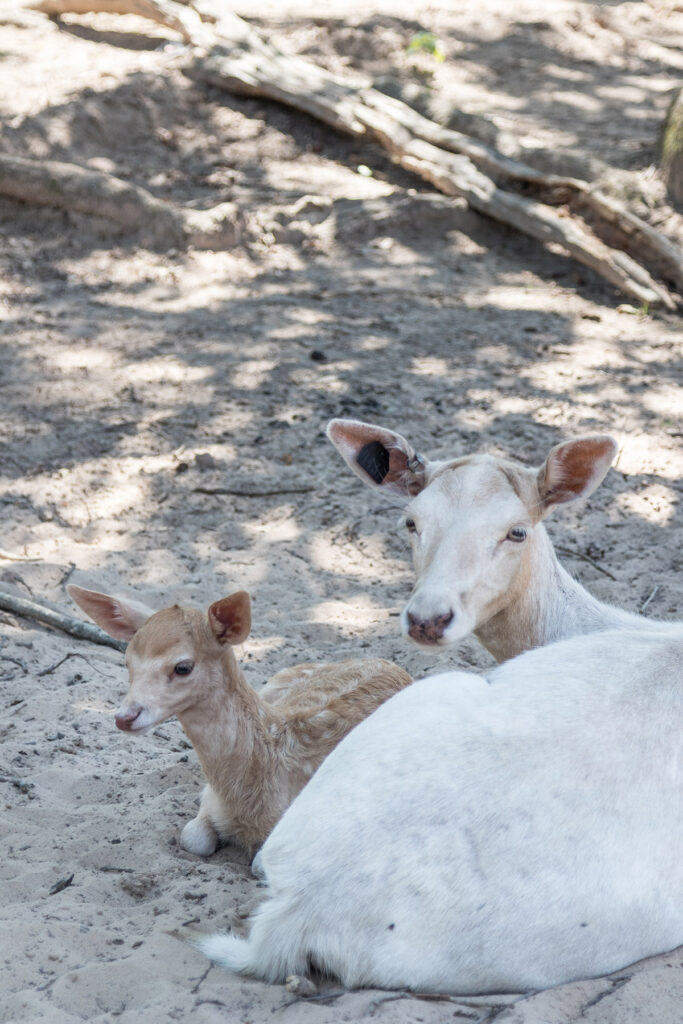 29. Deer park
For more than 50 years, the Wisconsin Deer Park has provided families the opportunity to feed and enjoy over 100 deer and other wildlife, including goats, llamas, lemur, horses, bison, emu, elk, and game birds. They are home to whitetail deer, European fallow deer, and Japanese sika deer. The deer have free rein over a large portion of the park. Always approach them carefully. Tickets are available on site.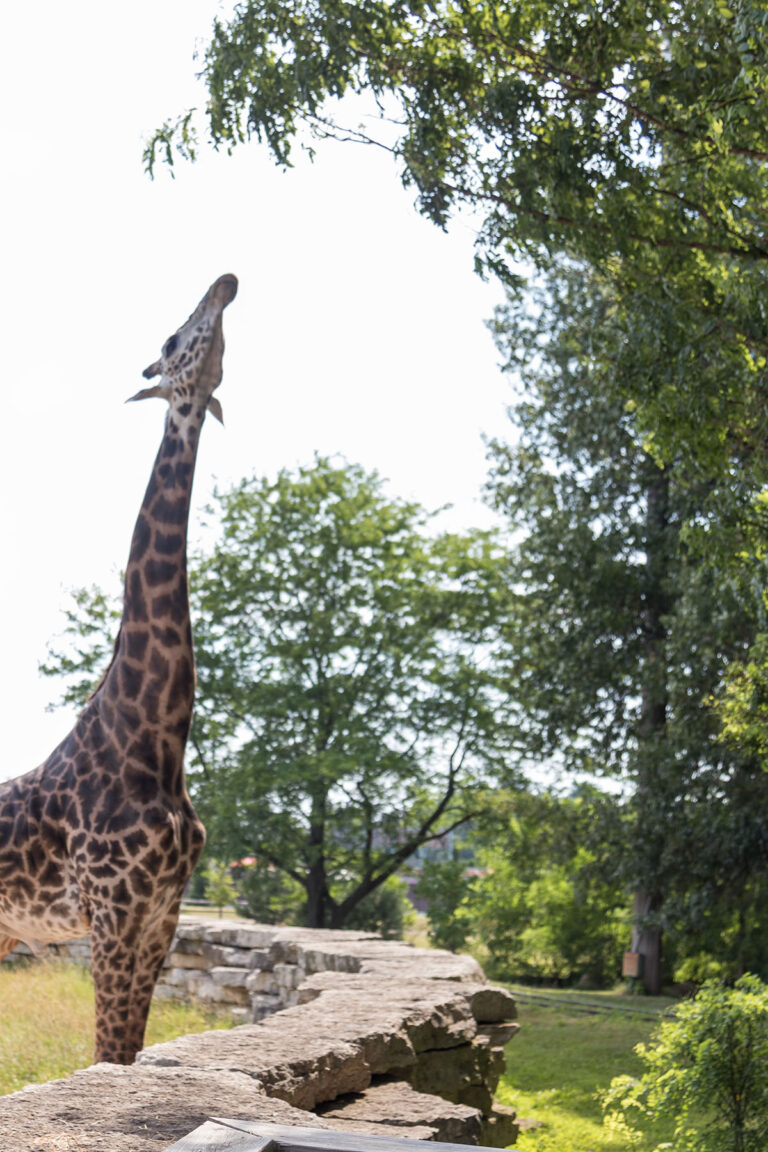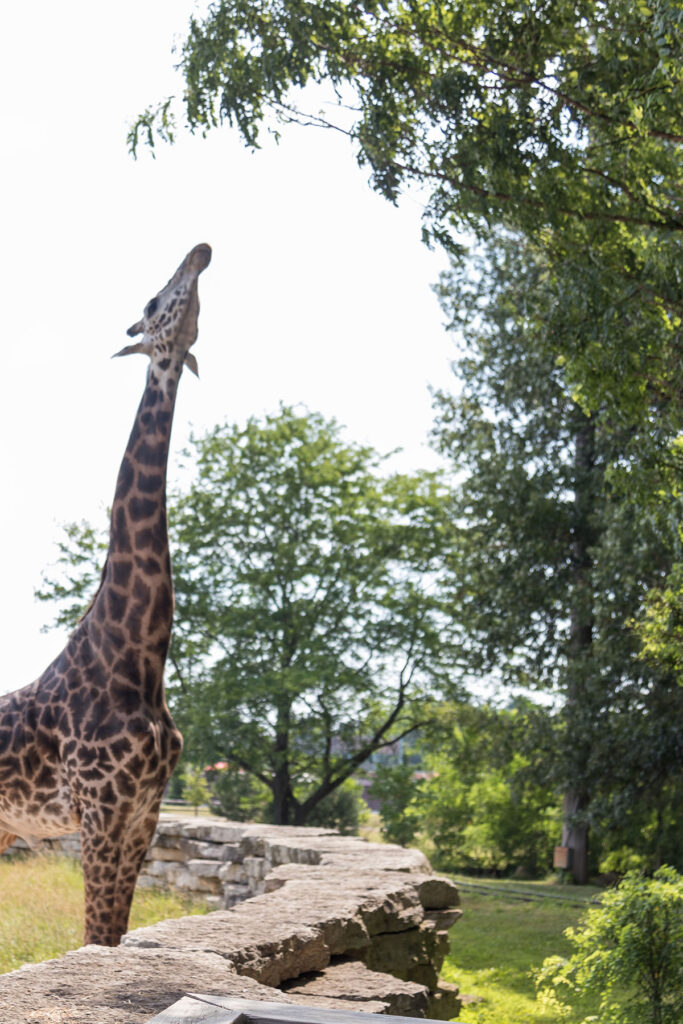 30. Timbavati Wildlife Park
The Timbavati Wildlife Park is home to 400 animals that represent 75 different species. Timbavati is also home to Old Fort Dells Engine Number 9 train, which is the showcase of the Safari Train Ride. Other wildlife park experiences include animal feedings, close-up animal encounters, and wildlife presentations. Concessions are available for purchase. Buy tickets online or at the park.
31. Escape Room
An escape room adventure is another perfect vacation experience with family and friends. Escape rooms are available at Dells Escape Rooms, Booby Trap Escape Rooms, Elusive Escape Rooms, Destination of Adventure Room Escape at Wilderness Resort, World of Escapes, and Wrath of Anubis Escape Room at Kalahari Resorts with lots of different room themes available.
32. Golfing
Take a day away from the action of the Wisconsin Dells to enjoy a nine-hole or eighteen-hole golf course. The Wisconsin Dells offers multiple courses, including Cold Water Canyon Golf Course at Chula Vista Resort, Trappers Turn Golf Course, Wild Rock Golf Club at the Wilderness, and Spring Brook Golf Course at Spring Brook Vacation Home Resort. Book your tee time online.
33. Bowman House Museum
The Bowman House Museum, located in Bowman Park in downtown Dells, is a gorgeous prairie-style historic home, complete with hardwood floors and period furnishings. Constructed in 1904, it's one of Wisconsin's historical places and listed on the National Register of Historic Places. Today the house serves as the Dells Country Historical Society Museum. There are rooms dedicated to Lake Delton, the Civil War hero General Joseph Bailey, H. H. Bennett, blacksmithing, Native American History, ice harvesting, and beer making, featuring a hops press.
Admission to the museum is free. Donations are accepted. Learn more about the Bowman House and see photos of the interior at the Dells Country Historical Society website.
34. Haunted house
The Wisconsin Dells is home to A Haunted Mansion and Ghost Outpost Haunted House to make sure you get all of the spooky adventures that you want during your Dells vacation. There is also a Dells Ghost Boat tour that runs all summer long. Consult Haunted Wisconsin for seasonal haunted houses and other spooky happenings.
35. Dells Mining Company
At the Dells Mining Company, you and your family get a hands-on experience mining for your own natural precious and semi-precious gemstones. You're actually digging in the rich soil shipped right from the minefields of Franklin, North Carolina, the gem capital of the United States. Pan for blue topaz, amethyst, ruby, garnet, sapphire, emerald, and more. There's no admission fee, and everything you mine is yours to keep. There are multiple bucket sizes available. Then you'll have the option to create beautiful 14K gold and sterling silver jewelry with your new gemstones, all right on site.
The original Dells Mining Company opened next to Noah's Ark in 1989. There is a newer year-round location open in the downtown Dells.
36. Axe throwing
Asgard Axe Throwing & Underworld Arcade features fun entertainment for all ages. Everyone age 10 and up can participate in axe throwing. Pay by the half-hour for the unlimited arcade. There are staff members on hand to help you with your throwing. They also offer a full food and beer menu with appetizers, sandwiches, pizza, wings, and more. Book your throwing time online.
37. Big Sky Drive-In Theater
Have a real throwback experience during your next Wisconsin Dells trip at the Big Sky Drive-In Theater. Originally opened in the early 1950s as the Winnebago Drive-In, it's been known as the Big Sky Drive-In for many years now. The theater can accommodate about 400 cars for the two screens, both of which offer first-run features. There are also concessions available at the famous "Big Mama Burger" snack bar. The season runs from April to September. Visit Cinema Treasures for movie showtimes and tickets.
38. Crystal Grand Music Theatre
The Crystal Grand Music Theatre is a 2,000-seat performance venue in the Wisconsin Dells that hosts national musicians, comedians, and family-friendly shows. Take in concerts from a wide variety of musical genres. The theater also hosts a number of music festivals. Visit the website to view upcoming shows and to purchase tickets.
39. Palace Theater
The Wisconsin Dells' Palace Theater is a modern dinner theater venue that showcases classic Broadway productions, children's theater, comedy, and concerts, featuring both original music and tribute acts. Each ticket includes a uniquely designed, freshly prepared meal, heightening the entertainment experience. Visit the website to view upcoming shows and the current dinner menu and to buy tickets.
40. Wisconsin Opry
Since 1979, The Wisconsin Opry has been entertaining people with fabulous music and delicious eats. Each visit includes a hayride, live country music show, and homecooked meal. Reservations for upcoming shows can be made via phone. Visit the website for music show previews and a sample menu.
41. Skiing
While the Wisconsin Dells is most popular as a summer destination, it's an ideal area to visit in winter, particularly if you enjoy outdoor winter activities. The Wisconsin Dells is a top choice for skiing in southern Wisconsin, especially if you're looking for comfortable skiing on well-groomed slopes. Paulina on the Road has a detailed guide to the five best ski resorts in the Wisconsin Dells.
42. Fishing
The Wisconsin Dells is a prime spot for fishing, particularly during the summer months. You can fish for smallmouth and largemouth bass, walleye, sauger, panfish, northern pike, channel and flathead catfish, lake sturgeon, trout, and more. The Book on Gone Fishing has a comprehensive guide for the top fishing locations in the Wisconsin Dells. If you're looking for a guided fishing tour, check out Fish Bones Guide Service and Redbeard Bowfishing.
43. Horseback riding
Take in the beauty of the Wisconsin Dells from the back of a horse. The go-to place for horseback riding in the Wisconsin Dells is Canyon Creek Riding Stables. Their one-hour guided tour is safe for riders of all ages from five and up. Younger riders are welcome to ride along with an adult. Canyon Creek also has a petting zoo.
44. Lost Canyon Tours
Canyon Creek's partner Lost Canyon Horse Tours offers a one-of-a-kind horse-drawn carriage ride through the Dells. The half-hour tour has been running since 1956 and takes visitors through a mile-long stretch of cliff-walled gorges. The comfortable yet quaint carriages carry 15 passengers each. Call to schedule your tour.
45. Oschner Park (Baraboo) Zoo
Located in a 26-acre park next to the Baraboo Riverwalk, the Oschner Park Zoo (or Baraboo Zoo) is one of five small municipal free zoos in Wisconsin. In operation since 1926, the zoo is home to monkeys, lynxes, tortoises, llamas, and more. The zoo also has picnic shelters and a playground. It's the perfect stop as part of a day trip from the Wisconsin Dells that includes another nearby destination, such as Circus World or Devil's Lake State Park.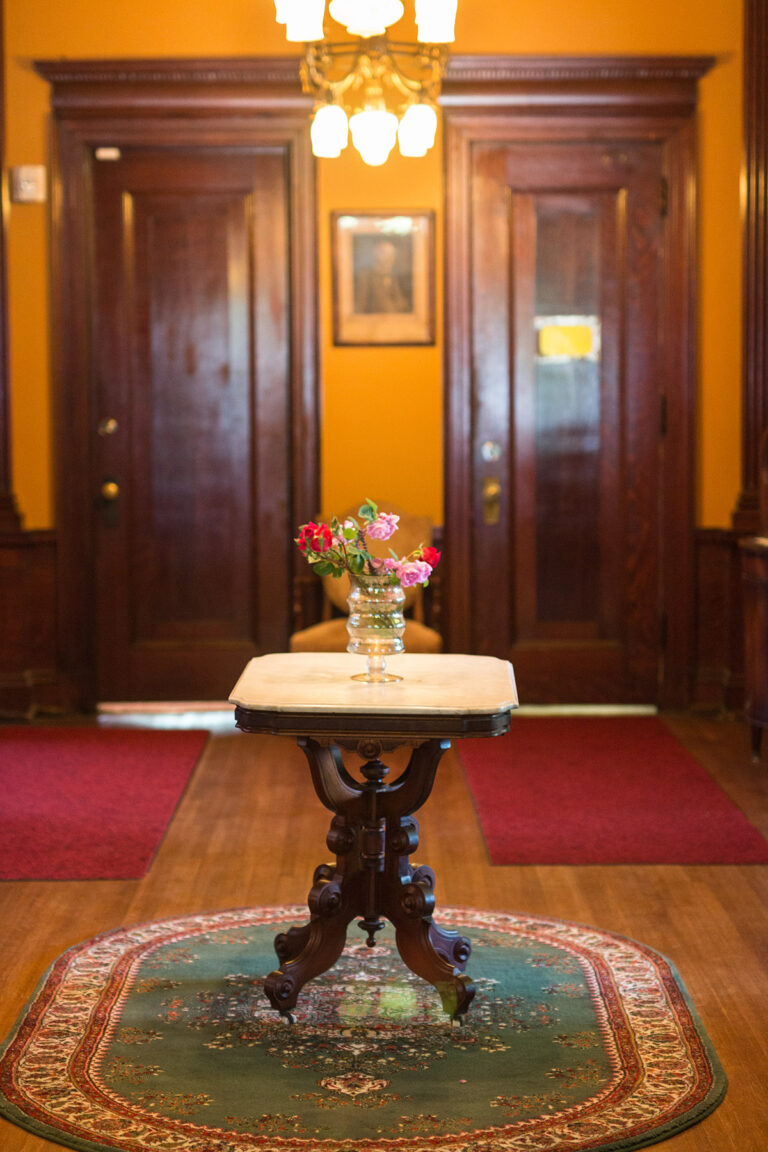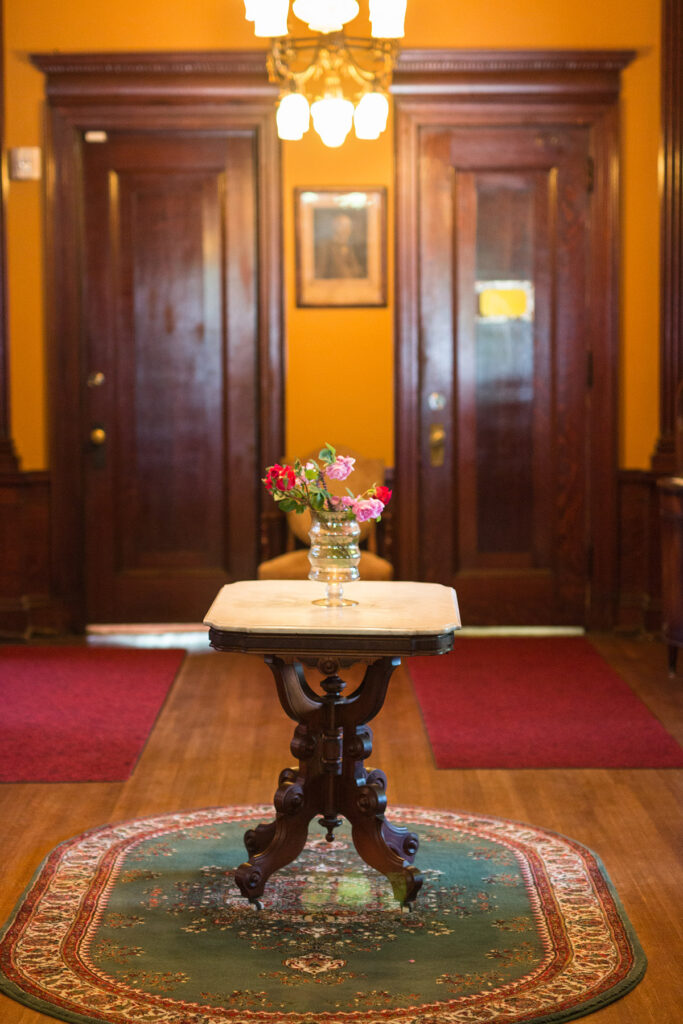 46. AL. Ringling Mansion
Another hidden gem in Baraboo, Wisconsin, the AL. Ringling Mansion is a beautiful historic home of one of America's greatest showmen. Free guided tours are available on the hour and don't require reservations. The tour includes a stop at the AL. Ringling Brewing Company, located right behind the mansion. The mansion is also available for rentals for private events.
47. Trampoline park
Knuckleheads is home to the Wisconsin Dells' only trampoline park. The park is geared toward all ages and jumping abilities. Park passes provide access to four different areas: an open jump area, basketball hoops, a dodge ball court, and Knuckleheads custom BigAir "stunt" bag. Purchase tickets online or on-site. The Knuckleheads facility also features virtual reality, rides, bowling, and an arcade (all priced separately from the trampoline park).
48. Arcades
For the ultimate arcades experience in the Wisconsin Dells, go to Asgard Underworld Arcade Bar in the downtown. It's the only arcade bar in the area with unlimited play by the hour. The retro gamers bar features signature drinks and a full-service menu. All of your retro favorites are here, including Donkey Kong, Pac-man, Galaga, and Frogger.
A number of the resorts in the Dells feature arcades, including the arcade in the indoor portion of Mt. Olympus, the Northern Lights Arcade at Great Wolf Lodge, and Wilderness Resort, which is home to the Northern Lights Arcade, Wilderwoods Arcade, and X-treme Adventure Arcade.
49. Laser tag
The Wisconsin Dells is home to several unique laser tag arenas. Fort Dells Laser Ops Compound is the area's military attraction. With one indoor and two outdoor battle zones, they offer more than 20,000 square feet of battlespace. The Wilderness Resort's Lost Cabin Laser Tag allows players to battle in a three-story, 3,000 square foot arena, using cutting-edge laser technology, including interactive targets. Wild Fun Zone is home to the largest blacklight laser tag arena in the region.
50. Country Bumpkin Farm Market
Since 1997, Country Bumpkin Farm Market has been providing fresh fruits and vegetables picked daily. The farm also features a play complex with a giant John Deere combine, pedal karts, obstacle course, zip line, miniature buildings, climbing wall, wire swings, wooden play train, wooden fire truck, wooden pirate ship, and much more. Additionally, Country Bumpkin has a petting farm with goats, donkeys, alpacas, ducks, chickens, peacocks, and a miniature dwarf horse. Single-day passes and season passes are available.
51. Trolley tours
Wisconsin Dells Trolley Tours are a fun way to explore the area without doing lots of walking. They offer a wide variety of tours including family-friendly, evening, adult/drinking, and winter/off-season with something for everyone. Trolleys are also available for airport transport and to rent for private parties and other events.
52. Brewery
The two most popular places to enjoy local brews in the Wisconsin Dells are Moosejaw, which is the home of the Wisconsin Dells Brewing Company, and Latte Stone Brewery. Moosejaw features two beer samplers, a full beer menu, and beers to purchase for at-home enjoyment. Latte Stone Brewery is a tasting room-style bar serving craft beer and wine. Their tapas menu features Pacific Island cuisine. Visit their Facebook page to learn more about their current specials.
53. Old-time photos
Finally, complete your trip to the Dells with an old-time family photo. There are several studios right in the downtown: Capone's, Old Abe's, Vintage Photos, and Professor Porter's Old-Time Portraits. I recommend checking out the studios in person to see examples of their work and inquire about the available props, backdrops, editing styles (i.e., antique color, brown tone), and digital/print packages.
Pin this post for easy access to the 53 things to do in the Wisconsin Dells resource later!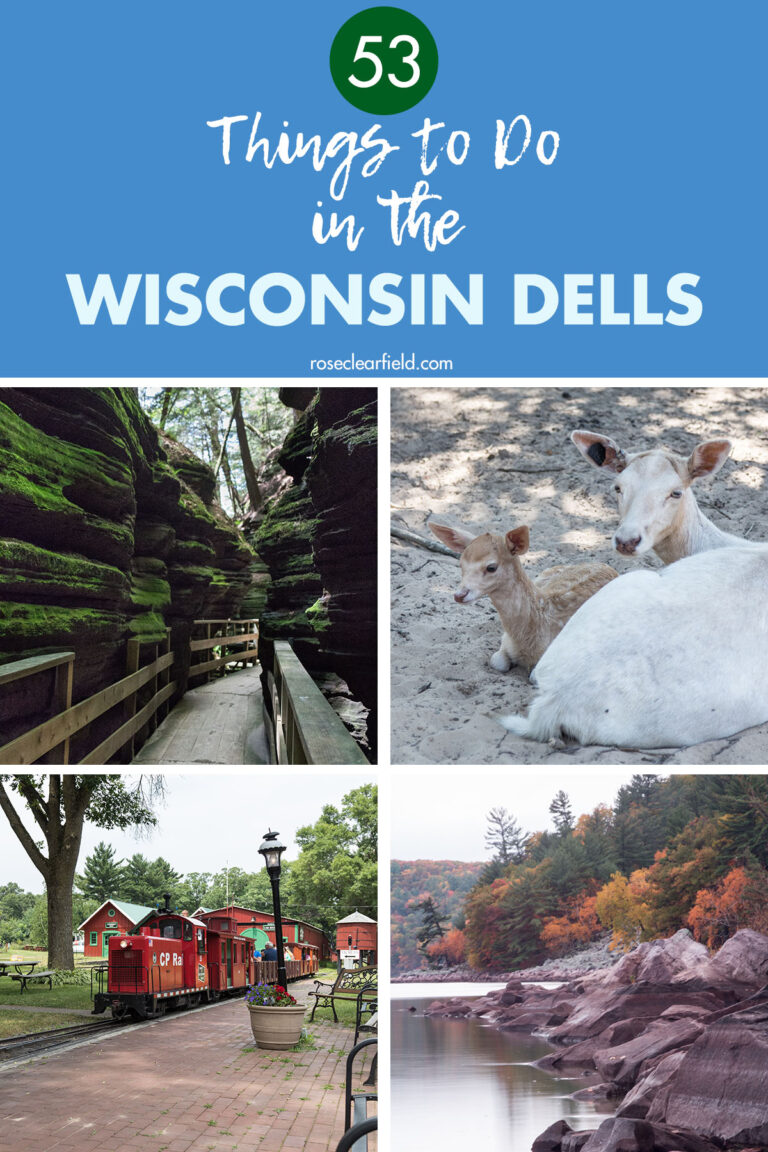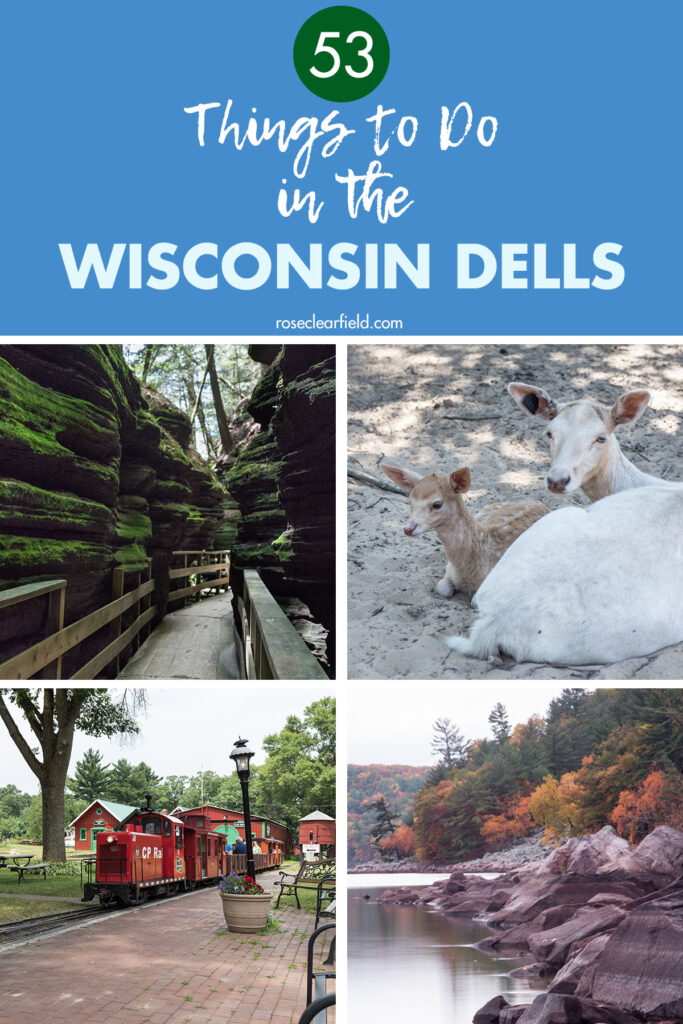 I also wrote a post with all of my best tips for taking a Wisconsin Dells vacation with toddlers!
More favorite Wisconsin destinations: