Planning a Wisconsin Dells vacation on a budget allows you to take your family on an amazing vacation to a beautiful area of the country without breaking the bank. I share my best tips to help you save money on your next Wisconsin Dells trip.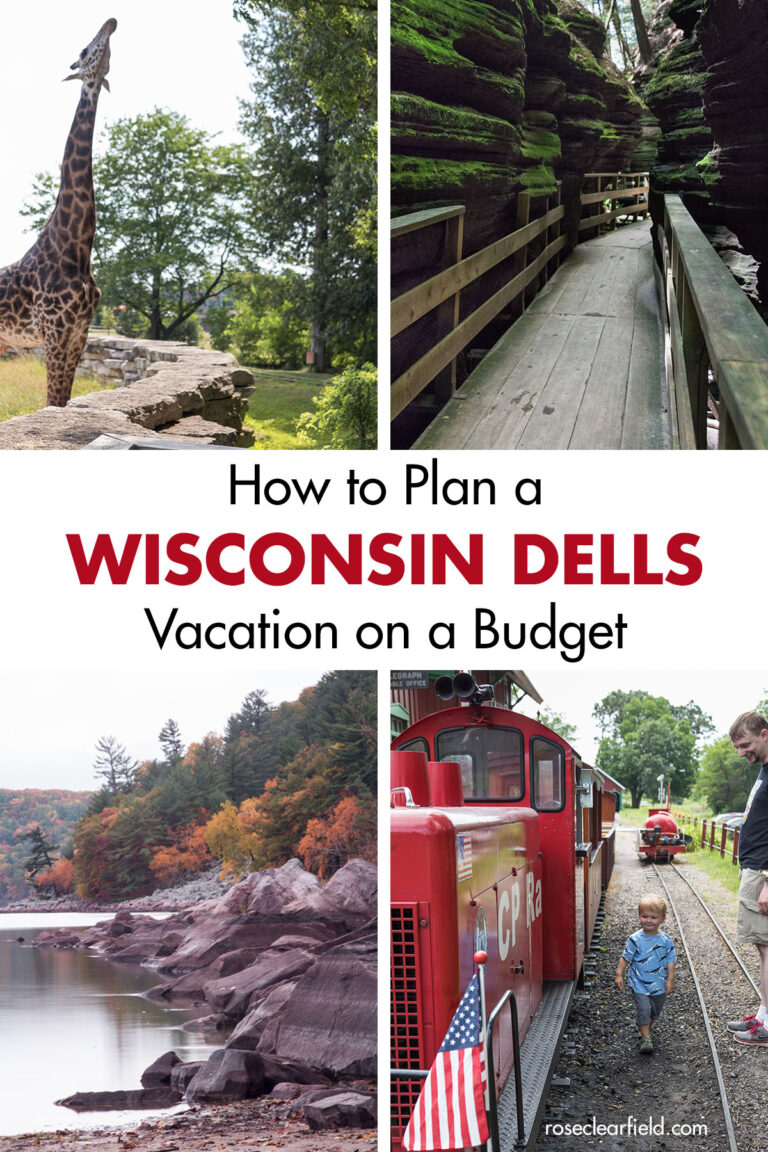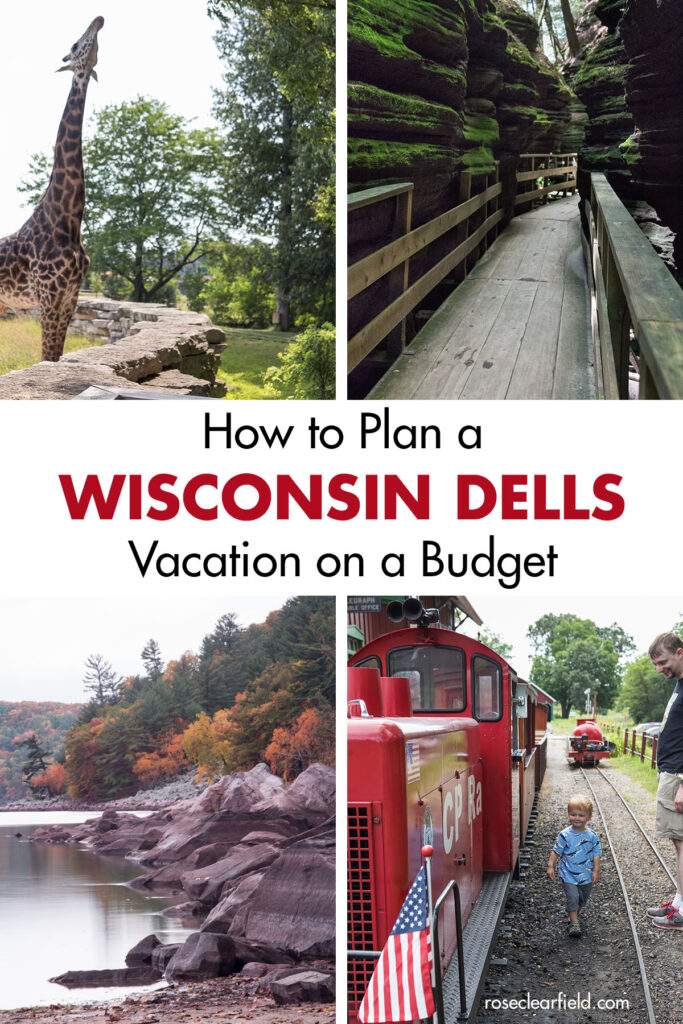 The Wisconsin Dells is one of the state's top vacation destinations and with good reason. It's in a gorgeous location and offers family-friendly fun for all ages. However, like any popular tourist destination, it has a reputation for being expensive. While there is no limit on what you can spend on a Wisconsin Dells vacation, there are also lots of easy ways to save money and still have a great trip.
One of the first aspects of planning a Wisconsin Dells vacation is deciding whether or not you want to stay at a resort. If you're planning to spend a lot of time at the waterpark every day and want the convenience of being able to return to your room quickly, most likely it will be worth it to stay at a resort. Prioritize the resort as your big-ticket item for the trip, and do as much as you can to maximize your savings on the resort.
If you won't be spending as much time at the waterparks or are just not as committed to staying at a resort, look into other lodging options, all of which I discuss below. You will spend significantly less on your lodging, making for a cheaper trip and freeing up funds for other activities.
Sign up for the Wisconsin Dells monthly email newsletter
The Wisconsin Dells website sends out a free monthly newsletter, which includes current deals and other savings opportunities. Sign up here for the newsletter.
Browse the deals on the Wisconsin Dells website
The Wisconsin Dells website has a deals page that gets updated regularly. It includes specials for resorts and hotels as well as attractions, such as golfing, ziplining, and duck boats, as well as restaurant packages and specials.
Follow social media accounts for resorts where you're interested in staying and/or sign up for their newsletters
A lot of resorts offer exclusive savings deals on their social media accounts and through their newsletters. For example, the Kalahari Resort does a weekly Suite Deal of the Week on their Facebook and Twitter pages. Check out the social media accounts for specific resorts and browse the recent posts for such deals to see if it's worth following along. Sign up for the newsletters as well. It's easy enough to unsubscribe once you've made a reservation or if there simply aren't a lot of deals.
Check resort websites' deal pages
At any given time, a resort will be running at least one or two special deals. You can find such deals on a deals page within a resort website. Generally, there are parameters for these deals, such as that they're only available for weekday bookings or they're only valid for stays booked at least 90 days in advance. If you're interested in staying at a particular resort, it's worth watching the deals page well before you're planning to travel, so you're ready to jump on the right deal when it's available.
Stay in a condo at a resort
Many of the Wisconsin Dells resorts have condos or suites that include kitchens. While they are more expensive than the rooms, you'll save money by making some or the majority of your own meals. When you're traveling with a larger group or have multiple children, the restaurant tabs add up quickly. Making your own meals or doing takeout or delivery, such as pizza, for some meals, will quickly offset the extra cost of the larger resort accommodations.
Take advantage of package deals within the resort where you're staying
When you stay at a resort, in addition to the included waterpark passes, you get access to discounted rates on other amenities at the resort. For example, there will be lowered rates for restaurants, amusement parks, spas, and golf. If you're planning to take advantage of these amenities, it may be worthwhile to purchase a package. When package deals are available, there will be some sort of deals or savings section on the resort's website.
Book a trip during the week instead of over a weekend
I don't think that I need to spend a lot of time explaining that weekday rates will almost always be less expensive than weekend rates, especially during the summer. If you're planning a shorter trip, block out a three- or four-day stretch during the week instead of making the trip into a long weekend getaway. Or plan a trip that starts on a Sunday night and ends on a Friday or Saturday to avoid paying for a whole weekend on either end. Booking a Dells trip with a lot of weekday time is also ideal during the summer because the waterparks, restaurants, and other attractions will be much less crowded.
Travel during the off-season
A Wisconsin Dells trip during the off-season definitely isn't the same as a trip during the summer. But if you're looking for a getaway that includes a lot of indoor waterpark time and/or outdoor winter sports, an off-season trip is a great option. All of the major resorts are open year-round and offer lower rates during the off-season. Many of the other area attractions aren't open in the off-season. But you'll still be able to frequent many of the restaurants and some of the shops, including the outlet mall.
Stay at a basic hotel/motel with water park passes
There are many basic hotels and motels right in the heart of the Wisconsin Dells that offer all of the amenities that you'd expect without the price tag of a resort. Almost all hotels and motels in the area include water park passes or offer significant discounts on them. This information is readily available on any hotel or motel website. If you're not interested in the features that a larger resort has to offer or would rather put that money toward another aspect of your trip, a basic hotel or motel is a great option. You'll get the close proximity that you desire to lots of attractions and restaurants and will still get a great deal on waterpark access.
Stay at a local Airbnb, VRBO, or campground
There are lots of Airbnb and VRBO properties in the greater Wisconsin Dells area. You'll find everything from small condos to large cabins to full suites within resorts, with something to fit just about everyone. There are properties available in many desirable areas in the Wisconsin Dells, including the historic downtown, Lake Delton, and Christmas Mountain Village. Many properties offer lakefront views and private or semi-private beach access.
Many Airbnb and VRBO properties in the Dells area are cheaper than the big resorts, especially when you factor in the resort fees. You'll also save money staying at a property with a kitchen and making some or even the majority of your own meals. When you're traveling with young children, it's beneficial to have a property with on-site laundry as well.
The Wisconsin Dells area is also home to over a dozen campgrounds, including traditional tent campsites, RV parks, and log cabins. Log cabin rentals tend to be in a similar price range with Airbnb and VRBO properties while traditional tent campsites and RV parks are considerably cheaper. If you enjoy camping or are looking for a more outdoors Dells experience a little ways off from the waterparks, a campground or RV park may be a great option for your family. The Wisconsin Dells site has an overview of the campgrounds in the area.
Consider purchasing a Passport to Savings book
The Passport to Savings book offers discounted tickets for 11 popular attractions in the Wisconsin Dells. You'll receive a discount for purchasing tickets to at least two attractions. The more attractions you purchase tickets for, the more money you save. When you're planning your vacation, look at the attractions included in it and decide if it would be worth buying your tickets this way.
Discounted tickets are available through Passport to Savings any time online. There is a year-round ticket booth in the Tommy Bartlett Exploratory. There is also a seasonal ticket booth open from Memorial Day through Labor Day at Oak Street and Broadway in the Wisconsin Dells.
Whenever possible, pack your own meals, drinks, and snacks
You'll save a significant amount of money on any vacation when you're not eating every meal at a restaurant and relying on gas stations and poolside snack shops for snacks and water. At a minimum, when you know you'll be away from your hotel for more than a few hours, plan to pack your own water bottles and snacks that are moderately healthy and keep well in the car, such as granola bars, trail mix, and vegetable chips. For longer water park days and all-day excursions, think about packing lunch as well. When you're staying in a room at a resort with a kitchen or in an Airbnb or VRBO with a kitchen, it's easy to keep supplies on hand for easy lunches, such as bread, peanut butter, lunch meat, fruit, and pre-sliced vegetables.
Seek out budget attractions
The Wisconsin Dells is a stunning area and has so much to offer beyond the waterparks, shops, and restaurants. While you are in the historic downtown, make sure to check out the Glockenspiel and the Scenic Riverwalk, both of which are completely free and well worth the stop. My other favorite Wisconsin Dells budget attraction right in the heart of the Dells that is often overlooked is the Wisconsin Deer Park. Get an up-close encounter with over 100 deer and other wildlife, including goats, llamas, lemur, horses, bison, emu, elk, and game birds.
I highly recommend getting away from the waterpark for a day or two and visiting Circus World and the Country Bumpkin Farm Market. Both of these destinations have ridiculously low ticket prices, especially given all that they have to offer. Adults and kids alike will enjoy the entire experience of a day at Circus World or Country Bumpkin.
To fully appreciate the beauty of the area, make a day trip to Devil's Lake State Park or Mirror Lake State Park. For the very low price of a daily car sticker, your whole family will be able to take in all that the state park has to offer.
Pin this post for easy access to the Wisconsin Dells vacation on a budget resource later!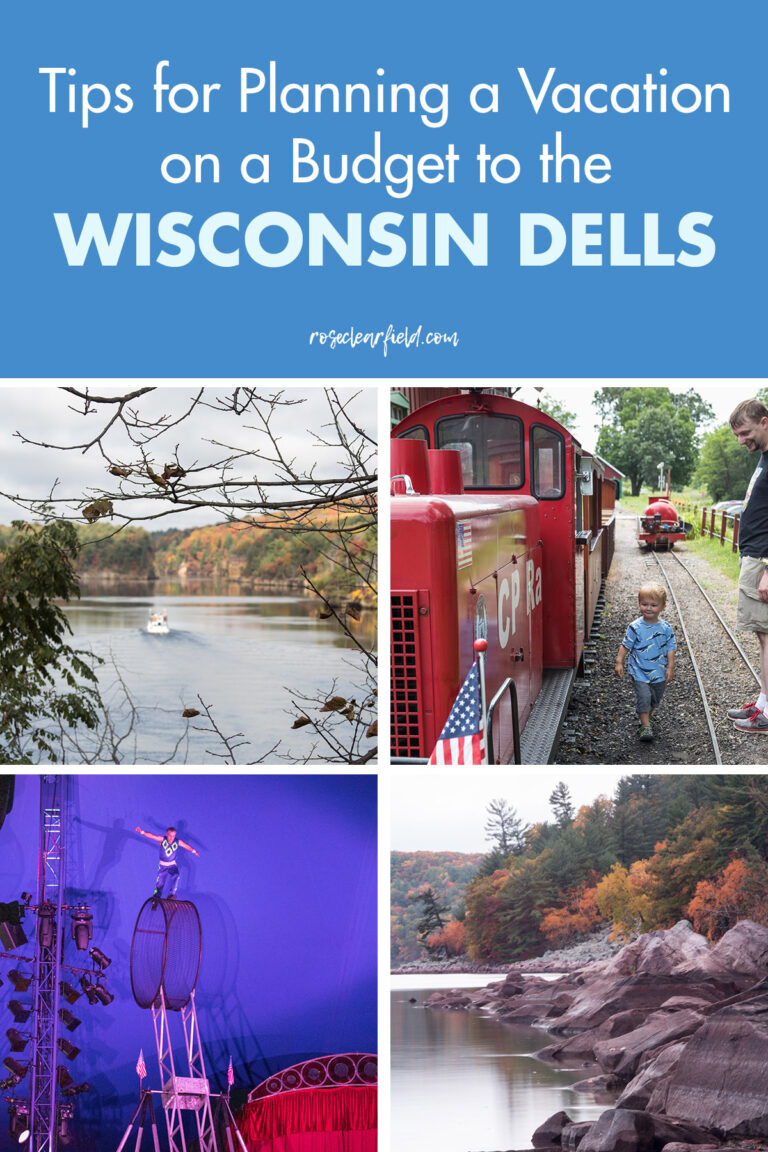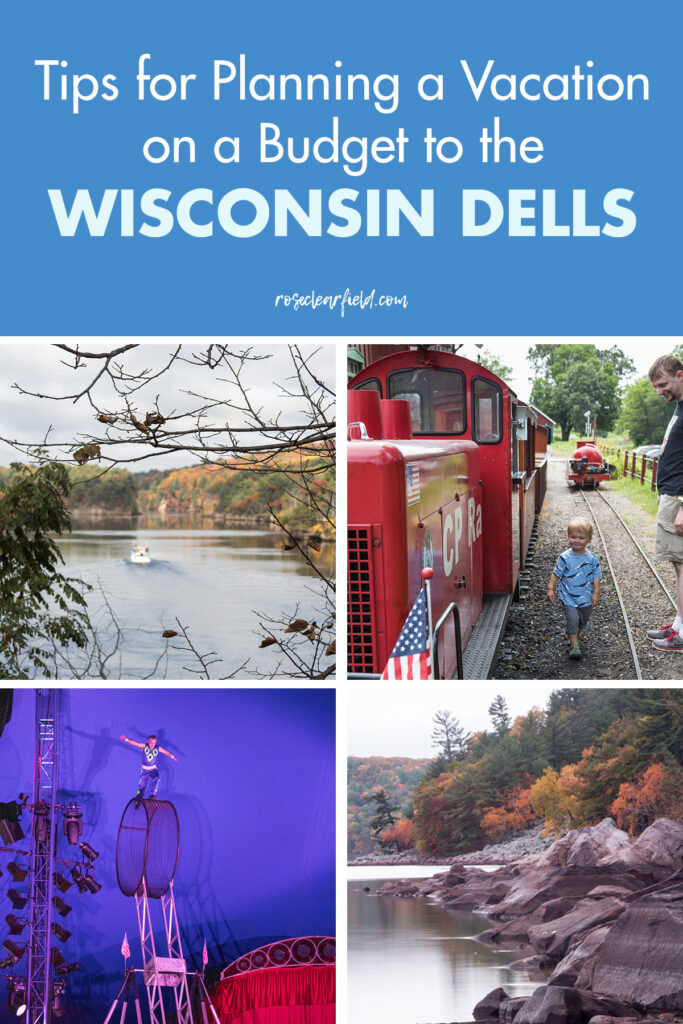 I also wrote a post with all of my best tips for taking a Wisconsin Dells vacation with toddlers!
More favorite Wisconsin destinations: