Valentine's Day is such a fun holiday with kids. Babies, toddlers, and preschoolers are the perfect ages to pose for cute Valentine's Day photos. If you don't do a lot of your own photography, putting together a Valentine's Day shoot may be a little overwhelming. With a few simple props and some great lighting, you'll be on your way to creating an adorable picture to print for cards, grandparent gifts, and more.
Since I have a seven month old for Valentine's Day this year, I'm sharing a Valentine's Day baby photo idea. You can easily customize this concept for toddlers and preschoolers. I put together the entire setup with items I had on hand in a single morning. In this post, I break down the full process to make it as straightforward as possible for you and your little ones.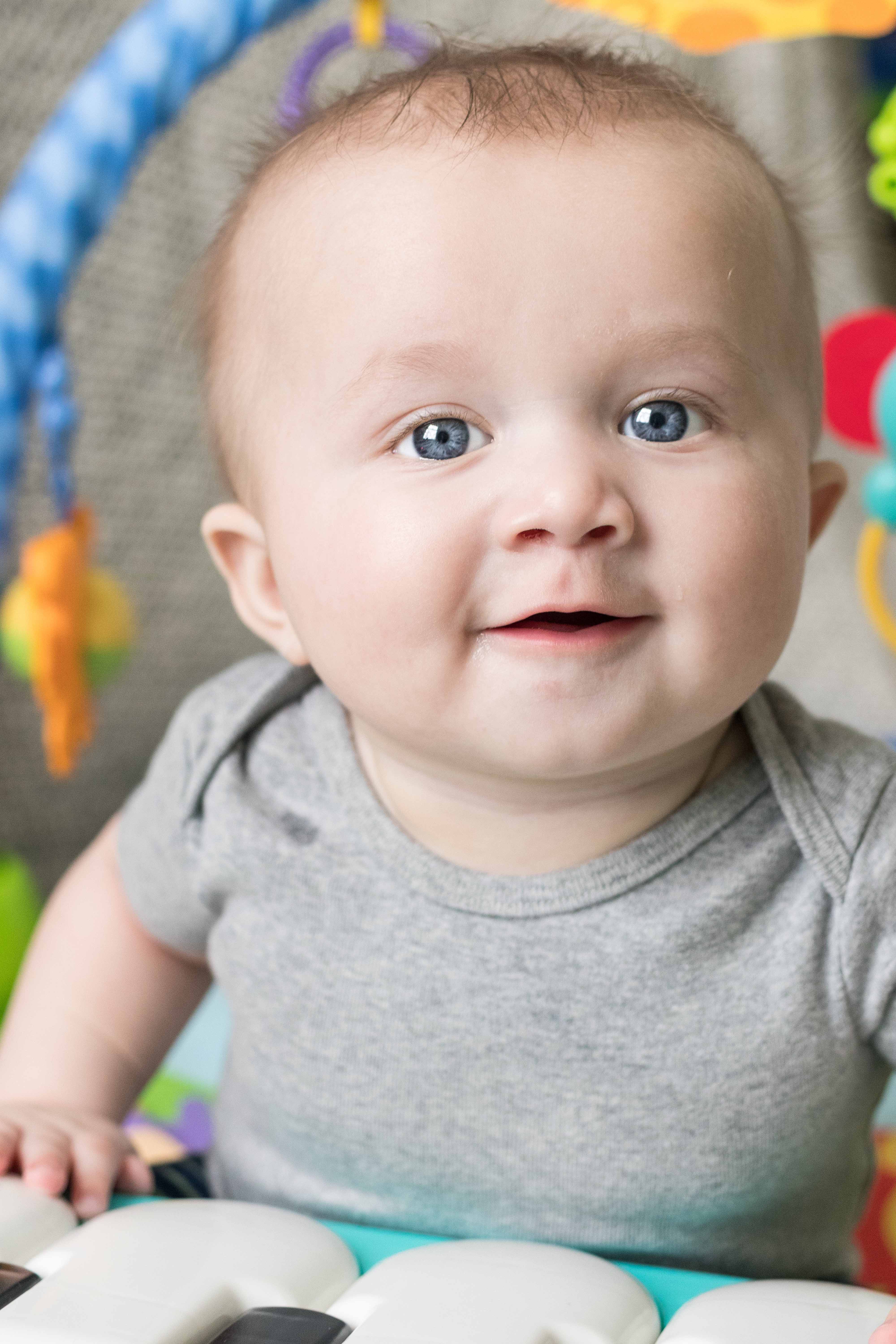 First, find the best light that you can in your house. I take a lot of photos of Tommy by one of our huge living room windows (as pictured above) because the area gets great light from early morning through early afternoon most of the year. Situating your Valentine's Day setup in great light will significantly improve your final result. You don't have to shoot on a bright sunny day as long as the room you're shooting in gets plenty of light. Once you've figured out where you'd like to set up for the Valentine's Day baby photo idea, gather your materials.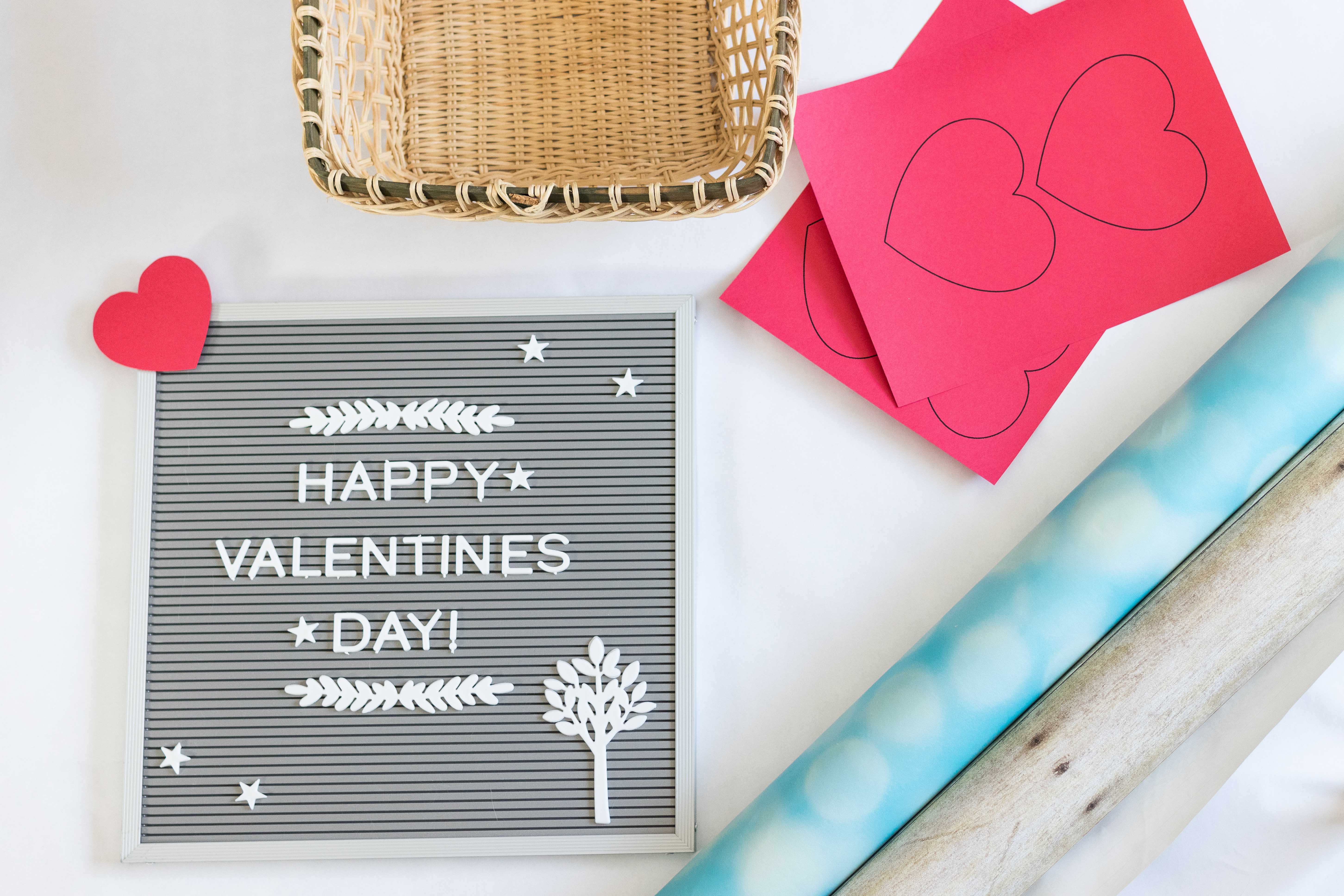 Materials for the Valentine's Day baby photo idea
Neutral flooring. You may be able to shoot on hardwood flooring or another existing surface in your home that looks great in photos. If so, perfect! If you don't have an obvious option, pick up a paper or vinyl flooring backdrop. I chose a faux wood paper backdrop (very similar) that you see me use for tons of posts.
A neutral or holiday backdrop. I chose my blue bokeh background (which you also see me use for tons of posts) because it's something I had on hand, and I didn't want to go too girly for a Valentine's Day photo shoot with a baby boy. This background is also available in red and gold, both of which would be great for Valentine's Day, too. (If you click the blue bokeh link, you'll see the other color choices.)
Basket or bucket. If you opt for a sitting pose like I did and your little one can't sit up independently yet, setting them up in a basket or bucket is an easy, inexpensive option for a cute sitting position. I used a basket we already had, but you can pick one up at the dollar store or watch the sales at Michaels or Target to get one on the cheap.
Paper hearts or other Valentine's Day decor. I printed a couple of heart templates from What Mommy Does on red cardstock. I cut out the hearts and attached them to the backdrop with painter's tape, so it wouldn't destroy the backdrop completely. Hearts scattered on the floor works well, too.
Letter board or holiday banner. I recently got a letter board from Target (similar), so that's what I used. There are so many cute letter boards and Valentine's Day banners as well as DIY Valentine's Day signs and banners out there. The possibilities here are endless. Customize your shoot the way you like, but don't feel as though you need to spend hours on a crazy DIY project.
A white foam core or other photography reflector. A white foam core board folded in half is one of the simplest, cheapest ways to make a great photography reflector. Place your folded foam core opposite your light source to minimize shadows. You see how I position my reflector in the setup photos below.
Set up your flooring (if needed) and backdrop. Take care to position your backdrop, so it looks as natural as possible. A weird angle or crooked edge where it lines up with the flooring will distract from your composition.
Add your basket/bucket and Valentine's Day decor. Think about where your baby or child will be sitting, and arrange your decor to avoid an unnatural intersection. For example, you don't want it to look like a paper heart is coming right out of his/her head.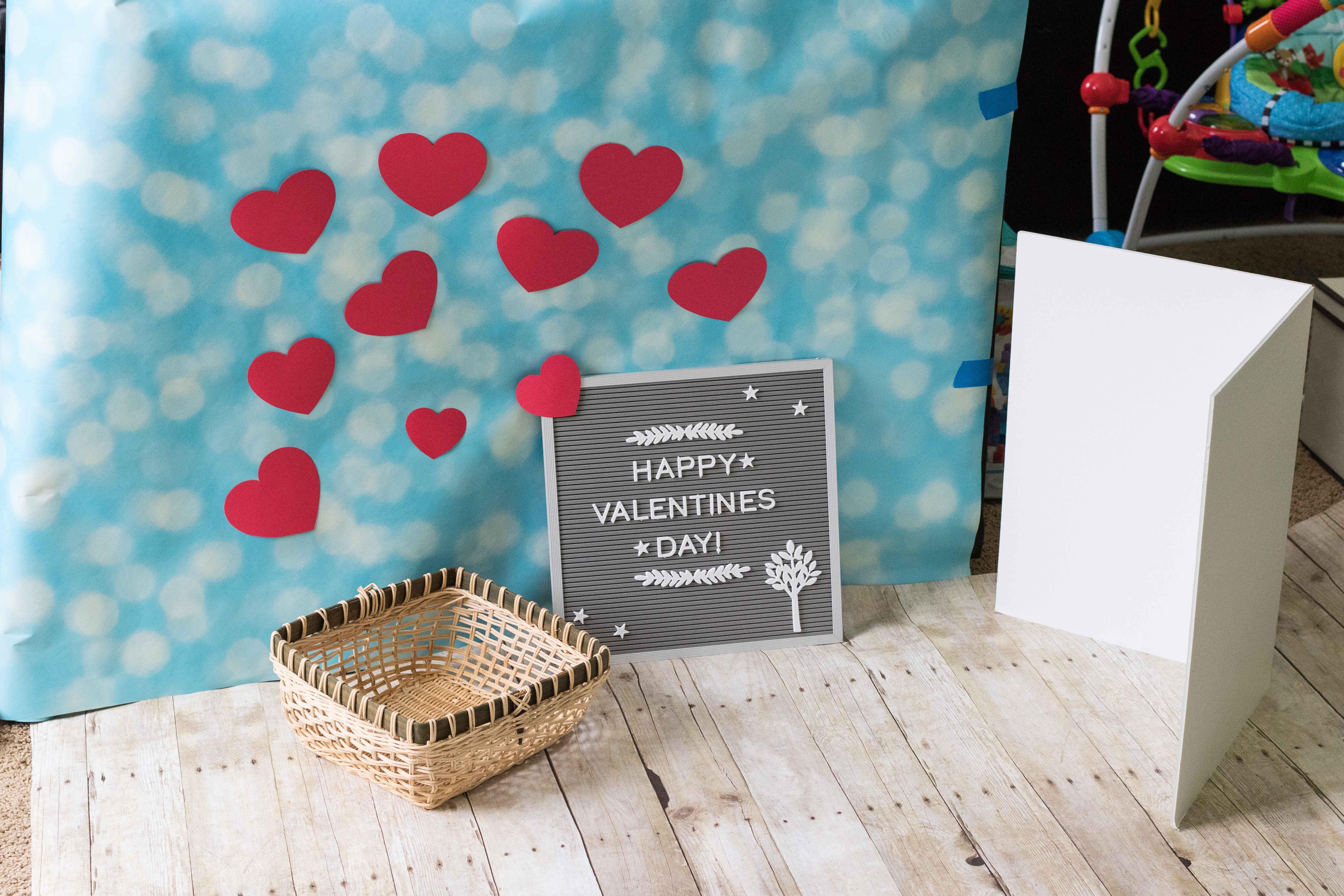 Spoiler alert: You will have at least one pet who wants to help the entire time but has no interest in posing with your setup.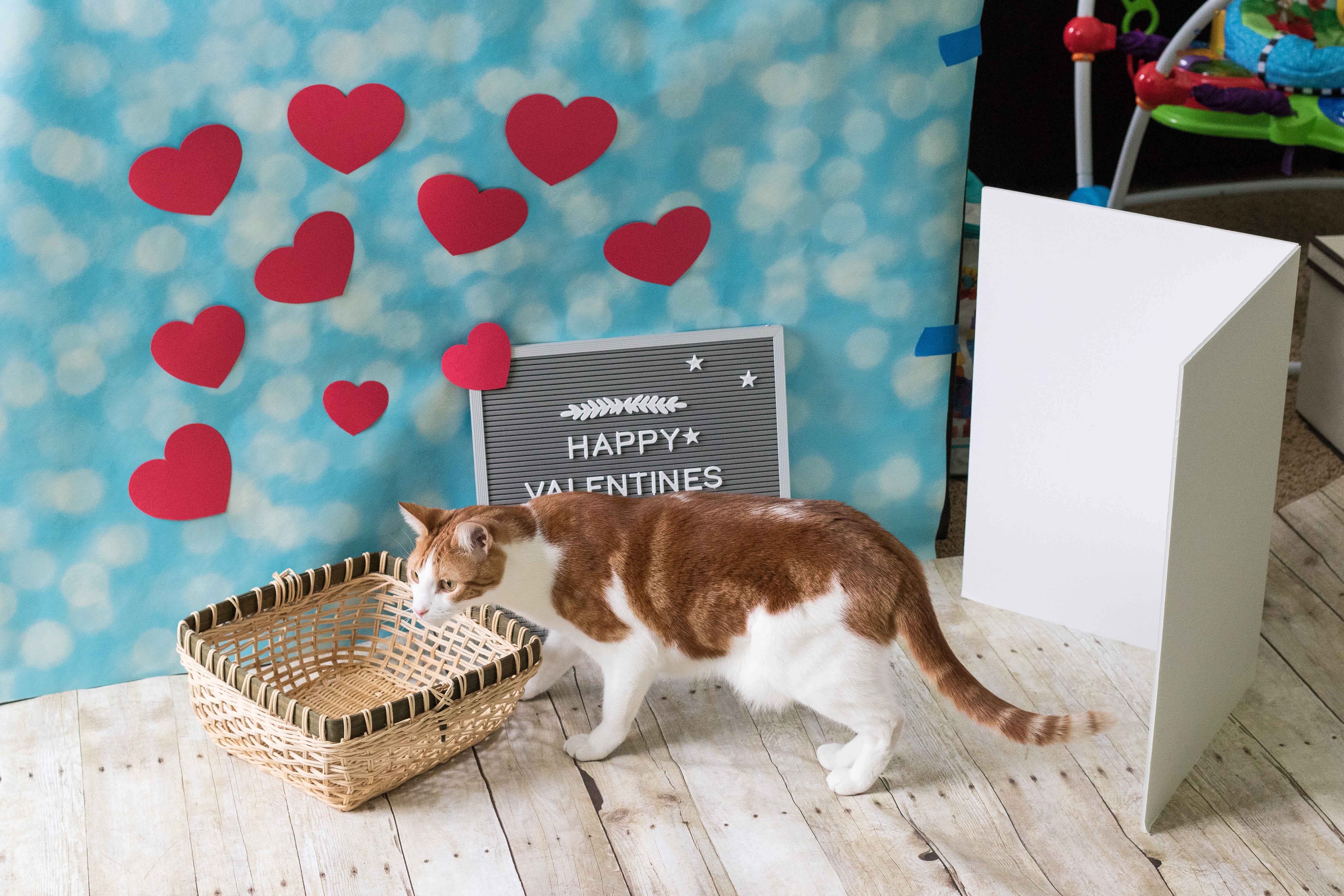 When your setup is ready, take a few test shots. I have a super chill baby who doesn't scream the second I get out the camera. And I still have a very limited amount of time to complete this type of shoot while he's in a good mood. The more you can do to get ready before you start shooting, the more great shots you'll get.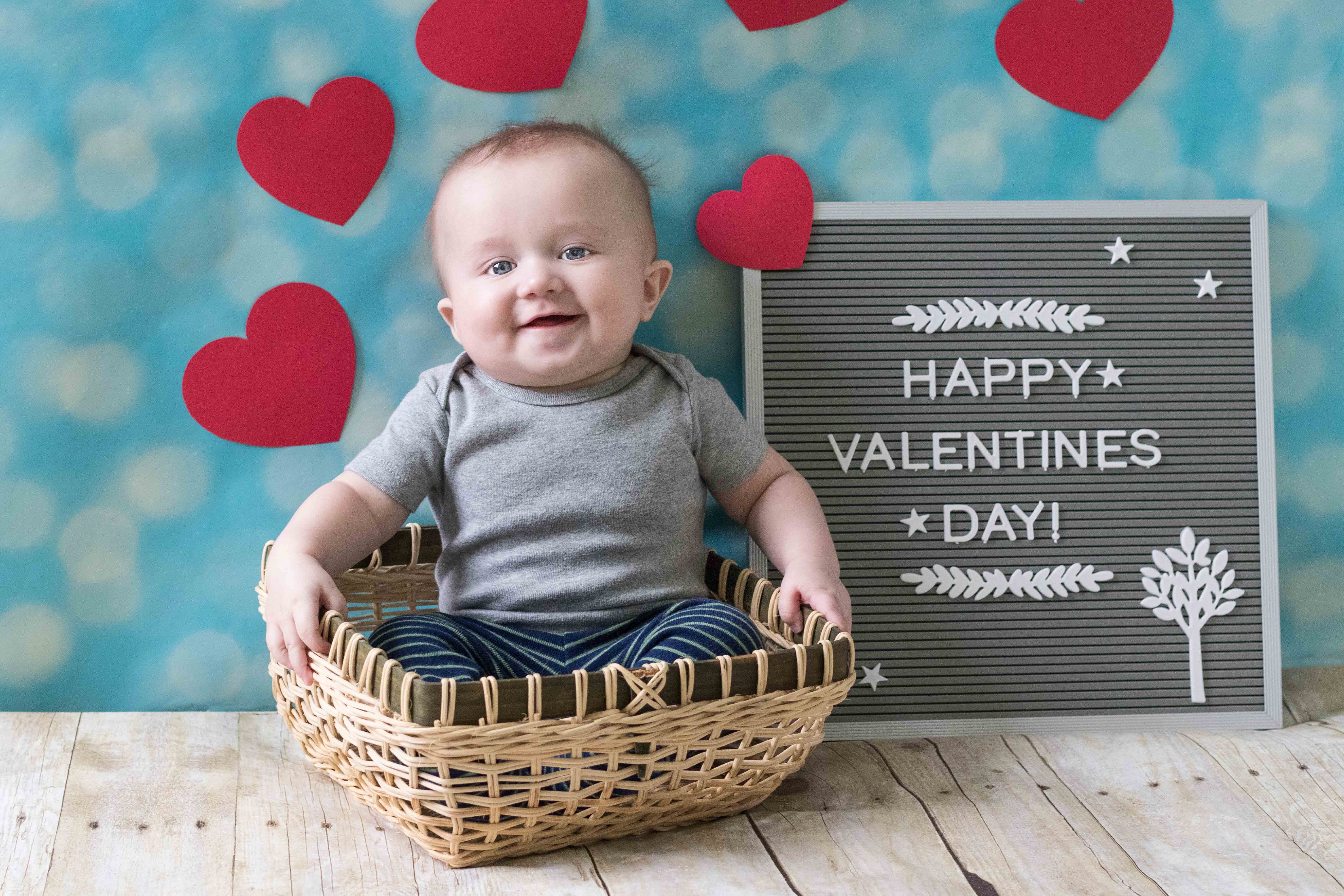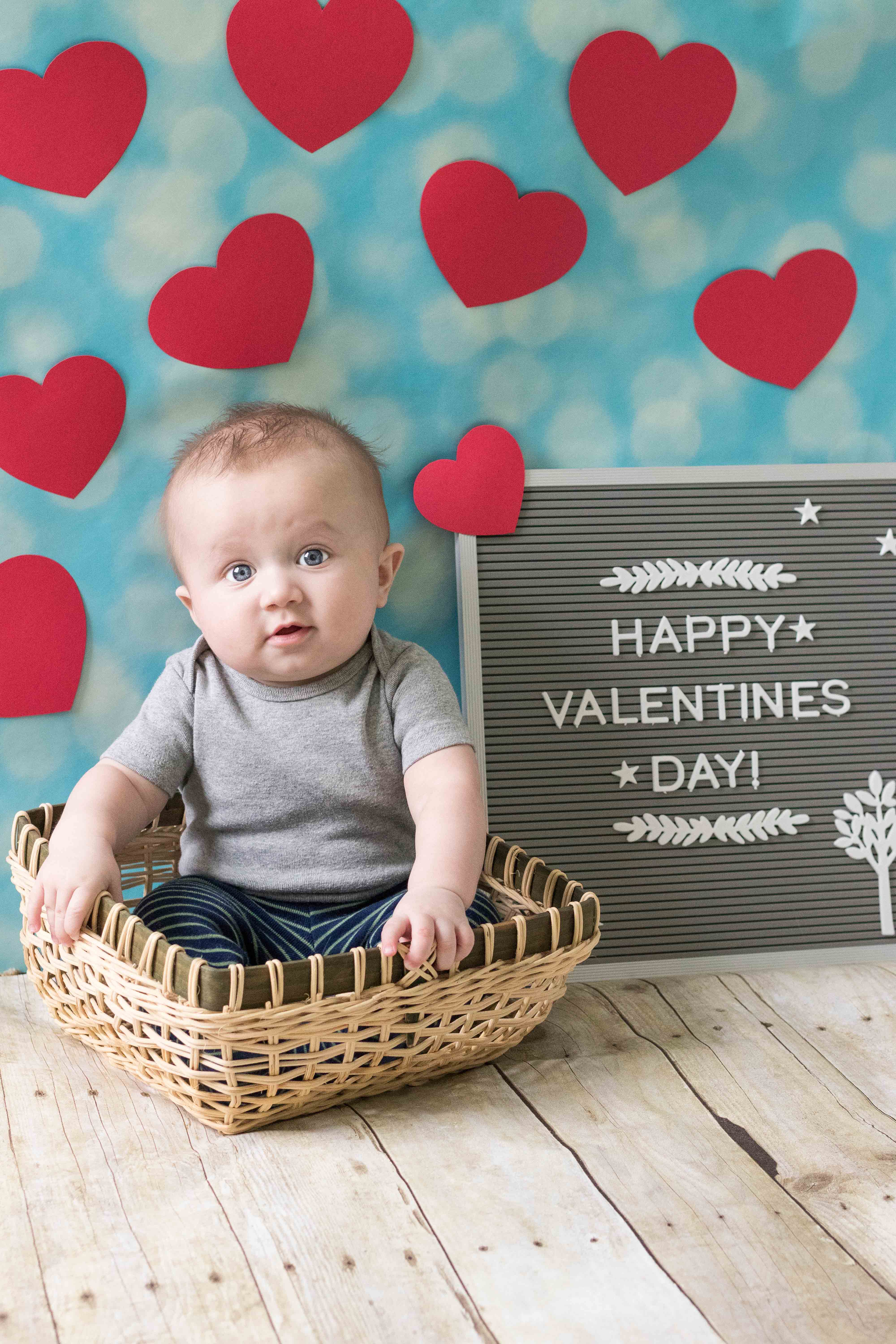 Then spam your family and friends shamelessly with your new photos of your adorable little one for the upcoming holiday. Or at least create a card or order a few prints for your parents and grandparents. Happy Valentine's Day!
Did you take pictures of your little one using this Valentine's Day baby photo idea?
I want to see them! Tag your images #RoseClearfield on Instagram or Twitter or post a photo to my Facebook page.
[Disclaimer: There are a few affiliate links in this post. Thanks for your support!]
Another fun Valentine's Day photo idea: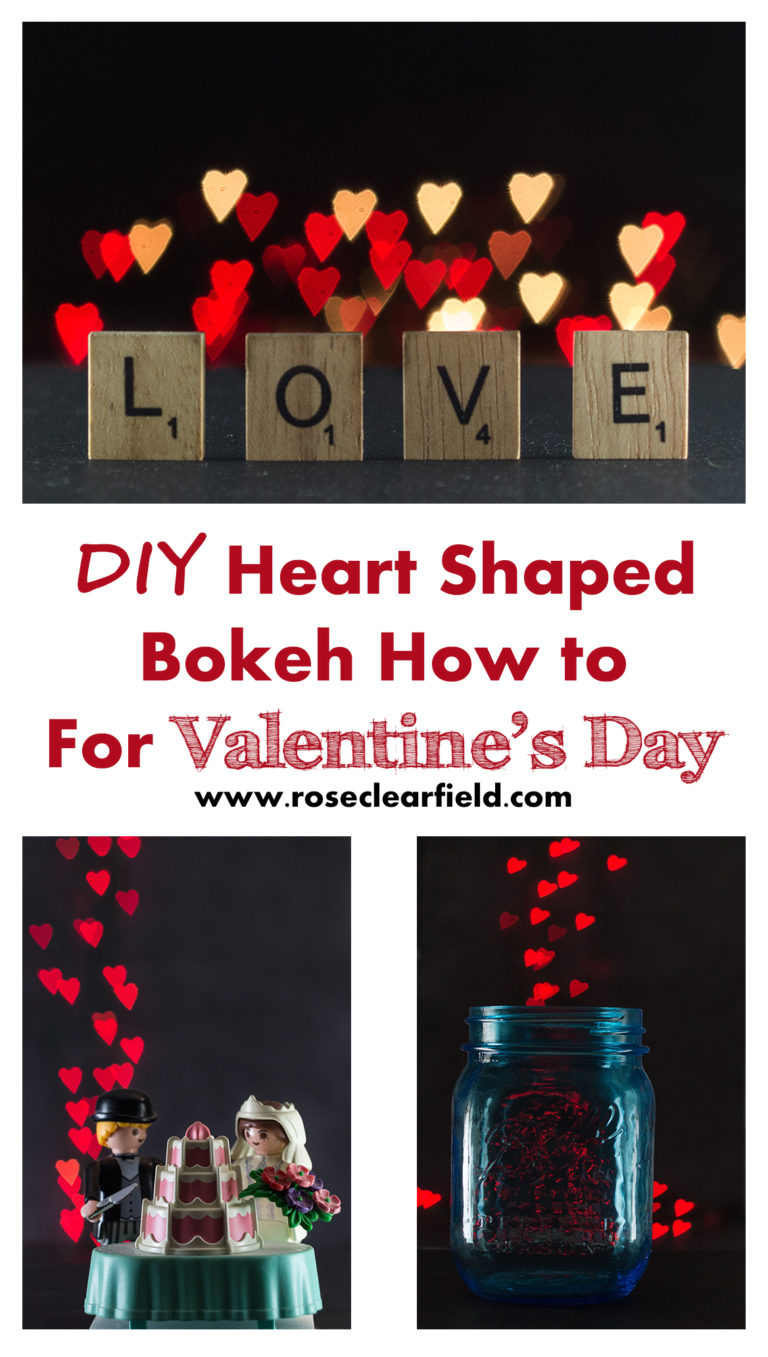 DIY Heart-Shaped Bokeh How to for Valentine's Day
More Valentine's Day resources: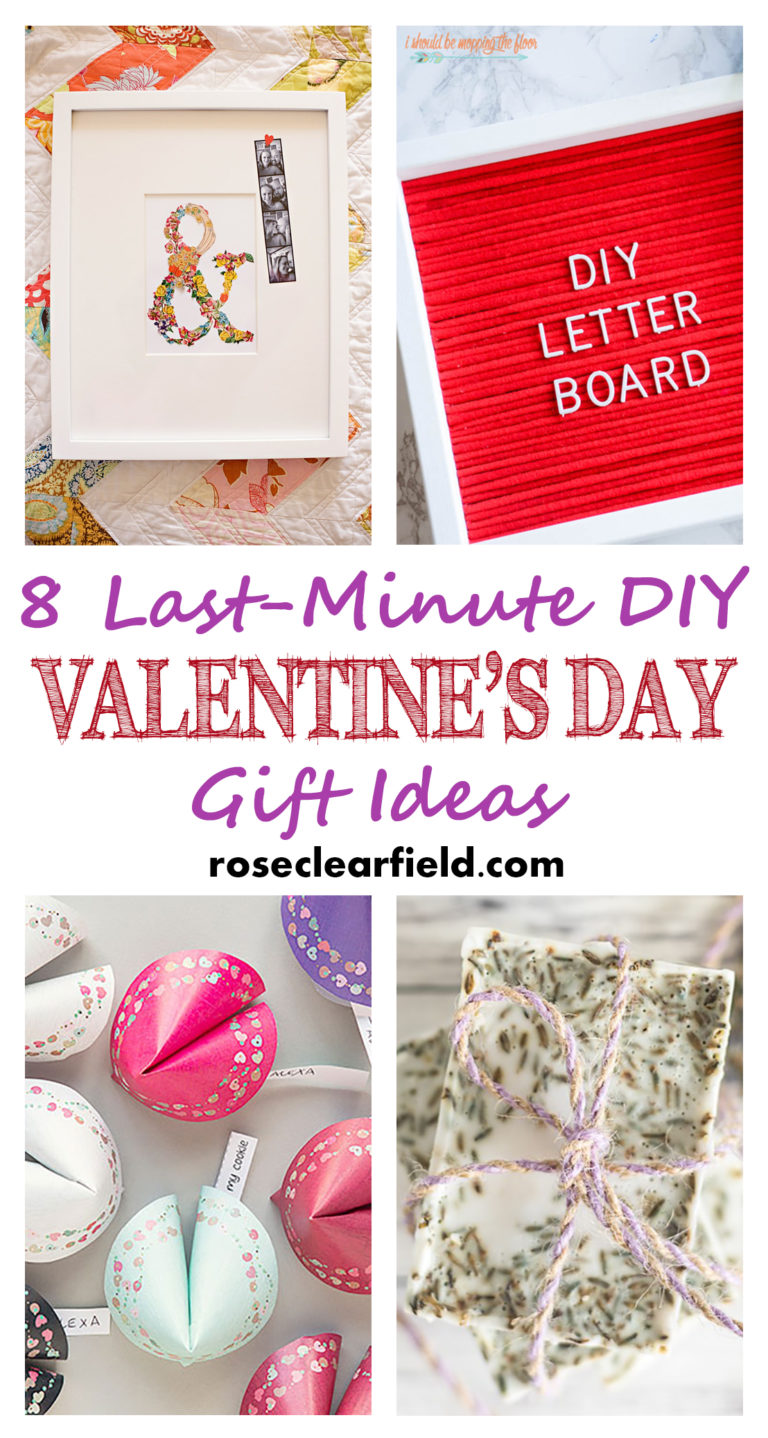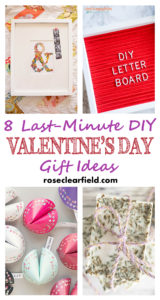 Last-Minute DIY Valentine's Day Gift Ideas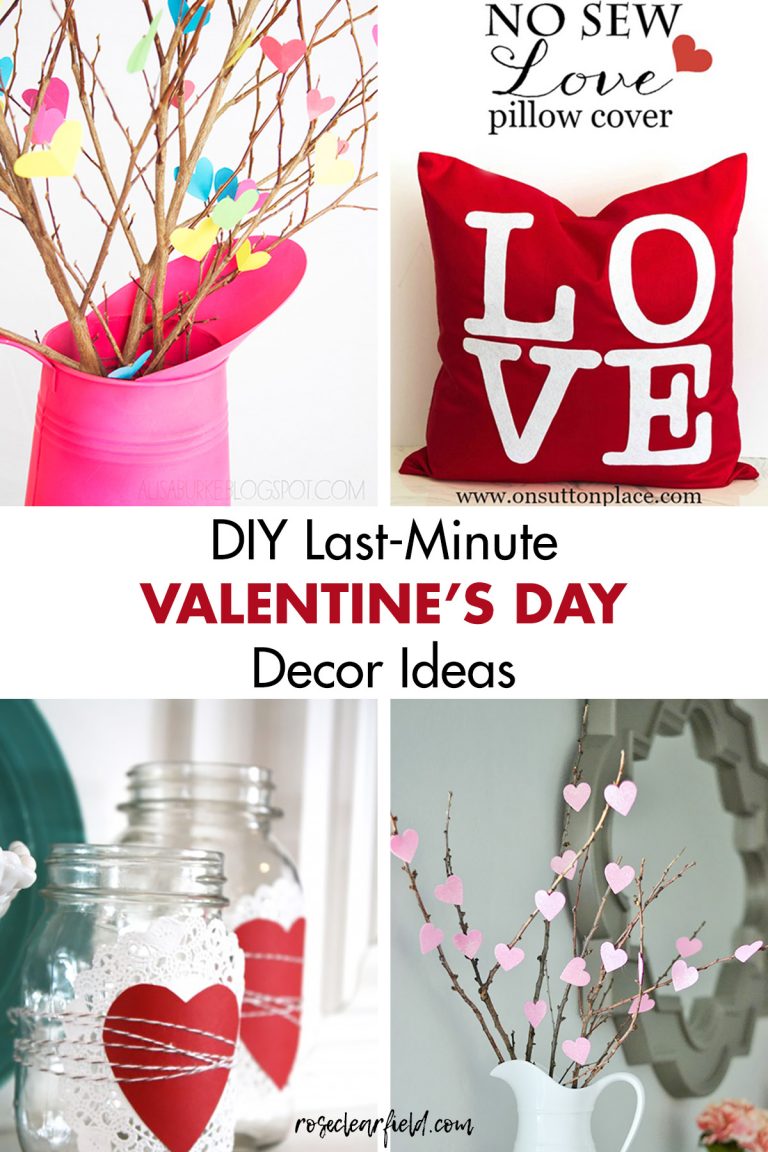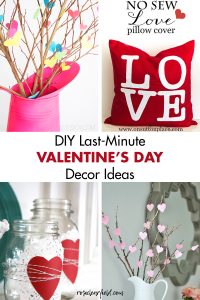 Last-Minute DIY Valentine's Day Decor Ideas