I've created a collection of 10 free vintage Valentine's Day dictionary page printables for your V-Day home decor and DIY craft projects!
Each page in this collection of vintage dictionary page printables includes a Valentine's Day-themed word. The words I've included are as follows:
Candy
Cupid
February
Flower
Gift
Heart
Kiss
Love
Sweetheart
Valentine
You have a nice selection of holiday-related words to choose from for your Valentine's Day home decor and DIY projects.
The dictionary pages are ready to print as is for quick framing or can be cropped, reformatted, etc. for any type of craft project that you want. I have three formats for each dictionary page: original format, 8×10 with no border, and 8×10 with border.
The original format pages are exactly as I saved them after scanning and editing them. They give you the most control for cropping and formatting the pages exactly as you like for varying DIY projects. The 8×10 pages are ideal for home decor, as most people want this size for their wall art. I've created versions with and without borders. Depending on the look you're going for and the frame you select for your art, you may prefer the no border version over the border version or vice versa.
The free Valentine's Day dictionary page printables are for personal use only. You may download and print them as many times as you wish for home decor and DIY and craft projects, including classroom use. Please don't distribute the download files. If friends, family, and co-workers would like their own vintage dictionary pages, send them directly to this post. Thanks!
How to use the free Valentine's Day dictionary page printables
Most likely if you're looking for old dictionary pages online, you already have an idea for Valentine's Day home decor or a craft project. If you need a little more inspiration, consider one or more of the following options.
DIY wall art. One of the most common ways to use old dictionary pages is to create one-of-a-kind wall art. You can overlay virtually any transparent background image onto a dictionary page to make unique wall decor. I share more about this process and provide a few examples of it in my vintage French primer book pages and illustrations post.
Glass or bottle cap magnets, using the technique that I outline for my sheet music glass magnets.
Greeting cards. Dictionary pages are a perfect background for all types of homemade cards, including Valentine's Day cards. I have an example of a greeting card with a vintage dictionary page in 10 simple DIY Valentine's Day cards.
Tile coasters, using the same technique that I use for my vintage sheet music botanical coasters. For coasters, old dictionary pages look great on their own or with images overlaid.
Art journals and mixed media projects. Layer dictionary pages with stamps, ink, paint, and more to make mixed media pieces and art/junk journal pages.
Scrapbooking. Antique dictionary pages make whimsical backgrounds for both digital and physical scrapbooks. They're also great for DIY scrapbook embellishments.
Of course, you shouldn't feel limited to my ideas. If you have a different way you plan to use the dictionary pages, I'd love to hear about it!
And yes, I do have my own project in the works for these Valentine's Day dictionary pages. I'll have it up on the blog later this week!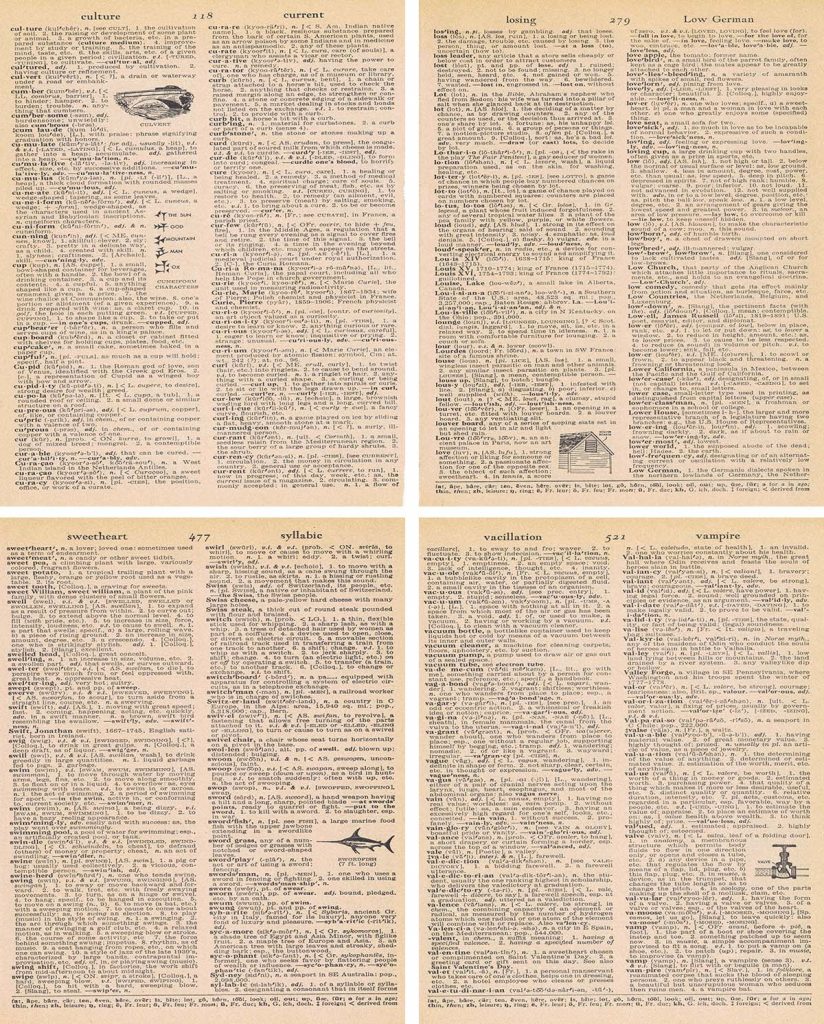 Download the full sets of Valentine's Day dictionary page printables!
Again, each set contains 10 complete dictionary pages, one for each of the following words: candy, cupid, February, flower, gift, heart, kiss, love, sweetheart, and Valentine.
[Valentine's Day Dictionary Pages – Full Set – Original Format]
[Valentine's Day Dictionary Pages – Full Set – 8×10 No Borders]
[Valentine's Day Dictionary Pages – Full Set – 8×10 With Borders]
If there are Valentine's Day-themed words you would like to have for your wall art or handmade projects that I didn't include here, let me know! I have a full vintage dictionary and can easily create more printable pages.
I explain how to extract and download the files in the next section.
Extracting and downloading the full ZIP folders.
Please note that it will take some time to extract and download the full sets of dictionary pages.
When you click on the full set link, select the Open with ZIP Extractor option at the top of the page.
The folder will open in a new window. The files will download.
Once the files are downloaded, click Extract Now.
After the files are extracted and uploaded, click View Extracted Files.
Double click the folder.
Select the files you'd like to download. Click the three horizontal dots More Actions button. Select Download.
Follow the prompts on the download screen.
I strongly recommend moving your downloaded files out of your downloads folder and into your main photos folder. Make sure to keep them in a folder called "Valentine's Day Dictionary Pages" or something similar, so you can find them again easily.
You're now ready to turn your vintage dictionary pages into Valentine's Day wall art or print them for DIY and craft projects!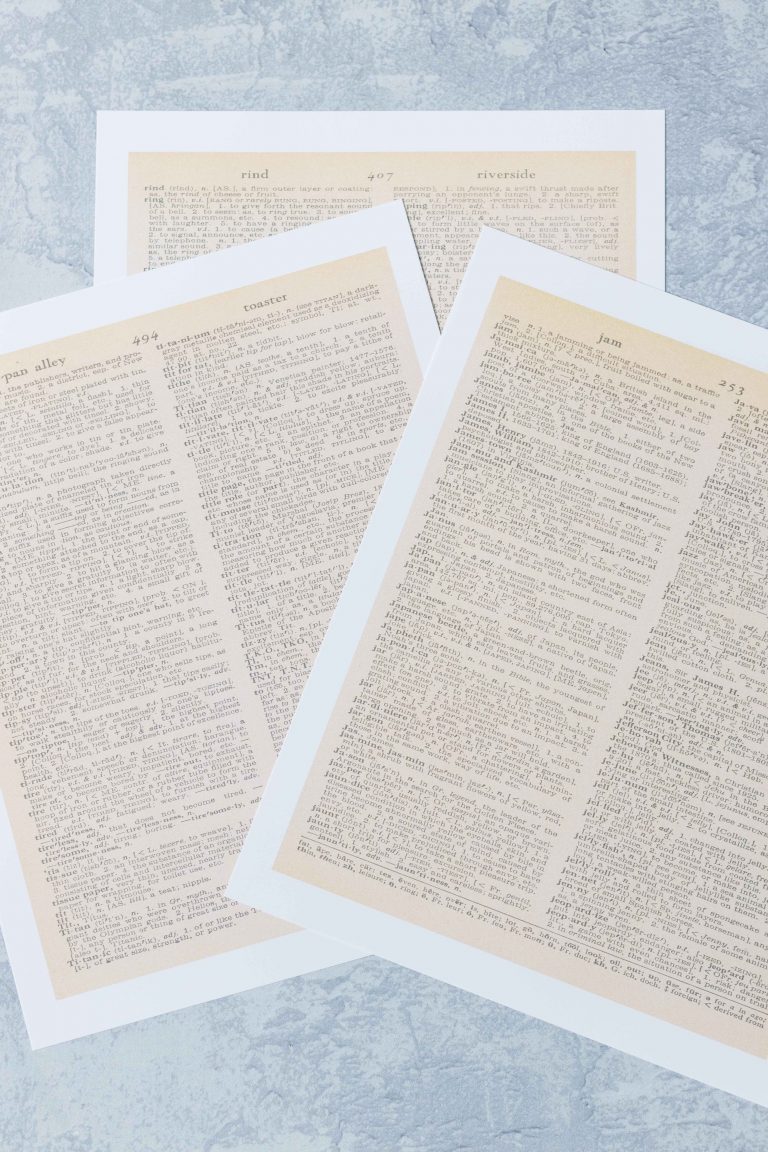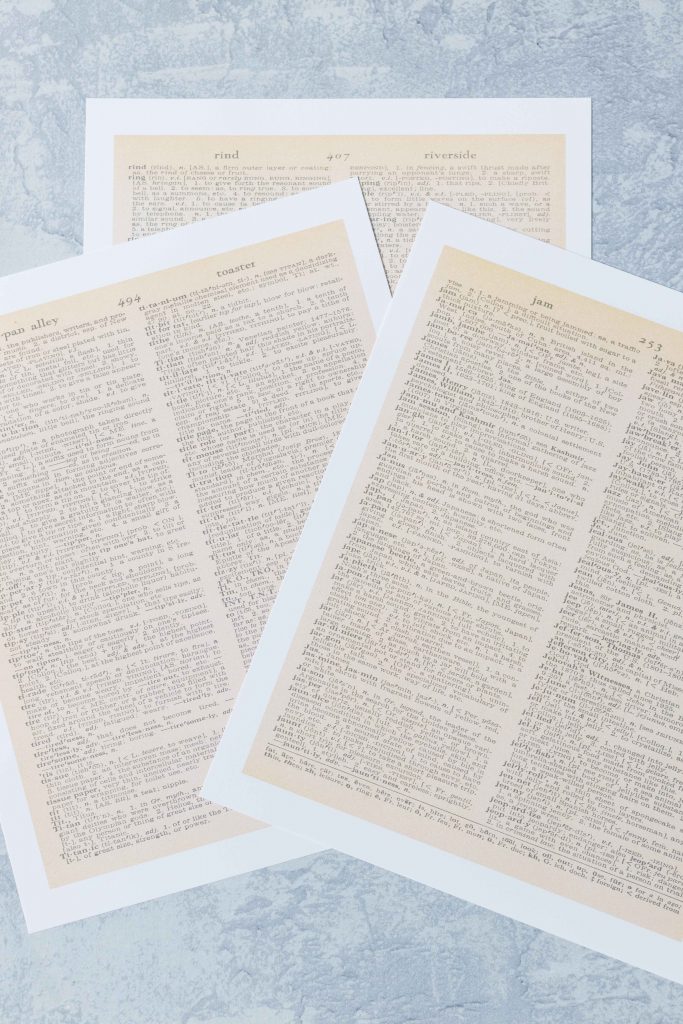 How to print antique dictionary pages
When you use old dictionary page printables to make wall decor, my best recommendation is to print them on Finestra Art Paper, which is what I used for the above vintage dictionary pages. The matte, acid-free surface dries ink immediately, creating vivid, crisp images. Regular printer paper, card stock, and presentation paper do work. But they don't produce quite as fine results. It's worth spending a little more to create dictionary page art with a professional finish.
For all other DIY and homemade projects, white card stock is ideal for printing vintage dictionary pages. When you're adding dictionary components to scrapbook embellishments, greeting cards, and art/junk journals, it's not important that the images are quite so crisp and vibrant. For tile coasters and magnets, you won't be able to tell the difference under several coats of diamond glaze or Mod Podge. Depending on the given project, you may even prefer a darker, less polished aesthetic for a more vintage look.
I want to see your Valentine's Day dictionary page wall art and handmade projects!

Tag your images #RoseClearfield on Instagram or Twitter or post a photo to my Facebook page.
[Disclaimer: There are a few affiliate links in this post. Thanks for your support!]
Pin this post for easy access to the Valentine's Day dictionary pages later!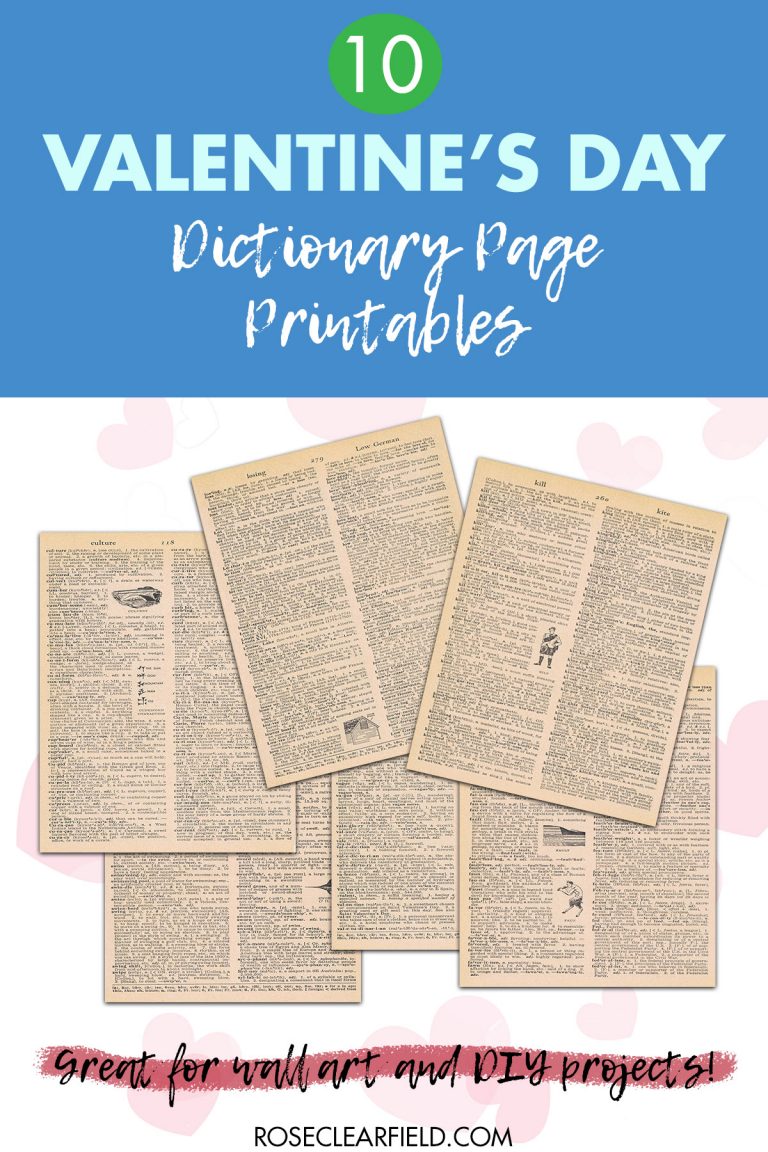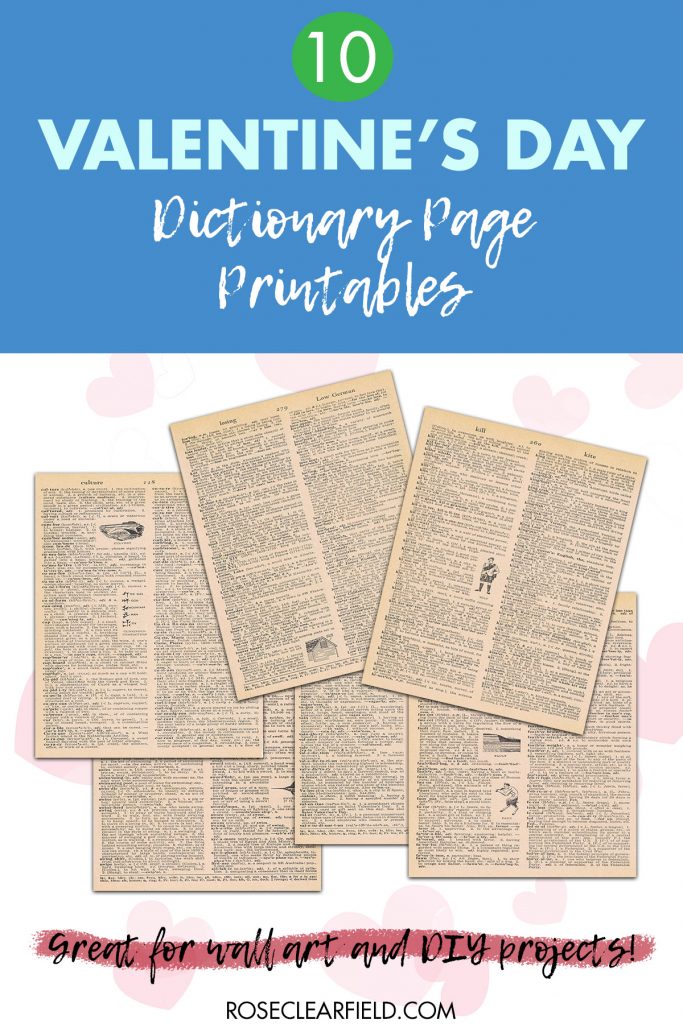 I also have a huge collection of 50 free vintage dictionary page printables!
More free vintage printables: