DIY scrapbook embellishments are so much fun to make and a lot cheaper than pre-made scrapbook embellishments.
Creating your own scrapbook embellishments allows you to customize or personalize them for specific scrapbook layouts and other craft projects.
But I don't scrapbook. What other types of DIY projects work well with scrapbook embellishments?
I don't scrapbook either. It's a miracle that I ever finish editing my travel pictures and make them into digitally-created photo albums. However, there are tons of craft projects that lend themselves naturally to scrapbook embellishments. Project ideas for scrapbook embellishments include, but aren't limited to:
At the end of the post, I share a few examples of homemade projects I've completed with a few of my DIY scrapbook embellishments!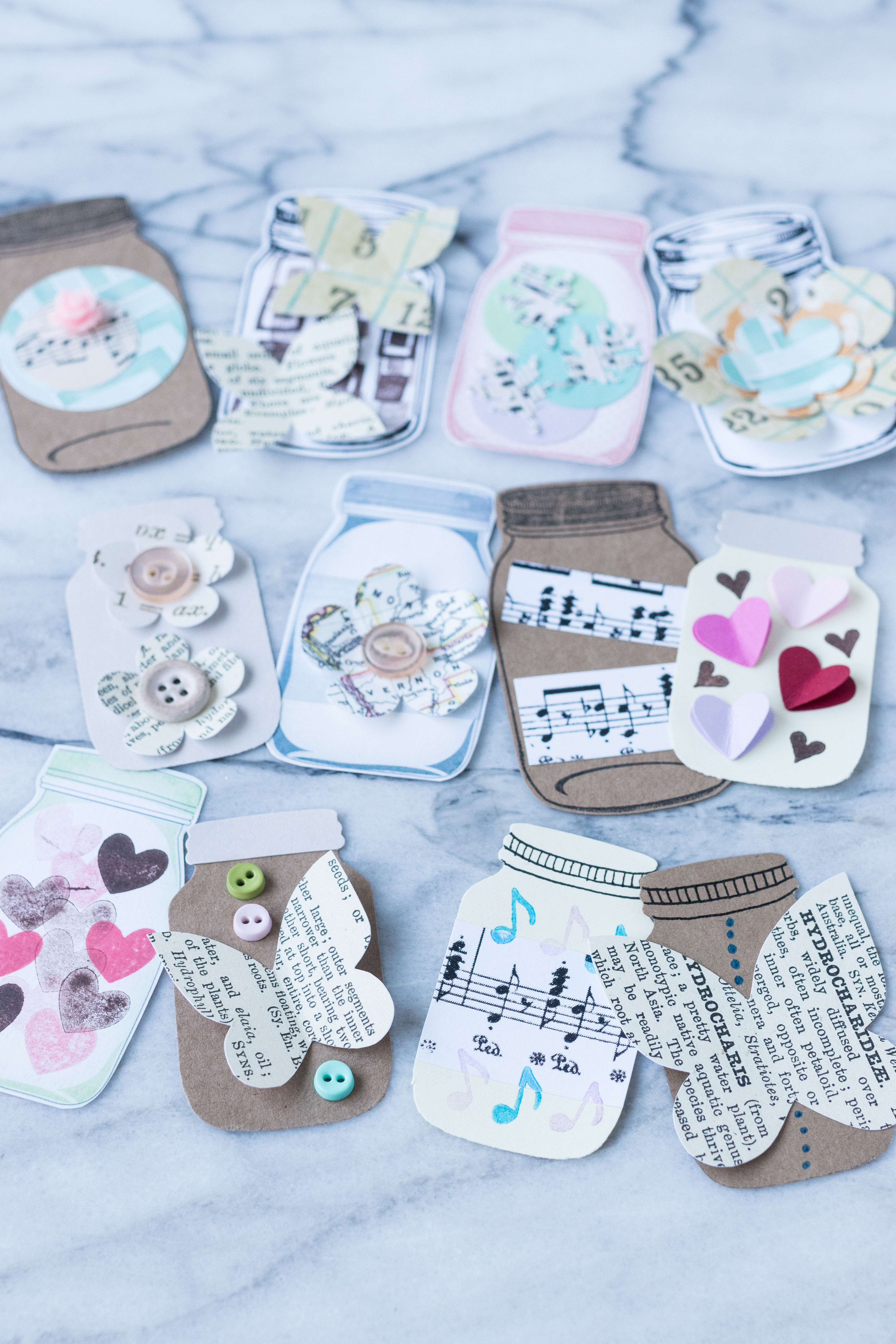 Supplies for DIY scrapbook embellishments:
As you gather supplies for your DIY scrapbook embellishments, it's important to think about the aesthetic or style that you want for your finished embellishments. If you have a scrapbook layout or other project in mind for your embellishments, consider the look you want for it and design coordinating embellishments. Without a little forethought, it's easy to end up with a very random assortment of supplies that don't work well together. Focusing on a theme, such as pastels or shabby chic, will help you create a cohesive look.
Resources for free DIY scrapbook embellishment paper
I'll start by shamelessly plugging my own free resources for DIY scrapbook embellishments.
A few more free resources I love for DIY scrapbook embellishment paper:
The one resource I did pay for is the library cards from TheOldDesignShop Etsy shop. (I've linked to her blog above. She also has an Etsy shop.) I wasn't able to find any free vintage library cards and decided it was worth the purchase. I bought both the beige and pastel sets.
How to make DIY scrapbook embellishments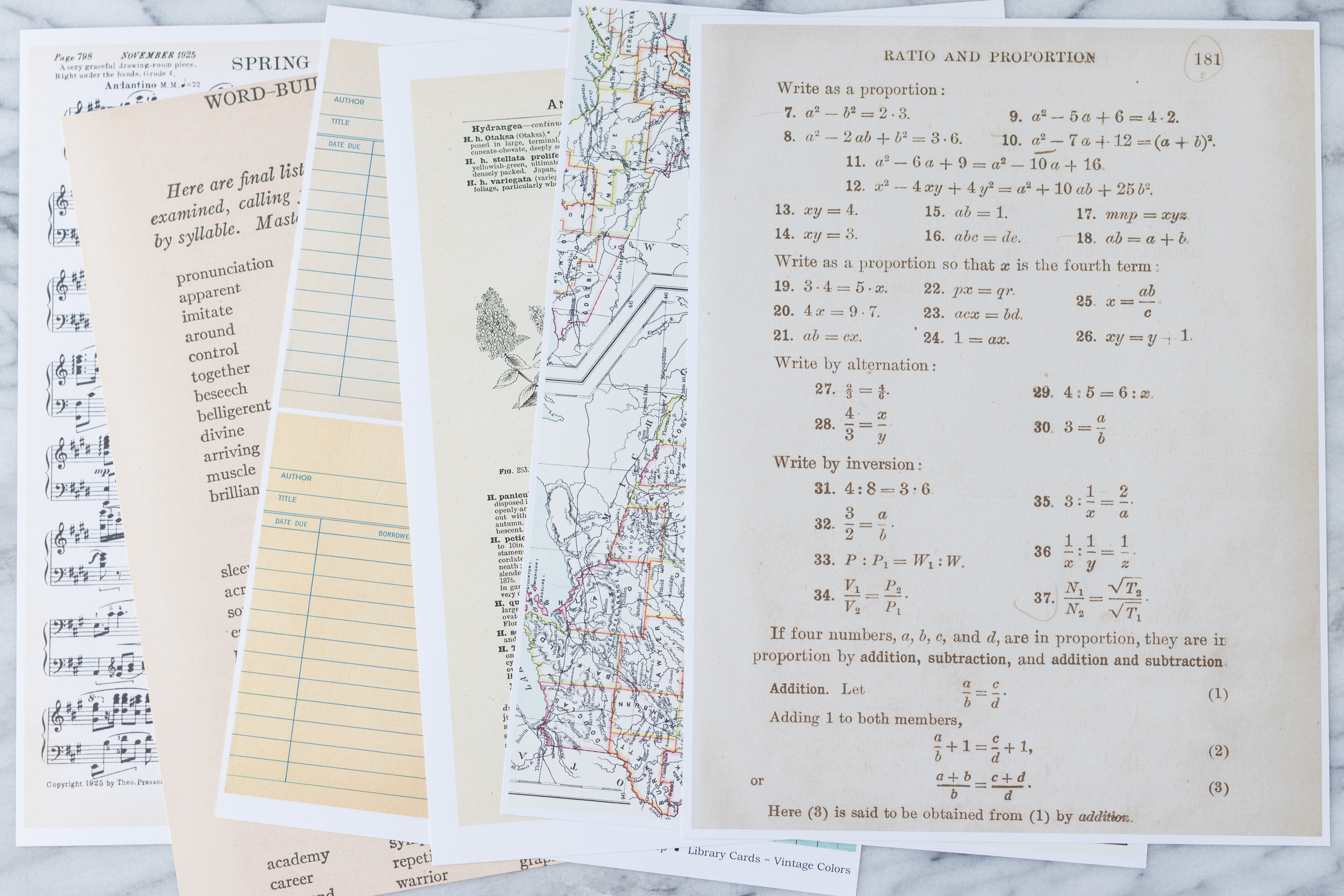 Gather the card stock and scrapbook paper you're going to use for your embellishments. I started with the specialty designs, such as vintage music, textbook/dictionary pages, and maps, that I printed from online sources.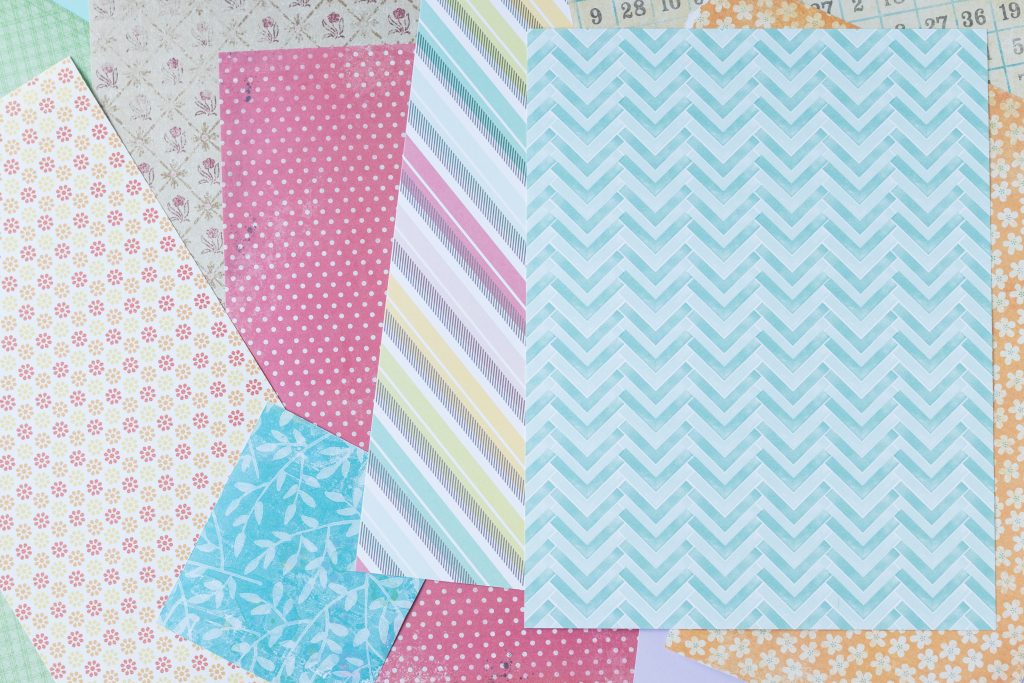 Then I filled out the selection of paper with a handful of solid color and patterned papers from my card stock and scrapbook paper collection. I primarily selected softer colors and smaller patterns.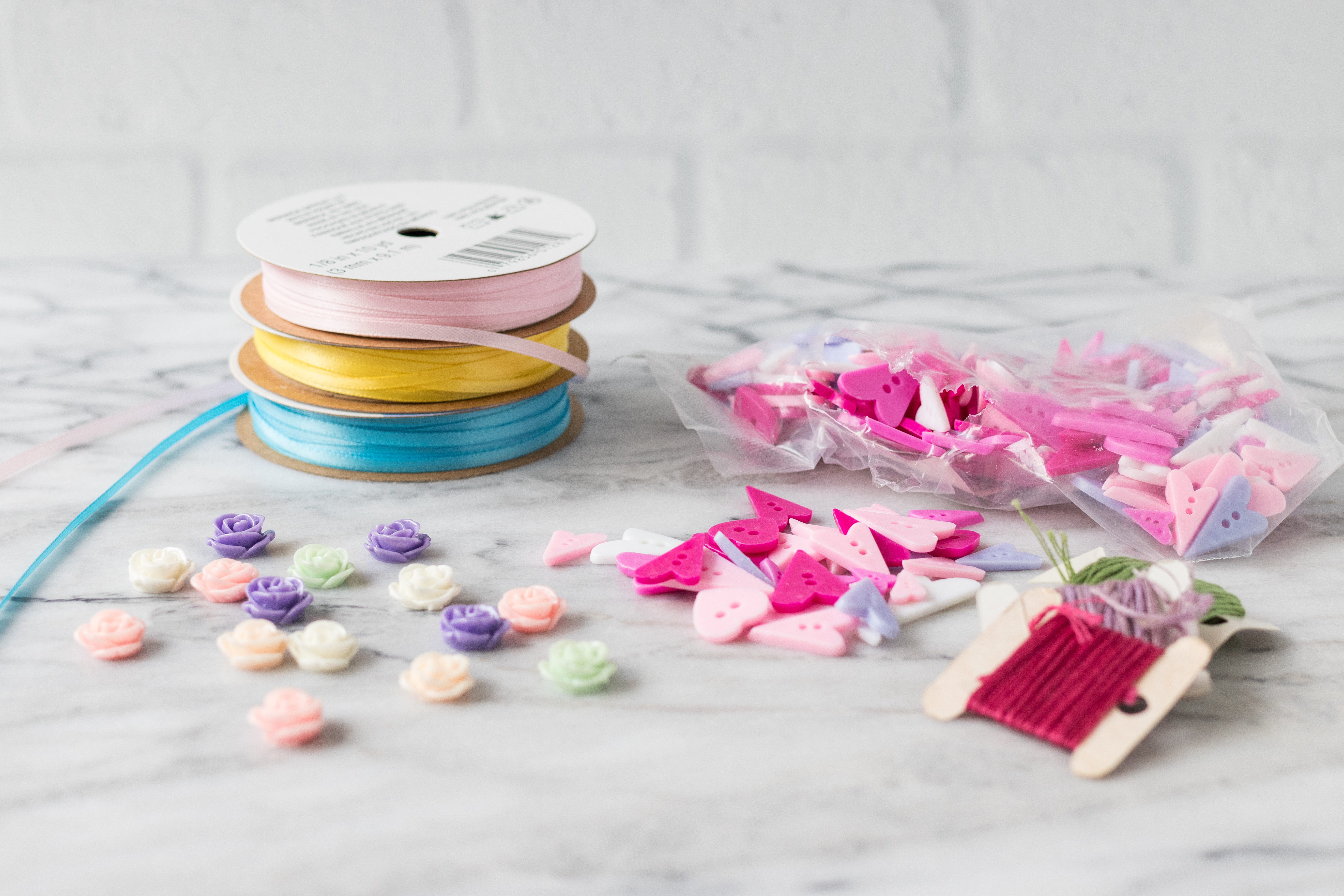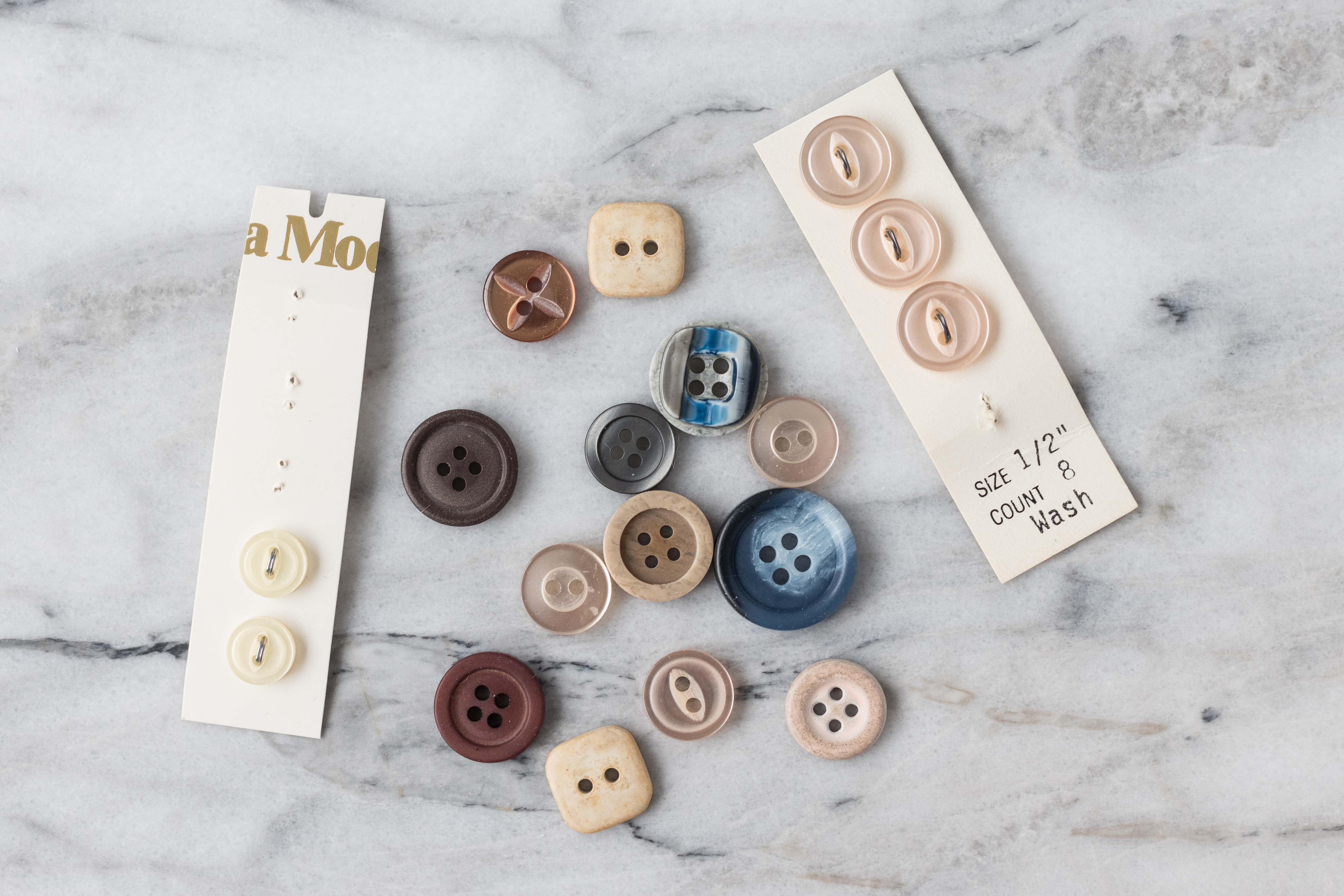 Gather your add-on items to complete your handmade scrapbook embellishments. I used a mix of buttons, ribbon, and resin flowers. If you're sewing your embellishments, choose a few embroidery floss colors as well.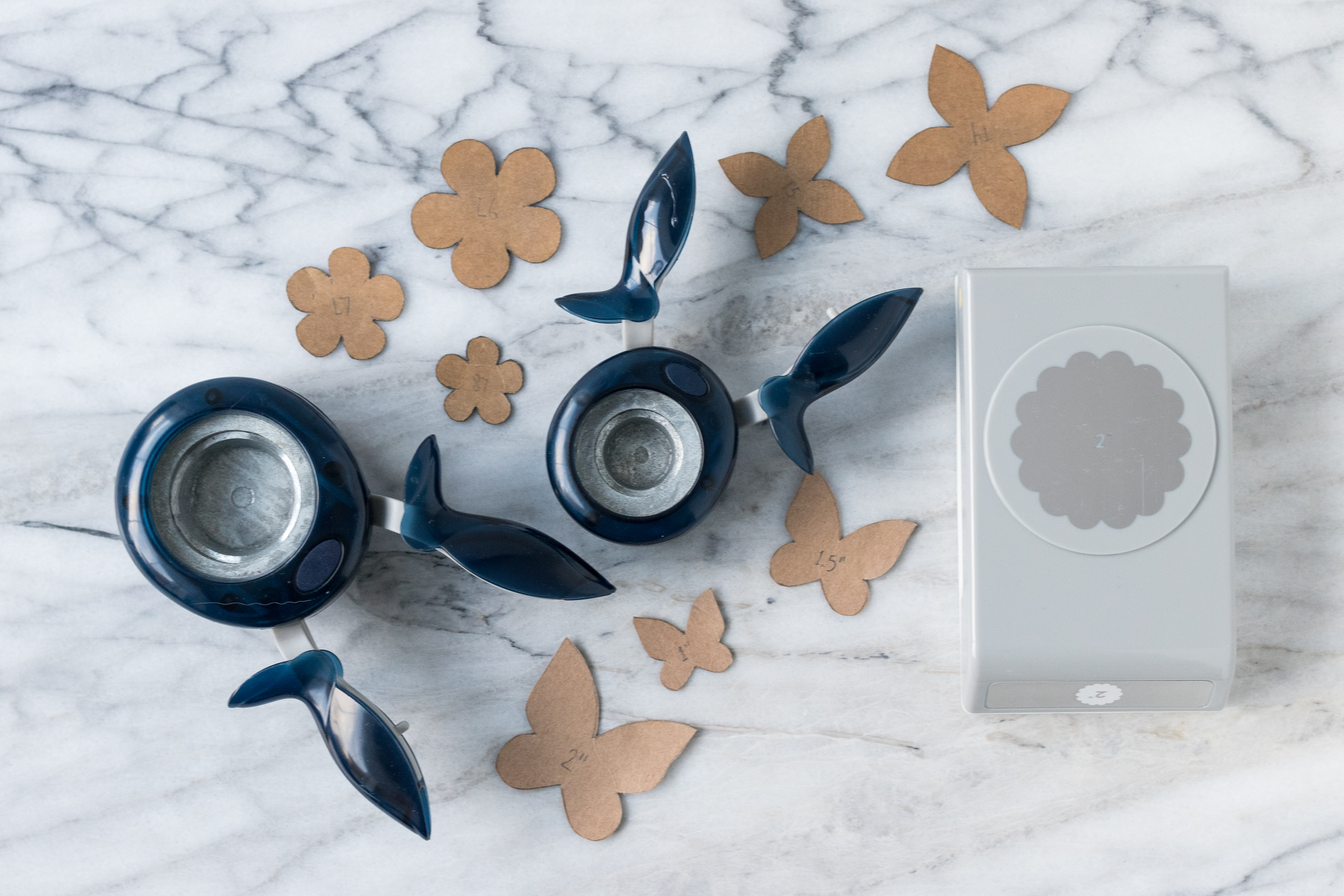 Gather your paper punches and templates. I used a 2″ scallop punch, 1.5″ circle punch, 1″ circle punch, and a selection of free small (2″ and smaller) butterfly and flower templates. Any combination of 0.5-2″ circle and scallop punches and a couple of other shapes will work well.
I started with my punched scallops and circles.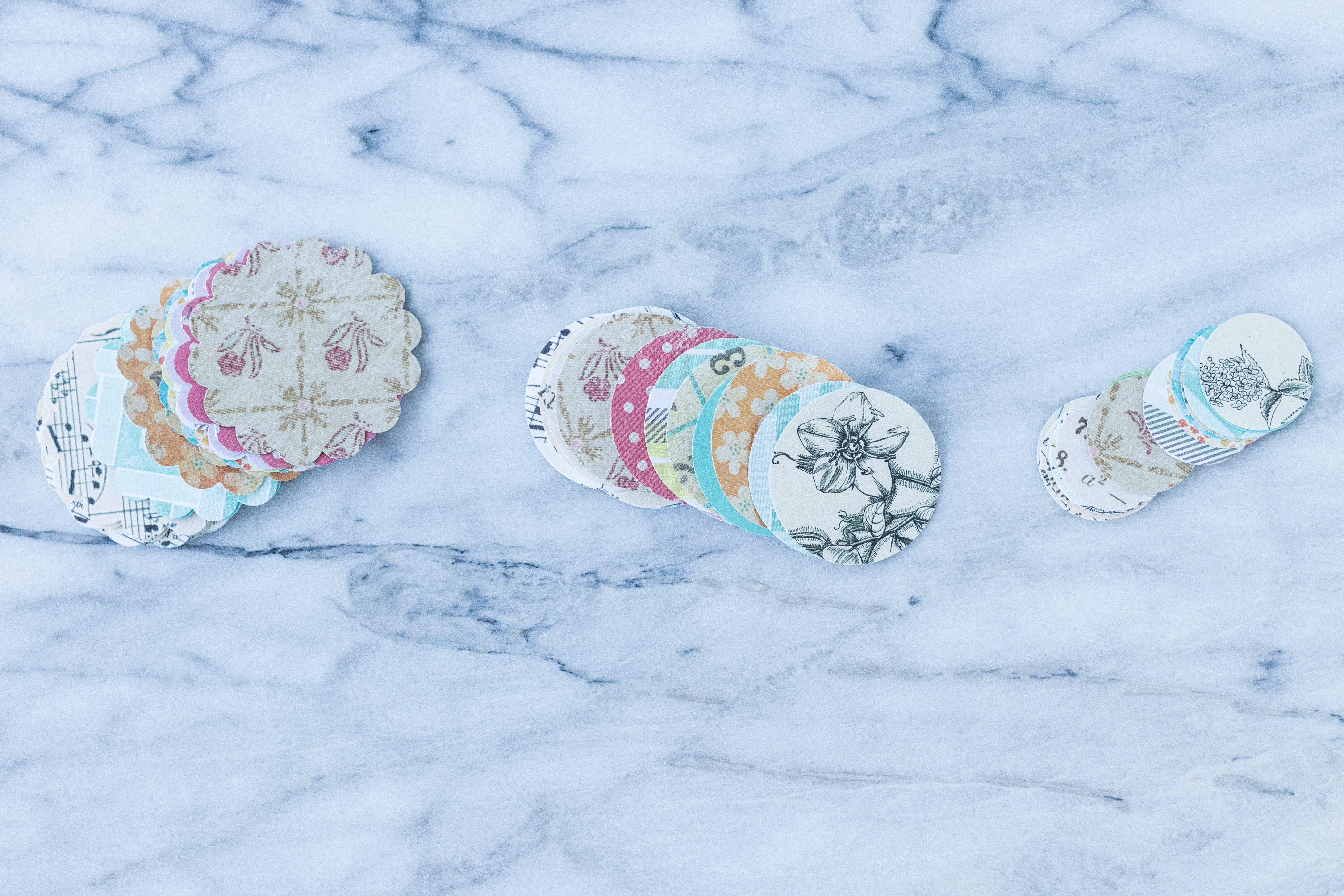 Then I traced and cut out my butterflies and flowers.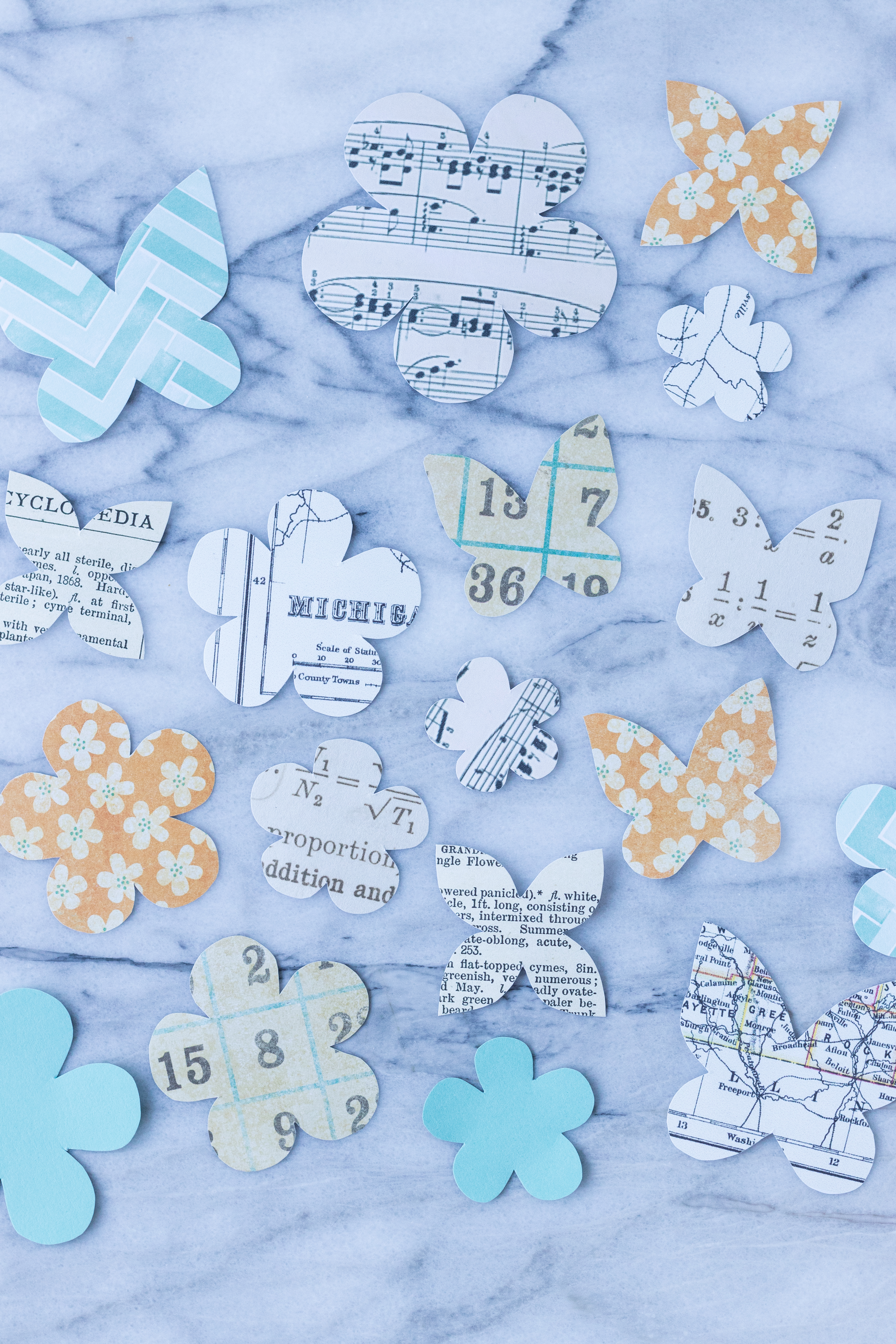 Once you have your shapes punched and cut out, assemble the scrapbook embellishments. Experiment with different layering and add-on components until you get the embellishments the way you like.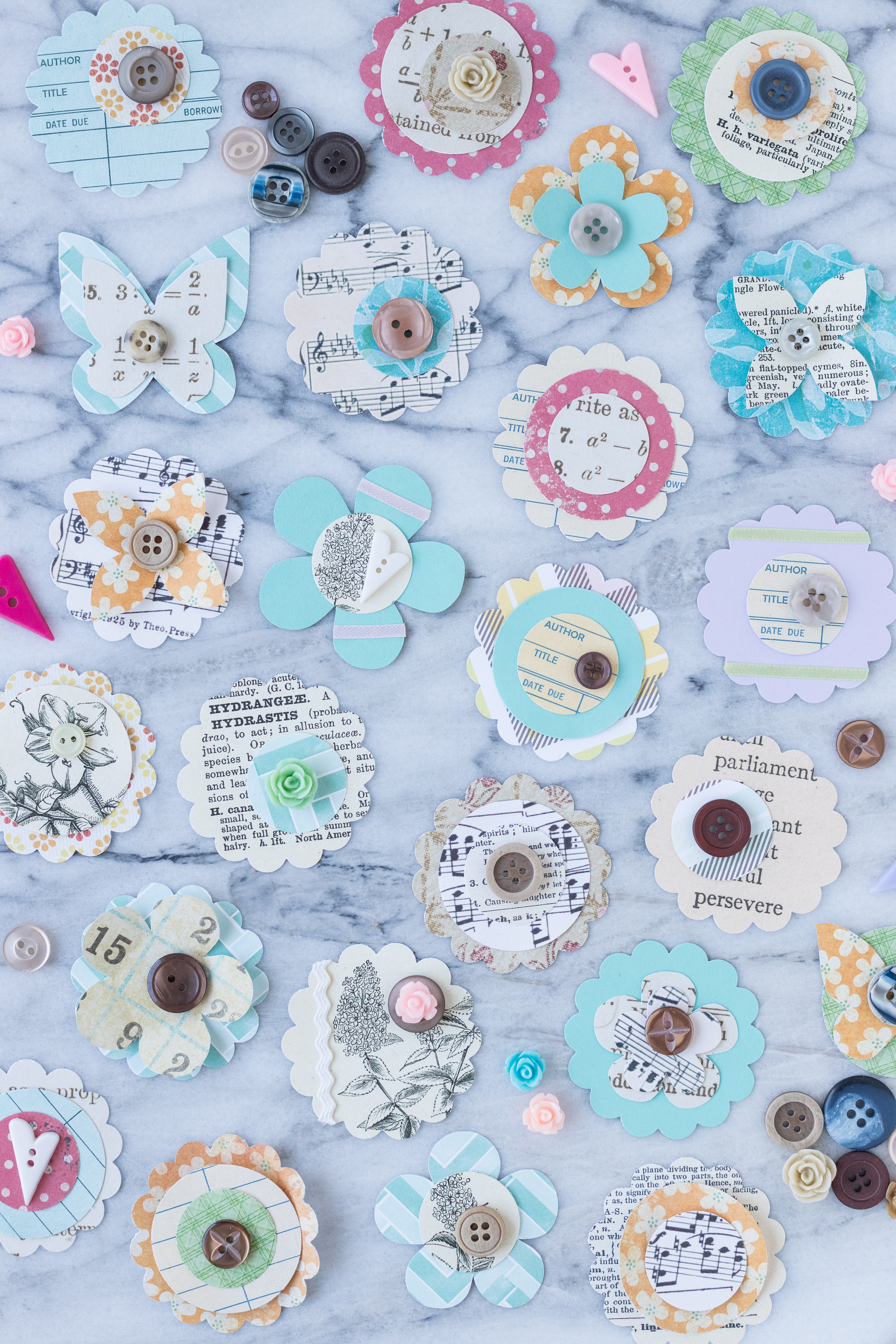 Assemble your DIY scrapbook embellishments by gluing or sewing them together. I explain gluing versus sewing in more detail in the next section.
Once you've assembled your scrapbook embellishments, you're ready to put them to use in paper scrapbooks or other crafty projects. I share a few of the ways that I like to use handmade scrapbook embellishments at the end of this post.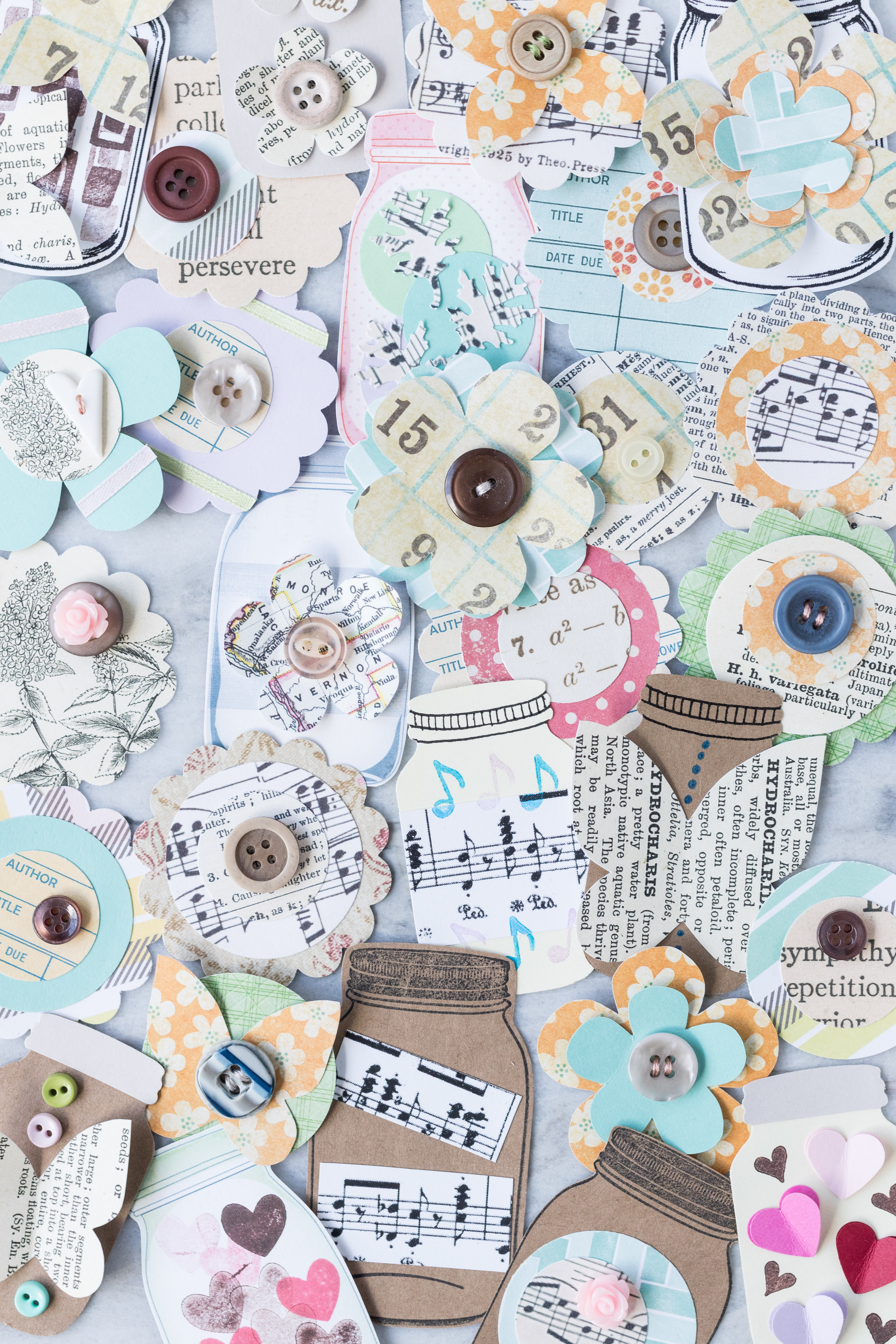 Gluing versus sewing DIY scrapbook embellishments
There are two primary ways to assemble DIY scrapbook embellishments: gluing and sewing.
Gluing
Gluing DIY scrapbook embellishments is quick and produces flat embellishments. You don't get the same aesthetic as sewn embellishments, but you assemble them much more quickly. If you want scrapbook embellishments that lay completely flat, gluing is the way to go.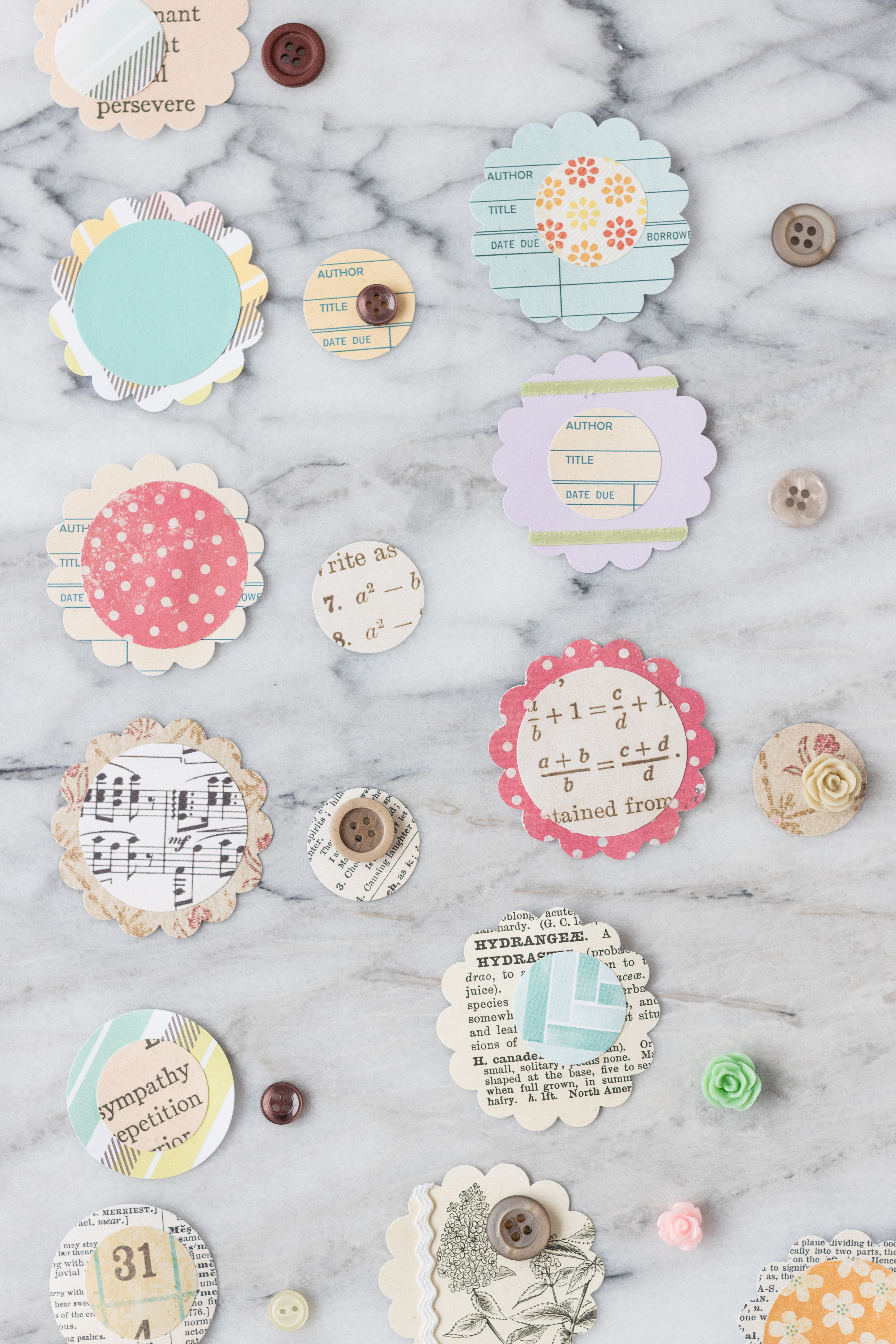 I always recommend gluing in layers and letting each layer dry fully before moving on to the next layer to keep DIY scrapbook embellishments wrinkle-free.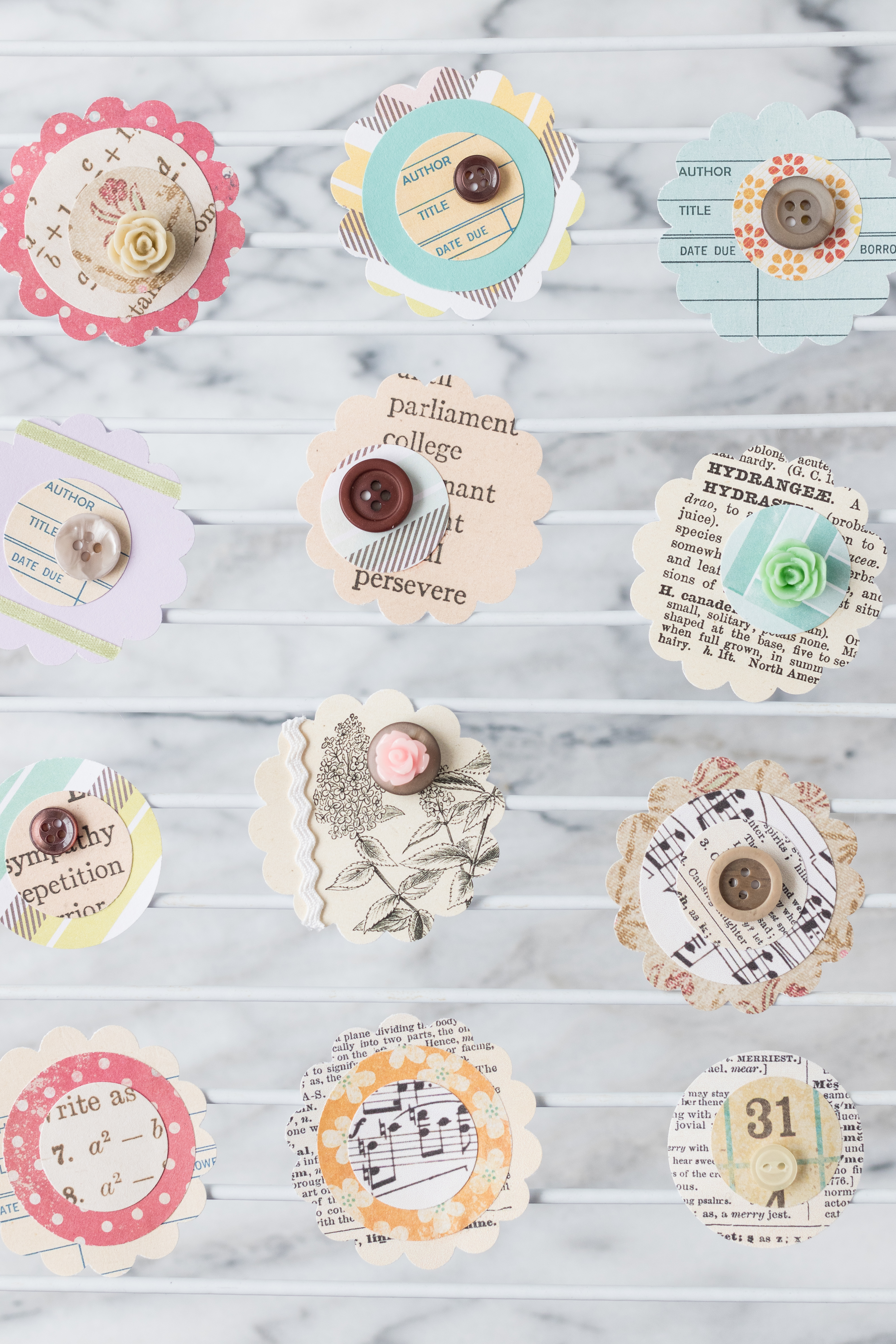 My favorite way to dry DIY scrapbook embellishments, greeting card components, and other small paper crafts is on a flat dish drying rack.
Sewing
Sewing DIY scrapbook embellishments is more time-consuming but produces an aesthetic that you can't replicate with glue.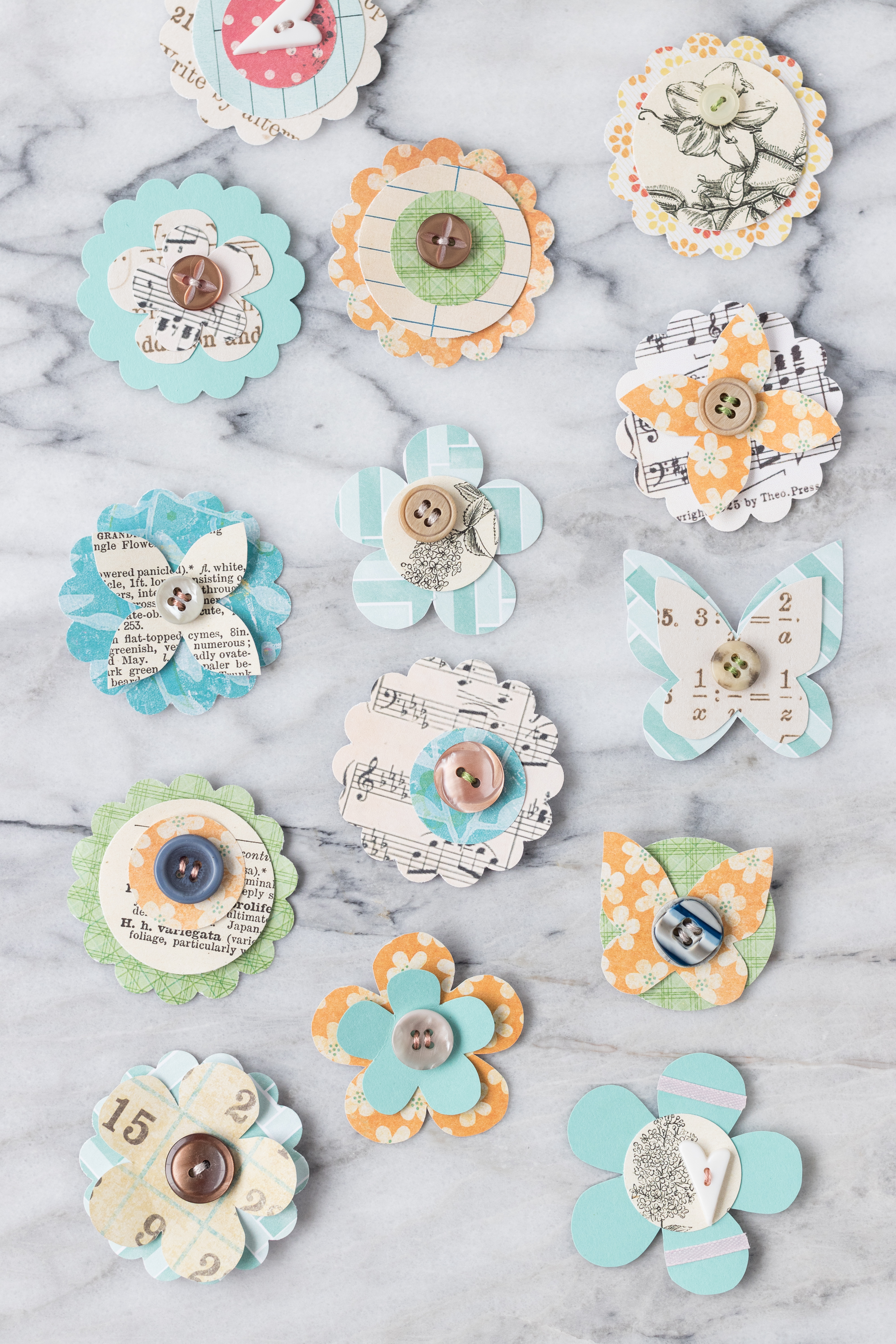 I used embroidery floss that I had on hand from years of friendship bracelets and cross-stitch. I separated two or three embroidery floss strands. You can use more strands, but I think that three is plenty thick. I used a cross-stitch needle, as it accommodates embroidery thread easily. I ran the thread through two or three times for each scrapbook embellishment. Secure the thread in the back, and cut it off near the knot, so it won't be visible.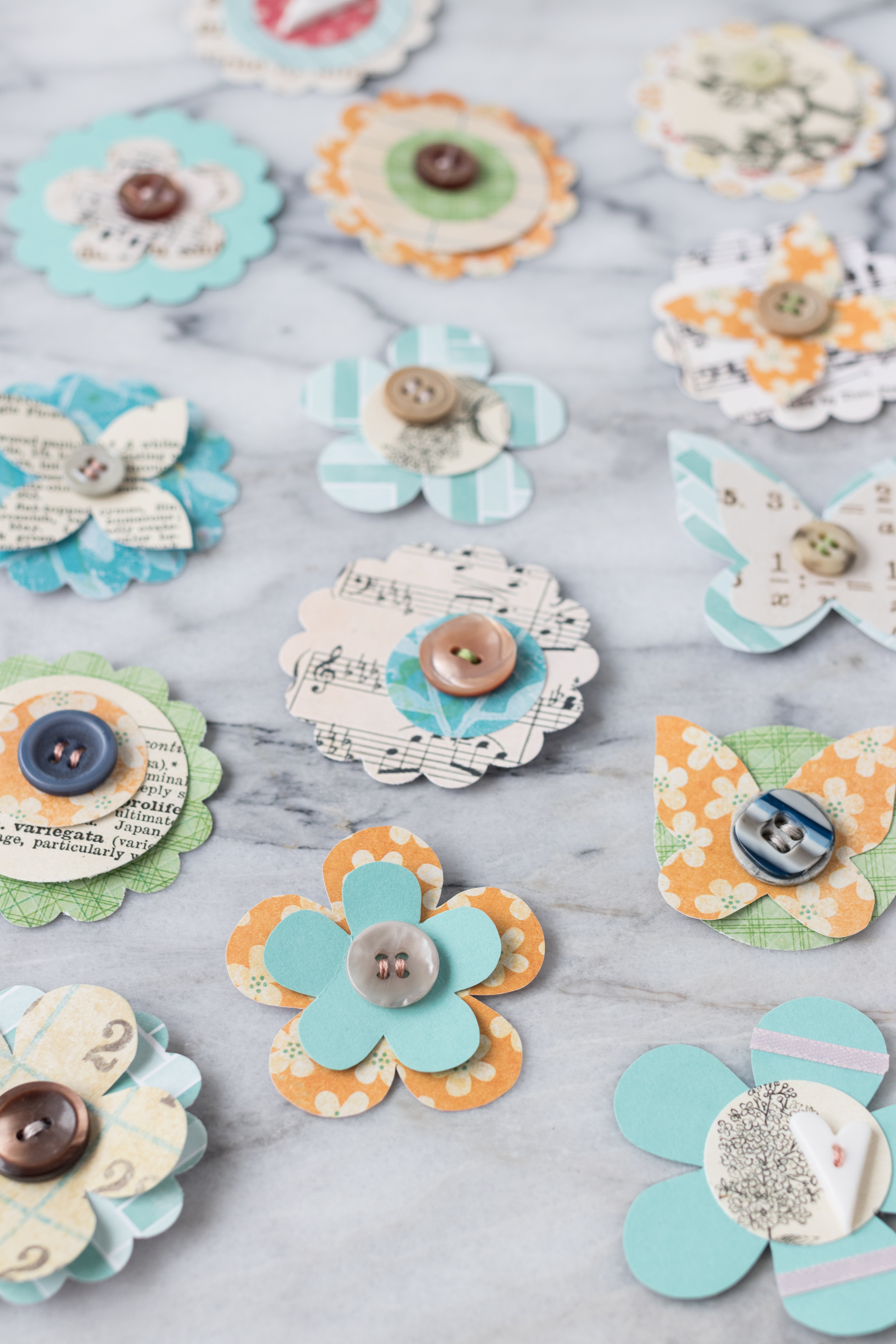 Depending on the thickness of your card stock or scrapbook paper, you may need to punch a hole in the paper before attempting to thread the needle through it.
Mason jar DIY scrapbook embellishments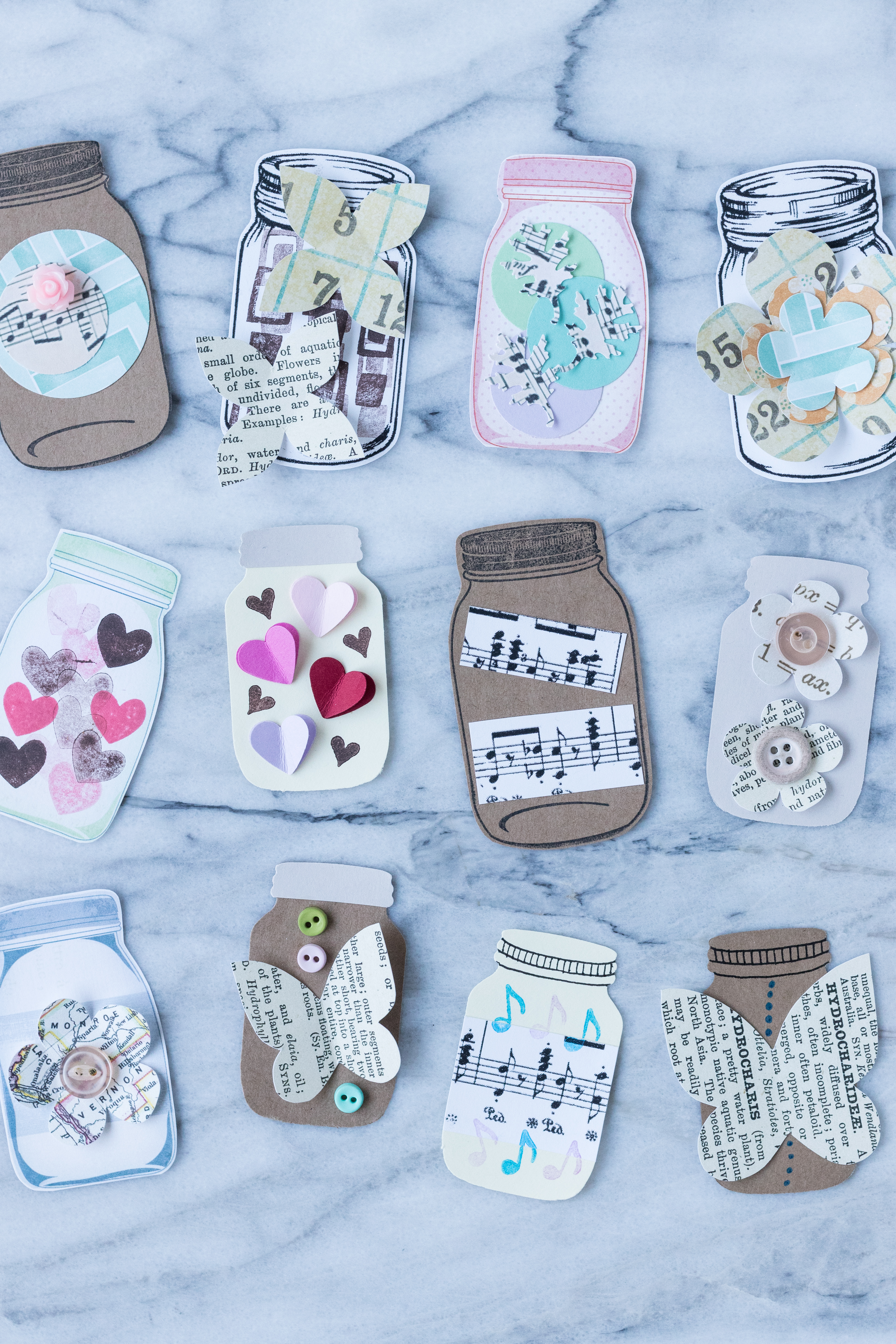 One of the most popular types of DIY scrapbook embellishments is mason jar embellishments. Mason jars all the rage for crafts and make for very sweet embellishments. There are a few different ways that I created DIY mason jar scrapbook embellishments.
Stamped
Stamped mason jars are ideal for scrapbook embellishments because you can customize the paper and ink color for every single embellishment. I like Paper Source's canning jar rubber stamp aesthetic and size for scrapbook embellishments. You can find an assortment of mason jar stamps on Amazon as well.
Printed
I created a printable mini mason jar resource (original source) for A2-size greeting cards that works perfectly for scrapbook embellishments. You can print off your mason jars on any type of colored or patterned card stock.
Printed card stock/scrapbook paper cut outs
I had a mason jar page in a Dear Lizzy card stock package I got from Michaels. You see a lot of similar pages in scrapbook packages/books or as single scrapbook paper offerings at big box craft stores. So it's always worth keeping an eye out for them. You can find printable mason jars on Etsy as well, such as this printable vintage jars set from iralamijashop. (Search "mason jars" in her shop for more offerings!)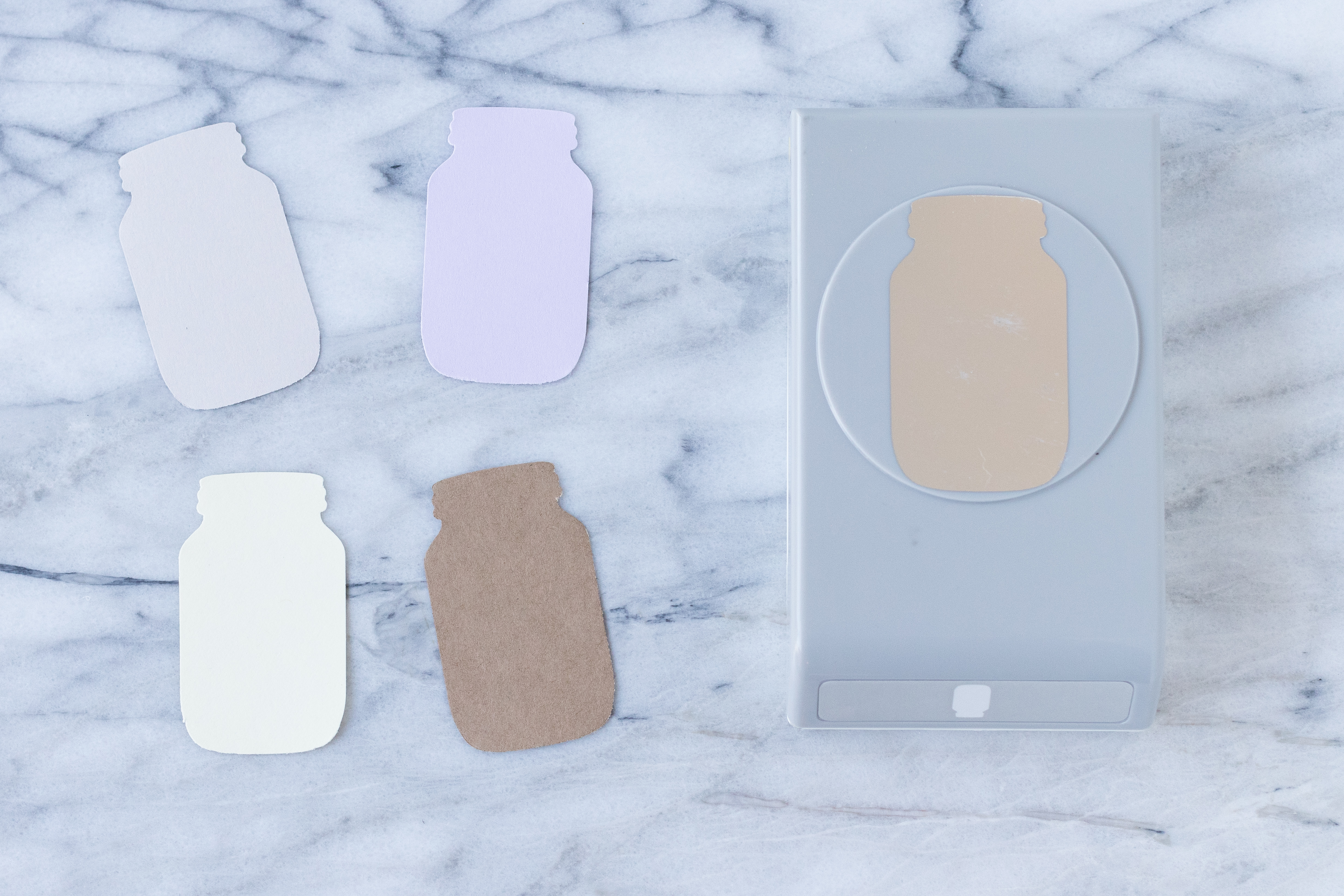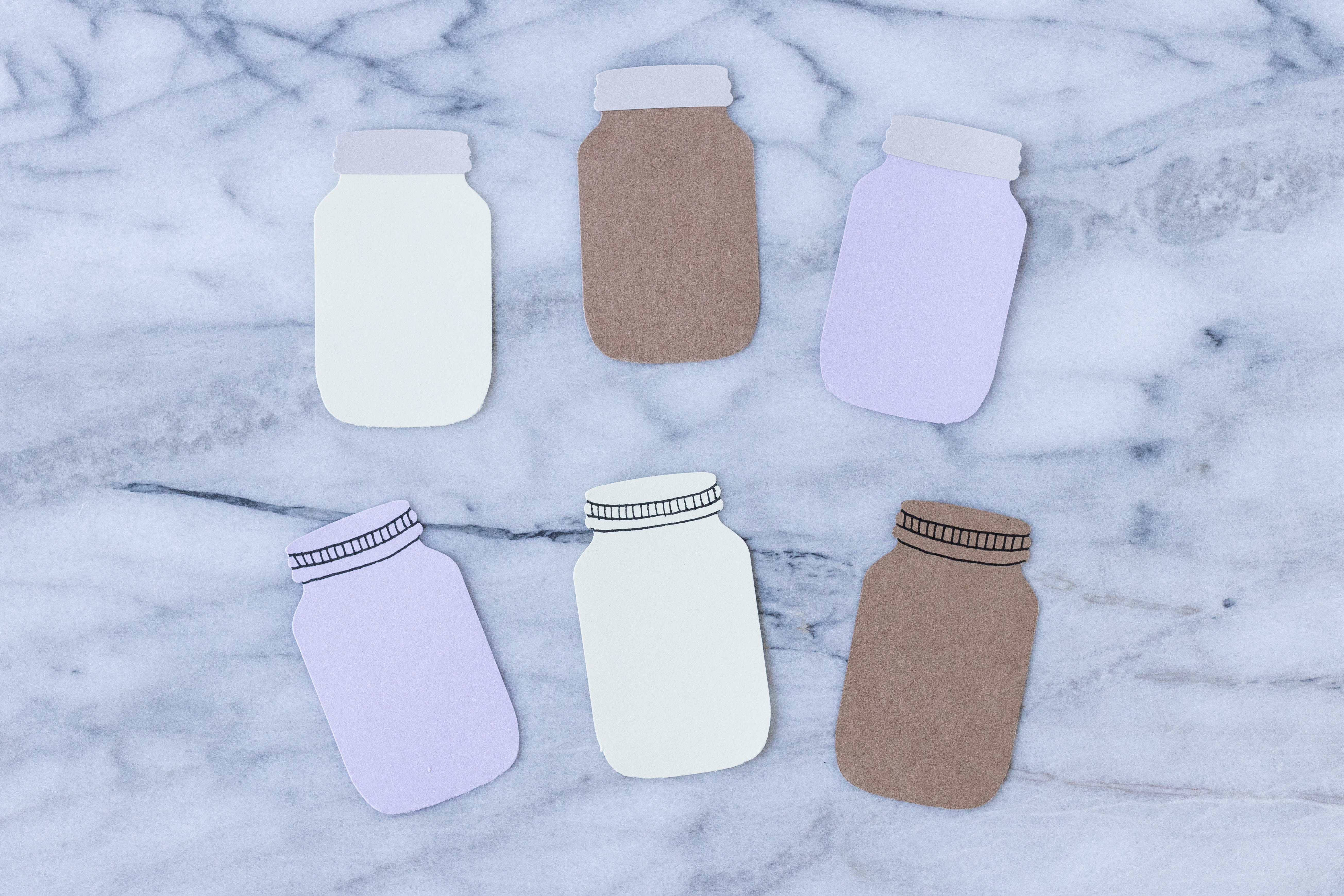 Paper punched
Paper punched mason jars are a quick, easy way to create jars for embellishments with any paper of your choosing. The biggest downside to punched mason jars is that there's no detail on the lids. The easiest ways to add detail are to draw it in with a black rollerball pen or attach a lid in a different colored card stock. I found that the best method for attaching lids was to punch mason jars in the color I wanted for the lids, cut off the lids, and glue them on the mason jars.
Die cut
I don't have a die cut machine (yet ha). If you do have a die cut machine and plan to make a lot of mason jar embellishments or will use mason jars for other projects, it's worth picking up a mason jar die set. Many sets include multiple jar sizes and/or additional dies that are perfect for DIY scrapbook embellishments, such as flowers, hearts, and butterflies.
You can also find an assortment of pre-cut mason jar die cut shapes on Etsy, which is a great option if you're not picky about the color and don't want to invest in stamps, punches, or die cuts.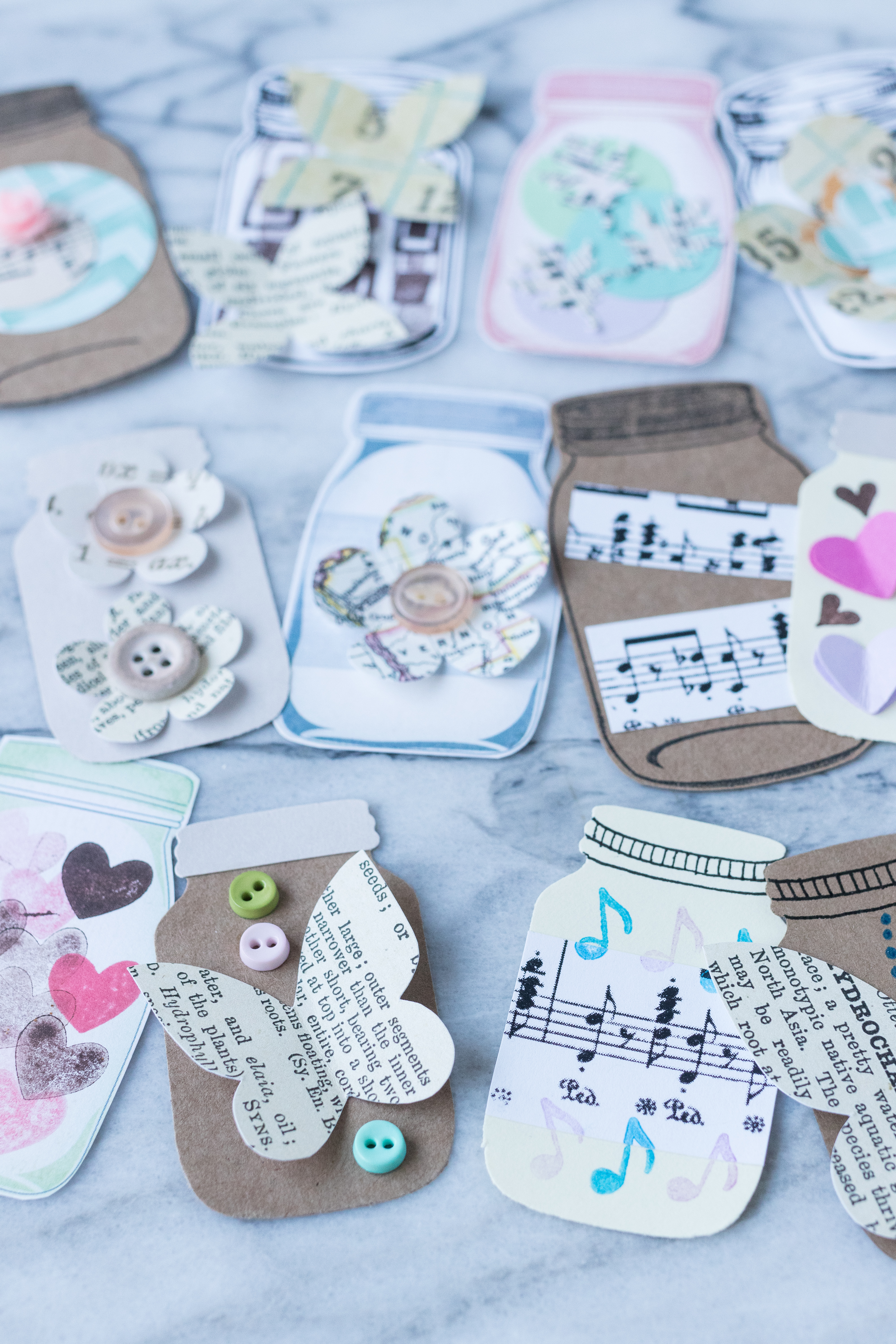 What to do with DIY scrapbook embellishments
There are so many possibilities for using handmade scrapbook embellishments beyond scrapbooking. I'm including just a few of the ways that I like to use them.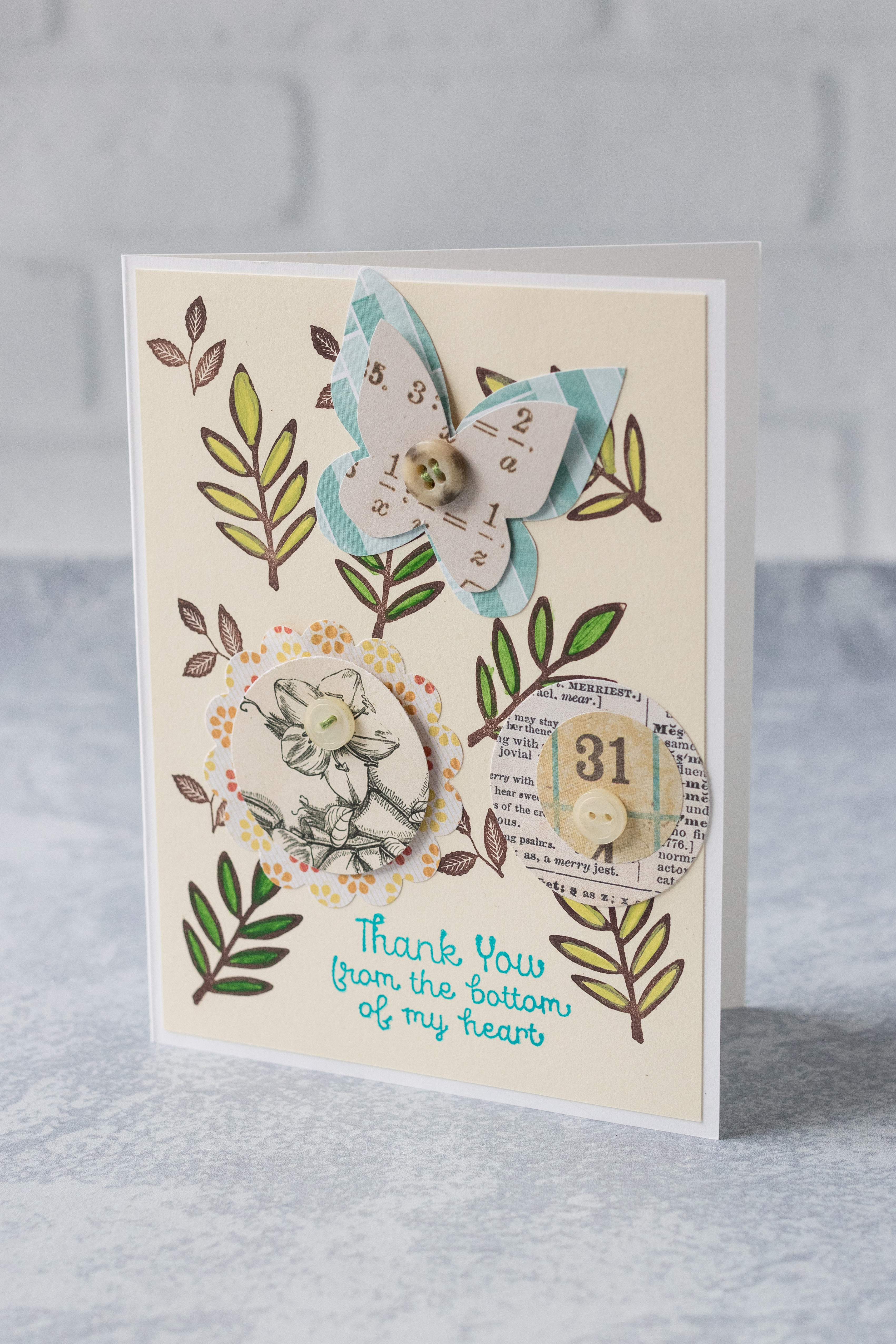 I love to add scrapbook embellishments to homemade greeting cards. Depending on the type of greeting cards you're creating, you may want to create embellishments specificially to fit those cards (i.e., Easter-themed, Valentine's Day-themed).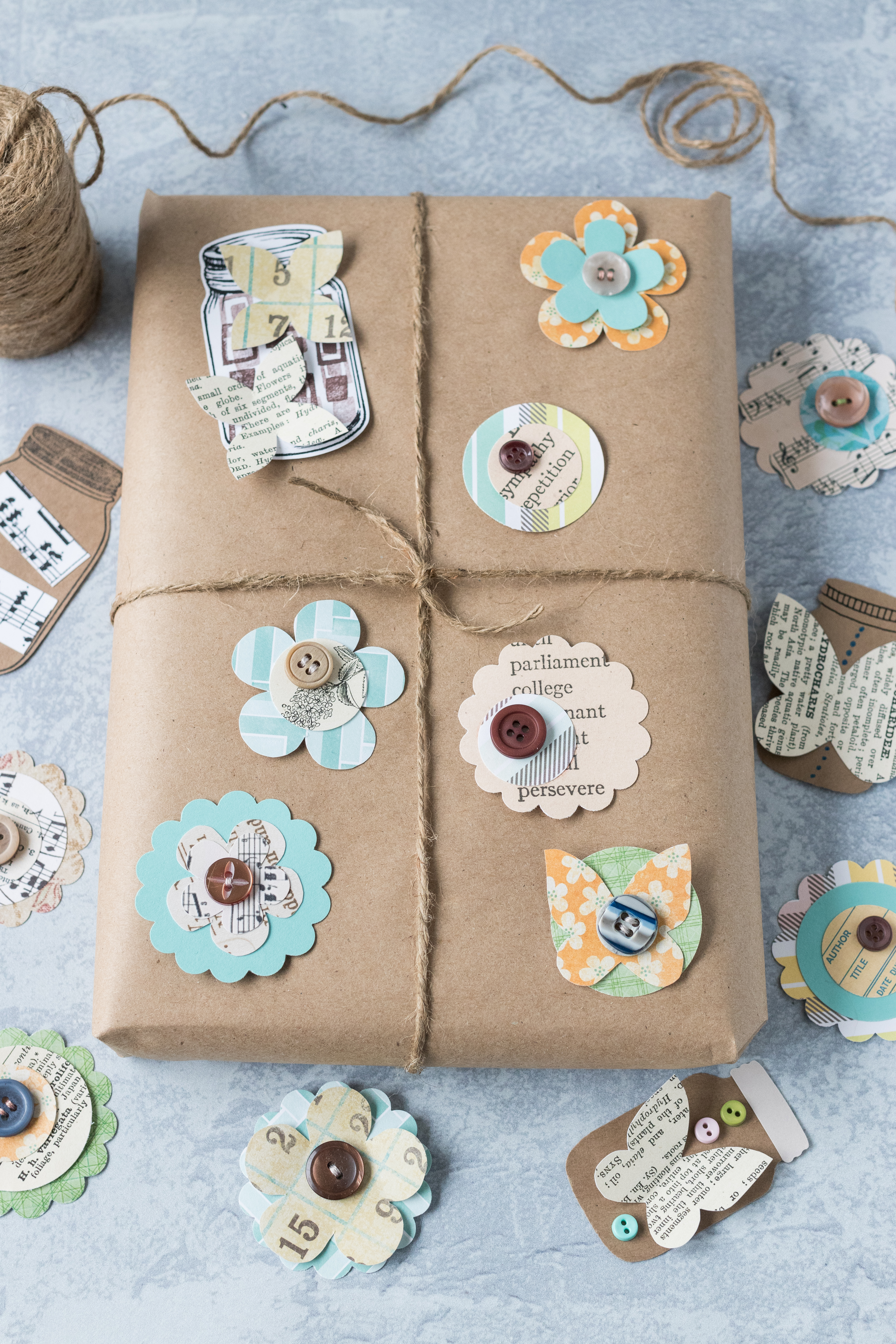 My go-to wrapping paper is brown kraft paper. DIY scrapbook embellishments are a quick way to dress it up and wow your recipients.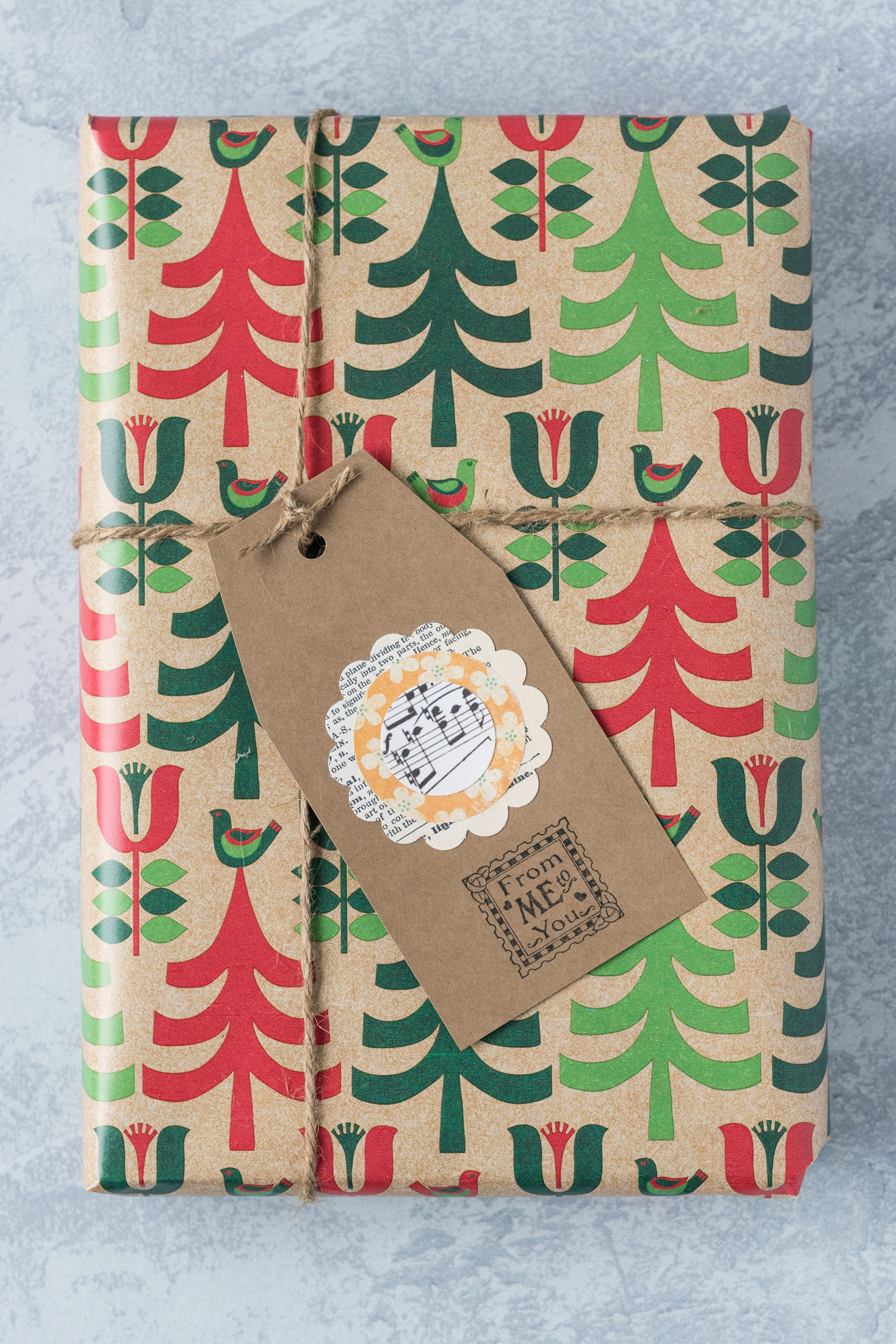 I also like to use DIY scrapbook embellishments for gift tags.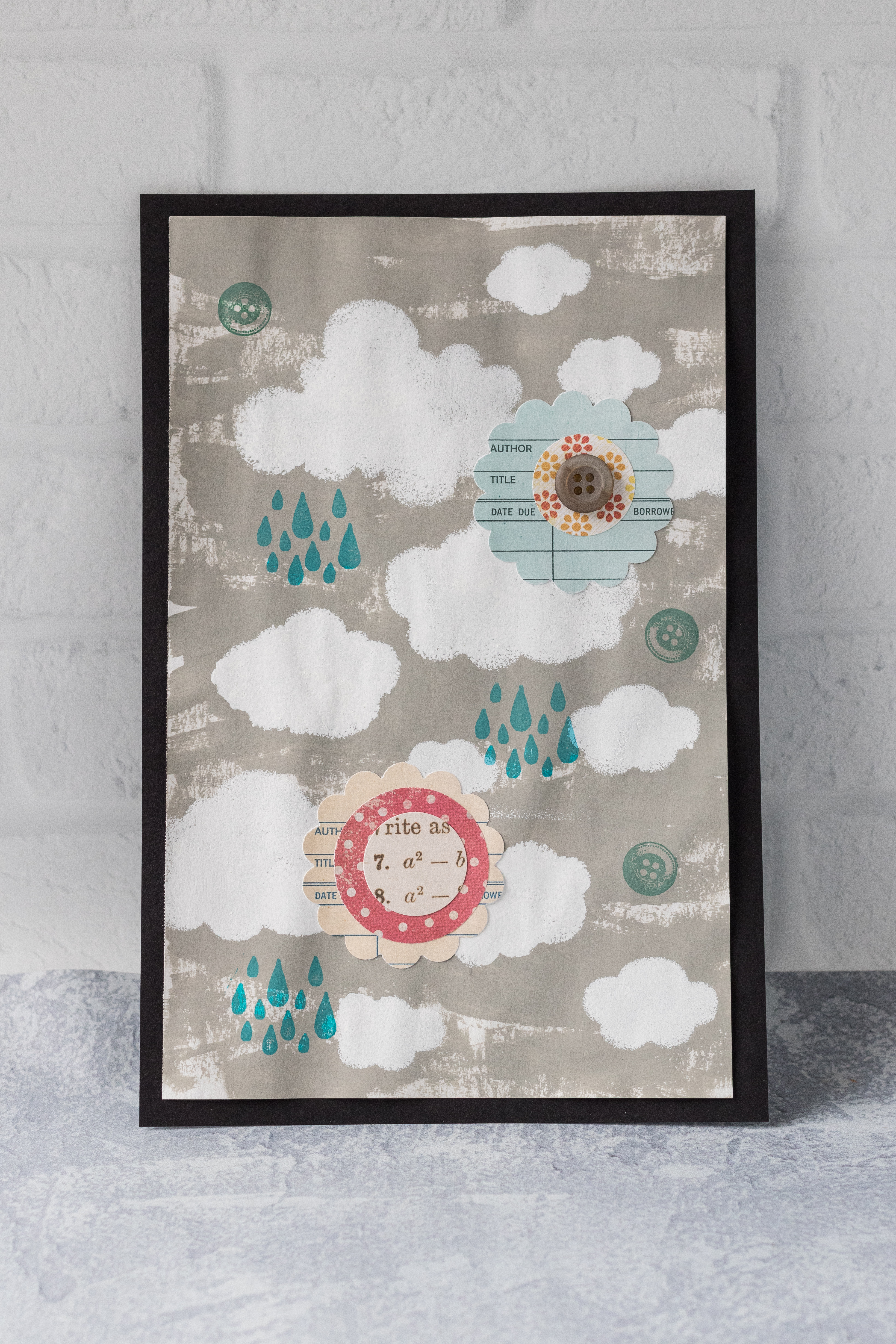 Finally, DIY scrapbook embellishments are perfect for mixed media, either in art or junk journals or as stand alone projects. To create the above piece, I painted a layer of gray acrylic paint with a small foam brush. I purposely left it a little streaky. Then I added a layer of clouds using a couple of cloud stencils, white acrylic paint, and a small pouncer brush. (I sort of have a thing with clouds.) Next, I added a stamped layer with raindrops and buttons. Last, I added my scrapbook embellishments.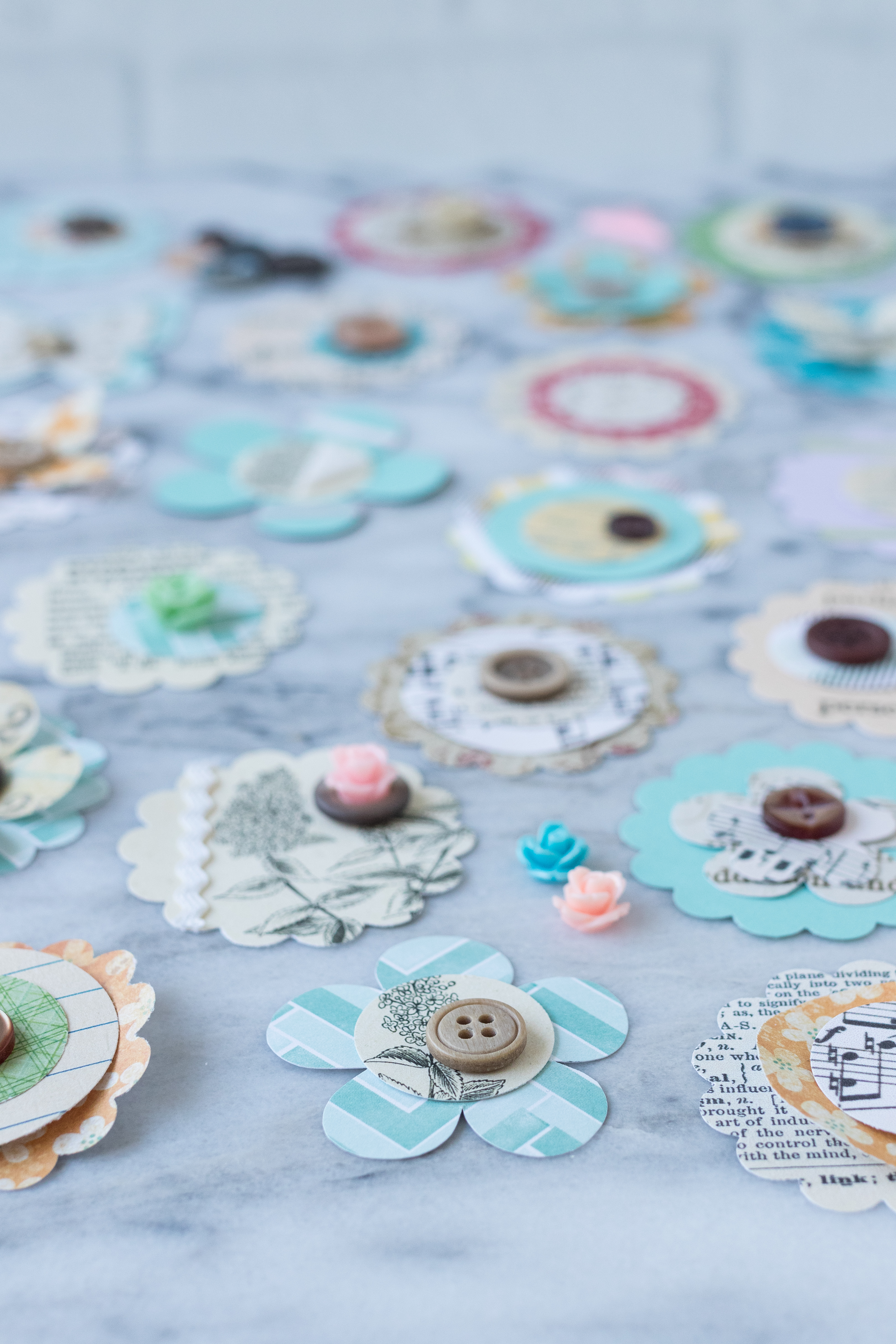 Did you make DIY scrapbook embellishments?
I want to see them! Tag your images #RoseClearfield on Instagram or Twitter post a photo to my Facebook page.
[Disclaimer: There are a few affiliate links in this post. Thanks for your support!]
More DIY projects: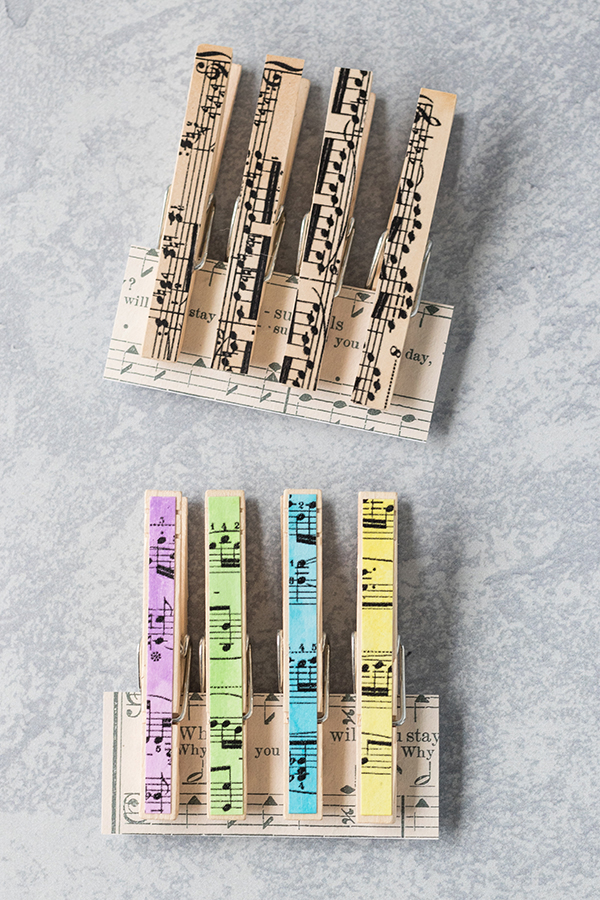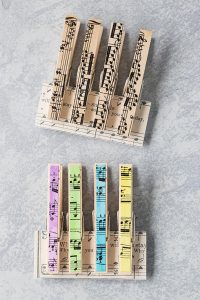 Sheet Music Clothespin Magnets