Deciding what to do on Thanksgiving besides eat and watch football will help you establish new family traditions that everyone will look forward to for years to come.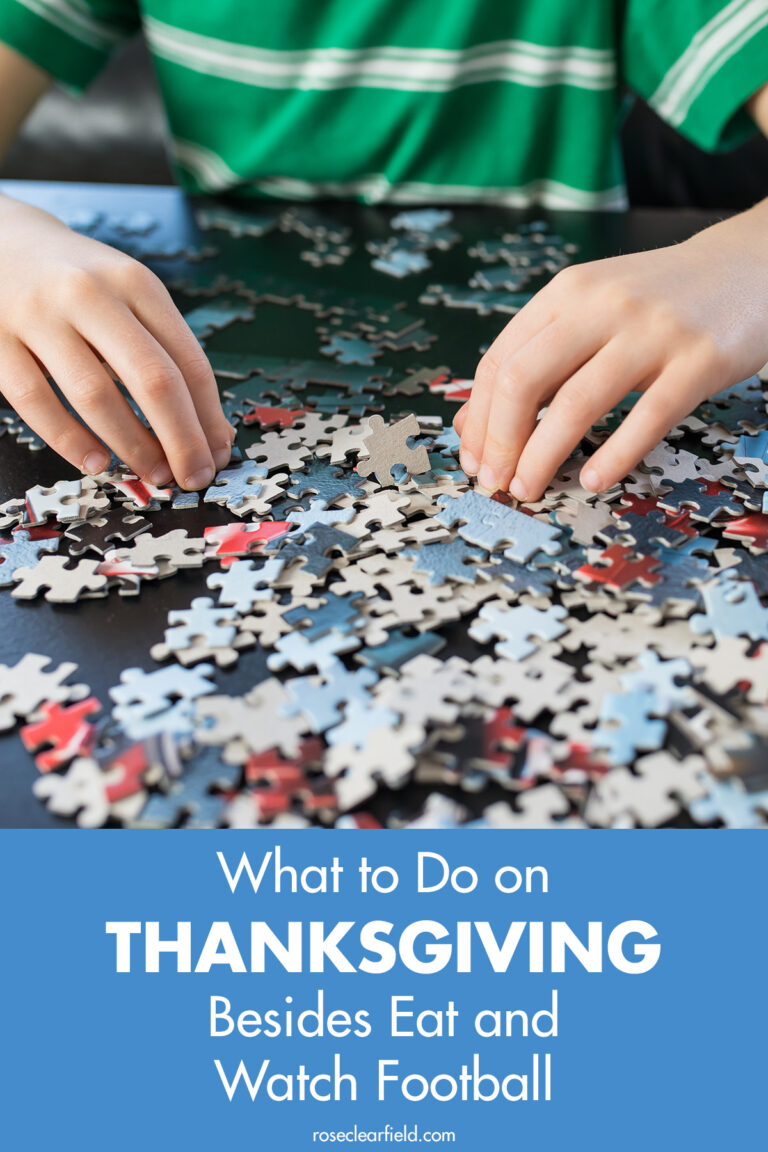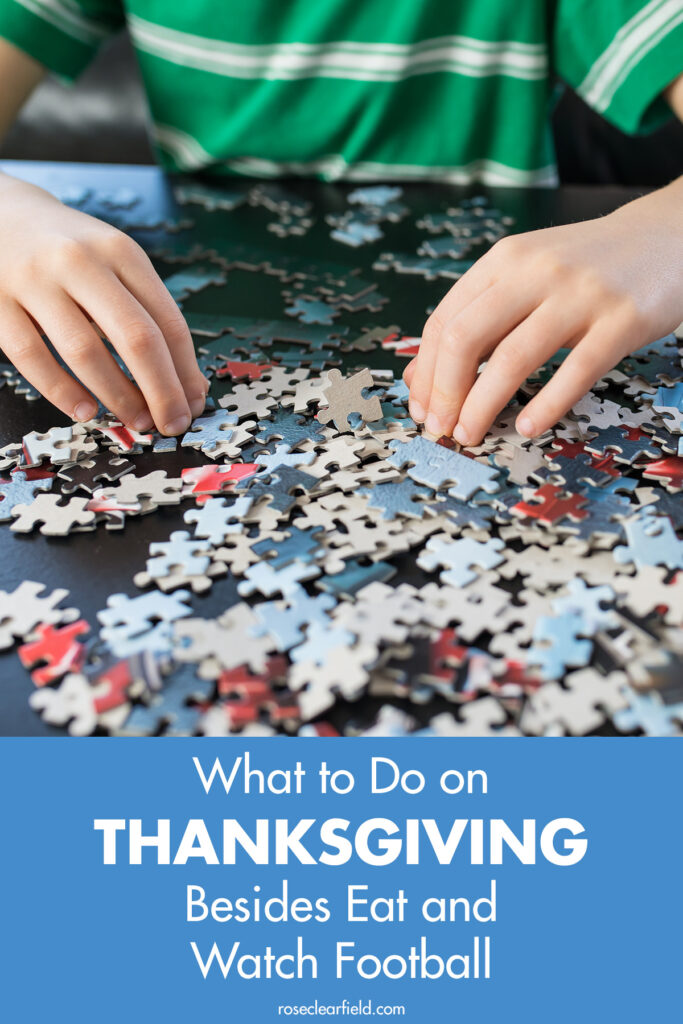 Eating tons of food and watching football on Thanksgiving is great. But it's a long day. You may want to have some other activities planned, especially if you're hosting a lot of family members.
With 30 ideas for what to do on Thanksgiving besides eat and watch football, there's something for everyone. Be realistic about what will make your group happy. Some people would rather do a puzzle or DIY project while other people would rather get outside for a turkey trot or game of touch football. Thanksgiving is also an ideal time to learn more about family heirlooms and recipes and to play a few games.
1. Watch the Macy's parade
Watching the Macy's Thanksgiving Day parade is such a fun tradition for people of all ages. Play parade bingo or vote on your favorite floats. Search for "Macy's parade [X year] bingo sheets" for current free offerings or make your own.
2. Participate in a turkey trot
Over the past few years, turkey trots have become extremely popular. Most turkey trots are 5K, which is a nice distance to run or walk without the pressure to train a lot ahead of time. Get out early and put in your miles to help balance out the eating you'll be doing later.
3. Play board games or card games
Choose board games or card games that are a good fit for the ages and interests of your group. Depending on how many people are there, you may even want to have two or three games going at once.
4. Play a group video game
Have a few video games ready that will be fun for multiple people to play at once, so you can include as many family members as possible.
5. Take a walk
Getting outside for a little fresh air will help break up a long day inside or provide some much-needed exercise after a big meal.
6. Take a drive
Have a family drive and visit a few favorite places in the area. If you have out-of-town guests who don't visit often, a Thanksgiving drive is the perfect opportunity to show off the area. Depending on where you live, you may see some final colorful foliage.
7. Play a pick-up game
Get a group outside for a pick-up game of basketball or touch football.
8. Share your Christmas wish lists
While everyone is together, get them to share a few thoughts about what they'd like for Christmas this year. If you pull names for certain people, Thanksgiving is the perfect time to make it happen.
9. Do a few coloring pages
Coloring pages are such a fun, no-prep activity for kids and adults of all ages. Set up a little coloring station with different coloring pages and coloring materials that people can choose from as they like.
10. Do a Thanksgiving craft project
If you want something a little more involved than coloring pages, a Thanksgiving DIY project is another great option for crafty family members.
11. Take a nap
Enjoy the time off work and with extra help with your kids to snooze in front of a warm fire for a couple of hours.
12. Share what you're most thankful for this year
Personally, by the time I'm sitting down to Thanksgiving dinner, I don't want to spend the whole meal talking about what we're thankful for this year. I would rather have this discussion or do a gratitude activity separately.
13. Have a mini pumpkin hunt
A mini pumpkin hunt is such a fun activity for younger kids on Thanksgiving or during any fall fathering. You'll find cheap faux pumpkins at dollar stores and craft stores and real pumpkins at grocery stores and local farms.
It's always nice to have a pumpkin hunt outside. But depending on the weather and the age and size of the group, it may be preferable to have an inside hunt.
14. Have a scavenger hunt
For Thanksgiving gatherings with older kids and teenagers, a scavenger hunt is a great activity to keep everyone entertained for a few hours. It can be as simple or elaborate as you want, potentially taking kids all over the neighborhood or even all around town.
15. Volunteer at a soup kitchen or food pantry
Giving a few hours of your time to help those less fortunate is always important. Have a small group go out in the morning or early afternoon on Thanksgiving. If you're too busy on Thanksgiving Day itself, look for volunteer opportunities earlier in the week.
16. Set up a photo-taking spot
Any time you have a big group of family members gathered together, it's always nice to get a few pictures. Set up a dedicated photo-taking spot away from the activity in the kitchen with a fun backdrop and a few photo props. If your family really enjoys this activity, it's worth investing in a few reusable backdrops.
17. Play Thanksgiving trivia
Family members of all ages will enjoy a little game of Thanksgiving trivia. Everyone is sure to learn something new. Have a small prize prepared for the winner.
18. Enjoy your favorite Thanksgiving movies and TV episodes
You can't go wrong with the classic A Charlie Brown Thanksgiving movie or any of the Friends Thanksgiving episodes. There are so many great Thanksgiving episodes beyond Friends as well, including How I Met Your Mother, New Girl, and It's Always Sunny in Philadelphia.
19. Get ready for Black Friday sales
I'm not a big fan of shopping on Thanksgiving Day. However, it's a good time to plan your strategy for shopping over the weekend if you haven't already. Review Black Friday emails, browse paper ads, and read recommendations for the best deals. For example, I always browse Black Friday deal round-ups from Thrillest.
20. Play harvest bowling
Good Housekeeping has a fun idea for creating your own bowling lane using hay bales. (Scroll down to the "Play harvest bowling" heading for an inspirational picture.) Wooden bowling pin sets include a couple of balls. Harvest bowling will quickly become a favorite family activity during fall gatherings.
21. Make Christmas wreaths
Family members will enjoy spending time making a beautiful holiday wreath, which they can then display as soon as they get home for the holiday season ahead.
22. Play a "who's the baby?" guessing game
I love the concept of a "who's the baby?" guessing game for any gatherings with extended family – Christmas, Easter, birthdays, etc. Ask family members to submit photos ahead of time. Print the photos and display them in a prominent area. Give everyone a chance to submit their guesses. Then at some point later in the day, reveal the answers.
23. Look through old family photos
A family gathering is always a good excuse to pull out old photos. If you've been meaning to get old photos scanned, printed, or organized, the upcoming holiday is an ideal opportunity to make that happen.
24. Let everyone contribute to making a Thanksgiving centerpiece
Put out mini pumpkins, candles, and other small fall-themed items. Give family members time to arrange them as they like throughout the day. You can also put out a disposable table runner that everyone can decorate.
25. Play bags or ring toss
Sometimes you can't go wrong with classic games. Bags or corn hole and ring toss are no exception. Depending on the size of your group, you may want to set up multiple games to get more people involved at the same time.
26. Do a puzzle
A puzzle is an ideal group activity because it gives people something to do but also allows for conversation. Leave a big puzzle that isn't too challenging in one of the main areas where people will be hanging out, giving everyone a chance to work on it throughout the day.
27. Learn about family heirlooms and recipes
Pull out heirloom dishes and other antiques handed down in the family and share their history with everyone. Thanksgiving is also a great time to talk about any recipes you'll be making today or that you make for other holidays that have been handed down to you from aunts, grandmas, etc.
28. Have a fire
Spending the whole day at home gives you ample time to build and tend to a fire in a fireplace or fire pit. Switching on a gas fireplace is a great option, too.
29. Read a book
Take advantage of your time off of work for the holiday weekend to start a book that's been on your to-read list for ages. I have a post with my top 20 all-time favorite books if you're looking for new recommendations.
30. Do an easy cross-stitch
Before I had kids, counted cross-stitch was one of my favorite ways to relax, especially while watching TV. I love taking on a quick project over a holiday. Country Living has a wealth of free cross-stitch patterns to get you started.
[Disclaimer: There are a few affiliate links in this post. Thanks for your support!]
I'd love to hear about your favorite Thanksgiving family traditions!

Tell me what you and your family like to do over the Thanksgiving holiday besides eat and watch football.
Pin this post for easy access to the what to do on Thanksgiving besides eat and watch football resource later!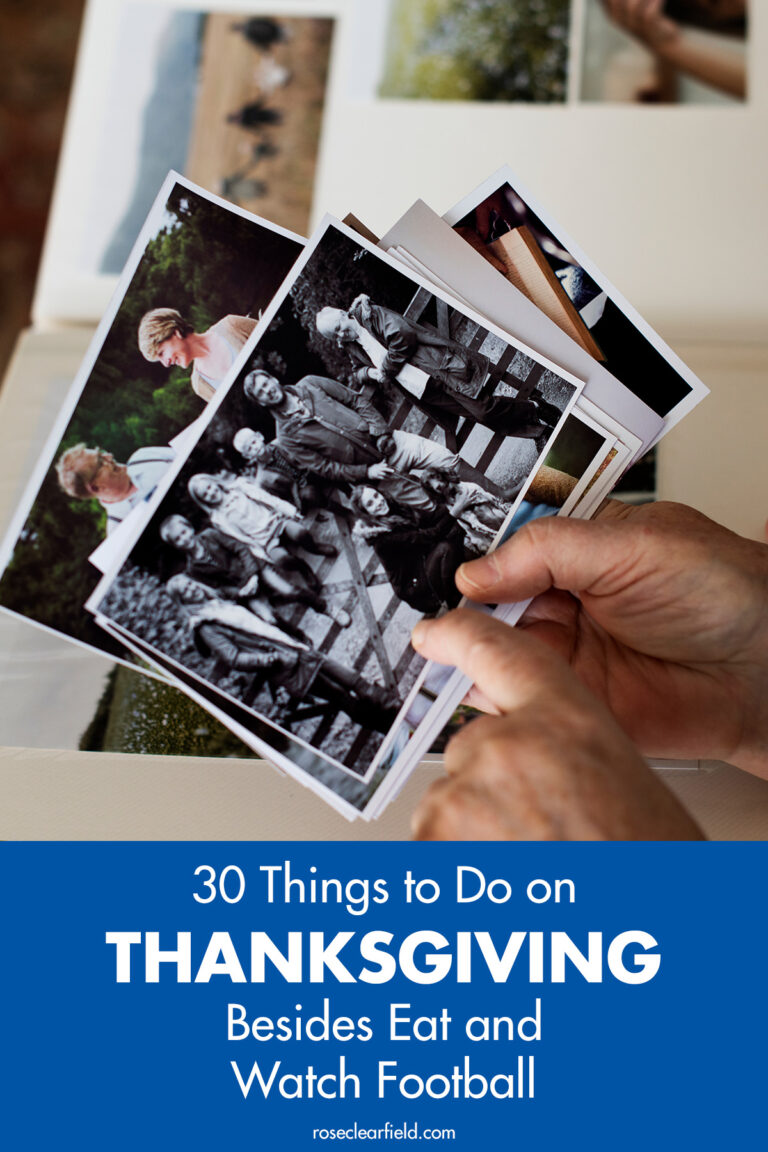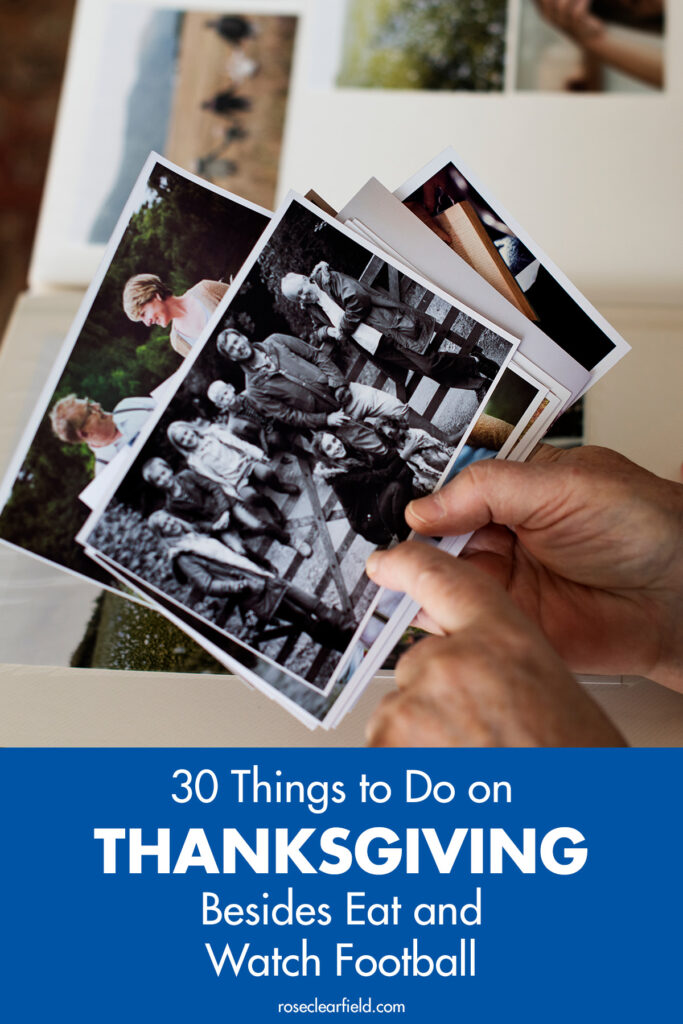 More Thanksgiving resources: