Planning what to do the day after Thanksgiving will help you make the most of the long holiday weekend.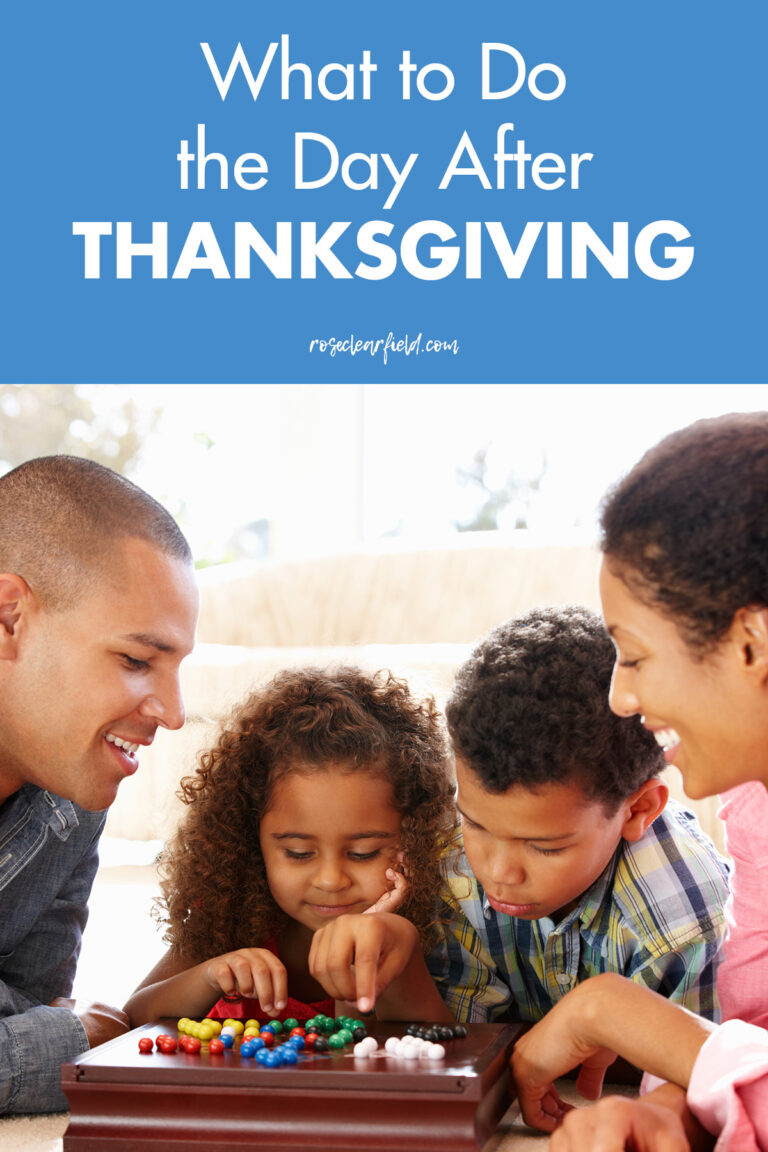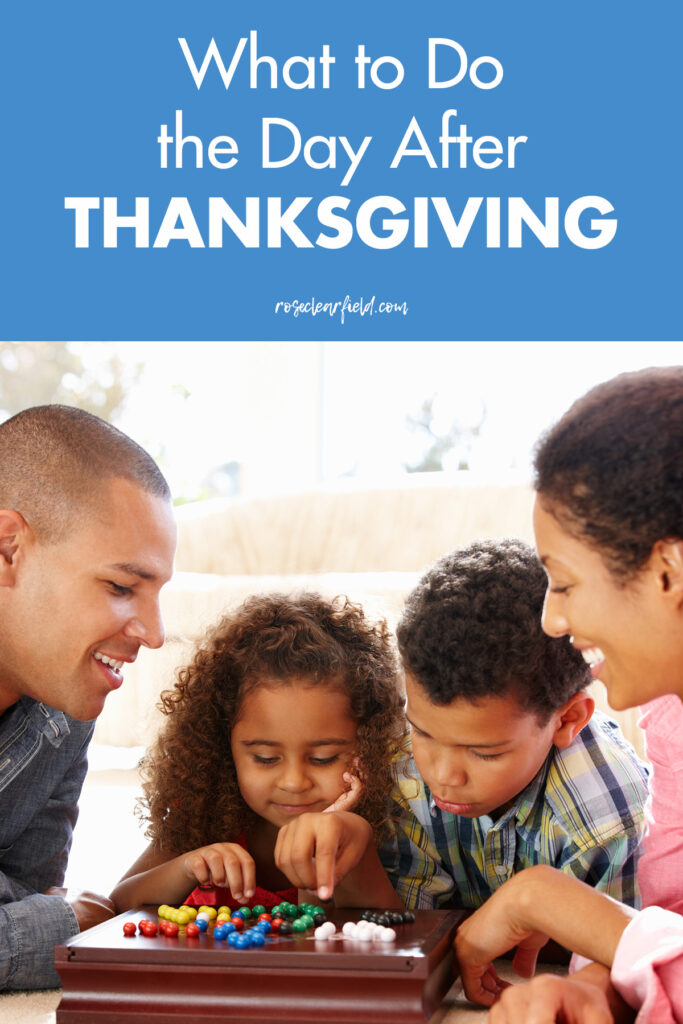 After putting so much effort into the Thanksgiving meal and plans for the holiday itself, it's easy to overlook the rest of the weekend. With three more days ahead, having a few plans in place will give you other activities to look forward to and keep everyone occupied and happy.
I'm including a mix of activities to do at home and activities that get you out of the house. It's nice not to spend the whole weekend running around and get to relax at home with a roaring fire as well as spend time putting up your Christmas decorations. It's also nice to get out once a day with an excursion that the whole family will enjoy, such as ice skating, a holiday lights show, or a visit to the local museum.
Have a wonderful Thanksgiving and long Thanksgiving weekend ahead!
1. Enjoy leftover pie for breakfast
Is it even a Thanksgiving holiday if you don't eat pie for breakfast on Black Friday? Most pies taste even better a day after they're baked, making for one of the best breakfasts you'll have all year.
2. Write a thank you letter to your Thanksgiving host
Hosting Thanksgiving is a lot of work, even when it's for a small group. Taking a few minutes to write a thank you note to your host is such a simple gesture that will mean so much. While you can send a text or email, go the extra mile and write a note that you send in the mail.
3. Black Friday shopping
The Thanksgiving weekend is an ideal time to get a lot of your Christmas shopping done. Shop the best deals while they're available and cross off as many people from your list as you can to free up more time later in the Christmas season.
There are so many Black Friday deals online that you can avoid the stores completely if you want. If it's overwhelming browsing Black Friday deals, read round-ups from sites such as Thrillest, or browse recommendations from influencers.
4. Go to a movie
Getting out of the house for a little while is a nice change of pace. Choose a family-friendly movie that everyone will enjoy.
5. Go to a show
Treat your family to an early Christmas present of tickets to the symphony, ballet, or another live show, such as a comedy show or rock concert. A sporting event is a great option, too.
6. Decorate for the holidays
I wait until after Thanksgiving to decorate for Christmas and then get the majority of my decorating done over the Thanksgiving weekend. If you purchase a real tree, the long weekend is an ideal time to go out with the whole family for it. Everyone can pitch in with decorating, making the task less overwhelming.
7. Host a game night
Have your family and friends over the night of Black Friday or later in the weekend for card games or board games. People will enjoy an activity that's not shopping as well as a break from Thanksgiving leftovers.
8. Volunteer in your community
Plan a family morning or afternoon together at a food pantry, soup kitchen, donation center (i.e., St. Vincent de Paul), women's shelter, church, or other local organization in your community that's in need of extra help during the holiday season.
The holidays are also a great time to take on a personal project, such as sponsoring a family or collecting items for a local animal shelter.
9. Take a hike
Get out together as a family and enjoy a hike at a favorite local destination or use the long weekend to explore a new area that may be a little further away. Spending time outside getting some exercise will be a welcome change of pace after eating so much food.
10. Go ice skating
Ice skating is such a fun family activity to kick off the holiday season. Many communities have free or low-cost pop-up ice skating rinks during the holidays. Visiting a local year-round skating rink is a great option, too.
11. Have a pick-up game of basketball or football
If you didn't get in a pick-up game on Thanksgiving or you have a family with a lot of energy, make sure to get in at least one pick-up game later in the Thanksgiving weekend. Everyone will welcome the fresh air and exercise and enjoy the friendly competition.
12. Relax around a fire
Extended time at home is always a good excuse to build a nice fire in a fireplace or fire pit or to enjoy your gas fireplace. If you're having a real fire and want a break from Thanksgiving desserts, get out the marshmallows and make s'mores.
13. Take in a holiday lights show
A holiday lights show is another perfect family tradition to kick off the Christmas season together. There are so many walk-through and drive-through holiday lights shows. Be realistic about the type of show that makes the most sense for your family. Be sure to purchase tickets ahead of time and plan for long lines to get into the show.
14. Enjoy a local attraction
Use the time off from work and school to go to a local museum, zoo, indoor playground, or another family-friendly attraction that you haven't visited in a while. It's the perfect time to revisit a favorite destination or check out a new-to-you attraction.
15. Do an escape room
An escape room is another fun activity for the long holiday weekend that will get you out of the house for a family outing that people of all ages will enjoy.
If you're reading this post before Thanksgiving, I also have a post with 30 ideas for what to do on Thanksgiving besides eat and watch football. If you're reading it after Thanksgiving, bookmark it for next year!
I'd love to hear about your favorite Thanksgiving weekend family traditions!

Tell me about what you and your family like to do the day after Thanksgiving or over the Thanksgiving weekend.
Pin this post for easy access to the what to do the day after Thanksgiving resource later!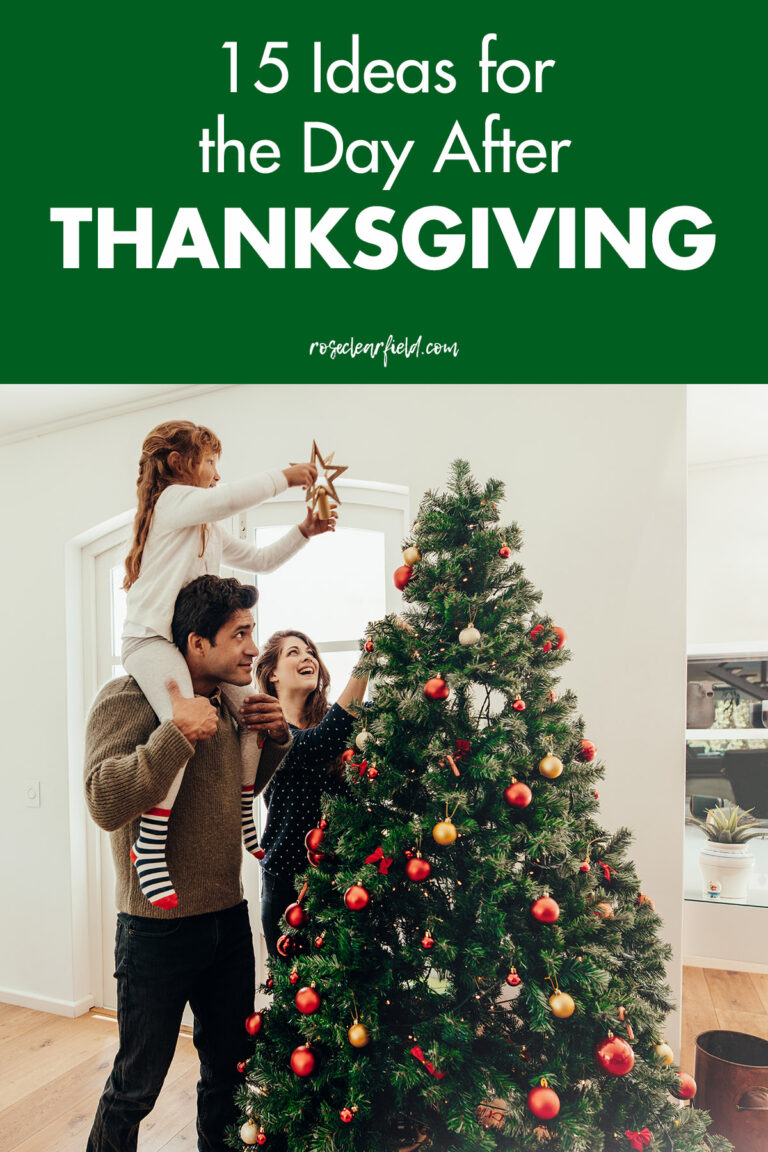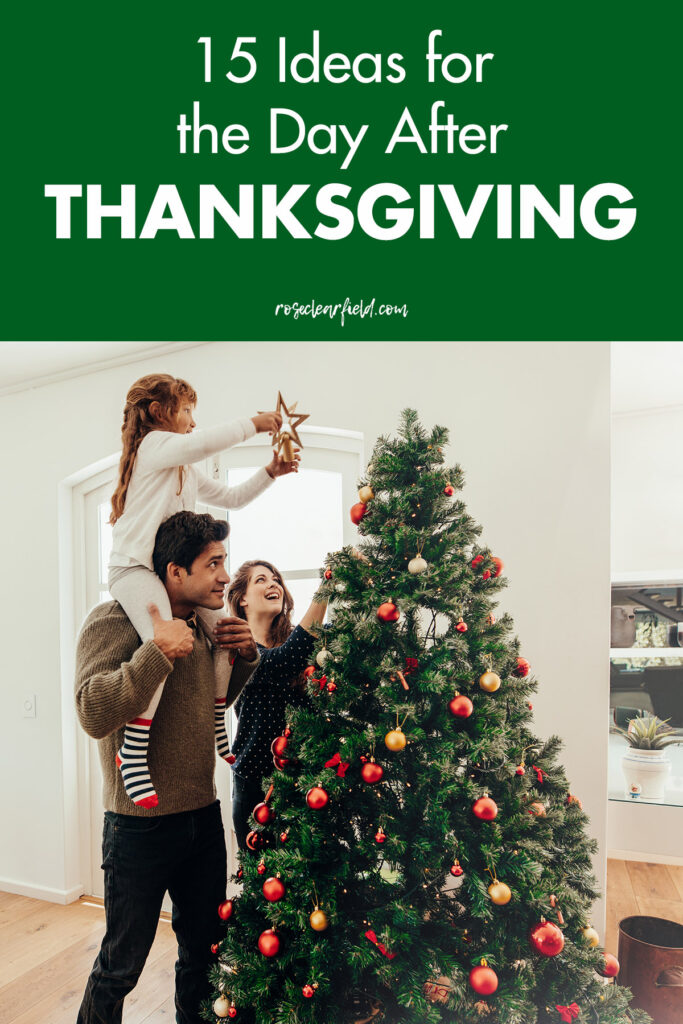 A few of my favorite holiday resources for right after Thanksgiving!