Simple DIY Father's Day cards are an easy way to show the dads in your life how much you love them.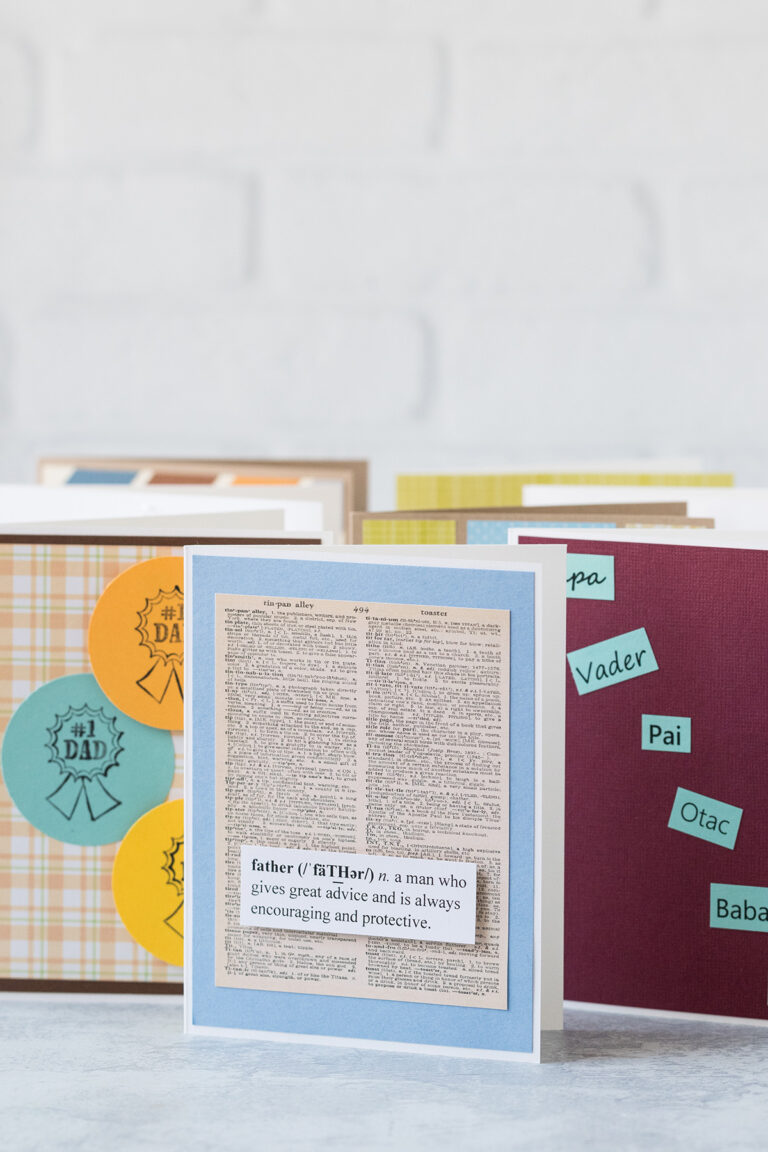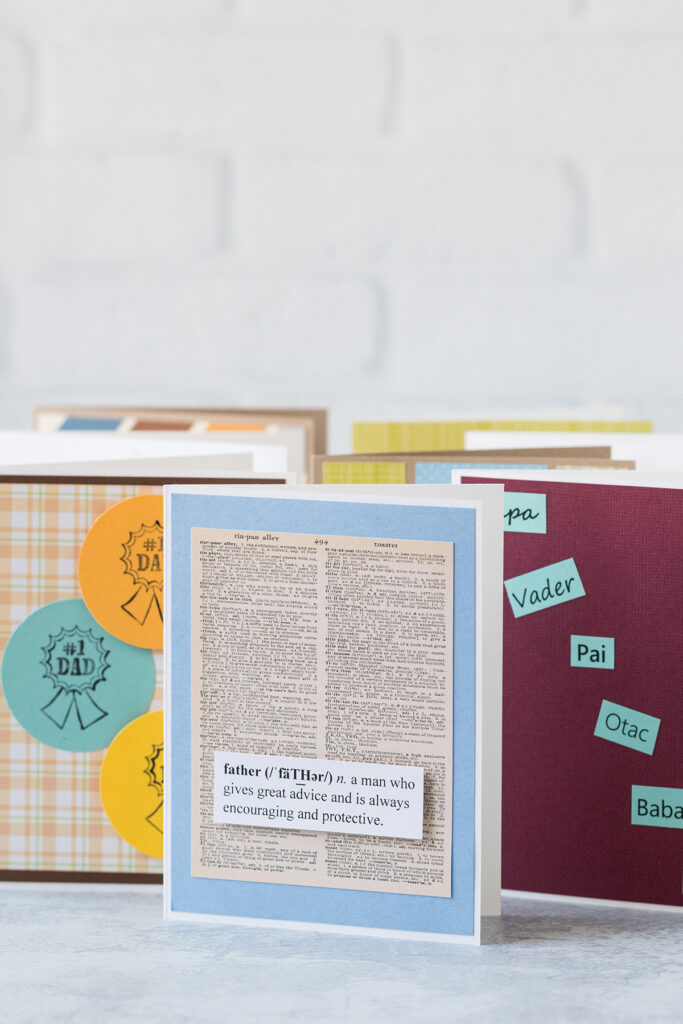 A homemade card is the perfect way to complete any Father's Day gift. A handmade card is also ideal for giving a gift certificate or experience gift (i.e., tickets to a show).
If you've spent any amount of time on my blog, you know that I strongly believe in creating crafts on a budget. I strive to create homemade card designs that you can make with basic crafting supplies. You don't need any fancy tools for the cards in this post. Most likely you already have many of the supplies you need and can purchase anything else in a single trip to Michaels.
I have a whole post about basic greeting card supplies and tools. In that post, I cover my resources for many supplies that I talk about here, such as card stock, wrinkle-free paper glue, and my paper trimmer.
I've created 10 classic simple DIY Father's Day card designs with lots of popular themes and sayings. You can easily switch up the smaller details, like the colors, to suit the recipient's taste.
One of the Father's Day stamps that I use for my cards is from the Hero Arts Celebrate Everyday set, which includes lots of holidays and a few assorted detail stamps. I use this collection all the time and love the variety and quality.
Unfortunately, the other Father's Day stamps that I own, which are from another Hero Arts set, don't seem to be available anymore. So I'm linking a few other good options for you.
I link to a few additional specific products within the post. I've created a number of free printable components to help you recreate these designs as quickly and easily as possible. I provide these resources with each card design.
I've created all of these handmade Father's Day cards as A2 size, as it's an ideal size for both designs and messages. All of my card resources are formatted for A2 size.
Happy crafting and happy Father's Day!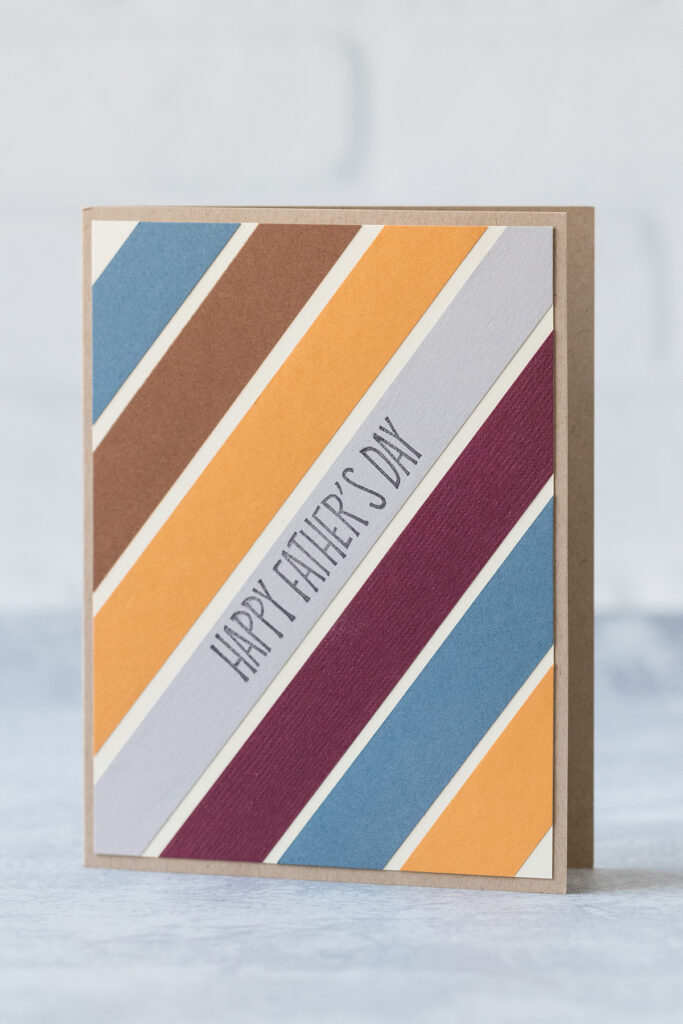 Diagonal stripes
The diagonal stripes design is so versatile. You can use any card stock and/or scrapbook paper that you like. It would also work well with ribbon and washi tape.
I cut the diagonal stripes longer than the card stock underneath it. After I glued the stripes, I used a paper cutter to trim all the stripes evenly.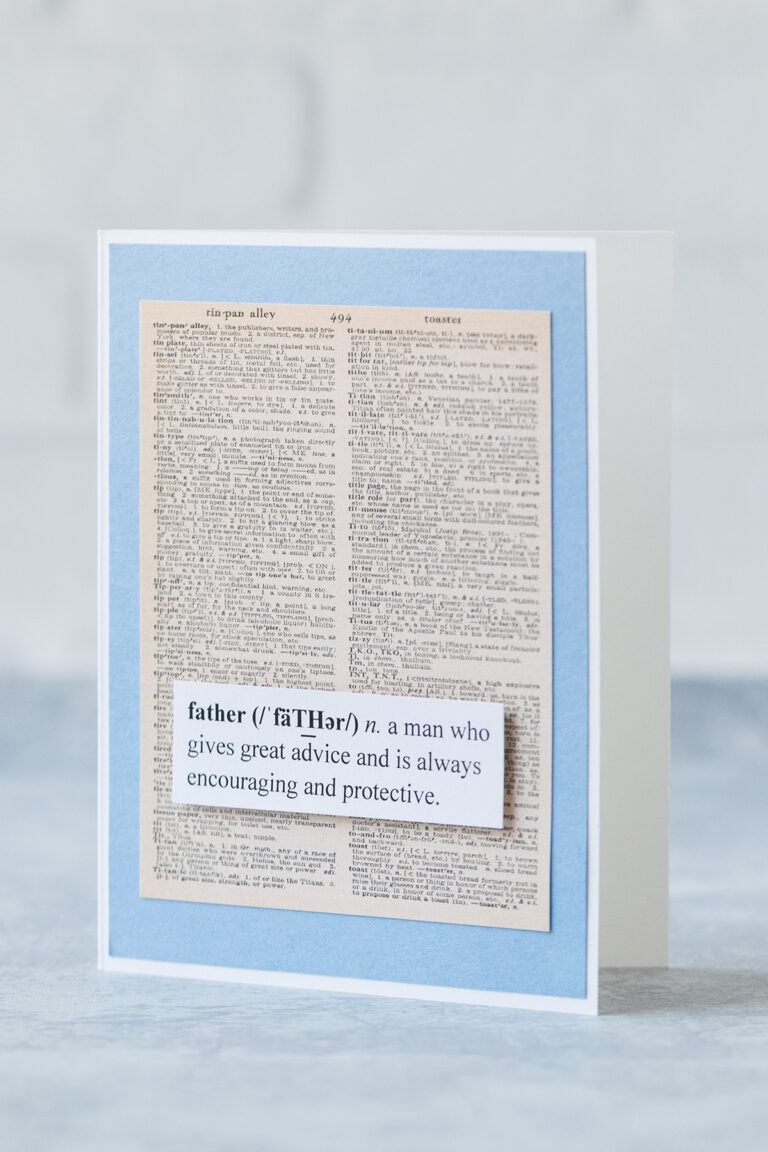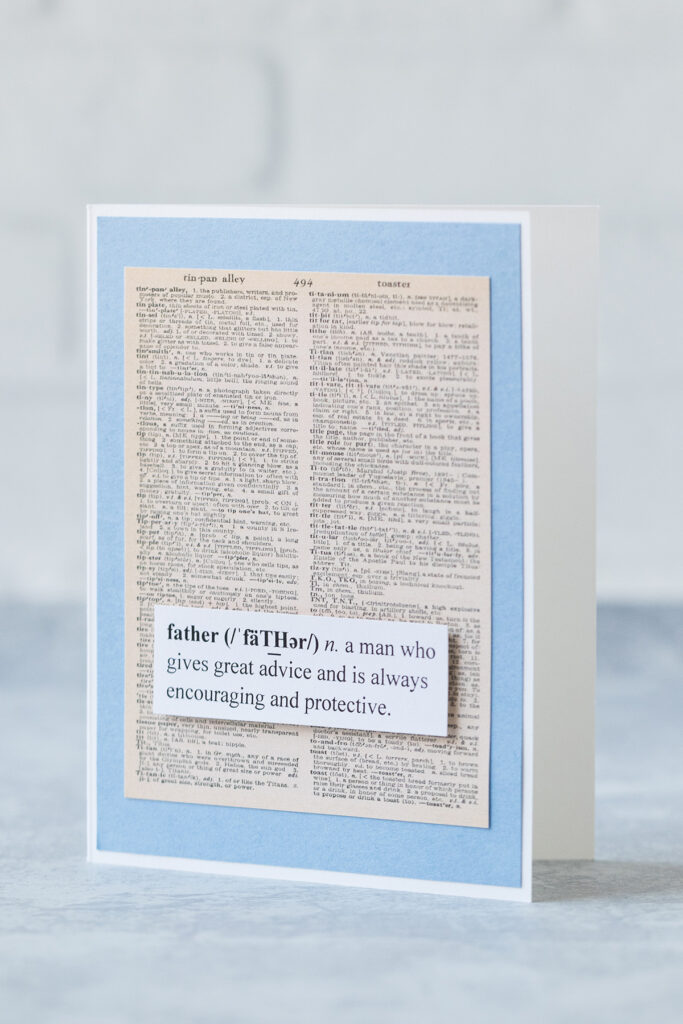 Father dictionary definition
You may recognize this design from my printable Father's Day cards collection. I love it so much that I created a handmade card version, too. I used a vintage dictionary page from my collection for the backdrop. Then I added the definition, using adhesive foam squares to make it pop.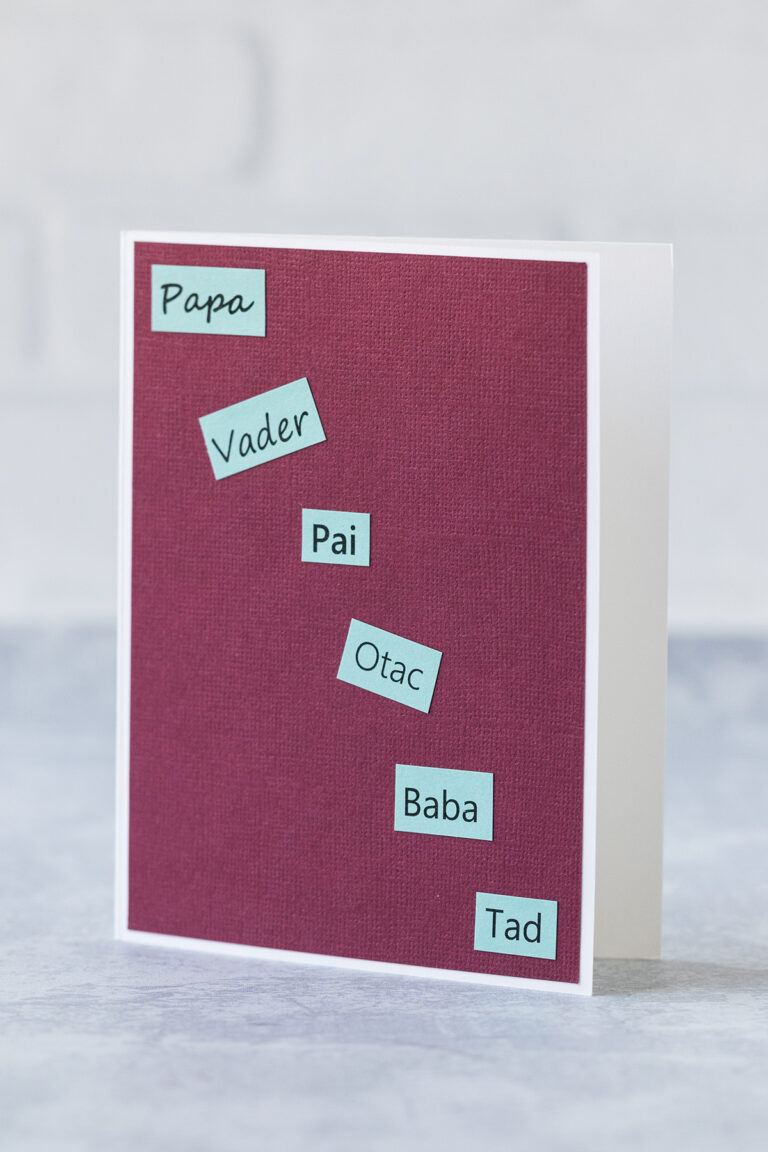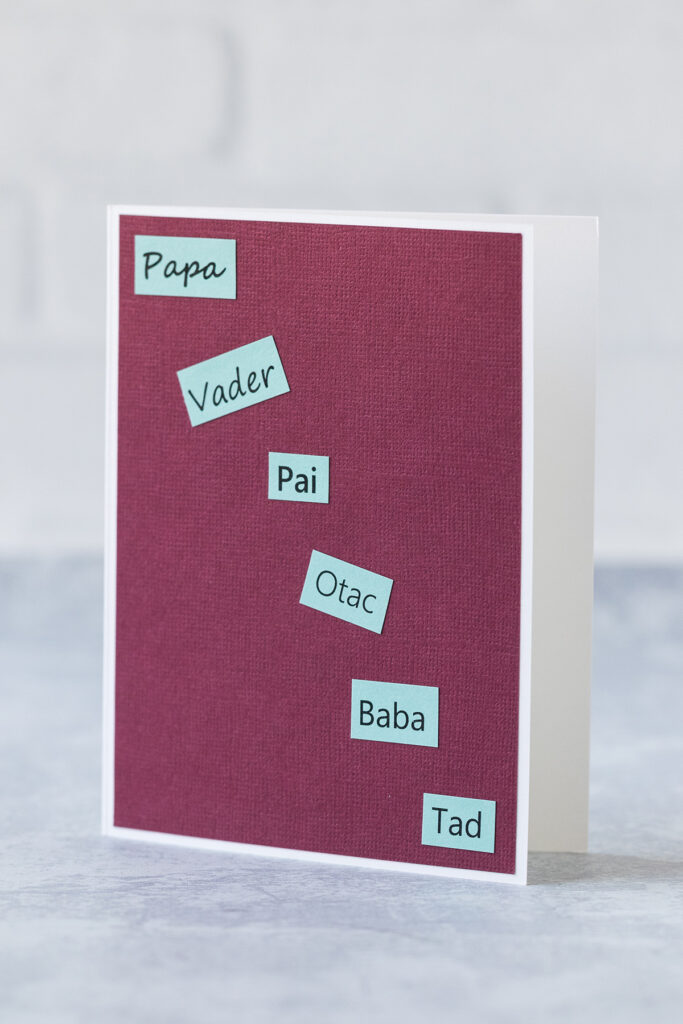 Father in multiple languages
I created a mother in multiple languages card a few years ago and knew that I wanted to create a father version, too. I worked hard to find a combination of fonts I liked that work well on an A2 size card. I chose a light color for the wording and dark color for the background. But there are so many ways that you could switch up the colors or use a patterned paper for the background.
[Father in multiple languages A2 size]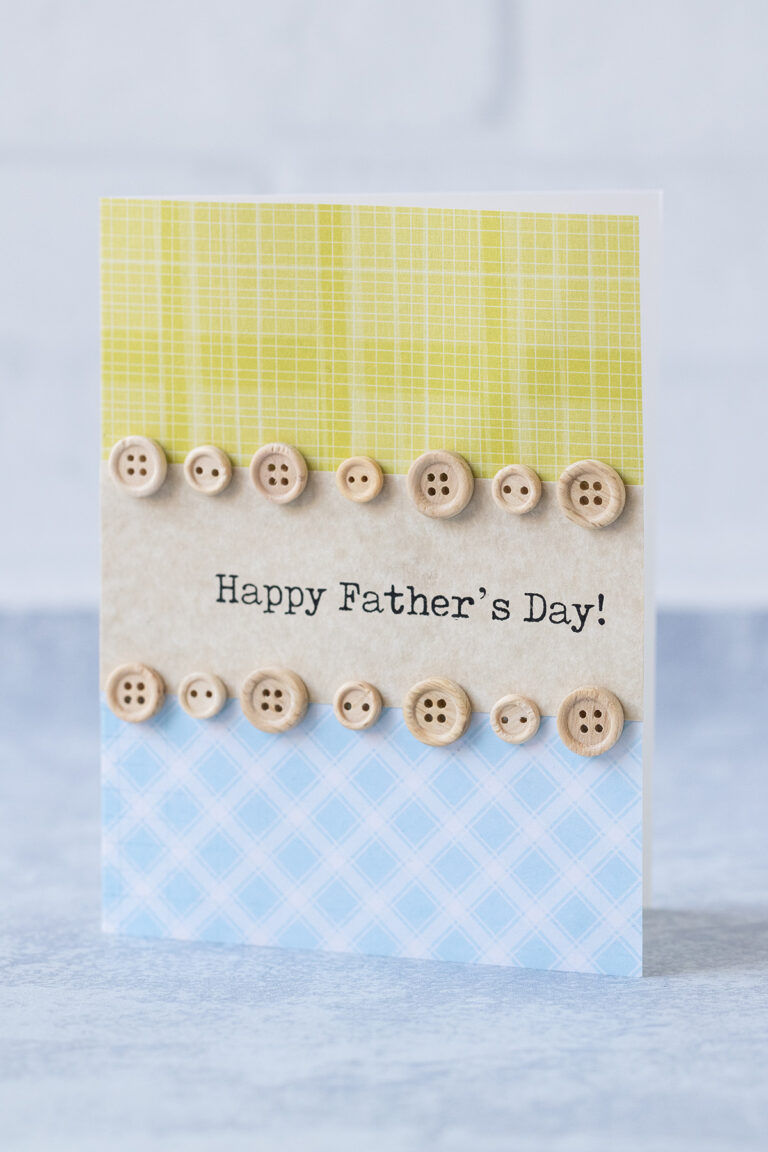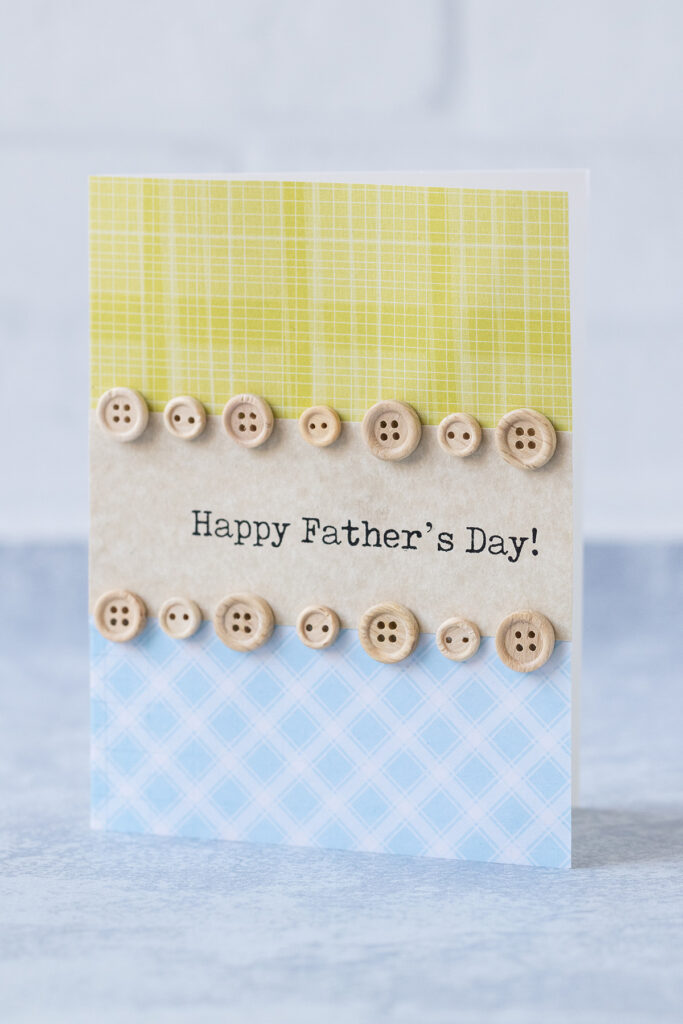 Happy Father's Day with button detail
I also created a version of this card with panels and button detail for Mother's Day. It's such a simple, versatile design that you can use for just about any type of card.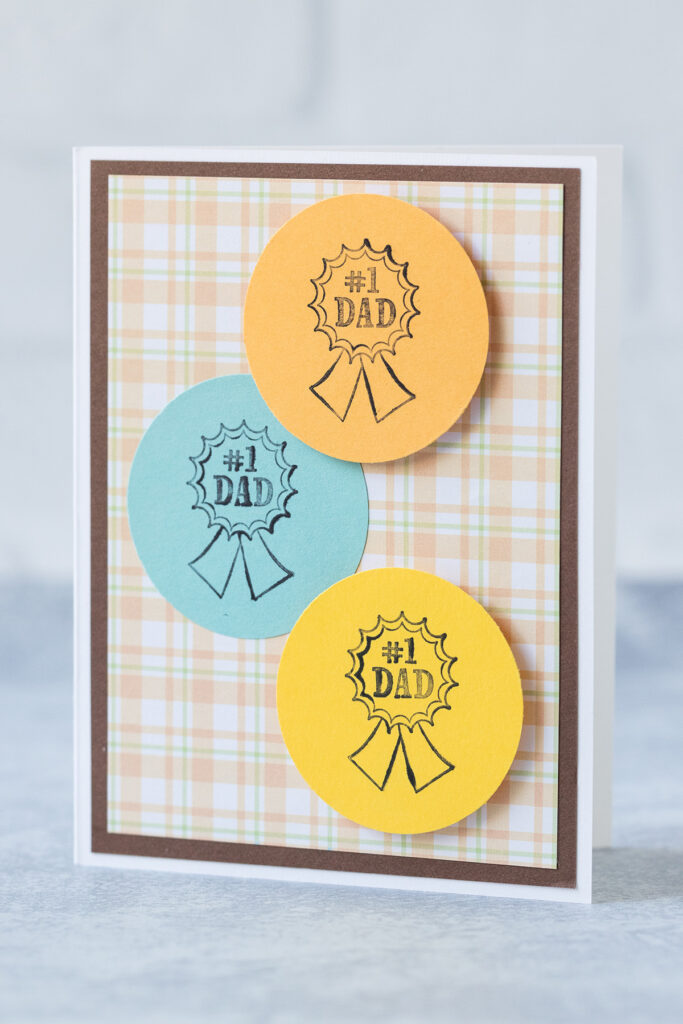 #1 Dad
#1 Dad is classic, one of those designs where you just can't go wrong. The #1 Dad stamp I'm using worked perfectly with a 2″ circle punch. I foam mounted two of the #1 dad circles.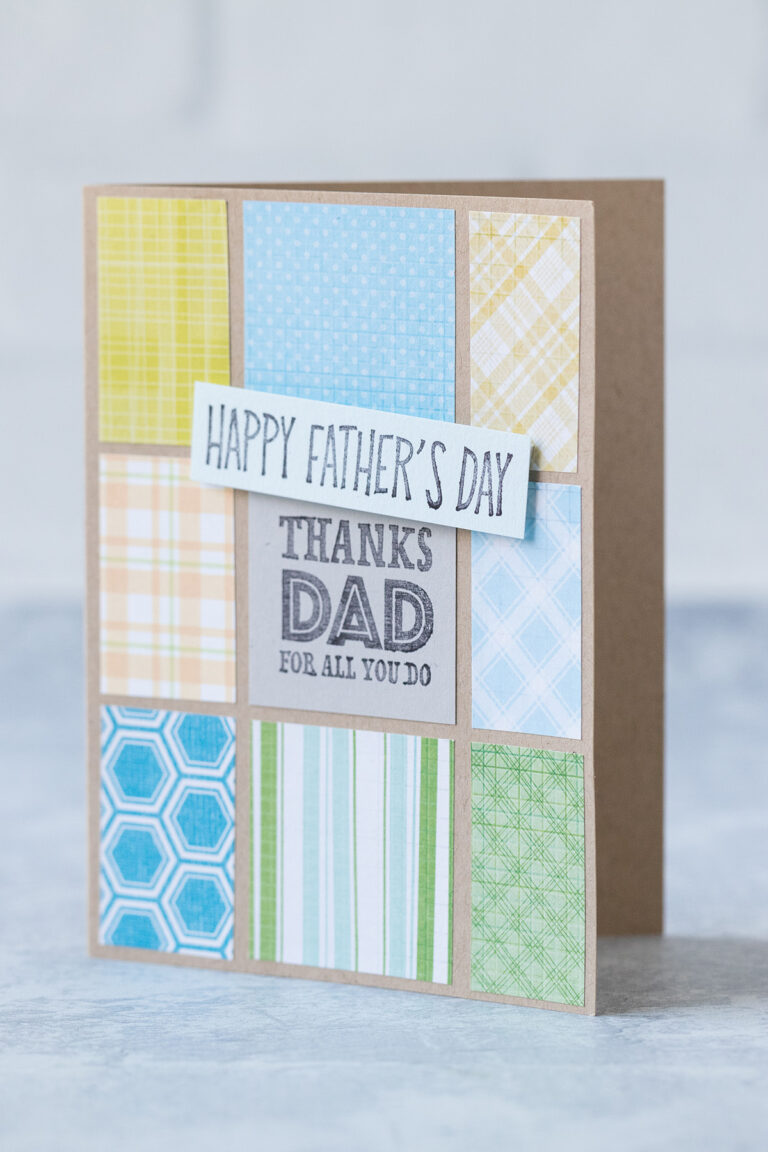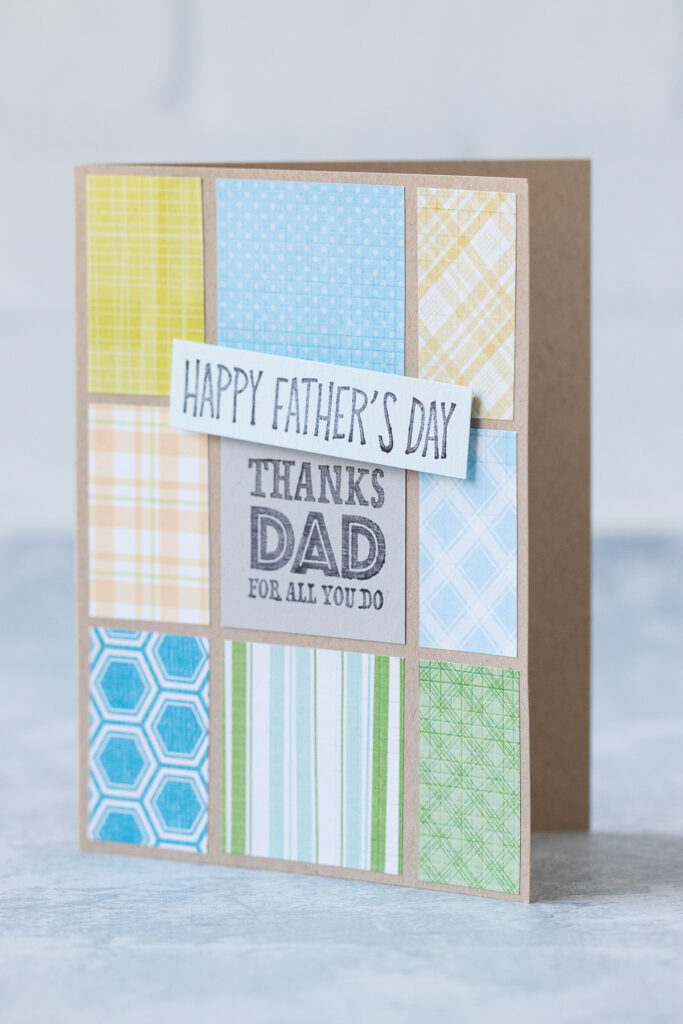 Thanks for all you do
I'm always a sucker for a scrappy card design. I have one in almost every homemade card collection I've created. They're fun and can be customized for any occasion. Father's Day is no exception.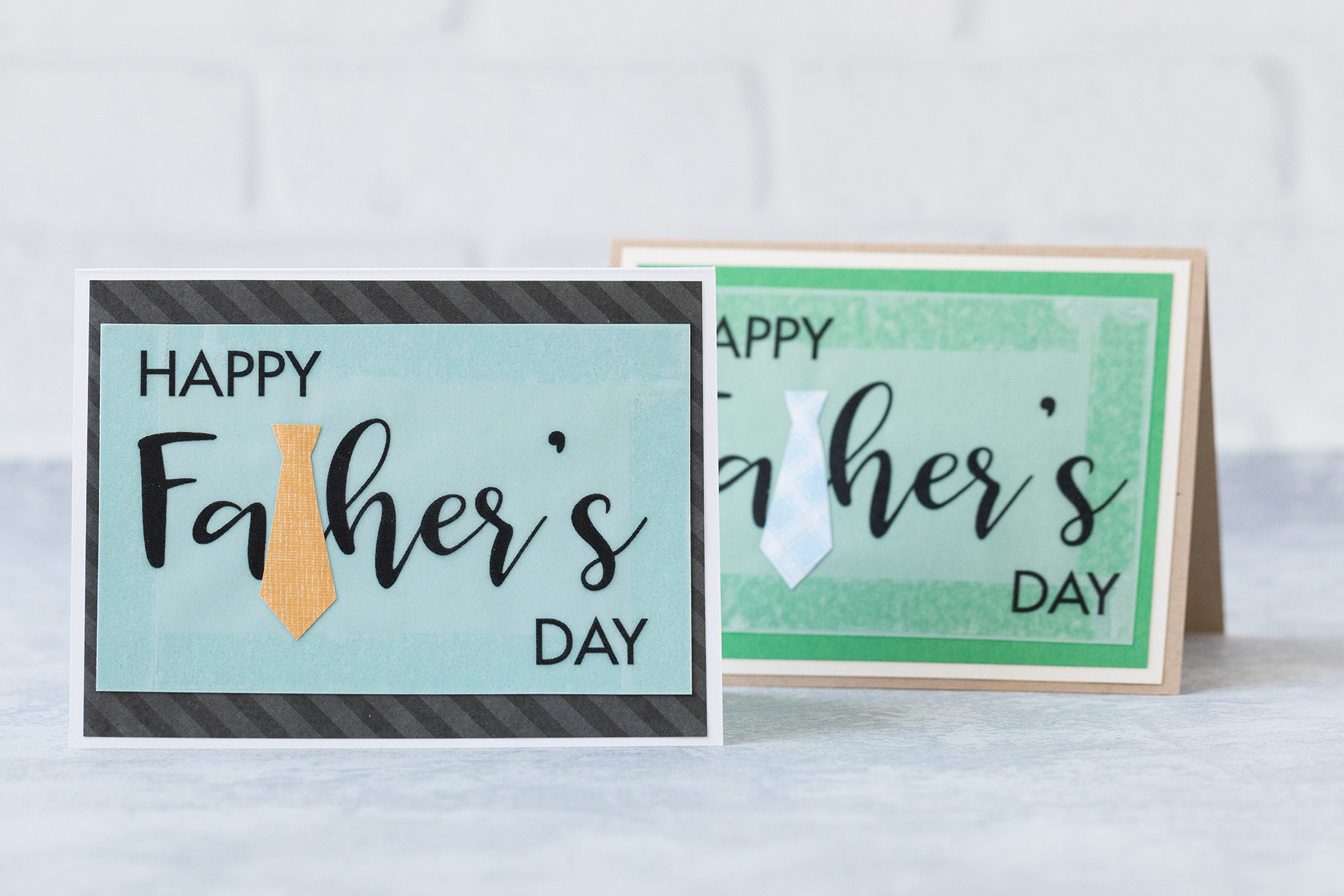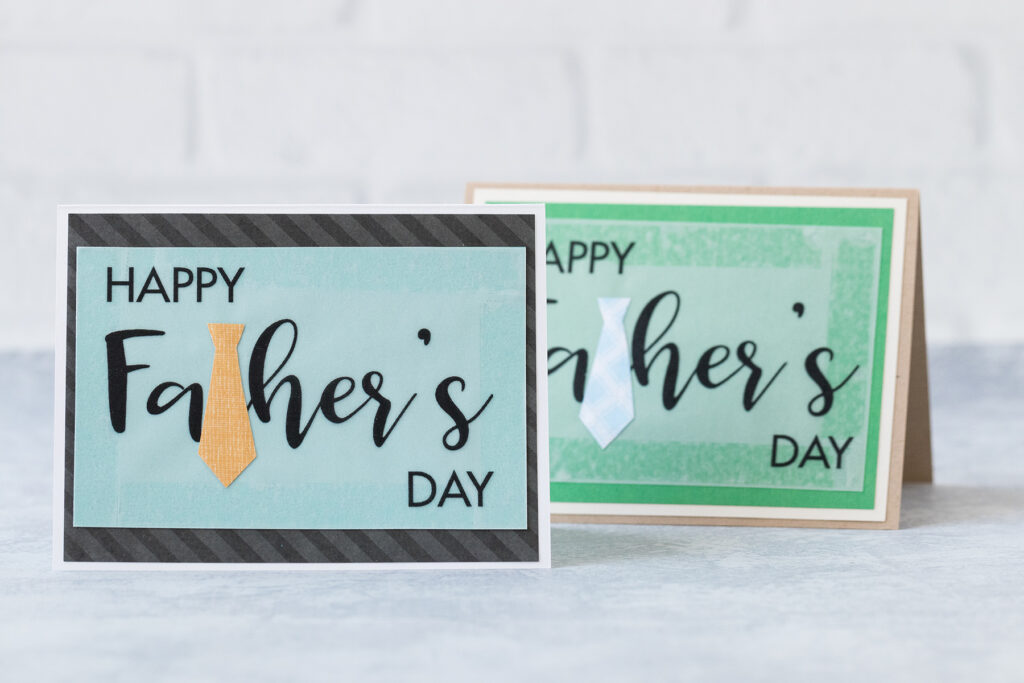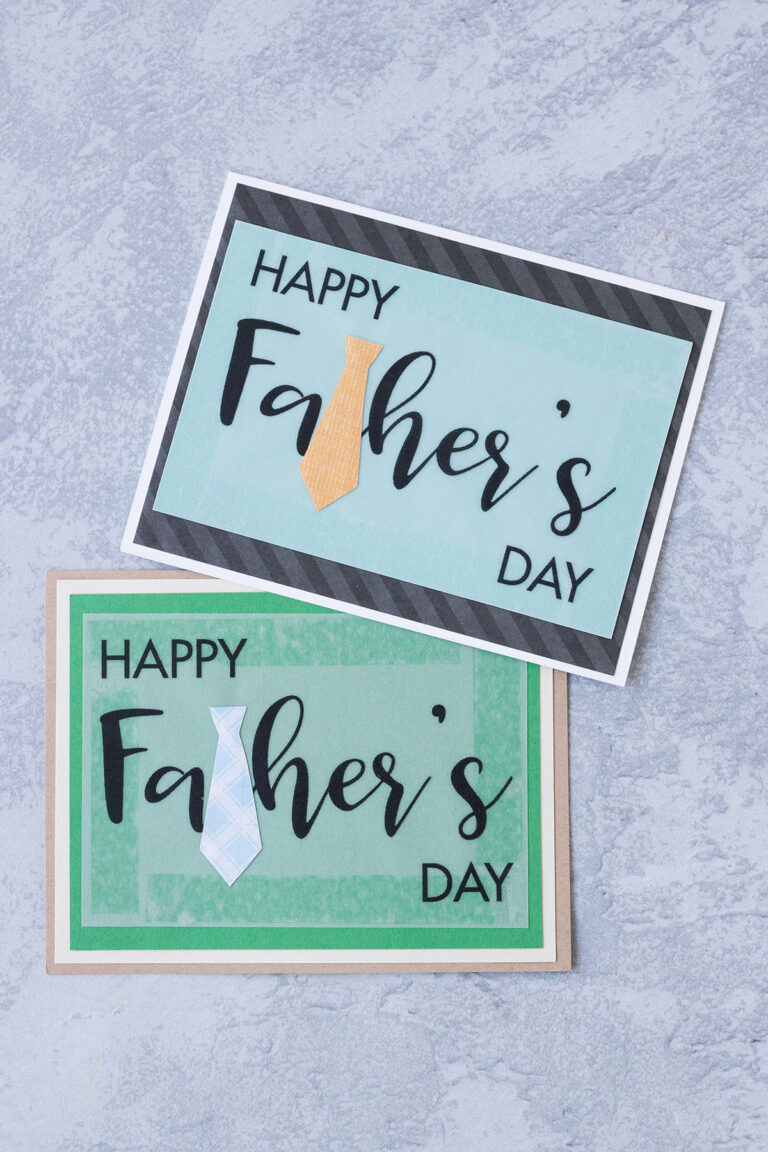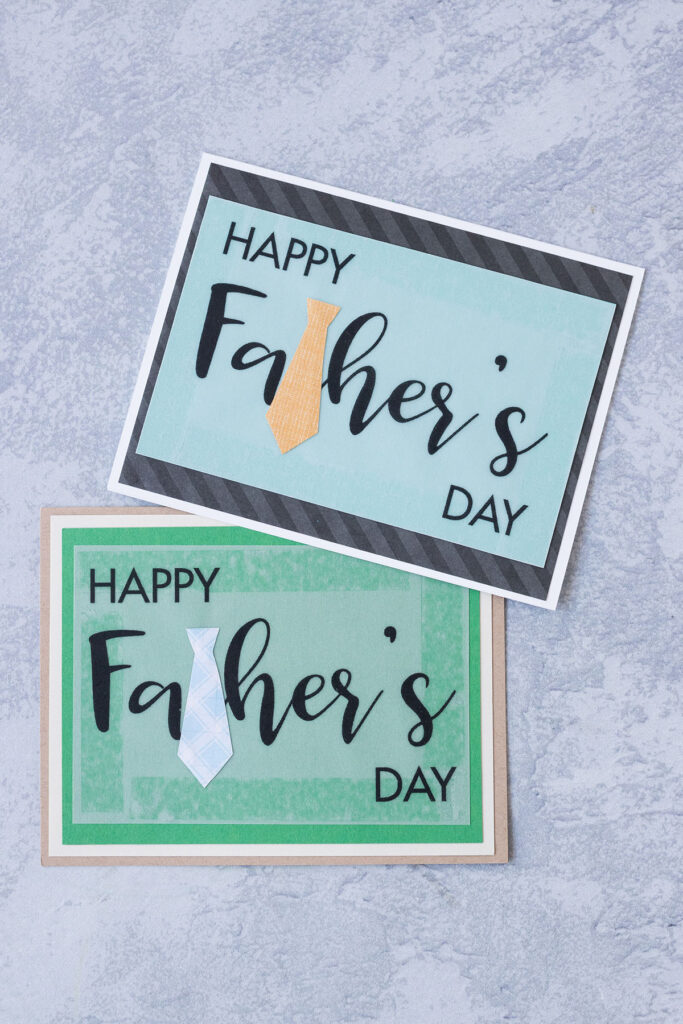 Happy Father's Day with a tie for the T
I have seen multiple printed cards with a tie for the T in Father's Day. I love it as a DIY card because you can change up the color of the tie as well as the background colors and patterns.
I chose to print Happy Father's Day on vellum and show you a couple of examples with different colors. You can definitely print on white or colored card stock, too!
I always attach vellum with transparent double-sided tape. You can see that the colors you use will alter the level of transparency.
[Tie for the T A2 size – text]
[Tie for the T A2 size – necktie]
The original source for the necktie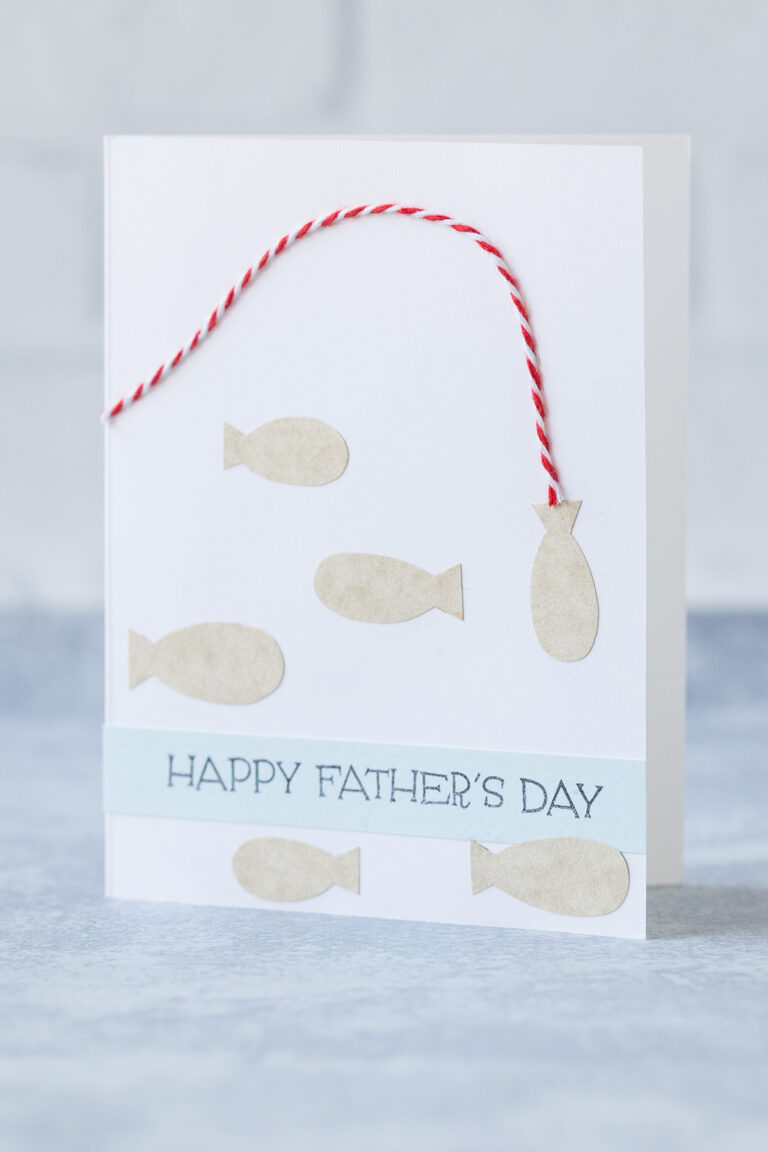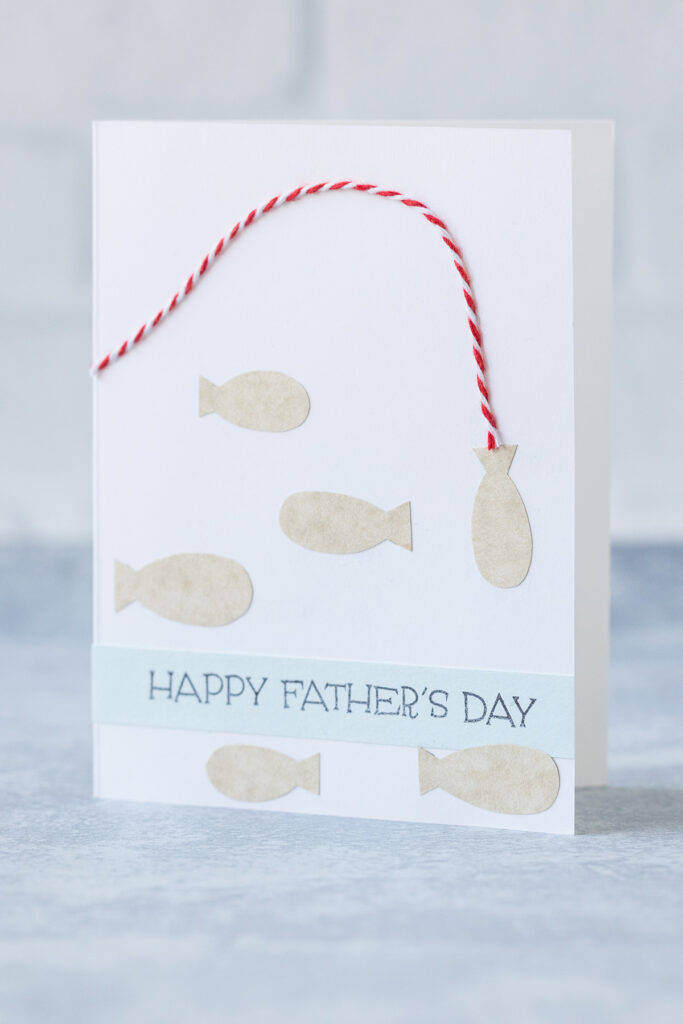 Fishing line
Making a fishing line out of twine is so easy and adds such a whimsical touch to a homemade Father's Day card. I simply drew and cut out the fish. I don't have a pattern. Then I finished the card with a Happy Father's Day stamp.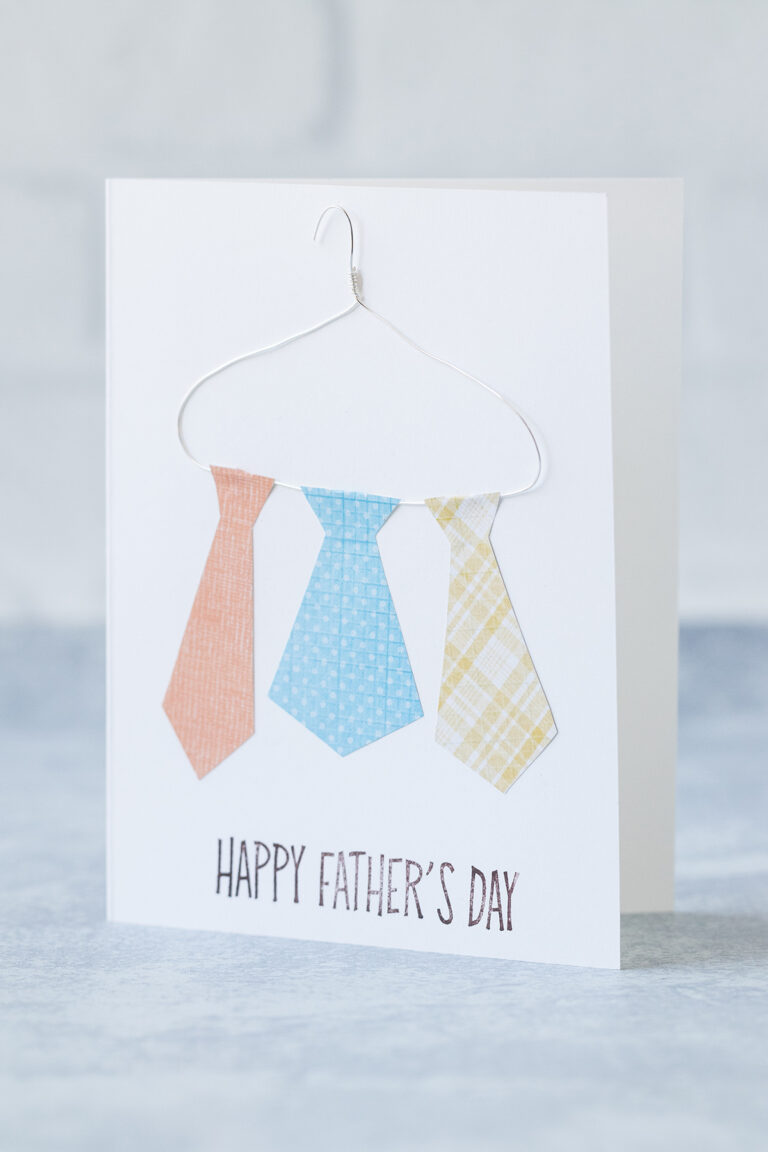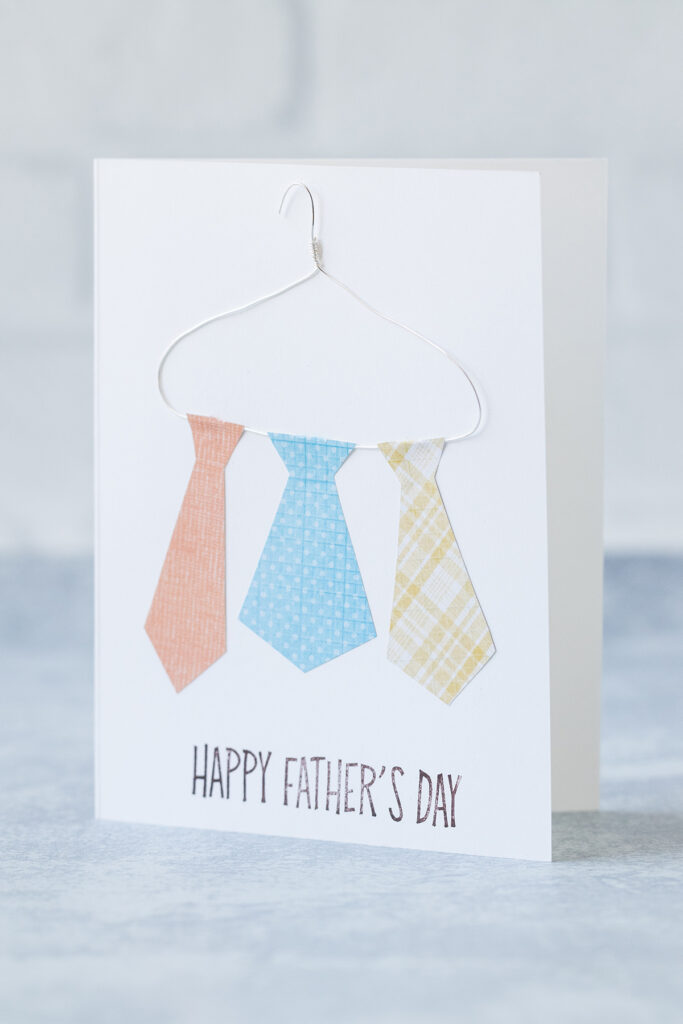 Neckties on a hanger
I have to give credit to Damask Love for the original neckties on a wire hanger idea.
I know that the wire hanger looks intimidating. I promise that it's not. Wire working is not one of my areas of expertise. And I made my little hanger in just a few minutes. Any 18-gauge jewelry wire or similar wire is fine. The only tools you need are needlenose pliers and wire cutters. Study the example I made, and shape your hanger to fit your A2 card.
I used super glue to attach the hanger quickly and securely. I only glued right where I wrapped the wire around the neck of the hanger. You'll secure the long part of the hanger when you glue the neckties.
When you cut out your neckties, cut a little extra at the top, so you can fold them over the hanger. Secure the folded piece at the top with glue. Then secure the bottom of the tie with a little more glue.
The original source for the neckties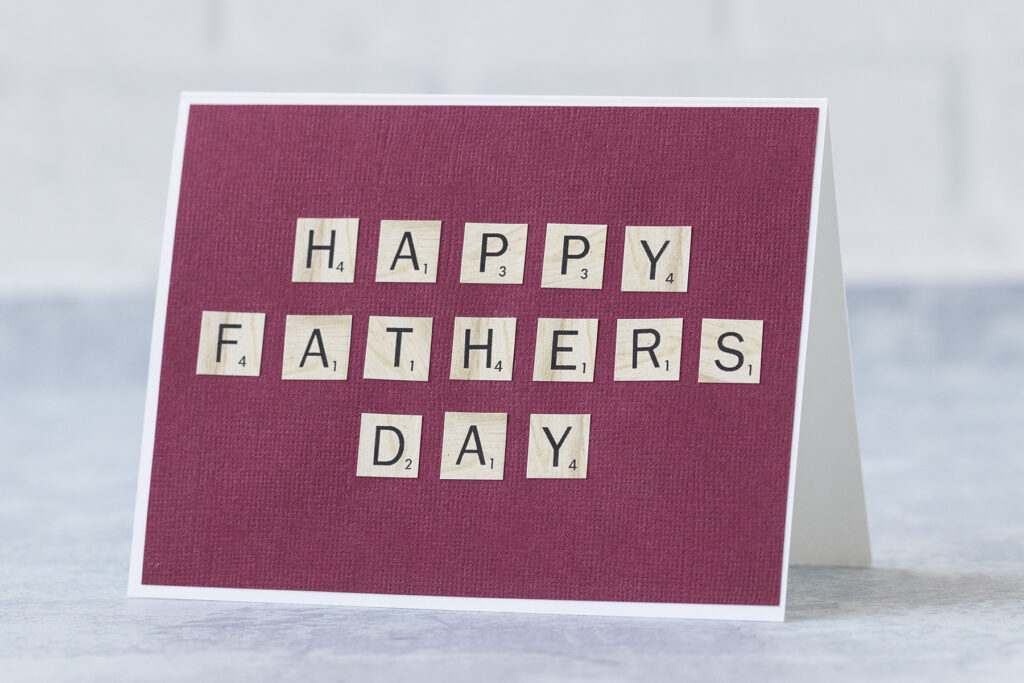 Scrabble tiles
I spelled out Happy Father's Day in Scrabble tiles, which I got from Paper Trail Design and then resized. I kept the background a simple single color, as I didn't think it needed anything else.
I saved the Scrabble tiles for the last of the simple DIY Father's Day cards, as it's a little fiddly cutting and gluing all of them. After some trial and error, I determined that the best way to cut them was to cut apart the letters with scissors and then trim them down with a paper cutter. Arrange the tiles on your card before you start gluing.
While I love using real Scrabble tiles for DIY projects, this greeting card design works better with paper Scrabble tiles. Gluing 15 Scrabble tiles to a paper card will create a heavy, bulky card that won't fit well in an envelope.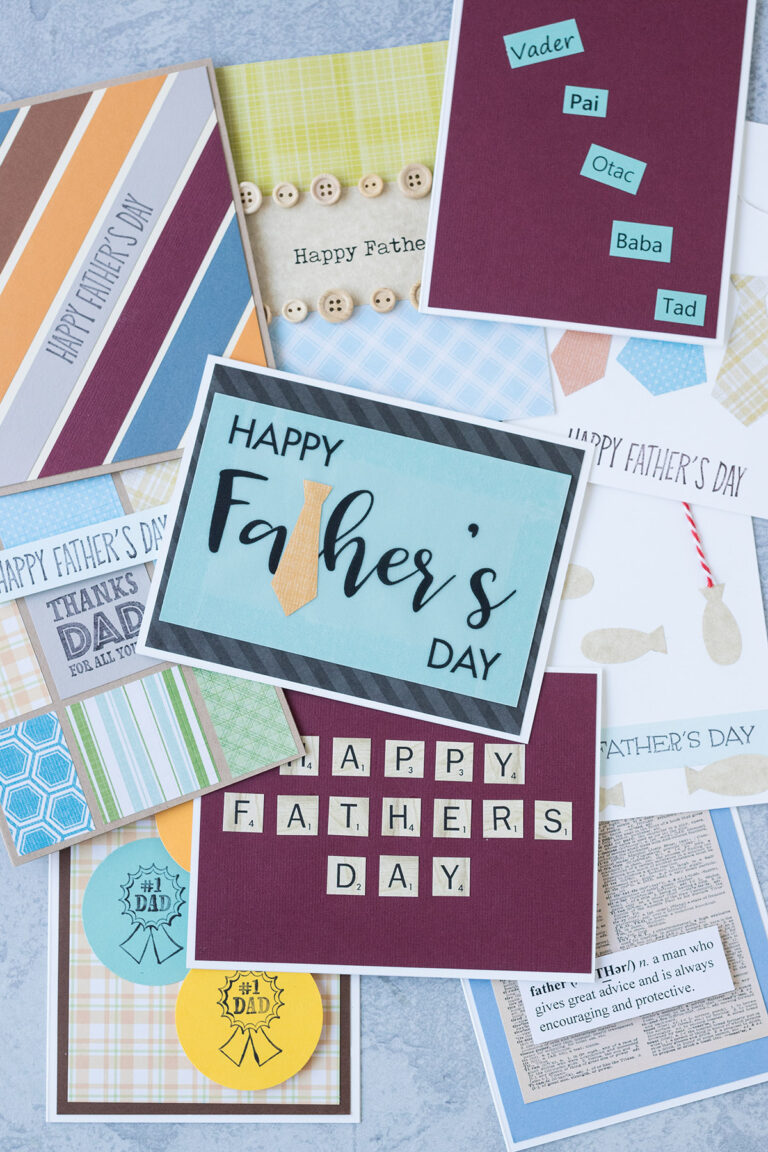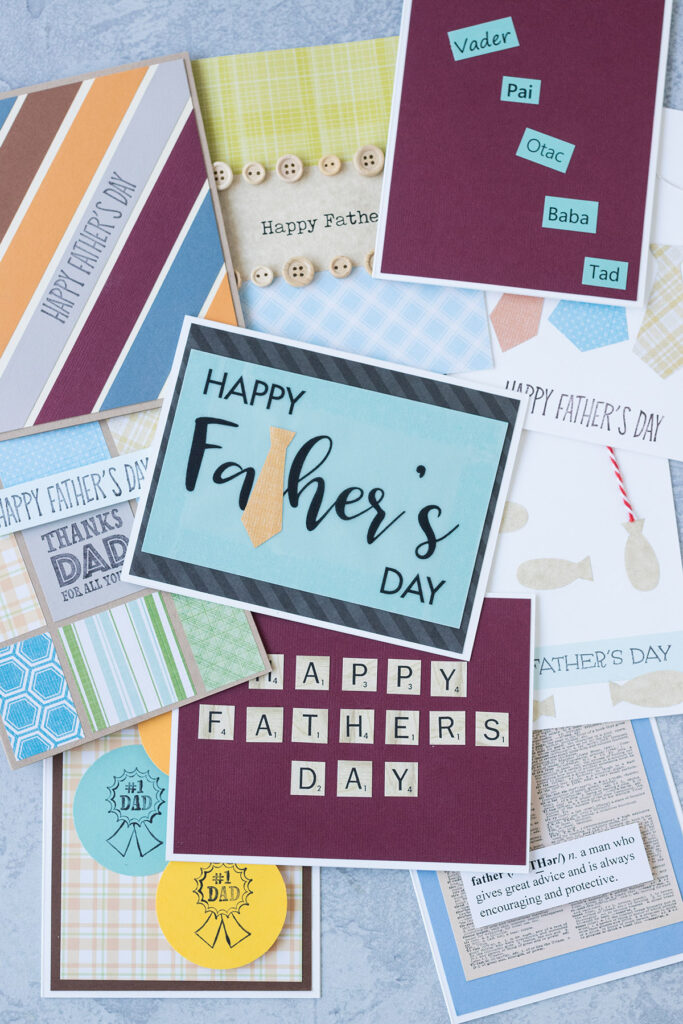 [Disclaimer: There are a few affiliate links in this post. Thanks for your support!]
Pin the simple DIY Father's Day cards post for easy access to this resource later!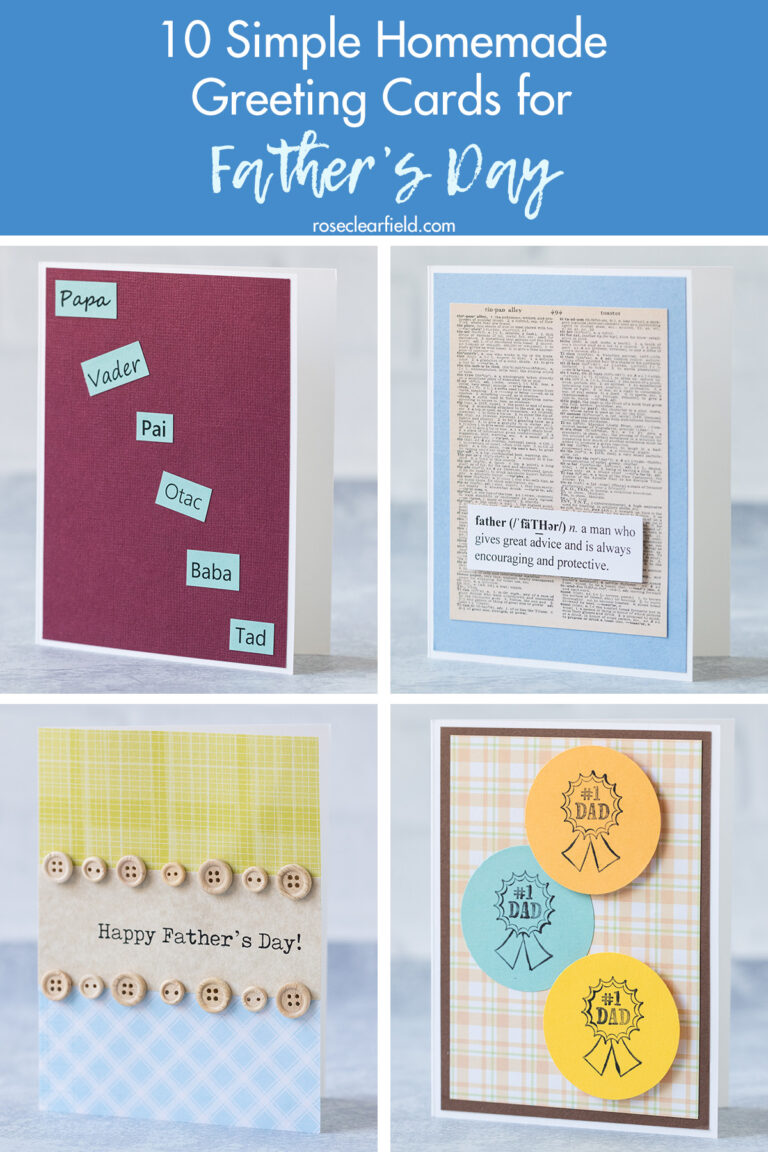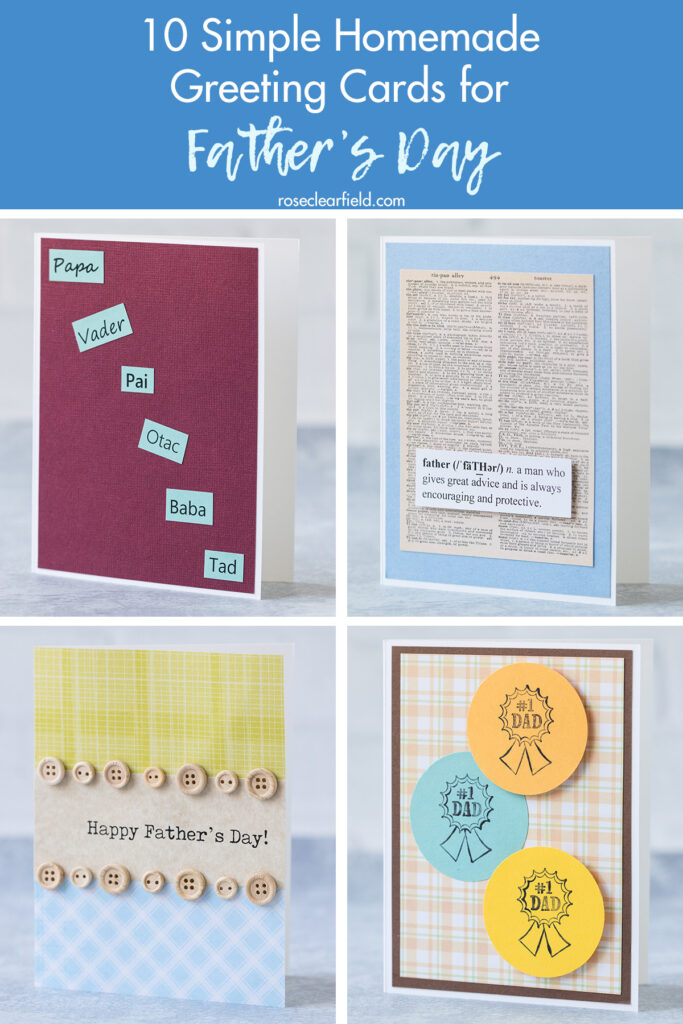 Did you make one or more of the simple DIY Father's Day cards in this post?

I want to see them! Tag your images #RoseClearfield on Instagram or Twitter or post a photo to my Facebook page.
I also have a collection of free printable Father's Day cards!
Looking for Father's Day gifts to make?