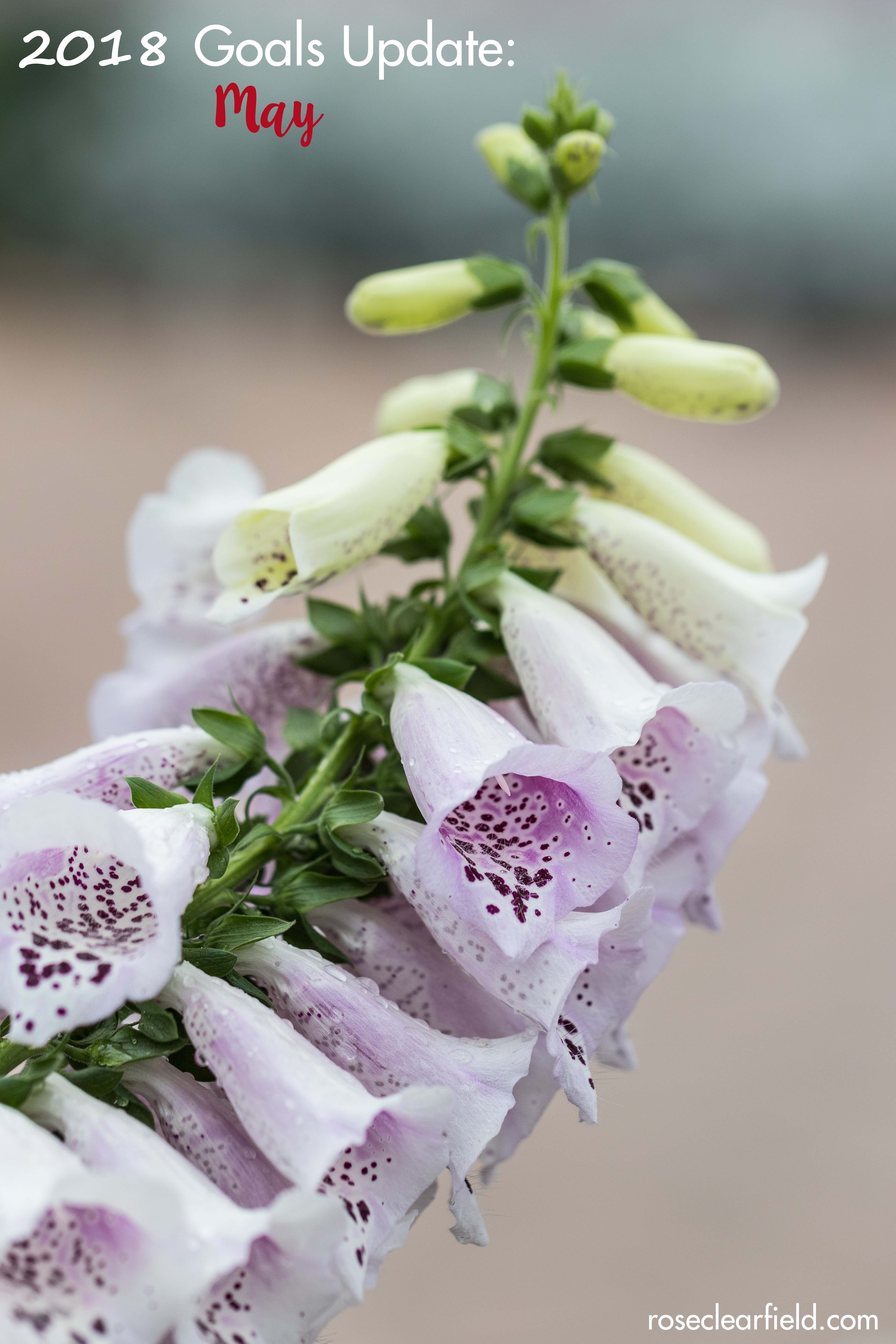 In an effort to keep myself accountable, I'm sharing monthly progress updates for my 2018 goals.
Reach five figure monthly blog page views.
January benchmark – 5,610, actual – 7,373
February benchmark – 5,982, actual – 10,151
March benchmark – 6,354, actual – 12,129
April benchmark – 6,736, actual – 9,956
May benchmark – 7,108, actual – 8,072

I actually followed a similar page views pattern in 2017, just with much lower totals. Since I'm planning to publish much more regularly this summer than I did last summer, I hope that I don't bottom out so badly. I'm still above my page views total for January and for my May benchmark.
There are two primary methods I'm using to achieve my page views goal, which are as follows.
Reach 4,000 Pinterest followers.
To reach 4,000 Pinterest followers by the end of the year, I need to gain 138 new followers monthly or 4-5 followers daily. My May benchmark was 3,027 followers. My actual May total was 2,790 followers.
I'm still lagging about a month and a half behind my projected figures to meet this goal. Pinterest has just been all over the place for me lately. Some weeks I'm right on track with my follower growth. Other weeks, I barely get 1-2 followers per day. I've also been frustrated because Pinterest's site, app, and analytics are different every day. My Pinterest, Boardbooster, and Tailwind analytics never match up. Not even close. There are many days that some of Tailwind's analytics are just wrong. I don't have days with only 5 repins, let alone -1 repins. Stop giving me those kind of analytics, Tailwind!
But I keep pushing on. My follower base does keep growing. While I don't see month over month growth with Pinterest engagement, my numbers continue to be way up from this time last year. To recap, here are my Pinterest growth strategies for 2018.
Publish one article per week on Constant Content.
May was another huge wash with this goal. Now that I'm nearly finished with nursery #2, I'm hoping to get back to publishing on Constant Content more regularly. I did sell one previously published 2018 title, Tips for Solo Travel, for a total of $53.95.
Paint and decorate nursery #2.
After my huge lack of nursery #2 photos in my April goals update, even though I'd done a ton of work on the room, I got it together and wrote a lengthy nursery #2 update with lots of pictures. My last major project for the nursery is to put together a 4-cube organizer from Target. I already have the organizer and bins for it, I just need to assemble it. Then I have one last wall decor piece to finish (I'm ordering photos for a collage frame), and I'm waiting for a couple of items from Minted. This next month, I'm also planning to shoot a few more pictures of the room for our new adoption profile book.
What am I going to focus on when I'm finished with nursery #2?
Make my Constant Content and editing Europe photos goals a priority again.
Prioritize scheduling ahead blog content. I've been doing a decent job staying ahead on evergreen posts for the next month or so. I want to get at least 1-2 evergreen posts per month scheduled for the remainder of 2018.
Beyond that, I have a few projects that have taken a back burner that I'd like to pick up again at some point, like writing a second ebook and adding new items to both Etsy shops. We'll see how the first two goals go before I start working on anything else.
Finish editing my Europe photos, and keep up on current editing.
Editing Europe photos was another huge wash this month. Now that I'm nearly finished with nursery #2, I'm hoping to get back on track with editing my Europe photos.
I did make a dent in my 2018 editing and got completely caught up through 3/12. I've edited the majority of my photos since that date, I just haven't finished backing them up and clearing out the RAW files.
Read 36 books.
May reading total: 7 books, bringing my 2018 total to 31 books. To meet my goal, I need to read 3 books per month, so I'm ahead of schedule. Here's my list of May titles.
Listened to:
Read:
Re-read:
After skipping my full reading post in April, I have a double post for April/May scheduled this Friday. Stay tuned for that post!
[Disclaimer: There are a few affiliate links in this post. Thanks for your support!]
Did you set any 2018 goals?
I'd love to hear how they're going! Feel free to leave a goal update link in the comments.
Previous goal posts: